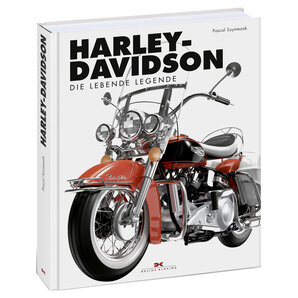 BOOK - HARLEY DAVIDSON
Vergrößern
Buch - Harley-Davidson

Only In German
A Harley-Davidson is never just a means of getting from A to B. Any Harley is a special motorcycle that embodies a particular lifestyle.
This book brings you the best-looking and most important Harley models.
Harley-Davidson - The Living Legend really is a book worth discovering. Actually, it's two books ...
Read more
Buch - Harley-Davidson
Only In German
A Harley-Davidson is never just a means of getting from A to B. Any Harley is a special motorcycle that embodies a particular lifestyle.
This book brings you the best-looking and most important Harley models.
Harley-Davidson - The Living Legend really is a book worth discovering. Actually, it's two books in one, bound together in a sturdy cover.
The first book, with 40 pages, tells the fascinating history of the iconic motorcycle marque, the life of its founder, and the highs and lows of Harley-Davidson.
The second book devotes 172 pages to a presentation of 40 Harley-Davidson models.
The pages fold out to give an overall width of more than 80 centimetres, in a large landscape format that is ideal for highlighting the various models with superb detail. For each machine, there are two illustrations and a short description. In addition, a specifications table gives you everything you need to know about the engine, transmission, chassis, dimensions, weight, performance and price.
Models in the book (a selection):
Silent Gray Fellow
Servi Car, E and EL Knucklehead
F 74 Hydra Glide Panhead
XL Sportster
Electra Glide
XLCR 1000 Café Racer
FXST Softail
FLSTF Fat Boy
FLHR Road King
VRSCD Night Rod
VRSCF V-Rod Muscle
XL 1200L Sportster
Current calendar week: 29
As at:Jul 15, 2019, 9:11 PM
Products
Order no.
Availability
Price in €
Actions
BOOK - HARLEY DAVIDSON -
THE LIVING LEGEND 172 P.
50000137

Available

Last chance

9.99 39.99

This may also interest you