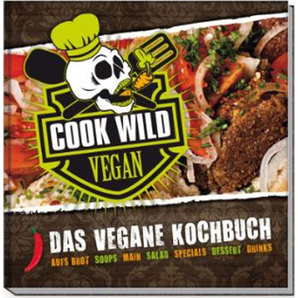 BOOK: DAS BIKER KOCHBUCH
Vergrößern
Das vegane Kochbuch "Cook Wild Vegan"

Only In German
Cook Wild Vegan - The vegan cookbook

Creative vegan cuisine made easy!
What began as a simple idea dreamt up by Stefano Vicinoadio, from Hamburg, developed into a Vegan Experiment in his food blog, and culminated in this cookery book.
The former professional photographer puts to bed the myth that vegan ...
Read more
Das vegane Kochbuch "Cook Wild Vegan"
Only In German
Cook Wild Vegan - The vegan cookbook

Creative vegan cuisine made easy!
What began as a simple idea dreamt up by Stefano Vicinoadio, from Hamburg, developed into a Vegan Experiment in his food blog, and culminated in this cookery book.
The former professional photographer puts to bed the myth that vegan cuisine is expensive and uninspiring. He impressively demonstrates through his creative recipes just how varied and exciting a vegan diet can actually be.
He covers everything from alternatives to butter for spreading on your bread through to main meals, desserts and drinks. All this is made easily accessible for newcomers to the vegan lifestyle, while still offering a few surprises for veterans.
Format: 225 x 220 mm, hardcover
Number of pages: 120
Current calendar week: 17
As at:Apr 23, 2018, 10:41 AM
Products
Order no.
Availability
Price in €
Actions
BOOK: DAS BIKER KOCHBUCH
COOK WILD VEGAN 120 PAGES
10053770

Available

12.90
This may also interest you