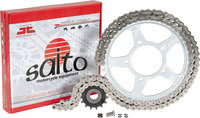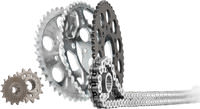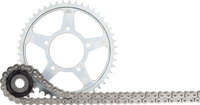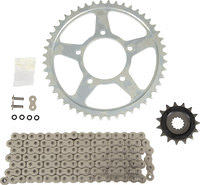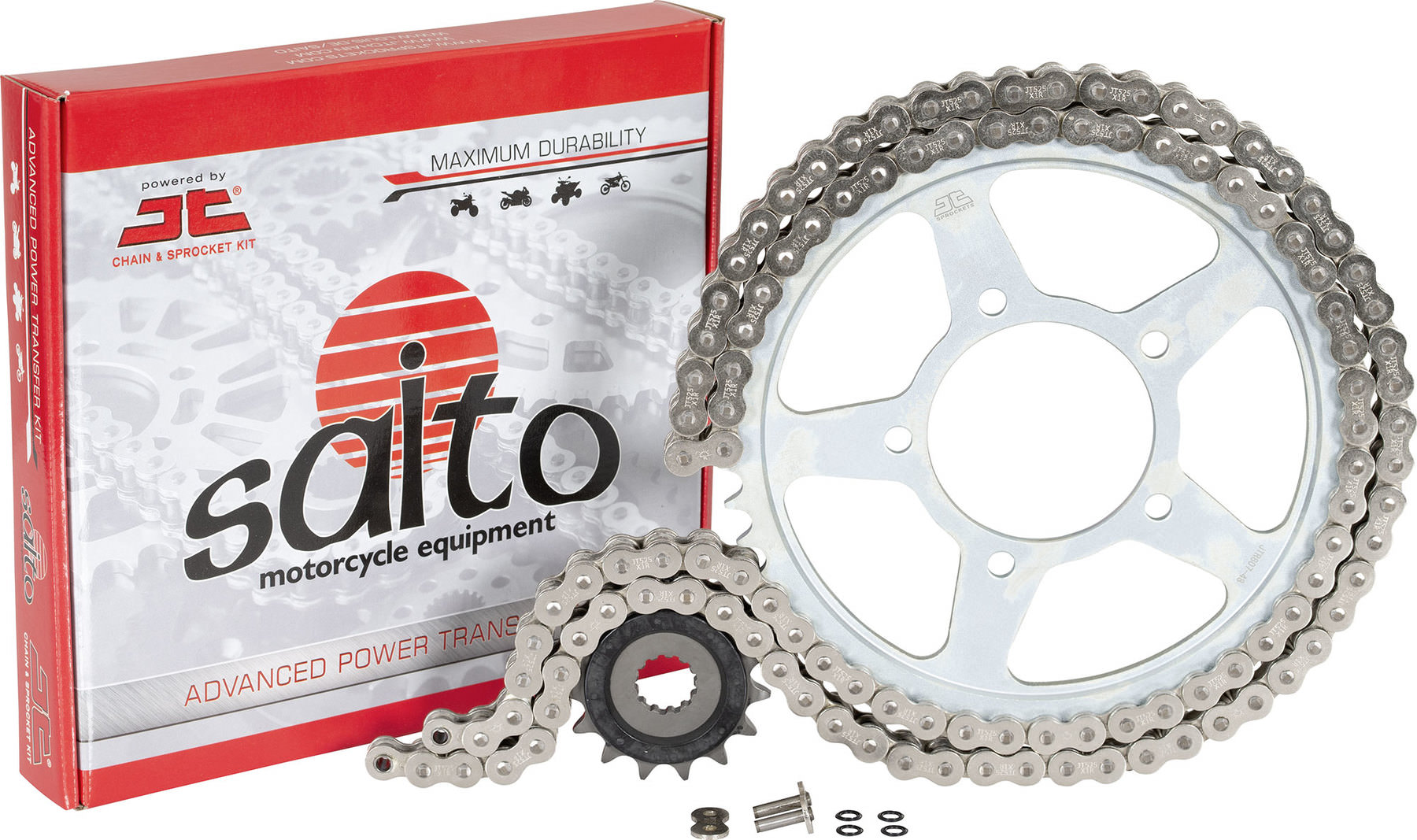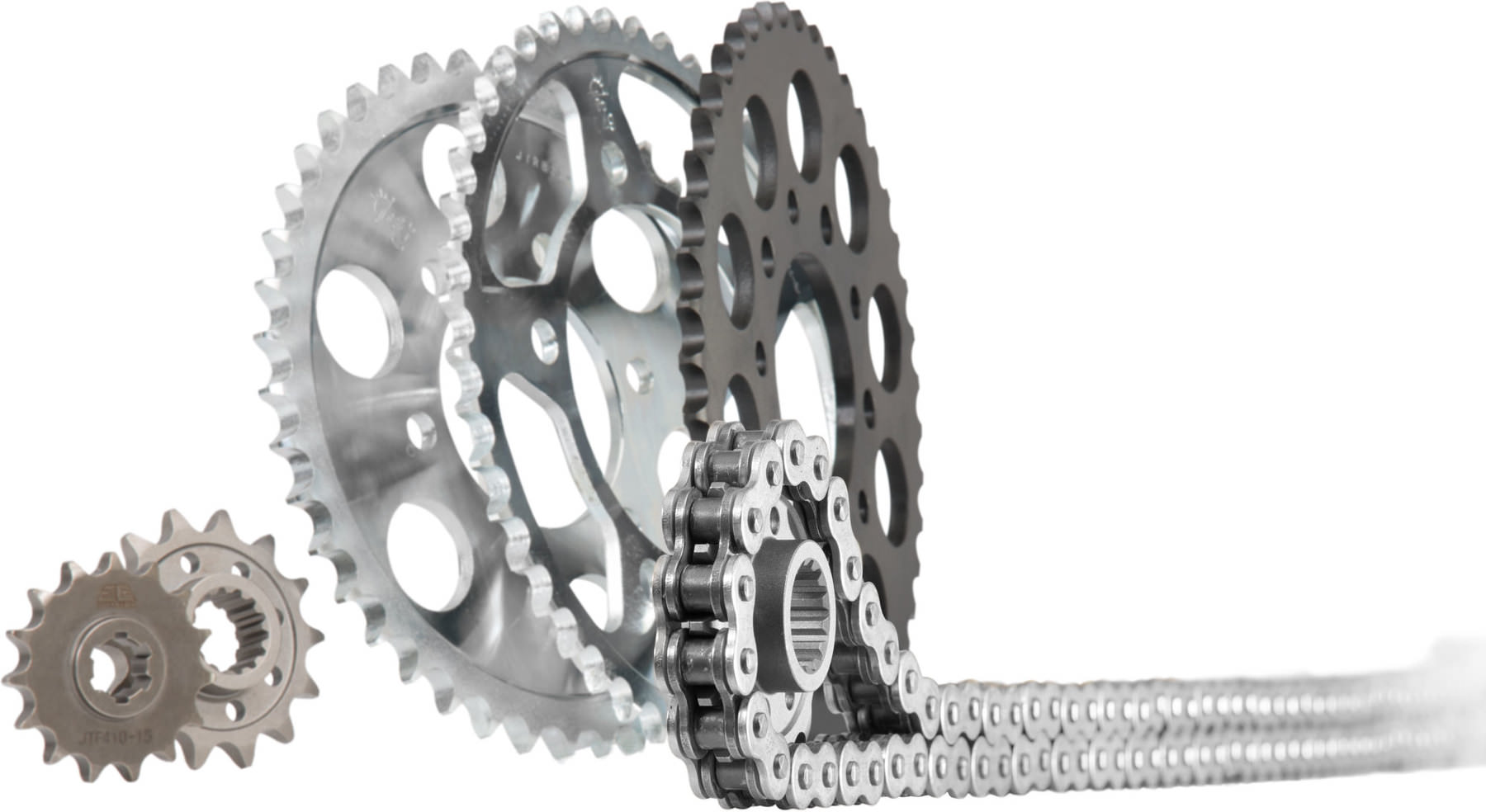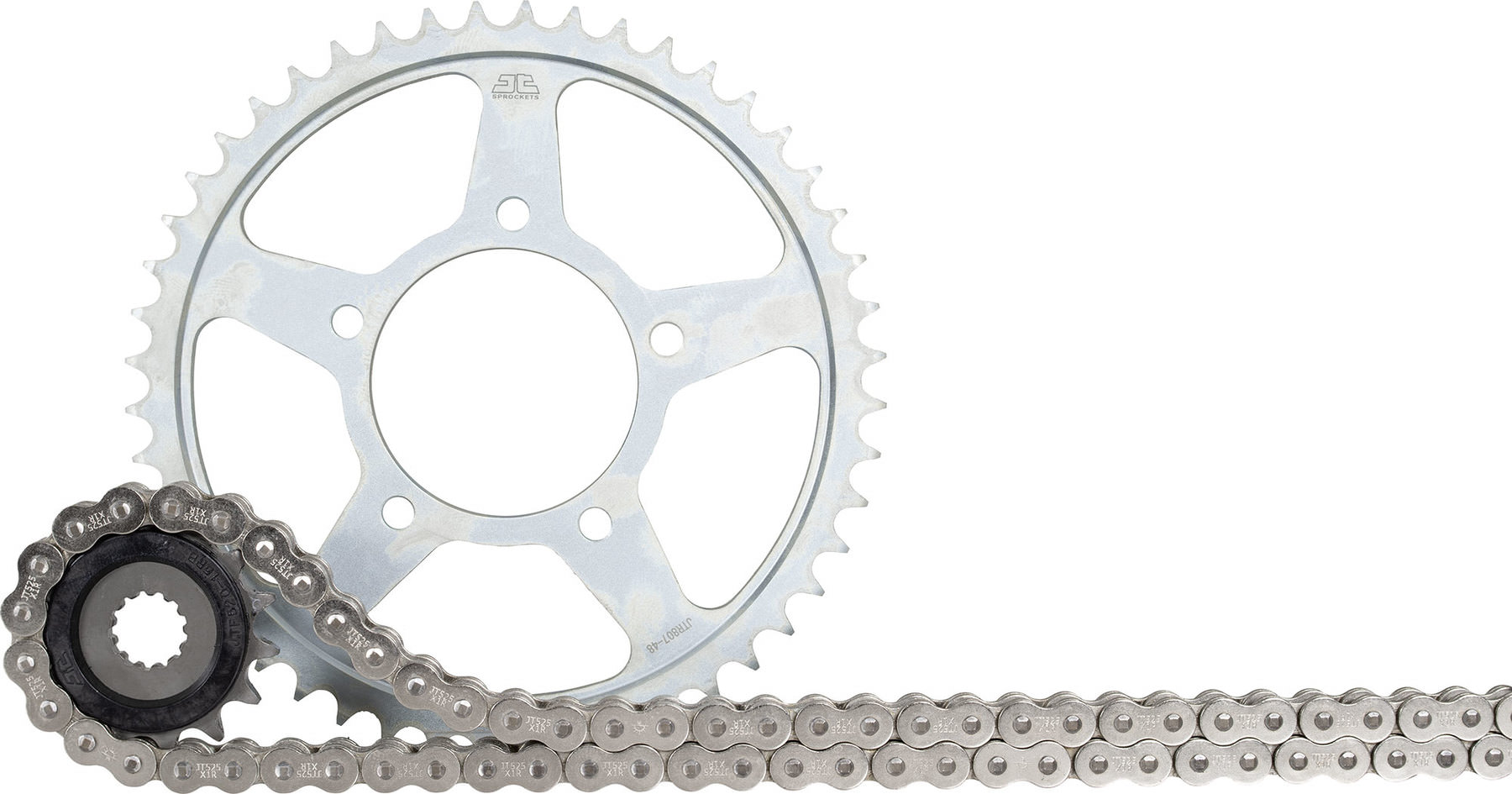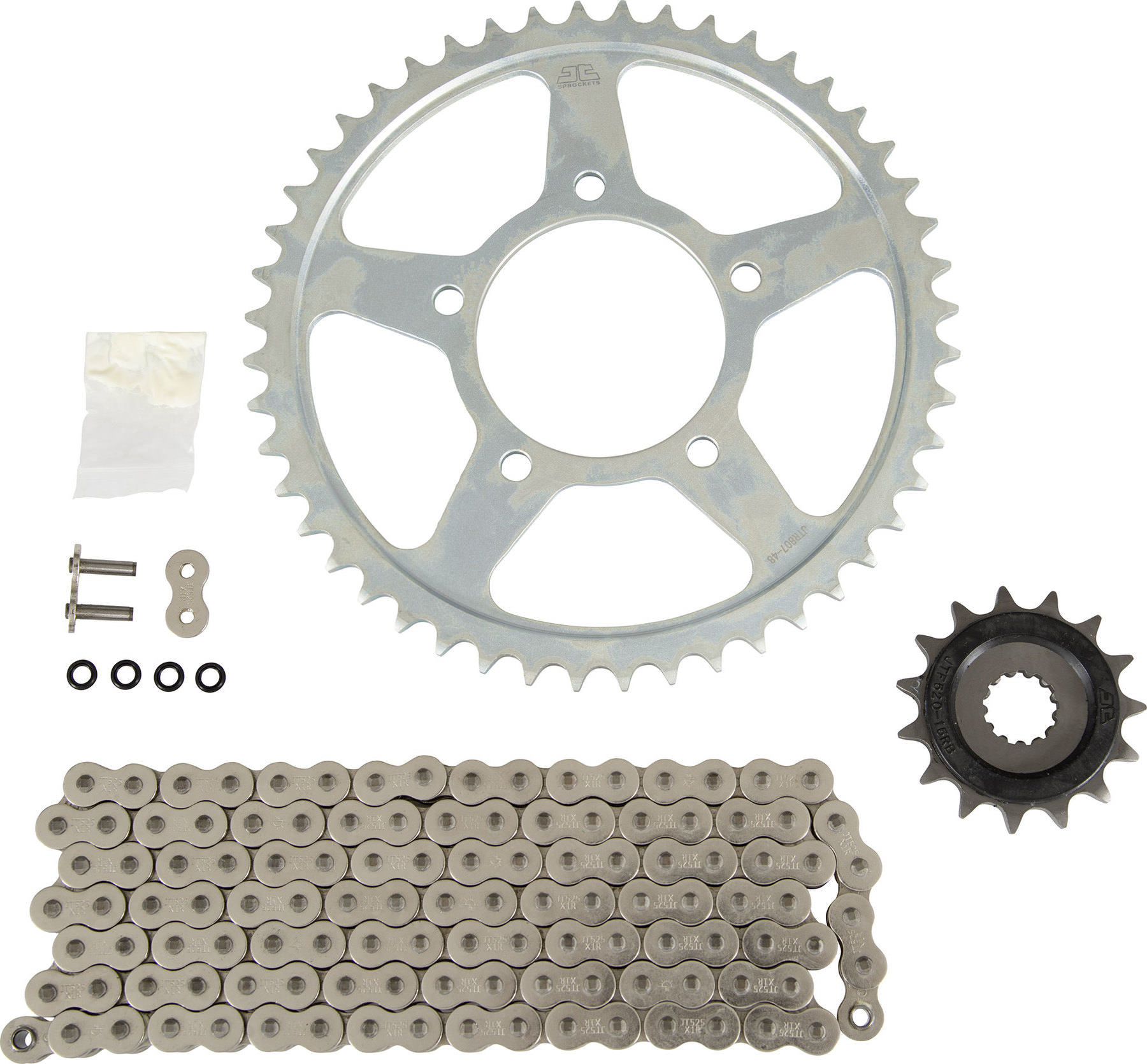 SAITO 520 X1R2 CHAIN KIT
Z 750 2004- 112/15/43
Important notes
Design: Chain with dual connecting link (can be used as rivet or clip master link)
Please remember that "Last chance" items can sell out fast, especially when the price has been slashed and the clothes sizes you are looking for are popular. "Last chance" items may no longer be available in all Louis stores!
The item is in stock and will be delivered in 2-5 working days. Note: Stocks are updated online every hour on working days from 7 a.m. to 8 p.m., so there is a good chance that the products are available if they appear online.
Available
Free delivery on orders over €199.00
2 year return policy
Fast delivery
Saito Chain&Sprocket Kit
OEM quality from JT
No motorbike chain keeps going for ever, so inevitably the time comes when you have to say goodbye to your old chain and fit a new one. Complete Saito chain and sprocket kits comprising chain, connecting link, chain wheel and sprocket. Developed and manufactured by JT Sprockets, the world-renowned manufacturer with more than 30 years of experience. So it's hardly surprising that JT products are OEM quality, and even chain specialist D.I.D buys sprockets from JT.
Like all saito products, their chain and sprocket kits are outstanding value for money. These model-specific kits are manufactured using state-of-the-art technology and special steel alloys of the highest quality. As a result, they weigh less than many other drive chains and have maximum tensile strength.

The following types of saito chain are available, according to motorcycle model:

Design:

Chain with connecting link
Seal type: X-Ring (X1R, X1R2, Z3, Z3GS)
Pitch: 428, 520, 525, 530
In the box:

Chain
Front sprocket
Rear sprocket
Clip and/or hollow rivet link (the chain lock is included in the chain packaging!)
Go to "Important information" (highlighted in red) at the top of this page to see whether the chain and sprocket kit comes with a chain with a rivet or clip connecting link.
Manufacturer details: saito

Maintaining your motorcycle can actually be fun!

OEM spare parts? All well and good, but usually very expensive. The Japanese brand saito offers some highly attractive alternatives for wearing parts and accessories. How does that work? High-quality products are purchased from leading manufacturers around the world at the best possible terms and offered at low-cost prices under the brand name saito. Our customers benefit from this. Quality at a bargain price, because fun does not have to cost a fortune.
Product
Art. No.
Availability
Price
Actions
SAITO 428 X1R CHAIN SET - CBR125R 2004-10 124/15/42

Important notes

Design: Chain with clip master link

60800000

The item is in stock and will be delivered in 2-5 working days. Note: Stocks are updated online every hour on working days from 7 a.m. to 8 p.m., so there is a good chance that the products are available if they appear online.

Available

€74.99 1
SAITO 428 X1R CHAIN SET - CBR125R 2011- 128/15/44

Important notes

Design: Chain with clip master link

60800001

The item is in stock and will be delivered in 2-5 working days. Note: Stocks are updated online every hour on working days from 7 a.m. to 8 p.m., so there is a good chance that the products are available if they appear online.

Available

€74.99 1
SAITO 428 X1R CHAIN SET - WR 125 132/14/53

Important notes

Design: Chain with clip master link

60800301

The item is in stock and will be delivered in 2-5 working days. Note: Stocks are updated online every hour on working days from 7 a.m. to 8 p.m., so there is a good chance that the products are available if they appear online.

Available

€59.99 1
SAITO 428 X1R CHAIN SET - YZF-R125 2008- 132/14/48

Important notes

Design: Chain with clip master link

60800300

The item is in stock and will be delivered in 2-5 working days. Note: Stocks are updated online every hour on working days from 7 a.m. to 8 p.m., so there is a good chance that the products are available if they appear online.

Available

€79.99 1
SAITO 520 X1R2 CHAIN KIT - ER-6/VERSYS 650 114/15/46

Important notes

Design: Chain with dual connecting link (can be used as rivet or clip master link)

60800101

The item is in stock and will be delivered in 2-5 working days. Note: Stocks are updated online every hour on working days from 7 a.m. to 8 p.m., so there is a good chance that the products are available if they appear online.

Available

Please remember that "Last chance" items can sell out fast, especially when the price has been slashed and the clothes sizes you are looking for are popular. "Last chance" items may no longer be available in all Louis stores!

€84.99

1 €69.99 1
SAITO 520 X1R2 CHAIN KIT - VAR. XJ6 09- 118/16/46

Important notes

Design: Chain with dual connecting link (can be used as rivet or clip master link)

60800303

The item is in stock and will be delivered in 2-5 working days. Note: Stocks are updated online every hour on working days from 7 a.m. to 8 p.m., so there is a good chance that the products are available if they appear online.

Available

Please remember that "Last chance" items can sell out fast, especially when the price has been slashed and the clothes sizes you are looking for are popular. "Last chance" items may no longer be available in all Louis stores!

€79.99

1 €69.99 1
SAITO 520 X1R2 CHAIN KIT - VARIOUS MODELS 112/16/47

Important notes

Design: Chain with dual connecting link (can be used as rivet or clip master link)

60800410

The item is in stock and will be delivered in 2-5 working days. Note: Stocks are updated online every hour on working days from 7 a.m. to 8 p.m., so there is a good chance that the products are available if they appear online.

Available

Please remember that "Last chance" items can sell out fast, especially when the price has been slashed and the clothes sizes you are looking for are popular. "Last chance" items may no longer be available in all Louis stores!

€69.99

1 €59.99 1
SAITO 520 X1R2 CHAIN KIT - VT125C 1999-00 112/14/41

Important notes

Design: Chain with dual connecting link (can be used as rivet or clip master link)

60800004

The item is in stock and will be delivered in 2-5 working days. Note: Stocks are updated online every hour on working days from 7 a.m. to 8 p.m., so there is a good chance that the products are available if they appear online.

Available

Please remember that "Last chance" items can sell out fast, especially when the price has been slashed and the clothes sizes you are looking for are popular. "Last chance" items may no longer be available in all Louis stores!

€64.99

1 €49.99 1
SAITO 520 X1R2 CHAIN KIT - XT 660 2004- 110/15/45

Important notes

Design: Chain with dual connecting link (can be used as rivet or clip master link)

60800305

The item is in stock and will be delivered in 2-5 working days. Note: Stocks are updated online every hour on working days from 7 a.m. to 8 p.m., so there is a good chance that the products are available if they appear online.

Available

Please remember that "Last chance" items can sell out fast, especially when the price has been slashed and the clothes sizes you are looking for are popular. "Last chance" items may no longer be available in all Louis stores!

€69.99

1 €59.99 1
SAITO 520 X1R2 CHAIN KIT - Z 750 2004- 112/15/43

Important notes

Design: Chain with dual connecting link (can be used as rivet or clip master link)

60800102

The item is in stock and will be delivered in 2-5 working days. Note: Stocks are updated online every hour on working days from 7 a.m. to 8 p.m., so there is a good chance that the products are available if they appear online.

Available

Please remember that "Last chance" items can sell out fast, especially when the price has been slashed and the clothes sizes you are looking for are popular. "Last chance" items may no longer be available in all Louis stores!

€69.99

1 €49.99 1
SAITO 520 X1R3 CHAIN KIT - ER-5 TWISTER 106/17/42

Important notes

Design: Chain with dual connecting link (can be used as rivet or clip master link)

60800033

The item is in stock and will be delivered in 2-5 working days. Note: Stocks are updated online every hour on working days from 7 a.m. to 8 p.m., so there is a good chance that the products are available if they appear online.

Available

€79.99 1
SAITO 520 X1R3 CHAIN KIT - ER-6/VERSYS 650 114/15/46

Important notes

Design: Chain with dual connecting link (can be used as rivet or clip master link)

60800034

The item is in stock and will be delivered in 2-5 working days. Note: Stocks are updated online every hour on working days from 7 a.m. to 8 p.m., so there is a good chance that the products are available if they appear online.

Available

€84.99 1
SAITO 520 X1R3 CHAIN KIT - F650/ST 94- 110/16/47

Important notes

Design: Chain with dual connecting link (can be used as rivet or clip master link)

60800051

The item is in stock and will be delivered in 2-5 working days. Note: Stocks are updated online every hour on working days from 7 a.m. to 8 p.m., so there is a good chance that the products are available if they appear online.

Available

€84.99 1
SAITO 520 X1R3 CHAIN KIT - GS500 E 89-93 110/16/39

Important notes

Design: Chain with dual connecting link (can be used as rivet or clip master link)

60800037

The item is in stock and will be delivered in 2-5 working days. Note: Stocks are updated online every hour on working days from 7 a.m. to 8 p.m., so there is a good chance that the products are available if they appear online.

Available

€79.99 1
SAITO 520 X1R3 CHAIN KIT - GS500 E 94- 110/16/39

Important notes

Design: Chain with dual connecting link (can be used as rivet or clip master link)

60800038

The item is in stock and will be delivered in 2-5 working days. Note: Stocks are updated online every hour on working days from 7 a.m. to 8 p.m., so there is a good chance that the products are available if they appear online.

Available

€84.99 1
SAITO 520 X1R3 CHAIN KIT - KTM DUKE/RC 125 112/14/45

Important notes

Design: Chain with dual connecting link (can be used as rivet or clip master link)

60800054

The item is in stock and will be delivered in 2-5 working days. Note: Stocks are updated online every hour on working days from 7 a.m. to 8 p.m., so there is a good chance that the products are available if they appear online.

Available

€79.99 1
SAITO 520 X1R3 CHAIN KIT - VARIOUS MODELS 112/16/47

Important notes

Design: Chain with dual connecting link (can be used as rivet or clip master link)

60800053

The item is in stock and will be delivered in 2-5 working days. Note: Stocks are updated online every hour on working days from 7 a.m. to 8 p.m., so there is a good chance that the products are available if they appear online.

Available

€89.99 1
SAITO 520 X1R3 CHAIN KIT - VT125C 99-00 112/14/41

Important notes

Design: Chain with dual connecting link (can be used as rivet or clip master link)

60800022

The item is in stock and will be delivered in 2-5 working days. Note: Stocks are updated online every hour on working days from 7 a.m. to 8 p.m., so there is a good chance that the products are available if they appear online.

Available

€64.99 1
SAITO 520 X1R3 CHAIN KIT - XJ6 DIVER. 09- 118/16/46

Important notes

Design: Chain with dual connecting link (can be used as rivet or clip master link)

60800048

The item is in stock and will be delivered in 2-5 working days. Note: Stocks are updated online every hour on working days from 7 a.m. to 8 p.m., so there is a good chance that the products are available if they appear online.

Available

€79.99 1
SAITO 520 X1R3 CHAIN KIT - XJ600S/N 91- 110/16/48

Important notes

Design: Chain with dual connecting link (can be used as rivet or clip master link)

60800047

The item is in stock and will be delivered in 2-5 working days. Note: Stocks are updated online every hour on working days from 7 a.m. to 8 p.m., so there is a good chance that the products are available if they appear online.

Available

€89.99 1
SAITO 520 X1R3 CHAIN KIT - XL125 VARADERO 110/14/44

Important notes

Design: Chain with dual connecting link (can be used as rivet or clip master link)

60800020

The item is in stock and will be delivered in 2-5 working days. Note: Stocks are updated online every hour on working days from 7 a.m. to 8 p.m., so there is a good chance that the products are available if they appear online.

Available

€79.99 1
SAITO 520 X1R3 CHAIN KIT - XT 660 04- 110/15/45

Important notes

Design: Chain with dual connecting link (can be used as rivet or clip master link)

60800050

The item is in stock and will be delivered in 2-5 working days. Note: Stocks are updated online every hour on working days from 7 a.m. to 8 p.m., so there is a good chance that the products are available if they appear online.

Available

€84.99 1
SAITO 520 X1R3 CHAIN KIT - XT600E 90- 106/15/45

Important notes

Design: Chain with dual connecting link (can be used as rivet or clip master link)

60800049

The item is in stock and will be delivered in 2-5 working days. Note: Stocks are updated online every hour on working days from 7 a.m. to 8 p.m., so there is a good chance that the products are available if they appear online.

Available

€84.99 1
SAITO 520 X1R3 CHAIN KIT - Z 750 04- 112/15/43

Important notes

Design: Chain with dual connecting link (can be used as rivet or clip master link)

60800035

The item is in stock and will be delivered in 2-5 working days. Note: Stocks are updated online every hour on working days from 7 a.m. to 8 p.m., so there is a good chance that the products are available if they appear online.

Available

€69.99 1
SAITO 525 X1R CHAIN SET - CB/CBR600F 2007-118/16/43

Important notes

Design: Chain with hollow-rivet link

60800007

The item is in stock and will be delivered in 2-5 working days. Note: Stocks are updated online every hour on working days from 7 a.m. to 8 p.m., so there is a good chance that the products are available if they appear online.

Available

Please remember that "Last chance" items can sell out fast, especially when the price has been slashed and the clothes sizes you are looking for are popular. "Last chance" items may no longer be available in all Louis stores!

€99.99

1 €79.99 1
SAITO 525 X1R CHAIN SET - CB750 1992- 112/15/40

Important notes

Design: Chain with hollow-rivet link

60800013

The item is in stock and will be delivered in 2-5 working days. Note: Stocks are updated online every hour on working days from 7 a.m. to 8 p.m., so there is a good chance that the products are available if they appear online.

Available

Please remember that "Last chance" items can sell out fast, especially when the price has been slashed and the clothes sizes you are looking for are popular. "Last chance" items may no longer be available in all Louis stores!

€99.99

1 €79.99 1
SAITO 525 X1R CHAIN SET - CBR600RR 03-06 112/16/42

Important notes

Design: Chain with hollow-rivet link

60800009

The item is in stock and will be delivered in 2-5 working days. Note: Stocks are updated online every hour on working days from 7 a.m. to 8 p.m., so there is a good chance that the products are available if they appear online.

Available

Please remember that "Last chance" items can sell out fast, especially when the price has been slashed and the clothes sizes you are looking for are popular. "Last chance" items may no longer be available in all Louis stores!

€89.99

1 €49.99 1
SAITO 525 X1R CHAIN SET - DL650V-ST.04-06 116/15/47

Important notes

Design: Chain with hollow-rivet link

60800204

The item is in stock and will be delivered in 2-5 working days. Note: Stocks are updated online every hour on working days from 7 a.m. to 8 p.m., so there is a good chance that the products are available if they appear online.

Available

Please remember that "Last chance" items can sell out fast, especially when the price has been slashed and the clothes sizes you are looking for are popular. "Last chance" items may no longer be available in all Louis stores!

€89.99

1 €69.99 1
SAITO 525 X1R CHAIN SET - DL650V-STR. 07- 118/15/47

Important notes

Design: Chain with hollow-rivet link

60800205

The item is in stock and will be delivered in 2-5 working days. Note: Stocks are updated online every hour on working days from 7 a.m. to 8 p.m., so there is a good chance that the products are available if they appear online.

Available

Please remember that "Last chance" items can sell out fast, especially when the price has been slashed and the clothes sizes you are looking for are popular. "Last chance" items may no longer be available in all Louis stores!

€99.99

1 €79.99 1
SAITO 525 X1R CHAIN SET - F800GS/ABS 09- 116/16/42

Important notes

Design: Chain with hollow-rivet link

60800401

The item is in stock and will be delivered in 2-5 working days. Note: Stocks are updated online every hour on working days from 7 a.m. to 8 p.m., so there is a good chance that the products are available if they appear online.

Available

Please remember that "Last chance" items can sell out fast, especially when the price has been slashed and the clothes sizes you are looking for are popular. "Last chance" items may no longer be available in all Louis stores!

€89.99

1 €69.99 1
SAITO 525 X1R CHAIN SET - GSR600 2006- 114/16/48

Important notes

Design: Chain with hollow-rivet link

60800202

The item is in stock and will be delivered in 2-5 working days. Note: Stocks are updated online every hour on working days from 7 a.m. to 8 p.m., so there is a good chance that the products are available if they appear online.

Available

Please remember that "Last chance" items can sell out fast, especially when the price has been slashed and the clothes sizes you are looking for are popular. "Last chance" items may no longer be available in all Louis stores!

€99.99

1 €79.99 1
SAITO 525 X1R CHAIN SET - GSX-R600 01-05 110/16/45

Important notes

Design: Chain with hollow-rivet link

60800203

The item is in stock and will be delivered in 2-5 working days. Note: Stocks are updated online every hour on working days from 7 a.m. to 8 p.m., so there is a good chance that the products are available if they appear online.

Available

Please remember that "Last chance" items can sell out fast, especially when the price has been slashed and the clothes sizes you are looking for are popular. "Last chance" items may no longer be available in all Louis stores!

€89.99

1 €69.99 1
SAITO 525 X1R CHAIN SET - GSX-R750 06-10 116/17/45

Important notes

Design: Chain with hollow-rivet link

60800209

The item is in stock and will be delivered in 2-5 working days. Note: Stocks are updated online every hour on working days from 7 a.m. to 8 p.m., so there is a good chance that the products are available if they appear online.

Available

Please remember that "Last chance" items can sell out fast, especially when the price has been slashed and the clothes sizes you are looking for are popular. "Last chance" items may no longer be available in all Louis stores!

€109.99

1 €59.99 1
SAITO 525 X1R CHAIN SET - XRV750 1993- 124/16/45

Important notes

Design: Chain with hollow-rivet link

60800014

The item is in stock and will be delivered in 2-5 working days. Note: Stocks are updated online every hour on working days from 7 a.m. to 8 p.m., so there is a good chance that the products are available if they appear online.

Available

Please remember that "Last chance" items can sell out fast, especially when the price has been slashed and the clothes sizes you are looking for are popular. "Last chance" items may no longer be available in all Louis stores!

€89.99

1 €79.99 1
SAITO 525 X1R3 CHAIN KIT - CB500 94- 108/15/40

Important notes

Design: Chain with hollow-rivet link

60800023

The item is in stock and will be delivered in 2-5 working days. Note: Stocks are updated online every hour on working days from 7 a.m. to 8 p.m., so there is a good chance that the products are available if they appear online.

Available

€94.99 1
SAITO 525 X1R3 CHAIN KIT - ZR-7/S 99- 108/16/38

Important notes

Design: Chain with hollow-rivet link

60800036

The item is in stock and will be delivered in 2-5 working days. Note: Stocks are updated online every hour on working days from 7 a.m. to 8 p.m., so there is a good chance that the products are available if they appear online.

Available

€89.99 1
SAITO 525 X1R3 CHAIN SET - CB/CBR 600F 07- 118/16/43

Important notes

Design: Chain with hollow-rivet link

60800025

The item is in stock and will be delivered in 2-5 working days. Note: Stocks are updated online every hour on working days from 7 a.m. to 8 p.m., so there is a good chance that the products are available if they appear online.

Available

€99.99 1
SAITO 525 X1R3 CHAIN SET - CB600F 98-06 110/15/42

Important notes

Design: Chain with hollow-rivet link

60800024

The item is in stock and will be delivered in 2-5 working days. Note: Stocks are updated online every hour on working days from 7 a.m. to 8 p.m., so there is a good chance that the products are available if they appear online.

Available

€99.99 1
SAITO 525 X1R3 CHAIN SET - CB750 92- 112/15/40

Important notes

Design: Chain with hollow-rivet link

60800031

The item is in stock and will be delivered in 2-5 working days. Note: Stocks are updated online every hour on working days from 7 a.m. to 8 p.m., so there is a good chance that the products are available if they appear online.

Available

€99.99 1
SAITO 525 X1R3 CHAIN SET - CBF 600 04-07 116/15/43

Important notes

Design: Chain with hollow-rivet link

60800026

The item is in stock and will be delivered in 2-5 working days. Note: Stocks are updated online every hour on working days from 7 a.m. to 8 p.m., so there is a good chance that the products are available if they appear online.

Available

€99.99

1 €69.99 1
SAITO 525 X1R3 CHAIN SET - CBR600 RR 03-06 112/16/42

Important notes

Design: Chain with hollow-rivet link

60800027

The item is in stock and will be delivered in 2-5 working days. Note: Stocks are updated online every hour on working days from 7 a.m. to 8 p.m., so there is a good chance that the products are available if they appear online.

Available

€89.99 1
SAITO 525 X1R3 CHAIN SET - DL 650V-STR.07- 118/15/47

Important notes

Design: Chain with hollow-rivet link

60800042

The item is in stock and will be delivered in 2-5 working days. Note: Stocks are updated online every hour on working days from 7 a.m. to 8 p.m., so there is a good chance that the products are available if they appear online.

Available

€99.99 1
SAITO 525 X1R3 CHAIN SET - DL650V-ST.04-06 116/15/47

Important notes

Design: Chain with hollow-rivet link

60800041

The item is in stock and will be delivered in 2-5 working days. Note: Stocks are updated online every hour on working days from 7 a.m. to 8 p.m., so there is a good chance that the products are available if they appear online.

Available

€89.99 1
SAITO 525 X1R3 CHAIN SET - F800 GS/ABS 09- 116/16/42

Important notes

Design: Chain with hollow-rivet link

60800052

The item is in stock and will be delivered in 2-5 working days. Note: Stocks are updated online every hour on working days from 7 a.m. to 8 p.m., so there is a good chance that the products are available if they appear online.

Available

€69.99 1
SAITO 525 X1R3 CHAIN SET - GSF/GSX650 07- 118/15/48

Important notes

Design: Chain with hollow-rivet link

60800043

The item is in stock and will be delivered in 2-5 working days. Note: Stocks are updated online every hour on working days from 7 a.m. to 8 p.m., so there is a good chance that the products are available if they appear online.

Available

€89.99 1
SAITO 525 X1R3 CHAIN SET - GSR 600 06- 114/16/48

Important notes

Design: Chain with hollow-rivet link

60800039

The item is in stock and will be delivered in 2-5 working days. Note: Stocks are updated online every hour on working days from 7 a.m. to 8 p.m., so there is a good chance that the products are available if they appear online.

Available

€99.99 1
SAITO 525 X1R3 CHAIN SET - GSX-R 600 01-05 110/16/45

Important notes

Design: Chain with hollow-rivet link

60800040

The item is in stock and will be delivered in 2-5 working days. Note: Stocks are updated online every hour on working days from 7 a.m. to 8 p.m., so there is a good chance that the products are available if they appear online.

Available

€79.99 1
SAITO 525 X1R3 CHAIN SET - GSX-R750 06-10 116/17/45

Important notes

Design: Chain with hollow-rivet link

60800046

The item is in stock and will be delivered in 2-5 working days. Note: Stocks are updated online every hour on working days from 7 a.m. to 8 p.m., so there is a good chance that the products are available if they appear online.

Available

€79.99 1
SAITO 525 X1R3 CHAIN SET - SV650 99- 110/15/45

Important notes

Design: Chain with hollow-rivet link

60800044

The item is in stock and will be delivered in 2-5 working days. Note: Stocks are updated online every hour on working days from 7 a.m. to 8 p.m., so there is a good chance that the products are available if they appear online.

Available

€94.99 1
SAITO 525 X1R3 CHAIN SET - SV650 S 99-06 108/15/44

Important notes

Design: Chain with hollow-rivet link

60800045

The item is in stock and will be delivered in 2-5 working days. Note: Stocks are updated online every hour on working days from 7 a.m. to 8 p.m., so there is a good chance that the products are available if they appear online.

Available

€94.99 1
SAITO 525 X1R3 CHAIN SET - VT600C 89- 120/16/44

Important notes

Design: Chain with hollow-rivet link

60800028

The item is in stock and will be delivered in 2-5 working days. Note: Stocks are updated online every hour on working days from 7 a.m. to 8 p.m., so there is a good chance that the products are available if they appear online.

Available

€99.99 1
SAITO 525 X1R3 CHAIN SET - XL600V/XL700 118/15/47

Important notes

Design: Chain with hollow-rivet link

60800029

The item is in stock and will be delivered in 2-5 working days. Note: Stocks are updated online every hour on working days from 7 a.m. to 8 p.m., so there is a good chance that the products are available if they appear online.

Available

€99.99 1
SAITO 525 X1R3 CHAIN SET - XL650TRANS. 00- 118/15/48

Important notes

Design: Chain with hollow-rivet link

60800030

The item is in stock and will be delivered in 2-5 working days. Note: Stocks are updated online every hour on working days from 7 a.m. to 8 p.m., so there is a good chance that the products are available if they appear online.

Available

€99.99 1
SAITO 525 X1R3 CHAIN SET - XRV750 93- 124/16/45

Important notes

Design: Chain with hollow-rivet link

60800032

The item is in stock and will be delivered in 2-5 working days. Note: Stocks are updated online every hour on working days from 7 a.m. to 8 p.m., so there is a good chance that the products are available if they appear online.

Available

€99.99 1
SAITO 525 Z3 CHAIN SET - XL1000 V 1999- 112/16/47

Important notes

Design: Chain with hollow-rivet link

60800015

The item is in stock and will be delivered in 2-5 working days. Note: Stocks are updated online every hour on working days from 7 a.m. to 8 p.m., so there is a good chance that the products are available if they appear online.

Available

€89.99 1
SAITO 525 Z3GS CHAIN SET - Z1000 2003-06 112/16/42

Important notes

Design: Chain with hollow-rivet link

Design: GS, outer plate = Gold, inner plate = Silver

60800104

The item is in stock and will be delivered in 2-5 working days. Note: Stocks are updated online every hour on working days from 7 a.m. to 8 p.m., so there is a good chance that the products are available if they appear online.

Available

€79.99 1
SAITO 530 X1R CHAIN SET - CBR600F 1991-96 108/15/43

Important notes

Design: Chain with hollow-rivet link

60800016

The item is in stock and will be delivered in 2-5 working days. Note: Stocks are updated online every hour on working days from 7 a.m. to 8 p.m., so there is a good chance that the products are available if they appear online.

Available

€99.99 1
SAITO 530 X1R CHAIN SET - FZ6/FAZER 2004- 118/16/46

Important notes

Design: Chain with hollow-rivet link

60800307

The item is in stock and will be delivered in 2-5 working days. Note: Stocks are updated online every hour on working days from 7 a.m. to 8 p.m., so there is a good chance that the products are available if they appear online.

Available

€114.99 1
SAITO 530 X1R CHAIN SET - FZS600 1998-03 110/15/48

Important notes

Design: Chain with hollow-rivet link

60800306

The item is in stock and will be delivered in 2-5 working days. Note: Stocks are updated online every hour on working days from 7 a.m. to 8 p.m., so there is a good chance that the products are available if they appear online.

Available

€99.99 1
SAITO 530 X1R CHAIN SET - GSF600 -1999 110/15/47

Important notes

Design: Chain with hollow-rivet link

60800210

The item is in stock and will be delivered in 2-5 working days. Note: Stocks are updated online every hour on working days from 7 a.m. to 8 p.m., so there is a good chance that the products are available if they appear online.

Available

€99.99 1
SAITO 530 X1R CHAIN SET - GSF600/650 2000-112/15/47

Important notes

Design: Chain with hollow-rivet link

60800211

The item is in stock and will be delivered in 2-5 working days. Note: Stocks are updated online every hour on working days from 7 a.m. to 8 p.m., so there is a good chance that the products are available if they appear online.

Available

€99.99 1
SAITO 530 X1R CHAIN SET - VFR750F 1990-97 112/16/43

Important notes

Design: Chain with hollow-rivet link

60800017

The item is in stock and will be delivered in 2-5 working days. Note: Stocks are updated online every hour on working days from 7 a.m. to 8 p.m., so there is a good chance that the products are available if they appear online.

Available

€79.99 1
SAITO 530 Z3 CHAIN KIT - CBF1000 2006-10 120/16/43

Important notes

Design: Chain with hollow-rivet link

60800018

The item is in stock and will be delivered in 2-5 working days. Note: Stocks are updated online every hour on working days from 7 a.m. to 8 p.m., so there is a good chance that the products are available if they appear online.

Available

€79.99 1
SAITO 530 Z3 CHAIN KIT - GSF1200 1995-05 110/15/45

Important notes

Design: Chain with hollow-rivet link

60800213

The item is in stock and will be delivered in 2-5 working days. Note: Stocks are updated online every hour on working days from 7 a.m. to 8 p.m., so there is a good chance that the products are available if they appear online.

Available

€99.99 1
SAITO 530 Z3 CHAIN SET - CBR1100XX 1997- 110/17/44

Important notes

Design: Chain with hollow-rivet link

60800019

The item is in stock and will be delivered in 2-5 working days. Note: Stocks are updated online every hour on working days from 7 a.m. to 8 p.m., so there is a good chance that the products are available if they appear online.

Available

€129.99 1
SAITO 530 Z3 CHAIN SET - GSX-R1000 01-06 110/17/42

Important notes

Design: Chain with hollow-rivet link

60800212

The item is in stock and will be delivered in 2-5 working days. Note: Stocks are updated online every hour on working days from 7 a.m. to 8 p.m., so there is a good chance that the products are available if they appear online.

Available

€119.99 1
SAITO 530 Z3GS CHAIN SET - GSF1250/S 2007- 118/18/43

Important notes

Design: Chain with hollow-rivet link

Design: GS, outer plate = Gold, inner plate = Silver

60800214

The item is in stock and will be delivered in 2-5 working days. Note: Stocks are updated online every hour on working days from 7 a.m. to 8 p.m., so there is a good chance that the products are available if they appear online.

Available

€149.99 1