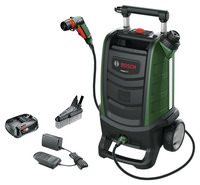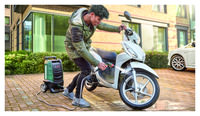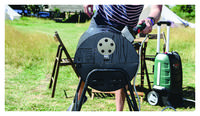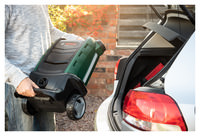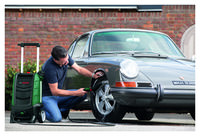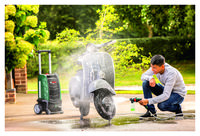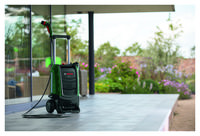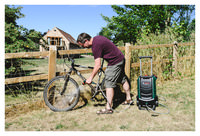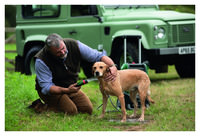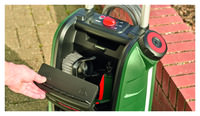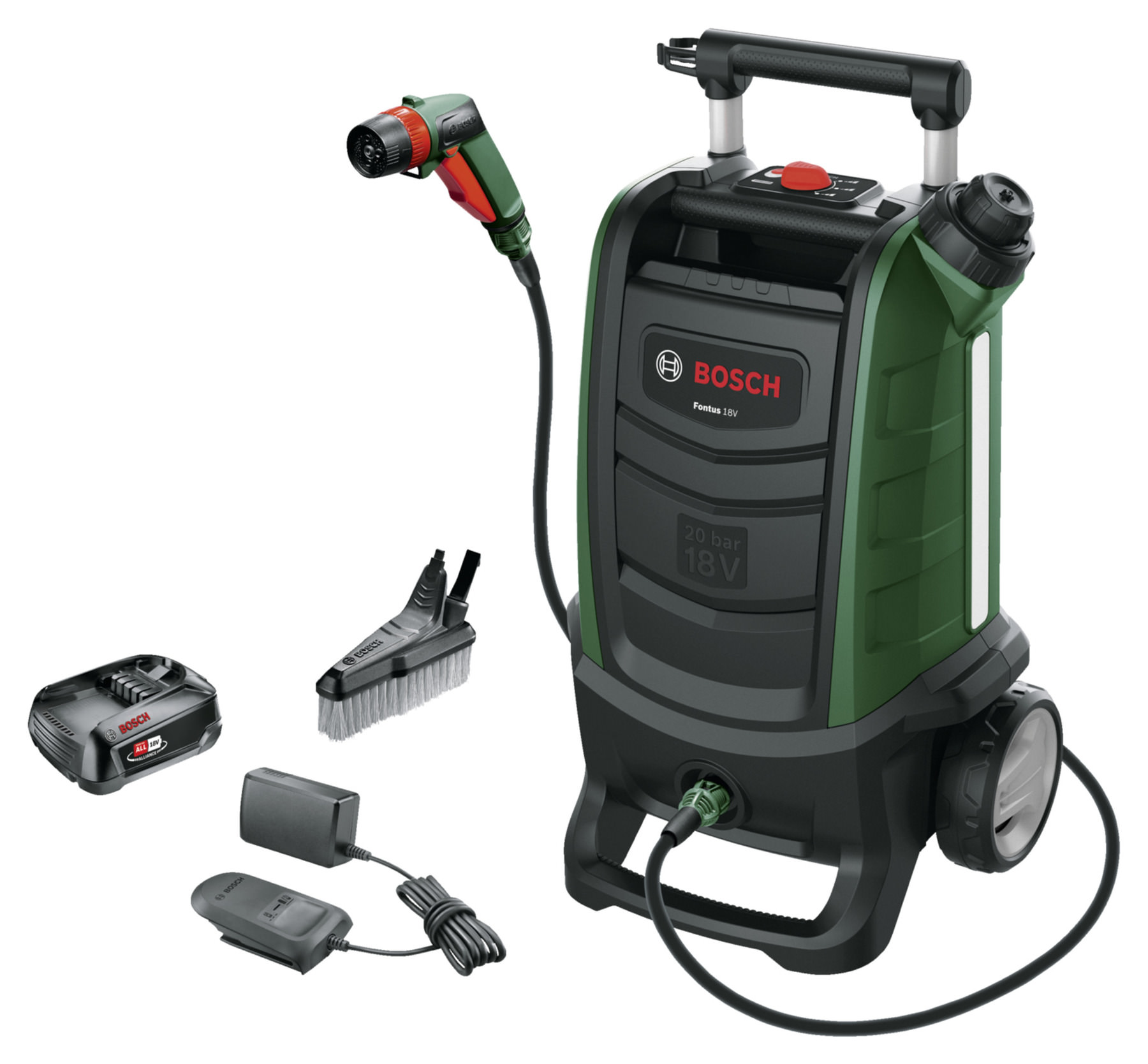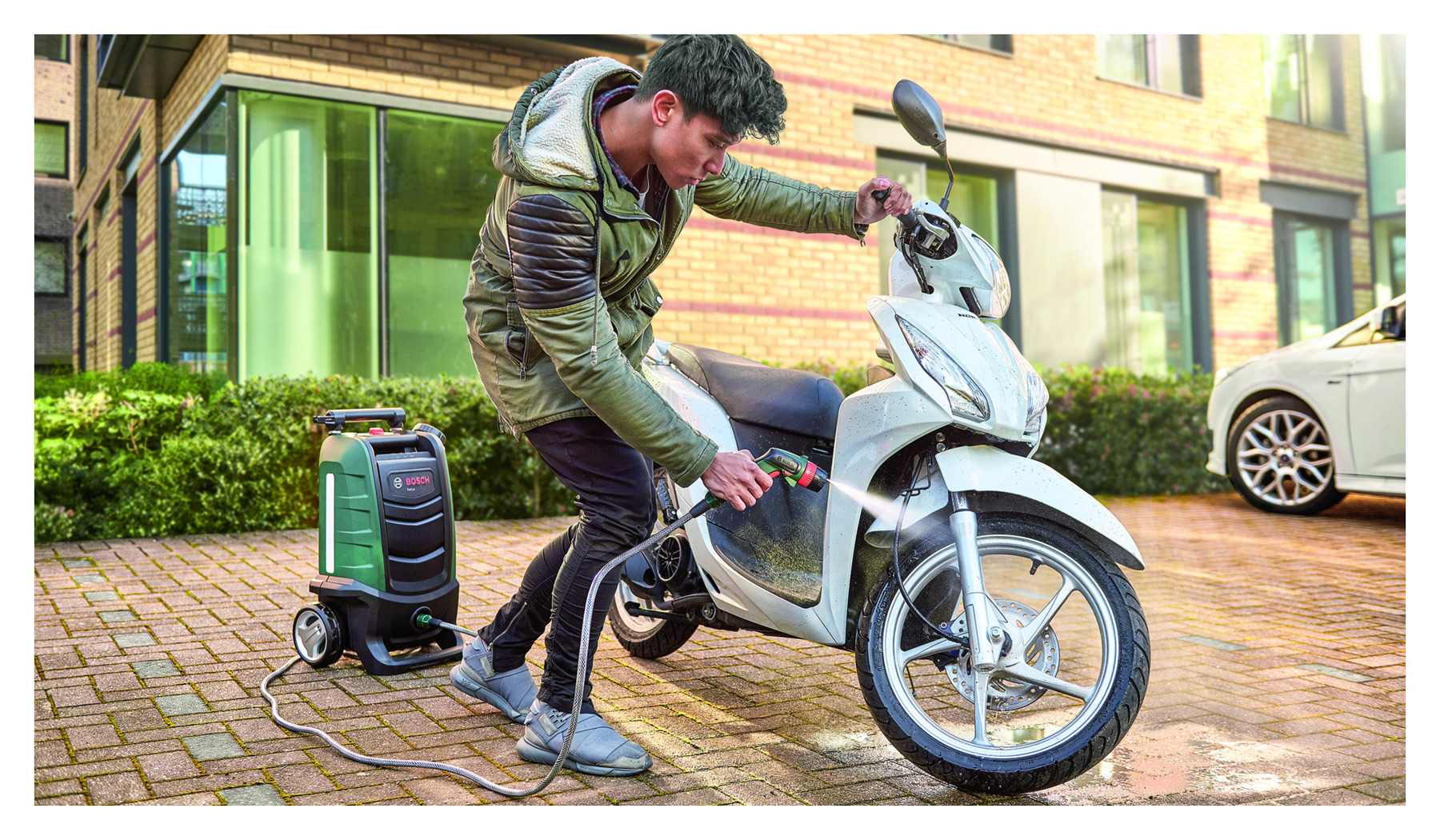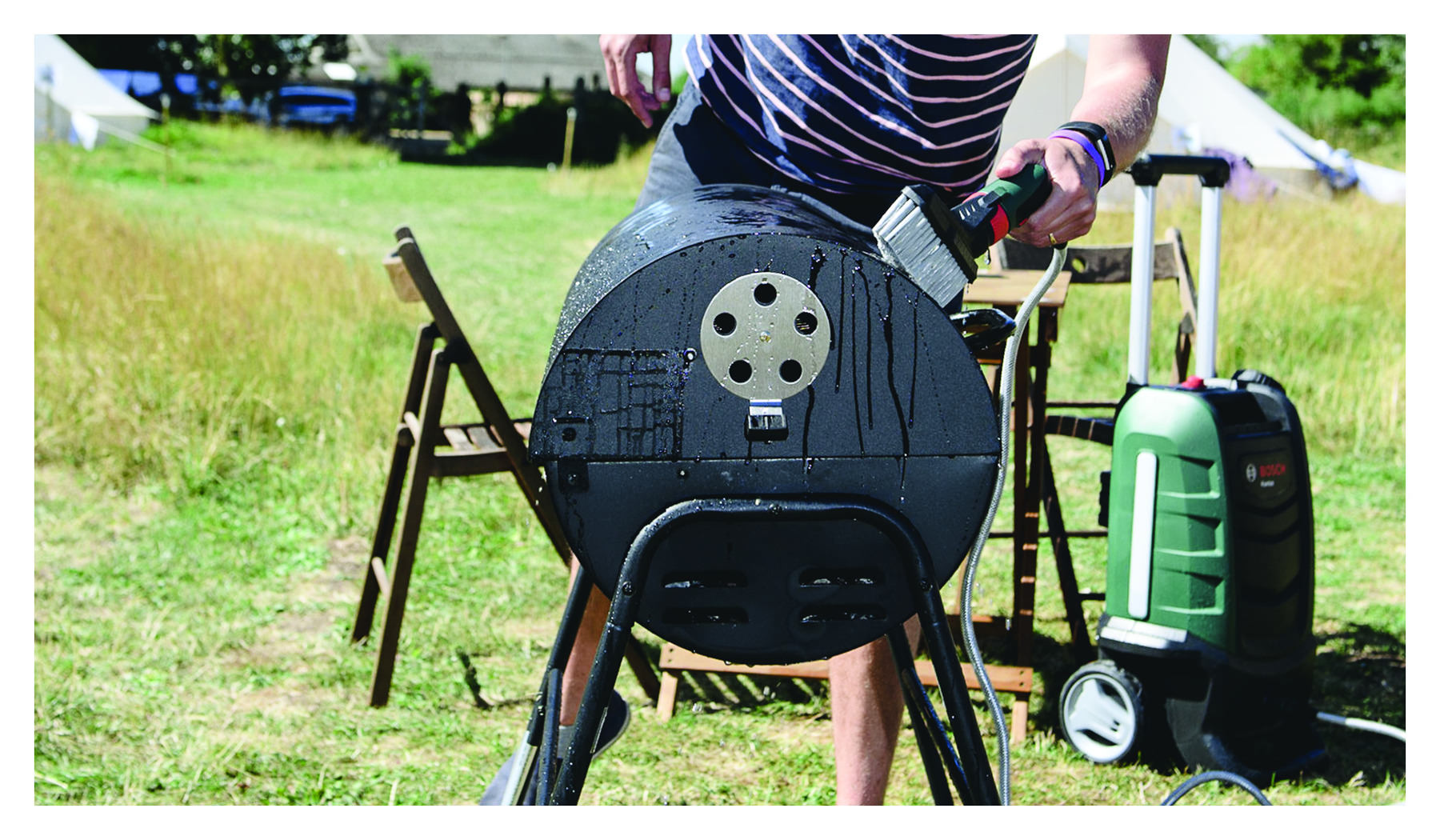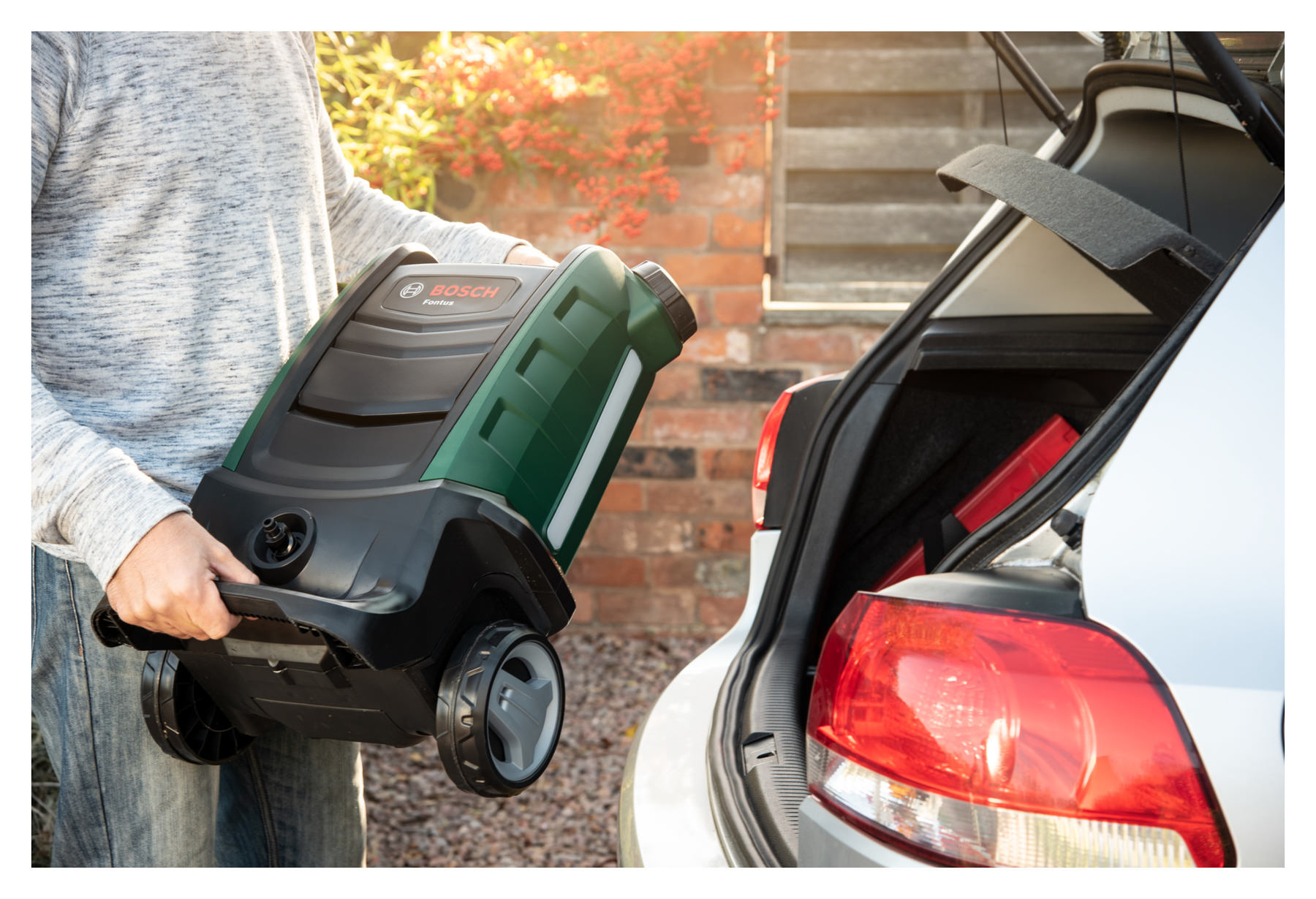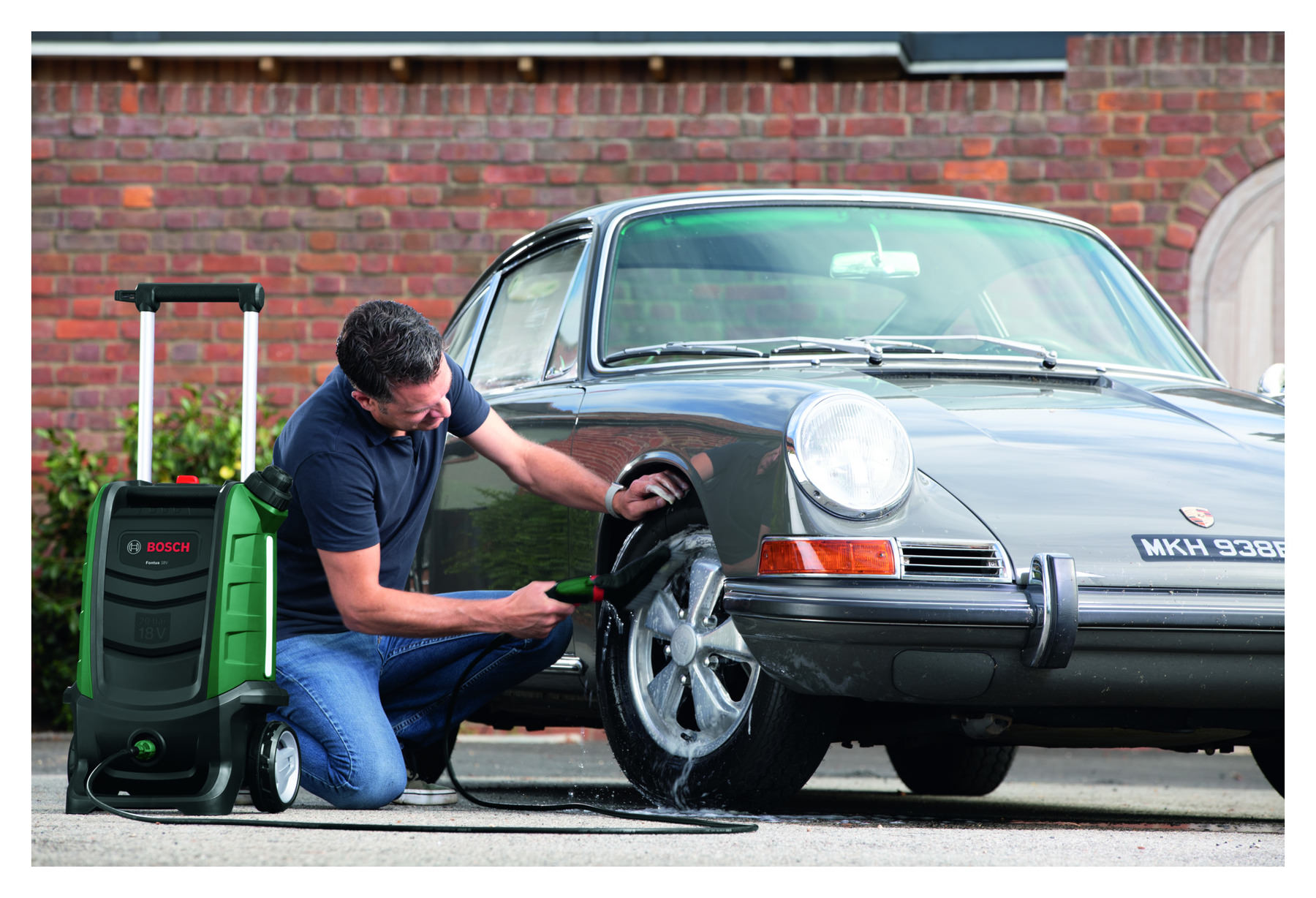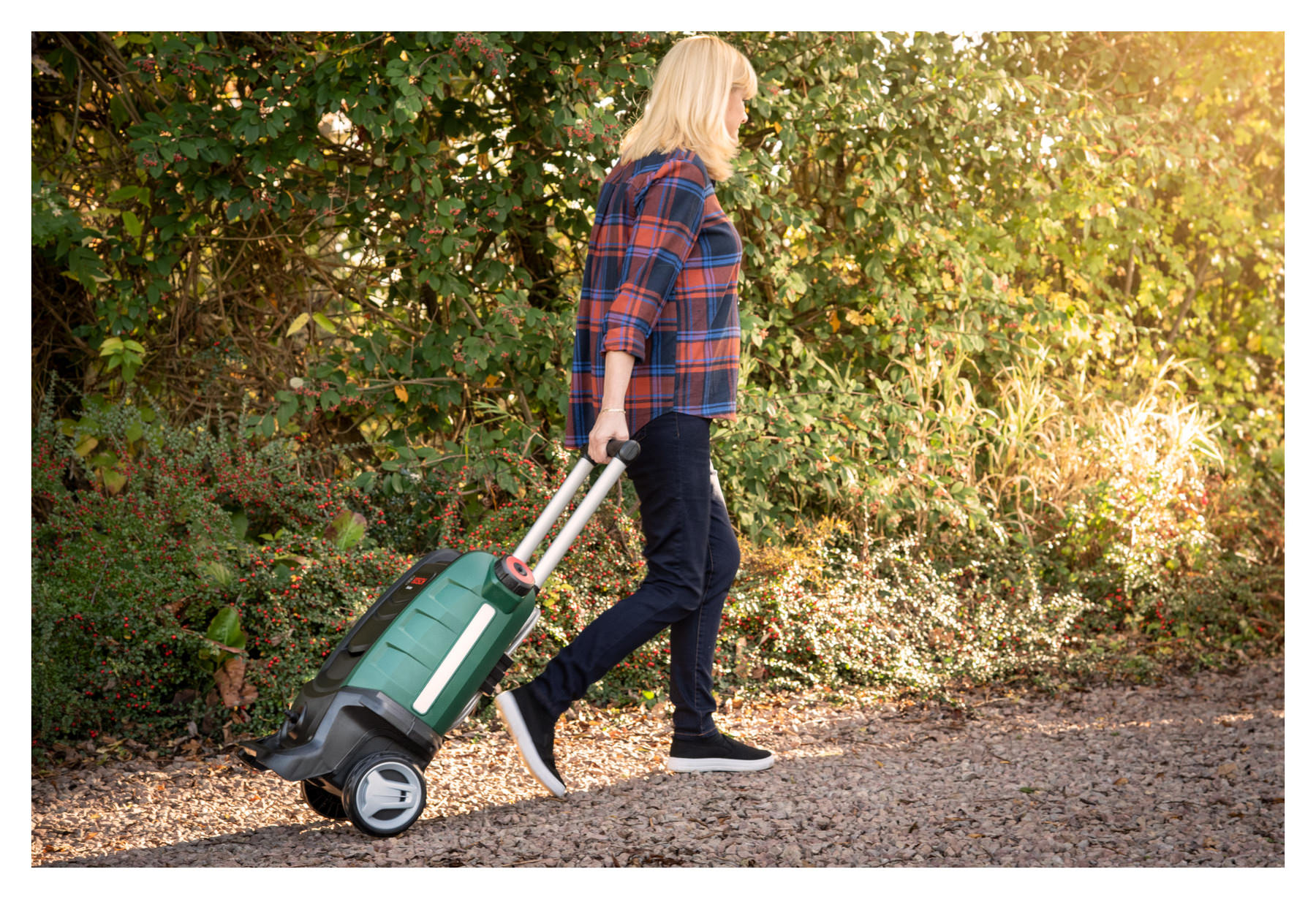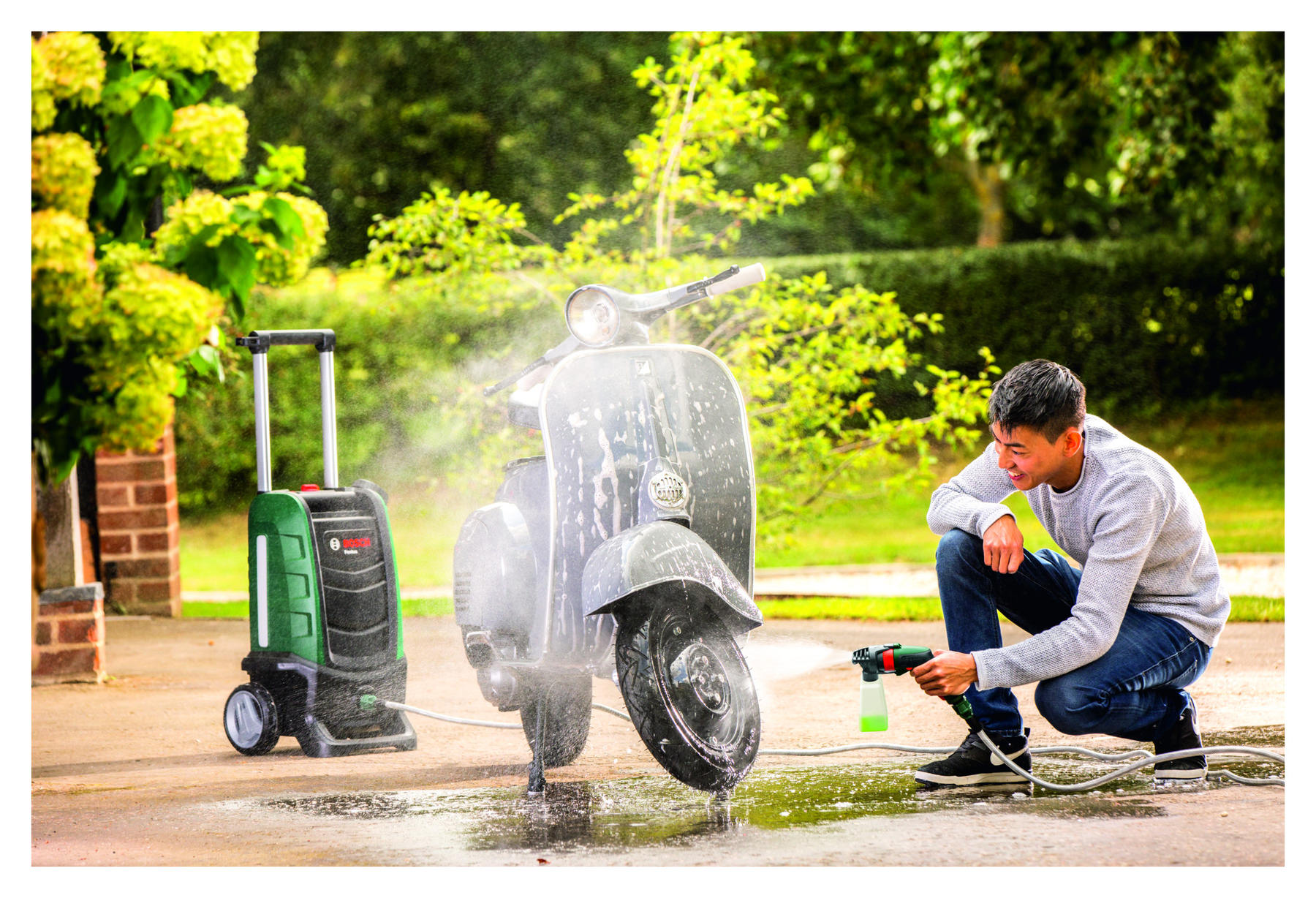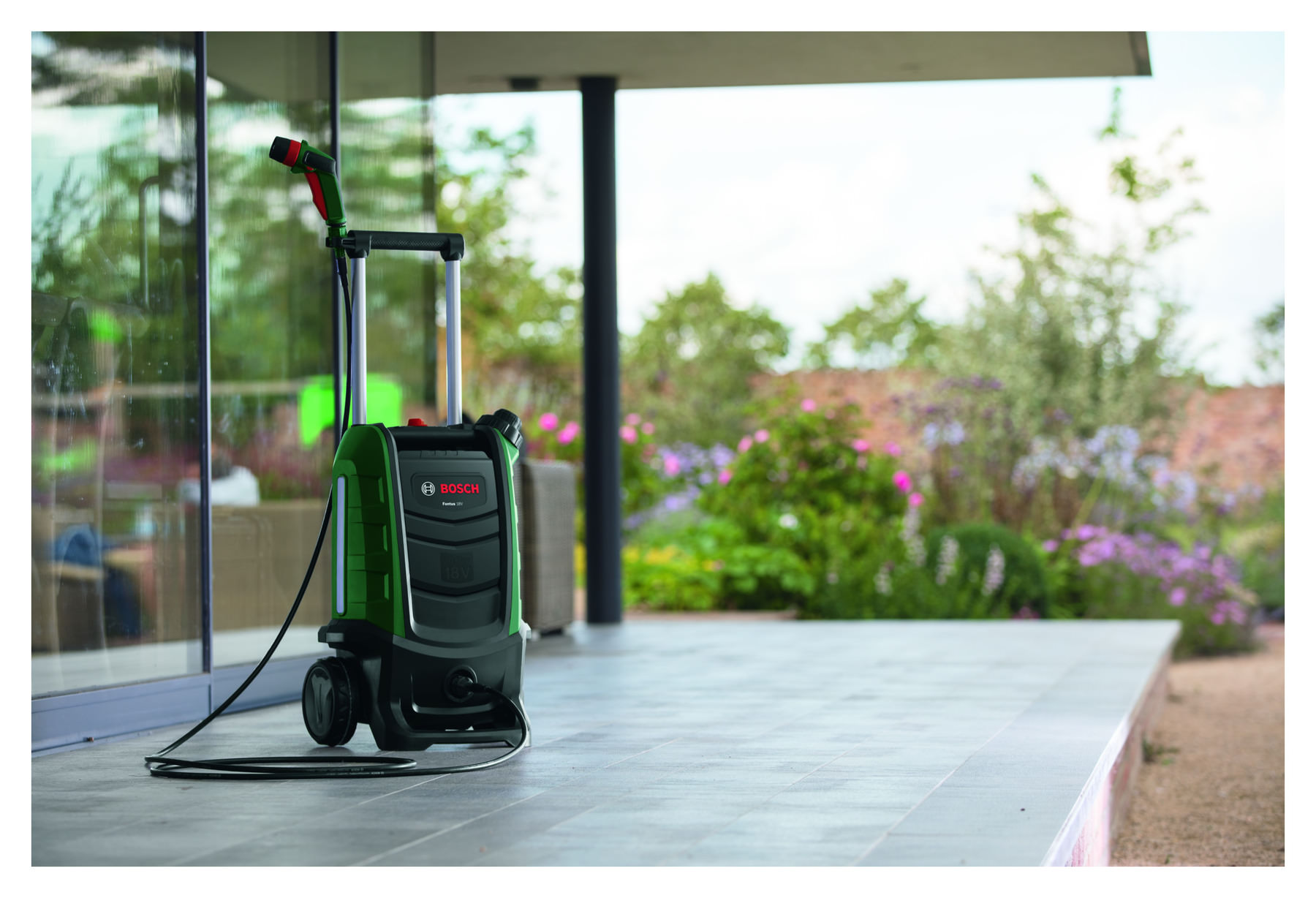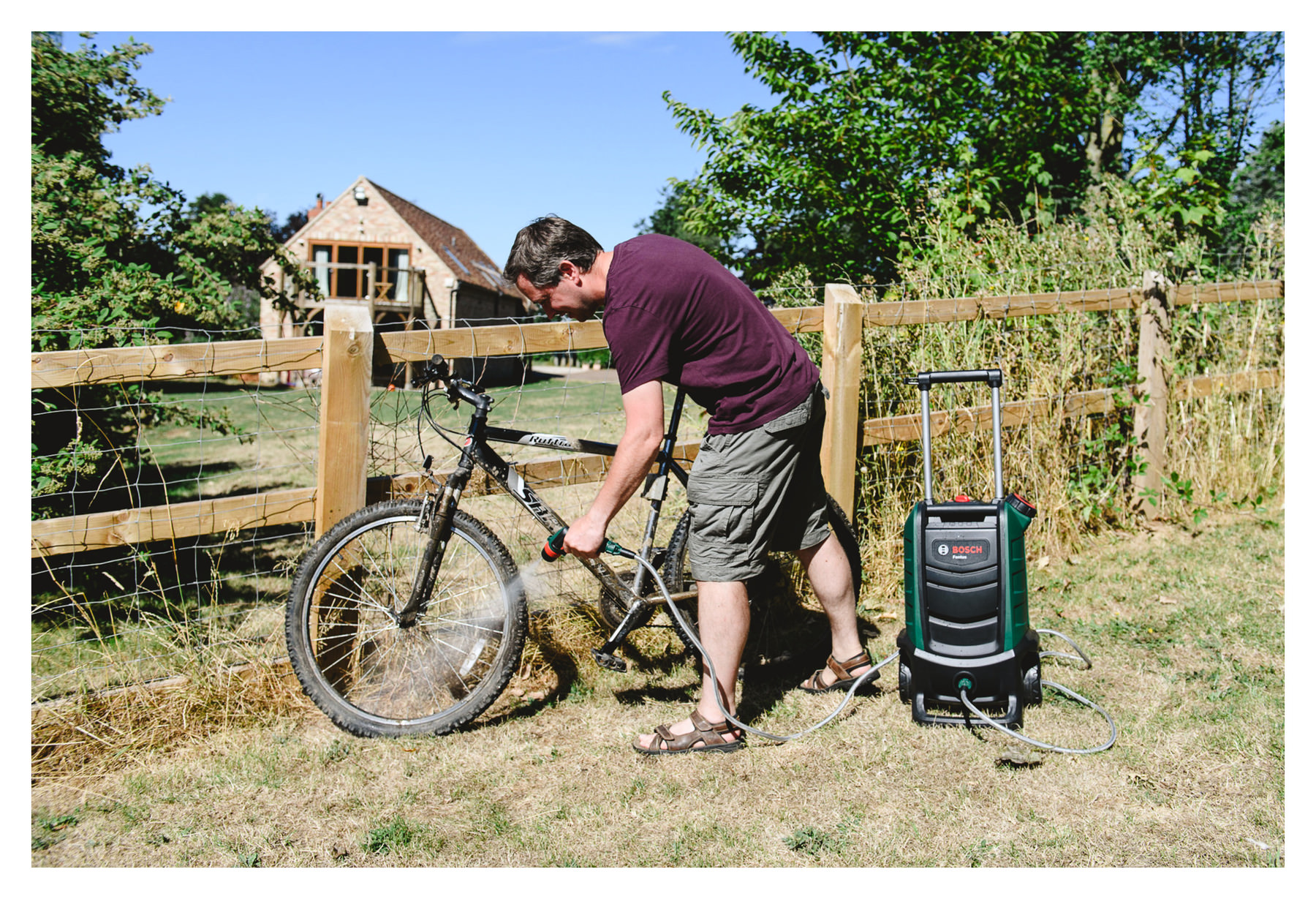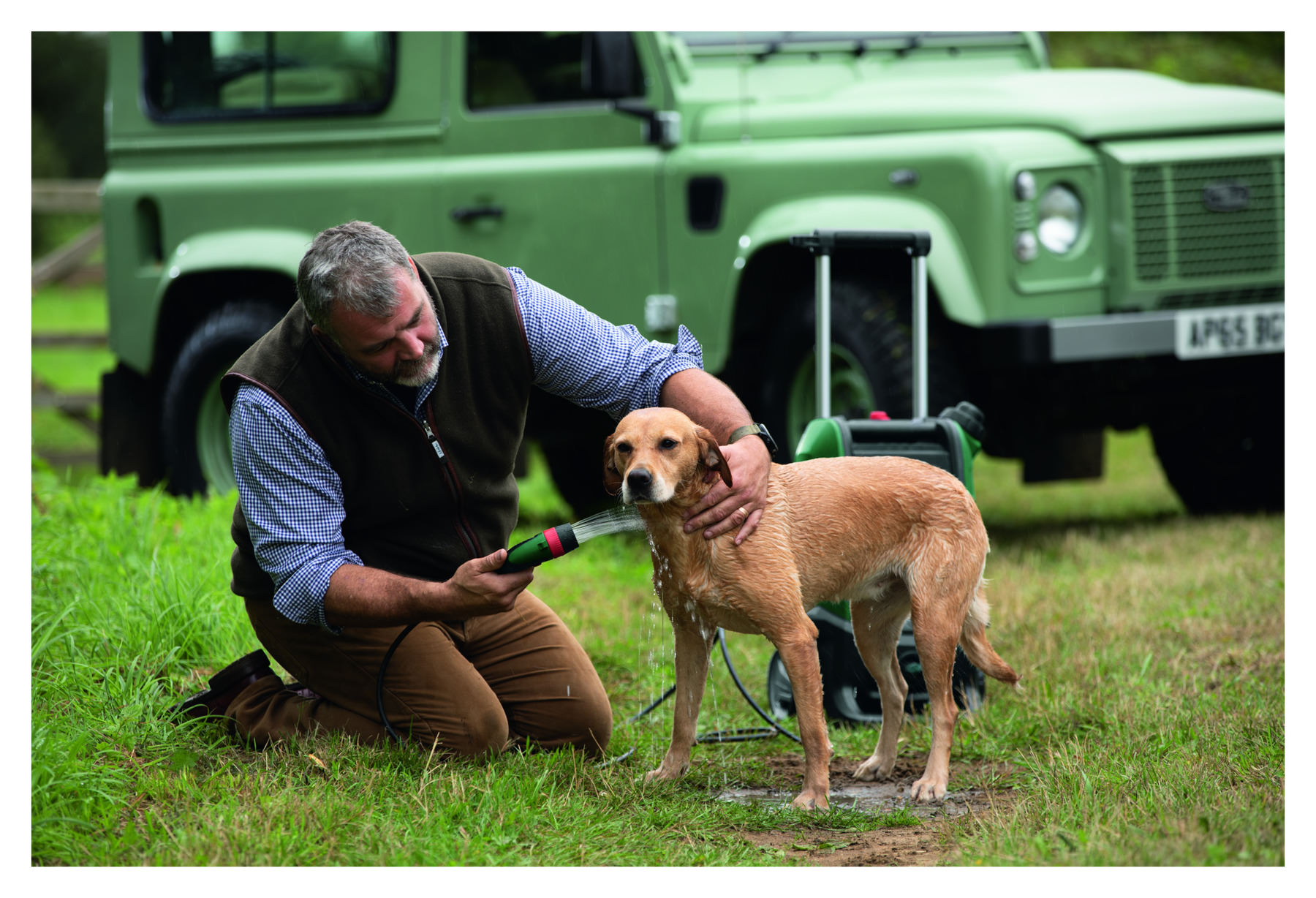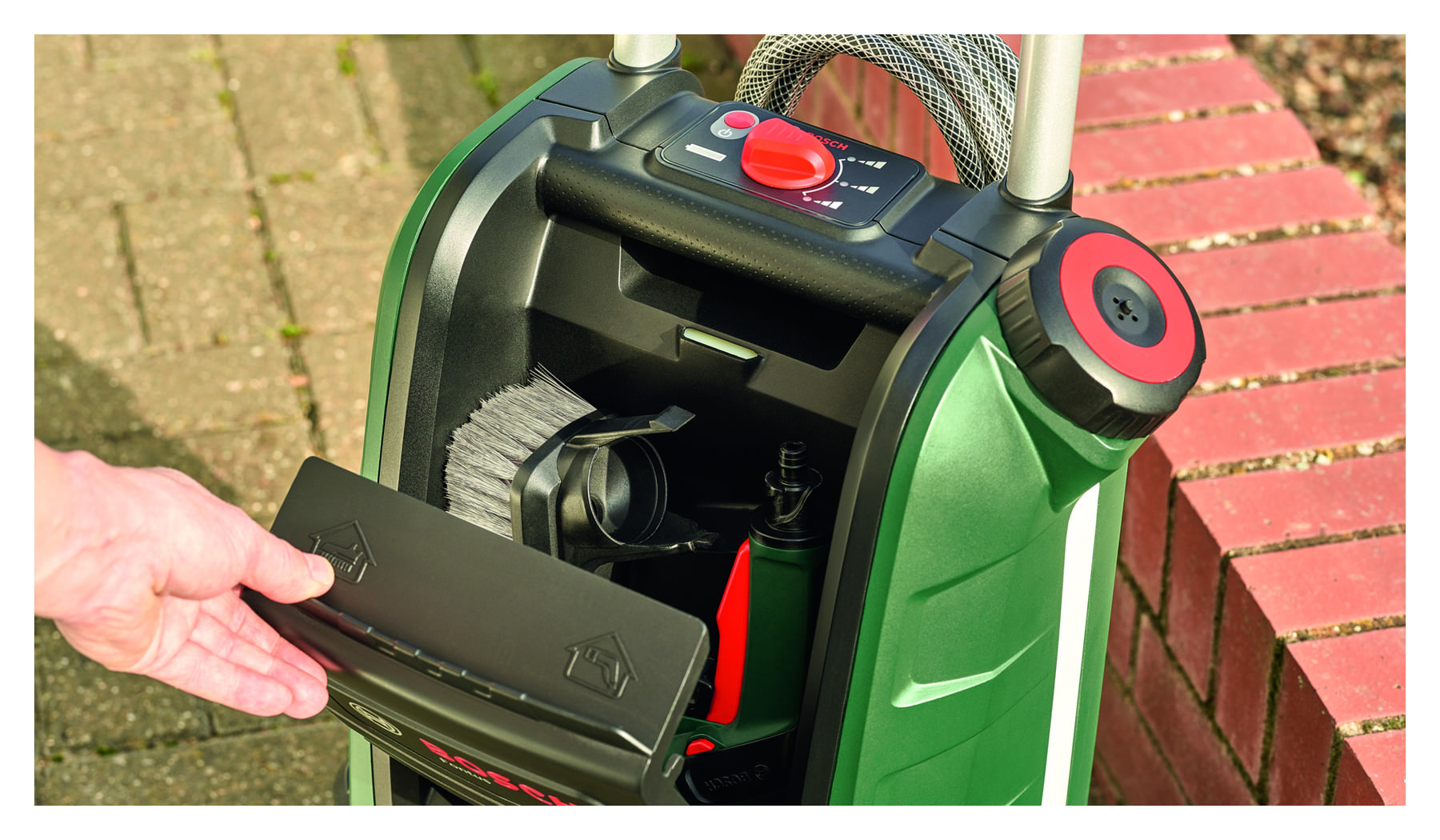 BOSCH CORDL. OUTD.CLEANER
BOSCH CORDL. OUTD.CLEANER
BOSCH CORDL. OUTD.CLEANER
GEN II CORDLESS 20BAR/15L
You have placed the following items in the shopping basket:
BOSCH CORDL. OUTD.CLEANER
GEN II CORDLESS 20BAR/15L
The Bosch *Fontus II* may look like a compact pressure washer, but it's not. In actual fact, the *Fontus II* is a portable cordless washer that operates at a low water pressure (up to 15 bar) - For comparison: the Bosch *Aquatak* boasts a mighty 100 bar.
The Bosch *Fontus* is perfect for light to medium-duty cleaning jobs on vehicles, around the house, in the garden, and even for when you're on the road. This is made possible by the integrated 15-litre water tank and 18V lithium-ion rechargeable battery. So you can take it with you wherever you go. Incredibly handy!
Useful features of the Bosch *Fontus II* include the adjustable water pressure and choice of four different spray patterns: Point jet for stubborn dirt, 15° fan jet for precision cleaning of smaller surfaces, 50° fan jet for rinsing larger areas and shower spray for gentle cleaning. The detachable SmartBrush is ideal for cleaning motorcycles, bicycles and windows. An integrated accessory storage compartment and in-use gun holder make even lighter work of cleaning jobs.
Portable cleaning for home or on the move, with no water or power supply required
Versatility provided by four different spray patterns, adjustable water pressure and SmartBrush
Telescopic handle and rugged wheels make the washer quick to set up and easy to manoeuvre
Ideal for cleaning and washing motorcycles, bicycles, garden furniture, plant pots, and even your dog
Max. pressure: 15 bar
Pressure settings: low, medium and turbo
Telescopic handle
Dimensions (H x W x D): approx. 645 x 395 x 320 mm
Tank capacity: 15 l
Hose length: 4 m
Weight (without accessories/water): 9.5 kg
Rechargeable battery *PBA 18V 2.5Ah W-B*:
Battery voltage: 18 V
Battery capacity: 2.5 Ah
Battery run time: up to 60 mins
Battery charging time: 154 mins
What's included:
Bosch *Fontus* Outdoor Cleaner
Spray gun
SmartBrush
4 m hose
Water filter
Battery *PBA 18 V 2.5 Ah W-B*
Charger *AL 1815 CV*
WEEE-Reg.Nr.: DE 85857082
Manufacturer details: Bosch
Power tools for the motorbike workshop
Robert Bosch founded his factory for precision mechanics and electrical engineering in Stuttgart in 1886. Today, Bosch is a global company and is one of the firms that have decisively shaped the concept of quality "made in Germany". The Swabian claim "we can do everything except speak German" could have been invented by Bosch. In any case, there is hardly anything that Bosch doesn't invent and optimise. For example, the electric tools for use around the motorbike. They are available in two product lines, depending on the requirements, which can be recognised by the colours of the housings:
Green is the DIY line from Bosch, perfect for the hobby garage.
Here, the range extends from universal cordless drills to mobile high-pressure cleaners with their own water tank and battery power.
Blue is the Bosch professional line for tough, continuous use.
It's the stuff that makes mechatronics happy, no matter if it' s a work light, an angle grinder, a hot air blower or an industrial hoover.
All Bosch power tools have one thing in common: Bosch simply makes screwing more fun.
The ratings will be available to you again soon.
+400 brands
2-year right of return
Fast delivery
Worldwide shipping