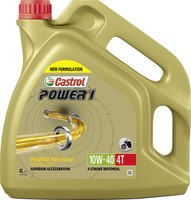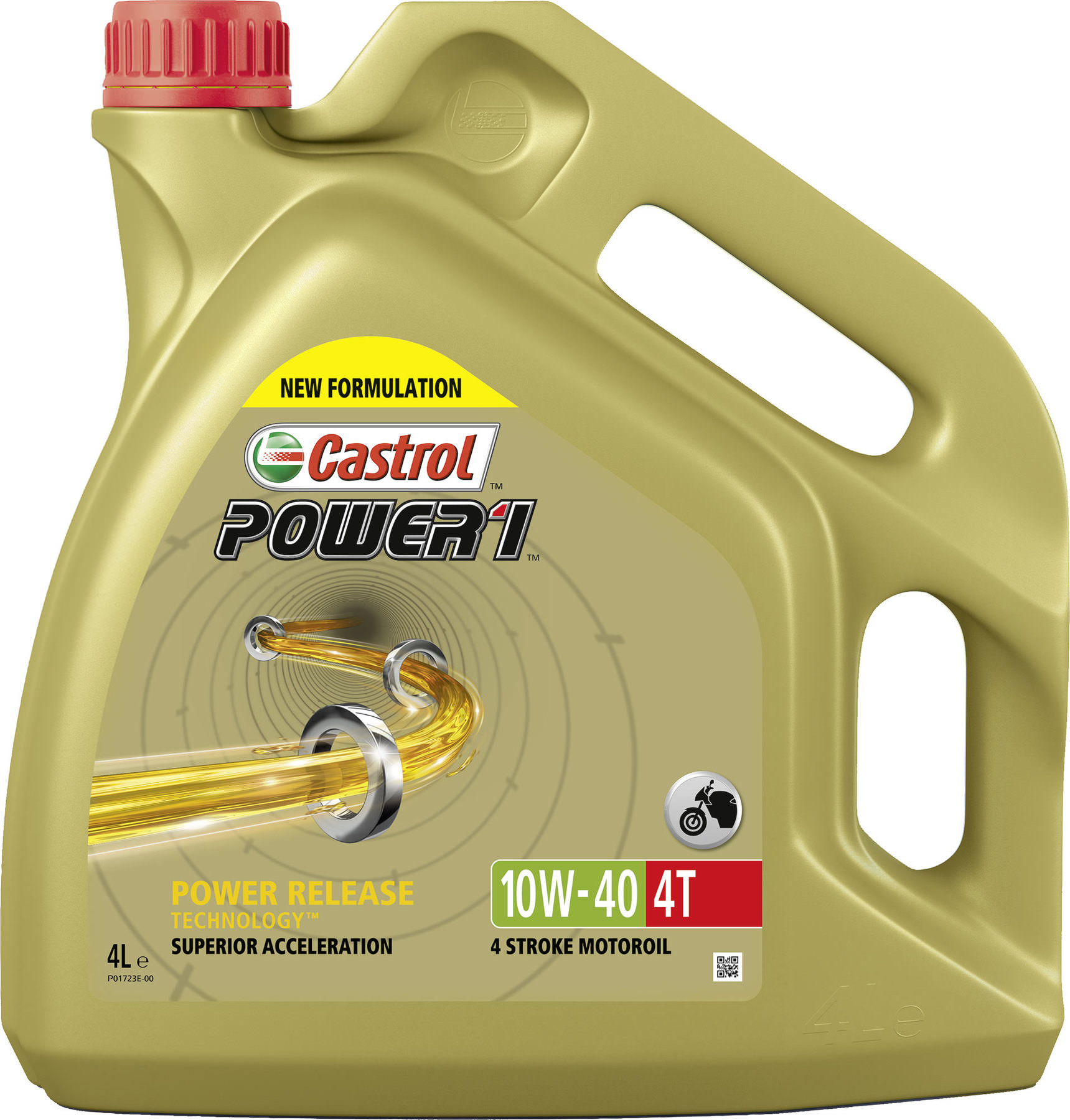 Castrol Power1 4T Engine Oil
HC synthesis
You have placed the following items in the shopping basket:
Castrol Power1 4T Engine Oil
HC synthesis
Castrol Power 1 4T 10W-40, with the specifications "Exceeds API SN, JASO MA-2", is an HC-Synthetic engine oil for modern 4-stroke motorcycles.
Features:
Exceeds API SN, JASO MA-2
Ensures fast build-up of the lubricating film
Reduces internal friction losses
Combined protection for engine, transmission and wet clutch provided by Castrol Trizone Technology
Available in 1 l and 4 l canisters.
What are HC-synthetic engine oils?
In the field of semi-synthetic oils, engine oils with HC-synthetic components are currently at the forefront of oil technology. These oils are manufactured by the catalytic hydrocracking process, and they have the following enhanced qualities:
Excellent clutch compatibility
Improved cold flow properties
Improved thermal and chemical stability
Faster lubrication of the engine after starting
Considerably enhanced engine cleanliness
Engine components are given more effective all-round protection
Good to know:
All 1-litre Castrol plastic canisters have an integrated pouring aid to prevent spillage and drips. So everything stays clean!
Manufacturer details: Castrol

Engine oils, lubricants and care products

Castrol products enjoy an excellent reputation worldwide. Motorcyclists in particular appreciate the high quality of the oils, lubricants and care products developed especially for them. Castrol relies on intensive research and extensive testing, whether chain spray, fork oil or fully synthetic engine oil. The most extreme tests take place not least in racing - and have done so for more than 100 years. Nothing better than Castrol can happen to your motorbike.

CASTROL TRIZONE TECHNOLOGY IS THE 21ST CENTURY SOLUTION FOR 4-STROKE MOTORCYCLE OILS. CASTROL 4-STROKE OILS, DEVELOPED WITH TRIZONE TECHNOLOGY, OFFER THE NECESSARY PROTECTION TO GET THE BEST OUT OF YOUR MOTORBIKE.

In contrast with car engines, 4-stroke motorbike engines have a very compact oil system in which engine, clutch and transmission are combined and use the same oil. With a car engine, these three areas are separate, and different oils are used for engine and transmission. The ideal 4-stroke motorcycle oil has to fulfil the widely differing requirements of all three areas of the motorbike: engine, clutch and transmission.
The ratings will be available to you again soon.
Issue 15-2013
"Motorrad" magazine tested twelve engine oils in its 15-2013 issue. Castrol Power 1 Racing 4T SAE 10W40 was rated VERY GOOD and voted Test Winner. The following features were given special mention:

- Modern additive formulation
- Lowest ash content in the test
- Low sulphur content

(Nine out of twelve oils tested were rated "Very Good", and two Best Buys were awarded)
+400 brands
2-year right of return
Fast delivery
Worldwide shipping