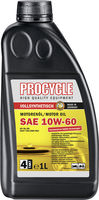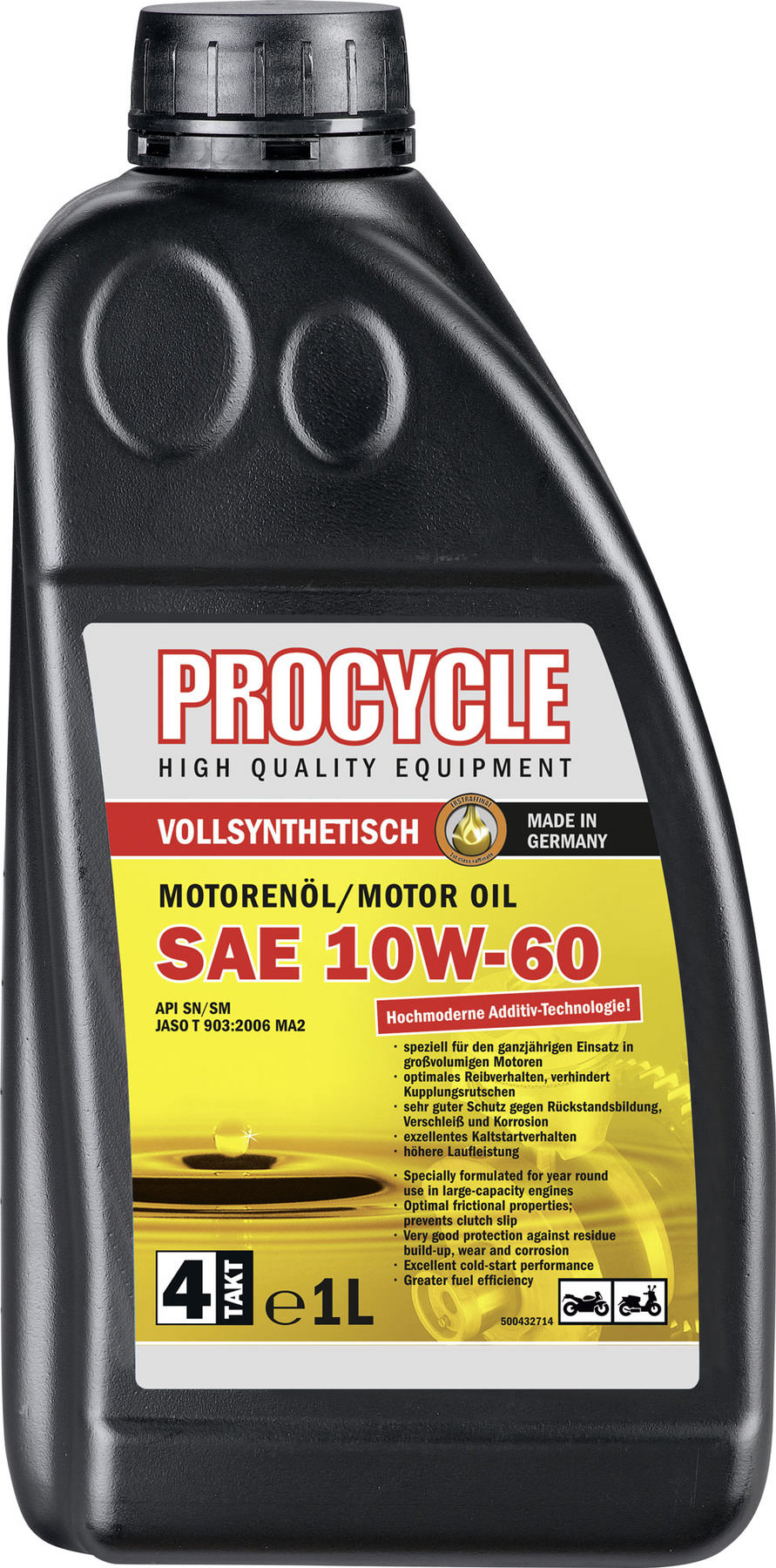 PROCYCLE 4-STR.ENGINE OIL
PROCYCLE 4-STR.ENGINE OIL
PROCYCLE 4-STR.ENGINE OIL
FULLY SYNTH.,SAE10W-60,1L
You have placed the following items in the shopping basket:
PROCYCLE 4-STR.ENGINE OIL
FULLY SYNTH.,SAE10W-60,1L
Procycle 10W-60 Fully Synthetic Engine Oil, with API SN/SM (exceeds API SC to SL) and JASO T 903:2006 MA2 specifications, is a fuel-efficient multigrade oil formulated with synthetic base oils. This oil is ideal for all-season use in large-displacement engines .
Properties:

API SN/SM (exceeds API SC to SL), JASO T 903:2006 MA2
Optimal frictional properties; prevents clutch slip
Very good protection against residue build-up, wear and corrosion
Excellent cold-start properties, extremely reliable high-performance capability
Available in 1 l and 4 l canisters.
Good to know:
The 4-litre canister has an integrated funnel for easy and clean filling.
Contains calcium sulfonate. May produce an allergic reaction.
Manufacturer details: Procycle
Best care for the most beautiful hobby!

Engine, transmission and fork oils, additives, cleaning and care products: At PROCYCLE, you'll find everything your motorbike needs for a long service life. And whether youre purchasing lubricants or any of our other products, you can be sure of one thing: We exclusively sell high-quality ingredients from renowned German branded manufacturers. But how can PROCYCLE offer its products at such sensationally low prices, you ask? It's simple, really: At PROCYCLE we consistently refrain from using expensive sponsoring and advertising campaigns, and instead rely on the recommendation of well-known trade magazines and satisfied customers.
The ratings will be available to you again soon.
+400 brands
2-year right of return
Fast delivery
Worldwide shipping