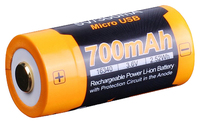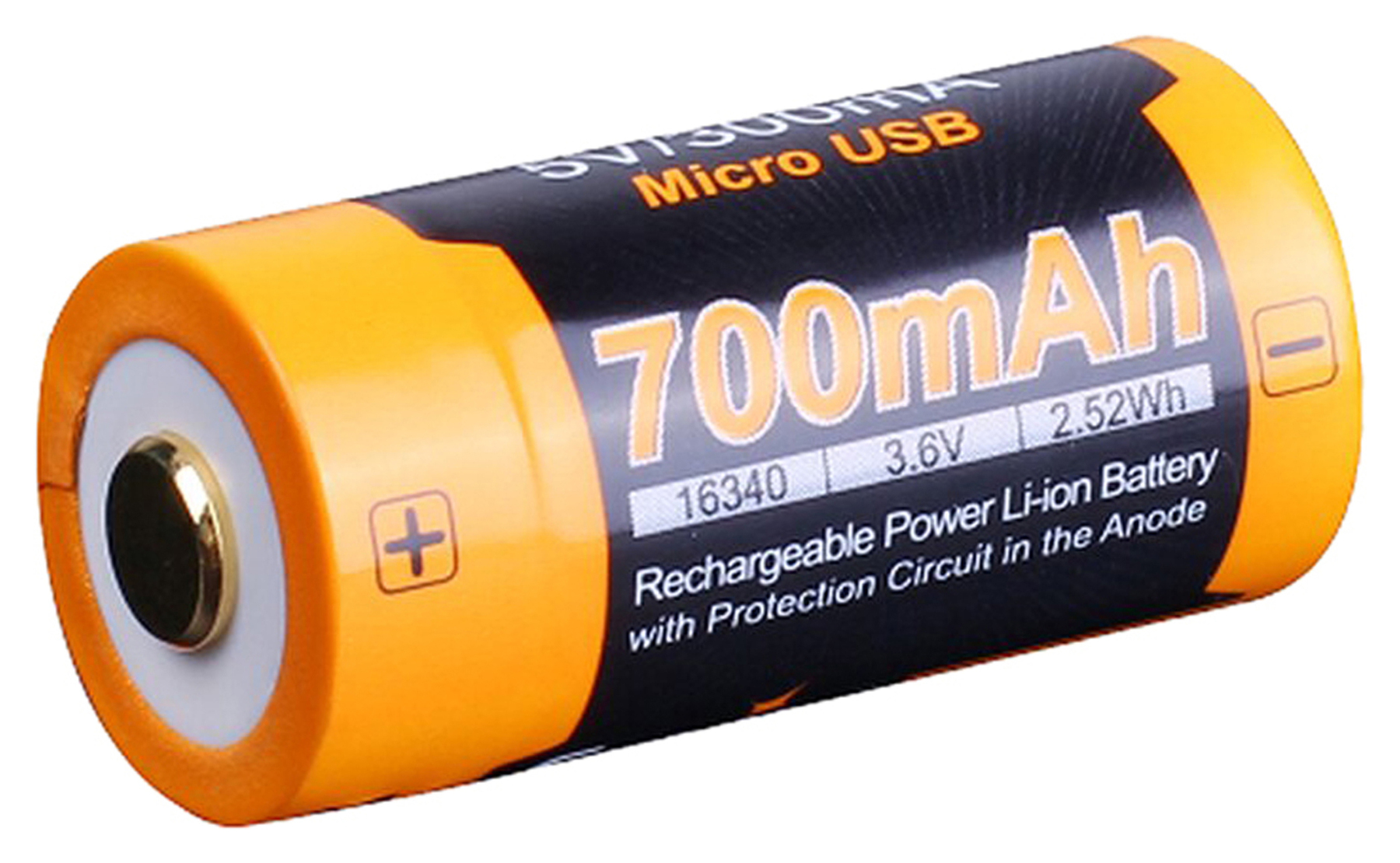 FENIX LI-ION BATT. 16340
ARB-L16-70 3,7V/700MAH
You have placed the following items in the shopping basket:
FENIX LI-ION BATT. 16340
ARB-L16-70 3,7V/700MAH
Although some latest-generation flashlights can operate with CR123A batteries, they only deliver a fraction of their full performance and burn time. To get the most out of your flashlight, you need to use high-performance lithium-ion batteries, such as the protected 16340 rechargeable battery with a capacity of 700 mAh/3.7 V. A suitable charger is required for recharging this type of battery, see "Compatible Products".
3.6 Volts / 700 mAh
Protected against overcharging, deep discharge, overcurrents and short-circuits
Replaces a 3 V CR123A battery in suitable devices
Comprises: 1 battery
IMPORTANT!
This Li-ion battery is not a general replacement for CR123A batteries. It must only be used in suitable devices for which it is specifically approved. Unsuitable devices will be seriously damaged, and there is also a danger of explosion and fire.

Please observe the following safety instructions when using this high-performance lithium-ion battery:
Only use suitable chargers, see "Compatible Products"
Do not expose batteries to heat sources or throw them into water
Ensure that the (+) and (-) terminals are the correct way round when you insert the battery
When not in use, the battery should be recharged approximately every 3 months to maintain maximum performance
Keep out of reach of children
Only use Li-ion batteries of the same type, capacity and manufacturer together, never intermix!
Manufacturer details: Fenix

High-tech LED Lamps

High-tech outdoor, hand and work lamps are the speciality of the manufacturer Fenix, whose products are now used in over 100 countries worldwide. Fenix lamps satisfy the highest requirements and are used successfully by emergency medical services, the military, police, industry, security services, outdoor and extreme athletes, or simply for everyday use. The range features everything from tiny, but amazingly bright LED flashlights through to high power hand-held torches with a lumen output of several thousand. All products are manufactured with high precision according to the state of the art (water-resistant to IPX-8 and Impact Resistant), offer maximum reliability and have an extremely user-friendly design.
Write a review for FENIX LI-ION BATT. 16340
We offer you the opportunity to rate products purchased from Louis and to share your experiences with them publicly.

To ensure that your objective and truthful report will be really beneficial to all readers, please observe the following rules.


Please only rate products that you have personally used for their intended purpose.
Please give reasons for your positive and negative criticisms. Only then will they benefit other customers and allow us to improve the product if necessary.
Please don't copy content that has already been published elsewhere. It's your personal experience which counts.
Data protection: Please don't include your own and other people's addresses, telephone numbers or URLs or even the names of third parties (people as well as companies) in your review.
In your product review, please don't make comparisons with third party product ranges. Regardless of whether you judge these positively or negatively, you, or we as operators of this online shop, would be violating competition law.
Fair play: Please follow these rules so that we don't have to shorten or delete your rating.
Your product rating has been saved. It will be displayed in a few minutes
Your previous input will be lost!
Do you really want to cancel your entry?
+400 brands
2-year right of return
Fast delivery
Worldwide shipping