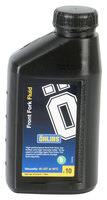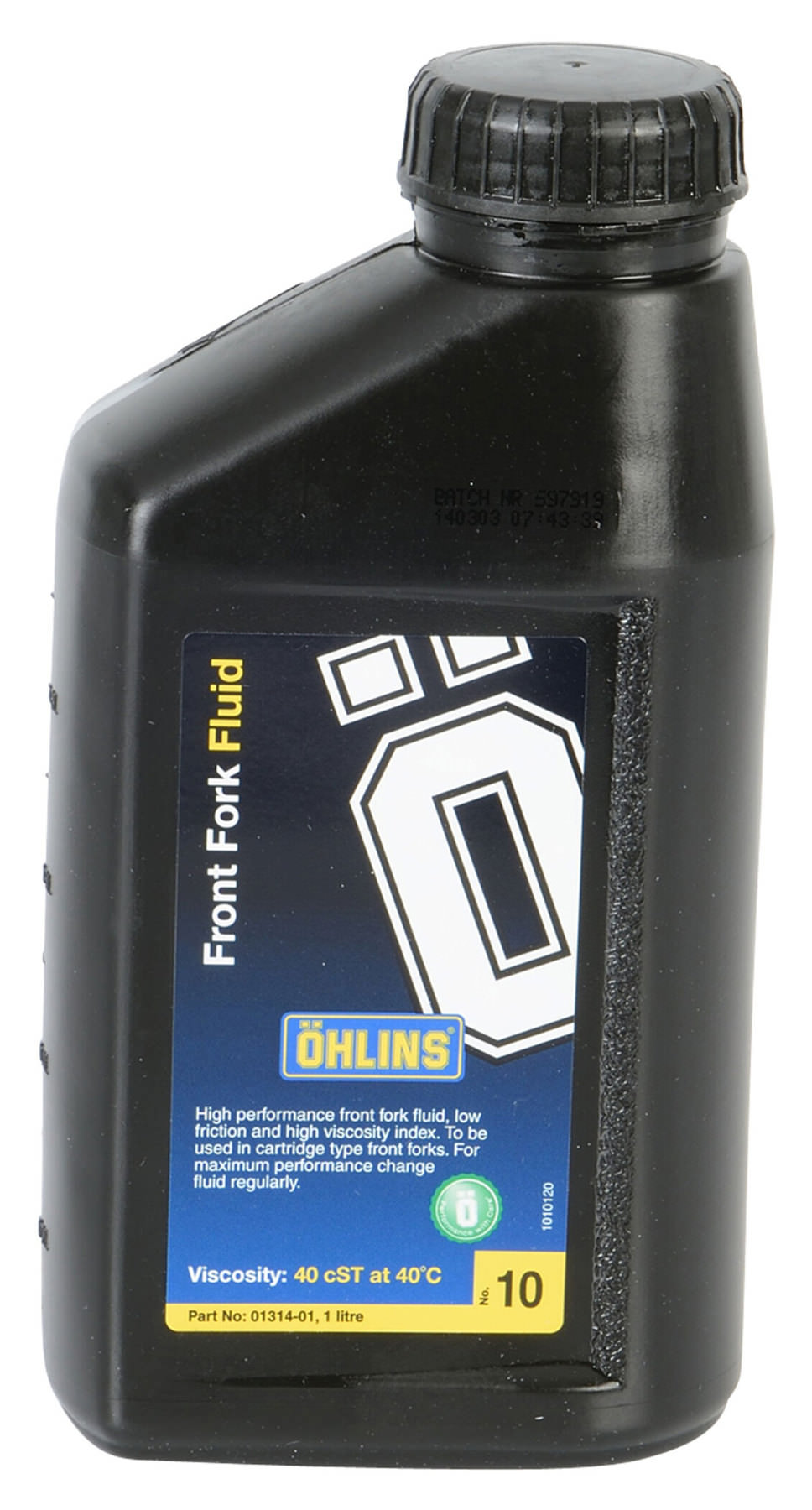 OEHLINS FORK OIL #10
20W SYNTHETIC, 1000 ML
You have placed the following items in the shopping basket:
OEHLINS FORK OIL #10
20W SYNTHETIC, 1000 ML
Öhlins has developed high-quality oils for its shock absorbers, forks, cartridges and springs. They include a range of fork oils which will increase the performance of original telescopic and upside down forks. The different viscosities available make it possible to select the most suitable oil.
What distinguishes Öhlins fork oil from conventional oils is that it reduces friction, stays cleaner, has a long service life, and is highly resistant to foaming (known as cavitation).

Together with the fork springs from Öhlins, a considerable improvement in the responsiveness and performance of an original fork can be achieved. Contains: 1000 ml.

R&T: Fork oil with a viscosity of 19.0 centistokes at 40° Celsius (similar SAE 7.5 W)
#5: Fork oil with a viscosity of 20.0 centistokes at 40° Celsius (similar SAE 7.5 W)
#10: Fork oil with a viscosity of 40.0 centistokes at 40° Celsius (similar SAE 20 W)
#20: Fork oil with a viscosity of 98.0 centistokes at 40° Celsius (similar SAE 40 W)
Manufacturer details: Öhlins

ÖHLINS - Advanced Suspension Technology

Back in 1970, a young man by the name of Kenth Öhlin was passionate about and heavily involved in motocross. Now, Kenth was an observent fellow and one thing in particular struck him: motocross bikes had more power than their chassis could handle. He soon realised that a chassis could be greatly improved with better suspension components and began designing and constructing his ideal shock absorber. Today, the ÖHLINS firm is a leader in high-performance, suspension components for motorbikes, cars, ATVs and snow mobiles. Indeed, Öhlins' suspension components are an integral part of motorsport, its past, present and future.
Write a review for OEHLINS FORK OIL #10
We offer you the opportunity to rate products purchased from Louis and to share your experiences with them publicly.

To ensure that your objective and truthful report will be really beneficial to all readers, please observe the following rules.


Please only rate products that you have personally used for their intended purpose.
Please give reasons for your positive and negative criticisms. Only then will they benefit other customers and allow us to improve the product if necessary.
Please don't copy content that has already been published elsewhere. It's your personal experience which counts.
Data protection: Please don't include your own and other people's addresses, telephone numbers or URLs or even the names of third parties (people as well as companies) in your review.
In your product review, please don't make comparisons with third party product ranges. Regardless of whether you judge these positively or negatively, you, or we as operators of this online shop, would be violating competition law.
Fair play: Please follow these rules so that we don't have to shorten or delete your rating.
Your product rating has been saved. It will be displayed in a few minutes
Your previous input will be lost!
Do you really want to cancel your entry?
+400 brands
2-year right of return
Fast delivery
Worldwide shipping