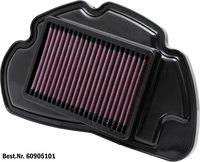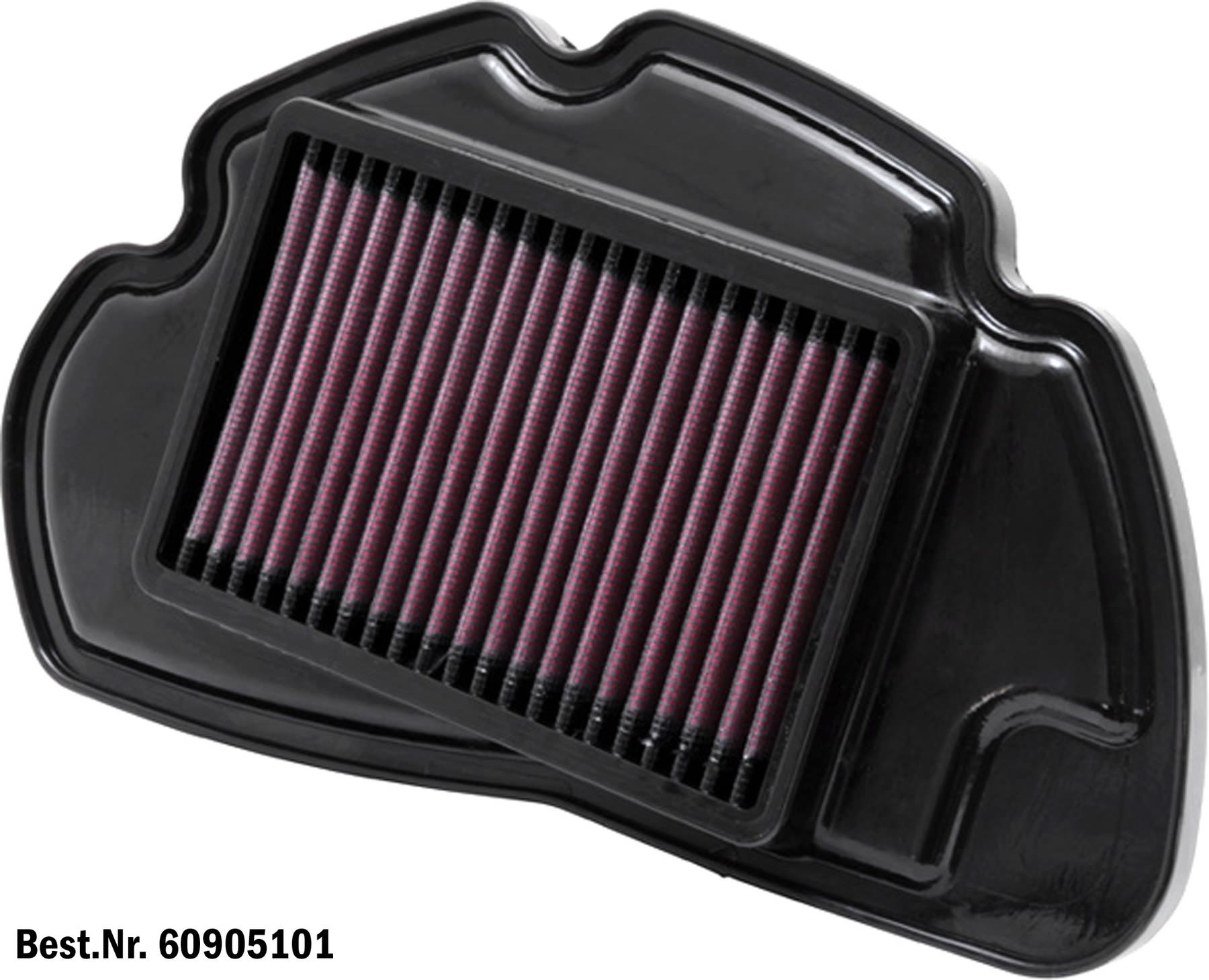 K&N AIRFILTER HA-1211
PCX125 10-12
The item is in stock and will be delivered in 2-4 working days. Note: Stocks are updated online every hour on working days from 7 a.m. to 8 p.m., so there is a good chance that the products are available if they appear online.
Available
Free delivery on orders over €199.00
2 year return policy
Purchase on invoice
Fast Delivery
Go to currency converter
Please select the desired exchange rate* and enter an amount.
* The source of the exchange rate is the European Central Bank. (As at 27.01.2021). The exchange rate is for information purposes only; it does not provide binding prices for an exchange. In practice, for individual exchanges, the prices for buying and selling currencies can deviate to a greater or lesser extent from these rates – depending on the country, financial institution or bureau de change and also the method of payment. The conversion is given as an indication only.
K&N AIRFILTER HA-1211
PCX125 10-12
K&N HIGH-FLOW AIRFILTERS

Never change another filter! The oil-impregnated cotton fabric of the K&N filter ensures a maintenance-free service life, so all you need to do is occasionally clean and relubricate it.
The filter does not need to be cleaned until a 2-3 mm thick layer of dirt has formed on the filter material. This is generally only after 80,000 km of road use.
Using a K&N filter can deliver an increase in engine power of up to 5% as well as reduced petrol consumption.
Your engine will become more responsive because better airflow allows the fuel and air to be mixed and delivered more quickly. The engine responds more spontaneously when the throttle is opened, and the faster filling of the cylinders is translated into better acceleration.
The K&N filter can also often compensate for losses arising from convoluted air intake routes and air filter housings, which usually represent a compromise between available space and efficiency. So you should at least use the best filter available - which means a K&N replacement filter!
The K&N permanent air filter is a perfect marriage of racing technology and economy (cleanable and reusable). K&N filters are installed in place of the original filter inserts.
They are made from 100% environmentally friendly cotton and are secured in an aluminium grid.
When a K&N permanent air filter is used on a standard motorcycle with an original exhaust system and unmodified air filter housings, no modifications usually need to be carried out on carburettors or injection systems. Consequently, the air filter is street legal and does not need to be recorded in the vehicle documents.
In exceptional cases (e.g. on vehicles from the Suzuki Bandit range or when an aftermarket exhaust system is used), the carburettors or injection system must be adjusted to run richer - please read the "General product description" in our Documents area.
List of compatible motorcycles
Manufacturer details: K&N

The world's best air filter!

Economical: never change another filter! Once you replace the standard air filter with the K&N permanent air filter, it will last as long as your bike. The standard carburettor and air filter housing configurations remain the same. Registration of the modification in the vehicle document is not necessary. Sporty: the K&N permanent air filter boosts power as better airflow means fuel and air is mixed more quickly. The engine responds more spontaneously when the throttle is opened and the faster filling of the cylinders is translated into better acceleration. K&N permanent air filters get the most out of your engine.

Made in USA
Product
Art. No.
Availability
Price
Actions
K&N AIR FILTER - AL-1010
60905375

The item is in stock and will be delivered in 2-4 working days. Note: Stocks are updated online every hour on working days from 7 a.m. to 8 p.m., so there is a good chance that the products are available if they appear online.

Available

€75.99

1 2 €56.99 1
K&N AIR FILTER BM-0200 - R-MOD. 70-80/ROUND FILTER
10050180

The item is in stock and will be delivered in 2-4 working days. Note: Stocks are updated online every hour on working days from 7 a.m. to 8 p.m., so there is a good chance that the products are available if they appear online.

Available

€80.99

1 2 €59.99 1
K&N AIR FILTER BM-0300 - R-MOD.80-97/PLATE FILTER
10050181

The item is in stock and will be delivered in 2-4 working days. Note: Stocks are updated online every hour on working days from 7 a.m. to 8 p.m., so there is a good chance that the products are available if they appear online.

Available

€118.99

1 2 €88.99 1
K&N AIR FILTER BM-0400 - BMW R-MODELS, 1993-2005
10050182

The item is in stock and will be delivered in 2-4 working days. Note: Stocks are updated online every hour on working days from 7 a.m. to 8 p.m., so there is a good chance that the products are available if they appear online.

Available

€66.99

1 2 €49.99 1
K&N AIR FILTER BM-1204 - R 1200 GS/RT/S/ST HP2

Important notes

For air-cooled models only

10050157

The item is in stock and will be delivered in 2-4 working days. Note: Stocks are updated online every hour on working days from 7 a.m. to 8 p.m., so there is a good chance that the products are available if they appear online.

Available

€77.99

1 2 €57.99 1
K&N AIR FILTER BM-2605 - BMW K-MODELS
10050183

The item is in stock and will be delivered in 2-4 working days. Note: Stocks are updated online every hour on working days from 7 a.m. to 8 p.m., so there is a good chance that the products are available if they appear online.

Available

€106.99

1 2 €79.99 1
K&N AIR FILTER - BM-6012
60905376

The item is in stock and will be delivered in 2-4 working days. Note: Stocks are updated online every hour on working days from 7 a.m. to 8 p.m., so there is a good chance that the products are available if they appear online.

Available

€76.99

1 2 €56.99 1
K&N AIR FILTER BM-6501 - F 650 GS 2001-
10050294

The item is in stock and will be delivered in 2-4 working days. Note: Stocks are updated online every hour on working days from 7 a.m. to 8 p.m., so there is a good chance that the products are available if they appear online.

Available

€91.99

1 2 €68.99 1
K&N AIR FILTER - DU-1112
60905378

The item is in stock and will be delivered in 2-4 working days. Note: Stocks are updated online every hour on working days from 7 a.m. to 8 p.m., so there is a good chance that the products are available if they appear online.

Available

€69.99

1 2 €51.99 1
K&N AIR FILTER DU-6202 - MONSTER 620/S 2002-03
10050298

The item is in stock and will be delivered in 2-4 working days. Note: Stocks are updated online every hour on working days from 7 a.m. to 8 p.m., so there is a good chance that the products are available if they appear online.

Available

€73.99

1 2 €54.99 1
K&N AIR FILTER DU-9098 - VARIOUS DUCATI MODELS
10050159

The item is in stock and will be delivered in 2-4 working days. Note: Stocks are updated online every hour on working days from 7 a.m. to 8 p.m., so there is a good chance that the products are available if they appear online.

Available

€94.99

1 2 €70.99 1
K&N AIR FILTER HA-0001 - NX 650 DOMIN., 1990-2000
10050267

The item is in stock and will be delivered in 2-4 working days. Note: Stocks are updated online every hour on working days from 7 a.m. to 8 p.m., so there is a good chance that the products are available if they appear online.

Available

€49.99

1 2 €36.99 1
K&N AIR FILTER HA-0003 - VFR 750F 1990-97
10050269

The item is in stock and will be delivered in 2-4 working days. Note: Stocks are updated online every hour on working days from 7 a.m. to 8 p.m., so there is a good chance that the products are available if they appear online.

Available

€119.99

1 2 €89.99 1
K&N AIR FILTER HA-0008 - XRV 750 AFRICA TWIN
10050270

The item is in stock and will be delivered in 2-4 working days. Note: Stocks are updated online every hour on working days from 7 a.m. to 8 p.m., so there is a good chance that the products are available if they appear online.

Available

€120.99

1 2 €89.99 1
K&N AIR FILTER HA-1003 - XL 1000 VARADERO
10050155

The item is in stock and will be delivered in 2-4 working days. Note: Stocks are updated online every hour on working days from 7 a.m. to 8 p.m., so there is a good chance that the products are available if they appear online.

Available

€99.99

1 2 €74.99 1
K&N AIR FILTER HA-1079 - CB750/900/1000
10050268

The item is in stock and will be delivered in 2-4 working days. Note: Stocks are updated online every hour on working days from 7 a.m. to 8 p.m., so there is a good chance that the products are available if they appear online.

Available

€99.99

1 2 €74.99 1
K&N AIR FILTER HA-1087 - VARIOUS MODELS
10050272

The item is in stock and will be delivered in 2-4 working days. Note: Stocks are updated online every hour on working days from 7 a.m. to 8 p.m., so there is a good chance that the products are available if they appear online.

Available

€81.99

1 2 €60.99 1
K&N AIR FILTER HA-1191 - ST1100 PAN EUROPEAN 91-02
10050281

The item is in stock and will be delivered in 2-4 working days. Note: Stocks are updated online every hour on working days from 7 a.m. to 8 p.m., so there is a good chance that the products are available if they appear online.

Available

€114.99

1 2 €85.99 1
K&N AIR FILTER HA-1199 - VARIOUS MODELS
10050166

The item is in stock and will be delivered in 2-4 working days. Note: Stocks are updated online every hour on working days from 7 a.m. to 8 p.m., so there is a good chance that the products are available if they appear online.

Available

€80.99

1 2 €59.99 1
K&N AIR FILTER - HA-1213
60905379

The item is in stock and will be delivered in 2-4 working days. Note: Stocks are updated online every hour on working days from 7 a.m. to 8 p.m., so there is a good chance that the products are available if they appear online.

Available

€77.99 1
K&N AIR FILTER HA-1301 - CB 1100 2013-/1300 2001-
10050292

The item is in stock and will be delivered in 2-4 working days. Note: Stocks are updated online every hour on working days from 7 a.m. to 8 p.m., so there is a good chance that the products are available if they appear online.

Available

€91.99

1 2 €68.99 1
K&N AIR FILTER HA-1302 - ST1300 PAN EUROPEAN 02-13
10050289

The item is in stock and will be delivered in 2-4 working days. Note: Stocks are updated online every hour on working days from 7 a.m. to 8 p.m., so there is a good chance that the products are available if they appear online.

Available

€105.99

1 2 €78.99 1
K&N AIR FILTER - HA-1313
60905380

The item is in stock and will be delivered in 2-4 working days. Note: Stocks are updated online every hour on working days from 7 a.m. to 8 p.m., so there is a good chance that the products are available if they appear online.

Available

€61.99

1 2 €45.99 1
K&N AIR FILTER HA-1315 - XR600 R/L 1985-2002
10050265

The item is in stock and will be delivered in 2-4 working days. Note: Stocks are updated online every hour on working days from 7 a.m. to 8 p.m., so there is a good chance that the products are available if they appear online.

Available

€78.99

1 2 €58.99 1
K&N AIR FILTER HA-1502 - CBR 125 R 2004-
10050296

The item is in stock and will be delivered in 2-4 working days. Note: Stocks are updated online every hour on working days from 7 a.m. to 8 p.m., so there is a good chance that the products are available if they appear online.

Available

€68.99

1 2 €50.99 1
K&N AIR FILTER - HA-1513
60905381

The item is in stock and will be delivered in 2-4 working days. Note: Stocks are updated online every hour on working days from 7 a.m. to 8 p.m., so there is a good chance that the products are available if they appear online.

Available

€77.99

1 €57.99 1
K&N AIR FILTER HA-1801 - GL 1800 2001-09
10050301

The item is in stock and will be delivered in 2-4 working days. Note: Stocks are updated online every hour on working days from 7 a.m. to 8 p.m., so there is a good chance that the products are available if they appear online.

Available

€81.99

1 2 €60.99 1
K&N AIR FILTER HA-4099 - TRX 400EX/SPORTTRAX 99-04
10050197

The item is in stock and will be delivered in 2-4 working days. Note: Stocks are updated online every hour on working days from 7 a.m. to 8 p.m., so there is a good chance that the products are available if they appear online.

Available

€93.99

1 2 €69.99 1
K&N AIR FILTER HA-5100 - VTR1000 SP1/SP2 (PAIR)
10050288

The item is in stock and will be delivered in 2-4 working days. Note: Stocks are updated online every hour on working days from 7 a.m. to 8 p.m., so there is a good chance that the products are available if they appear online.

Available

€133.99

1 2 €99.99 1
K&N AIR FILTER HA-6001 - CBR 600 F4I 2001-06
10050160

This product is available at week 6.
Current calendar week: 04

Available as of calendar week 6

€86.99

1 2 €64.99 1
K&N AIR FILTER HA-6003 - CBR 600 RR 2003-06
10050287

The item is in stock and will be delivered in 2-4 working days. Note: Stocks are updated online every hour on working days from 7 a.m. to 8 p.m., so there is a good chance that the products are available if they appear online.

Available

€105.99

1 2 €78.99 1
K&N AIR FILTER HA-6087 - CBR 600 1987-90
10050261

The item is in stock and will be delivered in 2-4 working days. Note: Stocks are updated online every hour on working days from 7 a.m. to 8 p.m., so there is a good chance that the products are available if they appear online.

Available

€95.99

1 2 €71.99 1
K&N AIR FILTER HA-6089 - VARIOUS MODELS
10050264

The item is in stock and will be delivered in 2-4 working days. Note: Stocks are updated online every hour on working days from 7 a.m. to 8 p.m., so there is a good chance that the products are available if they appear online.

Available

€97.99

1 2 €72.99 1
K&N AIR FILTER HA-6091 - CBR 600 F2 1991-94
10050262

The item is in stock and will be delivered in 2-4 working days. Note: Stocks are updated online every hour on working days from 7 a.m. to 8 p.m., so there is a good chance that the products are available if they appear online.

Available

€98.99

1 2 €73.99 1
K&N AIR FILTER HA-6095 - CBR 600 F3 1995-98
10050263

The item is in stock and will be delivered in 2-4 working days. Note: Stocks are updated online every hour on working days from 7 a.m. to 8 p.m., so there is a good chance that the products are available if they appear online.

Available

€90.99

1 2 €67.99 1
K&N AIR FILTER HA-6501 - XL 650 TRANSALP 00-07
10050161

The item is in stock and will be delivered in 2-4 working days. Note: Stocks are updated online every hour on working days from 7 a.m. to 8 p.m., so there is a good chance that the products are available if they appear online.

Available

€91.99

1 2 €68.99 1
K&N AIR FILTER HA-6505 - FMX650/SLR650/VIGOR650
10050297

The item is in stock and will be delivered in 2-4 working days. Note: Stocks are updated online every hour on working days from 7 a.m. to 8 p.m., so there is a good chance that the products are available if they appear online.

Available

€77.99

1 2 €57.99 1
K&N AIR FILTER HA-8088 - GL 1500 1988-2000
10050273

The item is in stock and will be delivered in 2-4 working days. Note: Stocks are updated online every hour on working days from 7 a.m. to 8 p.m., so there is a good chance that the products are available if they appear online.

Available

€111.99

1 2 €83.99 1
K&N AIR FILTER HA-8098 - VFR 800 98-10/CROSSRUNNER
10050184

The item is in stock and will be delivered in 2-4 working days. Note: Stocks are updated online every hour on working days from 7 a.m. to 8 p.m., so there is a good chance that the products are available if they appear online.

Available

€86.99

1 2 €64.99 1
K&N AIR FILTER HA-9092 - CBR 900 RR 1992-99
10050271

This product is available at week 6.
Current calendar week: 04

Available as of calendar week 6

€144.99

1 2 €107.99 1
K&N AIR FILTER HA-9502 - CBR 900 RR(954) 2002-03
10050299

The item is in stock and will be delivered in 2-4 working days. Note: Stocks are updated online every hour on working days from 7 a.m. to 8 p.m., so there is a good chance that the products are available if they appear online.

Available

€100.99

1 2 €74.99 1
K&N AIR FILTER HD-9608 - HARLEY TC96 DYNA 2008-
10050483

The item is in stock and will be delivered in 2-4 working days. Note: Stocks are updated online every hour on working days from 7 a.m. to 8 p.m., so there is a good chance that the products are available if they appear online.

Available

€108.99

1 2 €80.99 1
K&N AIR FILTER KA-0018 - ER 5 TWISTER
10050172

The item is in stock and will be delivered in 2-4 working days. Note: Stocks are updated online every hour on working days from 7 a.m. to 8 p.m., so there is a good chance that the products are available if they appear online.

Available

€80.99

1 2 €59.99 1
K&N AIR FILTER KA-0850 - VARIOUS MODELS
10050371

This product is available at week 6.
Current calendar week: 04

Available as of calendar week 6

€80.99

1 2 €59.99 1
K&N AIR FILTER KA-1003 - Z 750/S/R 04-Z 1000 03-09
10050303

The item is in stock and will be delivered in 2-4 working days. Note: Stocks are updated online every hour on working days from 7 a.m. to 8 p.m., so there is a good chance that the products are available if they appear online.

Available

€78.99

1 2 €58.99 1
K&N AIR FILTER KA-1088 - ZX-10 1988-90
10050382

The item is in stock and will be delivered in 2-4 working days. Note: Stocks are updated online every hour on working days from 7 a.m. to 8 p.m., so there is a good chance that the products are available if they appear online.

Available

€79.99

1 2 €59.99 1
K&N AIR FILTER KA-1093 - ZZ-R 1100/1200
10050386

The item is in stock and will be delivered in 2-4 working days. Note: Stocks are updated online every hour on working days from 7 a.m. to 8 p.m., so there is a good chance that the products are available if they appear online.

Available

€102.99

1 2 €76.99 1
K&N AIR FILTER KA-1192 - ZEPHYR 1100 1992-
10050384

The item is in stock and will be delivered in 2-4 working days. Note: Stocks are updated online every hour on working days from 7 a.m. to 8 p.m., so there is a good chance that the products are available if they appear online.

Available

€104.99

1 €77.99 1
K&N AIR FILTER KA-1299 - ZX-12R 2000-06 /2 PCS
10050162

The item is in stock and will be delivered in 2-4 working days. Note: Stocks are updated online every hour on working days from 7 a.m. to 8 p.m., so there is a good chance that the products are available if they appear online.

Available

€119.99

1 2 €89.99 1
K&N AIR FILTER KA-1596 - VARIOUS KAWASAKI/SUZUKI
10050186

The item is in stock and will be delivered in 2-4 working days. Note: Stocks are updated online every hour on working days from 7 a.m. to 8 p.m., so there is a good chance that the products are available if they appear online.

Available

€107.99

1 2 €80.99 1
K&N AIR FILTER KA-1603 - VN 1600 CLASSIC/TOUR
10050152

The item is in stock and will be delivered in 2-4 working days. Note: Stocks are updated online every hour on working days from 7 a.m. to 8 p.m., so there is a good chance that the products are available if they appear online.

Available

€99.99

1 2 €74.99 1
K&N AIR FILTER KA-5087 - GPZ 500 S 1987-2005
10050372

This product is available at week 13.
Current calendar week: 04

Available as of calendar week 13

€78.99

1 2 €58.99 1
K&N AIR FILTER KA-6003 - ZX6 R + RR 2003-04
10050302

The item is in stock and will be delivered in 2-4 working days. Note: Stocks are updated online every hour on working days from 7 a.m. to 8 p.m., so there is a good chance that the products are available if they appear online.

Available

€87.99

1 2 €65.99 1
K&N AIR FILTER KA-6005 - ZX-6R /RR
10050154

The item is in stock and will be delivered in 2-4 working days. Note: Stocks are updated online every hour on working days from 7 a.m. to 8 p.m., so there is a good chance that the products are available if they appear online.

Available

€81.99

1 2 €60.99 1
K&N AIR FILTER KA-6093 - K&N ZZ-R 600 1993-2006
10050376

The item is in stock and will be delivered in 2-4 working days. Note: Stocks are updated online every hour on working days from 7 a.m. to 8 p.m., so there is a good chance that the products are available if they appear online.

Available

€82.99

1 2 €61.99 1
K&N AIR FILTER KA-6503 - VARIOUS KAWASAKI QUADS
10050277

The item is in stock and will be delivered in 2-4 working days. Note: Stocks are updated online every hour on working days from 7 a.m. to 8 p.m., so there is a good chance that the products are available if they appear online.

Available

€96.99

1 2 €71.99 1
K&N AIR FILTER KA-6589 - KLR650/TENGAI 1987-2003
10050374

The item is in stock and will be delivered in 2-4 working days. Note: Stocks are updated online every hour on working days from 7 a.m. to 8 p.m., so there is a good chance that the products are available if they appear online.

Available

€76.99

1 2 €56.99 1
K&N AIR FILTER KA-7587 - VARIOUS MODELS
10050373

The item is in stock and will be delivered in 2-4 working days. Note: Stocks are updated online every hour on working days from 7 a.m. to 8 p.m., so there is a good chance that the products are available if they appear online.

Available

€79.99

1 2 €59.99 1
K&N AIR FILTER KA-7589 - ZXR750 1989-90
10050378

The item is in stock and will be delivered in 2-4 working days. Note: Stocks are updated online every hour on working days from 7 a.m. to 8 p.m., so there is a good chance that the products are available if they appear online.

Available

€91.99

1 2 €68.99 1
K&N AIR FILTER KA-7596 - ZX-7R 1996-2003
10050173

The item is in stock and will be delivered in 2-4 working days. Note: Stocks are updated online every hour on working days from 7 a.m. to 8 p.m., so there is a good chance that the products are available if they appear online.

Available

€111.99

1 2 €83.99 1
K&N AIR FILTER KA-8095 - VN 800
10050185

The item is in stock and will be delivered in 2-4 working days. Note: Stocks are updated online every hour on working days from 7 a.m. to 8 p.m., so there is a good chance that the products are available if they appear online.

Available

€81.99

1 2 €60.99 1
K&N AIR FILTER KA-9084 - VARIOUS MODELS
10050377

The item is in stock and will be delivered in 2-4 working days. Note: Stocks are updated online every hour on working days from 7 a.m. to 8 p.m., so there is a good chance that the products are available if they appear online.

Available

€92.99

1 2 €68.99 1
K&N AIR FILTER KA-9094 - ZX-9R 1994-97
10050381

The item is in stock and will be delivered in 2-4 working days. Note: Stocks are updated online every hour on working days from 7 a.m. to 8 p.m., so there is a good chance that the products are available if they appear online.

Available

€95.99

1 2 €71.99 1
K&N AIR FILTER - KA-9915
60905386

The item is in stock and will be delivered in 2-4 working days. Note: Stocks are updated online every hour on working days from 7 a.m. to 8 p.m., so there is a good chance that the products are available if they appear online.

Available

€78.99

1 €58.47 1
K&N AIR FILTER KT-9504 - 950 ADV./SE/SM 03-08
60905202

This product is available at week 21.
Current calendar week: 04

Available as of calendar week 21

€119.99

1 2 €89.99 1
K&N AIR FILTER KY-2504 - VARIOUS KYMCO QUAD/ATV
10050145

The item is in stock and will be delivered in 2-4 working days. Note: Stocks are updated online every hour on working days from 7 a.m. to 8 p.m., so there is a good chance that the products are available if they appear online.

Available

€81.99

1 2 €60.99 1
K&N AIR FILTER SU-0006 - DR800 1990-99
10050175

The item is in stock and will be delivered in 2-4 working days. Note: Stocks are updated online every hour on working days from 7 a.m. to 8 p.m., so there is a good chance that the products are available if they appear online.

Available

€132.99

1 2 €98.99 1
K&N AIR FILTER SU-0007 - TL 1000 S 1997-00/ RAPTOR
10050176

The item is in stock and will be delivered in 2-4 working days. Note: Stocks are updated online every hour on working days from 7 a.m. to 8 p.m., so there is a good chance that the products are available if they appear online.

Available

€93.99

1 2 €69.99 1
K&N AIR FILTER SU-1002 - DL 650/ 1000 V-STROM 02-
10050305

The item is in stock and will be delivered in 2-4 working days. Note: Stocks are updated online every hour on working days from 7 a.m. to 8 p.m., so there is a good chance that the products are available if they appear online.

Available

€81.99

1 2 €60.99 1
K&N AIR FILTER SU-1005 - GSX-R 1000 2005-08
10050150

The item is in stock and will be delivered in 2-4 working days. Note: Stocks are updated online every hour on working days from 7 a.m. to 8 p.m., so there is a good chance that the products are available if they appear online.

Available

€92.99

1 2 €68.99 1
K&N AIR FILTER SU-1402 - GSX 1400 2001-07
10050306

The item is in stock and will be delivered in 2-4 working days. Note: Stocks are updated online every hour on working days from 7 a.m. to 8 p.m., so there is a good chance that the products are available if they appear online.

Available

€108.99

1 2 €80.99 1
K&N AIR FILTER SU-1487 - VS1400 INTRUDER (PAIR)
10050158

The item is in stock and will be delivered in 2-4 working days. Note: Stocks are updated online every hour on working days from 7 a.m. to 8 p.m., so there is a good chance that the products are available if they appear online.

Available

€84.99

1 2 €62.99 1
K&N AIR FILTER SU-1598 - INTRUDER VL1500&C1500
10050149

The item is in stock and will be delivered in 2-4 working days. Note: Stocks are updated online every hour on working days from 7 a.m. to 8 p.m., so there is a good chance that the products are available if they appear online.

Available

€114.99

1 2 €85.99 1
K&N AIR FILTER SU-2599 - AN250 99-05/AN400 99-06
10050156

The item is in stock and will be delivered in 2-4 working days. Note: Stocks are updated online every hour on working days from 7 a.m. to 8 p.m., so there is a good chance that the products are available if they appear online.

Available

€77.99

1 2 €57.99 1
K&N AIR FILTER SU-4000 - DR-Z 400 2000-
10050240

The item is in stock and will be delivered in 2-4 working days. Note: Stocks are updated online every hour on working days from 7 a.m. to 8 p.m., so there is a good chance that the products are available if they appear online.

Available

€80.99

1 2 €59.99 1
K&N AIR FILTER SU-4002 - KFX 400/Z 400 QUADSPORT
10050276

This product is available at week 6.
Current calendar week: 04

Available as of calendar week 6

€99.99

1 €74.99 1
K&N AIR FILTER SU-6000 - VARIOUS GSF MODELS
10050163

The item is in stock and will be delivered in 2-4 working days. Note: Stocks are updated online every hour on working days from 7 a.m. to 8 p.m., so there is a good chance that the products are available if they appear online.

Available

€76.99

1 2 €56.99 1
K&N AIR FILTER SU-6503 - SUZUKI VARIOUS
10050304

The item is in stock and will be delivered in 2-4 working days. Note: Stocks are updated online every hour on working days from 7 a.m. to 8 p.m., so there is a good chance that the products are available if they appear online.

Available

€83.99

1 2 €62.99 1
K&N AIR FILTER SU-6505 - GSF650 05-/1200 06/1250
10050295

The item is in stock and will be delivered in 2-4 working days. Note: Stocks are updated online every hour on working days from 7 a.m. to 8 p.m., so there is a good chance that the products are available if they appear online.

Available

€73.99

1 2 €54.99 1
K&N AIR FILTER SU-6596 - DR 650 SE 1996-2009
10050187

The item is in stock and will be delivered in 2-4 working days. Note: Stocks are updated online every hour on working days from 7 a.m. to 8 p.m., so there is a good chance that the products are available if they appear online.

Available

€80.99

1 2 €59.99 1
K&N AIR FILTER SU-7005 - LTA500/700/750 2005-13
10050312

The item is in stock and will be delivered in 2-4 working days. Note: Stocks are updated online every hour on working days from 7 a.m. to 8 p.m., so there is a good chance that the products are available if they appear online.

Available

€84.99

1 2 €62.99 1
K&N AIR FILTER SU-7504 - GSX-R 600/750 2004-05
10050293

The item is in stock and will be delivered in 2-4 working days. Note: Stocks are updated online every hour on working days from 7 a.m. to 8 p.m., so there is a good chance that the products are available if they appear online.

Available

€89.99

1 2 €66.99 1
K&N AIR FILTER SU-7596 - VARIOUS MODELS
10050174

The item is in stock and will be delivered in 2-4 working days. Note: Stocks are updated online every hour on working days from 7 a.m. to 8 p.m., so there is a good chance that the products are available if they appear online.

Available

€92.99

1 2 €68.99 1
K&N AIR FILTER SU-8001 - C800 INTRUDER,VL800 VOLU.
10050151

The item is in stock and will be delivered in 2-4 working days. Note: Stocks are updated online every hour on working days from 7 a.m. to 8 p.m., so there is a good chance that the products are available if they appear online.

Available

€76.99

1 2 €56.99 1
K&N AIR FILTER TB-1005 - VARIOUS TRIUMPH
10050256

The item is in stock and will be delivered in 2-4 working days. Note: Stocks are updated online every hour on working days from 7 a.m. to 8 p.m., so there is a good chance that the products are available if they appear online.

Available

€78.99

1 2 €58.99 1
K&N AIR FILTER - TB-1614
60905389

The item is in stock and will be delivered in 2-4 working days. Note: Stocks are updated online every hour on working days from 7 a.m. to 8 p.m., so there is a good chance that the products are available if they appear online.

Available

€64.99

1 2 €47.99 1
K&N AIR FILTER TB-9002 - VARIOUS TRIUMPH
10050307

The item is in stock and will be delivered in 2-4 working days. Note: Stocks are updated online every hour on working days from 7 a.m. to 8 p.m., so there is a good chance that the products are available if they appear online.

Available

€102.99

1 2 €76.99 1
K&N AIR FILTER TB-9004 - VARIOUS TRIUMPH
10050317

The item is in stock and will be delivered in 2-4 working days. Note: Stocks are updated online every hour on working days from 7 a.m. to 8 p.m., so there is a good chance that the products are available if they appear online.

Available

€79.99

1 2 €59.99 1
K&N AIR FILTER TB-9095 - VARIOUS TRIUMPH
10050177

The item is in stock and will be delivered in 2-4 working days. Note: Stocks are updated online every hour on working days from 7 a.m. to 8 p.m., so there is a good chance that the products are available if they appear online.

Available

€74.99

1 2 €55.99 1
K&N AIR FILTER TB-9097 - T 509/595
10050178

This product is available at week 7.
Current calendar week: 04

Available as of calendar week 7

€74.99

1 2 €55.99 1
K&N AIR FILTER YA-1001 - FZS 1000 FAZER, 2001-05
10050164

The item is in stock and will be delivered in 2-4 working days. Note: Stocks are updated online every hour on working days from 7 a.m. to 8 p.m., so there is a good chance that the products are available if they appear online.

Available

€115.99

1 2 €86.99 1
K&N AIR FILTER YA-1002 - YZF-R1 2002-03
10050334

The item is in stock and will be delivered in 2-4 working days. Note: Stocks are updated online every hour on working days from 7 a.m. to 8 p.m., so there is a good chance that the products are available if they appear online.

Available

€96.99

1 2 €71.99 1
K&N AIR FILTER YA-1004 - YZF-R1 2004-06
10050147

The item is in stock and will be delivered in 2-4 working days. Note: Stocks are updated online every hour on working days from 7 a.m. to 8 p.m., so there is a good chance that the products are available if they appear online.

Available

€101.99

1 2 €75.99 1
K&N AIR FILTER YA-1006 - FZ-1/FZ-8 FAZER 2006-
10050318

The item is in stock and will be delivered in 2-4 working days. Note: Stocks are updated online every hour on working days from 7 a.m. to 8 p.m., so there is a good chance that the products are available if they appear online.

Available

€93.99

1 2 €69.99 1
K&N AIR FILTER YA-1098 - YZF-R1 (1998-2001)
10050167

The item is in stock and will be delivered in 2-4 working days. Note: Stocks are updated online every hour on working days from 7 a.m. to 8 p.m., so there is a good chance that the products are available if they appear online.

Available

€100.99

1 2 €74.99 1
K&N AIR FILTER YA-1186 - XV750/1000/1100 VIRAGO
10050168

The item is in stock and will be delivered in 2-4 working days. Note: Stocks are updated online every hour on working days from 7 a.m. to 8 p.m., so there is a good chance that the products are available if they appear online.

Available

€102.99

1 2 €76.99 1
K&N AIR FILTER YA-1301 - FJR 1300 2001-
10050165

The item is in stock and will be delivered in 2-4 working days. Note: Stocks are updated online every hour on working days from 7 a.m. to 8 p.m., so there is a good chance that the products are available if they appear online.

Available

€98.99

1 2 €73.99 1
K&N AIR FILTER YA-1602 - XV1700 ROAD STAR W. 02-09
10050146

This product is available at week 11.
Current calendar week: 04

Available as of calendar week 11

€135.99

1 2 €101.99 1
K&N AIR FILTER YA-1605 - MT-01
10050255

The item is in stock and will be delivered in 2-4 working days. Note: Stocks are updated online every hour on working days from 7 a.m. to 8 p.m., so there is a good chance that the products are available if they appear online.

Available

€79.99

1 2 €59.99 1
K&N AIR FILTER YA-3502 - YFZ350 BANSHEE 1987-2006
10050280

This product is available at week 6.
Current calendar week: 04

Available as of calendar week 6

€76.99

1 2 €56.99 1
K&N AIR FILTER YA-4350 - YFM350 87-04/YFM600 1998-
10050278

The item is in stock and will be delivered in 2-4 working days. Note: Stocks are updated online every hour on working days from 7 a.m. to 8 p.m., so there is a good chance that the products are available if they appear online.

Available

€84.99

1 2 €62.99 1
K&N AIR FILTER YA-4504 - YFZ450 2004- (449 CCM)
10050285

The item is in stock and will be delivered in 2-4 working days. Note: Stocks are updated online every hour on working days from 7 a.m. to 8 p.m., so there is a good chance that the products are available if they appear online.

Available

€94.99

1 2 €70.99 1
K&N AIR FILTER YA-5317 - T-MAX XP530 17-18
60905374

The item is in stock and will be delivered in 2-4 working days. Note: Stocks are updated online every hour on working days from 7 a.m. to 8 p.m., so there is a good chance that the products are available if they appear online.

Available

€72.99

1 2 €53.99 1
K&N AIR FILTER YA-6004 - FZ-6 /FAZER 2004-
10050148

The item is in stock and will be delivered in 2-4 working days. Note: Stocks are updated online every hour on working days from 7 a.m. to 8 p.m., so there is a good chance that the products are available if they appear online.

Available

€95.99

1 2 €71.99 1
K&N AIR FILTER YA-6601 - YFM660R RAPTOR 2001-05
10050286

The item is in stock and will be delivered in 2-4 working days. Note: Stocks are updated online every hour on working days from 7 a.m. to 8 p.m., so there is a good chance that the products are available if they appear online.

Available

€106.99

1 2 €79.99 1
K&N AIR FILTER YA-7006 - YFM700 R RAPTOR 2006-14
10050315

The item is in stock and will be delivered in 2-4 working days. Note: Stocks are updated online every hour on working days from 7 a.m. to 8 p.m., so there is a good chance that the products are available if they appear online.

Available

€173.99

1 2 €129.99 1
K&N AIR FILTER YA-8596 - TRX 850 1996-99
10050179

The item is in stock and will be delivered in 2-4 working days. Note: Stocks are updated online every hour on working days from 7 a.m. to 8 p.m., so there is a good chance that the products are available if they appear online.

Available

€92.99

1 2 €68.99 1
K&N AIR FILTER YA-9002 - TDM 900 2002-
10050333

The item is in stock and will be delivered in 2-4 working days. Note: Stocks are updated online every hour on working days from 7 a.m. to 8 p.m., so there is a good chance that the products are available if they appear online.

Available

€94.99

1 2 €70.99 1
K&N AIRFILTER E-3226 - S&S E/G VERGASER TEARDROP
10050885

The item is in stock and will be delivered in 2-4 working days. Note: Stocks are updated online every hour on working days from 7 a.m. to 8 p.m., so there is a good chance that the products are available if they appear online.

Available

€58.99

1 2 €43.99 1
K&N AIRFILTER 33-2092 - SPORT/GHOST/FORMULA 95-97
60905220

The item is in stock and will be delivered in 2-4 working days. Note: Stocks are updated online every hour on working days from 7 a.m. to 8 p.m., so there is a good chance that the products are available if they appear online.

Available

€59.99

1 2 €44.99 1
K&N AIRFILTER AL-1001 - APRILIA/MOTO GUZZI DIV.
10050475

The item is in stock and will be delivered in 2-4 working days. Note: Stocks are updated online every hour on working days from 7 a.m. to 8 p.m., so there is a good chance that the products are available if they appear online.

Available

€83.99

1 2 €62.99 1
K&N AIRFILTER AL-1002 - ETV 1000 CAPONORD 01-08
10050644

The item is in stock and will be delivered in 2-4 working days. Note: Stocks are updated online every hour on working days from 7 a.m. to 8 p.m., so there is a good chance that the products are available if they appear online.

Available

€76.99

1 2 €56.99 1
K&N AIRFILTER AL-1004 - RSV1000/TUONO R/FACTORY
10050474

The item is in stock and will be delivered in 2-4 working days. Note: Stocks are updated online every hour on working days from 7 a.m. to 8 p.m., so there is a good chance that the products are available if they appear online.

Available

€87.99

1 2 €65.99 1
K&N AIRFILTER AL-1098 - APRILIA DIVERSE
60905003

The item is in stock and will be delivered in 2-4 working days. Note: Stocks are updated online every hour on working days from 7 a.m. to 8 p.m., so there is a good chance that the products are available if they appear online.

Available

€104.99

1 2 €77.99 1
K&N AIRFILTER AL-1111 - DORSODORO/CAPONORD 1200
10050940

The item is in stock and will be delivered in 2-4 working days. Note: Stocks are updated online every hour on working days from 7 a.m. to 8 p.m., so there is a good chance that the products are available if they appear online.

Available

€78.99

1 2 €58.99 1
K&N AIRFILTER AL-4506 - RXV450/550,SXV450/550 06-
10050476

The item is in stock and will be delivered in 2-4 working days. Note: Stocks are updated online every hour on working days from 7 a.m. to 8 p.m., so there is a good chance that the products are available if they appear online.

Available

€62.99

1 2 €46.99 1
K&N AIRFILTER AL-6502 - PEGASO 650 IE 01-04
60905001

The item is in stock and will be delivered in 2-4 working days. Note: Stocks are updated online every hour on working days from 7 a.m. to 8 p.m., so there is a good chance that the products are available if they appear online.

Available

€85.99

1 2 €63.99 1
K&N AIRFILTER AL-6505 - PEGASO 650 STRADA 05-08
60905002

The item is in stock and will be delivered in 2-4 working days. Note: Stocks are updated online every hour on working days from 7 a.m. to 8 p.m., so there is a good chance that the products are available if they appear online.

Available

€82.99

1 2 €61.99 1
K&N AIRFILTER BM-0100 - R50/60 55-69 MIT CHOKE
60905021

The item is in stock and will be delivered in 2-4 working days. Note: Stocks are updated online every hour on working days from 7 a.m. to 8 p.m., so there is a good chance that the products are available if they appear online.

Available

€44.99

1 2 €32.99 1
K&N AIRFILTER BM-1010 - S 1000 R/RR/XR BJ. 09-
10050898

The item is in stock and will be delivered in 2-4 working days. Note: Stocks are updated online every hour on working days from 7 a.m. to 8 p.m., so there is a good chance that the products are available if they appear online.

Available

€87.99

1 2 €65.99 1
K&N AIRFILTER BM-1113 - R1200/1250(LC) GS/R/RT/RS

Important notes

For liquid cooled models only

10050922

The item is in stock and will be delivered in 2-4 working days. Note: Stocks are updated online every hour on working days from 7 a.m. to 8 p.m., so there is a good chance that the products are available if they appear online.

Available

€79.99

1 2 €59.99 1
K&N AIRFILTER BM-1199 - R 1100 S, BJ. 99-05
10050769

The item is in stock and will be delivered in 2-4 working days. Note: Stocks are updated online every hour on working days from 7 a.m. to 8 p.m., so there is a good chance that the products are available if they appear online.

Available

€81.99

1 2 €60.99 1
K&N AIRFILTER BM-1205 - BMW K1200/1300 R/S 05-
10050779

The item is in stock and will be delivered in 2-4 working days. Note: Stocks are updated online every hour on working days from 7 a.m. to 8 p.m., so there is a good chance that the products are available if they appear online.

Available

€94.99

1 2 €70.99 1
K&N AIRFILTER BM-1208 - HP2 SPORT 08-11
10050887

The item is in stock and will be delivered in 2-4 working days. Note: Stocks are updated online every hour on working days from 7 a.m. to 8 p.m., so there is a good chance that the products are available if they appear online.

Available

€94.99

1 2 €70.99 1
K&N AIRFILTER BM-1298 - R1200/850 C, PEGASO 650
10050468

The item is in stock and will be delivered in 2-4 working days. Note: Stocks are updated online every hour on working days from 7 a.m. to 8 p.m., so there is a good chance that the products are available if they appear online.

Available

€68.99

1 2 €50.99 1
K&N AIRFILTER BM-1299 - K 1200 RS/GT/LT
10050770

The item is in stock and will be delivered in 2-4 working days. Note: Stocks are updated online every hour on working days from 7 a.m. to 8 p.m., so there is a good chance that the products are available if they appear online.

Available

€94.99

1 2 €70.99 1
K&N AIRFILTER BM-1611 - K 1600 GT/ GTL BJ.11-
10050913

The item is in stock and will be delivered in 2-4 working days. Note: Stocks are updated online every hour on working days from 7 a.m. to 8 p.m., so there is a good chance that the products are available if they appear online.

Available

€64.99

1 2 €47.99 1
K&N AIRFILTER BM-6507 - F650 CS SCARVER/G650
60905020

The item is in stock and will be delivered in 2-4 working days. Note: Stocks are updated online every hour on working days from 7 a.m. to 8 p.m., so there is a good chance that the products are available if they appear online.

Available

€84.99

1 2 €62.99 1
K&N AIRFILTER BM-8006 - F650GS/F700 GS/F800/NUDA
10050781

The item is in stock and will be delivered in 2-4 working days. Note: Stocks are updated online every hour on working days from 7 a.m. to 8 p.m., so there is a good chance that the products are available if they appear online.

Available

€59.99

1 2 €44.99 1
K&N AIRFILTER BU-1108 - BUELL 1125R/CR
60905041

The item is in stock and will be delivered in 2-4 working days. Note: Stocks are updated online every hour on working days from 7 a.m. to 8 p.m., so there is a good chance that the products are available if they appear online.

Available

€79.99

1 2 €59.99 1
K&N AIRFILTER BU-1297 - BUELL M2/S1/S2/S3/X1
60905040

The item is in stock and will be delivered in 2-4 working days. Note: Stocks are updated online every hour on working days from 7 a.m. to 8 p.m., so there is a good chance that the products are available if they appear online.

Available

€80.99

1 2 €59.99 1
K&N AIRFILTER BU-9003 - BUELL XB9/XB12 02-
10050471

The item is in stock and will be delivered in 2-4 working days. Note: Stocks are updated online every hour on working days from 7 a.m. to 8 p.m., so there is a good chance that the products are available if they appear online.

Available

€86.99

1 2 €64.99 1
K&N AIRFILTER CG-9002 - DIVERSE CAGIVA/MOTO GUZZI
60905050

The item is in stock and will be delivered in 2-4 working days. Note: Stocks are updated online every hour on working days from 7 a.m. to 8 p.m., so there is a good chance that the products are available if they appear online.

Available

€77.99

1 2 €57.99 1
K&N AIRFILTER CM-9910 - VARIOUS CAN AM
60905055

The item is in stock and will be delivered in 2-4 working days. Note: Stocks are updated online every hour on working days from 7 a.m. to 8 p.m., so there is a good chance that the products are available if they appear online.

Available

€64.99

1 2 €47.99 1
K&N AIRFILTER DU-0900 - DIVERSE MODELLE
10050461

The item is in stock and will be delivered in 2-4 working days. Note: Stocks are updated online every hour on working days from 7 a.m. to 8 p.m., so there is a good chance that the products are available if they appear online.

Available

€92.99

1 2 €68.99 1
K&N AIRFILTER DU-1004 - MULTISTRADA 620/1000/1100
60905060

The item is in stock and will be delivered in 2-4 working days. Note: Stocks are updated online every hour on working days from 7 a.m. to 8 p.m., so there is a good chance that the products are available if they appear online.

Available

€92.99

1 2 €68.99 1
K&N AIRFILTER DU-1006 - DIVERSE DUCATI
10050647

The item is in stock and will be delivered in 2-4 working days. Note: Stocks are updated online every hour on working days from 7 a.m. to 8 p.m., so there is a good chance that the products are available if they appear online.

Available

€111.99

1 2 €83.99 1
K&N AIRFILTER DU-1007 - DIVERSE DUCATI
10050473

The item is in stock and will be delivered in 2-4 working days. Note: Stocks are updated online every hour on working days from 7 a.m. to 8 p.m., so there is a good chance that the products are available if they appear online.

Available

€90.99

1 2 €67.99 1
K&N AIRFILTER DU-1210 - MULTISTRADA 1200/S 10-
10050914

The item is in stock and will be delivered in 2-4 working days. Note: Stocks are updated online every hour on working days from 7 a.m. to 8 p.m., so there is a good chance that the products are available if they appear online.

Available

€101.99

1 2 €75.99 1
K&N AIRFILTER DU-6908 - MONSTER 696/796/1100 08-
10050493

The item is in stock and will be delivered in 2-4 working days. Note: Stocks are updated online every hour on working days from 7 a.m. to 8 p.m., so there is a good chance that the products are available if they appear online.

Available

€102.99

1 2 €76.99 1
K&N AIRFILTER DU-8015 - SCRAMBLER BJ. 15-
10050941

The item is in stock and will be delivered in 2-4 working days. Note: Stocks are updated online every hour on working days from 7 a.m. to 8 p.m., so there is a good chance that the products are available if they appear online.

Available

€90.99

1 2 €67.99 1
K&N AIRFILTER DU-9001 - VARIOUS DUCATI MONSTER
10050470

The item is in stock and will be delivered in 2-4 working days. Note: Stocks are updated online every hour on working days from 7 a.m. to 8 p.m., so there is a good chance that the products are available if they appear online.

Available

€90.99

1 2 €67.99 1
K&N AIRFILTER HA-0011 - DIVERSE MODELLE
10050749

The item is in stock and will be delivered in 2-4 working days. Note: Stocks are updated online every hour on working days from 7 a.m. to 8 p.m., so there is a good chance that the products are available if they appear online.

Available

€192.99

1 2 €143.99 1
K&N AIRFILTER HA-0100 - CB750 69-78 (ALLE)
60905113

The item is in stock and will be delivered in 2-4 working days. Note: Stocks are updated online every hour on working days from 7 a.m. to 8 p.m., so there is a good chance that the products are available if they appear online.

Available

€91.99

1 2 €68.99 1
K&N AIRFILTER HA-0700 - CX/GL500 (AUSSER TURBO)
10050771

The item is in stock and will be delivered in 2-4 working days. Note: Stocks are updated online every hour on working days from 7 a.m. to 8 p.m., so there is a good chance that the products are available if they appear online.

Available

€70.99

1 2 €52.99 1
K&N AIRFILTER HA-0783 - CX650 E/GL650 83
60905110

The item is in stock and will be delivered in 2-4 working days. Note: Stocks are updated online every hour on working days from 7 a.m. to 8 p.m., so there is a good chance that the products are available if they appear online.

Available

€48.99

1 2 €35.99 1
K&N AIRFILTER HA-0800 - GL1000/GOLD WING 75-79
60905118

The item is in stock and will be delivered in 2-4 working days. Note: Stocks are updated online every hour on working days from 7 a.m. to 8 p.m., so there is a good chance that the products are available if they appear online.

Available

€90.99

1 €67.99 1
K&N AIRFILTER HA-0900 - CBX1000 79-82
60905117

The item is in stock and will be delivered in 2-4 working days. Note: Stocks are updated online every hour on working days from 7 a.m. to 8 p.m., so there is a good chance that the products are available if they appear online.

Available

€101.99

1 €75.99 1
K&N AIRFILTER HA-1004 - CBR 1000 RR 04-07

Important notes

scope of delivery: contains two filters!

10050777

The item is in stock and will be delivered in 2-4 working days. Note: Stocks are updated online every hour on working days from 7 a.m. to 8 p.m., so there is a good chance that the products are available if they appear online.

Available

€142.99

1 2 €106.99 1
K&N AIRFILTER HA-1006 - CBF 1000, BJ. 06-
10050780

The item is in stock and will be delivered in 2-4 working days. Note: Stocks are updated online every hour on working days from 7 a.m. to 8 p.m., so there is a good chance that the products are available if they appear online.

Available

€88.99

1 2 €65.99 1
K&N AIRFILTER HA-1008 - CBR 1000 RR FIREBLADE 08-
10050494

The item is in stock and will be delivered in 2-4 working days. Note: Stocks are updated online every hour on working days from 7 a.m. to 8 p.m., so there is a good chance that the products are available if they appear online.

Available

€94.99

1 2 €70.99 1
K&N AIRFILTER HA-1009 - CB 1000R/CBF 1000 F 09-
10050890

The item is in stock and will be delivered in 2-4 working days. Note: Stocks are updated online every hour on working days from 7 a.m. to 8 p.m., so there is a good chance that the products are available if they appear online.

Available

€95.99

1 2 €71.99 1
K&N AIRFILTER HA-1010 - NHX110 LEAD 10-
60905100

The item is in stock and will be delivered in 2-4 working days. Note: Stocks are updated online every hour on working days from 7 a.m. to 8 p.m., so there is a good chance that the products are available if they appear online.

Available

€70.99

1 2 €52.99 1
K&N AIRFILTER HA-1110 - VFR 1200 BJ. 10-
10050903

The item is in stock and will be delivered in 2-4 working days. Note: Stocks are updated online every hour on working days from 7 a.m. to 8 p.m., so there is a good chance that the products are available if they appear online.

Available

€86.99

1 2 €64.99 1
K&N AIRFILTER HA-1187 - VT1100 C/C2/C3 87-01
60905122

The item is in stock and will be delivered in 2-4 working days. Note: Stocks are updated online every hour on working days from 7 a.m. to 8 p.m., so there is a good chance that the products are available if they appear online.

Available

€82.99

1 2 €61.99 1
K&N AIRFILTER HA-1197 - CBR1100XX 96-98(VERGASER)
10050882

The item is in stock and will be delivered in 2-4 working days. Note: Stocks are updated online every hour on working days from 7 a.m. to 8 p.m., so there is a good chance that the products are available if they appear online.

Available

€86.99

1 2 €64.99 1
K&N AIRFILTER HA-1211 - PCX125 10-12
60905101

The item is in stock and will be delivered in 2-4 working days. Note: Stocks are updated online every hour on working days from 7 a.m. to 8 p.m., so there is a good chance that the products are available if they appear online.

Available

€72.99

1 €53.99 1
K&N AIRFILTER HA-1250 - VF1000 F/R 84-86
60905119

This product is available at week 6.
Current calendar week: 04

Available as of calendar week 6

€91.99

1 2 €68.99 1
K&N AIRFILTER HA-1310 - VT1300 CX 10-13
60905125

The item is in stock and will be delivered in 2-4 working days. Note: Stocks are updated online every hour on working days from 7 a.m. to 8 p.m., so there is a good chance that the products are available if they appear online.

Available

€74.99

1 2 €55.99 1
K&N AIRFILTER HA-1330 - VTX1300 03-09
60905126

The item is in stock and will be delivered in 2-4 working days. Note: Stocks are updated online every hour on working days from 7 a.m. to 8 p.m., so there is a good chance that the products are available if they appear online.

Available

€102.99

1 €76.99 1
K&N AIRFILTER HA-1510 - SES 125 DYLAN/SH125
10050908

The item is in stock and will be delivered in 2-4 working days. Note: Stocks are updated online every hour on working days from 7 a.m. to 8 p.m., so there is a good chance that the products are available if they appear online.

Available

€102.99

1 2 €76.99 1
K&N AIRFILTER HA-1596 - F6C/VALKYRIE 96-04
60905127

The item is in stock and will be delivered in 2-4 working days. Note: Stocks are updated online every hour on working days from 7 a.m. to 8 p.m., so there is a good chance that the products are available if they appear online.

Available

€134.99

1 €100.99 1
K&N AIRFILTER HA-1802 - VTX1800 02-08
60905128

The item is in stock and will be delivered in 2-4 working days. Note: Stocks are updated online every hour on working days from 7 a.m. to 8 p.m., so there is a good chance that the products are available if they appear online.

Available

€95.99

1 €71.99 1
K&N AIRFILTER HA-2511 - CBR250R / CBR300R 11-
10050930

The item is in stock and will be delivered in 2-4 working days. Note: Stocks are updated online every hour on working days from 7 a.m. to 8 p.m., so there is a good chance that the products are available if they appear online.

Available

€72.99

1 2 €53.99 1
K&N AIRFILTER HA-2586 - CN250 HELIX
60905103

The item is in stock and will be delivered in 2-4 working days. Note: Stocks are updated online every hour on working days from 7 a.m. to 8 p.m., so there is a good chance that the products are available if they appear online.

Available

€71.99

1 2 €53.99 1
K&N AIRFILTER HA-3011 - SH300 I 07-12
60905104

The item is in stock and will be delivered in 2-4 working days. Note: Stocks are updated online every hour on working days from 7 a.m. to 8 p.m., so there is a good chance that the products are available if they appear online.

Available

€81.99

1 2 €60.99 1
K&N AIRFILTER HA-3084 - VF500
60905105

The item is in stock and will be delivered in 2-4 working days. Note: Stocks are updated online every hour on working days from 7 a.m. to 8 p.m., so there is a good chance that the products are available if they appear online.

Available

€52.99

1 2 €38.99 1
K&N AIRFILTER HA-5013 - CB500 F/X, CBR 500 R 14-
10050923

The item is in stock and will be delivered in 2-4 working days. Note: Stocks are updated online every hour on working days from 7 a.m. to 8 p.m., so there is a good chance that the products are available if they appear online.

Available

€72.99

1 2 €53.99 1
K&N AIRFILTER HA-5083 - VT500 C/E/F 83-85
60905106

The item is in stock and will be delivered in 2-4 working days. Note: Stocks are updated online every hour on working days from 7 a.m. to 8 p.m., so there is a good chance that the products are available if they appear online.

Available

€95.99

1 €71.99 1
K&N AIRFILTER HA-5094 - CB 500 94-03
10050748

The item is in stock and will be delivered in 2-4 working days. Note: Stocks are updated online every hour on working days from 7 a.m. to 8 p.m., so there is a good chance that the products are available if they appear online.

Available

€99.99

1 2 €74.99 1
K&N AIRFILTER HA-5907 - CB600HORNET 07-/CBF600 08
10050795

The item is in stock and will be delivered in 2-4 working days. Note: Stocks are updated online every hour on working days from 7 a.m. to 8 p.m., so there is a good chance that the products are available if they appear online.

Available

€101.99

1 2 €75.99 1
K&N AIRFILTER HA-6002 - SILVER WING 600 01-13
60905107

This product is available at week 6.
Current calendar week: 04

Available as of calendar week 6

€77.99

1 €57.99 1
K&N AIRFILTER HA-6007 - CBR 600 RR BJ.07-
10050782

The item is in stock and will be delivered in 2-4 working days. Note: Stocks are updated online every hour on working days from 7 a.m. to 8 p.m., so there is a good chance that the products are available if they appear online.

Available

€102.99

1 2 €76.99 1
K&N AIRFILTER HA-6088 - VT600 C SHADOW 88-97
10050784

The item is in stock and will be delivered in 2-4 working days. Note: Stocks are updated online every hour on working days from 7 a.m. to 8 p.m., so there is a good chance that the products are available if they appear online.

Available

€77.99

1 2 €57.99 1
K&N AIRFILTER HA-6098 - DIVERSE HONDA-MODELLE
10050767

The item is in stock and will be delivered in 2-4 working days. Note: Stocks are updated online every hour on working days from 7 a.m. to 8 p.m., so there is a good chance that the products are available if they appear online.

Available

€97.99

1 2 €72.99 1
K&N AIRFILTER HA-6099 - CBR 600 F4 99-00
10050467

This product is available at week 10.
Current calendar week: 04

Available as of calendar week 10

€84.99

1 2 €62.99 1
K&N AIRFILTER HA-6199 - VT600 C SHADOW 99-
10050790

The item is in stock and will be delivered in 2-4 working days. Note: Stocks are updated online every hour on working days from 7 a.m. to 8 p.m., so there is a good chance that the products are available if they appear online.

Available

€91.99

1 2 €68.99 1
K&N AIRFILTER HA-6414 - CB650F / CBR650F BJ. 14-
10050936

The item is in stock and will be delivered in 2-4 working days. Note: Stocks are updated online every hour on working days from 7 a.m. to 8 p.m., so there is a good chance that the products are available if they appear online.

Available

€90.99

1 2 €67.99 1
K&N AIRFILTER HA-6500 - XR650 R 00-07
60905111

The item is in stock and will be delivered in 2-4 working days. Note: Stocks are updated online every hour on working days from 7 a.m. to 8 p.m., so there is a good chance that the products are available if they appear online.

Available

€74.99

1 2 €55.99 1
K&N AIRFILTER HA-6583 - VF1100 C MAGNA 83-86
60905121

The item is in stock and will be delivered in 2-4 working days. Note: Stocks are updated online every hour on working days from 7 a.m. to 8 p.m., so there is a good chance that the products are available if they appear online.

Available

€88.99

1 2 €65.99 1
K&N AIRFILTER HA-6708 - DN-01 08-11
60905112

The item is in stock and will be delivered in 2-4 working days. Note: Stocks are updated online every hour on working days from 7 a.m. to 8 p.m., so there is a good chance that the products are available if they appear online.

Available

€91.99

1 €68.99 1
K&N AIRFILTER HA-7008 - XL 700 V TRANSALP 08-
10050889

The item is in stock and will be delivered in 2-4 working days. Note: Stocks are updated online every hour on working days from 7 a.m. to 8 p.m., so there is a good chance that the products are available if they appear online.

Available

€95.99

1 2 €71.99 1
K&N AIRFILTER HA-7010 - NT 700 V DEAUVILLE 06-
10050888

The item is in stock and will be delivered in 2-4 working days. Note: Stocks are updated online every hour on working days from 7 a.m. to 8 p.m., so there is a good chance that the products are available if they appear online.

Available

€92.99

1 2 €68.99 1
K&N AIRFILTER HA-7012 - NC700,750 S/X,INTEGRA 12-
10050916

The item is in stock and will be delivered in 2-4 working days. Note: Stocks are updated online every hour on working days from 7 a.m. to 8 p.m., so there is a good chance that the products are available if they appear online.

Available

€96.99

1 2 €71.99 1
K&N AIRFILTER HA-7500 - VT750C/C2 SHA98-03,BLACKW
10050783

The item is in stock and will be delivered in 2-4 working days. Note: Stocks are updated online every hour on working days from 7 a.m. to 8 p.m., so there is a good chance that the products are available if they appear online.

Available

€84.99

1 2 €62.99 1
K&N AIRFILTER HA-7504 - VT 750SHADOW/SPIRIT 04-
10050492

The item is in stock and will be delivered in 2-4 working days. Note: Stocks are updated online every hour on working days from 7 a.m. to 8 p.m., so there is a good chance that the products are available if they appear online.

Available

€87.99

1 2 €65.99 1
K&N AIRFILTER HA-7580 - CB650 RC05/08 80-82
60905108

The item is in stock and will be delivered in 2-4 working days. Note: Stocks are updated online every hour on working days from 7 a.m. to 8 p.m., so there is a good chance that the products are available if they appear online.

Available

€70.99

1 2 €52.99 1
K&N AIRFILTER HA-7587 - VFR750 F 86-89
60905115

The item is in stock and will be delivered in 2-4 working days. Note: Stocks are updated online every hour on working days from 7 a.m. to 8 p.m., so there is a good chance that the products are available if they appear online.

Available

€102.99

1 €76.99 1
K&N AIRFILTER HA-7591 - CB 750 SEVEN FIFTY 92-03
10050462

This product is available at week 11.
Current calendar week: 04

Available as of calendar week 11

€134.99

1 2 €100.99 1
K&N AIRFILTER HA-7594 - VF750 C MAGNA
60905114

The item is in stock and will be delivered in 2-4 working days. Note: Stocks are updated online every hour on working days from 7 a.m. to 8 p.m., so there is a good chance that the products are available if they appear online.

Available

€91.99

1 2 €68.99 1
K&N AIRFILTER HA-8080 - GL1100 GOLD WING 80-83
60905120

This product is available at week 6.
Current calendar week: 04

Available as of calendar week 6

€86.99

1 €64.99 1
K&N AIRFILTER HA-8084 - GL1200 GOLD WING 84-87
60905123

The item is in stock and will be delivered in 2-4 working days. Note: Stocks are updated online every hour on working days from 7 a.m. to 8 p.m., so there is a good chance that the products are available if they appear online.

Available

€85.99

1 2 €63.99 1
K&N AIRFILTER HA-8085 - GL1200 SE-I/LTD 85-86
60905124

The item is in stock and will be delivered in 2-4 working days. Note: Stocks are updated online every hour on working days from 7 a.m. to 8 p.m., so there is a good chance that the products are available if they appear online.

Available

€67.99

1 2 €50.99 1
K&N AIRFILTER HA-8089 - PC800 PACIFIC COAST 89-98
60905116

The item is in stock and will be delivered in 2-4 working days. Note: Stocks are updated online every hour on working days from 7 a.m. to 8 p.m., so there is a good chance that the products are available if they appear online.

Available

€61.99

1 2 €45.99 1
K&N AIRFILTER HA-9002 - CB 900 HORNET 02- 07
10050774

The item is in stock and will be delivered in 2-4 working days. Note: Stocks are updated online every hour on working days from 7 a.m. to 8 p.m., so there is a good chance that the products are available if they appear online.

Available

€83.99

1 2 €62.99 1
K&N AIRFILTER HA-9200 - CBR 900RR 00- EINSPR.
10050766

The item is in stock and will be delivered in 2-4 working days. Note: Stocks are updated online every hour on working days from 7 a.m. to 8 p.m., so there is a good chance that the products are available if they appear online.

Available

€93.99

1 2 €69.99 1
K&N AIRFILTER HD-0200 - FL/FLH/FX 67-75/XL 67-74
60905071

The item is in stock and will be delivered in 2-4 working days. Note: Stocks are updated online every hour on working days from 7 a.m. to 8 p.m., so there is a good chance that the products are available if they appear online.

Available

€72.99

1 2 €53.99 1
K&N AIRFILTER HD-1102 - HARLEY V-ROD (ALLE) 02-
10050480

The item is in stock and will be delivered in 2-4 working days. Note: Stocks are updated online every hour on working days from 7 a.m. to 8 p.m., so there is a good chance that the products are available if they appear online.

Available

€90.99

1 2 €67.99 1
K&N AIRFILTER HD-1208 - XR 1200 BJ. 08-
10050904

The item is in stock and will be delivered in 2-4 working days. Note: Stocks are updated online every hour on working days from 7 a.m. to 8 p.m., so there is a good chance that the products are available if they appear online.

Available

€96.99

1 2 €71.99 1
K&N AIRFILTER HD-1212 - SPORTSTER 883 /1200 14-
10050929

The item is in stock and will be delivered in 2-4 working days. Note: Stocks are updated online every hour on working days from 7 a.m. to 8 p.m., so there is a good chance that the products are available if they appear online.

Available

€89.99

1 2 €66.99 1
K&N AIRFILTER HD-1388 - SPORTSTER 88-94
60905080

The item is in stock and will be delivered in 2-4 working days. Note: Stocks are updated online every hour on working days from 7 a.m. to 8 p.m., so there is a good chance that the products are available if they appear online.

Available

€114.99

1 €85.99 1
K&N AIRFILTER HD-1390 - EVOLUTION BIG TWINS 90-94
60905075

The item is in stock and will be delivered in 2-4 working days. Note: Stocks are updated online every hour on working days from 7 a.m. to 8 p.m., so there is a good chance that the products are available if they appear online.

Available

€92.99

1 2 €68.99 1
K&N AIRFILTER HD-1395 - EVO BIG TWINS INJ. 95-98
10050884

The item is in stock and will be delivered in 2-4 working days. Note: Stocks are updated online every hour on working days from 7 a.m. to 8 p.m., so there is a good chance that the products are available if they appear online.

Available

€114.99

1 2 €85.99 1
K&N AIRFILTER HD-1396 - EVO 95-99/XL 95-03 VERGAS
10050478

The item is in stock and will be delivered in 2-4 working days. Note: Stocks are updated online every hour on working days from 7 a.m. to 8 p.m., so there is a good chance that the products are available if they appear online.

Available

€105.99

1 2 €78.99 1
K&N AIRFILTER HD-1499 - HARLEY TWIN CAM DIVERSE
10050482

This product is available at week 11.
Current calendar week: 04

Available as of calendar week 11

€105.99

1 2 €78.99 1
K&N AIRFILTER HD-1508 - HD TC96 TOURING-MOD.08-10
10050886

The item is in stock and will be delivered in 2-4 working days. Note: Stocks are updated online every hour on working days from 7 a.m. to 8 p.m., so there is a good chance that the products are available if they appear online.

Available

€109.99

1 2 €81.99 1
K&N AIRFILTER HD-1611 - CROSS BONES/SLIM/BLACKL.
60905076

The item is in stock and will be delivered in 2-4 working days. Note: Stocks are updated online every hour on working days from 7 a.m. to 8 p.m., so there is a good chance that the products are available if they appear online.

Available

€99.99

1 €74.99 1
K&N AIRFILTER HD-2075 - FLH/FLHS 76-78/XL 75
60905072

The item is in stock and will be delivered in 2-4 working days. Note: Stocks are updated online every hour on working days from 7 a.m. to 8 p.m., so there is a good chance that the products are available if they appear online.

Available

€75.99

1 2 €56.99 1
K&N AIRFILTER HD-2084 - EVOLUTION BIG TWINS 84-85
60905078

The item is in stock and will be delivered in 2-4 working days. Note: Stocks are updated online every hour on working days from 7 a.m. to 8 p.m., so there is a good chance that the products are available if they appear online.

Available

Please remember that "Last chance" items can sell out fast, especially when the price has been slashed and the clothes sizes you are looking for are popular. "Last chance" items may no longer be available in all Louis stores!

€87.99

1 €49.99 1
K&N AIRFILTER HD-2086 - EVOLUTION BIG TWINS 86-89
60905074

The item is in stock and will be delivered in 2-4 working days. Note: Stocks are updated online every hour on working days from 7 a.m. to 8 p.m., so there is a good chance that the products are available if they appear online.

Available

€73.99

1 2 €54.99 1
K&N AIRFILTER HD-8834 - HARLEY SPORTSTER 04-13
10050479

This product is available at week 9.
Current calendar week: 04

Available as of calendar week 9

€103.99

1 2 €77.99 1
K&N AIRFILTER HD-8899 - HD TOURING MOD./INJ.99-01
60905070

The item is in stock and will be delivered in 2-4 working days. Note: Stocks are updated online every hour on working days from 7 a.m. to 8 p.m., so there is a good chance that the products are available if they appear online.

Available

€106.99

1 2 €79.99 1
K&N AIRFILTER HU-1200 - DIVERSE HUSQVARNA
60905150

The item is in stock and will be delivered in 2-4 working days. Note: Stocks are updated online every hour on working days from 7 a.m. to 8 p.m., so there is a good chance that the products are available if they appear online.

Available

€122.99

1 €91.99 1
K&N AIRFILTER HY-6507 - GT125/250/650/GV650
60905160

The item is in stock and will be delivered in 2-4 working days. Note: Stocks are updated online every hour on working days from 7 a.m. to 8 p.m., so there is a good chance that the products are available if they appear online.

Available

€76.99

1 €56.99 1
K&N AIRFILTER HY-6510 - GT650I NAKED/R 10-13
60905161

The item is in stock and will be delivered in 2-4 working days. Note: Stocks are updated online every hour on working days from 7 a.m. to 8 p.m., so there is a good chance that the products are available if they appear online.

Available

€71.99

1 2 €53.99 1
K&N AIRFILTER KA-0009 - KLR600
60905174

The item is in stock and will be delivered in 2-4 working days. Note: Stocks are updated online every hour on working days from 7 a.m. to 8 p.m., so there is a good chance that the products are available if they appear online.

Available

€59.99

1 €44.99 1
K&N AIRFILTER KA-0800 - Z900 73-75
60905179