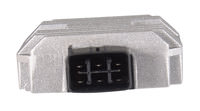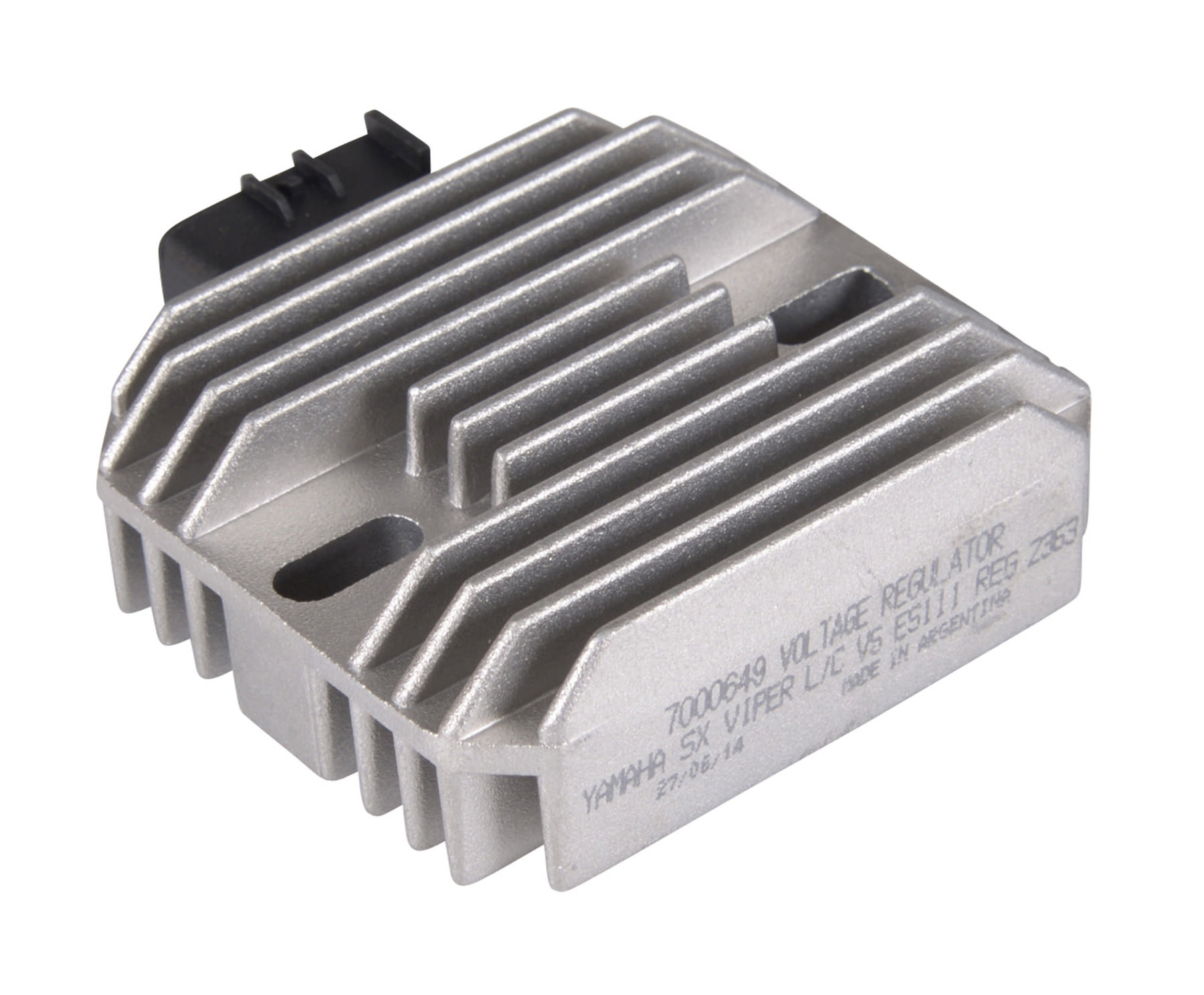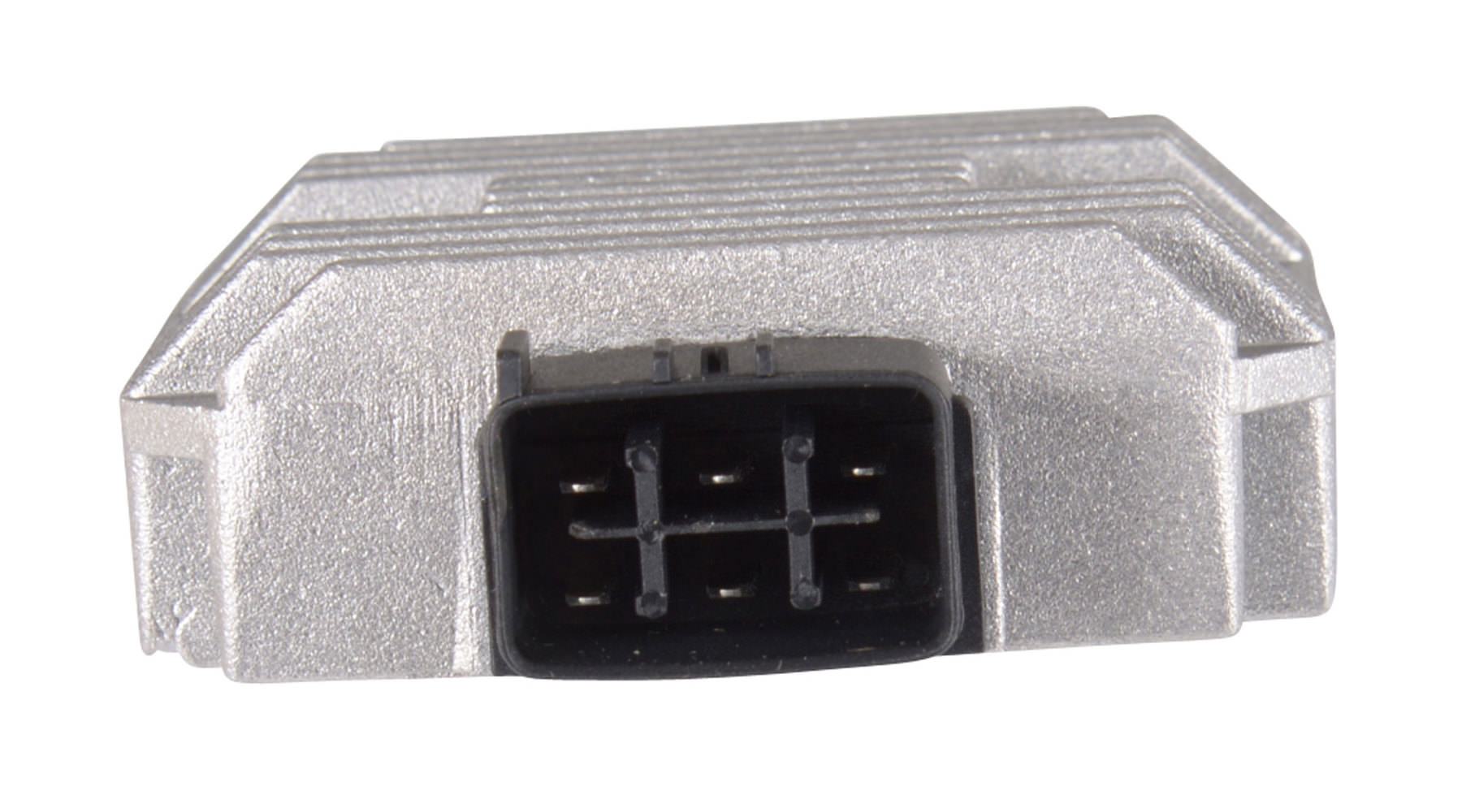 ALTERNATOR REGULATOR
YAMAHA MODELS
This product is available at week 24.
Current calendar week: 22
Available as of calendar week 24
Free delivery on orders over €199.00
2 year return policy
Purchase on invoice
Fast Delivery
Go to currency converter
Please select the desired exchange rate* and enter an amount.
* The source of the exchange rate is the European Central Bank. (As at 25.05.2020). The exchange rate is for information purposes only; it does not provide binding prices for an exchange. In practice, for individual exchanges, the prices for buying and selling currencies can deviate to a greater or lesser extent from these rates – depending on the country, financial institution or bureau de change and also the method of payment. The conversion is given as an indication only.
Alternator Regulator
various motorcycles
The purpose of the alternator regulator is to convert the AC current supplied by the alternator into a DC current, and to feed it into your electrical system at the correct voltage. It also ensures that all the vehicle's electrically powered equipment receive enough power for the function they perform. However, the regulator, as part of the alternator, may fail, in which case your vehicle's battery will no longer be charged, or will even be overcharged. If this happens, it's high time for a new regulator.
The regulators available to buy are the same as the original in their design and performance.
Product
Order no.
Availability
Price
Actions
ALTERNATOR REGULATOR - BMW MODELS
10037543

The item is in stock and will be delivered in 2-4 working days. Note: Stocks are updated online every hour on working days from 7 a.m. to 8 p.m., so there is a good chance that the products are available if they appear online.

Available

€146.95 1
ALTERNATOR REGULATOR - DUCATI, MOTO GUZZI
10037542

The item is in stock and will be delivered in 2-4 working days. Note: Stocks are updated online every hour on working days from 7 a.m. to 8 p.m., so there is a good chance that the products are available if they appear online.

Available

€146.95 1
ALTERNATOR REGULATOR - HONDA CBF 1000
10037564

The item is in stock and will be delivered in 2-4 working days. Note: Stocks are updated online every hour on working days from 7 a.m. to 8 p.m., so there is a good chance that the products are available if they appear online.

Available

€130.95 1
ALTERNATOR REGULATOR - HONDA CBR 1100 XX 1999-
10037562

The item is in stock and will be delivered in 2-4 working days. Note: Stocks are updated online every hour on working days from 7 a.m. to 8 p.m., so there is a good chance that the products are available if they appear online.

Available

€130.95 1
ALTERNATOR REGULATOR - HONDA CBR 1100 XX 97-98
10037576

The product will be ordered from the manufacturer for you. Depending on availability, longer delivery times are also possible. We'll let you know if that's the case. You can of course cancel your delivery at any time free of charge.

Available in 7-21 days

€125.99 1
ALTERNATOR REGULATOR - HONDA CBR 600 F
10037549

This product is available at week 25.
Current calendar week: 22

Available as of calendar week 25

€114.95 1
ALTERNATOR REGULATOR - HONDA CBR 600 RR
10037557

The product will be ordered from the manufacturer for you. Depending on availability, longer delivery times are also possible. We'll let you know if that's the case. You can of course cancel your delivery at any time free of charge.

Available in 7-21 days

€130.95 1
ALTERNATOR REGULATOR - HONDA CBR 900RR, VTX 1800
10037560

The item is in stock and will be delivered in 2-4 working days. Note: Stocks are updated online every hour on working days from 7 a.m. to 8 p.m., so there is a good chance that the products are available if they appear online.

Available

€125.95 1
ALTERNATOR REGULATOR - HONDA CBR MODELS
10037545

The item is in stock and will be delivered in 2-4 working days. Note: Stocks are updated online every hour on working days from 7 a.m. to 8 p.m., so there is a good chance that the products are available if they appear online.

Available

€125.95 1
ALTERNATOR REGULATOR - HONDA MODELS
10037567

The item is in stock and will be delivered in 2-4 working days. Note: Stocks are updated online every hour on working days from 7 a.m. to 8 p.m., so there is a good chance that the products are available if they appear online.

Available

€82.99 1
ALTERNATOR REGULATOR - HONDA MODELS
10037568

The item is in stock and will be delivered in 2-4 working days. Note: Stocks are updated online every hour on working days from 7 a.m. to 8 p.m., so there is a good chance that the products are available if they appear online.

Available

€126.99 1
ALTERNATOR REGULATOR - HONDA MODELS
10037552

The item is in stock and will be delivered in 2-4 working days. Note: Stocks are updated online every hour on working days from 7 a.m. to 8 p.m., so there is a good chance that the products are available if they appear online.

Available

€114.95 1
ALTERNATOR REGULATOR - HONDA MODELS
10037551

The item is in stock and will be delivered in 2-4 working days. Note: Stocks are updated online every hour on working days from 7 a.m. to 8 p.m., so there is a good chance that the products are available if they appear online.

Available

€114.95 1
ALTERNATOR REGULATOR - HONDA VFR 800
10037558

The item is in stock and will be delivered in 2-4 working days. Note: Stocks are updated online every hour on working days from 7 a.m. to 8 p.m., so there is a good chance that the products are available if they appear online.

Available

€125.95 1
ALTERNATOR REGULATOR - HONDA VFR 800 FI
10037561

The item is in stock and will be delivered in 2-4 working days. Note: Stocks are updated online every hour on working days from 7 a.m. to 8 p.m., so there is a good chance that the products are available if they appear online.

Available

€125.95 1
ALTERNATOR REGULATOR - HONDA VFR 800 FI
10037546

The item is in stock and will be delivered in 2-4 working days. Note: Stocks are updated online every hour on working days from 7 a.m. to 8 p.m., so there is a good chance that the products are available if they appear online.

Available

€125.95 1
ALTERNATOR REGULATOR - HONDA/KAWASAKI/YAMAHA/TRI
10037547

The item is in stock and will be delivered in 2-4 working days. Note: Stocks are updated online every hour on working days from 7 a.m. to 8 p.m., so there is a good chance that the products are available if they appear online.

Available

€125.95 1
ALTERNATOR REGULATOR - KAWASAKI/ YAMAHA
10037554

This product is available at week 27.
Current calendar week: 22

Available as of calendar week 27

€93.95 1
ALTERNATOR REGULATOR - SUZUKI MODELS
10037570

This product is available at week 24.
Current calendar week: 22

Available as of calendar week 24

€94.99 1
ALTERNATOR REGULATOR - SUZUKI MODELS
10037550

The product will be ordered from the manufacturer for you. Depending on availability, longer delivery times are also possible. We'll let you know if that's the case. You can of course cancel your delivery at any time free of charge.

Available in 7-21 days

€114.95 1
ALTERNATOR REGULATOR - SUZUKI MODELS
10037548

The item is in stock and will be delivered in 2-4 working days. Note: Stocks are updated online every hour on working days from 7 a.m. to 8 p.m., so there is a good chance that the products are available if they appear online.

Available

€114.95 1
ALTERNATOR REGULATOR - SUZUKI VS 1400
10037553

The item is in stock and will be delivered in 2-4 working days. Note: Stocks are updated online every hour on working days from 7 a.m. to 8 p.m., so there is a good chance that the products are available if they appear online.

Available

€130.95 1
ALTERNATOR REGULATOR - SUZUKI VS 1400 1987-1993
10037575

The item is in stock and will be delivered in 2-4 working days. Note: Stocks are updated online every hour on working days from 7 a.m. to 8 p.m., so there is a good chance that the products are available if they appear online.

Available

€117.99 1
ALTERNATOR REGULATOR - TRIUMPH
10037540

The item is in stock and will be delivered in 2-4 working days. Note: Stocks are updated online every hour on working days from 7 a.m. to 8 p.m., so there is a good chance that the products are available if they appear online.

Available

€125.95 1
ALTERNATOR REGULATOR - TRIUMPH 675
10037559

The item is in stock and will be delivered in 2-4 working days. Note: Stocks are updated online every hour on working days from 7 a.m. to 8 p.m., so there is a good chance that the products are available if they appear online.

Available

€125.95 1
ALTERNATOR REGULATOR - TRIUMPH MODELS
10037563

The product will be ordered from the manufacturer for you. Depending on availability, longer delivery times are also possible. We'll let you know if that's the case. You can of course cancel your delivery at any time free of charge.

Available in 7-21 days

€130.95 1
ALTERNATOR REGULATOR - YAMAHA MODELS
10037569

This product is available at week 24.
Current calendar week: 22

Available as of calendar week 24

€79.99 1
ALTERNATOR REGULATOR - YAMAHA MODELS
10037571

The item is in stock and will be delivered in 2-4 working days. Note: Stocks are updated online every hour on working days from 7 a.m. to 8 p.m., so there is a good chance that the products are available if they appear online.

Available

€99.99 1
ALTERNATOR REGULATOR - YAMAHA MODELS
10037572

The item is in stock and will be delivered in 2-4 working days. Note: Stocks are updated online every hour on working days from 7 a.m. to 8 p.m., so there is a good chance that the products are available if they appear online.

Available

€102.99 1
ALTERNATOR REGULATOR - YAMAHA MODELS
10037573

This product is available at week 24.
Current calendar week: 22

Available as of calendar week 24

€98.99 1