Interesting facts about motorcycle exhausts
Do you want to swap out your motorcycle's OEM exhaust for a new silencer? Do you want your bike to perform better, be louder and/or have a new look? Tips about registration documents, type approvals and care are provided here.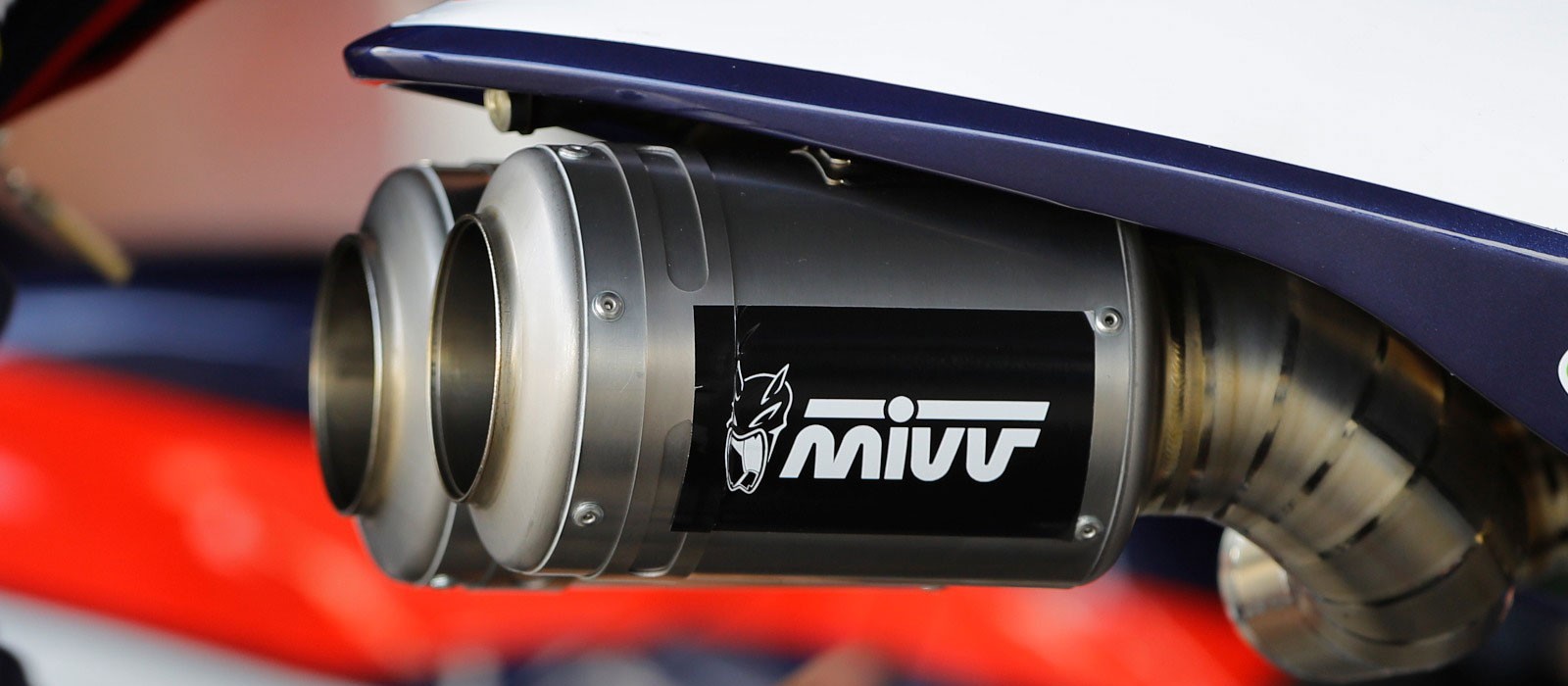 Requirement to carry registration documents:
You are required to carry registration documents with you in Germany, Austria and Switzerland. There is no requirement to carry such documents in the Netherlands.
Important information for customers in Switzerland
The road traffic laws defined in Switzerland's Road Traffic Act (SVG) differ (partially) from the common rules of the road in the EU. Please establish whether a part or accessory part for a motorcycle has been approved by 'Motorradfahrzeugkontrolle Schweiz' (Swiss Motorcycle Inspection) before making your purchase or placing your order.
There may be a charge for obtaining the necessary certification for Switzerland. This is often the case with products not purchased in Switzerland. Technical products cannot be returned if registration is rejected.
---
Overview of type approvals
ABE
This means that this product is compliant with the requirements of the German type approval, Section 20 of the German Road Traffic Licensing Act (StVZO). An entry in the vehicle documents is not required.
ECE
means that this product is compliant with the requirements of the United Nations Regulation ECE-R92 on uniform provisions concerning the approval of non-original replacement exhaust silencing systems (RESS) for motorcycles, mopeds and three-wheeled vehicles.
EC
means that this product is compliant with the applicable requirements of the European Union Directive EC 97/24 or the European Commission Delegated Regulation (EU) No. 134/2014 supplementing Regulation No. 168/2013 (EU) of the European Parliament and of the Council as indicated in the attached EC type approval document in the package and available on the product website.
Parts certificates
confirm that modifications carried out on the vehicle comply with the provisions of the German Vehicle Registration Ordinance (FZV). They must be submitted to the "Kfz-Zulassungsbehörde" (Motor Vehicle Licensing Authority) so that it can enter any modifications made to the vehicle in the registration certificate.
No certificate available
Systems without certification are only approved for racing and show purposes, outside of the scope of the German Road Traffic Licensing Act (StVo). In the case of classic vehicles, entries in the vehicle documents may be possible by way of individual acceptance.
---
Noise protection
Why has there been such great interest in noise protection recently? Numerous studies conducted over the last decades have demonstrated that prolonged exposure to continuous noise can make you ill. However, there are now also a great deal of studies that see the impacts of noise as being far less significant on health. The debate among experts is ongoing.
Yet people living close to airports, railway tracks or major roads in particular can relate to the stress caused by noise, especially when there are various sources of noise constantly bombarding them 24/7. And it has been proven that stress can cause damage to health, at least psychologically.
Examples of different sounds and the corresponding dB values:
Breathing sound: 10 dB
Conversations: 55 dB
Open-plan offices: 70 dB
Lawnmowers: 70 dB
Normal street noise: 75 dB
Pneumatic hammer: 90–100 dB
Chainsaw: 110 dB
(Source: www.bussgeldkatalog.org)
The usual pain threshold is 130 decibels. How noise is perceived, however, is very subjective.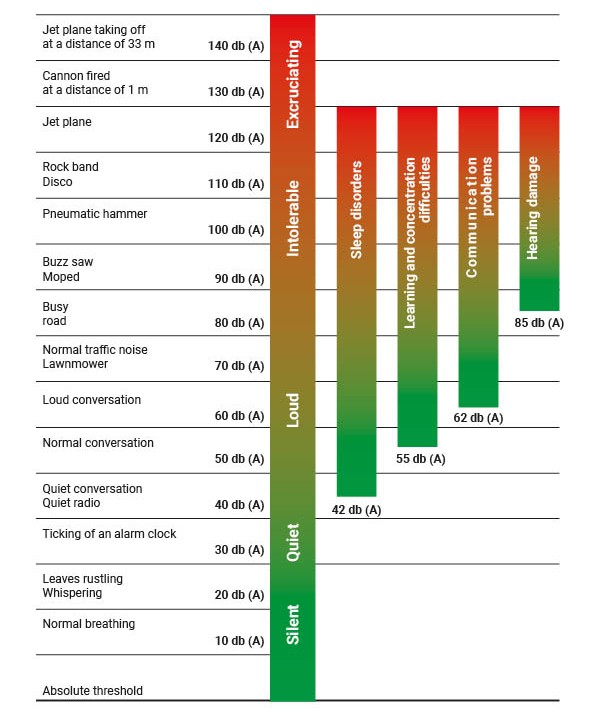 ---
Ho do I find my noise values in my vehicle registration?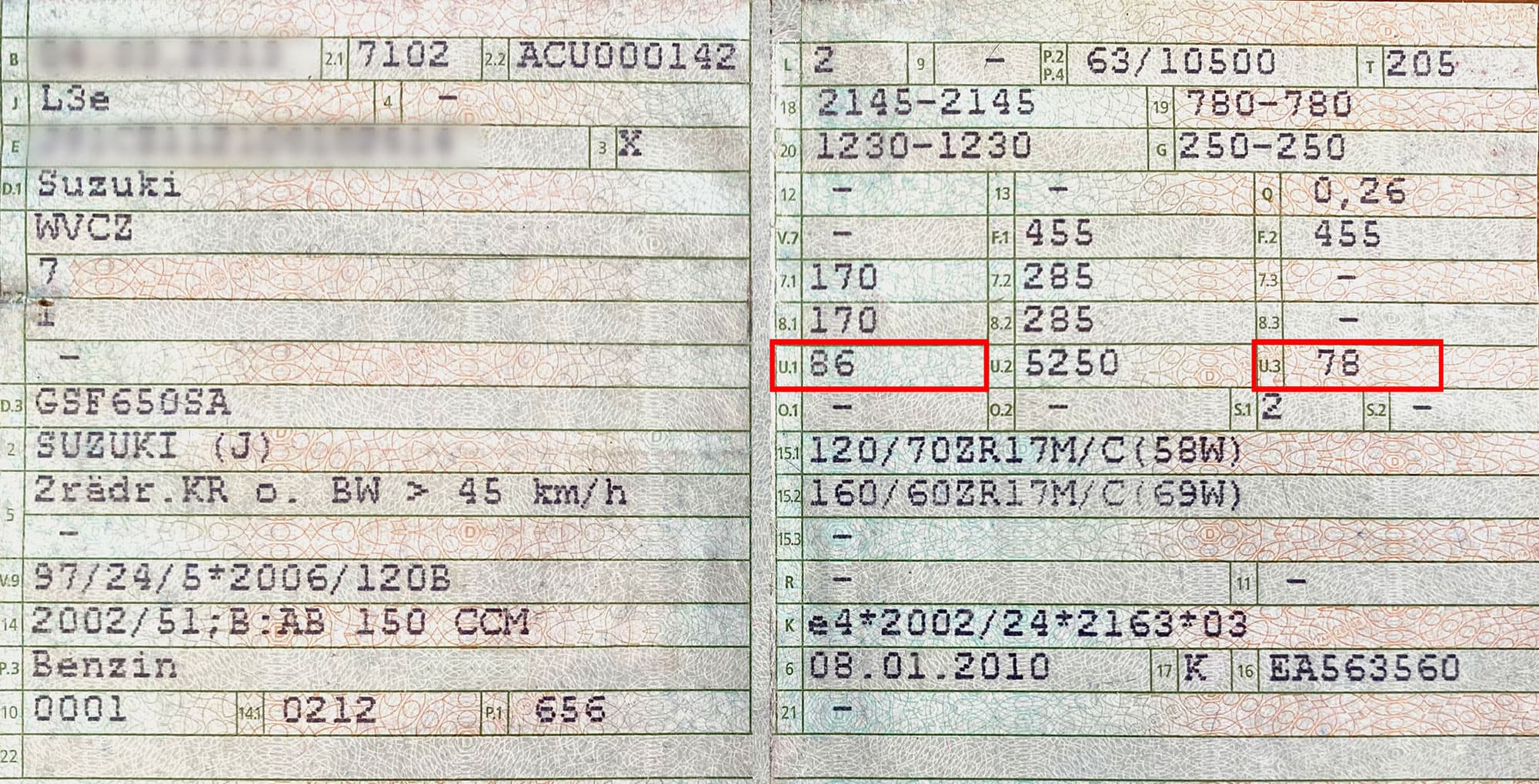 ---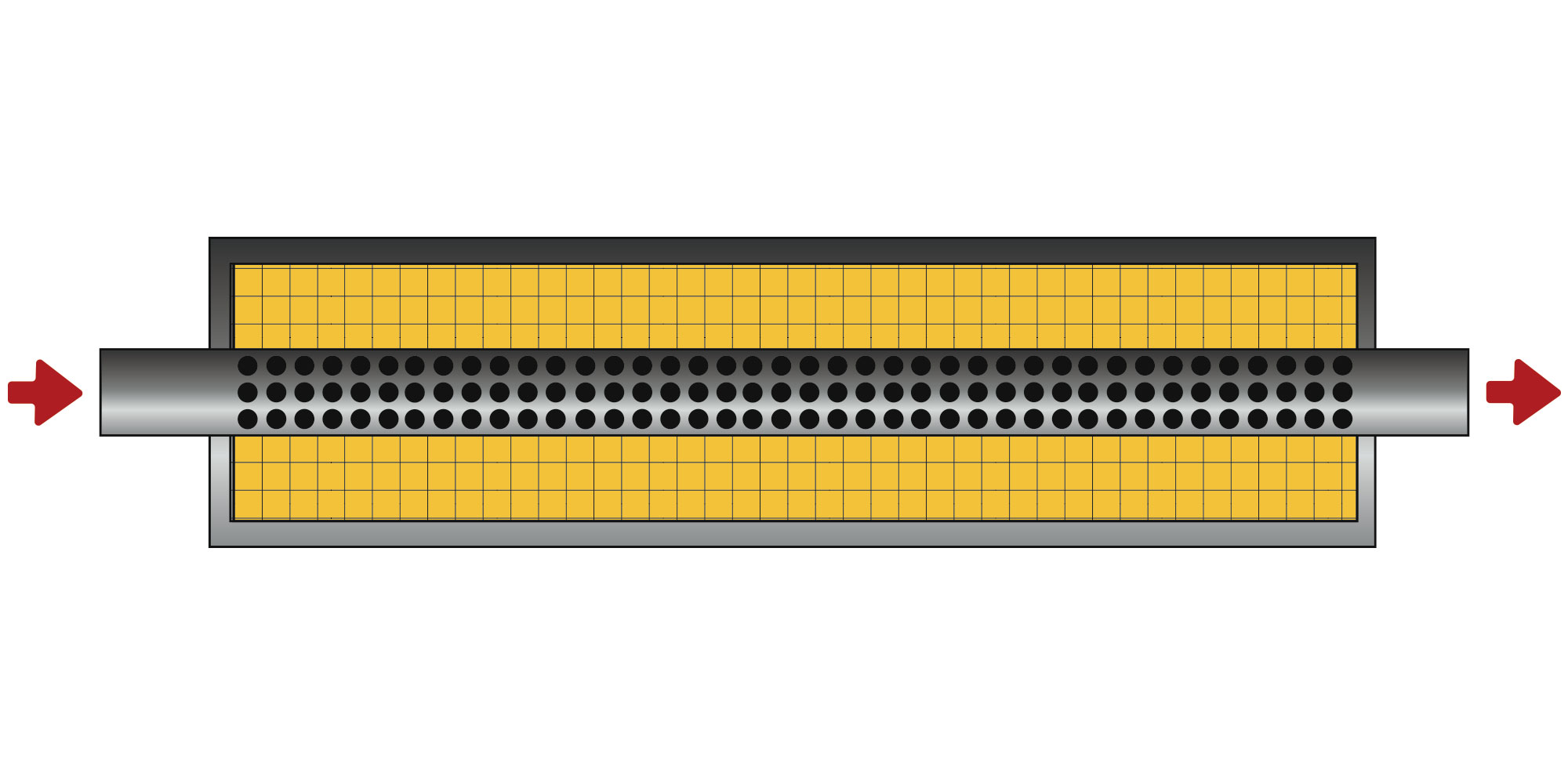 Absorptive silencer
Approx. 95 per cent of all aftermarket silencers operate on this principle. A central sieve tube surrounded by insulating material (usually steel or mineral wool) is positioned inside the silencer. This insulating material converts sound energy into heat. Advantages of absorptive silencers: cost-efficient production, low weight. Disadvantages: The insulating wool ages, causing the attenuation to decline over time.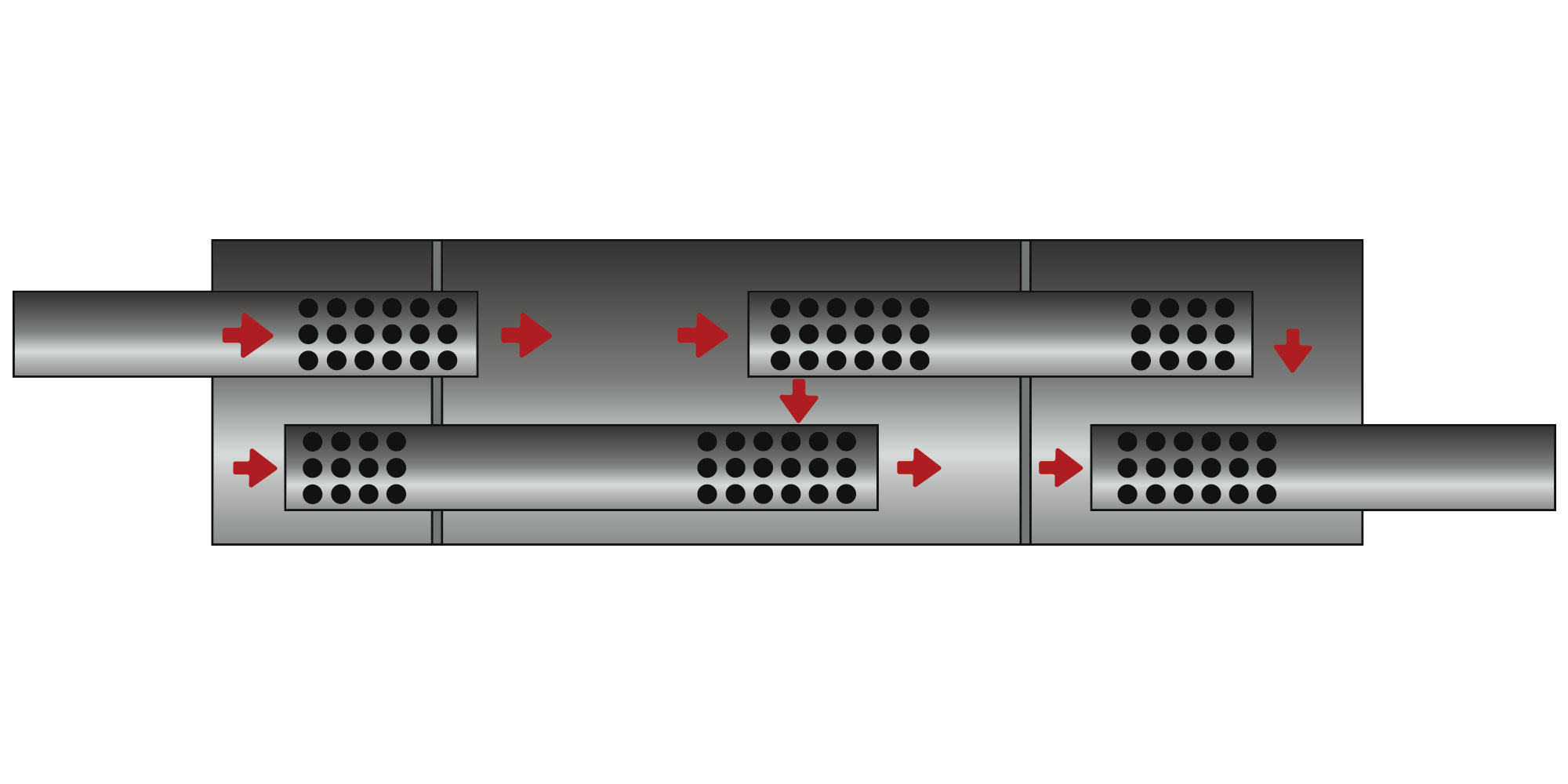 Reflective silencer
Only a few aftermarket silencers but most standard exhaust systems operate on this principle. Sound is reflected and redirected several times through different chambers that are interconnected by tubes. Sound cancels itself out in these resonance chambers through phase reversal. Advantages: Attenuation is kept constant. Disadvantages: expensive and heavy.
---
Warning! Traffic controls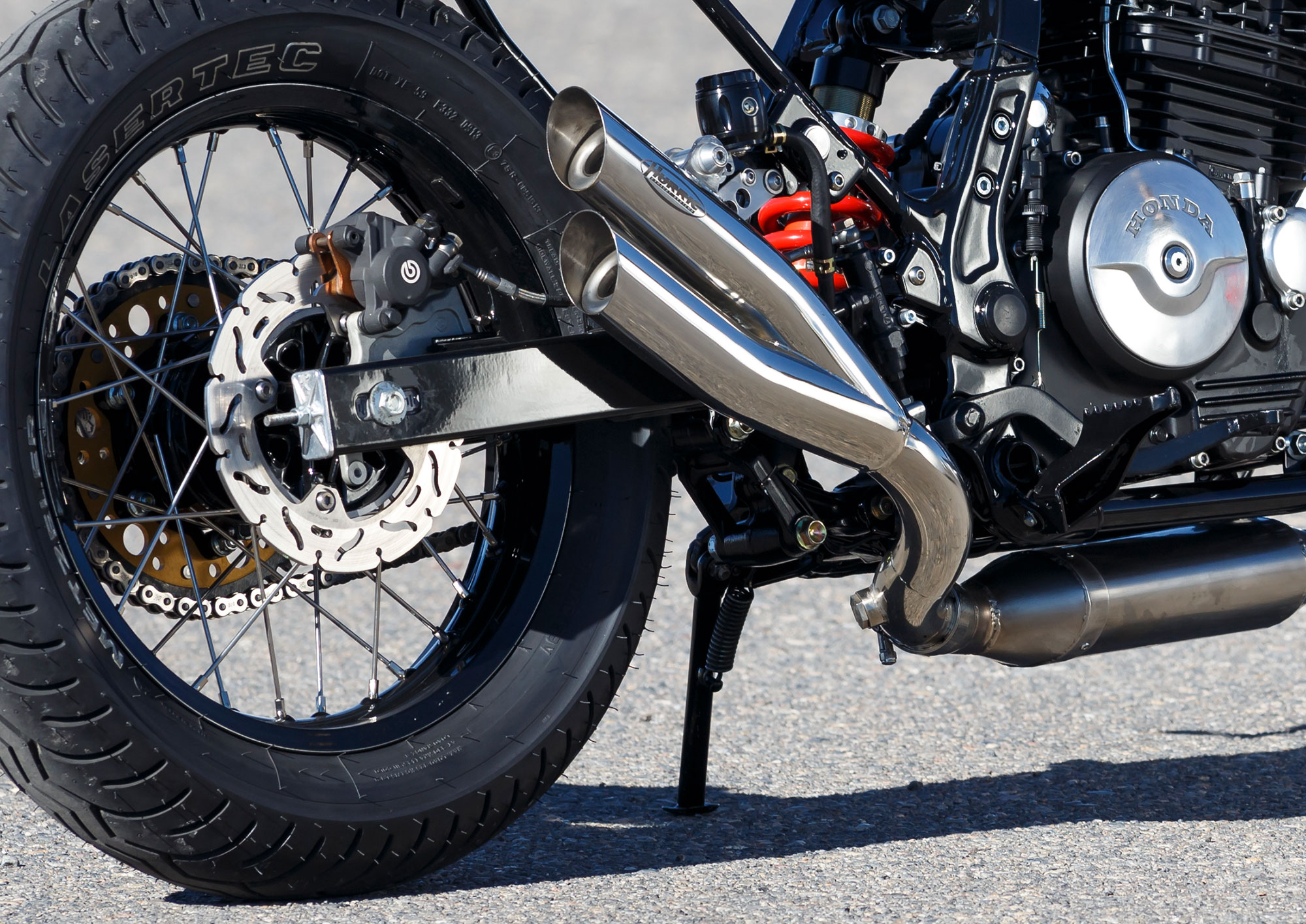 Half the rated speed is used for measurements: for example, at 5,000 rpm for a motorcycle which reaches its maximum power at 10,000 rpm. The microphone is placed at the same height as the exhaust outlet at a 45-degree angle to the vehicle's longitudinal axis from 0.5 metres away.
The highest three measured values are taken as the result and rounded to a full dB (A). The value entered in the documents may be exceeded by up to 5 dB (A) as tolerance limit for traffic control inspections conducted by the police. If law enforcement officers have any valid reason to doubt the legality of the installed exhaust system, they can request the motorcycle be brought in for an officially valid pass-by noise measurement even if there are minor violations. The law does not consider the stationary noise measurement taken from the roadside as authoritative.
---
Identity documents: Yes or no?
Yes and no. Legitimacy shall be determined through a silencer with a clearly visible stamp or plate on it. Police can use it to inquire into proper usage with the Kraftfahrt-Bundesamt (German Federal Motor Transport Authority). At least theoretically. Experience has shown that if approval was granted abroad, then there will most likely be problems. The inspection cards provided by some manufacturers with the area of use can therefore be rather handy when it comes to inspections.
---
| Violation | Fine |
| --- | --- |
| Vehicle operated with defective exhaust | € 20,- |
| Modified vehicle: unnecessary noise, avoidable exhaust pollution, useless driving back and forth | € 100,- |
---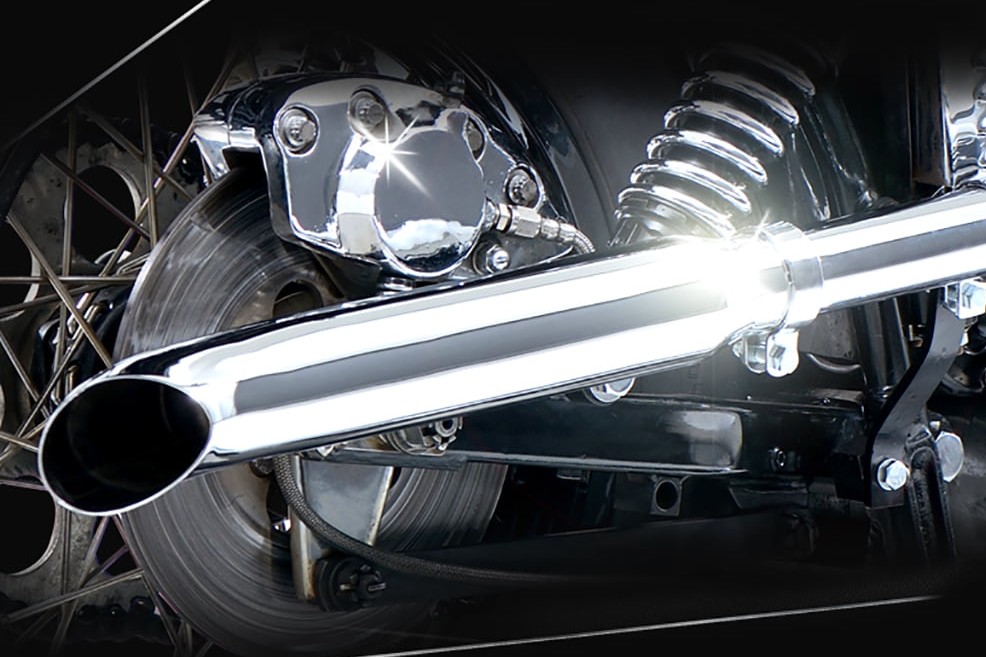 Autosol – simply brilliant: Care products for motorcycles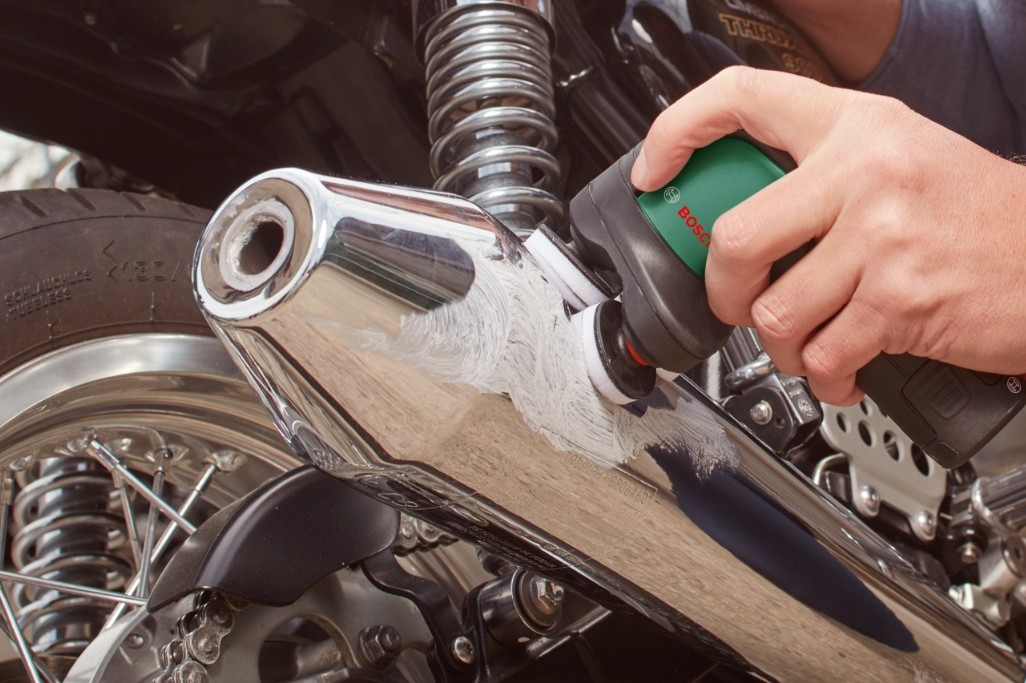 Care products and polishes for motorcycles
---