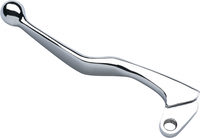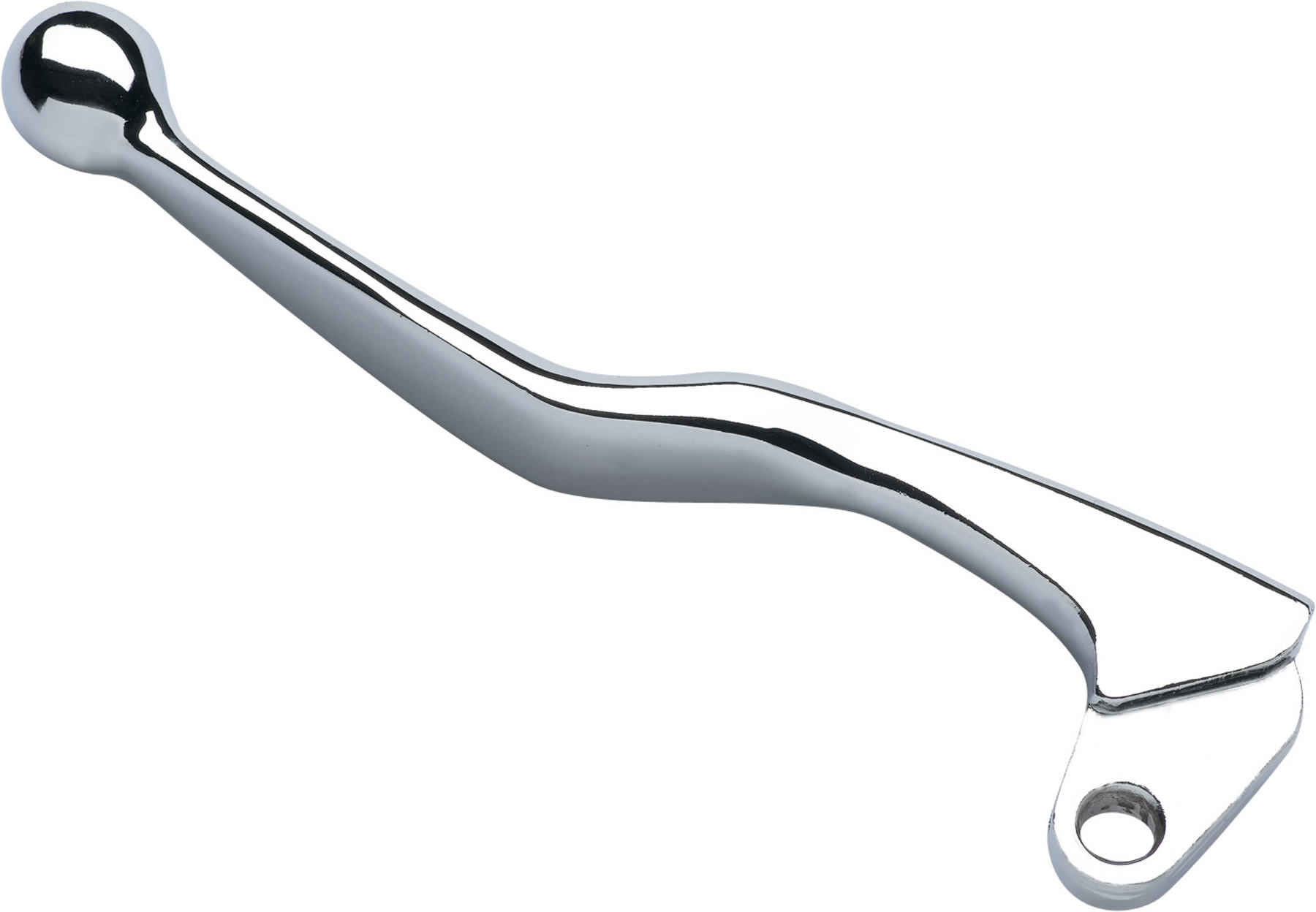 Clutch lever
Various models
Unfortunately, this product is not compatible with this motorcycle.
Unfortunately, this product is not compatible with this motorcycle. You can find the right for the here: .
€

9.991
from
€

7.991
(-20%)
Free delivery on orders over €50.00
2 year return policy
Fast delivery
Clutch lever
Various models
Forged Clutch Lever:

Conventional replacement levers are produced by the aluminium diecasting process. While this is an inexpensive method of manufacture, the resulting metal is very unelastic and fractures easily (e.g. if the bike is dropped). These levers are made from forged aluminium (or to be more precise, by drop forging), which is considerably denser and more elastic, and therefore far more fracture-resistant. So this lever is a high-quality, yet still very affordable, replacement for the original. Excellent precision fit. Available in black or silver, depending on model of bike. Sold individually.

Note: Before fitting the lever you should compare it carefully with the original and be sure to follow the safety instructions supplied with it. The design of levers is always the same as the original, especially in terms of reach adjustment.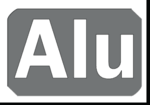 This product is made of high-quality aluminium and will look great on your motorbike. To ensure that it gives you years of pleasure, please observe the following instructions: To keep this product in top condition, it should be treated after long trips in winter, or in rain or salty air (near the coast), and also at periodic intervals.

Water and salt encourage corrosion. After cleaning (e.g. with Procycle Special Gel Cleaner, Order no. 10004909), we recommend regularly polishing aluminium parts with standard aluminium polish (e.g. Alu-Magic, Order no. 10004031).
Safety data sheets
Instructions/Guides
Product
Art. No.
Availability
Price
Actions
CLUTCH LEVER - FOR VARIOUS MODELS, BLACK
10019318

The item is in stock and will be delivered in 2-5 working days. Note: Stocks are updated online every hour on working days from 7 a.m. to 8 p.m., so there is a good chance that the products are available if they appear online.

Available

€9.99 1
CLUTCH LEVER - VAR. KAWA./SUZUKI, SILVER
10019336

The item is in stock and will be delivered in 2-5 working days. Note: Stocks are updated online every hour on working days from 7 a.m. to 8 p.m., so there is a good chance that the products are available if they appear online.

Available

Please remember that "Last chance" items can sell out fast, especially when the price has been slashed and the clothes sizes you are looking for are popular. "Last chance" items may no longer be available in all Louis stores!

€19.99

1 €12.99 1
CLUTCH LEVER - VAR. YAMAHA+HONDA, SILVER
10019315

The item is in stock and will be delivered in 2-5 working days. Note: Stocks are updated online every hour on working days from 7 a.m. to 8 p.m., so there is a good chance that the products are available if they appear online.

Available

€24.99 1
CLUTCH LEVER - VARIOUS BMW, BLACK
10019328

The item is in stock and will be delivered in 2-5 working days. Note: Stocks are updated online every hour on working days from 7 a.m. to 8 p.m., so there is a good chance that the products are available if they appear online.

Available

€24.99 1
CLUTCH LEVER - VARIOUS HONDA, BLACK
10019334

The item is in stock and will be delivered in 2-5 working days. Note: Stocks are updated online every hour on working days from 7 a.m. to 8 p.m., so there is a good chance that the products are available if they appear online.

Available

€19.99 1
CLUTCH LEVER - VARIOUS HONDA, BLACK
10019331

The item is in stock and will be delivered in 2-5 working days. Note: Stocks are updated online every hour on working days from 7 a.m. to 8 p.m., so there is a good chance that the products are available if they appear online.

Available

€19.99 1
CLUTCH LEVER - VARIOUS HONDA, BLACK
10019330

The item is in stock and will be delivered in 2-5 working days. Note: Stocks are updated online every hour on working days from 7 a.m. to 8 p.m., so there is a good chance that the products are available if they appear online.

Available

€17.99 1
CLUTCH LEVER - VARIOUS HONDA, BLACK
10019309

The item is in stock and will be delivered in 2-5 working days. Note: Stocks are updated online every hour on working days from 7 a.m. to 8 p.m., so there is a good chance that the products are available if they appear online.

Available

€19.99 1
CLUTCH LEVER - VARIOUS HONDA, BLACK
10019321

The item is in stock and will be delivered in 2-5 working days. Note: Stocks are updated online every hour on working days from 7 a.m. to 8 p.m., so there is a good chance that the products are available if they appear online.

Available

€17.99 1
CLUTCH LEVER - VARIOUS HONDA, SILVER
10019333

The item is in stock and will be delivered in 2-5 working days. Note: Stocks are updated online every hour on working days from 7 a.m. to 8 p.m., so there is a good chance that the products are available if they appear online.

Available

€19.99 1
CLUTCH LEVER - VARIOUS HONDA, SILVER
10019325

The item is in stock and will be delivered in 2-5 working days. Note: Stocks are updated online every hour on working days from 7 a.m. to 8 p.m., so there is a good chance that the products are available if they appear online.

Available

€29.99 1
CLUTCH LEVER - VARIOUS HONDA, SILVER
10019323

The item is in stock and will be delivered in 2-5 working days. Note: Stocks are updated online every hour on working days from 7 a.m. to 8 p.m., so there is a good chance that the products are available if they appear online.

Available

€29.99 1
CLUTCH LEVER - VARIOUS HONDA, SILVER
10019300

The item is in stock and will be delivered in 2-5 working days. Note: Stocks are updated online every hour on working days from 7 a.m. to 8 p.m., so there is a good chance that the products are available if they appear online.

Available

€19.99 1
CLUTCH LEVER - VARIOUS HONDA, SILVER
10019313

The item is in stock and will be delivered in 2-5 working days. Note: Stocks are updated online every hour on working days from 7 a.m. to 8 p.m., so there is a good chance that the products are available if they appear online.

Available

€17.99 1
CLUTCH LEVER - VARIOUS KAWASAKI, BLACK
10019312

The item is in stock and will be delivered in 2-5 working days. Note: Stocks are updated online every hour on working days from 7 a.m. to 8 p.m., so there is a good chance that the products are available if they appear online.

Available

€12.99 1
CLUTCH LEVER - VARIOUS KAWASAKI, BLACK
10019322

The item is in stock and will be delivered in 2-5 working days. Note: Stocks are updated online every hour on working days from 7 a.m. to 8 p.m., so there is a good chance that the products are available if they appear online.

Available

Please remember that "Last chance" items can sell out fast, especially when the price has been slashed and the clothes sizes you are looking for are popular. "Last chance" items may no longer be available in all Louis stores!

€12.99

1 €7.99 1
CLUTCH LEVER - VARIOUS KAWASAKI, BLACK
10019310

The item is in stock and will be delivered in 2-5 working days. Note: Stocks are updated online every hour on working days from 7 a.m. to 8 p.m., so there is a good chance that the products are available if they appear online.

Available

€29.99 1
CLUTCH LEVER - VARIOUS KAWASAKI, SILVER
10019335

The item is in stock and will be delivered in 2-5 working days. Note: Stocks are updated online every hour on working days from 7 a.m. to 8 p.m., so there is a good chance that the products are available if they appear online.

Available

€19.99 1
CLUTCH LEVER - VARIOUS KAWASAKI, SILVER
10019304

The item is in stock and will be delivered in 2-5 working days. Note: Stocks are updated online every hour on working days from 7 a.m. to 8 p.m., so there is a good chance that the products are available if they appear online.

Available

€14.99 1
CLUTCH LEVER - VARIOUS MODELS, SILVER
10019308

The item is in stock and will be delivered in 2-5 working days. Note: Stocks are updated online every hour on working days from 7 a.m. to 8 p.m., so there is a good chance that the products are available if they appear online.

Available

€24.99 1
CLUTCH LEVER - VARIOUS MODELS, SILVER
10019314

The item is in stock and will be delivered in 2-5 working days. Note: Stocks are updated online every hour on working days from 7 a.m. to 8 p.m., so there is a good chance that the products are available if they appear online.

Available

€29.99 1
CLUTCH LEVER - VARIOUS MODELS, SILVER
10019338

The item is in stock and will be delivered in 2-5 working days. Note: Stocks are updated online every hour on working days from 7 a.m. to 8 p.m., so there is a good chance that the products are available if they appear online.

Available

€24.99 1
CLUTCH LEVER - VARIOUS SUZUKI, SILVER
10019326

The item is in stock and will be delivered in 2-5 working days. Note: Stocks are updated online every hour on working days from 7 a.m. to 8 p.m., so there is a good chance that the products are available if they appear online.

Available

€19.99 1
CLUTCH LEVER - VARIOUS SUZUKI, SILVER
10019311

The item is in stock and will be delivered in 2-5 working days. Note: Stocks are updated online every hour on working days from 7 a.m. to 8 p.m., so there is a good chance that the products are available if they appear online.

Available

€19.99 1
CLUTCH LEVER - VARIOUS SUZUKI, SILVER
10019329

The item is in stock and will be delivered in 2-5 working days. Note: Stocks are updated online every hour on working days from 7 a.m. to 8 p.m., so there is a good chance that the products are available if they appear online.

Available

€19.99 1
CLUTCH LEVER - VARIOUS SUZUKI, SILVER
10019332

The item is in stock and will be delivered in 2-5 working days. Note: Stocks are updated online every hour on working days from 7 a.m. to 8 p.m., so there is a good chance that the products are available if they appear online.

Available

€19.99 1
CLUTCH LEVER - VARIOUS SUZUKI, SILVER
10019301

The item is in stock and will be delivered in 2-5 working days. Note: Stocks are updated online every hour on working days from 7 a.m. to 8 p.m., so there is a good chance that the products are available if they appear online.

Available

€19.99 1
CLUTCH LEVER - VARIOUS SUZUKI, SILVER
10019303

The item is in stock and will be delivered in 2-5 working days. Note: Stocks are updated online every hour on working days from 7 a.m. to 8 p.m., so there is a good chance that the products are available if they appear online.

Available

€17.99 1
CLUTCH LEVER - VARIOUS SUZUKI, SILVER
10019302

The item is in stock and will be delivered in 2-5 working days. Note: Stocks are updated online every hour on working days from 7 a.m. to 8 p.m., so there is a good chance that the products are available if they appear online.

Available

€34.99 1
CLUTCH LEVER - VARIOUS YAMAHA, BLACK
10019324

The item is in stock and will be delivered in 2-5 working days. Note: Stocks are updated online every hour on working days from 7 a.m. to 8 p.m., so there is a good chance that the products are available if they appear online.

Available

€19.99 1
CLUTCH LEVER - VARIOUS YAMAHA, BLACK
10019306

The item is in stock and will be delivered in 2-5 working days. Note: Stocks are updated online every hour on working days from 7 a.m. to 8 p.m., so there is a good chance that the products are available if they appear online.

Available

€19.99 1
CLUTCH LEVER - VARIOUS YAMAHA, BLACK
10019305

The item is in stock and will be delivered in 2-5 working days. Note: Stocks are updated online every hour on working days from 7 a.m. to 8 p.m., so there is a good chance that the products are available if they appear online.

Available

€19.99 1
CLUTCH LEVER - VARIOUS YAMAHA, BLACK
10019317

The item is in stock and will be delivered in 2-5 working days. Note: Stocks are updated online every hour on working days from 7 a.m. to 8 p.m., so there is a good chance that the products are available if they appear online.

Available

€19.99 1
CLUTCH LEVER - VARIOUS YAMAHA, SILVER
10019337

The item is in stock and will be delivered in 2-5 working days. Note: Stocks are updated online every hour on working days from 7 a.m. to 8 p.m., so there is a good chance that the products are available if they appear online.

Available

€19.99 1
CLUTCH LEVER - VARIOUS YAMAHA, SILVER
10019307

The item is in stock and will be delivered in 2-5 working days. Note: Stocks are updated online every hour on working days from 7 a.m. to 8 p.m., so there is a good chance that the products are available if they appear online.

Available

€19.99 1