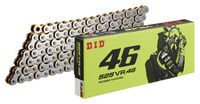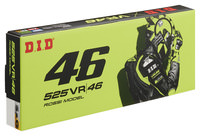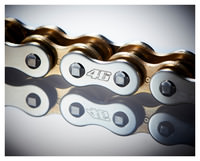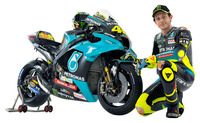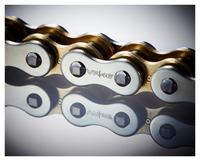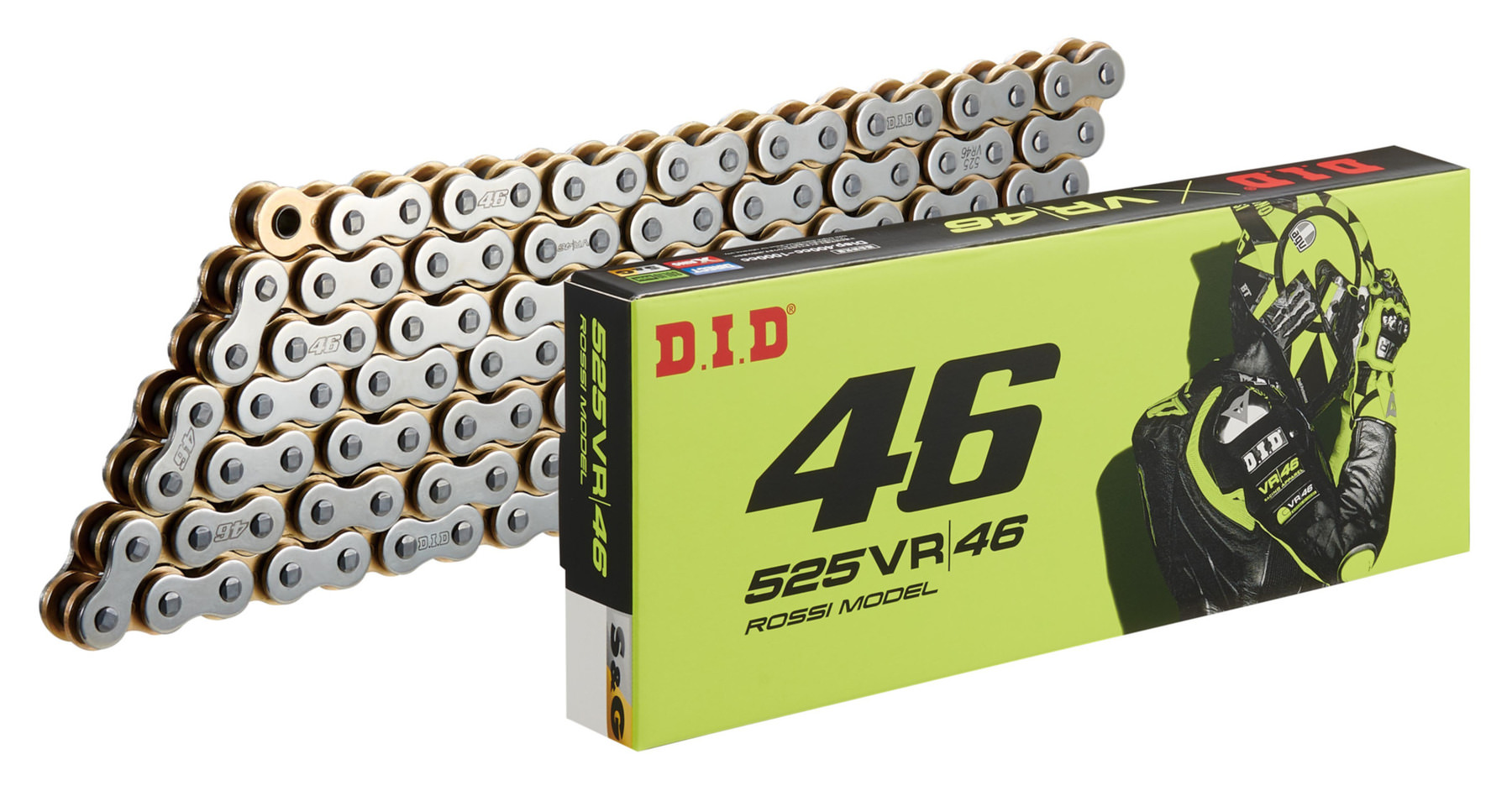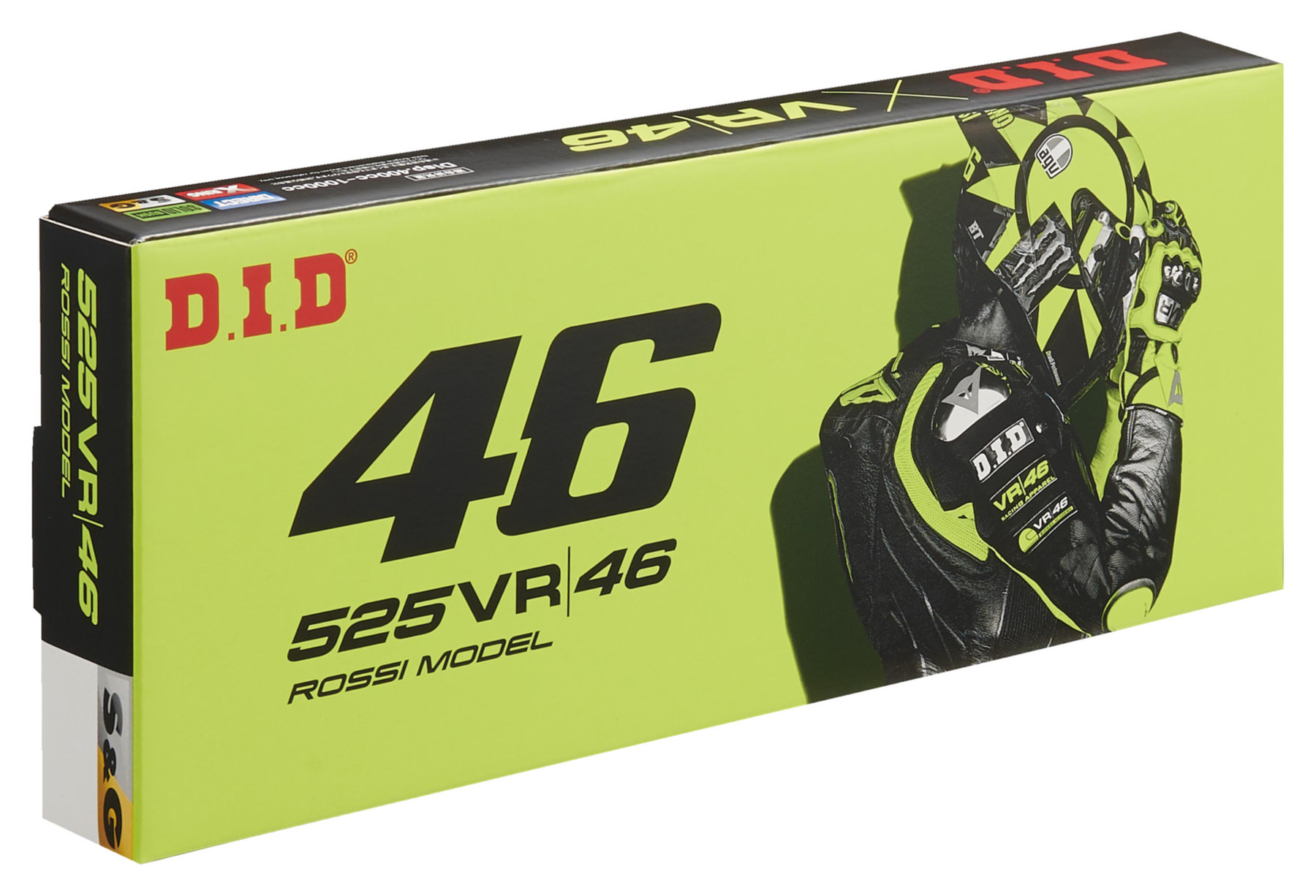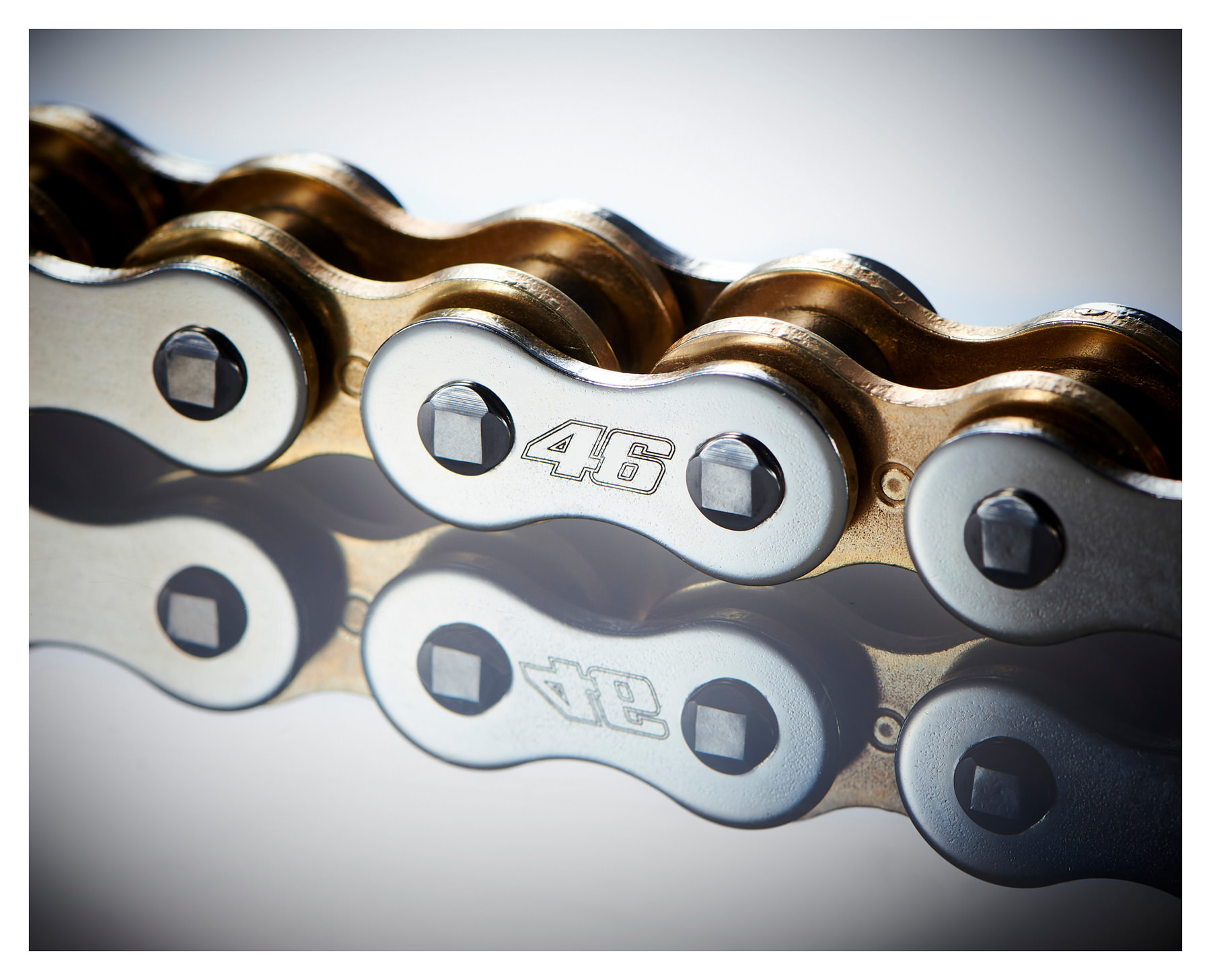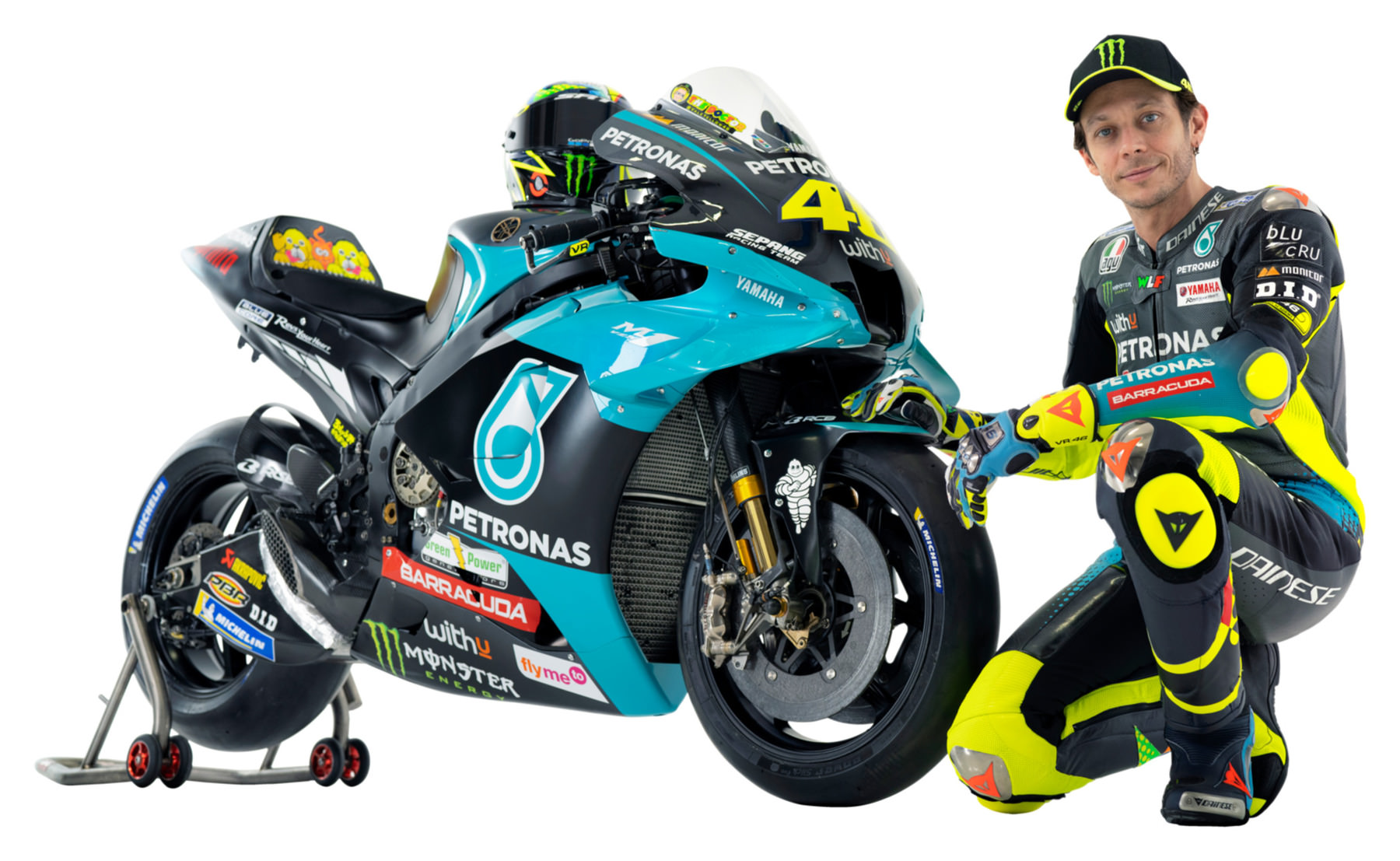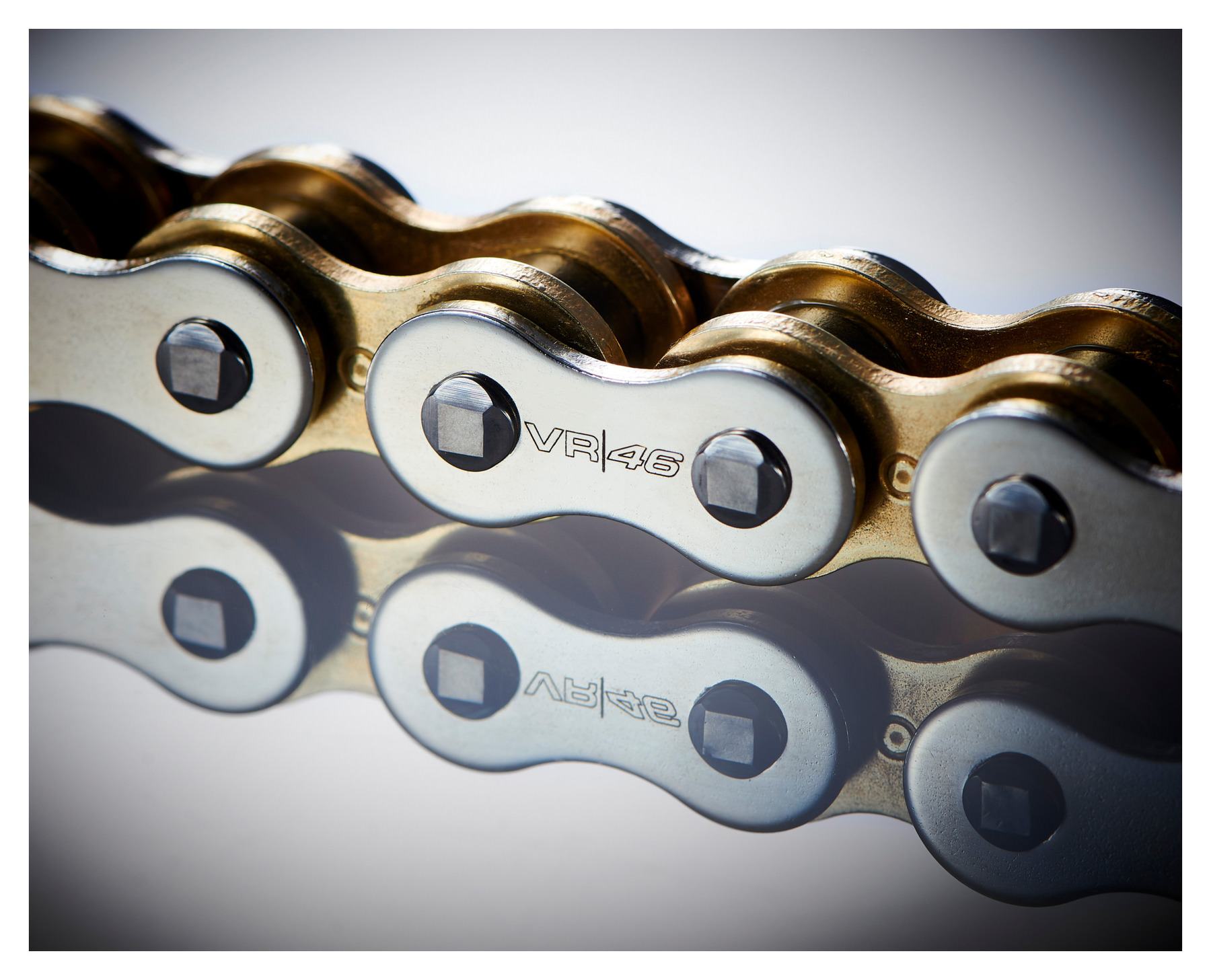 DID VR46 Chain
Valentino Rossi Edition
Free delivery on orders over €50.00
2 year return policy
Fast delivery
DID VR46 Chain
Valentino Rossi Edition
DID has chained up a nine-time world champion! Get the Valentino Rossi Edition for your vehicle, the DID *VR46* 520/525 motorcycle chain. It's an open drive chain with hollow rivet link. An upgrade of the tried-and-tested 520/525VX2, and based on DID's latest and long-standing experience in MotoGP. The use of patented X rings means the DID *VR46* meets the highest demands. What's special about this edition is the VR46 embossing.
Patented X-rings for longer service life and lower friction
Direct force transmission technology gives you incredible acceleration. This is thanks to the state-of-the-art technology for increasing chain strength
Tensile strengths:
520VR46: 3720 kg
525VR46: 4524kg
Wear resistance index:
520VR46: 3500
525VR46: 4000
Reference: Standard chain (=100)
D.I.D motorcycle recommendations:
520 VX2/VR46: Motorcycles from 125 to 750 cc
525 VX: Motorcycles from 400 to 900 cc
What's included:
DID *VR46* motorcycle chain, open, with hollow rivet link
Manufacturer details: DID

Chain + Pinion + Sprocket

Motorcycle manufacturers look for chains with the best running characteristics and the longest service life - that often means chains from DID. Experience and engineering of the highest standard guarantee outstanding quality for your requirements, too. We supply what is surely the most widely used motorbike chain in the world, produced by state-of-the-art manufacturing methods from top-quality components - the "Professional Line" from DID. Extremely long life and noticeably smoother running will make this your chain of choice, as it is for many of the top motorcycle racers.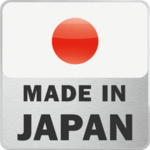 QUALITY MADE IN JAPAN!
This product has been imported from Japan! The latest technology and continuous production monitoring are just two of the factors that ensure you are offered a top-quality product.
No customer reviews have been submitted for this product.
Be the first to write a review!
Product
Art. No.
Availability
Price
Actions
DID VR46 - CHAIN 520 - 110 LINKS OPEN WITH LOCK
10016449

The item is in stock and will be delivered in 2-5 working days. Note: Stocks are updated online every hour on working days from 7 a.m. to 8 p.m., so there is a good chance that the products are available if they appear online.

Available

€109.99 1
DID VR46 - CHAIN 520 - 110 LINKS OPEN WITH LOCK
10016450

The item is in stock and will be delivered in 2-5 working days. Note: Stocks are updated online every hour on working days from 7 a.m. to 8 p.m., so there is a good chance that the products are available if they appear online.

Available

€114.99 1
DID VR46 - CHAIN 520 - 114 LINKS OPEN WITH LOCK
10016451

The item is in stock and will be delivered in 2-5 working days. Note: Stocks are updated online every hour on working days from 7 a.m. to 8 p.m., so there is a good chance that the products are available if they appear online.

Available

€119.99 1
DID VR46 - CHAIN 520 - 116 LINKS OPEN WITH LOCK
10016452

The item is in stock and will be delivered in 2-5 working days. Note: Stocks are updated online every hour on working days from 7 a.m. to 8 p.m., so there is a good chance that the products are available if they appear online.

Available

€119.99 1
DID VR46 - CHAIN 520 - 118 LINKS OPEN WITH LOCK
10016453

The item is in stock and will be delivered in 2-5 working days. Note: Stocks are updated online every hour on working days from 7 a.m. to 8 p.m., so there is a good chance that the products are available if they appear online.

Available

€119.99 1
DID VR46 - CHAIN 520 - 120 LINKS OPEN WITH LOCK
10016454

The item is in stock and will be delivered in 2-5 working days. Note: Stocks are updated online every hour on working days from 7 a.m. to 8 p.m., so there is a good chance that the products are available if they appear online.

Available

€124.99 1
DID VR46 - CHAIN - 108 LINKS OPEN WITH LOCK
10016455

The item is in stock and will be delivered in 2-5 working days. Note: Stocks are updated online every hour on working days from 7 a.m. to 8 p.m., so there is a good chance that the products are available if they appear online.

Available

€129.99 1
DID VR46 - CHAIN - 110 LINKS OPEN WITH LOCK
10016456

The item is in stock and will be delivered in 2-5 working days. Note: Stocks are updated online every hour on working days from 7 a.m. to 8 p.m., so there is a good chance that the products are available if they appear online.

Available

€129.99 1
DID VR46 - CHAIN - 112 LINKS OPEN WITH LOCK
10016457

The item is in stock and will be delivered in 2-5 working days. Note: Stocks are updated online every hour on working days from 7 a.m. to 8 p.m., so there is a good chance that the products are available if they appear online.

Available

€134.99 1
DID VR46 - CHAIN - 114 LINKS OPEN WITH LOCK
10016458

The item is in stock and will be delivered in 2-5 working days. Note: Stocks are updated online every hour on working days from 7 a.m. to 8 p.m., so there is a good chance that the products are available if they appear online.

Available

€134.99 1
DID VR46 - CHAIN - 116 LINKS OPEN WITH LOCK
10016459

The item is in stock and will be delivered in 2-5 working days. Note: Stocks are updated online every hour on working days from 7 a.m. to 8 p.m., so there is a good chance that the products are available if they appear online.

Available

€139.99 1
DID VR46 - CHAIN - 118 LINKS OPEN WITH LOCK
10016460

The item is in stock and will be delivered in 2-5 working days. Note: Stocks are updated online every hour on working days from 7 a.m. to 8 p.m., so there is a good chance that the products are available if they appear online.

Available

€139.99 1
DID VR46 - CHAIN - 120 LINKS OPEN WITH LOCK
10016461

The item is in stock and will be delivered in 2-5 working days. Note: Stocks are updated online every hour on working days from 7 a.m. to 8 p.m., so there is a good chance that the products are available if they appear online.

Available

€139.99 1
DID VR46 - CHAIN - 122 LINKS OPEN WITH LOCK
10016462

The item is in stock and will be delivered in 2-5 working days. Note: Stocks are updated online every hour on working days from 7 a.m. to 8 p.m., so there is a good chance that the products are available if they appear online.

Available

€144.99 1
DID VR46 - CHAIN - 124 LINKS OPEN WITH LOCK
10016463

The item is in stock and will be delivered in 2-5 working days. Note: Stocks are updated online every hour on working days from 7 a.m. to 8 p.m., so there is a good chance that the products are available if they appear online.

Available

€144.99 1