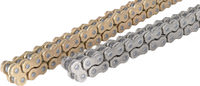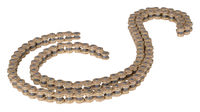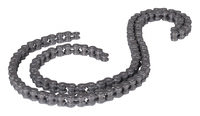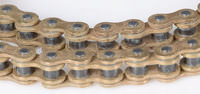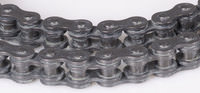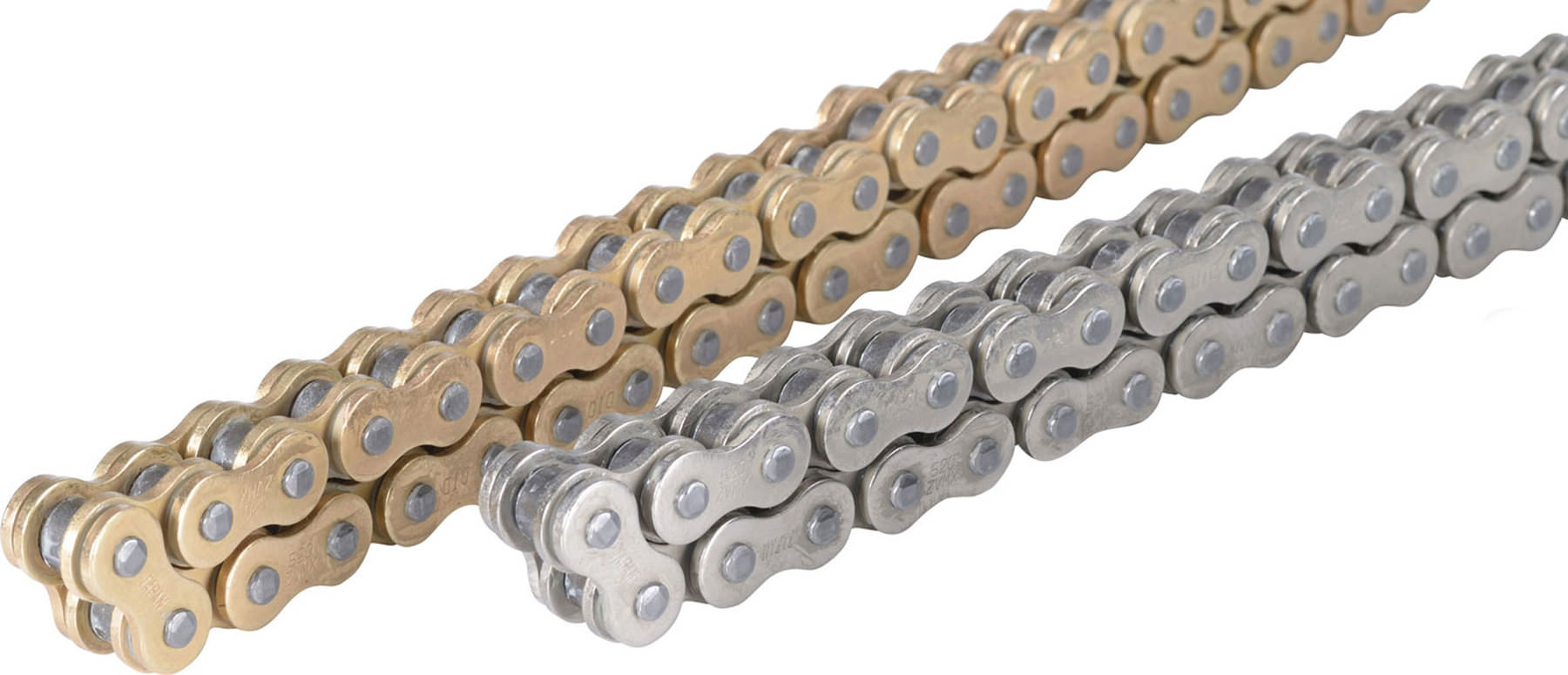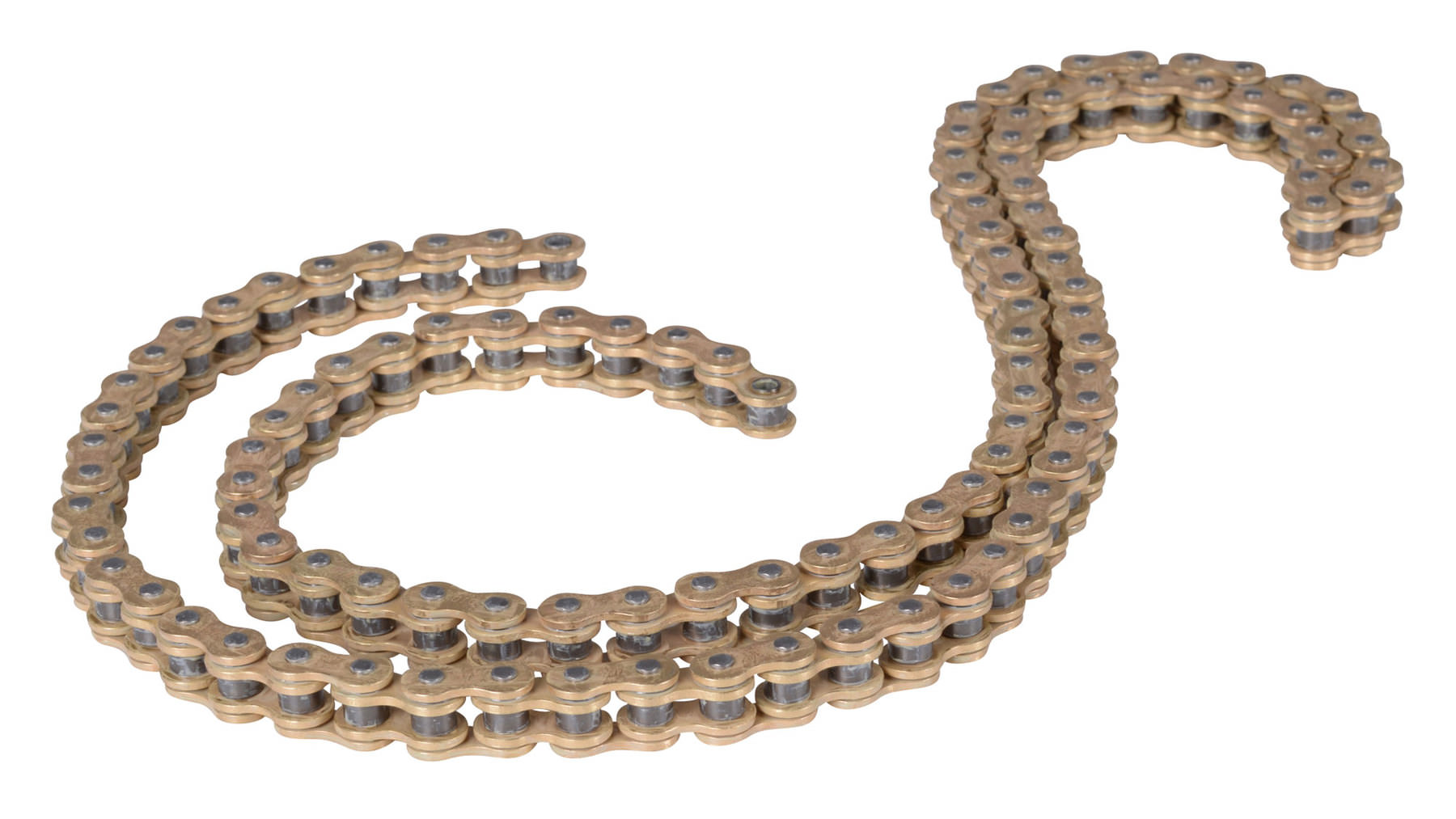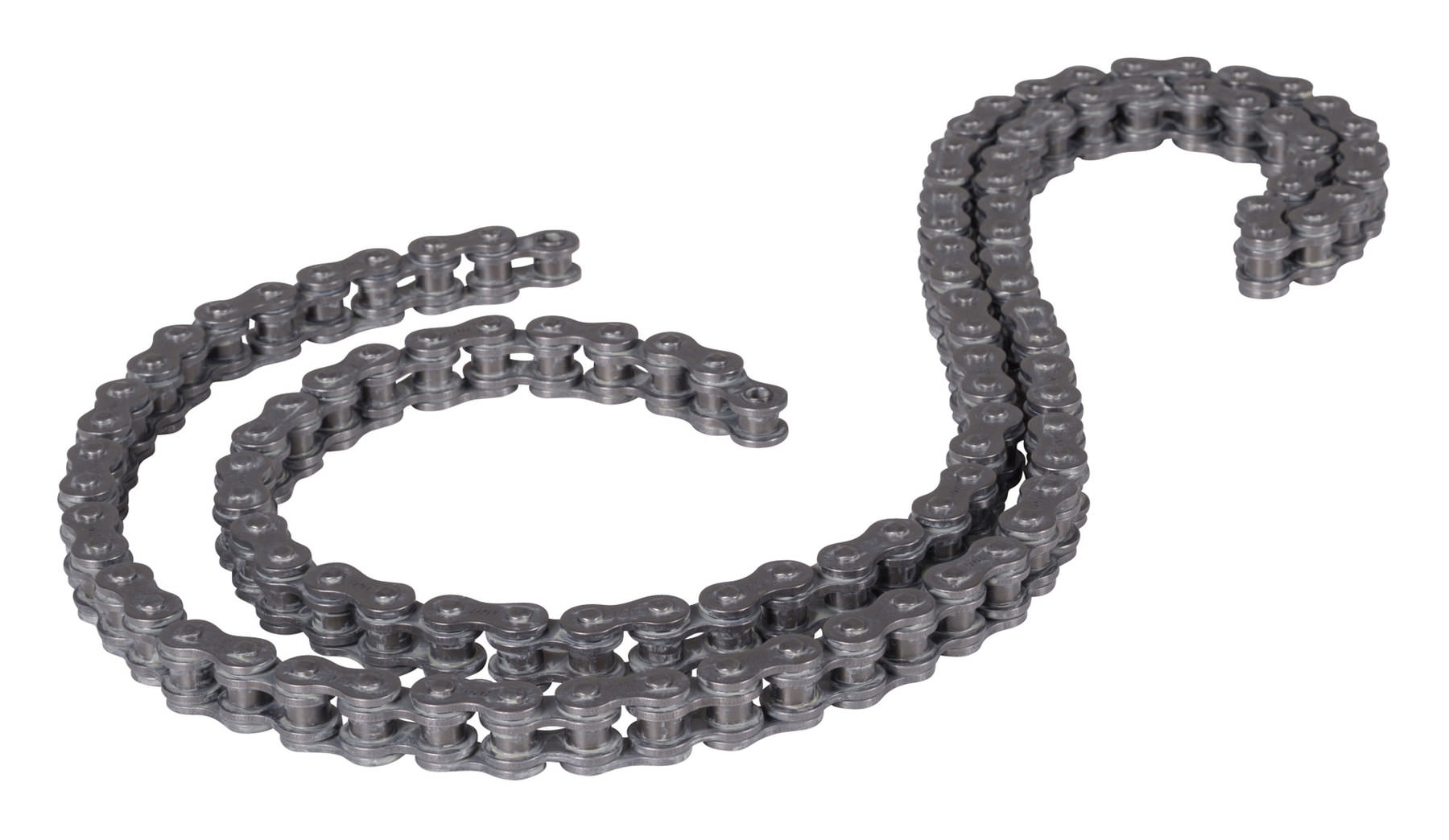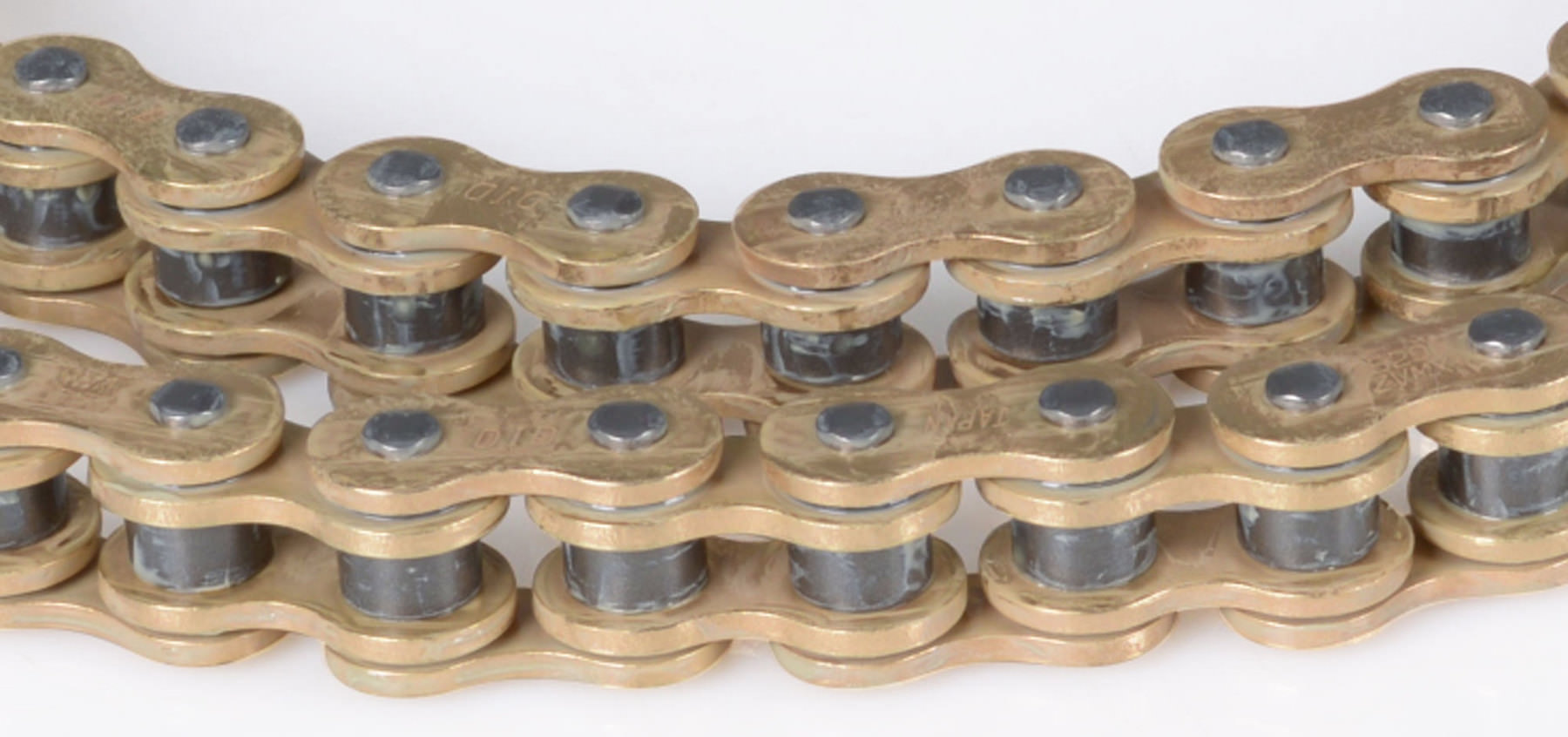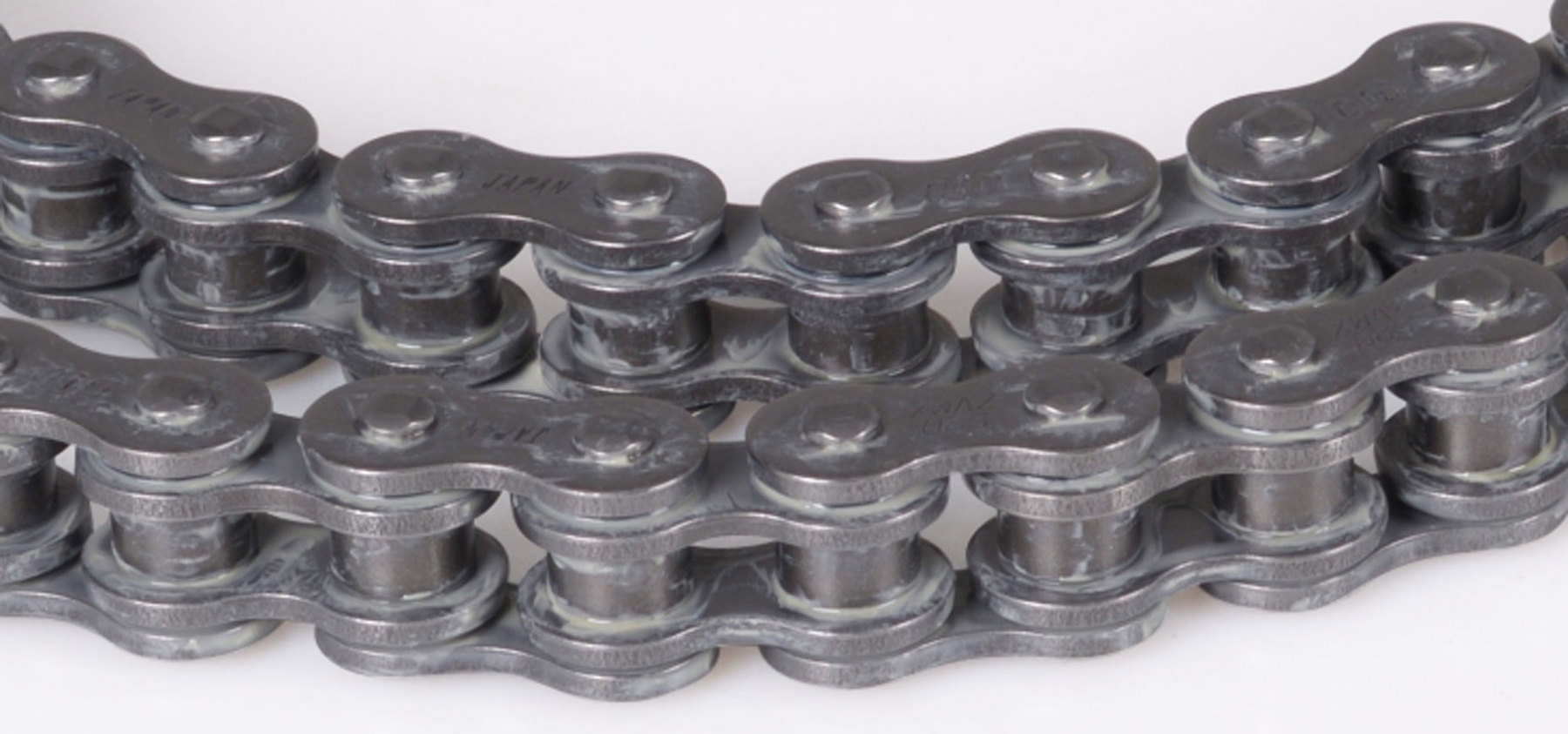 Drive chains ZVM-X gold and silver
with connecting link
Free delivery on orders over €199.00
2 year return policy
Fast delivery
Drive chains ZVM-X gold and silver
with connecting link
For a lot of bikers, a drive chain is not really something they can get very excited about. It drives the bike, and that's about it. But it's all too easy to forget that there are in fact major differences when it comes to chain life and appearance. For example, these ZVM-X chains from D.I.D come in gold and silver. In the most popular lengths, as an open chain, and including a rivet master link. Virtually indestructible! These chains will give you long and reliable service.
Additionally reinforced X-ring chains from D.I.D, with permanent grease lubrication, are top-quality and built to last.
These open chains are supplied with the appropriate hollow rivet master link. They come in sizes 520, 525 and 530, and in various lengths.
The best D.I.D chain available today in terms of rigidity** (10% higher than its predecessor, the ZVM2),
with the highest wear resistance index to date.
D.I.D X-ring seals*** halve the power loss due to friction compared to an O-ring chain
Chain colours:

GOLD G&G - (polished gold outer and inner plates)
SILVER - (steel-coloured)
Tensile strengths:

525 ZVM-X: 4720 kg
530 ZVM-X: 4720 kg
Wear resistance index:

520 ZVM-X: 3500
525 ZVM-X: 4000
530 ZVM-X: 4000
Reference: Standard chain (=100)
Good to know:
** The rigidity of a chain means its ability to resist deformation and stretching. Higher rigidity means smoother handling, less power loss and faster reaction of the chain.

*** The specially shaped sealing rings significantly alter the friction area of the side plates. At the same time, doubling the number of sealing points from 2 to 4 safeguards far more effectively against lubricant loss, and also provides optimum protection against dirt.
Manufacturer details: DID

Chain + Pinion + Sprocket

Motorcycle manufacturers look for chains with the best running characteristics and the longest service life - that often means chains from DID. Experience and engineering of the highest standard guarantee outstanding quality for your requirements, too. We supply what is surely the most widely used motorbike chain in the world, produced by state-of-the-art manufacturing methods from top-quality components - the "Professional Line" from DID. Extremely long life and noticeably smoother running will make this your chain of choice, as it is for many of the top motorcycle racers.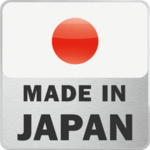 QUALITY MADE IN JAPAN!
This product has been imported from Japan! The latest technology and continuous production monitoring are just two of the factors that ensure you are offered a top-quality product.
Product
Art. No.
Availability
Price
Actions
DID X-RING CHAIN GOLD - 520 ZVM-X G&G 110 LINKS
60902100

The item is in stock and will be delivered in 2-5 working days. Note: Stocks are updated online every hour on working days from 7 a.m. to 8 p.m., so there is a good chance that the products are available if they appear online.

Available

€114.99 1
DID X-RING CHAIN GOLD - 520 ZVM-X G&G 112 LINKS
60902101

The item is in stock and will be delivered in 2-5 working days. Note: Stocks are updated online every hour on working days from 7 a.m. to 8 p.m., so there is a good chance that the products are available if they appear online.

Available

€116.99 1
DID X-RING CHAIN GOLD - 520 ZVM-X G&G 114 LINKS
60902102

The item is in stock and will be delivered in 2-5 working days. Note: Stocks are updated online every hour on working days from 7 a.m. to 8 p.m., so there is a good chance that the products are available if they appear online.

Available

€118.99 1
DID X-RING CHAIN GOLD - 520 ZVM-X G&G 114 LINKS
60902103

The item is in stock and will be delivered in 2-5 working days. Note: Stocks are updated online every hour on working days from 7 a.m. to 8 p.m., so there is a good chance that the products are available if they appear online.

Available

€121.99 1
DID X-RING CHAIN GOLD - 525 ZVM-X G&G 108 LINKS
60902110

The item is in stock and will be delivered in 2-5 working days. Note: Stocks are updated online every hour on working days from 7 a.m. to 8 p.m., so there is a good chance that the products are available if they appear online.

Available

€134.99 1
DID X-RING CHAIN GOLD - 525 ZVM-X G&G 110 LINKS
60902111

The item is in stock and will be delivered in 2-5 working days. Note: Stocks are updated online every hour on working days from 7 a.m. to 8 p.m., so there is a good chance that the products are available if they appear online.

Available

€136.99 1
DID X-RING CHAIN GOLD - 525 ZVM-X G&G 112 LINKS
60902112

The item is in stock and will be delivered in 2-5 working days. Note: Stocks are updated online every hour on working days from 7 a.m. to 8 p.m., so there is a good chance that the products are available if they appear online.

Available

€138.99 1
DID X-RING CHAIN GOLD - 525 ZVM-X G&G 116 LINKS
60902113

The item is in stock and will be delivered in 2-5 working days. Note: Stocks are updated online every hour on working days from 7 a.m. to 8 p.m., so there is a good chance that the products are available if they appear online.

Available

€142.99 1
DID X-RING CHAIN GOLD - 525 ZVM-X G&G 120 LINKS
60902114

The item is in stock and will be delivered in 2-5 working days. Note: Stocks are updated online every hour on working days from 7 a.m. to 8 p.m., so there is a good chance that the products are available if they appear online.

Available

€146.99 1
DID X-RING CHAIN GOLD - 525 ZVM-X G&G 114 LINKS
60902115

The item is in stock and will be delivered in 2-5 working days. Note: Stocks are updated online every hour on working days from 7 a.m. to 8 p.m., so there is a good chance that the products are available if they appear online.

Available

€141.99 1
DID X-RING CHAIN GOLD - 530 ZVM-X G&G 108 LINKS
60902120

The item is in stock and will be delivered in 2-5 working days. Note: Stocks are updated online every hour on working days from 7 a.m. to 8 p.m., so there is a good chance that the products are available if they appear online.

Available

€139.99 1
DID X-RING CHAIN GOLD - 530 ZVM-X G&G 110 LINKS
60902121

The item is in stock and will be delivered in 2-5 working days. Note: Stocks are updated online every hour on working days from 7 a.m. to 8 p.m., so there is a good chance that the products are available if they appear online.

Available

€141.99 1
DID X-RING CHAIN GOLD - 530 ZVM-X G&G 112 LINKS
60902122

The item is in stock and will be delivered in 2-5 working days. Note: Stocks are updated online every hour on working days from 7 a.m. to 8 p.m., so there is a good chance that the products are available if they appear online.

Available

€143.99 1
DID X-RING CHAIN GOLD - 530 ZVM-X G&G 116 LINKS
60902123

The item is in stock and will be delivered in 2-5 working days. Note: Stocks are updated online every hour on working days from 7 a.m. to 8 p.m., so there is a good chance that the products are available if they appear online.

Available

€147.99 1
DID X-RING CHAIN, GOLD - 530 ZVM-X G&G 118 LINKS
60902124

The item is in stock and will be delivered in 2-5 working days. Note: Stocks are updated online every hour on working days from 7 a.m. to 8 p.m., so there is a good chance that the products are available if they appear online.

Available

€169.99 1
DID X-RING CHAIN GOLD - 530 ZVM-X G&G 120 LINKS
60902125

The product will be ordered from the manufacturer for you. Depending on availability, longer delivery times are also possible. We'll let you know if that's the case. You can of course cancel your delivery at any time free of charge.

Available in 7-21 days

€179.99 1
DID X-RING CHAIN SILVER - 520 ZVM-X 110 LINKS
60902300

The item is in stock and will be delivered in 2-5 working days. Note: Stocks are updated online every hour on working days from 7 a.m. to 8 p.m., so there is a good chance that the products are available if they appear online.

Available

€114.99 1
DID X-RING CHAIN SILVER - 520 ZVM-X 112 LINKS
60902301

The item is in stock and will be delivered in 2-5 working days. Note: Stocks are updated online every hour on working days from 7 a.m. to 8 p.m., so there is a good chance that the products are available if they appear online.

Available

€116.99 1
DID X-RING CHAIN SILVER - 520 ZVM-X 114 LINKS
60902302

The item is in stock and will be delivered in 2-5 working days. Note: Stocks are updated online every hour on working days from 7 a.m. to 8 p.m., so there is a good chance that the products are available if they appear online.

Available

€118.99 1
DID X-RING CHAIN SILVER - 520 ZVM-X 116 LINKS
60902303

The item is in stock and will be delivered in 2-5 working days. Note: Stocks are updated online every hour on working days from 7 a.m. to 8 p.m., so there is a good chance that the products are available if they appear online.

Available

€121.99 1
DID X-RING CHAIN SILVER - 525 ZVM-X 108 LINKS
60902310

The item is in stock and will be delivered in 2-5 working days. Note: Stocks are updated online every hour on working days from 7 a.m. to 8 p.m., so there is a good chance that the products are available if they appear online.

Available

€129.99 1
DID X-RING CHAIN SILVER - 525 ZVM-X 110 LINKS
60902311

The item is in stock and will be delivered in 2-5 working days. Note: Stocks are updated online every hour on working days from 7 a.m. to 8 p.m., so there is a good chance that the products are available if they appear online.

Available

€129.99 1
DID X-RING CHAIN SILVER - 525 ZVM-X 112 LINKS
60902312

The item is in stock and will be delivered in 2-5 working days. Note: Stocks are updated online every hour on working days from 7 a.m. to 8 p.m., so there is a good chance that the products are available if they appear online.

Available

€129.99 1
DID X-RING CHAIN SILVER - 525 ZVM-X 116 LINKS
60902313

The item is in stock and will be delivered in 2-5 working days. Note: Stocks are updated online every hour on working days from 7 a.m. to 8 p.m., so there is a good chance that the products are available if they appear online.

Available

€129.99 1
DID X-RING CHAIN SILVER - 525 ZVM-X 120 LINKS
60902314

The item is in stock and will be delivered in 2-5 working days. Note: Stocks are updated online every hour on working days from 7 a.m. to 8 p.m., so there is a good chance that the products are available if they appear online.

Available

€129.99 1
DID X-RING CHAIN, SILVER - 525 ZVM-X 114 LINKS
60902315

The item is in stock and will be delivered in 2-5 working days. Note: Stocks are updated online every hour on working days from 7 a.m. to 8 p.m., so there is a good chance that the products are available if they appear online.

Available

€129.99 1
DID X-RING CHAIN SILVER - 530 ZVM-X 108 LINKS
60902320

The item is in stock and will be delivered in 2-5 working days. Note: Stocks are updated online every hour on working days from 7 a.m. to 8 p.m., so there is a good chance that the products are available if they appear online.

Available

€149.99 1
DID X-RING CHAIN SILVER - 530 ZVM-X 110 LINKS
60902321

The item is in stock and will be delivered in 2-5 working days. Note: Stocks are updated online every hour on working days from 7 a.m. to 8 p.m., so there is a good chance that the products are available if they appear online.

Available

€147.99 1
DID X-RING CHAIN SILVER - 530 ZVM-X 112 LINKS
60902322

The item is in stock and will be delivered in 2-5 working days. Note: Stocks are updated online every hour on working days from 7 a.m. to 8 p.m., so there is a good chance that the products are available if they appear online.

Available

€149.99 1
DID X-RING CHAIN SILVER - 530 ZVM-X 116 LINKS
60902323

The item is in stock and will be delivered in 2-5 working days. Note: Stocks are updated online every hour on working days from 7 a.m. to 8 p.m., so there is a good chance that the products are available if they appear online.

Available

€154.99 1
DID X-RING CHAIN, SILVER - 530 ZVM-X 118 LINKS
60902324

The item is in stock and will be delivered in 2-5 working days. Note: Stocks are updated online every hour on working days from 7 a.m. to 8 p.m., so there is a good chance that the products are available if they appear online.

Available

€156.99 1