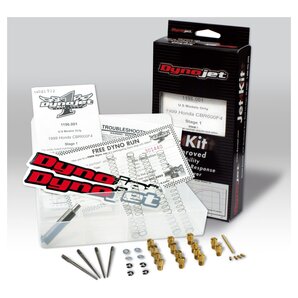 DYNOJET CARBURETOR KITS
Vergrößern
Dynojet Carburetor Kits
DYNOJET CARBURETTOR KITS

Whether cruiser, touring bike or sports bike, Dynojet carburettor kits offer an inexpensive and effective way to retune the carburettors on any type of motorbike. Dynojet kits boost performance and rideability, while also optimising fuel consumption.
Fuel needle
When developing ...
Read more
Dynojet Carburetor Kits
DYNOJET CARBURETTOR KITS

Whether cruiser, touring bike or sports bike, Dynojet carburettor kits offer an inexpensive and effective way to retune the carburettors on any type of motorbike. Dynojet kits boost performance and rideability, while also optimising fuel consumption.
Fuel needle
When developing a new carburettor kit, our engineers devote great attention to the perfect design of the fuel needle. This component is fully adjustable, and delivers the correct fuel quantity in the middle speed range, with little or no influence (according to the design) at engine speeds below 3,000 rpm. The needle tip is designed so as to ensure minimal influence, if any at all, in the upper speed range. The purpose of this needle design is to separate all the ranges (idling, part throttle, full throttle) so as to allow fast and effective tuning of the middle speed range.

This jet regulates the air feed to the needle jets. Air is premixed with the fuel drawn in from the float chamber, and then exits at the venturi in the direction of the throttle valve. On some models, Dynojet modifies the main air correction jets in order to achieve the best possible air/fuel mixture.

100% of idling and 25% of the transition from idling to part throttle is influenced by the idle system. In some models, the idle jets are exchanged in order to optimise fuel consumption. Correct synchronisation of the carburettor is essential for "stable" idle.

Dynojet main jets are developed to support the following functions: Static load and dynamic load. During slow acceleration in higher gears, we refer to the fuel quantity flowing through the main jets as static load. During rapid acceleration, or when the slide valve is opened abruptly, we refer to the fuel quantity flowing through the main jets as dynamic load. All the kits come with installation instructions, which describe every step in detail. In order to cover all possible applications, Dynojet supplies carburettor kits with various upgrades. These kits are manufactured with extreme precision and subjected to constant testing.

Developed for motorbikes with production engine, original airbox and production exhaust. Of course, "good" aftermarket exhausts or aftermarket filter cartridges can also be tuned with these Stage 1 kits. Stage 1 kits improve response and rideability. As a rule, performance can be increased by up to 5% across the entire speed range.

Developed for motorbikes with production or slightly tuned engines, with sport exhausts and modified airboxes. Stage 2 Kits are used on motorbikes where it is not possible to install individual filters, but a modification of the airbox (e.g. removal of the airbox cover on Ducati models) allows performance to be enhanced. As a rule, a performance boost of up to 8% is to be expected.

Developed for motorbikes with production or tuned engines, which use K & N individual filters and production or sport exhausts. In most cases, a performance increase of 10%-15% is realistic, but with some short-stroke sport engines, there is some loss of rideability in certain speed ranges. Various tests have demonstrated that it makes no sense to replace closed airbox systems (ram-air) with individual filters, so Dynojet does not supply kits for this particular application.

Note: Due to the performance enhancement, these carburettor kits are not approved for road use under the German Road Traffic Licensing Regulations (StVZO).

Instructions/Guides
To view documents in pdf format, you need Adobe Acrobat Reader version 5.0 or above.
You can download this software free of charge on the Adobe website download free of charge.
Current calendar week: 08
As at:Feb 25, 2017 7:42 AM
Products
Order no.
Availability
Price in €
Actions
DYNOJET CARBURETOR 1+2
SUZUKI Z 400 QUADSPORT
10046998

Will be ordered for you

58.82

DYNOJET CARBURETOR 1+2
YAMAHA YFM 350R RAPTOR
10046997

Will be ordered for you

58.82

DYNOJET CARBURETOR 1+2
YAMAHA YFZ 450 BJ. 2006
10047024

Will be ordered for you

58.82

DYNOJET CARBURETOR 1+2
YFM 350X WARRIOR BJ.87-04
10047008

Will be ordered for you

58.82

DYNOJET CARBURETOR 1+2
Z 400 QUADSPORT BJ. 03-04
10047006

Will be ordered for you

58.82

DYNOJET CARBURETOR KITS
ZX 9 R BJ. 95-97
10046911

Available

117.64

DYNOJET CARBURETOR ST.1
88 TWIN-CAM MODELLE 99-02
10046929

Available

84.03

DYNOJET CARBURETOR ST.1
BT 1100 BULLDOG 01-04
10046999

Will be ordered for you

84.03

DYNOJET CARBURETOR ST.1
CB 600 F HORNET (PC34)
10047105

Available

117.64

DYNOJET CARBURETOR ST.1
CB 600 HORNET (PC36)
10047016

Available

117.64

DYNOJET CARBURETOR ST.1
CB SEVENFIFTY 92-98
10047096

Available

117.64

DYNOJET CARBURETOR ST.1
CBR 1100 XX 97-98
10047117

Available

117.64

DYNOJET CARBURETOR ST.1
CBR 600 F2 (PC25)
10047007

Available

117.64

DYNOJET CARBURETOR ST.1
CBR 600 F3 (PC31) 95- 98
10047126

Available

117.64

DYNOJET CARBURETOR ST.1
CBR 900 RR 92-94
10047019

Will be ordered for you

117.64

DYNOJET CARBURETOR ST.1
CBR 900 RR 95-97
10046904

Available

117.64

DYNOJET CARBURETOR ST.1
CBR 900 RR 98-99
10047098

Available

117.64

DYNOJET CARBURETOR ST.1
DUCATI 750 SS 92-98
10047001

Will be ordered for you

84.03

DYNOJET CARBURETOR ST.1
FZS 600 FAZER 97-02
10047127

Available

117.64

DYNOJET CARBURETOR ST.1
GSF 1200 BANDIT 01-03
10047124

Available

117.64

DYNOJET CARBURETOR ST.1
GSF 600 /S BANDIT 95-99
10046914

Available

117.64

DYNOJET CARBURETOR ST.1
GSF 600 BANDIT 00- 02
10047123

Available

117.64

DYNOJET CARBURETOR ST.1
GSX 750, 98-99
10047103

Available

117.64

DYNOJET CARBURETOR ST.1
GSX-R 1100 W 95-97
10047113

Will be ordered for you

117.64

DYNOJET CARBURETOR ST.1
GSX-R 600 W, 98-00
10047102

Will be ordered for you

117.64

DYNOJET CARBURETOR ST.1
GSX-R 750 W 92-95
10047061

Will be ordered for you

159.66

DYNOJET CARBURETOR ST.1
GSX-R 750 W 96-97, STAGE1
10046916

Will be ordered for you

117.64

DYNOJET CARBURETOR ST.1
HONDA CBF 600 BJ. 2004
10047017

Will be ordered for you

117.64

DYNOJET CARBURETOR ST.1
HONDA FMX 650 BJ. 2005-06
10047018

Available

58.82

DYNOJET CARBURETOR ST.1
KFX 700 BJ. 03-05
10047004

Will be ordered for you

75.62

DYNOJET CARBURETOR ST.1
KVF 750 BRUTE FORCE BJ.05
10047022

Will be ordered for you

75.62

DYNOJET CARBURETOR ST.1
NX 650 DOMINATOR 90-95
10047011

Available

58.82

DYNOJET CARBURETOR ST.1
SV 650 /S 99-02
10047108

Available

58.82

DYNOJET CARBURETOR ST.1
TDM 850, BJ. 92-98
10047085

Available

84.03

DYNOJET CARBURETOR ST.1
TDM 850, BJ. 99-01
10047119

Available

84.03

DYNOJET CARBURETOR ST.1
TRX 850 96-99
10046925

Available

84.03

DYNOJET CARBURETOR ST.1
V-MAX ALLE
10047095

Available

117.64

DYNOJET CARBURETOR ST.1
VN 1500 CLASSIC 96-02
10046913

Available

58.82

DYNOJET CARBURETOR ST.1
VN800 VULCAN/CLASS. 95-98
10046910

Available

58.82

DYNOJET CARBURETOR ST.1
VS 1400 INTRUDER 87-97
10047071

Available

84.03

DYNOJET CARBURETOR ST.1
VT 600 C SHADOW 94-98
10047097

Available

84.03

DYNOJET CARBURETOR ST.1
VTR 1000 FIRESTORM 97-01
10046906

Available

84.03

DYNOJET CARBURETOR ST.1
VX 800 92-97
10047062

Will be ordered for you

84.03

DYNOJET CARBURETOR ST.1
VZ 800 MARAUDER 97-02
10046917

Available

84.03

DYNOJET CARBURETOR ST.1
XL 1000V 99- 02
10047121

Available

84.03

DYNOJET CARBURETOR ST.1
XL1200 SPORT 98-03
10046930

Will be ordered for you

100.83

DYNOJET CARBURETOR ST.1
XL883/1200/BT1340 90-99
10046928

Available

84.03

DYNOJET CARBURETOR ST.1
XRV 750 AFRICA TWIN 93-95
10046902

Available

84.03

DYNOJET CARBURETOR ST.1
XRV 750 AFRICA TWIN 96-03
10046903

Available

84.03

DYNOJET CARBURETOR ST.1
XVS1100DRAGS/CLASSIC99-03
10047128

Available

84.03

DYNOJET CARBURETOR ST.1
XVS650 DRAG STAR/CL.97-03
10046923

Available

84.03

DYNOJET CARBURETOR ST.1
YZF 1000 THUNDERACE 97-02
10046927

Will be ordered for you

117.64

DYNOJET CARBURETOR ST.1
YZF 750 R 95-98
10047118

Will be ordered for you

117.64

DYNOJET CARBURETOR ST.1
YZF 750 R 93-94
10047084

Available

117.64

DYNOJET CARBURETOR ST.1
YZF-R 6 99-00
10047110

Available

117.64

DYNOJET CARBURETOR ST.1
YZF-R1 , 98-01
10047104

Available

117.64

DYNOJET CARBURETOR ST.1
ZR 1100 ZEPHYR 92-97
10047046

Will be ordered for you

117.64

DYNOJET CARBURETOR ST.1
ZR 7, S 99- 03
10047122

Available

117.64

DYNOJET CARBURETOR ST.1
ZX 9 R 98-99
10047101

Will be ordered for you

117.64

DYNOJET CARBURETOR ST.1
ZX 9 R 2002-2003
10047013

Available

117.64

DYNOJET CARBURETOR ST.1
ZX-6 R 00-01
10047111

Will be ordered for you

117.64

DYNOJET CARBURETOR ST.1
ZX-6 R 98-99
10047099

Available

117.64

DYNOJET CARBURETOR ST.1
ZX-7 R 96-01
10047100

Available

117.64

DYNOJET CARBURETOR ST.1
ZX-9R 00-01
10047112

Will be ordered for you

117.64

DYNOJET CARBURETOR ST.1
ZZR 600, 93-01, STAGE 1
10047034

Available

117.64

DYNOJET CARBURETOR ST.2
DR 650 R/RE/RSE 90-96
10047056

Available

58.82

DYNOJET CARBURETOR ST.2
YFM 660R RAPTOR BJ. 01-05
10047012

Available

75.62

DYNOJET CARBURETOR ST.3
FZR 1000 EXUP 89-95
10047089

Available

117.64

DYNOJET CARBURETOR ST.3
GS 500E, STAGE 1+3 89-01
10047052

Available

84.03

DYNOJET CARBURETOR ST.3
GSF 1200 BANDIT 96-00
10046920

Available

117.64

DYNOJET CARBURETOR ST.3
XJ 600 S/N 97-03
10047114

Will be ordered for you

117.64

DYNOJET CARBURETOR ST.3
XJ 600 S/N DIVERS. 92-96
10046921

Available

117.64

DYNOJET CARBURETOR ST.3
XJR1200/1300 95-98/99-03
10047109

Available

117.64
This may also interest you