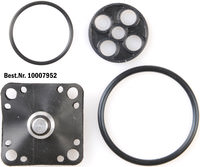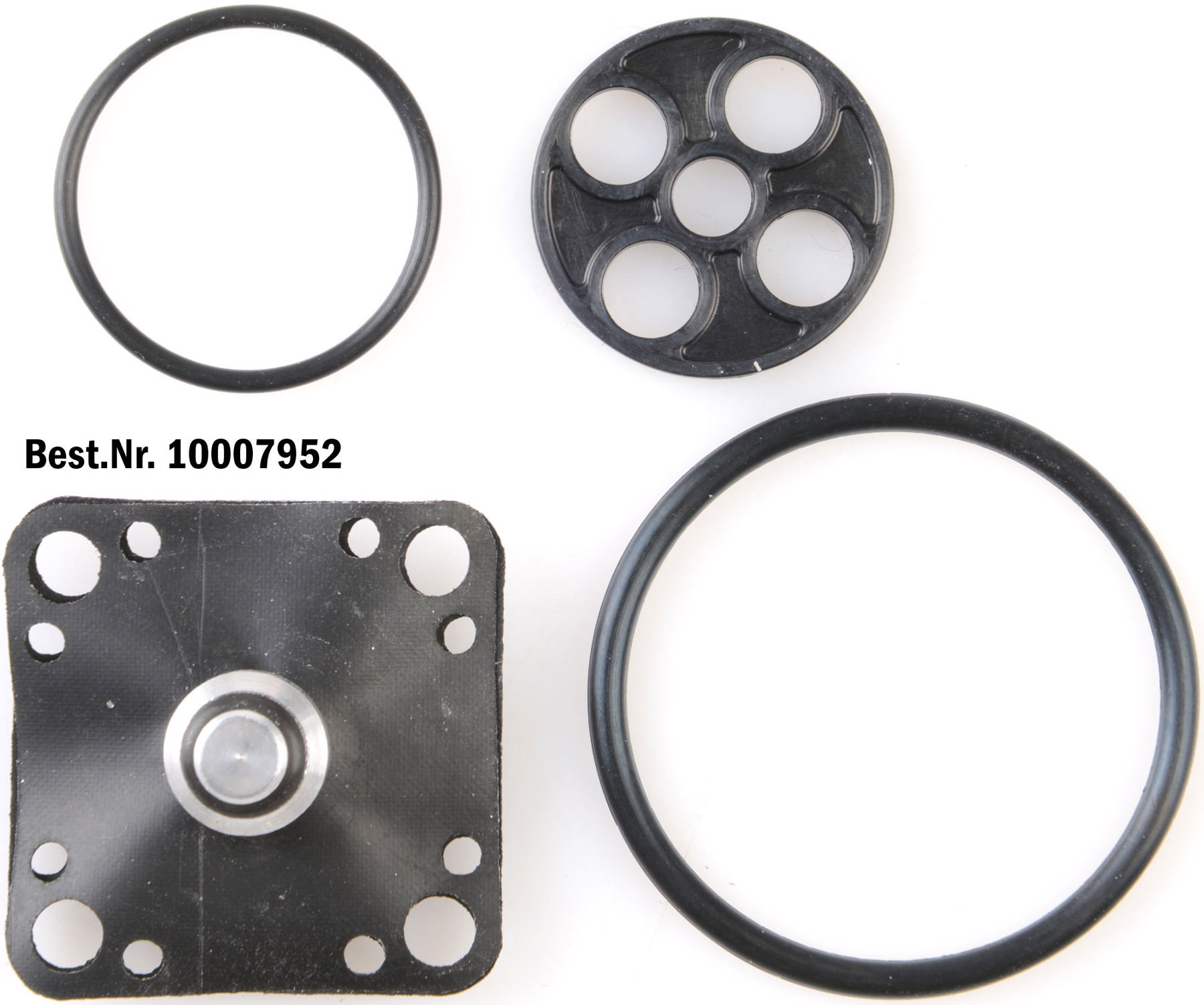 FUEL COCK REPAIR KIT
KAWASAKI/YAMAHA
The item is in stock and will be delivered in 2-5 working days. Note: Stocks are updated online every hour on working days from 7 a.m. to 8 p.m., so there is a good chance that the products are available if they appear online.
Available
Free delivery on orders over €199.00
2 year return policy
Fast delivery
Fuel Cock Repair Kit
Different Models
LOUIS petrol tap seal kits:

We've all experienced a leaky petrol tap - what next? Most motorcycle manufacturers will only supply complete petrol tap assemblies. These can easily cost over EUR 50 although the only problem is a single faulty seal. LOUIS can offer a better solution. We supply repair kits for most popular Japanese bikes at an unbeatable price. Each set is designed for a particular model, and contains all the necessary parts and seals (for the detailed content please refer to the media library). In short: Do it yourself and save yourself a packet!
Made in Japan
The illustration is only intended as an example.
Product
Art. No.
Availability
Price
Actions
FUEL COCK REPAIR KIT - GSF1200/SBAN./XJR1200/130
10007974

The item is in stock and will be delivered in 2-5 working days. Note: Stocks are updated online every hour on working days from 7 a.m. to 8 p.m., so there is a good chance that the products are available if they appear online.

Available

€39.99 1
FUEL COCK REPAIR KIT - HONDA MODELS
10007892

The item is in stock and will be delivered in 2-5 working days. Note: Stocks are updated online every hour on working days from 7 a.m. to 8 p.m., so there is a good chance that the products are available if they appear online.

Available

€25.99 1
FUEL COCK REPAIR KIT - KA/SU ZEPHYR/BANDIT
10007963

The item is in stock and will be delivered in 2-5 working days. Note: Stocks are updated online every hour on working days from 7 a.m. to 8 p.m., so there is a good chance that the products are available if they appear online.

Available

€33.99 1
FUEL COCK REPAIR KIT - KAWASAKI
10007951

The item is in stock and will be delivered in 2-5 working days. Note: Stocks are updated online every hour on working days from 7 a.m. to 8 p.m., so there is a good chance that the products are available if they appear online.

Available

€20.99 1
FUEL COCK REPAIR KIT - KAWASAKI
10007953

The item is in stock and will be delivered in 2-5 working days. Note: Stocks are updated online every hour on working days from 7 a.m. to 8 p.m., so there is a good chance that the products are available if they appear online.

Available

€20.99 1
FUEL COCK REPAIR KIT - KAWASAKI
10007962

The item is in stock and will be delivered in 2-5 working days. Note: Stocks are updated online every hour on working days from 7 a.m. to 8 p.m., so there is a good chance that the products are available if they appear online.

Available

Please remember that "Last chance" items can sell out fast, especially when the price has been slashed and the clothes sizes you are looking for are popular. "Last chance" items may no longer be available in all Louis stores!

€14.99

1 €9.99 1
FUEL COCK REPAIR KIT - KAWASAKI/YAMAHA
10007952

The item is in stock and will be delivered in 2-5 working days. Note: Stocks are updated online every hour on working days from 7 a.m. to 8 p.m., so there is a good chance that the products are available if they appear online.

Available

€19.99 1
FUEL COCK REPAIR KIT - KAWASAKI/YAMAHA MODELS
10007894

The item is in stock and will be delivered in 2-5 working days. Note: Stocks are updated online every hour on working days from 7 a.m. to 8 p.m., so there is a good chance that the products are available if they appear online.

Available

€19.99 1
FUEL COCK REPAIR KIT - SUZUKI
10007954

The item is in stock and will be delivered in 2-5 working days. Note: Stocks are updated online every hour on working days from 7 a.m. to 8 p.m., so there is a good chance that the products are available if they appear online.

Available

€17.99 1
FUEL COCK REPAIR KIT - SUZUKI + YAMAHA
10007965

The item is in stock and will be delivered in 2-5 working days. Note: Stocks are updated online every hour on working days from 7 a.m. to 8 p.m., so there is a good chance that the products are available if they appear online.

Available

€13.99 1
FUEL COCK REPAIR KIT - SUZUKI GSX 600/750 F
10007879

The item is in stock and will be delivered in 2-5 working days. Note: Stocks are updated online every hour on working days from 7 a.m. to 8 p.m., so there is a good chance that the products are available if they appear online.

Available

€25.99 1
FUEL COCK REPAIR KIT - SUZUKI GSX-R MODELS
10007878

The item is in stock and will be delivered in 2-5 working days. Note: Stocks are updated online every hour on working days from 7 a.m. to 8 p.m., so there is a good chance that the products are available if they appear online.

Available

€37.99 1
FUEL COCK REPAIR KIT - YAMAHA
10007961

The item is in stock and will be delivered in 2-5 working days. Note: Stocks are updated online every hour on working days from 7 a.m. to 8 p.m., so there is a good chance that the products are available if they appear online.

Available

€32.99 1
FUEL COCK REPAIR KIT - YAMAHA MODELS
10007875

The item is in stock and will be delivered in 2-5 working days. Note: Stocks are updated online every hour on working days from 7 a.m. to 8 p.m., so there is a good chance that the products are available if they appear online.

Available

€9.99 1
FUEL COCK REPAIR KIT - YAMAHA XJ600S, 92-03
10007972

The item is in stock and will be delivered in 2-5 working days. Note: Stocks are updated online every hour on working days from 7 a.m. to 8 p.m., so there is a good chance that the products are available if they appear online.

Available

€29.99 1
TMX FUEL TAP SEAL SET
10007950

The item is in stock and will be delivered in 2-5 working days. Note: Stocks are updated online every hour on working days from 7 a.m. to 8 p.m., so there is a good chance that the products are available if they appear online.

Available

Please remember that "Last chance" items can sell out fast, especially when the price has been slashed and the clothes sizes you are looking for are popular. "Last chance" items may no longer be available in all Louis stores!

€24.99

1 €9.99 1