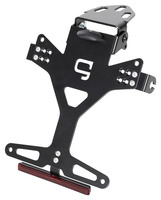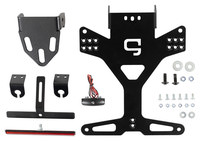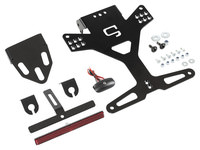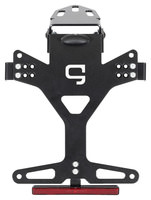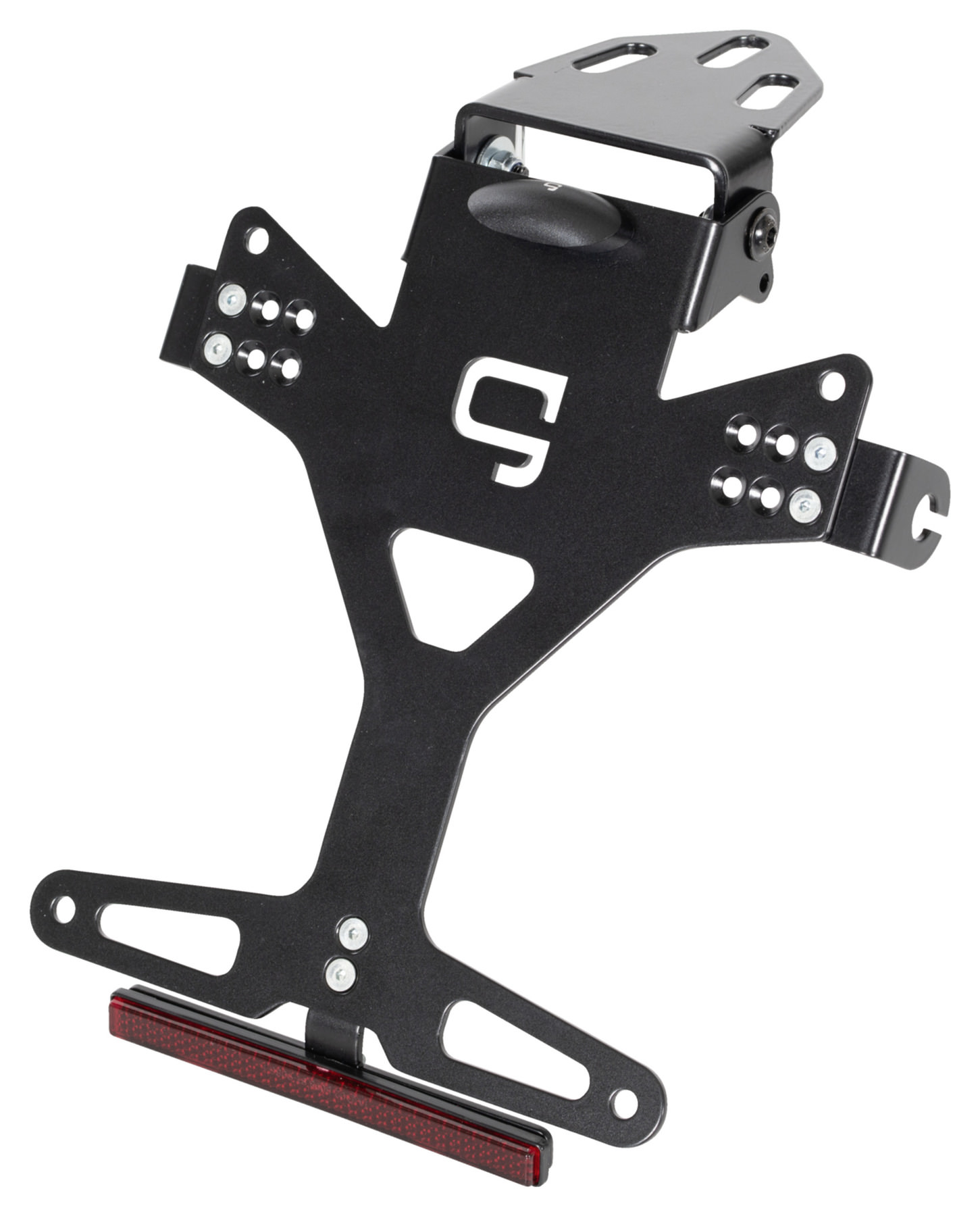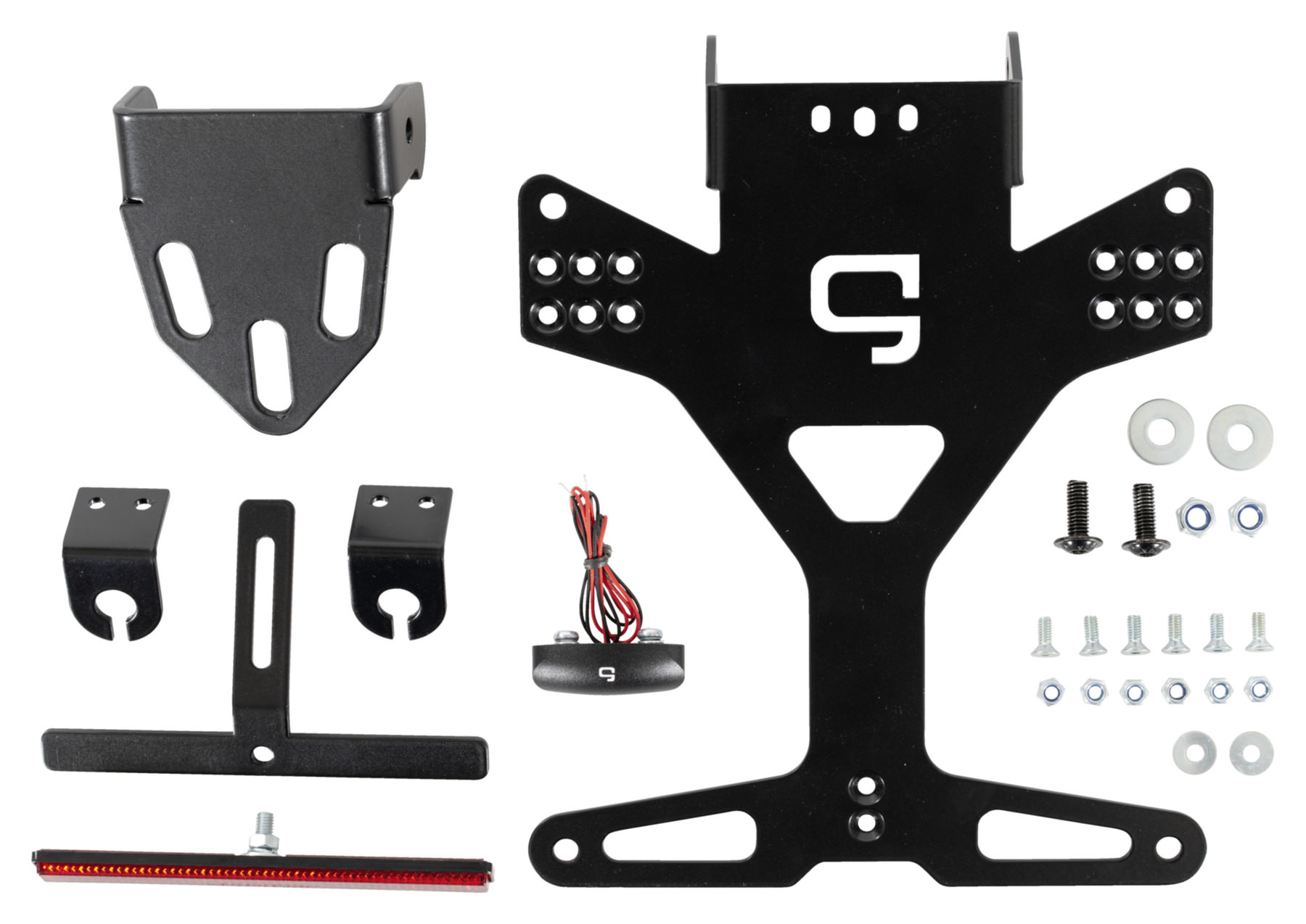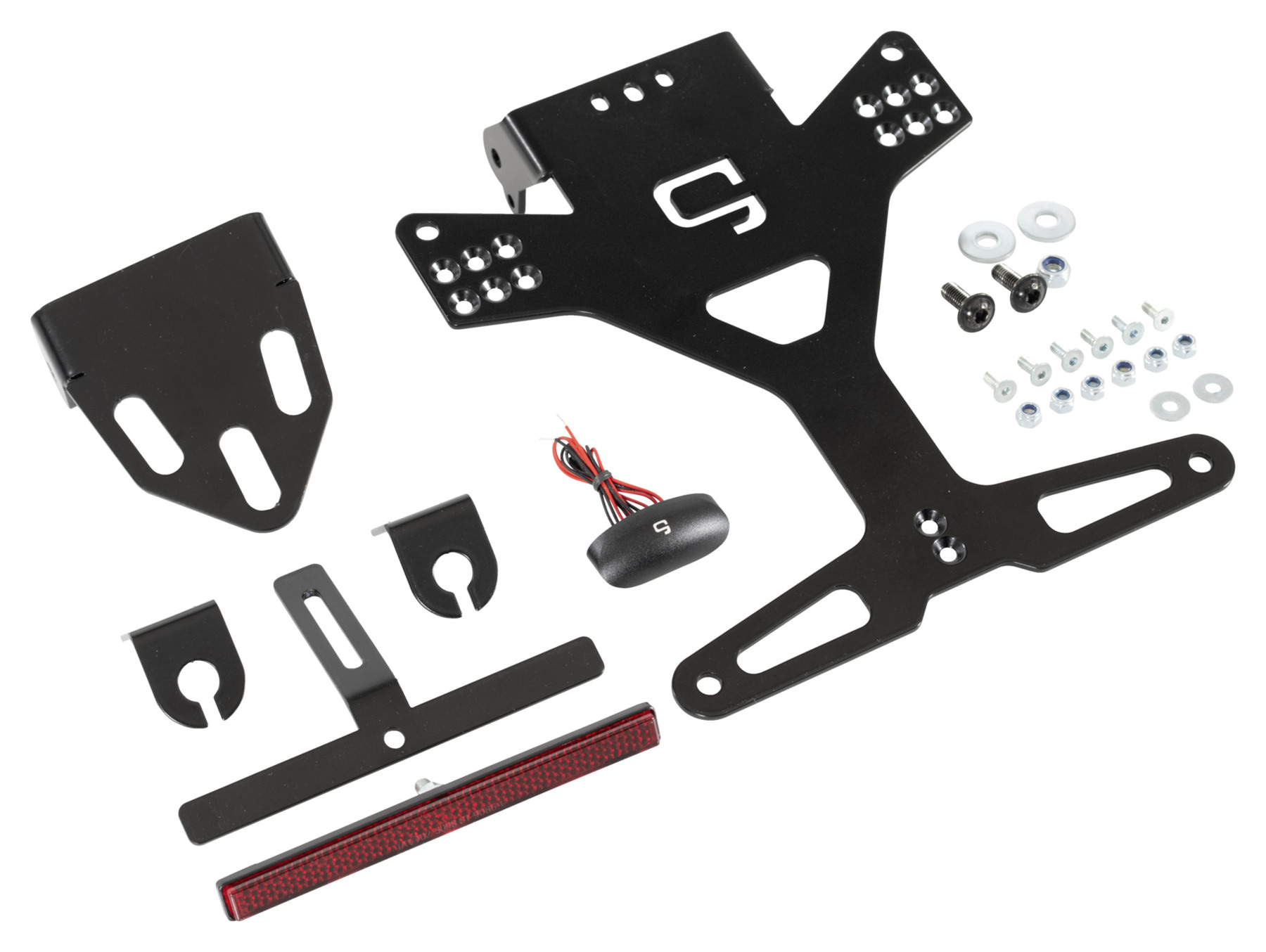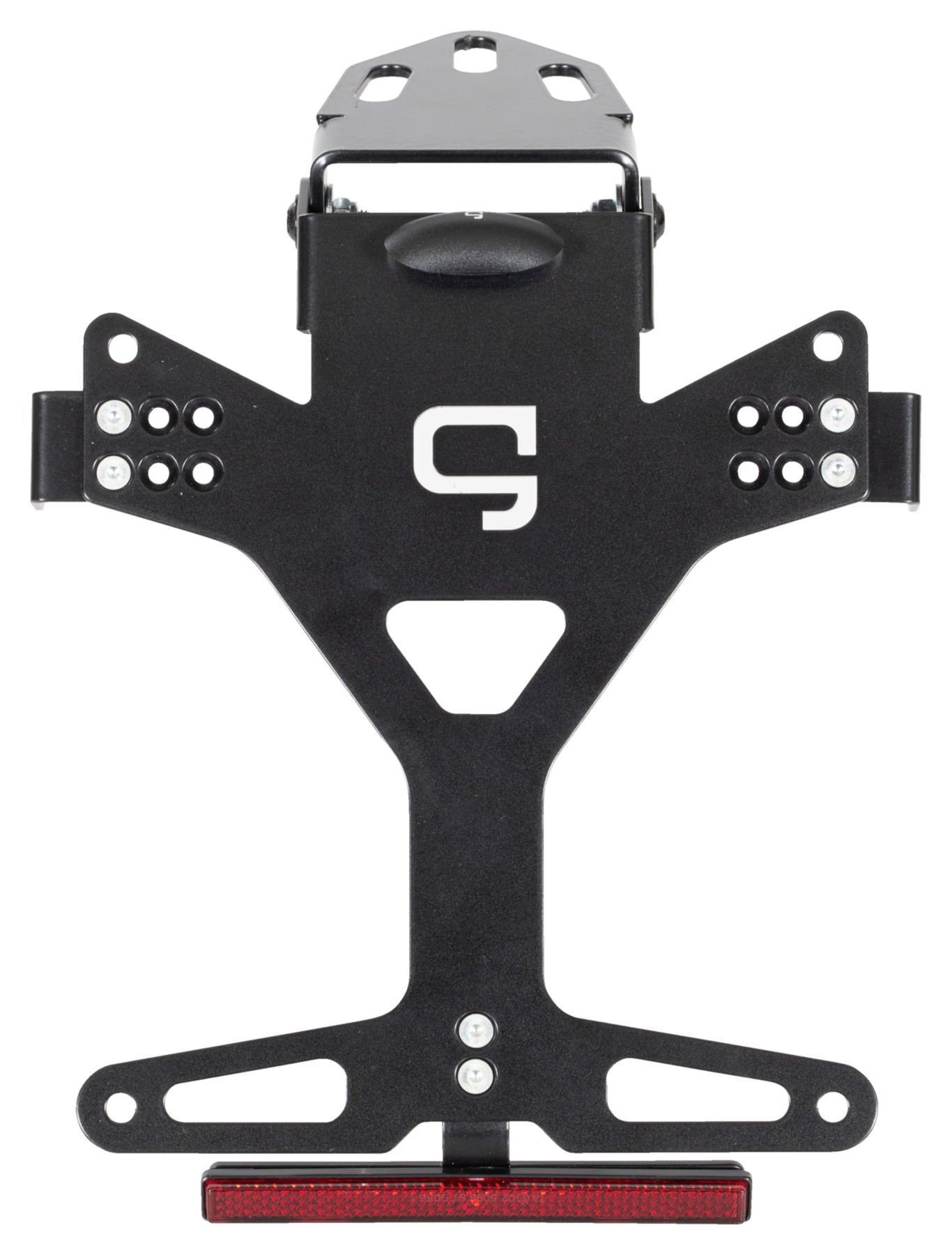 GAZZINI LICENSE PL.HOLDER
HYPERMOTARD 950/SP
The item is in stock and will be delivered in 2-5 working days. Note: Stocks are updated online every hour on working days from 7 a.m. to 8 p.m., so there is a good chance that the products are available if they appear online.
Available
Free delivery on orders over €199.00
2 year return policy
Fast delivery
gazzini license plate holder
for various motorcycle models
High-quality license plate holder by "gazzini" in extra-strong, vibration-resistant design. The main bracket and license plate holder are made of 3 mm thick stainless steel, and the angle is infinitely adjustable. The new license plate holder has a unique, elegantly slender design. while still giving your license plate optimum support.

The bracket is powder-coated in black. An E-approved LED license plate light and E-approved reflector are included.
Dimensions of licence plate holder 175 x187 mm
Indicator holders (suitable for M8 and M10 accessory turn signals) adjustable in width from 160 to 200 mm
In the box:
Licence plate holder
E-approved reflector + 30° angled T-bracket
E-approved LED license plate light made of high-grade aluminium
Turn signal mounts with width adjustable in 3 stages
Accessories:
In the accessories (see below) you will find matching indicator holders for original turn signals, as well as indicator adapter cables and adapter cables for number plate lighting, if available for your vehicle.
Important: On Euro4 homologated motorcycles or later, the side reflectors must be retained.
Manufacturer details: gazzini

gazzini - engineering with passion and timeless design combined with outstanding functionality and top materials. Products that complement each other perfectly. They emphasise, and even enhance, the special look of your motorcycle. Details play an important part. As does the very high quality. Add to this the modular design of virtually all gazzini products. Be choosy, be creative. Give your motorbike a real gazzini makeover!

Stainless steel is a collective term for rustproof steel. It is much more resistant to corrosion than non-alloyed steels. Stainless steel does not deteriorate, and is hygienic, UV-resistant, non-corroding, fracture-proof, non-toxic and environmentally friendly. It does not weather and can be recycled in its entirety, even after many years. Technically, the term "stainless steel" refers to corrosion-resistant steel alloys with a wide variety of compositions but always containing a high percentage of chromium (usually a minimum of 10.5%)

.

MAINTENANCE:
Stainless steel should be cleaned regularly like all other materials, especially after exposure to salty air (near the coast), and also at regular intervals.
Water can easily collect in corners, edges and screw connections, resulting in corrosion. So careful cleaning is important, and if necessary screws should be undone in order to clean the parts thoroughly.
Do not leave rusty steel parts against stainless steel to avoid the rust "contamination".
Product
Art. No.
Availability
Price
Actions
GAZZINI LICENSE PL.HOLDER - APRILIA RS660/TUONO 2020-
10047470

The item is in stock and will be delivered in 2-5 working days. Note: Stocks are updated online every hour on working days from 7 a.m. to 8 p.m., so there is a good chance that the products are available if they appear online.

Available

€89.99 1
GAZZINI LICENSE PL.HOLDER - BMW S 1000 R/RR
10048995

The item is in stock and will be delivered in 2-5 working days. Note: Stocks are updated online every hour on working days from 7 a.m. to 8 p.m., so there is a good chance that the products are available if they appear online.

Available

€89.99 1
GAZZINI LICENSE PL.HOLDER - CB 500 F/CBR 500 R
10048999

The item is in stock and will be delivered in 2-5 working days. Note: Stocks are updated online every hour on working days from 7 a.m. to 8 p.m., so there is a good chance that the products are available if they appear online.

Available

€89.99 1
GAZZINI LICENSE PL.HOLDER - DUCATI PANIGALE V2/V4
10047389

The item is in stock and will be delivered in 2-5 working days. Note: Stocks are updated online every hour on working days from 7 a.m. to 8 p.m., so there is a good chance that the products are available if they appear online.

Available

€119.99 1
GAZZINI LICENSE PL.HOLDER - GSX R 125/GSX S 125
10047396

The item is in stock and will be delivered in 2-5 working days. Note: Stocks are updated online every hour on working days from 7 a.m. to 8 p.m., so there is a good chance that the products are available if they appear online.

Available

€89.99 1
GAZZINI LICENSE PL.HOLDER - HONDA CB 1000 R
10047348

The item is in stock and will be delivered in 2-5 working days. Note: Stocks are updated online every hour on working days from 7 a.m. to 8 p.m., so there is a good chance that the products are available if they appear online.

Available

€89.99 1
GAZZINI LICENSE PL.HOLDER - HONDA CB 125 R
10048998

The item is in stock and will be delivered in 2-5 working days. Note: Stocks are updated online every hour on working days from 7 a.m. to 8 p.m., so there is a good chance that the products are available if they appear online.

Available

€99.99 1
GAZZINI LICENSE PL.HOLDER - HONDA CB 650 R/CBR 650 R
10047347

The item is in stock and will be delivered in 2-5 working days. Note: Stocks are updated online every hour on working days from 7 a.m. to 8 p.m., so there is a good chance that the products are available if they appear online.

Available

€99.99 1
GAZZINI LICENSE PL.HOLDER - HONDA CB650F/CBR650F
10047346

The item is in stock and will be delivered in 2-5 working days. Note: Stocks are updated online every hour on working days from 7 a.m. to 8 p.m., so there is a good chance that the products are available if they appear online.

Available

€89.99 1
GAZZINI LICENSE PL.HOLDER - HONDA CB650R/CBR650R 2021
10047469

The item is in stock and will be delivered in 2-5 working days. Note: Stocks are updated online every hour on working days from 7 a.m. to 8 p.m., so there is a good chance that the products are available if they appear online.

Available

€89.99 1
GAZZINI LICENSE PL.HOLDER - HONDA CBR 1000 RR
10047349

The item is in stock and will be delivered in 2-5 working days. Note: Stocks are updated online every hour on working days from 7 a.m. to 8 p.m., so there is a good chance that the products are available if they appear online.

Available

€89.99 1
GAZZINI LICENSE PL.HOLDER - HYPERMOTARD 950/SP
10048996

The item is in stock and will be delivered in 2-5 working days. Note: Stocks are updated online every hour on working days from 7 a.m. to 8 p.m., so there is a good chance that the products are available if they appear online.

Available

€99.99 1
GAZZINI LICENSE PL.HOLDER - KAWASAKI ER 6 F/ER 6 N
10047392

The item is in stock and will be delivered in 2-5 working days. Note: Stocks are updated online every hour on working days from 7 a.m. to 8 p.m., so there is a good chance that the products are available if they appear online.

Available

€89.99 1
GAZZINI LICENSE PL.HOLDER - KAWASAKI ER 6 F/ER 6 N
10047391

The item is in stock and will be delivered in 2-5 working days. Note: Stocks are updated online every hour on working days from 7 a.m. to 8 p.m., so there is a good chance that the products are available if they appear online.

Available

€89.99 1
GAZZINI LICENSE PL.HOLDER - KAWASAKI ER 6 F/ER 6N
10047356

The item is in stock and will be delivered in 2-5 working days. Note: Stocks are updated online every hour on working days from 7 a.m. to 8 p.m., so there is a good chance that the products are available if they appear online.

Available

€89.99 1
GAZZINI LICENSE PL.HOLDER - KAWASAKI NINJA 125/Z 125
10047354

The item is in stock and will be delivered in 2-5 working days. Note: Stocks are updated online every hour on working days from 7 a.m. to 8 p.m., so there is a good chance that the products are available if they appear online.

Available

€89.99 1
GAZZINI LICENSE PL.HOLDER - KAWASAKI NINJA 400/Z 400
10047355

The item is in stock and will be delivered in 2-5 working days. Note: Stocks are updated online every hour on working days from 7 a.m. to 8 p.m., so there is a good chance that the products are available if they appear online.

Available

€89.99 1
GAZZINI LICENSE PL.HOLDER - KAWASAKI NINJA 650/Z 650
10047358

The item is in stock and will be delivered in 2-5 working days. Note: Stocks are updated online every hour on working days from 7 a.m. to 8 p.m., so there is a good chance that the products are available if they appear online.

Available

€89.99 1
GAZZINI LICENSE PL.HOLDER - KAWASAKI Z 1000/R EDITION
10047393

The item is in stock and will be delivered in 2-5 working days. Note: Stocks are updated online every hour on working days from 7 a.m. to 8 p.m., so there is a good chance that the products are available if they appear online.

Available

€89.99 1
GAZZINI LICENSE PL.HOLDER - KAWASAKI Z 1000/Z 750/R
10047364

The item is in stock and will be delivered in 2-5 working days. Note: Stocks are updated online every hour on working days from 7 a.m. to 8 p.m., so there is a good chance that the products are available if they appear online.

Available

€89.99 1
GAZZINI LICENSE PL.HOLDER - KAWASAKI Z 800/Z 800 E
10047359

The item is in stock and will be delivered in 2-5 working days. Note: Stocks are updated online every hour on working days from 7 a.m. to 8 p.m., so there is a good chance that the products are available if they appear online.

Available

€89.99 1
GAZZINI LICENSE PL.HOLDER - KAWASAKI Z 900 RS
10047362

The item is in stock and will be delivered in 2-5 working days. Note: Stocks are updated online every hour on working days from 7 a.m. to 8 p.m., so there is a good chance that the products are available if they appear online.

Available

€89.99 1
GAZZINI LICENSE PL.HOLDER - KAWASAKI Z H2/Z 900
10047360

The item is in stock and will be delivered in 2-5 working days. Note: Stocks are updated online every hour on working days from 7 a.m. to 8 p.m., so there is a good chance that the products are available if they appear online.

Available

€89.99 1
GAZZINI LICENSE PL.HOLDER - KAWASAKI ZX 6 R
10047357

The item is in stock and will be delivered in 2-5 working days. Note: Stocks are updated online every hour on working days from 7 a.m. to 8 p.m., so there is a good chance that the products are available if they appear online.

Available

€89.99 1
GAZZINI LICENSE PL.HOLDER - KTM 125/390 DUKE
10047373

The item is in stock and will be delivered in 2-5 working days. Note: Stocks are updated online every hour on working days from 7 a.m. to 8 p.m., so there is a good chance that the products are available if they appear online.

Available

€109.99 1
GAZZINI LICENSE PL.HOLDER - KTM 1290 SUPER D. R 20-21
10047698

The item is in stock and will be delivered in 2-5 working days. Note: Stocks are updated online every hour on working days from 7 a.m. to 8 p.m., so there is a good chance that the products are available if they appear online.

Available

€109.99 1
GAZZINI LICENSE PL.HOLDER - KTM 690 DUKE/R
10047374

The item is in stock and will be delivered in 2-5 working days. Note: Stocks are updated online every hour on working days from 7 a.m. to 8 p.m., so there is a good chance that the products are available if they appear online.

Available

€99.99 1
GAZZINI LICENSE PL.HOLDER - KTM 690 ENDURO/690 SMC R
10047375

The item is in stock and will be delivered in 2-5 working days. Note: Stocks are updated online every hour on working days from 7 a.m. to 8 p.m., so there is a good chance that the products are available if they appear online.

Available

€109.99 1
GAZZINI LICENSE PL.HOLDER - KTM RC 125/200/390
10047395

The item is in stock and will be delivered in 2-5 working days. Note: Stocks are updated online every hour on working days from 7 a.m. to 8 p.m., so there is a good chance that the products are available if they appear online.

Available

€89.99 1
GAZZINI LICENSE PL.HOLDER - NINJA 1000 SX/Z 1000 SX
10047394

The item is in stock and will be delivered in 2-5 working days. Note: Stocks are updated online every hour on working days from 7 a.m. to 8 p.m., so there is a good chance that the products are available if they appear online.

Available

€89.99 1
GAZZINI LICENSE PL.HOLDER - SUZUKI GSX R 1000/R
10047398

The item is in stock and will be delivered in 2-5 working days. Note: Stocks are updated online every hour on working days from 7 a.m. to 8 p.m., so there is a good chance that the products are available if they appear online.

Available

€109.99 1
GAZZINI LICENSE PL.HOLDER - SUZUKI GSX S 1000/F
10047378

The item is in stock and will be delivered in 2-5 working days. Note: Stocks are updated online every hour on working days from 7 a.m. to 8 p.m., so there is a good chance that the products are available if they appear online.

Available

€89.99 1
GAZZINI LICENSE PL.HOLDER - SUZUKI GSX S 750
10047377

The item is in stock and will be delivered in 2-5 working days. Note: Stocks are updated online every hour on working days from 7 a.m. to 8 p.m., so there is a good chance that the products are available if they appear online.

Available

€89.99 1
GAZZINI LICENSE PL.HOLDER - SUZUKI SV 650/X
10047376

The item is in stock and will be delivered in 2-5 working days. Note: Stocks are updated online every hour on working days from 7 a.m. to 8 p.m., so there is a good chance that the products are available if they appear online.

Available

€89.99 1
GAZZINI LICENSE PL.HOLDER - SUZUKI VARIOUS MODELS
10047397

The item is in stock and will be delivered in 2-5 working days. Note: Stocks are updated online every hour on working days from 7 a.m. to 8 p.m., so there is a good chance that the products are available if they appear online.

Available

€89.99 1
GAZZINI LICENSE PL.HOLDER - VARIOUS DUCATI MONSTER
10048997

The item is in stock and will be delivered in 2-5 working days. Note: Stocks are updated online every hour on working days from 7 a.m. to 8 p.m., so there is a good chance that the products are available if they appear online.

Available

€119.99 1
GAZZINI LICENSE PL.HOLDER - YAMAHA MODELS
10047423

The item is in stock and will be delivered in 2-5 working days. Note: Stocks are updated online every hour on working days from 7 a.m. to 8 p.m., so there is a good chance that the products are available if they appear online.

Available

€89.99 1
GAZZINI LICENSE PL.HOLDER - YAMAHA MT 03/YZF R3
10047385

The item is in stock and will be delivered in 2-5 working days. Note: Stocks are updated online every hour on working days from 7 a.m. to 8 p.m., so there is a good chance that the products are available if they appear online.

Available

€89.99 1
GAZZINI LICENSE PL.HOLDER - YAMAHA MT 07/MOTOCAGE
10047386

The item is in stock and will be delivered in 2-5 working days. Note: Stocks are updated online every hour on working days from 7 a.m. to 8 p.m., so there is a good chance that the products are available if they appear online.

Available

€89.99 1
GAZZINI LICENSE PL.HOLDER - YAMAHA MT 09/SP
10047387

The item is in stock and will be delivered in 2-5 working days. Note: Stocks are updated online every hour on working days from 7 a.m. to 8 p.m., so there is a good chance that the products are available if they appear online.

Available

€119.99 1
GAZZINI LICENSE PL.HOLDER - YAMAHA MT 10/SP
10047435

The item is in stock and will be delivered in 2-5 working days. Note: Stocks are updated online every hour on working days from 7 a.m. to 8 p.m., so there is a good chance that the products are available if they appear online.

Available

€89.99 1
GAZZINI LICENSE PL.HOLDER - YAMAHA MT 125
10047379

The item is in stock and will be delivered in 2-5 working days. Note: Stocks are updated online every hour on working days from 7 a.m. to 8 p.m., so there is a good chance that the products are available if they appear online.

Available

€89.99 1
GAZZINI LICENSE PL.HOLDER - YAMAHA MT-07 2021
10047697

The item is in stock and will be delivered in 2-5 working days. Note: Stocks are updated online every hour on working days from 7 a.m. to 8 p.m., so there is a good chance that the products are available if they appear online.

Available

€89.99 1
GAZZINI LICENSE PL.HOLDER - YAMAHA MT-09/SP 2021
10047699

The item is in stock and will be delivered in 2-5 working days. Note: Stocks are updated online every hour on working days from 7 a.m. to 8 p.m., so there is a good chance that the products are available if they appear online.

Available

€89.99 1
GAZZINI LICENSE PL.HOLDER - YAMAHA TRACER 900
10047388

The item is in stock and will be delivered in 2-5 working days. Note: Stocks are updated online every hour on working days from 7 a.m. to 8 p.m., so there is a good chance that the products are available if they appear online.

Available

€89.99 1
GAZZINI LICENSE PL.HOLDER - YAMAHA YZF R125
10047399

The item is in stock and will be delivered in 2-5 working days. Note: Stocks are updated online every hour on working days from 7 a.m. to 8 p.m., so there is a good chance that the products are available if they appear online.

Available

€89.99 1
GAZZINI LICENSE PL.HOLDER - YAMAHA YZF-R125
10047384

The item is in stock and will be delivered in 2-5 working days. Note: Stocks are updated online every hour on working days from 7 a.m. to 8 p.m., so there is a good chance that the products are available if they appear online.

Available

€89.99 1
GAZZINI LICENSE PL.HOLDER - ZX-10R 16-21 ZX-10RR 1721
10047696

The item is in stock and will be delivered in 2-5 working days. Note: Stocks are updated online every hour on working days from 7 a.m. to 8 p.m., so there is a good chance that the products are available if they appear online.

Available

€89.99 1
HONDA CB1000R 2021-
10047471

The item is in stock and will be delivered in 2-5 working days. Note: Stocks are updated online every hour on working days from 7 a.m. to 8 p.m., so there is a good chance that the products are available if they appear online.

Available

€99.99 1