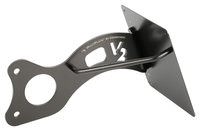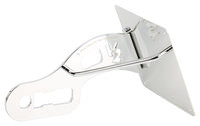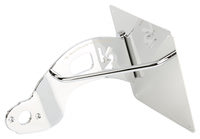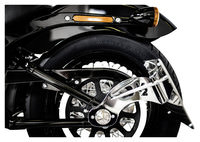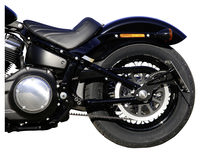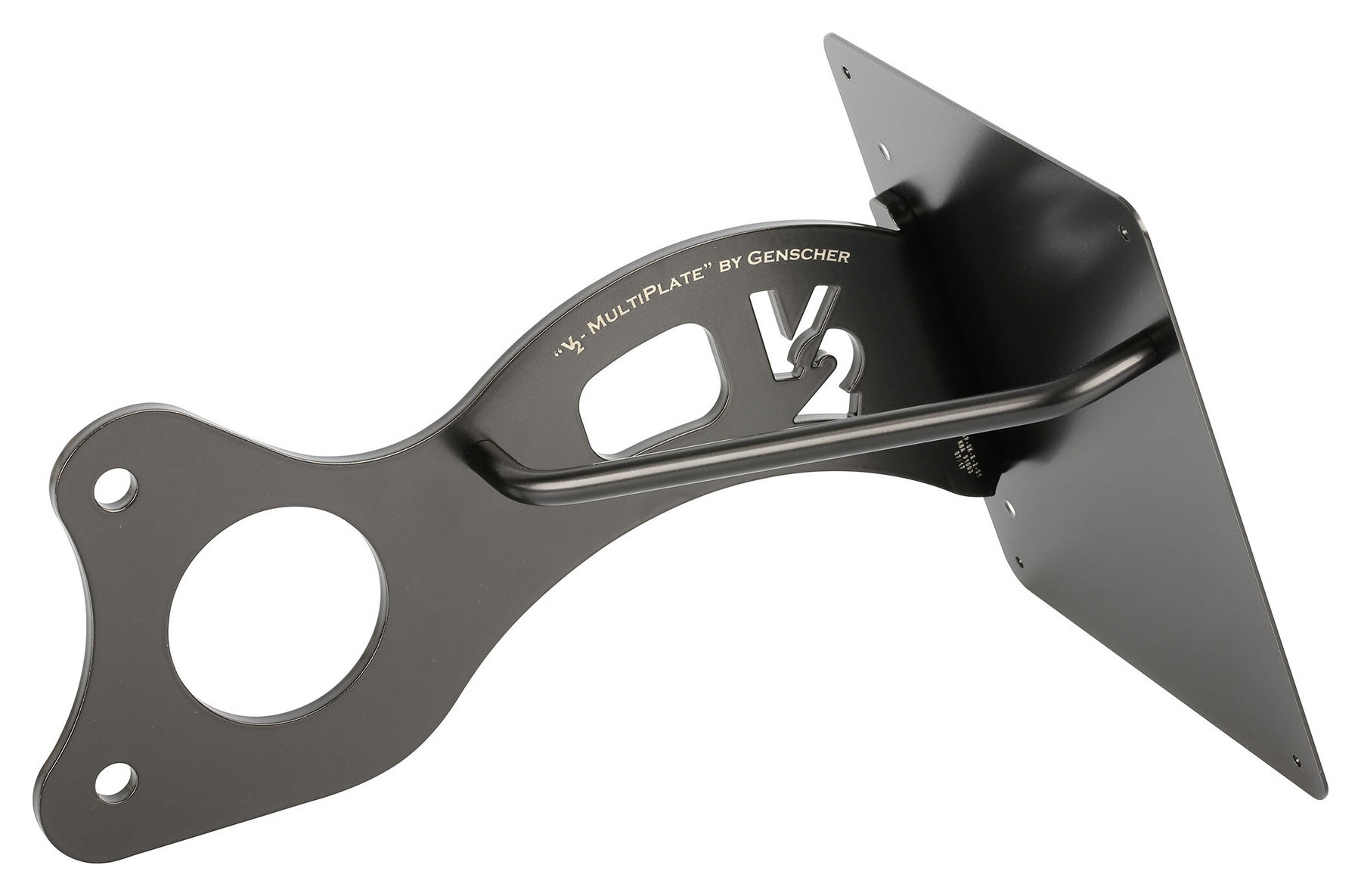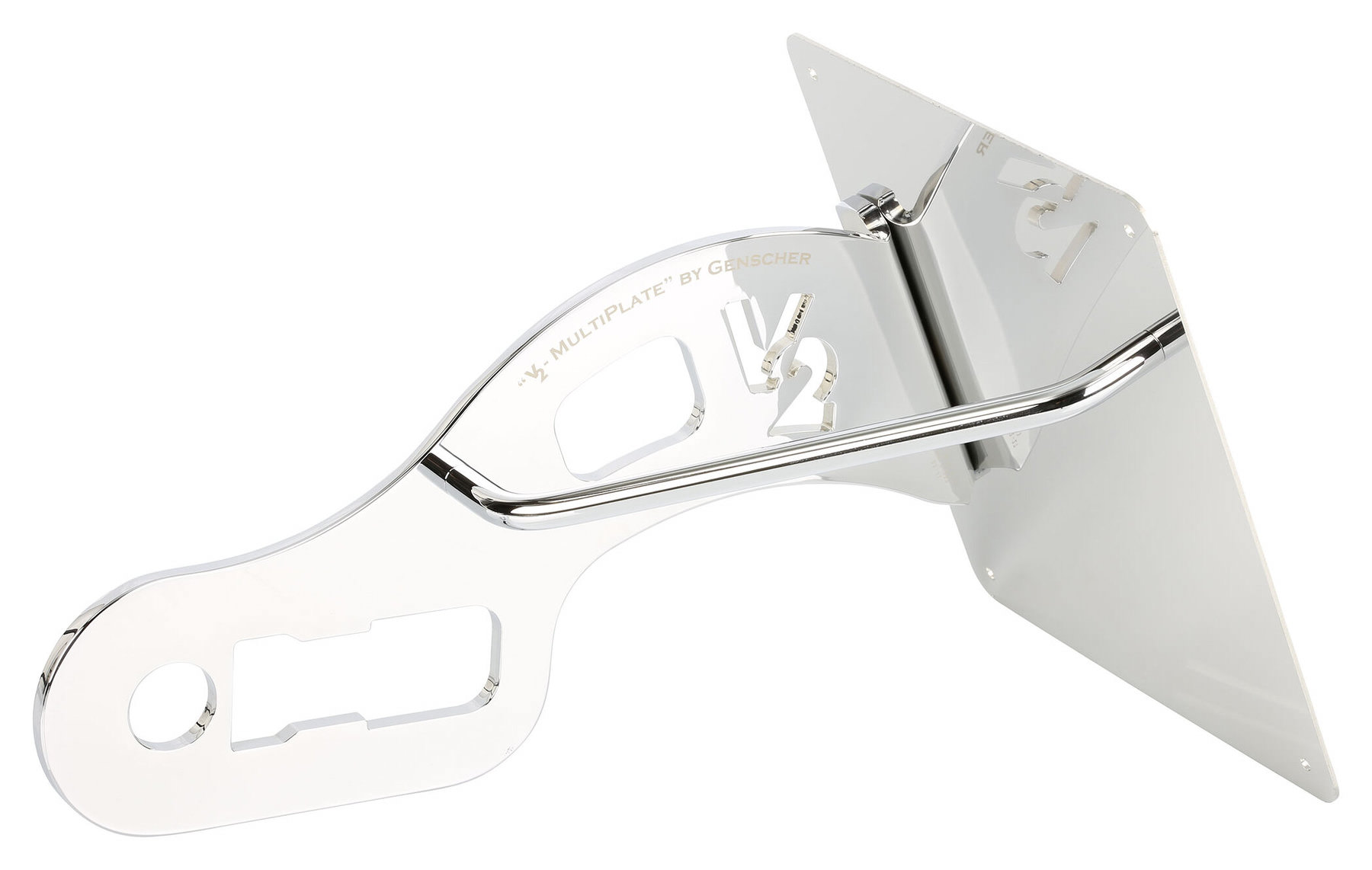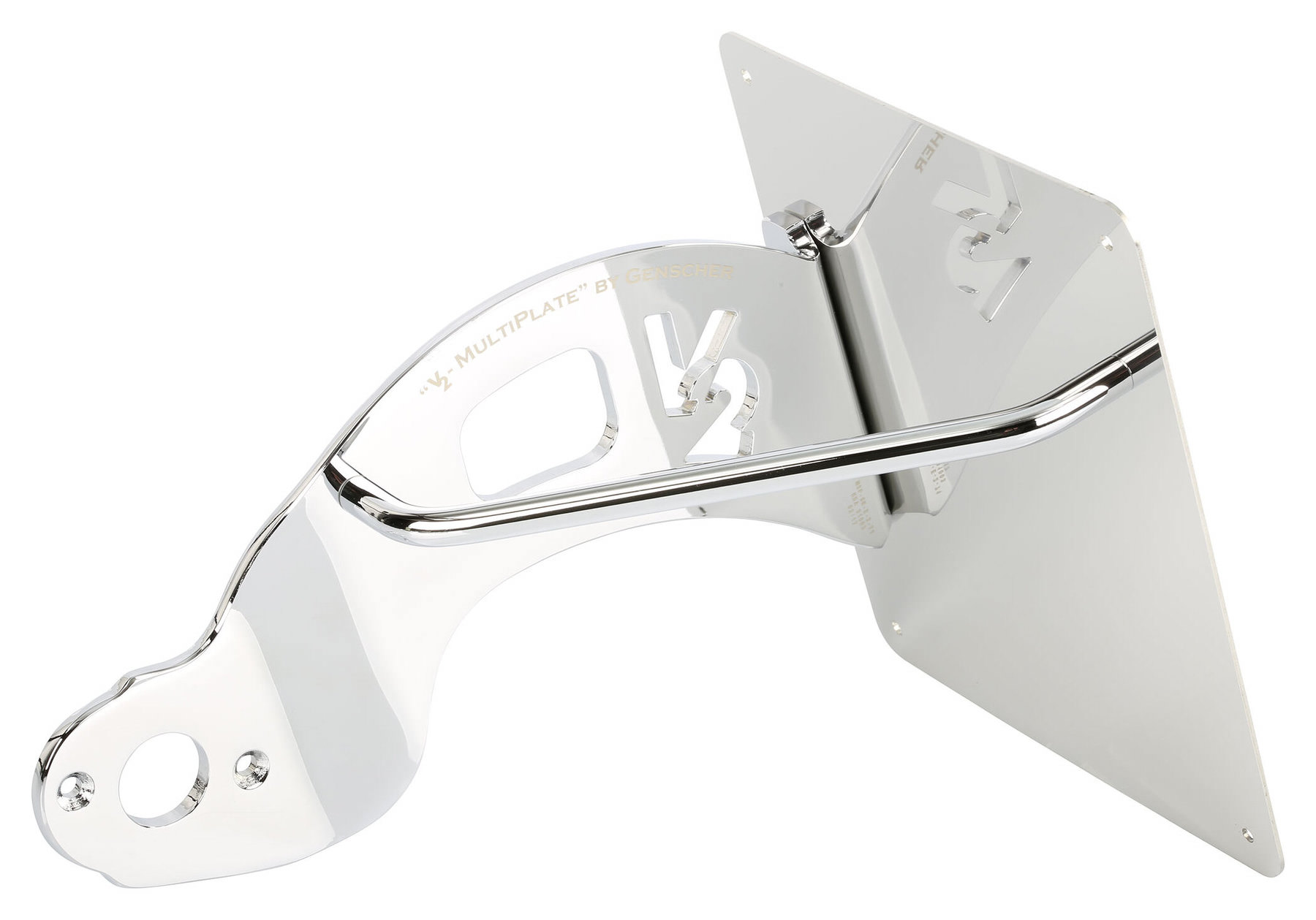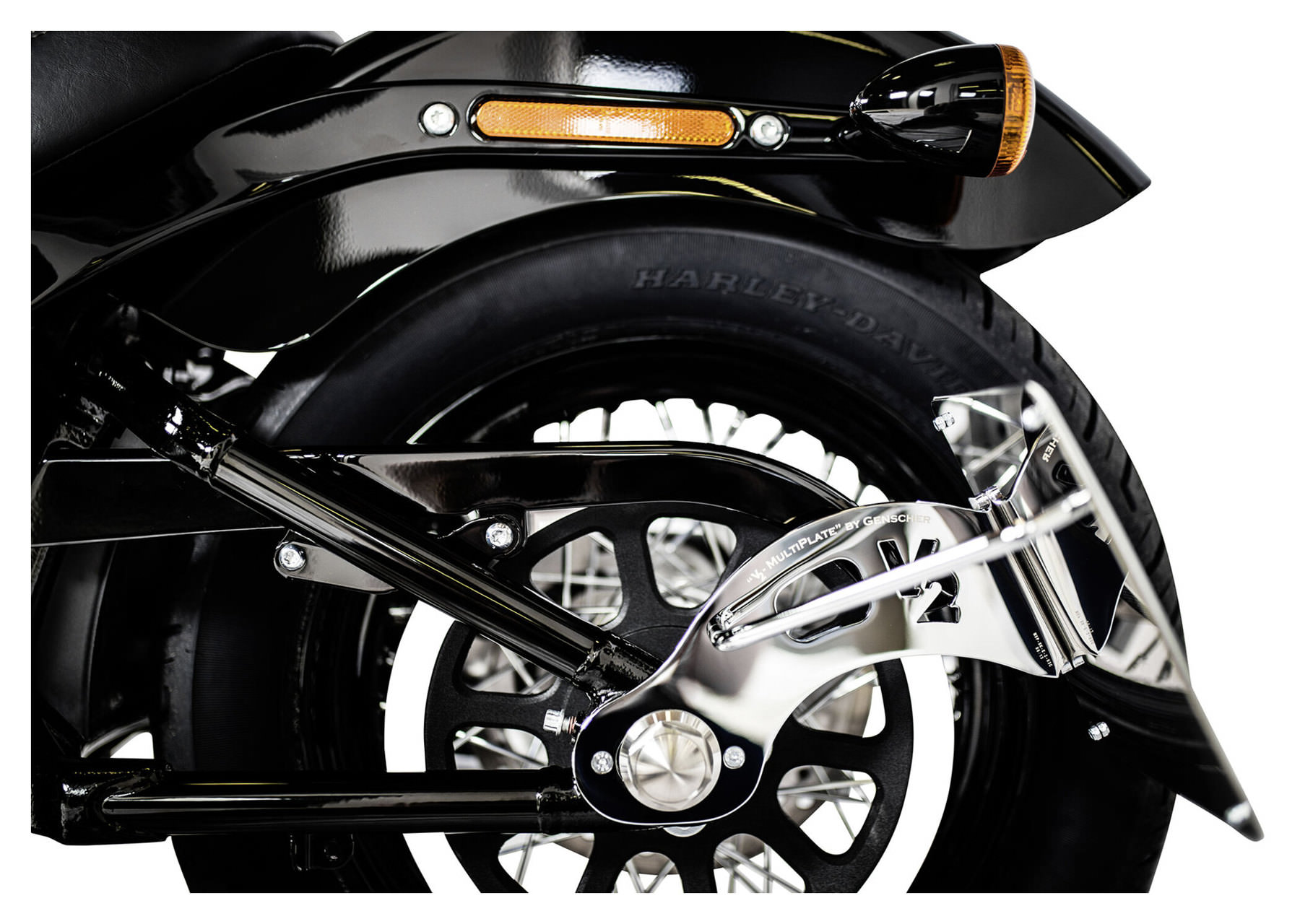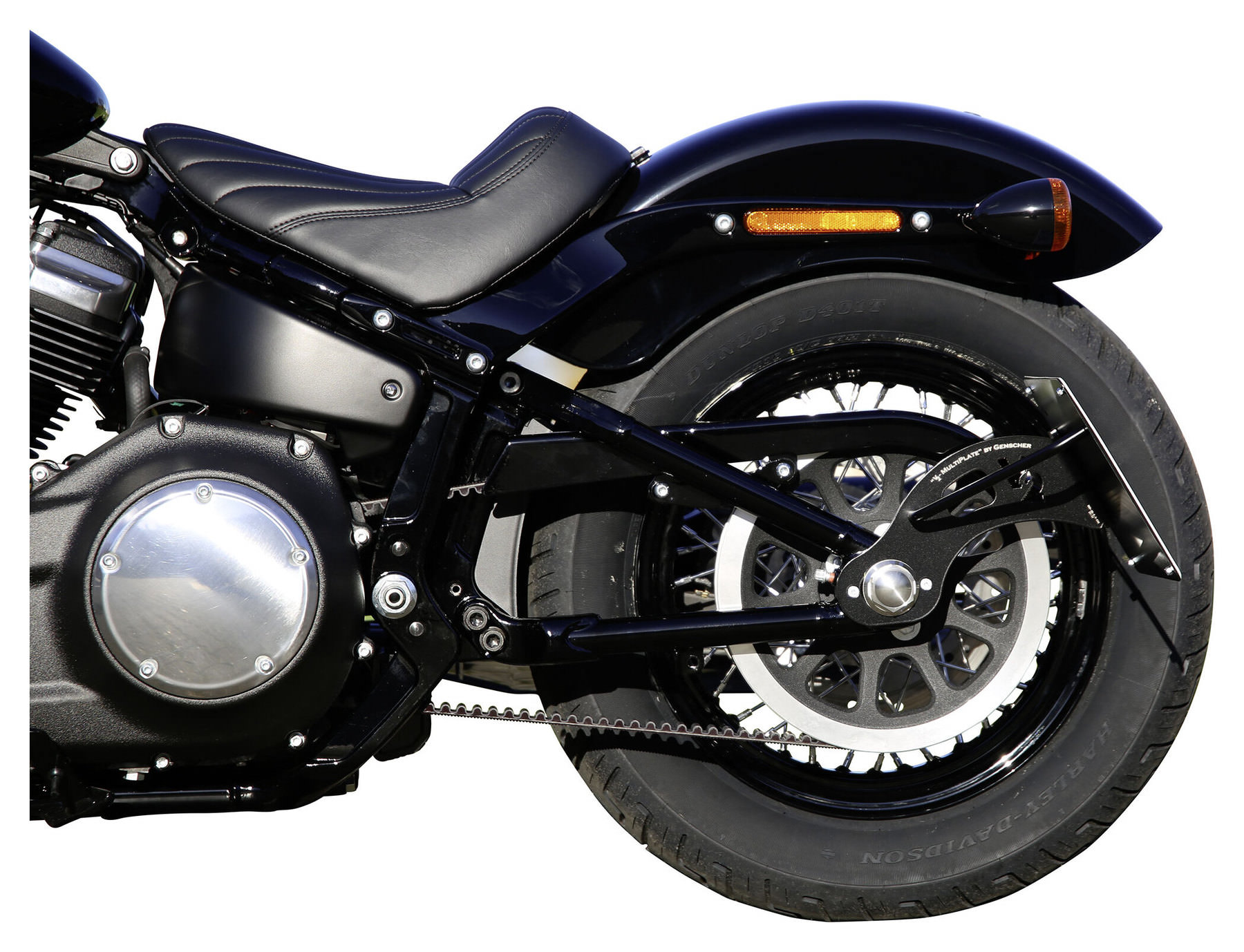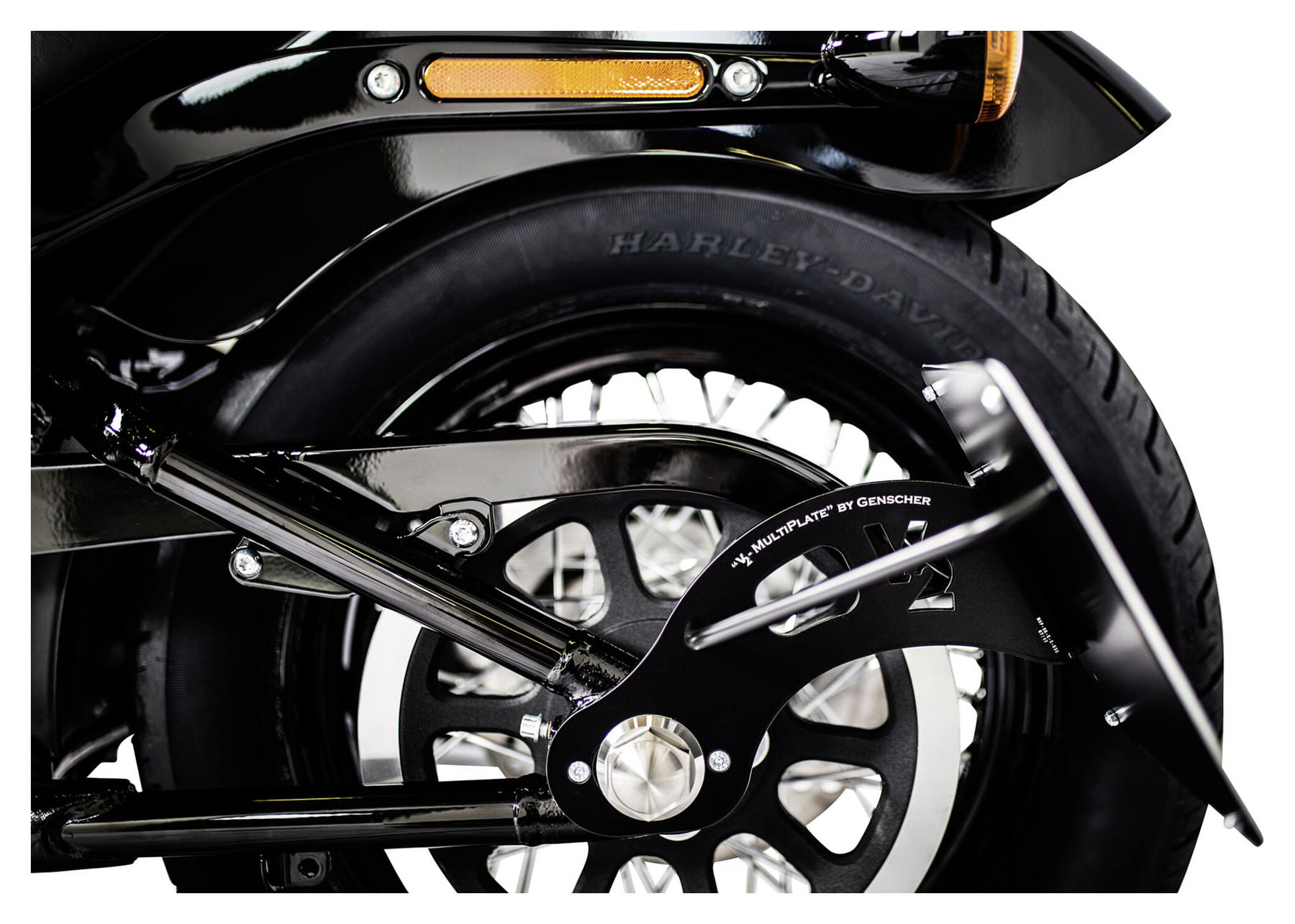 Genscher side-mounted
license plate bracket
Unfortunately, this product is not compatible with this motorcycle.
Unfortunately, this product is not compatible with this motorcycle. You can find the right for the here: .
Free delivery on orders over €199.00
2 year return policy
Purchase on invoice
Fast Delivery
Go to currency converter
Please select the desired exchange rate* and enter an amount.
* The source of the exchange rate is the European Central Bank. (As at 25.01.2021). The exchange rate is for information purposes only; it does not provide binding prices for an exchange. In practice, for individual exchanges, the prices for buying and selling currencies can deviate to a greater or lesser extent from these rates – depending on the country, financial institution or bureau de change and also the method of payment. The conversion is given as an indication only.
Genscher side-mounted
license plate bracket
At last, an uncluttered rear wheel! This high-quality license plate holder and plate, made of chromed or black plastic-coated steel (STW 22), for side mounting, are right on trend. They are in true chopper and cruiser style. Top quality - Made in Germany.
This license plate holder is built to withstand all kinds of weather,
so it's extremely durable.
Type-approved for Germany (please note the product information - for some models only a TÜV test certificate for entering in your vehicle documents is available)
Fastenings and license plate light are included (E-approved)
License plate dimensions: (W x H) approx. 180 x 200 mm
Available in black or chromed (depending on model)

German type approval ("ABE)" allows the relevant accessory to be used on the vehicle models listed in the test report. Here it is the type abbreviation and not the maker's designation that is important for identifying the vehicle. The test report must be carried when riding in case it needs to be presented at a road-side check or vehicle safety inspection.
Accessories with type approval do not have to be registered in the vehicle documents! Those who do not want to carry the test report with them all the time can (for example) arrange to have the product registered by the Technical Inspection Association (subject to a charge).
If the accessory is to be used on a vehicle that is not listed in the type approval, an individual component approval is required. Although ABE type approval confirms the proper installation and safety of the product, it is the inspector who has to decide according to his technical expertise whether it is suitable for use on the vehicle.

An electric scooter with "ABE" approval has a type approval for Germany stating that the relevant vehicle satisfies all the relevant requirements of the eKFV (Small Electric Vehicle Ordinance in Germany) for the approval. In addition, insurance of the electric scooter is compulsory and use on pavements is forbidden. It can only be ridden on cycle paths and on the road (if a cycle path is not available). The minimum age for riding an electric scooter is 14 years. Although a driving license and helmet are not mandatory, they are highly recommended. An electric scooter must always be ridden solo.

QUALITY MADE IN GERMANY!

By purchasing this item you have chosen a premium-quality product with superior German workmanship. This internationally acknowledged mark of quality means that this product is the result of efficiently coordinated development and production processes, technological expertise, continuous quality controls.
Test certificates (TÜV, ABE, material)
Instructions/Guides
Product
Art. No.
Availability
Price
Actions
GENSCHER SIDE-MOUNTED - LICENSE PL. BRACKET, BLK

Important notes

This product comes with German type approval!

10018875

The item is in stock and will be delivered in 2-4 working days. Note: Stocks are updated online every hour on working days from 7 a.m. to 8 p.m., so there is a good chance that the products are available if they appear online.

Available

€298.95 1
GENSCHER SIDE-MOUNTED - LICENSE PL. BRACKET, BLK

Important notes

This product comes with German type approval!

10018895

The item is in stock and will be delivered in 2-4 working days. Note: Stocks are updated online every hour on working days from 7 a.m. to 8 p.m., so there is a good chance that the products are available if they appear online.

Available

€279.95 1
GENSCHER SIDE-MOUNTED - LICENSE PL. BRACKET, BLK
10018929

The item is in stock and will be delivered in 2-4 working days. Note: Stocks are updated online every hour on working days from 7 a.m. to 8 p.m., so there is a good chance that the products are available if they appear online.

Available

€279.00 1
GENSCHER SIDE-MOUNTED - LICENSE PL. BRACKET, BLK

Important notes

This product comes with a TÜV component test certificate!

10018925

The item is in stock and will be delivered in 2-4 working days. Note: Stocks are updated online every hour on working days from 7 a.m. to 8 p.m., so there is a good chance that the products are available if they appear online.

Available

€298.95 1
GENSCHER SIDE-MOUNTED - LICENSE PL. BRACKET, BLK

Important notes

This product comes with a TÜV component test certificate!

10018923

The item is in stock and will be delivered in 2-4 working days. Note: Stocks are updated online every hour on working days from 7 a.m. to 8 p.m., so there is a good chance that the products are available if they appear online.

Available

€299.00 1
GENSCHER SIDE-MOUNTED - LICENSE PL. BRACKET, BLK

Important notes

This product comes with German type approval!

10018915

The item is in stock and will be delivered in 2-4 working days. Note: Stocks are updated online every hour on working days from 7 a.m. to 8 p.m., so there is a good chance that the products are available if they appear online.

Available

€279.95 1
GENSCHER SIDE-MOUNTED - LICENSE PL. BRACKET, BLK

Important notes

This product comes with German type approval!

10018913

The item is in stock and will be delivered in 2-4 working days. Note: Stocks are updated online every hour on working days from 7 a.m. to 8 p.m., so there is a good chance that the products are available if they appear online.

Available

€279.95 1
GENSCHER SIDE-MOUNTED - LICENSE PL. BRACKET, BLK

Important notes

This product comes with German type approval!

10018887

The item is in stock and will be delivered in 2-4 working days. Note: Stocks are updated online every hour on working days from 7 a.m. to 8 p.m., so there is a good chance that the products are available if they appear online.

Available

€279.00 1
GENSCHER SIDE-MOUNTED - LICENSE PL. BRACKET, BLK

Important notes

This product comes with a TÜV component test certificate!

10018885

The item is in stock and will be delivered in 2-4 working days. Note: Stocks are updated online every hour on working days from 7 a.m. to 8 p.m., so there is a good chance that the products are available if they appear online.

Available

€299.00 1
GENSCHER SIDE-MOUNTED - LICENSE PL. BRACKET, BLK

Important notes

This product comes with German type approval!

10018883

The item is in stock and will be delivered in 2-4 working days. Note: Stocks are updated online every hour on working days from 7 a.m. to 8 p.m., so there is a good chance that the products are available if they appear online.

Available

€279.00 1
GENSCHER SIDE-MOUNTED - LICENSE PL. BRACKET, BLK

Important notes

This product comes with German type approval!

10018879

The item is in stock and will be delivered in 2-4 working days. Note: Stocks are updated online every hour on working days from 7 a.m. to 8 p.m., so there is a good chance that the products are available if they appear online.

Available

€279.95 1
GENSCHER SIDE-MOUNTED - LICENSE PL. BRACKET, BLK

Important notes

This product comes with German type approval!

10018877

The item is in stock and will be delivered in 2-4 working days. Note: Stocks are updated online every hour on working days from 7 a.m. to 8 p.m., so there is a good chance that the products are available if they appear online.

Available

€298.95 1
GENSCHER SIDE-MOUNTED - LICENSE PL. BRACKET, BLK

Important notes

This product comes with a TÜV component test certificate!

10018937

The item is in stock and will be delivered in 2-4 working days. Note: Stocks are updated online every hour on working days from 7 a.m. to 8 p.m., so there is a good chance that the products are available if they appear online.

Available

€329.95 1
GENSCHER SIDE-MOUNTED - LICENSE PL. BRACKET, CHR

Important notes

This product comes with German type approval!

10018886

The item is in stock and will be delivered in 2-4 working days. Note: Stocks are updated online every hour on working days from 7 a.m. to 8 p.m., so there is a good chance that the products are available if they appear online.

Available

€279.95 1
GENSCHER SIDE-MOUNTED - LICENSE PL. BRACKET, CHR

Important notes

This product comes with German type approval!

10018876

The item is in stock and will be delivered in 2-4 working days. Note: Stocks are updated online every hour on working days from 7 a.m. to 8 p.m., so there is a good chance that the products are available if they appear online.

Available

€298.95 1
GENSCHER SIDE-MOUNTED - LICENSE PL. BRACKET, CHR

Important notes

This product comes with German type approval!

10018894

The item is in stock and will be delivered in 2-4 working days. Note: Stocks are updated online every hour on working days from 7 a.m. to 8 p.m., so there is a good chance that the products are available if they appear online.

Available

€279.00 1
GENSCHER SIDE-MOUNTED - LICENSE PL. BRACKET, CHR

Important notes

This product comes with a TÜV component test certificate!

10018884

The item is in stock and will be delivered in 2-4 working days. Note: Stocks are updated online every hour on working days from 7 a.m. to 8 p.m., so there is a good chance that the products are available if they appear online.

Available

€298.95 1
GENSCHER SIDE-MOUNTED - LICENSE PL. BRACKET, CHR

Important notes

This product comes with German type approval!

10018882

The item is in stock and will be delivered in 2-4 working days. Note: Stocks are updated online every hour on working days from 7 a.m. to 8 p.m., so there is a good chance that the products are available if they appear online.

Available

€279.00 1
GENSCHER SIDE-MOUNTED - LICENSE PL. BRACKET, CHR

Important notes

This product comes with a TÜV component test certificate!

10018924

The item is in stock and will be delivered in 2-4 working days. Note: Stocks are updated online every hour on working days from 7 a.m. to 8 p.m., so there is a good chance that the products are available if they appear online.

Available

€298.95 1
GENSCHER SIDE-MOUNTED - LICENSE PL. BRACKET, CHR

Important notes

This product comes with German type approval!

10018878

The item is in stock and will be delivered in 2-4 working days. Note: Stocks are updated online every hour on working days from 7 a.m. to 8 p.m., so there is a good chance that the products are available if they appear online.

Available

€279.00 1
GENSCHER SIDE-MOUNTED - LICENSE PL. BRACKET, CHR

Important notes

This product comes with German type approval!

10018928

The item is in stock and will be delivered in 2-4 working days. Note: Stocks are updated online every hour on working days from 7 a.m. to 8 p.m., so there is a good chance that the products are available if they appear online.

Available

€279.95 1