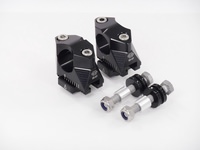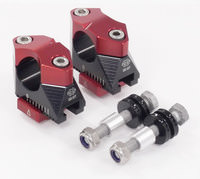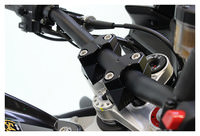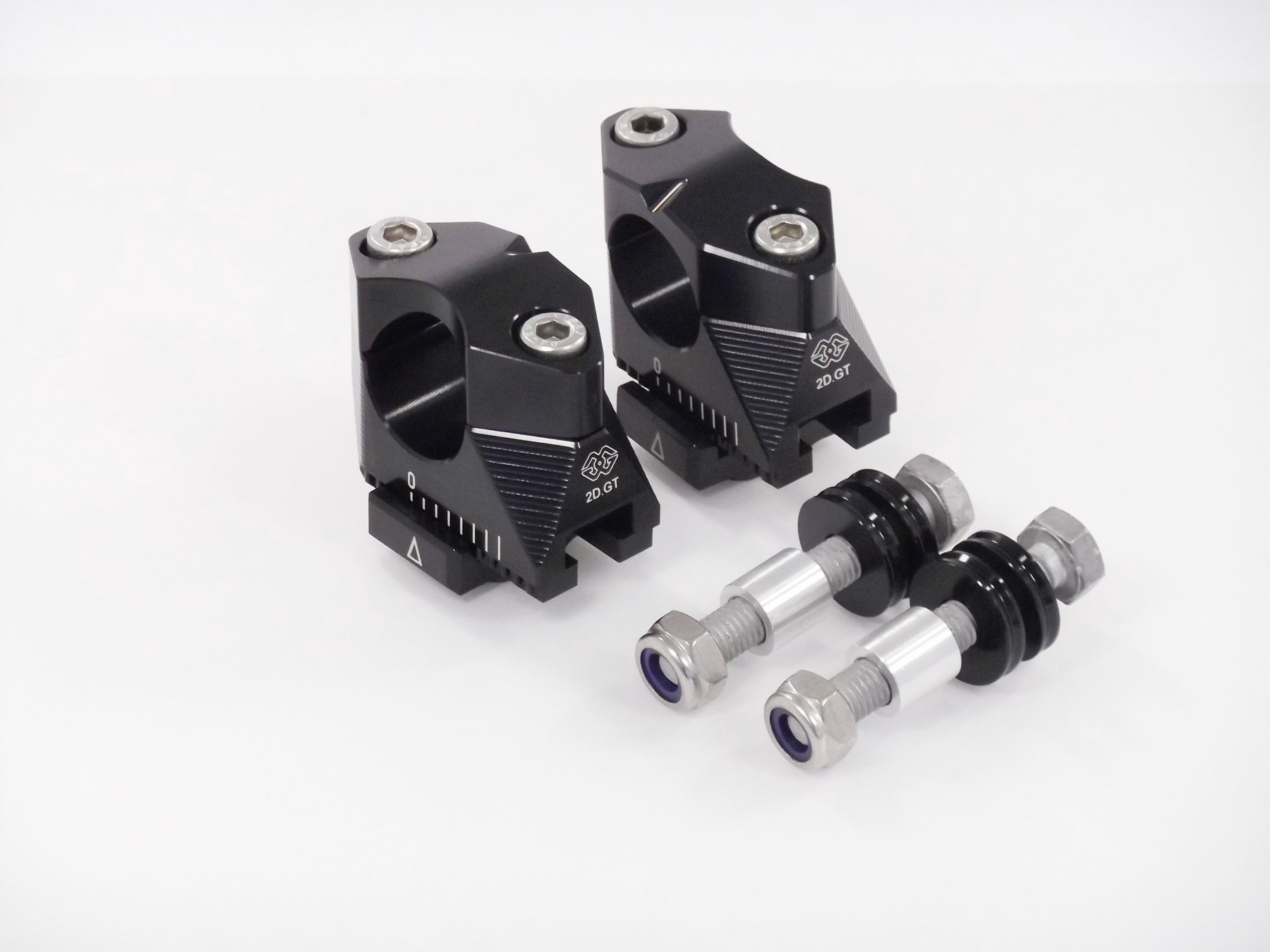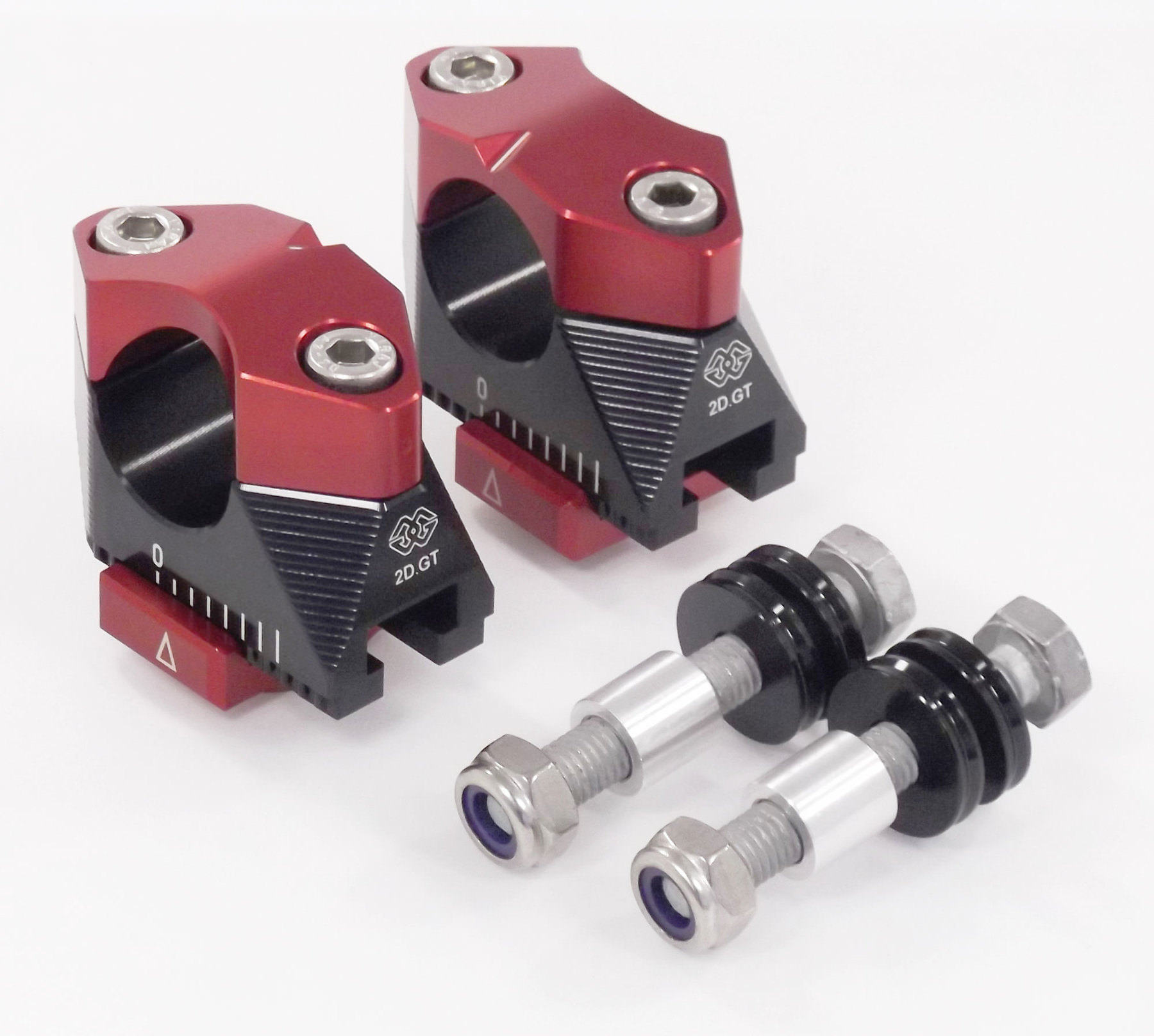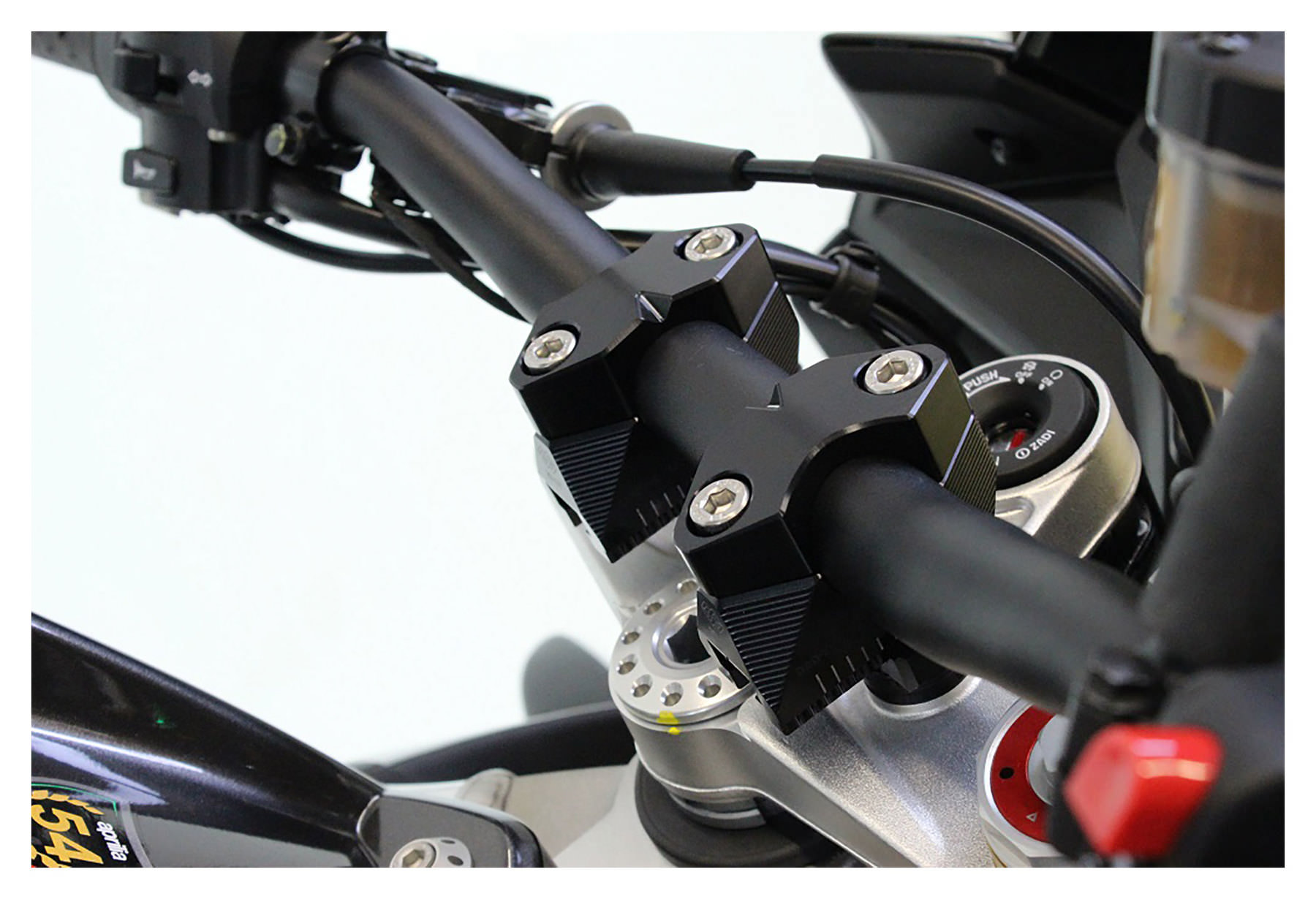 Gilles-Tooling 2D.GT Riser
Unfortunately, this product is not compatible with this motorcycle.
Unfortunately, this product is not compatible with this motorcycle. You can find the right for the here: .
Free delivery on orders over €199.00
2 year return policy
Purchase on invoice
Fast Delivery
Go to currency converter
Please select the desired exchange rate* and enter an amount.
* The source of the exchange rate is the European Central Bank. (As at 01.06.2020). The exchange rate is for information purposes only; it does not provide binding prices for an exchange. In practice, for individual exchanges, the prices for buying and selling currencies can deviate to a greater or lesser extent from these rates – depending on the country, financial institution or bureau de change and also the method of payment. The conversion is given as an indication only.
Gilles-Tooling 2D.GT Riser
Gilles Tooling 2D.GT Riser:

The 2D.GT handlebar clamps are a real milestone in terms of motorbike ergonomics. Two-dimensionally adjustable, in height and reach, they set a new standard for functional handlebar clamps.
The standard clamping dimension is 28.6 mm, with spacers (Order no.: 60029090) but they can also be used on 22 mm handlebars.
The spacers allow the clamps to be raised in 5 mm steps up to 25 mm, compared to the original.
The forwards/backwards adjustment range is in 3.6 mm steps up to 50 mm, depending on motorcycle model.
In addition to their functionality, the 2D.GT clamps also come in three anodised colours (black, black/gold and black/red) to provide plenty of scope for colour coordination with footrests, levers, handlebar ends, yoke nuts and other accessories.

Information:
(1): Can be used in combination with the original handlebar.
(2): Can be used in combination with conical handlebars (28,6mm Ø).
(3): When used with the original handlebar, a reducer kit (Order no.: 60029090) is required for installation.
(4): The risers are 94 mm long to give an even more comfortable riding position on your motorbike.
(5): Includes speedo mount made of CNC milled aluminium!
Manufacturer details: Gilles

Sporty accessories for motorbikes

Each of the high-quality accessories engineered by Gerhard Gilles' company optimises both the functioning and the look of your motorbike. The company founder is a former motorbike racer and CNC machinist, so he knows exactly what keen bikers really want. The first customisable footrest systems he designed hit the nail on the head in the motorbike scene. And the same is true today for many other finely machined components from Gilles Tooling. The proof is clear to see in the reviews posted by Louis customers.

This product is made of high-quality CNC-machined aluminium and will look great on your motorbike.

To ensure that it gives you many years of service, please observe the following care instructions:

1. After installing the product, and each time you wash your motorbike, apply a wax-based care product, e.g. Procycle Polishing Wax, Order no. 10004923 for protection against wind and weather. You may need to repeat the application after an outing in winter weather, rain or salty air (near the coast).

2. Remove any corrosion as soon as possible using a standard aluminium polish (e.g. Autosol Aluminium Polish, Order no. 10004421).
Test certificates (TÜV, ABE, material)
Instructions/Guides
Product
Order no.
Availability
Price
Actions
GILLES 2DGT RISER (5) - SCRAMBLER 15- BLACK
60029063

The item is in stock and will be delivered in 2-4 working days. Note: Stocks are updated online every hour on working days from 7 a.m. to 8 p.m., so there is a good chance that the products are available if they appear online.

Available

€179.00 1
GILLES 2DGT RISER (5) - SCRAMBLER 15- BLACK/RED
60029064

The product will be ordered from the manufacturer for you. Depending on availability, longer delivery times are also possible. We'll let you know if that's the case. You can of course cancel your delivery at any time free of charge.

Available in 7-21 days

€179.00 1
GILLES 2DGT RISER (1,2) - CAPON.1200 13- BLACK
60029020

The product will be ordered from the manufacturer for you. Depending on availability, longer delivery times are also possible. We'll let you know if that's the case. You can of course cancel your delivery at any time free of charge.

Available in 7-21 days

€169.00 1
GILLES 2DGT RISER (1,2) - CAPONO.1200 13- BLACK/RED
60029022

The product will be ordered from the manufacturer for you. Depending on availability, longer delivery times are also possible. We'll let you know if that's the case. You can of course cancel your delivery at any time free of charge.

Available in 7-21 days

€169.00 1
GILLES 2DGT RISER (1,2) - MT-09/XSR900 BLACK
60029001

The item is in stock and will be delivered in 2-4 working days. Note: Stocks are updated online every hour on working days from 7 a.m. to 8 p.m., so there is a good chance that the products are available if they appear online.

Available

€169.00 1
GILLES 2DGT RISER (1,2) - MT-09/XSR900 BLACK/RED
60029003

The product will be ordered from the manufacturer for you. Depending on availability, longer delivery times are also possible. We'll let you know if that's the case. You can of course cancel your delivery at any time free of charge.

Available in 7-21 days

€169.00 1
GILLES 2DGT RISER (1,2) - MT-09/XSR900 BLACK/GOLD
60029002

The item is in stock and will be delivered in 2-4 working days. Note: Stocks are updated online every hour on working days from 7 a.m. to 8 p.m., so there is a good chance that the products are available if they appear online.

Available

€169.99 1
GILLES 2DGT RISER (1,2) - STREET TRIP./R BLACK
60029060

The product will be ordered from the manufacturer for you. Depending on availability, longer delivery times are also possible. We'll let you know if that's the case. You can of course cancel your delivery at any time free of charge.

Available in 7-21 days

€169.00 1
GILLES 2DGT RISER (1,2) - STREET TRIP./R BLACK/RED
60029062

The item is in stock and will be delivered in 2-4 working days. Note: Stocks are updated online every hour on working days from 7 a.m. to 8 p.m., so there is a good chance that the products are available if they appear online.

Available

€169.00 1
GILLES 2DGT RISER (1,2) - TUONO V4R/RR BLACK
60029023

The item is in stock and will be delivered in 2-4 working days. Note: Stocks are updated online every hour on working days from 7 a.m. to 8 p.m., so there is a good chance that the products are available if they appear online.

Available

€169.00 1
GILLES 2DGT RISER (1,2) - TUONO V4R/RR BLACK/RED
60029025

The item is in stock and will be delivered in 2-4 working days. Note: Stocks are updated online every hour on working days from 7 a.m. to 8 p.m., so there is a good chance that the products are available if they appear online.

Available

€169.00 1
GILLES 2DGT RISER (2,3) - ER-6F 12- BLACK
60029030

The product will be ordered from the manufacturer for you. Depending on availability, longer delivery times are also possible. We'll let you know if that's the case. You can of course cancel your delivery at any time free of charge.

Available in 7-21 days

€169.00 1
GILLES 2DGT RISER (2,3) - ER-6F 12- BLACK/RED
60029032

The product will be ordered from the manufacturer for you. Depending on availability, longer delivery times are also possible. We'll let you know if that's the case. You can of course cancel your delivery at any time free of charge.

Available in 7-21 days

€169.00 1
GILLES 2DGT RISER (2,3) - FZ8/CB1100 BLACK
60029010

The product will be ordered from the manufacturer for you. Depending on availability, longer delivery times are also possible. We'll let you know if that's the case. You can of course cancel your delivery at any time free of charge.

Available in 7-21 days

€169.00 1
GILLES 2DGT RISER (2,3) - FZ8/CB1100 BLACK/RED
60029012

The product will be ordered from the manufacturer for you. Depending on availability, longer delivery times are also possible. We'll let you know if that's the case. You can of course cancel your delivery at any time free of charge.

Available in 7-21 days

€169.00 1
GILLES 2DGT RISER (2,3) - GSF1250/S BLACK
60029056

The product will be ordered from the manufacturer for you. Depending on availability, longer delivery times are also possible. We'll let you know if that's the case. You can of course cancel your delivery at any time free of charge.

Available in 7-21 days

€169.00 1
GILLES 2DGT RISER (2,3) - GSF1250/S BLACK/RED
60029058

The product will be ordered from the manufacturer for you. Depending on availability, longer delivery times are also possible. We'll let you know if that's the case. You can of course cancel your delivery at any time free of charge.

Available in 7-21 days

€169.00 1
GILLES 2DGT RISER (2,3) - HYPERM./DL1000 BLACK
60029050

The product will be ordered from the manufacturer for you. Depending on availability, longer delivery times are also possible. We'll let you know if that's the case. You can of course cancel your delivery at any time free of charge.

Available in 7-21 days

€169.00 1
GILLES 2DGT RISER (2,3) - HYPERM./DL1000 BLACK/RED
60029052

The product will be ordered from the manufacturer for you. Depending on availability, longer delivery times are also possible. We'll let you know if that's the case. You can of course cancel your delivery at any time free of charge.

Available in 7-21 days

€169.00 1
GILLES 2DGT RISER (2,3) - XJ6/FZ1 BLACK
60029004

The product will be ordered from the manufacturer for you. Depending on availability, longer delivery times are also possible. We'll let you know if that's the case. You can of course cancel your delivery at any time free of charge.

Available in 7-21 days

€169.00 1
GILLES 2DGT RISER (2,3) - XJ6/FZ1 BLACK/RED
60029006

The product will be ordered from the manufacturer for you. Depending on availability, longer delivery times are also possible. We'll let you know if that's the case. You can of course cancel your delivery at any time free of charge.

Available in 7-21 days

€169.00 1
GILLES 2DGT RISER (2,3) - XJR 1200/1300 BLACK
60029007

The product will be ordered from the manufacturer for you. Depending on availability, longer delivery times are also possible. We'll let you know if that's the case. You can of course cancel your delivery at any time free of charge.

Available in 7-21 days

€169.00 1
GILLES 2DGT RISER (2,3) - XJR 1200/1300 BLACK/RED
60029009

The product will be ordered from the manufacturer for you. Depending on availability, longer delivery times are also possible. We'll let you know if that's the case. You can of course cancel your delivery at any time free of charge.

Available in 7-21 days

€169.00 1
GILLES 2DGT RISER (2,3) - Z800 13- BLACK
60029040

The product will be ordered from the manufacturer for you. Depending on availability, longer delivery times are also possible. We'll let you know if that's the case. You can of course cancel your delivery at any time free of charge.

Available in 7-21 days

€169.00 1
GILLES 2DGT RISER (2,3) - Z800 13- BLACK/RED
60029042

The product will be ordered from the manufacturer for you. Depending on availability, longer delivery times are also possible. We'll let you know if that's the case. You can of course cancel your delivery at any time free of charge.

Available in 7-21 days

€169.00 1
GILLES 2DGT RISER (1,2,4) - MT-09 TRACER BLACK
60029013

The item is in stock and will be delivered in 2-4 working days. Note: Stocks are updated online every hour on working days from 7 a.m. to 8 p.m., so there is a good chance that the products are available if they appear online.

Available

€199.00 1
GILLES 2DGT RISER (1,2,4) - MT-09 TRACER BLACK/RED
60029015

The item is in stock and will be delivered in 2-4 working days. Note: Stocks are updated online every hour on working days from 7 a.m. to 8 p.m., so there is a good chance that the products are available if they appear online.

Available

€199.99 1
GILLES 2DGT RISER (2,3,4) - DL 1000 14- BLACK
60029053

The product will be ordered from the manufacturer for you. Depending on availability, longer delivery times are also possible. We'll let you know if that's the case. You can of course cancel your delivery at any time free of charge.

Available in 7-21 days

€199.00 1
GILLES 2DGT RISER (2,3,5) - MT-07 14- BLACK
60029016

The product will be ordered from the manufacturer for you. Depending on availability, longer delivery times are also possible. We'll let you know if that's the case. You can of course cancel your delivery at any time free of charge.

Available in 7-21 days

€239.00 1
GILLES 2DGT RISER (2,3,5) - MT-07 14- BLACK/RED
60029018

The product will be ordered from the manufacturer for you. Depending on availability, longer delivery times are also possible. We'll let you know if that's the case. You can of course cancel your delivery at any time free of charge.

Available in 7-21 days

€239.00 1
GILLES 2DGT RISER (3) - MT-10/SP 16- BLACK
60029069

The product will be ordered from the manufacturer for you. Depending on availability, longer delivery times are also possible. We'll let you know if that's the case. You can of course cancel your delivery at any time free of charge.

Available in 7-21 days

€169.00 1
GILLES 2DGT RISER (3) - MT-10/SP 16- BLACK/RED
60029071

The product will be ordered from the manufacturer for you. Depending on availability, longer delivery times are also possible. We'll let you know if that's the case. You can of course cancel your delivery at any time free of charge.

Available in 7-21 days

€169.00 1
GILLES 2DGT RISER (3) - MT-10/SP 16- BLACK/GOLD
60029070

The item is in stock and will be delivered in 2-4 working days. Note: Stocks are updated online every hour on working days from 7 a.m. to 8 p.m., so there is a good chance that the products are available if they appear online.

Available

€169.99 1
GILLES 2DGT RISER - BRUTALE 675 BLACK
10020563

The product will be ordered from the manufacturer for you. Depending on availability, longer delivery times are also possible. We'll let you know if that's the case. You can of course cancel your delivery at any time free of charge.

Available in 7-21 days

€169.00 1
GILLES 2DGT RISER - BRUTALE 675 BLACK/RED
10020564

The product will be ordered from the manufacturer for you. Depending on availability, longer delivery times are also possible. We'll let you know if that's the case. You can of course cancel your delivery at any time free of charge.

Available in 7-21 days

€169.00 1
GILLES 2DGT RISER - DUCATI DIVERSE BLACK
10020560

The product will be ordered from the manufacturer for you. Depending on availability, longer delivery times are also possible. We'll let you know if that's the case. You can of course cancel your delivery at any time free of charge.

Available in 7-21 days

€189.00 1
GILLES 2DGT RISER - GSX-S 750 BLACK
10020565

The product will be ordered from the manufacturer for you. Depending on availability, longer delivery times are also possible. We'll let you know if that's the case. You can of course cancel your delivery at any time free of charge.

Available in 7-21 days

€169.00 1
GILLES 2DGT RISER - GSX-S 750 BLACK/RED
10020566

The product will be ordered from the manufacturer for you. Depending on availability, longer delivery times are also possible. We'll let you know if that's the case. You can of course cancel your delivery at any time free of charge.

Available in 7-21 days

€169.00 1
GILLES 2DGT RISER - KTM DUKE DIVERSE BLACK
10020561

The product will be ordered from the manufacturer for you. Depending on availability, longer delivery times are also possible. We'll let you know if that's the case. You can of course cancel your delivery at any time free of charge.

Available in 7-21 days

€169.00 1
GILLES 2DGT RISER - MT-09 17- BLACK
60029066

The item is in stock and will be delivered in 2-4 working days. Note: Stocks are updated online every hour on working days from 7 a.m. to 8 p.m., so there is a good chance that the products are available if they appear online.

Available

€169.00 1
GILLES 2DGT RISER - MT-09 17- BLACK/RED
60029068

The product will be ordered from the manufacturer for you. Depending on availability, longer delivery times are also possible. We'll let you know if that's the case. You can of course cancel your delivery at any time free of charge.

Available in 7-21 days

€169.00 1
GILLES 2DGT RISER - S 1000 R BLACK
10020568

The product will be ordered from the manufacturer for you. Depending on availability, longer delivery times are also possible. We'll let you know if that's the case. You can of course cancel your delivery at any time free of charge.

Available in 7-21 days

€179.00 1
GILLES 2DGT RISER - XSR 700 BLACK/RED
10020562

The product will be ordered from the manufacturer for you. Depending on availability, longer delivery times are also possible. We'll let you know if that's the case. You can of course cancel your delivery at any time free of charge.

Available in 7-21 days

€179.00 1
GILLES 2DGT RISER - Z900RS /CAFE BLACK
10020567

The product will be ordered from the manufacturer for you. Depending on availability, longer delivery times are also possible. We'll let you know if that's the case. You can of course cancel your delivery at any time free of charge.

Available in 7-21 days

€169.00 1