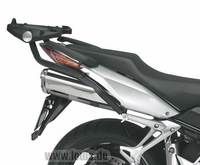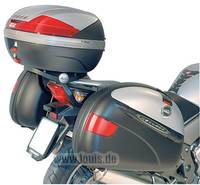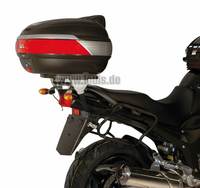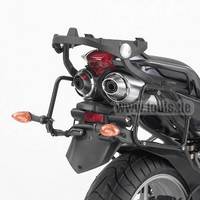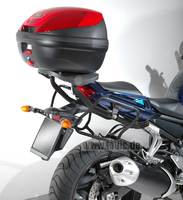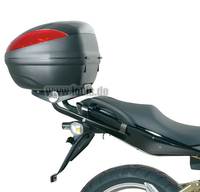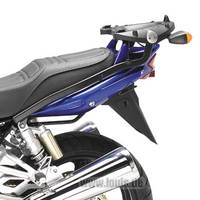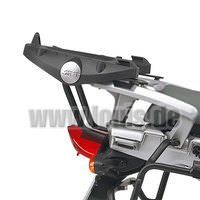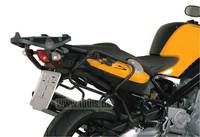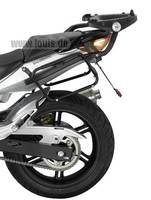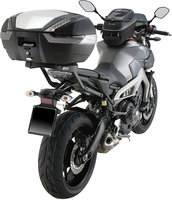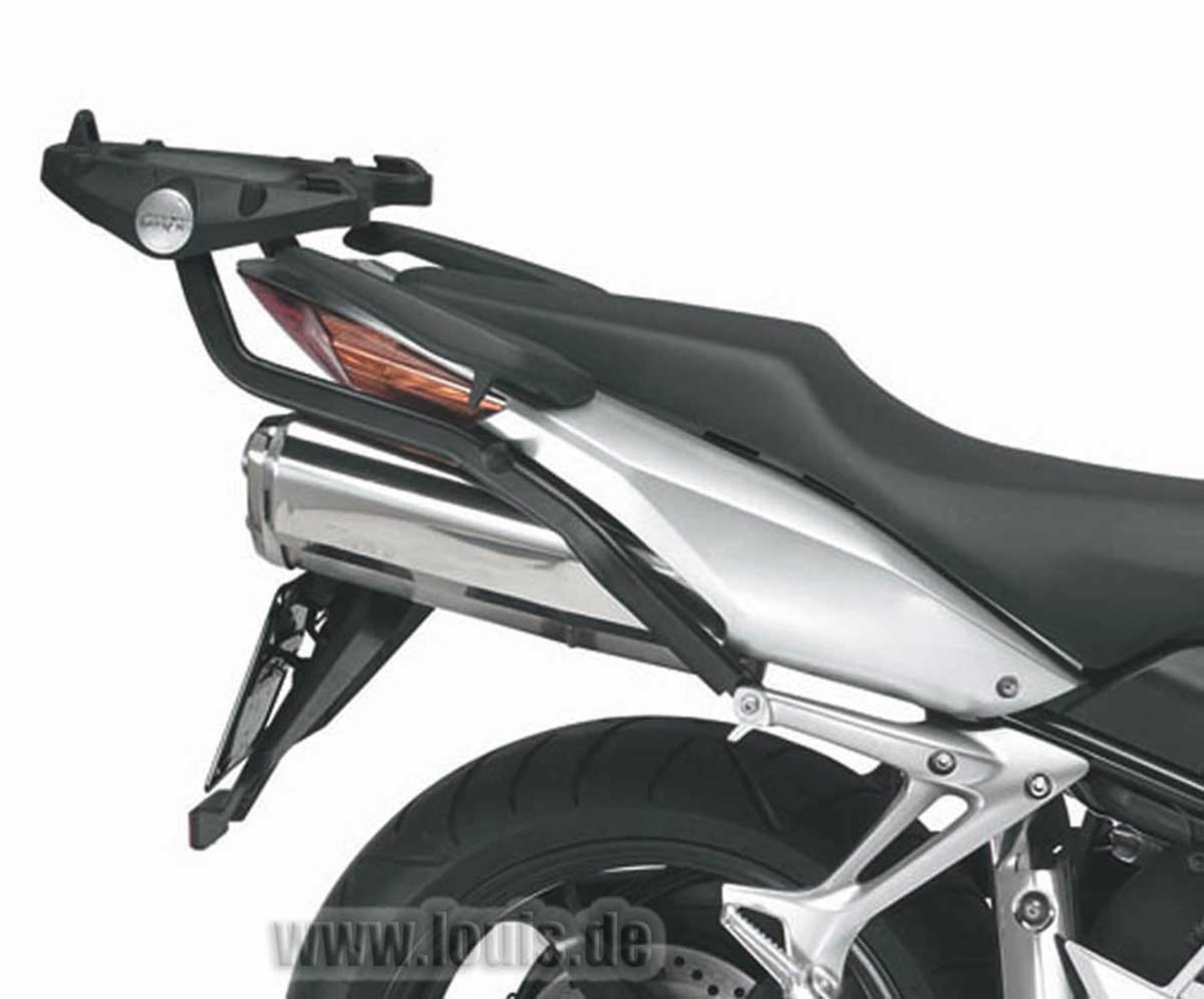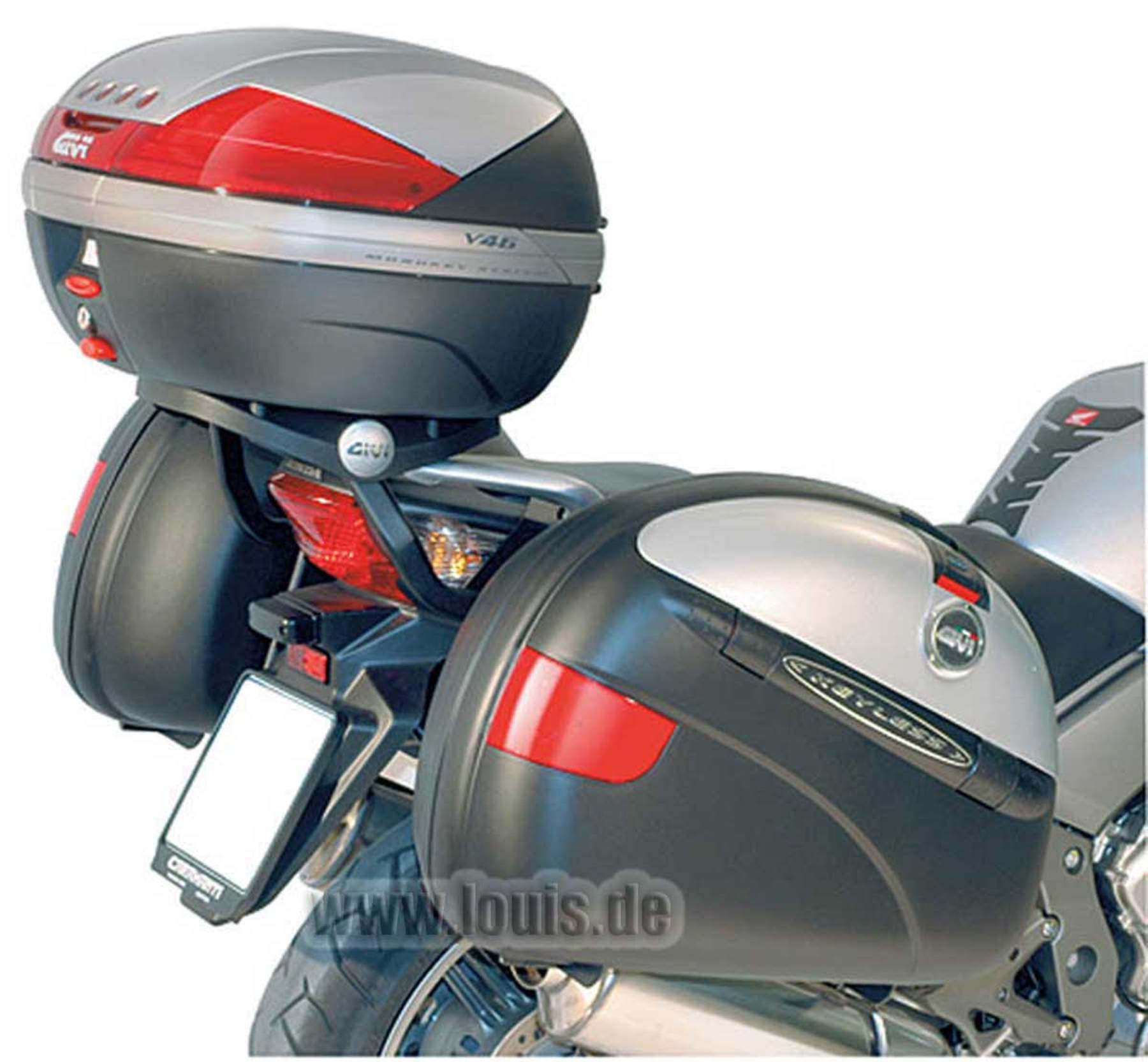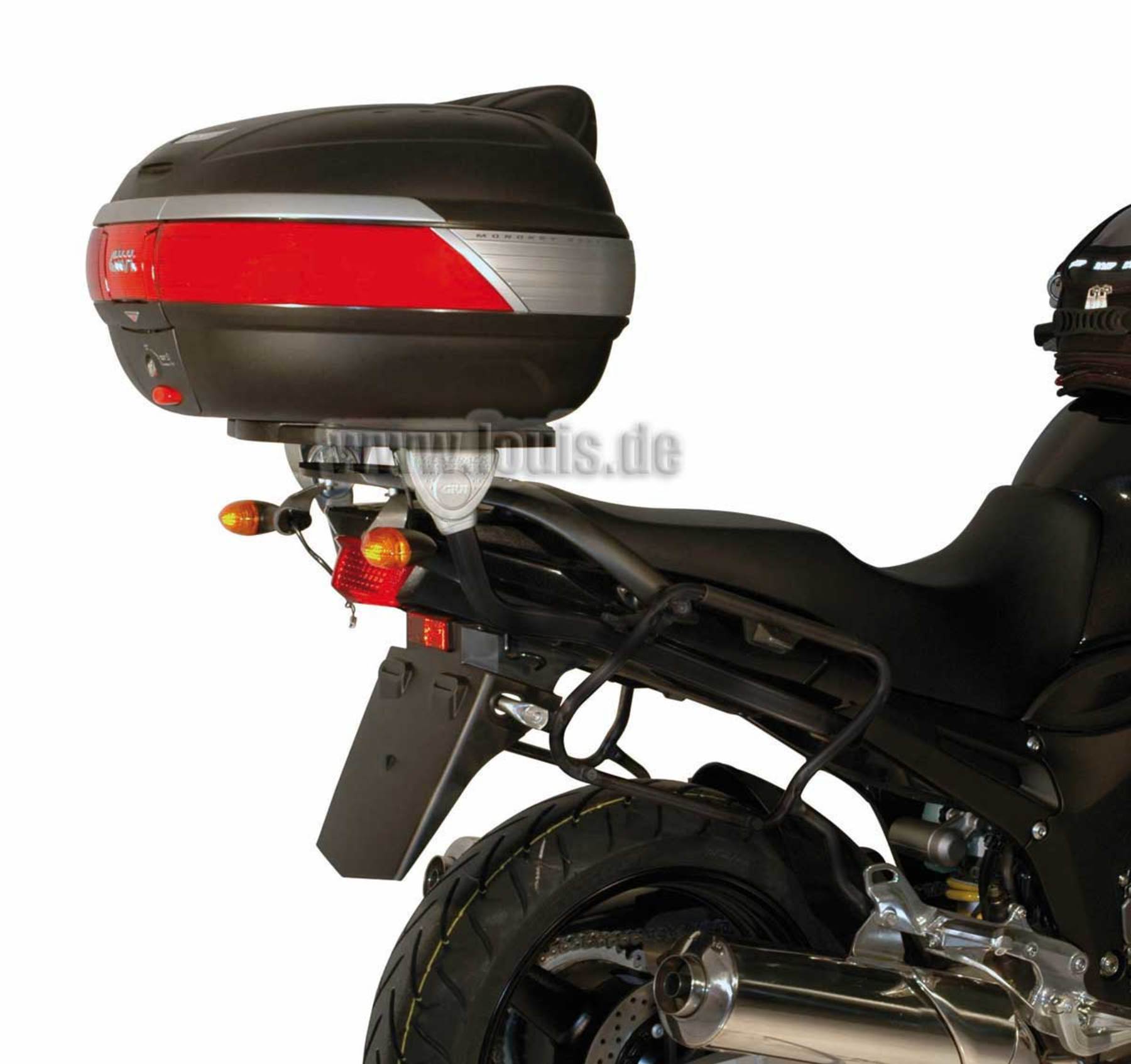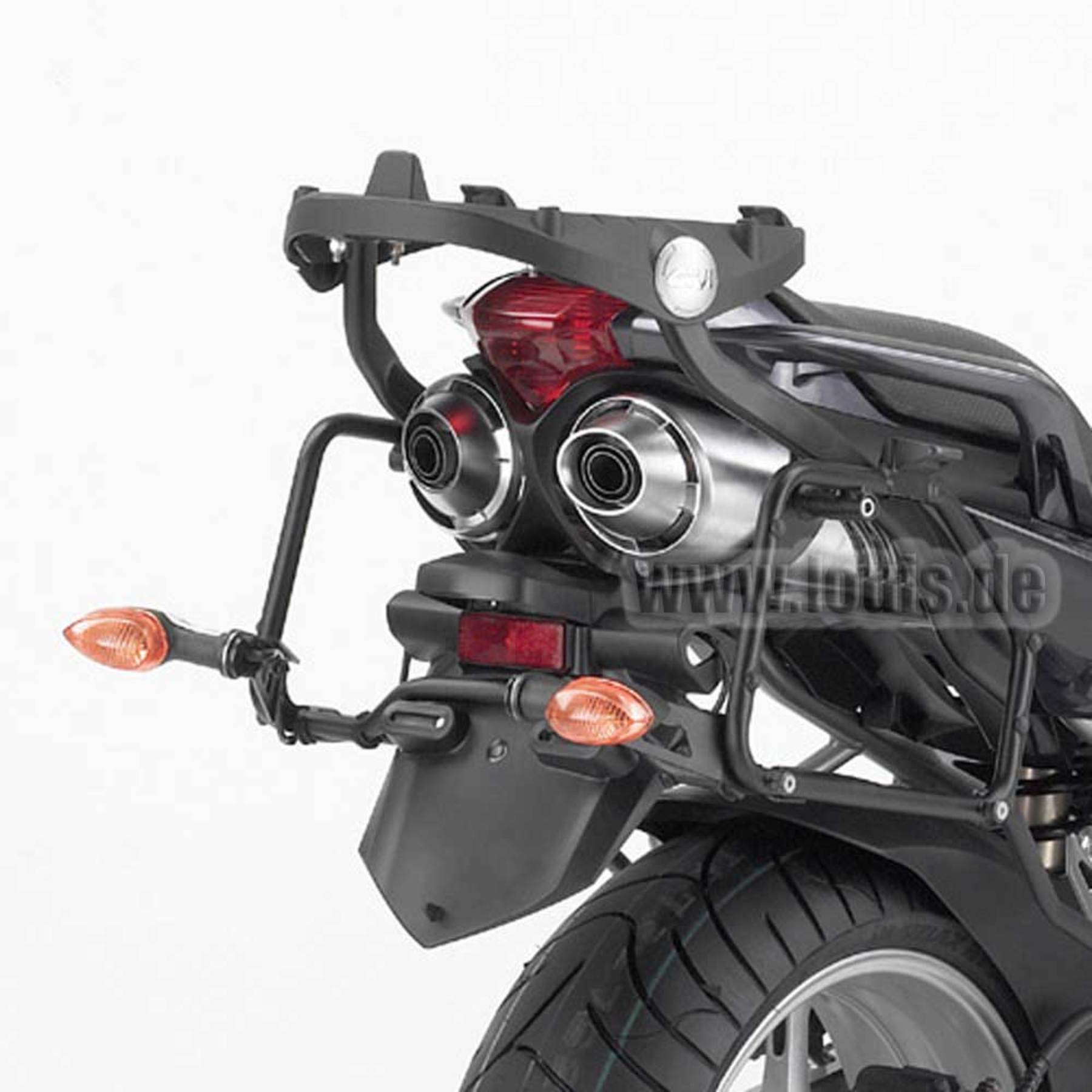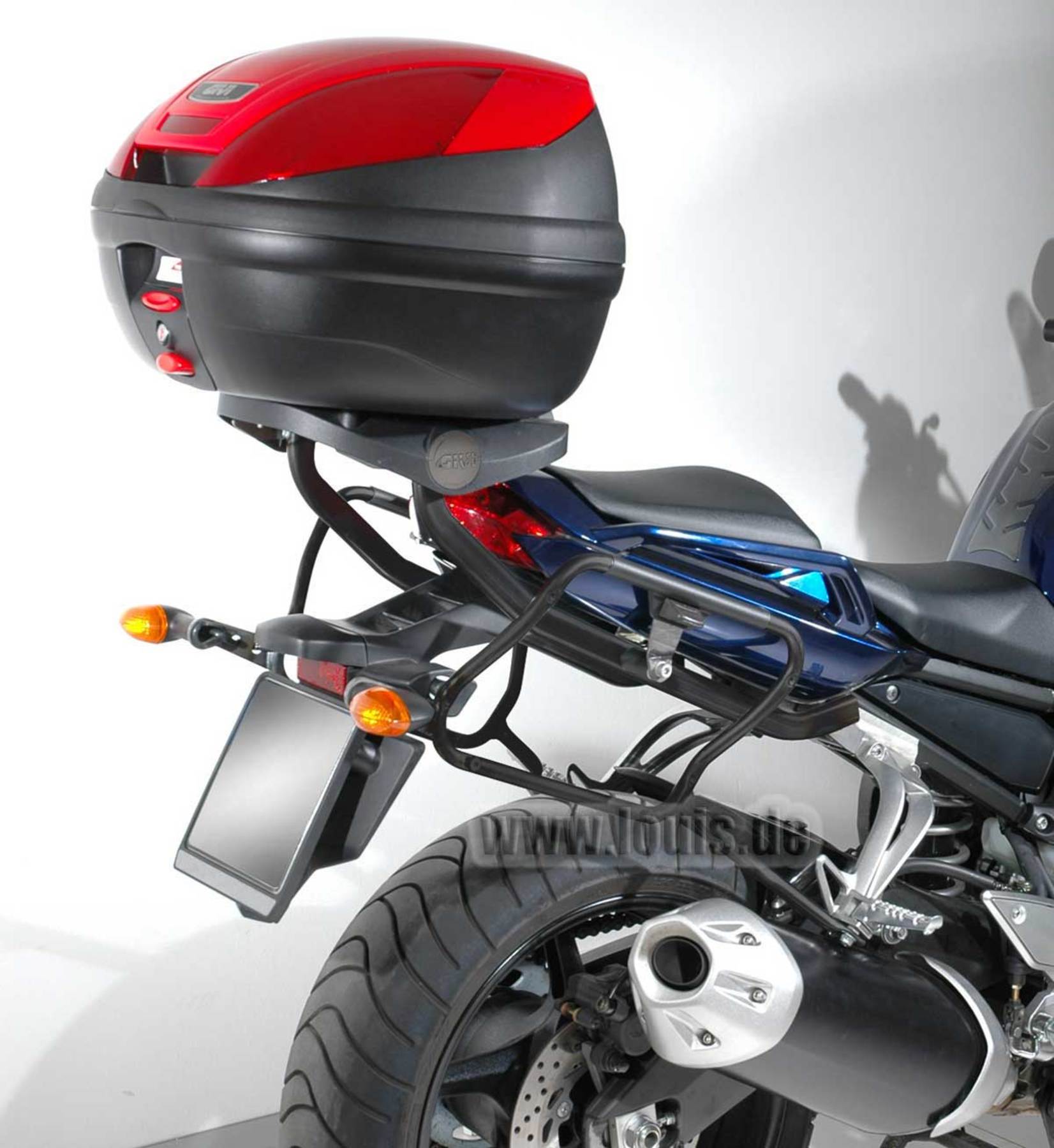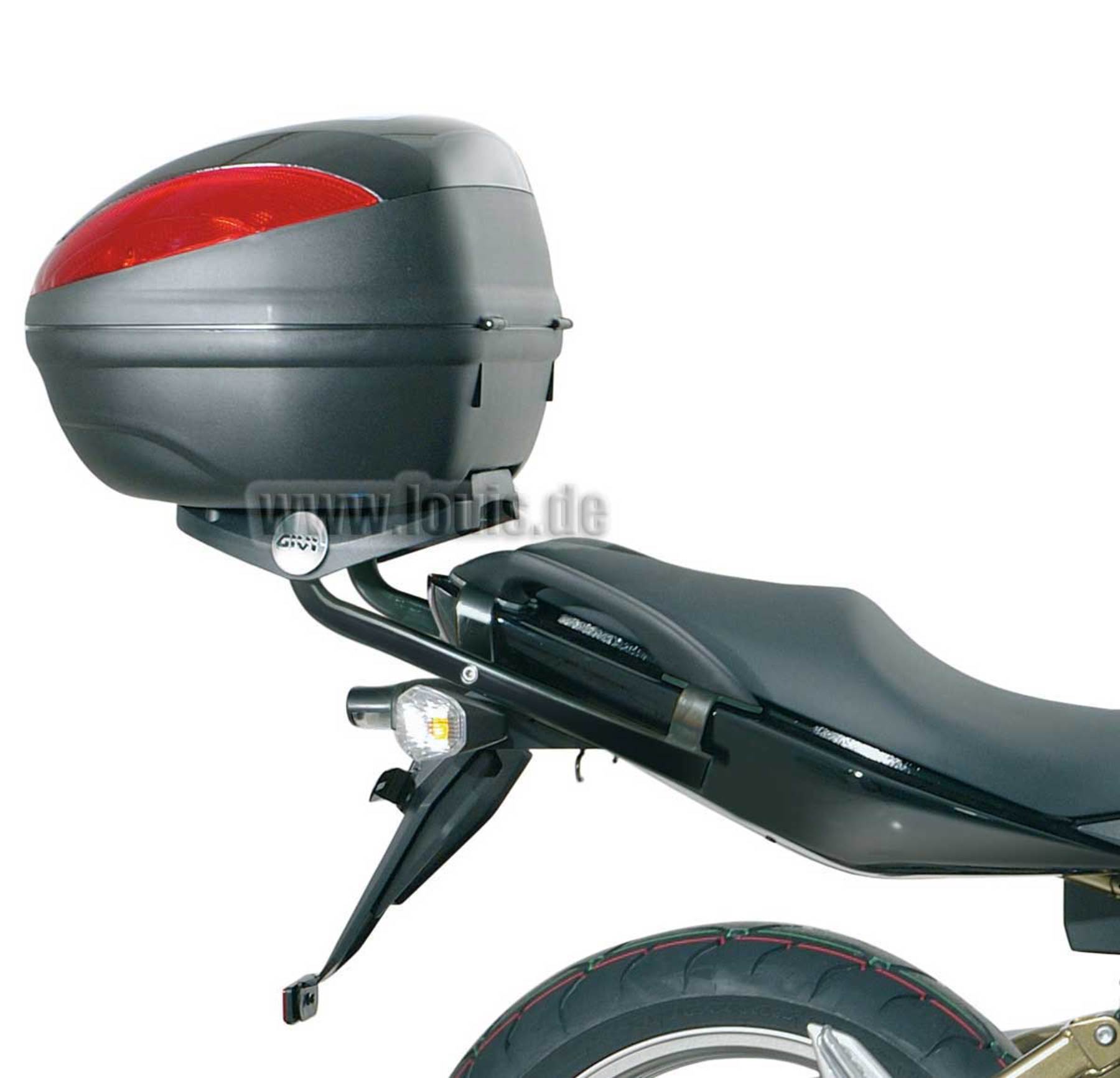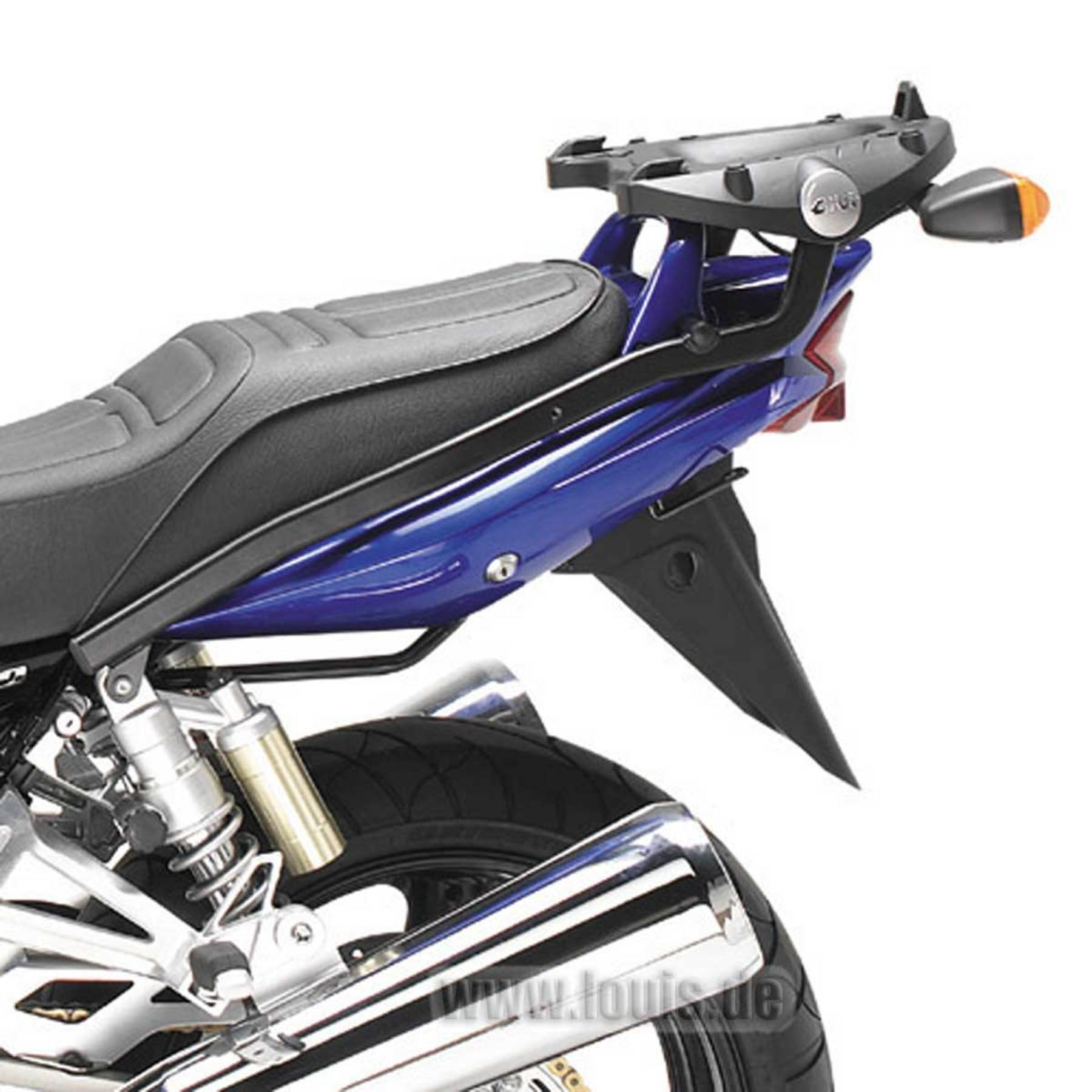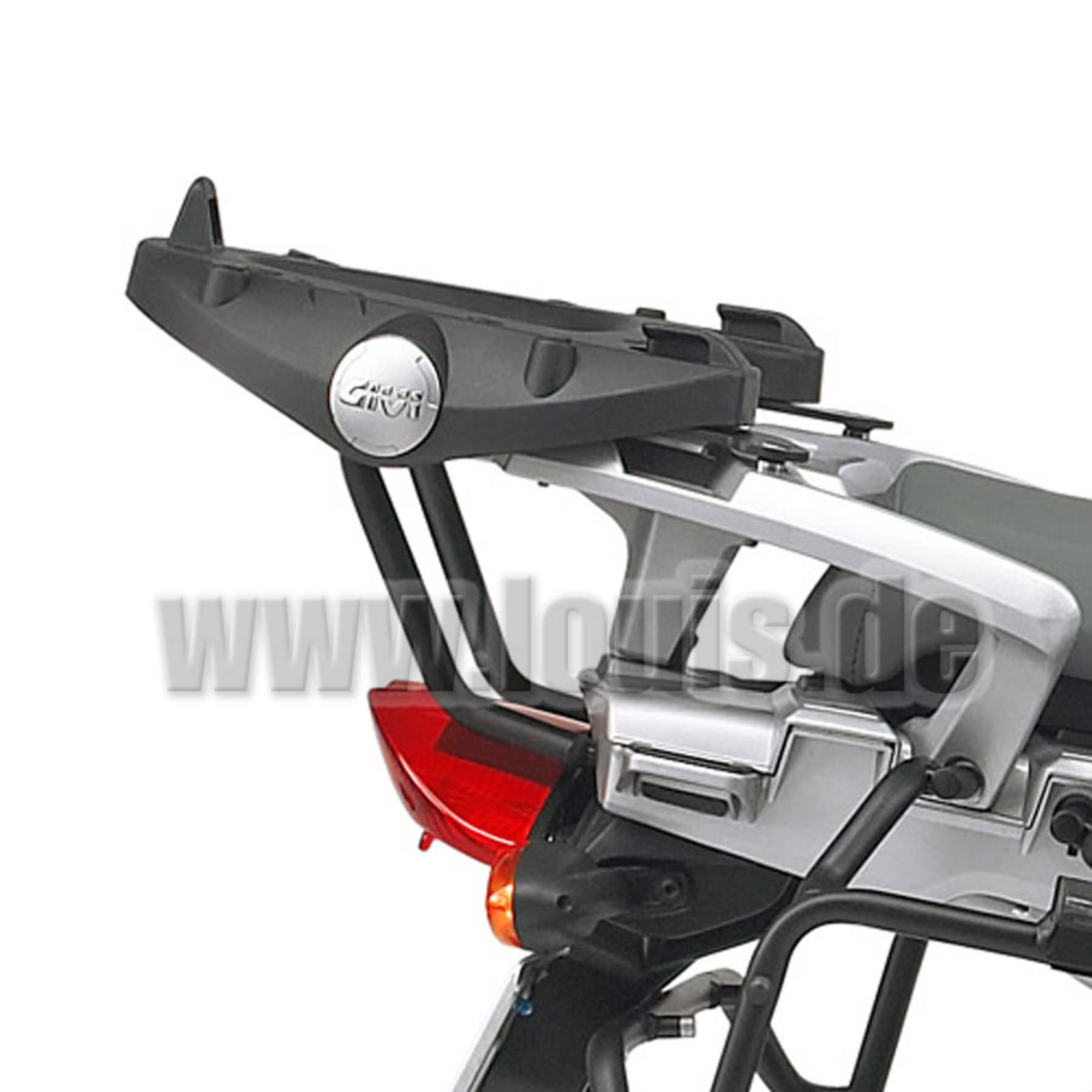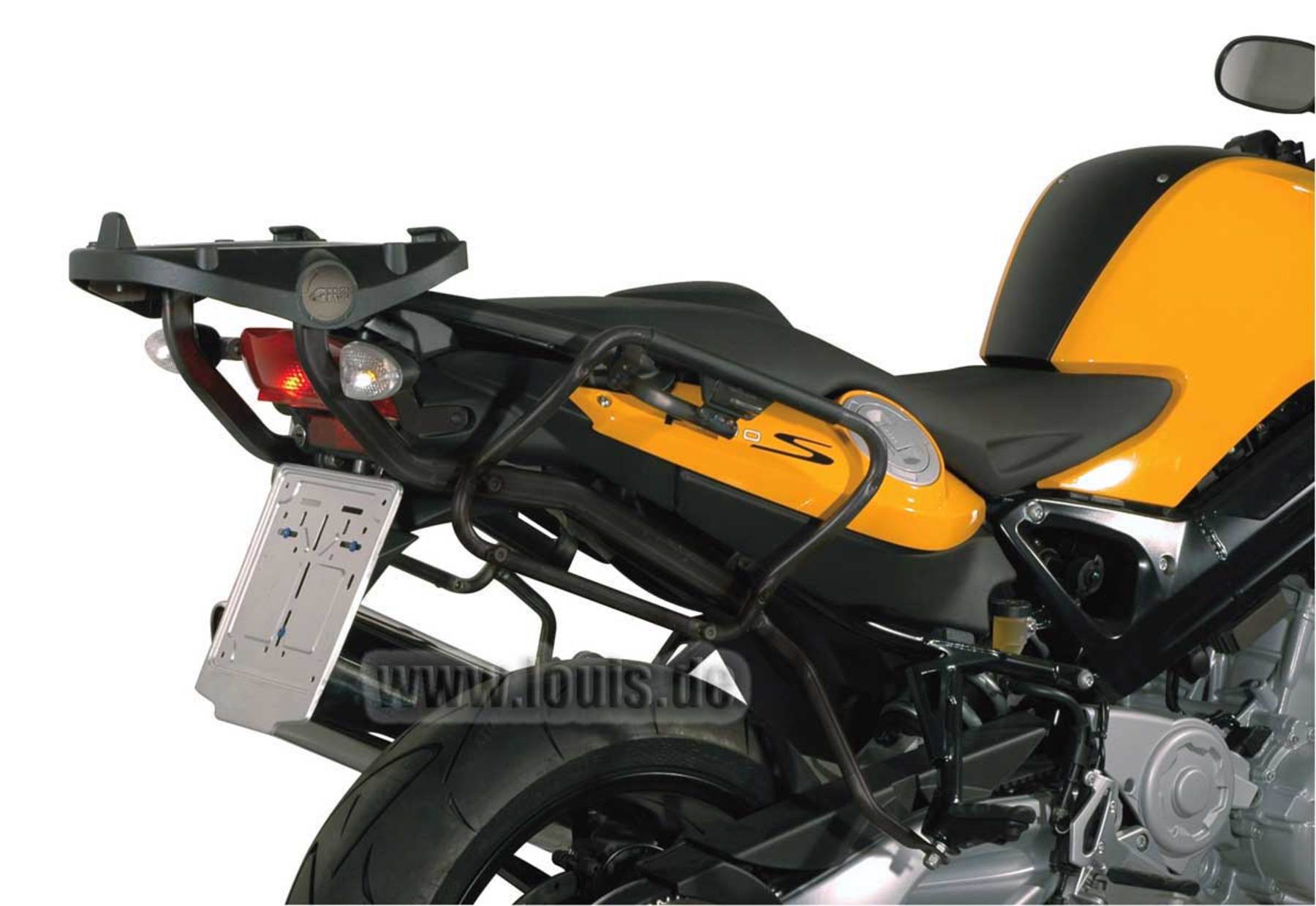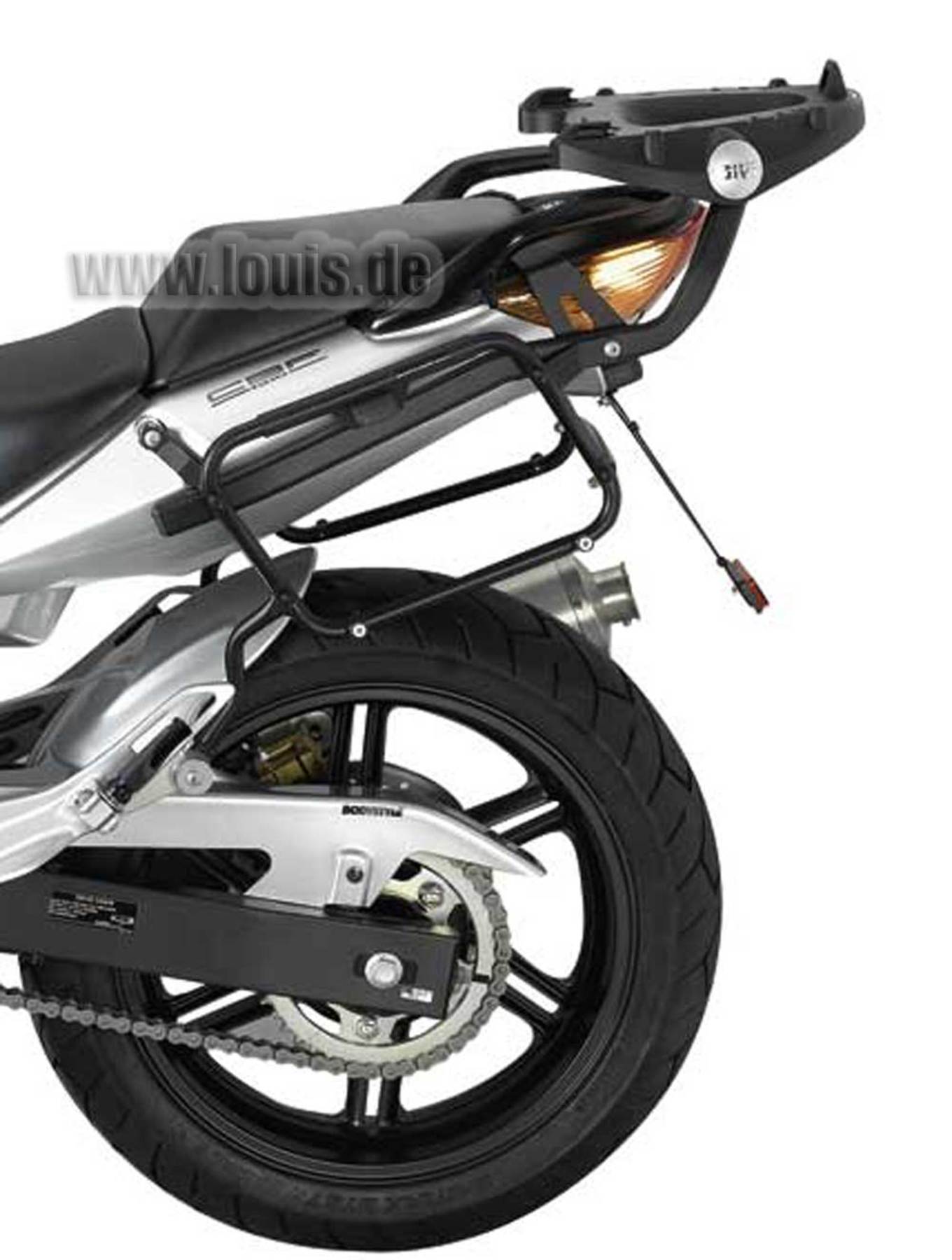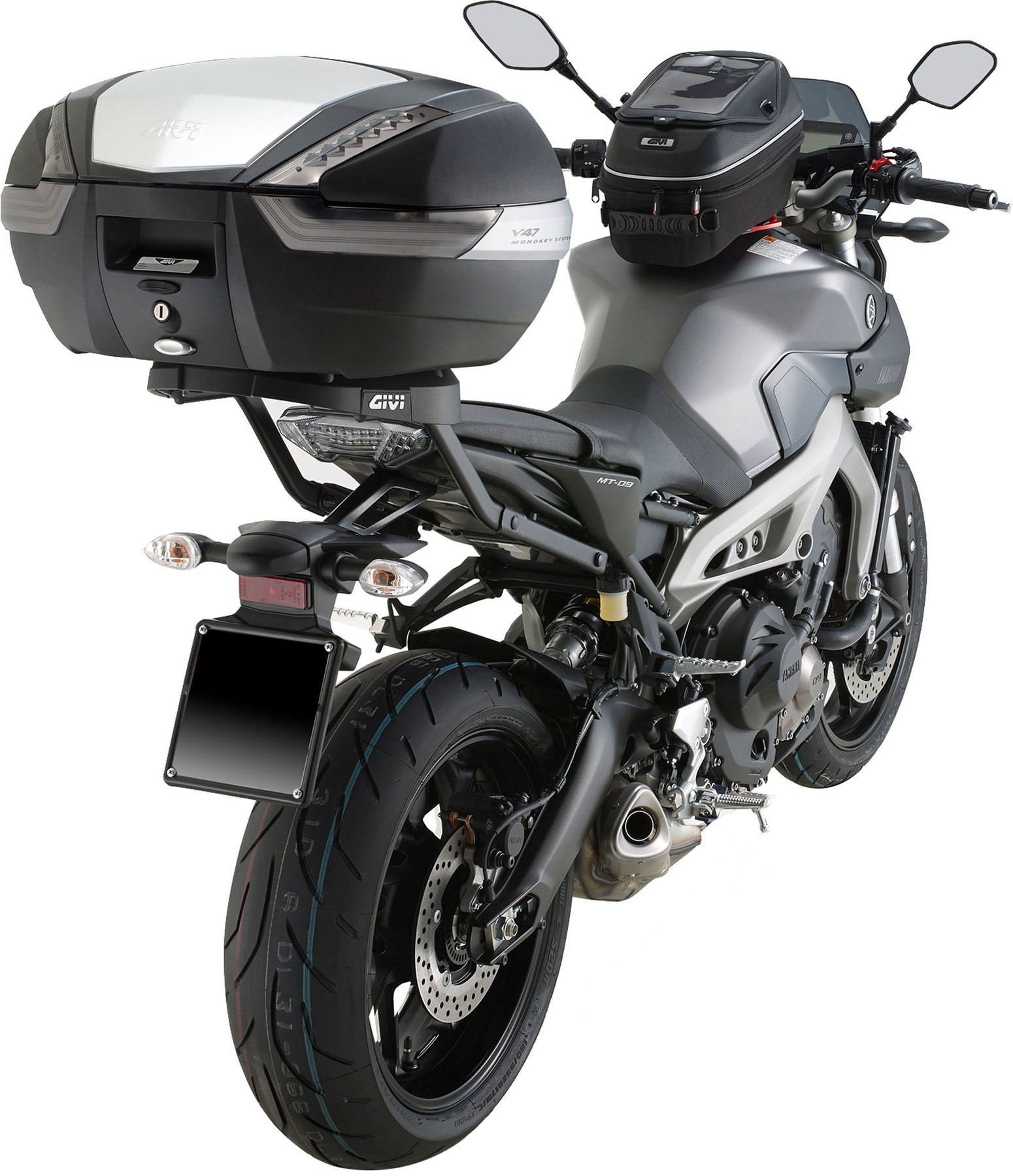 Givi Monorack Topcase-Carrier
Unfortunately, this product is not compatible with this motorcycle.
Unfortunately, this product is not compatible with this motorcycle. You can find the right for the here: .
Free delivery on orders over €199.00
2 year return policy
Purchase on invoice
Fast Delivery
Go to currency converter
Please select the desired exchange rate* and enter an amount.
* The source of the exchange rate is the European Central Bank. (As at 18.01.2021). The exchange rate is for information purposes only; it does not provide binding prices for an exchange. In practice, for individual exchanges, the prices for buying and selling currencies can deviate to a greater or lesser extent from these rates – depending on the country, financial institution or bureau de change and also the method of payment. The conversion is given as an indication only.
Givi Monorack Topcase-Carrier
GIVI Monorack Arms/Special Top Box Rack

For fastening a top box, the renowned manufacturer GIVI offers sturdy holders for many motorbikes, under the "Monorack" brand.

Depending on the motorbike model, the kit comprises two arms (black powder-coated steel) plus all the fastenings.

Please note: Depending on which top box is used (Monokey or Monolock), you should also order a corresponding TC adapter plate (Order no. 10023576, Order no. 10023577, Order no. 10023578, Order no. 10023579.)

The illustration is only intended as an example, and does not correspond to the components supplied.
Manufacturer details: Givi

The Italian sign of motodesign

Givi was founded by Giuseppe Visenzi in the city of Brescia, northern Italy, in 1978. Since then, the firm has become one of the leading suppliers of motorcycle accessories. Italian elegance, intelligent functionality, high quality and great value for money - a combination which ensures that Givi products constantly receive excellent reviews from our customers.
Product
Art. No.
Availability
Price
Actions
GIVI MONORACK FOR TOP BOX - BT 1100 BULLDOG 02-09
10065578

The item is in stock and will be delivered in 2-4 working days. Note: Stocks are updated online every hour on working days from 7 a.m. to 8 p.m., so there is a good chance that the products are available if they appear online.

Available

€60.99 1
GIVI MONORACK FOR TOP BOX - MT-07 TRACER 2016-18
10029098

The item is in stock and will be delivered in 2-4 working days. Note: Stocks are updated online every hour on working days from 7 a.m. to 8 p.m., so there is a good chance that the products are available if they appear online.

Available

€98.99 1
GIVI MONORACK TC-CARRIER - CB 500 X 13-

Important notes

Top box rack is not compatible with the original Honda side rack

10022608

The item is in stock and will be delivered in 2-4 working days. Note: Stocks are updated online every hour on working days from 7 a.m. to 8 p.m., so there is a good chance that the products are available if they appear online.

Available

€117.99 1
GIVI MONORACK TC-CARRIER - CB 600 F HORNET 07-10

Important notes

Original pillion handles have to be removed for mounting the top box rack

10023549

The item is in stock and will be delivered in 2-4 working days. Note: Stocks are updated online every hour on working days from 7 a.m. to 8 p.m., so there is a good chance that the products are available if they appear online.

Available

€87.99 1
GIVI MONORACK TC-CARRIER - CB 600 F HORNET 11-
10022918

The item is in stock and will be delivered in 2-4 working days. Note: Stocks are updated online every hour on working days from 7 a.m. to 8 p.m., so there is a good chance that the products are available if they appear online.

Available

€132.99 1
GIVI MONORACK TC-CARRIER - CB/CBR 650 F 14-
10022416

The item is in stock and will be delivered in 2-4 working days. Note: Stocks are updated online every hour on working days from 7 a.m. to 8 p.m., so there is a good chance that the products are available if they appear online.

Available

€83.99 1
GIVI MONORACK TC-CARRIER - CBF 1000 F BJ 10- 6

Important notes

Original pillion handles have to be removed for mounting the top box rack

Top box rack incl. Monolock Adapter Plate

Compatible with original side rack

10023118

The item is in stock and will be delivered in 2-4 working days. Note: Stocks are updated online every hour on working days from 7 a.m. to 8 p.m., so there is a good chance that the products are available if they appear online.

Available

€164.99 1
GIVI MONORACK TC-CARRIER - CBF500/600/1000 05-

Important notes

Top box rack not compatible with the original side rack

10023556

The item is in stock and will be delivered in 2-4 working days. Note: Stocks are updated online every hour on working days from 7 a.m. to 8 p.m., so there is a good chance that the products are available if they appear online.

Available

€65.99 1
GIVI MONORACK TC-CARRIER - CROSSRUN. 11-14
10022906

The item is in stock and will be delivered in 2-4 working days. Note: Stocks are updated online every hour on working days from 7 a.m. to 8 p.m., so there is a good chance that the products are available if they appear online.

Available

€140.99 1
GIVI MONORACK TC-CARRIER - DN-01 08-

Important notes

10023089

The product will be ordered from the manufacturer for you. Depending on availability, longer delivery times are also possible. We'll let you know if that's the case. You can of course cancel your delivery at any time free of charge.

Available in 7-21 days

€129.99 1
GIVI MONORACK TC-CARRIER - ER-6N/F 06-08
10023568

The item is in stock and will be delivered in 2-4 working days. Note: Stocks are updated online every hour on working days from 7 a.m. to 8 p.m., so there is a good chance that the products are available if they appear online.

Available

€63.99 1
GIVI MONORACK TC-CARRIER - ER-6N/F 09-11

Important notes

Original pillion handles have to be removed for mounting the top box rack

10023097

The item is in stock and will be delivered in 2-4 working days. Note: Stocks are updated online every hour on working days from 7 a.m. to 8 p.m., so there is a good chance that the products are available if they appear online.

Available

€114.99 1
GIVI MONORACK TC-CARRIER - ER-6N/F 12-
10022916

The item is in stock and will be delivered in 2-4 working days. Note: Stocks are updated online every hour on working days from 7 a.m. to 8 p.m., so there is a good chance that the products are available if they appear online.

Available

€80.99 1
GIVI MONORACK TC-CARRIER - FZ1 FAZER 06-

Important notes

The fairing under the tail needs to be drilled.

10023566

The item is in stock and will be delivered in 2-4 working days. Note: Stocks are updated online every hour on working days from 7 a.m. to 8 p.m., so there is a good chance that the products are available if they appear online.

Available

€104.99 1
GIVI MONORACK TC-CARRIER - FZ6/FAZER/S2 04-10
10023561

The item is in stock and will be delivered in 2-4 working days. Note: Stocks are updated online every hour on working days from 7 a.m. to 8 p.m., so there is a good chance that the products are available if they appear online.

Available

€90.99 1
GIVI MONORACK TC-CARRIER - FZ8/FAZER 800 10-
10023127

The item is in stock and will be delivered in 2-4 working days. Note: Stocks are updated online every hour on working days from 7 a.m. to 8 p.m., so there is a good chance that the products are available if they appear online.

Available

€84.99 1
GIVI MONORACK TC-CARRIER - GSF650S/N,GSF1250N 09-11
10023130

The item is in stock and will be delivered in 2-4 working days. Note: Stocks are updated online every hour on working days from 7 a.m. to 8 p.m., so there is a good chance that the products are available if they appear online.

Available

€80.99 1
GIVI MONORACK TC-CARRIER - GSR 750 11-
10029228

The product will be ordered from the manufacturer for you. Depending on availability, longer delivery times are also possible. We'll let you know if that's the case. You can of course cancel your delivery at any time free of charge.

Available in 7-21 days

€127.99 1
GIVI MONORACK TC-CARRIER - GSX 1400 01-09
10023572

The product will be ordered from the manufacturer for you. Depending on availability, longer delivery times are also possible. We'll let you know if that's the case. You can of course cancel your delivery at any time free of charge.

Available in 7-21 days

€75.99 1
GIVI MONORACK TC-CARRIER - GSX-S 1000F/- S1000 15-18
10029968

The item is in stock and will be delivered in 2-4 working days. Note: Stocks are updated online every hour on working days from 7 a.m. to 8 p.m., so there is a good chance that the products are available if they appear online.

Available

€136.99 1
GIVI MONORACK TC-CARRIER - GSX/GSF 650/1250 07-
10023587

The item is in stock and will be delivered in 2-4 working days. Note: Stocks are updated online every hour on working days from 7 a.m. to 8 p.m., so there is a good chance that the products are available if they appear online.

Available

€91.99 1
GIVI MONORACK TC-CARRIER - KAWA.Z 1000 SX 11-

Important notes

Top box rack not compatible with the original side rack

10022993

The item is in stock and will be delivered in 2-4 working days. Note: Stocks are updated online every hour on working days from 7 a.m. to 8 p.m., so there is a good chance that the products are available if they appear online.

Available

€134.99 1
GIVI MONORACK TC-CARRIER - KAWA.Z800/E-VERSION 13-

Important notes

Top box rack not compatible with the original side rack

10022778

The product will be ordered from the manufacturer for you. Depending on availability, longer delivery times are also possible. We'll let you know if that's the case. You can of course cancel your delivery at any time free of charge.

Available in 7-21 days

€131.99 1
GIVI MONORACK TC-CARRIER - KTM 690 DUKE 12-
10022777

The item is in stock and will be delivered in 2-4 working days. Note: Stocks are updated online every hour on working days from 7 a.m. to 8 p.m., so there is a good chance that the products are available if they appear online.

Available

€83.99 1
GIVI MONORACK TC-CARRIER - MONORACK CB500F 16-17
10029445

The item is in stock and will be delivered in 2-4 working days. Note: Stocks are updated online every hour on working days from 7 a.m. to 8 p.m., so there is a good chance that the products are available if they appear online.

Available

€114.99 1
GIVI MONORACK TC-CARRIER - MONORACK VERSYS 650 10-

Important notes

Top box rack not compatible with the original side rack

10023102

The item is in stock and will be delivered in 2-4 working days. Note: Stocks are updated online every hour on working days from 7 a.m. to 8 p.m., so there is a good chance that the products are available if they appear online.

Available

€113.99 1
GIVI MONORACK TC-CARRIER - MT-07 14-

Important notes

The fairing under the tail needs to be drilled.

10022604

The item is in stock and will be delivered in 2-4 working days. Note: Stocks are updated online every hour on working days from 7 a.m. to 8 p.m., so there is a good chance that the products are available if they appear online.

Available

€127.99 1
GIVI MONORACK TC-CARRIER - MT-09 13- / XSR 900 16-17
10029488

The item is in stock and will be delivered in 2-4 working days. Note: Stocks are updated online every hour on working days from 7 a.m. to 8 p.m., so there is a good chance that the products are available if they appear online.

Available

€90.99 1
GIVI MONORACK TC-CARRIER - MT-09 TRACER 15-
10029234

The item is in stock and will be delivered in 2-4 working days. Note: Stocks are updated online every hour on working days from 7 a.m. to 8 p.m., so there is a good chance that the products are available if they appear online.

Available

€77.99 1
GIVI MONORACK TC-CARRIER - NC 700 INTEGRA 12-13
10022913

The product will be ordered from the manufacturer for you. Depending on availability, longer delivery times are also possible. We'll let you know if that's the case. You can of course cancel your delivery at any time free of charge.

Available in 7-21 days

€84.99 1
GIVI MONORACK TC-CARRIER - NC 700/750 12-15
10023161

The item is in stock and will be delivered in 2-4 working days. Note: Stocks are updated online every hour on working days from 7 a.m. to 8 p.m., so there is a good chance that the products are available if they appear online.

Available

€83.99 1
GIVI MONORACK TC-CARRIER - NC 750 INTEGRA 14-
10022606

The item is in stock and will be delivered in 2-4 working days. Note: Stocks are updated online every hour on working days from 7 a.m. to 8 p.m., so there is a good chance that the products are available if they appear online.

Available

€88.99 1
GIVI MONORACK TC-CARRIER - O. PLATTE, Z750/1000 07-

Important notes

The original turn signals have to be repositioned

10023588

The item is in stock and will be delivered in 2-4 working days. Note: Stocks are updated online every hour on working days from 7 a.m. to 8 p.m., so there is a good chance that the products are available if they appear online.

Available

€102.99 1
GIVI MONORACK TC-CARRIER - R 1100 S 98-06

Important notes

Compatible with original BMW side rack

10023050

The item is in stock and will be delivered in 2-4 working days. Note: Stocks are updated online every hour on working days from 7 a.m. to 8 p.m., so there is a good chance that the products are available if they appear online.

Available

€59.99 1
GIVI MONORACK TC-CARRIER - R 1200 R 07-10

Important notes

Top box rack not compatible with the original side rack

10023547

The item is in stock and will be delivered in 2-4 working days. Note: Stocks are updated online every hour on working days from 7 a.m. to 8 p.m., so there is a good chance that the products are available if they appear online.

Available

€88.99 1
GIVI MONORACK TC-CARRIER - TDM 900 02-09

Important notes

Top box rack not compatible with the original side rack

10023558

The item is in stock and will be delivered in 2-4 working days. Note: Stocks are updated online every hour on working days from 7 a.m. to 8 p.m., so there is a good chance that the products are available if they appear online.

Available

€82.99 1
GIVI MONORACK TC-CARRIER - VERSYS 650 06-09

Important notes

Top box rack not compatible with the original side rack

10023099

The item is in stock and will be delivered in 2-4 working days. Note: Stocks are updated online every hour on working days from 7 a.m. to 8 p.m., so there is a good chance that the products are available if they appear online.

Available

€91.99 1
GIVI MONORACK TC-CARRIER - VFR 1200 F 10- 6

Important notes

Original pillion handles have to be removed for mounting the top box rack

Compatible with original side rack

10023123

The item is in stock and will be delivered in 2-4 working days. Note: Stocks are updated online every hour on working days from 7 a.m. to 8 p.m., so there is a good chance that the products are available if they appear online.

Available

€139.99 1
GIVI MONORACK TC-CARRIER - VFR 800 98-02

Important notes

Original pillion handles have to be removed for mounting the top box rack

10029229

The item is in stock and will be delivered in 2-4 working days. Note: Stocks are updated online every hour on working days from 7 a.m. to 8 p.m., so there is a good chance that the products are available if they appear online.

Available

€103.99 1
GIVI MONORACK TC-CARRIER - VFR 800 F 02-09

Important notes

Top box rack not compatible with the original side rack

10023553

The item is in stock and will be delivered in 2-4 working days. Note: Stocks are updated online every hour on working days from 7 a.m. to 8 p.m., so there is a good chance that the products are available if they appear online.

Available

€107.99 1
GIVI MONORACK TC-CARRIER - VFR 800 F 14-
10026373

The item is in stock and will be delivered in 2-4 working days. Note: Stocks are updated online every hour on working days from 7 a.m. to 8 p.m., so there is a good chance that the products are available if they appear online.

Available

€137.99 1
GIVI MONORACK TC-CARRIER - XT666Z, 08-

Important notes

Top box rack incl. Monokey Adapter Plate

10023131

The product will be ordered from the manufacturer for you. Depending on availability, longer delivery times are also possible. We'll let you know if that's the case. You can of course cancel your delivery at any time free of charge.

Available in 7-21 days

€102.99 1
GIVI MONORACK TC-CARRIER - YAMAHA FZ1 06-

Important notes

The fairing under the tail needs to be drilled.

10023134

The item is in stock and will be delivered in 2-4 working days. Note: Stocks are updated online every hour on working days from 7 a.m. to 8 p.m., so there is a good chance that the products are available if they appear online.

Available

€78.99 1
GIVI MONORACK TC-CARRIER - Z900 17-
10029877

The item is in stock and will be delivered in 2-4 working days. Note: Stocks are updated online every hour on working days from 7 a.m. to 8 p.m., so there is a good chance that the products are available if they appear online.

Available

€121.99 1
GIVI MONORACK TC-CARRIER - ZZR 1400 12-17
10029876

The item is in stock and will be delivered in 2-4 working days. Note: Stocks are updated online every hour on working days from 7 a.m. to 8 p.m., so there is a good chance that the products are available if they appear online.

Available

€104.99 1
GIVI MONORACK TC-TRAEGER - GSX 1300 HAYABUSA 08-14

Important notes

Original pillion handles have to be removed for mounting the top box rack

10022860

The product will be ordered from the manufacturer for you. Depending on availability, longer delivery times are also possible. We'll let you know if that's the case. You can of course cancel your delivery at any time free of charge.

Available in 7-21 days

€144.99 1
GIVI MONORACK TOP B. RACK - CTX 700 N DCT 2014-16
10029390

The item is in stock and will be delivered in 2-4 working days. Note: Stocks are updated online every hour on working days from 7 a.m. to 8 p.m., so there is a good chance that the products are available if they appear online.

Available

€137.99 1
GIVI MONORACK TOP B. RACK - KAWASAKI Z 650 2017-
10029196

The item is in stock and will be delivered in 2-4 working days. Note: Stocks are updated online every hour on working days from 7 a.m. to 8 p.m., so there is a good chance that the products are available if they appear online.

Available

€98.99 1
GIVI MONORACK TOP B. RACK - SUZUKI GSX-S 750 2017-
10029391

The item is in stock and will be delivered in 2-4 working days. Note: Stocks are updated online every hour on working days from 7 a.m. to 8 p.m., so there is a good chance that the products are available if they appear online.

Available

€125.99 1
MONORACK ARMS KIT FOR - 10029186 FZS1000 03-05
10029296

The item is in stock and will be delivered in 2-4 working days. Note: Stocks are updated online every hour on working days from 7 a.m. to 8 p.m., so there is a good chance that the products are available if they appear online.

Available

€65.99 1