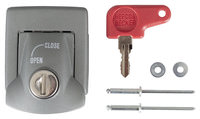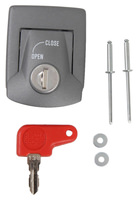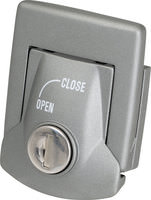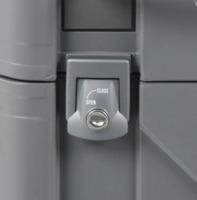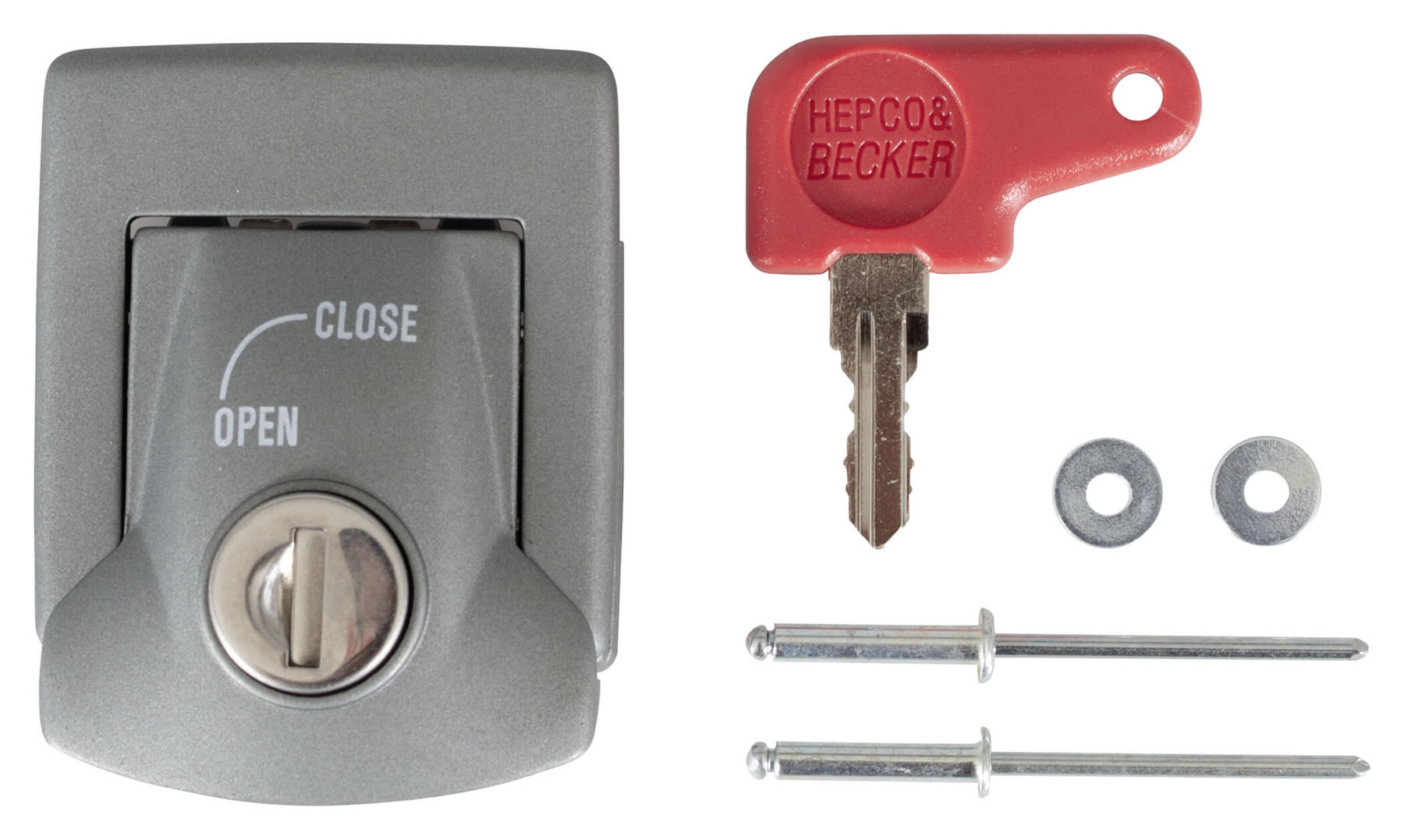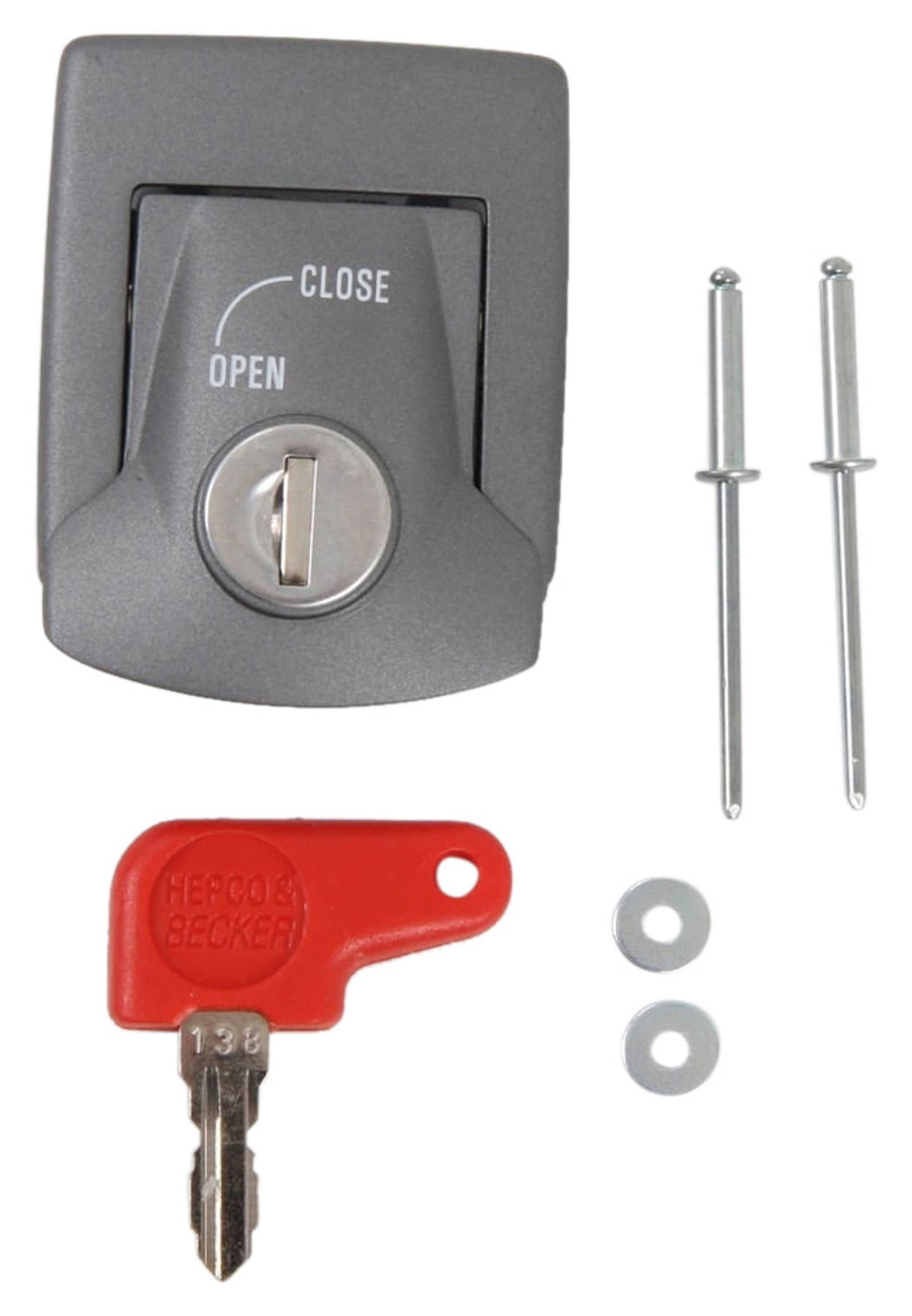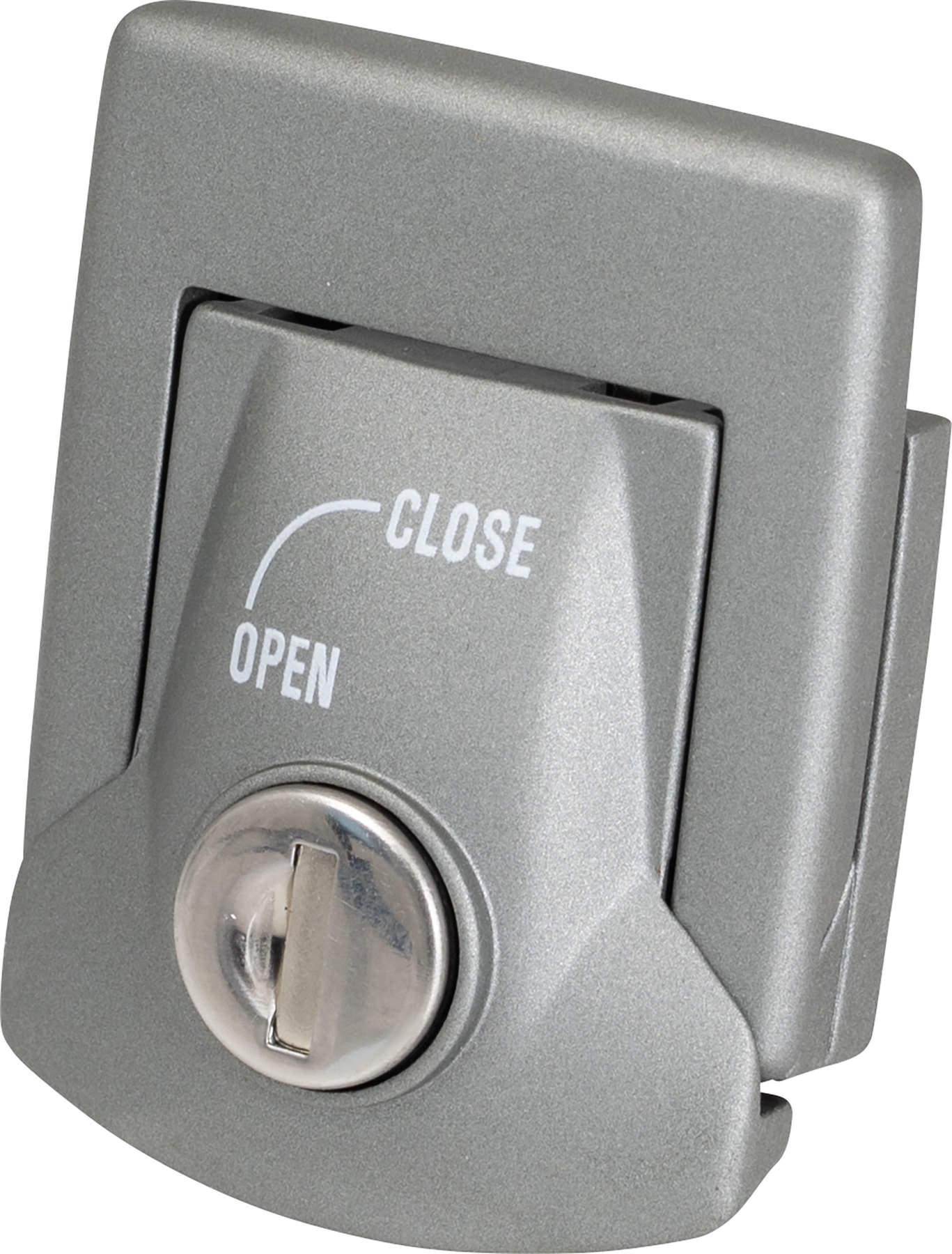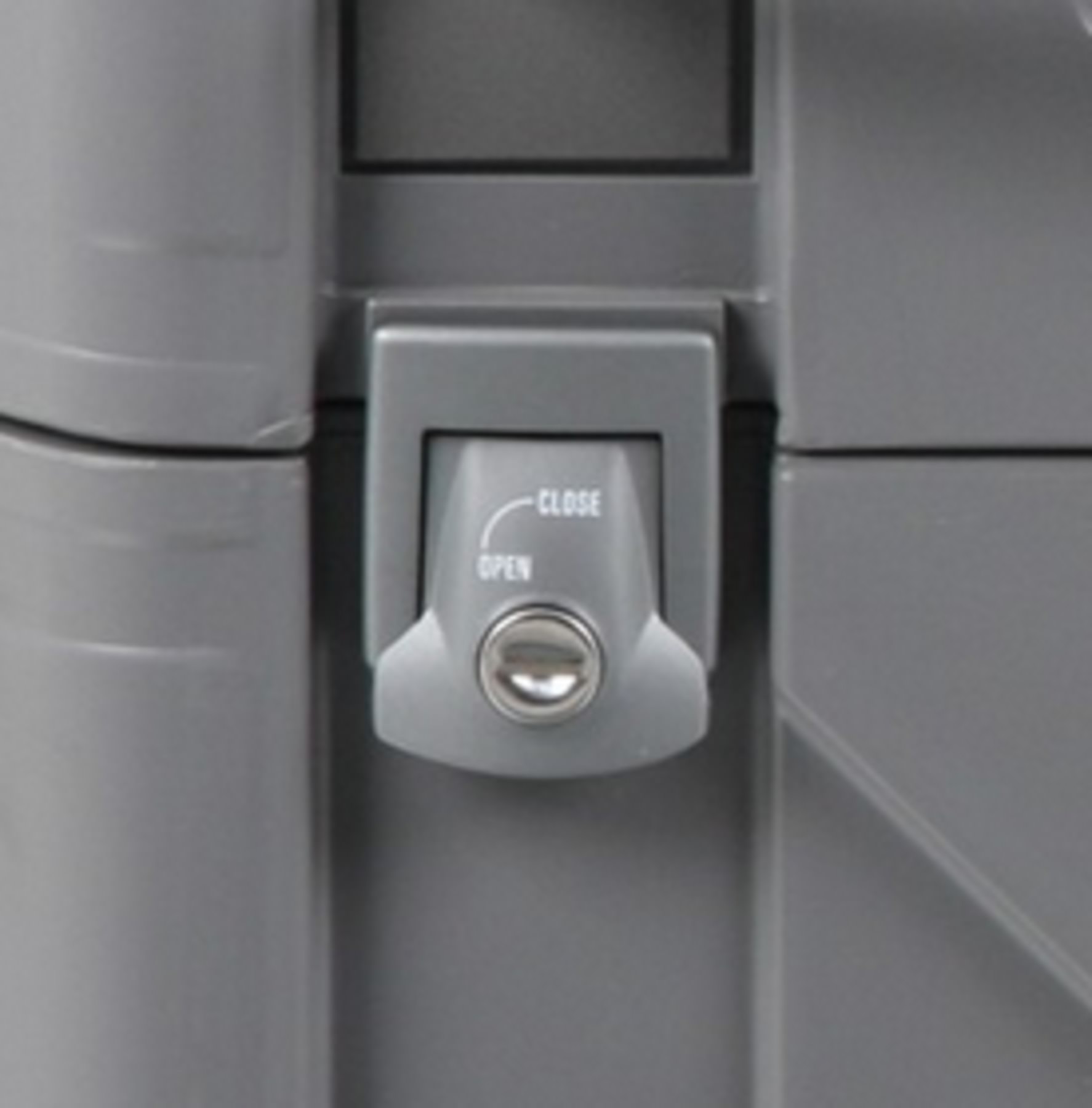 H+B CASE LID LOCK
CASE/TOPCASE SILVER
Free delivery on orders over €199.00
2 year return policy
Fast delivery
H+B CASE LID LOCK
CASE/TOPCASE SILVER
Hepco & Becker luggage and top case lid lock in silver

Replacement lock for locking the case or top case lid. Includes key and lock cylinder.
The required lock number can be found on the existing key (e.g. 138, 924, 26 etc.).
Suitable for the Junior, Xplorer, Exclusiv and Standard case lines from Hepco & Becker.
Manufacturer details: Hepco & Becker

Go to Hepco & Becker brand shop
Luggage systems

Motorcycle luggage and Hepco & Becker - almost perfectly synonymous. For decades, globetrotters and touring bikers have sworn by the German-produced durable products. They always rank as one of the best in comparative tests performed by the trade press when it comes to precision, weather resistance and functionality. Hepco products have long been a firm favourite in the Detlev Louis range. Due to a growing demand for racks for classic bikes, retro bikes and less popular vehicles, we have further expanded our product range and now present the entire Hepco & Becker luggage rack range for you to choose from.
No customer reviews have been submitted for this product.
Be the first to write a review!
Product
Art. No.
Availability
Price
Actions
CASE SECURING LOCK FOR - HEPCO+BECKER RACKS
10024539

The item is in stock and will be delivered in 2-5 working days. Note: Stocks are updated online every hour on working days from 7 a.m. to 8 p.m., so there is a good chance that the products are available if they appear online.

Available

€26.00 1
H&B CASE LID LOCK - CASE/TOP BOX SILV. 907
10069830

The product will be ordered from the manufacturer for you. Depending on availability, longer delivery times are also possible. We'll let you know if that's the case. You can of course cancel your delivery at any time free of charge.

Available in 7-21 days

€35.00 1
H&B CASE LID LOCK - CASE/TOP BOX SILV. 928
10069831

The product will be ordered from the manufacturer for you. Depending on availability, longer delivery times are also possible. We'll let you know if that's the case. You can of course cancel your delivery at any time free of charge.

Available in 7-21 days

€35.00 1
H&B CASE LID LOCK - CASE/TOP BOX SILV. 904
10069832

The product will be ordered from the manufacturer for you. Depending on availability, longer delivery times are also possible. We'll let you know if that's the case. You can of course cancel your delivery at any time free of charge.

Available in 7-21 days

€35.00 1
H&B CASE LID LOCK - CASE/TOP BOX SILV. 142
10069833

The product will be ordered from the manufacturer for you. Depending on availability, longer delivery times are also possible. We'll let you know if that's the case. You can of course cancel your delivery at any time free of charge.

Available in 7-21 days

€35.00 1
H&B CASE LID LOCK - CASE/TOP BOX SILV. 944
10069834

The product will be ordered from the manufacturer for you. Depending on availability, longer delivery times are also possible. We'll let you know if that's the case. You can of course cancel your delivery at any time free of charge.

Available in 7-21 days

€35.00 1
H&B CASE LID LOCK - CASE/TOP BOX SILV. 953
10069835

The product will be ordered from the manufacturer for you. Depending on availability, longer delivery times are also possible. We'll let you know if that's the case. You can of course cancel your delivery at any time free of charge.

Available in 7-21 days

€35.00 1
H&B CASE LID LOCK - CASE/TOP BOX SILV. 920
10069836

The product will be ordered from the manufacturer for you. Depending on availability, longer delivery times are also possible. We'll let you know if that's the case. You can of course cancel your delivery at any time free of charge.

Available in 7-21 days

€35.00 1
H&B CASE LID LOCK - CASE/TOP BOX SILV. 946
10069837

The product will be ordered from the manufacturer for you. Depending on availability, longer delivery times are also possible. We'll let you know if that's the case. You can of course cancel your delivery at any time free of charge.

Available in 7-21 days

€35.00 1
H&B CASE LID LOCK - CASE/TOP BOX SILV. 932
10069838

The product will be ordered from the manufacturer for you. Depending on availability, longer delivery times are also possible. We'll let you know if that's the case. You can of course cancel your delivery at any time free of charge.

Available in 7-21 days

€35.00 1
H&B CASE LID LOCK - CASE/TOP BOX SILV. 902
10069839

The product will be ordered from the manufacturer for you. Depending on availability, longer delivery times are also possible. We'll let you know if that's the case. You can of course cancel your delivery at any time free of charge.

Available in 7-21 days

€35.00 1
H&B CASE LID LOCK - CASE/TOP BOX SILV. 25
10069840

The product will be ordered from the manufacturer for you. Depending on availability, longer delivery times are also possible. We'll let you know if that's the case. You can of course cancel your delivery at any time free of charge.

Available in 7-21 days

€35.00 1
H&B CASE LID LOCK - CASE/TOP BOX SILV. 954
10069841

The product will be ordered from the manufacturer for you. Depending on availability, longer delivery times are also possible. We'll let you know if that's the case. You can of course cancel your delivery at any time free of charge.

Available in 7-21 days

€35.00 1
H&B CASE LID LOCK - CASE/TOP BOX SILV. 138
10069842

The product will be ordered from the manufacturer for you. Depending on availability, longer delivery times are also possible. We'll let you know if that's the case. You can of course cancel your delivery at any time free of charge.

Available in 7-21 days

€35.00 1
H&B CASE LID LOCK - CASE/TOP BOX SILV. 956
10069843

The product will be ordered from the manufacturer for you. Depending on availability, longer delivery times are also possible. We'll let you know if that's the case. You can of course cancel your delivery at any time free of charge.

Available in 7-21 days

€35.00 1
H&B CASE LID LOCK - CASE/TOP BOX SILV. 905
10069844

The product will be ordered from the manufacturer for you. Depending on availability, longer delivery times are also possible. We'll let you know if that's the case. You can of course cancel your delivery at any time free of charge.

Available in 7-21 days

€35.00 1
H&B CASE LID LOCK - CASE/TOP BOX SILV. 27
10069845

The product will be ordered from the manufacturer for you. Depending on availability, longer delivery times are also possible. We'll let you know if that's the case. You can of course cancel your delivery at any time free of charge.

Available in 7-21 days

€35.00 1
H&B CASE LID LOCK - CASE/TOP BOX SILV. 29
10069846

The product will be ordered from the manufacturer for you. Depending on availability, longer delivery times are also possible. We'll let you know if that's the case. You can of course cancel your delivery at any time free of charge.

Available in 7-21 days

€35.00 1
H&B CASE LID LOCK - CASE/TOP BOX SILV. 940
10069847

The product will be ordered from the manufacturer for you. Depending on availability, longer delivery times are also possible. We'll let you know if that's the case. You can of course cancel your delivery at any time free of charge.

Available in 7-21 days

€35.00 1
H&B CASE LID LOCK - CASE/TOP BOX SILV. 26
10069848

The product will be ordered from the manufacturer for you. Depending on availability, longer delivery times are also possible. We'll let you know if that's the case. You can of course cancel your delivery at any time free of charge.

Available in 7-21 days

€35.00 1
H&B CASE LID LOCK - CASE/TOP BOX SILV. 951
10069849

The product will be ordered from the manufacturer for you. Depending on availability, longer delivery times are also possible. We'll let you know if that's the case. You can of course cancel your delivery at any time free of charge.

Available in 7-21 days

€35.00 1
H&B CASE LID LOCK - CASE/TOP BOX SILV. 31
10069850

The product will be ordered from the manufacturer for you. Depending on availability, longer delivery times are also possible. We'll let you know if that's the case. You can of course cancel your delivery at any time free of charge.

Available in 7-21 days

€35.00 1
H&B CASE LID LOCK - CASE/TOP BOX SILV. 28
10069851

The product will be ordered from the manufacturer for you. Depending on availability, longer delivery times are also possible. We'll let you know if that's the case. You can of course cancel your delivery at any time free of charge.

Available in 7-21 days

€35.00 1
H&B CASE LID LOCK - CASE/TOP BOX SILV. 32
10069852

The product will be ordered from the manufacturer for you. Depending on availability, longer delivery times are also possible. We'll let you know if that's the case. You can of course cancel your delivery at any time free of charge.

Available in 7-21 days

€35.00 1
H&B CASE LID LOCK - CASE/TOP BOX SILV. 33
10069854

The product will be ordered from the manufacturer for you. Depending on availability, longer delivery times are also possible. We'll let you know if that's the case. You can of course cancel your delivery at any time free of charge.

Available in 7-21 days

€35.00 1
H&B CASE LID LOCK - CASE/TOP BOX SILV. 930
10069855

The product will be ordered from the manufacturer for you. Depending on availability, longer delivery times are also possible. We'll let you know if that's the case. You can of course cancel your delivery at any time free of charge.

Available in 7-21 days

€35.00 1
H&B CASE LID LOCK - CASE/TOP BOX SILV. 942
10069856

The product will be ordered from the manufacturer for you. Depending on availability, longer delivery times are also possible. We'll let you know if that's the case. You can of course cancel your delivery at any time free of charge.

Available in 7-21 days

€35.00 1
H&B CASE LID LOCK - CASE/TOP BOX SILV. 926
10069857

The product will be ordered from the manufacturer for you. Depending on availability, longer delivery times are also possible. We'll let you know if that's the case. You can of course cancel your delivery at any time free of charge.

Available in 7-21 days

€35.00 1
H&B CASE LID LOCK - CASE/TOP BOX SILV. 908
10069858

The product will be ordered from the manufacturer for you. Depending on availability, longer delivery times are also possible. We'll let you know if that's the case. You can of course cancel your delivery at any time free of charge.

Available in 7-21 days

€35.00 1
H&B CASE LID LOCK - CASE/TOP BOX SILV. 948
10069859

The product will be ordered from the manufacturer for you. Depending on availability, longer delivery times are also possible. We'll let you know if that's the case. You can of course cancel your delivery at any time free of charge.

Available in 7-21 days

€35.00 1
H&B CASE LID LOCK - CASE/TOP BOX SILV. 136
10069860

The product will be ordered from the manufacturer for you. Depending on availability, longer delivery times are also possible. We'll let you know if that's the case. You can of course cancel your delivery at any time free of charge.

Available in 7-21 days

€35.00 1
H&B CASE LID LOCK - CASE/TOP BOXE SILV. 901
10069861

The product will be ordered from the manufacturer for you. Depending on availability, longer delivery times are also possible. We'll let you know if that's the case. You can of course cancel your delivery at any time free of charge.

Available in 7-21 days

€35.00 1
More from Hepco & Becker: