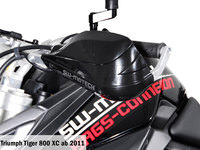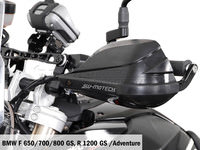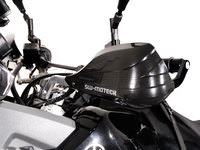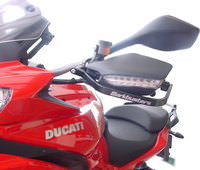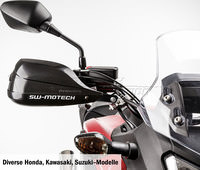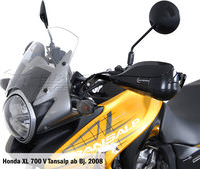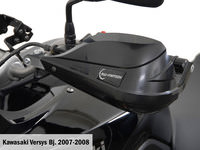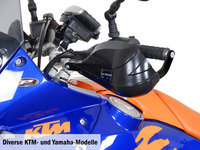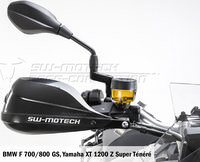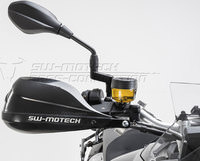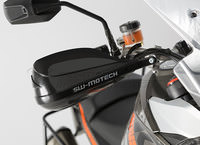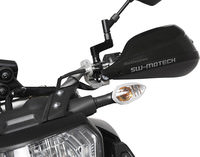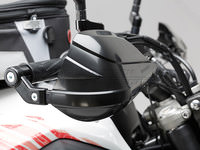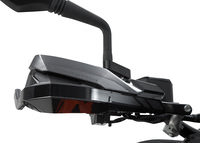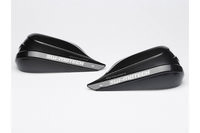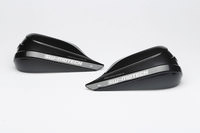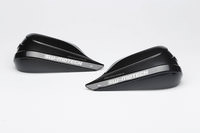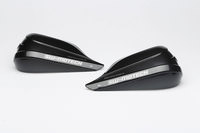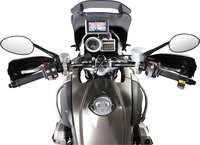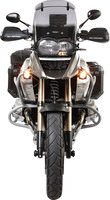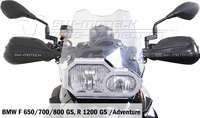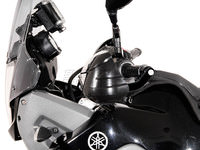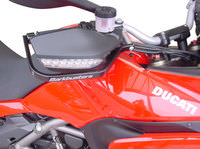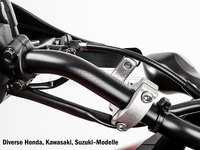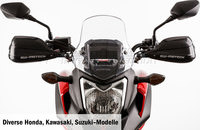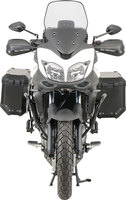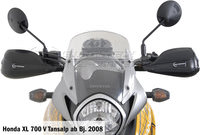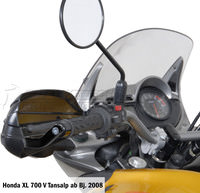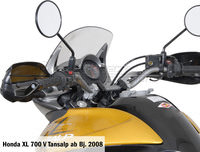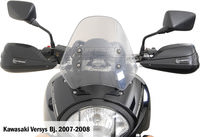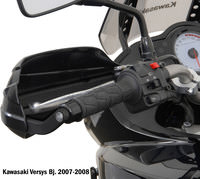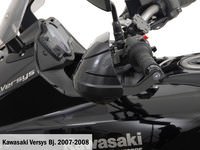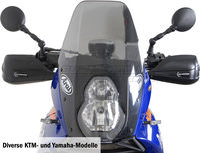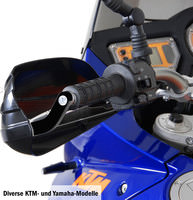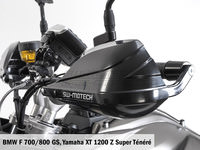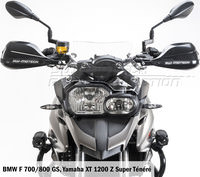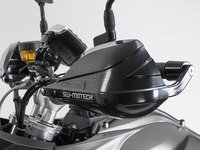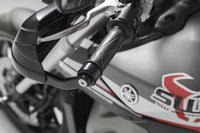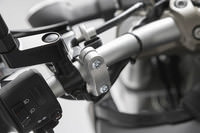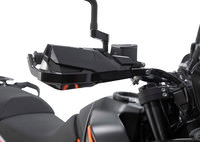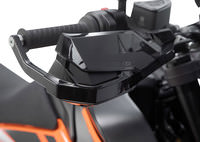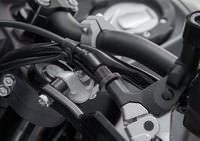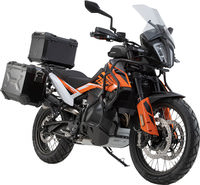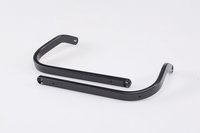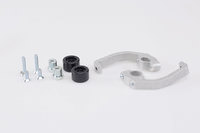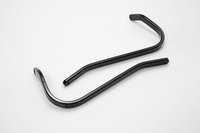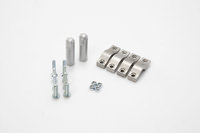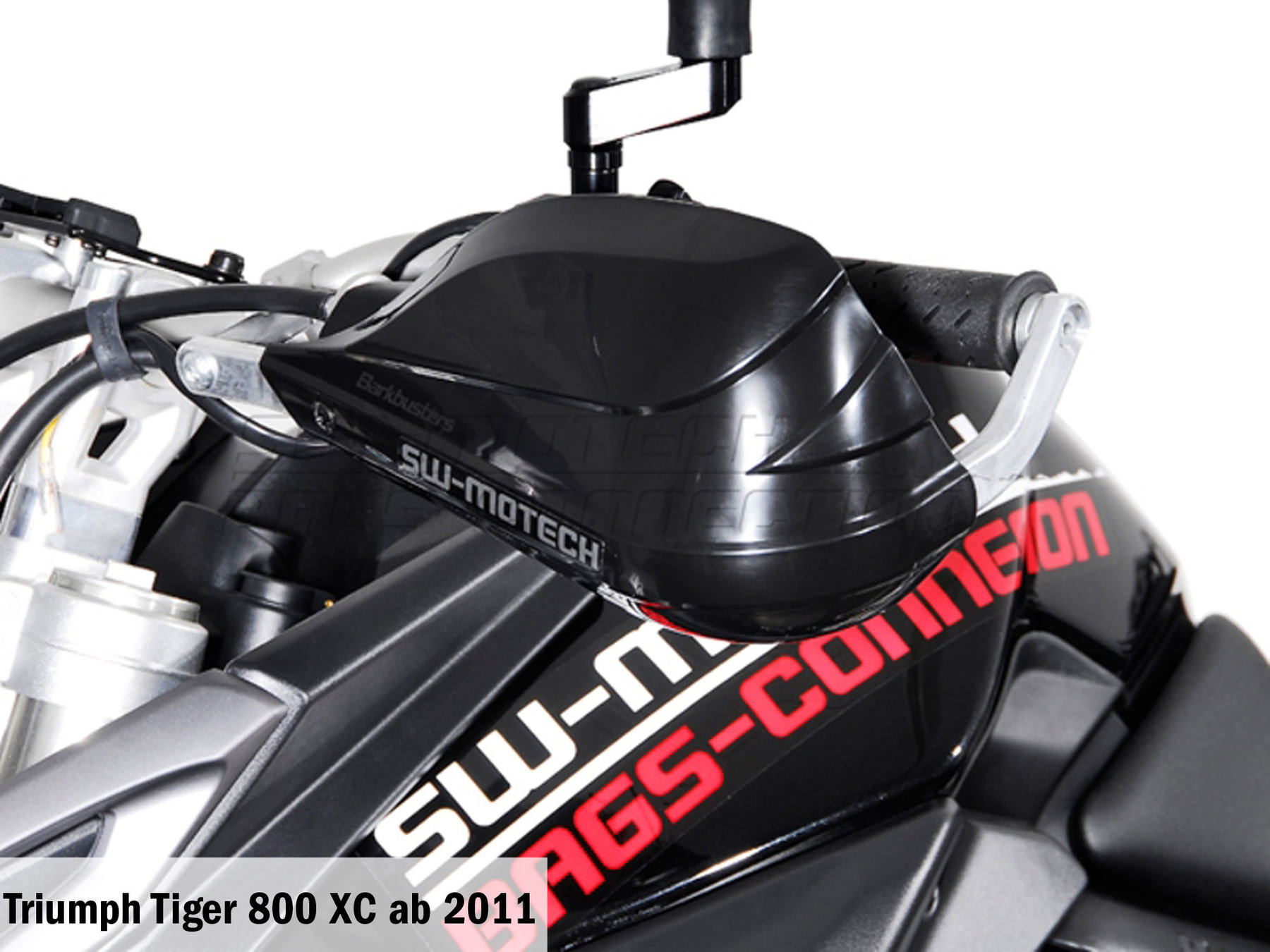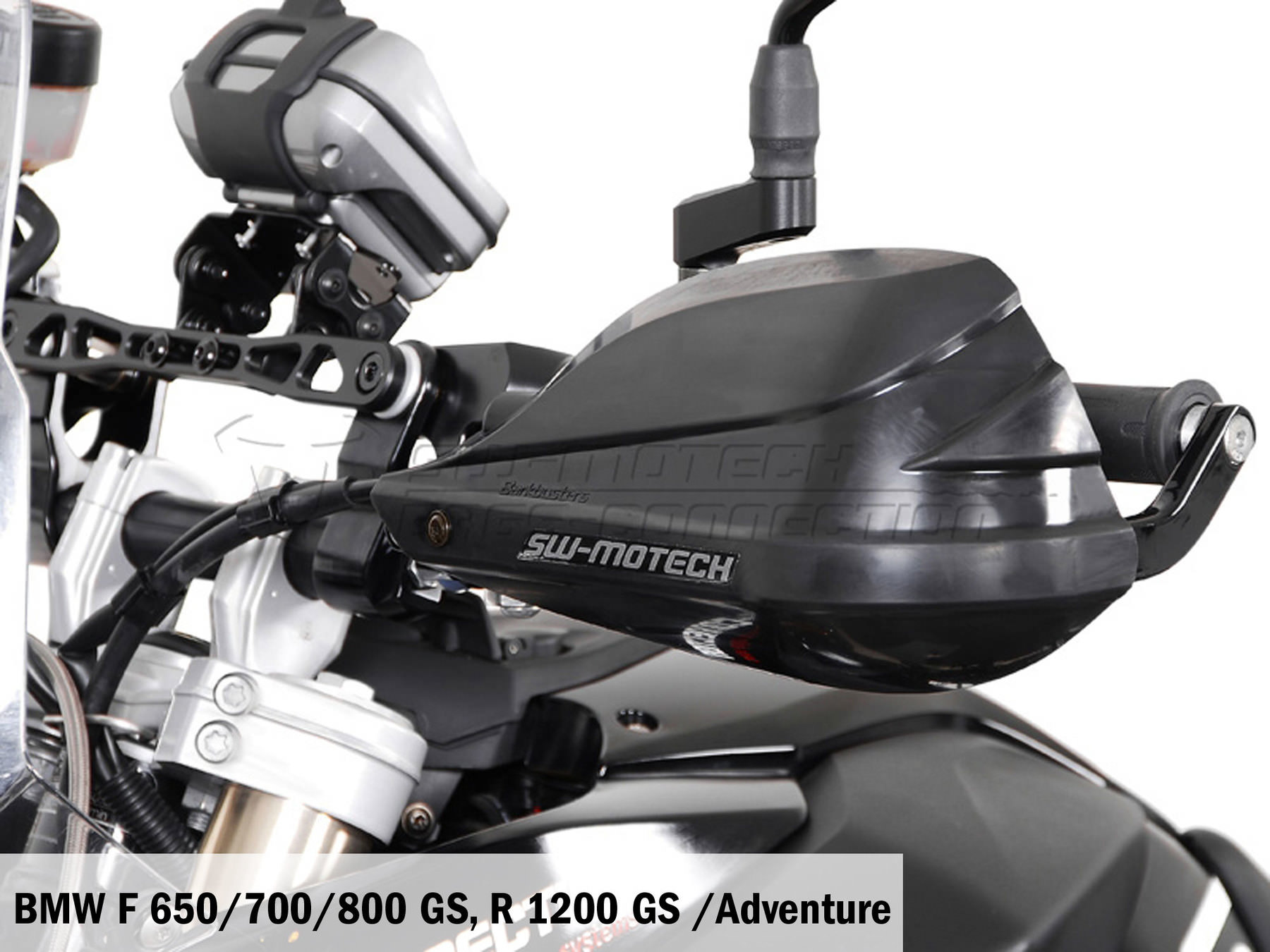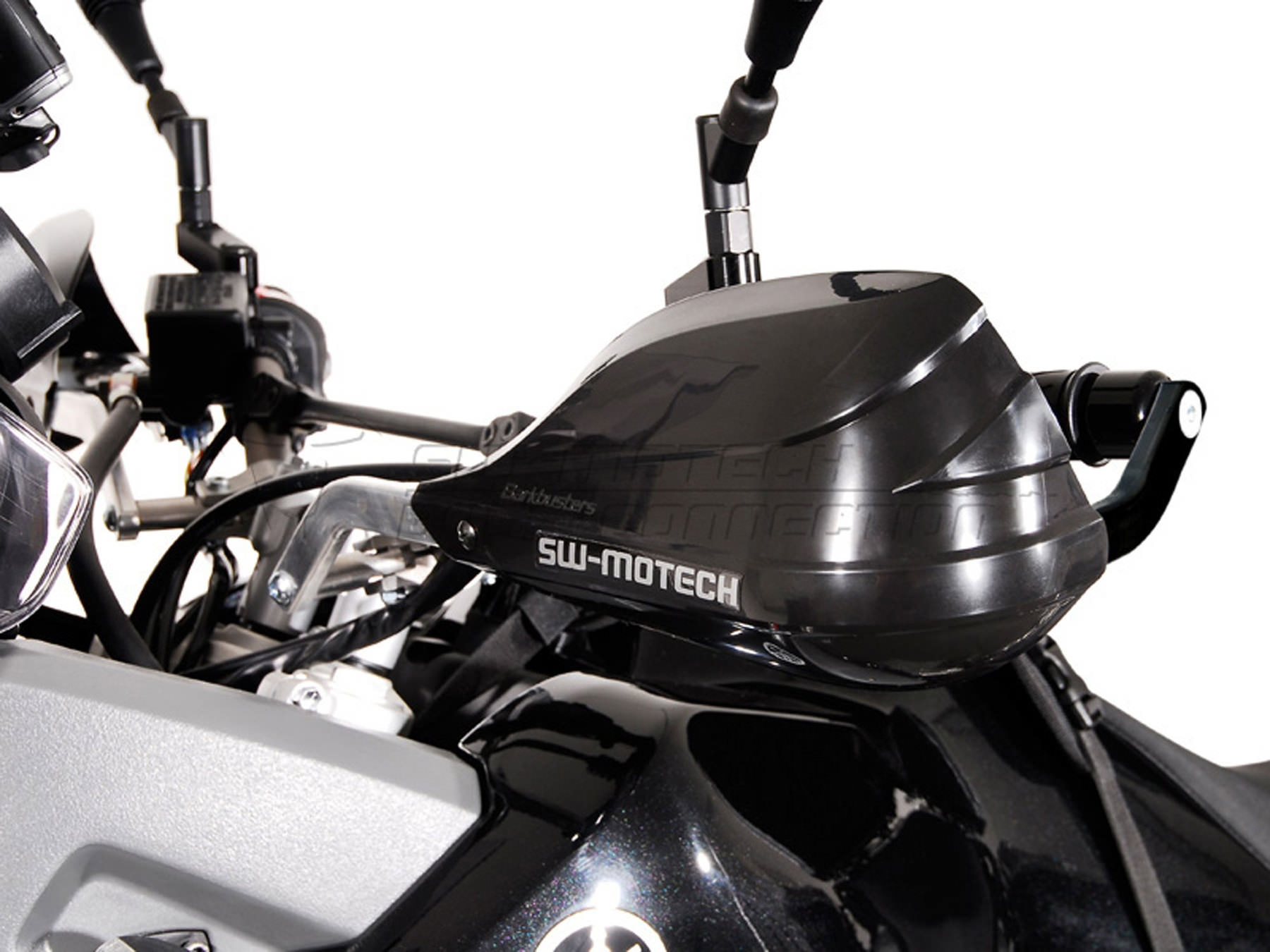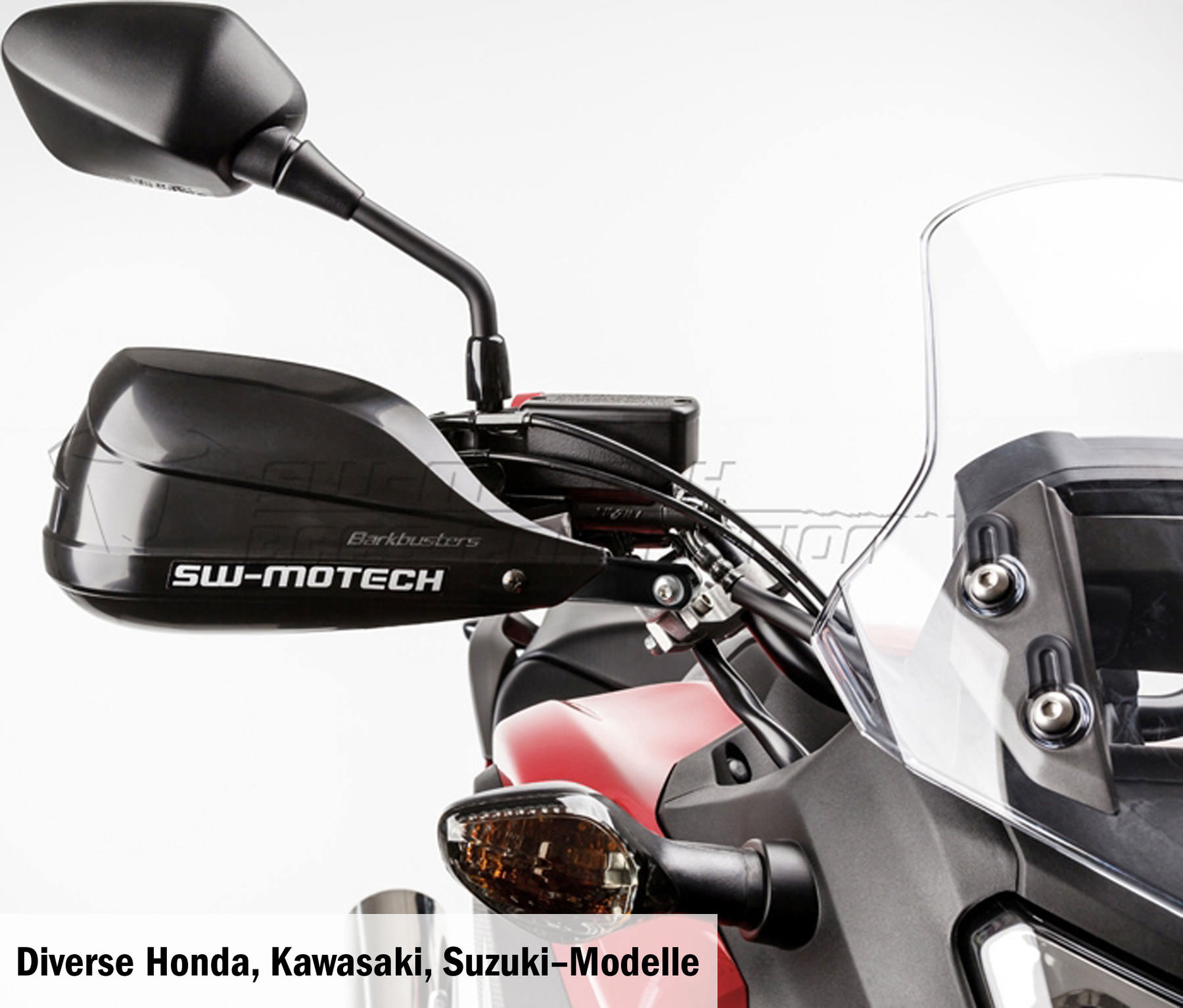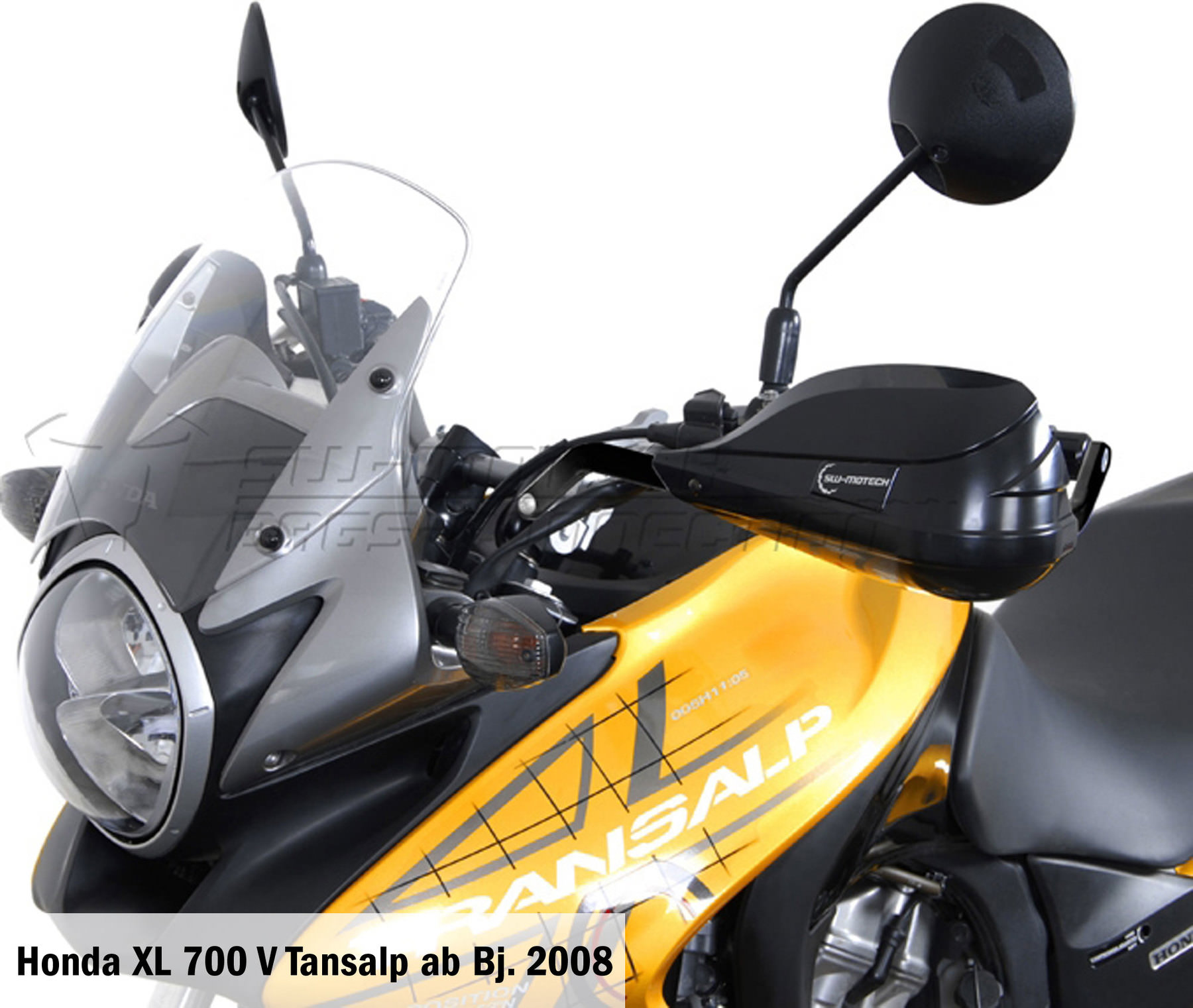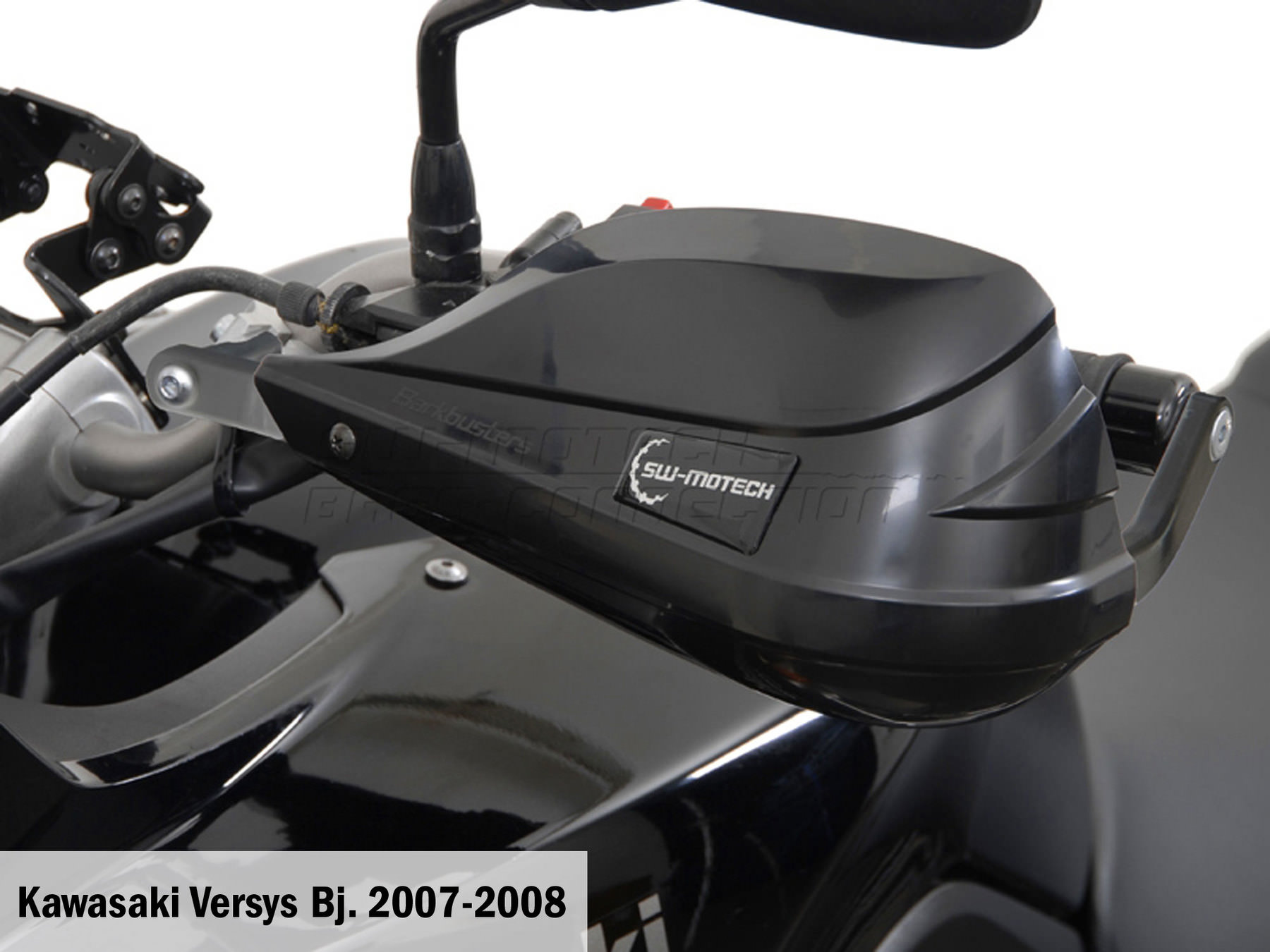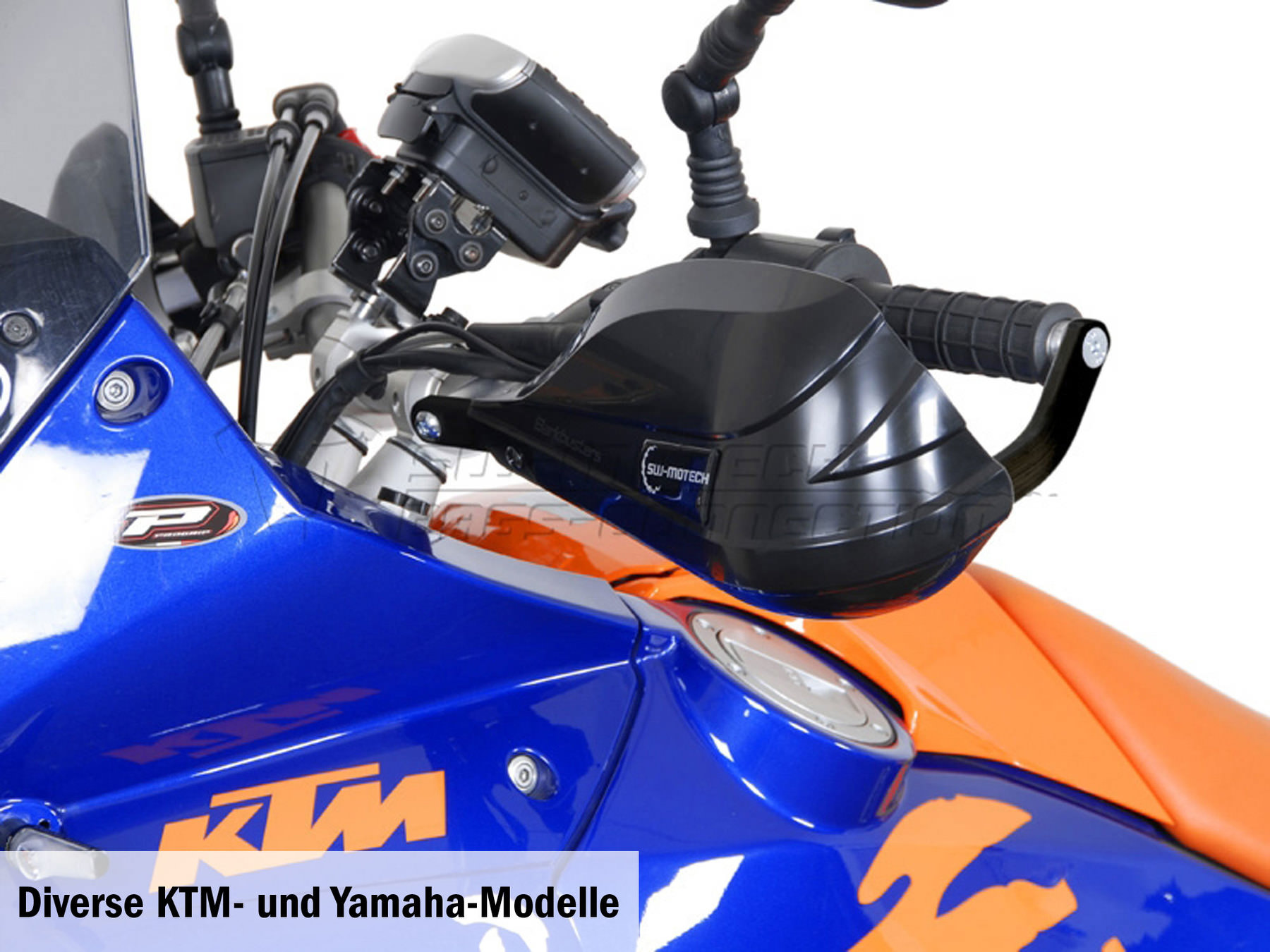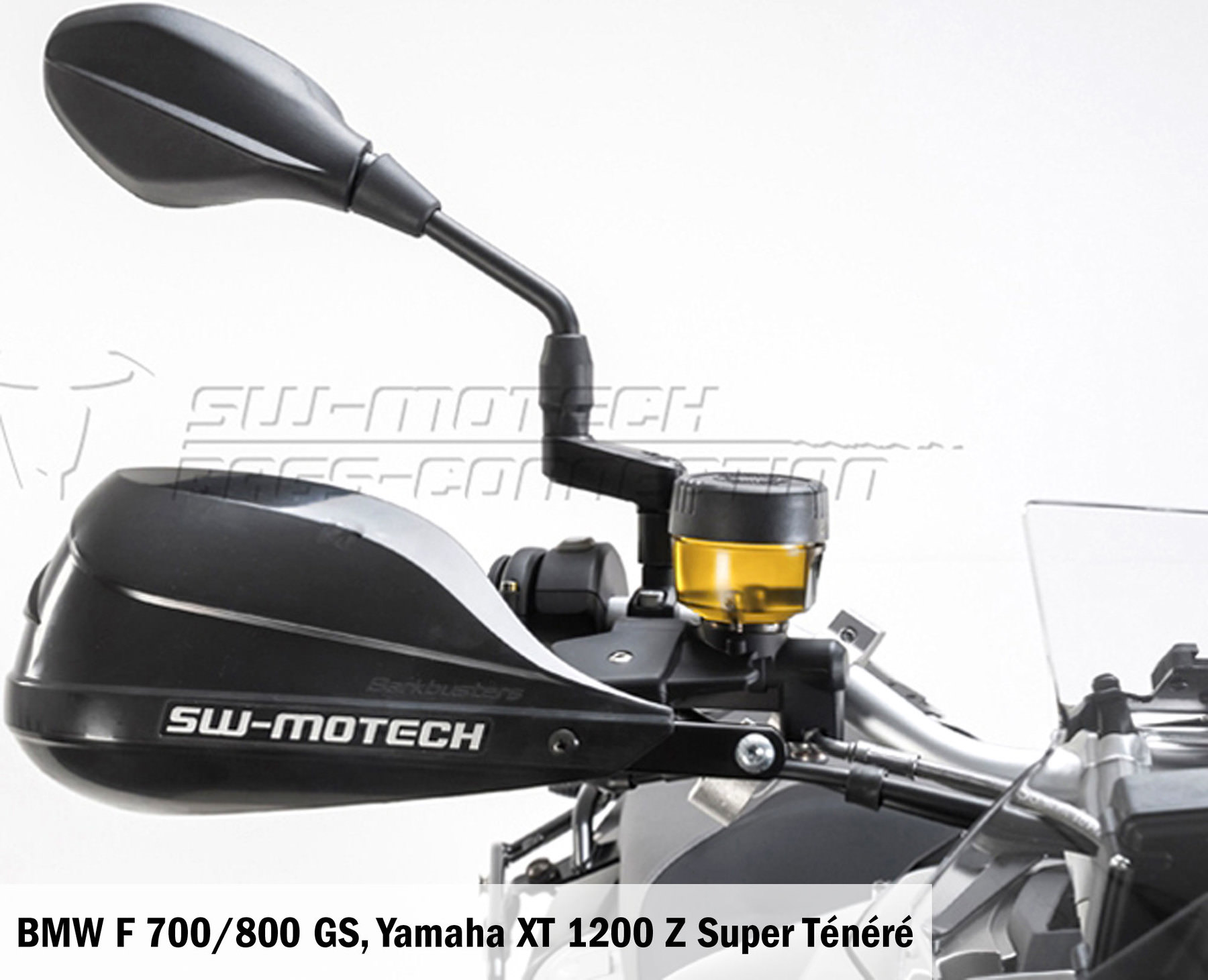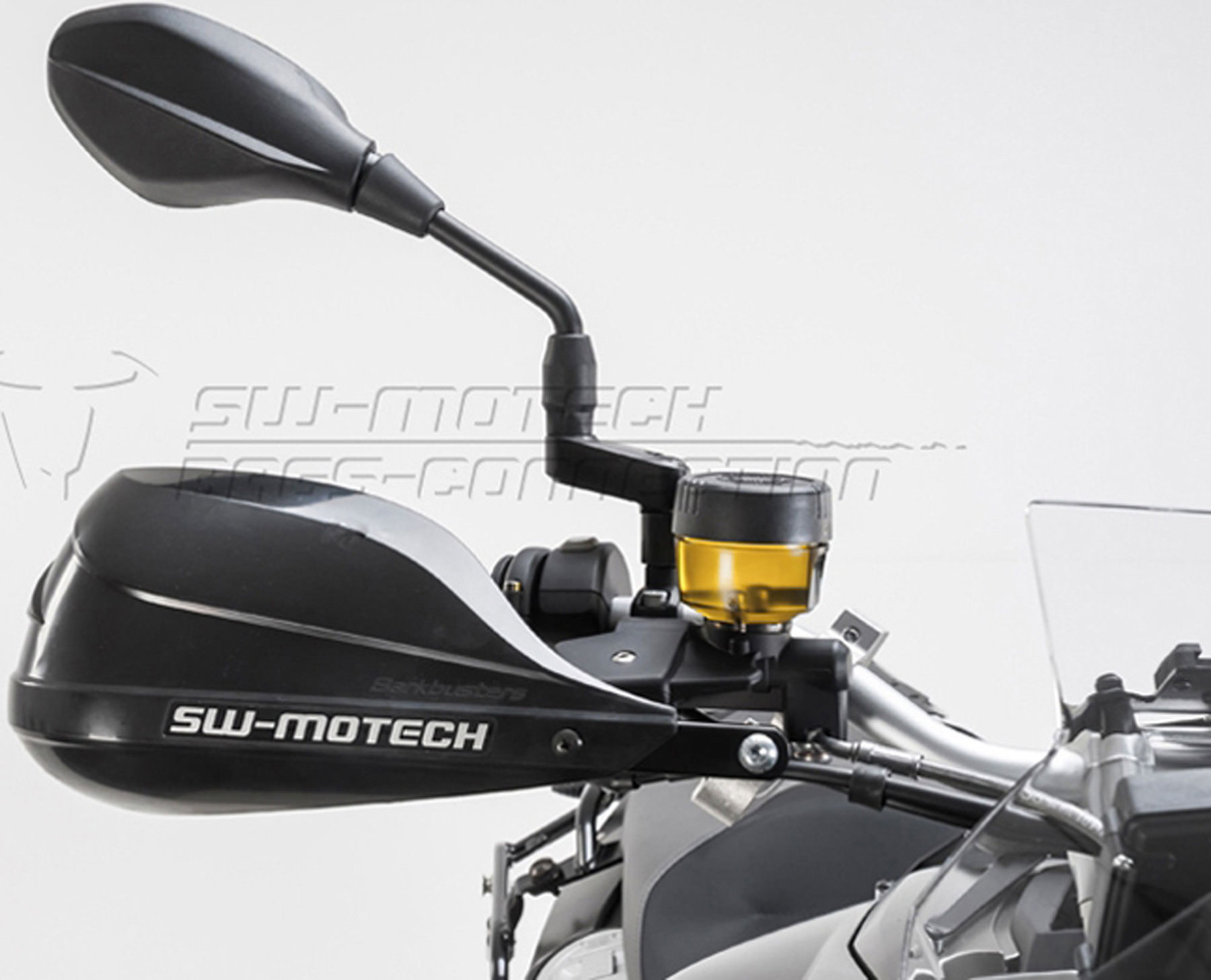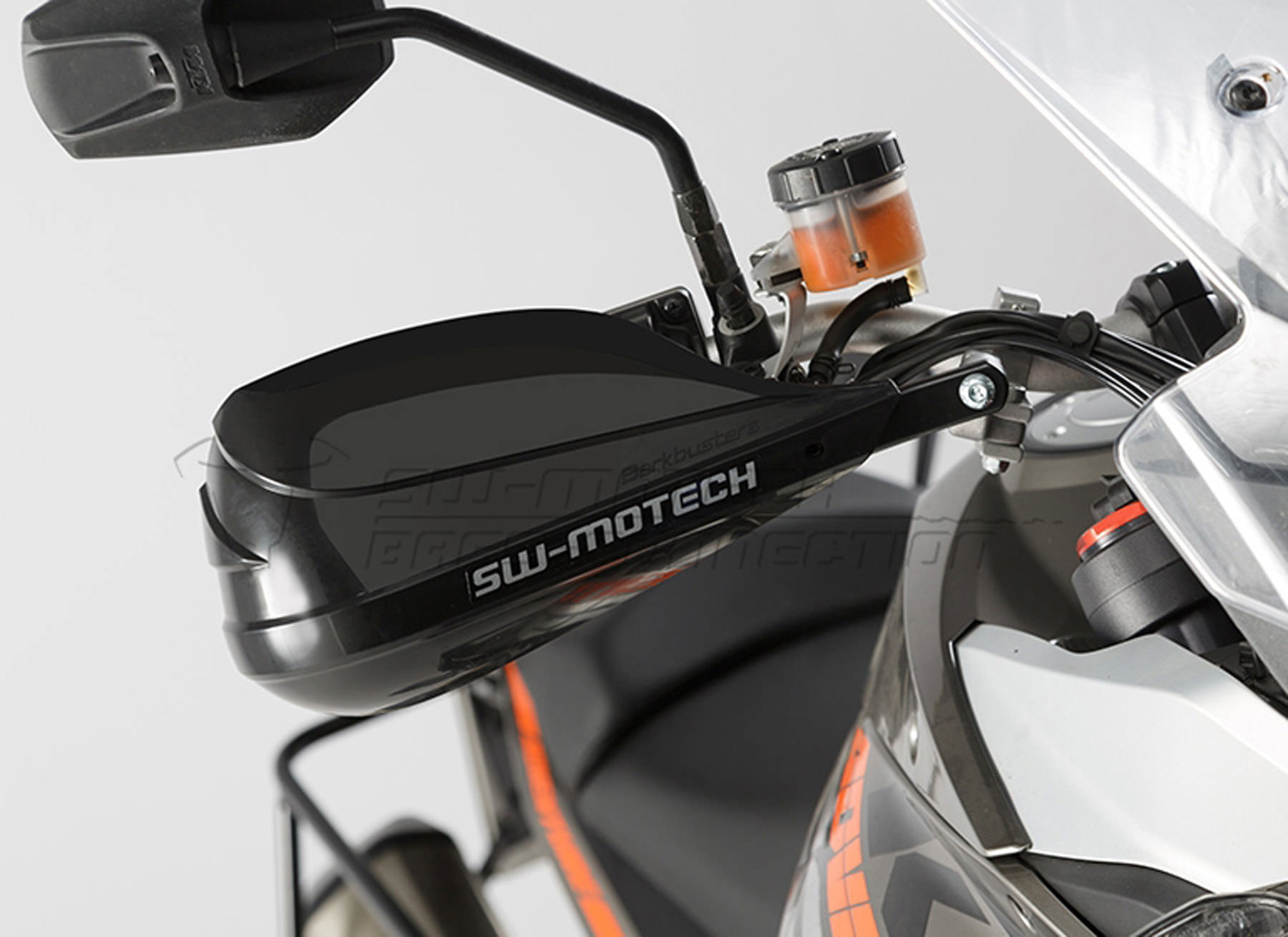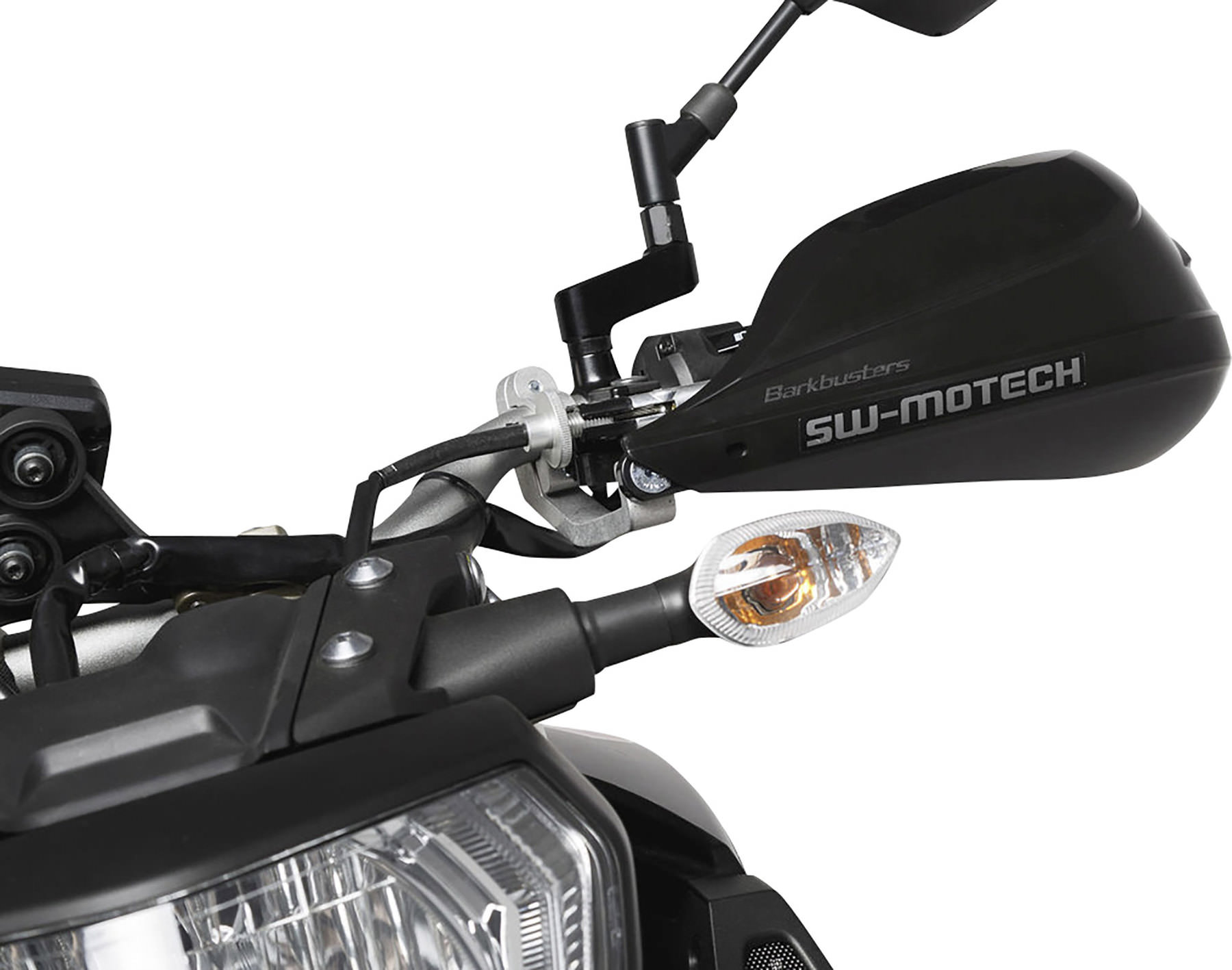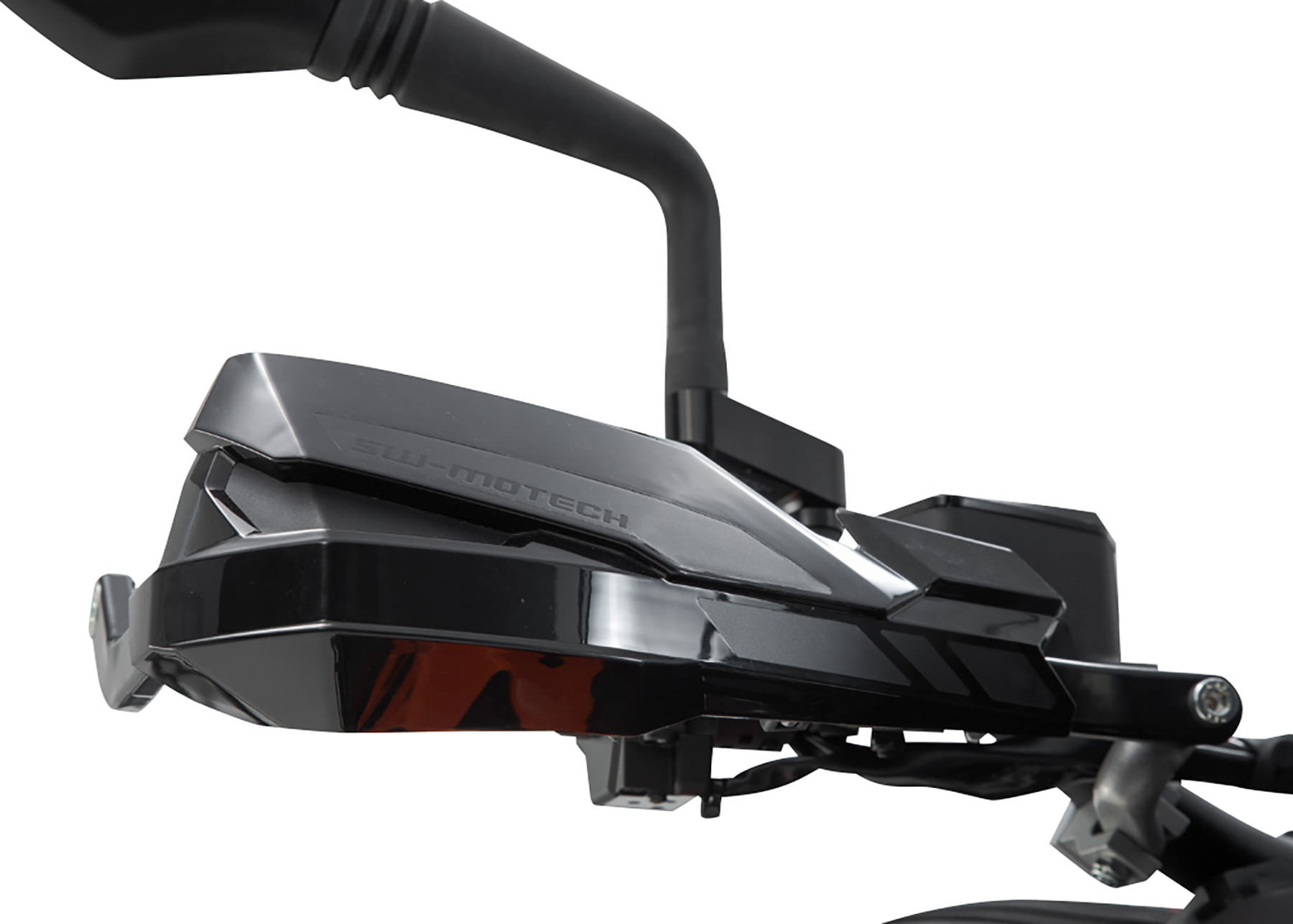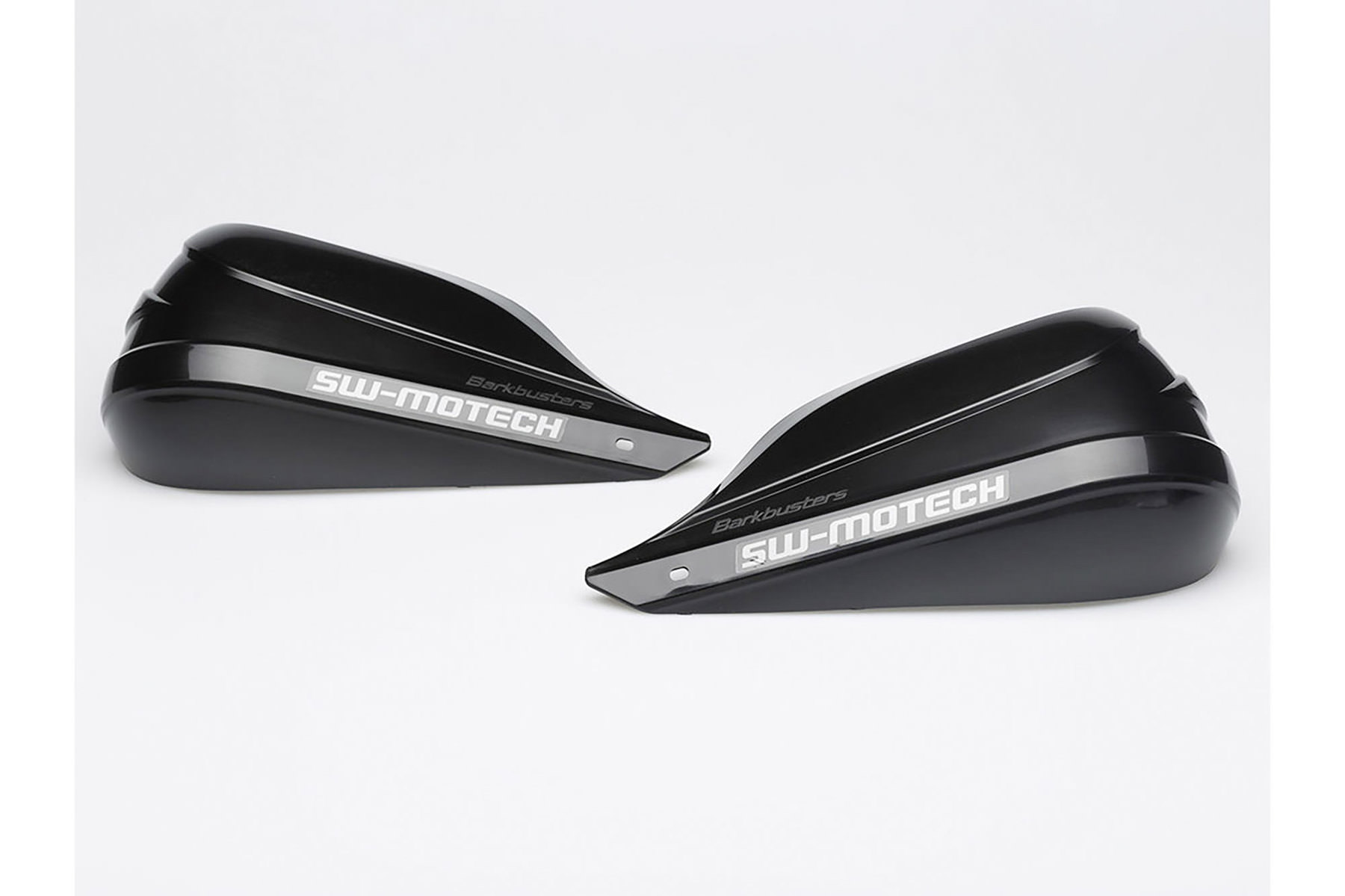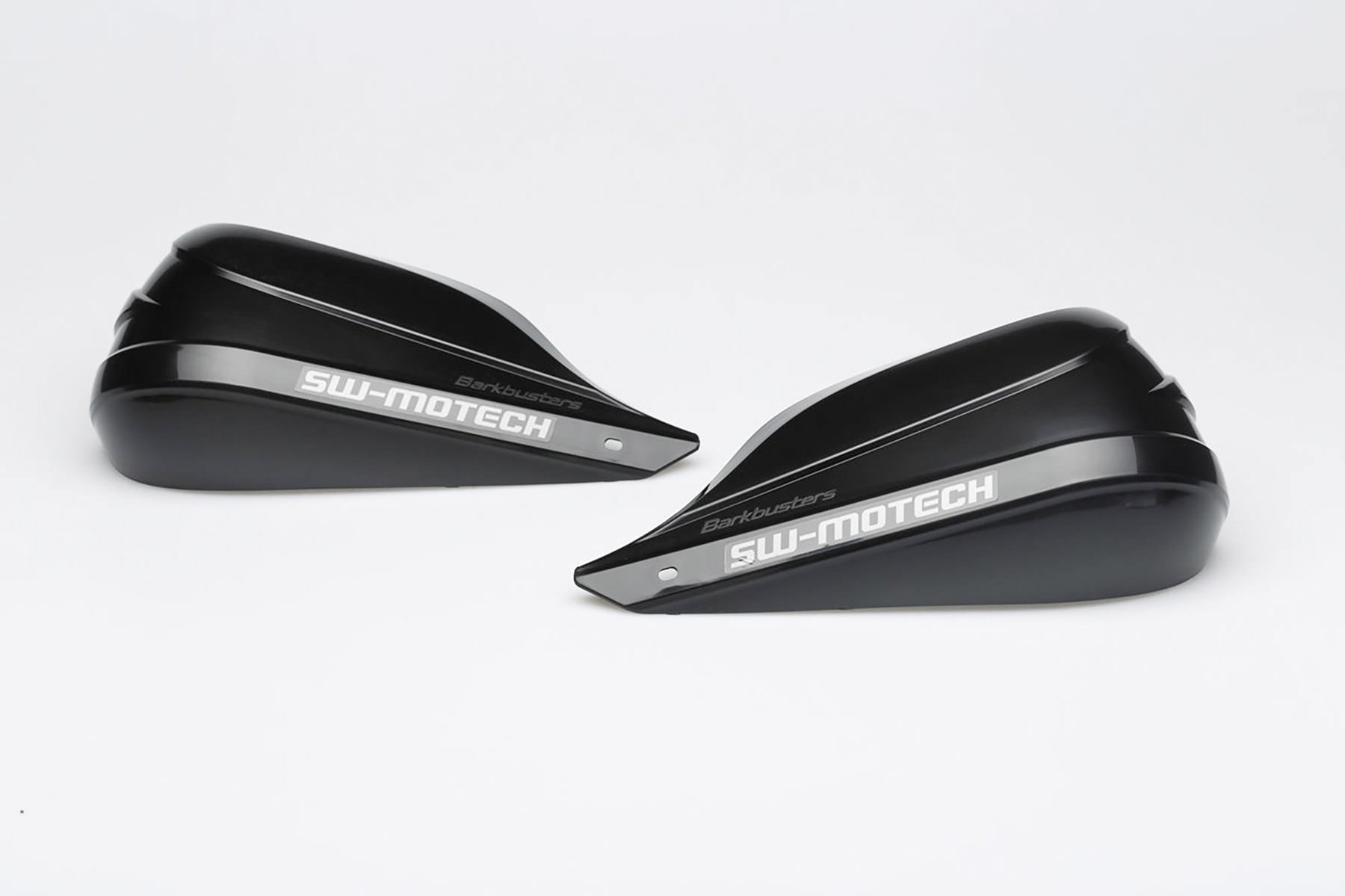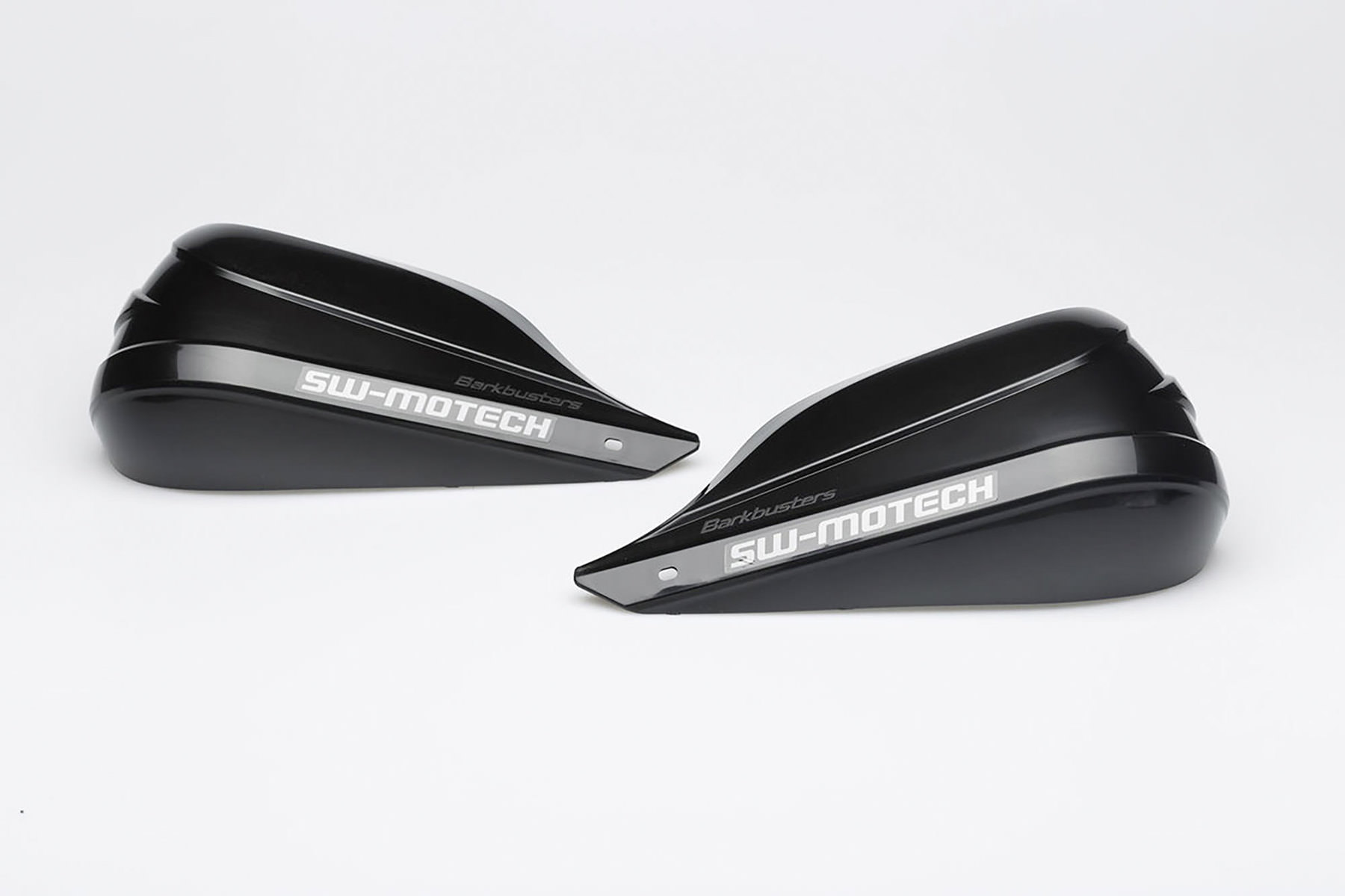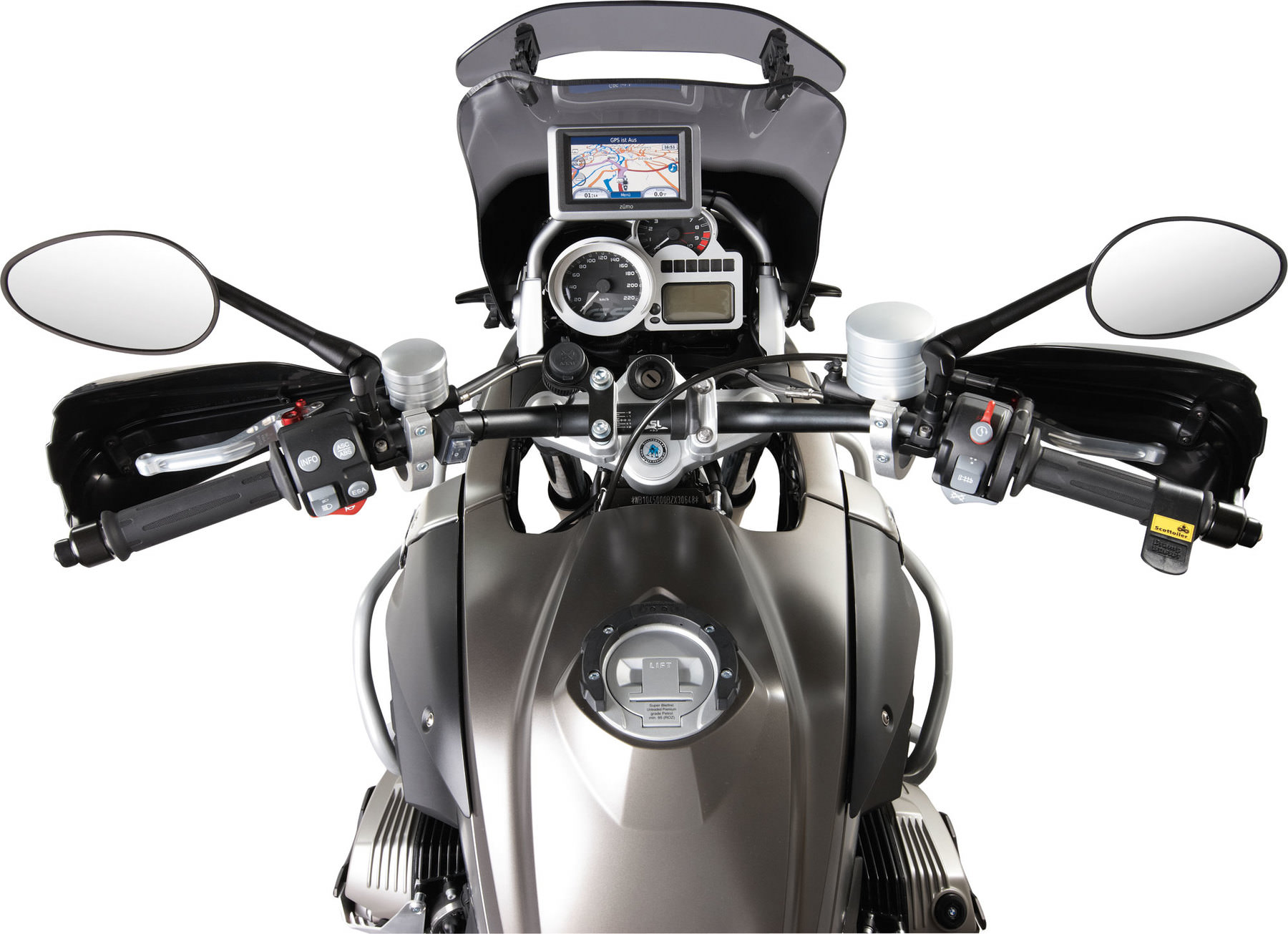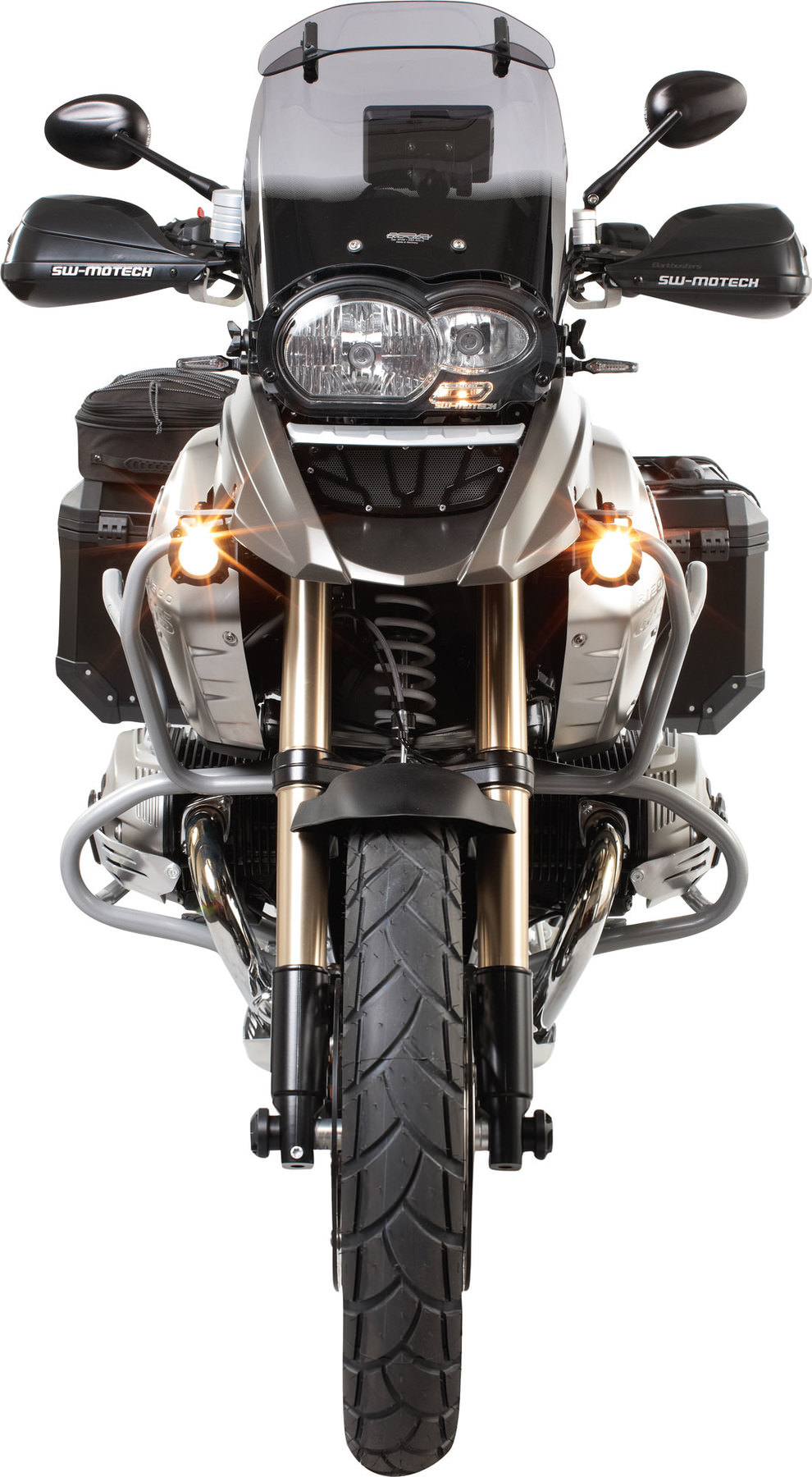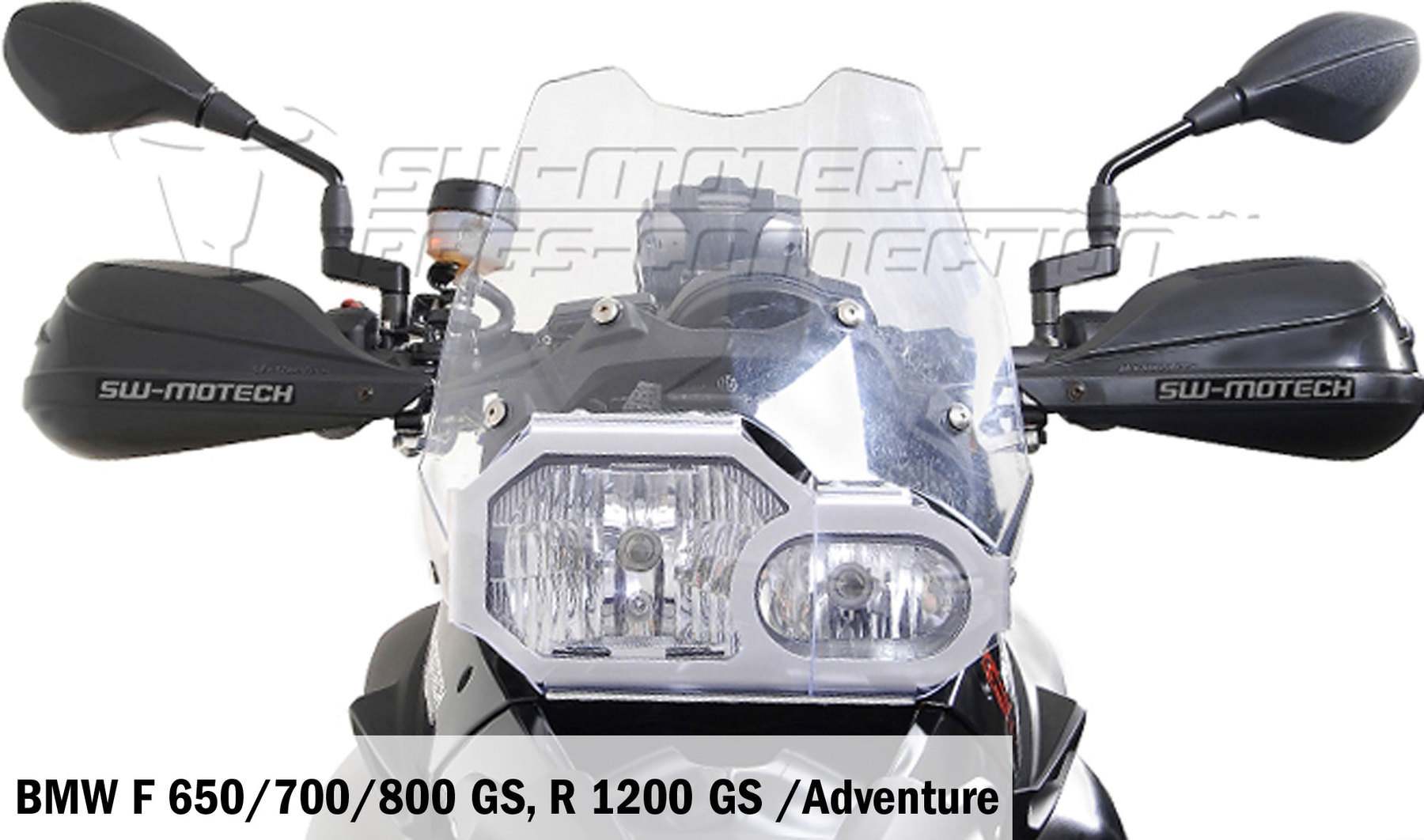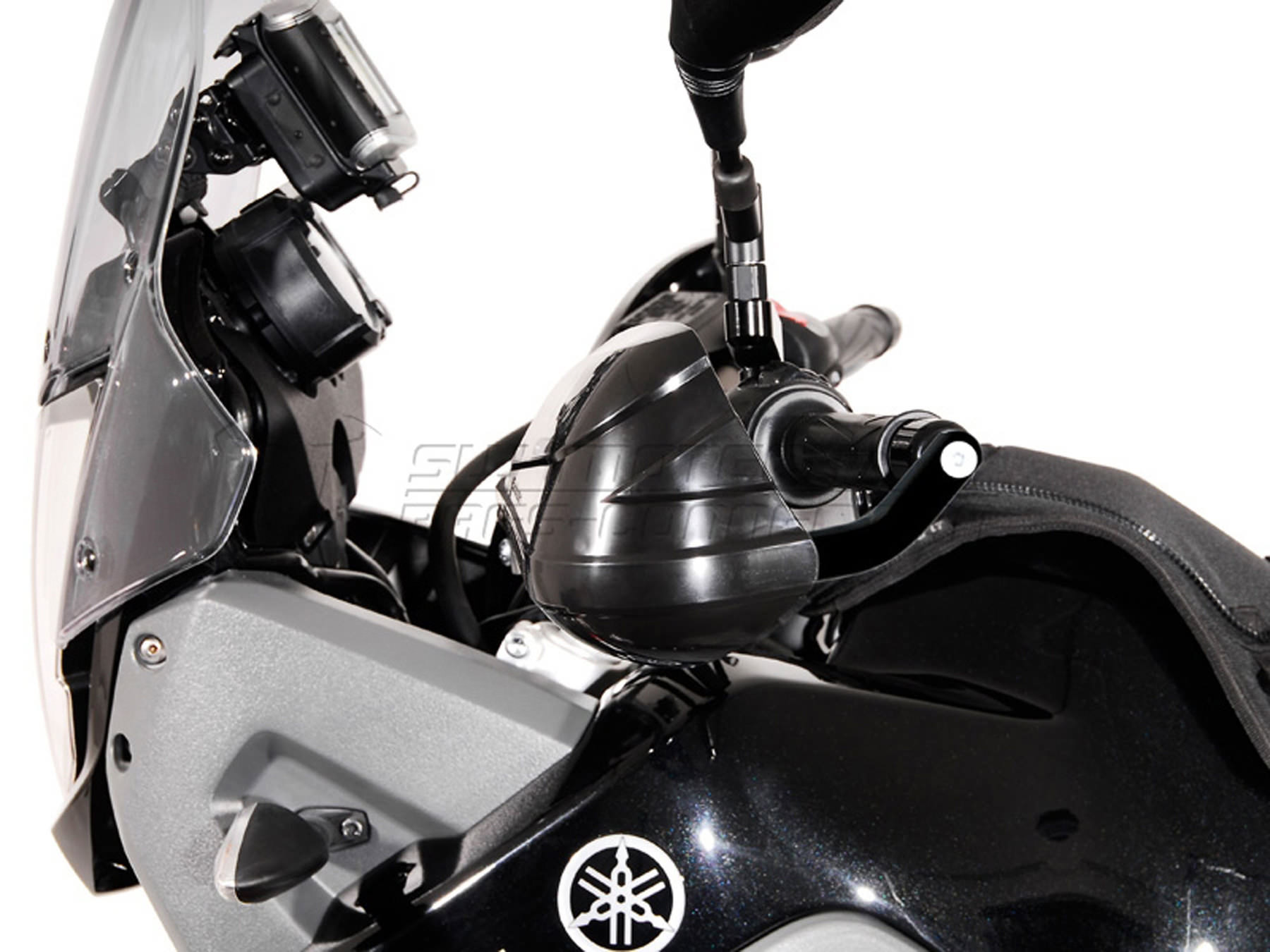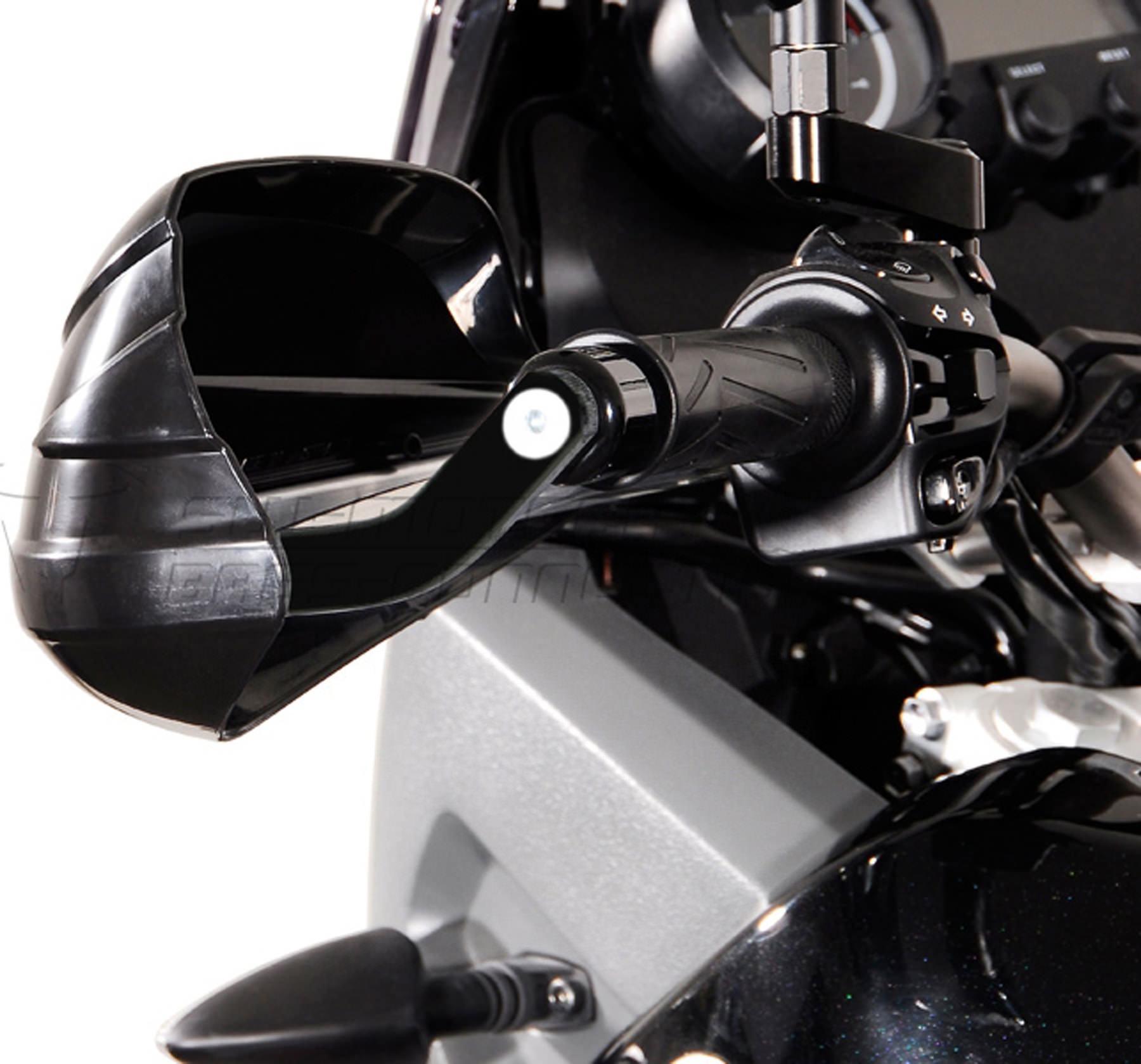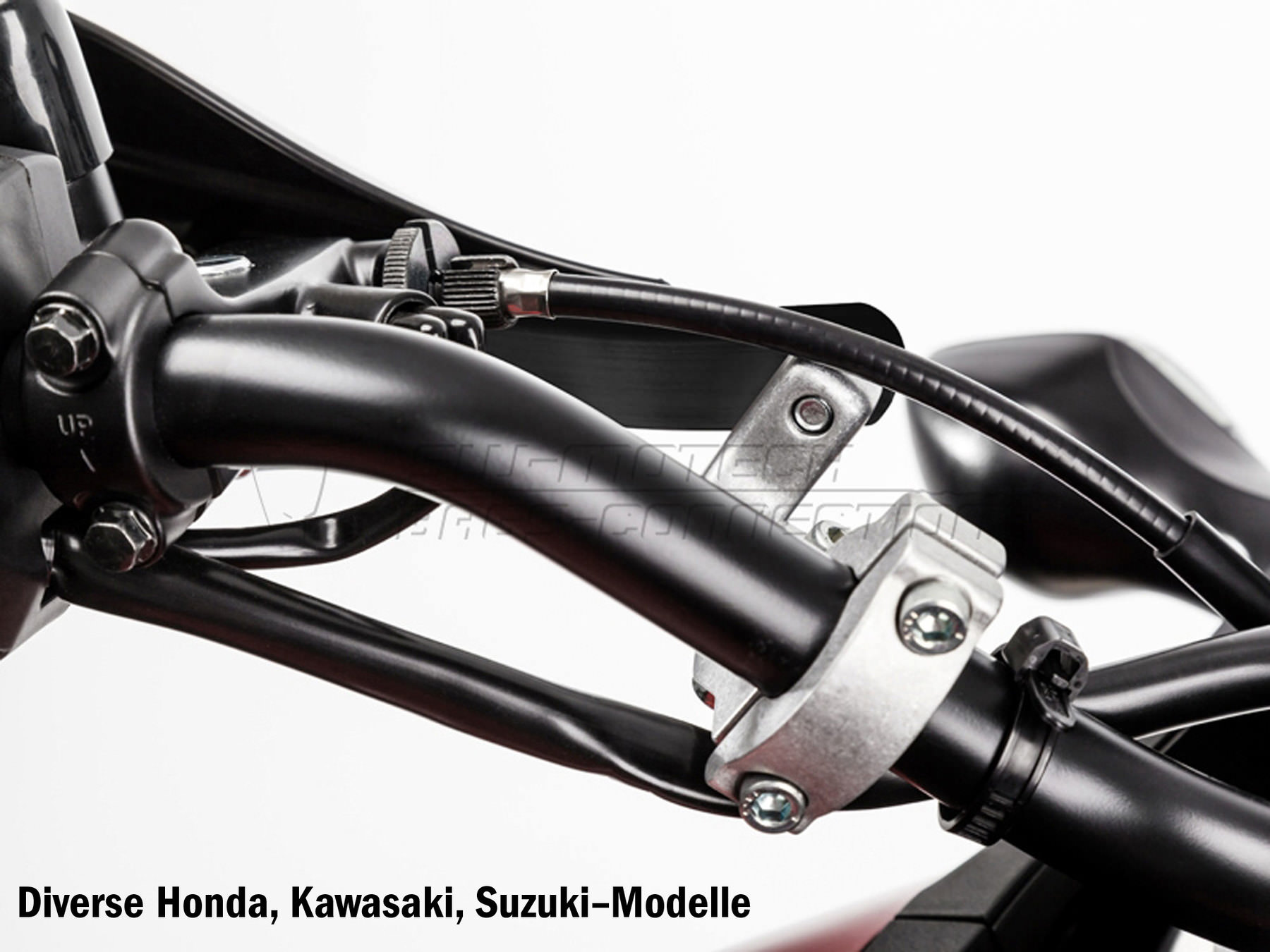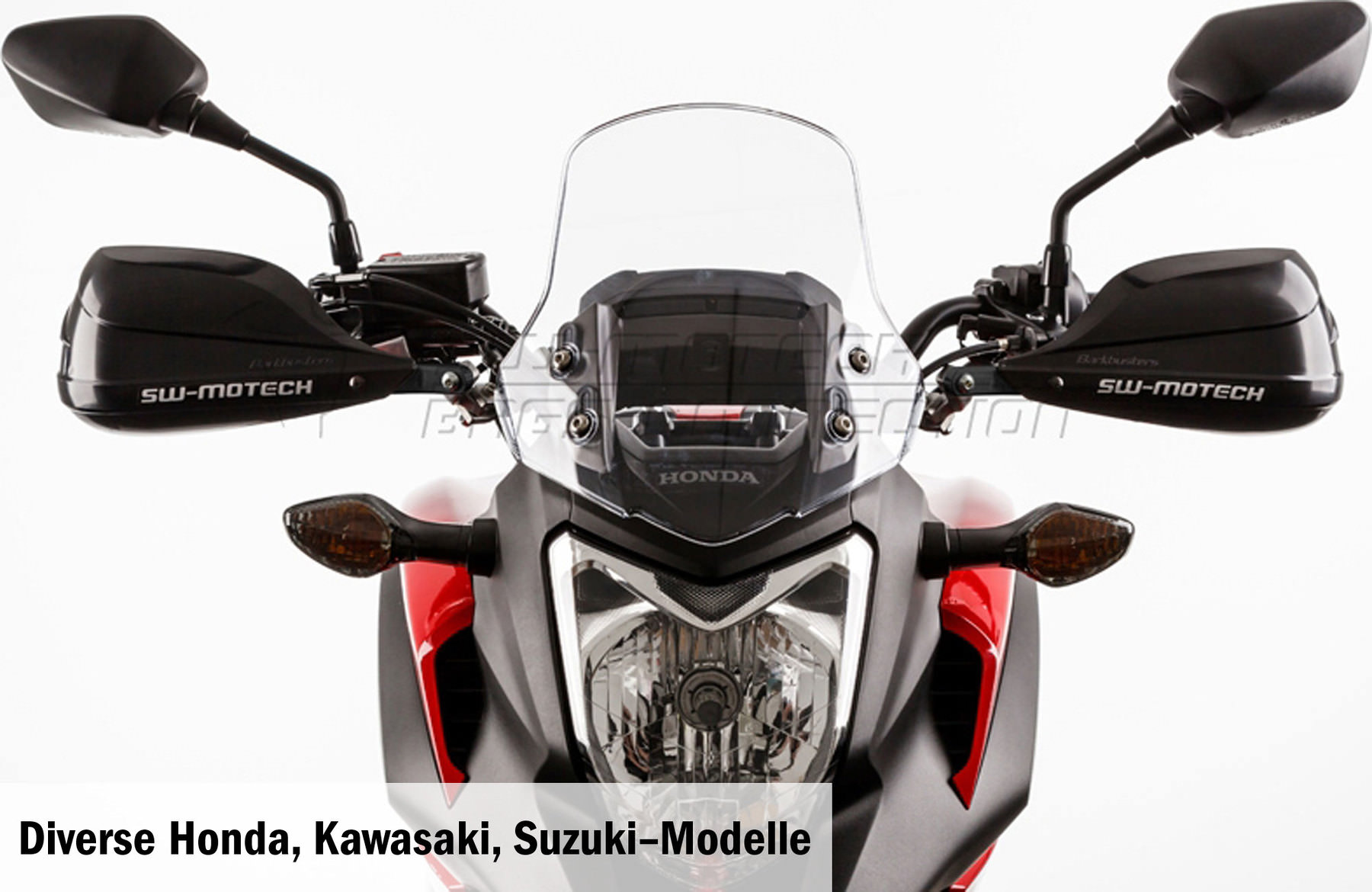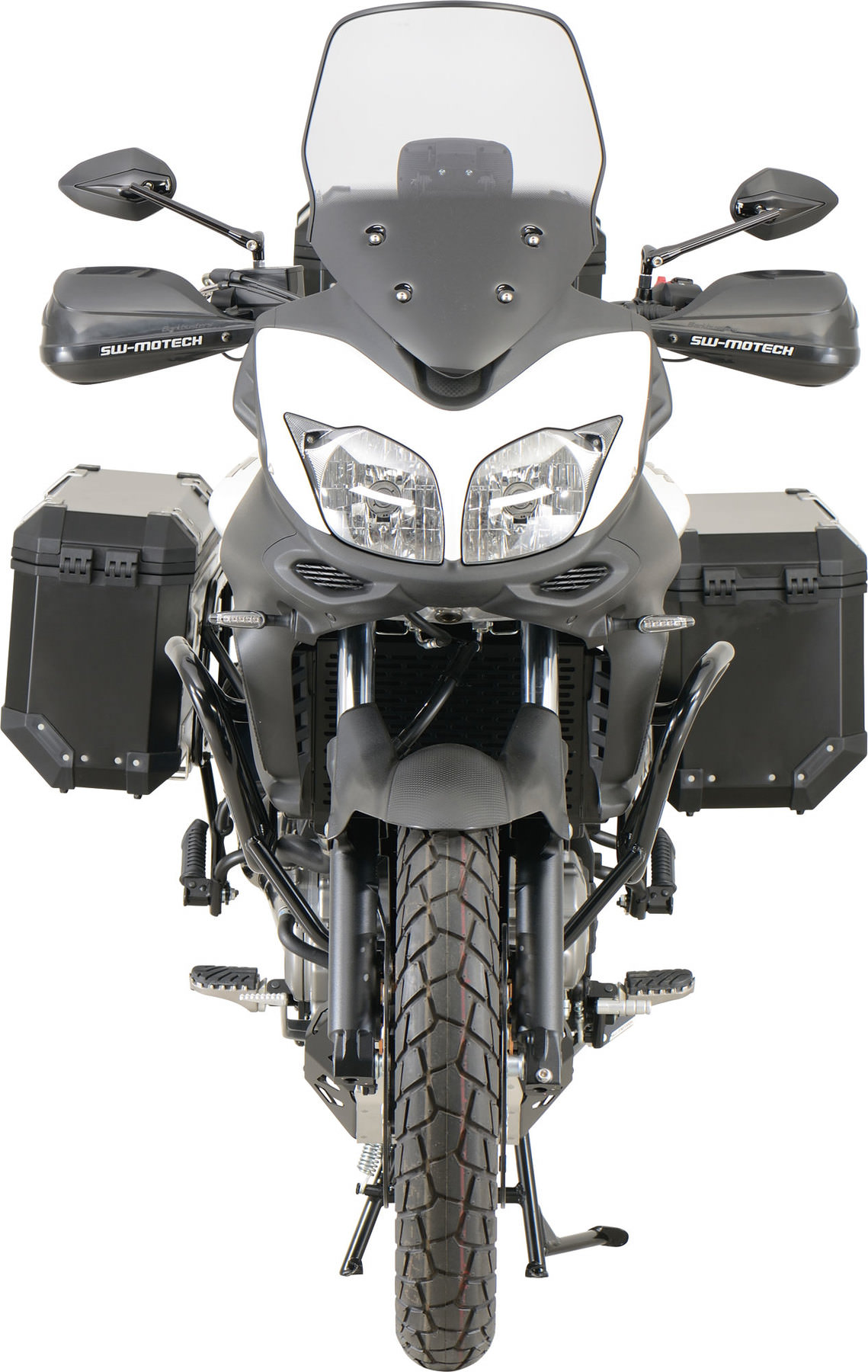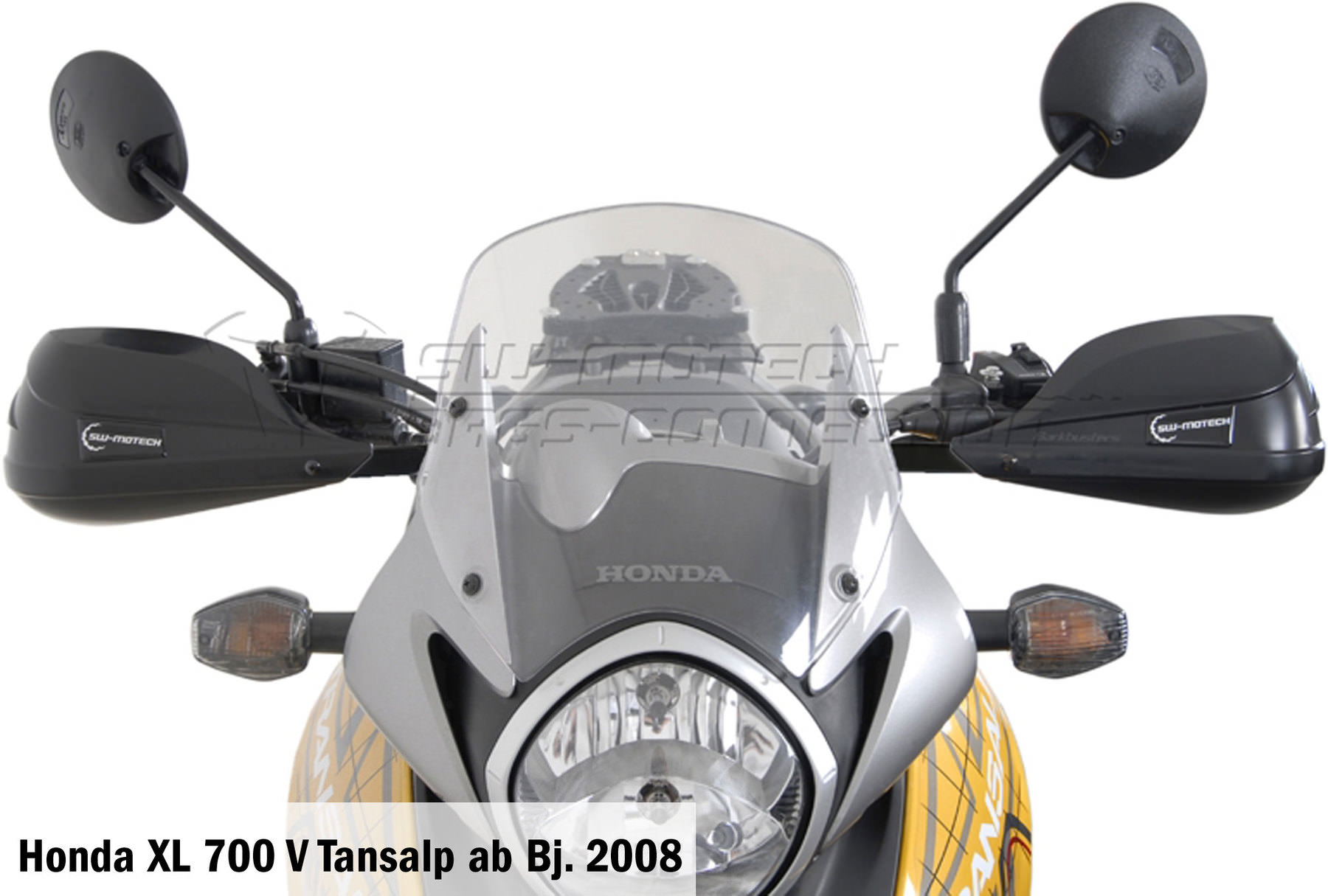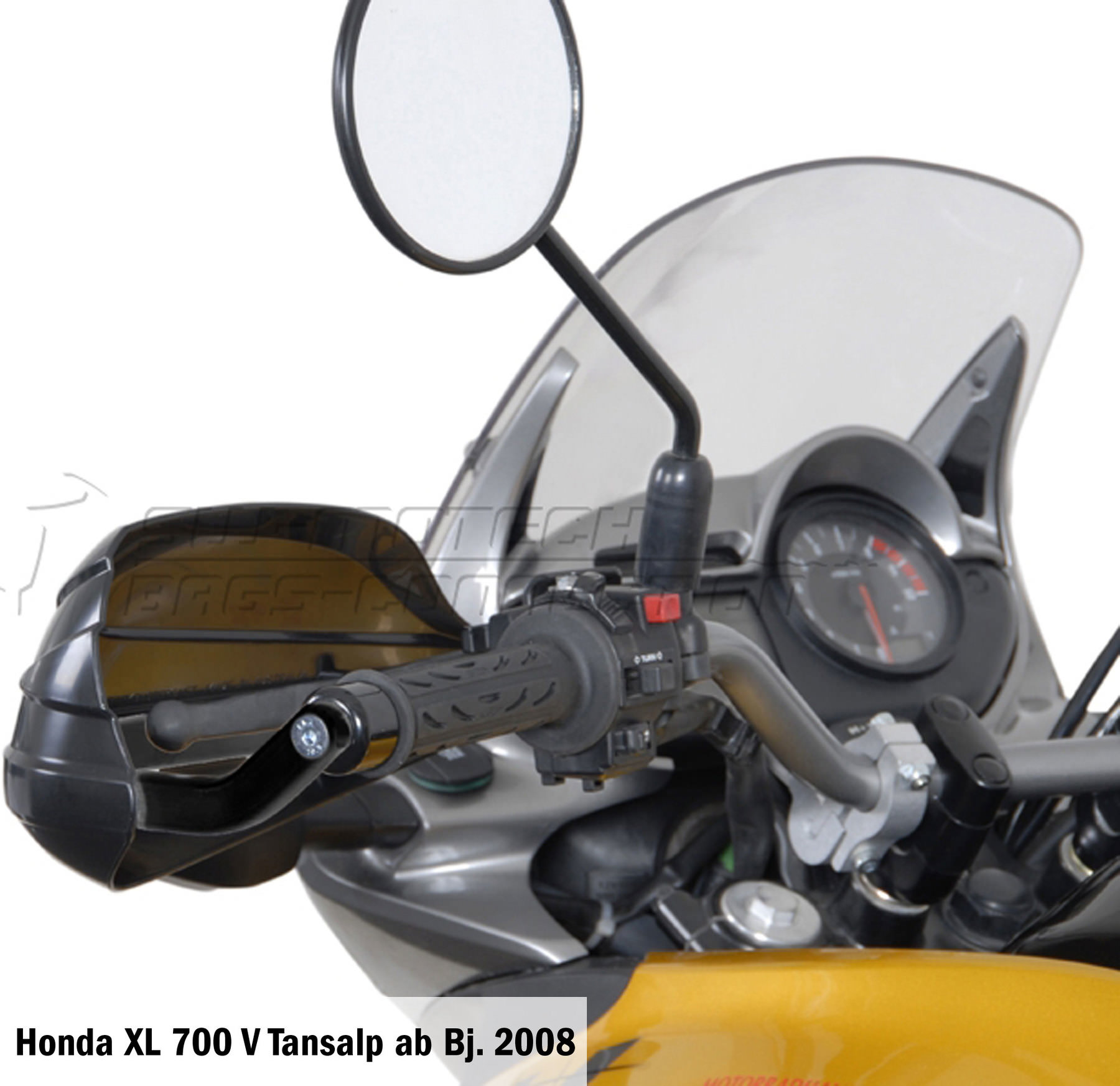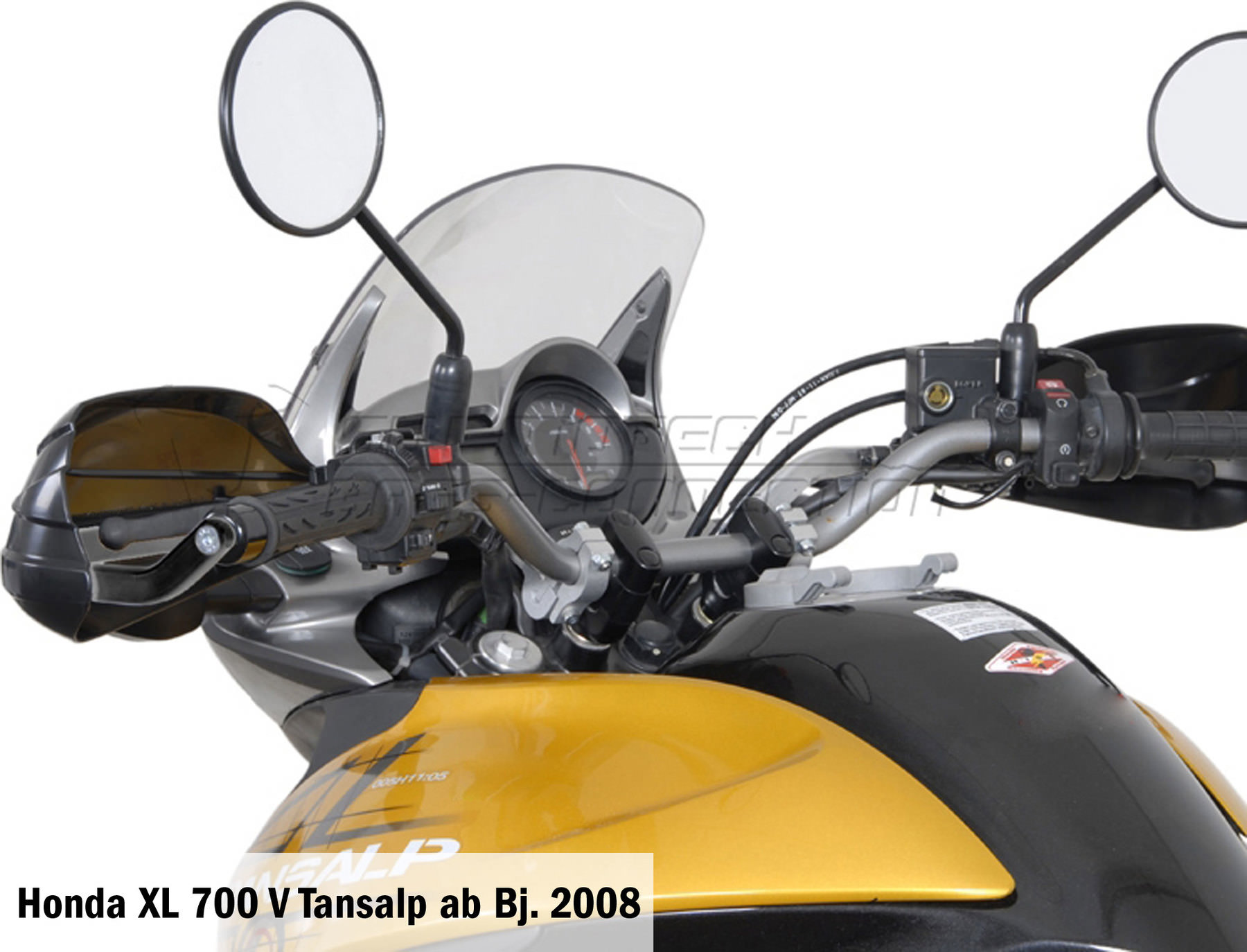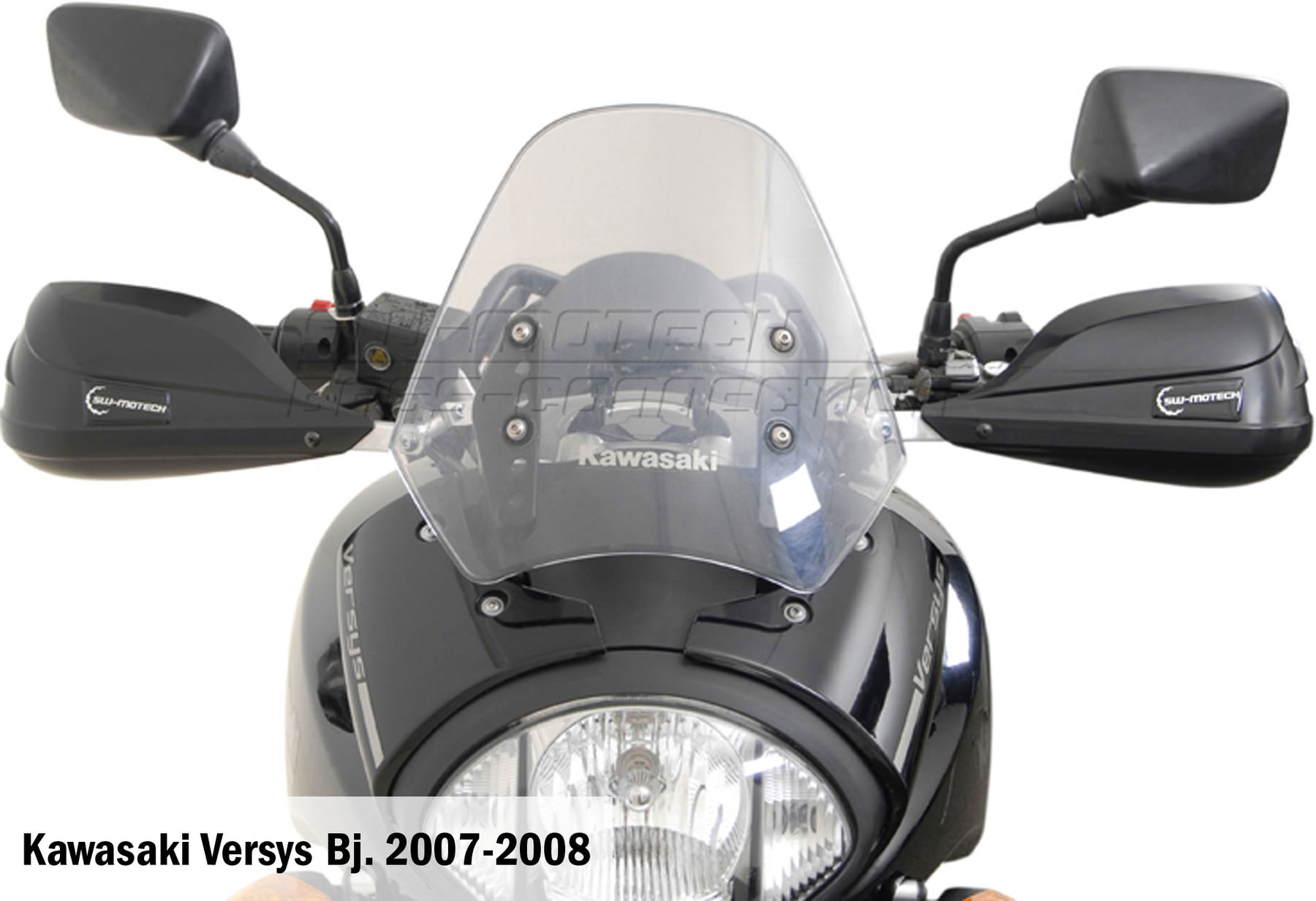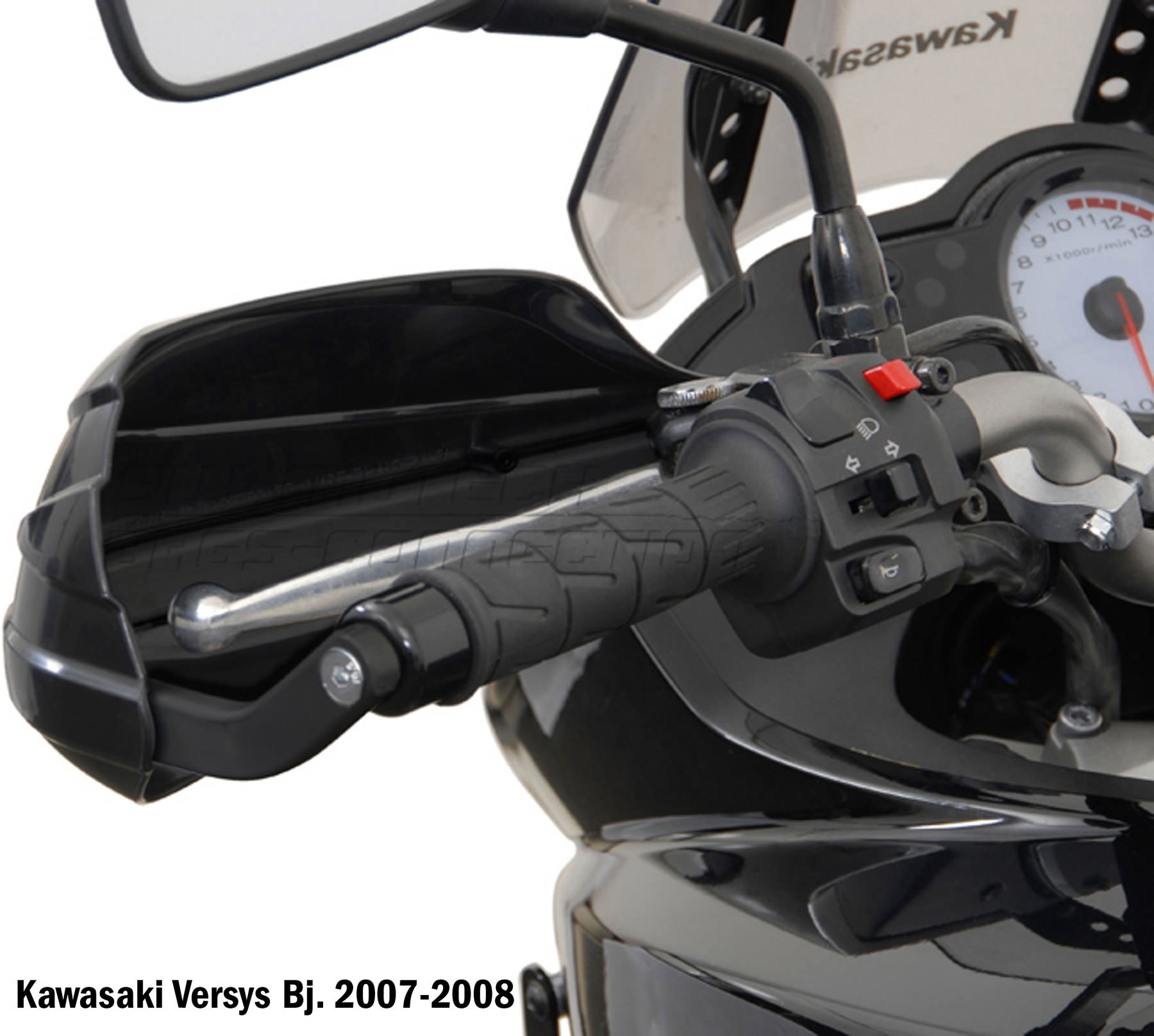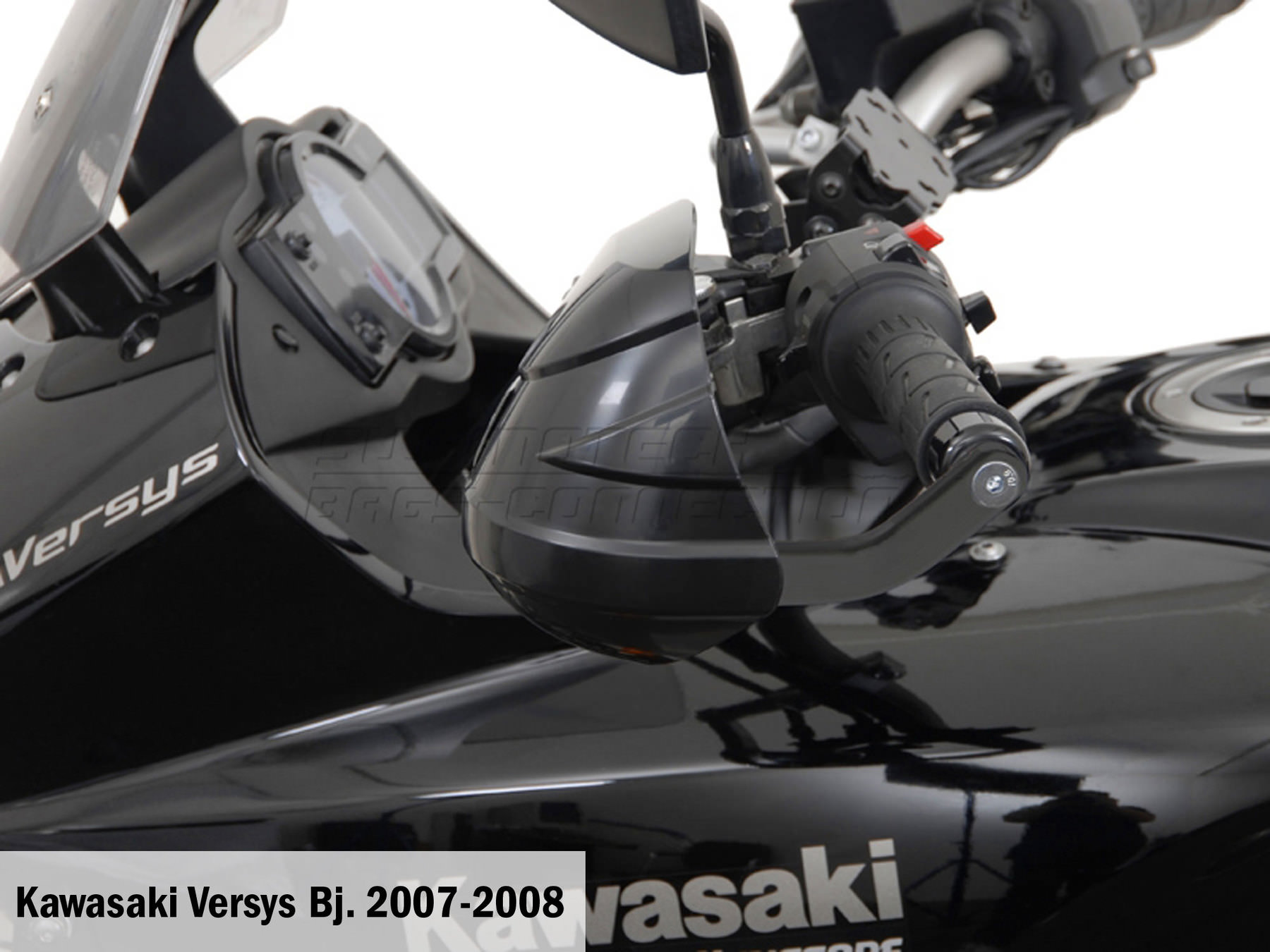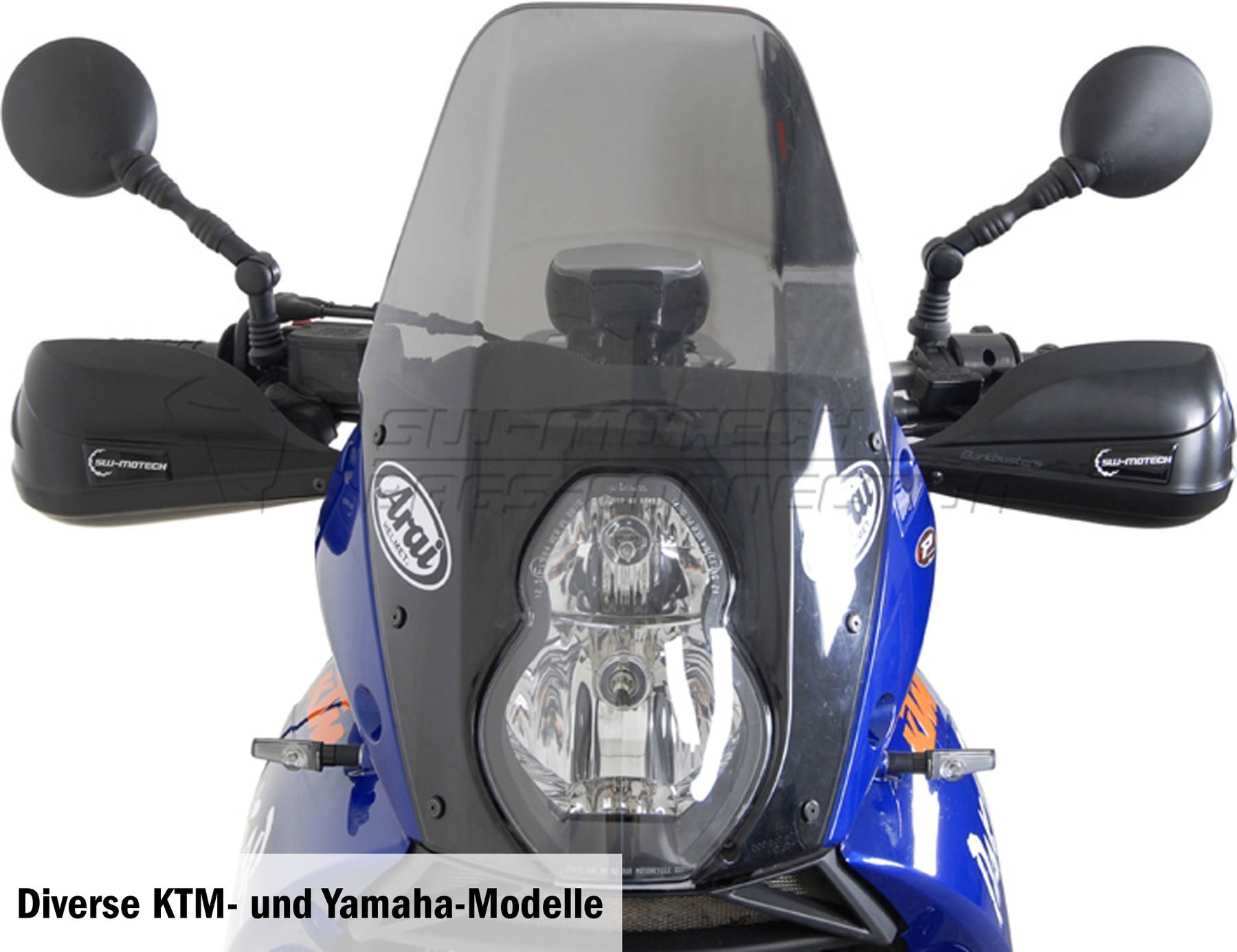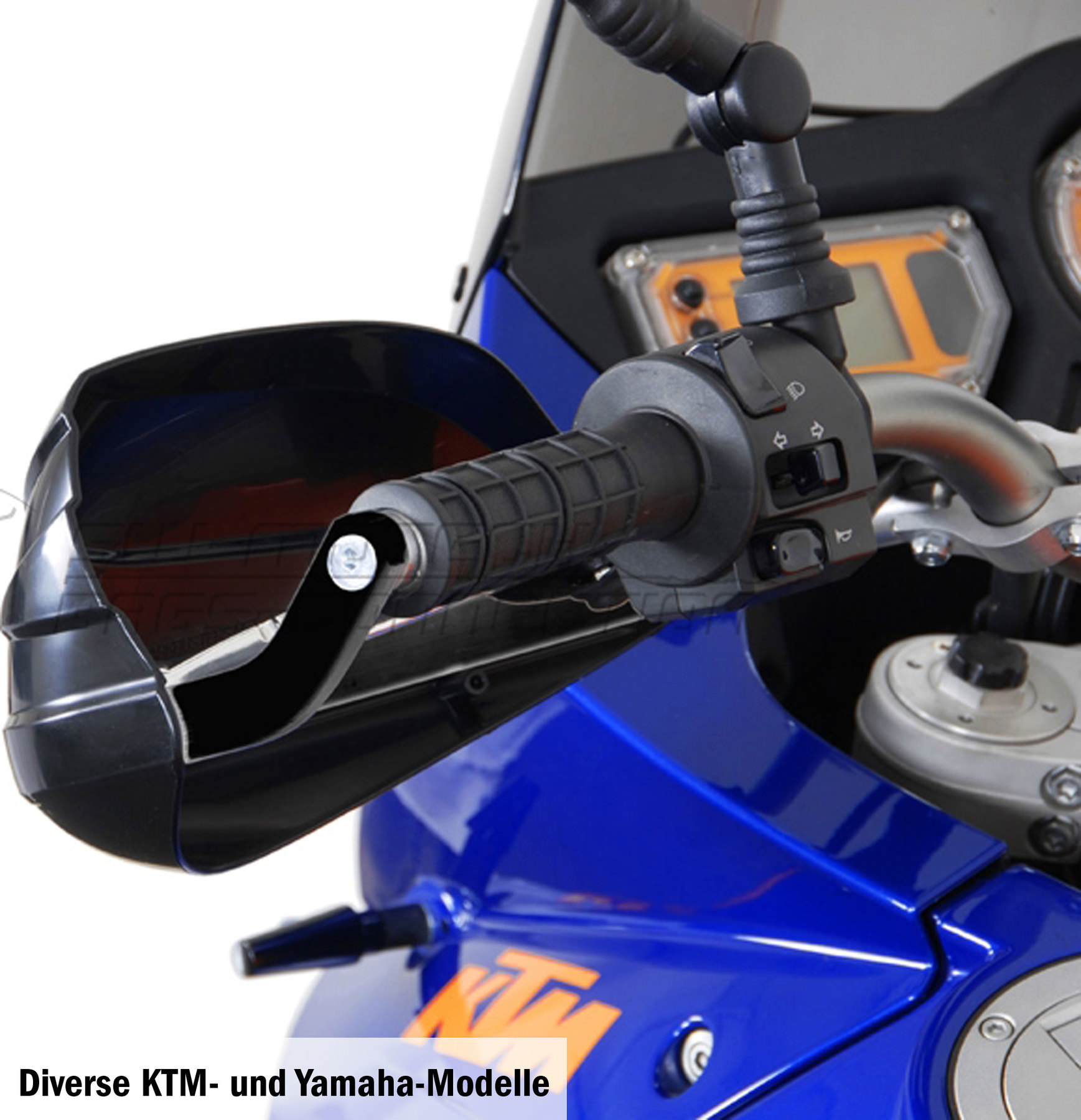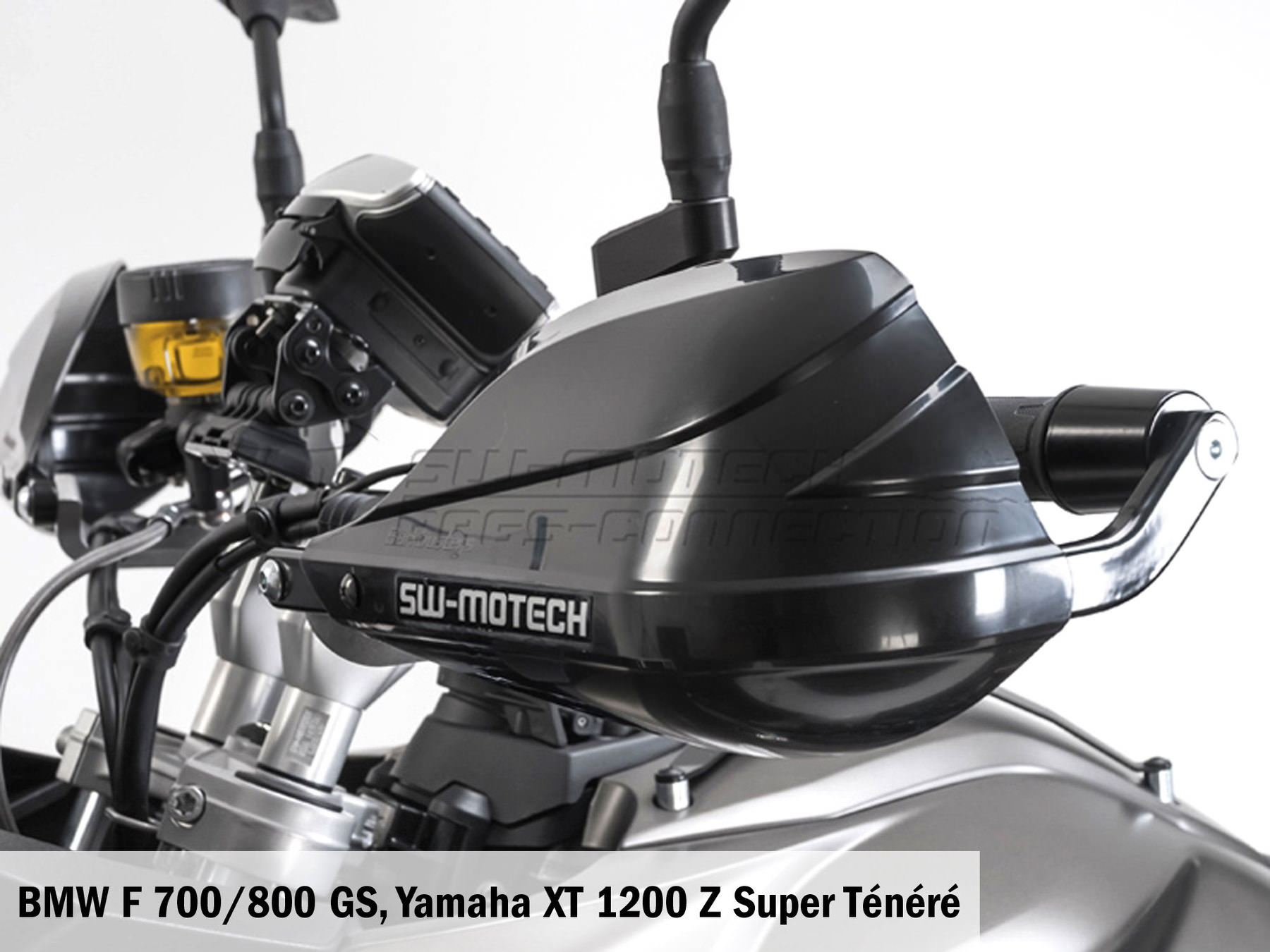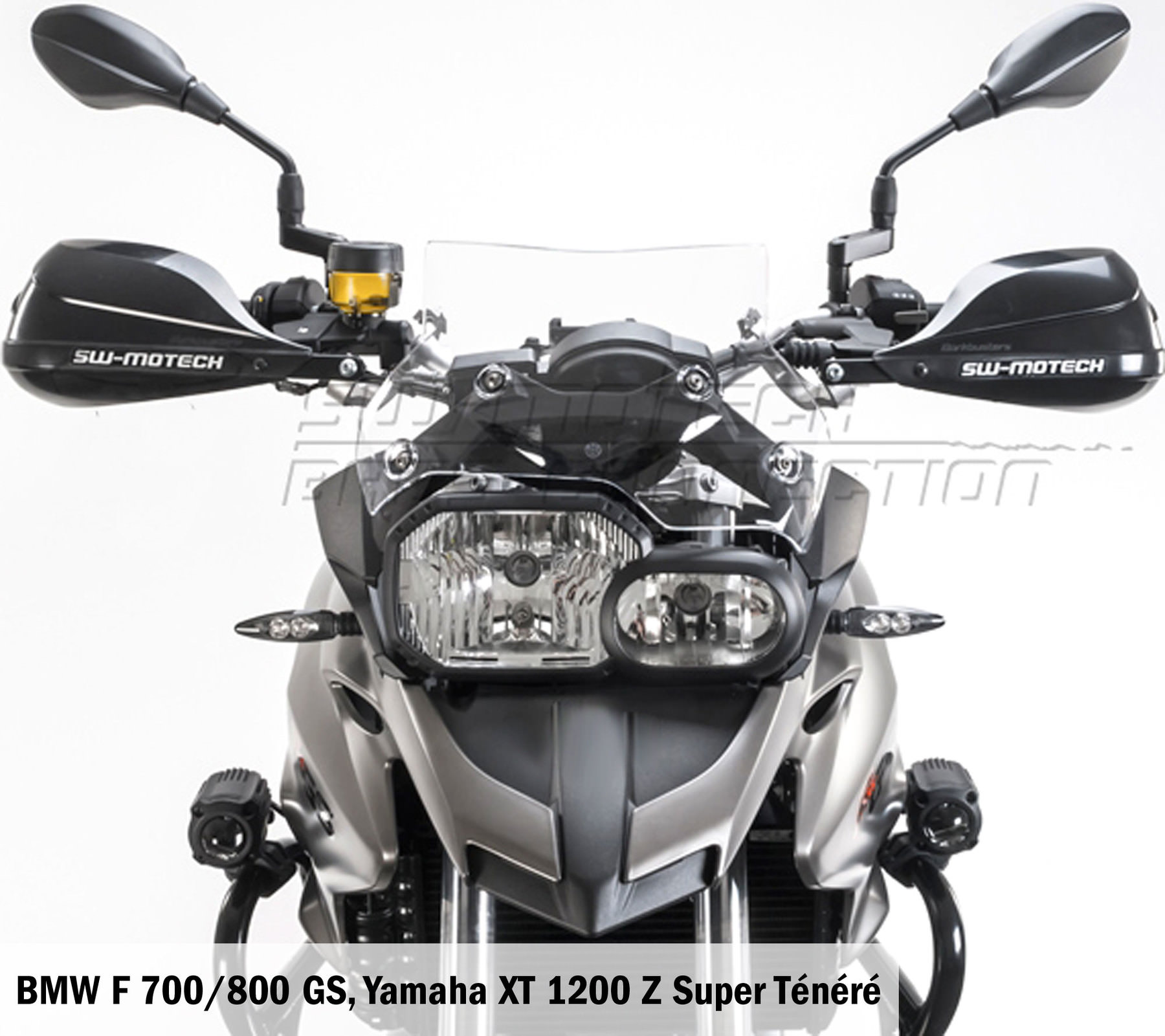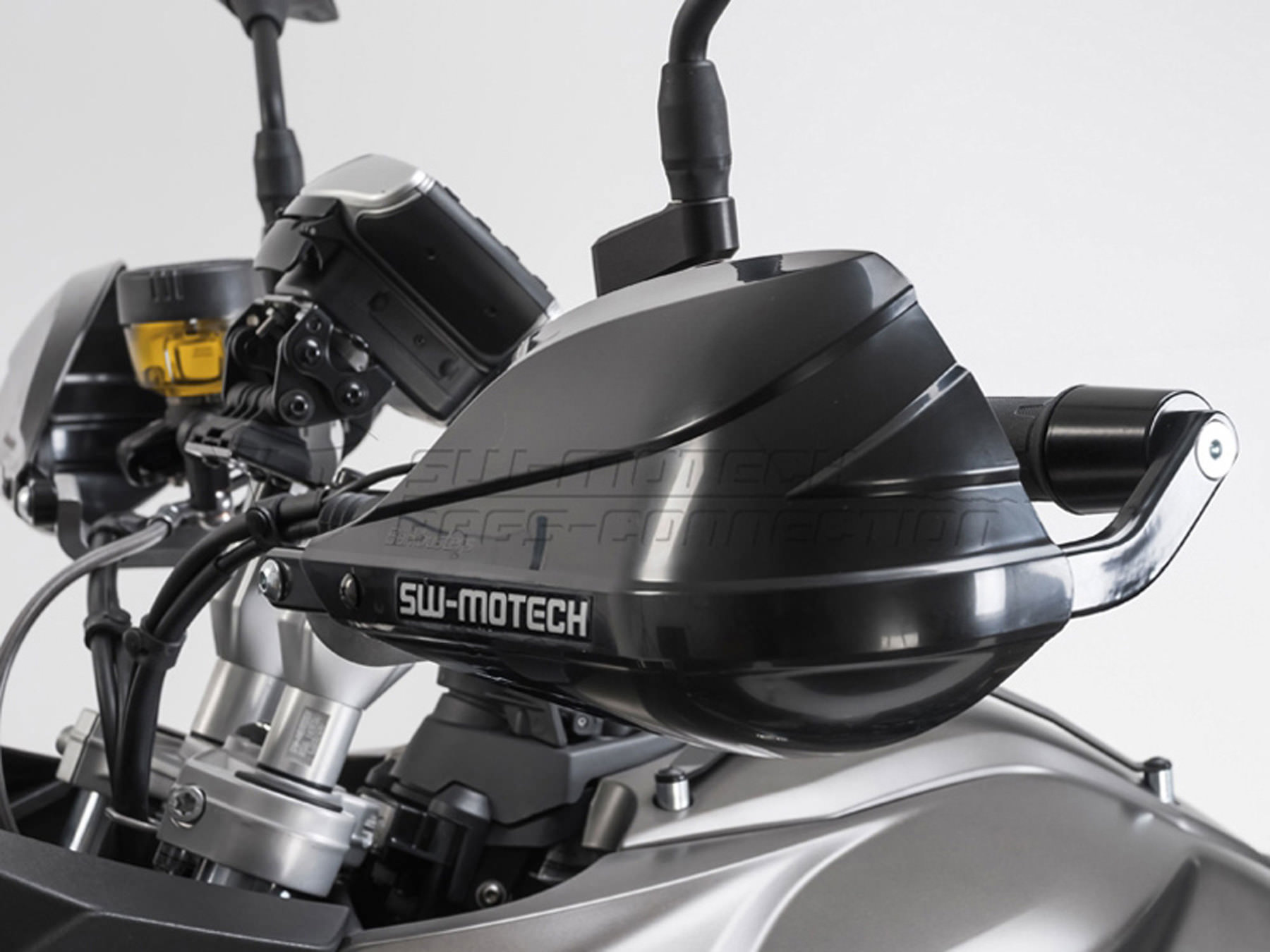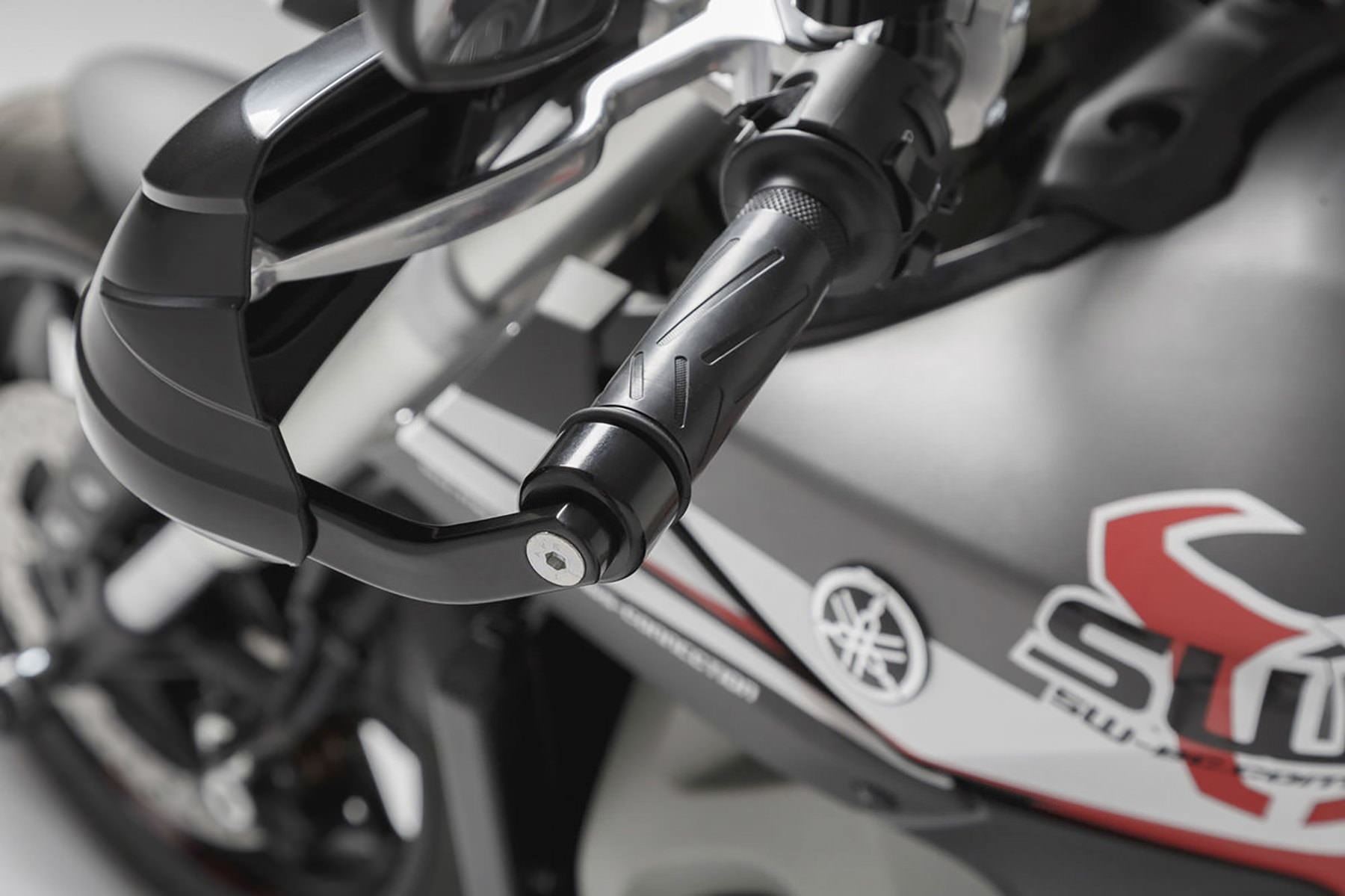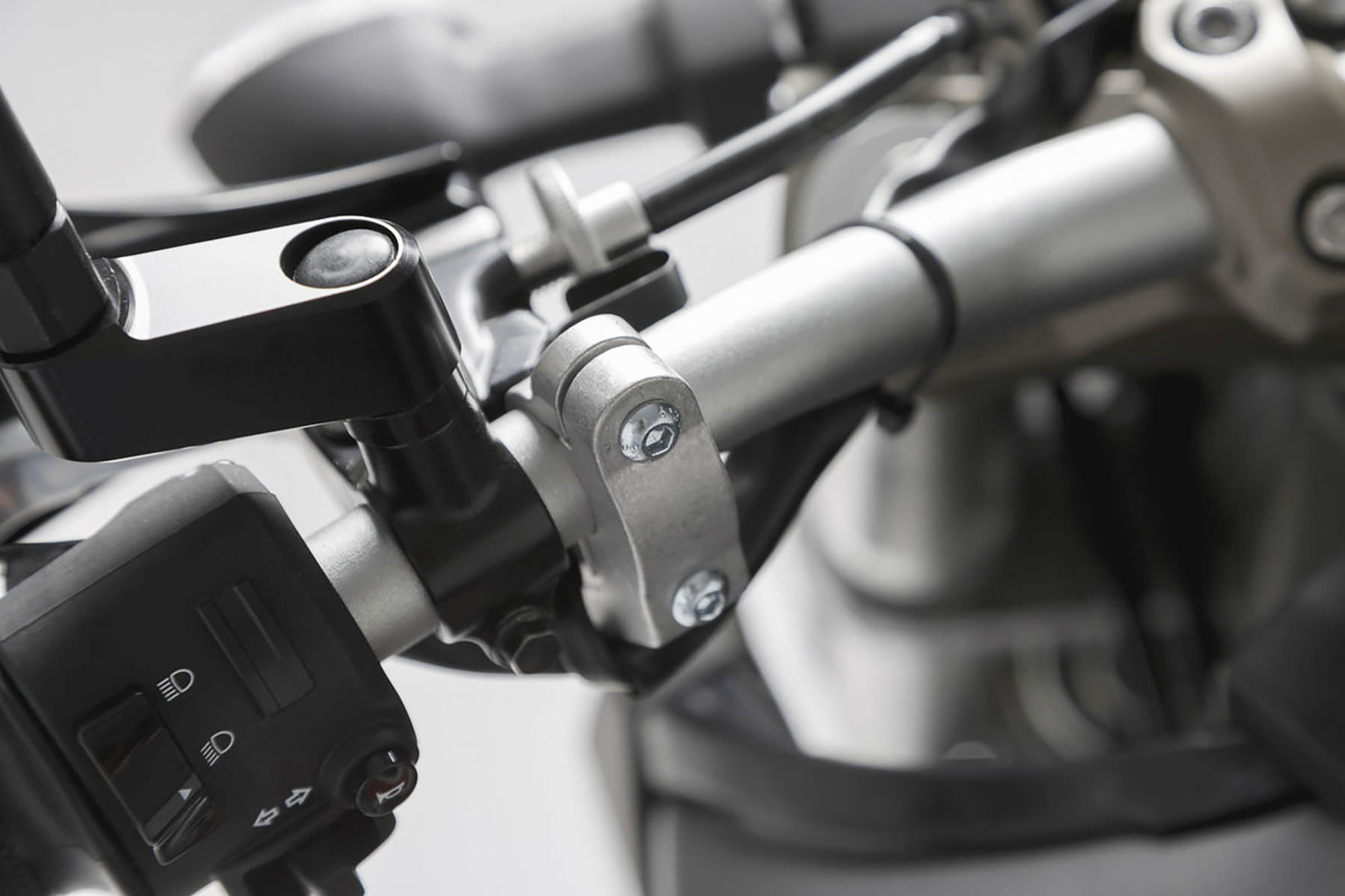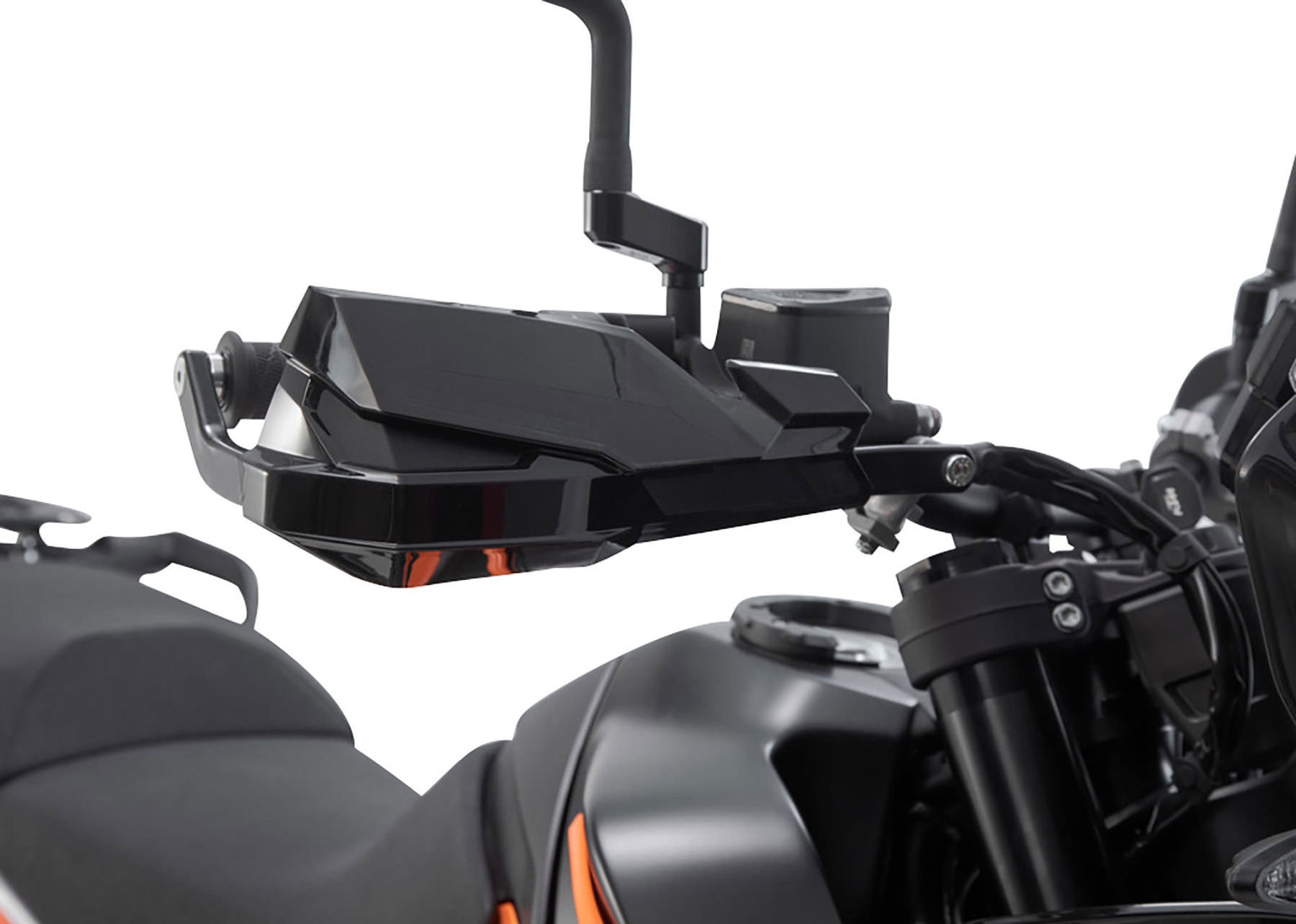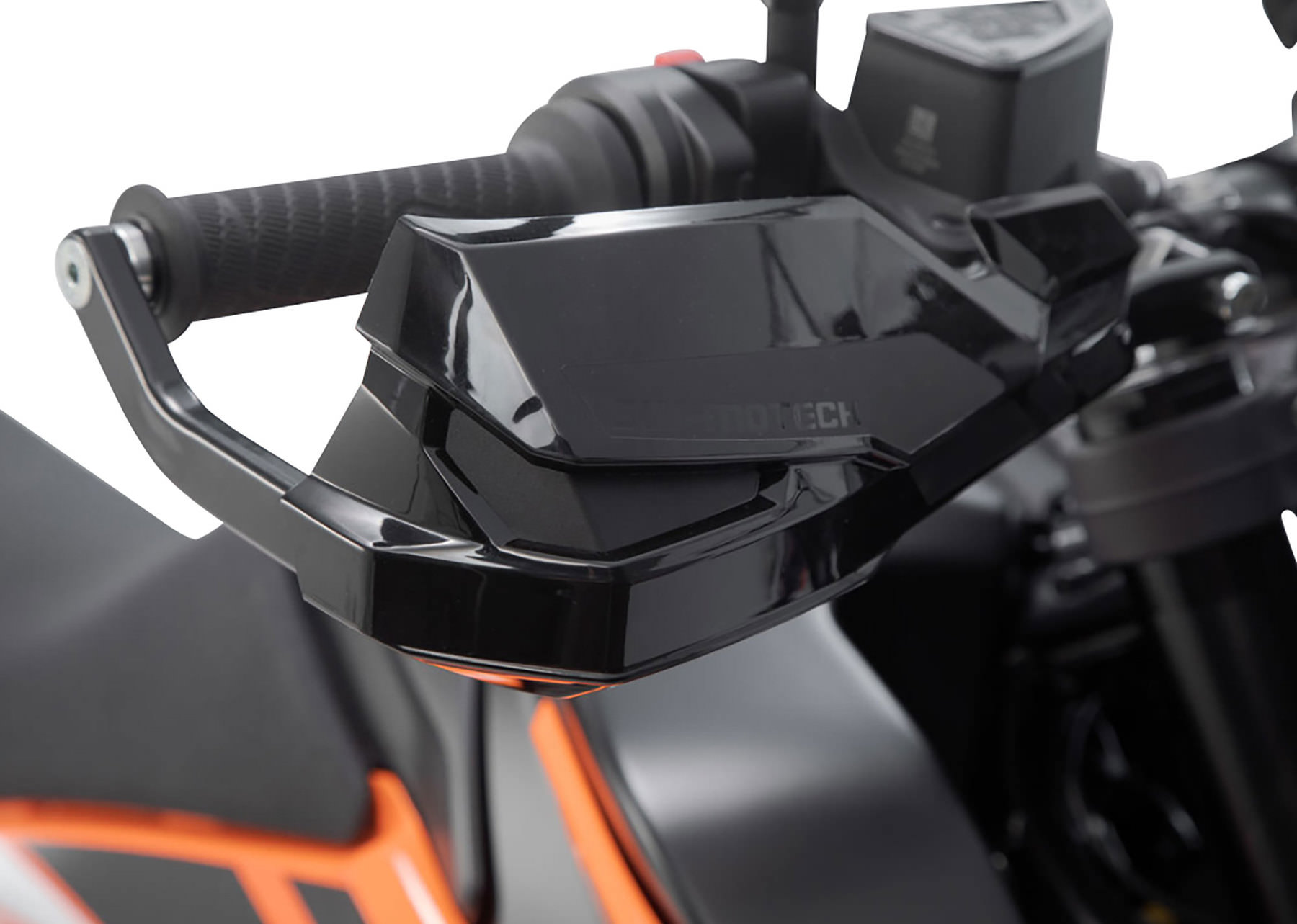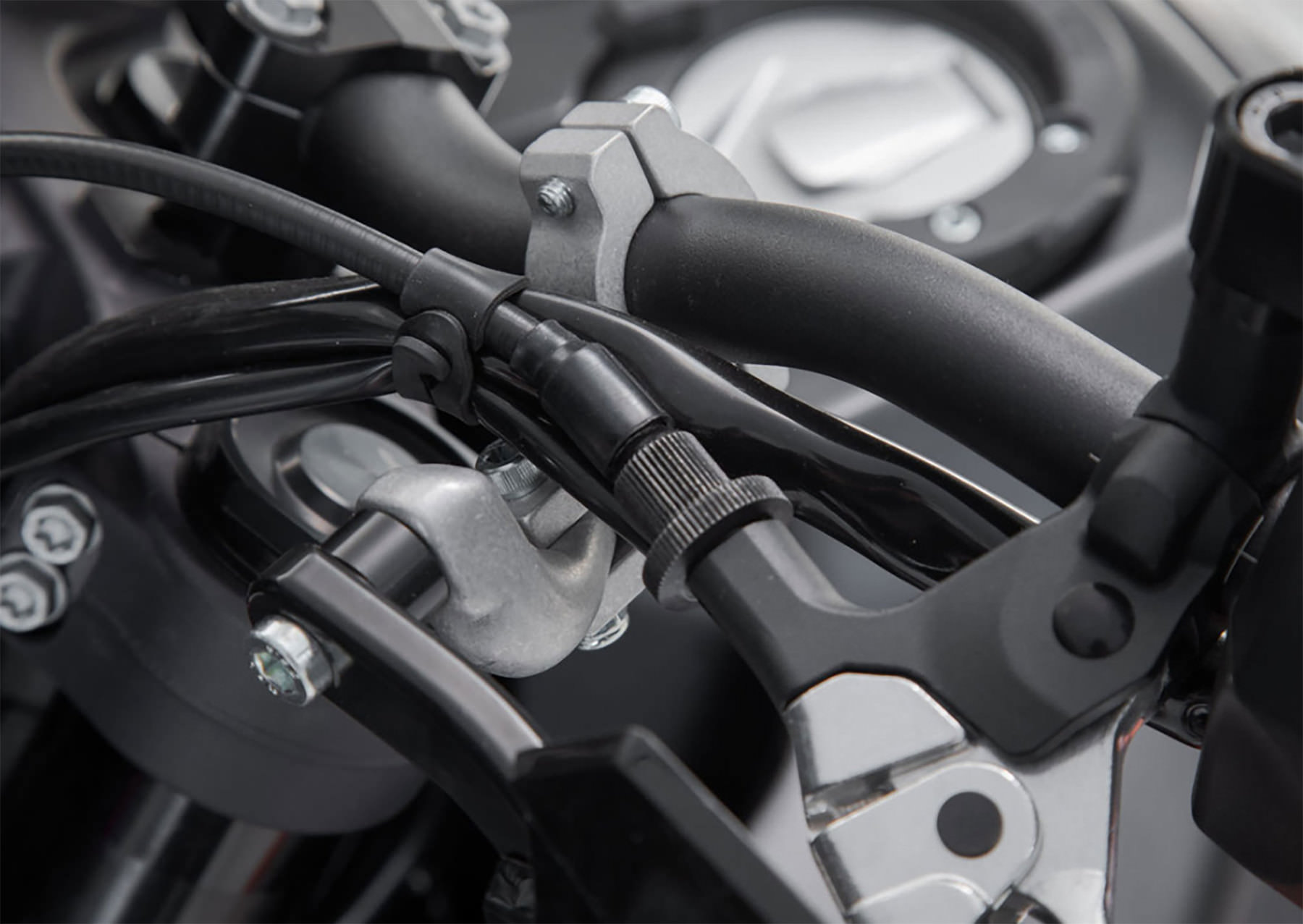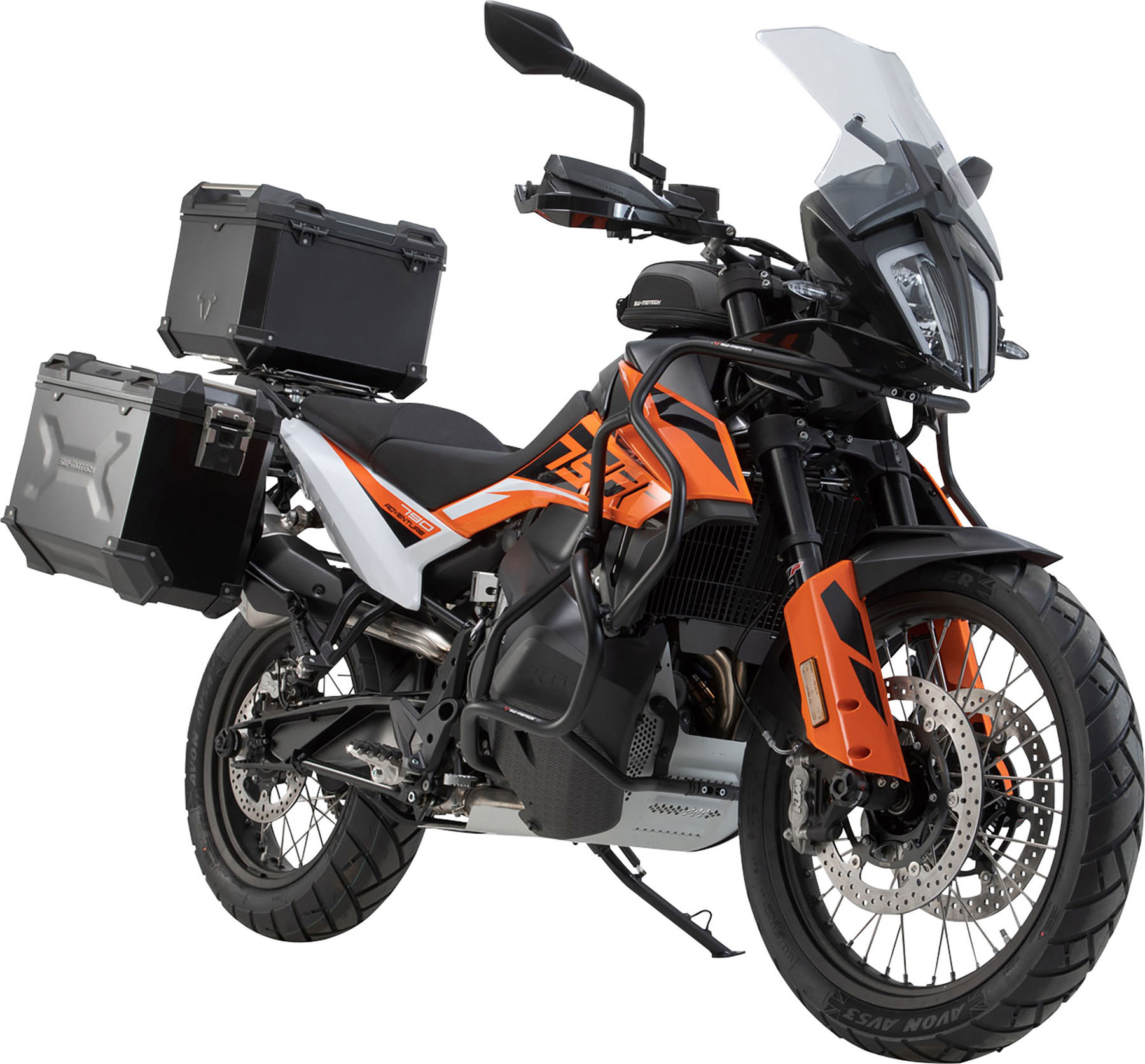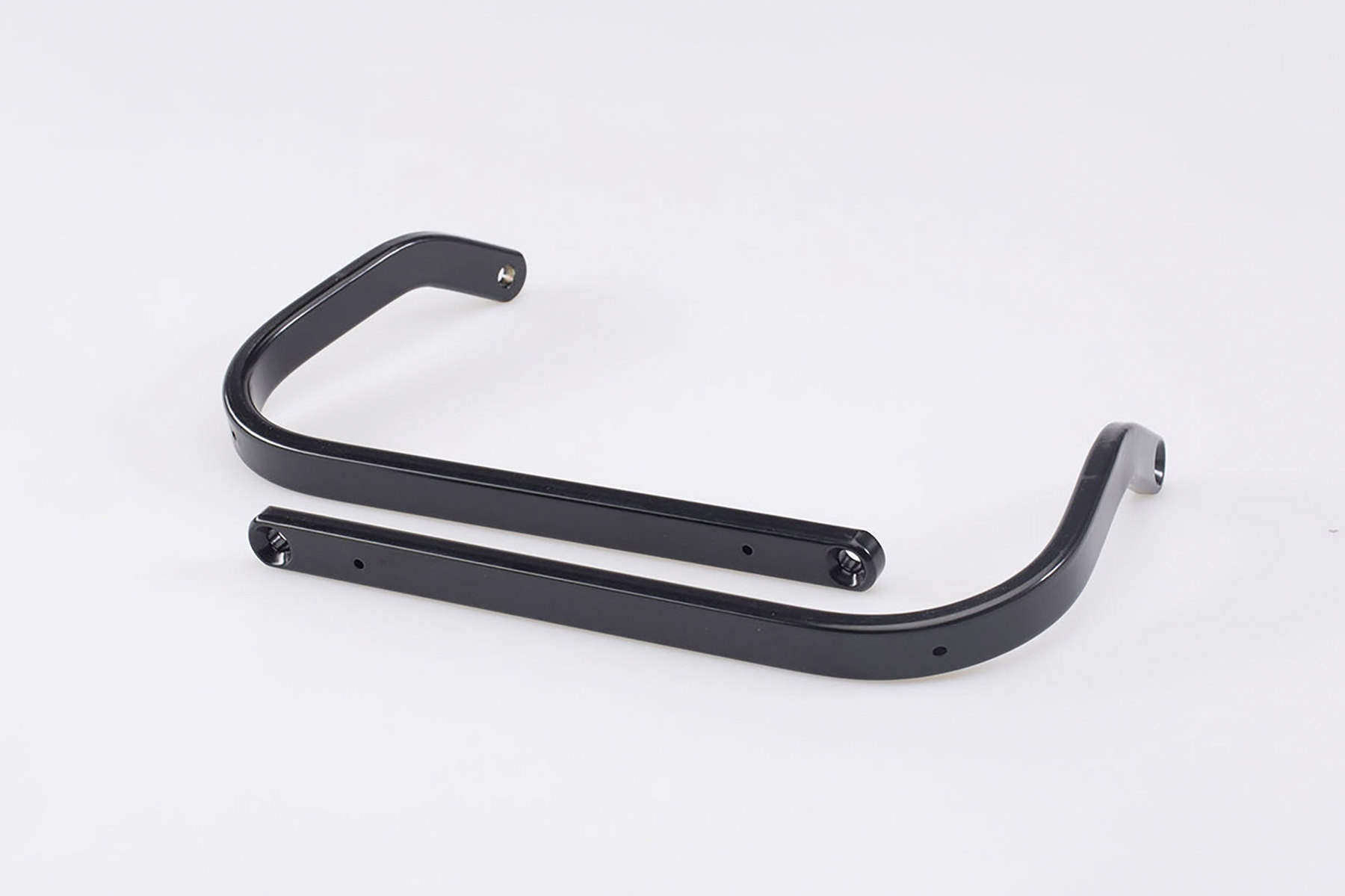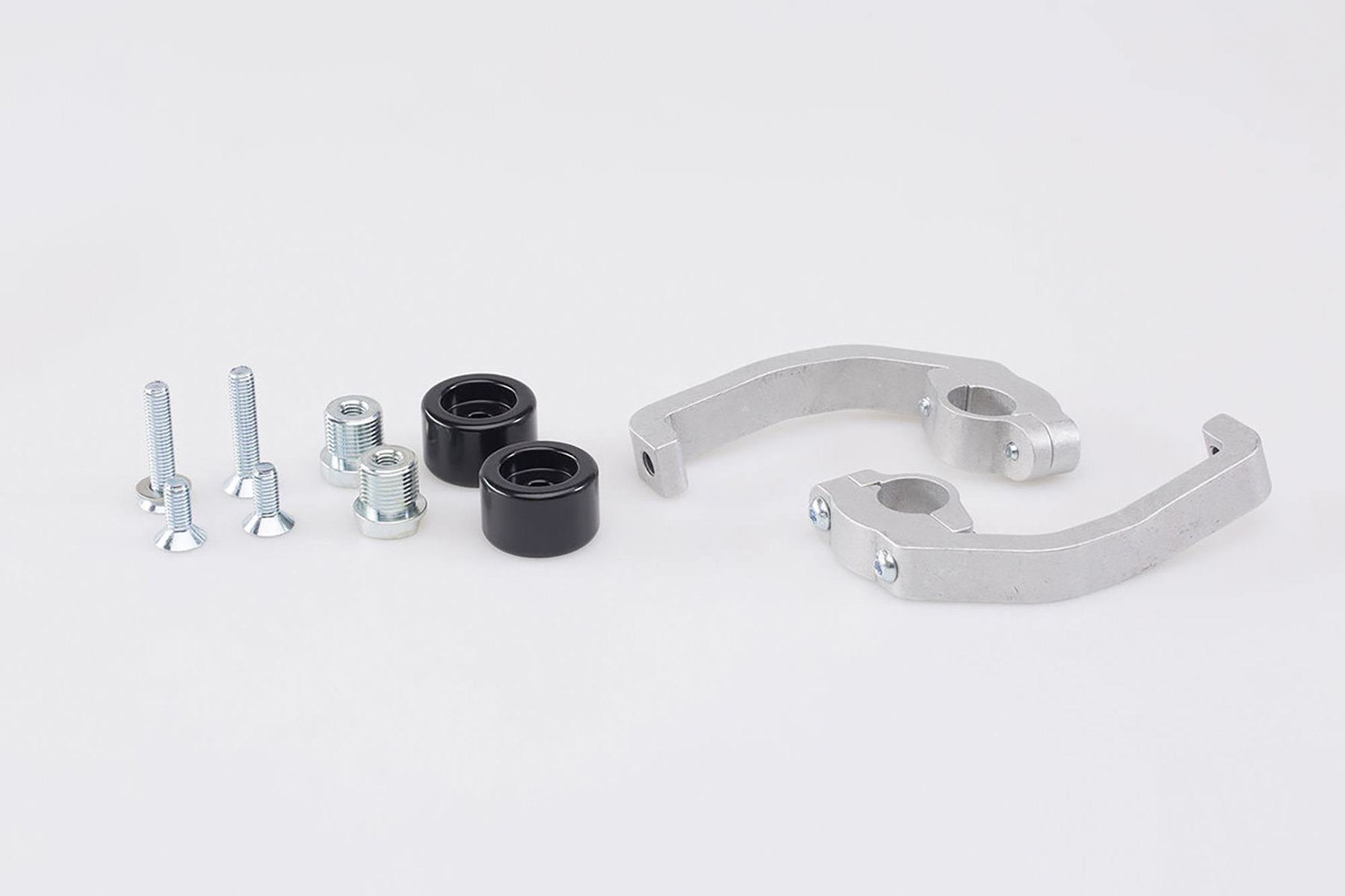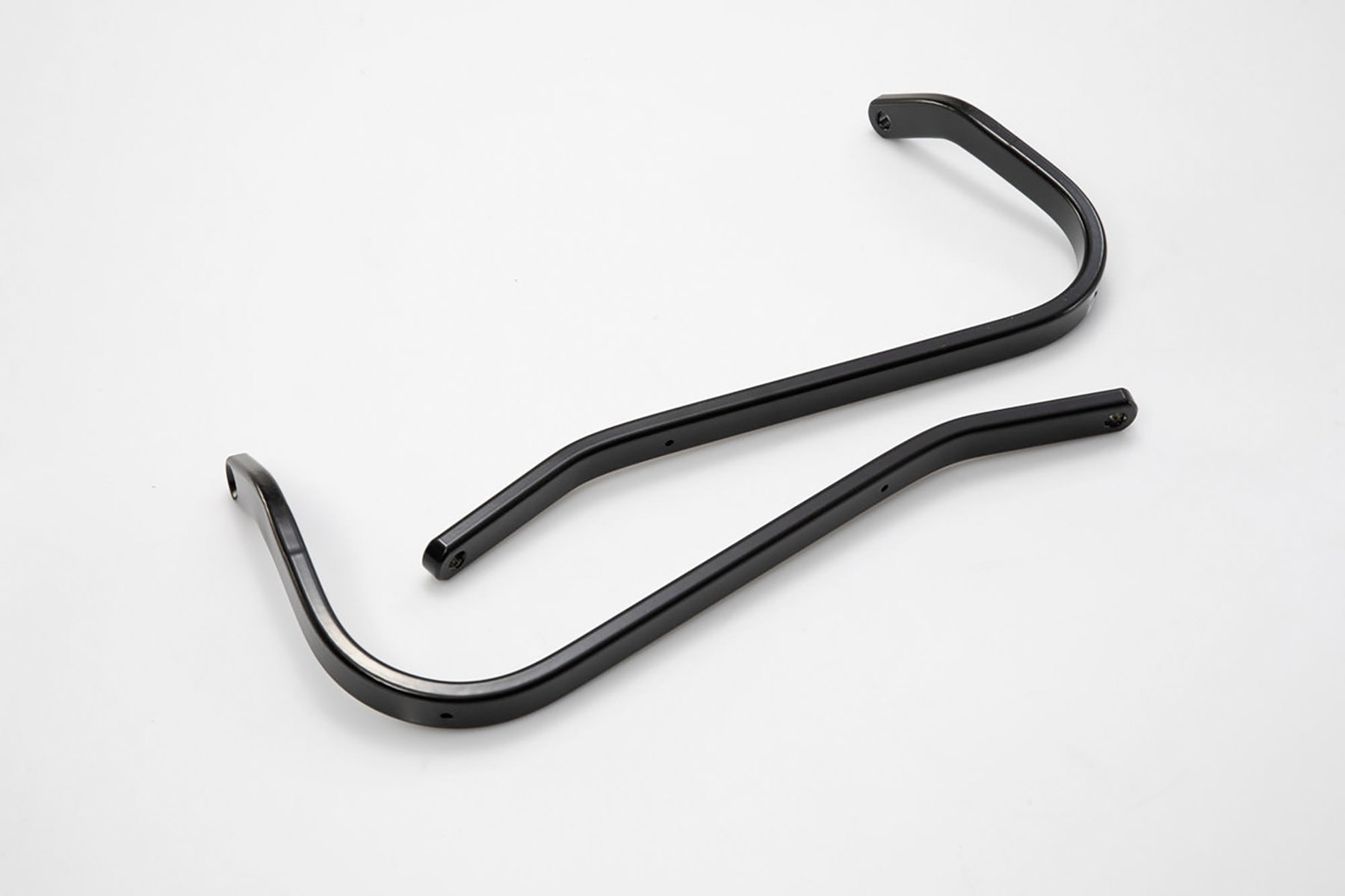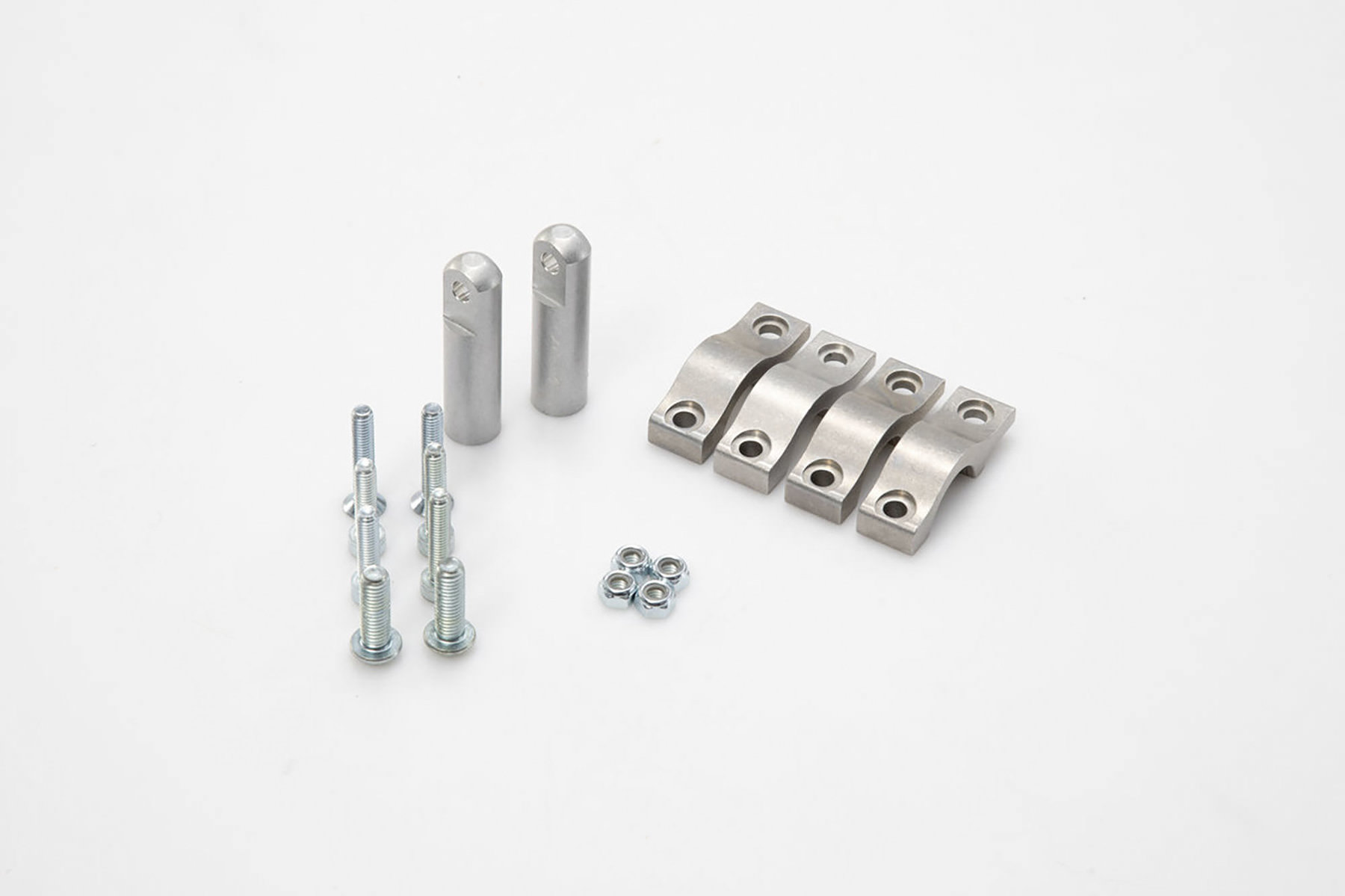 Unfortunately, this product is not compatible with this motorcycle.
Unfortunately, this product is not compatible with this motorcycle. You can find the right for the here: .
Free delivery on orders over €50.00
2 year return policy
Fast delivery
Hand Guards Storm
Storm
SW-Motech Hand Protectors

These model-specific hand protector kits protect your hands and levers against wind blast, impacts and toppling over. They also enhance the appearance of your bike.

The hand protectors are secured at both ends with the full-length bracket (2-point mounting). The plastic hand guard is ergonomically designed.

Mounting bracket and fittings are made of aluminium.
Supplied in pairs
Protectors can only be mounted on original handlebars
*The kit for the Ducati Multistrada (Order No. 10021002) only consists of the brackets for an additional protection of the original hand guards with integrated turn signals (see picture)
Manufacturer details: SW-Motech

Engineering for motorbikes

SW-MOTECH stands for competence in the development and production of practical solutions in the areas of luggage systems, navigation, ergonomics and safety - all perfectly designed to meet your riding needs. These products stand out thanks to their distinct look, constant high performance, patented technologies and elaborate innovations. Quality, durability and precision are of utmost importance. SW-MOTECH is the ideal companion for every adventure, no matter whether you are on the way to work, on a weekend tour or around globe.
Product
Art. No.
Availability
Price
Actions
STORM 22MM H'BAR 1-POINT
10068789

The product will be ordered from the manufacturer for you. Depending on availability, longer delivery times are also possible. We'll let you know if that's the case. You can of course cancel your delivery at any time free of charge.

Available in 7-21 days

€49.92 1
STORM ADV/R 790 890 BLACK
10068562

The product will be ordered from the manufacturer for you. Depending on availability, longer delivery times are also possible. We'll let you know if that's the case. You can of course cancel your delivery at any time free of charge.

Available in 7-21 days

€140.00 1
STORM BAR-END W.6/8MM BLK
10068569

The product will be ordered from the manufacturer for you. Depending on availability, longer delivery times are also possible. We'll let you know if that's the case. You can of course cancel your delivery at any time free of charge.

Available in 7-21 days

€110.00 1
STORM CB500X 2018- BLACK
10068557

The product will be ordered from the manufacturer for you. Depending on availability, longer delivery times are also possible. We'll let you know if that's the case. You can of course cancel your delivery at any time free of charge.

Available in 7-21 days

€140.00 1
STORM CRF1100L 2019-BLACK
10068564

The product will be ordered from the manufacturer for you. Depending on availability, longer delivery times are also possible. We'll let you know if that's the case. You can of course cancel your delivery at any time free of charge.

Available in 7-21 days

€140.00 1
STORM CRF1100L/AS 15-BLK
10068566

The item is in stock and will be delivered in 2-5 working days. Note: Stocks are updated online every hour on working days from 7 a.m. to 8 p.m., so there is a good chance that the products are available if they appear online.

Available

€140.00 1
STORM F750/850 R1250 BLK
10068560

The item is in stock and will be delivered in 2-5 working days. Note: Stocks are updated online every hour on working days from 7 a.m. to 8 p.m., so there is a good chance that the products are available if they appear online.

Available

€150.00 1
STORM HOLL.HBAR.7/8-1 BLK
10068567

The product will be ordered from the manufacturer for you. Depending on availability, longer delivery times are also possible. We'll let you know if that's the case. You can of course cancel your delivery at any time free of charge.

Available in 7-21 days

€110.00 1
STORM R NINET 2016- BLACK
10068561

The product will be ordered from the manufacturer for you. Depending on availability, longer delivery times are also possible. We'll let you know if that's the case. You can of course cancel your delivery at any time free of charge.

Available in 7-21 days

€135.00 1
STORM TENERE 700 2019-BLK
10068563

The item is in stock and will be delivered in 2-5 working days. Note: Stocks are updated online every hour on working days from 7 a.m. to 8 p.m., so there is a good chance that the products are available if they appear online.

Available

€140.00 1
STORM TIG.900/GT/RA/P19-S
10068559

The product will be ordered from the manufacturer for you. Depending on availability, longer delivery times are also possible. We'll let you know if that's the case. You can of course cancel your delivery at any time free of charge.

Available in 7-21 days

€140.00 1
STORM V85TT19- TRAV20-BLK
10068565

The product will be ordered from the manufacturer for you. Depending on availability, longer delivery times are also possible. We'll let you know if that's the case. You can of course cancel your delivery at any time free of charge.

Available in 7-21 days

€140.00 1
STORM VAR.MOD.KTM YAM BLK
10068558

The product will be ordered from the manufacturer for you. Depending on availability, longer delivery times are also possible. We'll let you know if that's the case. You can of course cancel your delivery at any time free of charge.

Available in 7-21 days

€140.00 1
STORM VERSYS1000 2018-BLK
10068568

The product will be ordered from the manufacturer for you. Depending on availability, longer delivery times are also possible. We'll let you know if that's the case. You can of course cancel your delivery at any time free of charge.

Available in 7-21 days

€140.00 1
SW-MOTECH HAND GUARDS - DUCATI SCRAMBLER MODELS
10040207

The product will be ordered from the manufacturer for you. Depending on availability, longer delivery times are also possible. We'll let you know if that's the case. You can of course cancel your delivery at any time free of charge.

Available in 7-21 days

€150.00 1
SW-MOTECH HAND GUARDS - HONDA CRF1000L AFR.TWIN
10040204

The item is in stock and will be delivered in 2-5 working days. Note: Stocks are updated online every hour on working days from 7 a.m. to 8 p.m., so there is a good chance that the products are available if they appear online.

Available

€140.00 1
SW-MOTECH HAND GUARDS - SCRAMBLER 14-/SIXTY2 15-
10040202

The item is in stock and will be delivered in 2-5 working days. Note: Stocks are updated online every hour on working days from 7 a.m. to 8 p.m., so there is a good chance that the products are available if they appear online.

Available

€150.00 1
SW-MOTECH HAND GUARDS - STORM VARIOUS MODELS
10021000

The item is in stock and will be delivered in 2-5 working days. Note: Stocks are updated online every hour on working days from 7 a.m. to 8 p.m., so there is a good chance that the products are available if they appear online.

Available

€150.00 1
SW-MOTECH HAND GUARDS - STORM VARIOUS TRIUMPH
10021015

The item is in stock and will be delivered in 2-5 working days. Note: Stocks are updated online every hour on working days from 7 a.m. to 8 p.m., so there is a good chance that the products are available if they appear online.

Available

€150.00 1
SW-MOTECH HAND GUARDS - STORM VARIOUS MODELS
10022408

The item is in stock and will be delivered in 2-5 working days. Note: Stocks are updated online every hour on working days from 7 a.m. to 8 p.m., so there is a good chance that the products are available if they appear online.

Available

€125.00 1
SW-MOTECH HAND GUARDS - STORM BMW R1200GS LC 13-
10021017

The item is in stock and will be delivered in 2-5 working days. Note: Stocks are updated online every hour on working days from 7 a.m. to 8 p.m., so there is a good chance that the products are available if they appear online.

Available

€150.00 1
SW-MOTECH HAND GUARDS - STORM VARIOUS MODELS
10021009

The item is in stock and will be delivered in 2-5 working days. Note: Stocks are updated online every hour on working days from 7 a.m. to 8 p.m., so there is a good chance that the products are available if they appear online.

Available

€150.00 1
SW-MOTECH HAND GUARDS - STORM YAMAHA MT-09 13-
10021028

The item is in stock and will be delivered in 2-5 working days. Note: Stocks are updated online every hour on working days from 7 a.m. to 8 p.m., so there is a good chance that the products are available if they appear online.

Available

€150.00 1
SW-MOTECH HAND GUARDS - STORM BMW G310GS 17-
10040200

The product will be ordered from the manufacturer for you. Depending on availability, longer delivery times are also possible. We'll let you know if that's the case. You can of course cancel your delivery at any time free of charge.

Available in 7-21 days

€150.00 1
SW-MOTECH HAND GUARDS - STORM DIV.YAM.1.-PT-MOUN.

Important notes

This is a single-point fastening

10021029

This product is available at week 52.
Current calendar week: 49

Available as of calendar week 52

€150.00 1
SW-MOTECH HAND GUARDS - STORM KTM 790 ADV./R 19-
10040201

The item is in stock and will be delivered in 2-5 working days. Note: Stocks are updated online every hour on working days from 7 a.m. to 8 p.m., so there is a good chance that the products are available if they appear online.

Available

€150.00 1
SW-MOTECH HAND GUARDS - STORM MULTISTRADA 1200/S*
10021002

The product will be ordered from the manufacturer for you. Depending on availability, longer delivery times are also possible. We'll let you know if that's the case. You can of course cancel your delivery at any time free of charge.

Available in 7-21 days

€120.00 1
SW-MOTECH HAND GUARDS - STORM VARIOUS BMW/YAMAHA
10021001

The item is in stock and will be delivered in 2-5 working days. Note: Stocks are updated online every hour on working days from 7 a.m. to 8 p.m., so there is a good chance that the products are available if they appear online.

Available

€150.00 1
SW-MOTECH HAND GUARDS - STORM VARIOUS HONDA
10021006

The item is in stock and will be delivered in 2-5 working days. Note: Stocks are updated online every hour on working days from 7 a.m. to 8 p.m., so there is a good chance that the products are available if they appear online.

Available

€150.00 1
SW-MOTECH HAND GUARDS - STORM VARIOUS HUSQVARNA
10021026

The product will be ordered from the manufacturer for you. Depending on availability, longer delivery times are also possible. We'll let you know if that's the case. You can of course cancel your delivery at any time free of charge.

Available in 7-21 days

€150.00 1
SW-MOTECH HAND GUARDS - STORM VARIOUS KTM
10021027

The item is in stock and will be delivered in 2-5 working days. Note: Stocks are updated online every hour on working days from 7 a.m. to 8 p.m., so there is a good chance that the products are available if they appear online.

Available

€150.00 1
SW-MOTECH HAND GUARDS - STORM VARIOUS MODELS
10021016

The item is in stock and will be delivered in 2-5 working days. Note: Stocks are updated online every hour on working days from 7 a.m. to 8 p.m., so there is a good chance that the products are available if they appear online.

Available

€150.00 1
SW-MOTECH HAND GUARDS - STORM VARIOUS MODELS
10021003

The item is in stock and will be delivered in 2-5 working days. Note: Stocks are updated online every hour on working days from 7 a.m. to 8 p.m., so there is a good chance that the products are available if they appear online.

Available

€150.00 1
SW-MOTECH HAND GUARDS - STORM VERSYS-X 300 2016-
10029802

The product will be ordered from the manufacturer for you. Depending on availability, longer delivery times are also possible. We'll let you know if that's the case. You can of course cancel your delivery at any time free of charge.

Available in 7-21 days

€150.00 1
SW-MOTECH HAND GUARDS - STORM VERSYS650
10021008

The item is in stock and will be delivered in 2-5 working days. Note: Stocks are updated online every hour on working days from 7 a.m. to 8 p.m., so there is a good chance that the products are available if they appear online.

Available

€150.00 1
SW-MOTECH HAND GUARDS - STORM XT1200ZE S.TENE.14-
10021038

The product will be ordered from the manufacturer for you. Depending on availability, longer delivery times are also possible. We'll let you know if that's the case. You can of course cancel your delivery at any time free of charge.

Available in 7-21 days

€140.00 1
SW-MOTECH HAND GUARDS - STORM, VARIOUS MODELS
10021033

The item is in stock and will be delivered in 2-5 working days. Note: Stocks are updated online every hour on working days from 7 a.m. to 8 p.m., so there is a good chance that the products are available if they appear online.

Available

€150.00 1
SW-MOTECH HAND GUARDS - STORM,KTM 1290 S.DUKE,14-
10021034

The product will be ordered from the manufacturer for you. Depending on availability, longer delivery times are also possible. We'll let you know if that's the case. You can of course cancel your delivery at any time free of charge.

Available in 7-21 days

€150.00 1
SW-MOTECH HAND GUARDS - TIGER 1200EXPL./1050SPORT
10040203

The product will be ordered from the manufacturer for you. Depending on availability, longer delivery times are also possible. We'll let you know if that's the case. You can of course cancel your delivery at any time free of charge.

Available in 7-21 days

€150.00 1
SW-MOTECH HAND GUARDS - TRIUMPH TIGER 1200 2018-
10040206

The item is in stock and will be delivered in 2-5 working days. Note: Stocks are updated online every hour on working days from 7 a.m. to 8 p.m., so there is a good chance that the products are available if they appear online.

Available

€150.00 1
SW-MOTECH HAND GUARDS - YAMAHA MT-07 2014-
10040205

The item is in stock and will be delivered in 2-5 working days. Note: Stocks are updated online every hour on working days from 7 a.m. to 8 p.m., so there is a good chance that the products are available if they appear online.

Available

€150.00 1
Issue 6-2013
"Motorradfahrer" magazine tested nine hand guards in the 6/2013 issue. Two were awarded a "Tourenfahrer Recommendation", including the SW Motech Barkbuster hand guard. The following features were given special mention:

- Very sturdy hand guards on strong aluminium bars
- Large guards offer good protection against wind and weather
- solider base prevents damage to the controls
- ideal for touring enduro riders
- Easy to fit
Issue 1-2012
"Motorrad-Abenteuer" magazine tested twelve different hand guards in its 1-2012 issue. The SW Motech Barkbuster Hand Guards were awarded a MOTORRAD-ABENTEUER RECOMMENDATION. The following features were given special mention:

- Very sturdy hand guards on strong aluminium bars
- Large guards offer good protection against wind and weather
- Solider base prevents damage to the controls
- Ideal for touring enduro riders
- Easy to fit

(two out of twelve hand guards tested were awarded a Recommendation)