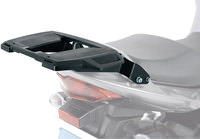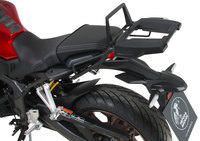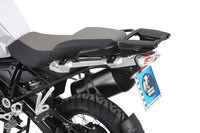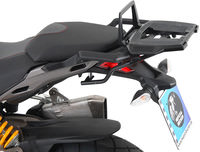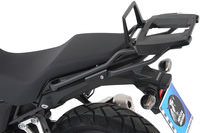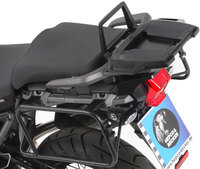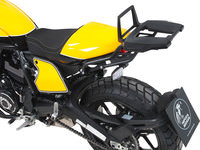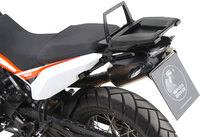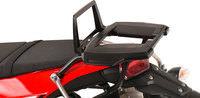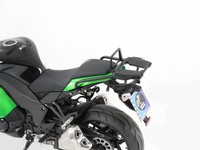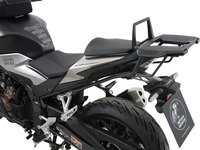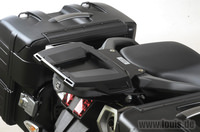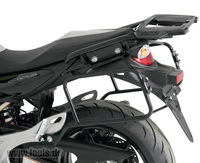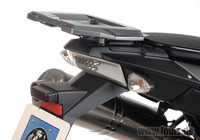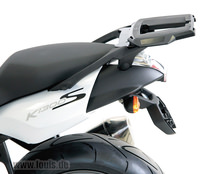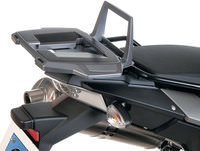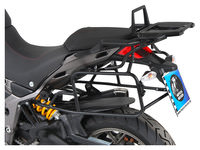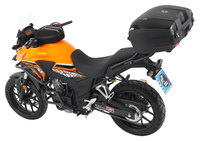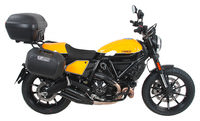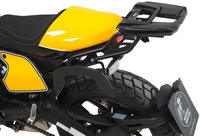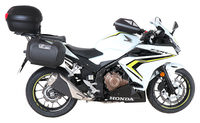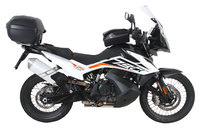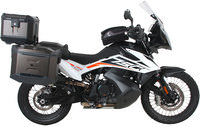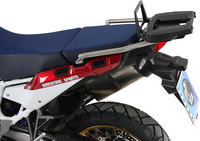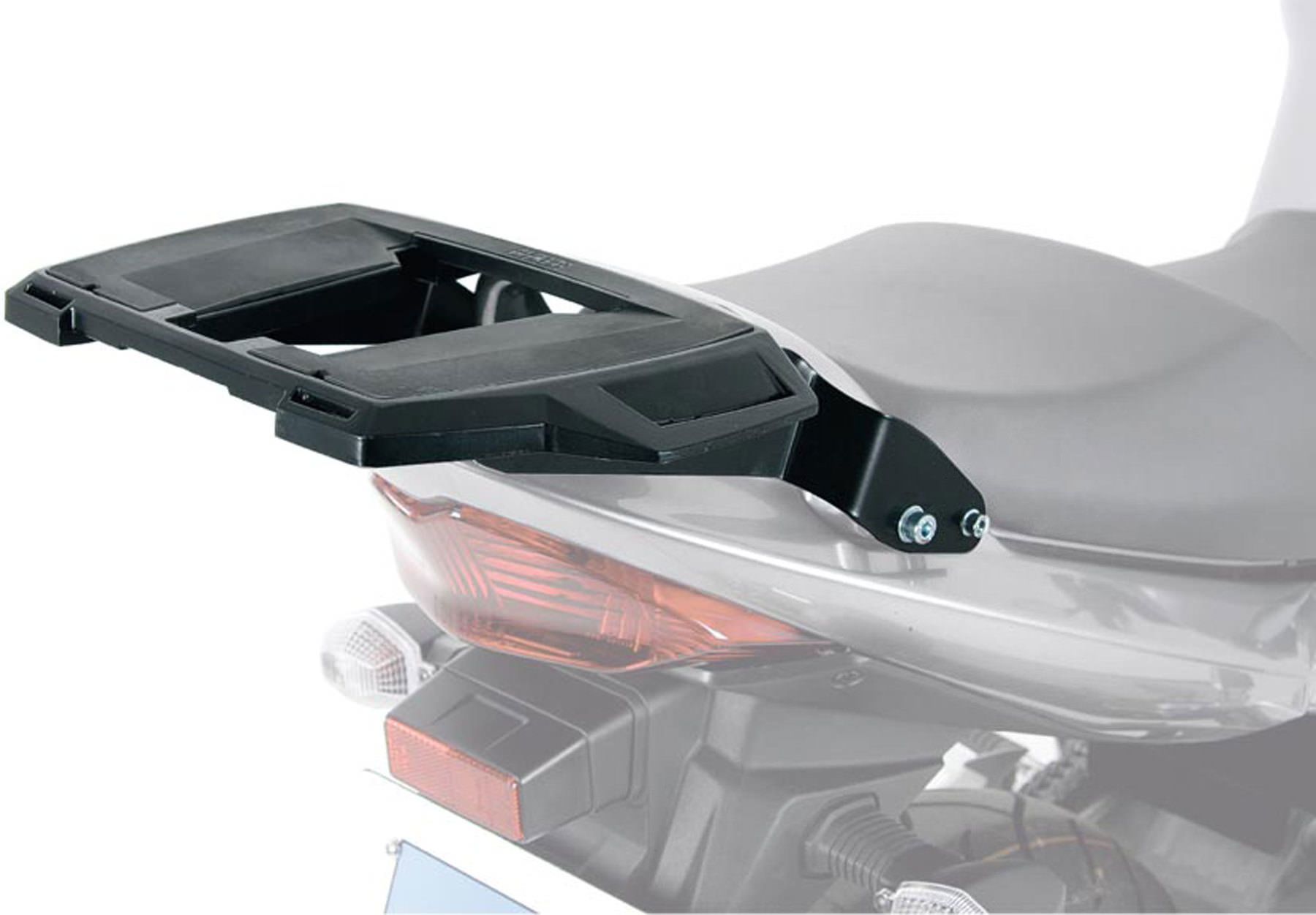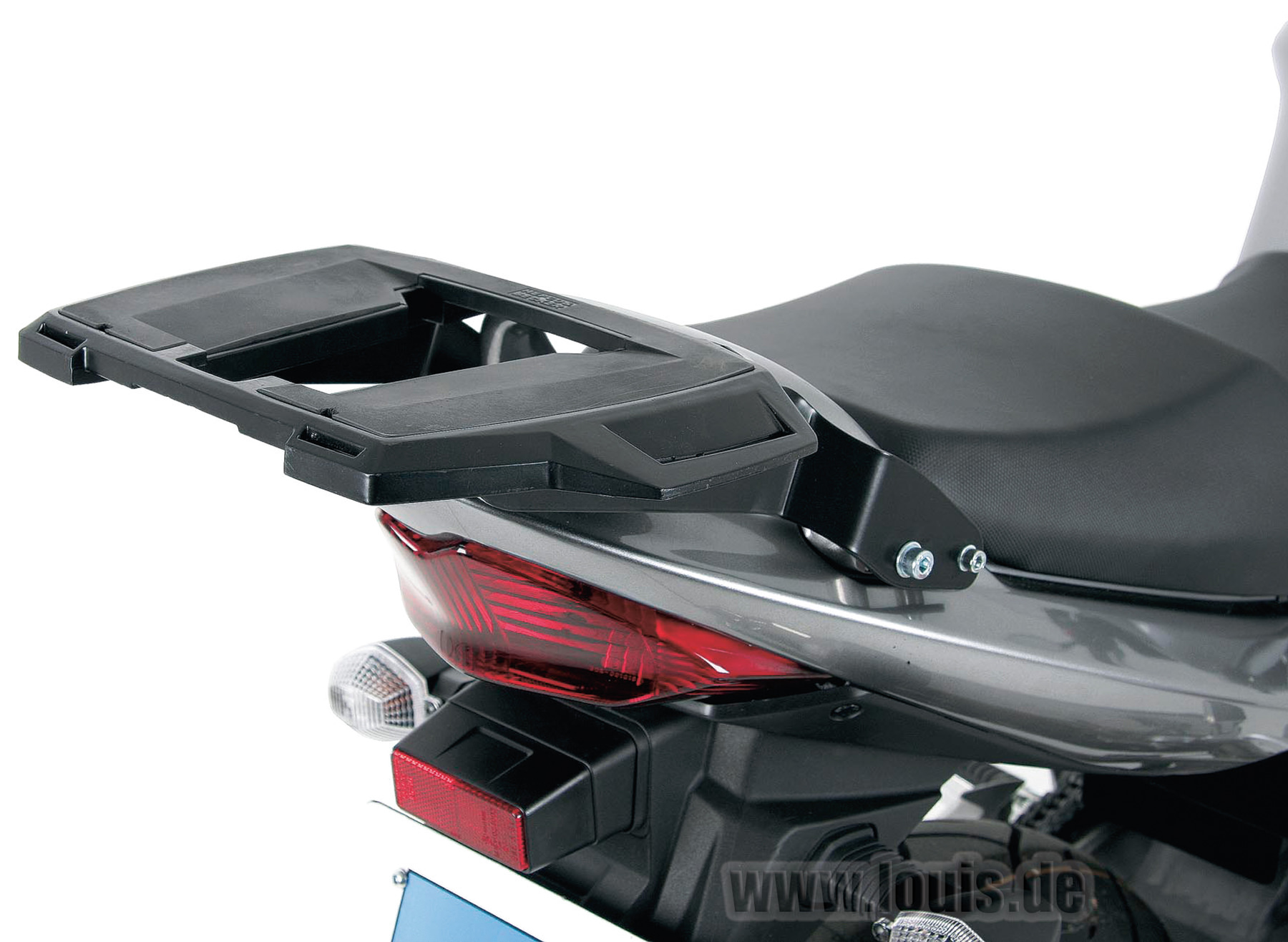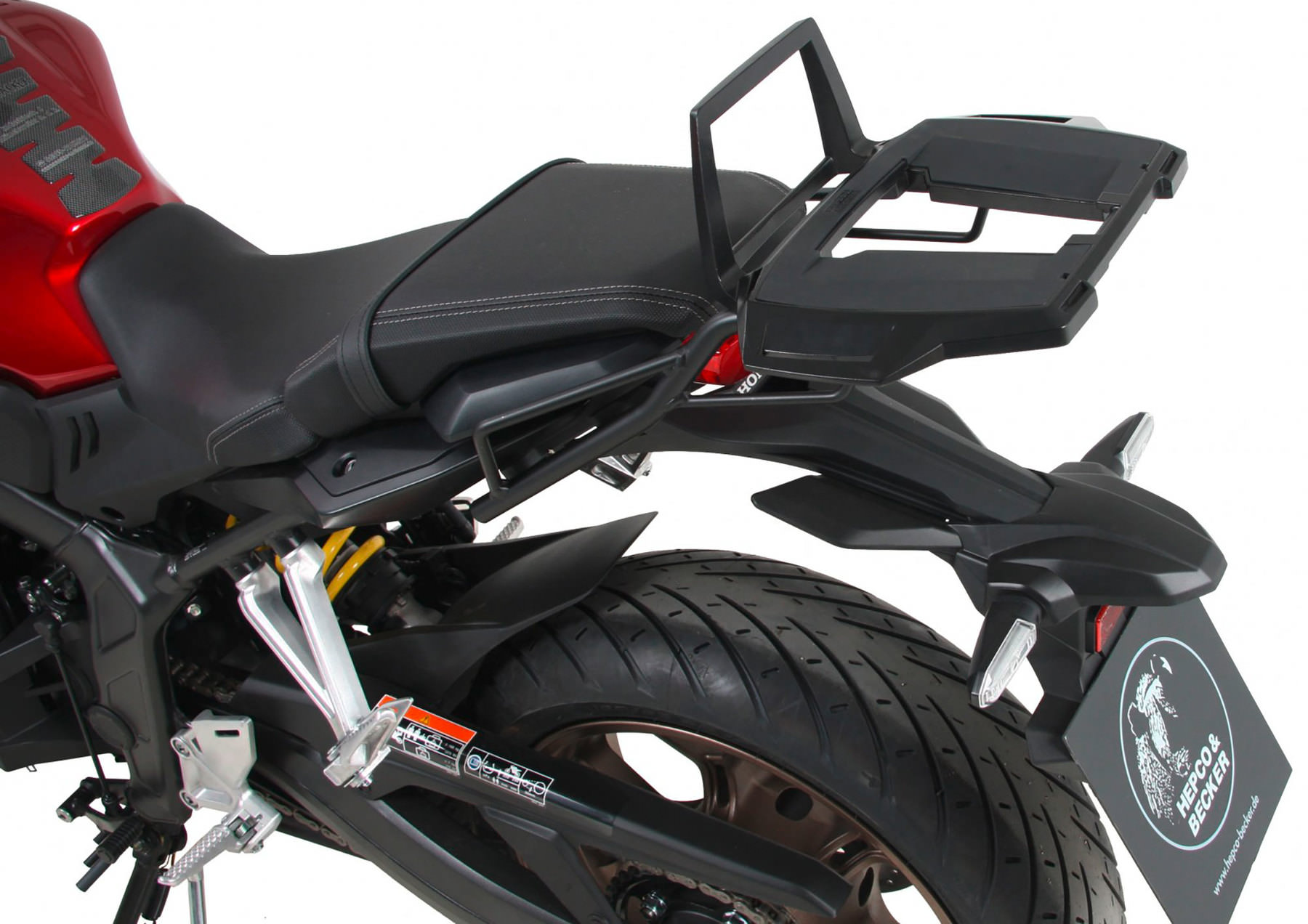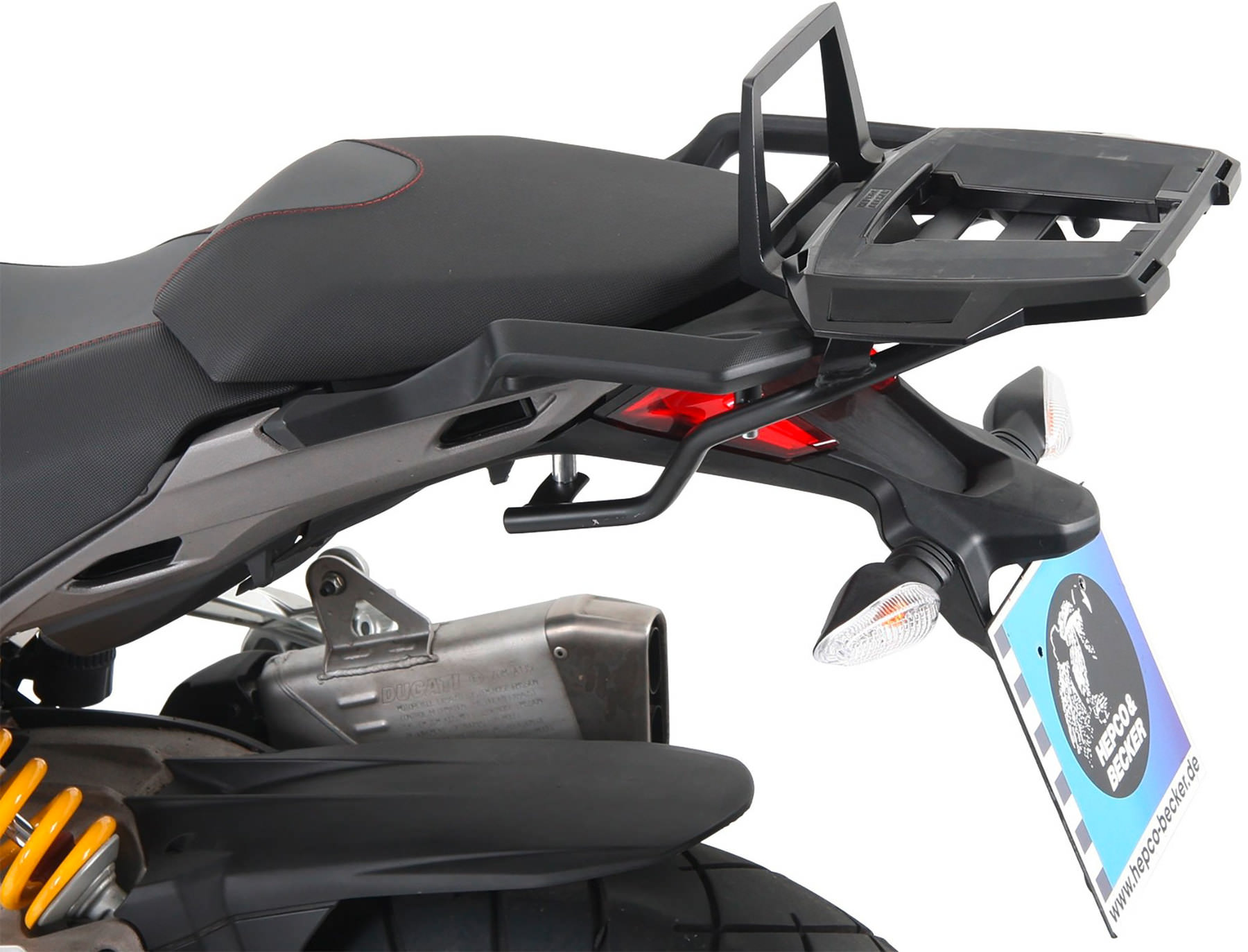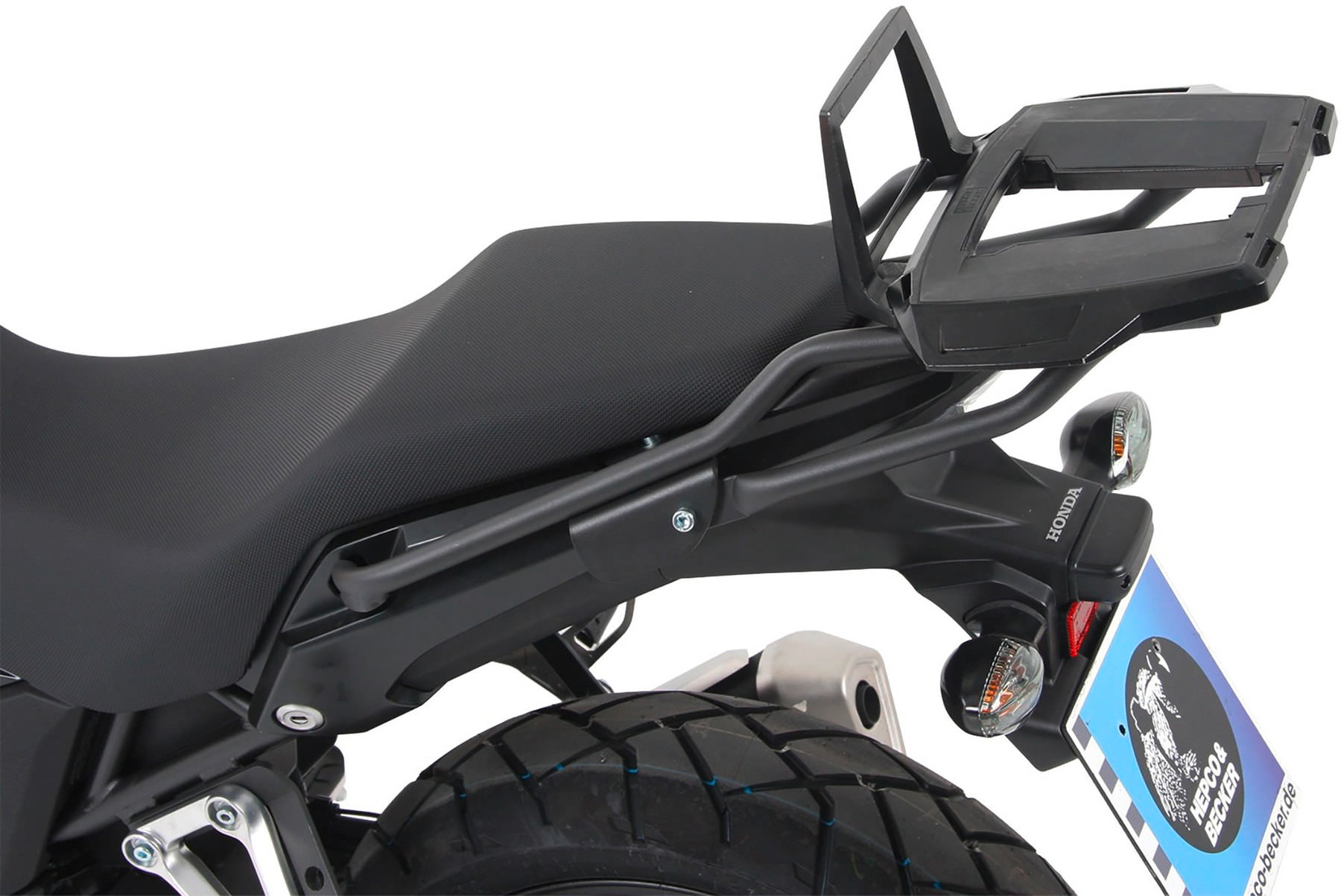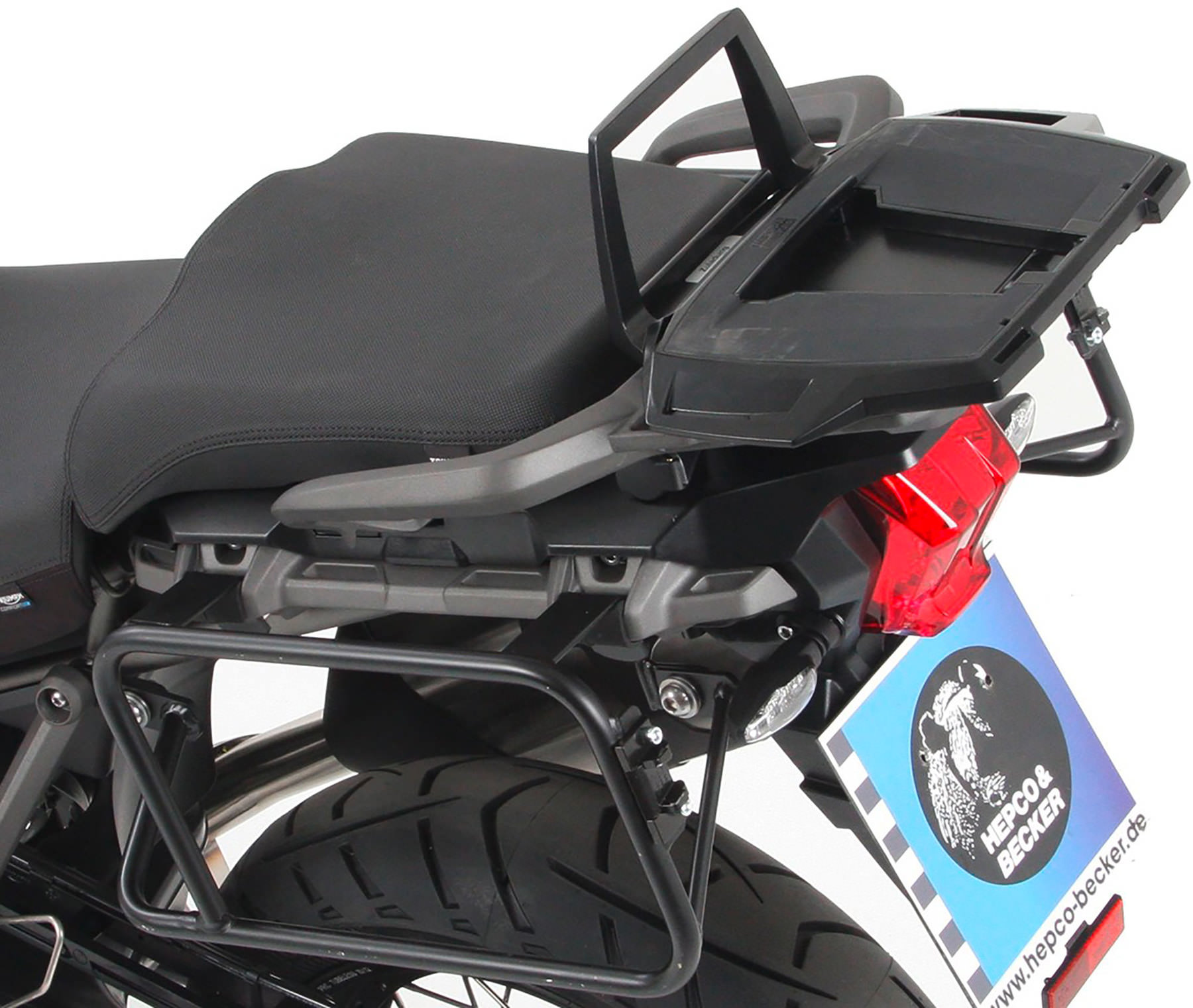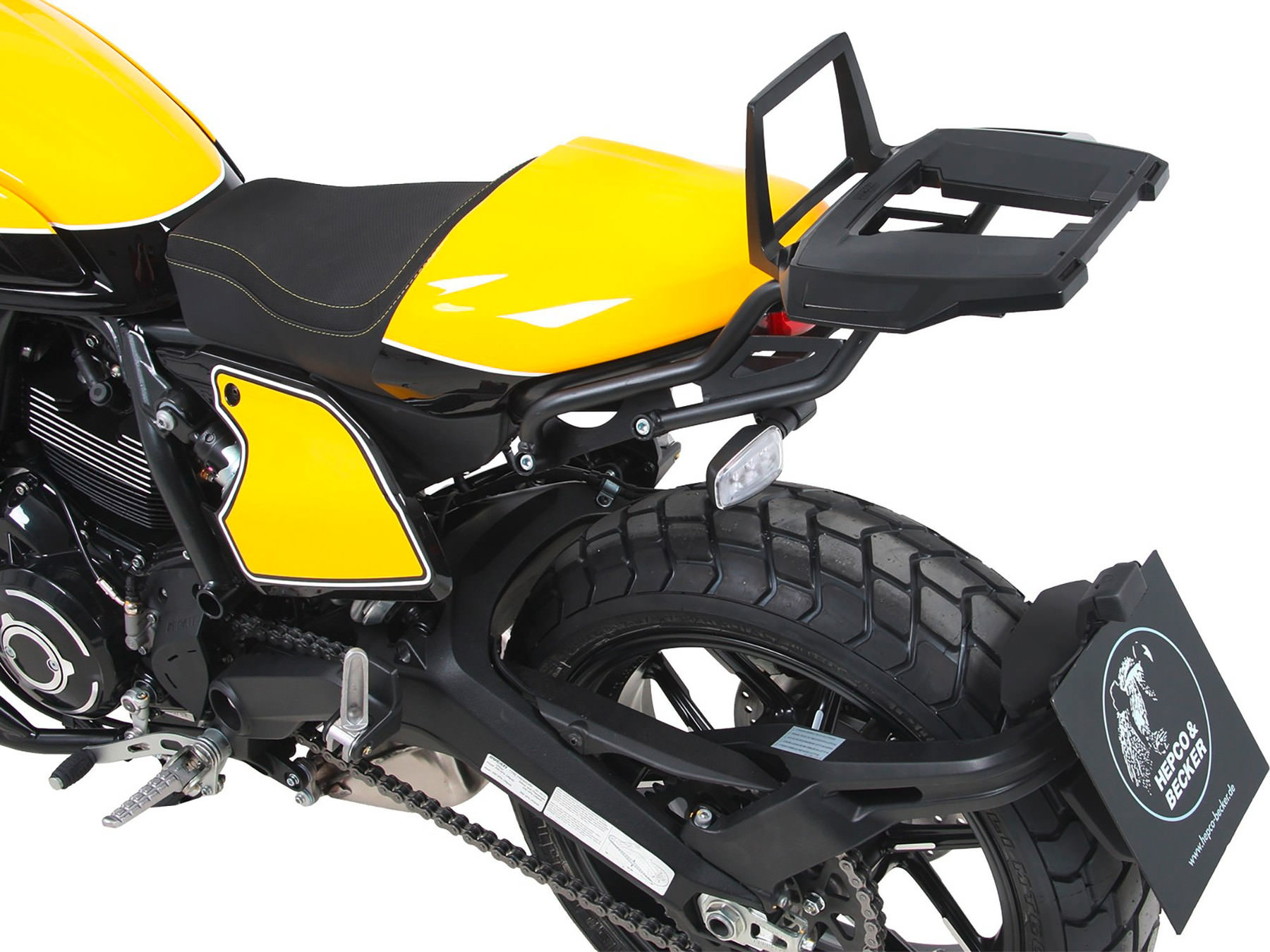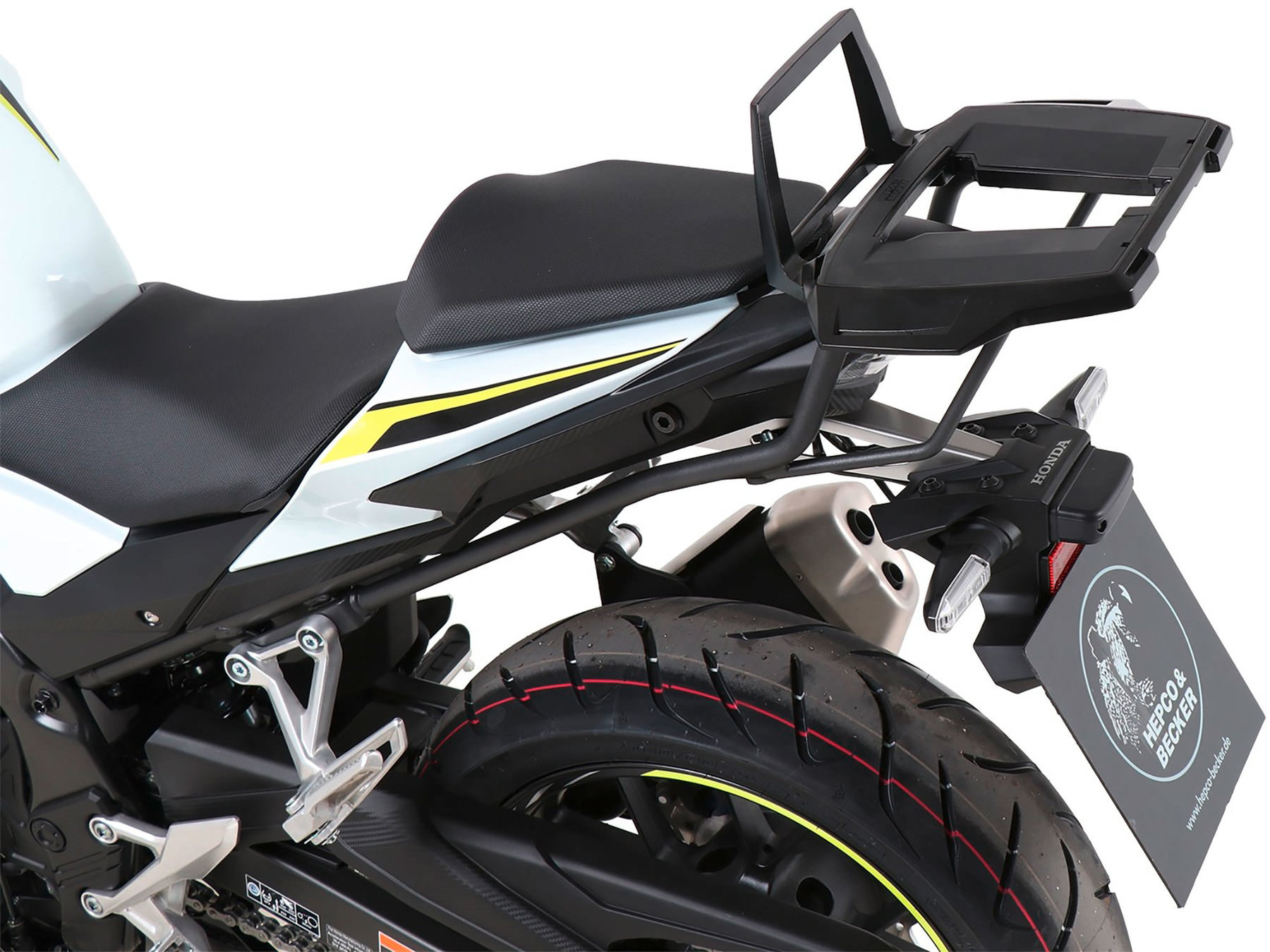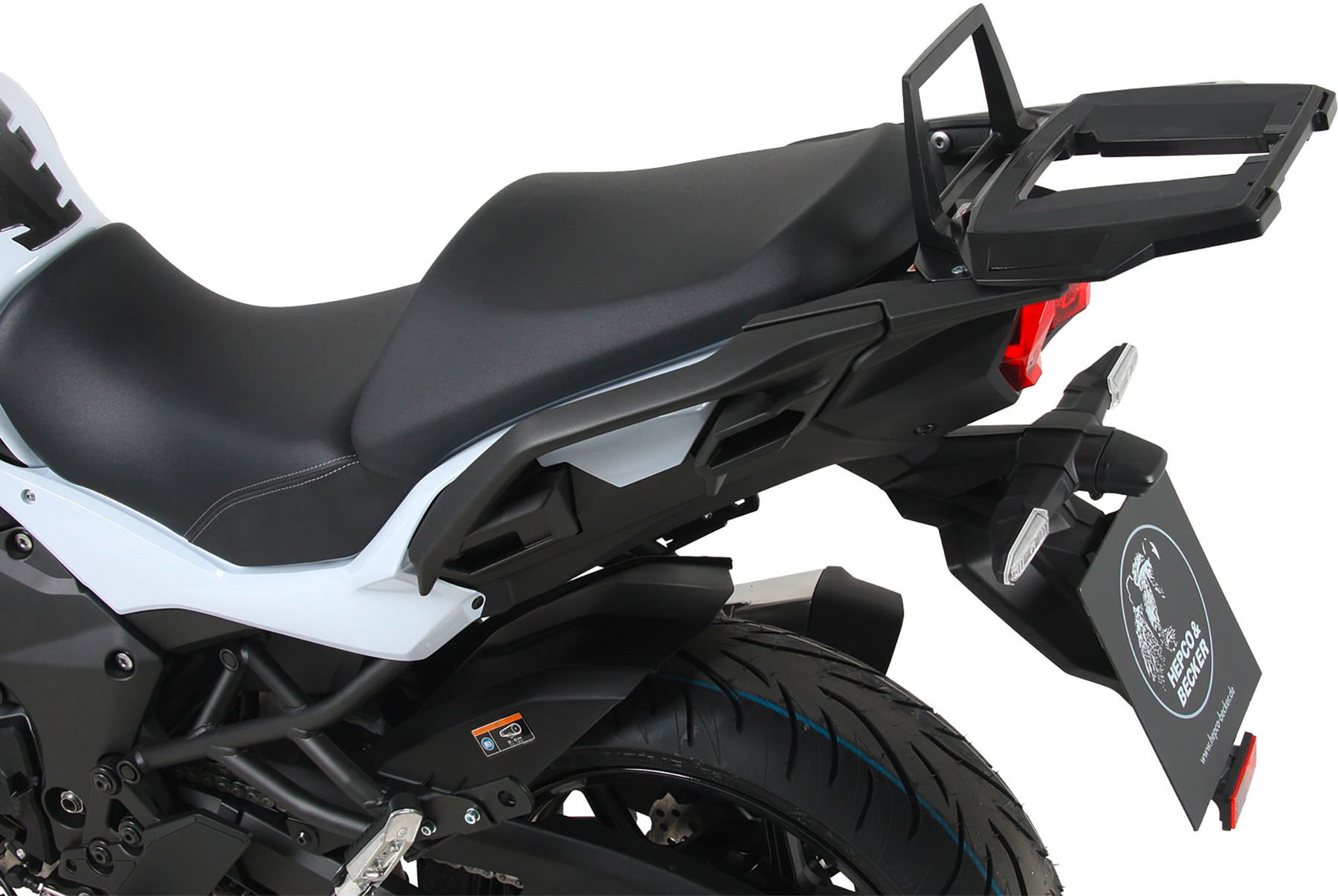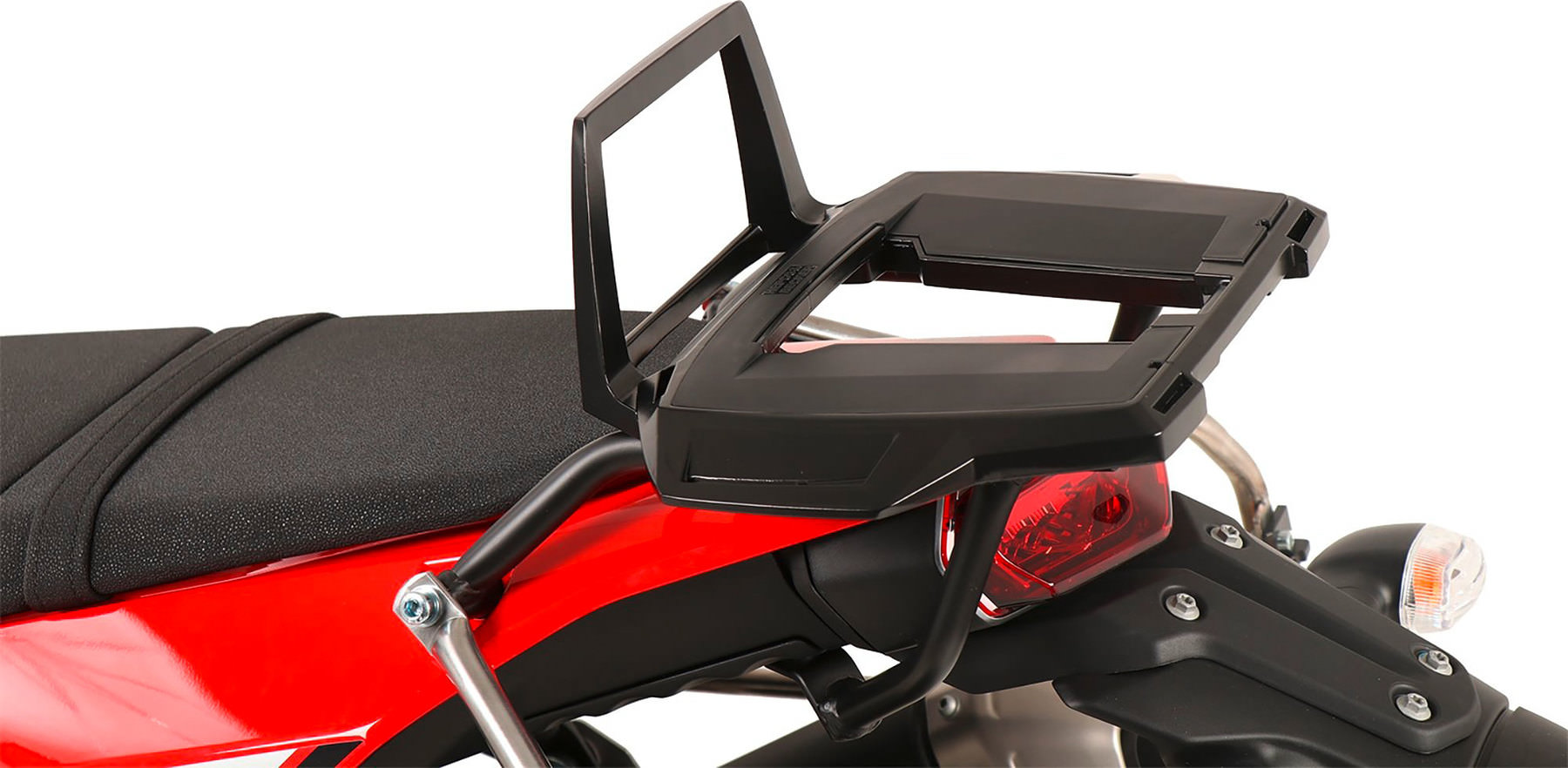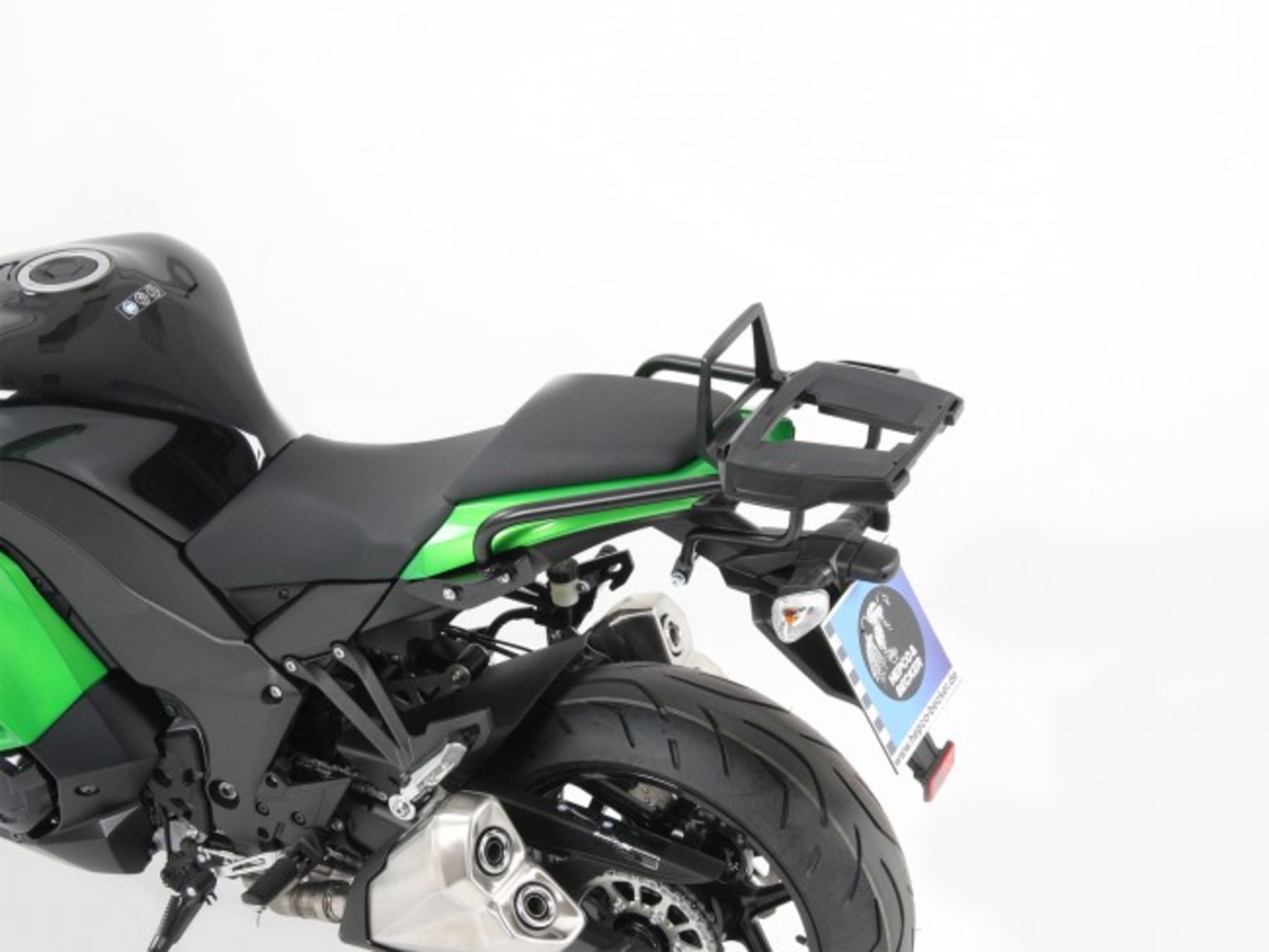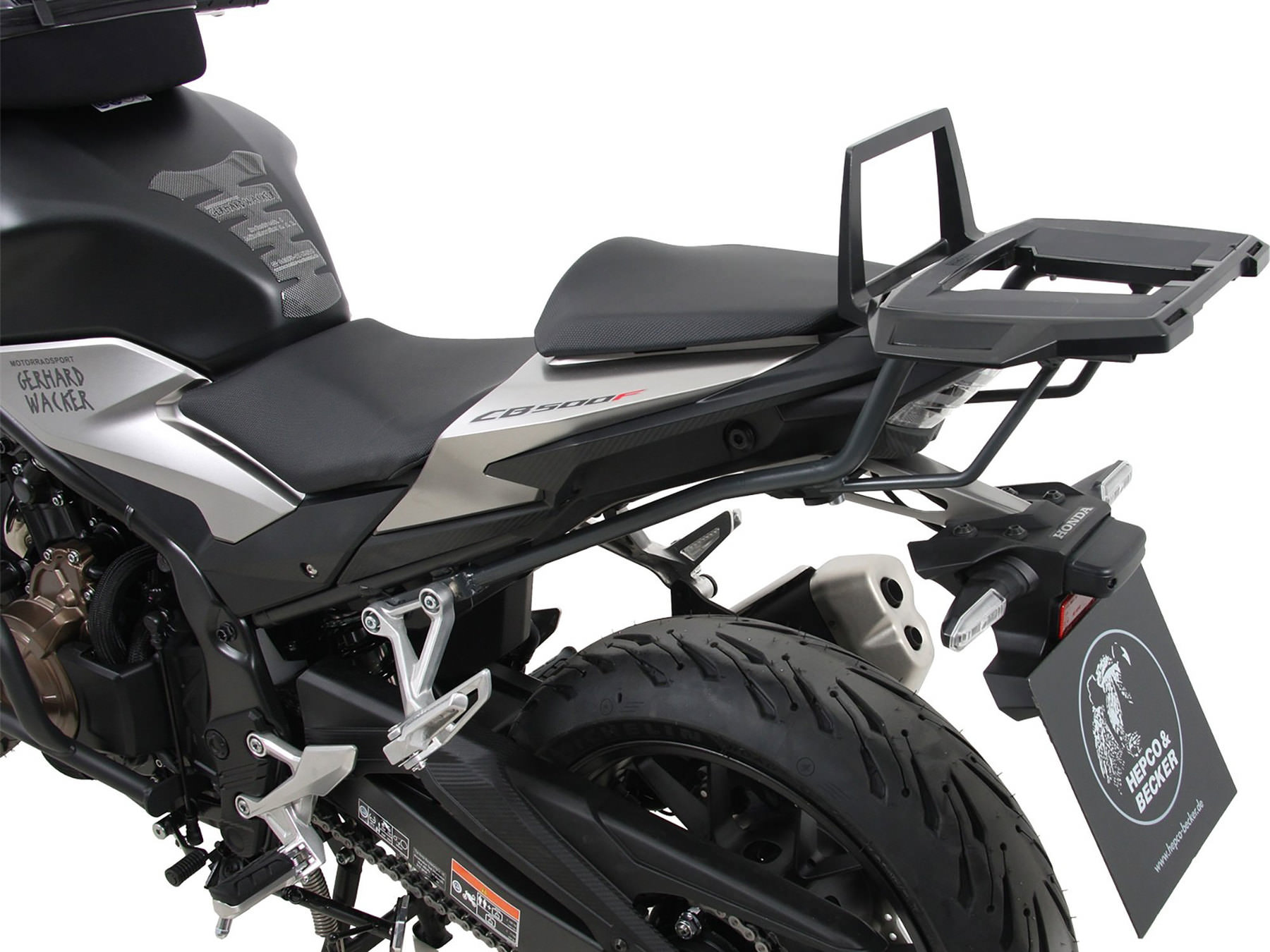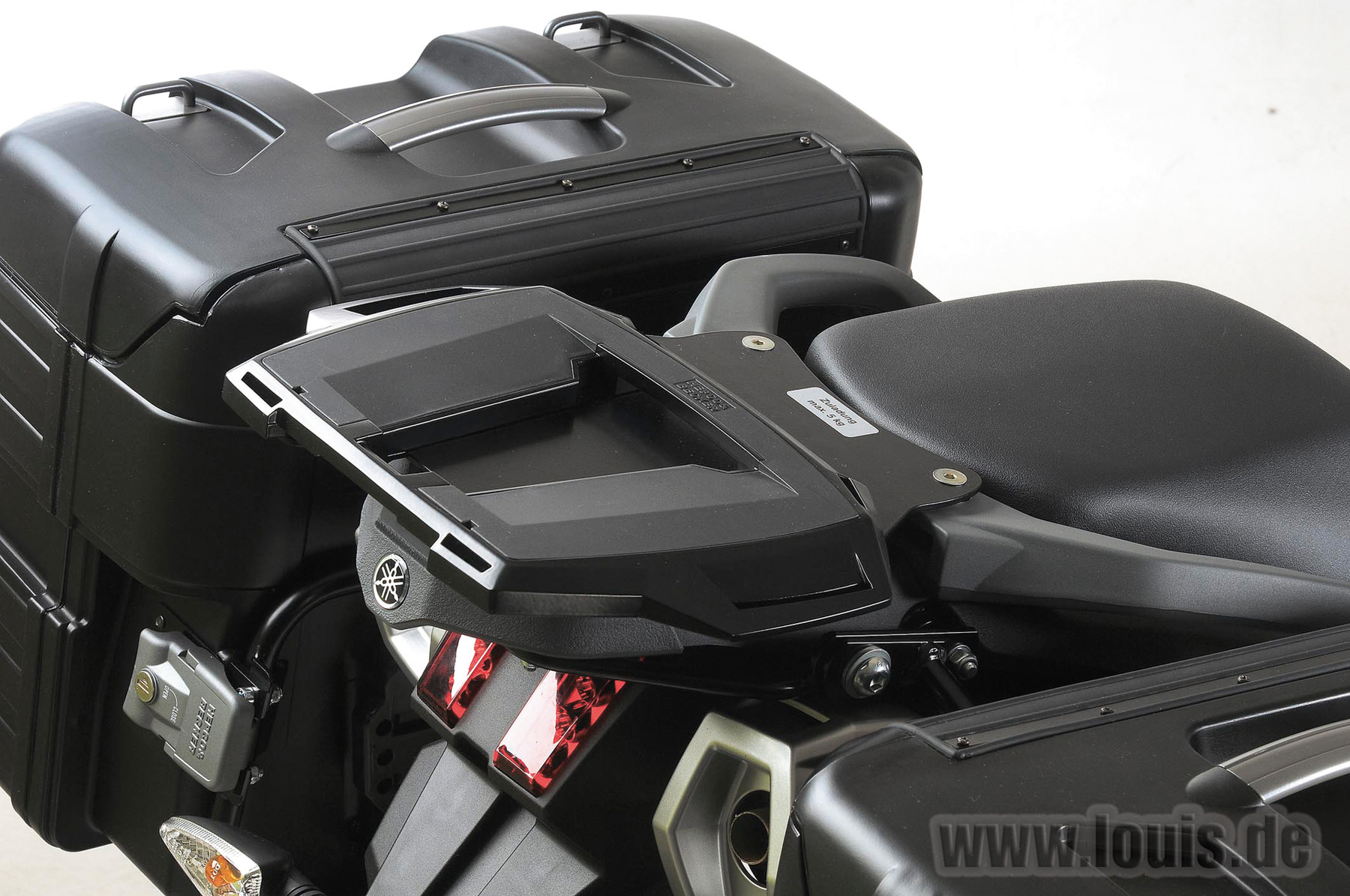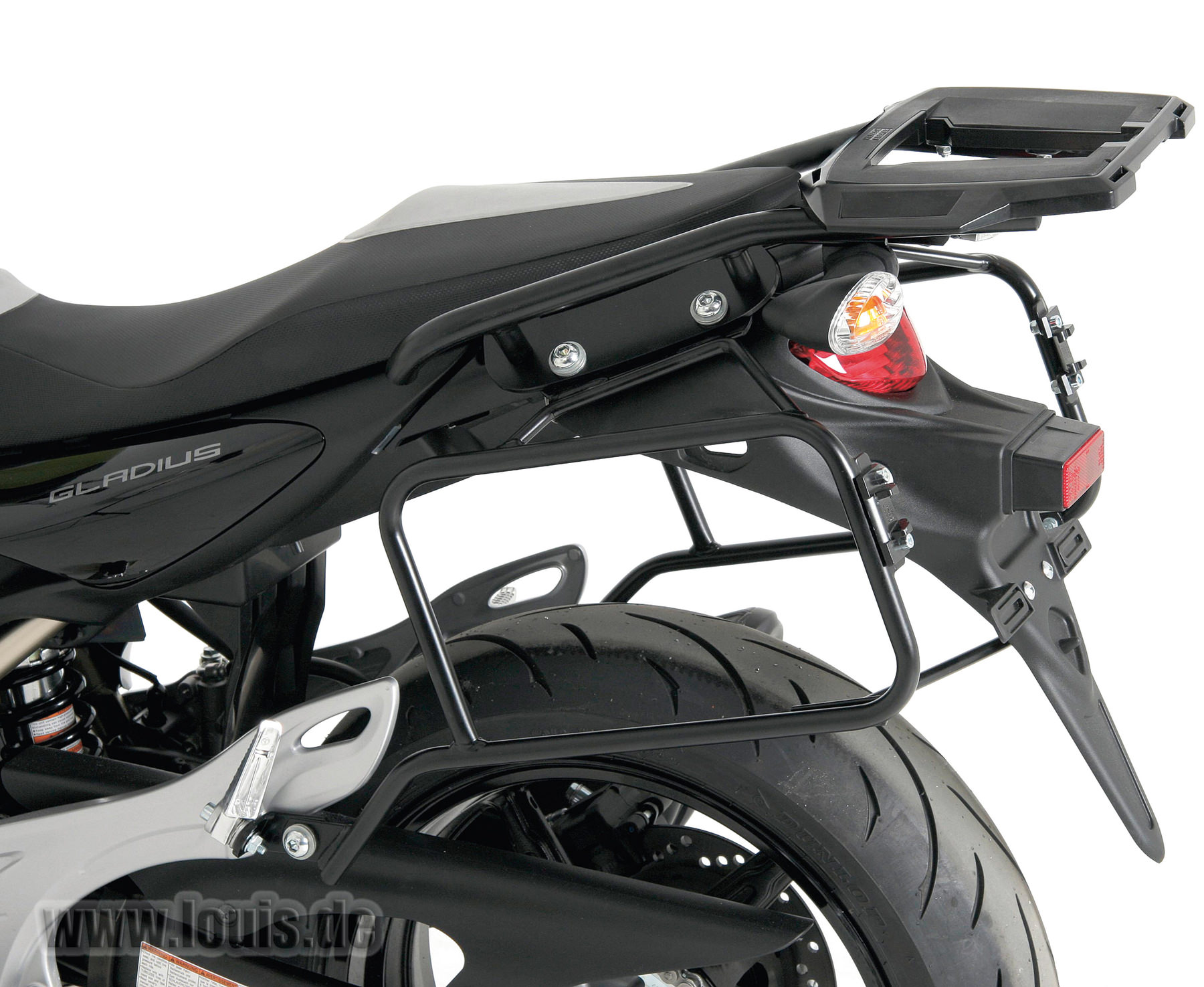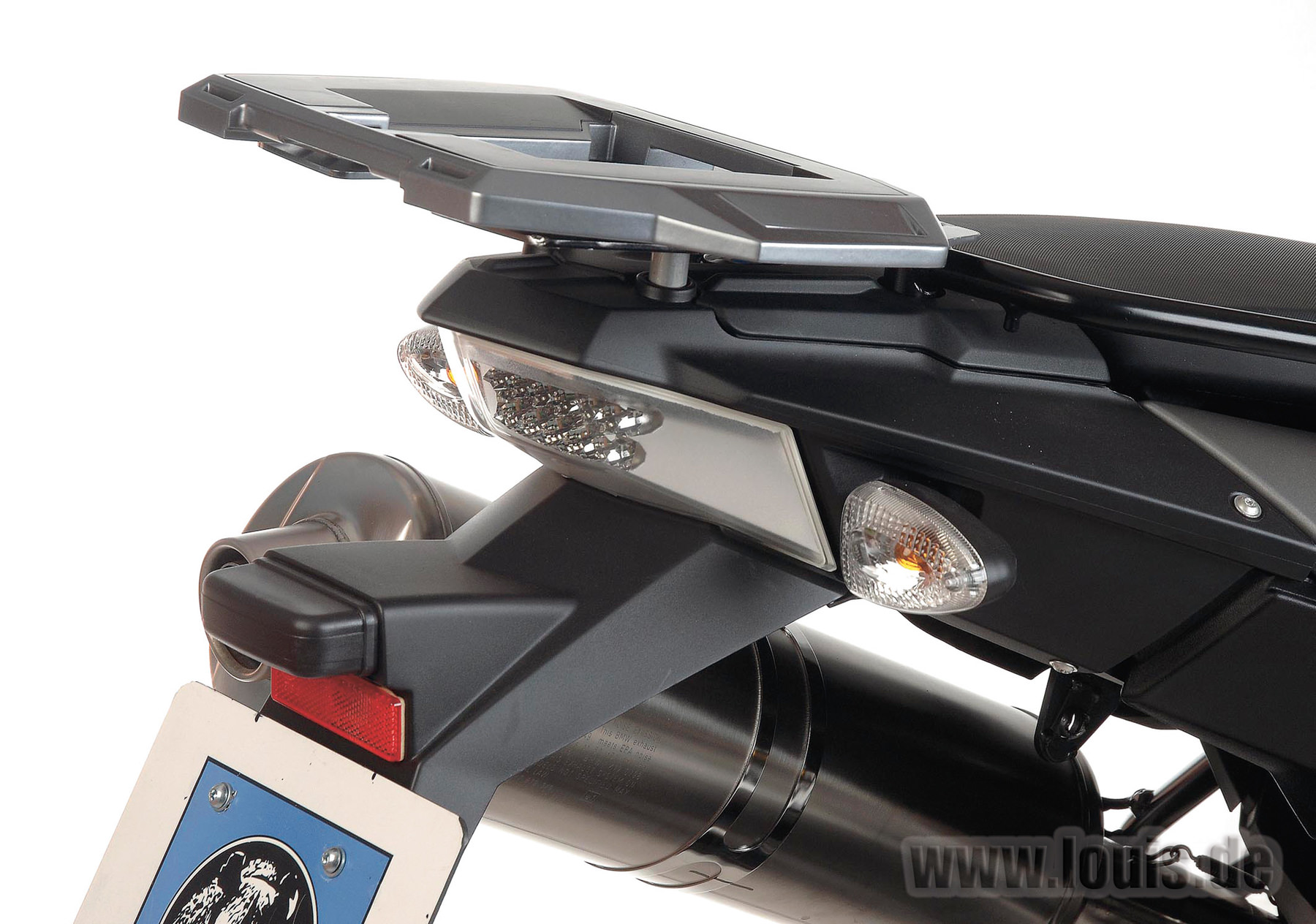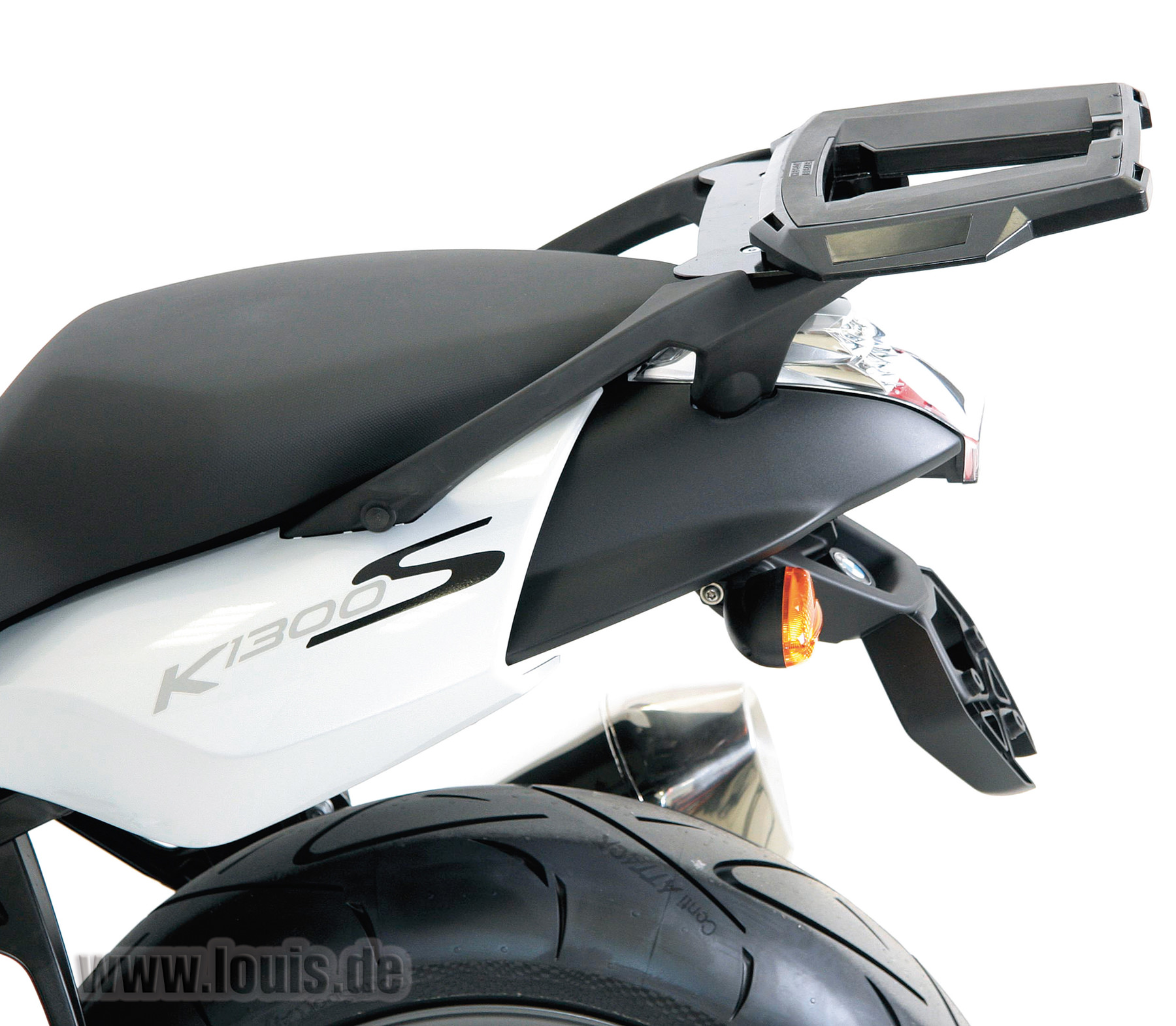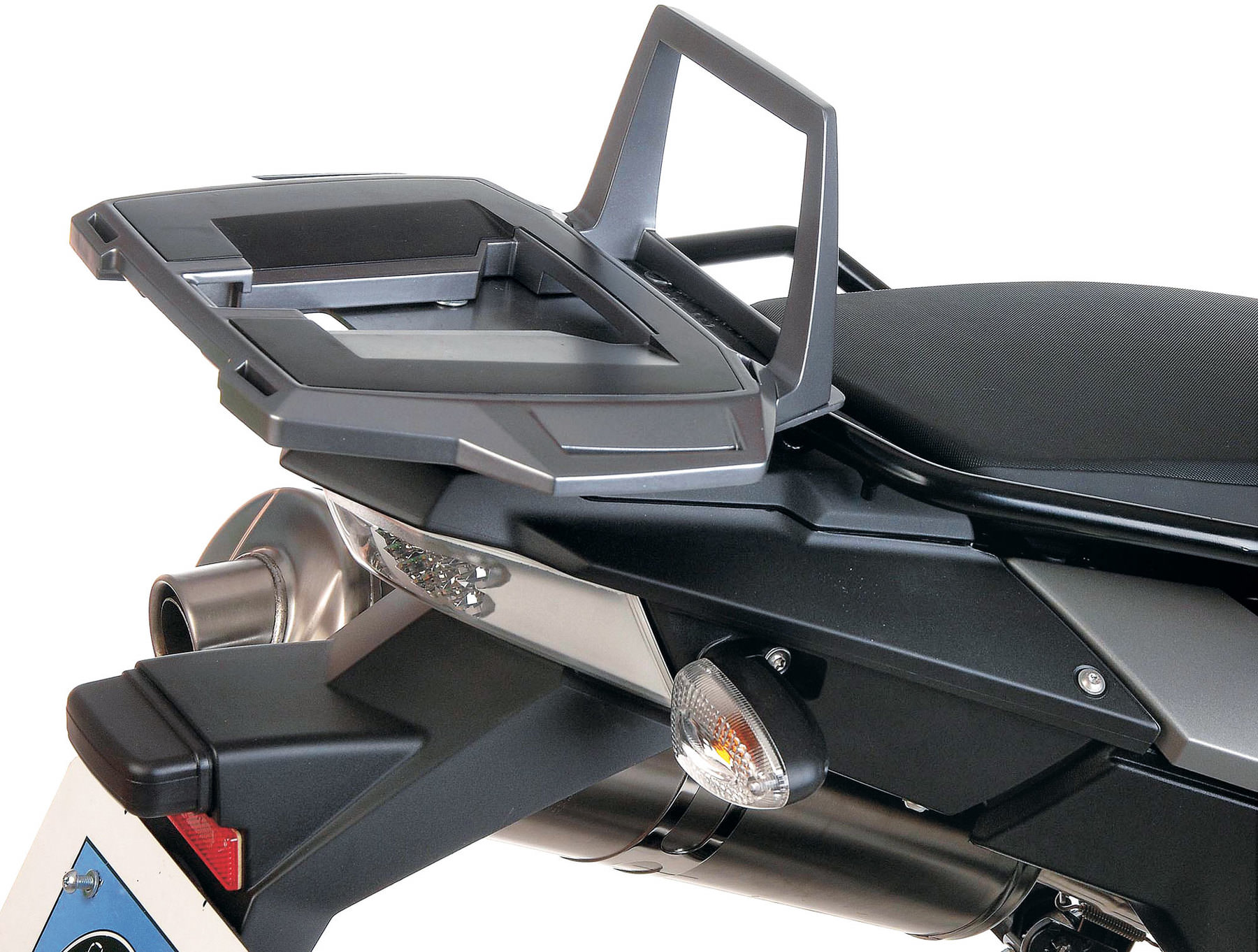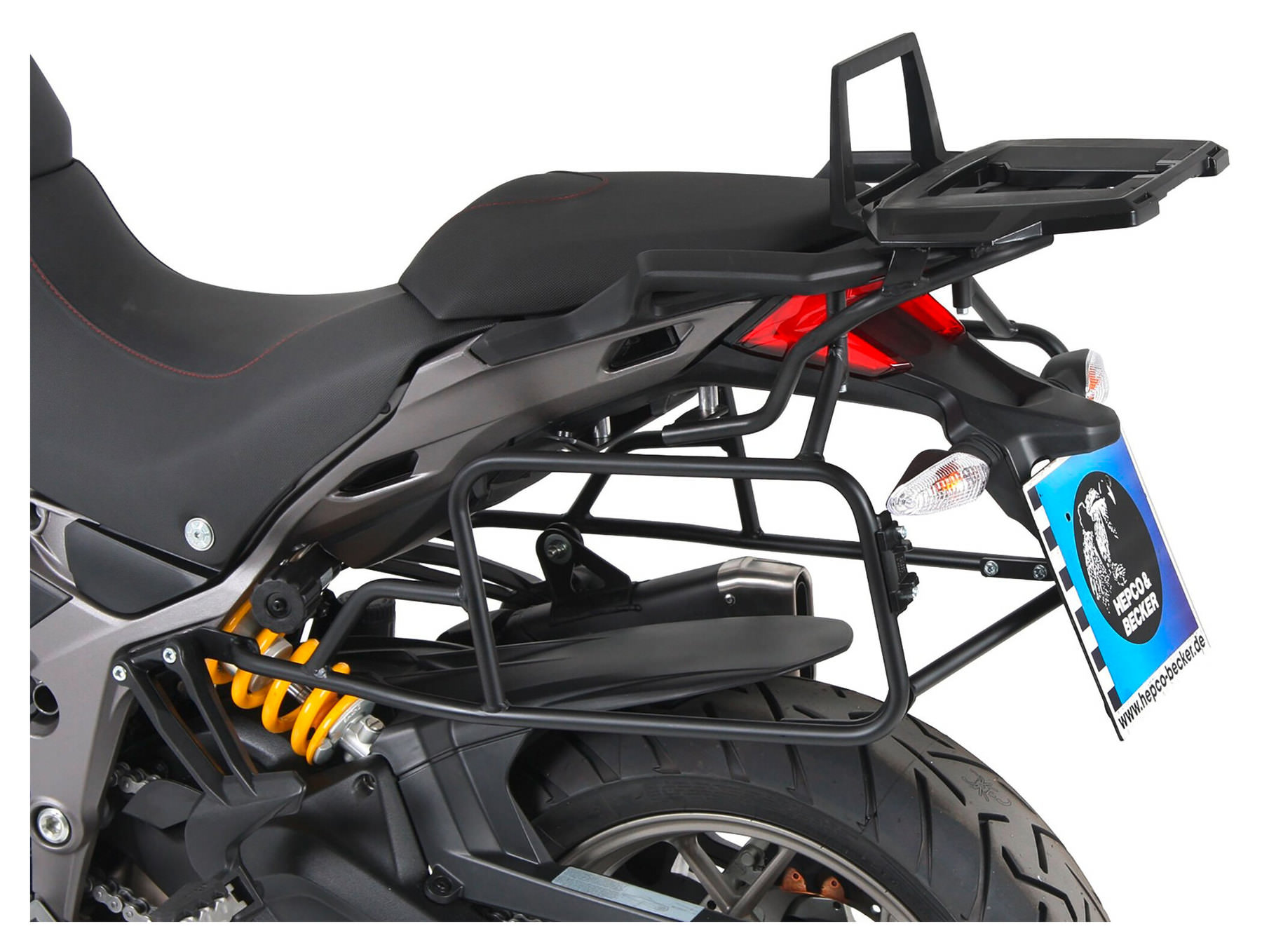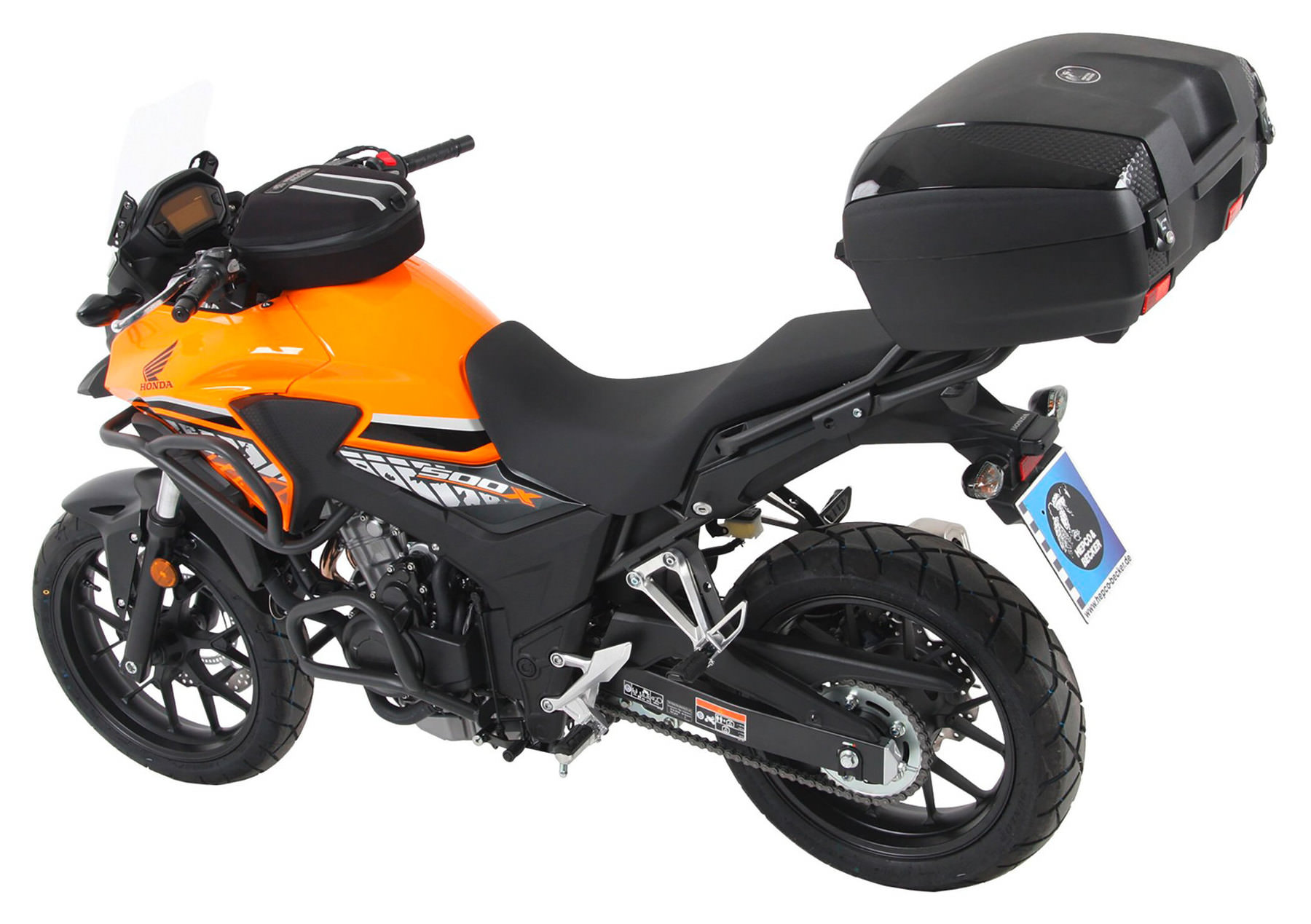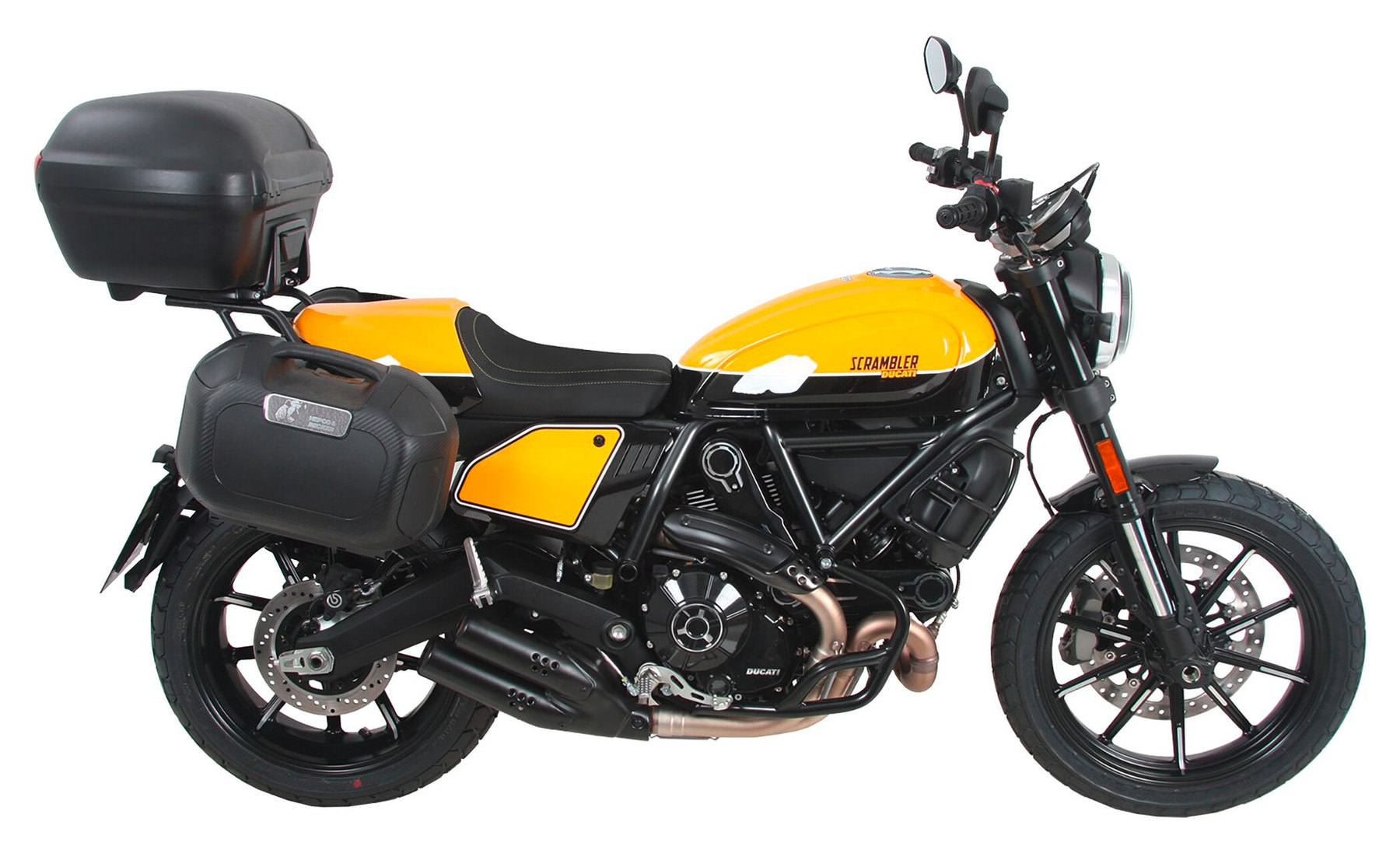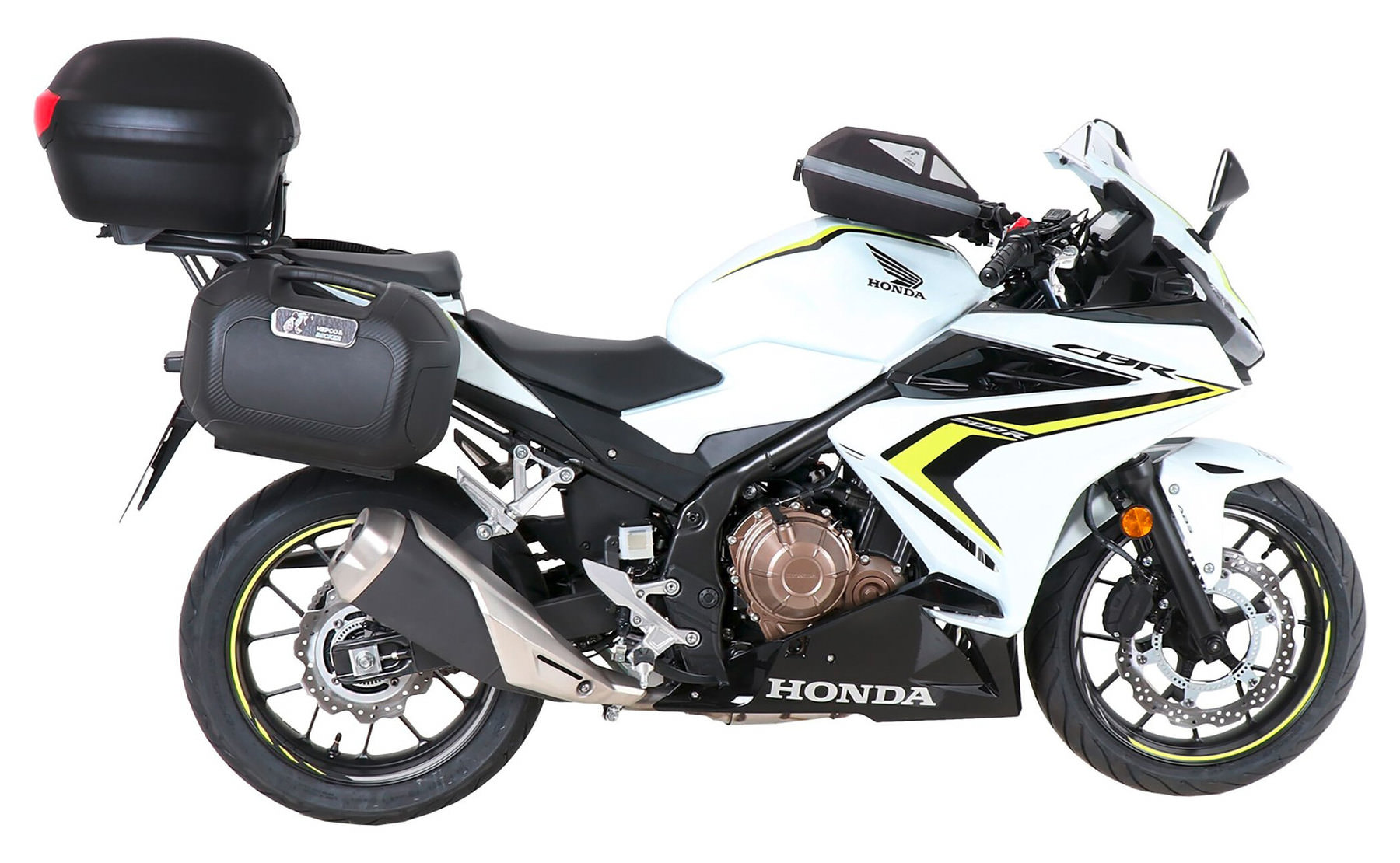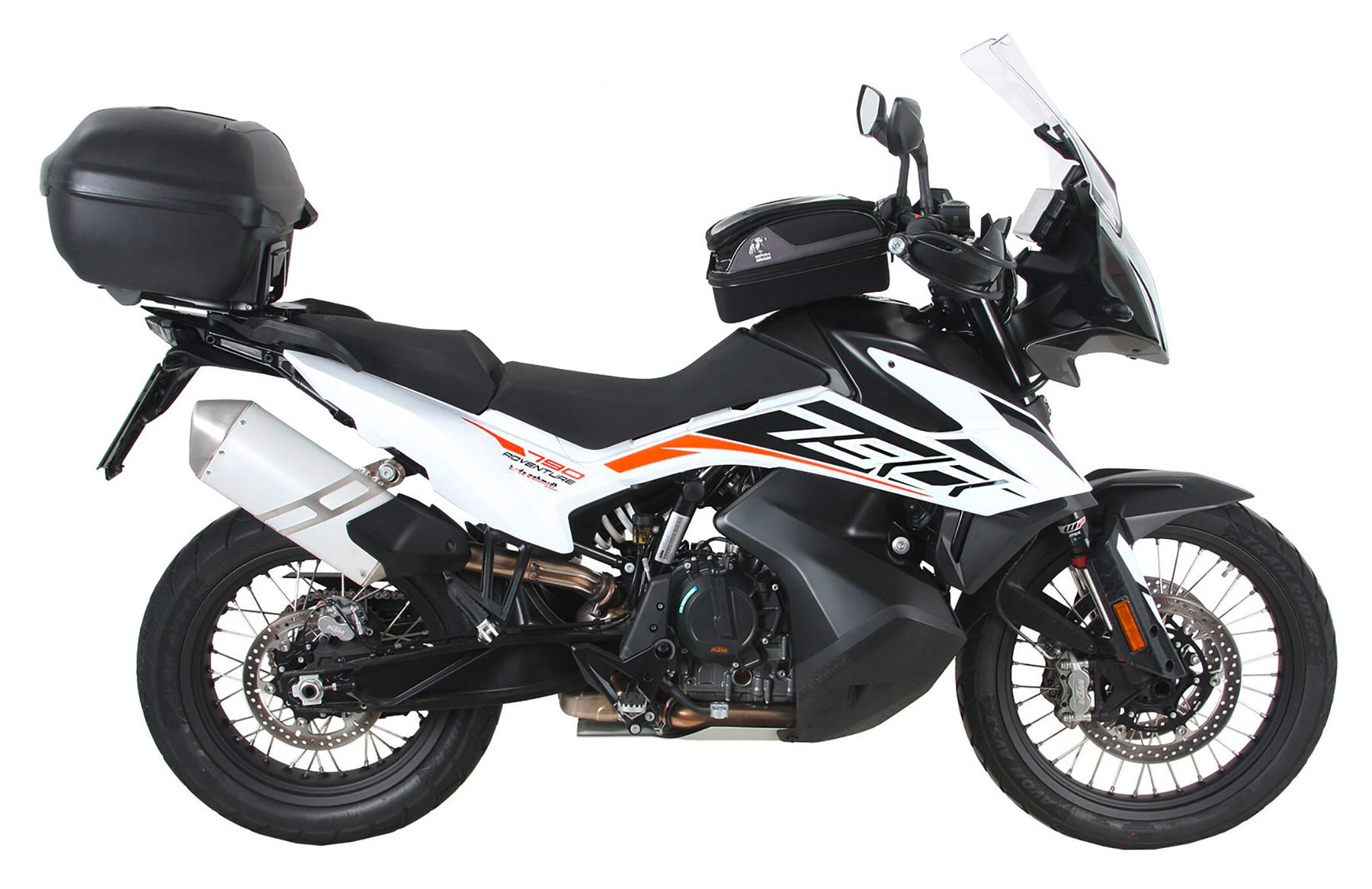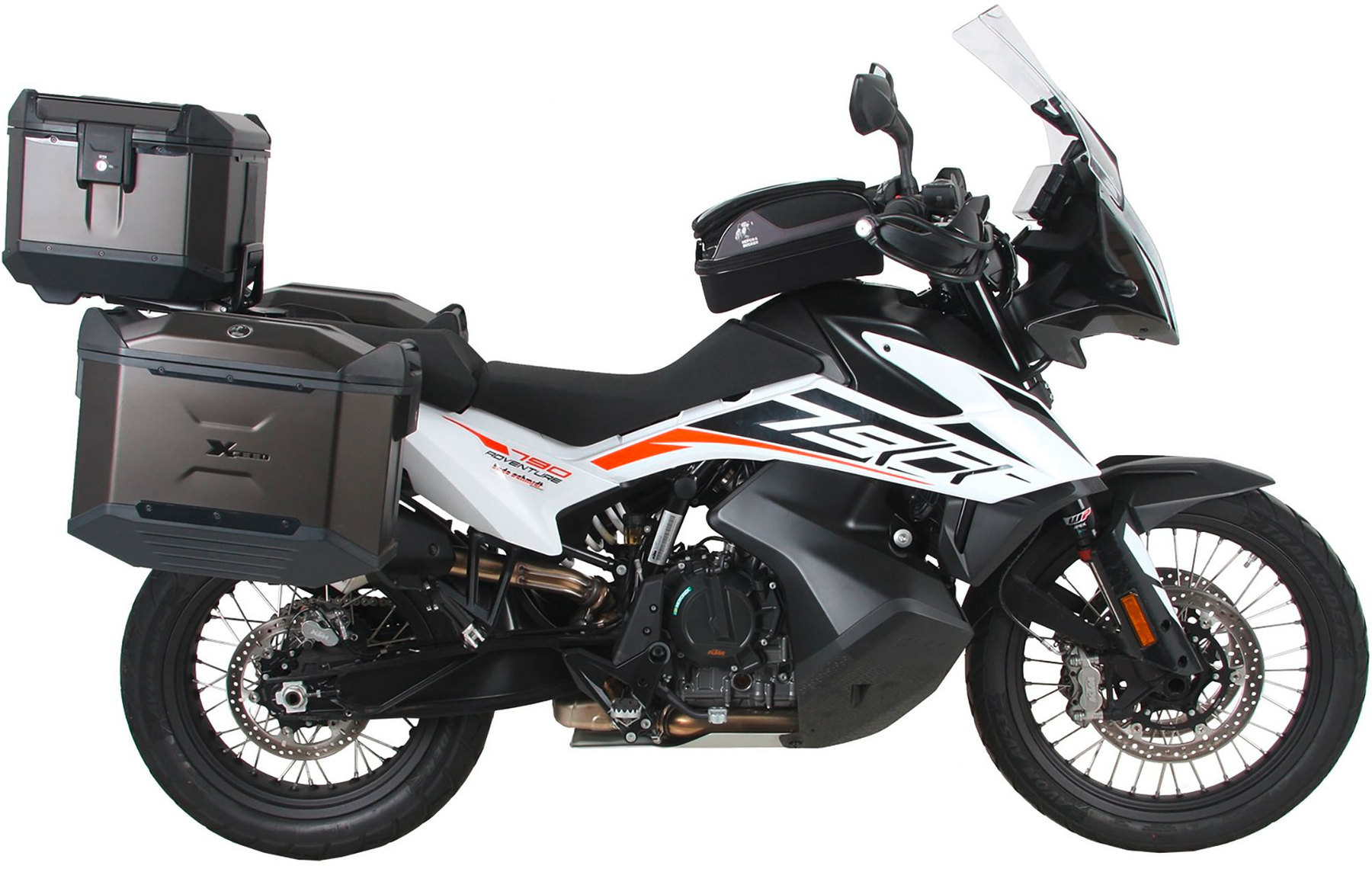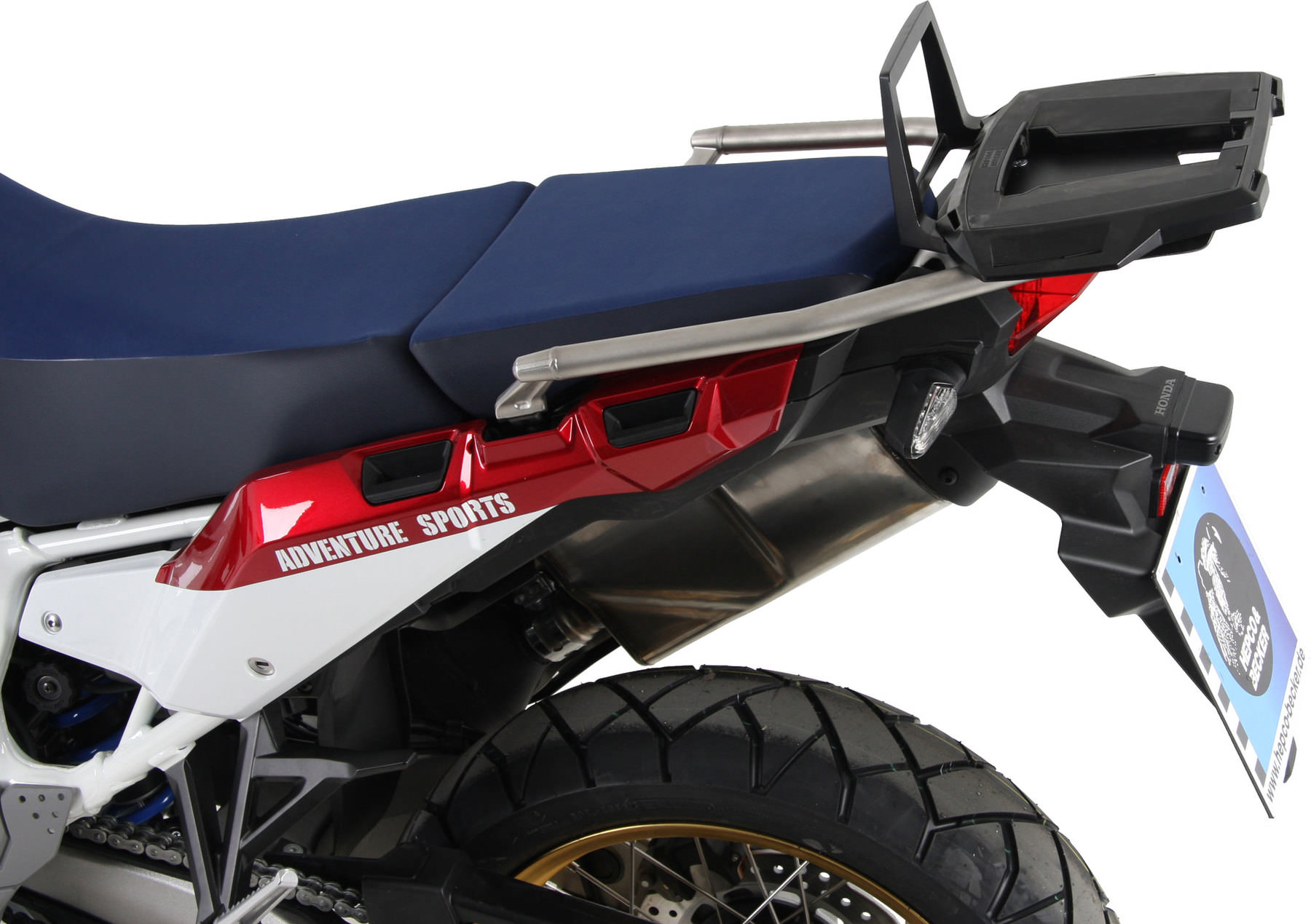 Hepco & Becker Luggage Plate Alu-Rack
Aluminium Construktion
Unfortunately, this product is not compatible with this motorcycle.
Unfortunately, this product is not compatible with this motorcycle. You can find the right for the here: .
€

90.001
2
from
€

69.991
(-22%)
2 Price comparison with current recommended retail price.
Free delivery on orders over €50.00
2 year return policy
Fast delivery
Hepco & Becker Luggage Plate Alu-Rack
Aluminium Construktion
Hepco & Becker Aluminium Top Rack:

In combination with Hepco & Becker side rack systems or as a solo top rack, this extremely strong and good-looking aluminium rack is equally suitable for mounting an H&B top box or for transporting "loose" luggage, such as roll bags, sports bags or sleeping bags. For this purpose, the aluminium rack is equipped all-round with securing points for tie-down straps and bungees. A top rack extension can be added to give extra capacity - see "Compatible products".

Features:

High-strength and very elegant aluminium construction
Integral plastic trim conceals the securing points
All-round securing points for bungees and lashing straps
Includes fittings for Hepco & Becker top boxes
Available in black or silver, depending on motorbike model
Manufacturer details: Hepco & Becker

Go to Hepco & Becker brand shop
Luggage systems

Motorcycle luggage and Hepco & Becker - almost perfectly synonymous. For decades, globetrotters and touring bikers have sworn by the German-produced durable products. They always rank as one of the best in comparative tests performed by the trade press when it comes to precision, weather resistance and functionality. Hepco products have long been a firm favourite in the Detlev Louis range. Due to a growing demand for racks for classic bikes, retro bikes and less popular vehicles, we have further expanded our product range and now present the entire Hepco & Becker luggage rack range for you to choose from.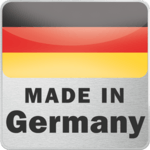 QUALITY MADE IN GERMANY!

By purchasing this item you have chosen a premium-quality product with superior German workmanship. This internationally acknowledged mark of quality means that this product is the result of efficiently coordinated development and production processes, technological expertise, continuous quality controls.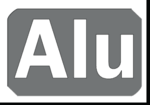 This product is made of high-quality aluminium and will look great on your motorbike. To ensure that it gives you years of pleasure, please observe the following instructions: To keep this product in top condition, it should be treated after long trips in winter, or in rain or salty air (near the coast), and also at periodic intervals.

Water and salt encourage corrosion. After cleaning (e.g. with Procycle Special Gel Cleaner, Order no. 10004909), we recommend regularly polishing aluminium parts with standard aluminium polish (e.g. Alu-Magic, Order no. 10004031).
Product
Art. No.
Availability
Price
Actions
H&B ALU-RACK - AN 400 BURGMANN 2017-
10066549

The product will be ordered from the manufacturer for you. Depending on availability, longer delivery times are also possible. We'll let you know if that's the case. You can of course cancel your delivery at any time free of charge.

Available in 7-21 days

€170.00 1
H&B ALU-RACK - BMW C400GT (2019-)
10065950

The product will be ordered from the manufacturer for you. Depending on availability, longer delivery times are also possible. We'll let you know if that's the case. You can of course cancel your delivery at any time free of charge.

Available in 7-21 days

€175.00 1
H&B ALU-RACK - BMW F 750 GS 2018-
10066573

The item is in stock and will be delivered in 2-5 working days. Note: Stocks are updated online every hour on working days from 7 a.m. to 8 p.m., so there is a good chance that the products are available if they appear online.

Available

€130.00 1
H&B ALU-RACK - BMW F 850 GS 2018-
10066574

The product will be ordered from the manufacturer for you. Depending on availability, longer delivery times are also possible. We'll let you know if that's the case. You can of course cancel your delivery at any time free of charge.

Available in 7-21 days

€130.00 1
H&B ALU-RACK - BMW G 310 GS 2017- BLACK
10066538

The product will be ordered from the manufacturer for you. Depending on availability, longer delivery times are also possible. We'll let you know if that's the case. You can of course cancel your delivery at any time free of charge.

Available in 7-21 days

€110.00 1
H&B ALU-RACK - BMW G 310 R 2016- BLACK
10066523

The item is in stock and will be delivered in 2-5 working days. Note: Stocks are updated online every hour on working days from 7 a.m. to 8 p.m., so there is a good chance that the products are available if they appear online.

Available

€175.00

1 2 €130.00 1
H&B ALU-RACK - BMW R NINET PURE 2017-
10066556

The product will be ordered from the manufacturer for you. Depending on availability, longer delivery times are also possible. We'll let you know if that's the case. You can of course cancel your delivery at any time free of charge.

Available in 7-21 days

€225.00 1
H&B ALU-RACK - BMW R NINET RACER 2017-
10066557

The product will be ordered from the manufacturer for you. Depending on availability, longer delivery times are also possible. We'll let you know if that's the case. You can of course cancel your delivery at any time free of charge.

Available in 7-21 days

€225.00 1
H&B ALU-RACK - BMW R NINET SCRAMBLER 16-
10066555

The item is in stock and will be delivered in 2-5 working days. Note: Stocks are updated online every hour on working days from 7 a.m. to 8 p.m., so there is a good chance that the products are available if they appear online.

Available

€225.00 1
H&B ALU-RACK - BMW R NINET URBAN G/S 17-
10066558

The product will be ordered from the manufacturer for you. Depending on availability, longer delivery times are also possible. We'll let you know if that's the case. You can of course cancel your delivery at any time free of charge.

Available in 7-21 days

€225.00 1
H&B ALU-RACK - BMW R1250R (2019-)
10065953

The product will be ordered from the manufacturer for you. Depending on availability, longer delivery times are also possible. We'll let you know if that's the case. You can of course cancel your delivery at any time free of charge.

Available in 7-21 days

€170.00 1
H&B ALU-RACK - BMW R1250RS (2019-)
10065954

The product will be ordered from the manufacturer for you. Depending on availability, longer delivery times are also possible. We'll let you know if that's the case. You can of course cancel your delivery at any time free of charge.

Available in 7-21 days

€170.00 1
H&B ALU-RACK - CB 1100 EX/RS 2017- BLACK
10066518

The product will be ordered from the manufacturer for you. Depending on availability, longer delivery times are also possible. We'll let you know if that's the case. You can of course cancel your delivery at any time free of charge.

Available in 7-21 days

€185.00 1
H&B ALU-RACK - CMX 500 REBEL 2017- BLACK
10066529

The product will be ordered from the manufacturer for you. Depending on availability, longer delivery times are also possible. We'll let you know if that's the case. You can of course cancel your delivery at any time free of charge.

Available in 7-21 days

€200.00 1
H&B ALU-RACK - CRF 1000 AFRICA TWIN 16-
10066576

The product will be ordered from the manufacturer for you. Depending on availability, longer delivery times are also possible. We'll let you know if that's the case. You can of course cancel your delivery at any time free of charge.

Available in 7-21 days

€160.00 1
H&B ALU-RACK - HONDA CB500 X 17- ANTHRA.
10066521

The product will be ordered from the manufacturer for you. Depending on availability, longer delivery times are also possible. We'll let you know if that's the case. You can of course cancel your delivery at any time free of charge.

Available in 7-21 days

€175.00 1
H&B ALU-RACK - HONDA CB500F 2019- ANTHR.
10066695

The product will be ordered from the manufacturer for you. Depending on availability, longer delivery times are also possible. We'll let you know if that's the case. You can of course cancel your delivery at any time free of charge.

Available in 7-21 days

€185.00 1
H&B ALU-RACK - HONDA CBR 500 R 2016-
10066570

The product will be ordered from the manufacturer for you. Depending on availability, longer delivery times are also possible. We'll let you know if that's the case. You can of course cancel your delivery at any time free of charge.

Available in 7-21 days

€185.00 1
H&B ALU-RACK - HONDA X-ADV 2017- BLACK
10066013

The product will be ordered from the manufacturer for you. Depending on availability, longer delivery times are also possible. We'll let you know if that's the case. You can of course cancel your delivery at any time free of charge.

Available in 7-21 days

€170.00 1
H&B ALU-RACK - J125 / 300 2014- BLACK
10066509

The product will be ordered from the manufacturer for you. Depending on availability, longer delivery times are also possible. We'll let you know if that's the case. You can of course cancel your delivery at any time free of charge.

Available in 7-21 days

€165.00 1
H&B ALU-RACK - K1200 S/K1300 S BLACK
10024800

The product will be ordered from the manufacturer for you. Depending on availability, longer delivery times are also possible. We'll let you know if that's the case. You can of course cancel your delivery at any time free of charge.

Available in 7-21 days

€240.00 1
H&B ALU-RACK - KAWASAKI Z 1000 SX 2017-
10066546

The product will be ordered from the manufacturer for you. Depending on availability, longer delivery times are also possible. We'll let you know if that's the case. You can of course cancel your delivery at any time free of charge.

Available in 7-21 days

€215.00 1
H&B ALU-RACK - KAWASAKI Z 650 17-
10066545

The product will be ordered from the manufacturer for you. Depending on availability, longer delivery times are also possible. We'll let you know if that's the case. You can of course cancel your delivery at any time free of charge.

Available in 7-21 days

€200.00 1
H&B ALU-RACK - KTM 390 DUKE 2017-
10066562

The product will be ordered from the manufacturer for you. Depending on availability, longer delivery times are also possible. We'll let you know if that's the case. You can of course cancel your delivery at any time free of charge.

Available in 7-21 days

€185.00 1
H&B ALU-RACK - KTM 790 DUKE 2018-
10066566

The product will be ordered from the manufacturer for you. Depending on availability, longer delivery times are also possible. We'll let you know if that's the case. You can of course cancel your delivery at any time free of charge.

Available in 7-21 days

€185.00 1
H&B ALU-RACK - KTM 990 SUPERMOTO R
10066544

The product will be ordered from the manufacturer for you. Depending on availability, longer delivery times are also possible. We'll let you know if that's the case. You can of course cancel your delivery at any time free of charge.

Available in 7-21 days

€130.00 1
H&B ALU-RACK - KTM125 DUKE 2017-
10066561

The product will be ordered from the manufacturer for you. Depending on availability, longer delivery times are also possible. We'll let you know if that's the case. You can of course cancel your delivery at any time free of charge.

Available in 7-21 days

€185.00 1
H&B ALU-RACK - MULTISTRADA 1200 ENDURO
10066563

The product will be ordered from the manufacturer for you. Depending on availability, longer delivery times are also possible. We'll let you know if that's the case. You can of course cancel your delivery at any time free of charge.

Available in 7-21 days

€165.00 1
H&B ALU-RACK - MULTISTRADA 1260 / S 18-
10066565

The product will be ordered from the manufacturer for you. Depending on availability, longer delivery times are also possible. We'll let you know if that's the case. You can of course cancel your delivery at any time free of charge.

Available in 7-21 days

€165.00 1
H&B ALU-RACK - R1250GS ADV. (2019-)
10065952

The product will be ordered from the manufacturer for you. Depending on availability, longer delivery times are also possible. We'll let you know if that's the case. You can of course cancel your delivery at any time free of charge.

Available in 7-21 days

€190.00 1
H&B ALU-RACK - SCRAMBLER 1100 2018-
10066564

The product will be ordered from the manufacturer for you. Depending on availability, longer delivery times are also possible. We'll let you know if that's the case. You can of course cancel your delivery at any time free of charge.

Available in 7-21 days

€200.00 1
H&B ALU-RACK - SCRAMBLER SIXTY2 2016-
10066560

The product will be ordered from the manufacturer for you. Depending on availability, longer delivery times are also possible. We'll let you know if that's the case. You can of course cancel your delivery at any time free of charge.

Available in 7-21 days

€185.00 1
H&B ALU-RACK - SUZUKI SV 650 X 2018-
10066550

The item is in stock and will be delivered in 2-5 working days. Note: Stocks are updated online every hour on working days from 7 a.m. to 8 p.m., so there is a good chance that the products are available if they appear online.

Available

€170.00

1 2 €120.00 1
H&B ALU-RACK - SUZUKI V-STROM 650 2017-
10066526

The product will be ordered from the manufacturer for you. Depending on availability, longer delivery times are also possible. We'll let you know if that's the case. You can of course cancel your delivery at any time free of charge.

Available in 7-21 days

€130.00 1
H&B ALU-RACK - TIGER EXPLORER 1200 2016-
10066575

The product will be ordered from the manufacturer for you. Depending on availability, longer delivery times are also possible. We'll let you know if that's the case. You can of course cancel your delivery at any time free of charge.

Available in 7-21 days

€130.00 1
H&B ALU-RACK - TMAX 530 ABS 2012-
10066542

The product will be ordered from the manufacturer for you. Depending on availability, longer delivery times are also possible. We'll let you know if that's the case. You can of course cancel your delivery at any time free of charge.

Available in 7-21 days

€200.00 1
H&B ALU-RACK - TRACER 900 / GT 2018-
10066553

The item is in stock and will be delivered in 2-5 working days. Note: Stocks are updated online every hour on working days from 7 a.m. to 8 p.m., so there is a good chance that the products are available if they appear online.

Available

€185.00 1
H&B ALU-RACK - VERSYS-X 300 /URB/ADV 17-
10066571

The product will be ordered from the manufacturer for you. Depending on availability, longer delivery times are also possible. We'll let you know if that's the case. You can of course cancel your delivery at any time free of charge.

Available in 7-21 days

€130.00 1
H&B ALU-RACK - XCITING S 400 ABS 2018-
10066567

The product will be ordered from the manufacturer for you. Depending on availability, longer delivery times are also possible. We'll let you know if that's the case. You can of course cancel your delivery at any time free of charge.

Available in 7-21 days

€165.00 1
H&B ALU-RACK - XT 1200 Z SUPER TENERE
10066577

The product will be ordered from the manufacturer for you. Depending on availability, longer delivery times are also possible. We'll let you know if that's the case. You can of course cancel your delivery at any time free of charge.

Available in 7-21 days

€110.00 1
H&B ALU-RACK - YAMAHA MT-07 2018-
10066554

The item is in stock and will be delivered in 2-5 working days. Note: Stocks are updated online every hour on working days from 7 a.m. to 8 p.m., so there is a good chance that the products are available if they appear online.

Available

€170.00

1 2 €99.99 1
H&B ALU-RACK - YAMAHA MT-09 17- ANTHRAC.
10066508

The product will be ordered from the manufacturer for you. Depending on availability, longer delivery times are also possible. We'll let you know if that's the case. You can of course cancel your delivery at any time free of charge.

Available in 7-21 days

€185.00 1
H&B ALU-RACK - YAMAHA MT-09 SP 2018-
10066552

The product will be ordered from the manufacturer for you. Depending on availability, longer delivery times are also possible. We'll let you know if that's the case. You can of course cancel your delivery at any time free of charge.

Available in 7-21 days

€185.00 1
H&B ALU-RACK - YAMAHA MT-10 2016-
10066551

The product will be ordered from the manufacturer for you. Depending on availability, longer delivery times are also possible. We'll let you know if that's the case. You can of course cancel your delivery at any time free of charge.

Available in 7-21 days

€185.00 1
H&B ALU-RACK - YAMAHA TRACER 700 2016-
10066514

The product will be ordered from the manufacturer for you. Depending on availability, longer delivery times are also possible. We'll let you know if that's the case. You can of course cancel your delivery at any time free of charge.

Available in 7-21 days

€185.00 1
H&B ALU-RACK - Z 900 RS / CAFE 2018-
10066547

The item is in stock and will be delivered in 2-5 working days. Note: Stocks are updated online every hour on working days from 7 a.m. to 8 p.m., so there is a good chance that the products are available if they appear online.

Available

€225.00 1
H&B ALURACK - BMW F900XR 2020- BLACK
10068191

The item is in stock and will be delivered in 2-5 working days. Note: Stocks are updated online every hour on working days from 7 a.m. to 8 p.m., so there is a good chance that the products are available if they appear online.

Available

€140.00 1
H+B ALU-RACK - CRF1000L AFRICA TWIN 16-
10066463

The product will be ordered from the manufacturer for you. Depending on availability, longer delivery times are also possible. We'll let you know if that's the case. You can of course cancel your delivery at any time free of charge.

Available in 7-21 days

€160.00 1
H+B ALU-RACK DUCATI - SCRAMBLER 800 (2019-)
10065959

The product will be ordered from the manufacturer for you. Depending on availability, longer delivery times are also possible. We'll let you know if that's the case. You can of course cancel your delivery at any time free of charge.

Available in 7-21 days

€185.00 1
H+B ALU-RACK GSX-S1000S - KATANA (2019-) BLACK
10065967

The product will be ordered from the manufacturer for you. Depending on availability, longer delivery times are also possible. We'll let you know if that's the case. You can of course cancel your delivery at any time free of charge.

Available in 7-21 days

€170.00 1
H+B ALU-RACK HONDA - CB 650 R (19-) ANTHRACITE
10065951

The product will be ordered from the manufacturer for you. Depending on availability, longer delivery times are also possible. We'll let you know if that's the case. You can of course cancel your delivery at any time free of charge.

Available in 7-21 days

€185.00 1
H+B ALU-RACK HONDA - CB650R (2019-) BLACK
10065961

The product will be ordered from the manufacturer for you. Depending on availability, longer delivery times are also possible. We'll let you know if that's the case. You can of course cancel your delivery at any time free of charge.

Available in 7-21 days

€175.00 1
H+B ALU-RACK HONDA - CBR500R (2019-) ANTHRAC.
10065960

The product will be ordered from the manufacturer for you. Depending on availability, longer delivery times are also possible. We'll let you know if that's the case. You can of course cancel your delivery at any time free of charge.

Available in 7-21 days

€185.00 1
H+B ALU-RACK - HONDA CRF1100L AF.TW. 19-
10068503

The product will be ordered from the manufacturer for you. Depending on availability, longer delivery times are also possible. We'll let you know if that's the case. You can of course cancel your delivery at any time free of charge.

Available in 7-21 days

€170.00 1
H+B ALU-RACK - KAWASAKI NINJA 650 2017-
10066491

The item is in stock and will be delivered in 2-5 working days. Note: Stocks are updated online every hour on working days from 7 a.m. to 8 p.m., so there is a good chance that the products are available if they appear online.

Available

€200.00 1
H+B ALU-RACK KAWASAKI - VERSYS 1000 (2019-) BLACK
10065963

The product will be ordered from the manufacturer for you. Depending on availability, longer delivery times are also possible. We'll let you know if that's the case. You can of course cancel your delivery at any time free of charge.

Available in 7-21 days

€130.00 1
H+B ALU-RACK KTM 790 - ADVENTURE/R (2019-) BLACK
10065966

The product will be ordered from the manufacturer for you. Depending on availability, longer delivery times are also possible. We'll let you know if that's the case. You can of course cancel your delivery at any time free of charge.

Available in 7-21 days

€170.00 1
H+B ALU-RACK MULTISTRADA - 1260 ENDURO (2019-)
10065956

The product will be ordered from the manufacturer for you. Depending on availability, longer delivery times are also possible. We'll let you know if that's the case. You can of course cancel your delivery at any time free of charge.

Available in 7-21 days

€165.00 1
H+B ALU-RACK MULTISTRADA - HONDA CB 500 X (2019-)
10065957

The product will be ordered from the manufacturer for you. Depending on availability, longer delivery times are also possible. We'll let you know if that's the case. You can of course cancel your delivery at any time free of charge.

Available in 7-21 days

€175.00 1
H+B ALU-RACK ORIG. REAR - 1090 ADVENTURE 2017- BLK
10066533

The product will be ordered from the manufacturer for you. Depending on availability, longer delivery times are also possible. We'll let you know if that's the case. You can of course cancel your delivery at any time free of charge.

Available in 7-21 days

€150.00 1
H+B ALU-RACK ORIG. REAR - 1090 ADVENTURE R 17- BLK
10066534

The product will be ordered from the manufacturer for you. Depending on availability, longer delivery times are also possible. We'll let you know if that's the case. You can of course cancel your delivery at any time free of charge.

Available in 7-21 days

€150.00 1
H+B ALU-RACK TRIUMPH - TIGER EXPLORER 1200 (16-)
10065958

The product will be ordered from the manufacturer for you. Depending on availability, longer delivery times are also possible. We'll let you know if that's the case. You can of course cancel your delivery at any time free of charge.

Available in 7-21 days

€130.00 1
H+B ALU-RACK - WR125 R/X 2009- BLACK

Important notes

Luggage rack is only mini-luggage carrier, only suitable for small H&B topcases with base plate

10024495

The item is in stock and will be delivered in 2-5 working days. Note: Stocks are updated online every hour on working days from 7 a.m. to 8 p.m., so there is a good chance that the products are available if they appear online.

Available

€135.00

1 2 €115.30 1
H+B ALU-RACK YAMAHA - TÉNÉRÉ 700 (2019-) BLACK
10065969

The item is in stock and will be delivered in 2-5 working days. Note: Stocks are updated online every hour on working days from 7 a.m. to 8 p.m., so there is a good chance that the products are available if they appear online.

Available

€170.00 1
H+B ALU-RACK - YAMAHA XSR 700 16- ANTHRA
10066465

The product will be ordered from the manufacturer for you. Depending on availability, longer delivery times are also possible. We'll let you know if that's the case. You can of course cancel your delivery at any time free of charge.

Available in 7-21 days

€185.00 1
H+B ALURACK - SUZUKI SV 650 16- BLACK
10066484

The item is in stock and will be delivered in 2-5 working days. Note: Stocks are updated online every hour on working days from 7 a.m. to 8 p.m., so there is a good chance that the products are available if they appear online.

Available

€170.00 1
H+B ALURACK T. CASE RACK - BMW HP2 BLACK 2005-08
10066543

The product will be ordered from the manufacturer for you. Depending on availability, longer delivery times are also possible. We'll let you know if that's the case. You can of course cancel your delivery at any time free of charge.

Available in 7-21 days

€225.00 1
H+B LUGGAGE PLATE ALURACK - 1290 SUPER ADV. 15- BLACK
10066255

The product will be ordered from the manufacturer for you. Depending on availability, longer delivery times are also possible. We'll let you know if that's the case. You can of course cancel your delivery at any time free of charge.

Available in 7-21 days

€150.00 1
H+B LUGGAGE PLATE ALURACK - 1290 SUPER DUKE GT 16-
10066486

The product will be ordered from the manufacturer for you. Depending on availability, longer delivery times are also possible. We'll let you know if that's the case. You can of course cancel your delivery at any time free of charge.

Available in 7-21 days

€190.00 1
H+B LUGGAGE PLATE ALURACK - 250 R NINJA SCHWARZ
10066160

The product will be ordered from the manufacturer for you. Depending on availability, longer delivery times are also possible. We'll let you know if that's the case. You can of course cancel your delivery at any time free of charge.

Available in 7-21 days

€190.00 1
H+B LUGGAGE PLATE ALURACK - 390 DUKE 13- BLACK
10066249

The product will be ordered from the manufacturer for you. Depending on availability, longer delivery times are also possible. We'll let you know if that's the case. You can of course cancel your delivery at any time free of charge.

Available in 7-21 days

€180.00 1
H+B LUGGAGE PLATE ALURACK - 950/990 LC8 ADVE./S SCHW.

Important notes

No luggage rack, only specific adapter for mounting on original luggage carrier

10024801

The item is in stock and will be delivered in 2-5 working days. Note: Stocks are updated online every hour on working days from 7 a.m. to 8 p.m., so there is a good chance that the products are available if they appear online.

Available

€140.00

1 2 €79.99 1
H+B LUGGAGE PLATE ALURACK - B-KING SCHWARZ
10065900

The product will be ordered from the manufacturer for you. Depending on availability, longer delivery times are also possible. We'll let you know if that's the case. You can of course cancel your delivery at any time free of charge.

Available in 7-21 days

€240.00 1
H+B LUGGAGE PLATE ALURACK - BMW C 600 SPORT SCHWARZ
10066135

The product will be ordered from the manufacturer for you. Depending on availability, longer delivery times are also possible. We'll let you know if that's the case. You can of course cancel your delivery at any time free of charge.

Available in 7-21 days

€165.00 1
H+B LUGGAGE PLATE ALURACK - BMW C 650 GT SCHWARZ
10066136

The product will be ordered from the manufacturer for you. Depending on availability, longer delivery times are also possible. We'll let you know if that's the case. You can of course cancel your delivery at any time free of charge.

Available in 7-21 days

€160.00 1
H+B LUGGAGE PLATE ALURACK - BMW F 800 GS ADV. SCHWARZ
10066134

The item is in stock and will be delivered in 2-5 working days. Note: Stocks are updated online every hour on working days from 7 a.m. to 8 p.m., so there is a good chance that the products are available if they appear online.

Available

€130.00

1 2 €69.99 1
H+B LUGGAGE PLATE ALURACK - BMW R NINE T SCHWARZ
10065927

The product will be ordered from the manufacturer for you. Depending on availability, longer delivery times are also possible. We'll let you know if that's the case. You can of course cancel your delivery at any time free of charge.

Available in 7-21 days

€225.00 1
H+B LUGGAGE PLATE ALURACK - BMW R1200R 2011-14 BLACK
10066147

The product will be ordered from the manufacturer for you. Depending on availability, longer delivery times are also possible. We'll let you know if that's the case. You can of course cancel your delivery at any time free of charge.

Available in 7-21 days

€160.00 1
H+B LUGGAGE PLATE ALURACK - BMW S 1000 XR 15- BLACK

Important notes

Can only be installed with original top rack/top box carrier.

10066239

The item is in stock and will be delivered in 2-5 working days. Note: Stocks are updated online every hour on working days from 7 a.m. to 8 p.m., so there is a good chance that the products are available if they appear online.

Available

€140.00 1
H+B LUGGAGE PLATE ALURACK - BRUTALE 675/800 12- BLACK
10066251

The product will be ordered from the manufacturer for you. Depending on availability, longer delivery times are also possible. We'll let you know if that's the case. You can of course cancel your delivery at any time free of charge.

Available in 7-21 days

€210.00 1
H+B LUGGAGE PLATE ALURACK - BURGMAN 650 13-
10066130

The product will be ordered from the manufacturer for you. Depending on availability, longer delivery times are also possible. We'll let you know if that's the case. You can of course cancel your delivery at any time free of charge.

Available in 7-21 days

€165.00 1
H+B LUGGAGE PLATE ALURACK - CAPONORD 1200 SCHWARZ
60559007

The product will be ordered from the manufacturer for you. Depending on availability, longer delivery times are also possible. We'll let you know if that's the case. You can of course cancel your delivery at any time free of charge.

Available in 7-21 days

€185.00 1
H+B LUGGAGE PLATE ALURACK - CB 125 F 15- BLACK
10066236

The product will be ordered from the manufacturer for you. Depending on availability, longer delivery times are also possible. We'll let you know if that's the case. You can of course cancel your delivery at any time free of charge.

Available in 7-21 days

€165.00 1
H+B LUGGAGE PLATE ALURACK - CB 500 F 13- ANTHRAZIT

Important notes

Winkerlamps remain in original position

Pillion grip is not used.

Exclusive and standard cases with top box cannot be combined.

10066258

The product will be ordered from the manufacturer for you. Depending on availability, longer delivery times are also possible. We'll let you know if that's the case. You can of course cancel your delivery at any time free of charge.

Available in 7-21 days

€175.00 1
H+B LUGGAGE PLATE ALURACK - CB 500 F 16- ANTHRACITE
10066476

The product will be ordered from the manufacturer for you. Depending on availability, longer delivery times are also possible. We'll let you know if that's the case. You can of course cancel your delivery at any time free of charge.

Available in 7-21 days

€185.00 1
H+B LUGGAGE PLATE ALURACK - CB 650 F SCHWARZ
10065929

The product will be ordered from the manufacturer for you. Depending on availability, longer delivery times are also possible. We'll let you know if that's the case. You can of course cancel your delivery at any time free of charge.

Available in 7-21 days

€185.00 1
H+B LUGGAGE PLATE ALURACK - CB1000 BIG ONE SCHWARZ
60559053

The product will be ordered from the manufacturer for you. Depending on availability, longer delivery times are also possible. We'll let you know if that's the case. You can of course cancel your delivery at any time free of charge.

Available in 7-21 days

€185.00 1
H+B LUGGAGE PLATE ALURACK - CB1000 R SCHWARZ
10065902

The product will be ordered from the manufacturer for you. Depending on availability, longer delivery times are also possible. We'll let you know if that's the case. You can of course cancel your delivery at any time free of charge.

Available in 7-21 days

€225.00 1
H+B LUGGAGE PLATE ALURACK - CB1300/S 03-09 SCHWARZ
10023765

The product will be ordered from the manufacturer for you. Depending on availability, longer delivery times are also possible. We'll let you know if that's the case. You can of course cancel your delivery at any time free of charge.

Available in 7-21 days

€185.00 1
H+B LUGGAGE PLATE ALURACK - CB1300/S 10- SCHWARZ
10065919

The product will be ordered from the manufacturer for you. Depending on availability, longer delivery times are also possible. We'll let you know if that's the case. You can of course cancel your delivery at any time free of charge.

Available in 7-21 days

€175.00 1
H+B LUGGAGE PLATE ALURACK - CB500X 2013- ANTHRACITE
10066133

The item is in stock and will be delivered in 2-5 working days. Note: Stocks are updated online every hour on working days from 7 a.m. to 8 p.m., so there is a good chance that the products are available if they appear online.

Available

€175.00 1
H+B LUGGAGE PLATE ALURACK - CB600 F HORNET 11- SCHW.
10024099

The product will be ordered from the manufacturer for you. Depending on availability, longer delivery times are also possible. We'll let you know if that's the case. You can of course cancel your delivery at any time free of charge.

Available in 7-21 days

€190.00 1
H+B LUGGAGE PLATE ALURACK - CB600F HORNET 07-10 SCHW.
10024468

The product will be ordered from the manufacturer for you. Depending on availability, longer delivery times are also possible. We'll let you know if that's the case. You can of course cancel your delivery at any time free of charge.

Available in 7-21 days

€190.00 1
H+B LUGGAGE PLATE ALURACK - CBF 1000 06- SCHWARZ
10023777

The item is in stock and will be delivered in 2-5 working days. Note: Stocks are updated online every hour on working days from 7 a.m. to 8 p.m., so there is a good chance that the products are available if they appear online.

Available

€170.00 1
H+B LUGGAGE PLATE ALURACK - CBF 500 SCHWARZ
10066149

The product will be ordered from the manufacturer for you. Depending on availability, longer delivery times are also possible. We'll let you know if that's the case. You can of course cancel your delivery at any time free of charge.

Available in 7-21 days

€170.00 1
H+B LUGGAGE PLATE ALURACK - CBF1000 F 10- SCHWARZ
10024089

The product will be ordered from the manufacturer for you. Depending on availability, longer delivery times are also possible. We'll let you know if that's the case. You can of course cancel your delivery at any time free of charge.

Available in 7-21 days

€170.00 1
H+B LUGGAGE PLATE ALURACK - CBF125 09- SCHWARZ
10024837

The product will be ordered from the manufacturer for you. Depending on availability, longer delivery times are also possible. We'll let you know if that's the case. You can of course cancel your delivery at any time free of charge.

Available in 7-21 days

€135.00 1
H+B LUGGAGE PLATE ALURACK - CBF600 08- SCHWARZ
10023828

The product will be ordered from the manufacturer for you. Depending on availability, longer delivery times are also possible. We'll let you know if that's the case. You can of course cancel your delivery at any time free of charge.

Available in 7-21 days

€170.00 1
H+B LUGGAGE PLATE ALURACK - CBF600/S 04-07 SCHWARZ
10024929

The product will be ordered from the manufacturer for you. Depending on availability, longer delivery times are also possible. We'll let you know if that's the case. You can of course cancel your delivery at any time free of charge.

Available in 7-21 days

€170.00 1
H+B LUGGAGE PLATE ALURACK - CBR 650 F SCHWARZ
10065931

The product will be ordered from the manufacturer for you. Depending on availability, longer delivery times are also possible. We'll let you know if that's the case. You can of course cancel your delivery at any time free of charge.

Available in 7-21 days

€185.00 1
H+B LUGGAGE PLATE ALURACK - CBR500R/CB500F 13- ANTHR.
10066129

The product will be ordered from the manufacturer for you. Depending on availability, longer delivery times are also possible. We'll let you know if that's the case. You can of course cancel your delivery at any time free of charge.

Available in 7-21 days

€175.00 1
H+B LUGGAGE PLATE ALURACK - CBR600 F 11- SCHWARZ
10023879

The product will be ordered from the manufacturer for you. Depending on availability, longer delivery times are also possible. We'll let you know if that's the case. You can of course cancel your delivery at any time free of charge.

Available in 7-21 days

€190.00 1
H+B LUGGAGE PLATE ALURACK - CRF1000L AFRICA TWIN 18-
10066688

The item is in stock and will be delivered in 2-5 working days. Note: Stocks are updated online every hour on working days from 7 a.m. to 8 p.m., so there is a good chance that the products are available if they appear online.

Available

€160.00 1
H+B LUGGAGE PLATE ALURACK - CROSSRUNNER 11- SCHWARZ
10024197

The item is in stock and will be delivered in 2-5 working days. Note: Stocks are updated online every hour on working days from 7 a.m. to 8 p.m., so there is a good chance that the products are available if they appear online.

Available

€190.00 1
H+B LUGGAGE PLATE ALURACK - CROSSTOURER 1200 BLACK
10065921

The product will be ordered from the manufacturer for you. Depending on availability, longer delivery times are also possible. We'll let you know if that's the case. You can of course cancel your delivery at any time free of charge.

Available in 7-21 days

€120.00 1
H+B LUGGAGE PLATE ALURACK - CTX 700/N SCHWARZ
10065935

The product will be ordered from the manufacturer for you. Depending on availability, longer delivery times are also possible. We'll let you know if that's the case. You can of course cancel your delivery at any time free of charge.

Available in 7-21 days

€200.00 1
H+B LUGGAGE PLATE ALURACK - DIAVEL SCHWARZ
10066212

The product will be ordered from the manufacturer for you. Depending on availability, longer delivery times are also possible. We'll let you know if that's the case. You can of course cancel your delivery at any time free of charge.

Available in 7-21 days

€215.00 1
H+B LUGGAGE PLATE ALURACK - DL1000 V-ST. 02-07 SCHW.
10065915

The product will be ordered from the manufacturer for you. Depending on availability, longer delivery times are also possible. We'll let you know if that's the case. You can of course cancel your delivery at any time free of charge.

Available in 7-21 days

€130.00 1
H+B LUGGAGE PLATE ALURACK - DL650 MIT ABS 12- SCHWARZ
10066105

The product will be ordered from the manufacturer for you. Depending on availability, longer delivery times are also possible. We'll let you know if that's the case. You can of course cancel your delivery at any time free of charge.

Available in 7-21 days

€130.00 1
H+B LUGGAGE PLATE ALURACK - DL650 V-STROM -11 SCHWARZ
10023767

The product will be ordered from the manufacturer for you. Depending on availability, longer delivery times are also possible. We'll let you know if that's the case. You can of course cancel your delivery at any time free of charge.

Available in 7-21 days

€130.00 1
H+B LUGGAGE PLATE ALURACK - ER-6N/F 06-08 SCHWARZ
10023780

The product will be ordered from the manufacturer for you. Depending on availability, longer delivery times are also possible. We'll let you know if that's the case. You can of course cancel your delivery at any time free of charge.

Available in 7-21 days

€185.00 1
H+B LUGGAGE PLATE ALURACK - ER-6N/F 09-11 SCHWARZ
10024494

The product will be ordered from the manufacturer for you. Depending on availability, longer delivery times are also possible. We'll let you know if that's the case. You can of course cancel your delivery at any time free of charge.

Available in 7-21 days

€180.00 1
H+B LUGGAGE PLATE ALURACK - ER-6N/F 12- SCHWARZ
10066108

The product will be ordered from the manufacturer for you. Depending on availability, longer delivery times are also possible. We'll let you know if that's the case. You can of course cancel your delivery at any time free of charge.

Available in 7-21 days

€190.00 1
H+B LUGGAGE PLATE ALURACK - EXPLORER 1200 12- SCHWARZ
10023946

The product will be ordered from the manufacturer for you. Depending on availability, longer delivery times are also possible. We'll let you know if that's the case. You can of course cancel your delivery at any time free of charge.

Available in 7-21 days

€130.00 1
H+B LUGGAGE PLATE ALURACK - F 800 GT 13- BLACK

Important notes

Not compatible with original case holder

10066242

The product will be ordered from the manufacturer for you. Depending on availability, longer delivery times are also possible. We'll let you know if that's the case. You can of course cancel your delivery at any time free of charge.

Available in 7-21 days

€185.00 1
H+B LUGGAGE PLATE ALURACK - F650 GS 08-/F700 GS SCHW.
10023838

The product will be ordered from the manufacturer for you. Depending on availability, longer delivery times are also possible. We'll let you know if that's the case. You can of course cancel your delivery at any time free of charge.

Available in 7-21 days

€130.00 1
H+B LUGGAGE PLATE ALURACK - F800 GS 08- SCHWARZ
10023839

The product will be ordered from the manufacturer for you. Depending on availability, longer delivery times are also possible. We'll let you know if that's the case. You can of course cancel your delivery at any time free of charge.

Available in 7-21 days

€130.00 1
H+B LUGGAGE PLATE ALURACK - F800 R 09- SCHWARZ
10065907

The product will be ordered from the manufacturer for you. Depending on availability, longer delivery times are also possible. We'll let you know if that's the case. You can of course cancel your delivery at any time free of charge.

Available in 7-21 days

€180.00 1
H+B LUGGAGE PLATE ALURACK - F800 R 15-
10065949

The product will be ordered from the manufacturer for you. Depending on availability, longer delivery times are also possible. We'll let you know if that's the case. You can of course cancel your delivery at any time free of charge.

Available in 7-21 days

€170.00 1
H+B LUGGAGE PLATE ALURACK - FZ 6 FAZER S2 SILBER
10066198

The product will be ordered from the manufacturer for you. Depending on availability, longer delivery times are also possible. We'll let you know if that's the case. You can of course cancel your delivery at any time free of charge.

Available in 7-21 days

€215.00 1
H+B LUGGAGE PLATE ALURACK - FZ 6/FAZER SILBER
10066195

The product will be ordered from the manufacturer for you. Depending on availability, longer delivery times are also possible. We'll let you know if that's the case. You can of course cancel your delivery at any time free of charge.

Available in 7-21 days

€215.00 1
H+B LUGGAGE PLATE ALURACK - FZ 6/FAZER 04-06 SCHWARZ
10023771

The item is in stock and will be delivered in 2-5 working days. Note: Stocks are updated online every hour on working days from 7 a.m. to 8 p.m., so there is a good chance that the products are available if they appear online.

Available

€215.00 1
H+B LUGGAGE PLATE ALURACK - FZ 6/FAZER 07- SILBER
10066196

The product will be ordered from the manufacturer for you. Depending on availability, longer delivery times are also possible. We'll let you know if that's the case. You can of course cancel your delivery at any time free of charge.

Available in 7-21 days

€215.00 1
H+B LUGGAGE PLATE ALURACK - FZ1 FAZER SCHWARZ
10023790

The product will be ordered from the manufacturer for you. Depending on availability, longer delivery times are also possible. We'll let you know if that's the case. You can of course cancel your delivery at any time free of charge.

Available in 7-21 days

€255.00 1
H+B LUGGAGE PLATE ALURACK - FZ6 FAZER S2 07- SCHWARZ
10023858

The product will be ordered from the manufacturer for you. Depending on availability, longer delivery times are also possible. We'll let you know if that's the case. You can of course cancel your delivery at any time free of charge.

Available in 7-21 days

€215.00 1
H+B LUGGAGE PLATE ALURACK - FZ6/ FAZER 07- SCHWARZ
10065914

The item is in stock and will be delivered in 2-5 working days. Note: Stocks are updated online every hour on working days from 7 a.m. to 8 p.m., so there is a good chance that the products are available if they appear online.

Available

€215.00 1
H+B LUGGAGE PLATE ALURACK - FZ8 FAZER 11- SCHWARZ
10024095

The product will be ordered from the manufacturer for you. Depending on availability, longer delivery times are also possible. We'll let you know if that's the case. You can of course cancel your delivery at any time free of charge.

Available in 7-21 days

€190.00 1
H+B LUGGAGE PLATE ALURACK - FZS1000 FAZER SCHWARZ
10024883

The product will be ordered from the manufacturer for you. Depending on availability, longer delivery times are also possible. We'll let you know if that's the case. You can of course cancel your delivery at any time free of charge.

Available in 7-21 days

€200.00

1 2 €156.60 1
H+B LUGGAGE PLATE ALURACK - GRANPASSO 1200 SCHWARZ
60559070

The product will be ordered from the manufacturer for you. Depending on availability, longer delivery times are also possible. We'll let you know if that's the case. You can of course cancel your delivery at any time free of charge.

Available in 7-21 days

€190.00 1
H+B LUGGAGE PLATE ALURACK - GSF1200 S BAN.01-05 SCHW.
10024879

The item is in stock and will be delivered in 2-5 working days. Note: Stocks are updated online every hour on working days from 7 a.m. to 8 p.m., so there is a good chance that the products are available if they appear online.

Available

€165.00 1
H+B LUGGAGE PLATE ALURACK - GSF1200/S 06- SCHWARZ
10023788

The product will be ordered from the manufacturer for you. Depending on availability, longer delivery times are also possible. We'll let you know if that's the case. You can of course cancel your delivery at any time free of charge.

Available in 7-21 days

€185.00 1
H+B LUGGAGE PLATE ALURACK - GSF1250/S 07- SCHWARZ
10023834

The item is in stock and will be delivered in 2-5 working days. Note: Stocks are updated online every hour on working days from 7 a.m. to 8 p.m., so there is a good chance that the products are available if they appear online.

Available

€170.00 1
H+B LUGGAGE PLATE ALURACK - GSF600/S BAN. 00- SCHWARZ
10024877

The item is in stock and will be delivered in 2-5 working days. Note: Stocks are updated online every hour on working days from 7 a.m. to 8 p.m., so there is a good chance that the products are available if they appear online.

Available

€165.00 1
H+B LUGGAGE PLATE ALURACK - GSF650/S 07-08 SCHWARZ
10023833

The product will be ordered from the manufacturer for you. Depending on availability, longer delivery times are also possible. We'll let you know if that's the case. You can of course cancel your delivery at any time free of charge.

Available in 7-21 days

€170.00 1
H+B LUGGAGE PLATE ALURACK - GSF650/S 09- SCHWARZ
10065904

The product will be ordered from the manufacturer for you. Depending on availability, longer delivery times are also possible. We'll let you know if that's the case. You can of course cancel your delivery at any time free of charge.

Available in 7-21 days

€170.00 1
H+B LUGGAGE PLATE ALURACK - GSF650/S M.ABS -06 SCHW.
10066174

The product will be ordered from the manufacturer for you. Depending on availability, longer delivery times are also possible. We'll let you know if that's the case. You can of course cancel your delivery at any time free of charge.

Available in 7-21 days

€190.00 1
H+B LUGGAGE PLATE ALURACK - GSF650/S O.ABS -06 SCHW.
10024779

The item is in stock and will be delivered in 2-5 working days. Note: Stocks are updated online every hour on working days from 7 a.m. to 8 p.m., so there is a good chance that the products are available if they appear online.

Available

€185.00 1
H+B LUGGAGE PLATE ALURACK - GSR 750 SCHWARZ
10066178

The product will be ordered from the manufacturer for you. Depending on availability, longer delivery times are also possible. We'll let you know if that's the case. You can of course cancel your delivery at any time free of charge.

Available in 7-21 days

€190.00 1
H+B LUGGAGE PLATE ALURACK - GSX 650 F 08- SCHWARZ
10066176

The product will be ordered from the manufacturer for you. Depending on availability, longer delivery times are also possible. We'll let you know if that's the case. You can of course cancel your delivery at any time free of charge.

Available in 7-21 days

€170.00 1
H+B LUGGAGE PLATE ALURACK - GSX1250 FA SCHWARZ
10065911

The product will be ordered from the manufacturer for you. Depending on availability, longer delivery times are also possible. We'll let you know if that's the case. You can of course cancel your delivery at any time free of charge.

Available in 7-21 days

€185.00 1
H+B LUGGAGE PLATE ALURACK - GSX1300 R HAYAB.08- SCHW.
10023592

The product will be ordered from the manufacturer for you. Depending on availability, longer delivery times are also possible. We'll let you know if that's the case. You can of course cancel your delivery at any time free of charge.

Available in 7-21 days

€215.00 1
H+B LUGGAGE PLATE ALURACK - GSX1400 02-04 SCHWARZ
10024921

The product will be ordered from the manufacturer for you. Depending on availability, longer delivery times are also possible. We'll let you know if that's the case. You can of course cancel your delivery at any time free of charge.

Available in 7-21 days

€215.00 1
H+B LUGGAGE PLATE ALURACK - GSX1400 05- SCHWARZ
10024914

The product will be ordered from the manufacturer for you. Depending on availability, longer delivery times are also possible. We'll let you know if that's the case. You can of course cancel your delivery at any time free of charge.

Available in 7-21 days

€210.00 1
H+B LUGGAGE PLATE ALURACK - GTR1400 SCHWARZ
60559101

The product will be ordered from the manufacturer for you. Depending on availability, longer delivery times are also possible. We'll let you know if that's the case. You can of course cancel your delivery at any time free of charge.

Available in 7-21 days

€145.00 1
H+B LUGGAGE PLATE ALURACK - INTEGRA 700 SCHWARZ
10065916

The product will be ordered from the manufacturer for you. Depending on availability, longer delivery times are also possible. We'll let you know if that's the case. You can of course cancel your delivery at any time free of charge.

Available in 7-21 days

€175.00 1
H+B LUGGAGE PLATE ALURACK - INTEGRA 750/DCT SCHWARZ
10065933

The product will be ordered from the manufacturer for you. Depending on availability, longer delivery times are also possible. We'll let you know if that's the case. You can of course cancel your delivery at any time free of charge.

Available in 7-21 days

€185.00 1
H+B LUGGAGE PLATE ALURACK - K1300 S SCHWARZ

Important notes

Topcase-carrier for original luggage rack

60559020

The product will be ordered from the manufacturer for you. Depending on availability, longer delivery times are also possible. We'll let you know if that's the case. You can of course cancel your delivery at any time free of charge.

Available in 7-21 days

€175.00 1
H+B LUGGAGE PLATE ALURACK - KLV1000 SCHWARZ
10024817

The product will be ordered from the manufacturer for you. Depending on availability, longer delivery times are also possible. We'll let you know if that's the case. You can of course cancel your delivery at any time free of charge.

Available in 7-21 days

€130.00 1
H+B LUGGAGE PLATE ALURACK - KLX 250 SCHWARZ
10065901

The product will be ordered from the manufacturer for you. Depending on availability, longer delivery times are also possible. We'll let you know if that's the case. You can of course cancel your delivery at any time free of charge.

Available in 7-21 days

€180.00 1
H+B LUGGAGE PLATE ALURACK - KTM 1190/1290/1050 ADV.
10066127

The product will be ordered from the manufacturer for you. Depending on availability, longer delivery times are also possible. We'll let you know if that's the case. You can of course cancel your delivery at any time free of charge.

Available in 7-21 days

€150.00 1
H+B LUGGAGE PLATE ALURACK - KTM 125/200 DUKE SCHWARZ
10066163

The item is in stock and will be delivered in 2-5 working days. Note: Stocks are updated online every hour on working days from 7 a.m. to 8 p.m., so there is a good chance that the products are available if they appear online.

Available

€180.00 1
H+B LUGGAGE PLATE ALURACK - KTM 690 DUKE 12- SCHWARZ
10066164

The product will be ordered from the manufacturer for you. Depending on availability, longer delivery times are also possible. We'll let you know if that's the case. You can of course cancel your delivery at any time free of charge.

Available in 7-21 days

€170.00 1
H+B LUGGAGE PLATE ALURACK - M696/796/1100/S SCHWARZ
10024836

The product will be ordered from the manufacturer for you. Depending on availability, longer delivery times are also possible. We'll let you know if that's the case. You can of course cancel your delivery at any time free of charge.

Available in 7-21 days

€215.00 1
H+B LUGGAGE PLATE ALURACK - MONSTER 1100 EVO BLACK
60559050

The product will be ordered from the manufacturer for you. Depending on availability, longer delivery times are also possible. We'll let you know if that's the case. You can of course cancel your delivery at any time free of charge.

Available in 7-21 days

€215.00 1
H+B LUGGAGE PLATE ALURACK - MOTO GUZZI V85 TT BJ. 19-
10066693

The product will be ordered from the manufacturer for you. Depending on availability, longer delivery times are also possible. We'll let you know if that's the case. You can of course cancel your delivery at any time free of charge.

Available in 7-21 days

€160.00 1
H+B LUGGAGE PLATE ALURACK - MT-07 ANTHRAZIT
10065937

The product will be ordered from the manufacturer for you. Depending on availability, longer delivery times are also possible. We'll let you know if that's the case. You can of course cancel your delivery at any time free of charge.

Available in 7-21 days

€170.00 1
H+B LUGGAGE PLATE ALURACK - MT-09 TRACER 15- ANTHR.
10066402

The item is in stock and will be delivered in 2-5 working days. Note: Stocks are updated online every hour on working days from 7 a.m. to 8 p.m., so there is a good chance that the products are available if they appear online.

Available

€180.00 1
H+B LUGGAGE PLATE ALURACK - MULTISTR.1200/S 15- BLACK
10066254

The product will be ordered from the manufacturer for you. Depending on availability, longer delivery times are also possible. We'll let you know if that's the case. You can of course cancel your delivery at any time free of charge.

Available in 7-21 days

€165.00 1
H+B LUGGAGE PLATE ALURACK - MULTISTRADA 1200/S SCHW.
10066213

The product will be ordered from the manufacturer for you. Depending on availability, longer delivery times are also possible. We'll let you know if that's the case. You can of course cancel your delivery at any time free of charge.

Available in 7-21 days

€140.00 1
H+B LUGGAGE PLATE ALURACK - NA850 MANA/GT SCHWARZ
60559004

The product will be ordered from the manufacturer for you. Depending on availability, longer delivery times are also possible. We'll let you know if that's the case. You can of course cancel your delivery at any time free of charge.

Available in 7-21 days

€200.00 1
H+B LUGGAGE PLATE ALURACK - NC 700/750 S/X SCHWARZ
10065918

The item is in stock and will be delivered in 2-5 working days. Note: Stocks are updated online every hour on working days from 7 a.m. to 8 p.m., so there is a good chance that the products are available if they appear online.

Available

€175.00 1
H+B LUGGAGE PLATE ALURACK - R 1200 R 15-
10065946

The product will be ordered from the manufacturer for you. Depending on availability, longer delivery times are also possible. We'll let you know if that's the case. You can of course cancel your delivery at any time free of charge.

Available in 7-21 days

€170.00 1
H+B LUGGAGE PLATE ALURACK - R 1200 R 15- BLACK

Important notes

Can only be installed with original top rack/top box carrier.

10066244

The product will be ordered from the manufacturer for you. Depending on availability, longer delivery times are also possible. We'll let you know if that's the case. You can of course cancel your delivery at any time free of charge.

Available in 7-21 days

€140.00 1
H+B LUGGAGE PLATE ALURACK - R 1200 R 15- RED

Important notes

Mount/base in red, Easy Rack/Alurack in black.

10066260

The product will be ordered from the manufacturer for you. Depending on availability, longer delivery times are also possible. We'll let you know if that's the case. You can of course cancel your delivery at any time free of charge.

Available in 7-21 days

€170.00 1
H+B LUGGAGE PLATE ALURACK - R 1200 RS 15- BLACK

Important notes

Can only be installed with original top rack/top box carrier.

10066246

The product will be ordered from the manufacturer for you. Depending on availability, longer delivery times are also possible. We'll let you know if that's the case. You can of course cancel your delivery at any time free of charge.

Available in 7-21 days

€140.00 1
H+B LUGGAGE PLATE ALURACK - R 1200 RS 15- BLACK
10066245

The product will be ordered from the manufacturer for you. Depending on availability, longer delivery times are also possible. We'll let you know if that's the case. You can of course cancel your delivery at any time free of charge.

Available in 7-21 days

€170.00 1
H+B LUGGAGE PLATE ALURACK - R 1200 RT 14- SCHWARZ
10066400

The product will be ordered from the manufacturer for you. Depending on availability, longer delivery times are also possible. We'll let you know if that's the case. You can of course cancel your delivery at any time free of charge.

Available in 7-21 days

€225.00 1
H+B LUGGAGE PLATE ALURACK - R1200 GS -07 SILBER

Important notes

Mounted instead of original luggage-carrier

10065903

The product will be ordered from the manufacturer for you. Depending on availability, longer delivery times are also possible. We'll let you know if that's the case. You can of course cancel your delivery at any time free of charge.

Available in 7-21 days

€200.00 1
H+B LUGGAGE PLATE ALURACK - R1200 GS -07 SCHWARZ

Important notes

Mounted instead of original luggage-carrier

10066143

The product will be ordered from the manufacturer for you. Depending on availability, longer delivery times are also possible. We'll let you know if that's the case. You can of course cancel your delivery at any time free of charge.

Available in 7-21 days

€190.00 1
H+B LUGGAGE PLATE ALURACK - R1200 GS 13- SCHWARZ
10066122

The item is in stock and will be delivered in 2-5 working days. Note: Stocks are updated online every hour on working days from 7 a.m. to 8 p.m., so there is a good chance that the products are available if they appear online.

Available

€160.00 1
H+B LUGGAGE PLATE ALURACK - R1200 GS ADVEN. 14- SCHW.
10066214

The product will be ordered from the manufacturer for you. Depending on availability, longer delivery times are also possible. We'll let you know if that's the case. You can of course cancel your delivery at any time free of charge.

Available in 7-21 days

€190.00 1
H+B LUGGAGE PLATE ALURACK - R1200 GS/ADVENT.08- SCHW.

Important notes

Mounted instead of original luggage-carrier

10066141

The product will be ordered from the manufacturer for you. Depending on availability, longer delivery times are also possible. We'll let you know if that's the case. You can of course cancel your delivery at any time free of charge.

Available in 7-21 days

€190.00 1
H+B LUGGAGE PLATE ALURACK - R1200 GS/ADVENT.08- SILB.

Important notes

Mounted instead of original luggage-carrier

10024855

The product will be ordered from the manufacturer for you. Depending on availability, longer delivery times are also possible. We'll let you know if that's the case. You can of course cancel your delivery at any time free of charge.

Available in 7-21 days

€200.00 1
H+B LUGGAGE PLATE ALURACK - R1200GS 2013- SILVER
10066218

The item is in stock and will be delivered in 2-5 working days. Note: Stocks are updated online every hour on working days from 7 a.m. to 8 p.m., so there is a good chance that the products are available if they appear online.

Available

€165.00

1 2 €89.99 1
H+B LUGGAGE PLATE ALURACK - S1000XR 2015- BLACK
10066243

The product will be ordered from the manufacturer for you. Depending on availability, longer delivery times are also possible. We'll let you know if that's the case. You can of course cancel your delivery at any time free of charge.

Available in 7-21 days

€170.00 1
H+B LUGGAGE PLATE ALURACK - SCAMBLER 2015- BLACK
10066253

The item is in stock and will be delivered in 2-5 working days. Note: Stocks are updated online every hour on working days from 7 a.m. to 8 p.m., so there is a good chance that the products are available if they appear online.

Available

€185.00

1 2 €130.00 1
H+B LUGGAGE PLATE ALURACK - SEVENFIFTY 92- SCHWARZ
10024442

The item is in stock and will be delivered in 2-5 working days. Note: Stocks are updated online every hour on working days from 7 a.m. to 8 p.m., so there is a good chance that the products are available if they appear online.

Available

€180.00 1
H+B LUGGAGE PLATE ALURACK - SFV650 GLADIUS SCHWARZ
10024771

The product will be ordered from the manufacturer for you. Depending on availability, longer delivery times are also possible. We'll let you know if that's the case. You can of course cancel your delivery at any time free of charge.

Available in 7-21 days

€180.00 1
H+B LUGGAGE PLATE ALURACK - SL750 SHIVER 10- SCHWARZ
60559002

The product will be ordered from the manufacturer for you. Depending on availability, longer delivery times are also possible. We'll let you know if that's the case. You can of course cancel your delivery at any time free of charge.

Available in 7-21 days

€210.00 1
H+B LUGGAGE PLATE ALURACK - SL750 SHIVER/GT -09 SCHW.
60559001

The product will be ordered from the manufacturer for you. Depending on availability, longer delivery times are also possible. We'll let you know if that's the case. You can of course cancel your delivery at any time free of charge.

Available in 7-21 days

€210.00 1
H+B LUGGAGE PLATE ALURACK - SPEED TRIPLE 08-10 SCHW.
10066189

The item is in stock and will be delivered in 2-5 working days. Note: Stocks are updated online every hour on working days from 7 a.m. to 8 p.m., so there is a good chance that the products are available if they appear online.

Available

€210.00 1
H+B LUGGAGE PLATE ALURACK - STELVIO 1200 08- SCHWARZ
10023697

The product will be ordered from the manufacturer for you. Depending on availability, longer delivery times are also possible. We'll let you know if that's the case. You can of course cancel your delivery at any time free of charge.

Available in 7-21 days

€150.00 1
H+B LUGGAGE PLATE ALURACK - STR.TRIPLE 675/R 13-BLACK
10066250

The item is in stock and will be delivered in 2-5 working days. Note: Stocks are updated online every hour on working days from 7 a.m. to 8 p.m., so there is a good chance that the products are available if they appear online.

Available

€210.00 1
H+B LUGGAGE PLATE ALURACK - STREET TRIPLE/R -12 SCHW.
10066187

The product will be ordered from the manufacturer for you. Depending on availability, longer delivery times are also possible. We'll let you know if that's the case. You can of course cancel your delivery at any time free of charge.

Available in 7-21 days

€210.00 1
H+B LUGGAGE PLATE ALURACK - T-MAX500 08- SCHWARZ
10066191

The product will be ordered from the manufacturer for you. Depending on availability, longer delivery times are also possible. We'll let you know if that's the case. You can of course cancel your delivery at any time free of charge.

Available in 7-21 days

€200.00 1
H+B LUGGAGE PLATE ALURACK - TIGER 1050 SCHWARZ
10066190

The product will be ordered from the manufacturer for you. Depending on availability, longer delivery times are also possible. We'll let you know if that's the case. You can of course cancel your delivery at any time free of charge.

Available in 7-21 days

€180.00 1
H+B LUGGAGE PLATE ALURACK - TIGER 1050 SPORT SCHWARZ
10066170

The product will be ordered from the manufacturer for you. Depending on availability, longer delivery times are also possible. We'll let you know if that's the case. You can of course cancel your delivery at any time free of charge.

Available in 7-21 days

€180.00 1
H+B LUGGAGE PLATE ALURACK - TIGER 1050/SE 07-13 BLACK

Important notes

Only together with original sidecase-carrier

10066248

The product will be ordered from the manufacturer for you. Depending on availability, longer delivery times are also possible. We'll let you know if that's the case. You can of course cancel your delivery at any time free of charge.

Available in 7-21 days

€175.00 1
H+B LUGGAGE PLATE ALURACK - TIGER 800 XC/X XR/X 15-
10065943

The product will be ordered from the manufacturer for you. Depending on availability, longer delivery times are also possible. We'll let you know if that's the case. You can of course cancel your delivery at any time free of charge.

Available in 7-21 days

€130.00 1
H+B LUGGAGE PLATE ALURACK - TIGER 800 XR/XC 15- BLACK
10066257

The product will be ordered from the manufacturer for you. Depending on availability, longer delivery times are also possible. We'll let you know if that's the case. You can of course cancel your delivery at any time free of charge.

Available in 7-21 days

€130.00 1
H+B LUGGAGE PLATE ALURACK - TIGER 800/XC SCHWARZ
10023944

The item is in stock and will be delivered in 2-5 working days. Note: Stocks are updated online every hour on working days from 7 a.m. to 8 p.m., so there is a good chance that the products are available if they appear online.

Available

€130.00 1
H+B LUGGAGE PLATE ALURACK - TR650 TERRA SCHWARZ
60559100

The product will be ordered from the manufacturer for you. Depending on availability, longer delivery times are also possible. We'll let you know if that's the case. You can of course cancel your delivery at any time free of charge.

Available in 7-21 days

€130.00 1
H+B LUGGAGE PLATE ALURACK - TUONO V4 R SCHWARZ
60559006

The product will be ordered from the manufacturer for you. Depending on availability, longer delivery times are also possible. We'll let you know if that's the case. You can of course cancel your delivery at any time free of charge.

Available in 7-21 days

€210.00 1
H+B LUGGAGE PLATE ALURACK - V-STROM 1000 14- SCHWARZ
10066219

The item is in stock and will be delivered in 2-5 working days. Note: Stocks are updated online every hour on working days from 7 a.m. to 8 p.m., so there is a good chance that the products are available if they appear online.

Available

€130.00 1
H+B LUGGAGE PLATE ALURACK - VERSYS -09 SCHWARZ
10024827

The product will be ordered from the manufacturer for you. Depending on availability, longer delivery times are also possible. We'll let you know if that's the case. You can of course cancel your delivery at any time free of charge.

Available in 7-21 days

€195.00 1
H+B LUGGAGE PLATE ALURACK - VERSYS 1000 10- SCHWARZ
10066118

The product will be ordered from the manufacturer for you. Depending on availability, longer delivery times are also possible. We'll let you know if that's the case. You can of course cancel your delivery at any time free of charge.

Available in 7-21 days

€130.00 1
H+B LUGGAGE PLATE ALURACK - VERSYS 1000 15- SCHWARZ
10066405

The product will be ordered from the manufacturer for you. Depending on availability, longer delivery times are also possible. We'll let you know if that's the case. You can of course cancel your delivery at any time free of charge.

Available in 7-21 days

€130.00 1
H+B LUGGAGE PLATE ALURACK - VERSYS 650 10- SCHWARZ
10066107

The product will be ordered from the manufacturer for you. Depending on availability, longer delivery times are also possible. We'll let you know if that's the case. You can of course cancel your delivery at any time free of charge.

Available in 7-21 days

€190.00 1
H+B LUGGAGE PLATE ALURACK - VERSYS 650 2015- BLACK
10066238

The product will be ordered from the manufacturer for you. Depending on availability, longer delivery times are also possible. We'll let you know if that's the case. You can of course cancel your delivery at any time free of charge.

Available in 7-21 days

€190.00 1
H+B LUGGAGE PLATE ALURACK - VFR 800 F 14- BLACK
10066259

The product will be ordered from the manufacturer for you. Depending on availability, longer delivery times are also possible. We'll let you know if that's the case. You can of course cancel your delivery at any time free of charge.

Available in 7-21 days

€185.00 1
H+B LUGGAGE PLATE ALURACK - VFR 800 X CROSSRUNNER 15-
10065948

The product will be ordered from the manufacturer for you. Depending on availability, longer delivery times are also possible. We'll let you know if that's the case. You can of course cancel your delivery at any time free of charge.

Available in 7-21 days

€170.00 1
H+B LUGGAGE PLATE ALURACK - VFR1200 F 10- SCHWARZ
10024092

The product will be ordered from the manufacturer for you. Depending on availability, longer delivery times are also possible. We'll let you know if that's the case. You can of course cancel your delivery at any time free of charge.

Available in 7-21 days

€185.00 1
H+B LUGGAGE PLATE ALURACK - X-MAX 400 13- BLACK
10066240

The product will be ordered from the manufacturer for you. Depending on availability, longer delivery times are also possible. We'll let you know if that's the case. You can of course cancel your delivery at any time free of charge.

Available in 7-21 days

€160.00 1
H+B LUGGAGE PLATE ALURACK - XJ6 DIV. 09- SCHWARZ
10024773

The product will be ordered from the manufacturer for you. Depending on availability, longer delivery times are also possible. We'll let you know if that's the case. You can of course cancel your delivery at any time free of charge.

Available in 7-21 days

€170.00 1
H+B LUGGAGE PLATE ALURACK - XJR 1300 15- BLACK
10066241

The product will be ordered from the manufacturer for you. Depending on availability, longer delivery times are also possible. We'll let you know if that's the case. You can of course cancel your delivery at any time free of charge.

Available in 7-21 days

€170.00 1
H+B LUGGAGE PLATE ALURACK - XL700 V TRANSALP SCHWARZ
10023827

The item is in stock and will be delivered in 2-5 working days. Note: Stocks are updated online every hour on working days from 7 a.m. to 8 p.m., so there is a good chance that the products are available if they appear online.

Available

€130.00 1
H+B LUGGAGE PLATE ALURACK - XT1200 Z SUP.TEN. SCHWARZ
10065905

The item is in stock and will be delivered in 2-5 working days. Note: Stocks are updated online every hour on working days from 7 a.m. to 8 p.m., so there is a good chance that the products are available if they appear online.

Available

€165.00 1
H+B LUGGAGE PLATE ALURACK - XT600 TENERE 86-87 SCHW.

Important notes

No luggage rack, only specific adapter for mounting on original luggage carrier

60559200

The product will be ordered from the manufacturer for you. Depending on availability, longer delivery times are also possible. We'll let you know if that's the case. You can of course cancel your delivery at any time free of charge.

Available in 7-21 days

€90.00 1
H+B LUGGAGE PLATE ALURACK - XT600 TENERE 89-90 SCHW.

Important notes

No luggage rack, only specific adapter for mounting on original luggage carrier

60559201

The product will be ordered from the manufacturer for you. Depending on availability, longer delivery times are also possible. We'll let you know if that's the case. You can of course cancel your delivery at any time free of charge.

Available in 7-21 days

€90.00 1
H+B LUGGAGE PLATE ALURACK - XT660 Z TENERE 08- SCHW.
10023829

The product will be ordered from the manufacturer for you. Depending on availability, longer delivery times are also possible. We'll let you know if that's the case. You can of course cancel your delivery at any time free of charge.

Available in 7-21 days

€130.00 1
H+B LUGGAGE PLATE ALURACK - YAMAHA MT-09 ANTHRAZIT
10066172

The item is in stock and will be delivered in 2-5 working days. Note: Stocks are updated online every hour on working days from 7 a.m. to 8 p.m., so there is a good chance that the products are available if they appear online.

Available

€180.00 1
H+B LUGGAGE PLATE ALURACK - Z 1000 SX SCHWARZ
10066162

The product will be ordered from the manufacturer for you. Depending on availability, longer delivery times are also possible. We'll let you know if that's the case. You can of course cancel your delivery at any time free of charge.

Available in 7-21 days

€215.00 1
H+B LUGGAGE PLATE ALURACK - Z 1000 SX 2015- BLACK
10066473

The item is in stock and will be delivered in 2-5 working days. Note: Stocks are updated online every hour on working days from 7 a.m. to 8 p.m., so there is a good chance that the products are available if they appear online.

Available

€215.00 1
H+B LUGGAGE PLATE ALURACK - Z 800 / E-VERSION SCHWARZ
10066211

The product will be ordered from the manufacturer for you. Depending on availability, longer delivery times are also possible. We'll let you know if that's the case. You can of course cancel your delivery at any time free of charge.

Available in 7-21 days