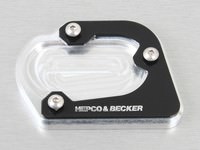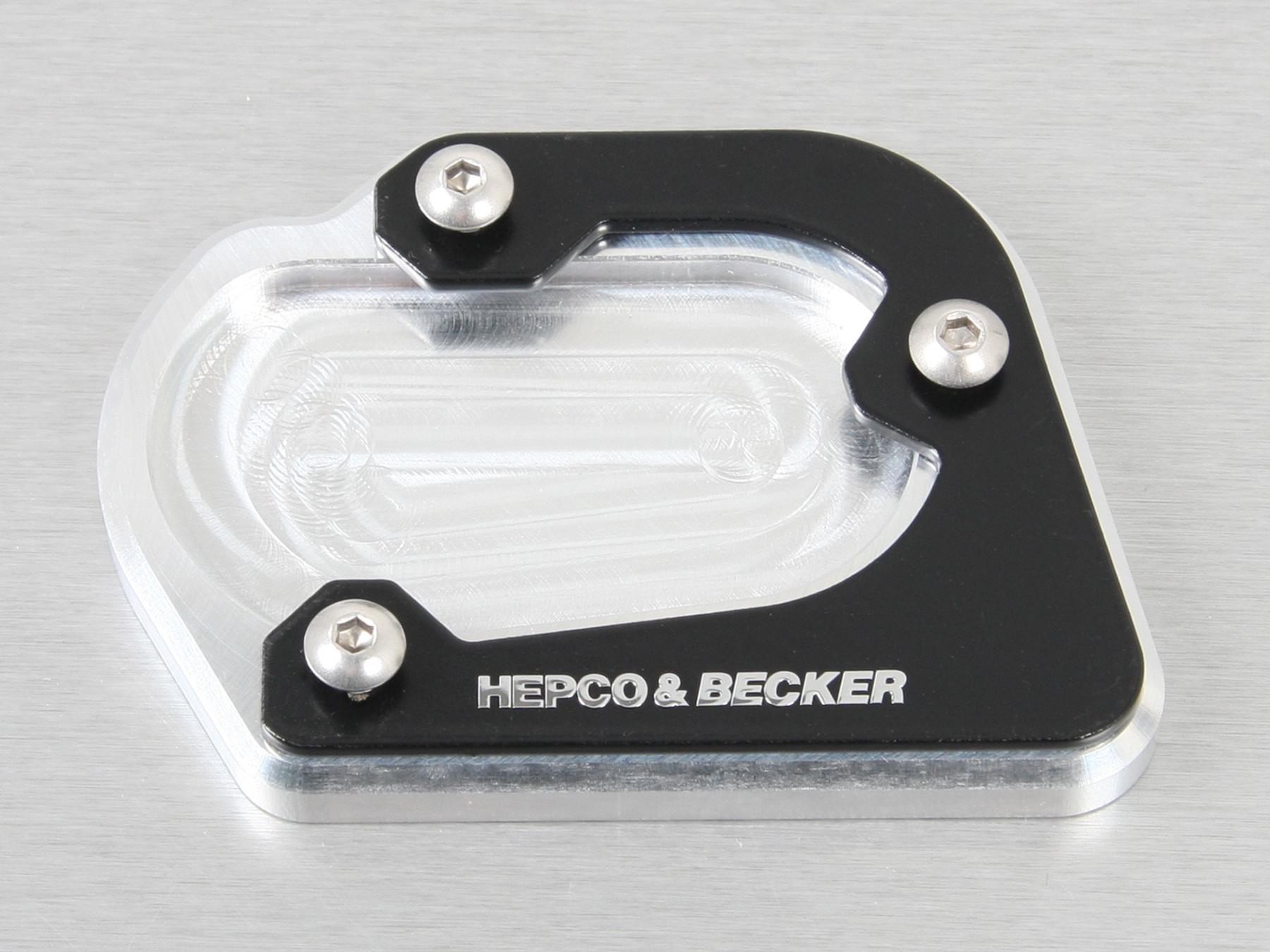 TENERE700/RALLY 19- BLACK
The product will be ordered from the manufacturer for you. Depending on availability, longer delivery times are also possible. We'll let you know if that's the case. You can of course cancel your delivery at any time free of charge.
Available in 7-21 days
Free delivery on orders over €199.00
2 year return policy
Fast delivery
Hepco & Becker Sidestand Foot Enlarger
Especially with heavy luggage or on an unpaved surface, there's a serious risk that your motorcycle sidestand will sink into the ground.
Now we supply the perfect answer to this problem - a precision-machined foot enlarger that simply screws to your sidestand,
increasing the support surface by more than 100%.
So your machine will stand firm on any surface.
Black anodised to prevent corrosion
Manufacturer details: Hepco & Becker

Go to Hepco & Becker brand shop
Luggage systems

Motorcycle luggage and Hepco & Becker - almost perfectly synonymous. For decades, globetrotters and touring bikers have sworn by the German-produced durable products. They always rank as one of the best in comparative tests performed by the trade press when it comes to precision, weather resistance and functionality. Hepco products have long been a firm favourite in the Detlev Louis range. Due to a growing demand for racks for classic bikes, retro bikes and less popular vehicles, we have further expanded our product range and now present the entire Hepco & Becker luggage rack range for you to choose from.
Product
Art. No.
Availability
Price
Actions
H&B SIDESTAND ENLARGER - BMW R NINET 2014-
10020623

The item is in stock and will be delivered in 2-5 working days. Note: Stocks are updated online every hour on working days from 7 a.m. to 8 p.m., so there is a good chance that the products are available if they appear online.

Available

€50.00 1
H&B SIDESTAND ENLARGER - BMW R NINET 2017-/SCR. 16
10020627

The item is in stock and will be delivered in 2-5 working days. Note: Stocks are updated online every hour on working days from 7 a.m. to 8 p.m., so there is a good chance that the products are available if they appear online.

Available

€50.00 1
H&B SIDESTAND ENLARGER - BMW R1200 VARIOUS
10020624

The item is in stock and will be delivered in 2-5 working days. Note: Stocks are updated online every hour on working days from 7 a.m. to 8 p.m., so there is a good chance that the products are available if they appear online.

Available

€50.00 1
H&B SIDESTAND ENLARGER - BMW R1200/1250GS VAR.
10020860

The item is in stock and will be delivered in 2-5 working days. Note: Stocks are updated online every hour on working days from 7 a.m. to 8 p.m., so there is a good chance that the products are available if they appear online.

Available

€50.00 1
H&B SIDESTAND ENLARGER - CBR1000RR FIREBLADE 2017-
10020601

The item is in stock and will be delivered in 2-5 working days. Note: Stocks are updated online every hour on working days from 7 a.m. to 8 p.m., so there is a good chance that the products are available if they appear online.

Available

€50.00 1
H&B SIDESTAND ENLARGER - DUC. MULTISTRADA950/S 17-
10020631

The item is in stock and will be delivered in 2-5 working days. Note: Stocks are updated online every hour on working days from 7 a.m. to 8 p.m., so there is a good chance that the products are available if they appear online.

Available

€50.00 1
H&B SIDESTAND ENLARGER - HONDA AFRICA TWIN 2016-
10020602

The item is in stock and will be delivered in 2-5 working days. Note: Stocks are updated online every hour on working days from 7 a.m. to 8 p.m., so there is a good chance that the products are available if they appear online.

Available

€50.00 1
H&B SIDESTAND ENLARGER - KAWA. VERSYS 650 2015-
10020606

The item is in stock and will be delivered in 2-5 working days. Note: Stocks are updated online every hour on working days from 7 a.m. to 8 p.m., so there is a good chance that the products are available if they appear online.

Available

€50.00 1
H&B SIDESTAND ENLARGER - KAWASAKI, VARIOUS
10020603

The item is in stock and will be delivered in 2-5 working days. Note: Stocks are updated online every hour on working days from 7 a.m. to 8 p.m., so there is a good chance that the products are available if they appear online.

Available

€50.00 1
H&B SIDESTAND ENLARGER - KTM 1050/1190/1290 VAR.
10020621

The item is in stock and will be delivered in 2-5 working days. Note: Stocks are updated online every hour on working days from 7 a.m. to 8 p.m., so there is a good chance that the products are available if they appear online.

Available

€50.00 1
H&B SIDESTAND ENLARGER - KTM 990/1190/690 VARIOUS
10020619

The item is in stock and will be delivered in 2-5 working days. Note: Stocks are updated online every hour on working days from 7 a.m. to 8 p.m., so there is a good chance that the products are available if they appear online.

Available

€50.00 1
H&B SIDESTAND ENLARGER - MOTO GUZZI V85TT 2019
10020634

The item is in stock and will be delivered in 2-5 working days. Note: Stocks are updated online every hour on working days from 7 a.m. to 8 p.m., so there is a good chance that the products are available if they appear online.

Available

€50.00 1
H&B SIDESTAND ENLARGER - SUZUKI VARIOUS
10020607

The item is in stock and will be delivered in 2-5 working days. Note: Stocks are updated online every hour on working days from 7 a.m. to 8 p.m., so there is a good chance that the products are available if they appear online.

Available

€50.00 1
H&B SIDESTAND ENLARGER - TRIUMPH TIGER 1200 2012-
10020616

The item is in stock and will be delivered in 2-5 working days. Note: Stocks are updated online every hour on working days from 7 a.m. to 8 p.m., so there is a good chance that the products are available if they appear online.

Available

€50.00 1
H&B SIDESTAND ENLARGER - TRIUMPH TIGER 1200 2016-
10020617

The item is in stock and will be delivered in 2-5 working days. Note: Stocks are updated online every hour on working days from 7 a.m. to 8 p.m., so there is a good chance that the products are available if they appear online.

Available

€50.00 1
H&B SIDESTAND ENLARGER - TRIUMPH TIGER 800 VARIOUS
10020612

The item is in stock and will be delivered in 2-5 working days. Note: Stocks are updated online every hour on working days from 7 a.m. to 8 p.m., so there is a good chance that the products are available if they appear online.

Available

€50.00 1
H&B SIDESTAND ENLARGER - YAMAHA VARIOUS
10020609

The item is in stock and will be delivered in 2-5 working days. Note: Stocks are updated online every hour on working days from 7 a.m. to 8 p.m., so there is a good chance that the products are available if they appear online.

Available

€50.00 1
MOTO GUZZI V85TT 2020-
10068611

The item is in stock and will be delivered in 2-5 working days. Note: Stocks are updated online every hour on working days from 7 a.m. to 8 p.m., so there is a good chance that the products are available if they appear online.

Available

€50.00 1
TENERE700/RALLY 19- BLACK
10068610

The product will be ordered from the manufacturer for you. Depending on availability, longer delivery times are also possible. We'll let you know if that's the case. You can of course cancel your delivery at any time free of charge.

Available in 7-21 days

€50.00 1
More from Hepco & Becker: