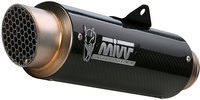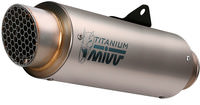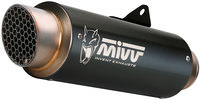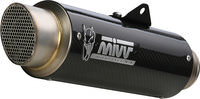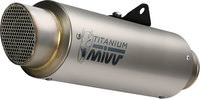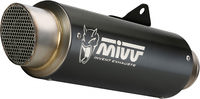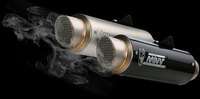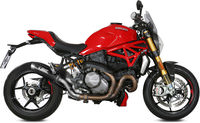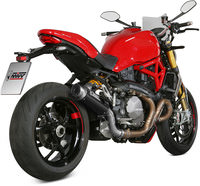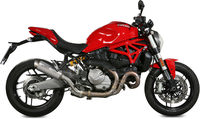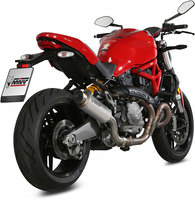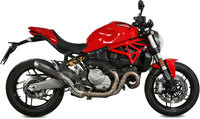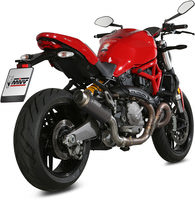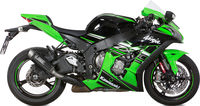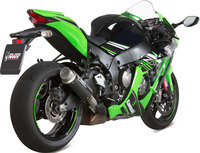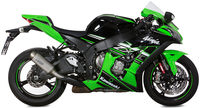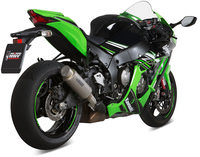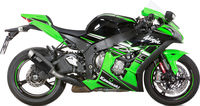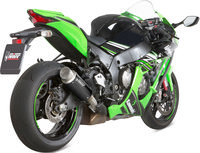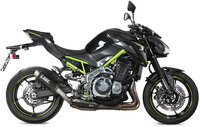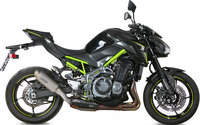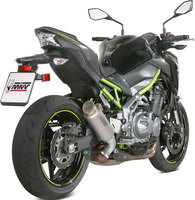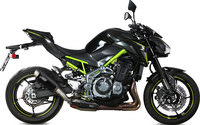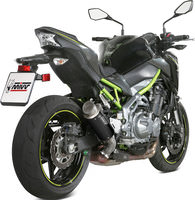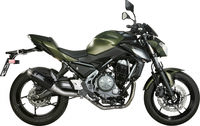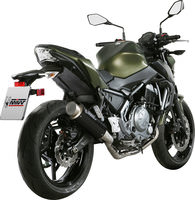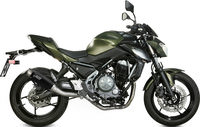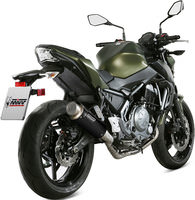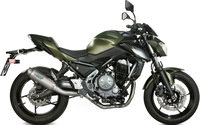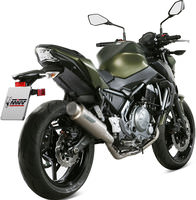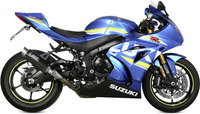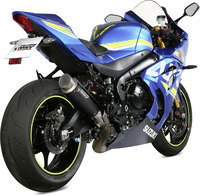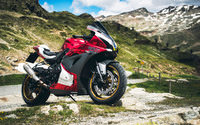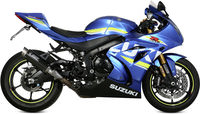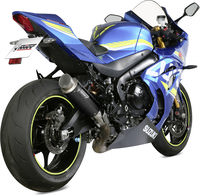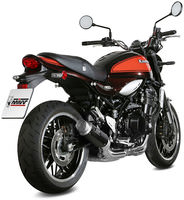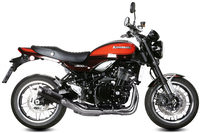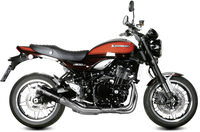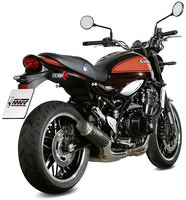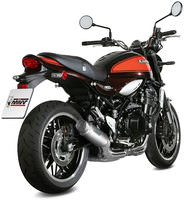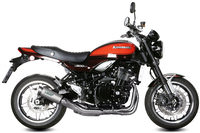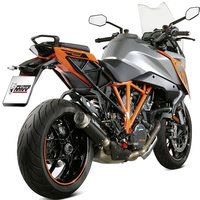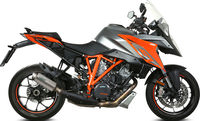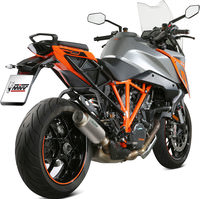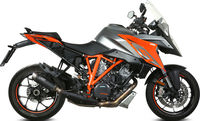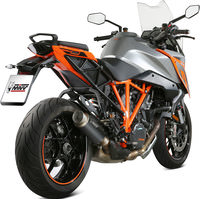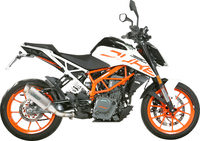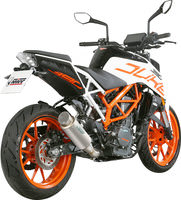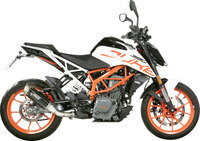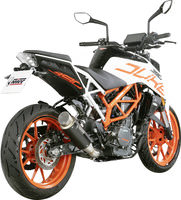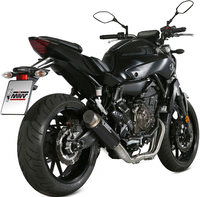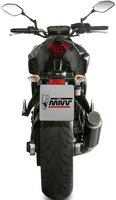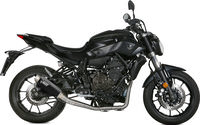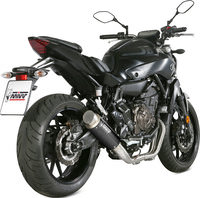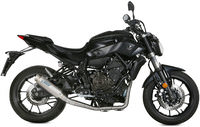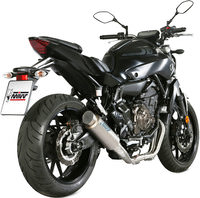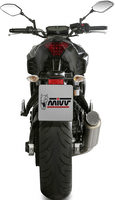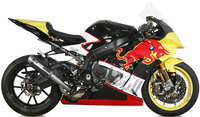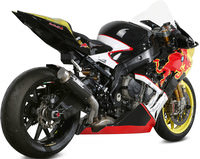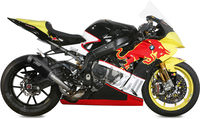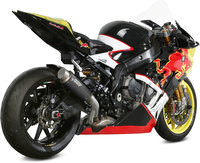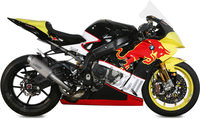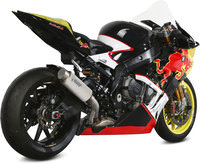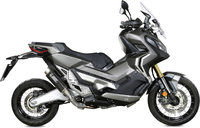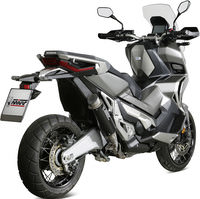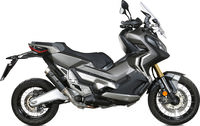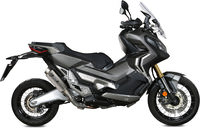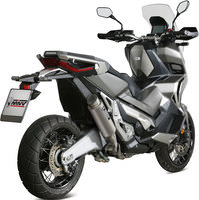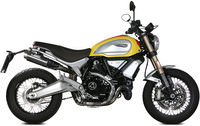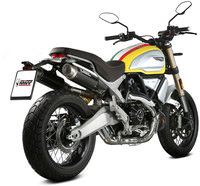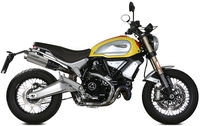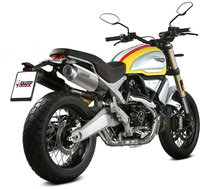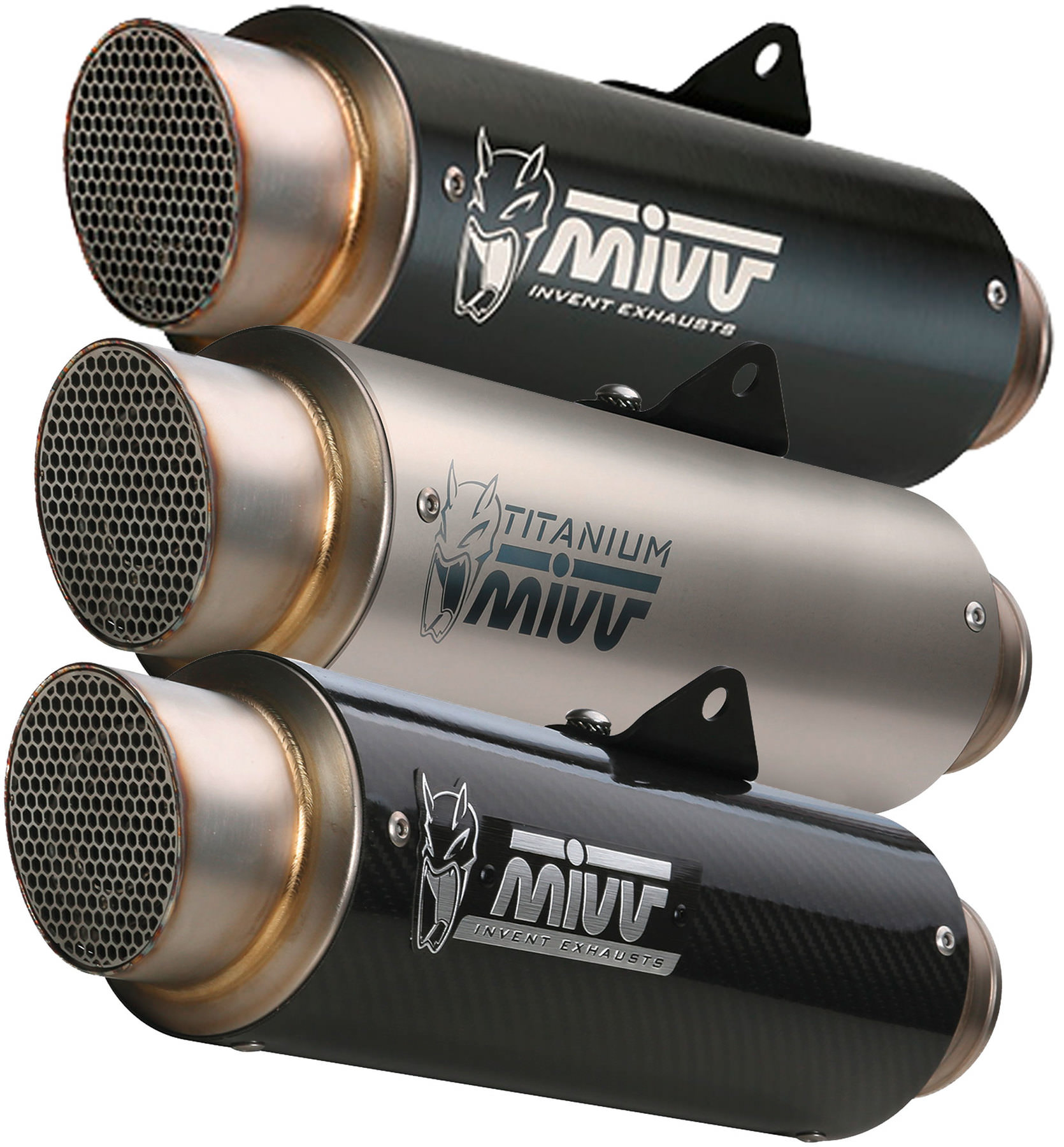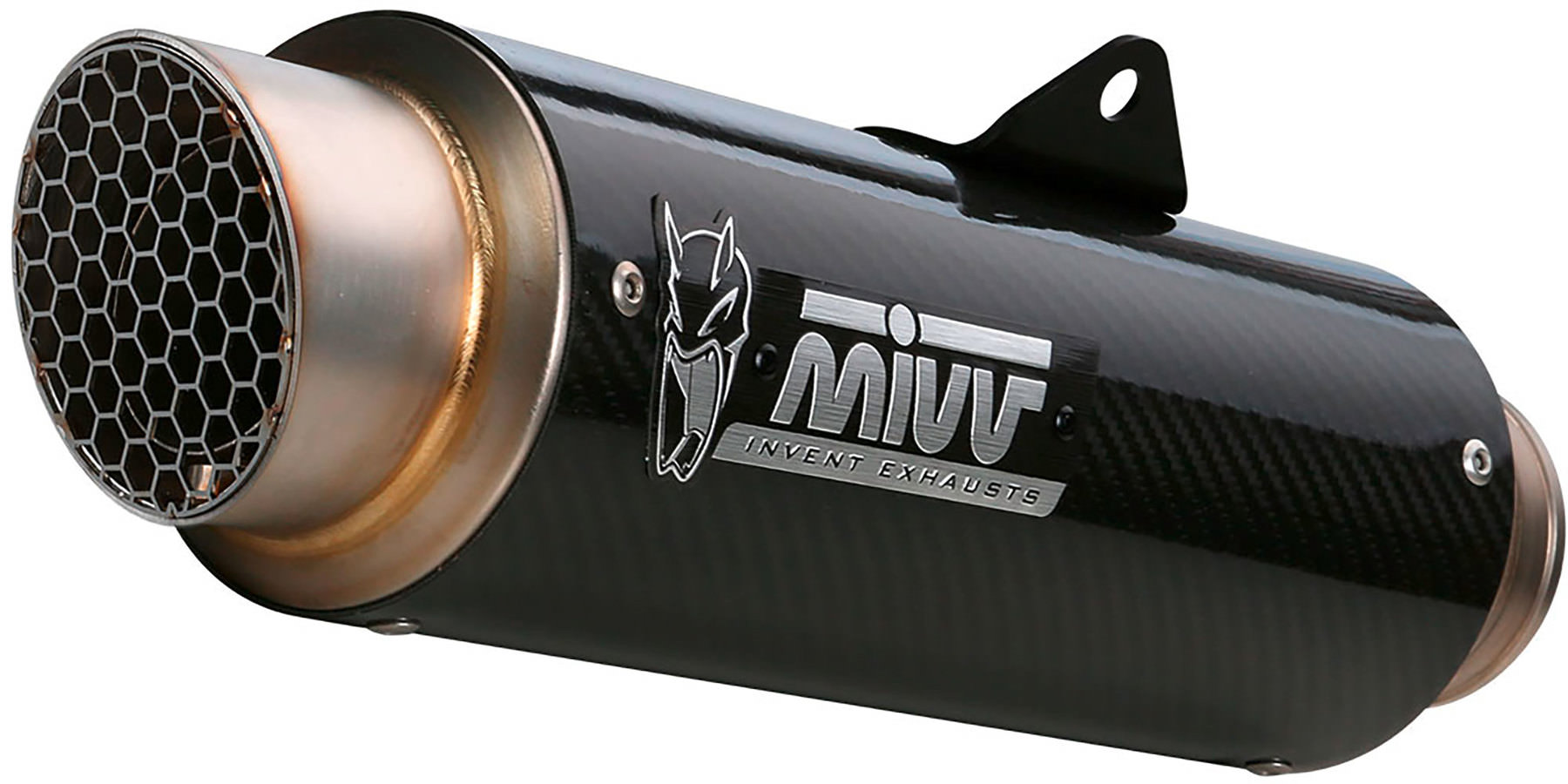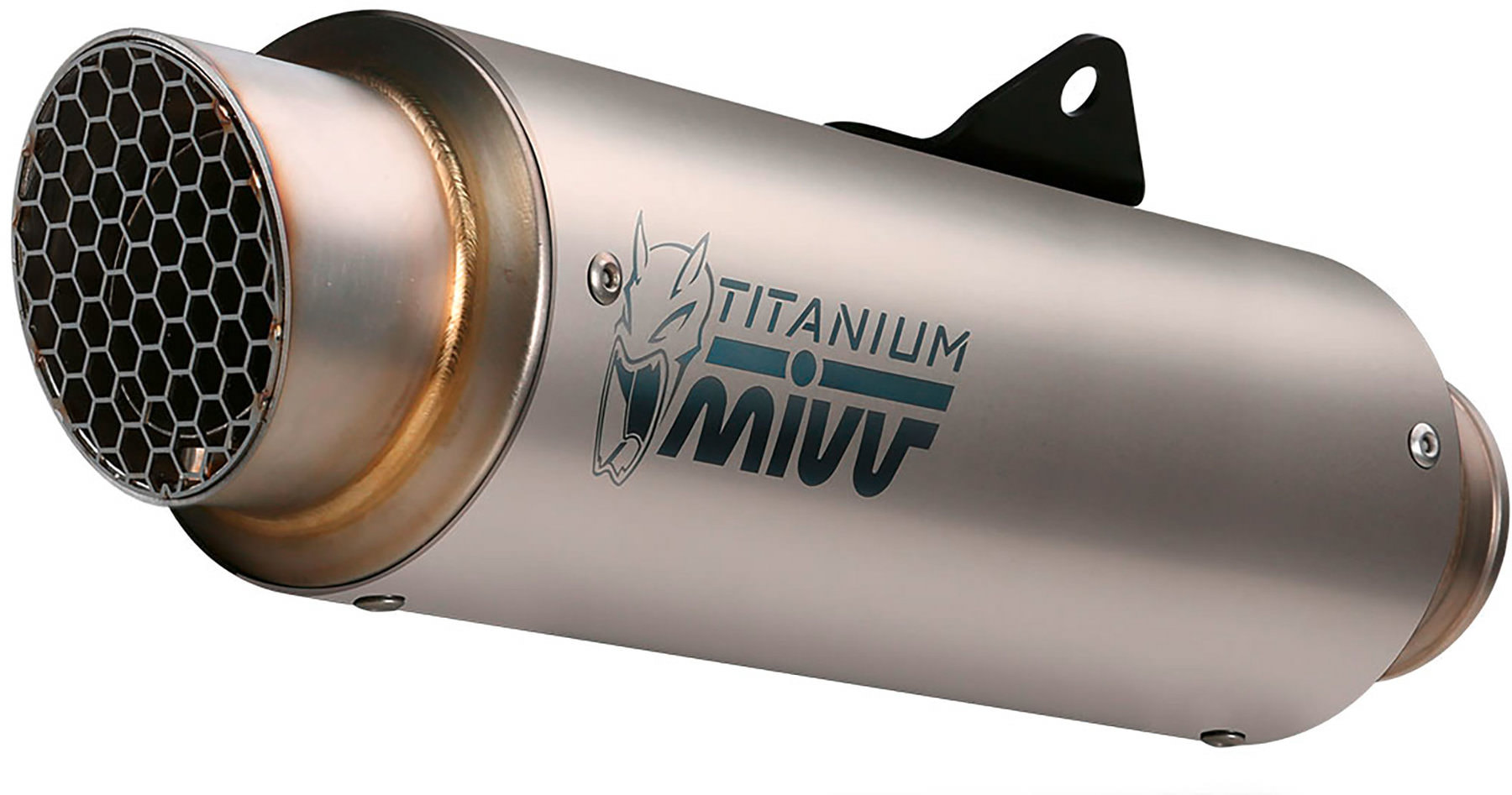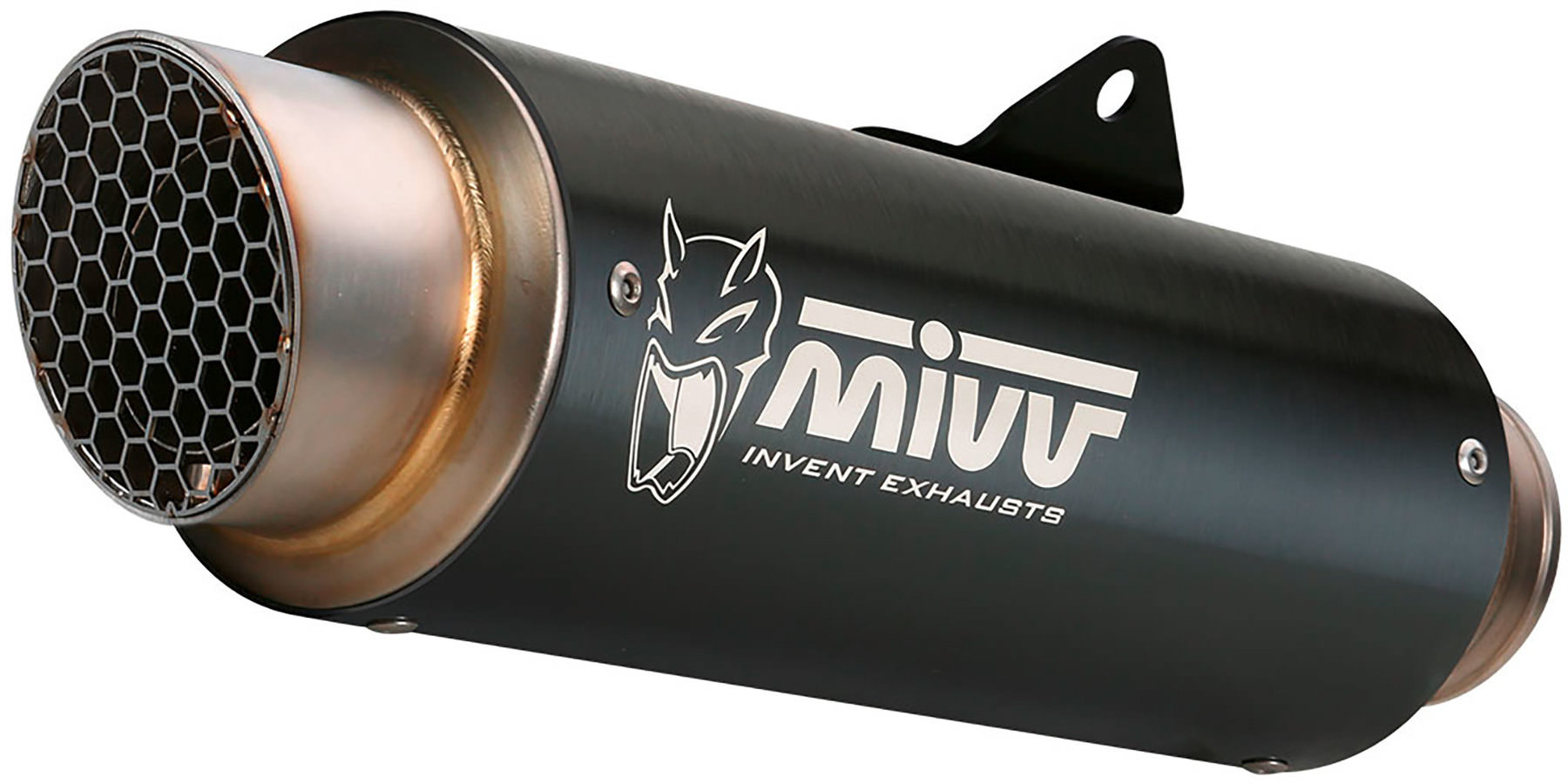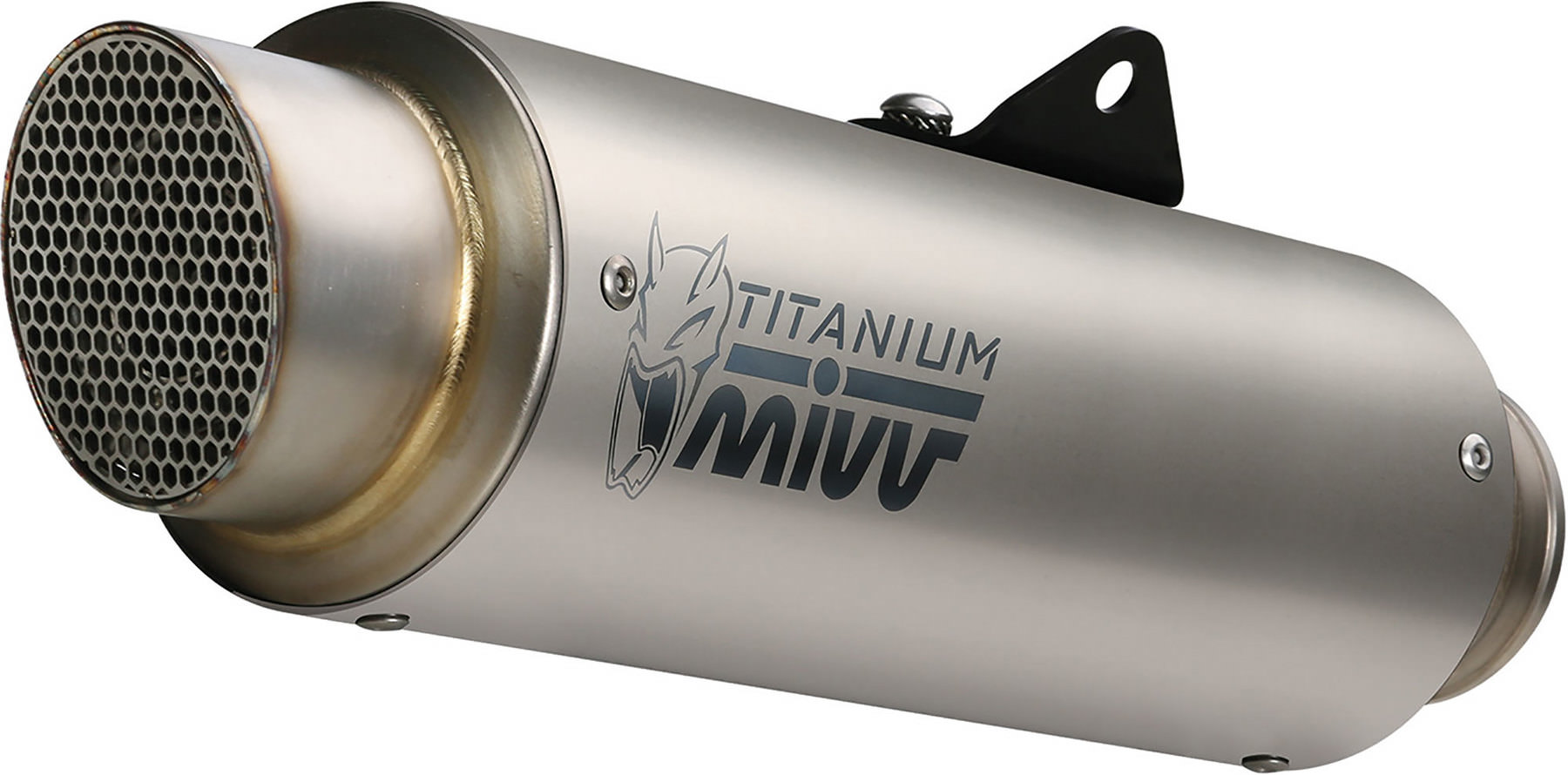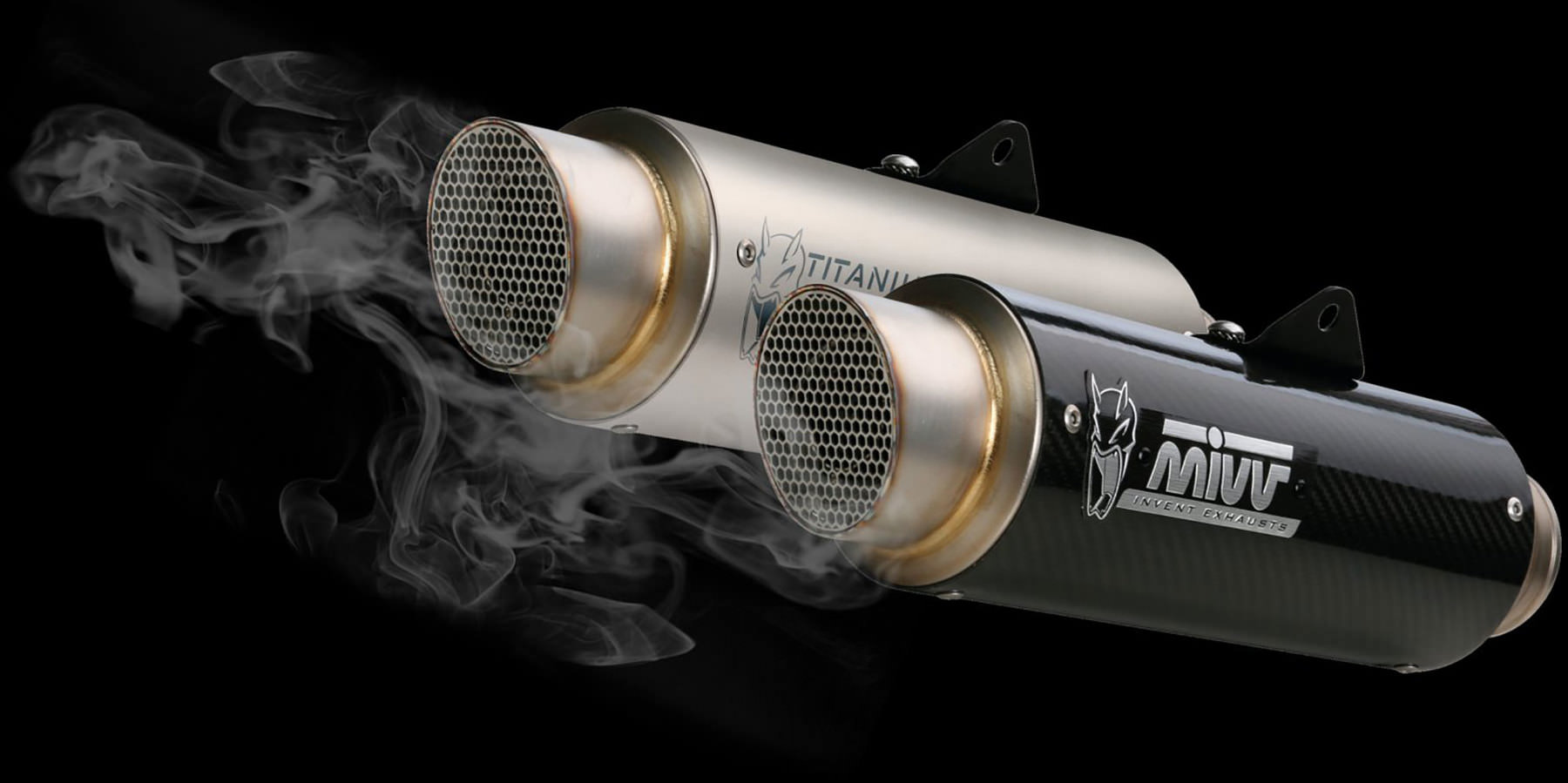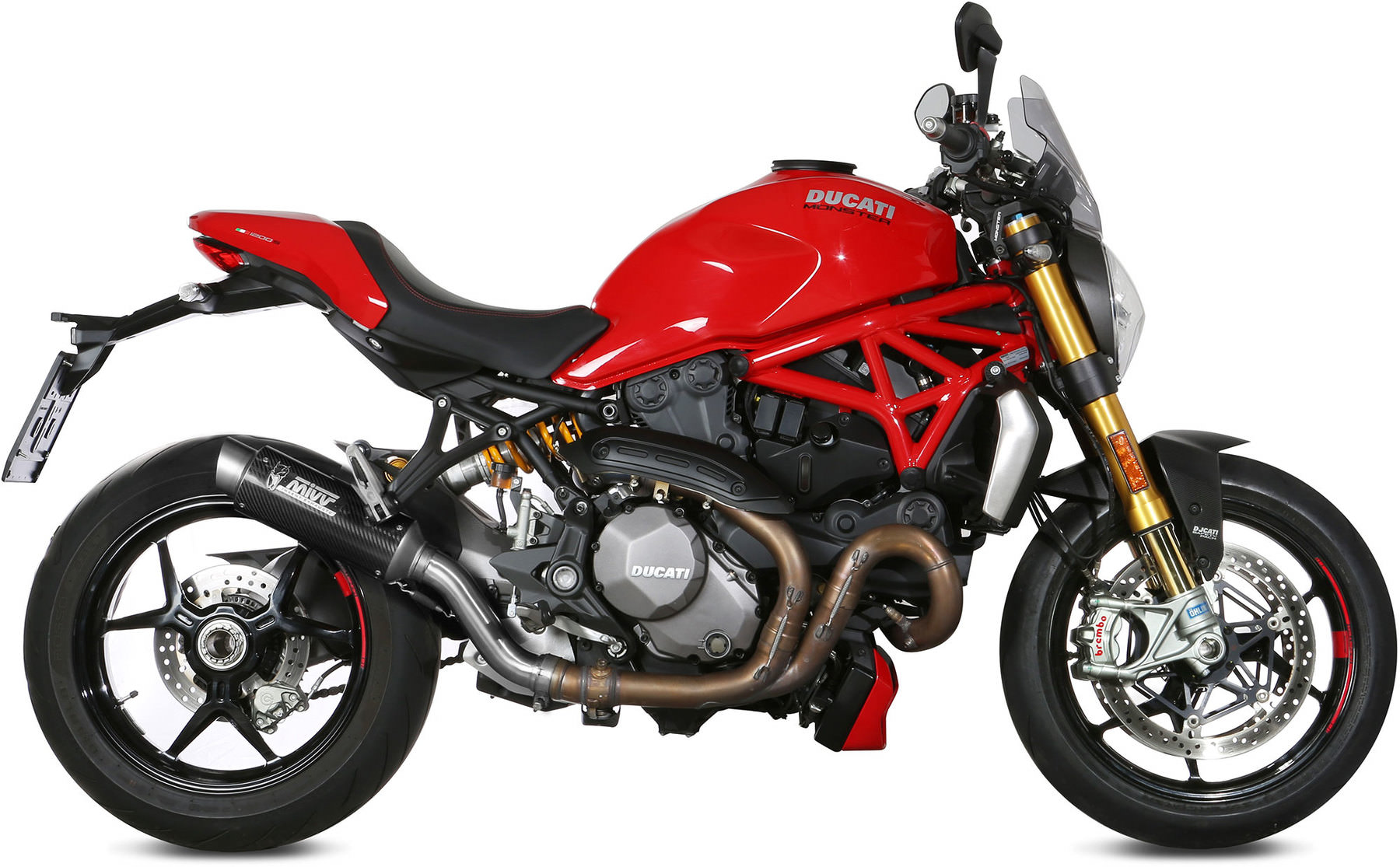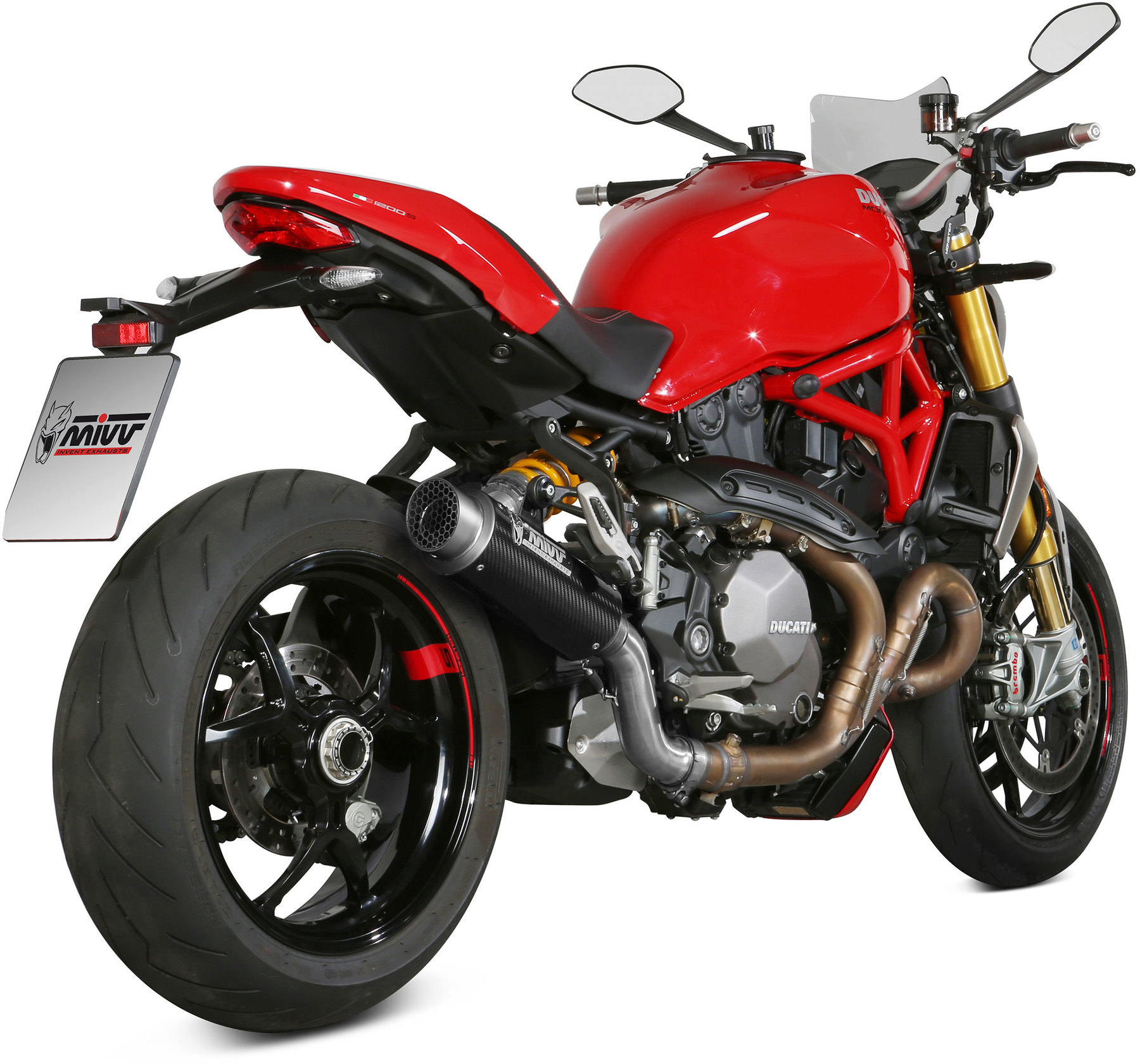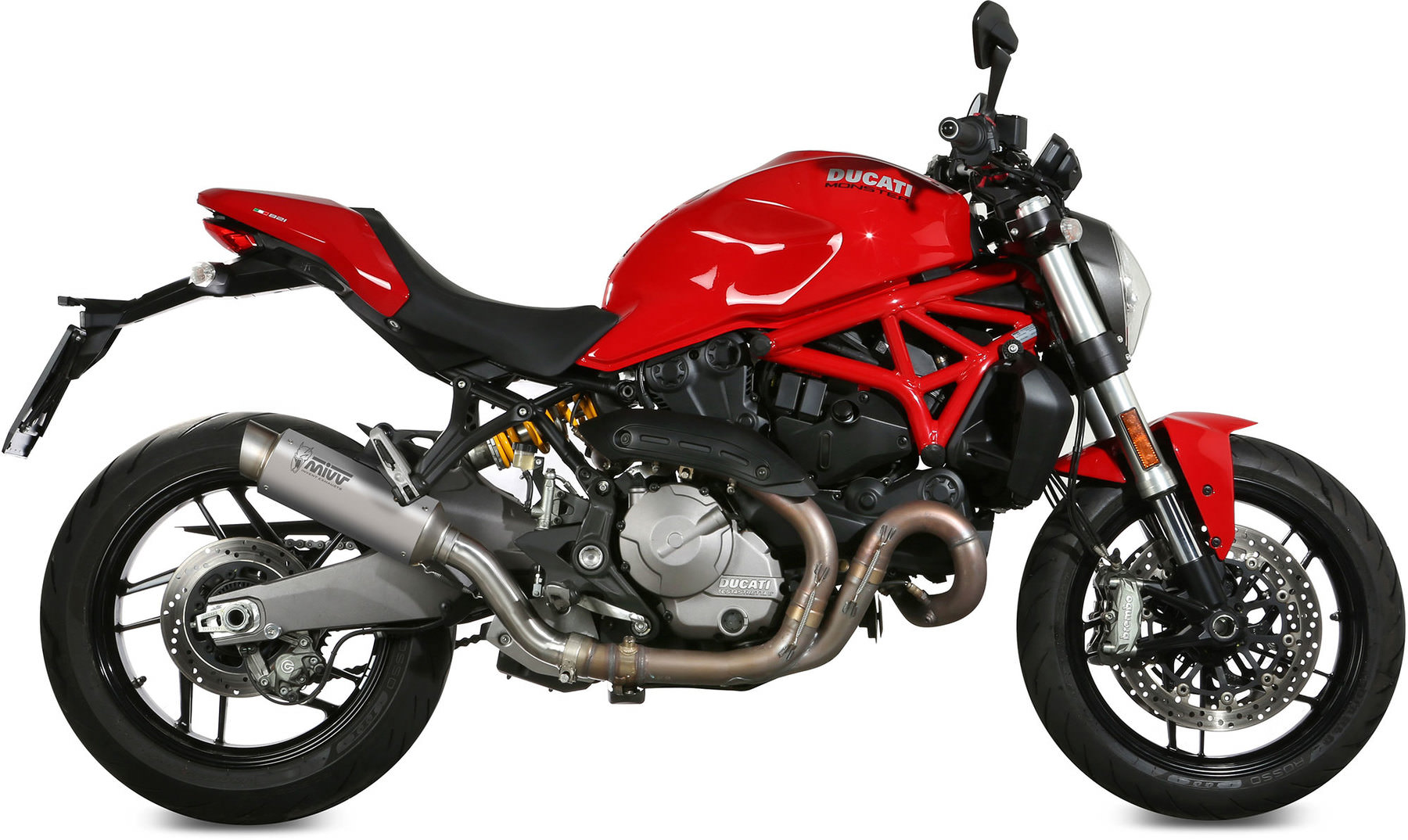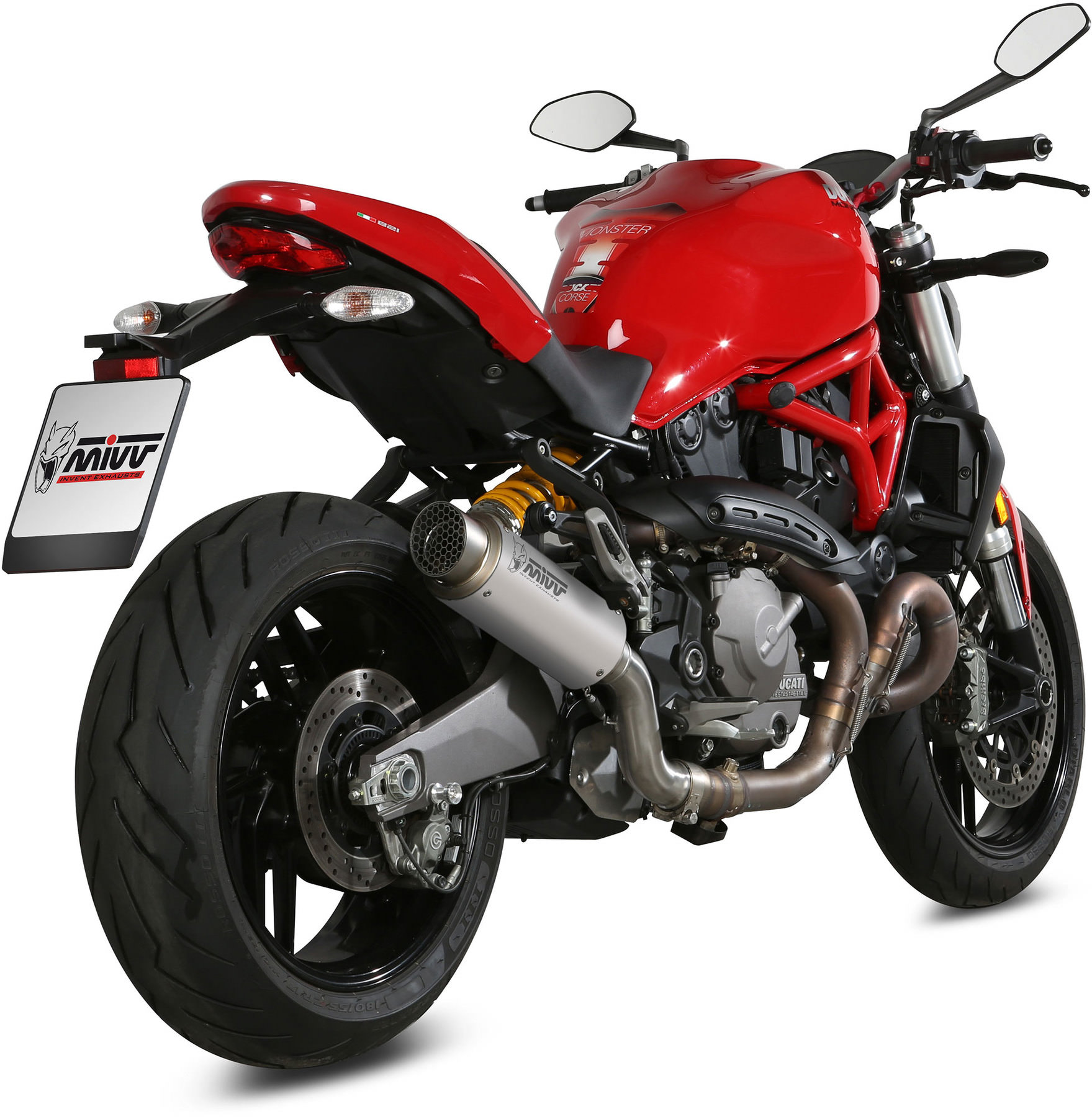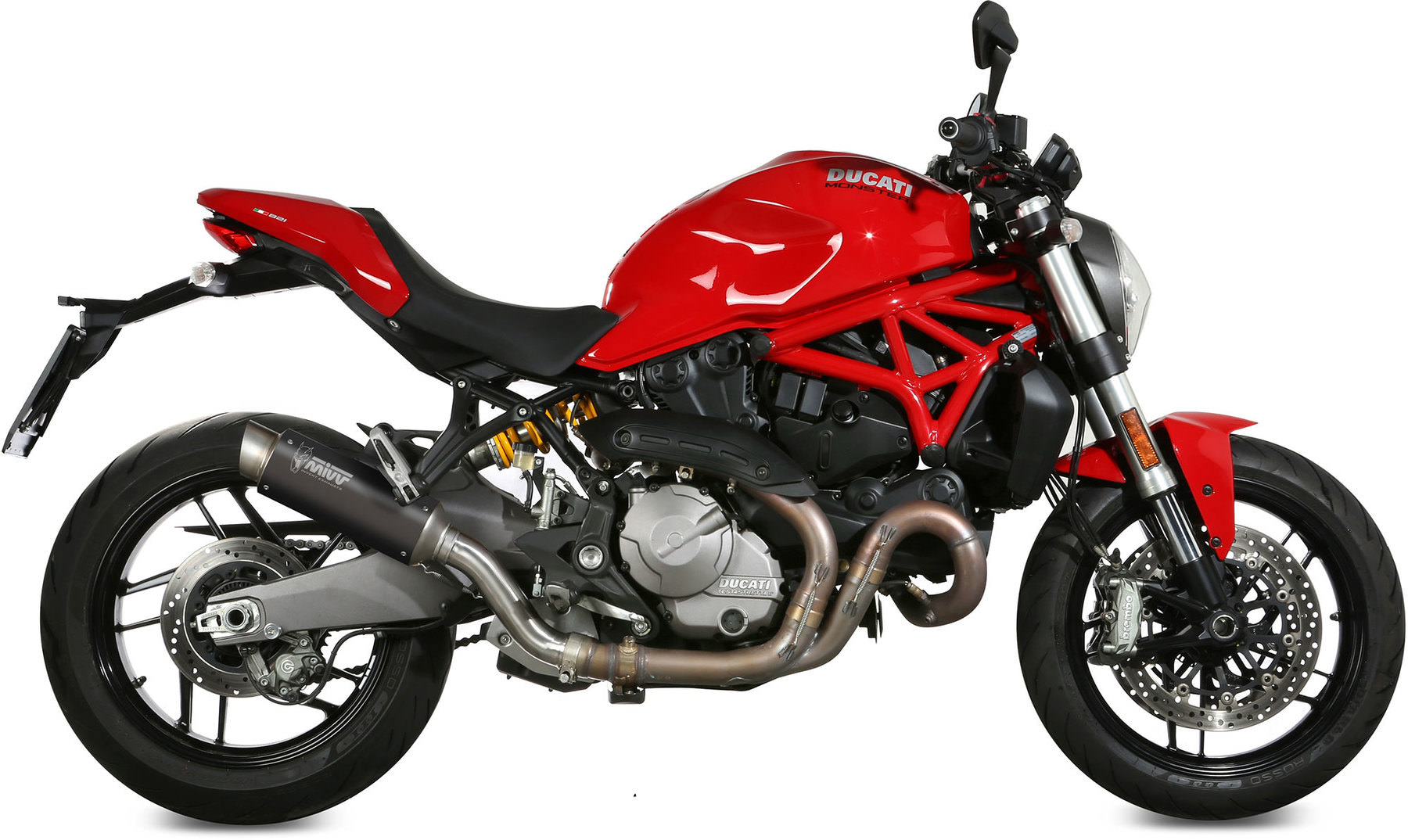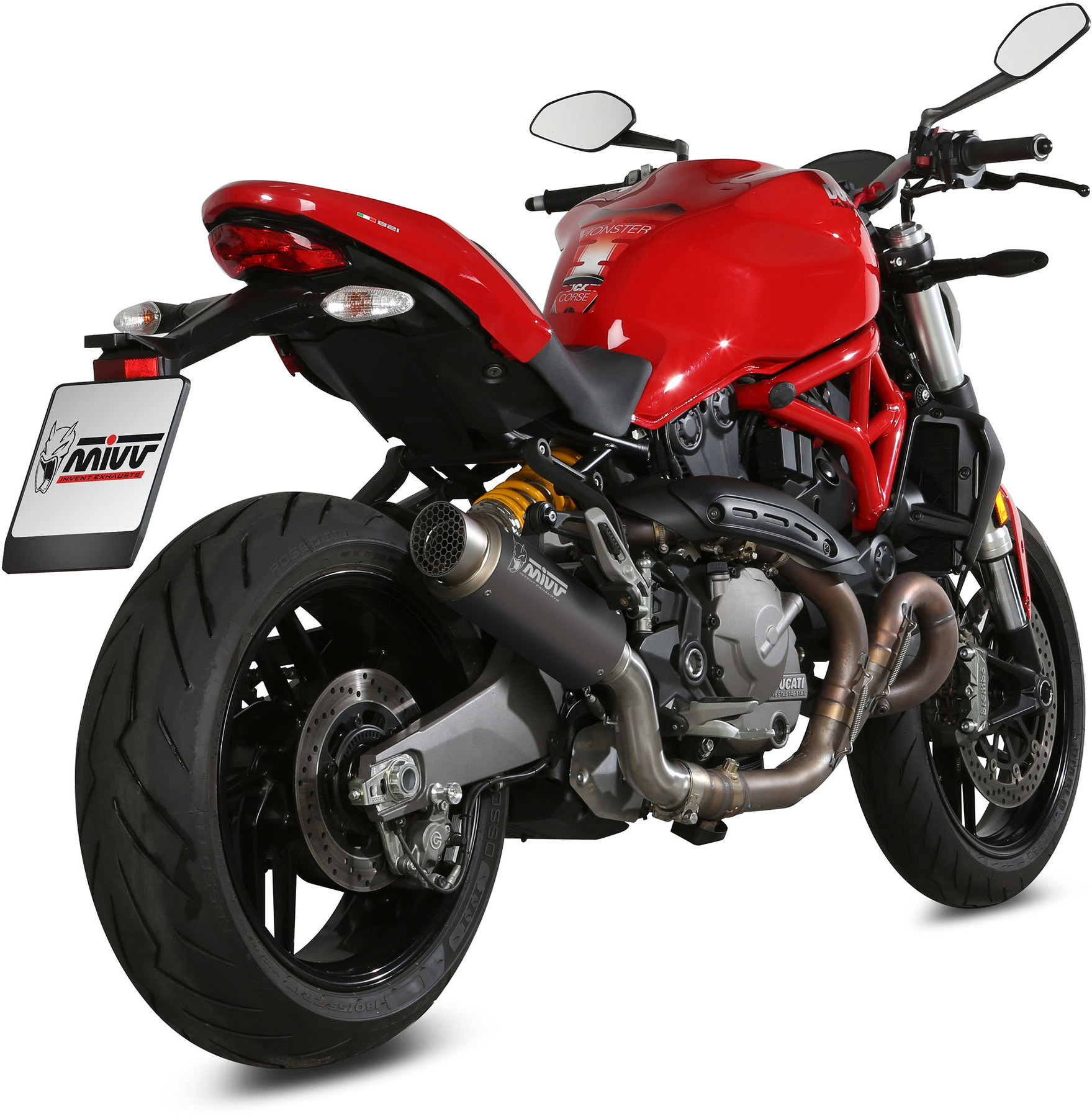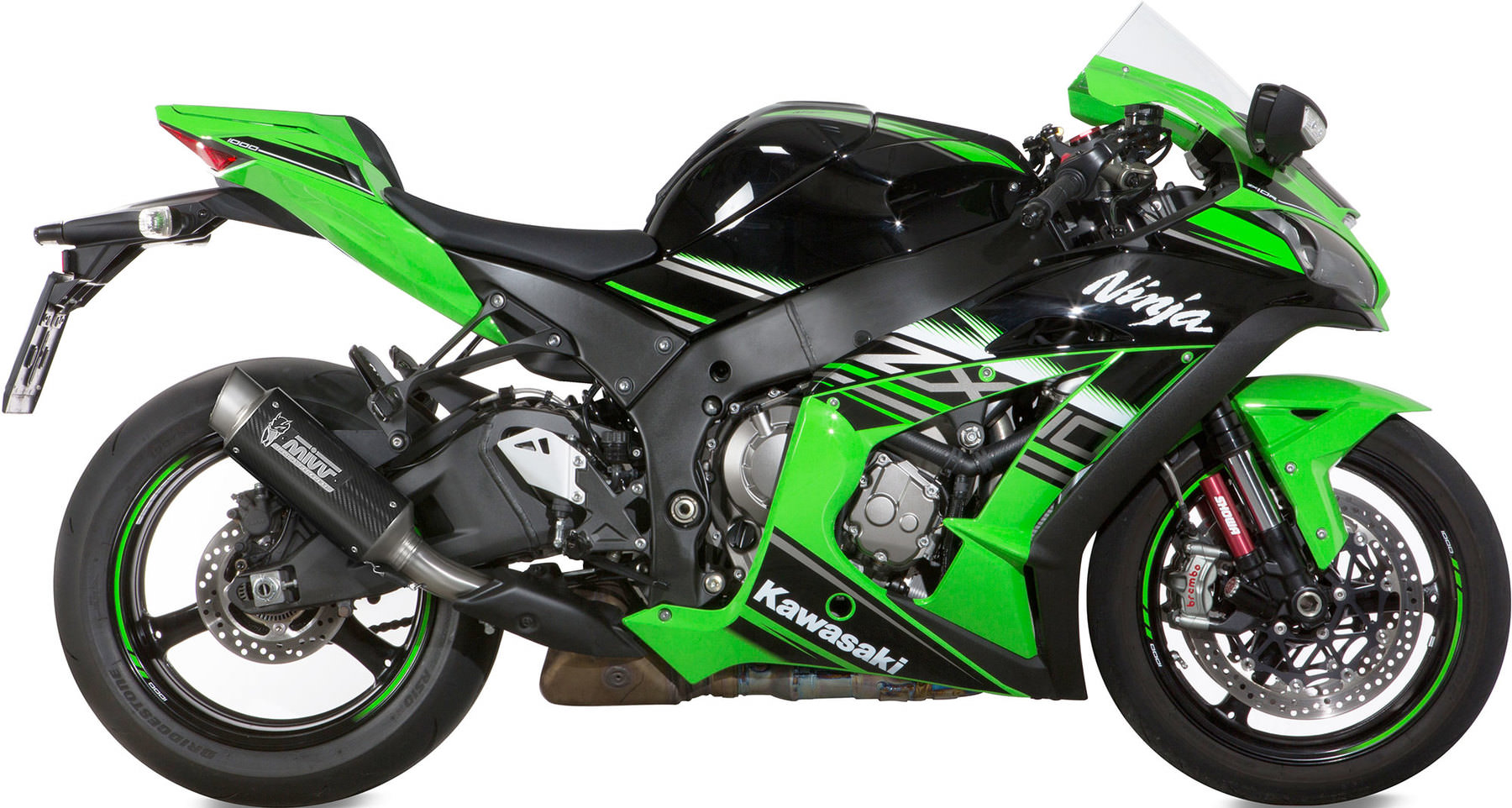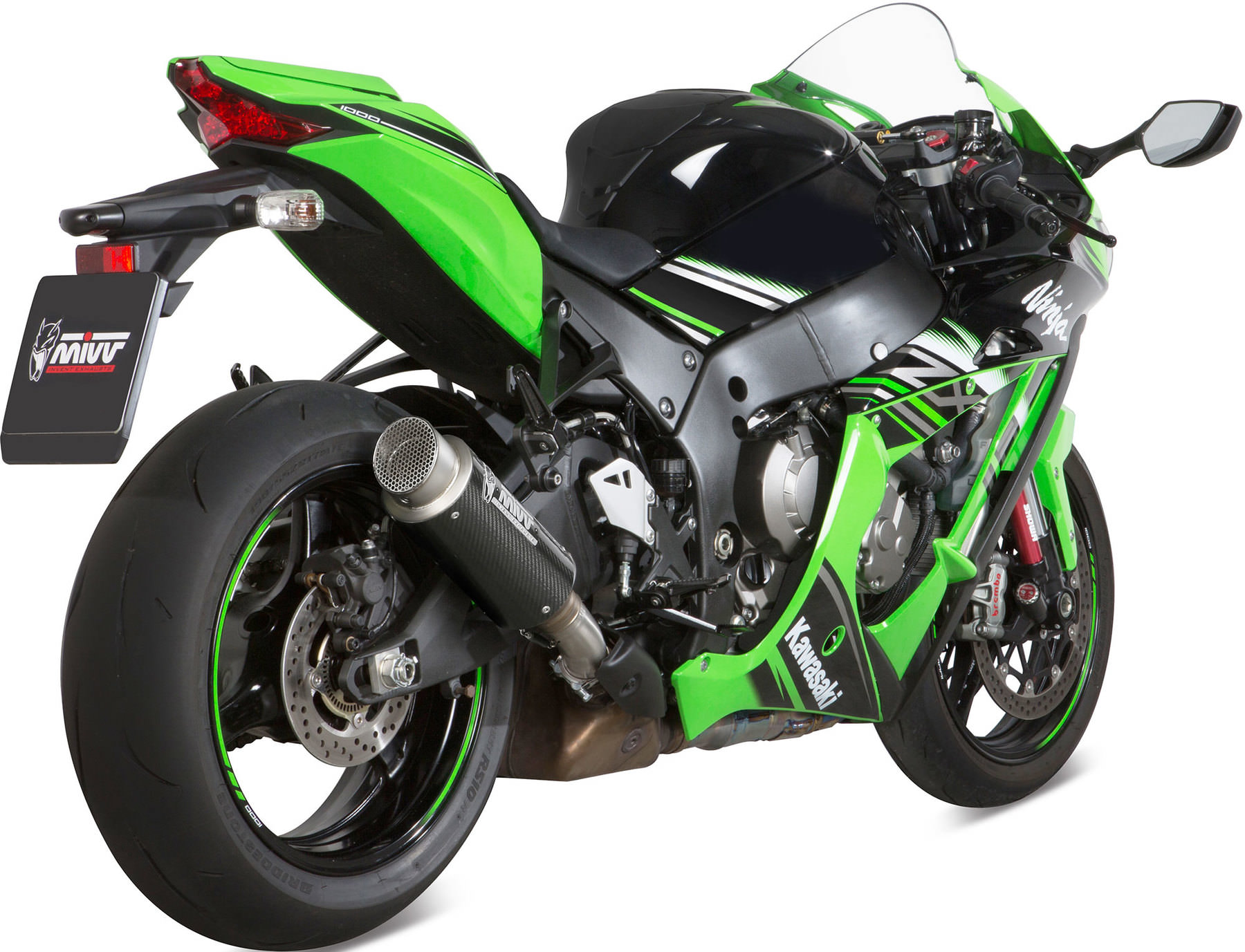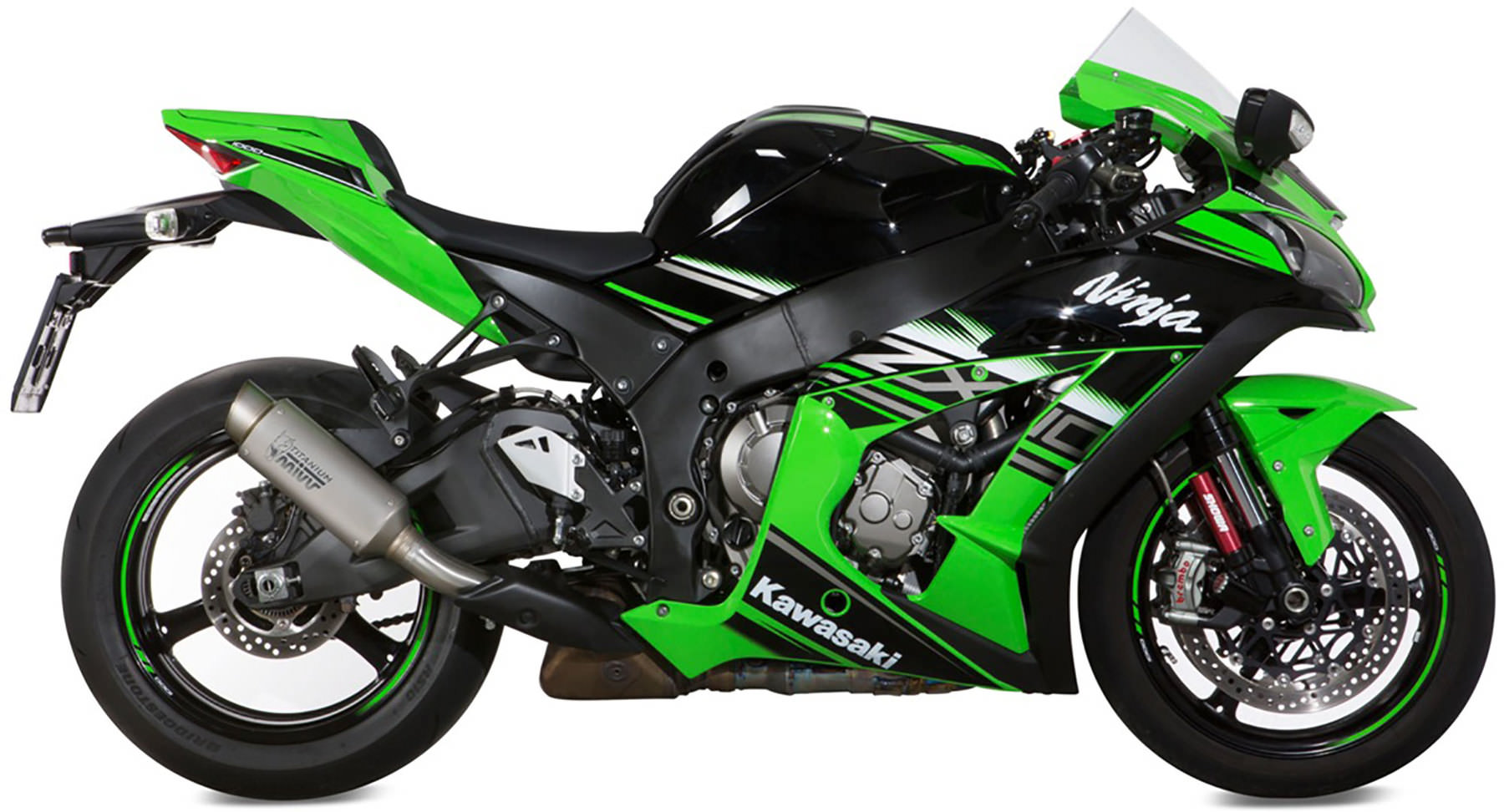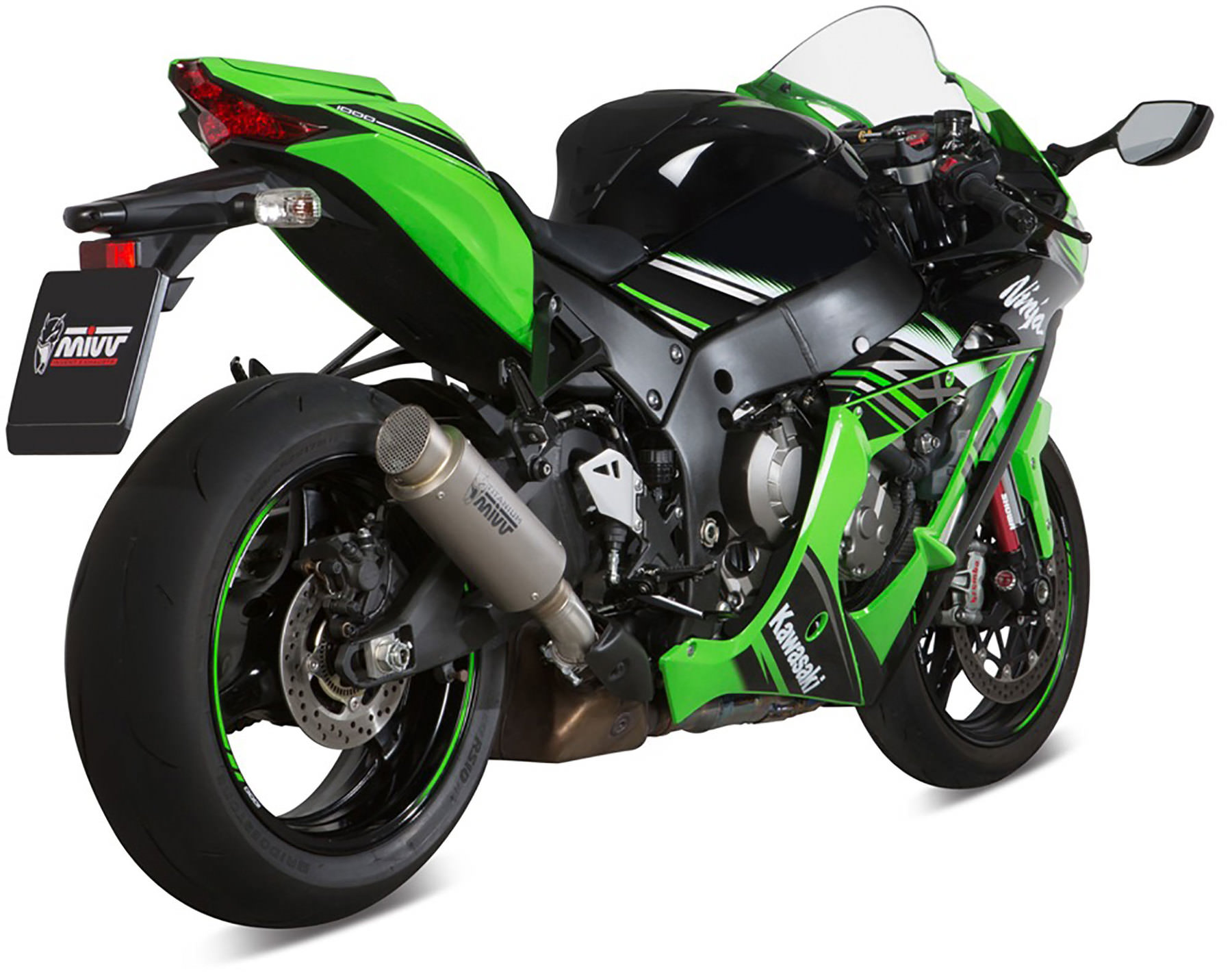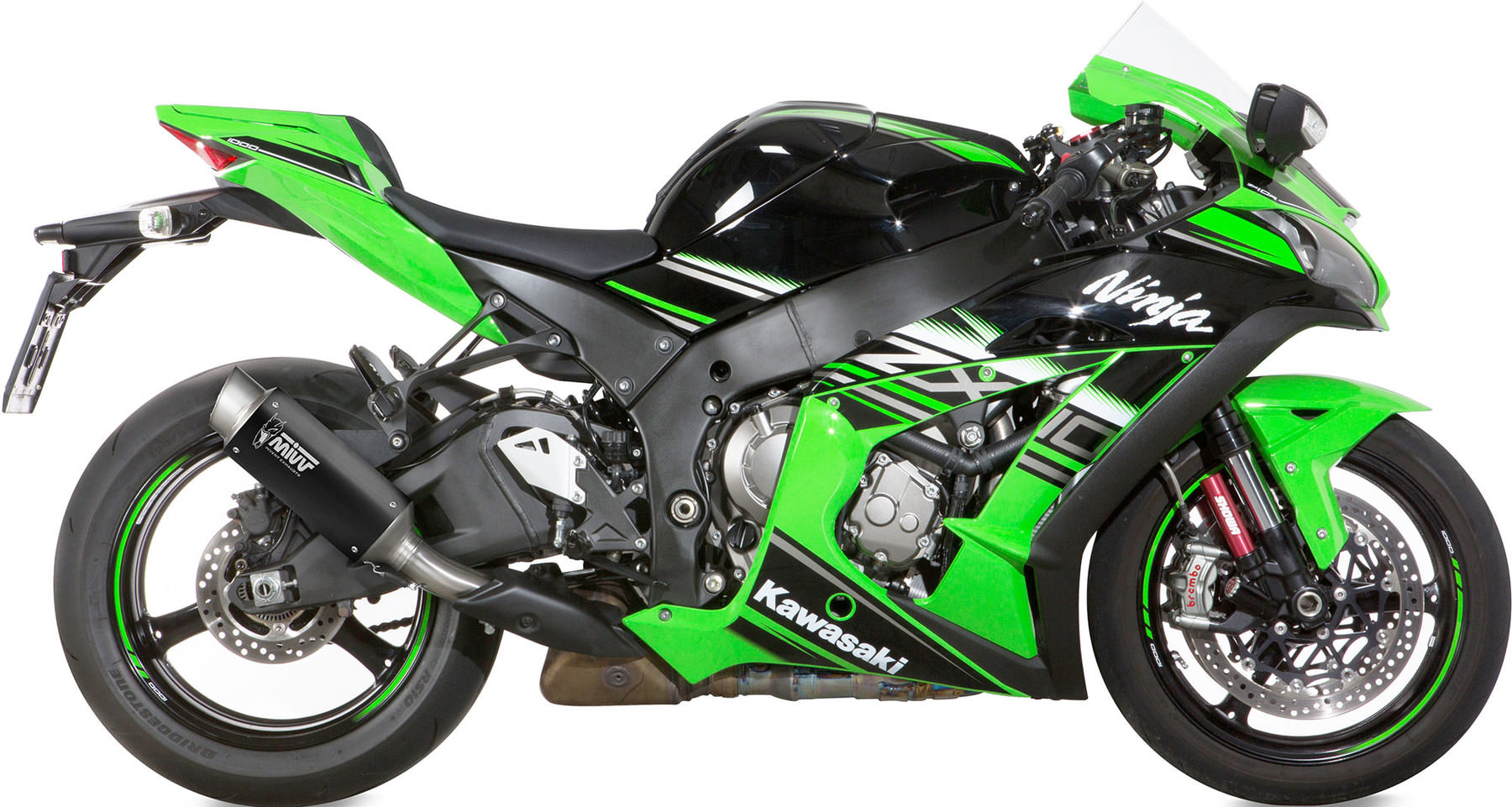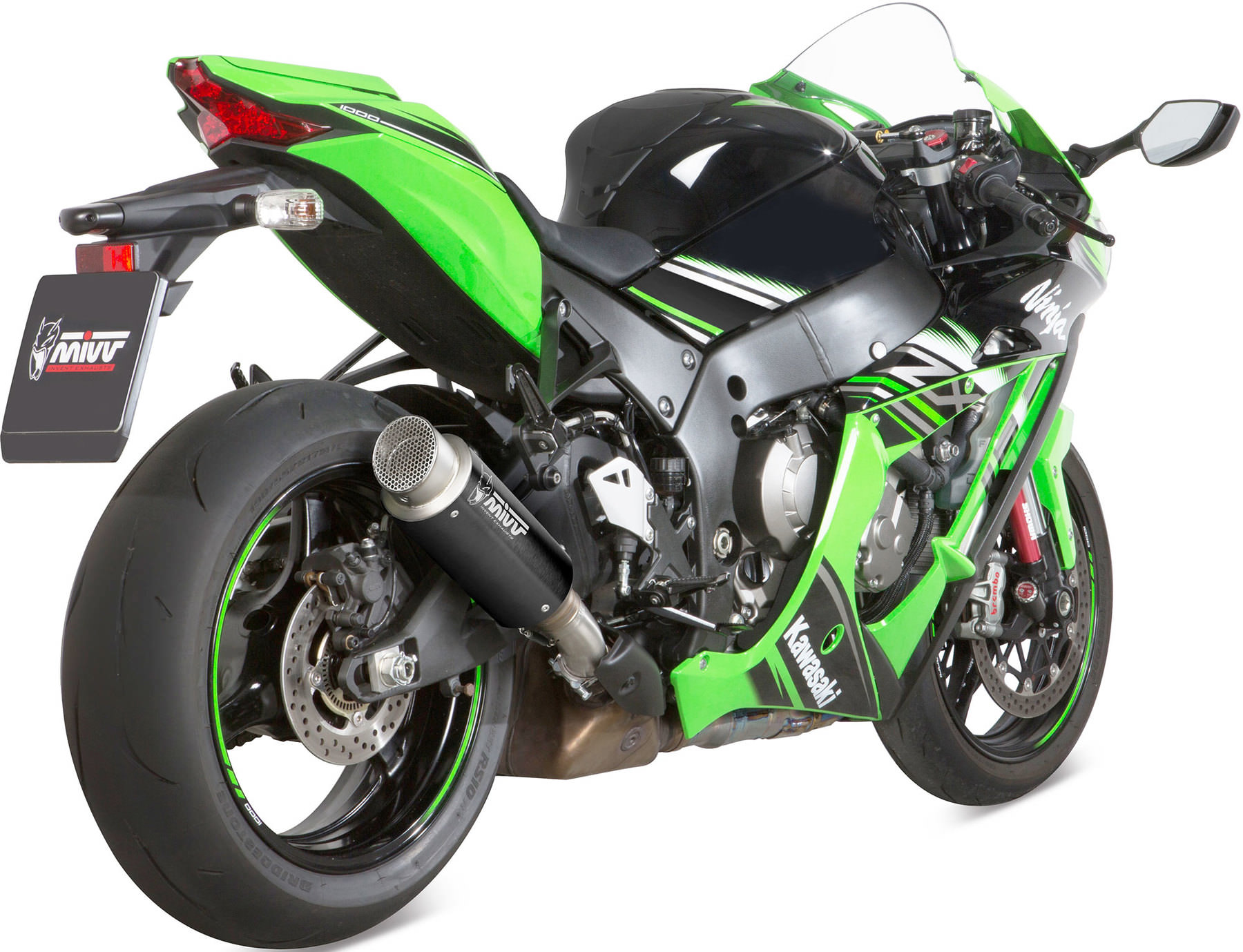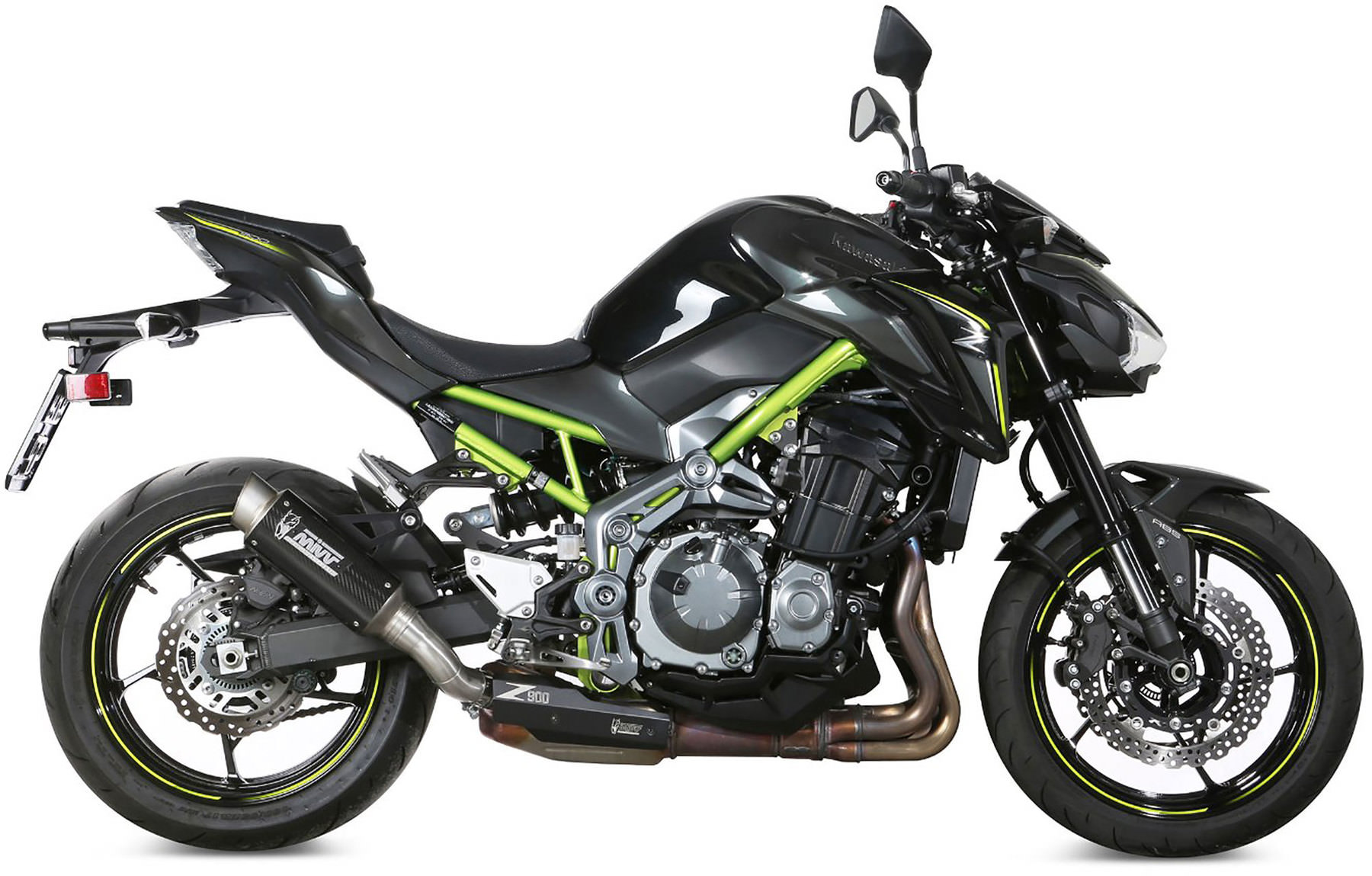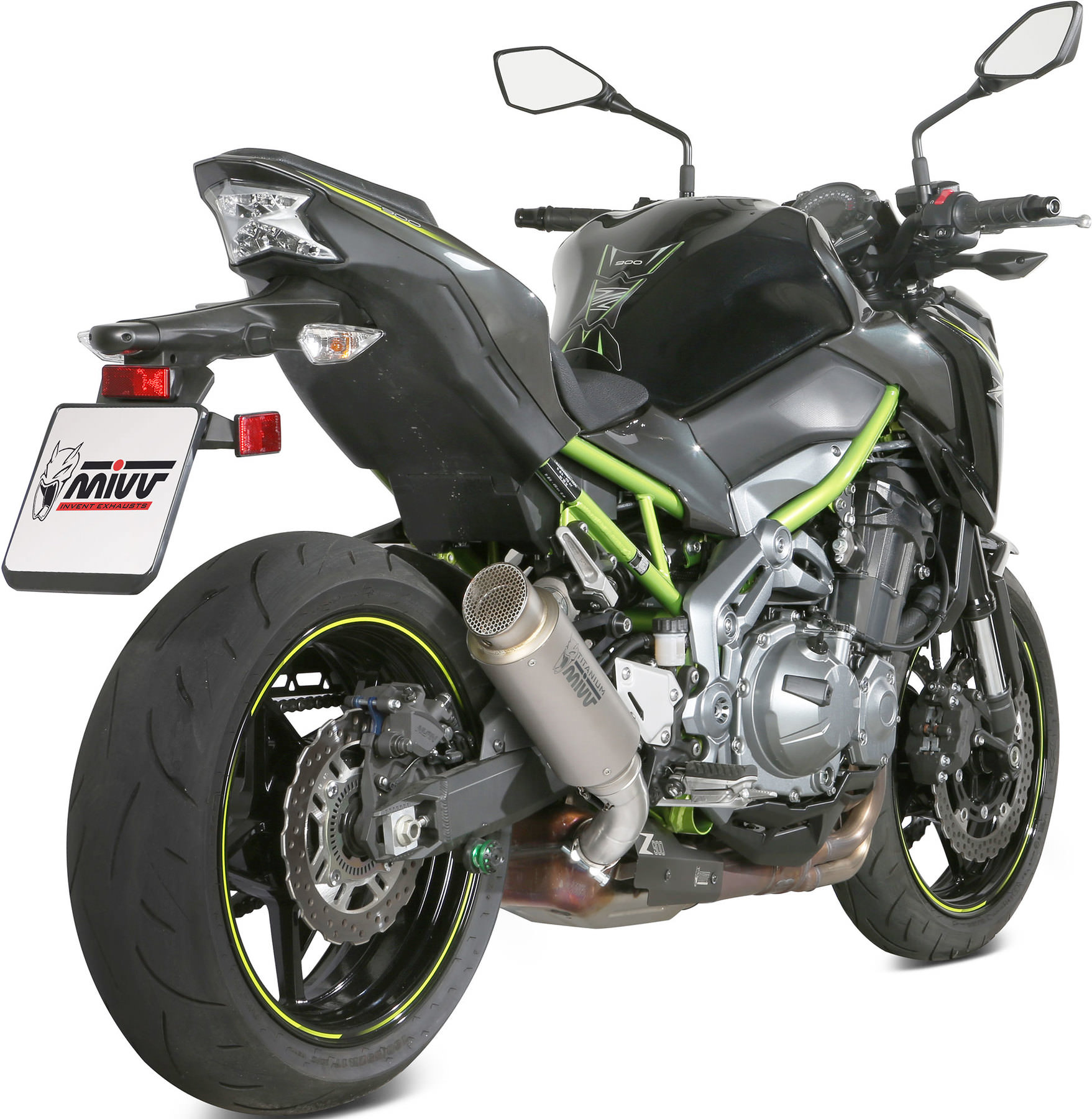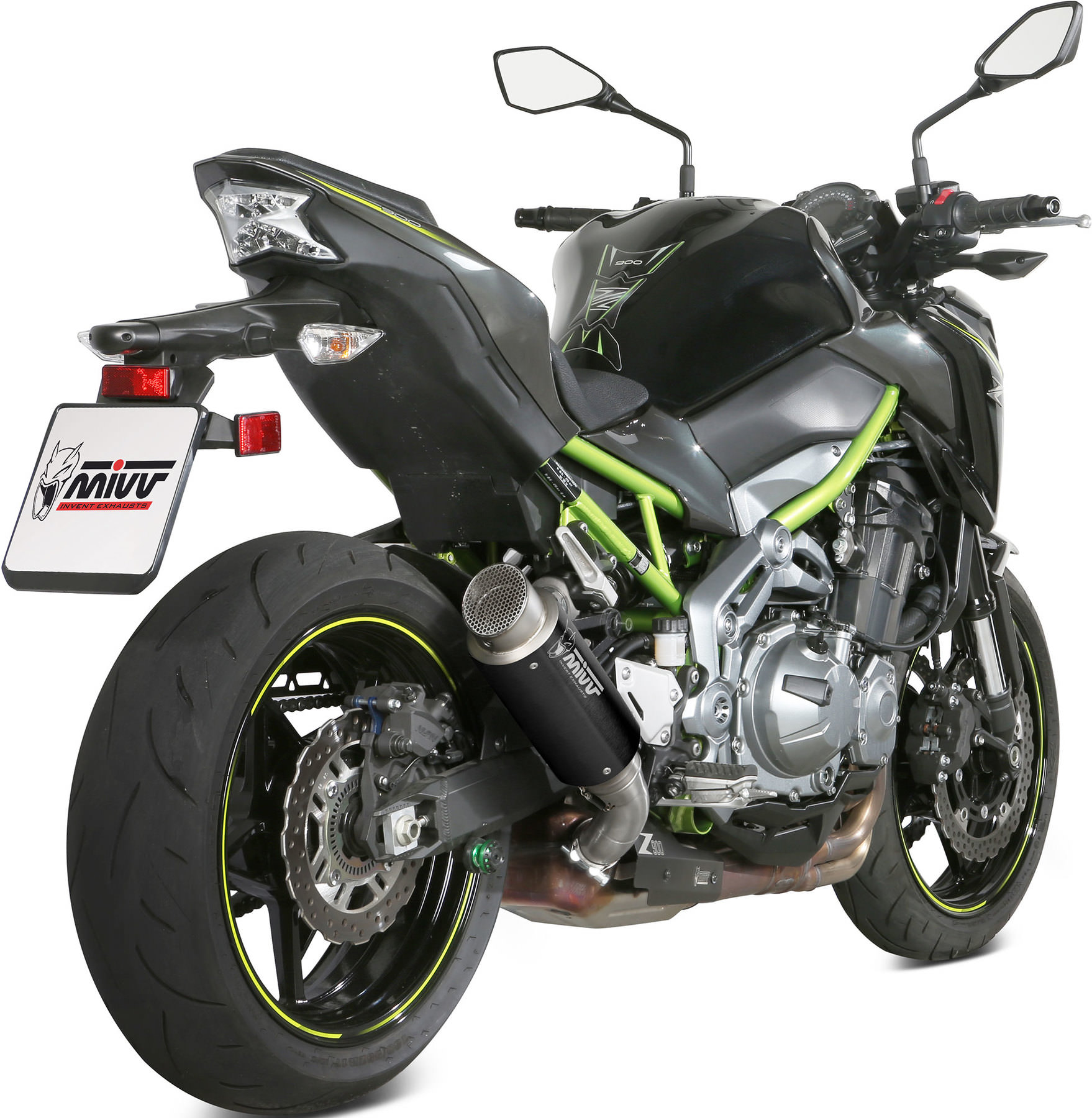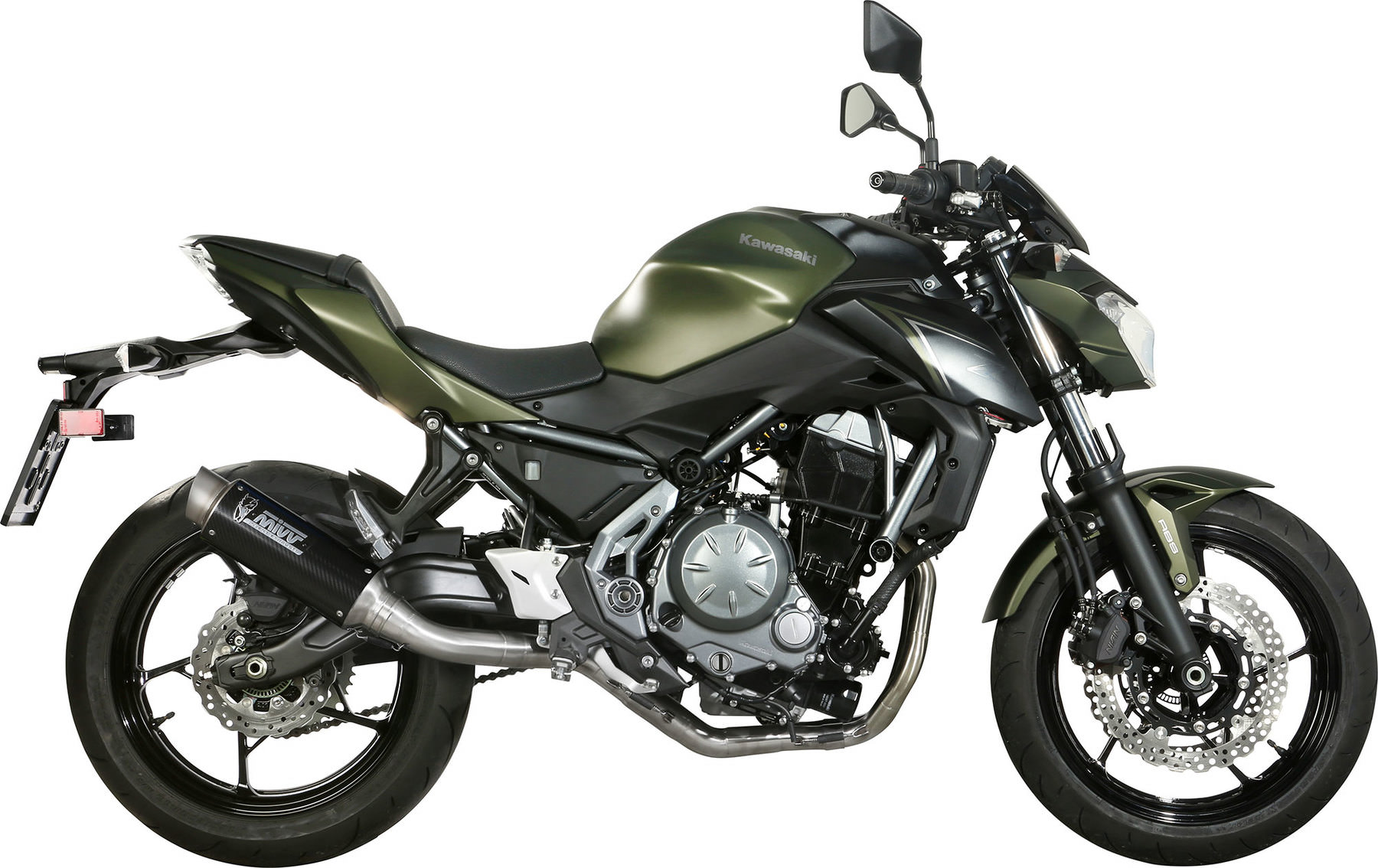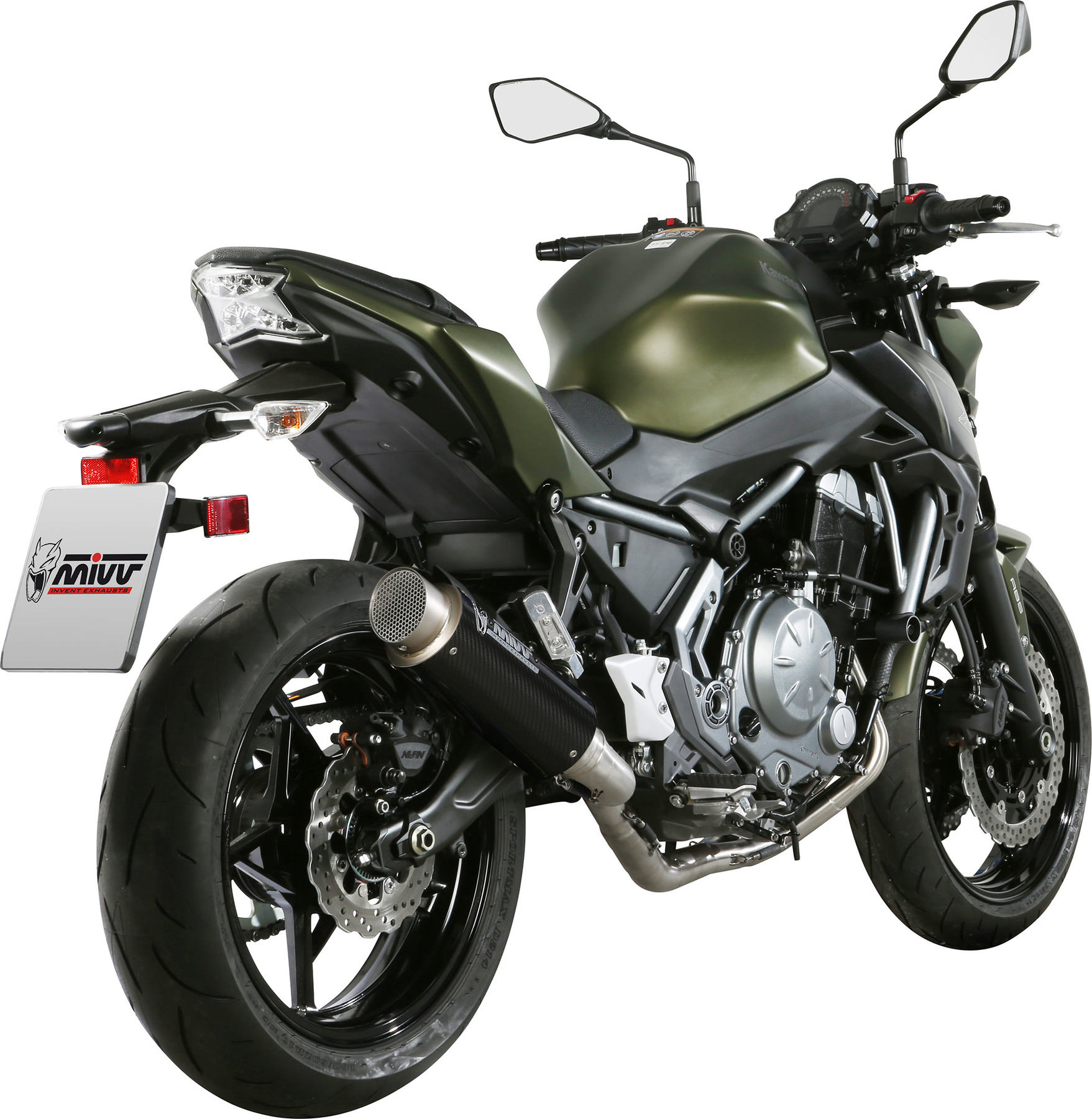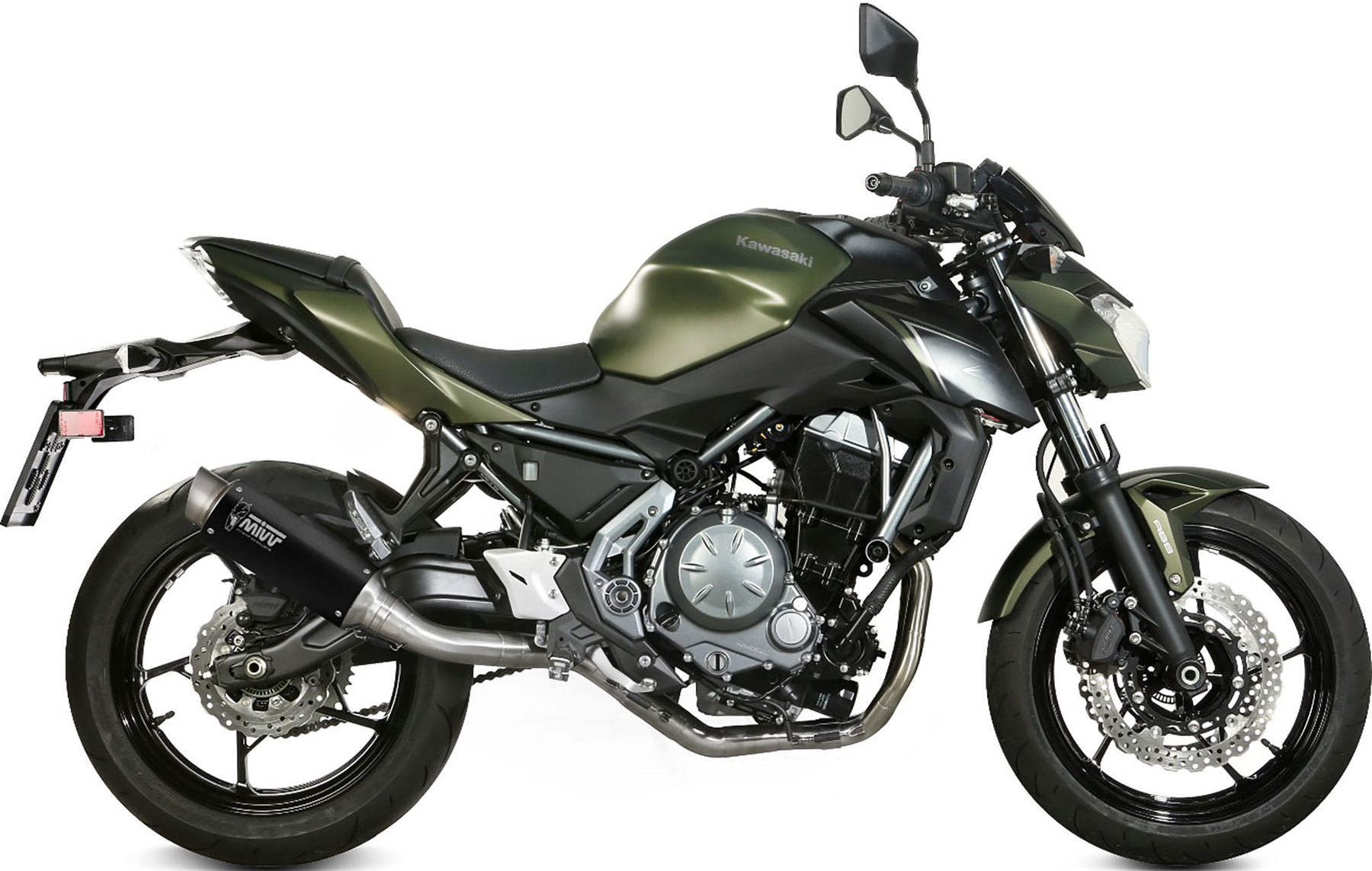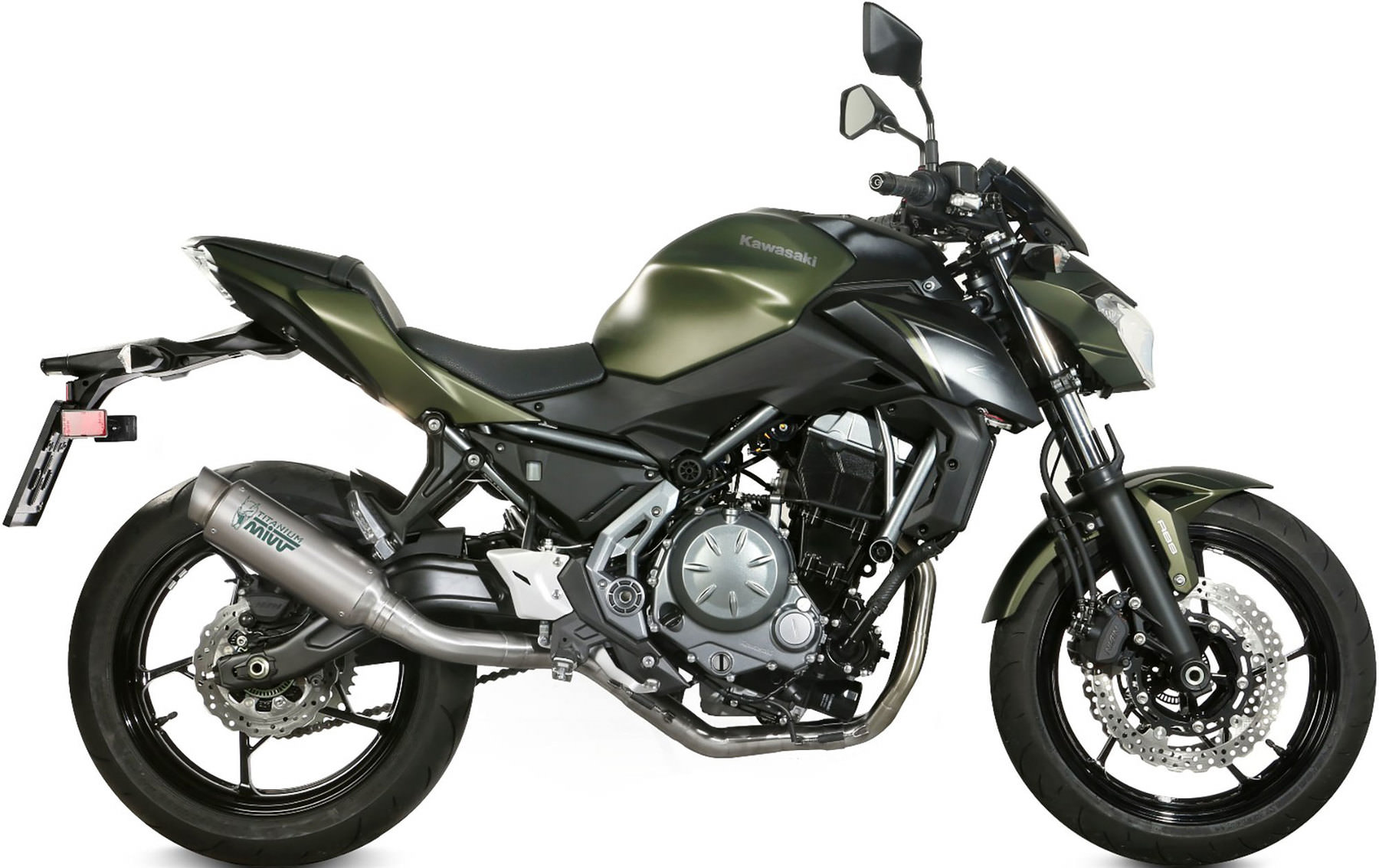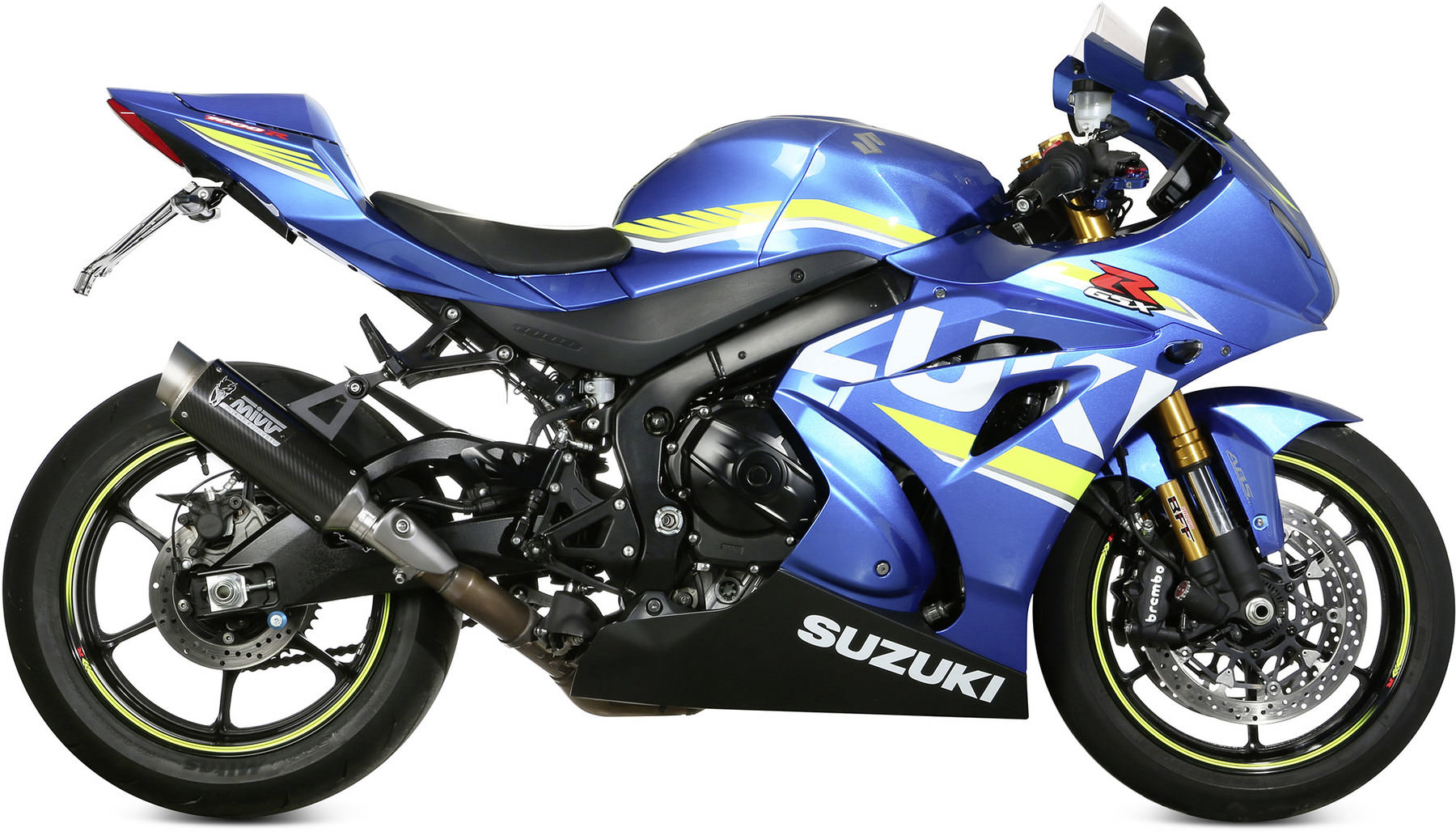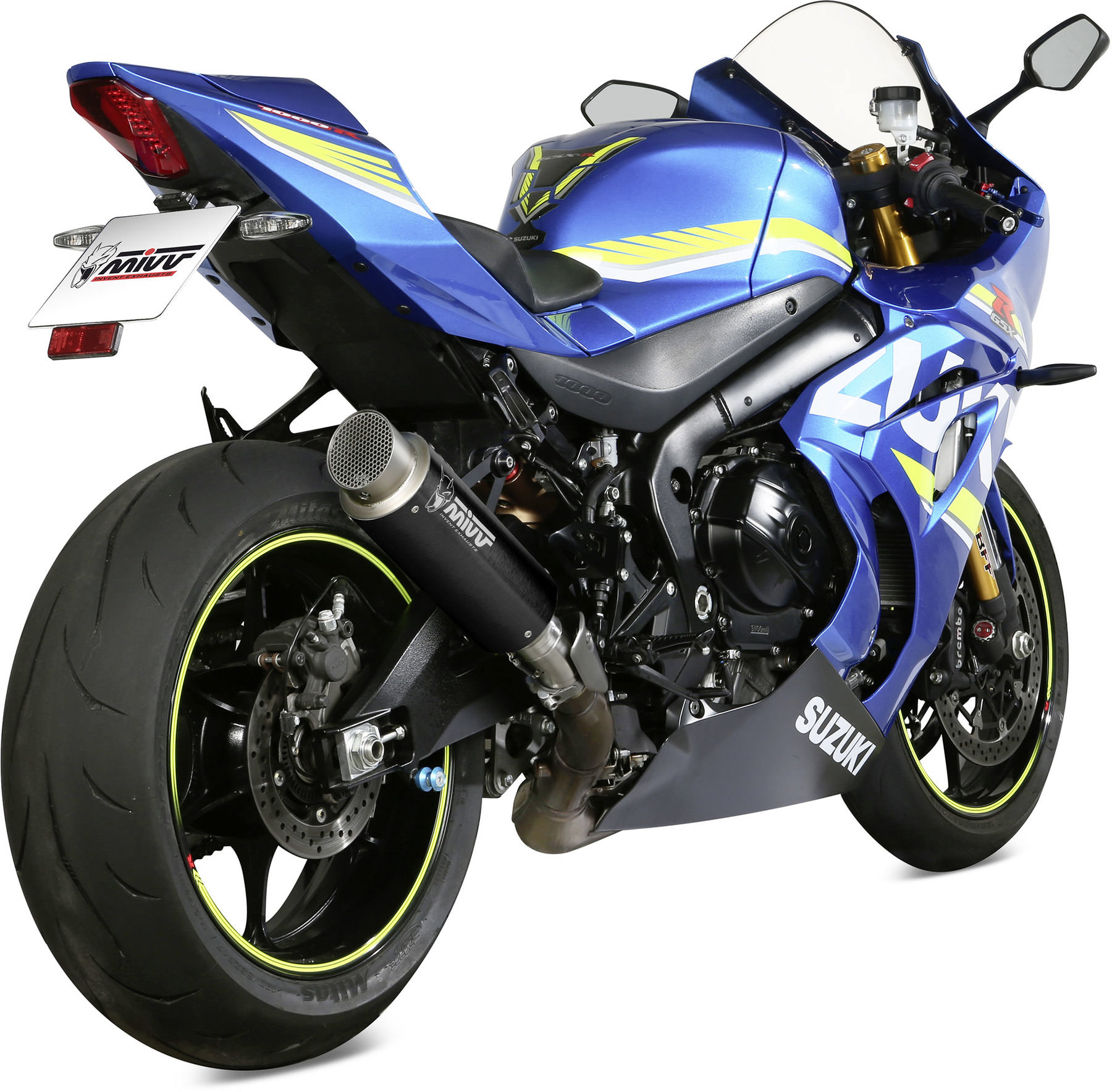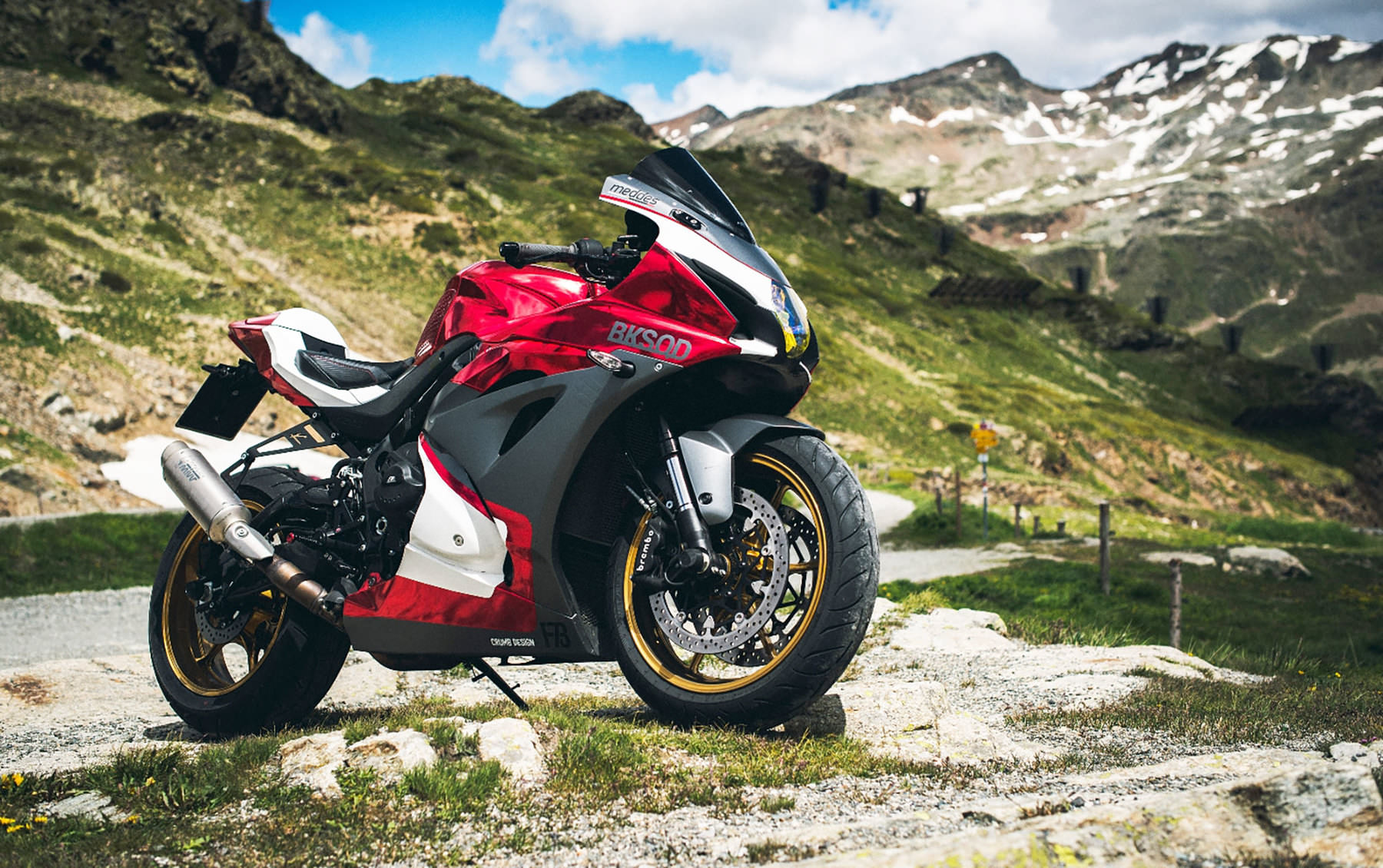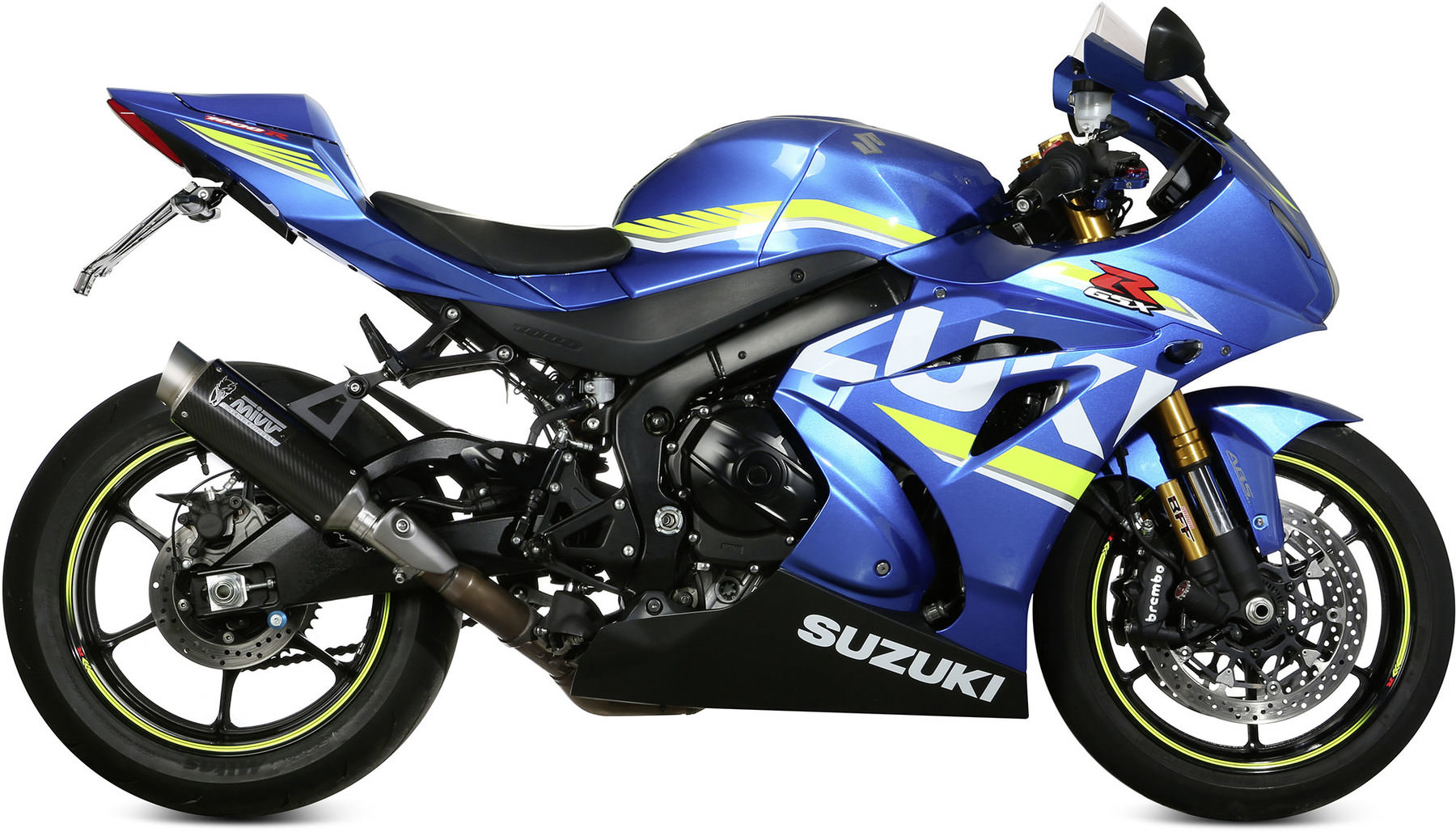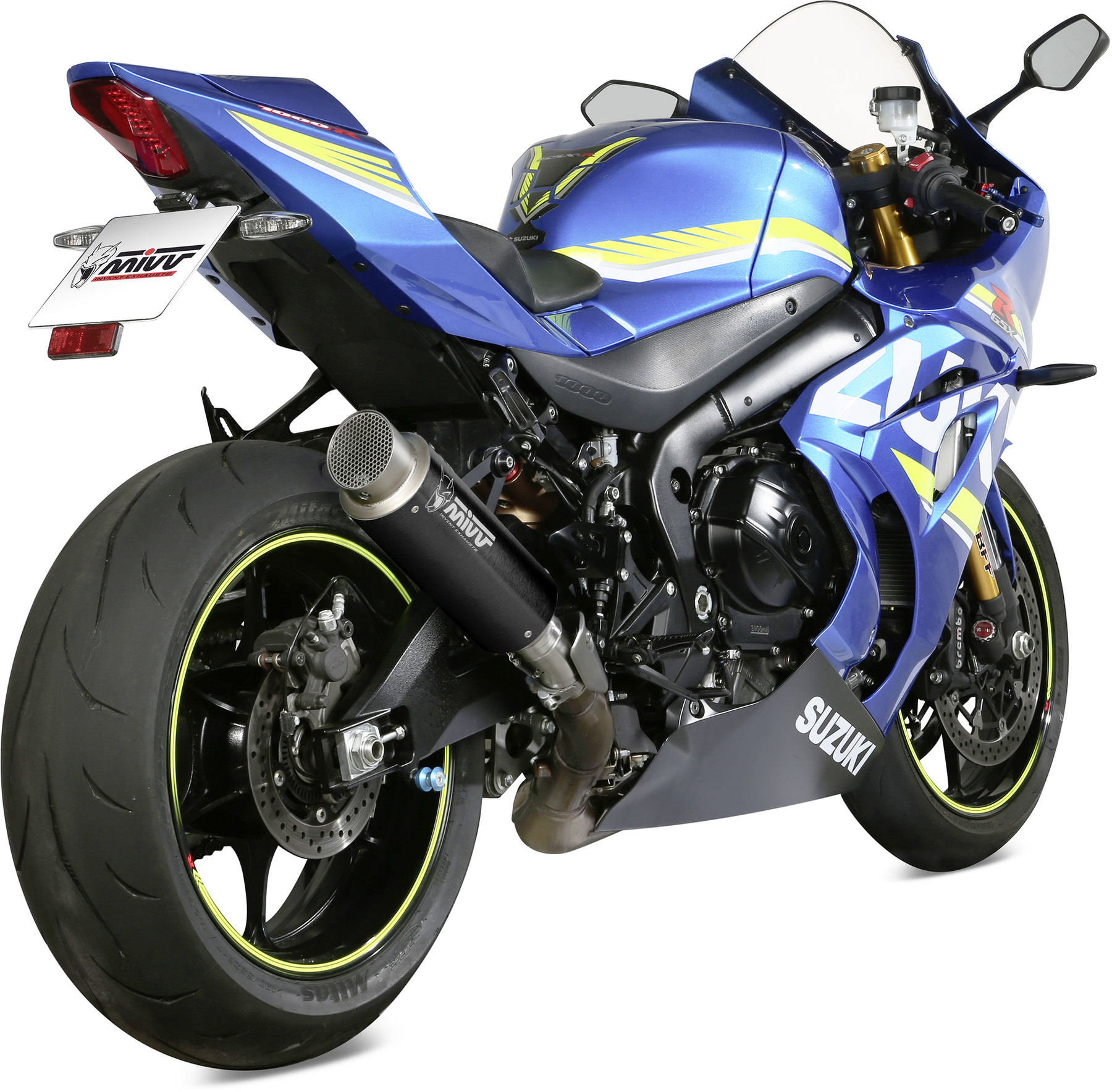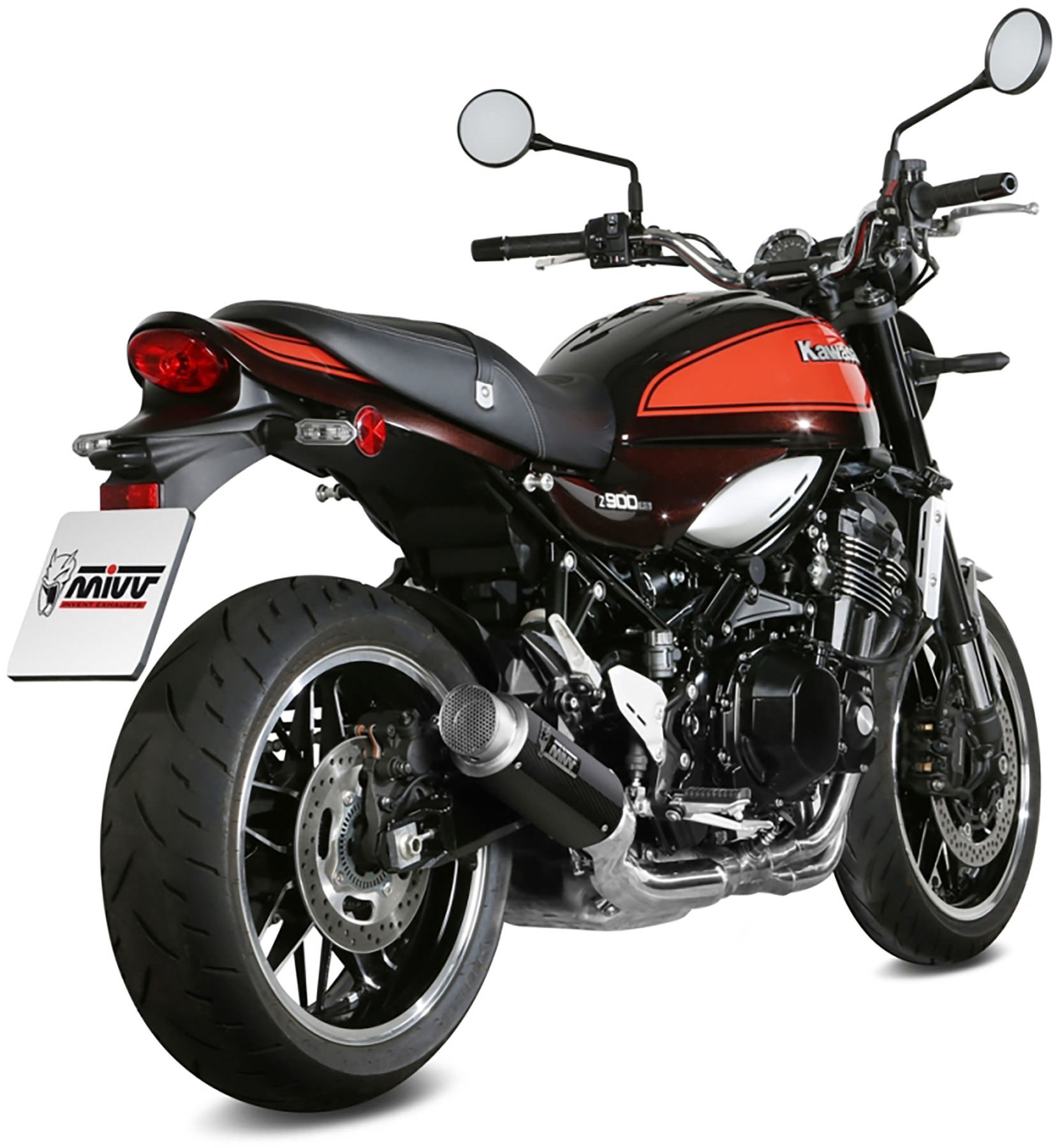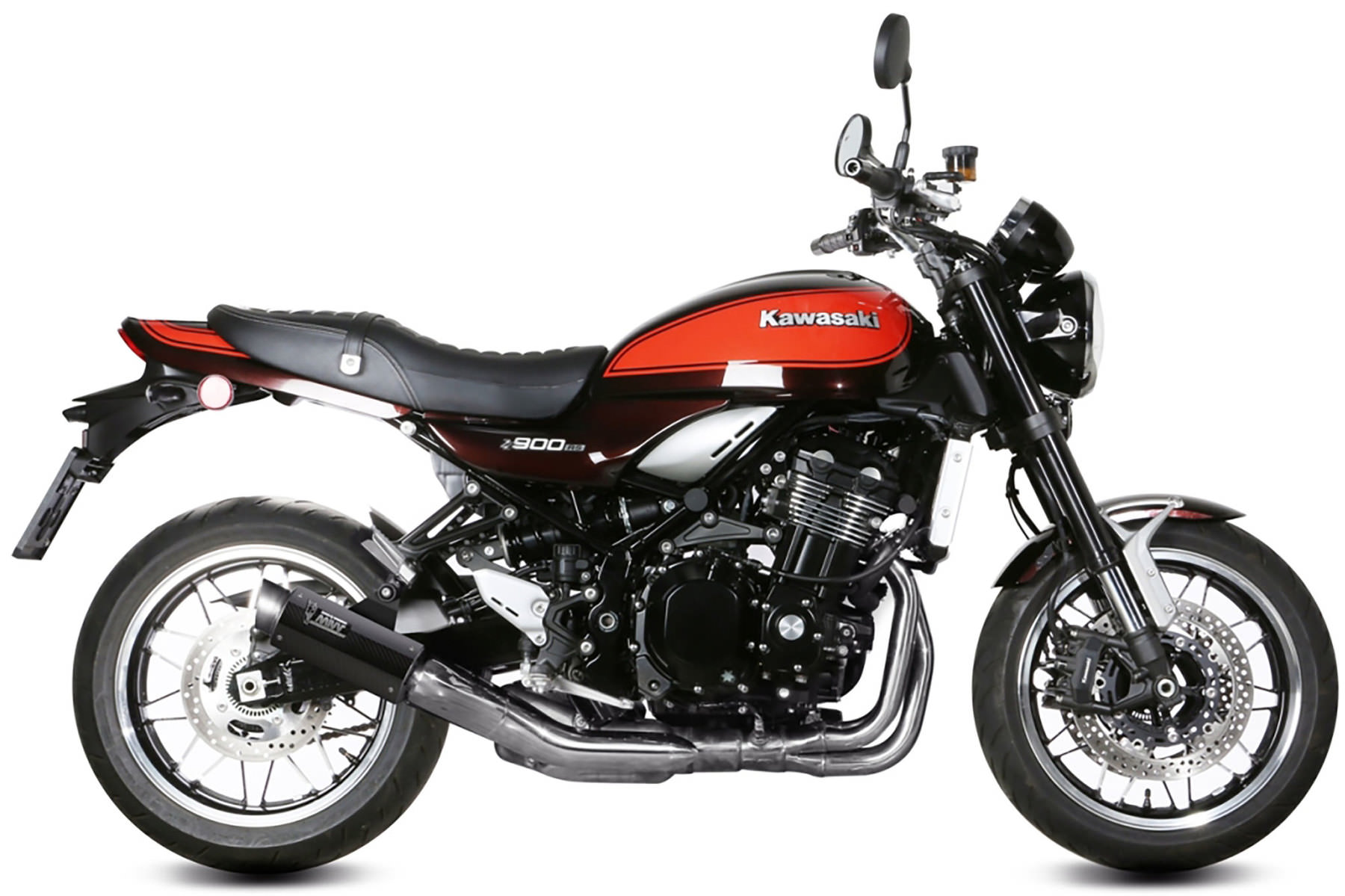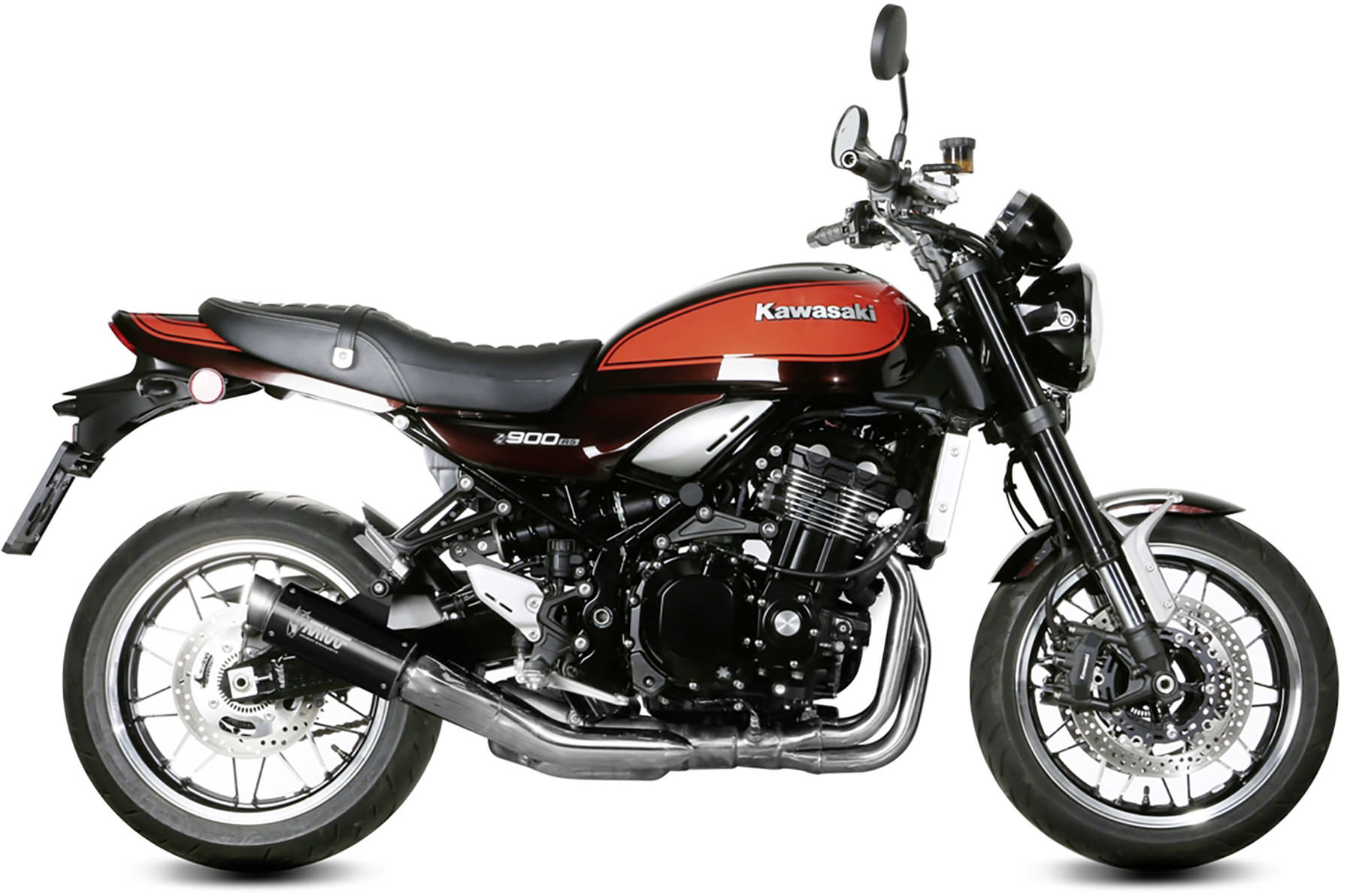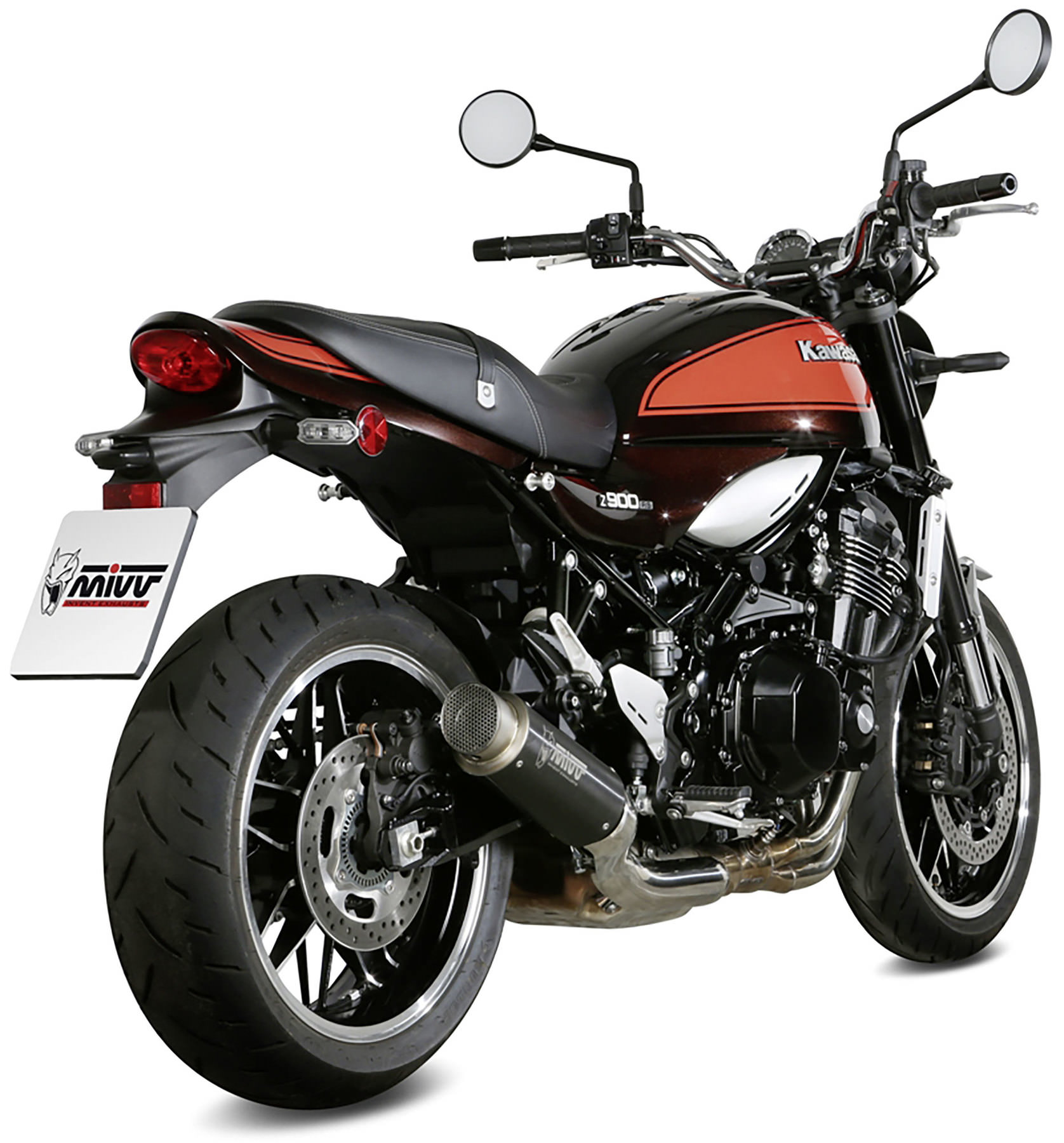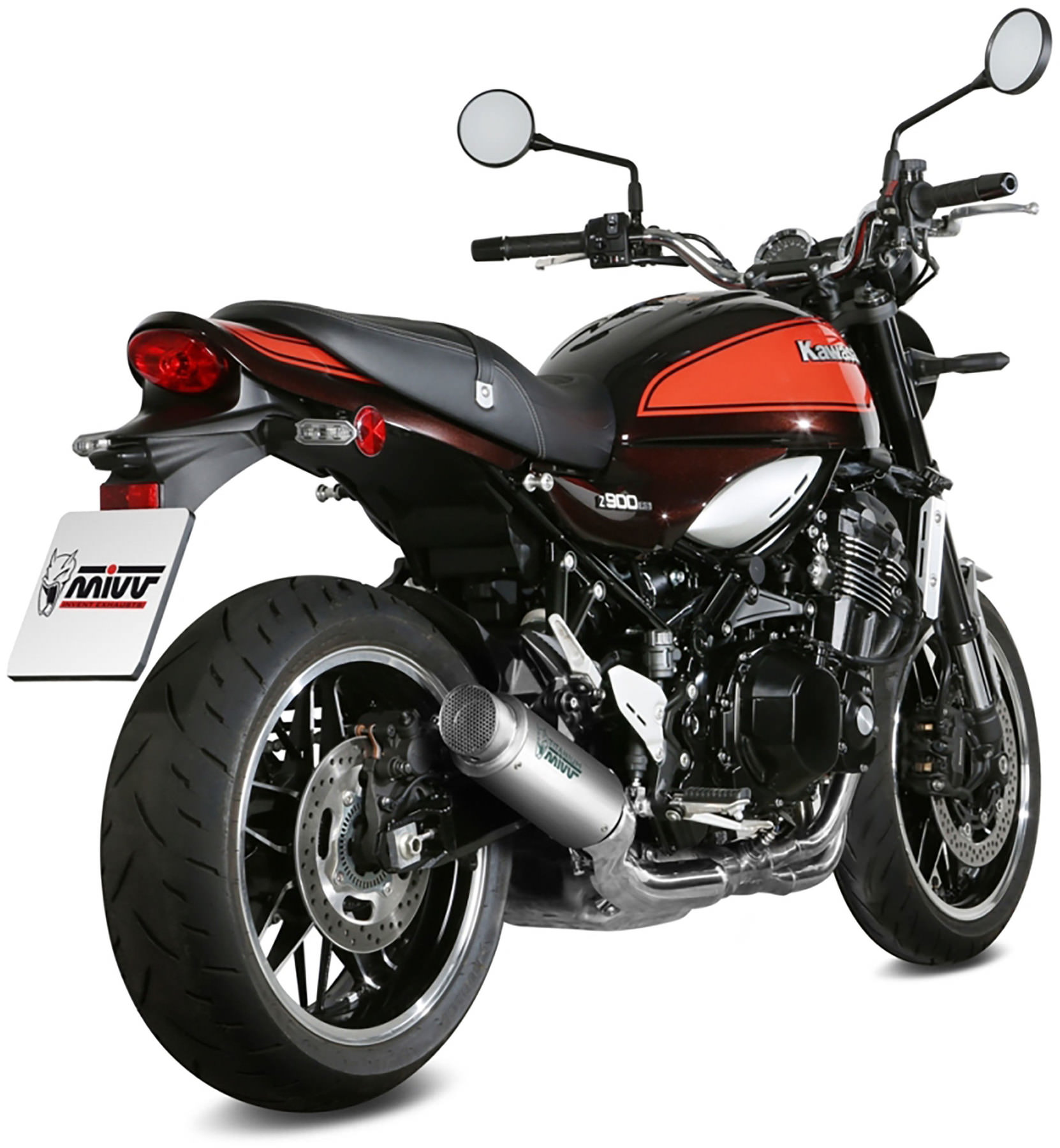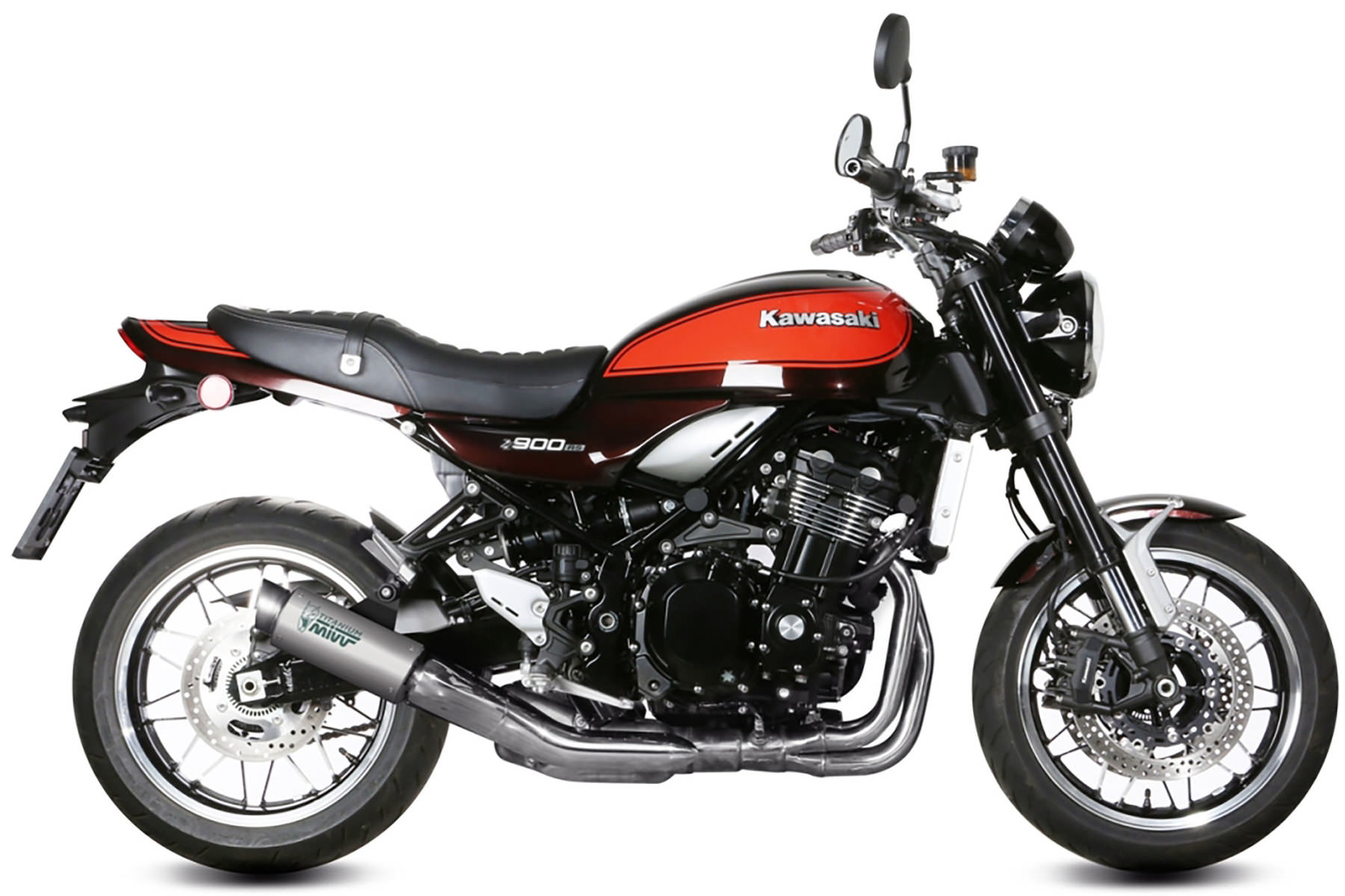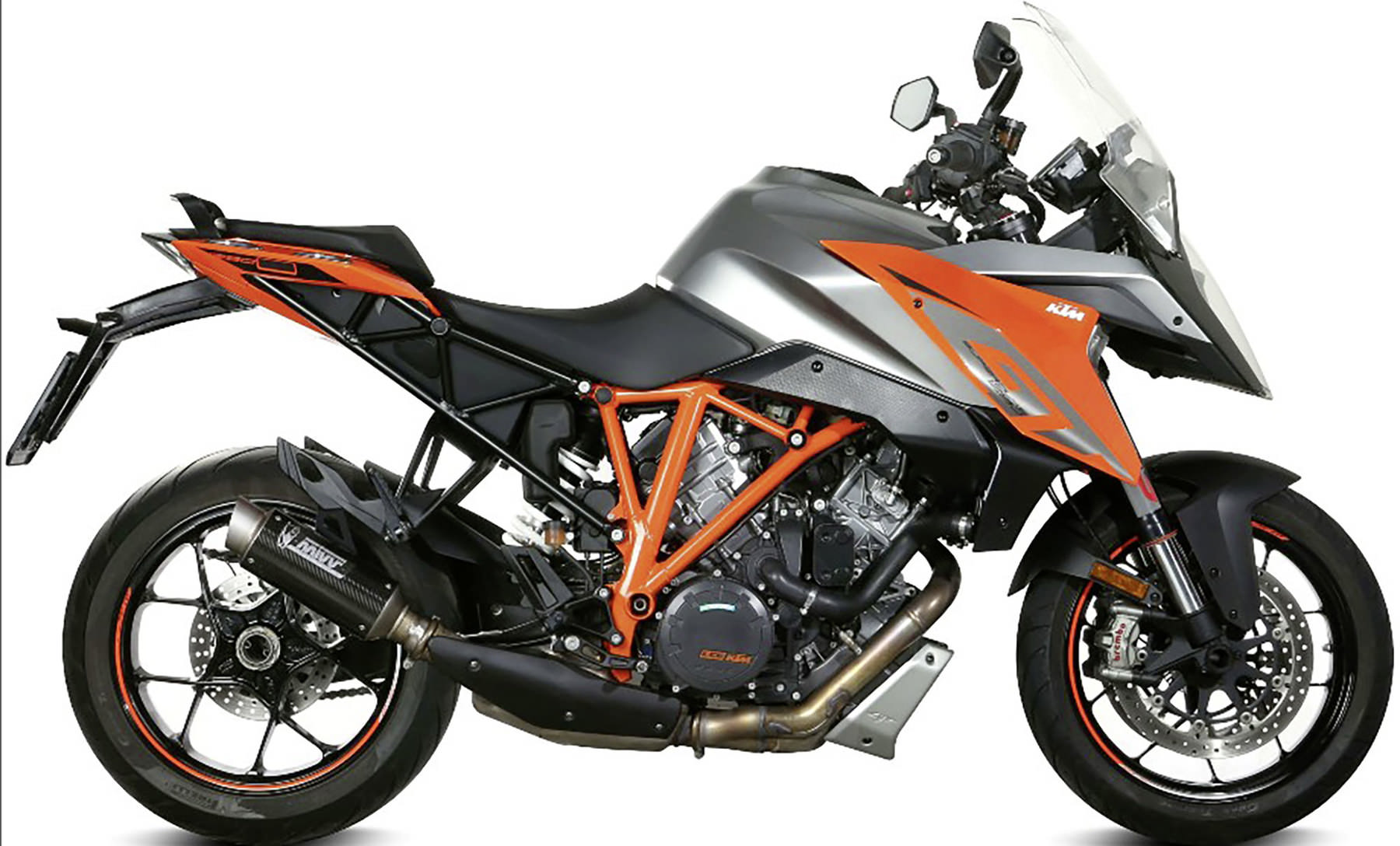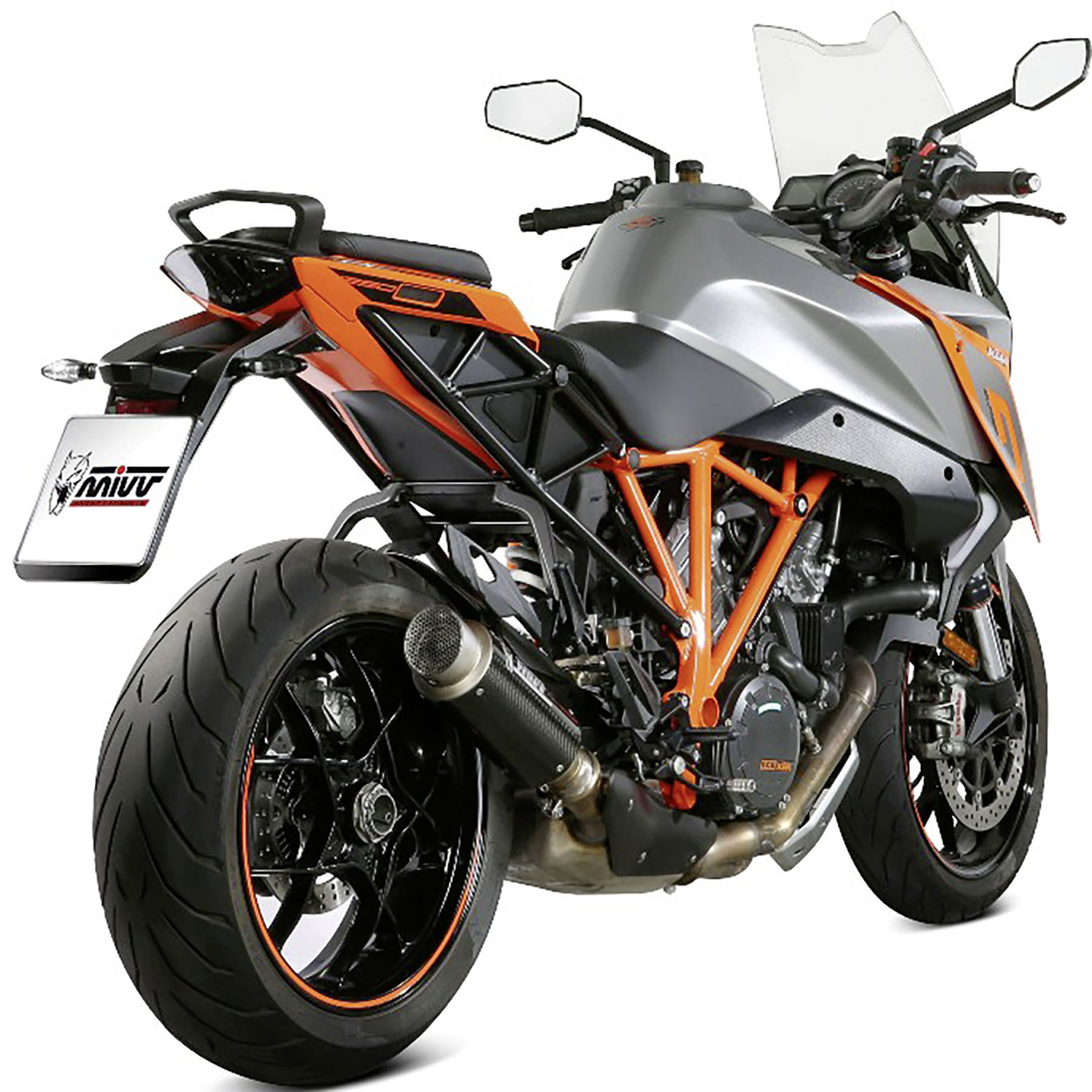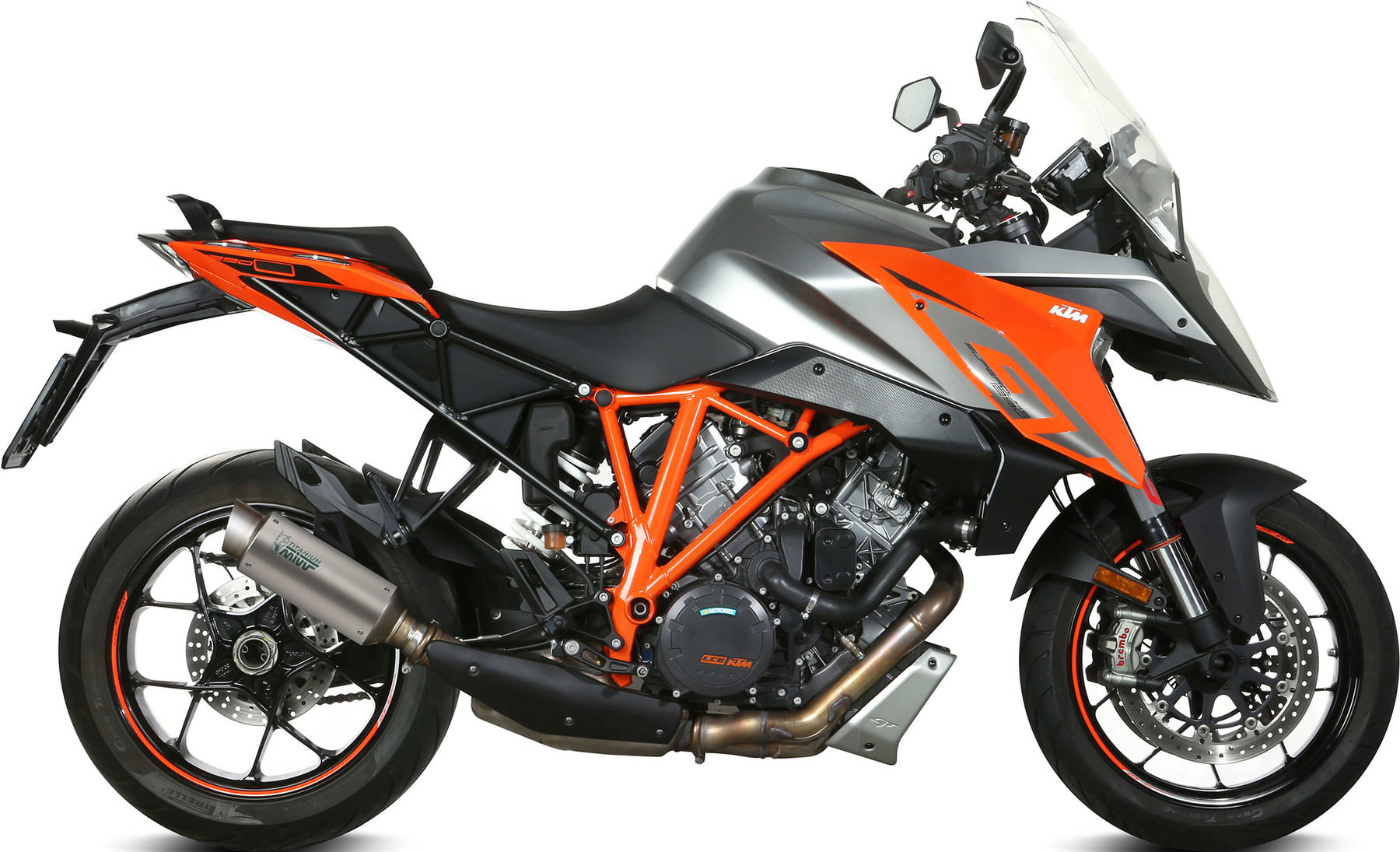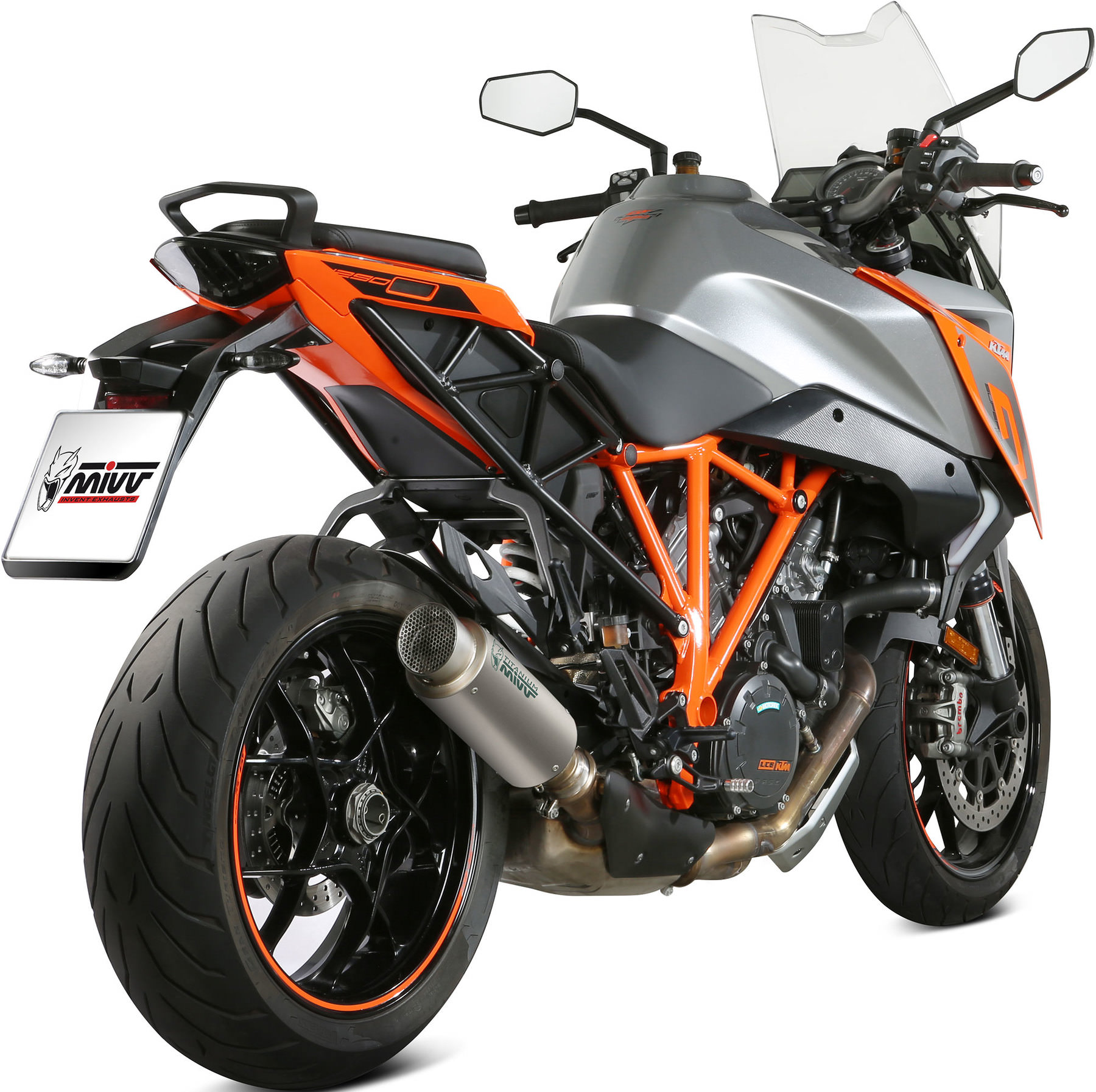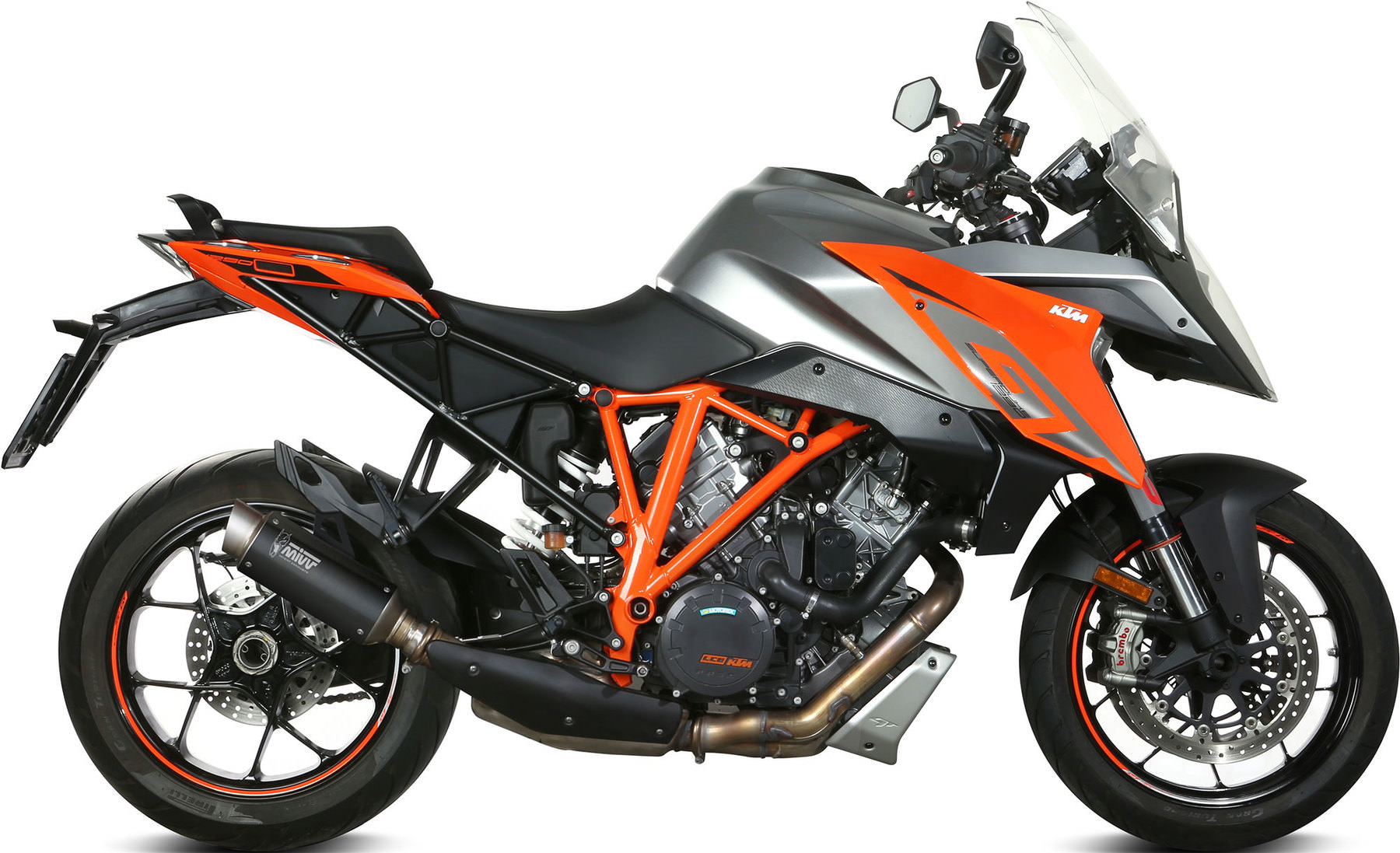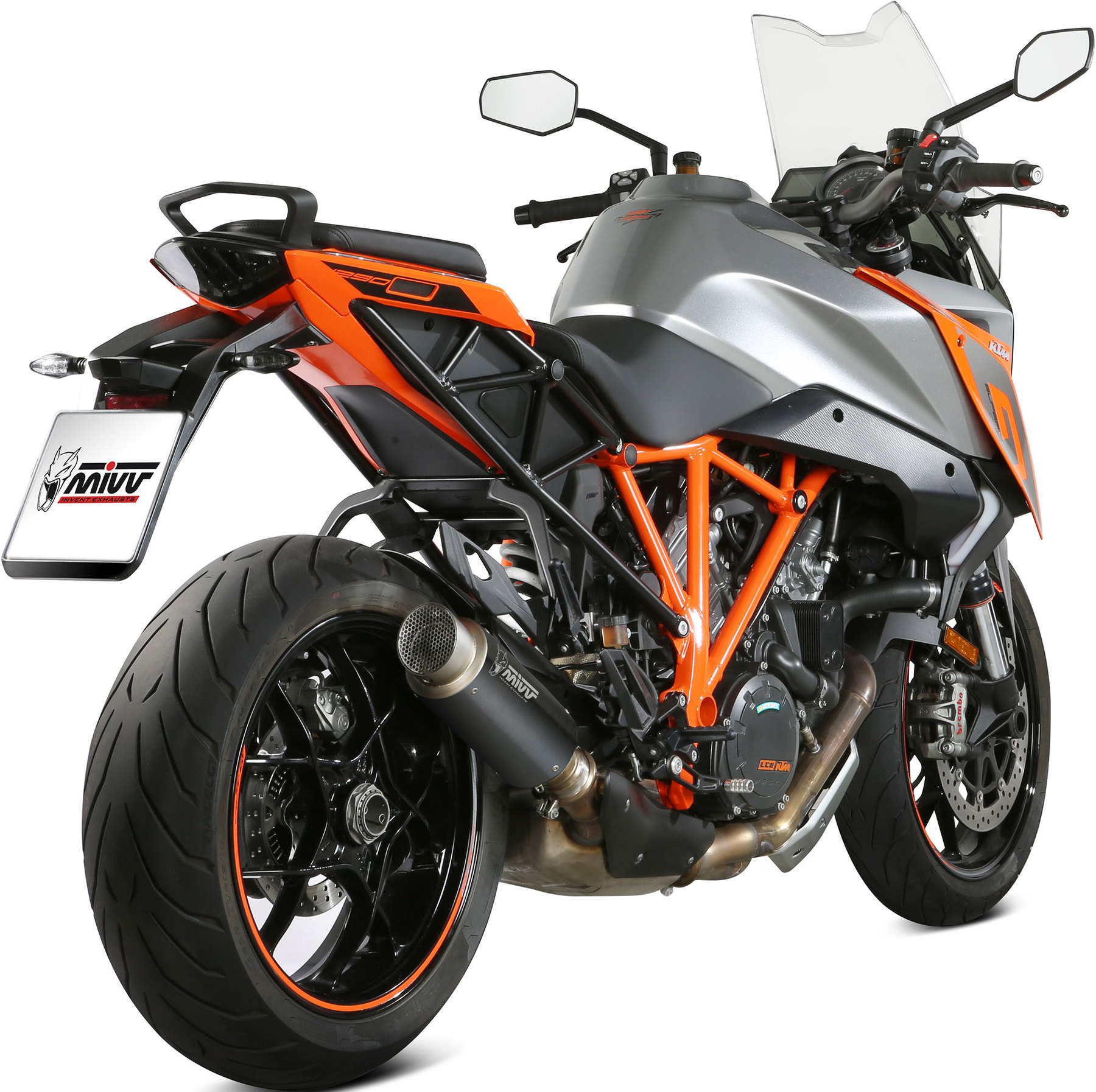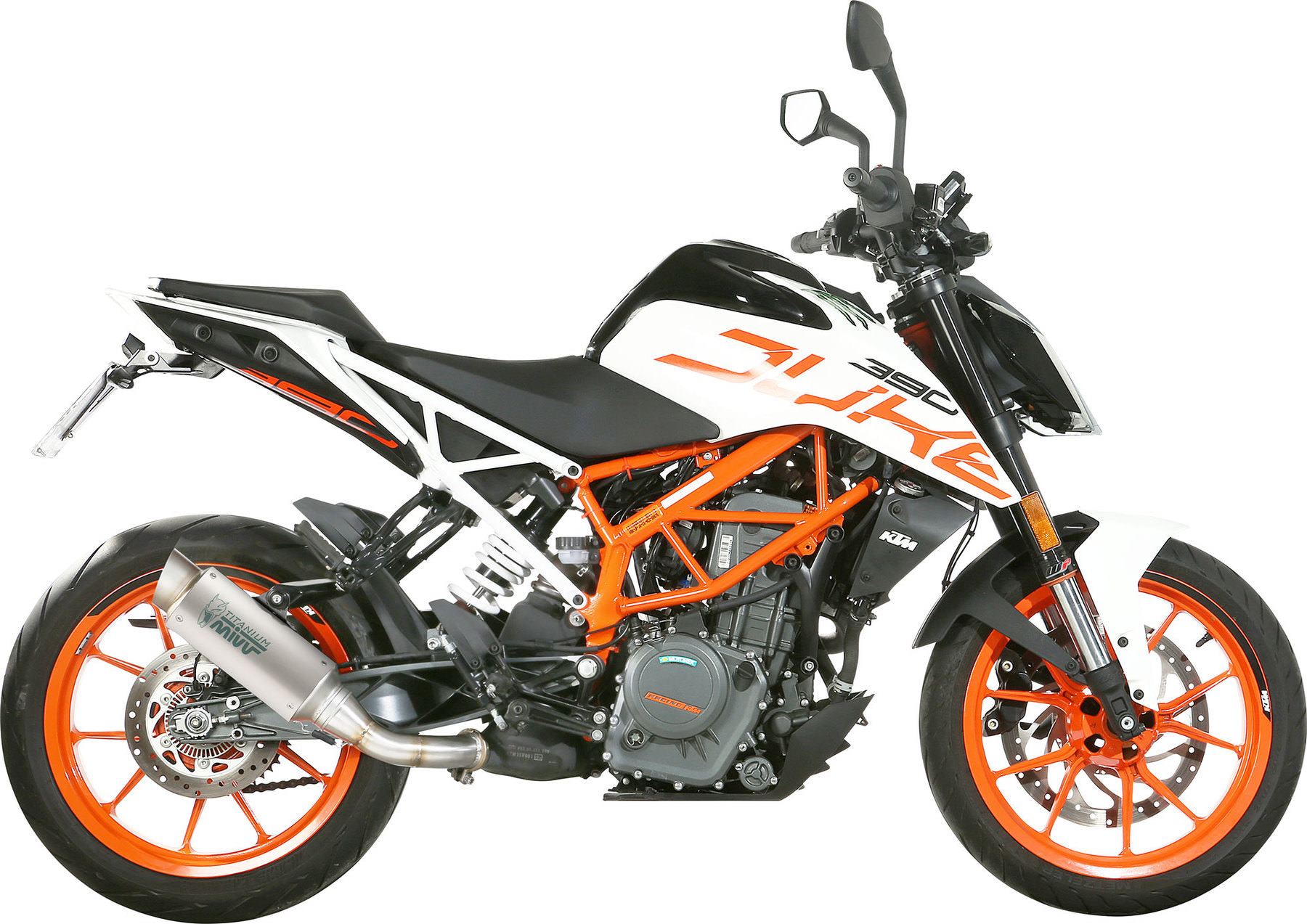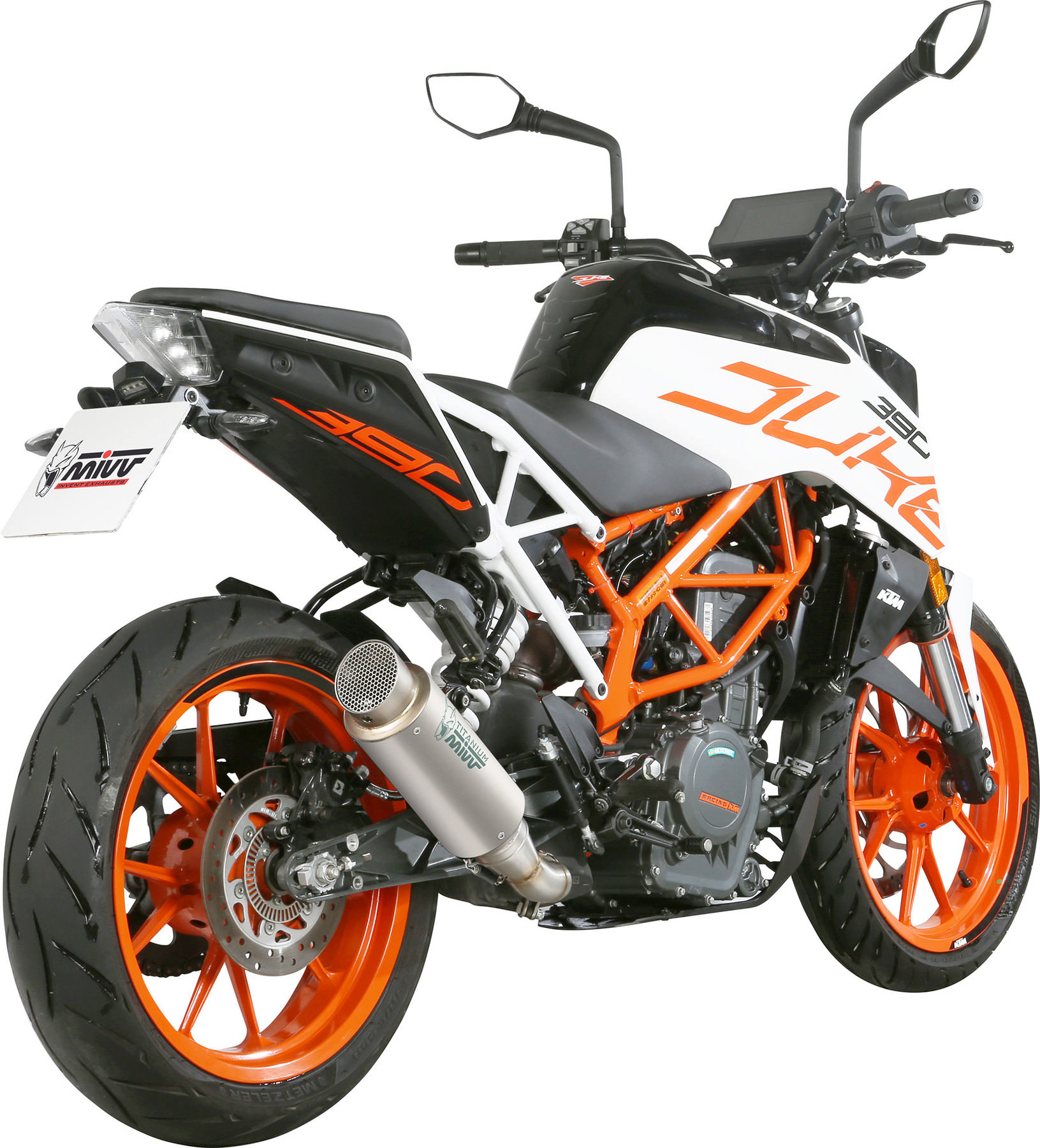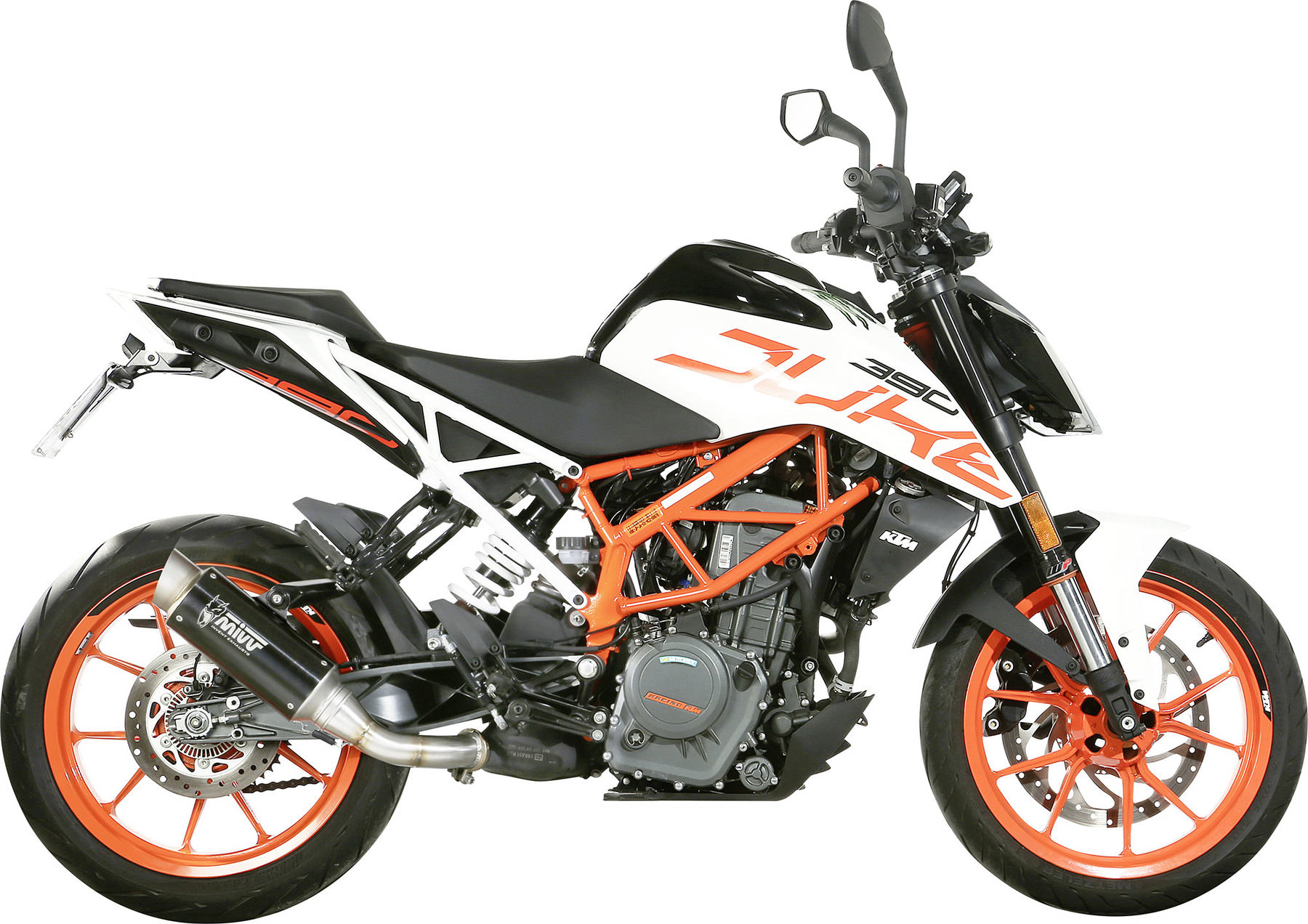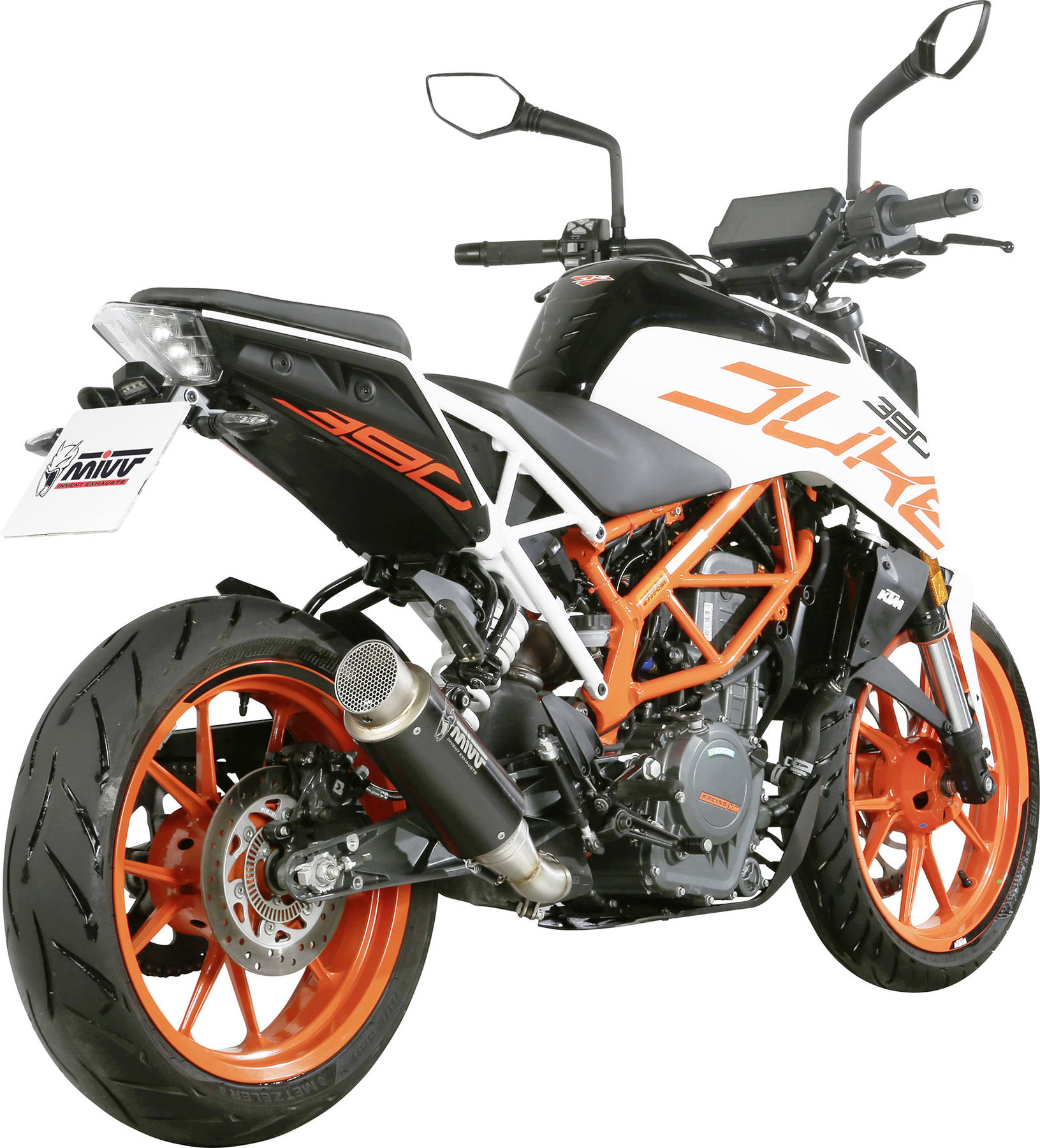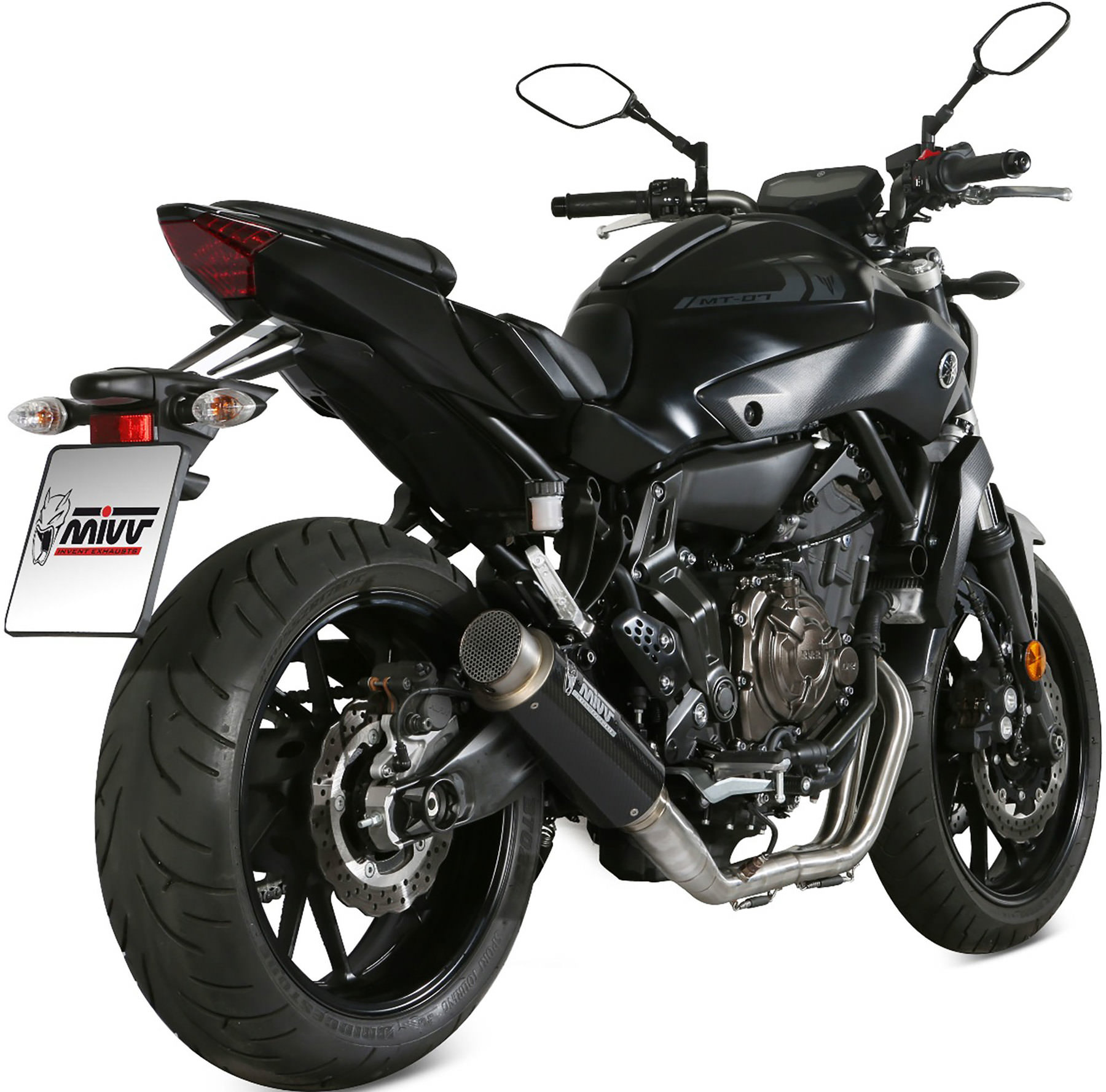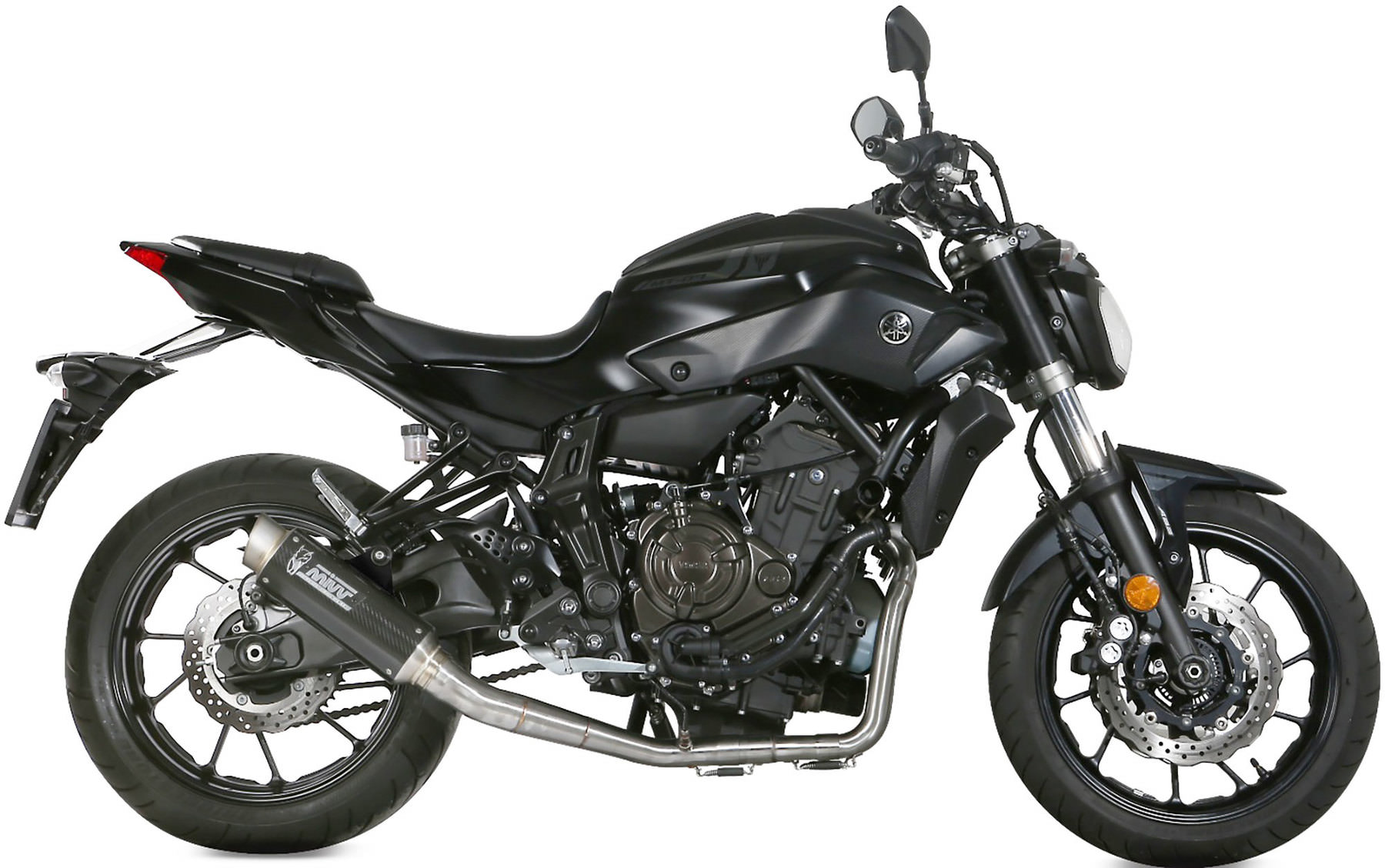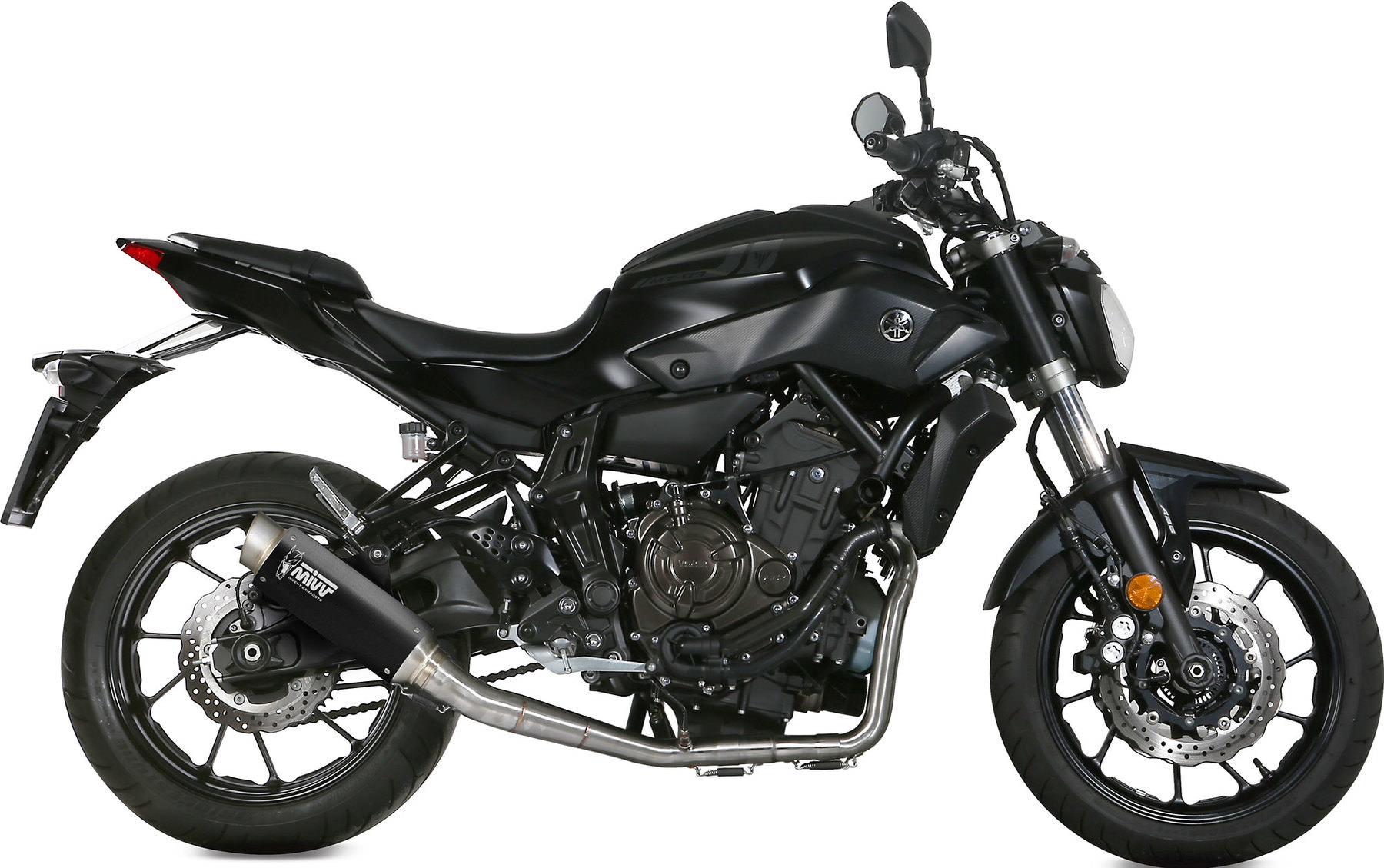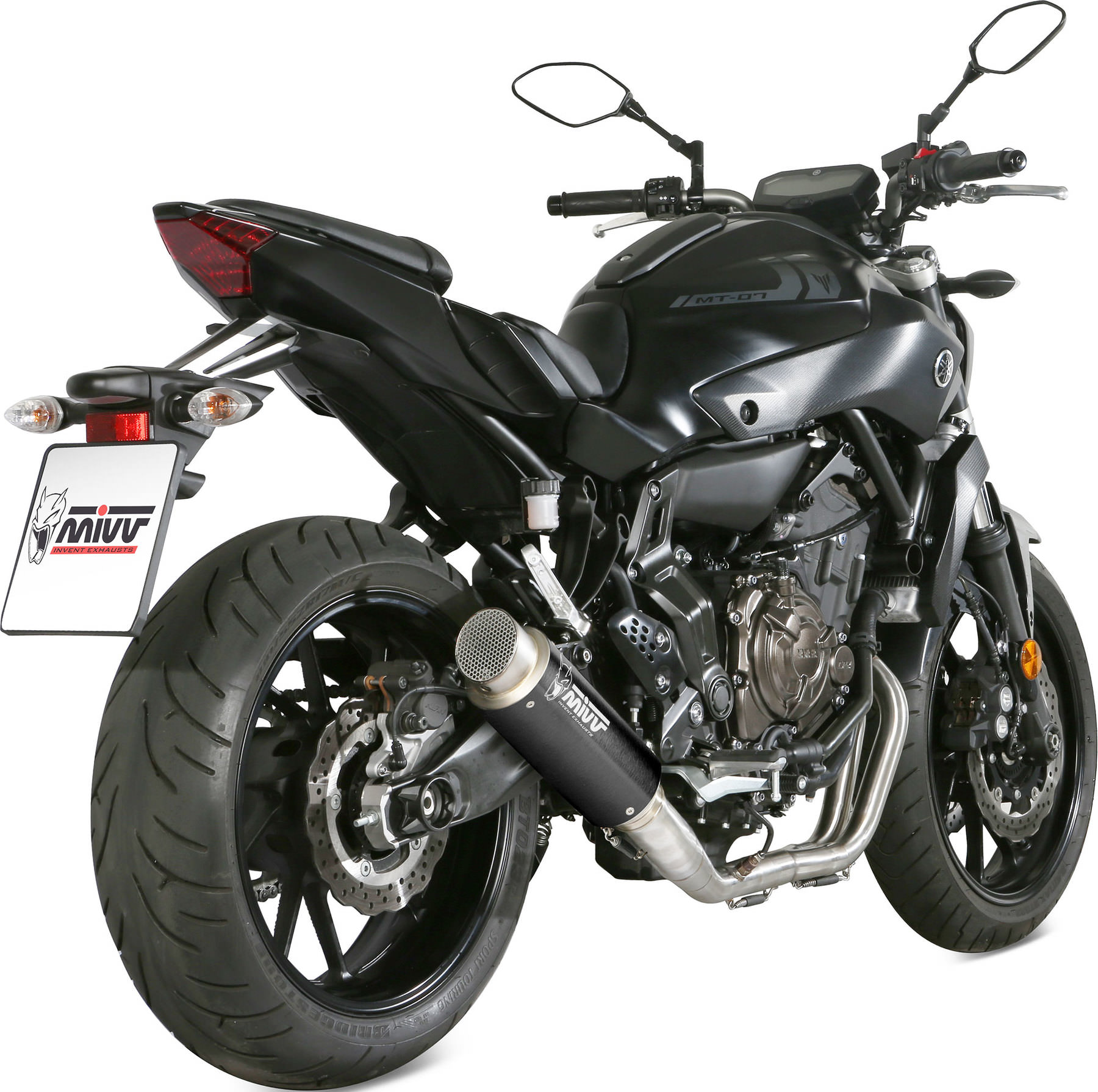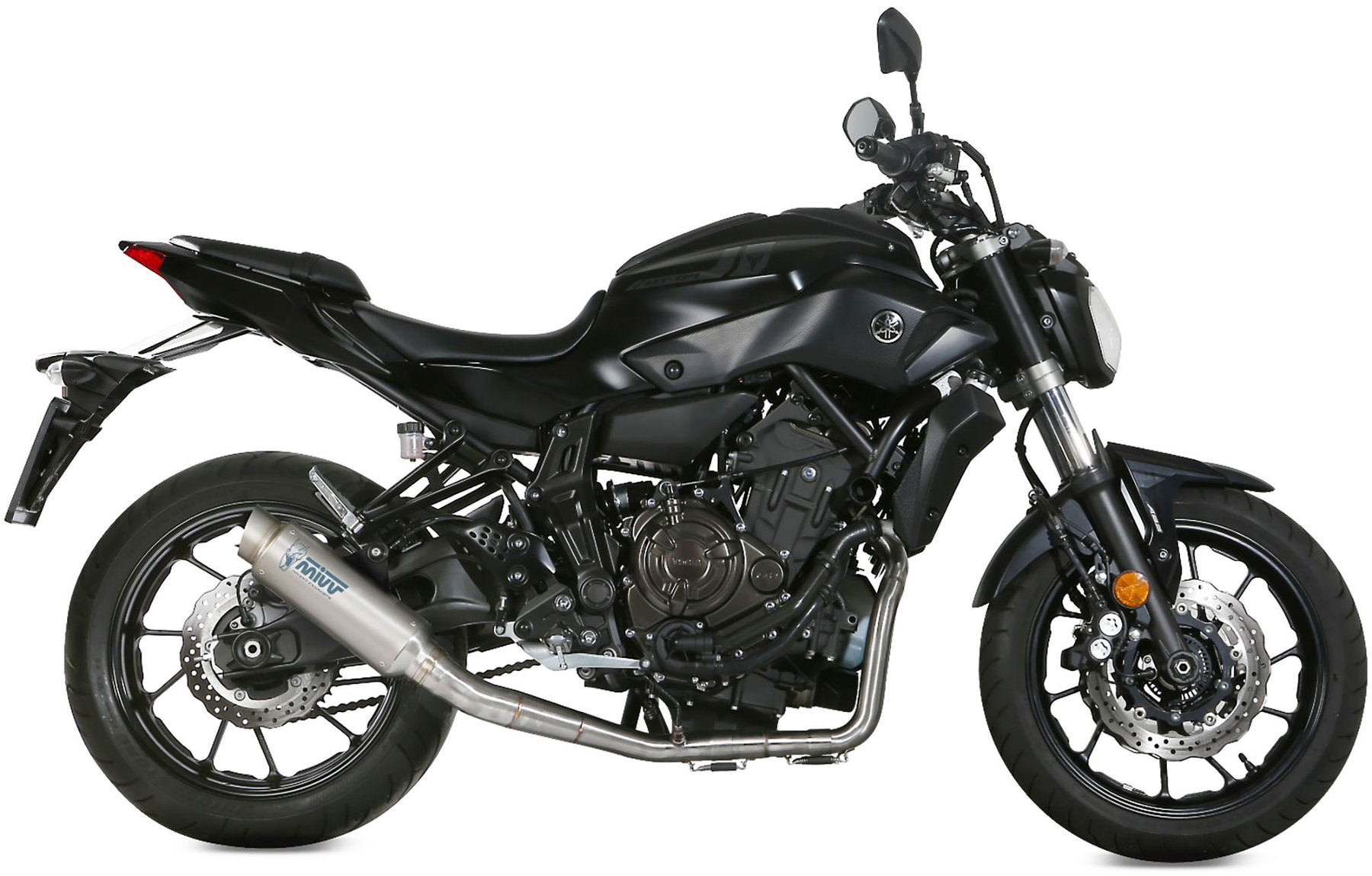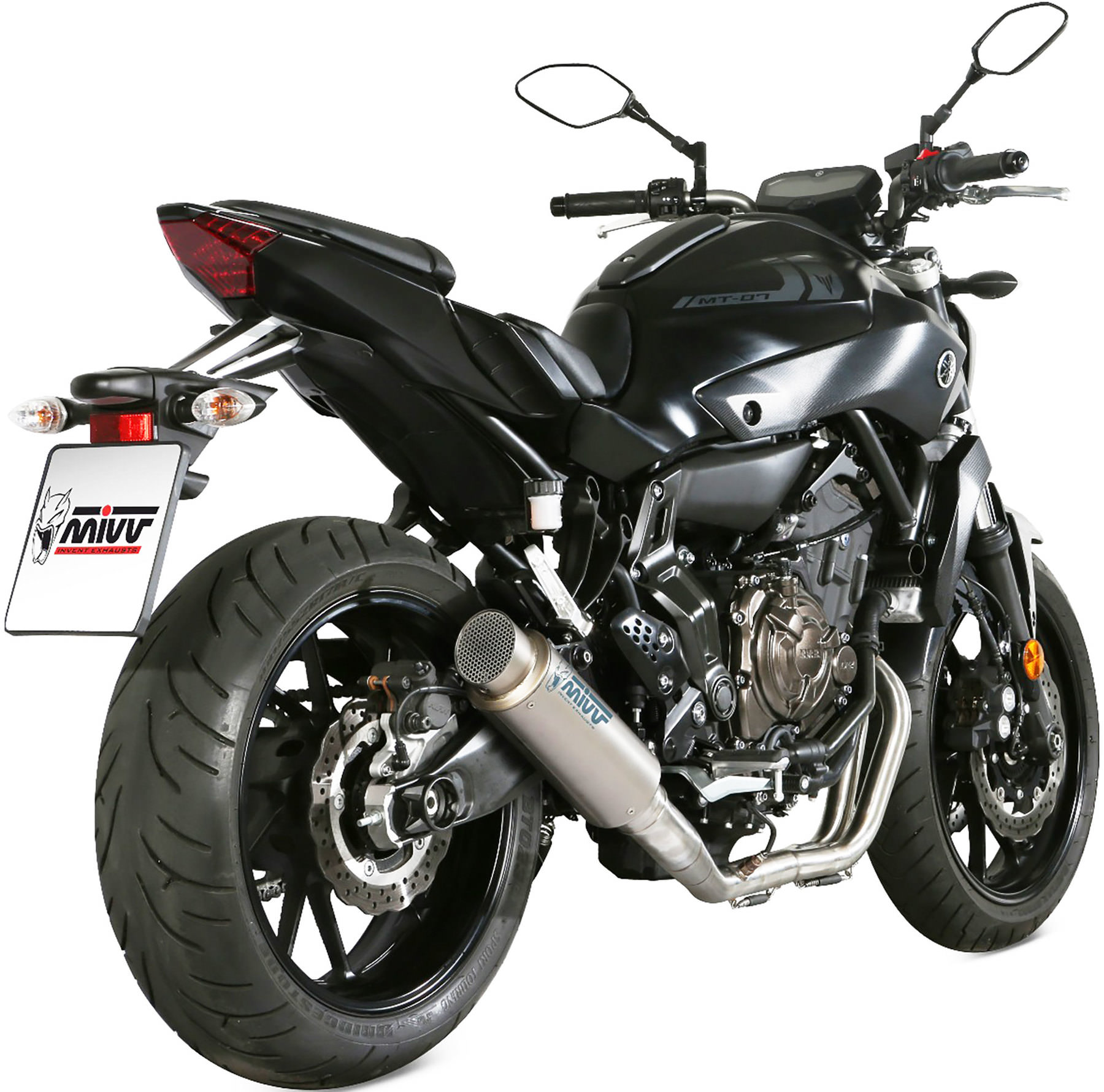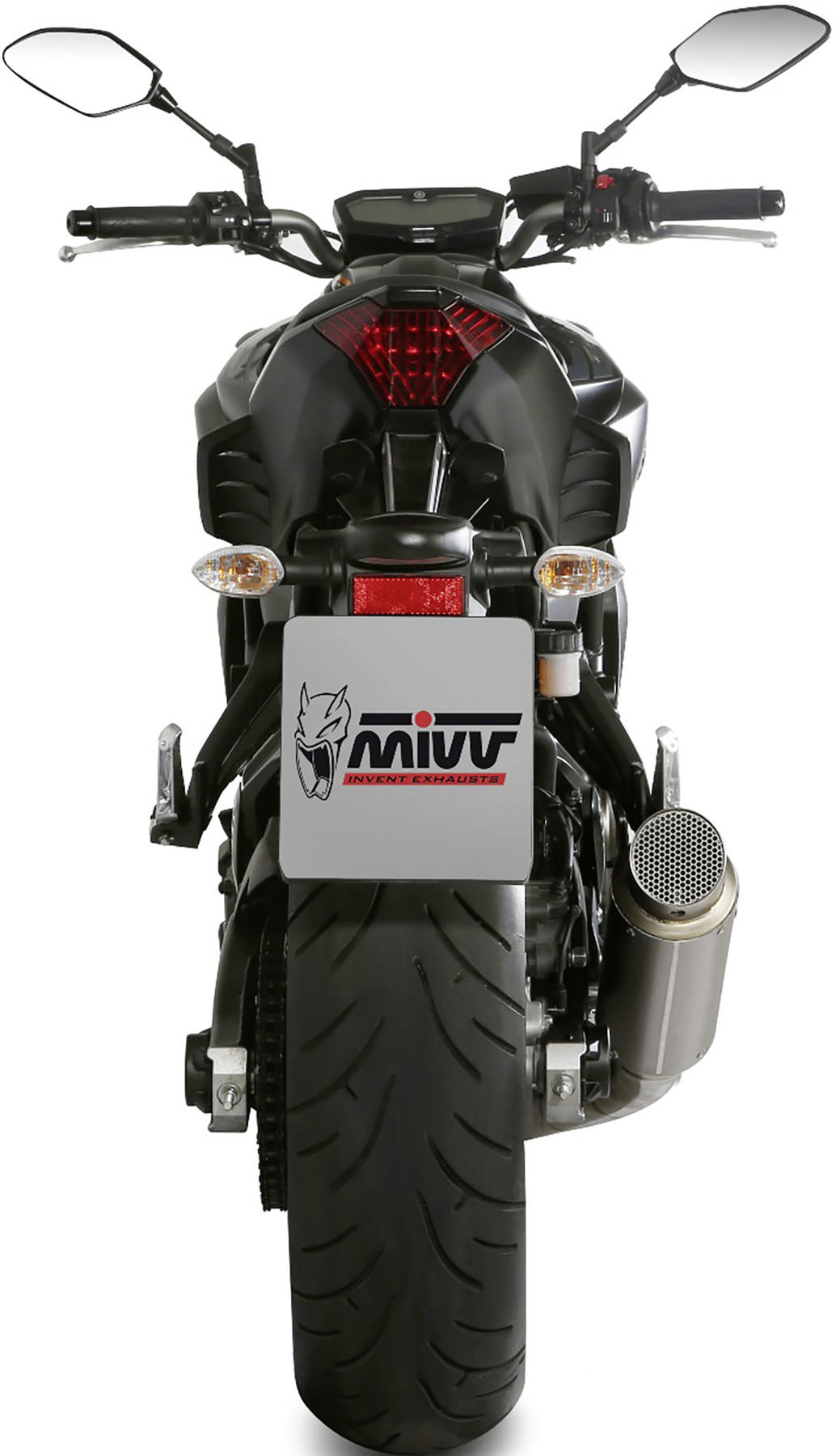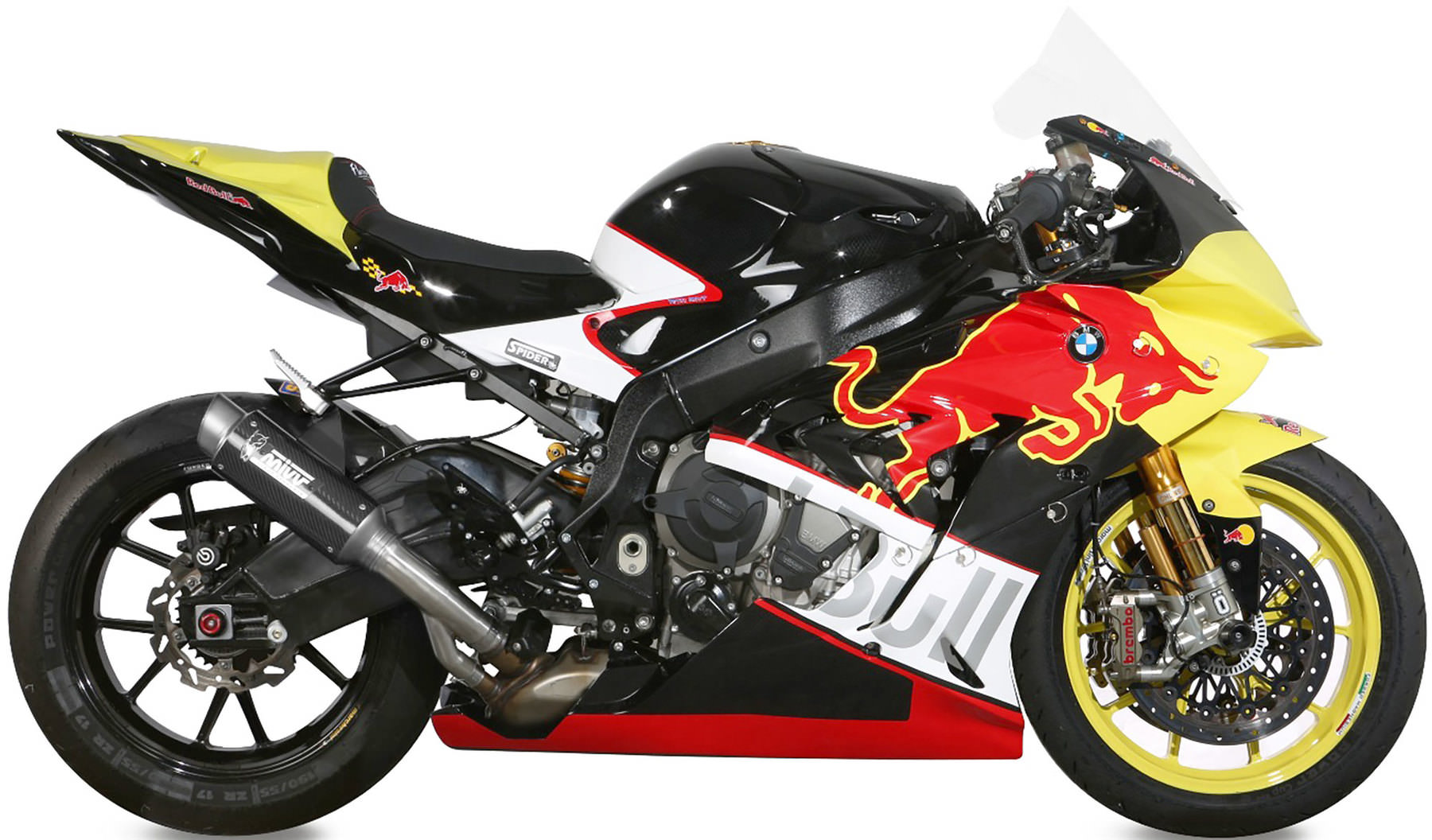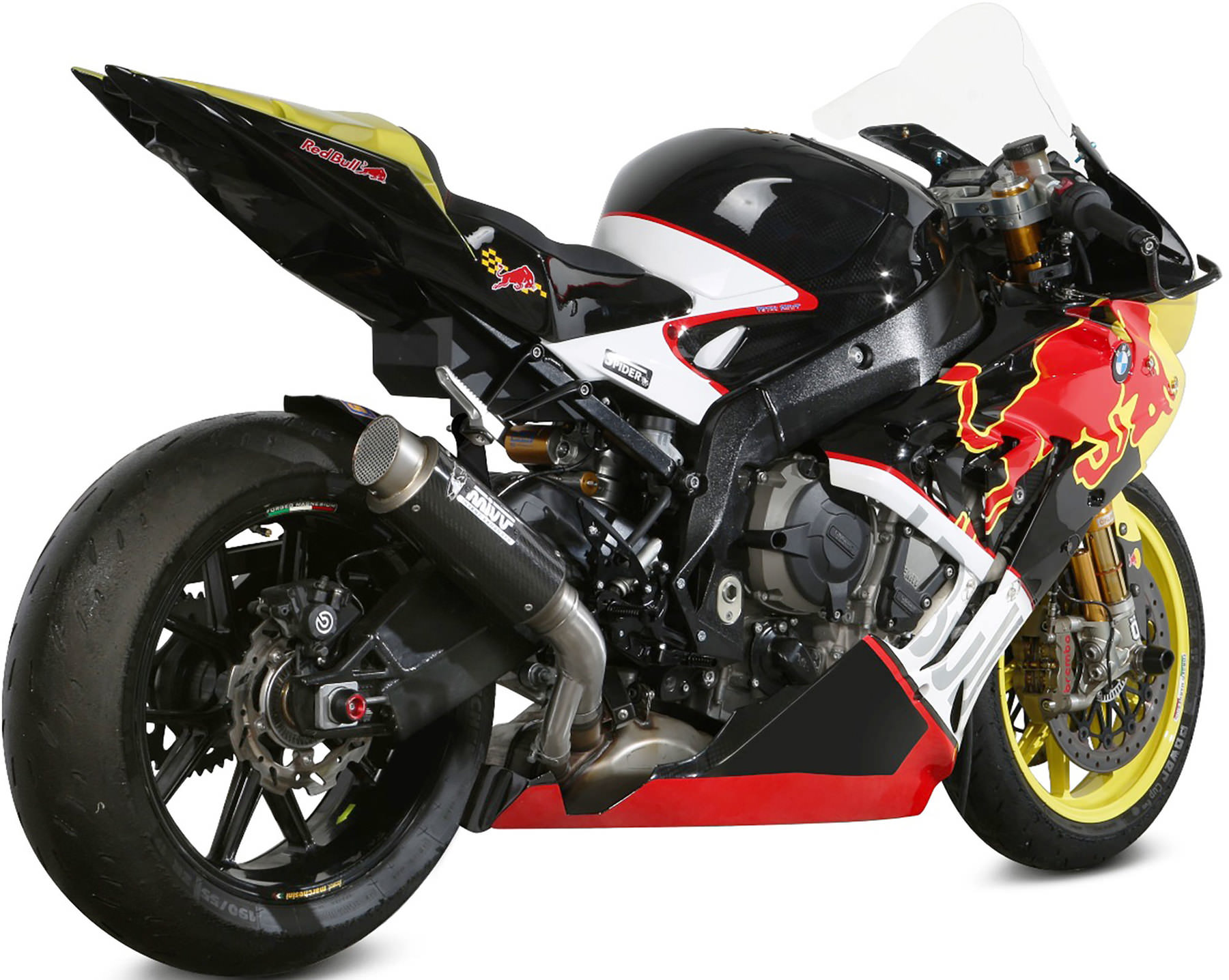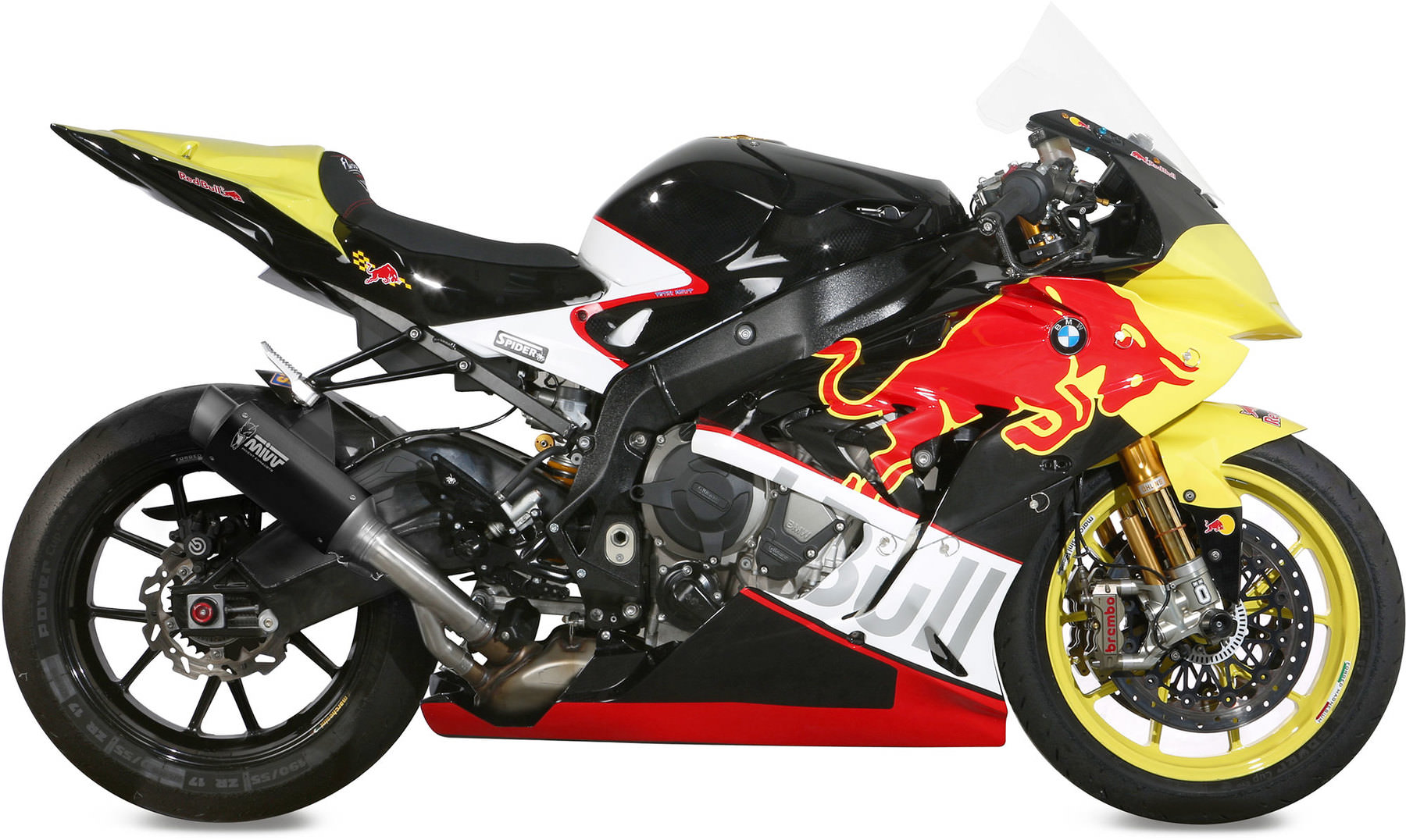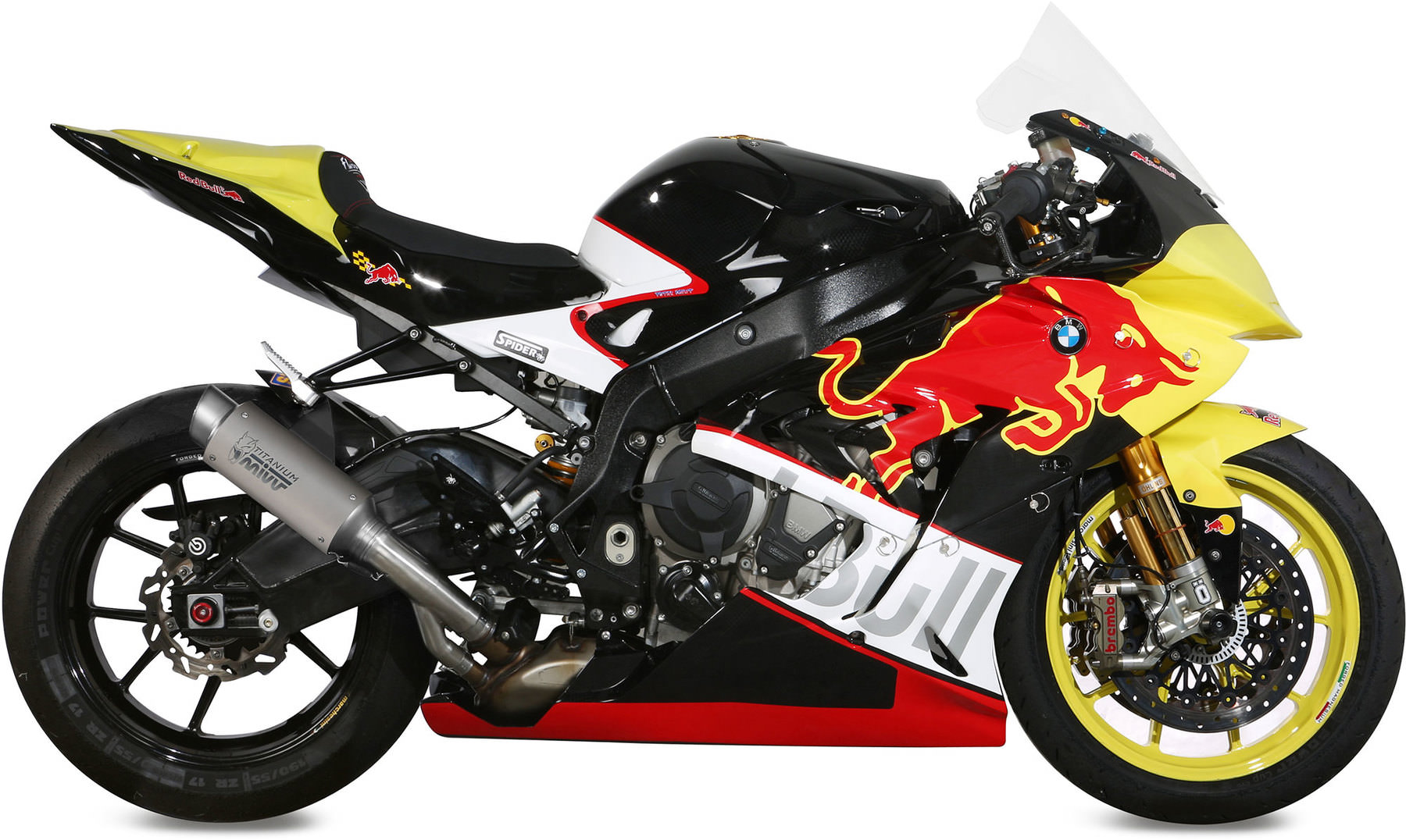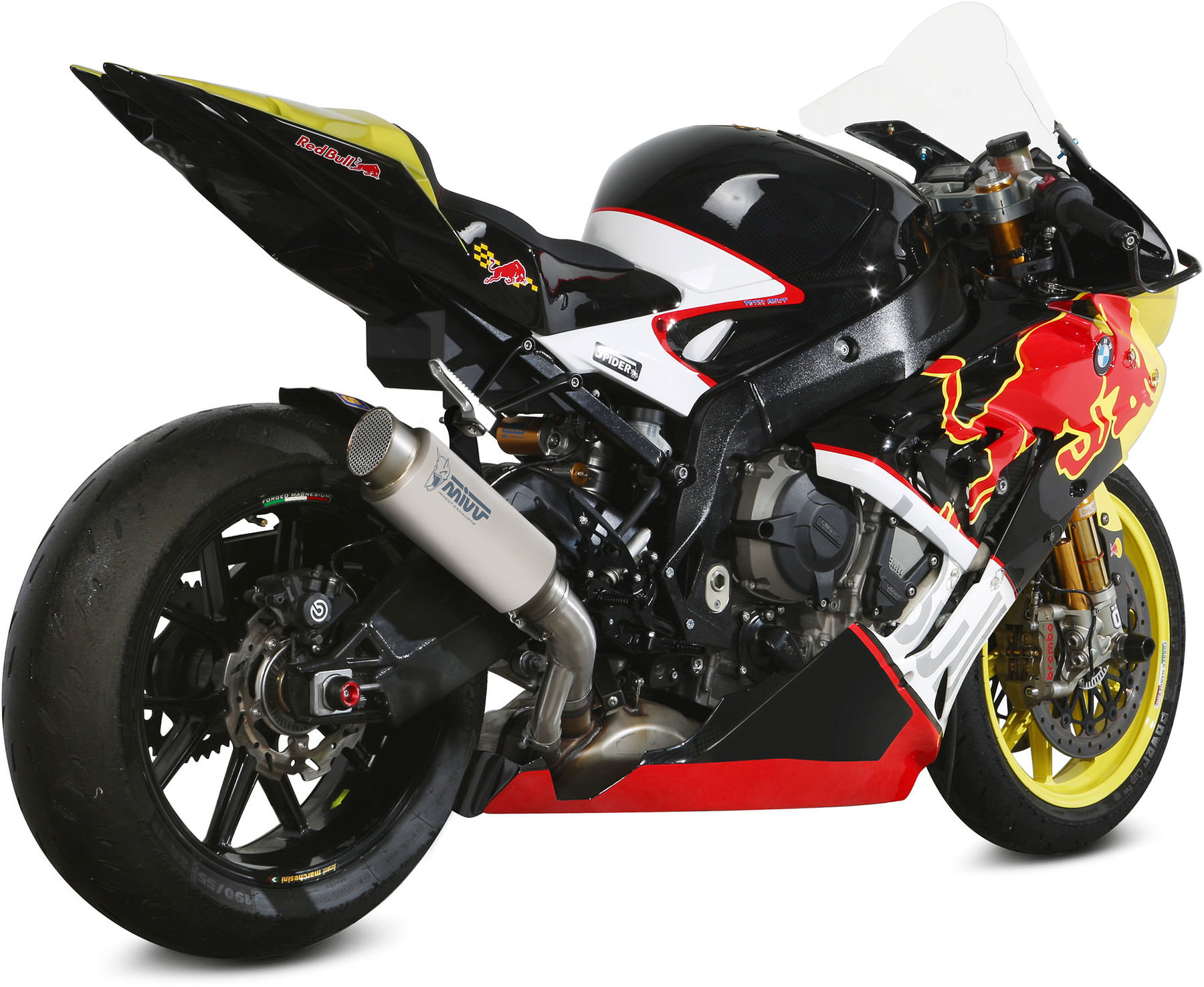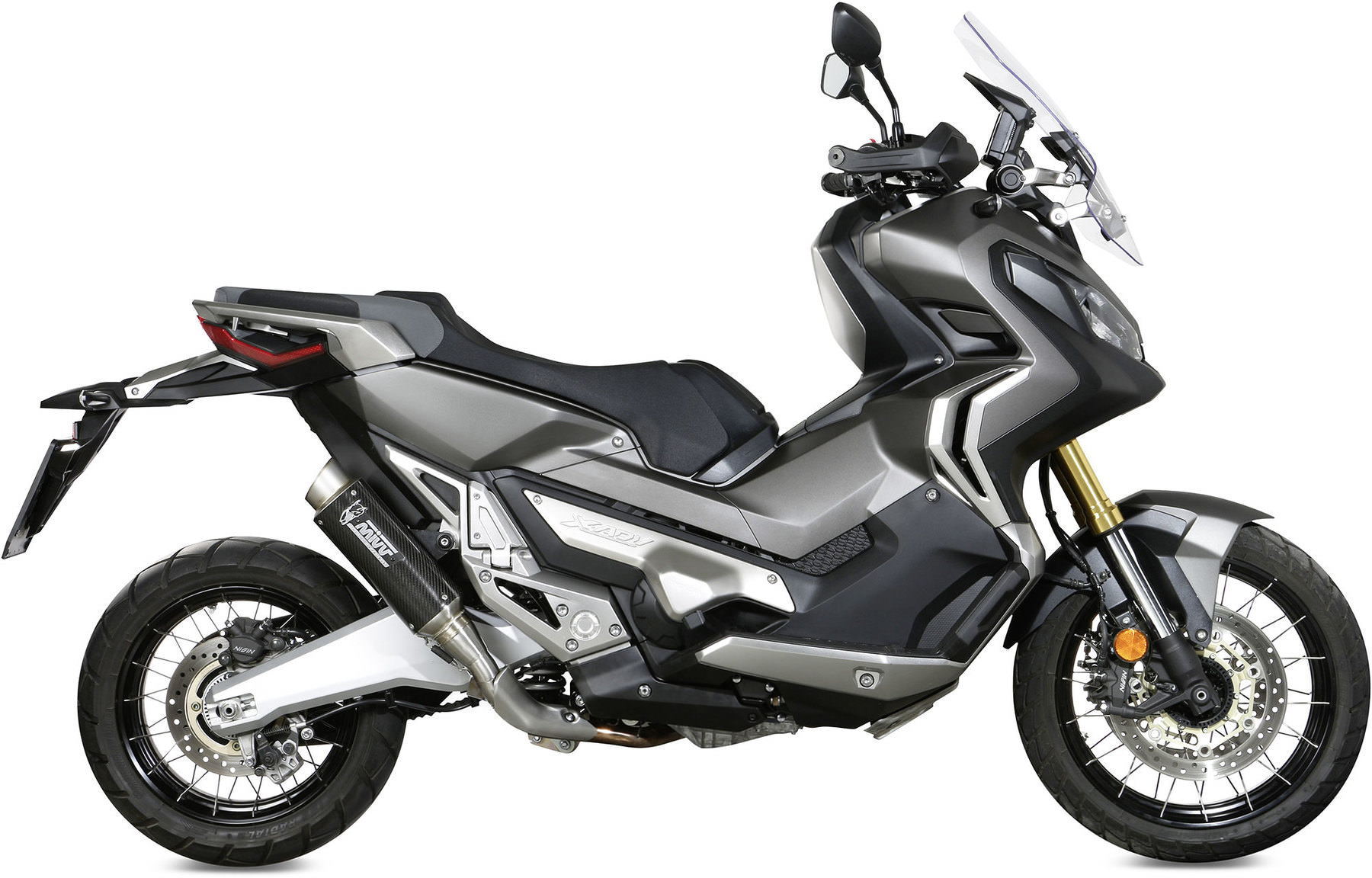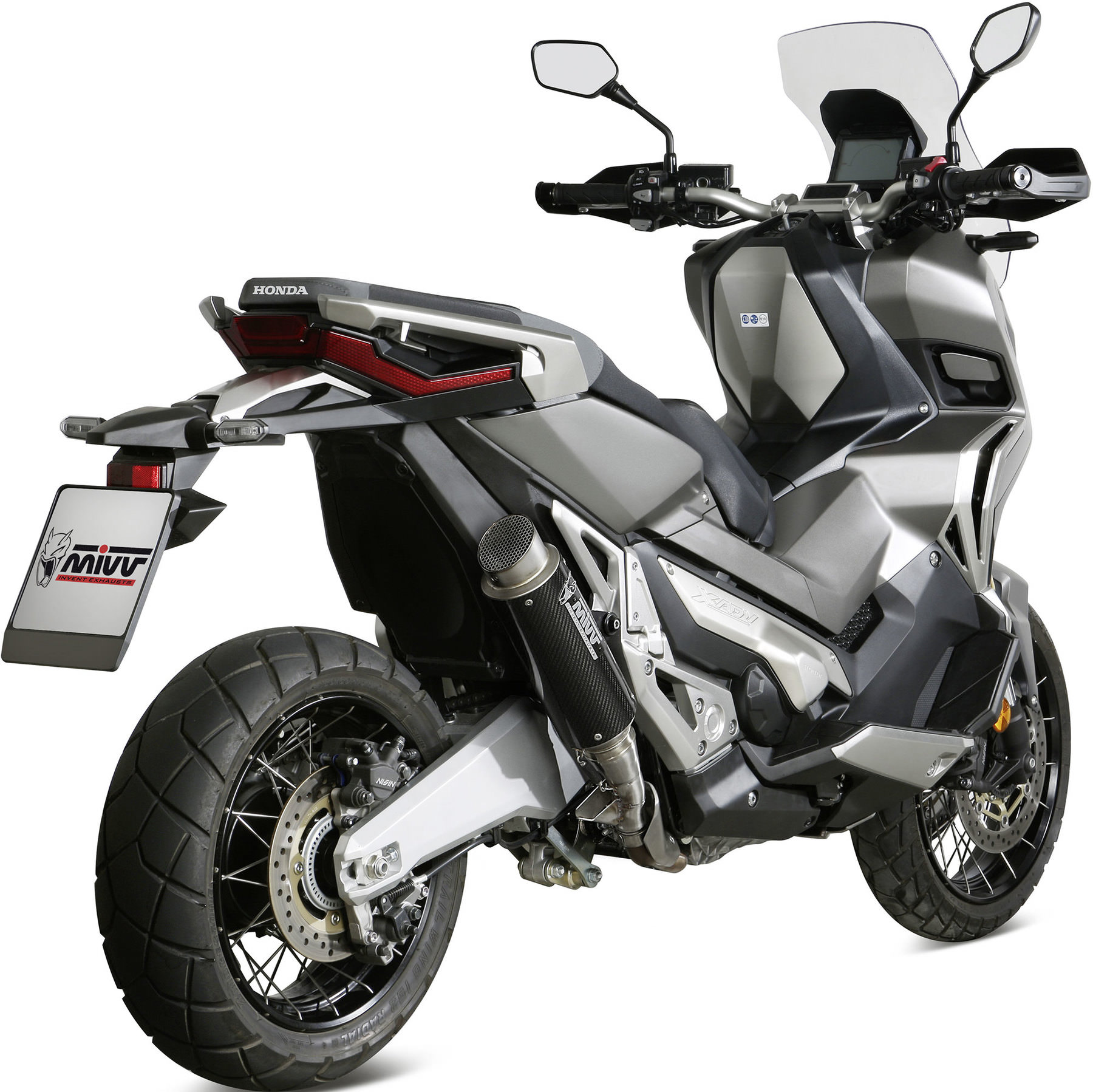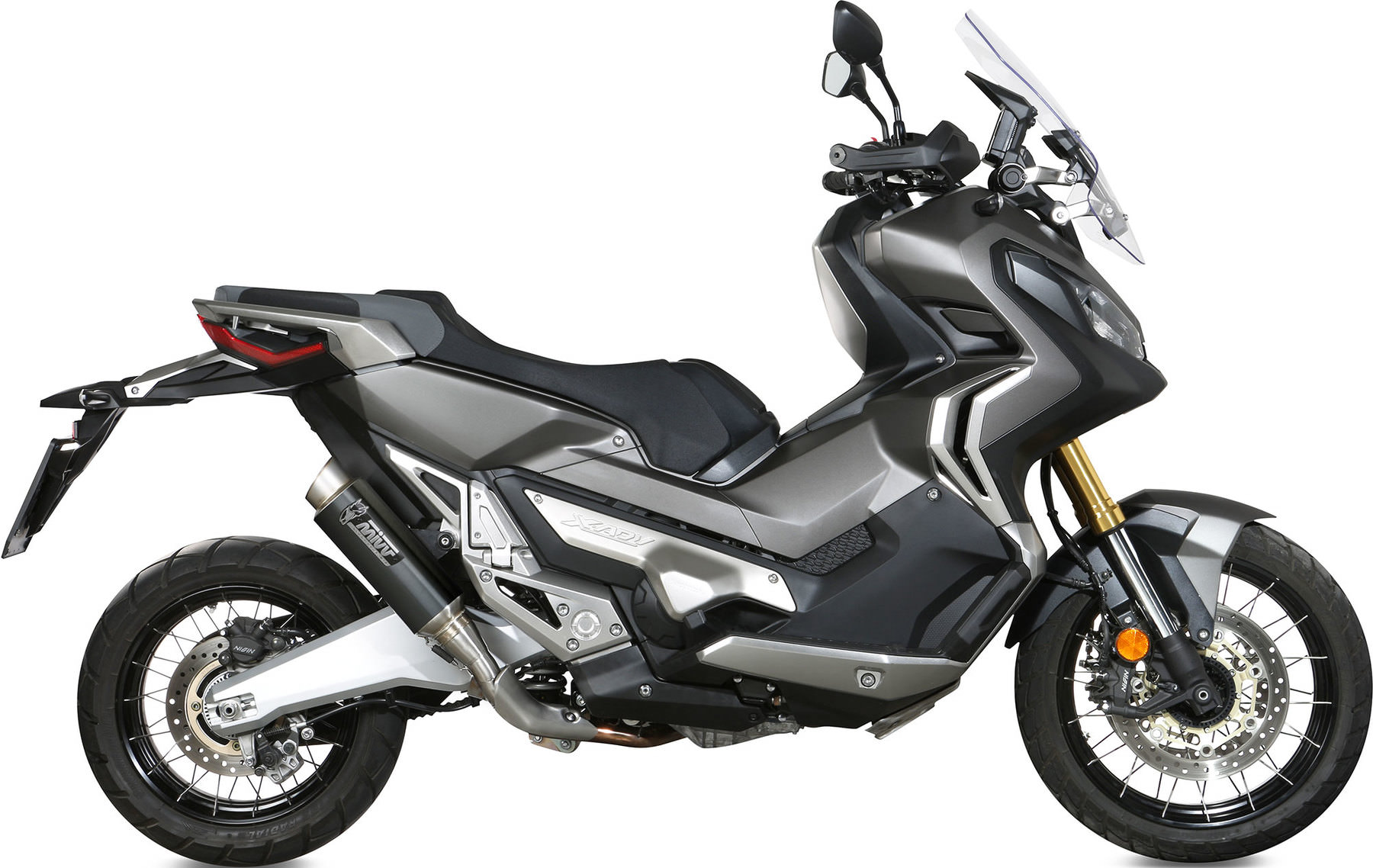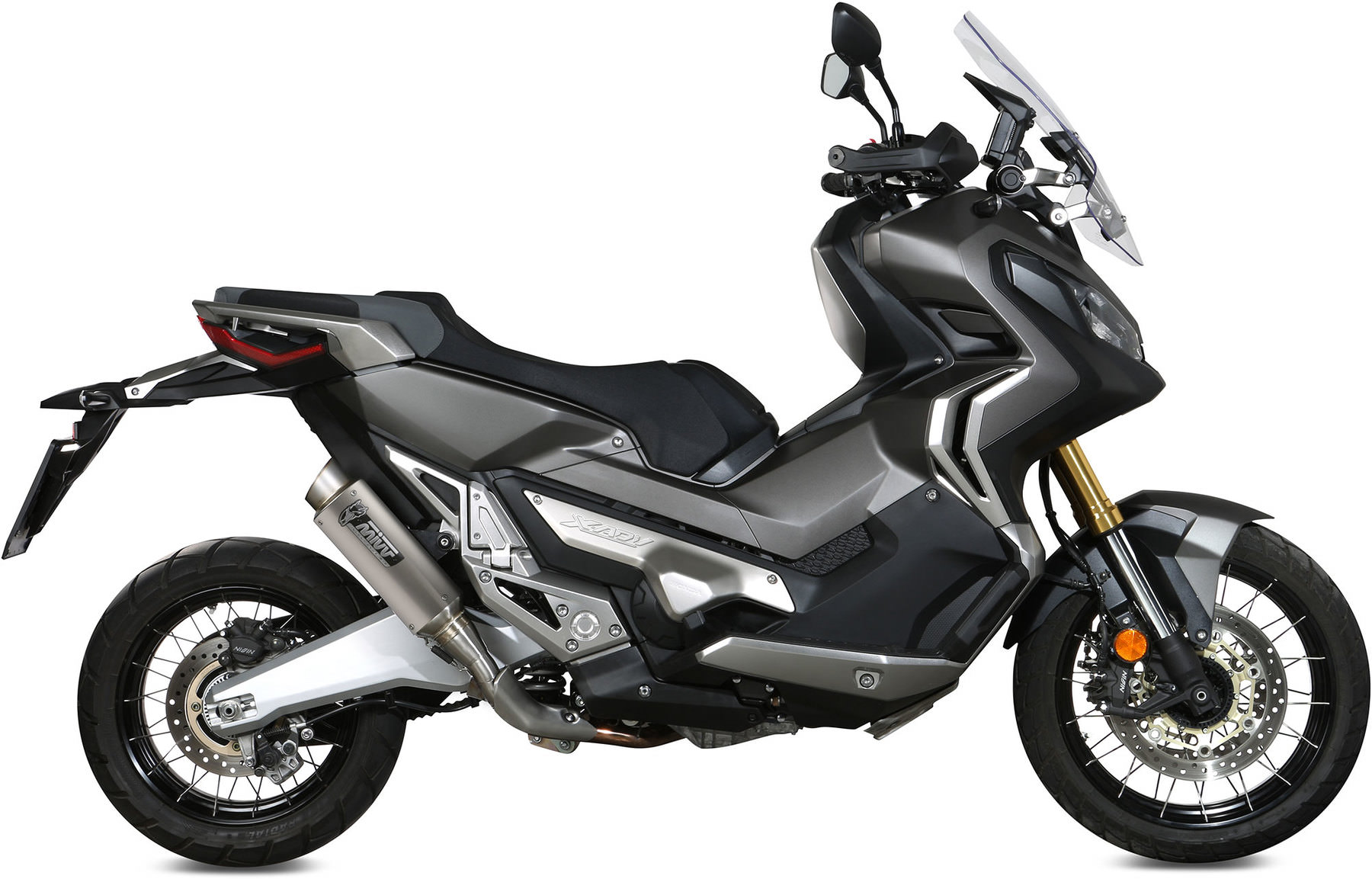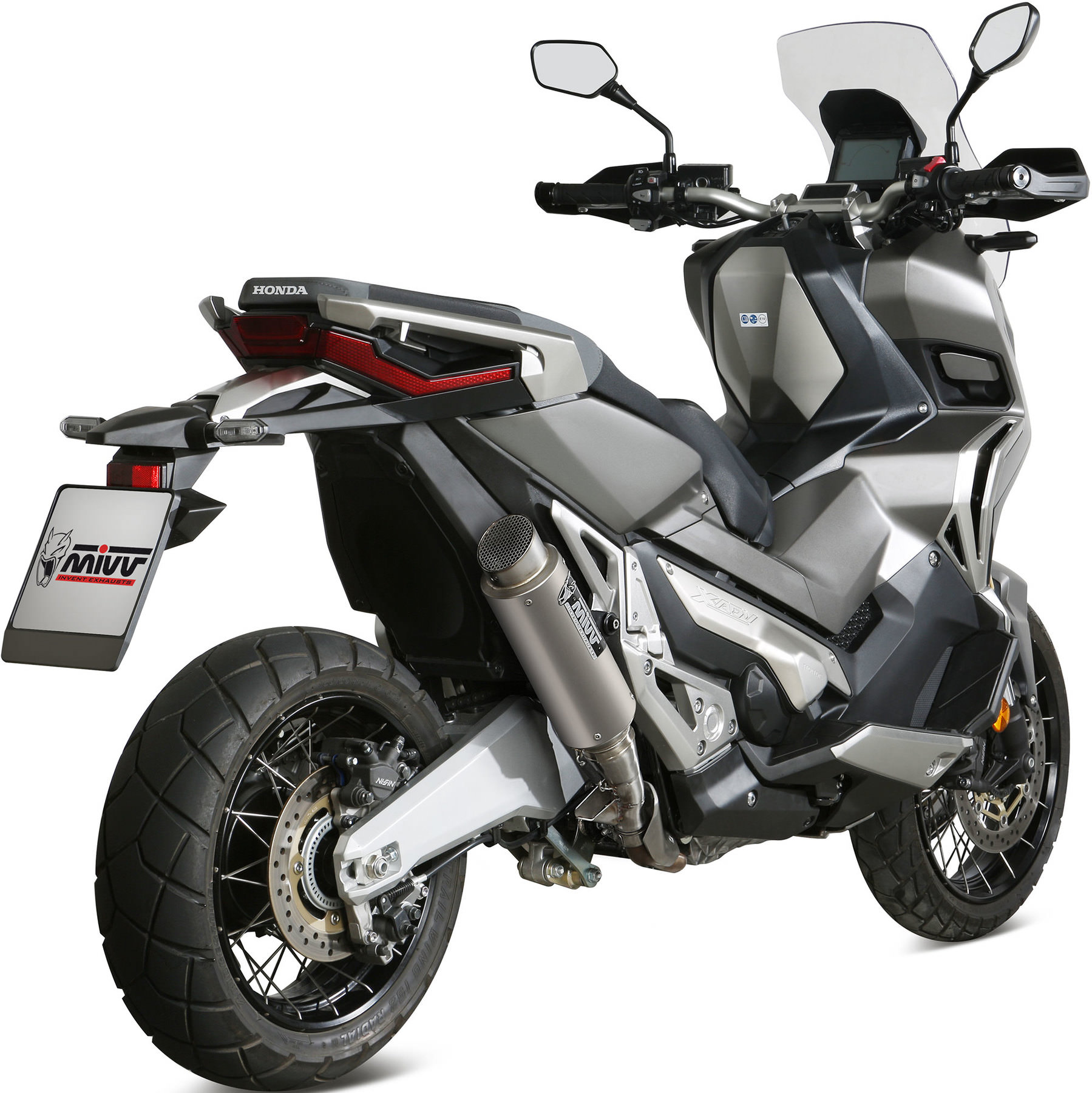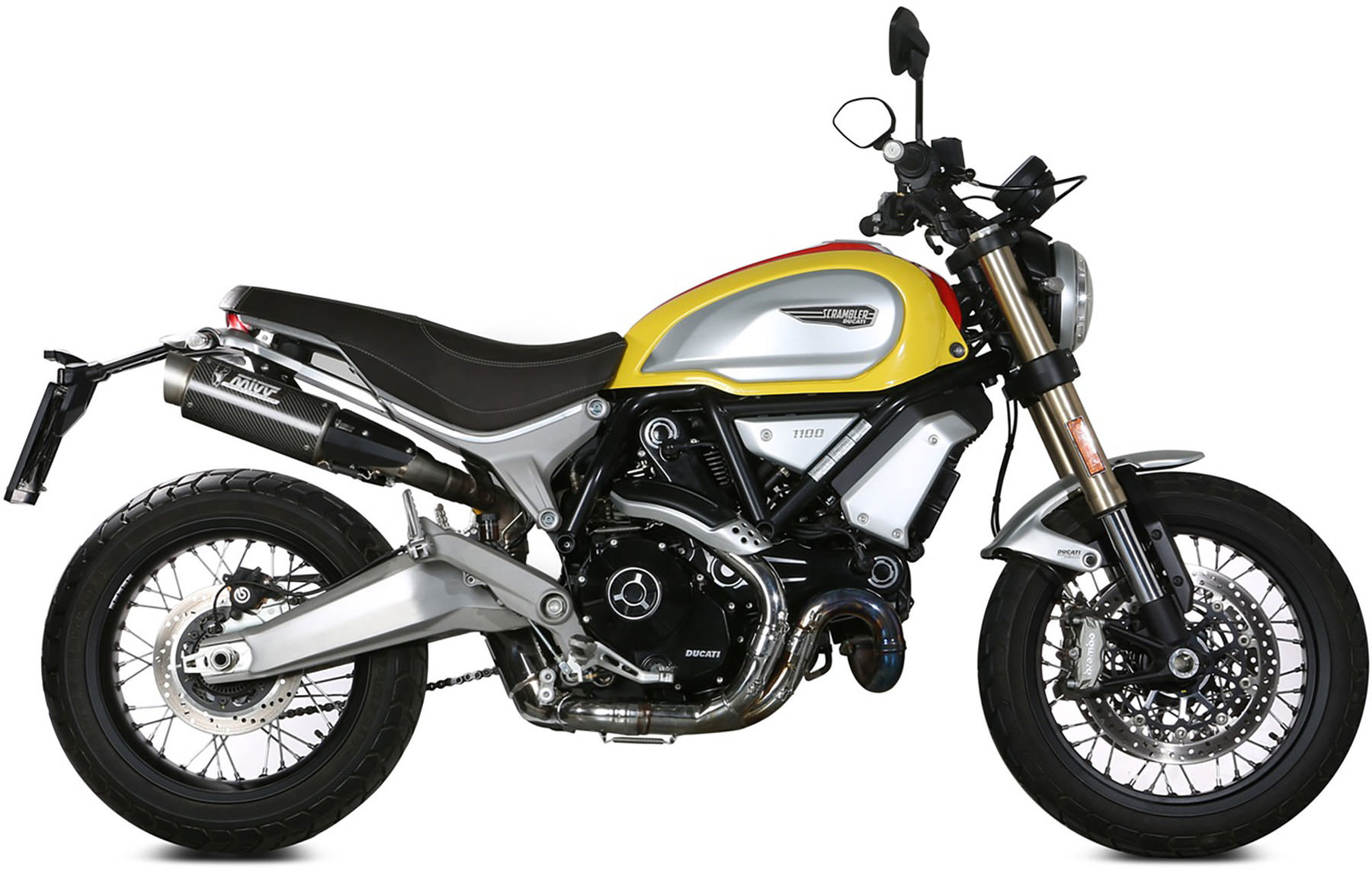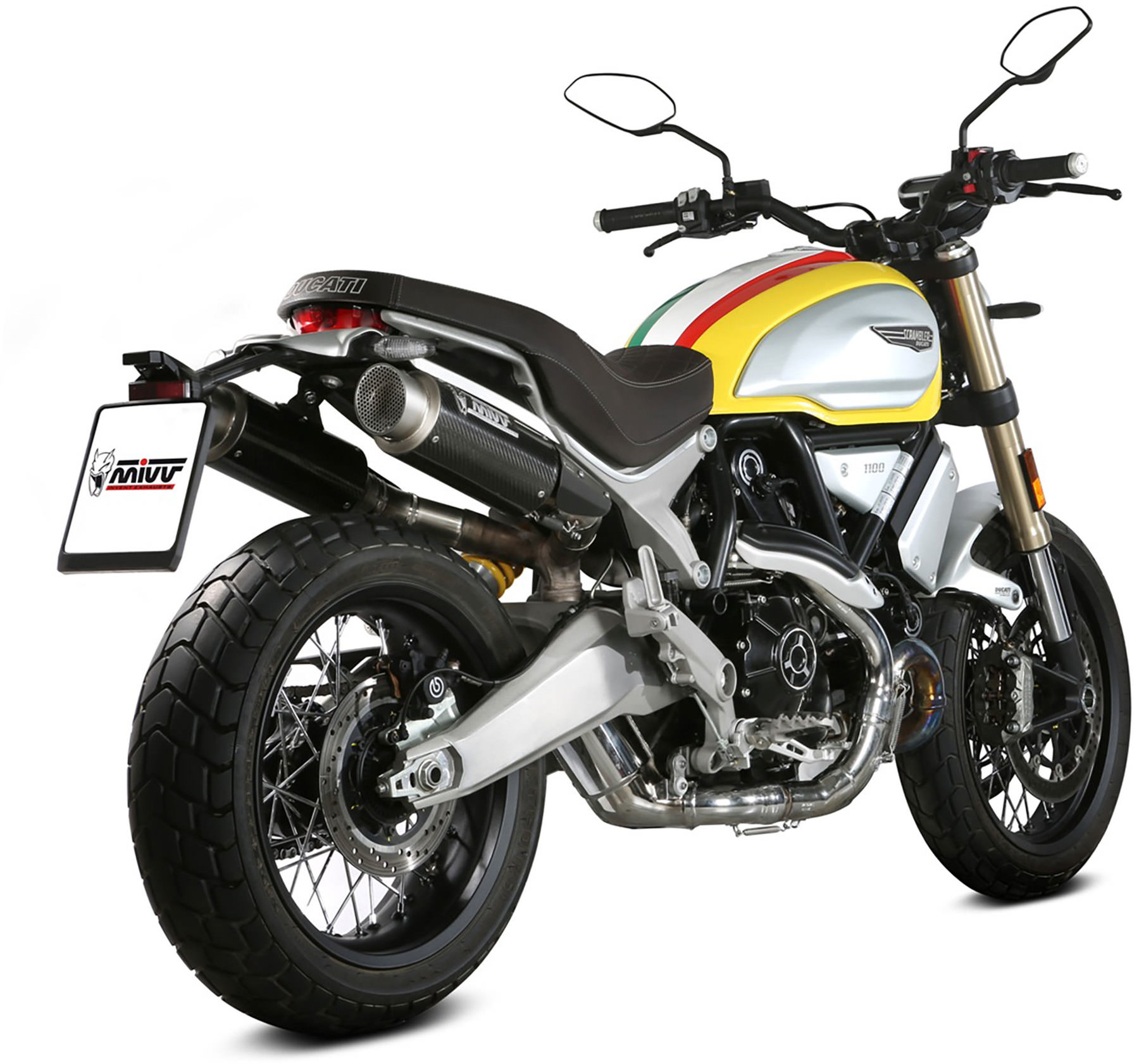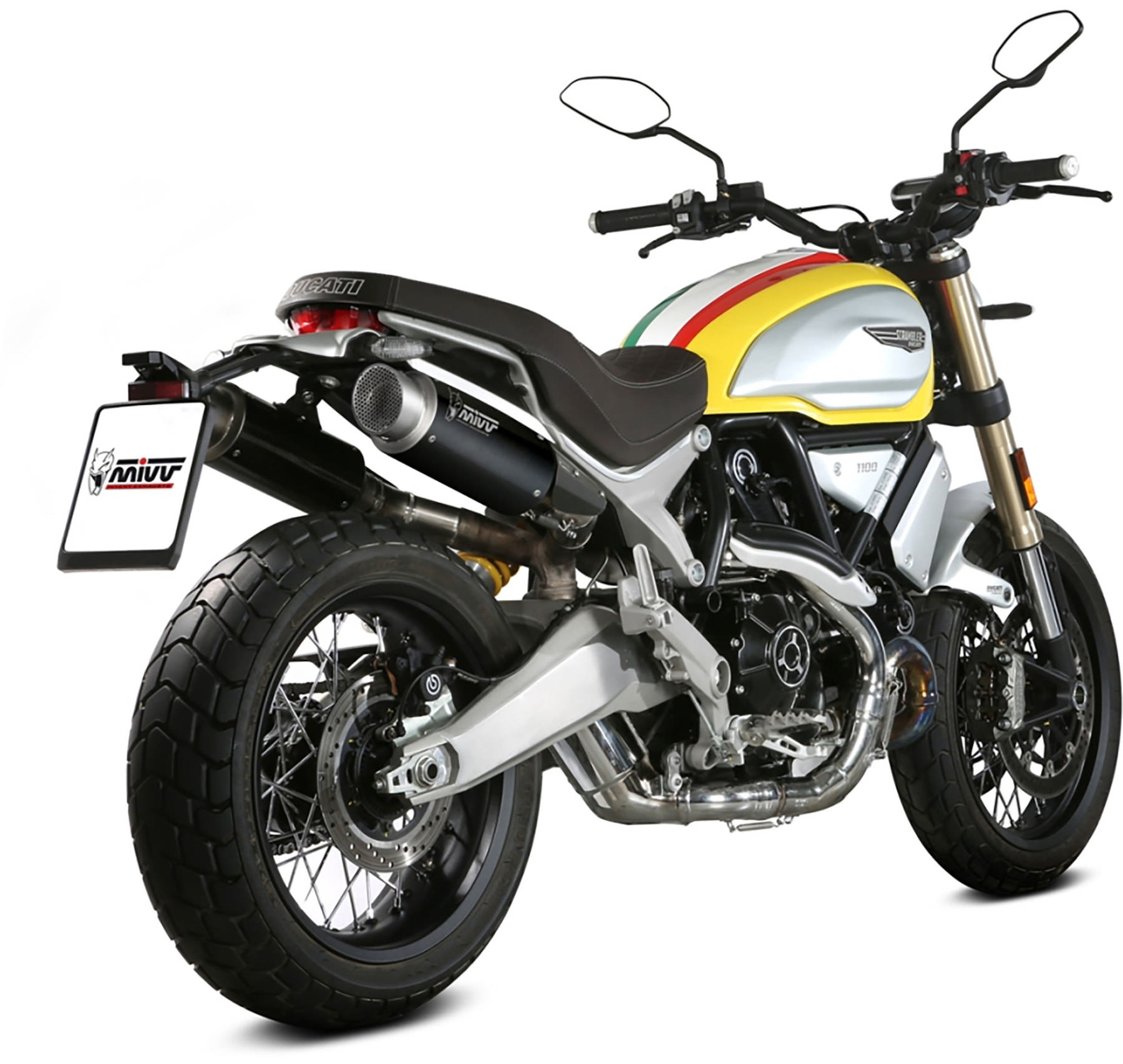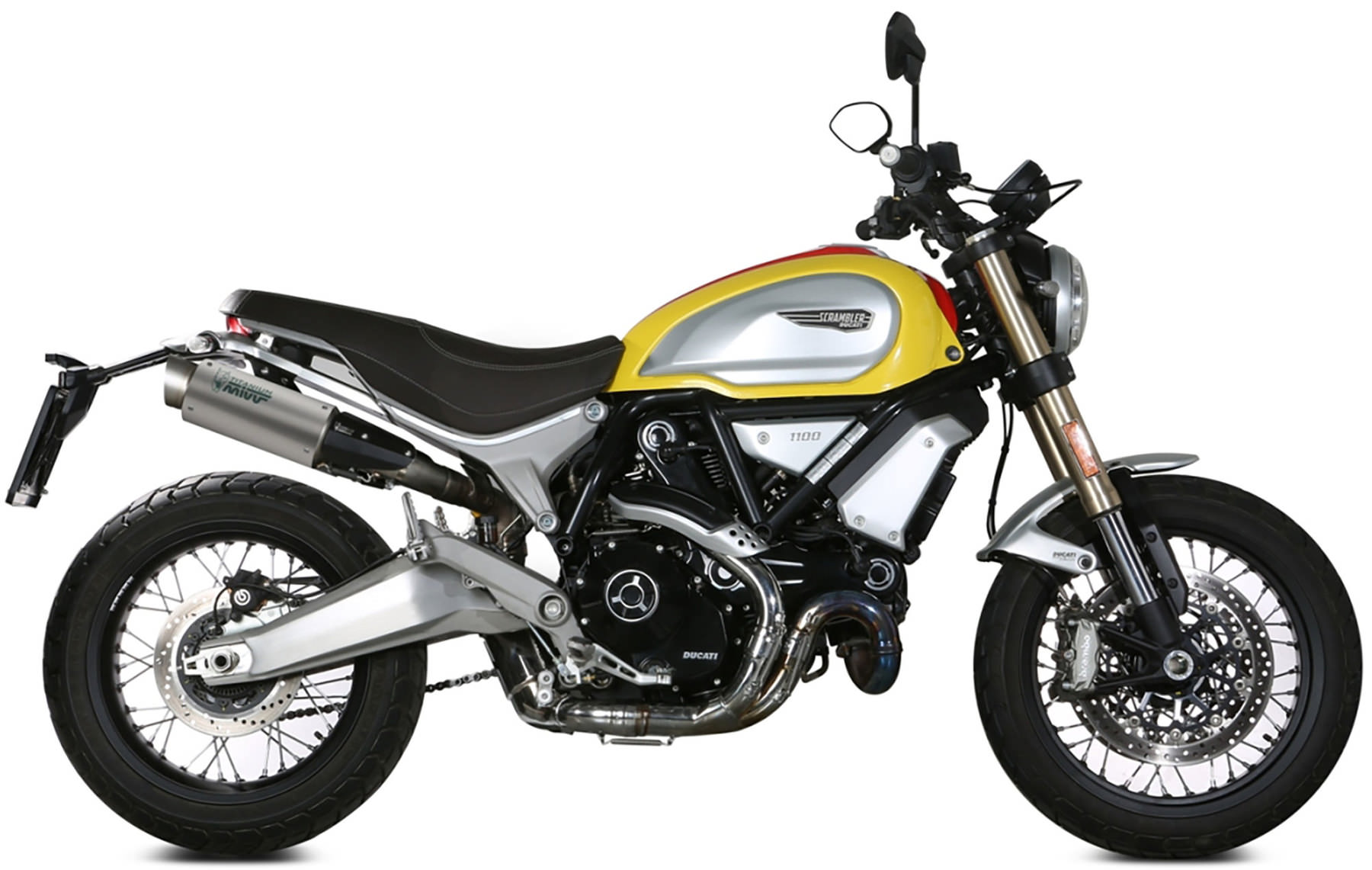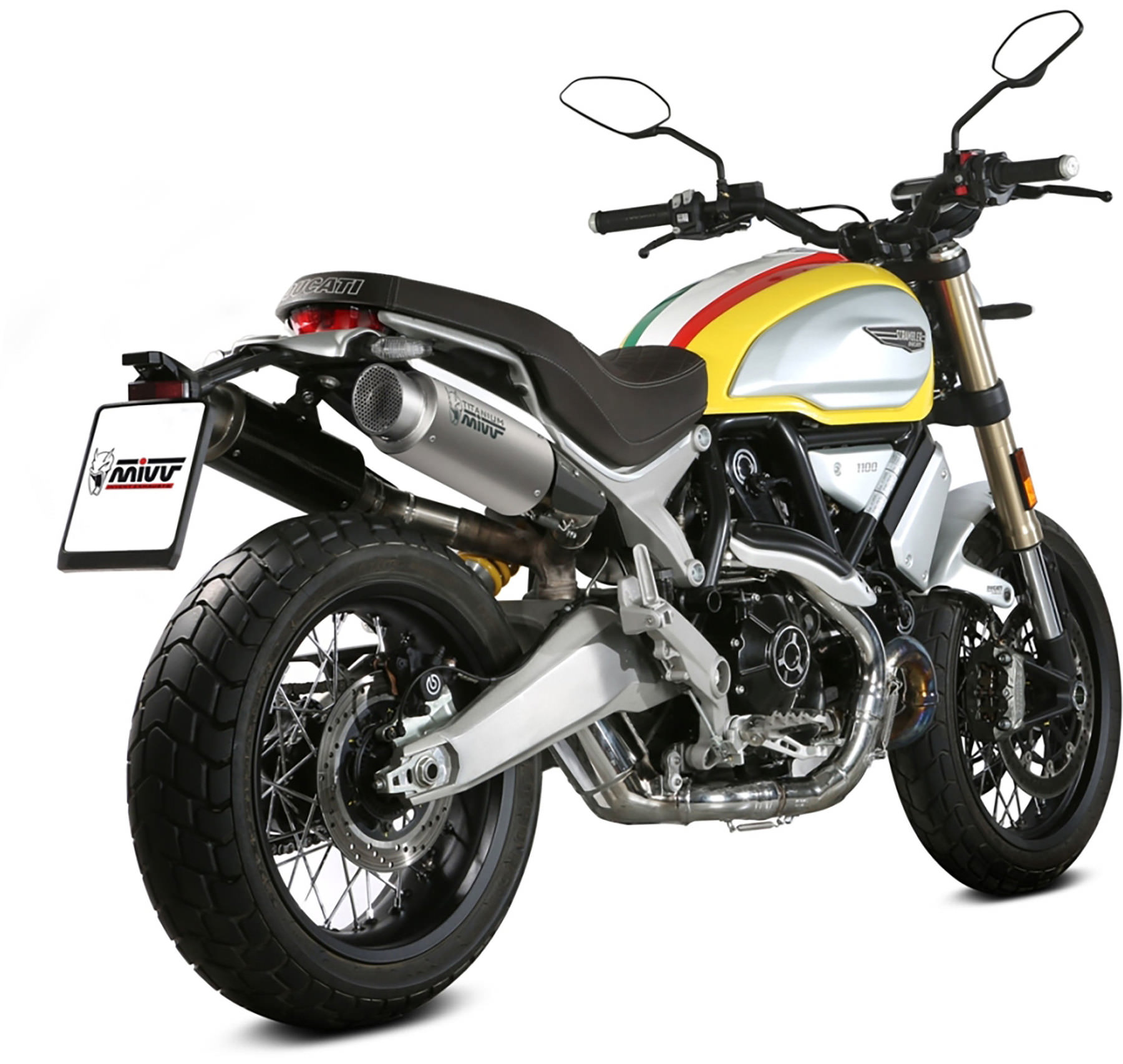 MIVV GP PRO SLIP ON CARBON/TITANIUM/BLK STEEL
Mivv GP Pro a new Mivv exhaust line
Mivv GP Pro Slip-On
Carbon/Titan./Black Steel
Unfortunately, this product is not compatible with this motorcycle.
Unfortunately, this product is not compatible with this motorcycle. You can find the right for the here: .
€

419.001
from
€

310.991
(-25%)
Free delivery on orders over €199.00
2 year return policy
Fast delivery
Mivv GP Pro Slip-On
Carbon/Titan./Black Steel
As the owner of a racy sports bike or one of the latest naked bikes it seems to be a recurring fact of life: you're sitting on your bike, ready to head off on your next adventure, already hearing the fierce roar of the acceleration - and you haven't even started the engine yet. And then you look back, to see a stove pipe or some other monstrosity protruding out the back, start the engine and you just know it's not a good look - or sound. Sounds like you need an MIVV *GP Pro* slip-on silencer!
These silencers have the inimitable MIVV sound, increase performance and enable a significant weight reduction. Pure power - a great result!
There are three versions of the *GP Pro* series:

Carbon
Titanium
or black stainless steel
The end caps of all versions have a protective grille that hides the dB killer.

So while the MIVV *GP* silencers may look comparatively demure... the *GP Pros* look gutsy enough to take on the world!
Note:
S/O: Slip-On means silencer is supplied with a manifold adapter tube
B/O: Bolt-On means silencer is bolted to the original manifold flange, no adapter tube required
K/A: Complete exhaust system means comprising manifold and rear silencer
Manufacturer details: MIVV

MotoGP technology for the road!

If you want to build stock exhaust systems for Ducati, you must have a lot of know-how at your command and satisfy the highest requirements. MIVV does just that and much more! The Italians are putting all of their collective experience into retrofitting systems for many motorcycle models. This ensures not only technical expertise and the use of the finest materials, but the typical Italian design. In a nutshell, the parts don't just sound good, but look great too.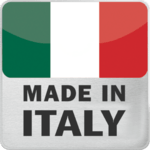 Made in Italy

Stainless steel is a collective term for rustproof steel. It is much more resistant to corrosion than non-alloyed steels. Stainless steel does not deteriorate, and is hygienic, UV-resistant, non-corroding, fracture-proof, non-toxic and environmentally friendly. It does not weather and can be recycled in its entirety, even after many years. Technically, the term "stainless steel" refers to corrosion-resistant steel alloys with a wide variety of compositions but always containing a high percentage of chromium (usually a minimum of 10.5%)

.

MAINTENANCE:
Stainless steel should be cleaned regularly like all other materials, especially after exposure to salty air (near the coast), and also at regular intervals.
Water can easily collect in corners, edges and screw connections, resulting in corrosion. So careful cleaning is important, and if necessary screws should be undone in order to clean the parts thoroughly.
Do not leave rusty steel parts against stainless steel to avoid the rust "contamination".

Modern vehicle accessories of different types now frequently carry an "E" approval mark valid throughout Europe. This "E" mark, which is made up of a combination of letters and numbers, is clearly displayed on the product and shows the application tested, the country in which testing was carried out and, where appropriate, the vehicle type to which approval applies. EC type approvals for exhaust systems, for example, are always issued for a specific vehicle type, whereas in the case of lighting, they apply to an entire group of vehicles, e.g. motorcycles.
This certification mark is the sole proof of legality stipulated by law, i.e. no written report or entry in the vehicle documents by a TÜV (German Technical Inspection Association) test centre is required. However, when it comes to installing accessories, the relevant guidelines of the Road Traffic Licensing Regulations (StvZO) must always be observed.
At a roadside check or a TÜV vehicle inspection, the registered keeper is only required to show the "E" mark. It is then up to the official in charge whether to check the mark with the Federal Motor Transport Authority (KBA) in Flensburg (or equivalent type approval authority in other countries), which is able to decode all certification marks.
Product
Art. No.
Availability
Price
Actions
MIVV GP PRO K/A 2-1 - MT-07 2014- TITANIUM

Important notes

High-up - high exhaust

The exhaust system conforms to the EURO 3 and the EURO 4 standard

Original catalytic converter is not used! Aftermarket catalytic converter Order no. 60410988 is required. Please order in addition.

60405532

The product will be ordered from the manufacturer for you. Depending on availability, longer delivery times are also possible. We'll let you know if that's the case. You can of course cancel your delivery at any time free of charge.

Available in 7-21 days

€625.00

1 €463.99 1
MIVV GP PRO K/A 2-1 - MT-07 2014- CARBON

Important notes

High-up - high exhaust

The exhaust system conforms to the EURO 3 and the EURO 4 standard

Original catalytic converter is not used! Aftermarket catalytic converter Order no. 60410988 is required. Please order in addition.

60405530

The item is in stock and will be delivered in 2-5 working days. Note: Stocks are updated online every hour on working days from 7 a.m. to 8 p.m., so there is a good chance that the products are available if they appear online.

Available

€625.00

1 €463.99 1
MIVV GP PRO K/A 2-1 - MT-07 2014- STEEL BLACK

Important notes

High-up - high exhaust

The exhaust system conforms to the EURO 3 and the EURO 4 standard

Original catalytic converter is not used! Aftermarket catalytic converter Order no. 60410988 is required. Please order in addition.

60405531

The item is in stock and will be delivered in 2-5 working days. Note: Stocks are updated online every hour on working days from 7 a.m. to 8 p.m., so there is a good chance that the products are available if they appear online.

Available

€565.00

1 €418.99 1
MIVV GP PRO K/A 2-1 - Z650 2017- TITANIUM

Important notes

Design: Complete system 2-1

High-up - high exhaust

Original catalytic converter is not used! Aftermarket catalytic converter Order no. 60410987 is required. Please order in addition.

60405508

The item is in stock and will be delivered in 2-5 working days. Note: Stocks are updated online every hour on working days from 7 a.m. to 8 p.m., so there is a good chance that the products are available if they appear online.

Available

€625.00

1 €463.99 1
MIVV GP PRO K/A 2-1 - Z650 2017- CARBON

Important notes

Design: Complete system 2-1

High-up - high exhaust

Original catalytic converter is not used! Aftermarket catalytic converter Order no. 60410987 is required. Please order in addition.

60405506

The item is in stock and will be delivered in 2-5 working days. Note: Stocks are updated online every hour on working days from 7 a.m. to 8 p.m., so there is a good chance that the products are available if they appear online.

Available

€625.00

1 €463.99 1
MIVV GP PRO K/A 2-1 - Z650 2017- STEEL BLACK

Important notes

Design: Complete system 2-1

High-up - high exhaust

Original catalytic converter is not used! Aftermarket catalytic converter Order no. 60410987 is required. Please order in addition.

60405507

The item is in stock and will be delivered in 2-5 working days. Note: Stocks are updated online every hour on working days from 7 a.m. to 8 p.m., so there is a good chance that the products are available if they appear online.

Available

€589.00

1 €436.99 1
MIVV GP PRO S/O 1-1 - DUKE/RC 125/390 17- CARB.

Important notes

The original catalytic converter is retained.

The exhaust system conforms to the EURO 4 standard

60405524

The item is in stock and will be delivered in 2-5 working days. Note: Stocks are updated online every hour on working days from 7 a.m. to 8 p.m., so there is a good chance that the products are available if they appear online.

Available

€480.00

1 €374.00 1
MIVV GP PRO S/O 1-1 - DUKE/RC 125/390 17- TITAN

Important notes

The original catalytic converter is retained.

The exhaust system conforms to the EURO 4 standard

60405522

The item is in stock and will be delivered in 2-5 working days. Note: Stocks are updated online every hour on working days from 7 a.m. to 8 p.m., so there is a good chance that the products are available if they appear online.

Available

€480.00

1 €374.00 1
MIVV GP PRO S/O 1-1 - DUKE/RC 125/390 STEEL BLK

Important notes

The original catalytic converter is retained.

The exhaust system conforms to the EURO 4 standard

60405523

The item is in stock and will be delivered in 2-5 working days. Note: Stocks are updated online every hour on working days from 7 a.m. to 8 p.m., so there is a good chance that the products are available if they appear online.

Available

€419.00

1 €326.00 1
MIVV GP PRO S/O 1-1 - NINJA 125 2019- CARBON

Important notes

The original catalytic converter is retained.

The exhaust system conforms to the EURO 4 standard

10036952

The item is in stock and will be delivered in 2-5 working days. Note: Stocks are updated online every hour on working days from 7 a.m. to 8 p.m., so there is a good chance that the products are available if they appear online.

Available

€479.00

1 €358.99 1
MIVV GP PRO S/O 2-1 - 1290 S.DUKE 16- STEEL BLK

Important notes

The original catalytic converter is retained.

The exhaust system conforms to the EURO 4 standard

60405521

The item is in stock and will be delivered in 2-5 working days. Note: Stocks are updated online every hour on working days from 7 a.m. to 8 p.m., so there is a good chance that the products are available if they appear online.

Available

€419.00

1 €326.00 1
MIVV GP PRO S/O 2-1 - 1290 SUPER DUKE 16- TITAN

Important notes

The original catalytic converter is retained.

The exhaust system conforms to the EURO 4 standard

60405520

The item is in stock and will be delivered in 2-5 working days. Note: Stocks are updated online every hour on working days from 7 a.m. to 8 p.m., so there is a good chance that the products are available if they appear online.

Available

€480.00

1 €355.99 1
MIVV GP PRO S/O 2-1 - 1290 SUPERDUKE 16- CARBON

Important notes

The original catalytic converter is retained.

The exhaust system conforms to the EURO 4 standard

60405519

The item is in stock and will be delivered in 2-5 working days. Note: Stocks are updated online every hour on working days from 7 a.m. to 8 p.m., so there is a good chance that the products are available if they appear online.

Available

€480.00

1 €359.99 1
MIVV GP PRO S/O 2-1 - MONST.821 18- ST.ST/BLK

Important notes

Original catalytic converter is not used! Aftermarket catalytic converter Order no. 60410995 is required. Please order in addition.

10036955

The item is in stock and will be delivered in 2-5 working days. Note: Stocks are updated online every hour on working days from 7 a.m. to 8 p.m., so there is a good chance that the products are available if they appear online.

Available

€419.00

1 €310.99 1
MIVV GP PRO S/O 2-1 - MONSTER 821 2018- CARBON

Important notes

Design: Slip-on 2-1

Original catalytic converter is not used! Aftermarket catalytic converter Order no. 60410995 is required. Please order in addition.

10036953

The item is in stock and will be delivered in 2-5 working days. Note: Stocks are updated online every hour on working days from 7 a.m. to 8 p.m., so there is a good chance that the products are available if they appear online.

Available

€480.00

1 €350.99 1
MIVV GP PRO S/O 2-1 - MONSTER 821 2018- TITAN.

Important notes

Original catalytic converter is not used! Aftermarket catalytic converter Order no. 60410995 is required. Please order in addition.

10036954

The item is in stock and will be delivered in 2-5 working days. Note: Stocks are updated online every hour on working days from 7 a.m. to 8 p.m., so there is a good chance that the products are available if they appear online.

Available

€480.00

1 €350.99 1
MIVV GP PRO S/O 2-1 - X-ADV 750 17- STEEL BLACK

Important notes

The original catalytic converter is retained.

The exhaust system conforms to the EURO 4 standard

60405551

The item is in stock and will be delivered in 2-5 working days. Note: Stocks are updated online every hour on working days from 7 a.m. to 8 p.m., so there is a good chance that the products are available if they appear online.

Available

€419.00

1 €310.99 1
MIVV GP PRO S/O 2-1 - X-ADV 750 2017- CARBON

Important notes

The original catalytic converter is retained.

The exhaust system conforms to the EURO 4 standard

60405550

The product will be ordered from the manufacturer for you. Depending on availability, longer delivery times are also possible. We'll let you know if that's the case. You can of course cancel your delivery at any time free of charge.

Available in 7-21 days

€480.00

1 €355.99 1
MIVV GP PRO S/O 2-1 - X-ADV 750 2017- TITANIUM

Important notes

The original catalytic converter is retained.

The exhaust system conforms to the EURO 4 standard

60405552

The product will be ordered from the manufacturer for you. Depending on availability, longer delivery times are also possible. We'll let you know if that's the case. You can of course cancel your delivery at any time free of charge.

Available in 7-21 days

€480.00

1 €355.99 1
MIVV GP PRO S/O 2-2 - SCRAMBLER 1100 18- CARBON

Important notes

The original catalytic converter is retained.

The exhaust system conforms to the EURO 4 standard

60405560

The product will be ordered from the manufacturer for you. Depending on availability, longer delivery times are also possible. We'll let you know if that's the case. You can of course cancel your delivery at any time free of charge.

Available in 7-21 days

€840.00

1 €623.99 1
MIVV GP PRO S/O 2-2 - SCRAMBLER 1100 18- ST.BLK

Important notes

The original catalytic converter is retained.

The exhaust system conforms to the EURO 4 standard

60405561

The product will be ordered from the manufacturer for you. Depending on availability, longer delivery times are also possible. We'll let you know if that's the case. You can of course cancel your delivery at any time free of charge.

Available in 7-21 days

€744.00

1 €551.99 1
MIVV GP PRO S/O 2-2 - SCRAMBLER 1100 18- TITAN

Important notes

The original catalytic converter is retained.

The exhaust system conforms to the EURO 4 standard

60405562

The product will be ordered from the manufacturer for you. Depending on availability, longer delivery times are also possible. We'll let you know if that's the case. You can of course cancel your delivery at any time free of charge.

Available in 7-21 days

€840.00

1 €623.99 1
MIVV GP PRO S/O 4-1 - GSX-R 1000 17- STEEL BLK

Important notes

The original catalytic converter is retained.

The exhaust system conforms to the EURO 4 standard

60405512

The item is in stock and will be delivered in 2-5 working days. Note: Stocks are updated online every hour on working days from 7 a.m. to 8 p.m., so there is a good chance that the products are available if they appear online.

Available

€419.00

1 €310.99 1
MIVV GP PRO S/O 4-1 - GSX-R 1000 2017- CARBON

Important notes

The original catalytic converter is retained.

The exhaust system conforms to the EURO 4 standard

60405510

The item is in stock and will be delivered in 2-5 working days. Note: Stocks are updated online every hour on working days from 7 a.m. to 8 p.m., so there is a good chance that the products are available if they appear online.

Available

€480.00

1 €355.99 1
MIVV GP PRO S/O 4-1 - GSX-R 1000 2017- TITANIUM

Important notes

The original catalytic converter is retained.

The exhaust system conforms to the EURO 4 standard

60405511

The item is in stock and will be delivered in 2-5 working days. Note: Stocks are updated online every hour on working days from 7 a.m. to 8 p.m., so there is a good chance that the products are available if they appear online.

Available

€480.00

1 €374.00 1
MIVV GP PRO S/O 4-1 - S 1000 RR 17- STEEL BLACK

Important notes

The original catalytic converter is retained.

The exhaust system conforms to the EURO 4 standard

60405541

The item is in stock and will be delivered in 2-5 working days. Note: Stocks are updated online every hour on working days from 7 a.m. to 8 p.m., so there is a good chance that the products are available if they appear online.

Available

€445.00

1 €329.99 1
MIVV GP PRO S/O 4-1 - S1000RR 2017- CARBON

Important notes

The original catalytic converter is retained.

The exhaust system conforms to the EURO 4 standard

60405540

The item is in stock and will be delivered in 2-5 working days. Note: Stocks are updated online every hour on working days from 7 a.m. to 8 p.m., so there is a good chance that the products are available if they appear online.

Available

€505.00

1 €374.99 1
MIVV GP PRO S/O 4-1 - S1000RR 2017- TITANIUM

Important notes

The original catalytic converter is retained.

The exhaust system conforms to the EURO 4 standard

60405542

The product will be ordered from the manufacturer for you. Depending on availability, longer delivery times are also possible. We'll let you know if that's the case. You can of course cancel your delivery at any time free of charge.

Available in 7-21 days

€505.00

1 €374.99 1
MIVV GP PRO S/O 4-1 - Z900 2017- TITANIUM

Important notes

The original catalytic converter is retained.

The exhaust system conforms to the EURO 4 standard

A heat protection shield is not included.

60405504

The item is in stock and will be delivered in 2-5 working days. Note: Stocks are updated online every hour on working days from 7 a.m. to 8 p.m., so there is a good chance that the products are available if they appear online.

Available

€480.00

1 €355.99 1
MIVV GP PRO S/O 4-1 - Z900 2017- CARBON

Important notes

The original catalytic converter is retained.

The exhaust system conforms to the EURO 4 standard

A heat protection shield is not included.

60405503

The item is in stock and will be delivered in 2-5 working days. Note: Stocks are updated online every hour on working days from 7 a.m. to 8 p.m., so there is a good chance that the products are available if they appear online.

Available

€480.00

1 €374.00 1
MIVV GP PRO S/O 4-1 - Z900 2017- STEEL BLACK

Important notes

The original catalytic converter is retained.

The exhaust system conforms to the EURO 4 standard

A heat protection shield is not included.

60405505

The item is in stock and will be delivered in 2-5 working days. Note: Stocks are updated online every hour on working days from 7 a.m. to 8 p.m., so there is a good chance that the products are available if they appear online.

Available

€419.00

1 €310.99 1
MIVV GP PRO S/O 4-1 - Z900RS 2018- CARBON
60405513

The item is in stock and will be delivered in 2-5 working days. Note: Stocks are updated online every hour on working days from 7 a.m. to 8 p.m., so there is a good chance that the products are available if they appear online.

Available

€480.00

1 €355.99 1
MIVV GP PRO S/O 4-1 - Z900RS 2018- STEEL BLACK
60405514

The product will be ordered from the manufacturer for you. Depending on availability, longer delivery times are also possible. We'll let you know if that's the case. You can of course cancel your delivery at any time free of charge.

Available in 7-21 days

€419.00

1 €310.99 1
MIVV GP PRO S/O 4-1 - Z900RS 2018- TITANIUM
60405515

The product will be ordered from the manufacturer for you. Depending on availability, longer delivery times are also possible. We'll let you know if that's the case. You can of course cancel your delivery at any time free of charge.

Available in 7-21 days

€480.00

1 €355.99 1
MIVV GP PRO S/O 4-1 - ZX-10 R 2016- CARBON

Important notes

The original catalytic converter is retained.

The exhaust system conforms to the EURO 3 and the EURO 4 standard

60405500

The item is in stock and will be delivered in 2-5 working days. Note: Stocks are updated online every hour on working days from 7 a.m. to 8 p.m., so there is a good chance that the products are available if they appear online.

Available

€480.00

1 €355.99 1
MIVV GP PRO S/O 4-1 - ZX-10R 2016- STEEL BLACK

Important notes

The original catalytic converter is retained.

The exhaust system conforms to the EURO 3 and the EURO 4 standard

60405502

The product will be ordered from the manufacturer for you. Depending on availability, longer delivery times are also possible. We'll let you know if that's the case. You can of course cancel your delivery at any time free of charge.

Available in 7-21 days

€419.00

1 €310.99 1
MIVV GP PRO S/O 4-1 - ZX-10R 2016- TITAN.

Important notes

The original catalytic converter is retained.

The exhaust system conforms to the EURO 3 and the EURO 4 standard

60405501

The item is in stock and will be delivered in 2-5 working days. Note: Stocks are updated online every hour on working days from 7 a.m. to 8 p.m., so there is a good chance that the products are available if they appear online.

Available

€480.00

1 €355.99 1