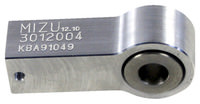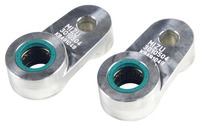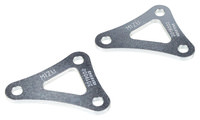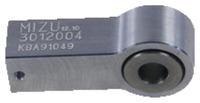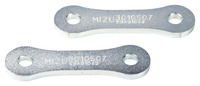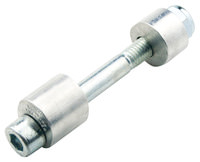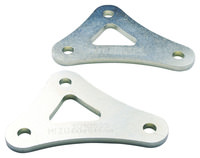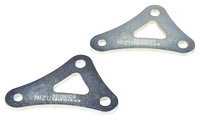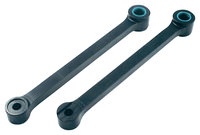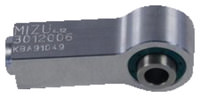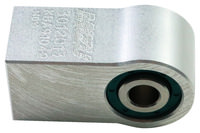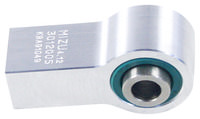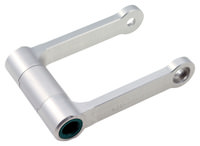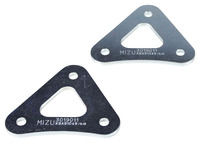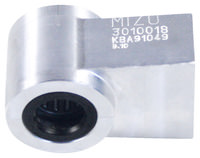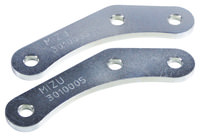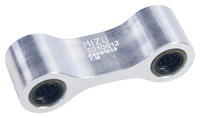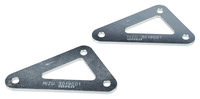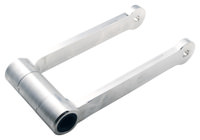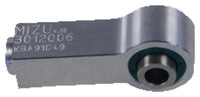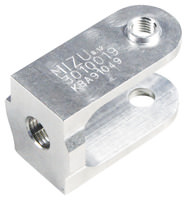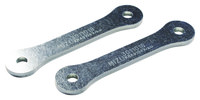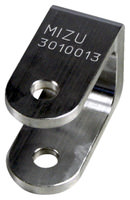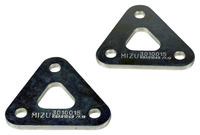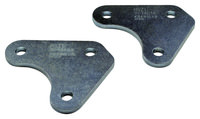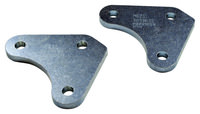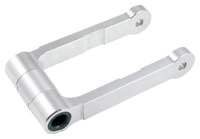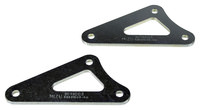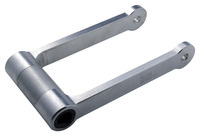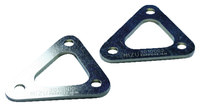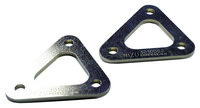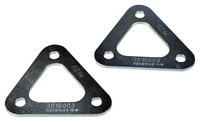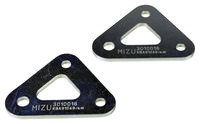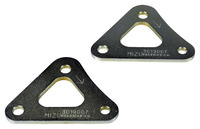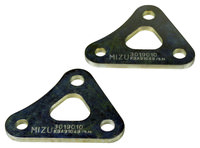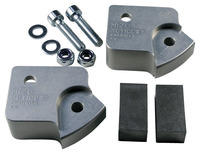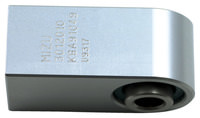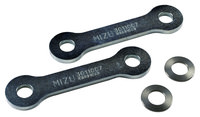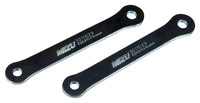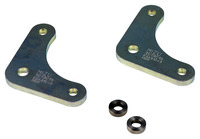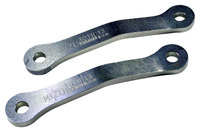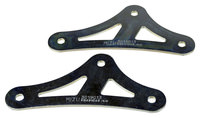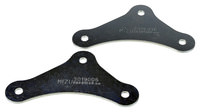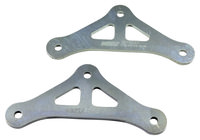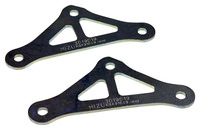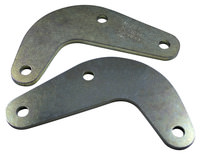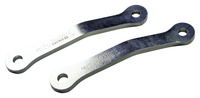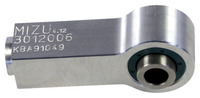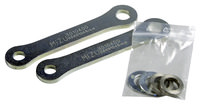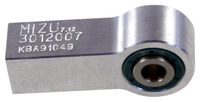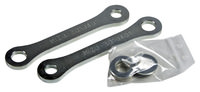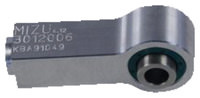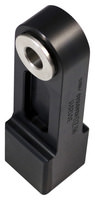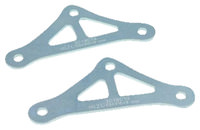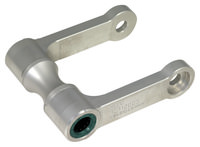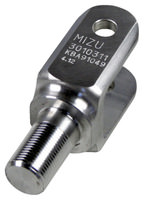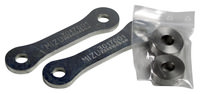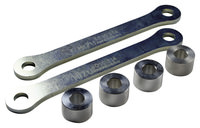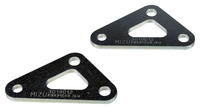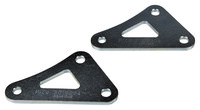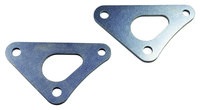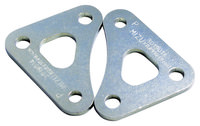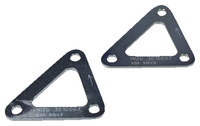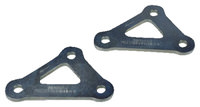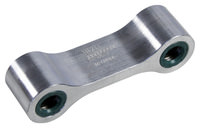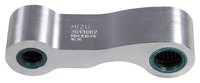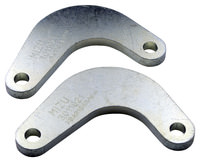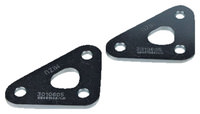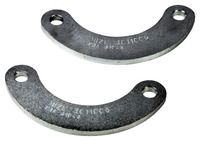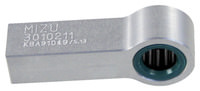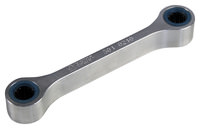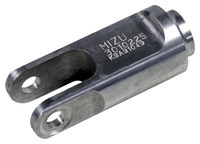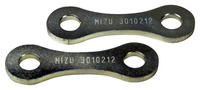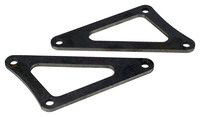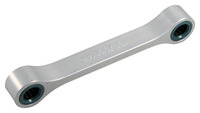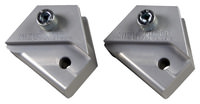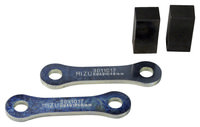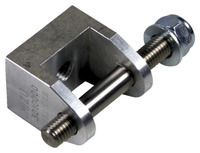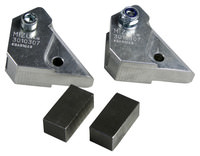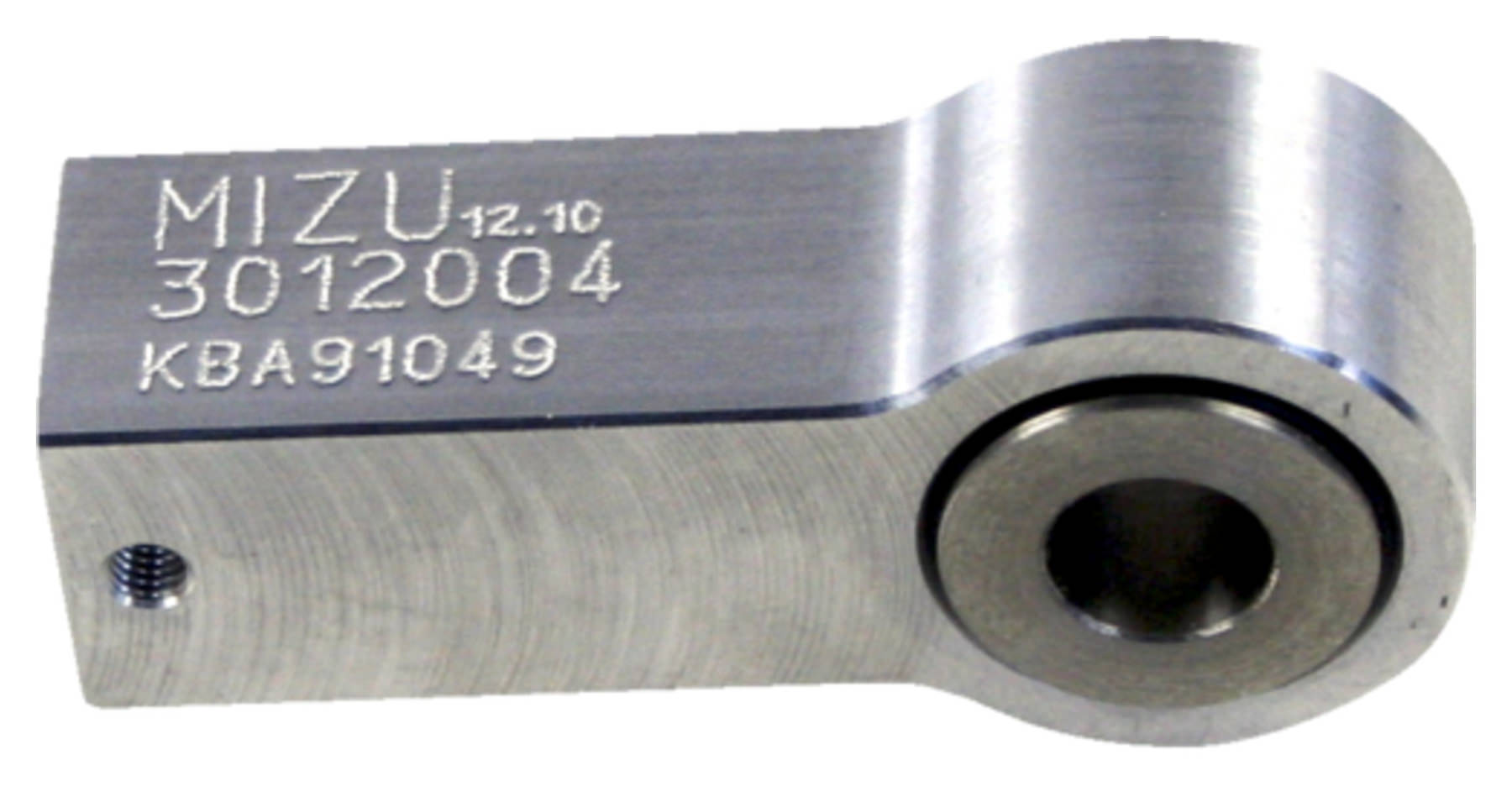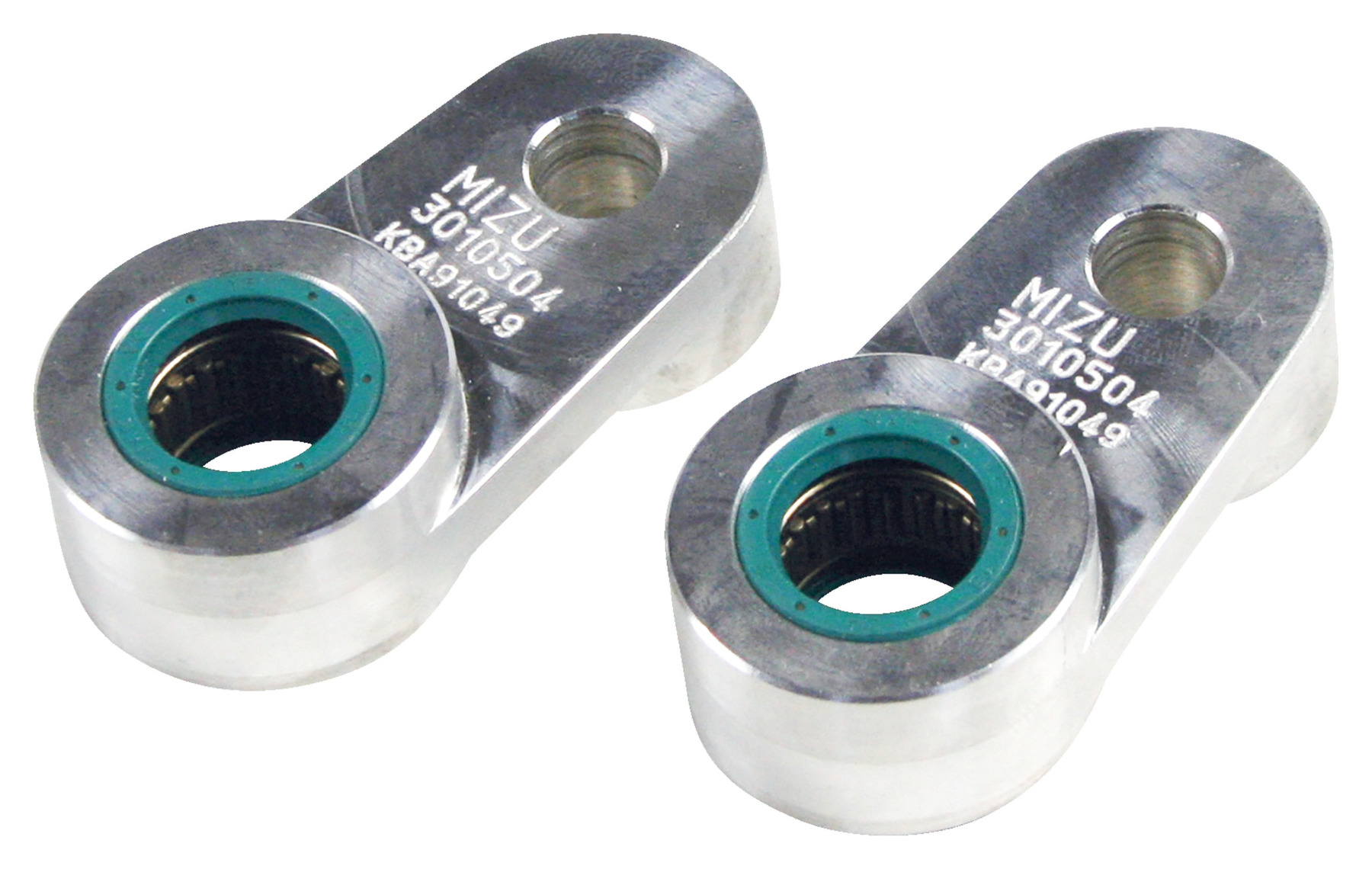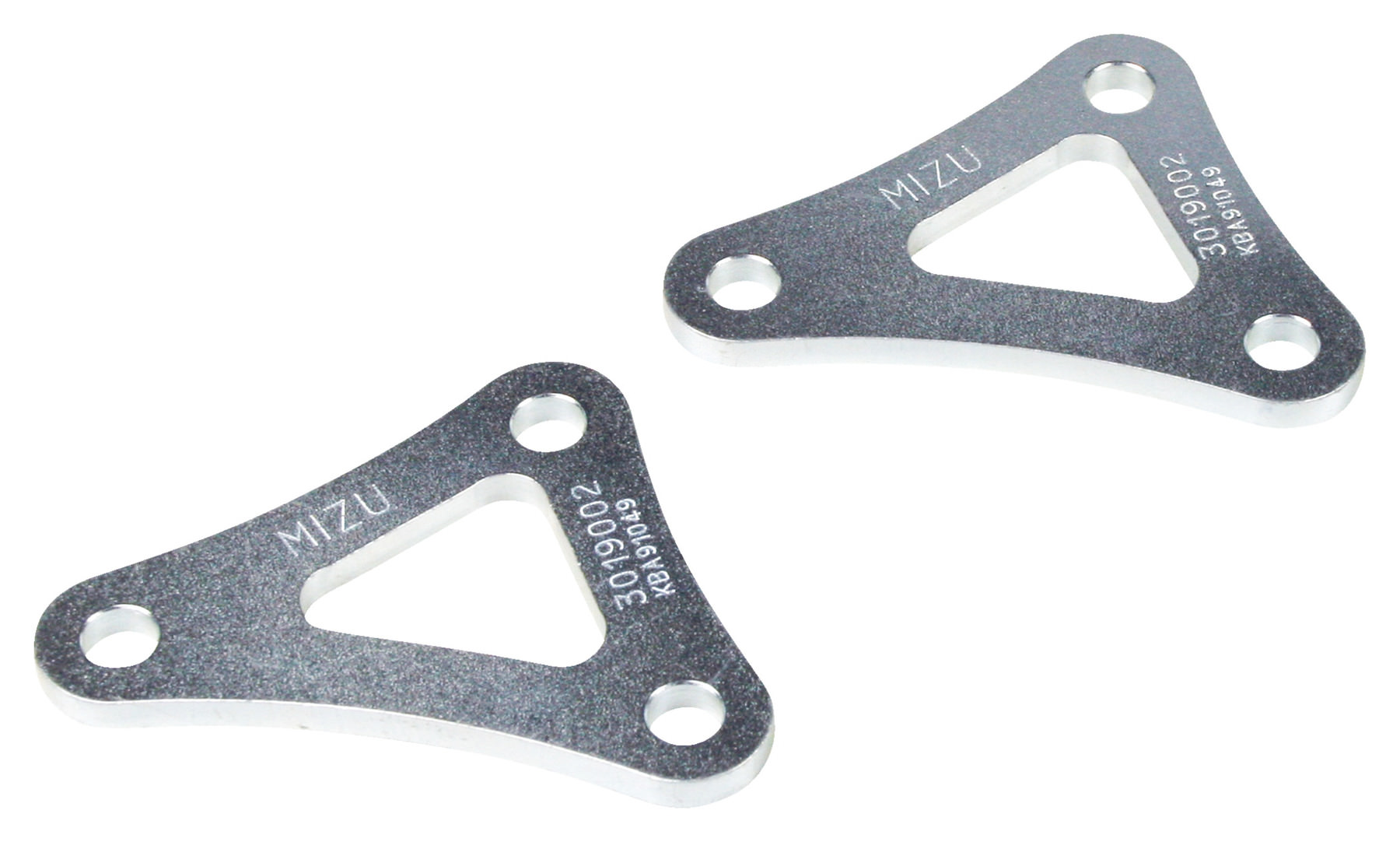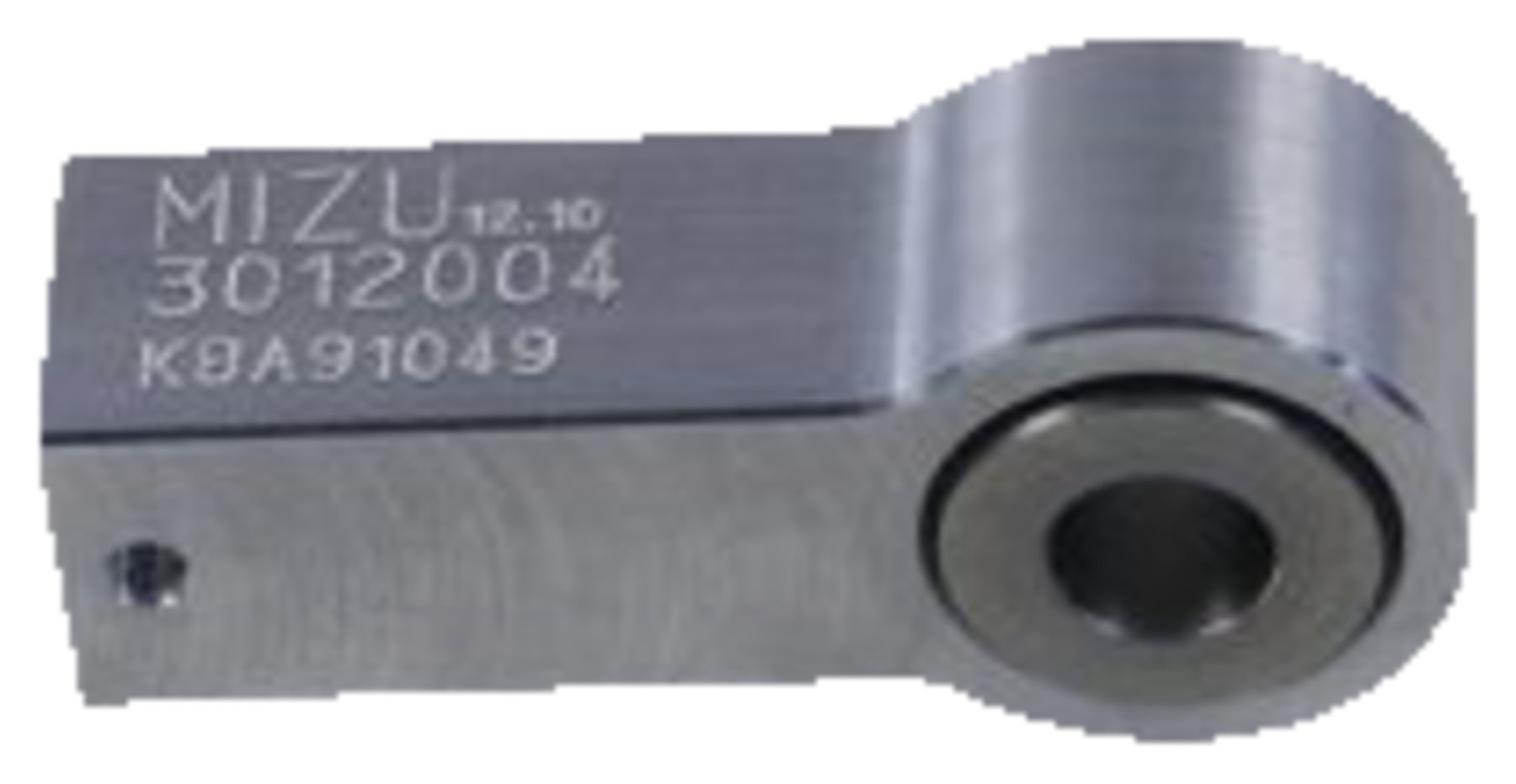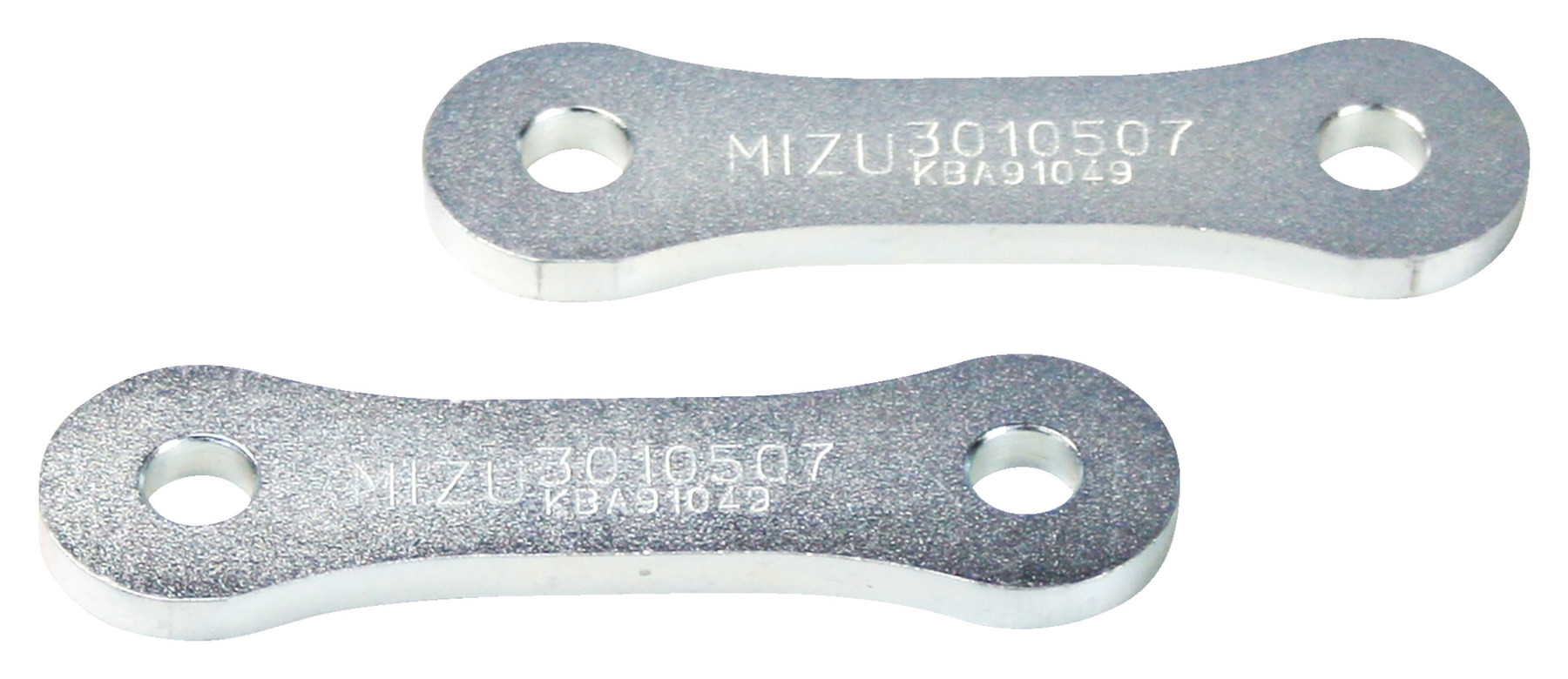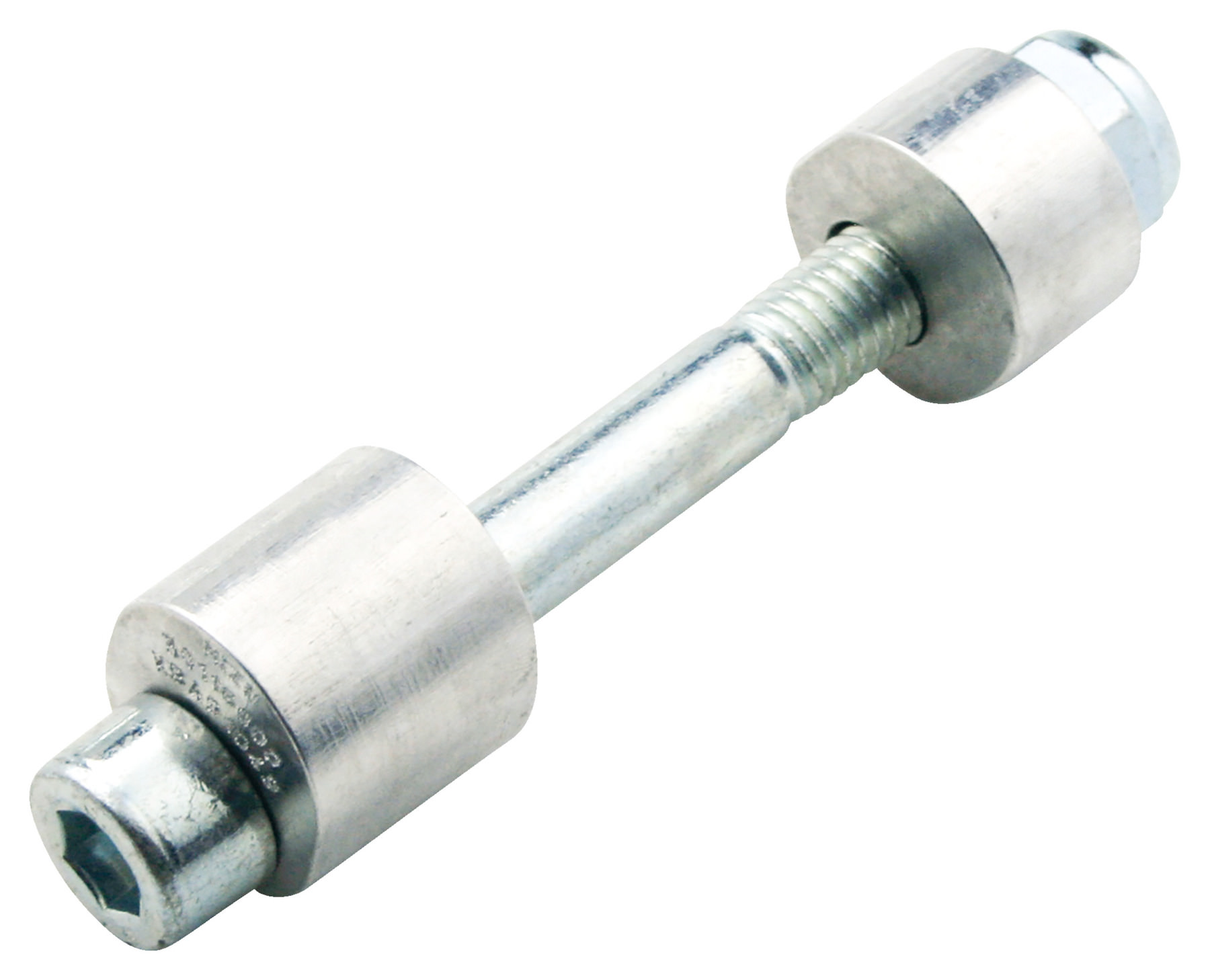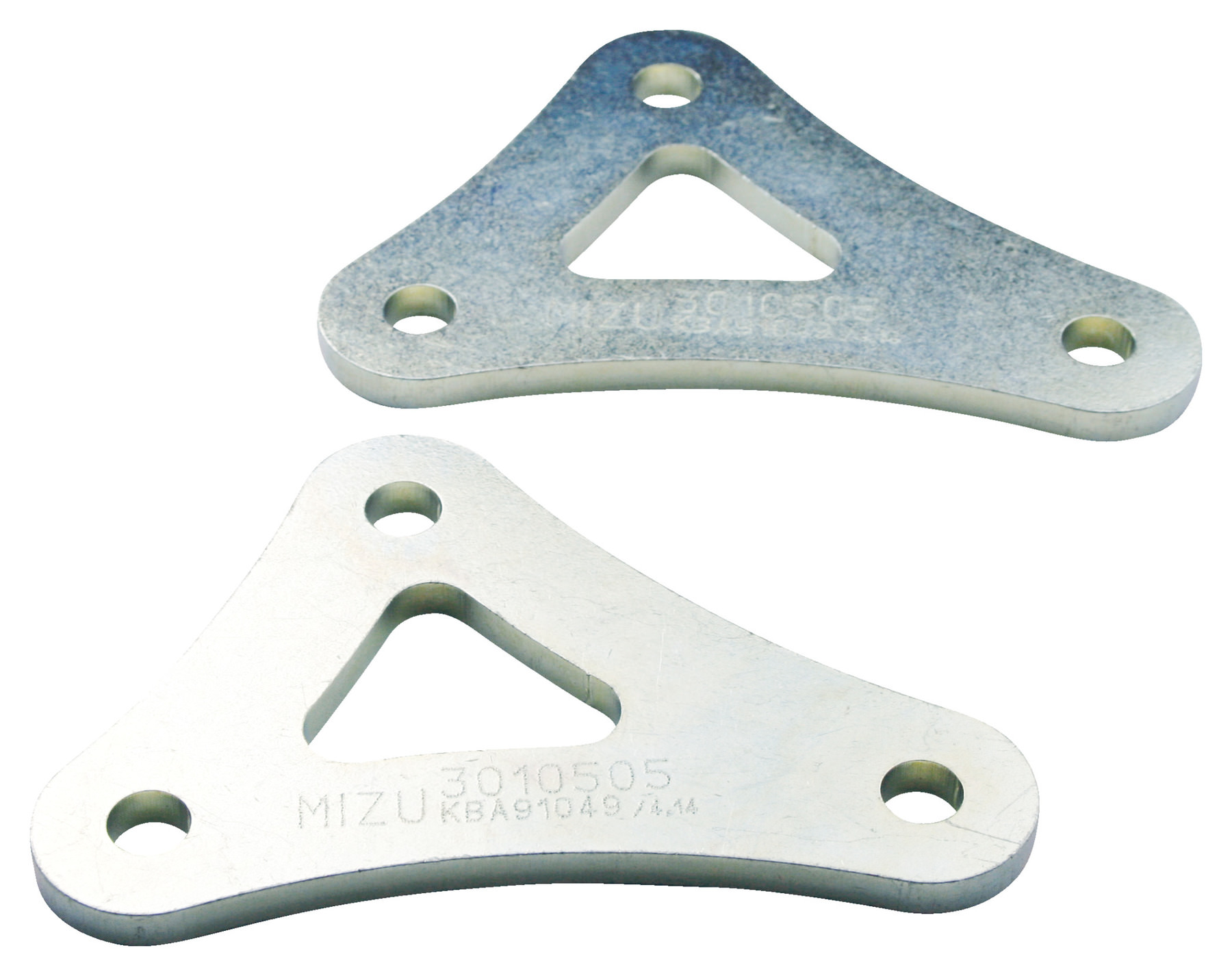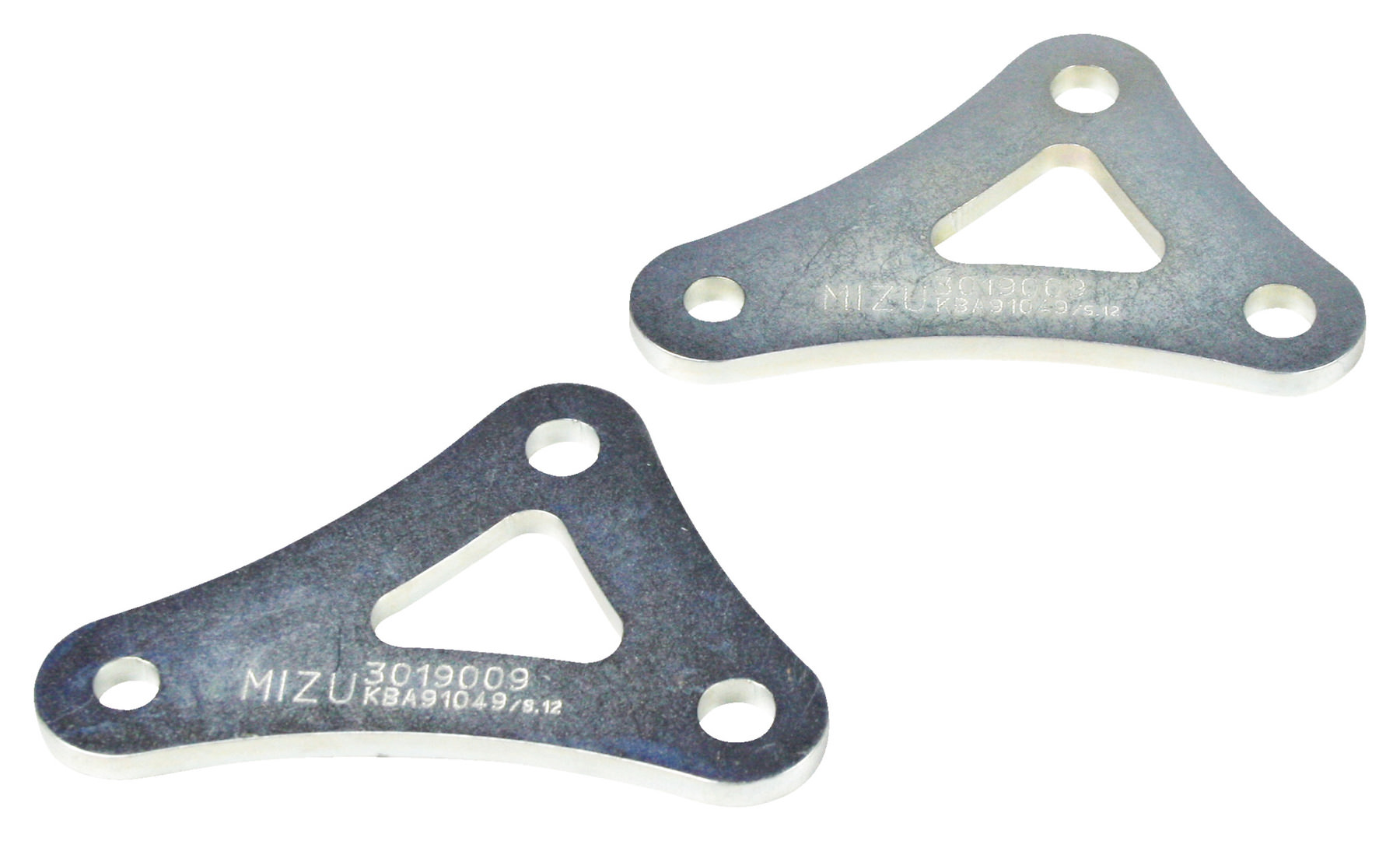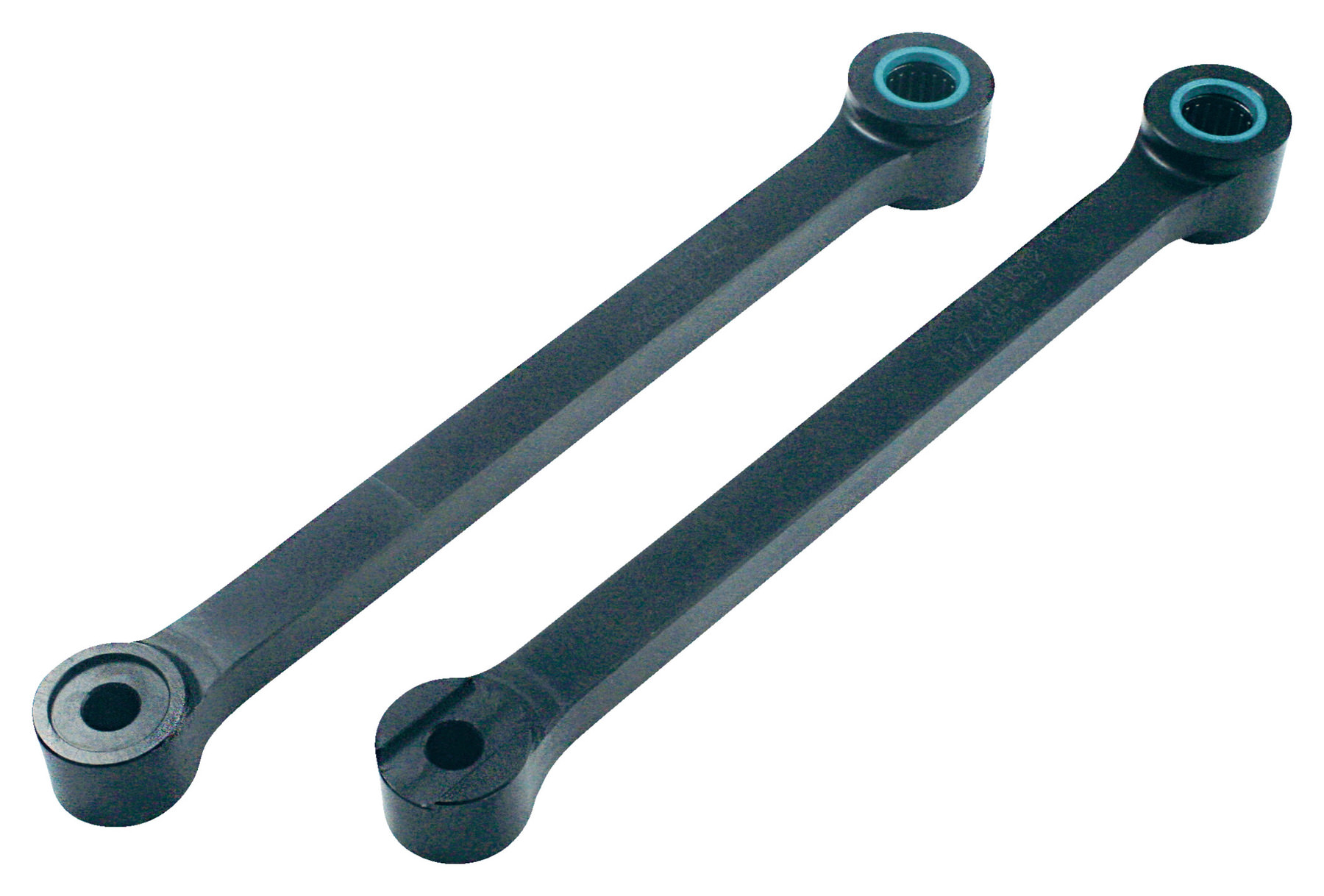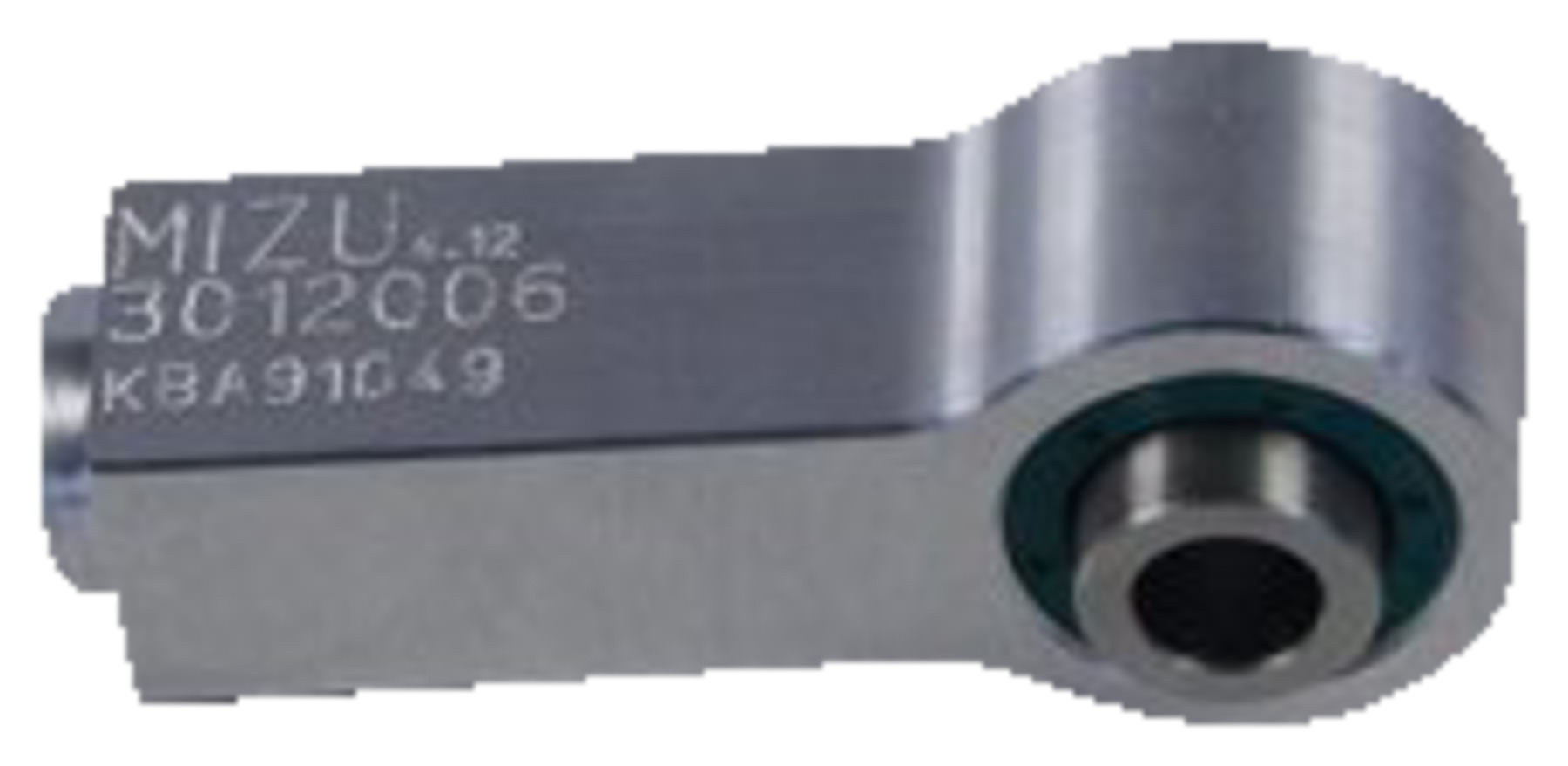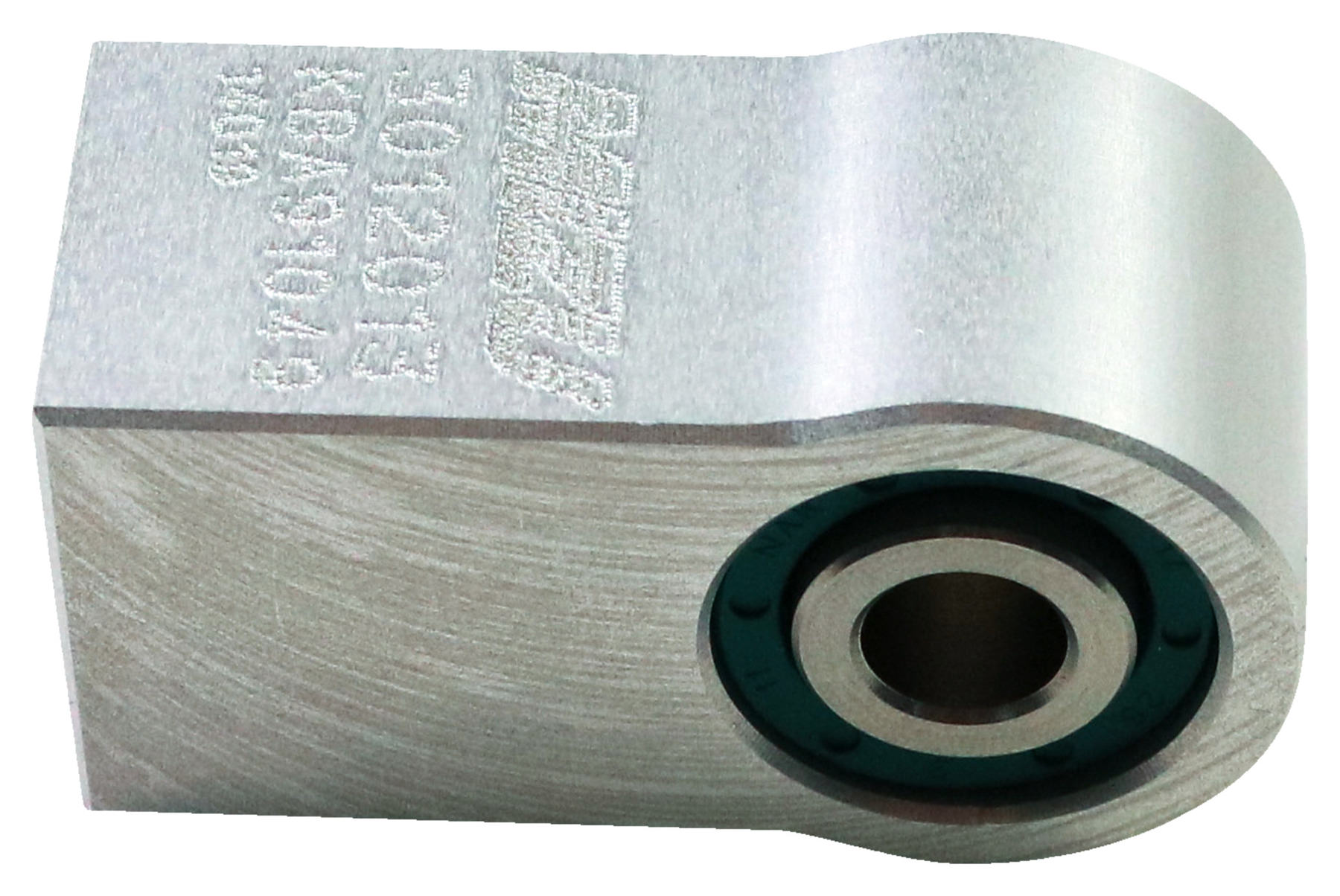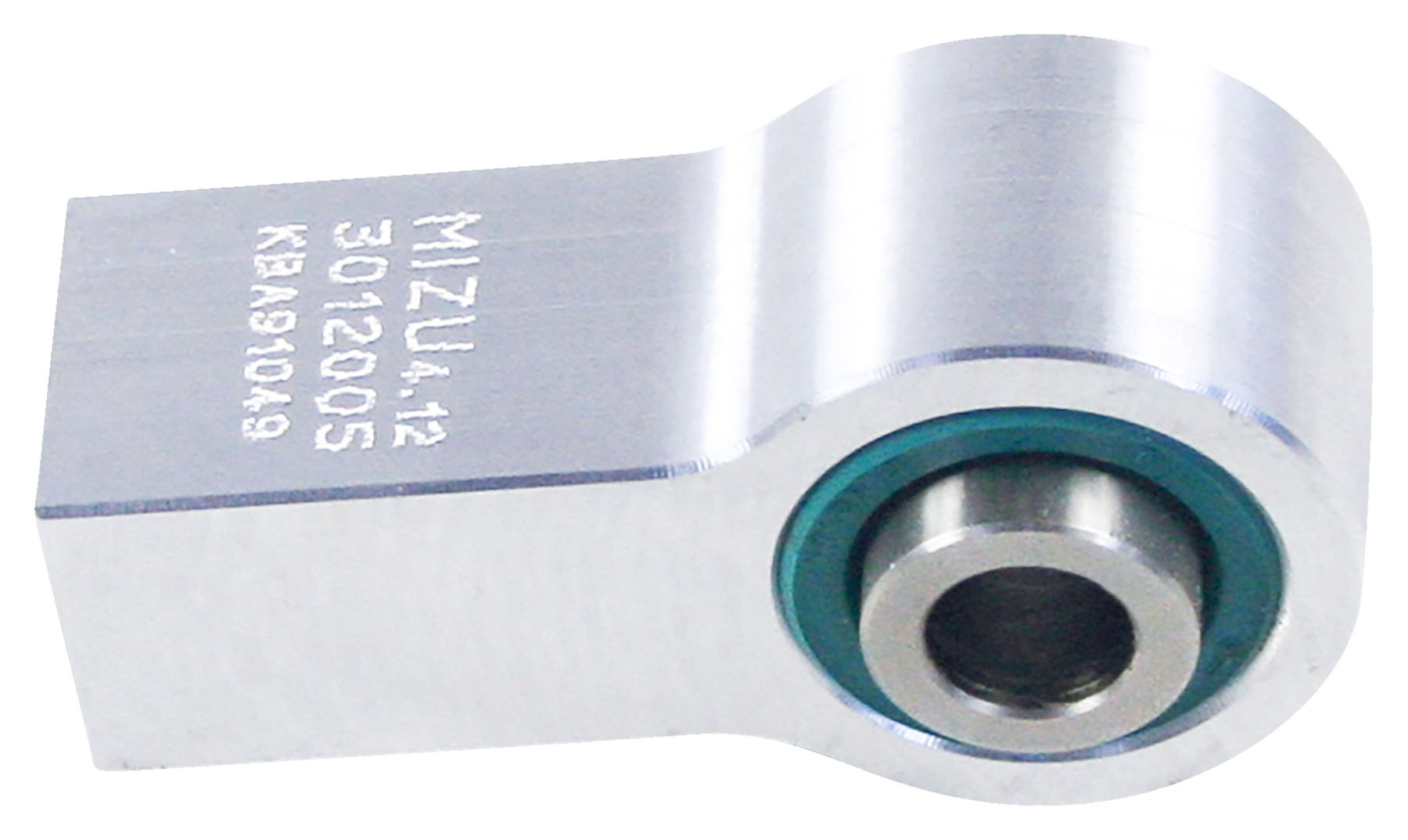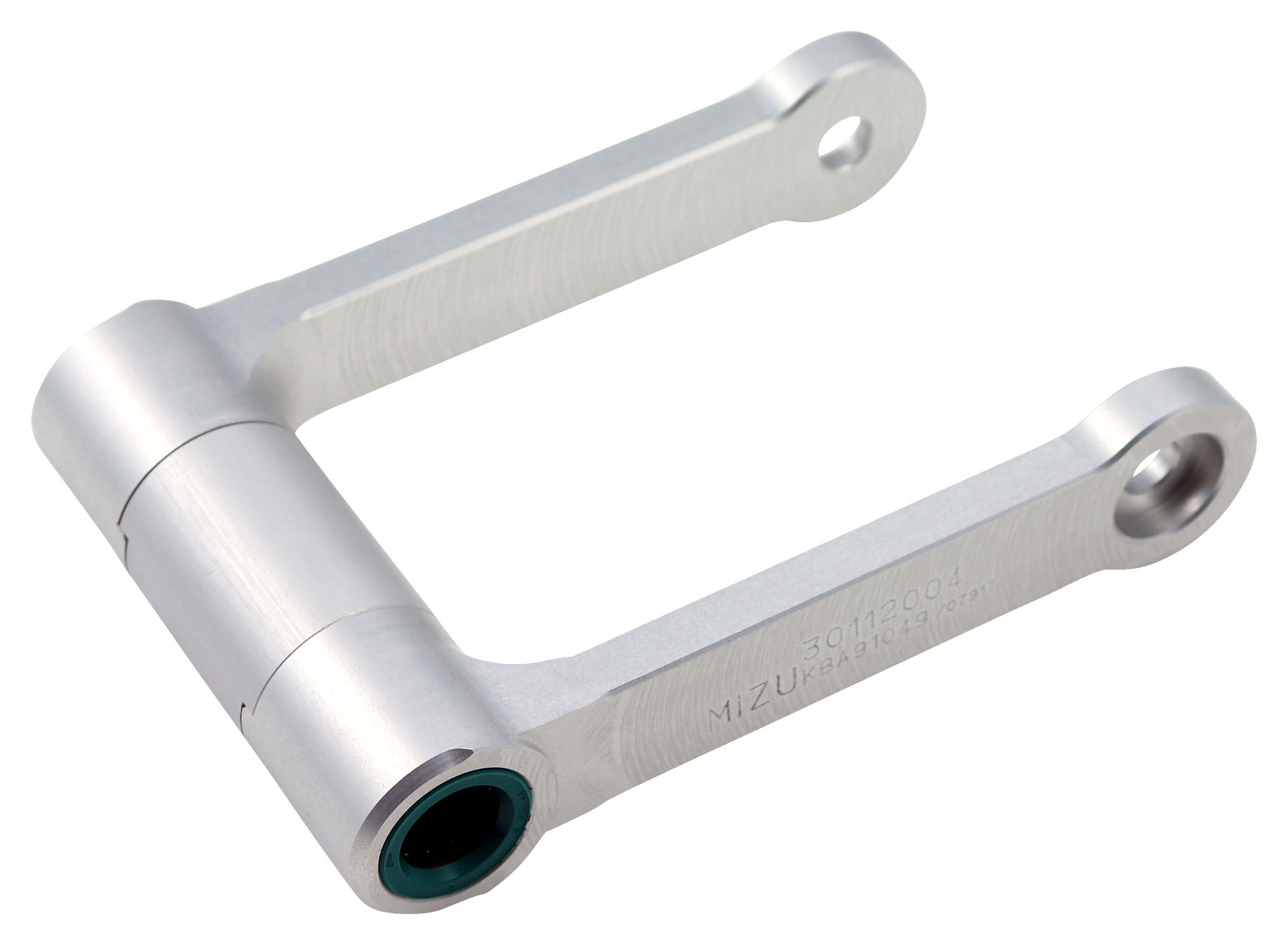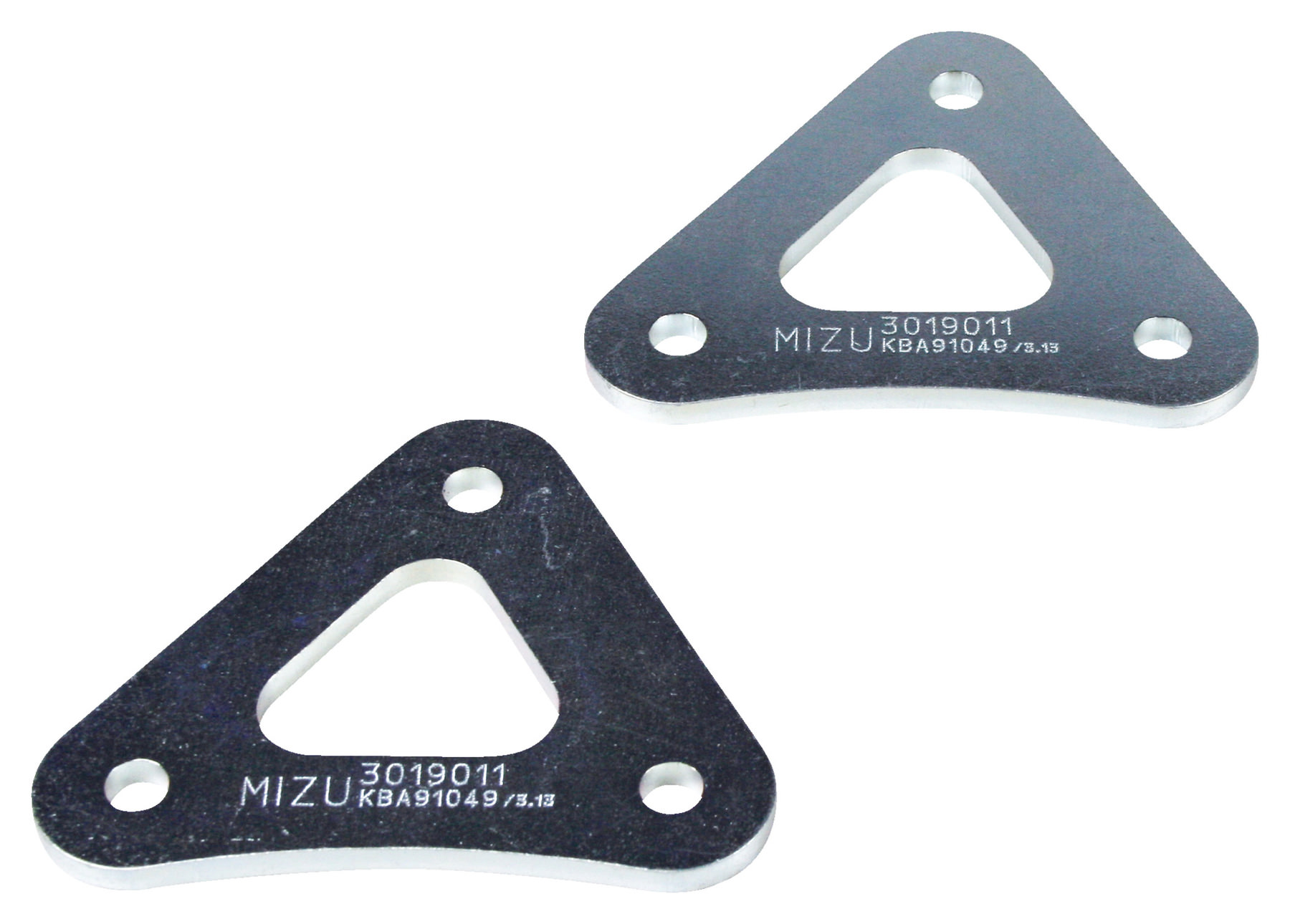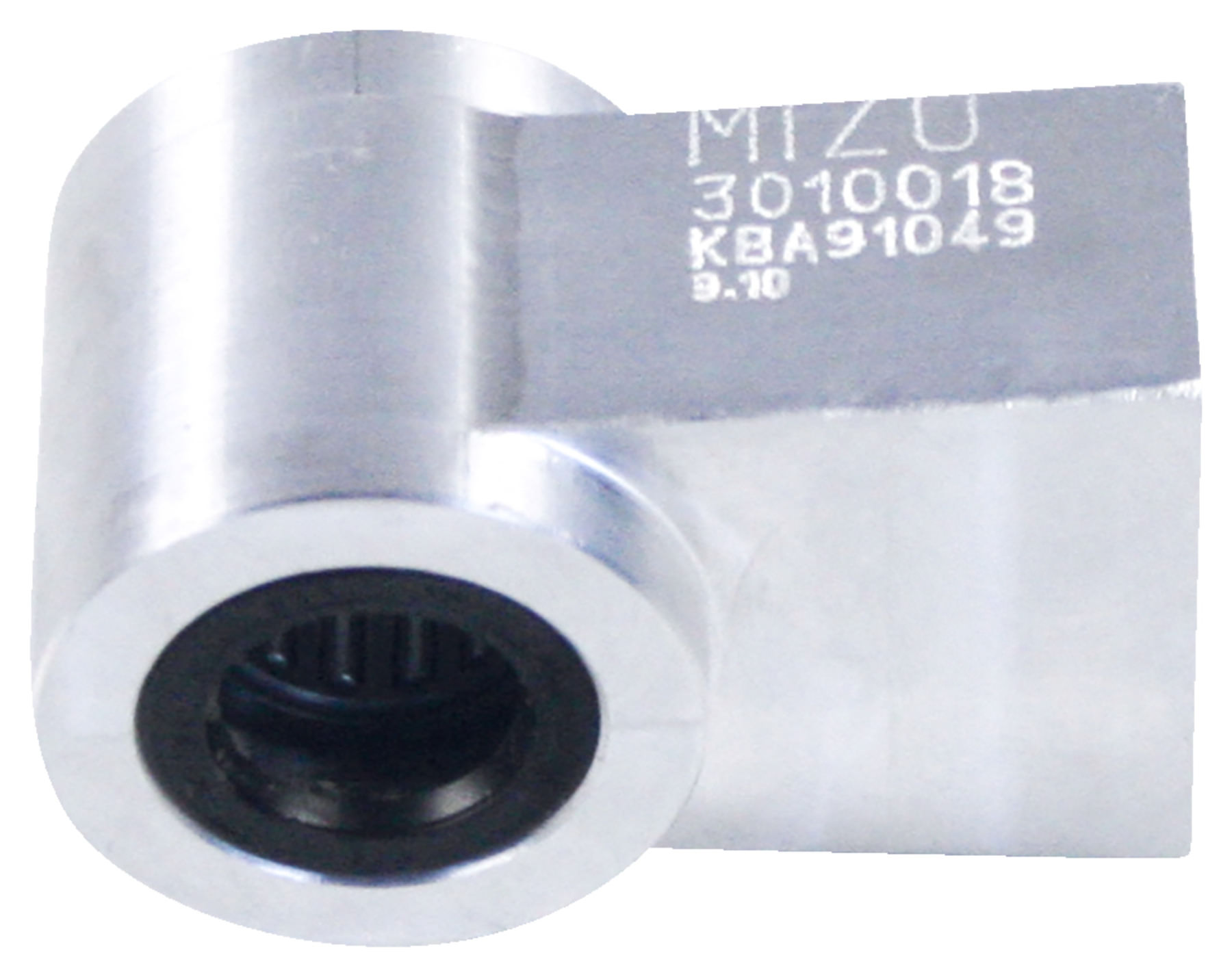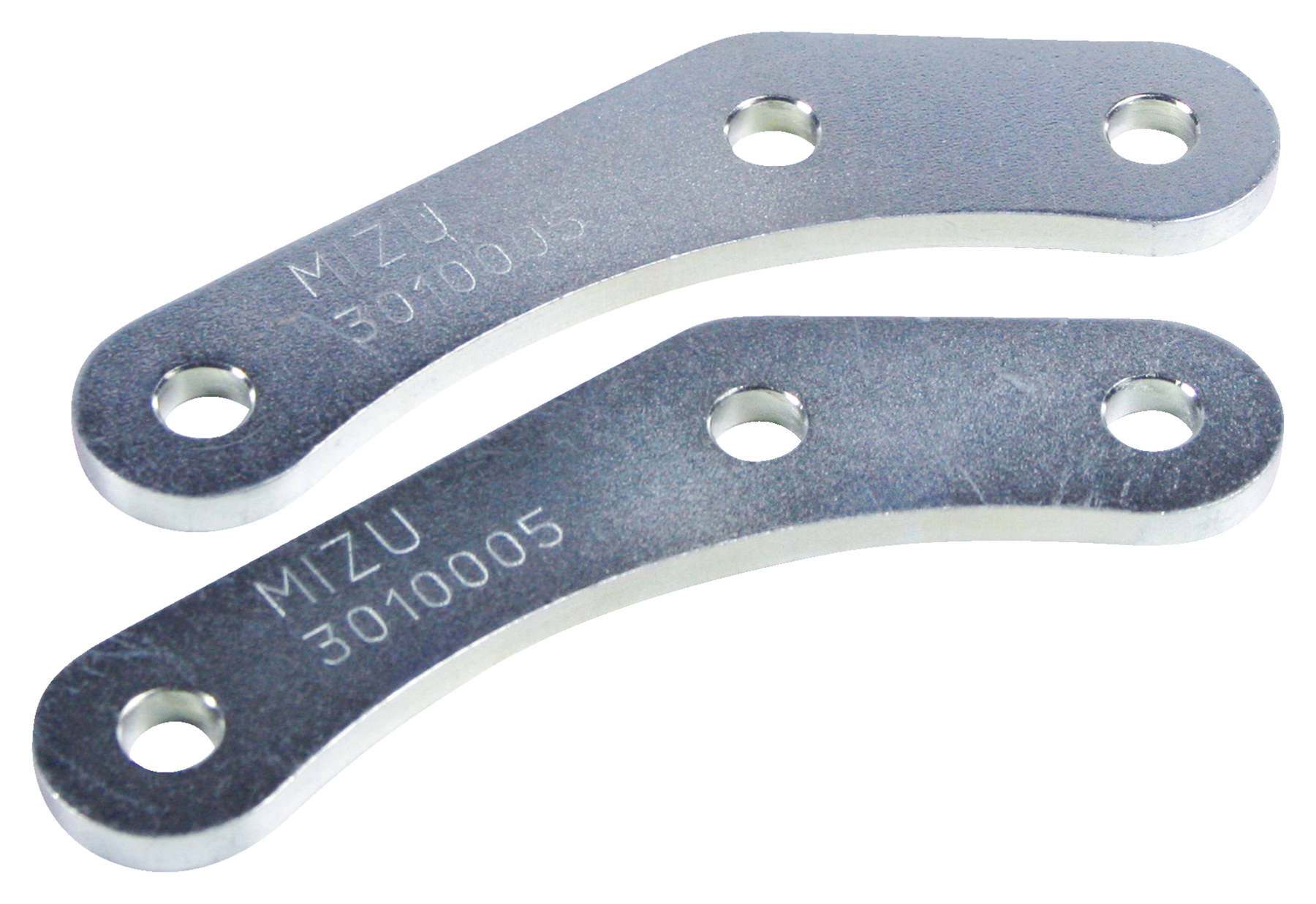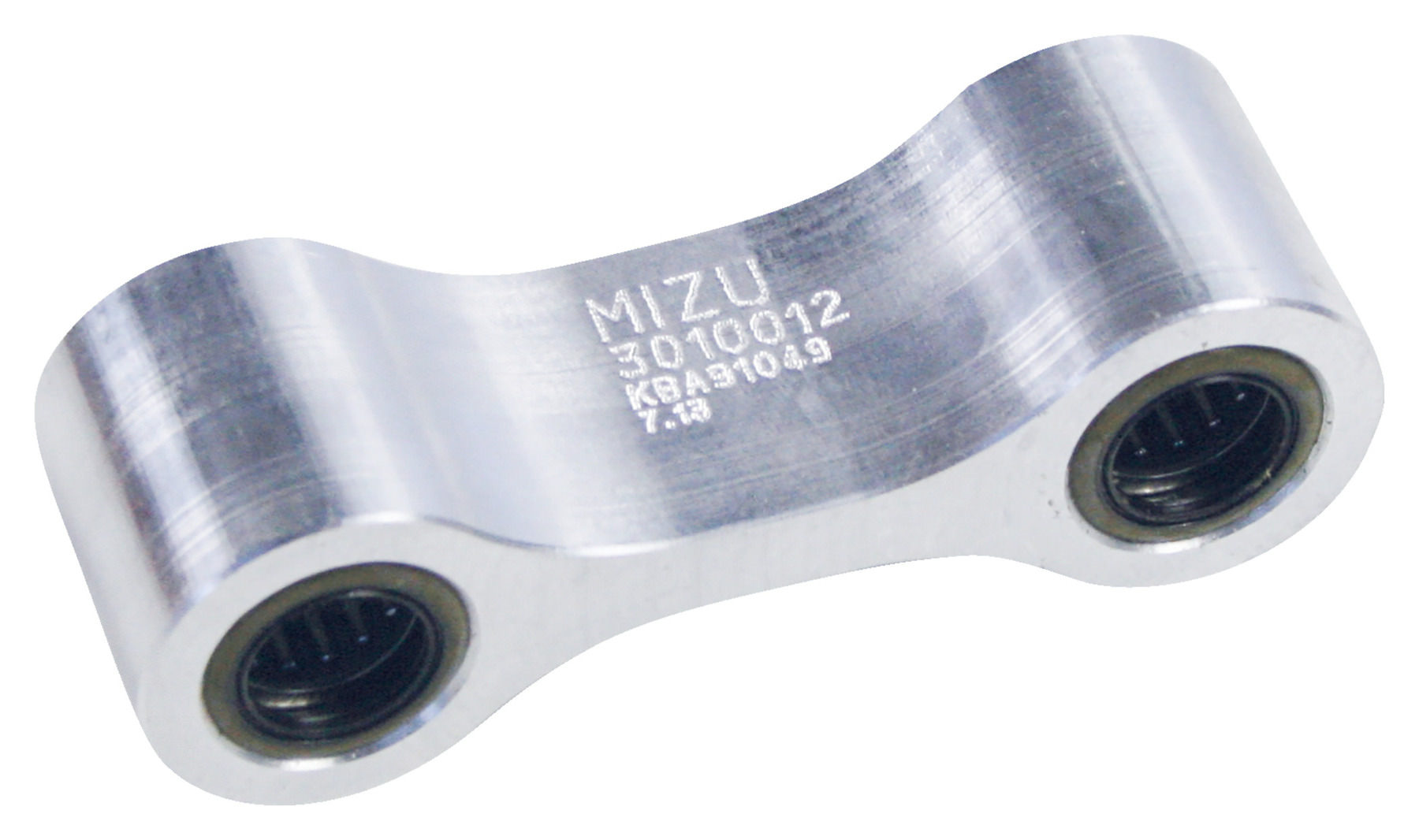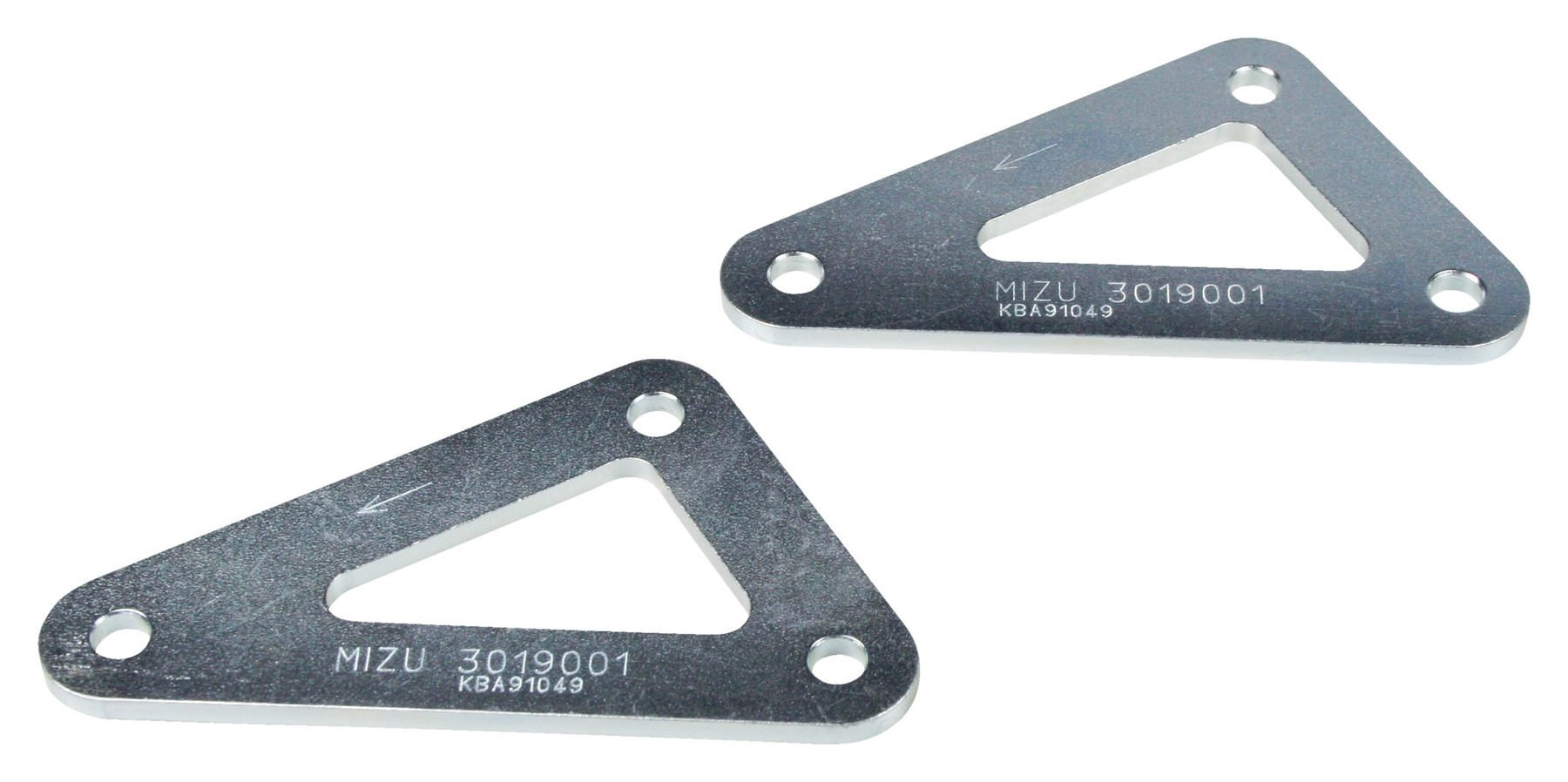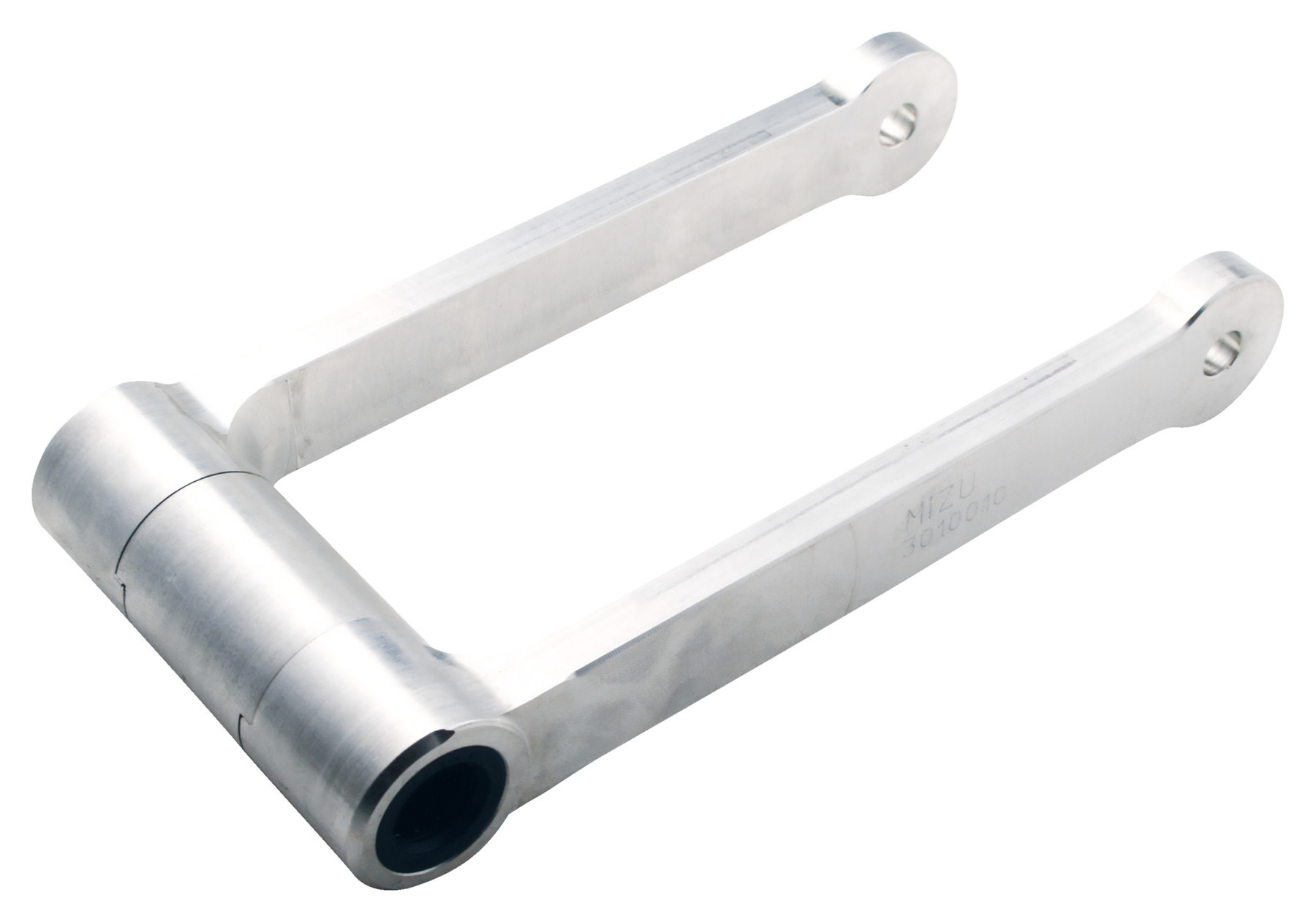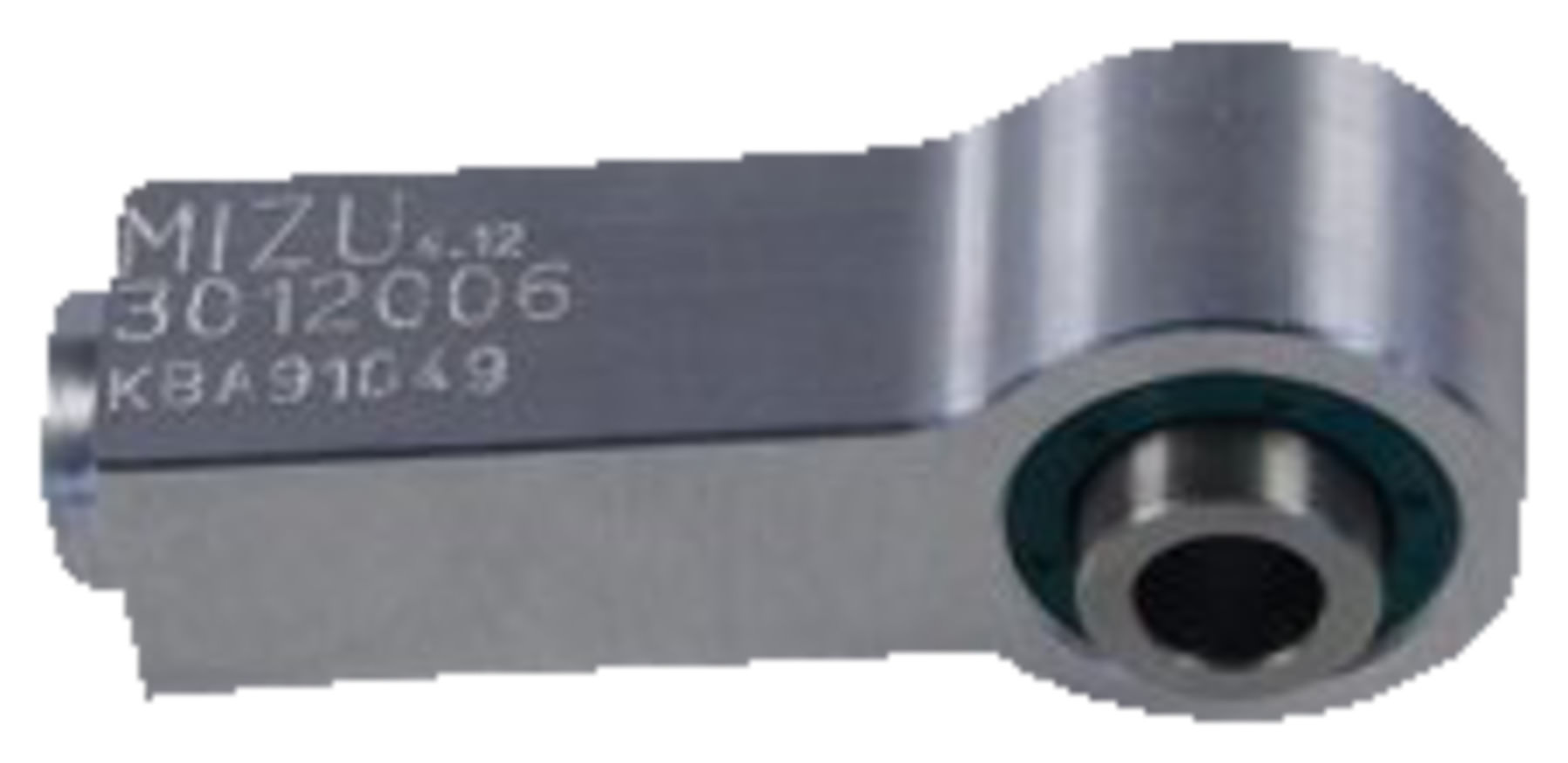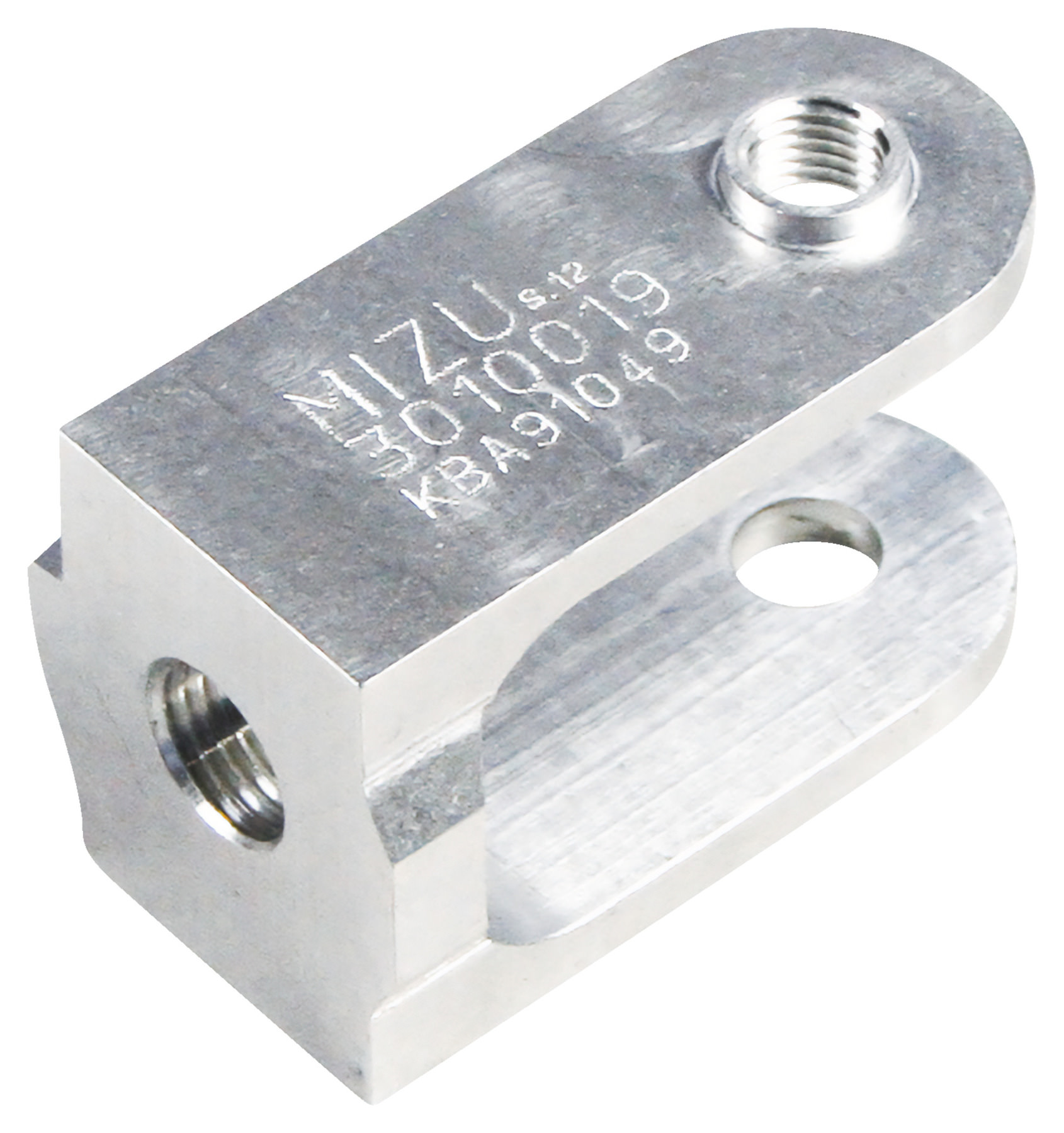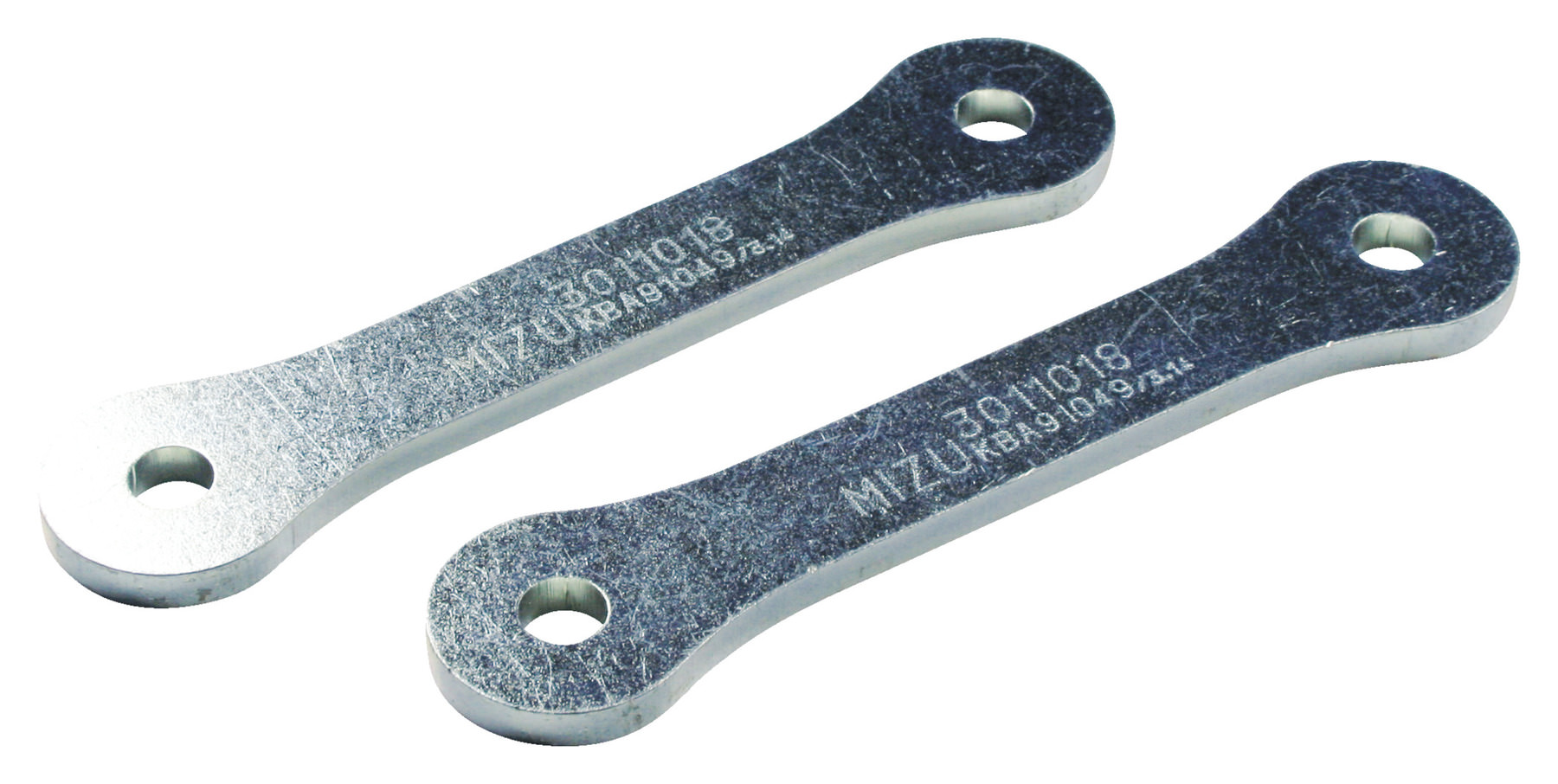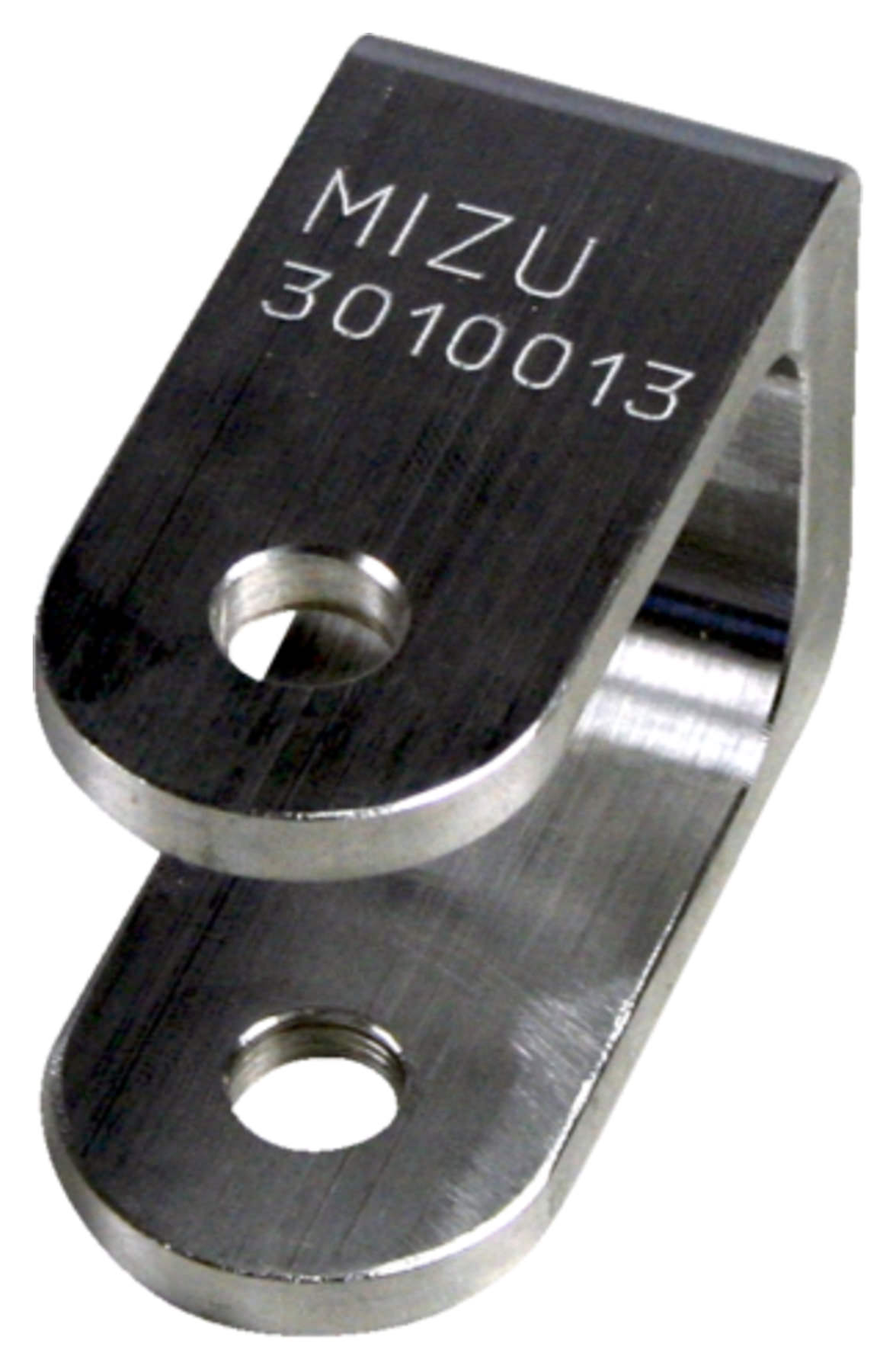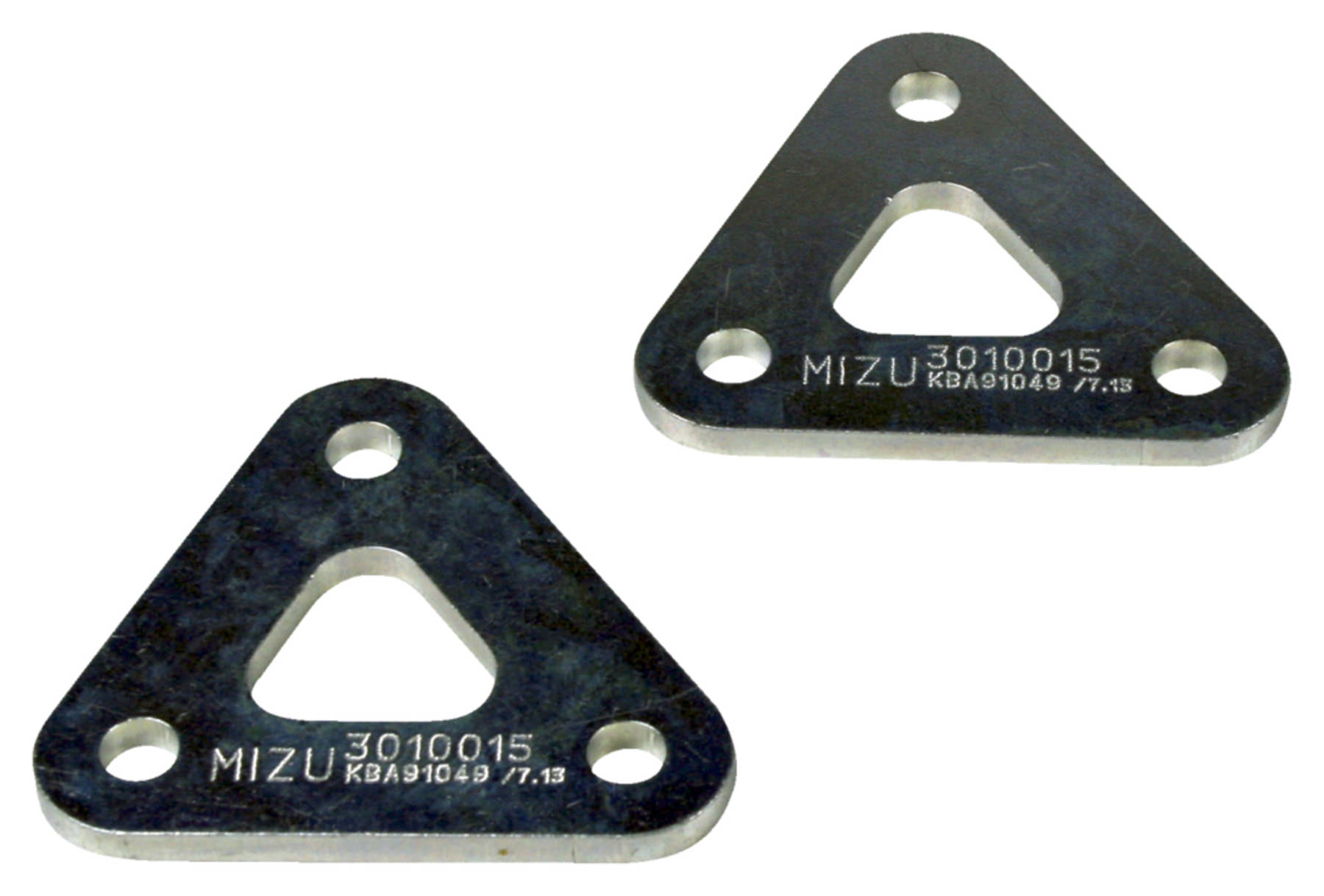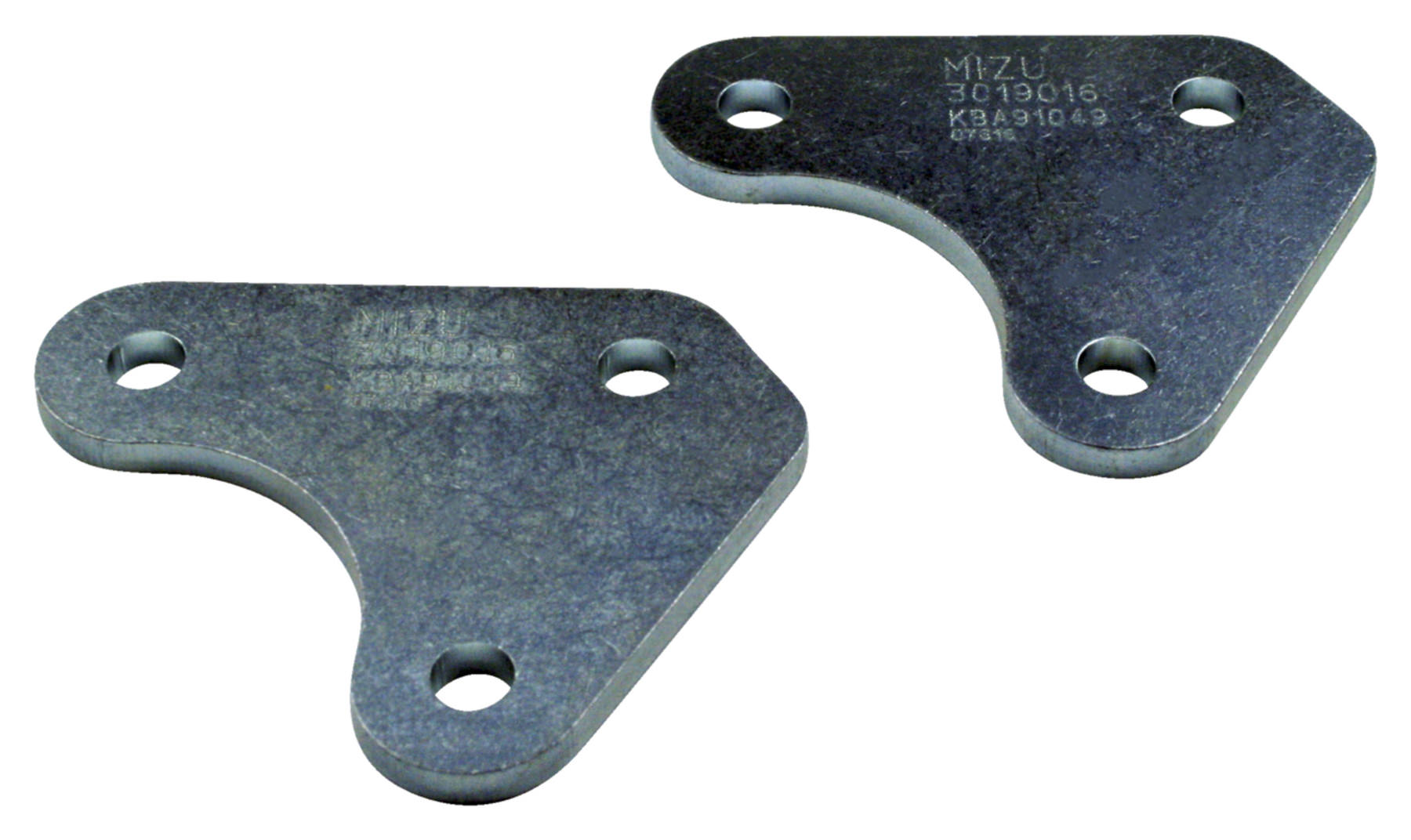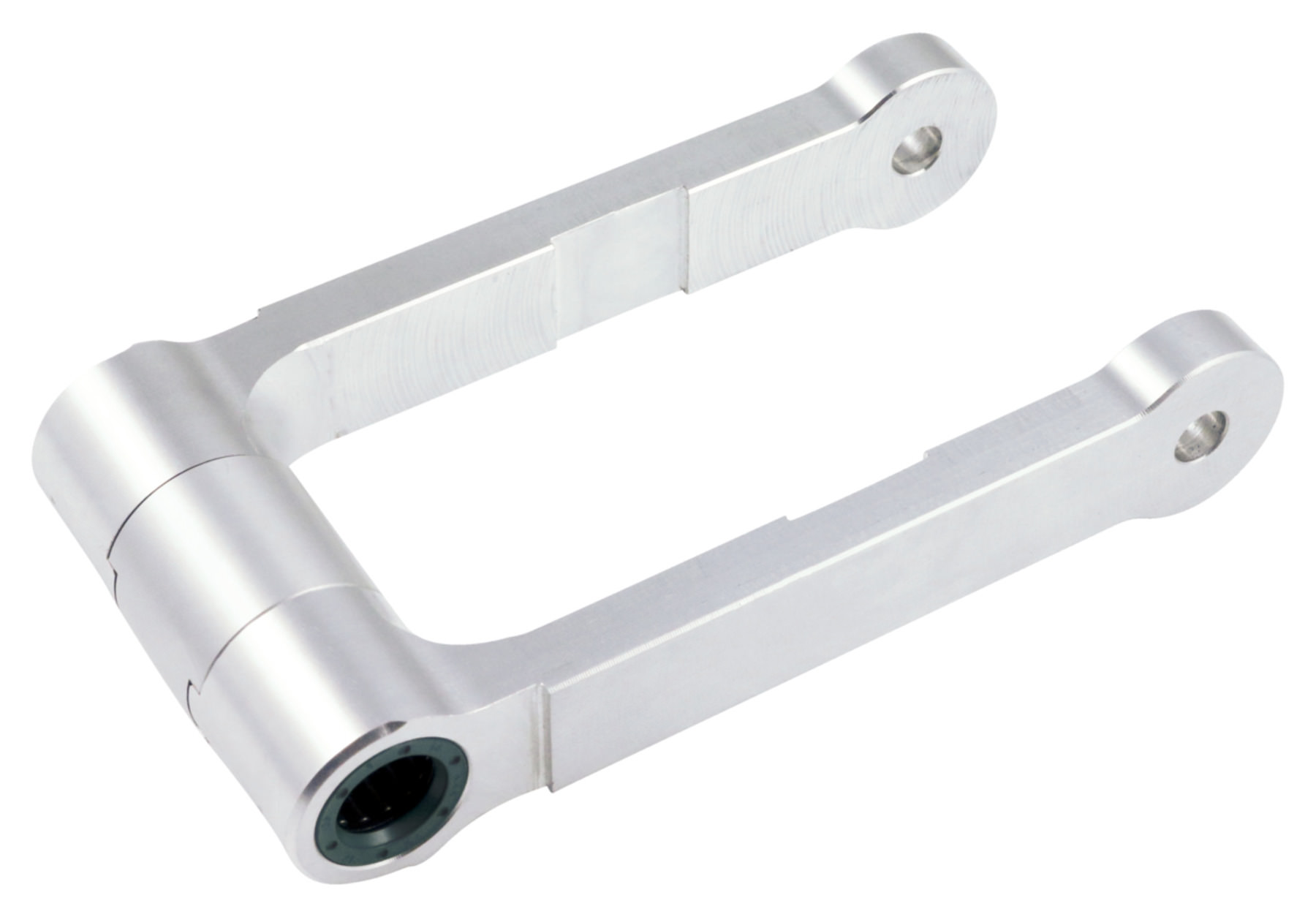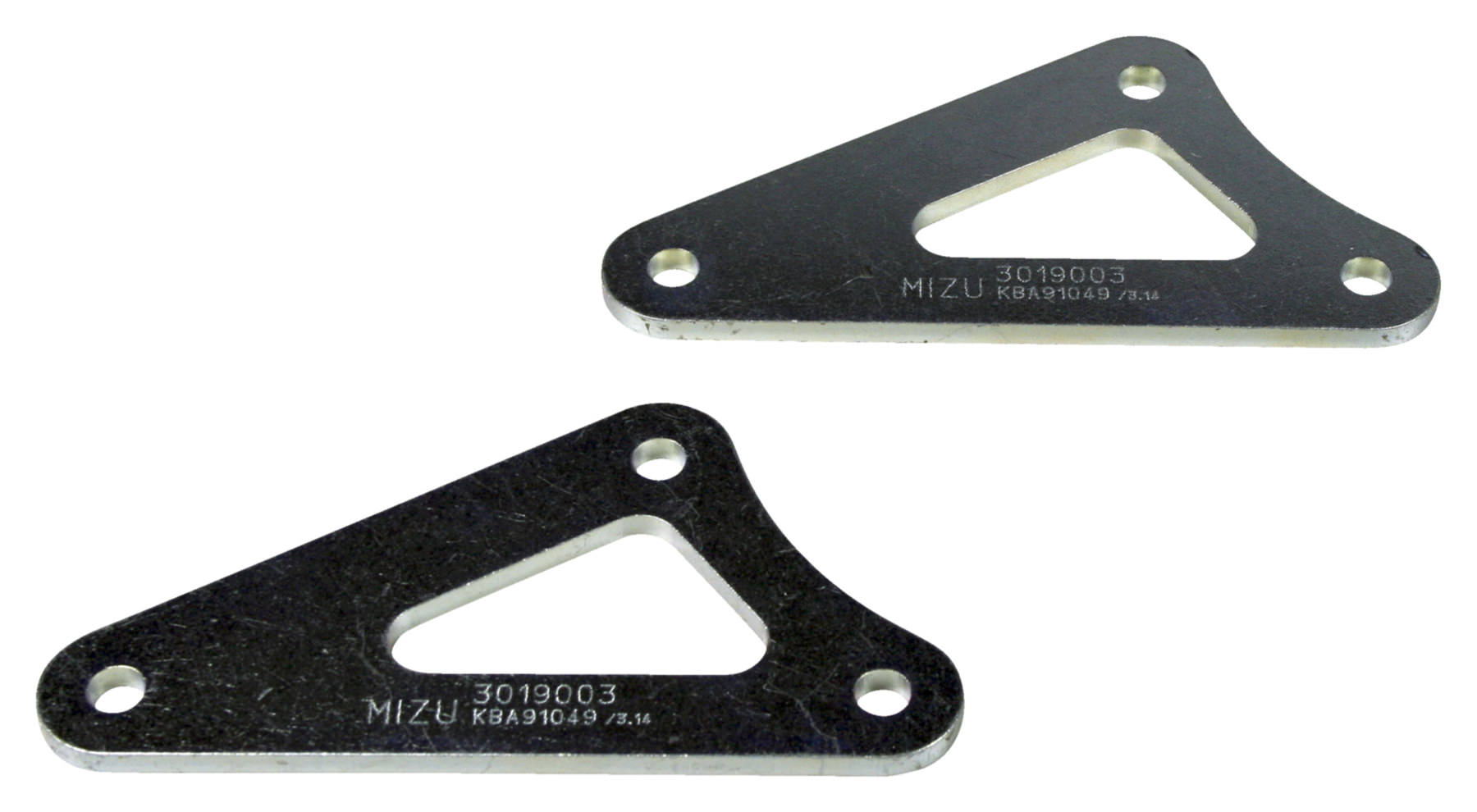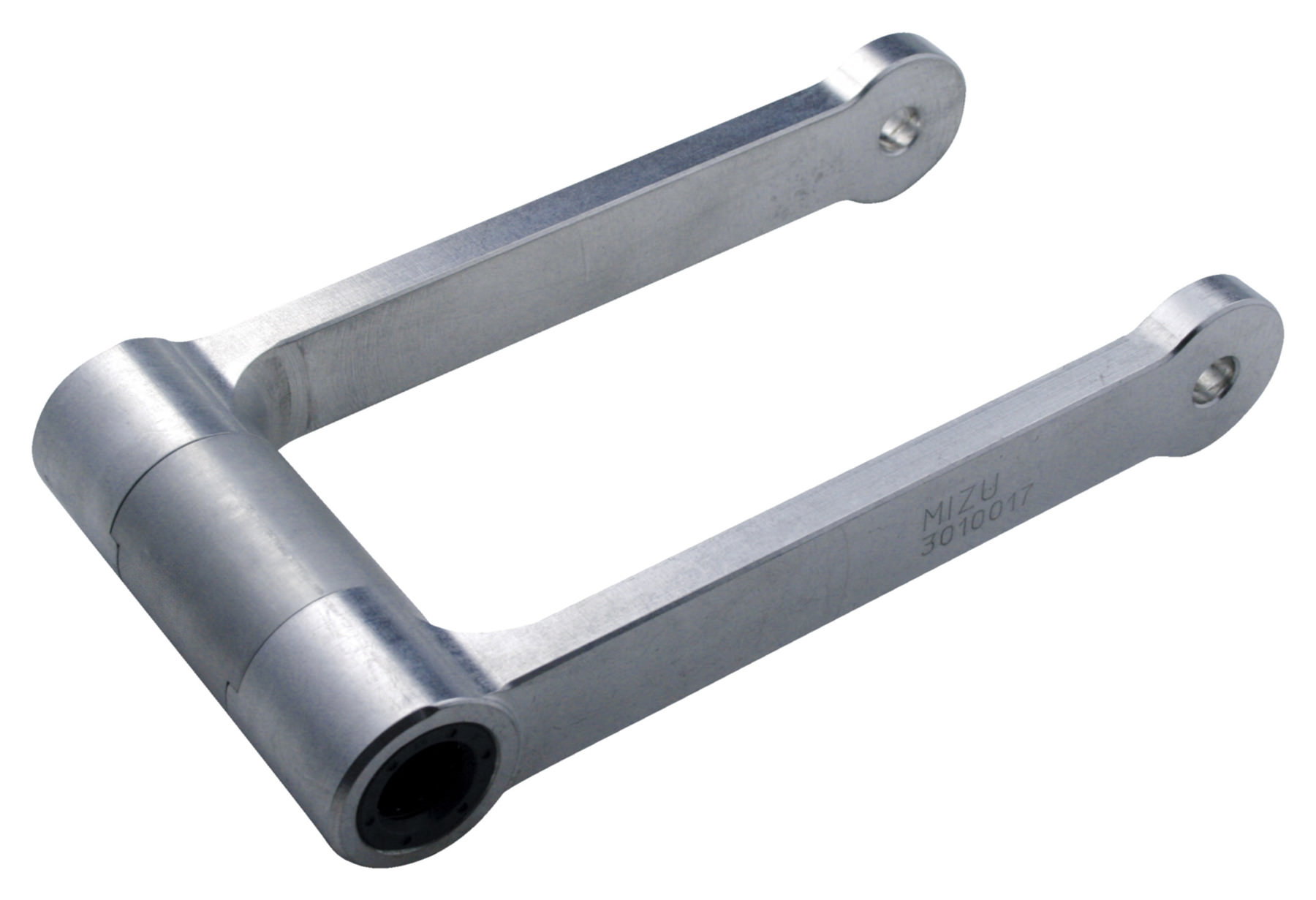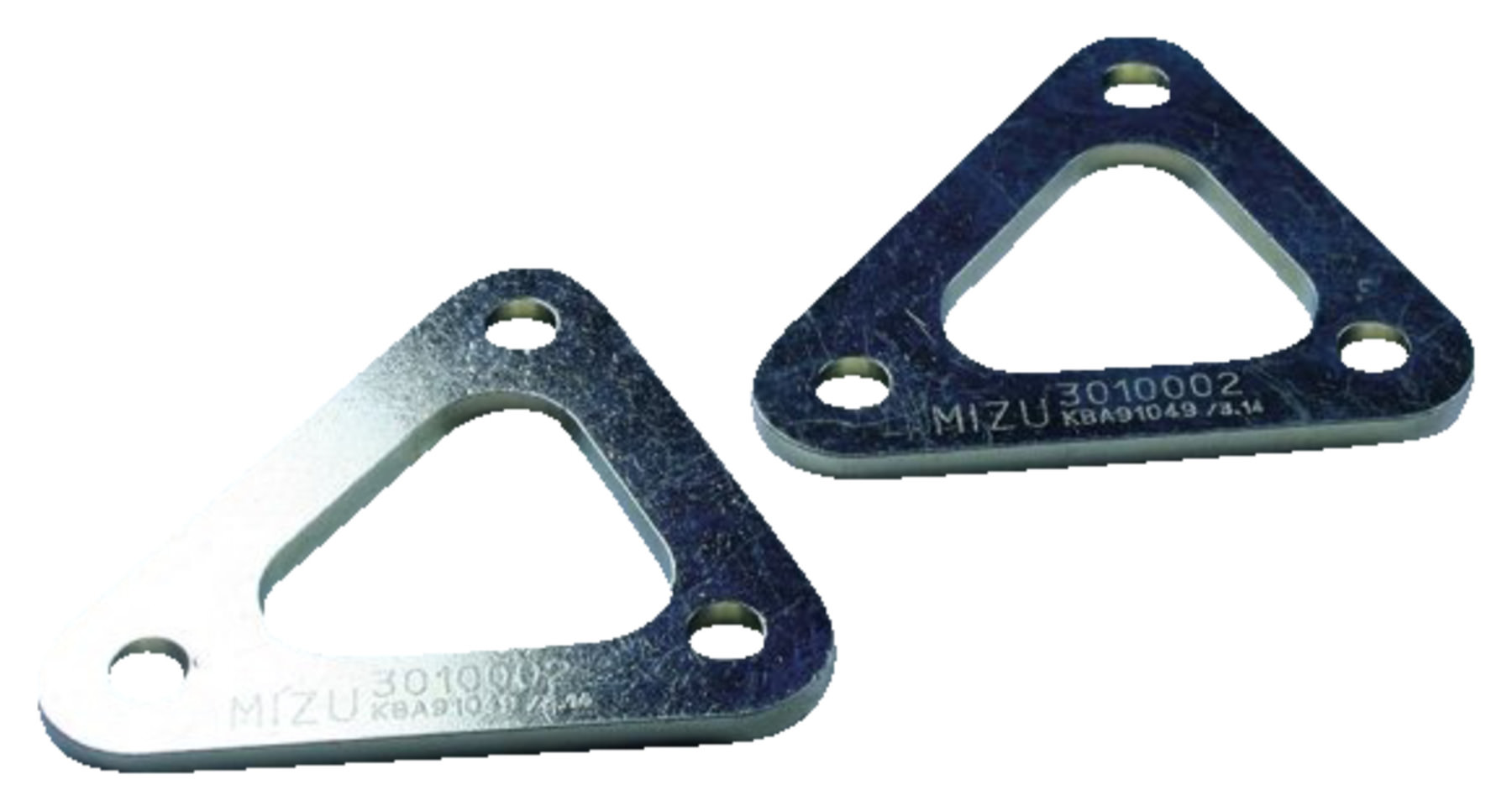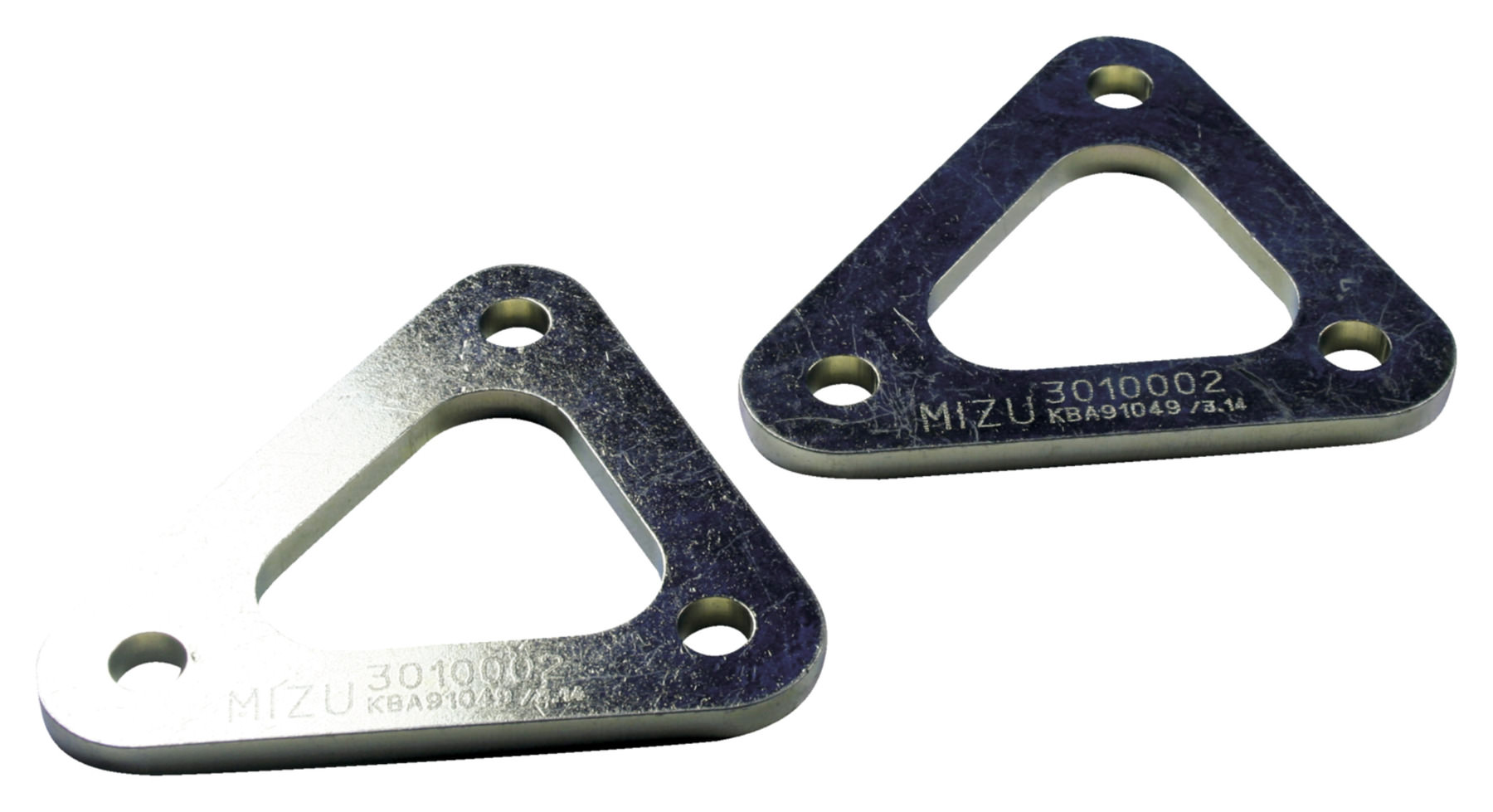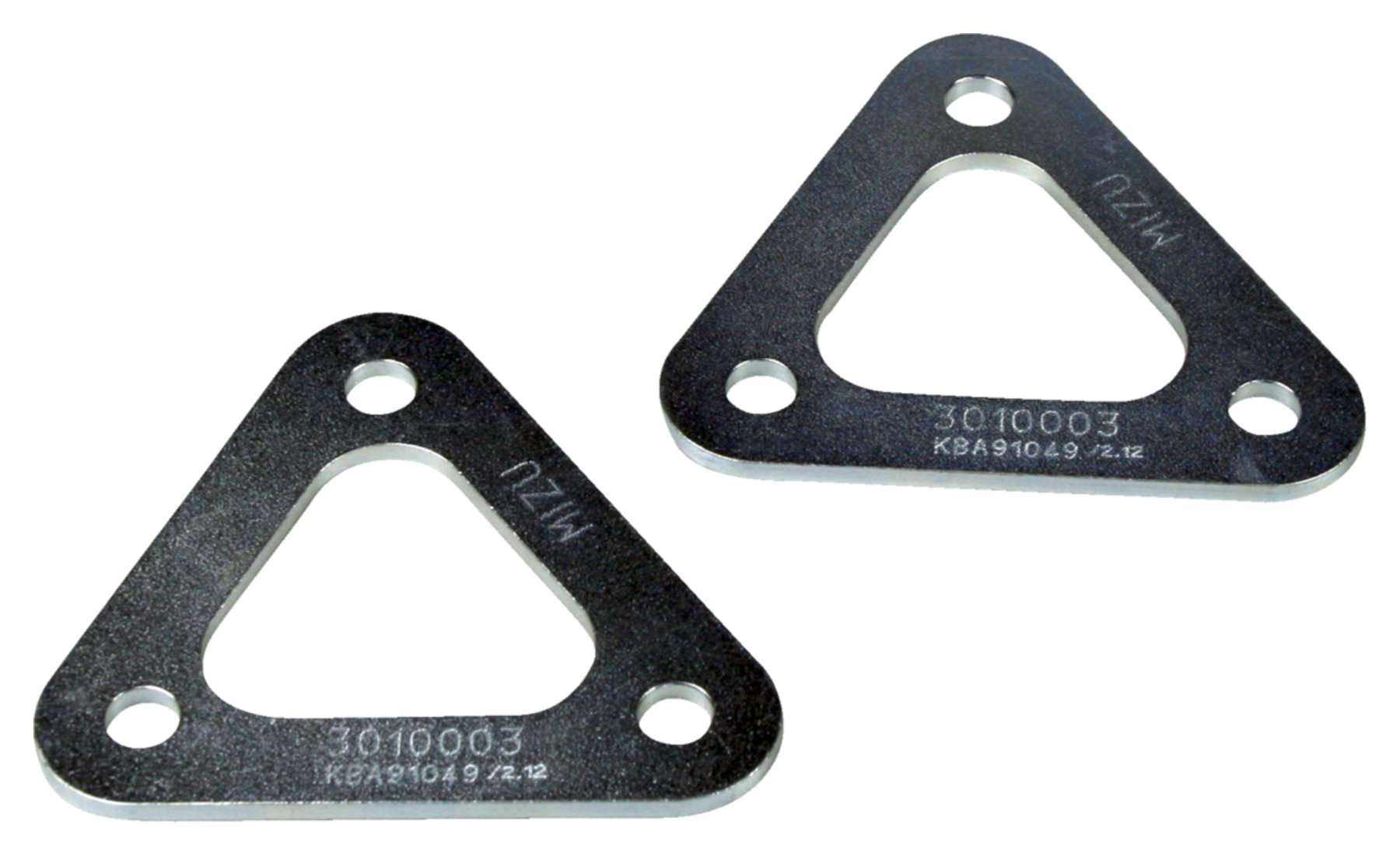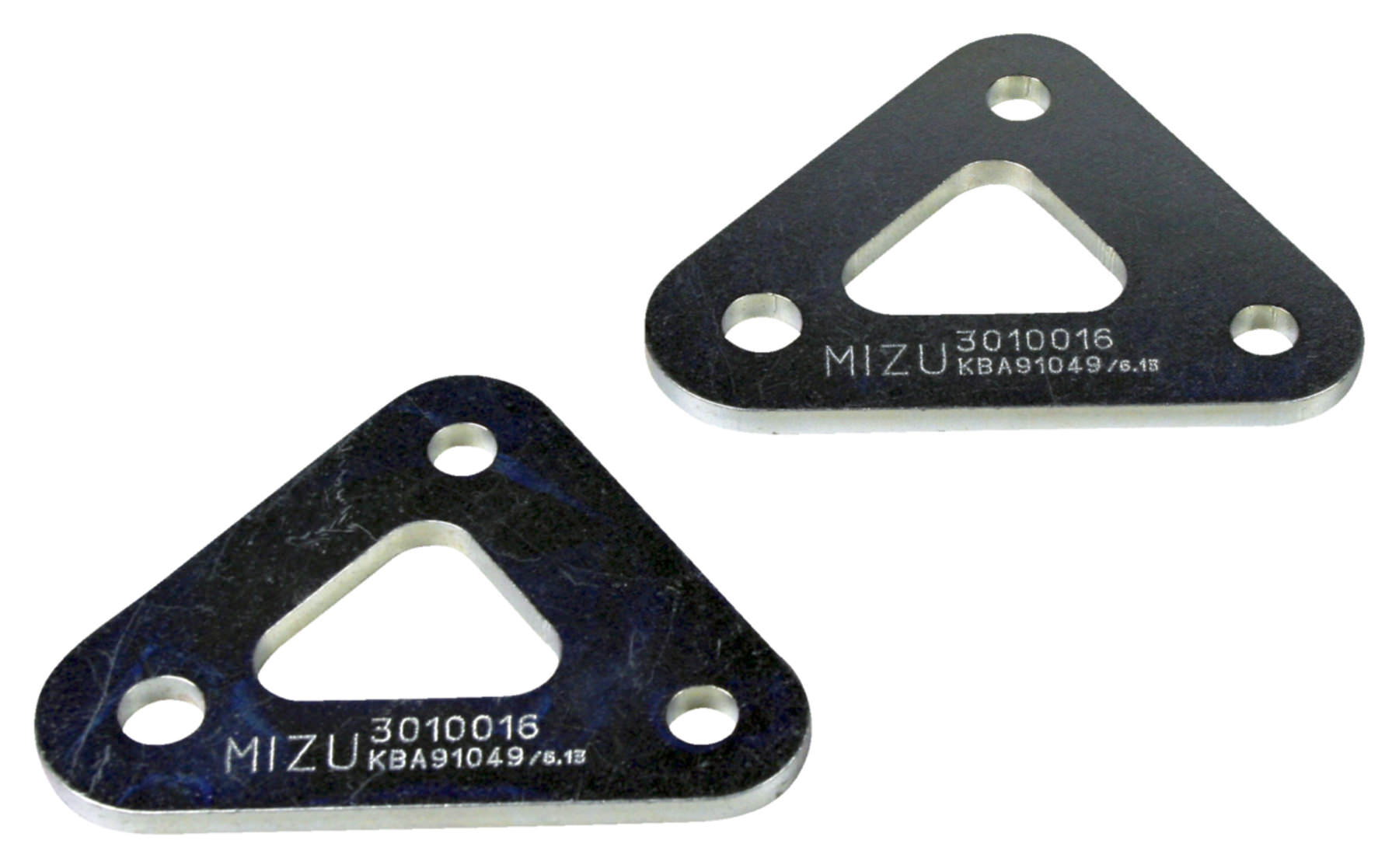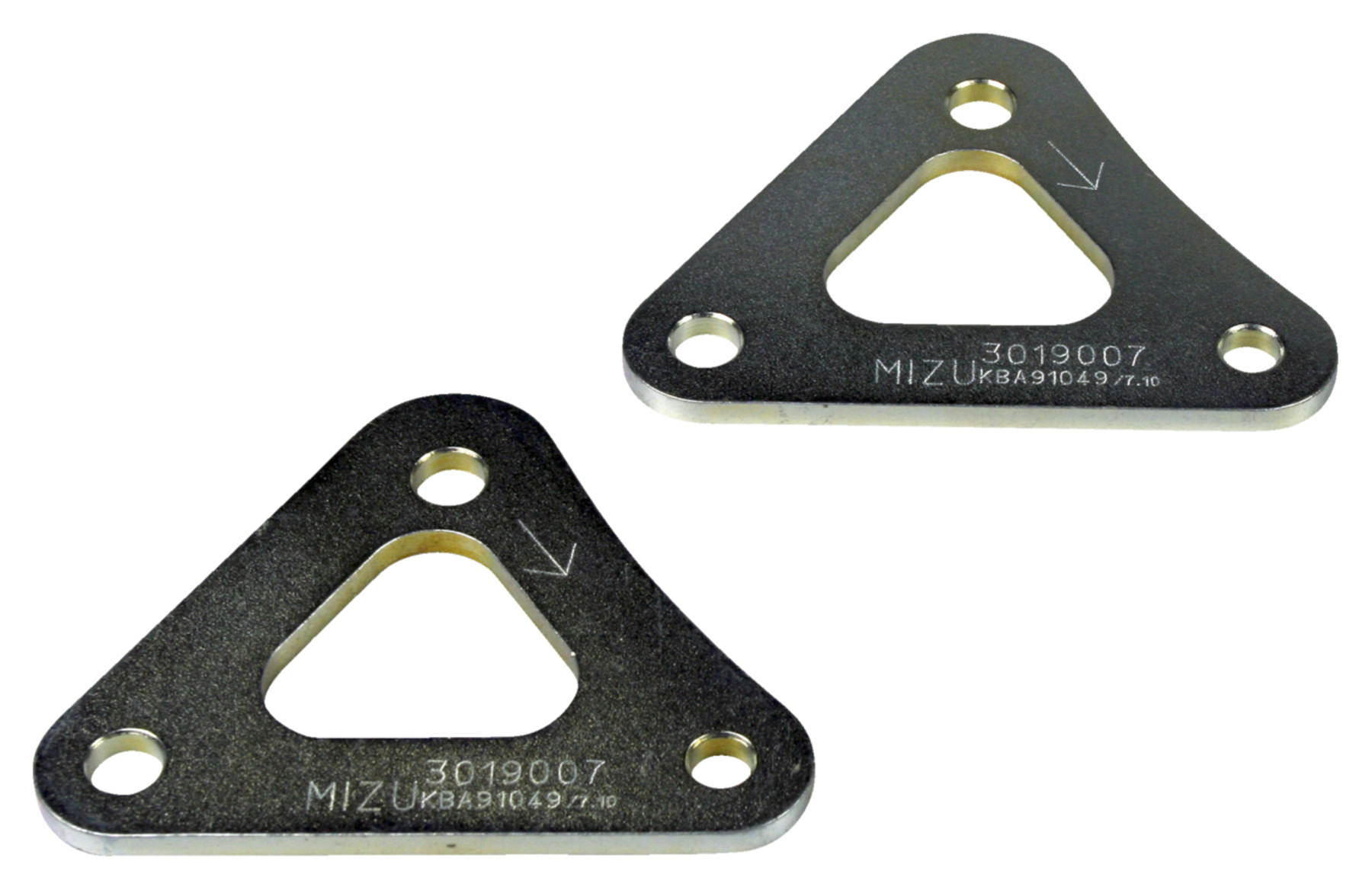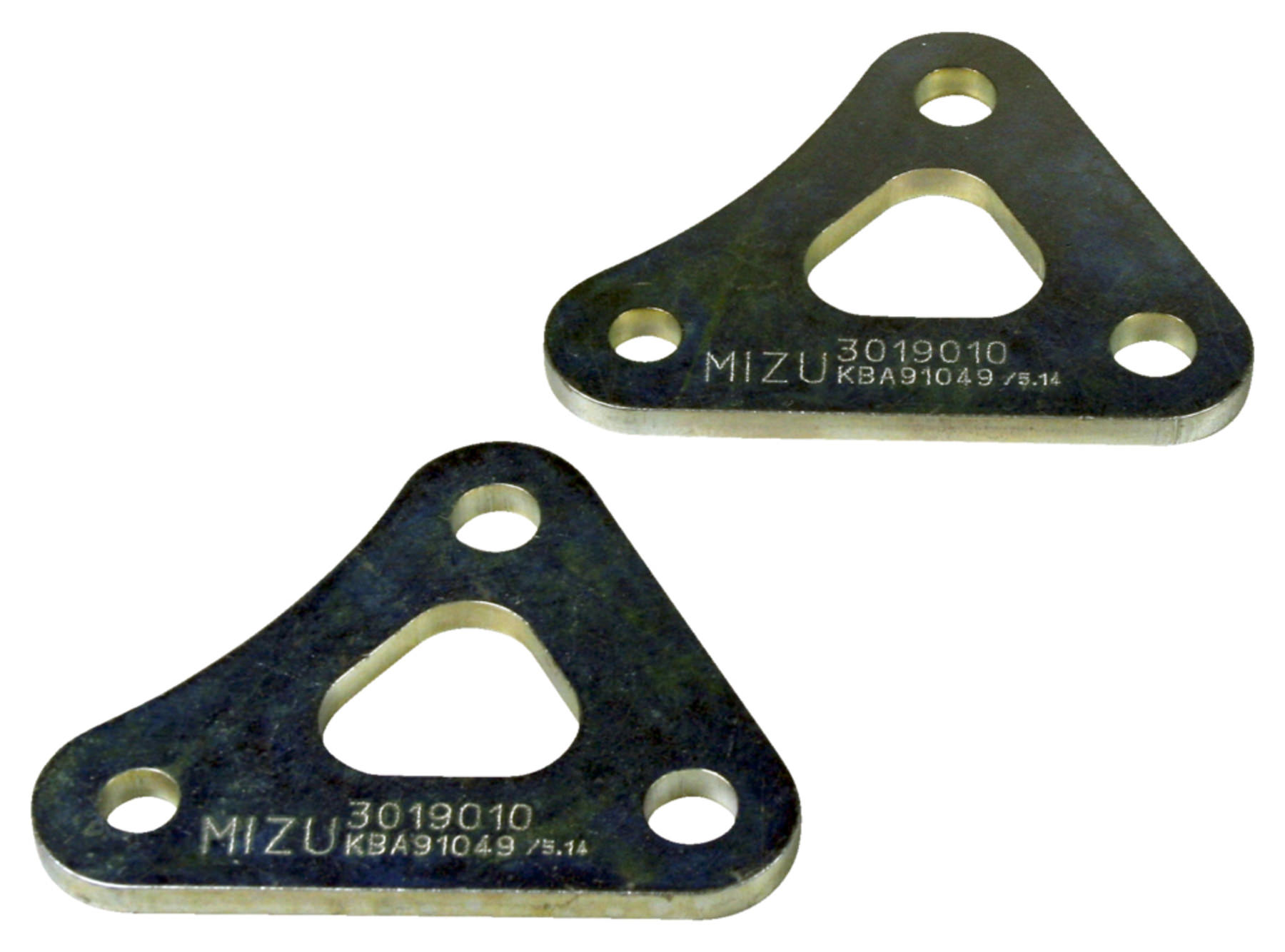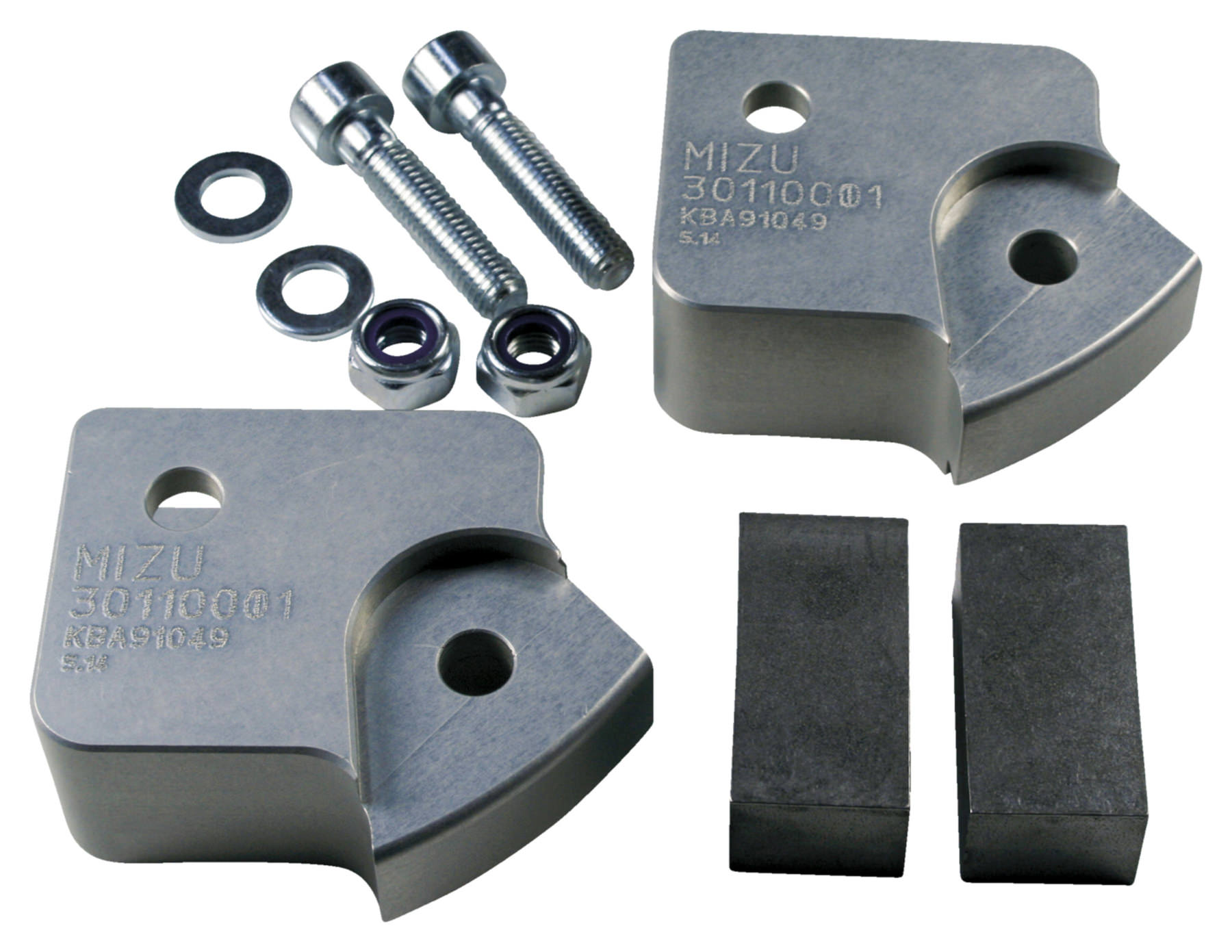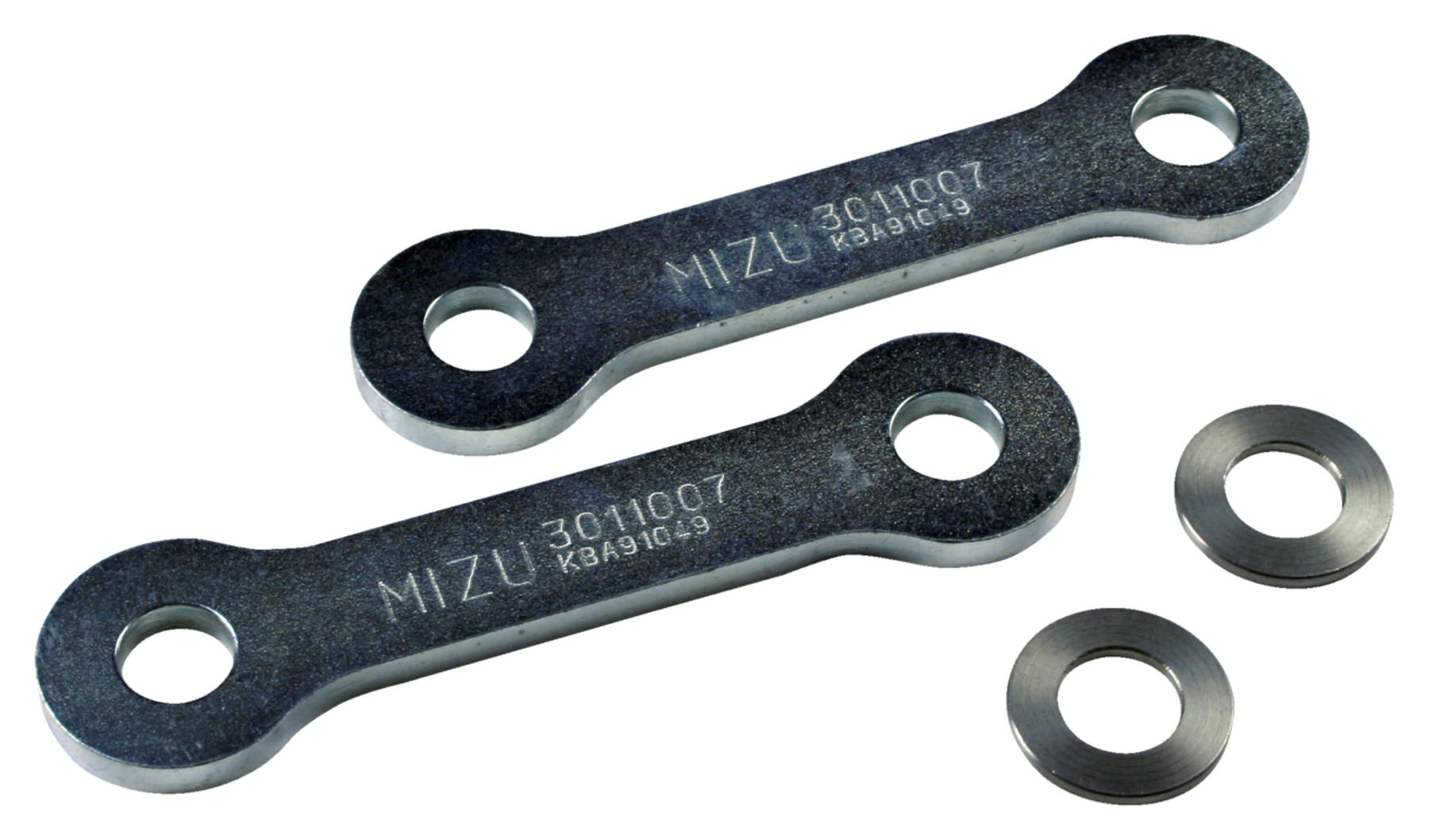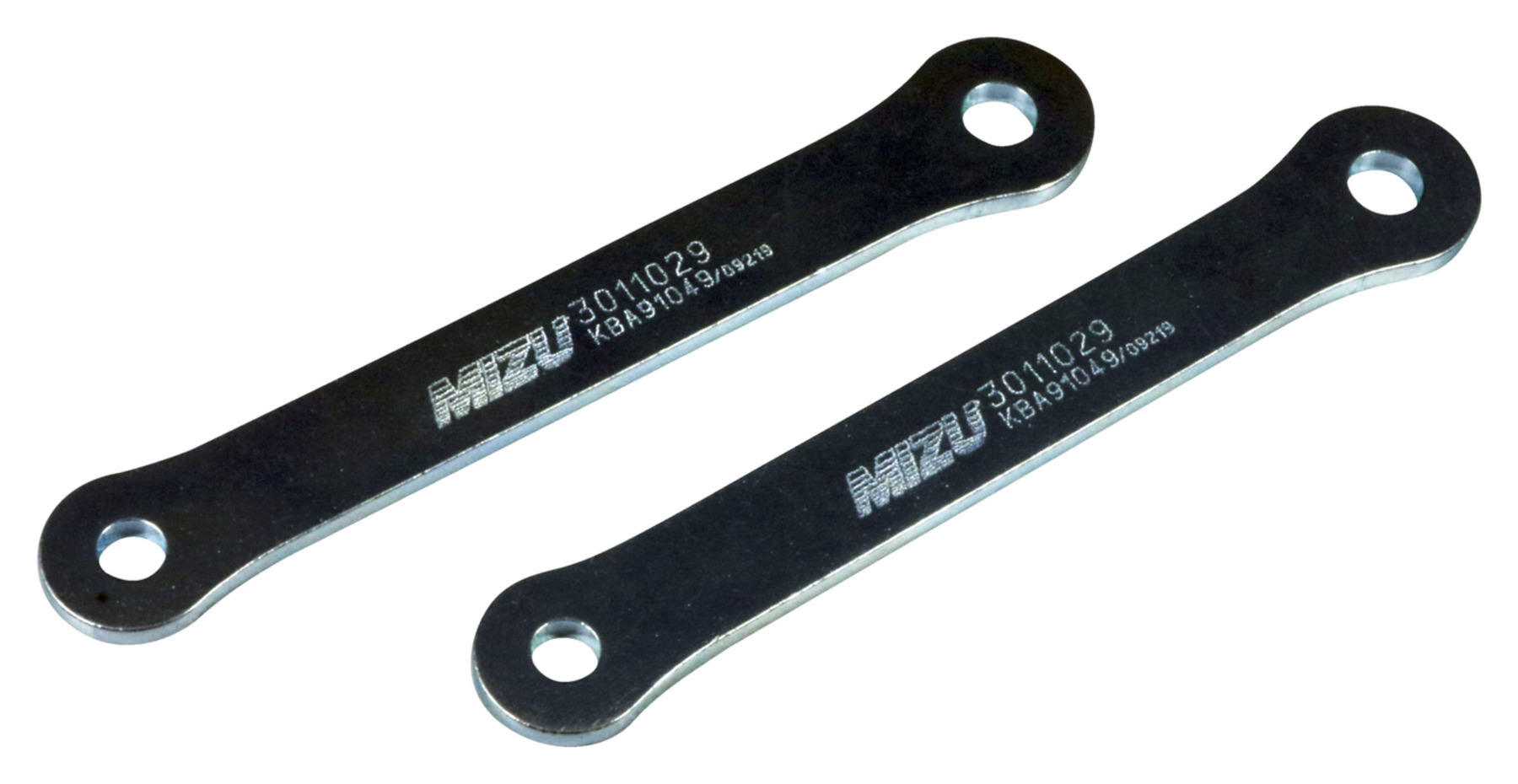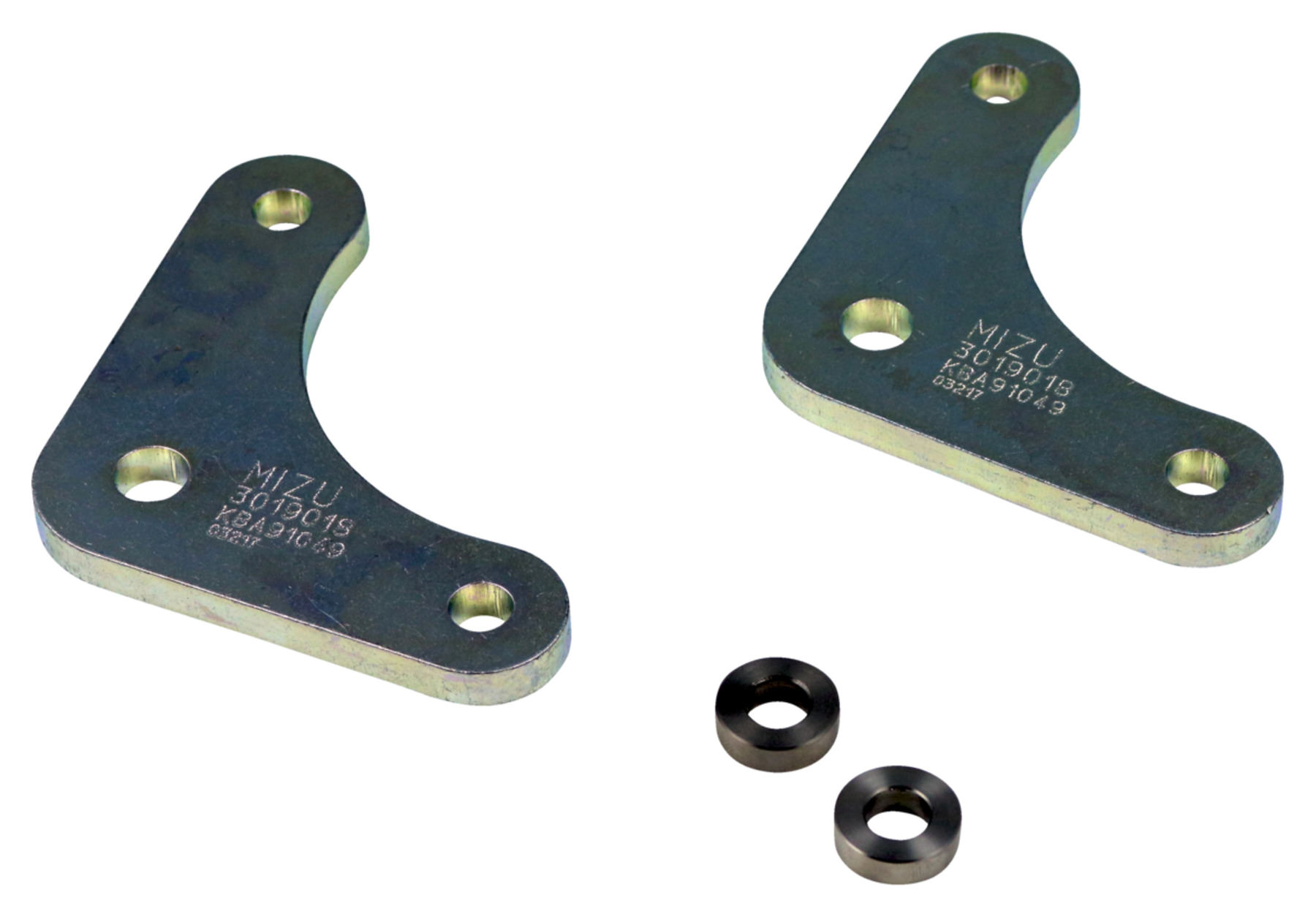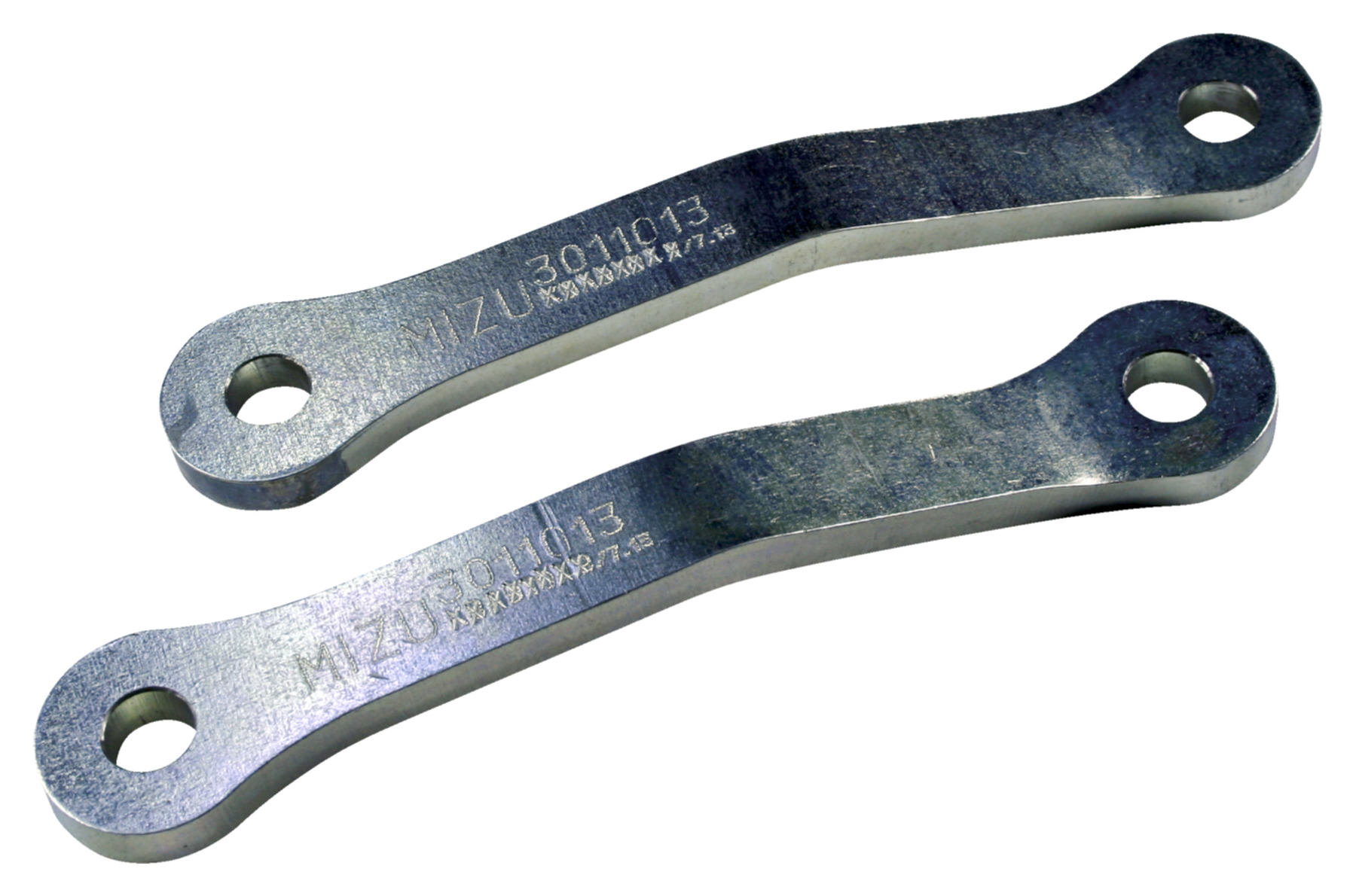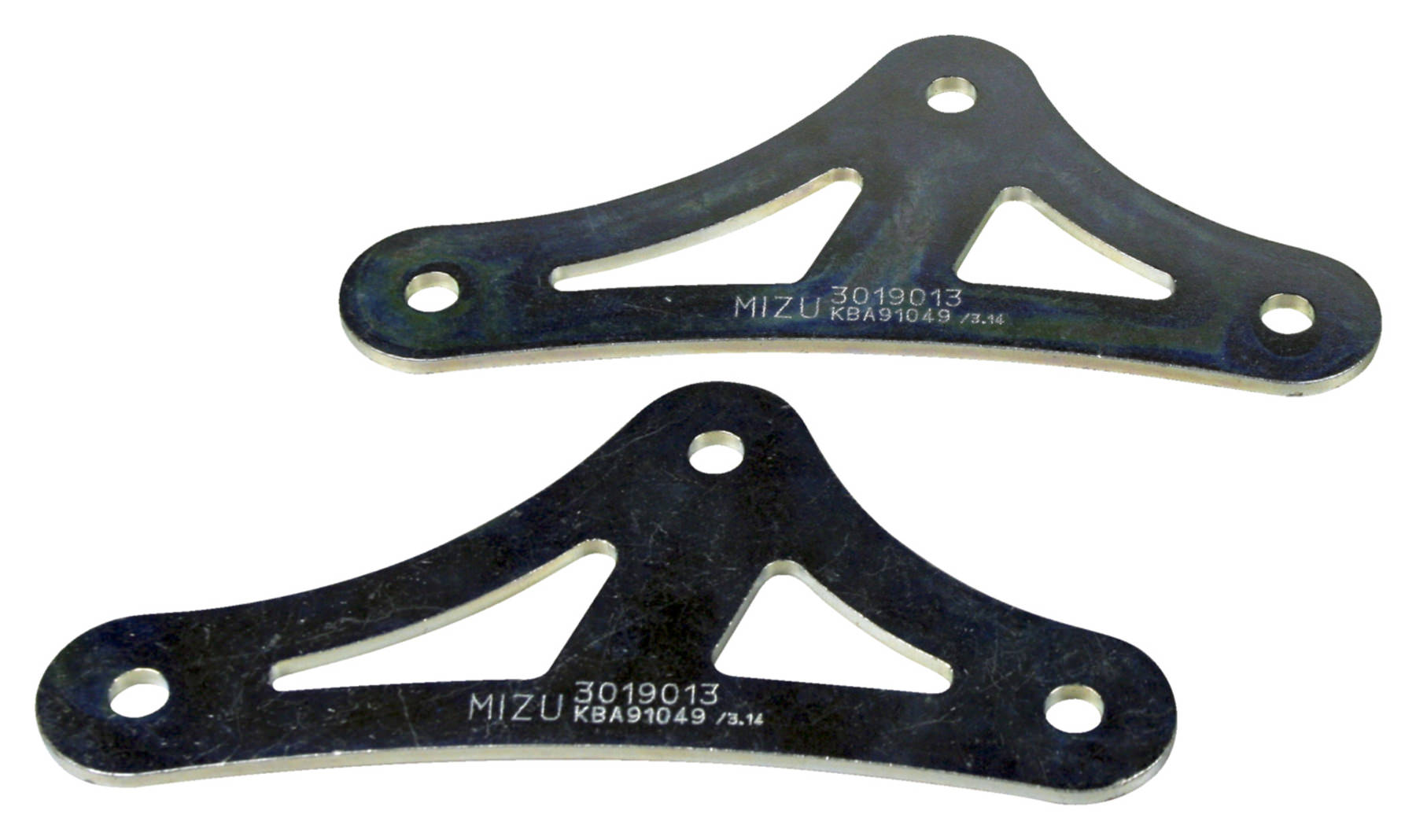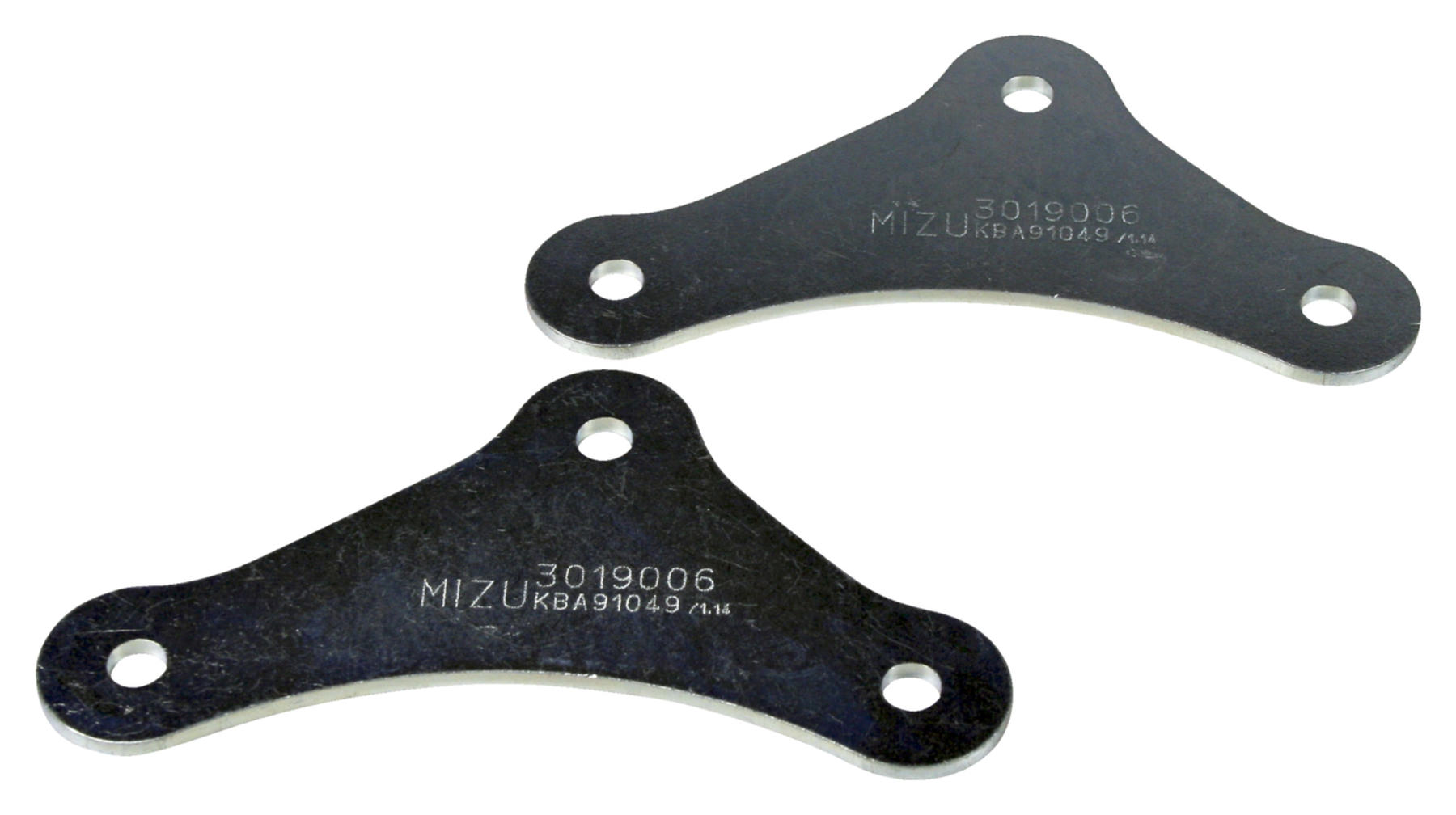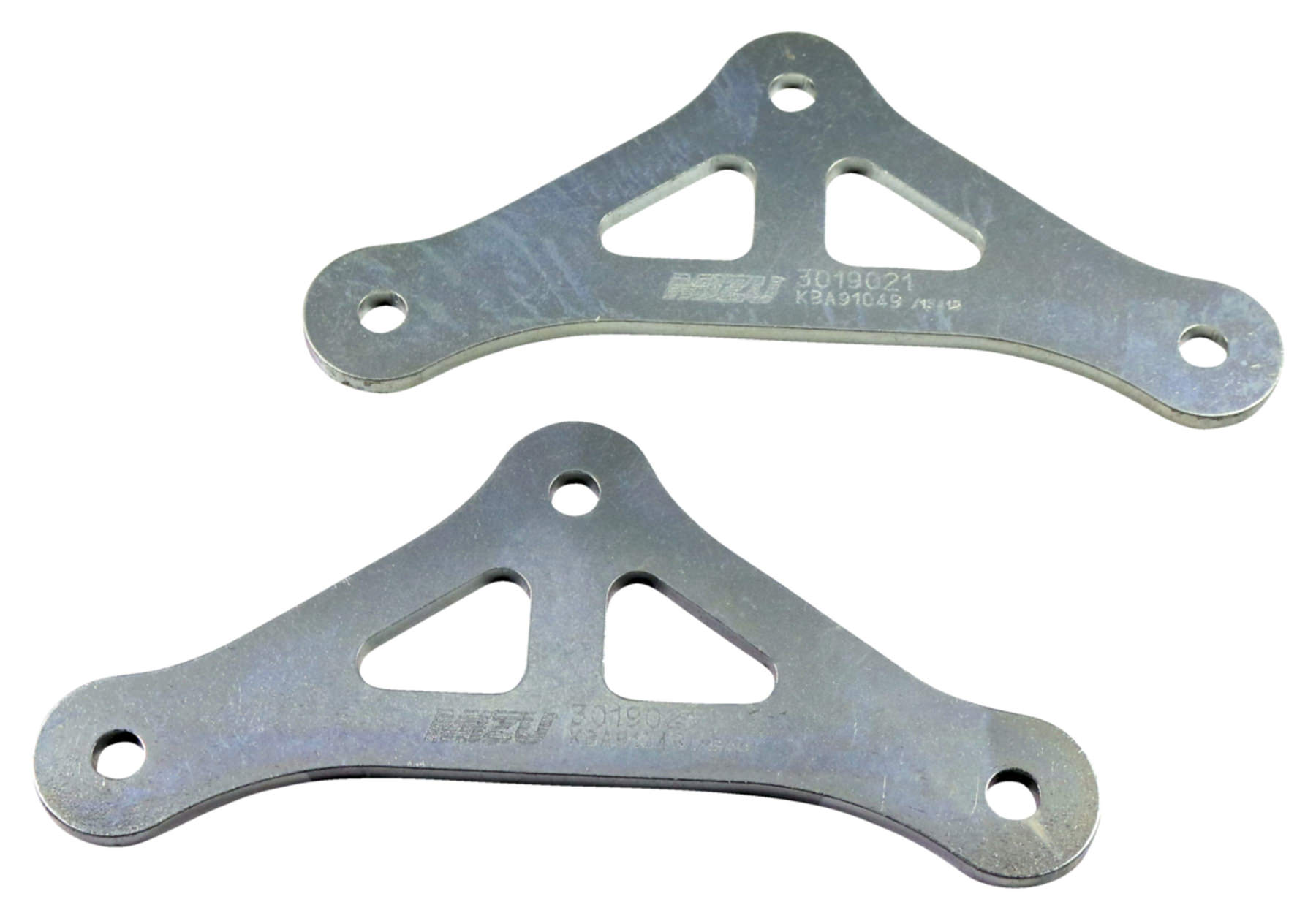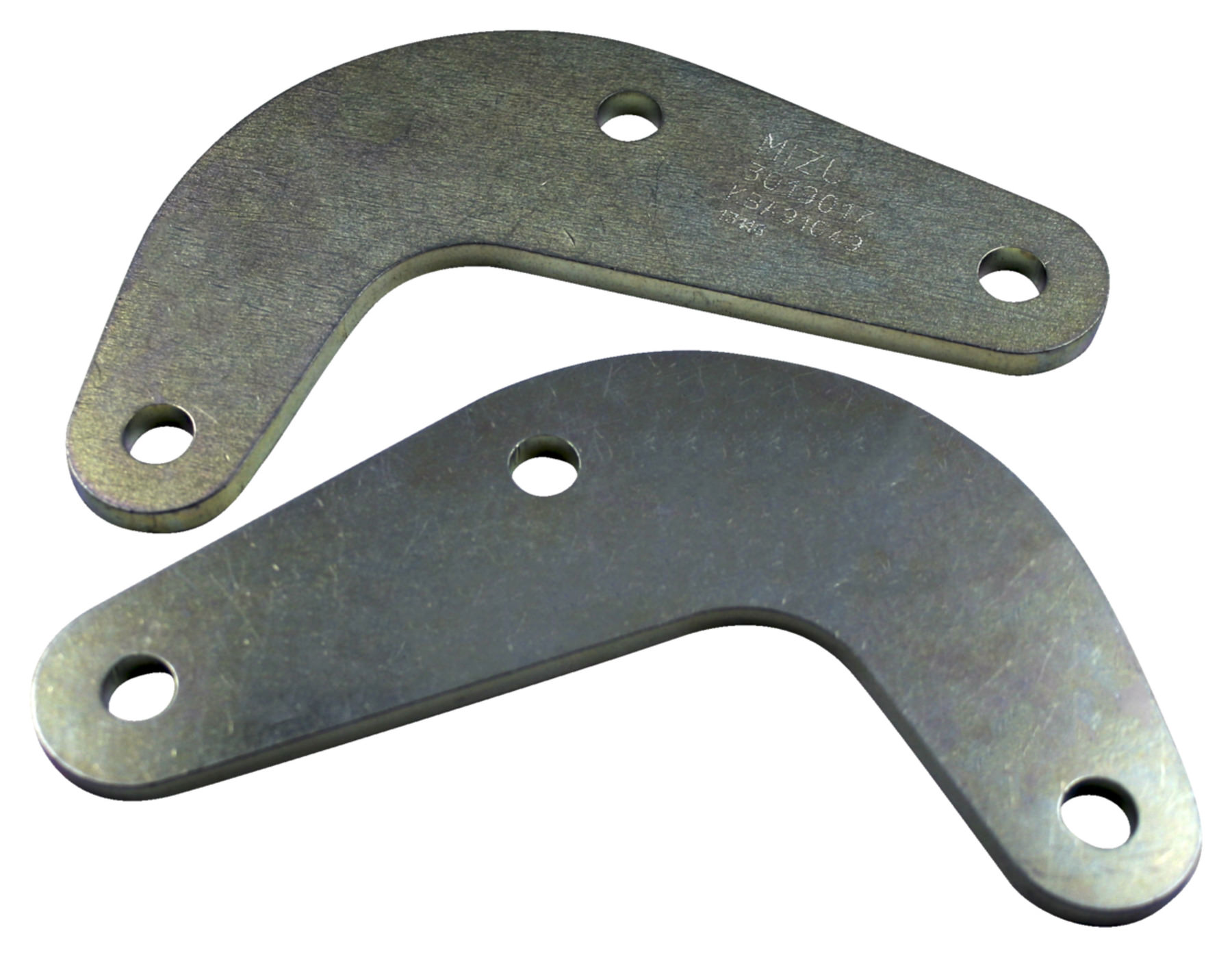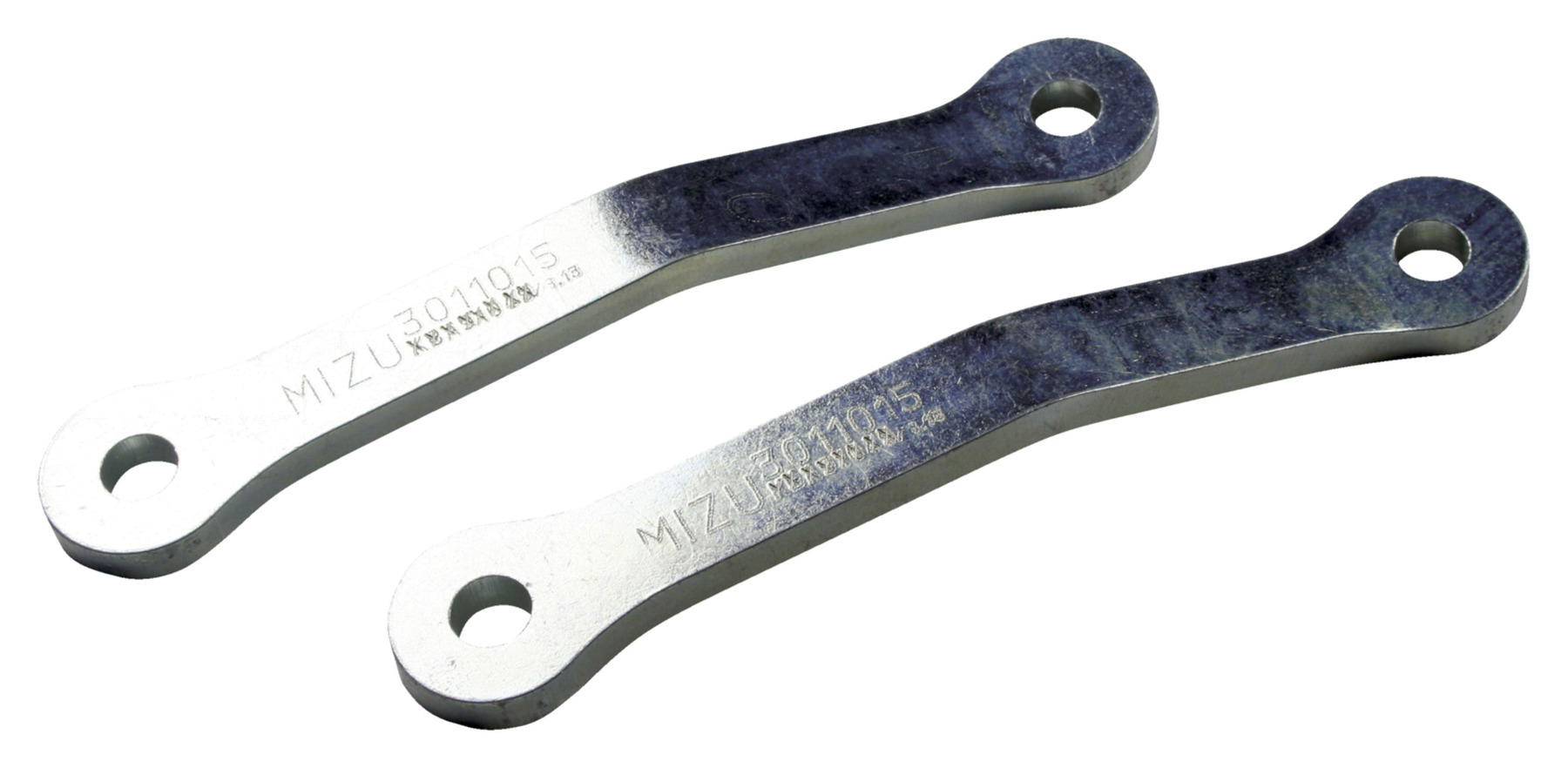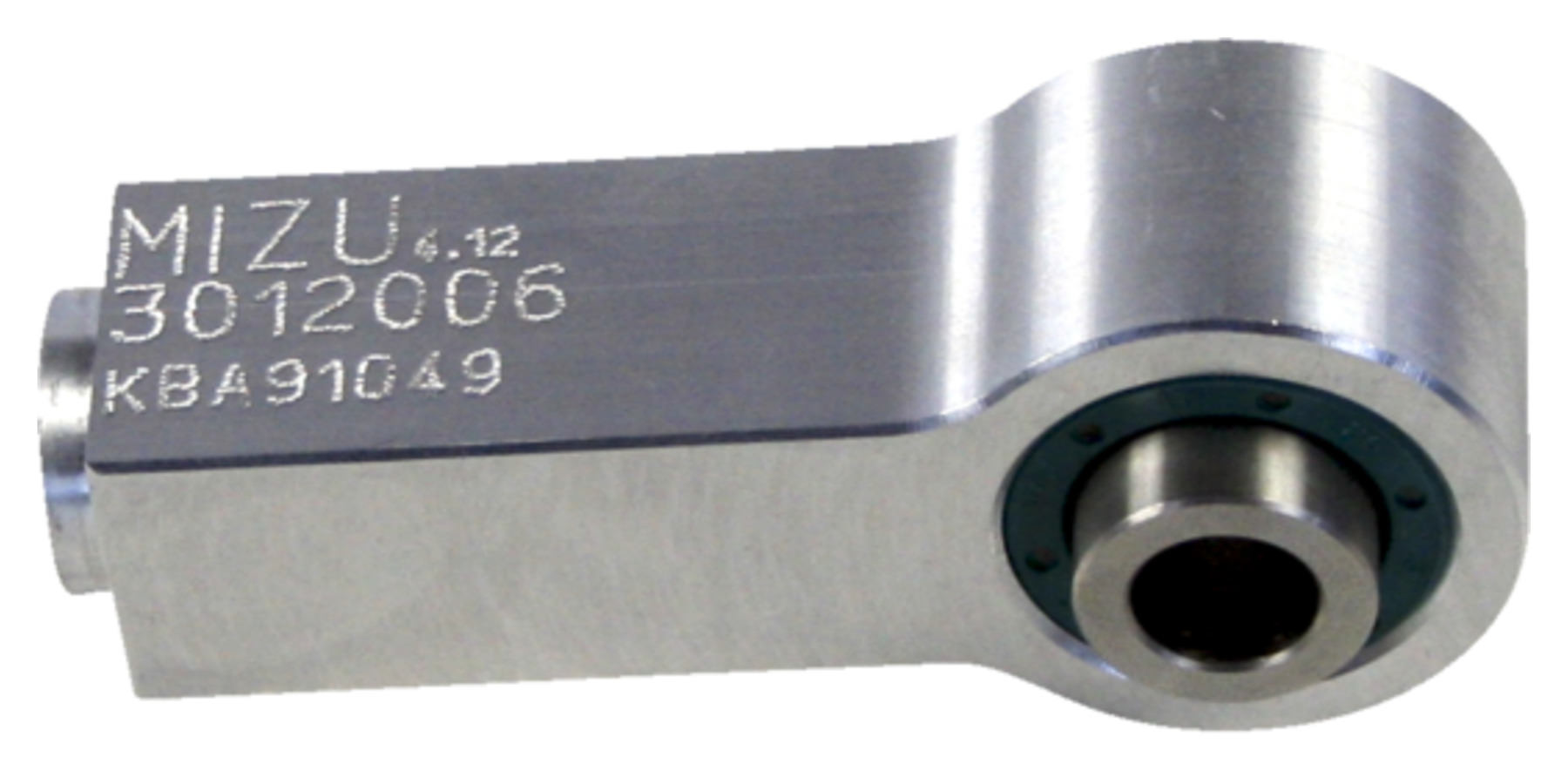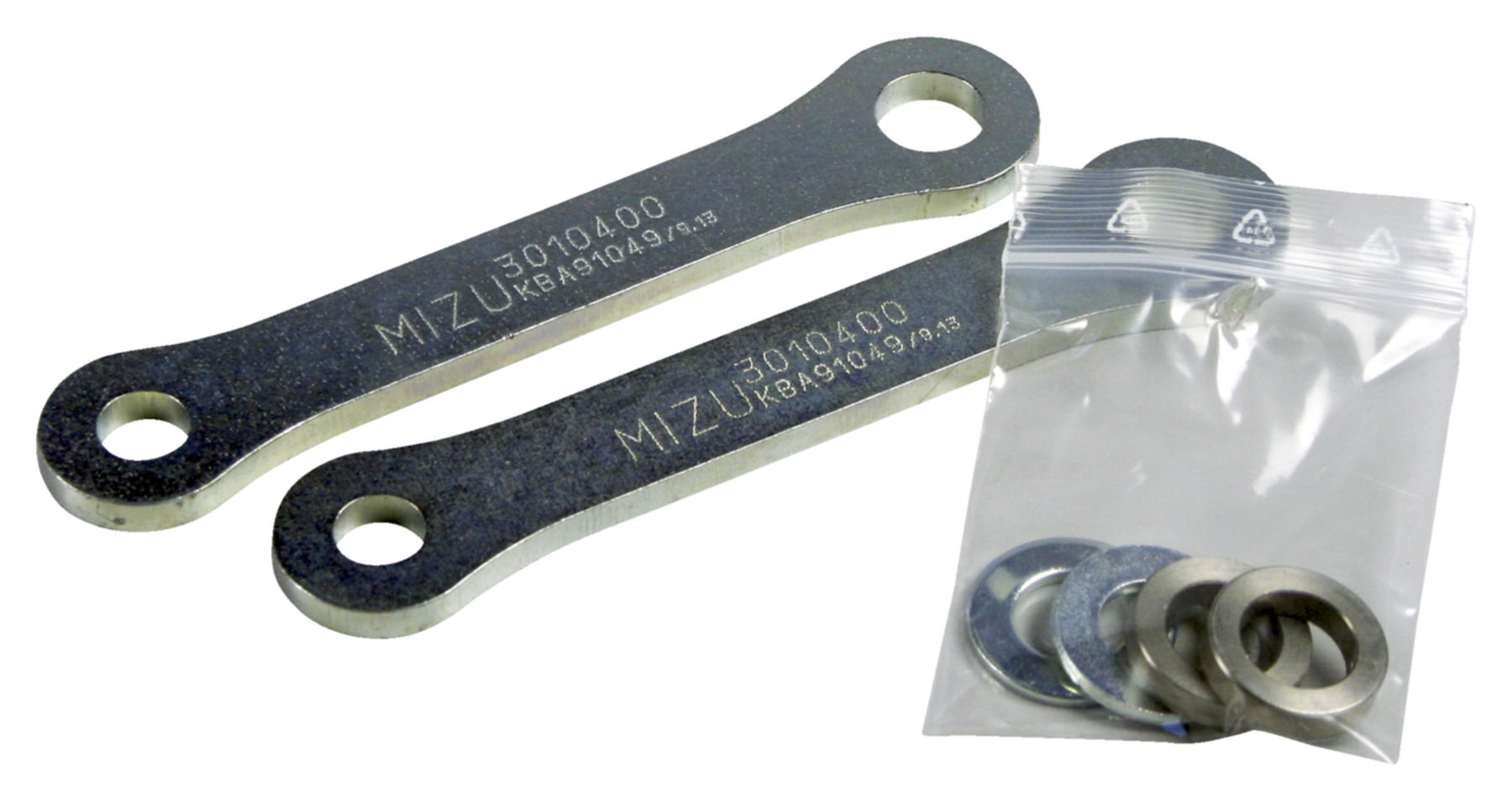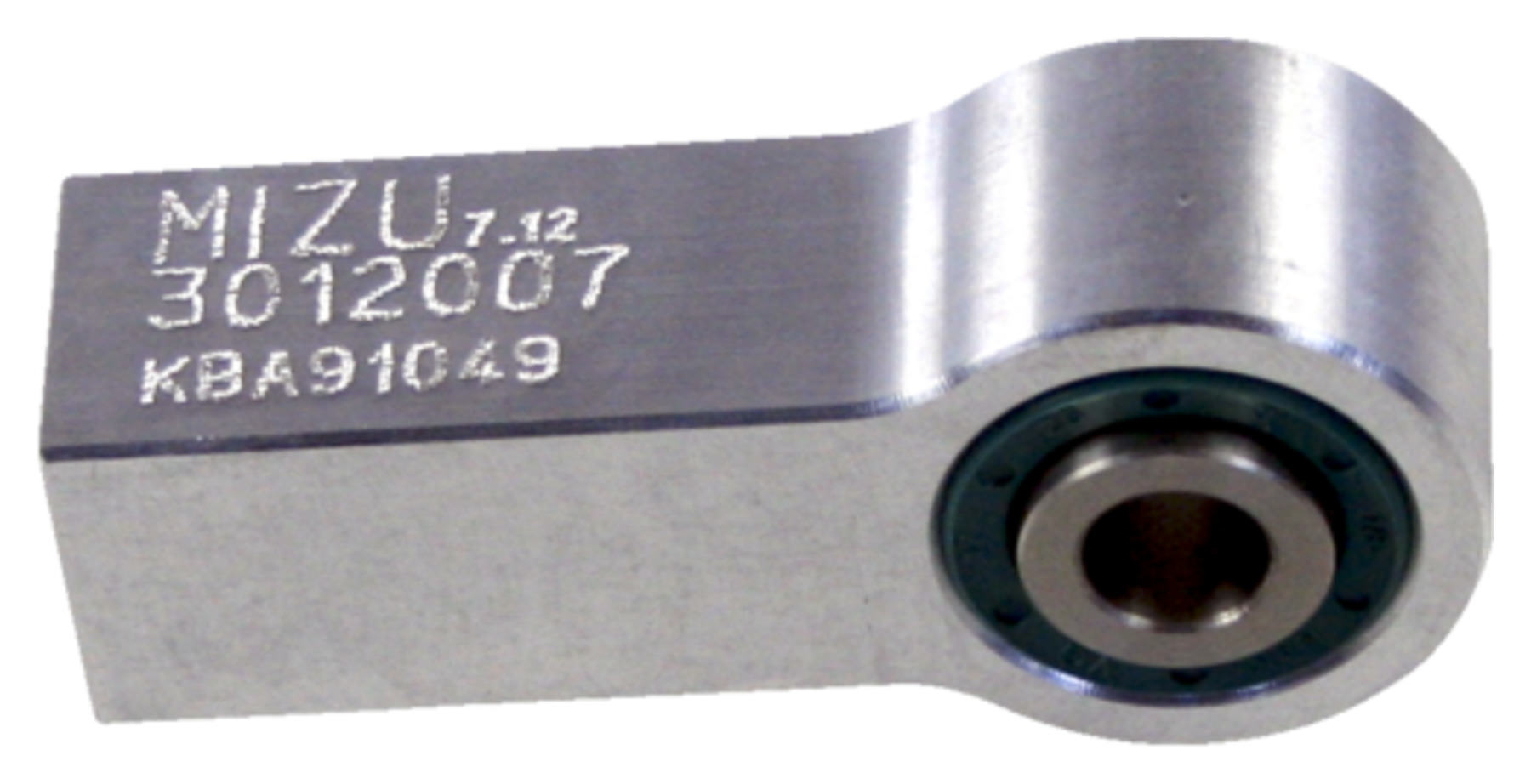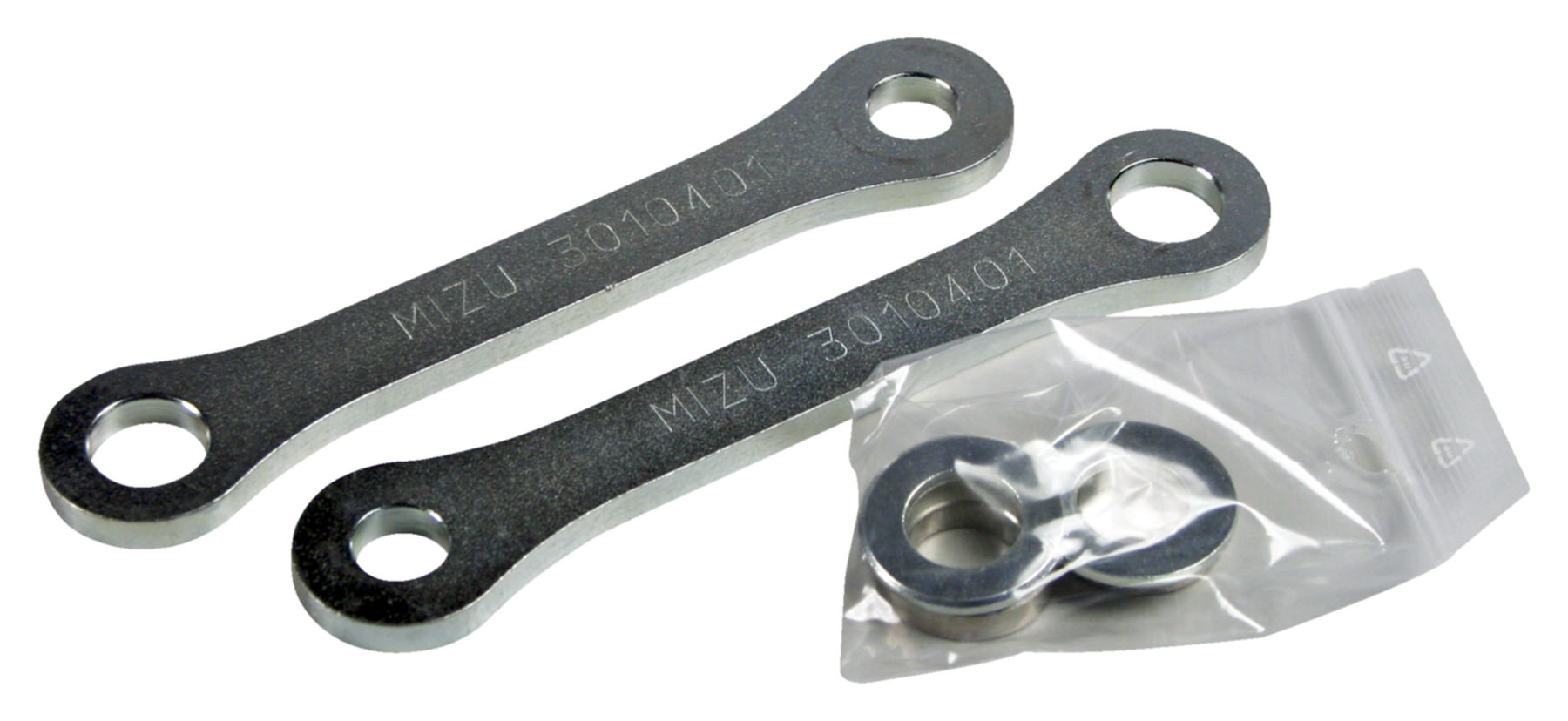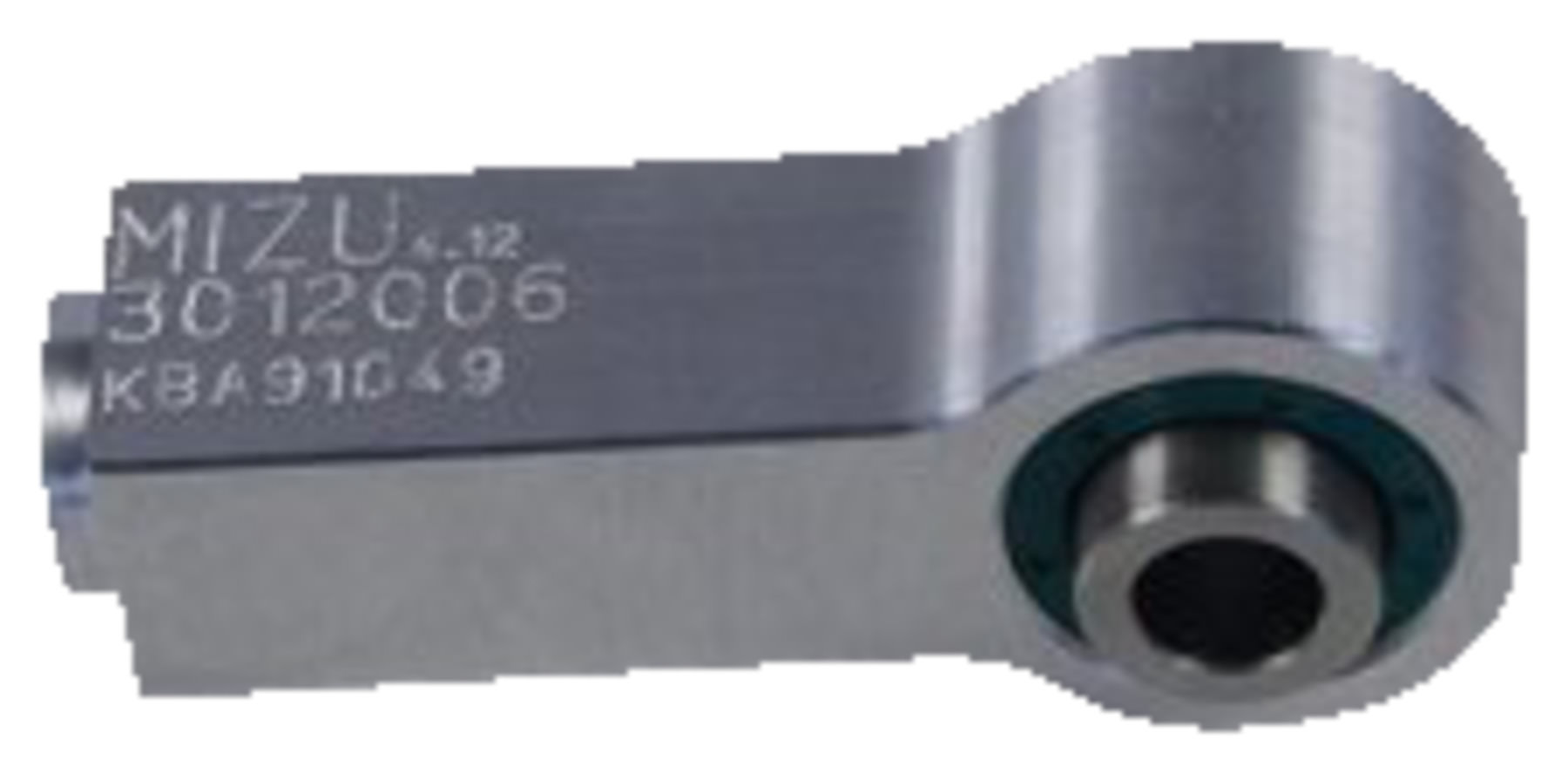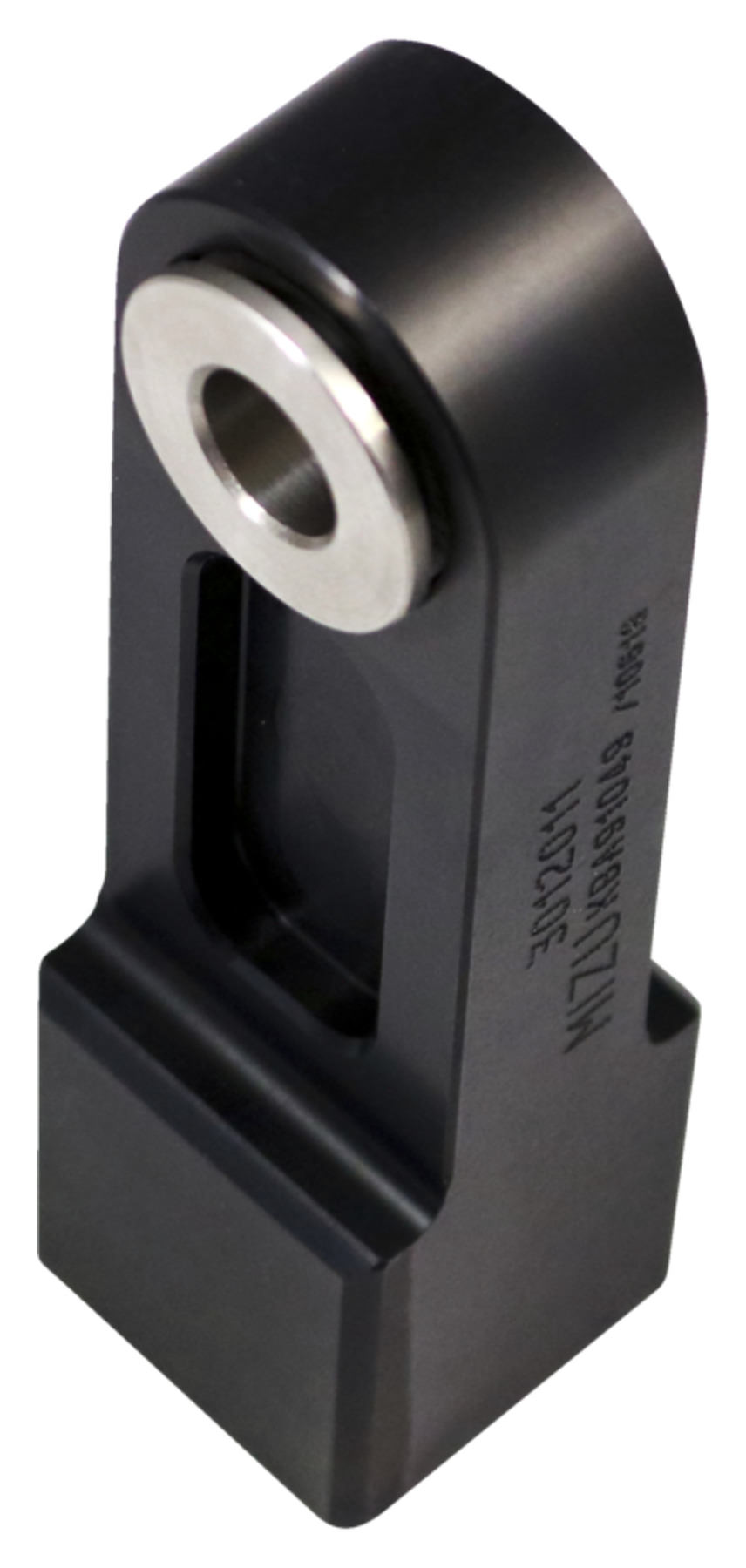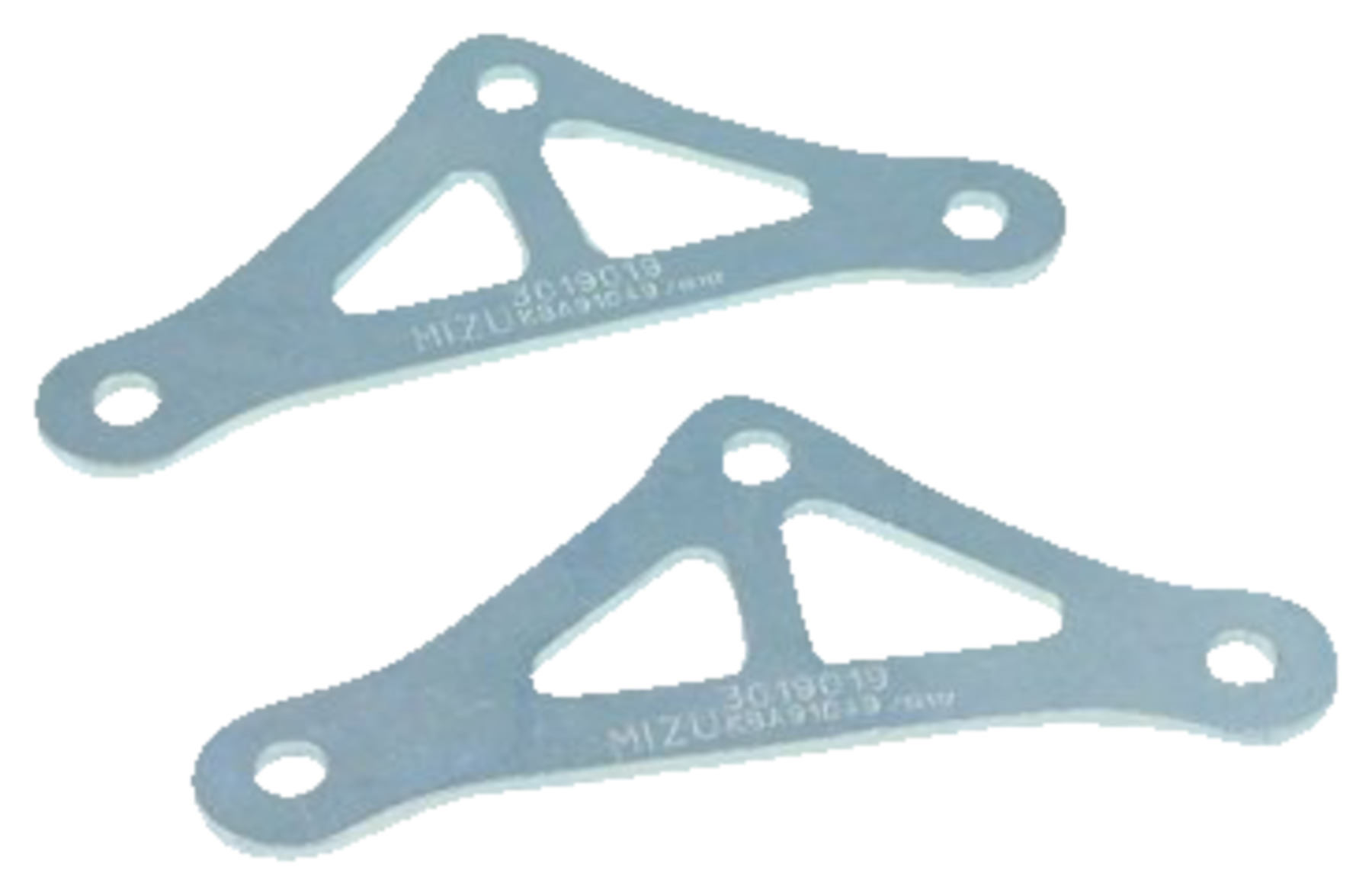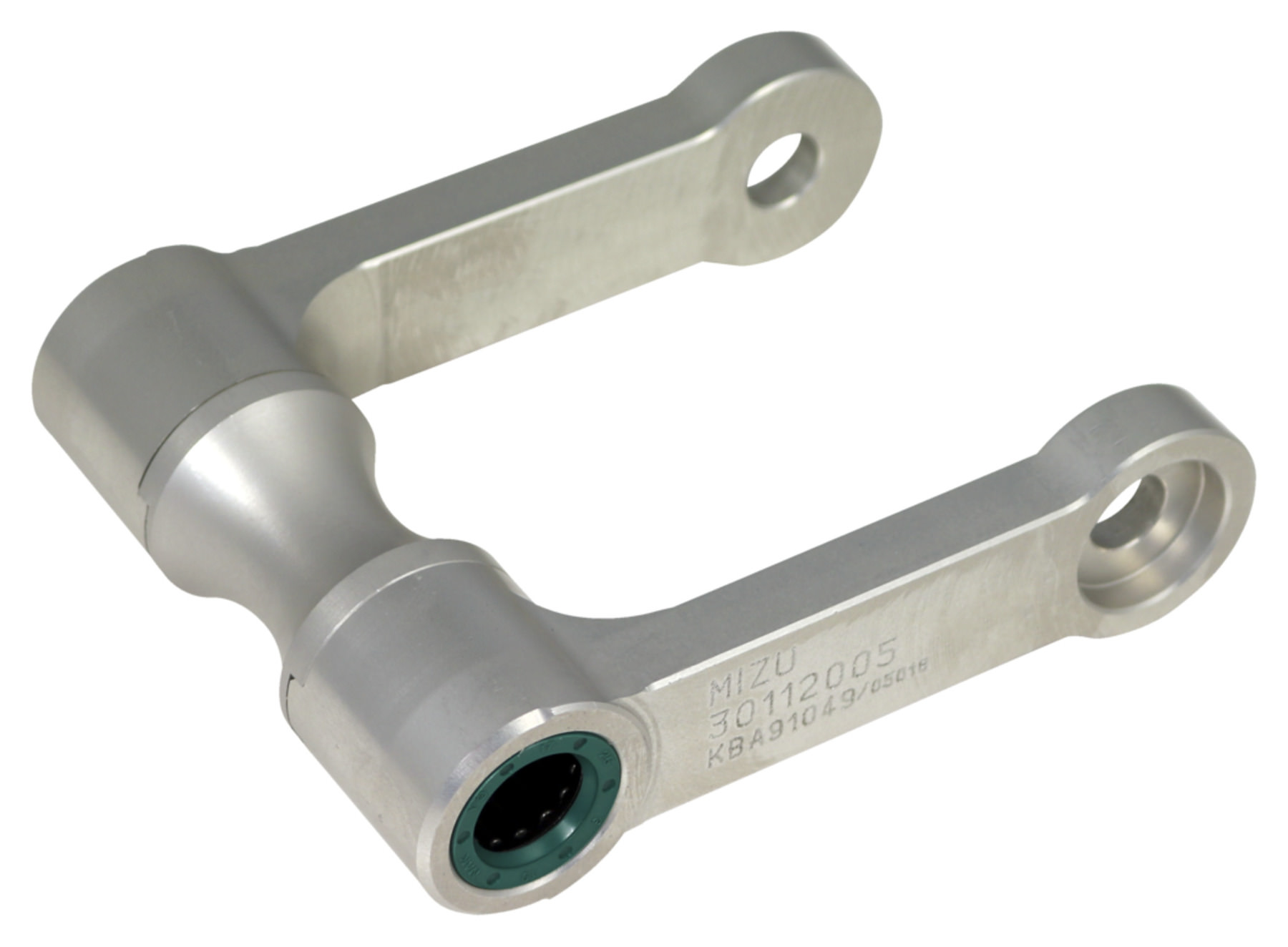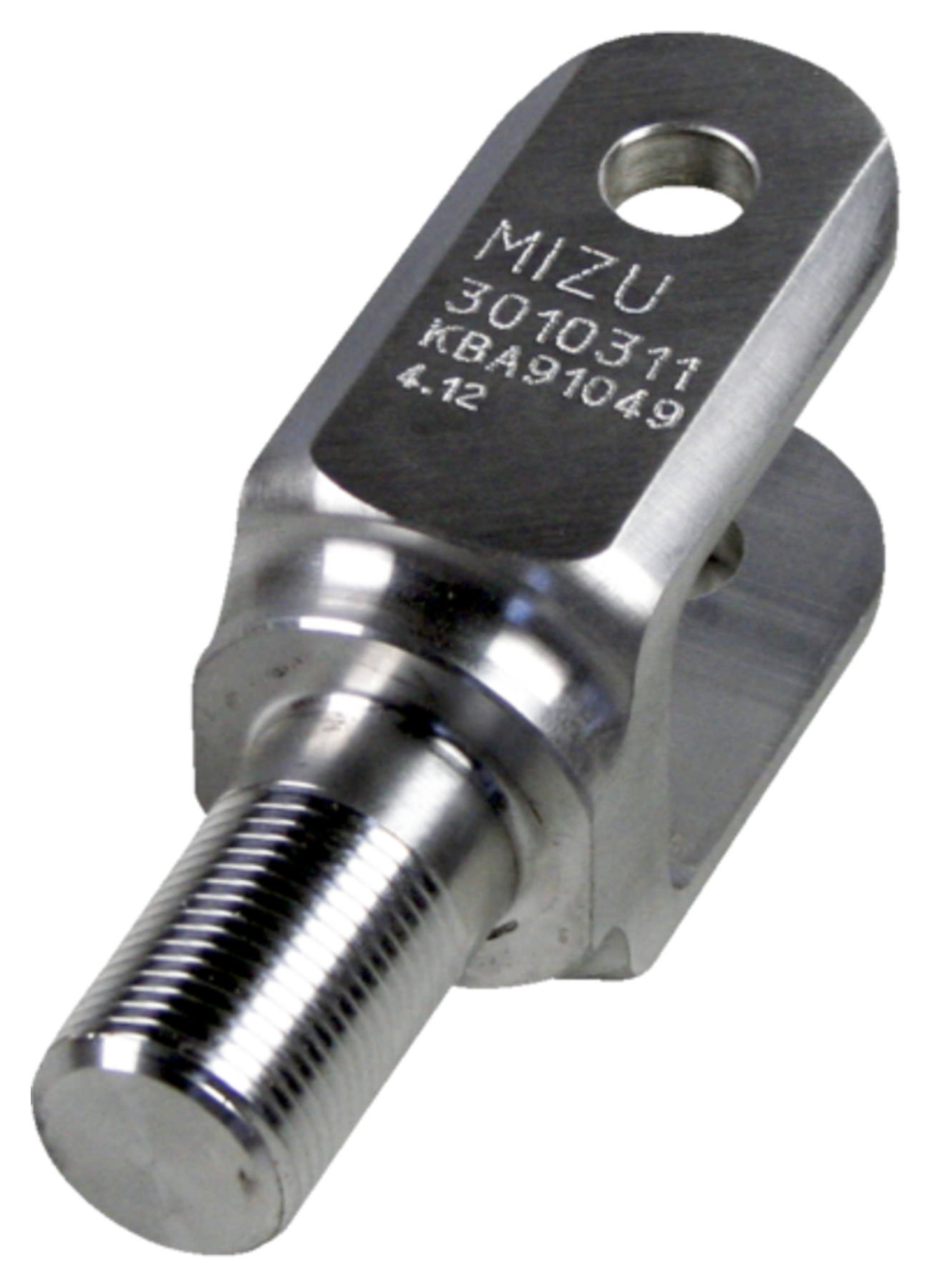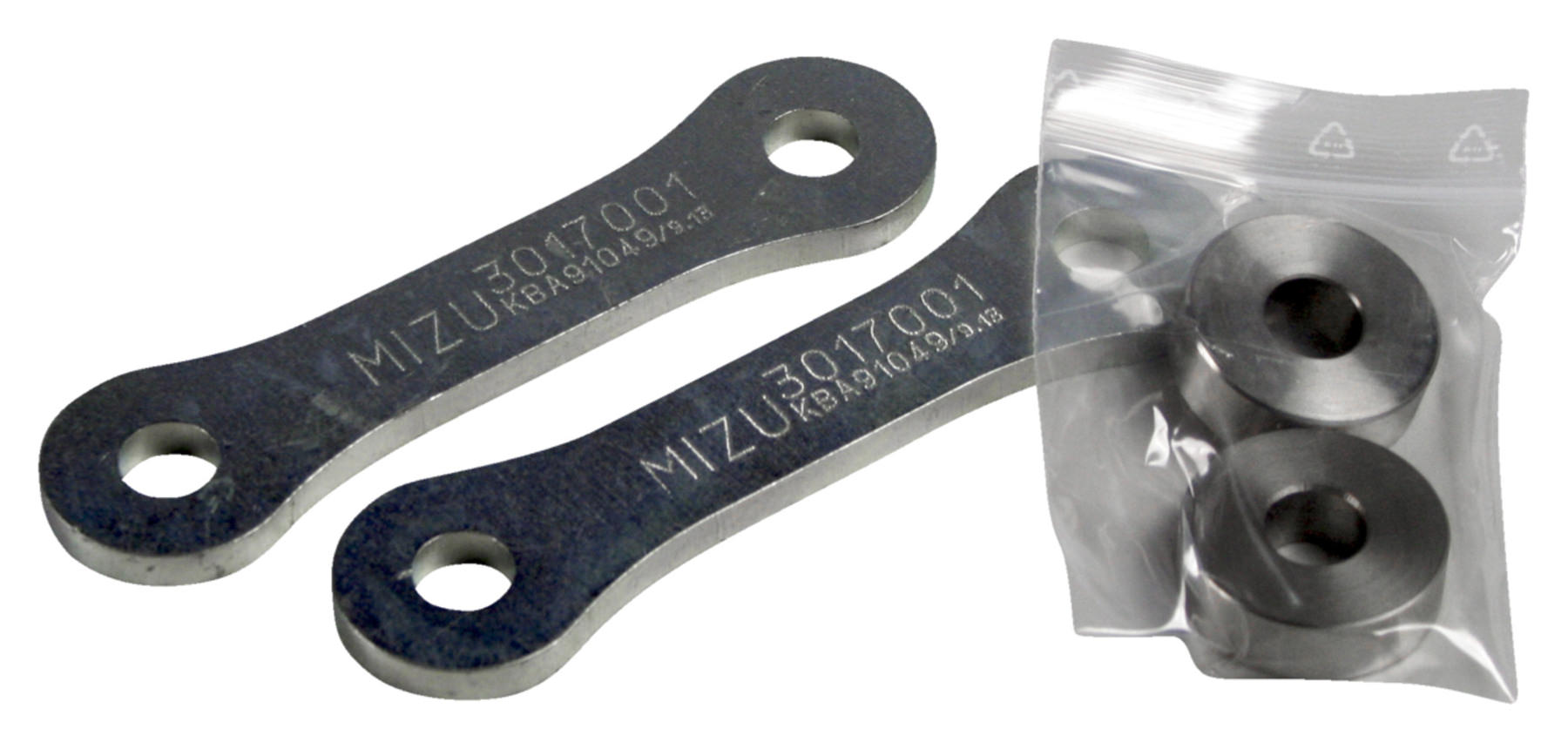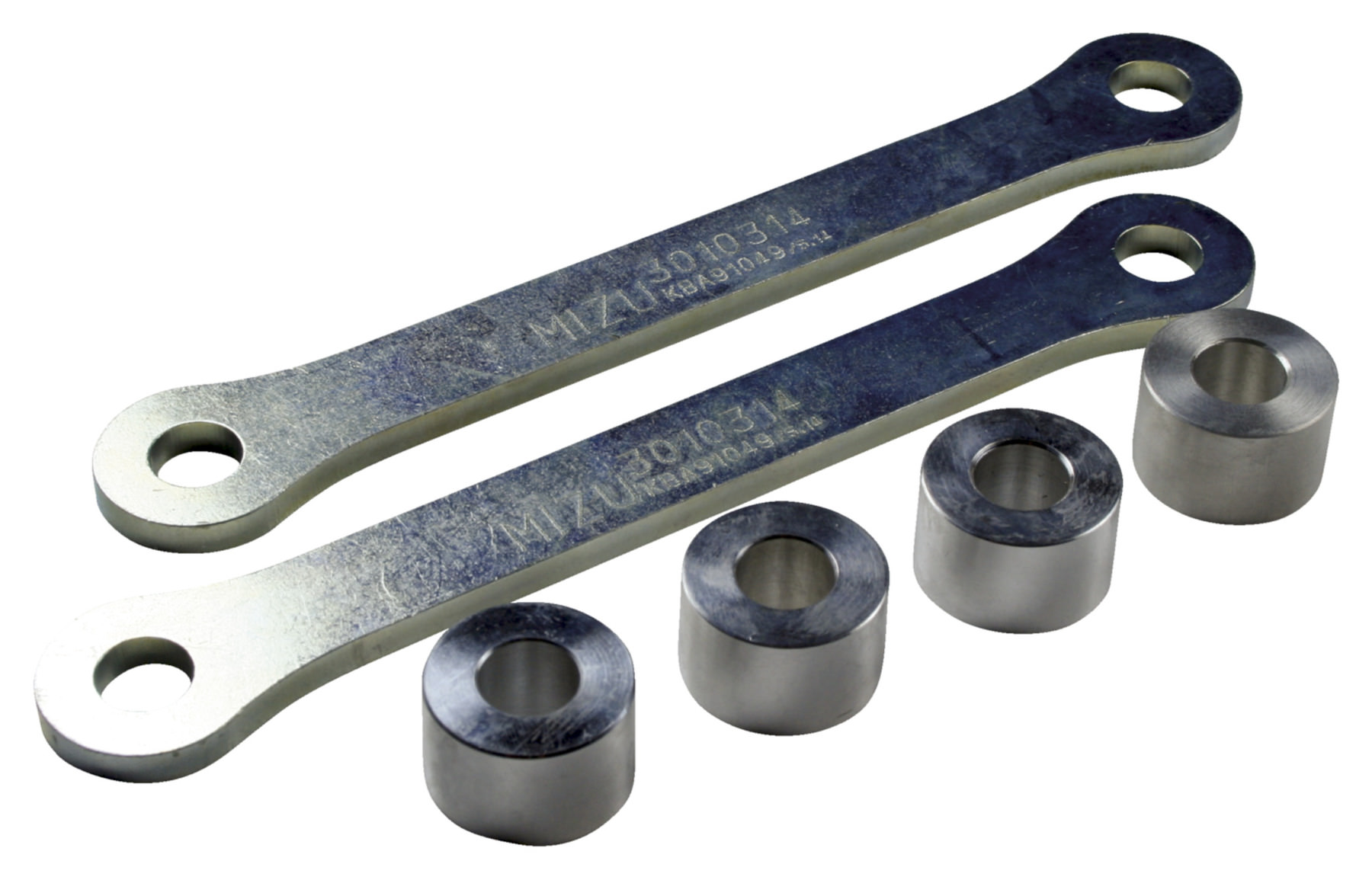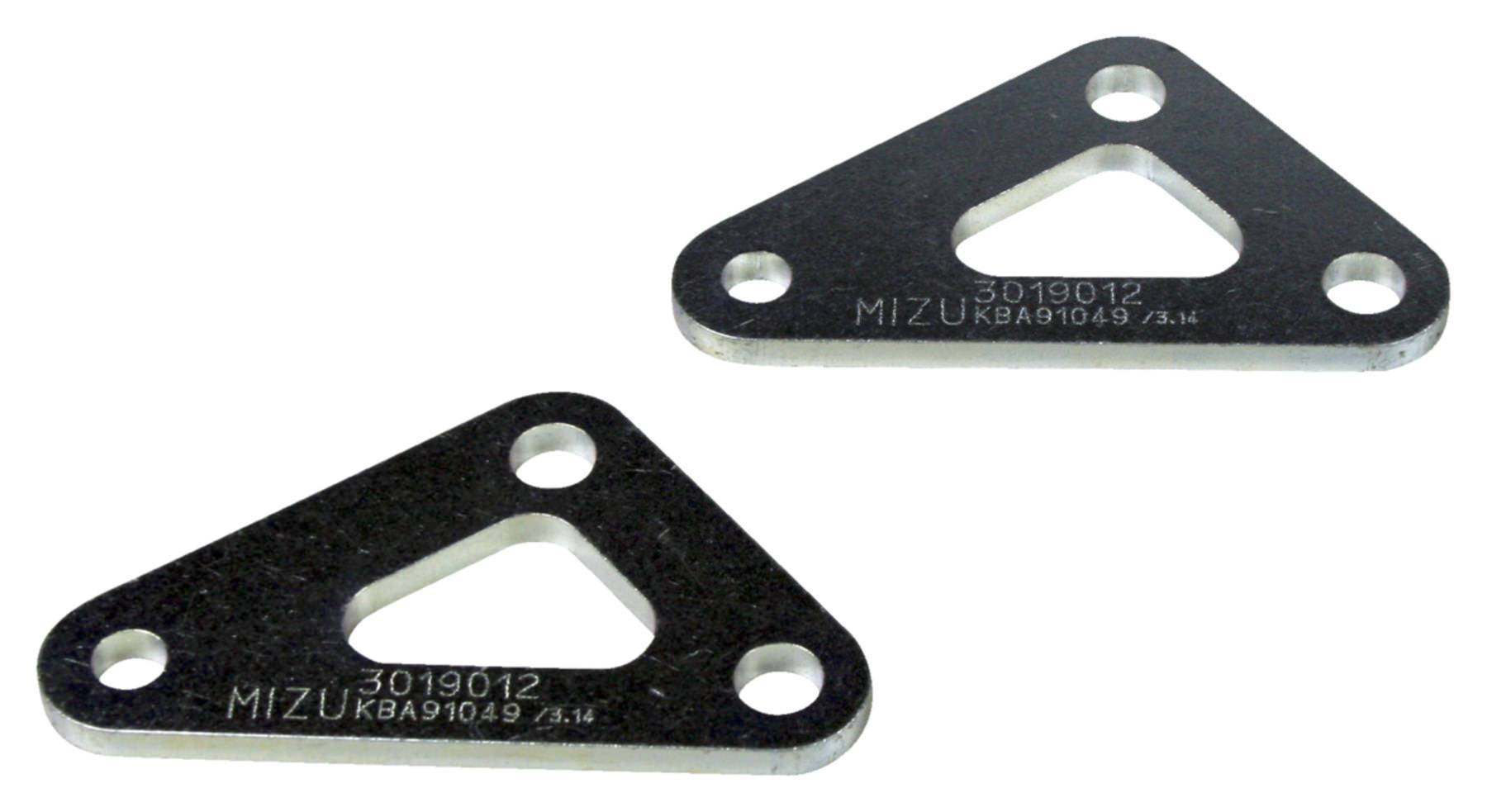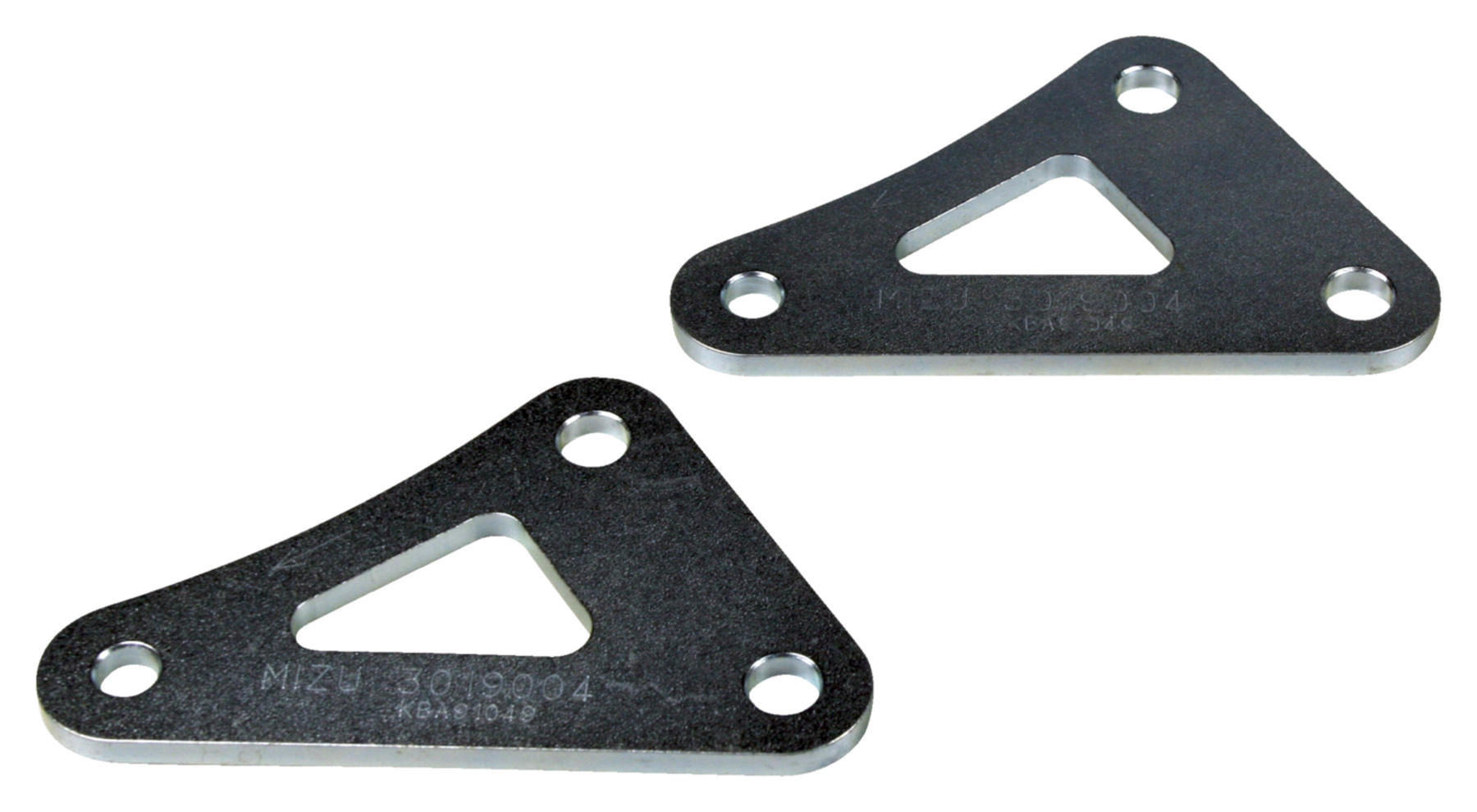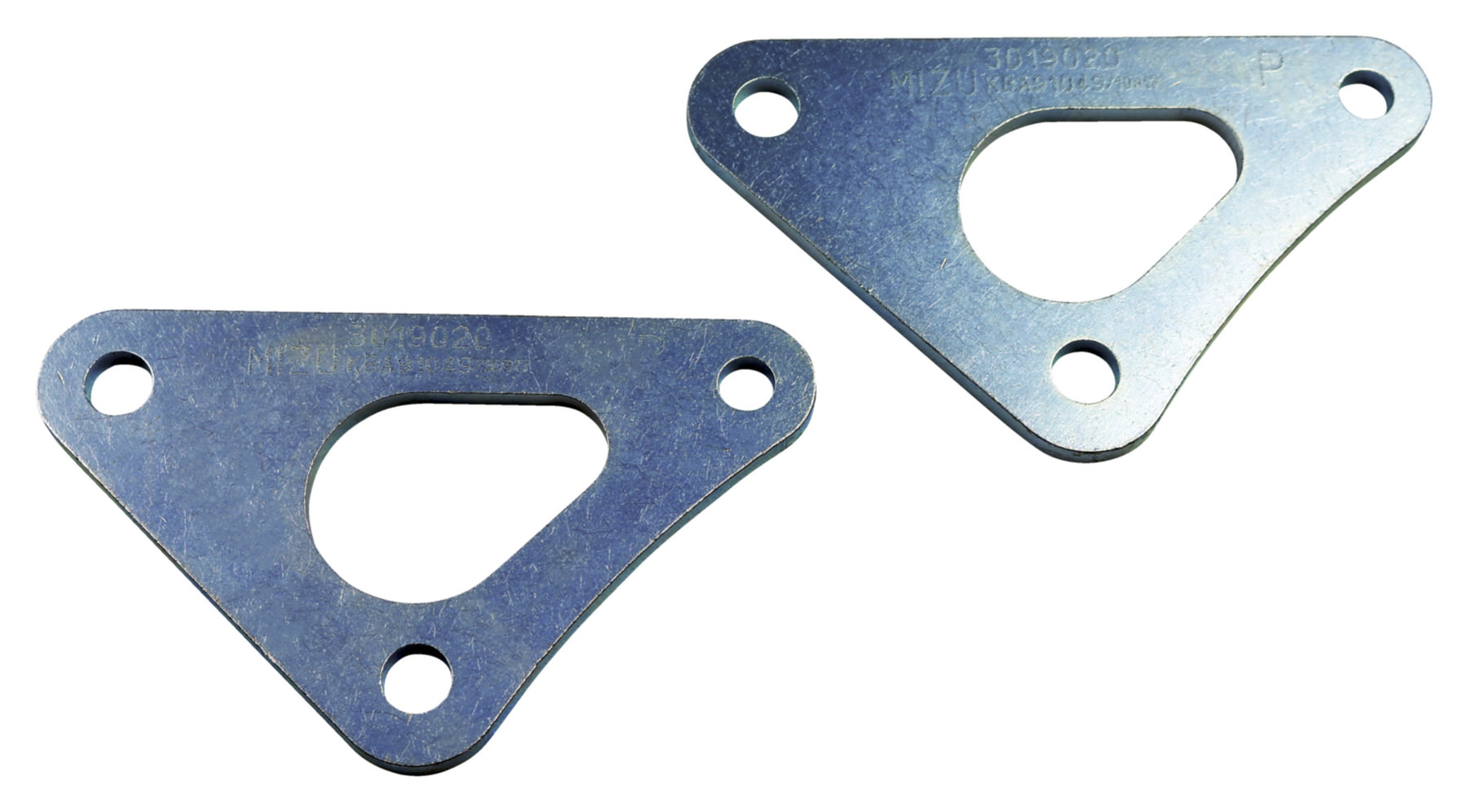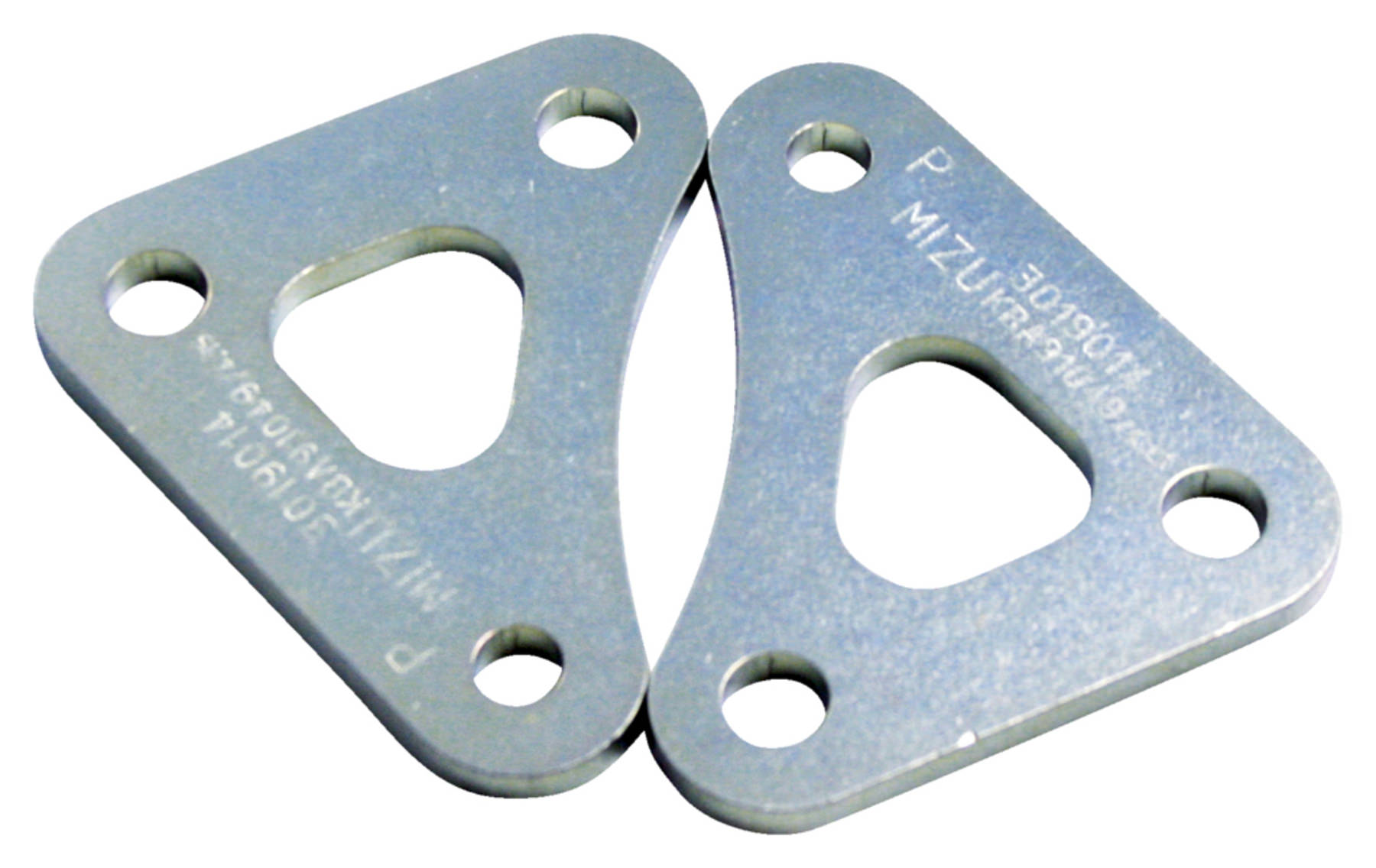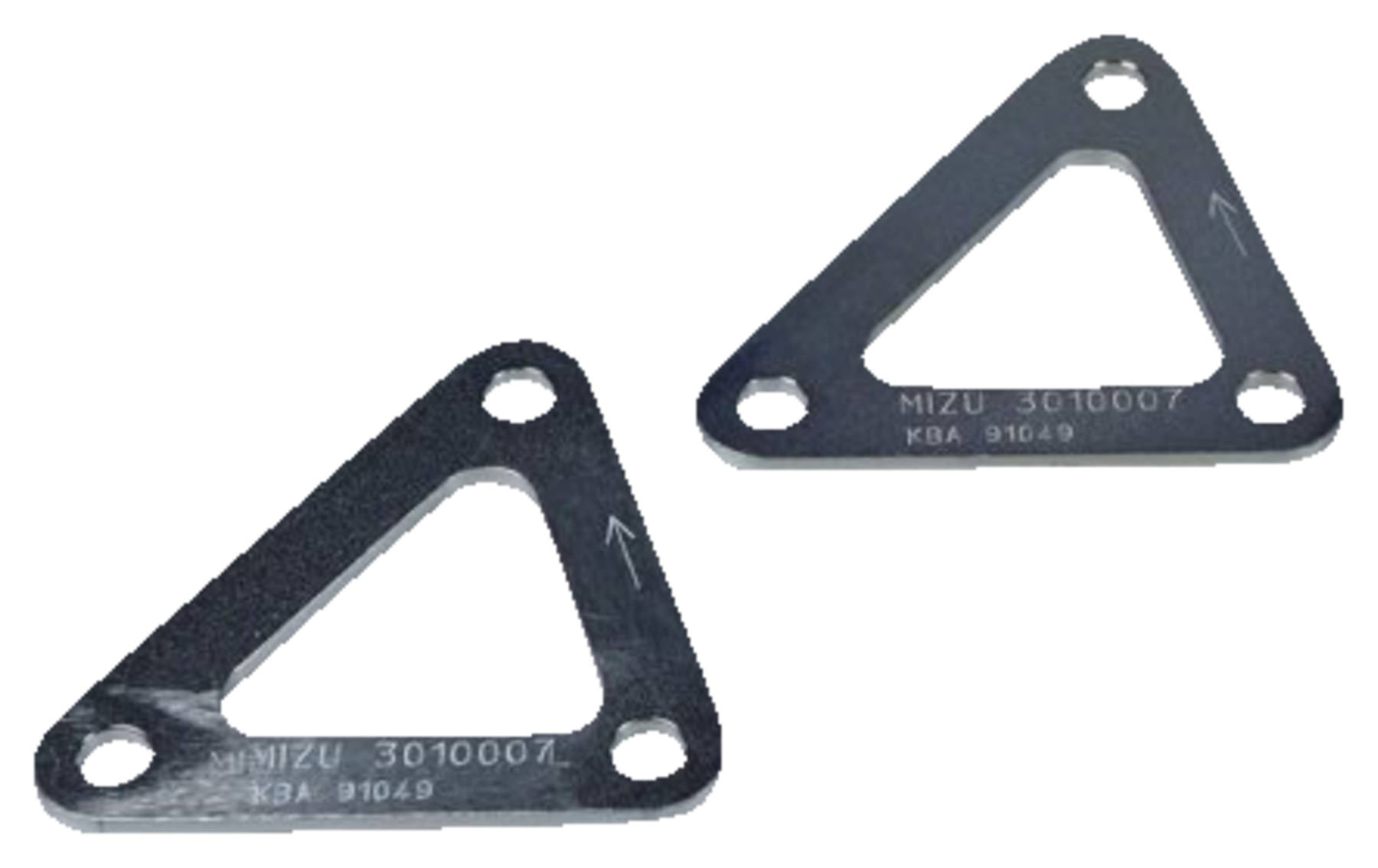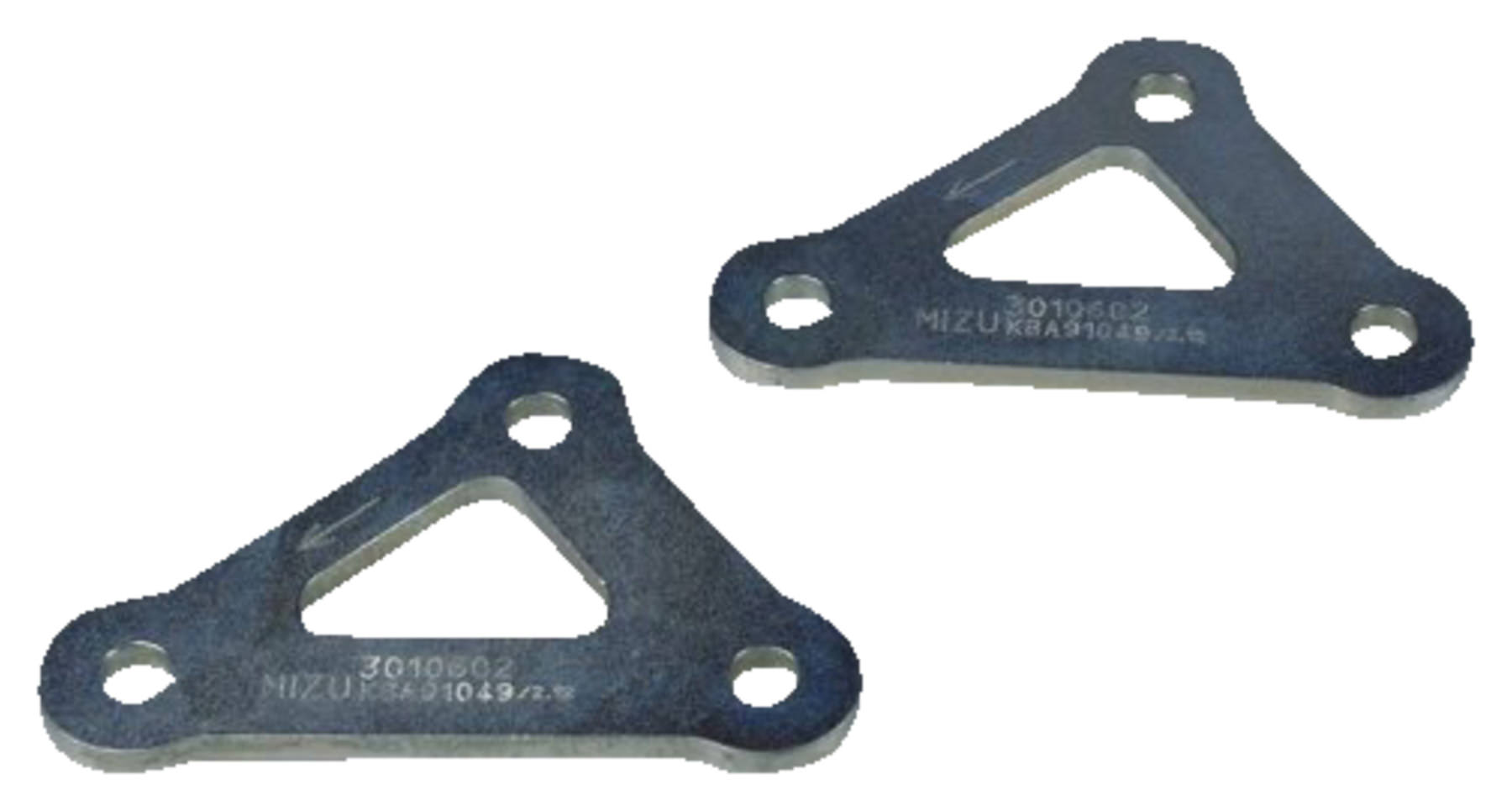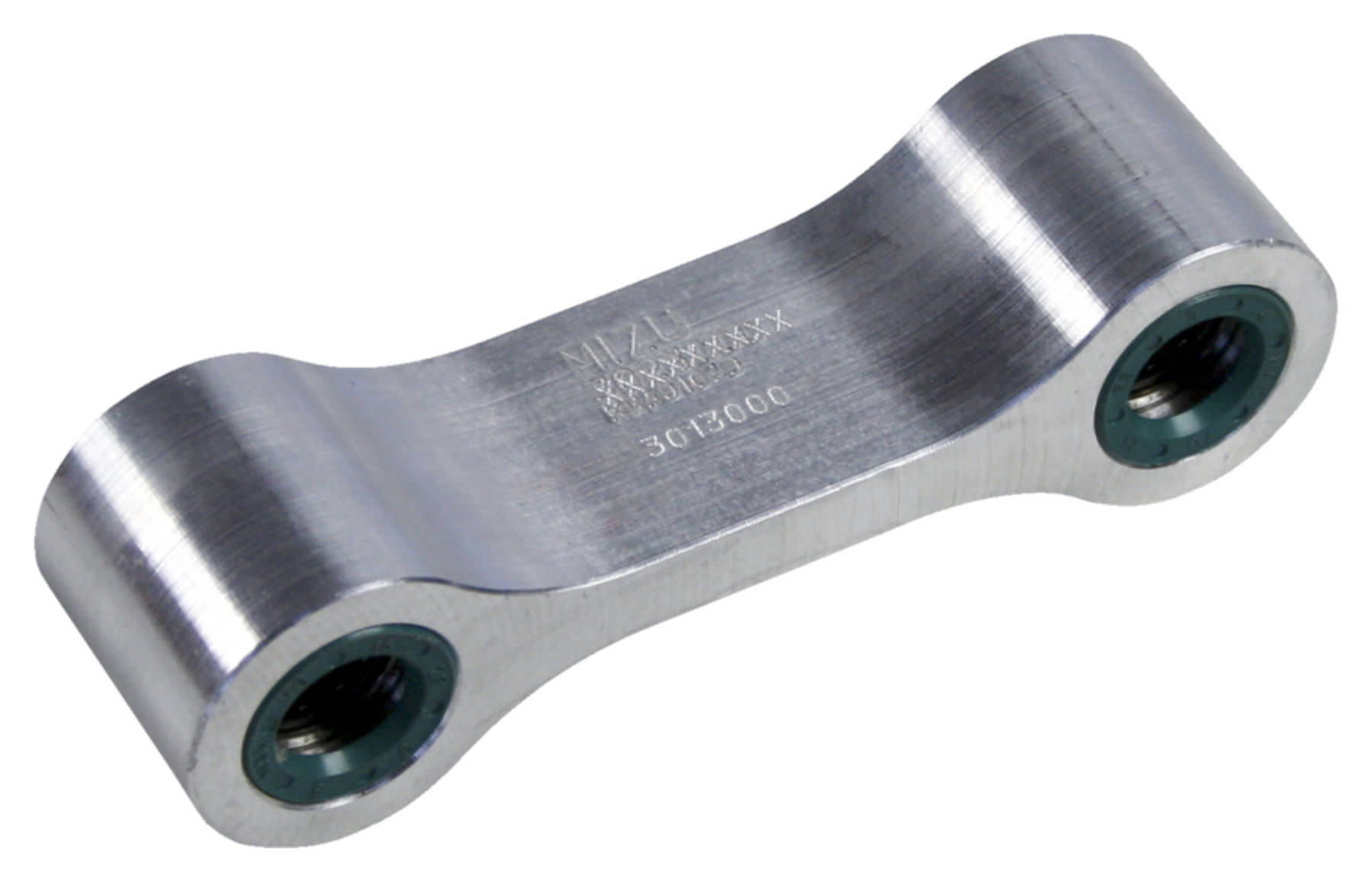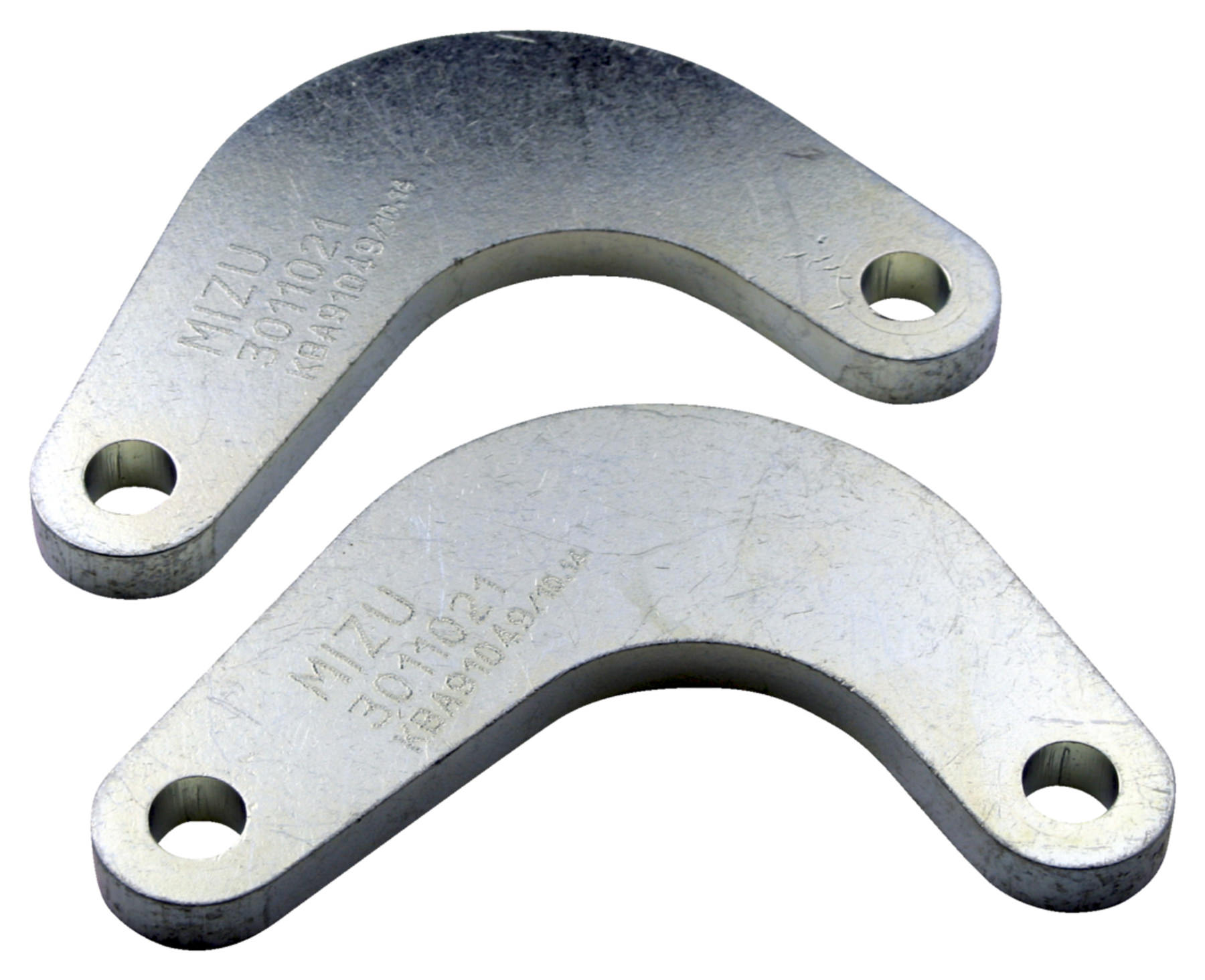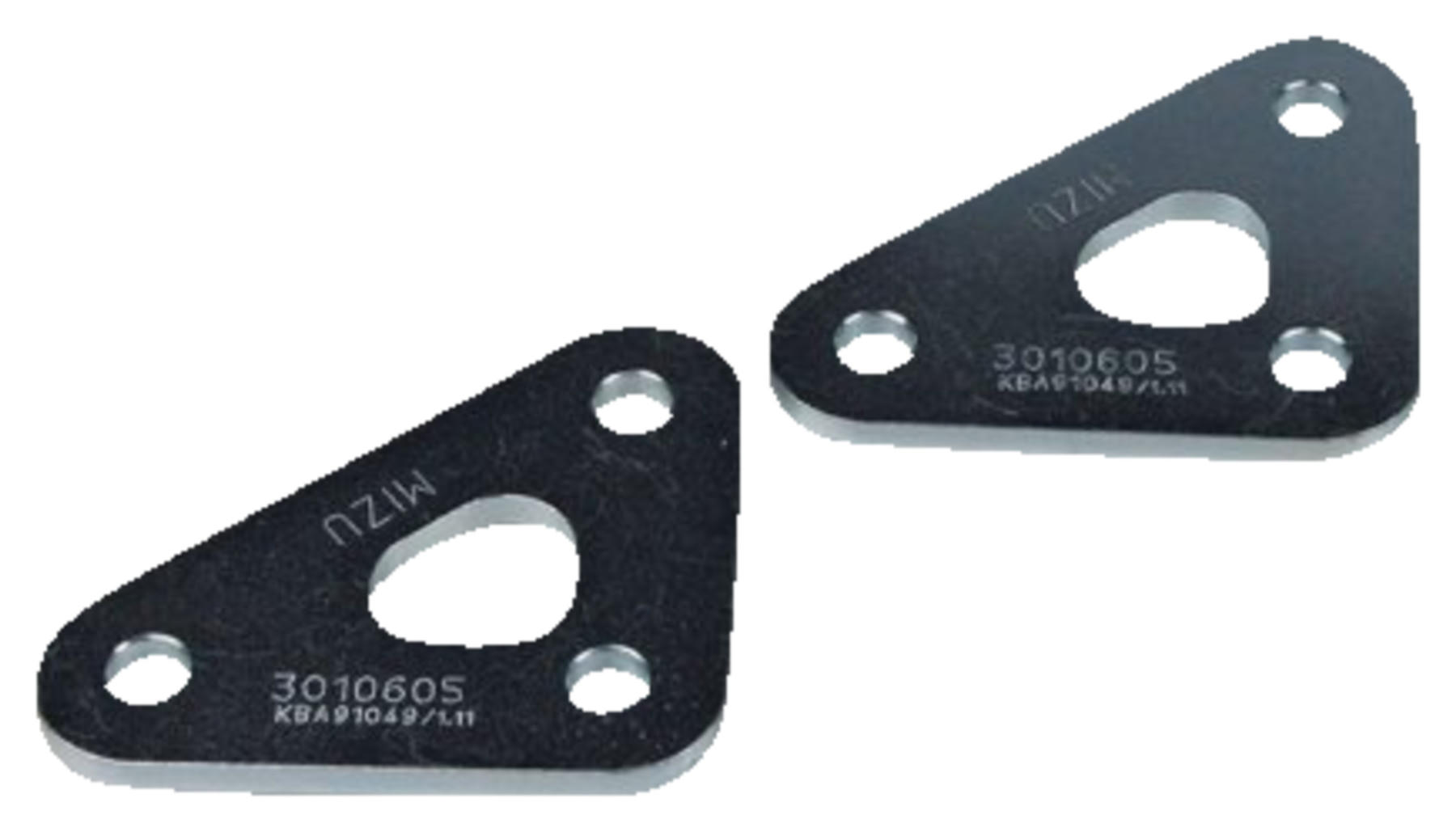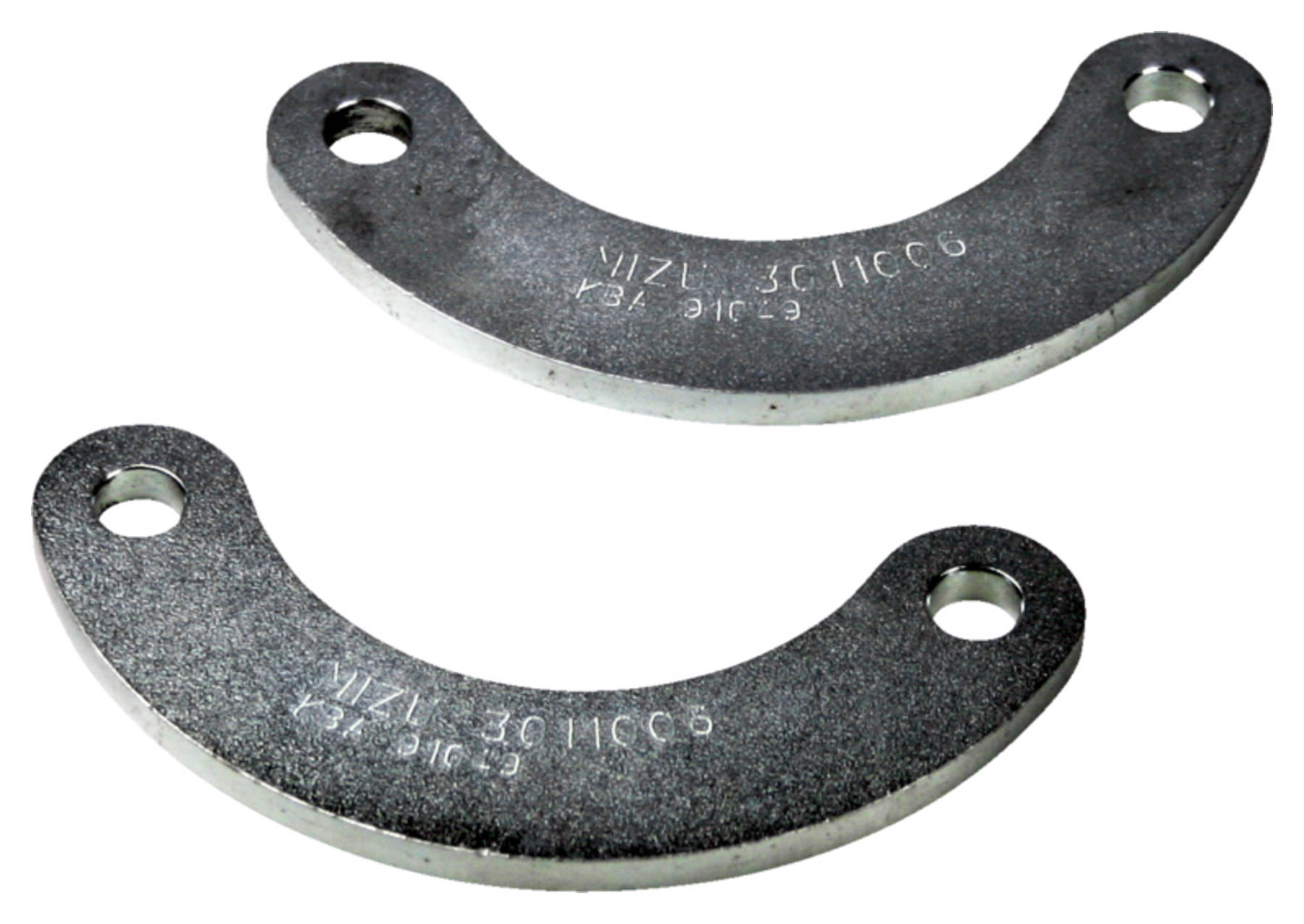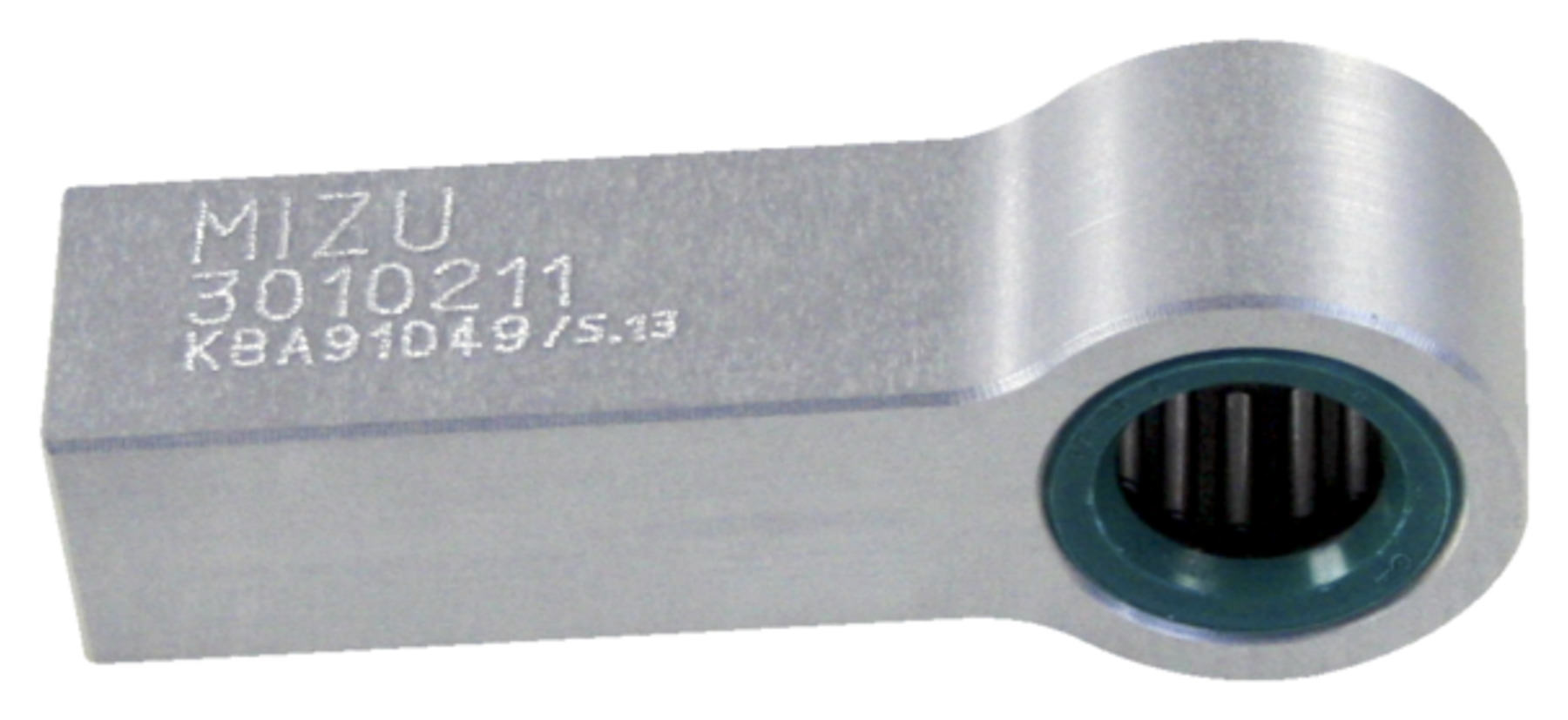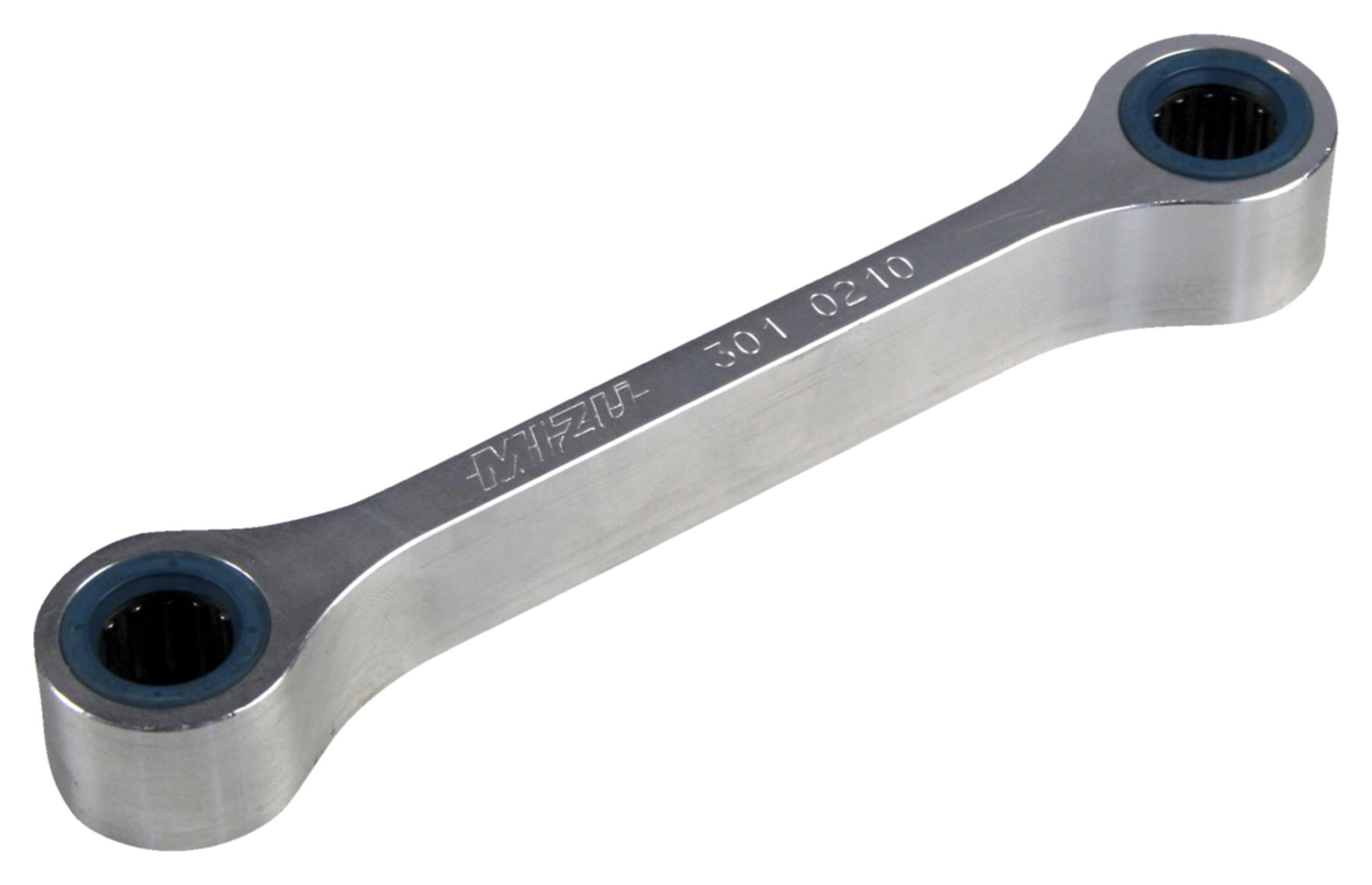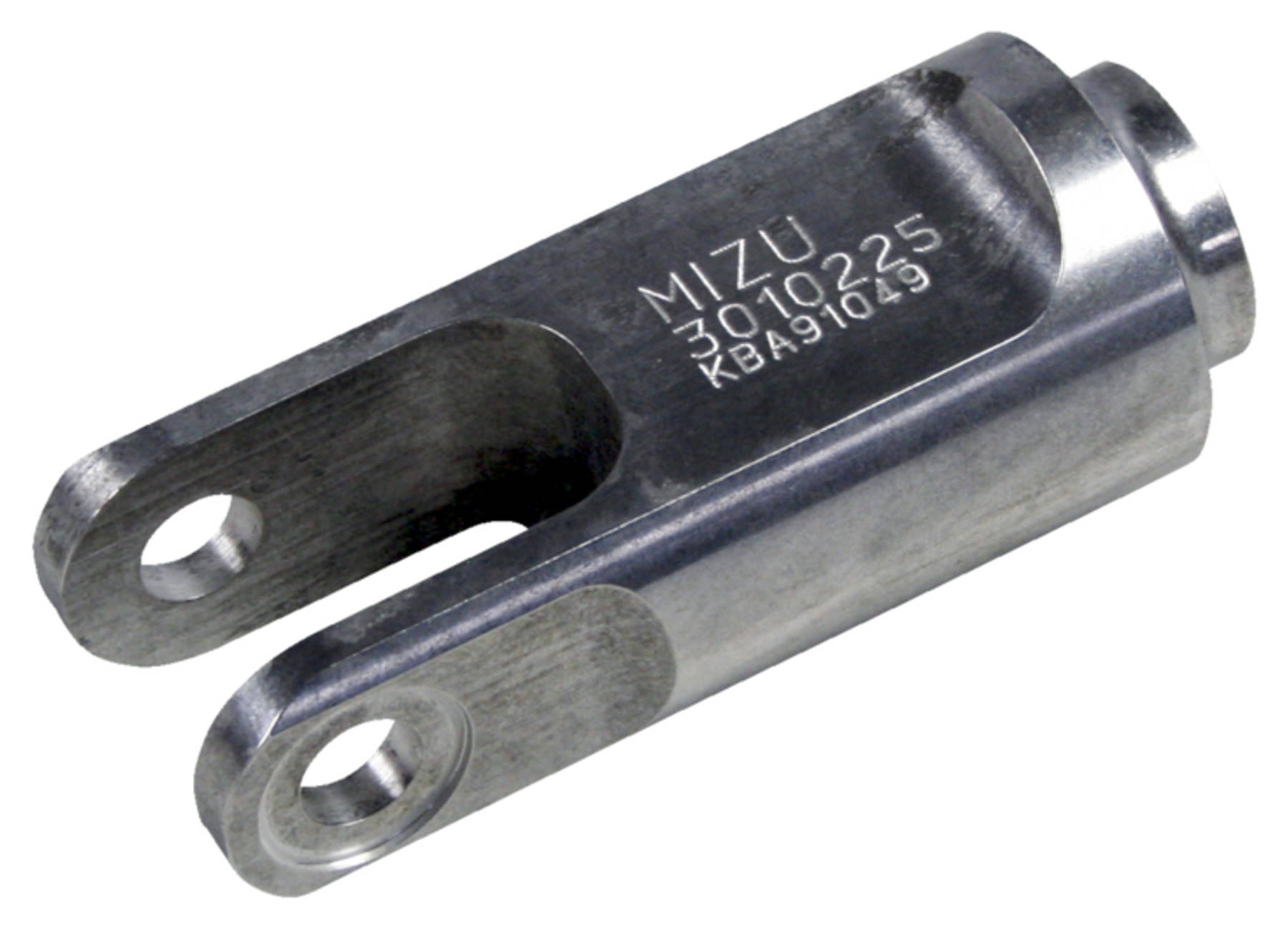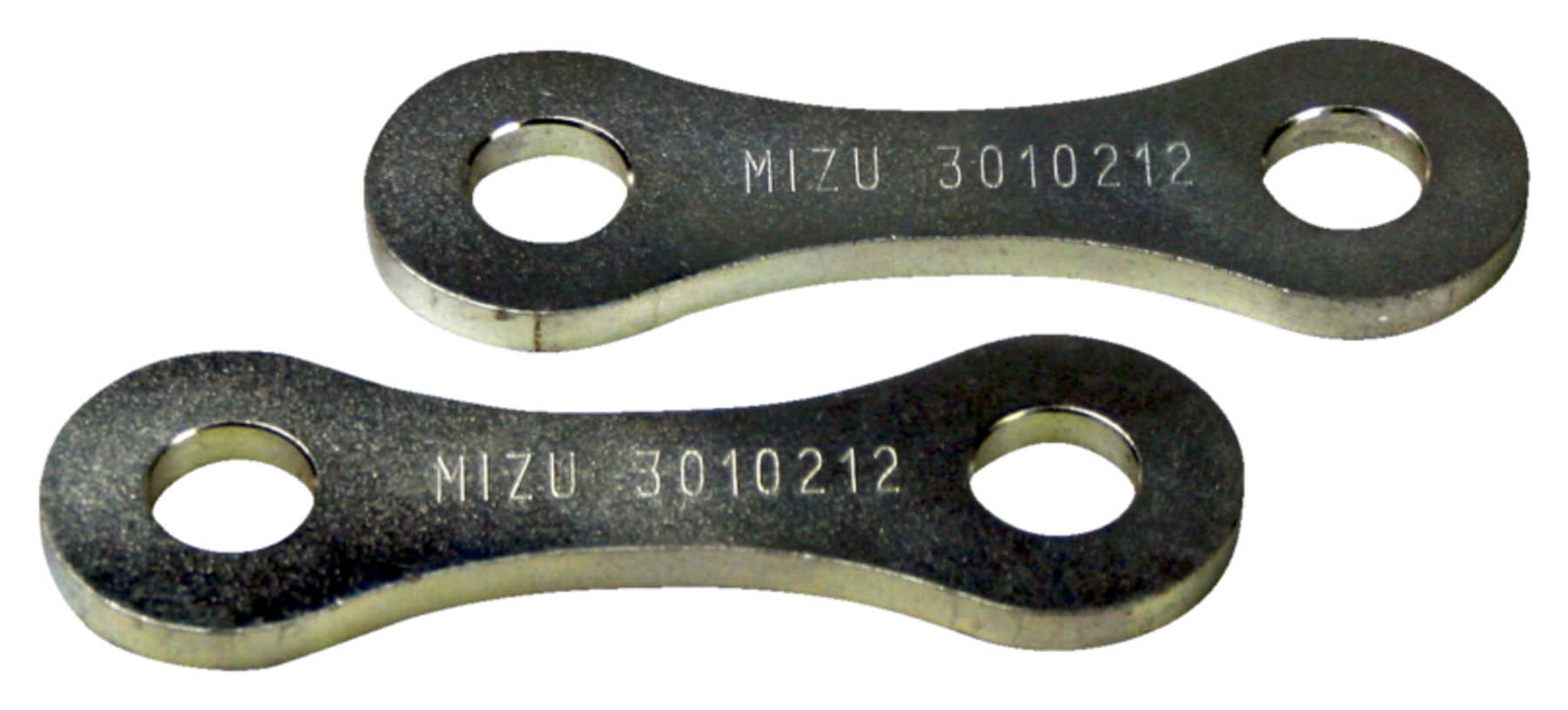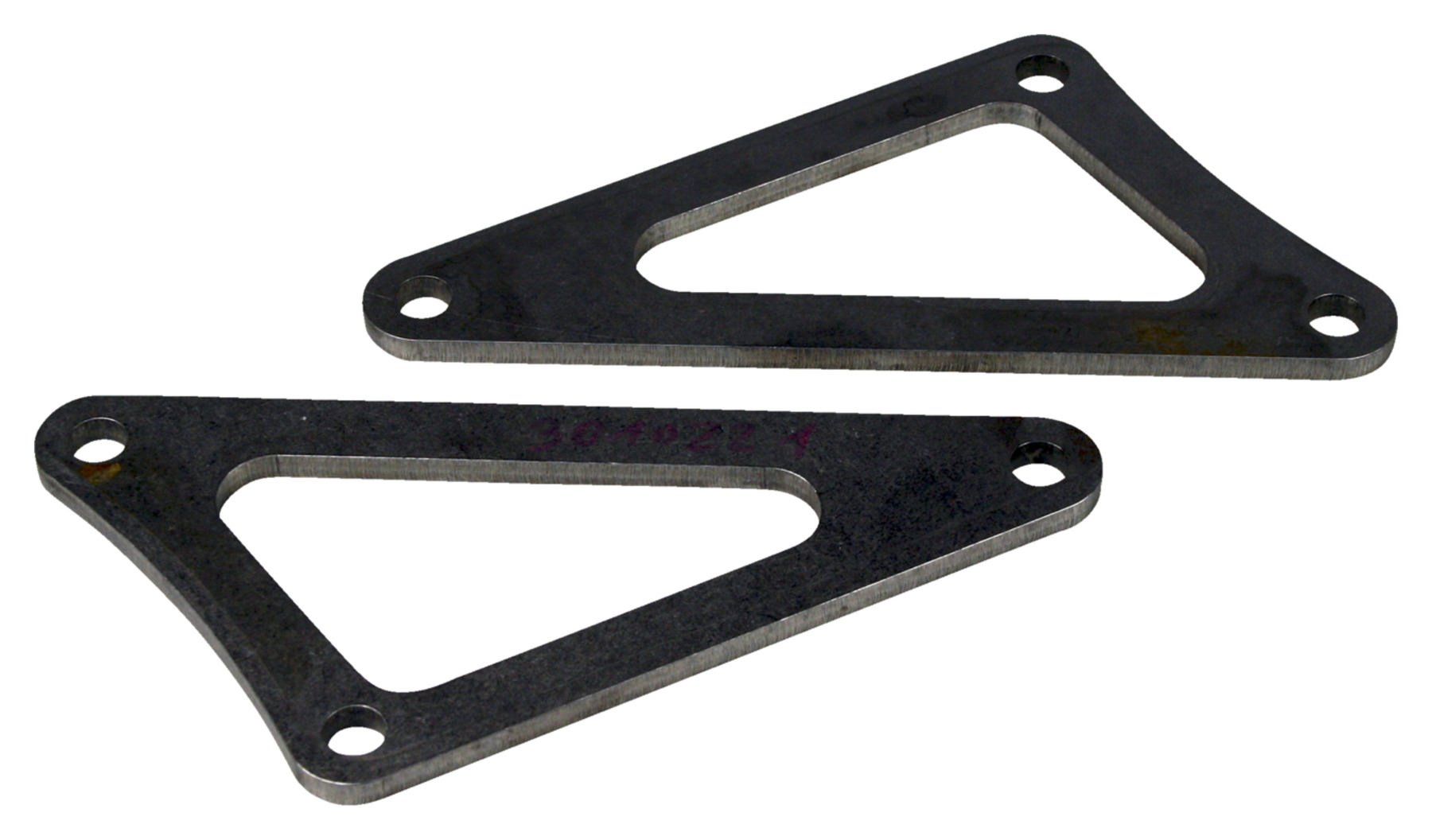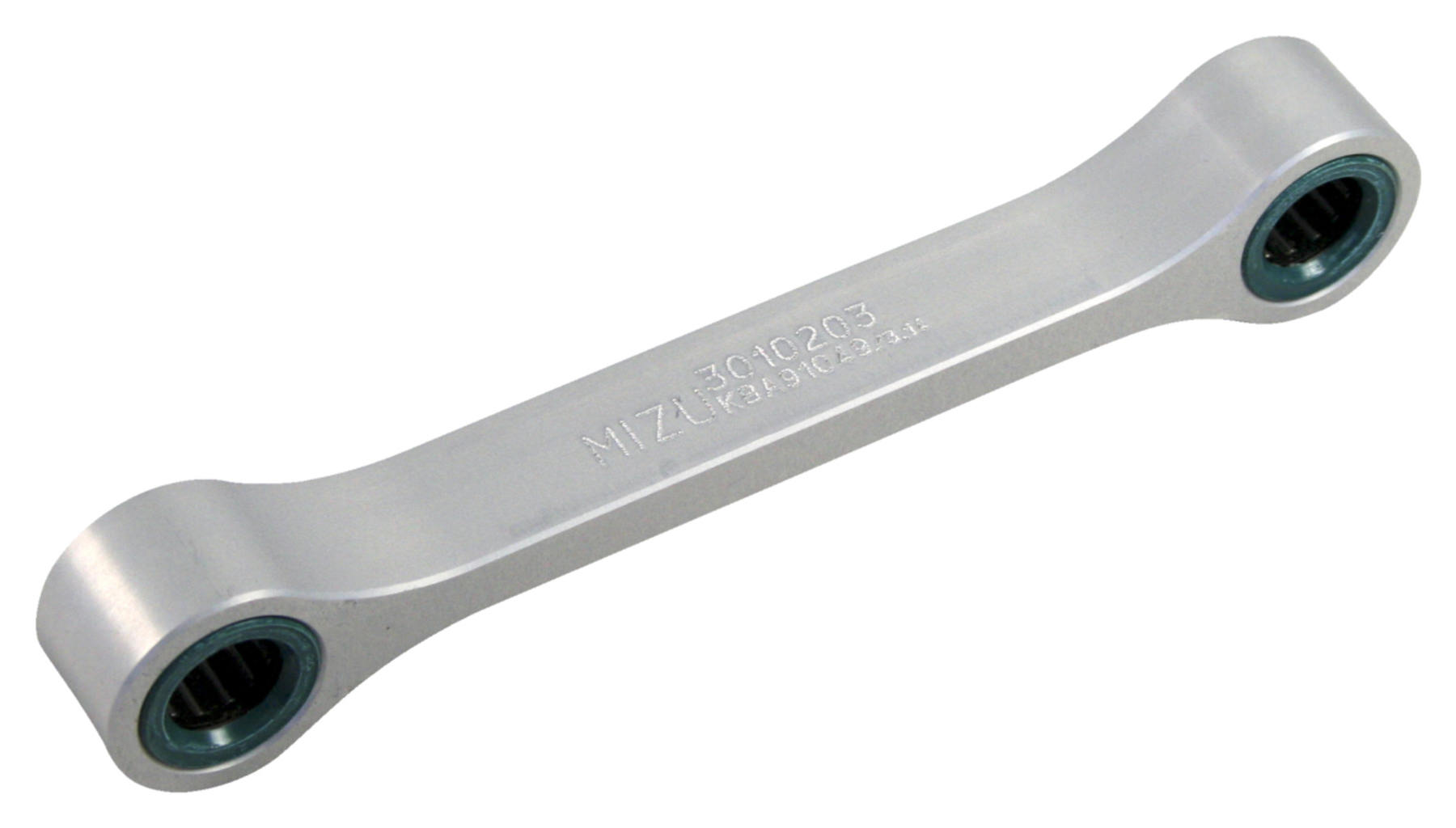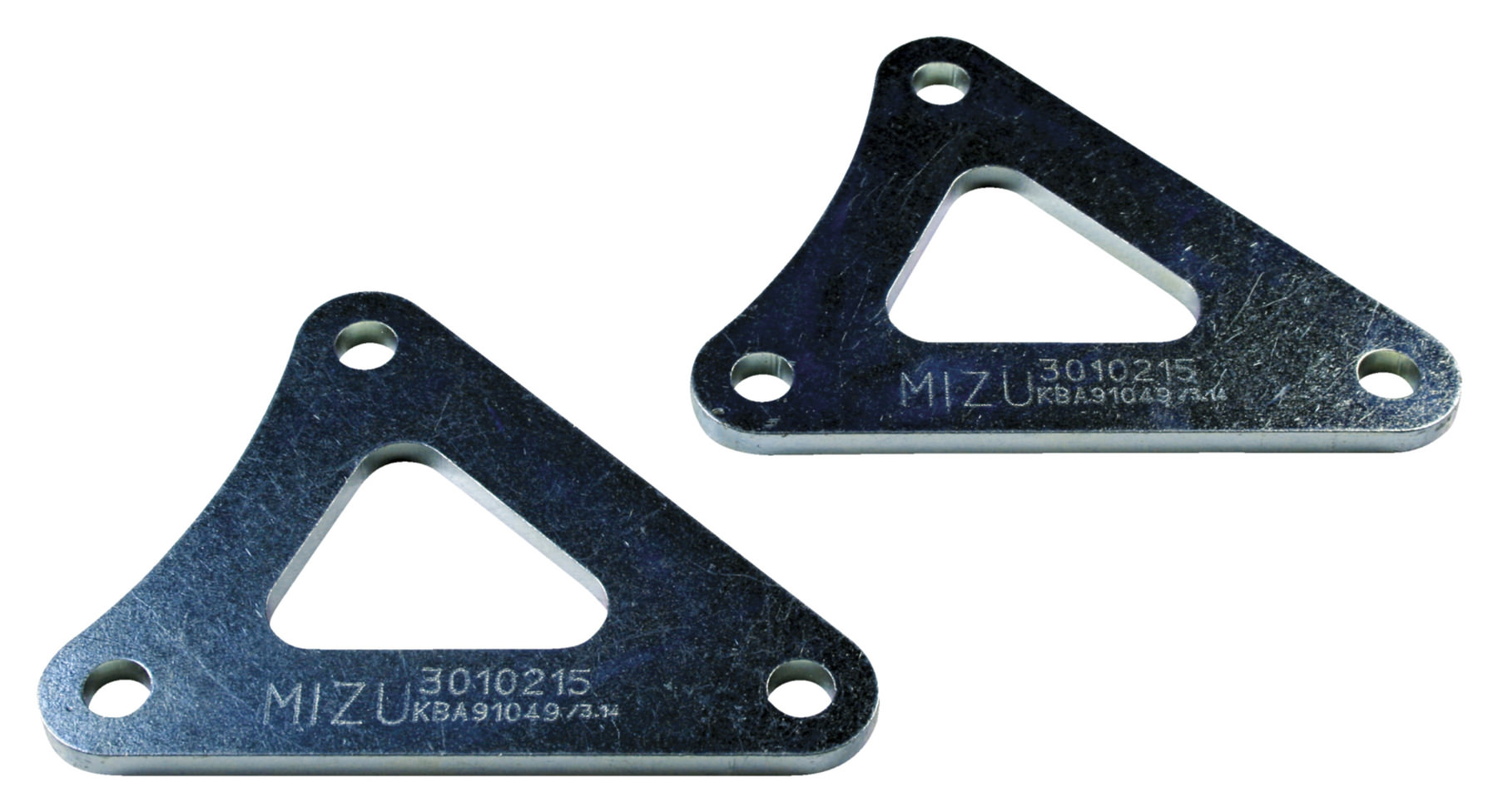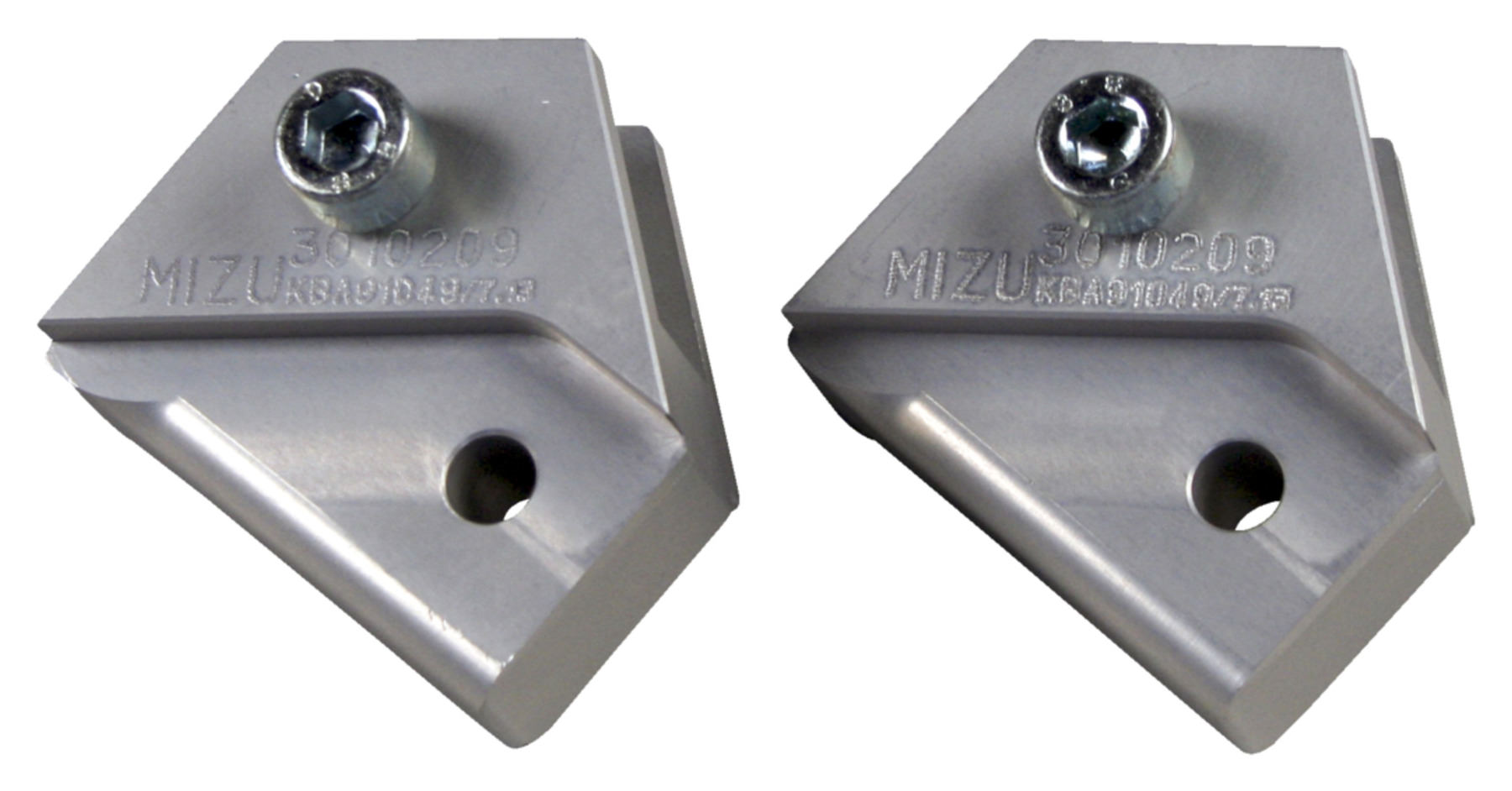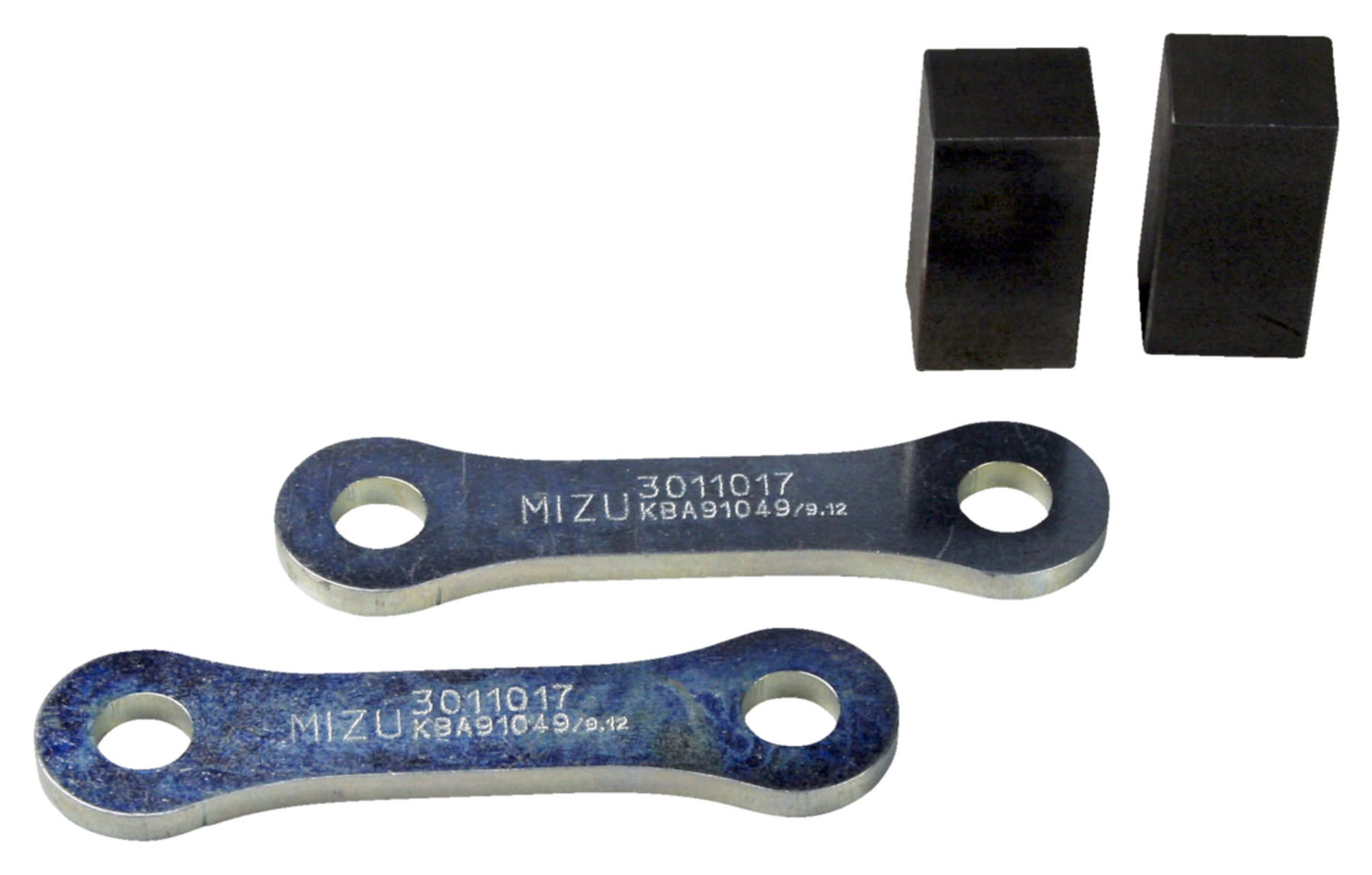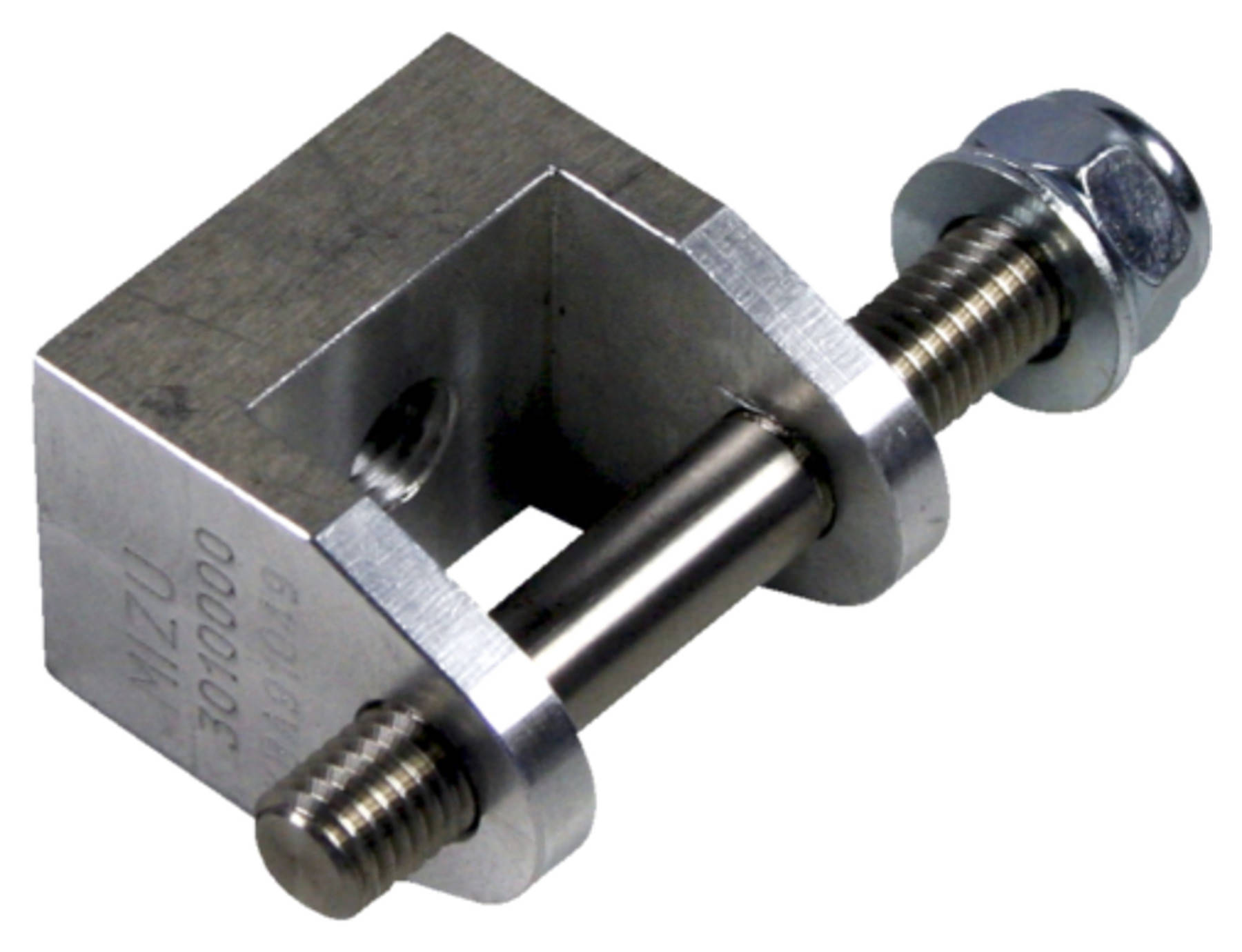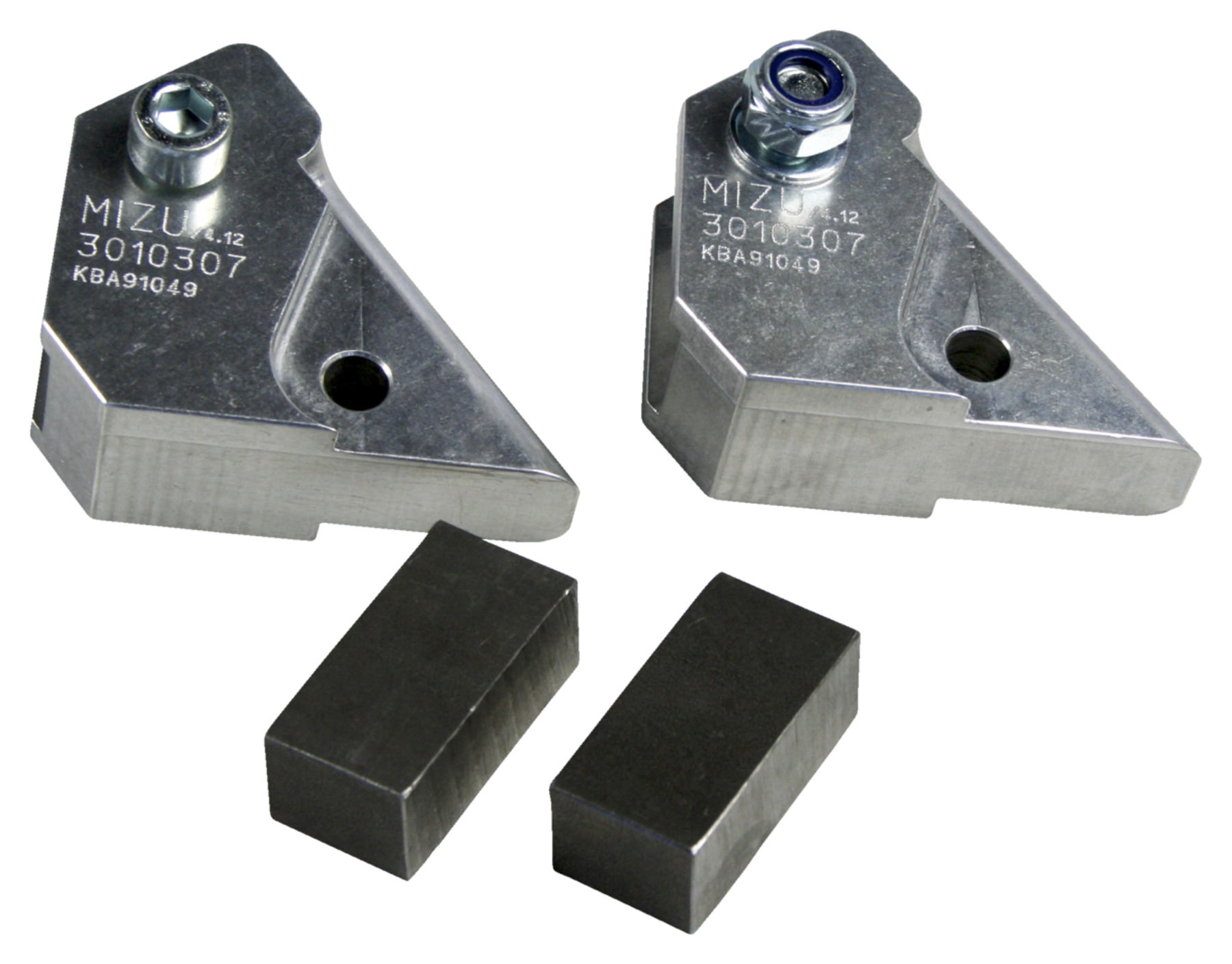 Unfortunately, this product is not compatible with this motorcycle.
Unfortunately, this product is not compatible with this motorcycle. You can find the right for the here: .
Free delivery on orders over €50.00
2 year return policy
Fast delivery
MIZU REAR JACK-UP KIT
How do some riders manage to glide through the tightest bends as if it was the easiest thing in the world? They make it look like child's play and so fascinating. And you're clinging to your handlebar and just can't quite pull it off. A Mizu rear jack-up kit is the trick, and the solution. These bike-specific kits shorten the wheelbase minimally, so they give your bike much better and more agile handling. Then riding bends is a real blast! The certified Mizu rear jack-up kits give you fantastic riding fun. They're made in Germany and come with type approval for Germany, so there's no need to pay for an special entry in the vehicle documentation.
High-grade galvanised steel, made in Hilzingen, Germany as per ISO 9001.
Certificate: Type-approved for Germany
2-year manufacturer's warranty
In the box:
Rear jack-up kit
Including type approval, installation instructions
Important:
These rear jack-up kits have been tested for original fork tubes only

Professional technical expertise is essential to fit this article. We therefore urge you to have it installed by a motorcycle workshop!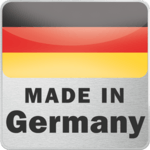 QUALITY MADE IN GERMANY!

By purchasing this item you have chosen a premium-quality product with superior German workmanship. This internationally acknowledged mark of quality means that this product is the result of efficiently coordinated development and production processes, technological expertise, continuous quality controls.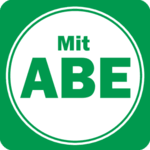 German type approval ("ABE)" allows the relevant accessory to be used on the vehicle models listed in the test report. Here it is the type abbreviation and not the maker's designation that is important for identifying the vehicle. The test report must be carried when riding in case it needs to be presented at a road-side check or vehicle safety inspection.
Accessories with type approval do not have to be registered in the vehicle documents! Those who do not want to carry the test report with them all the time can (for example) arrange to have the product registered by the Technical Inspection Association (subject to a charge).
If the accessory is to be used on a vehicle that is not listed in the type approval, an individual component approval is required. Although ABE type approval confirms the proper installation and safety of the product, it is the inspector who has to decide according to his technical expertise whether it is suitable for use on the vehicle.

An electric scooter with "ABE" approval has a type approval for Germany stating that the relevant vehicle satisfies all the relevant requirements of the eKFV (Small Electric Vehicle Ordinance in Germany) for the approval. In addition, insurance of the electric scooter is compulsory and use on pavements is forbidden. It can only be ridden on cycle paths and on the road (if a cycle path is not available). The minimum age for riding an electric scooter is 14 years. Although a driving license and helmet are not mandatory, they are highly recommended. An electric scooter must always be ridden solo.
No customer reviews have been submitted for this product.
Be the first to write a review!
Product
Art. No.
Availability
Price
Actions
MIZU JACK-UP KIT 10MM - BMW S1000RR 2009-11
10015265

The product will be ordered from the manufacturer for you. Depending on availability, longer delivery times are also possible. We'll let you know if that's the case. You can of course cancel your delivery at any time free of charge.

Available in 7-21 days

€98.00 1
MIZU JACK-UP KIT 20MM - HONDA VFR 800 RC79/93
10015291

The item is in stock and will be delivered in 2-5 working days. Note: Stocks are updated online every hour on working days from 7 a.m. to 8 p.m., so there is a good chance that the products are available if they appear online.

Available

€98.00 1
MIZU JACK-UP KIT 20MM - KAWASAKI VERSYS-X 300
10015310

The item is in stock and will be delivered in 2-5 working days. Note: Stocks are updated online every hour on working days from 7 a.m. to 8 p.m., so there is a good chance that the products are available if they appear online.

Available

€98.00 1
MIZU JACK-UP KIT 20MM - KTM DUKE II 640
10015336

The item is in stock and will be delivered in 2-5 working days. Note: Stocks are updated online every hour on working days from 7 a.m. to 8 p.m., so there is a good chance that the products are available if they appear online.

Available

€98.00 1
MIZU JACK-UP KIT 20MM - VARIOUS KTM & HUSQVARNA
10015305

The item is in stock and will be delivered in 2-5 working days. Note: Stocks are updated online every hour on working days from 7 a.m. to 8 p.m., so there is a good chance that the products are available if they appear online.

Available

€138.00 1
MIZU JACK-UP KIT 30MM - HONDA CB125R JC79
10015272

The product will be ordered from the manufacturer for you. Depending on availability, longer delivery times are also possible. We'll let you know if that's the case. You can of course cancel your delivery at any time free of charge.

Available in 7-21 days

€138.00 1
MIZU JACK-UP KIT 30MM - HONDA CB1300A/SA
10015304

The item is in stock and will be delivered in 2-5 working days. Note: Stocks are updated online every hour on working days from 7 a.m. to 8 p.m., so there is a good chance that the products are available if they appear online.

Available

€158.00 1
MIZU JACK-UP KIT 30MM - HONDA CBR600F C35
10015280

The item is in stock and will be delivered in 2-5 working days. Note: Stocks are updated online every hour on working days from 7 a.m. to 8 p.m., so there is a good chance that the products are available if they appear online.

Available

€112.65 1
MIZU JACK-UP KIT 30MM - HONDA CBR600F PC25/31
10015281

The product will be ordered from the manufacturer for you. Depending on availability, longer delivery times are also possible. We'll let you know if that's the case. You can of course cancel your delivery at any time free of charge.

Available in 7-21 days

€138.00 1
MIZU JACK-UP KIT 30MM - HONDA CBR600F PC31
10015282

The product will be ordered from the manufacturer for you. Depending on availability, longer delivery times are also possible. We'll let you know if that's the case. You can of course cancel your delivery at any time free of charge.

Available in 7-21 days

€138.00 1
MIZU JACK-UP KIT 30MM - HONDA VFR1200F TYP SC63
10015302

The product will be ordered from the manufacturer for you. Depending on availability, longer delivery times are also possible. We'll let you know if that's the case. You can of course cancel your delivery at any time free of charge.

Available in 7-21 days

€98.00 1
MIZU JACK-UP KIT 30MM - HONDA XL1000 VARADERO
10015301

The item is in stock and will be delivered in 2-5 working days. Note: Stocks are updated online every hour on working days from 7 a.m. to 8 p.m., so there is a good chance that the products are available if they appear online.

Available

€98.00 1
MIZU JACK-UP KIT 30MM - HONDA, VARIOUS
10015295

The product will be ordered from the manufacturer for you. Depending on availability, longer delivery times are also possible. We'll let you know if that's the case. You can of course cancel your delivery at any time free of charge.

Available in 7-21 days

€98.00 1
MIZU JACK-UP KIT 30MM - HONDA, VARIOUS
10015279

The item is in stock and will be delivered in 2-5 working days. Note: Stocks are updated online every hour on working days from 7 a.m. to 8 p.m., so there is a good chance that the products are available if they appear online.

Available

€138.00 1
MIZU JACK-UP KIT 30MM - HONDA, VARIOUS
10015383

The item is in stock and will be delivered in 2-5 working days. Note: Stocks are updated online every hour on working days from 7 a.m. to 8 p.m., so there is a good chance that the products are available if they appear online.

Available

€138.00 1
MIZU JACK-UP KIT 30MM - HONDA, VARIOUS
10015276

The product will be ordered from the manufacturer for you. Depending on availability, longer delivery times are also possible. We'll let you know if that's the case. You can of course cancel your delivery at any time free of charge.

Available in 7-21 days

€98.00 1
MIZU JACK-UP KIT 30MM - HYOSUNG GT650 I N
10015306

The product will be ordered from the manufacturer for you. Depending on availability, longer delivery times are also possible. We'll let you know if that's the case. You can of course cancel your delivery at any time free of charge.

Available in 7-21 days

€98.00 1
MIZU JACK-UP KIT 30MM - KAWASAKI NINJA 400
10015309

The product will be ordered from the manufacturer for you. Depending on availability, longer delivery times are also possible. We'll let you know if that's the case. You can of course cancel your delivery at any time free of charge.

Available in 7-21 days

€98.00 1
MIZU JACK-UP KIT 30MM - KAWASAKI Z400 TYPE ER400D
10015313

The product will be ordered from the manufacturer for you. Depending on availability, longer delivery times are also possible. We'll let you know if that's the case. You can of course cancel your delivery at any time free of charge.

Available in 7-21 days

€98.00 1
MIZU JACK-UP KIT 30MM - KAWASAKI Z900/RS CAFE
10015328

The item is in stock and will be delivered in 2-5 working days. Note: Stocks are updated online every hour on working days from 7 a.m. to 8 p.m., so there is a good chance that the products are available if they appear online.

Available

€98.00 1
MIZU JACK-UP KIT 30MM - KAWASAKI ZH2 FROM 2020
10015329

The item is in stock and will be delivered in 2-5 working days. Note: Stocks are updated online every hour on working days from 7 a.m. to 8 p.m., so there is a good chance that the products are available if they appear online.

Available

€98.00 1
MIZU JACK-UP KIT 30MM - KAWASAKI, VARIOUS
10015323

The item is in stock and will be delivered in 2-5 working days. Note: Stocks are updated online every hour on working days from 7 a.m. to 8 p.m., so there is a good chance that the products are available if they appear online.

Available

€98.00 1
MIZU JACK-UP KIT 30MM - KAWASAKI, VARIOUS
10015316

The item is in stock and will be delivered in 2-5 working days. Note: Stocks are updated online every hour on working days from 7 a.m. to 8 p.m., so there is a good chance that the products are available if they appear online.

Available

€98.00 1
MIZU JACK-UP KIT 30MM - KTM 790 ADVENTURE
10015337

The item is in stock and will be delivered in 2-5 working days. Note: Stocks are updated online every hour on working days from 7 a.m. to 8 p.m., so there is a good chance that the products are available if they appear online.

Available

€138.00 1
MIZU JACK-UP KIT 30MM - KTM 790 DUKE
10015338

The item is in stock and will be delivered in 2-5 working days. Note: Stocks are updated online every hour on working days from 7 a.m. to 8 p.m., so there is a good chance that the products are available if they appear online.

Available

€138.00 1
MIZU JACK-UP KIT 30MM - PEGASO 650 TRAIL
10015259

The product will be ordered from the manufacturer for you. Depending on availability, longer delivery times are also possible. We'll let you know if that's the case. You can of course cancel your delivery at any time free of charge.

Available in 7-21 days

€98.00 1
MIZU JACK-UP KIT 30MM - SUZUKI GSF400 BANDIT
10015341

The product will be ordered from the manufacturer for you. Depending on availability, longer delivery times are also possible. We'll let you know if that's the case. You can of course cancel your delivery at any time free of charge.

Available in 7-21 days

€98.00 1
MIZU JACK-UP KIT 30MM - SUZUKI GSX-R1000 WDMO
10015356

The product will be ordered from the manufacturer for you. Depending on availability, longer delivery times are also possible. We'll let you know if that's the case. You can of course cancel your delivery at any time free of charge.

Available in 7-21 days

€98.00 1
MIZU JACK-UP KIT 30MM - SUZUKI GSX-R1000 WVCY
10015355

The product will be ordered from the manufacturer for you. Depending on availability, longer delivery times are also possible. We'll let you know if that's the case. You can of course cancel your delivery at any time free of charge.

Available in 7-21 days

€98.00 1
MIZU JACK-UP KIT 30MM - SUZUKI SV 650 TYP WVBY
10015352

The item is in stock and will be delivered in 2-5 working days. Note: Stocks are updated online every hour on working days from 7 a.m. to 8 p.m., so there is a good chance that the products are available if they appear online.

Available

€98.00 1
MIZU JACK-UP KIT 30MM - SUZUKI VARIOUS
10015354

The item is in stock and will be delivered in 2-5 working days. Note: Stocks are updated online every hour on working days from 7 a.m. to 8 p.m., so there is a good chance that the products are available if they appear online.

Available

€98.00 1
MIZU JACK-UP KIT 30MM - SUZUKI VARIOUS
10015345

The product will be ordered from the manufacturer for you. Depending on availability, longer delivery times are also possible. We'll let you know if that's the case. You can of course cancel your delivery at any time free of charge.

Available in 7-21 days

€98.00 1
MIZU JACK-UP KIT 30MM - TRIUMPH TIGER 900 2020-
10015363

The product will be ordered from the manufacturer for you. Depending on availability, longer delivery times are also possible. We'll let you know if that's the case. You can of course cancel your delivery at any time free of charge.

Available in 7-21 days

€98.00 1
MIZU JACK-UP KIT 30MM - VARIOUS TRIUMPH
10015360

The product will be ordered from the manufacturer for you. Depending on availability, longer delivery times are also possible. We'll let you know if that's the case. You can of course cancel your delivery at any time free of charge.

Available in 7-21 days

€98.00 1
MIZU JACK-UP KIT 30MM - YAMAHA MT-03
10015372

The product will be ordered from the manufacturer for you. Depending on availability, longer delivery times are also possible. We'll let you know if that's the case. You can of course cancel your delivery at any time free of charge.

Available in 7-21 days

€138.00 1
MIZU JACK-UP KIT 30MM - YAMAHA YZF-R125
10015369

The product will be ordered from the manufacturer for you. Depending on availability, longer delivery times are also possible. We'll let you know if that's the case. You can of course cancel your delivery at any time free of charge.

Available in 7-21 days

€98.00 1
MIZU JACK-UP KIT 30MM - YAMAHA, VARIOUS
10015375

The item is in stock and will be delivered in 2-5 working days. Note: Stocks are updated online every hour on working days from 7 a.m. to 8 p.m., so there is a good chance that the products are available if they appear online.

Available

€98.00 1
MIZU JACK-UP KIT 35MM - DUCATI DIAVEL 1200
10015270

The item is in stock and will be delivered in 2-5 working days. Note: Stocks are updated online every hour on working days from 7 a.m. to 8 p.m., so there is a good chance that the products are available if they appear online.

Available

€228.00 1
MIZU JACK-UP KIT 35MM - HONDA CB300R NC51
10015275

The product will be ordered from the manufacturer for you. Depending on availability, longer delivery times are also possible. We'll let you know if that's the case. You can of course cancel your delivery at any time free of charge.

Available in 7-21 days

€278.00 1
MIZU JACK-UP KIT 35MM - HONDA CBR900RR SC33
10015299

The product will be ordered from the manufacturer for you. Depending on availability, longer delivery times are also possible. We'll let you know if that's the case. You can of course cancel your delivery at any time free of charge.

Available in 7-21 days

€98.00 1
MIZU JACK-UP KIT 35MM - HONDA, VARIOUS
10015293

The product will be ordered from the manufacturer for you. Depending on availability, longer delivery times are also possible. We'll let you know if that's the case. You can of course cancel your delivery at any time free of charge.

Available in 7-21 days

€278.00 1
MIZU JACK-UP KIT 35MM - HONDA, VARIOUS
10015287

The item is in stock and will be delivered in 2-5 working days. Note: Stocks are updated online every hour on working days from 7 a.m. to 8 p.m., so there is a good chance that the products are available if they appear online.

Available

€98.00 1
MIZU JACK-UP KIT 35MM - HONDA, VARIOUS
10015303

The product will be ordered from the manufacturer for you. Depending on availability, longer delivery times are also possible. We'll let you know if that's the case. You can of course cancel your delivery at any time free of charge.

Available in 7-21 days

€98.00 1
MIZU JACK-UP KIT 35MM - HONDA, VARIOUS
10015278

The product will be ordered from the manufacturer for you. Depending on availability, longer delivery times are also possible. We'll let you know if that's the case. You can of course cancel your delivery at any time free of charge.

Available in 7-21 days

€138.00 1
MIZU JACK-UP KIT 35MM - KAWASAKI ZZR 1400
10015332

The product will be ordered from the manufacturer for you. Depending on availability, longer delivery times are also possible. We'll let you know if that's the case. You can of course cancel your delivery at any time free of charge.

Available in 7-21 days

€168.00 1
MIZU JACK-UP KIT 35MM - KTM 1290 SUPER DUKE R
10015339

The product will be ordered from the manufacturer for you. Depending on availability, longer delivery times are also possible. We'll let you know if that's the case. You can of course cancel your delivery at any time free of charge.

Available in 7-21 days

€98.00 1
MIZU JACK-UP KIT 35MM - SUZUKI GSX-R/S125
10015342

The product will be ordered from the manufacturer for you. Depending on availability, longer delivery times are also possible. We'll let you know if that's the case. You can of course cancel your delivery at any time free of charge.

Available in 7-21 days

€278.00 1
MIZU JACK-UP KIT 35MM - SUZUKI VARIOUS
10015348

The item is in stock and will be delivered in 2-5 working days. Note: Stocks are updated online every hour on working days from 7 a.m. to 8 p.m., so there is a good chance that the products are available if they appear online.

Available

€98.00 1
MIZU JACK-UP KIT 35MM - SUZUKI VARIOUS
10015384

The item is in stock and will be delivered in 2-5 working days. Note: Stocks are updated online every hour on working days from 7 a.m. to 8 p.m., so there is a good chance that the products are available if they appear online.

Available

€158.00 1
MIZU JACK-UP KIT 35MM - VARIOUS SUZUKI & YAMAHA
10015346

The item is in stock and will be delivered in 2-5 working days. Note: Stocks are updated online every hour on working days from 7 a.m. to 8 p.m., so there is a good chance that the products are available if they appear online.

Available

€98.00 1
MIZU JACK-UP KIT 35MM - YAMAHA DT125R/RE/X
10015366

The product will be ordered from the manufacturer for you. Depending on availability, longer delivery times are also possible. We'll let you know if that's the case. You can of course cancel your delivery at any time free of charge.

Available in 7-21 days

€98.00 1
MIZU JACK-UP KIT 35MM - YAMAHA FZ-6 FAZER
10015370

The item is in stock and will be delivered in 2-5 working days. Note: Stocks are updated online every hour on working days from 7 a.m. to 8 p.m., so there is a good chance that the products are available if they appear online.

Available

€138.00 1
MIZU JACK-UP KIT 35MM - YAMAHA XT660R/X
10015374

The product will be ordered from the manufacturer for you. Depending on availability, longer delivery times are also possible. We'll let you know if that's the case. You can of course cancel your delivery at any time free of charge.

Available in 7-21 days

€98.00 1
MIZU JACK-UP KIT 35MM - YAMAHA, VARIOUS
10015381

The item is in stock and will be delivered in 2-5 working days. Note: Stocks are updated online every hour on working days from 7 a.m. to 8 p.m., so there is a good chance that the products are available if they appear online.

Available

€98.00 1
MIZU JACK-UP KIT 40MM - MONSTER 696
10015269

The product will be ordered from the manufacturer for you. Depending on availability, longer delivery times are also possible. We'll let you know if that's the case. You can of course cancel your delivery at any time free of charge.

Available in 7-21 days

€138.00 1
MIZU JACK-UP KIT 40MM - YAMAHA WR125R/X
10015368

The item is in stock and will be delivered in 2-5 working days. Note: Stocks are updated online every hour on working days from 7 a.m. to 8 p.m., so there is a good chance that the products are available if they appear online.

Available

€98.00 1
MIZU JACK-UP KIT 40MM - YAMAHA, VARIOUS
10015380

The item is in stock and will be delivered in 2-5 working days. Note: Stocks are updated online every hour on working days from 7 a.m. to 8 p.m., so there is a good chance that the products are available if they appear online.

Available

€158.00 1
MIZU JACK-UP KIT 45MM - HONDA CBR1000RR SC57
10015296

The product will be ordered from the manufacturer for you. Depending on availability, longer delivery times are also possible. We'll let you know if that's the case. You can of course cancel your delivery at any time free of charge.

Available in 7-21 days

€278.00 1
MIZU REAR JACK-UP KIT - 20/25/30MM VAR. MODELS
10015319

The item is in stock and will be delivered in 2-5 working days. Note: Stocks are updated online every hour on working days from 7 a.m. to 8 p.m., so there is a good chance that the products are available if they appear online.

Available

€98.00 1
MIZU REAR JACK-UP KIT - 20/25MM VARIOUS SUZUKI
10015351

The item is in stock and will be delivered in 2-5 working days. Note: Stocks are updated online every hour on working days from 7 a.m. to 8 p.m., so there is a good chance that the products are available if they appear online.

Available

€98.00 1
MIZU REAR JACK-UP KIT - 20/30MM VAR. KTM
10015333

The product will be ordered from the manufacturer for you. Depending on availability, longer delivery times are also possible. We'll let you know if that's the case. You can of course cancel your delivery at any time free of charge.

Available in 7-21 days

€138.00 1
MIZU REAR JACK-UP KIT - 20/35MM VAR. MODELS
10015289

The item is in stock and will be delivered in 2-5 working days. Note: Stocks are updated online every hour on working days from 7 a.m. to 8 p.m., so there is a good chance that the products are available if they appear online.

Available

€98.00 1
MIZU REAR JACK-UP KIT - 25/30 MM VARIOUS MODELS
10015344

The product will be ordered from the manufacturer for you. Depending on availability, longer delivery times are also possible. We'll let you know if that's the case. You can of course cancel your delivery at any time free of charge.

Available in 7-21 days

€98.00 1
MIZU REAR JACK-UP KIT - 25/30/35MM VAR. KAWASAKI
10015325

The item is in stock and will be delivered in 2-5 working days. Note: Stocks are updated online every hour on working days from 7 a.m. to 8 p.m., so there is a good chance that the products are available if they appear online.

Available

€98.00 1
MIZU REAR JACK-UP KIT - 25/30/35MM VAR. MODELS
10015315

The item is in stock and will be delivered in 2-5 working days. Note: Stocks are updated online every hour on working days from 7 a.m. to 8 p.m., so there is a good chance that the products are available if they appear online.

Available

€98.00 1
MIZU REAR JACK-UP KIT - 25/30/35MM VAR. MODELS
10015307

The item is in stock and will be delivered in 2-5 working days. Note: Stocks are updated online every hour on working days from 7 a.m. to 8 p.m., so there is a good chance that the products are available if they appear online.

Available

€98.00 1
MIZU REAR JACK-UP KIT - 25/30/35MM VAR. MODELS
10015327

The product will be ordered from the manufacturer for you. Depending on availability, longer delivery times are also possible. We'll let you know if that's the case. You can of course cancel your delivery at any time free of charge.

Available in 7-21 days

€98.00 1
MIZU REAR JACK-UP KIT - 25/30/35MM VAR. SUZUKI
10015349

The product will be ordered from the manufacturer for you. Depending on availability, longer delivery times are also possible. We'll let you know if that's the case. You can of course cancel your delivery at any time free of charge.

Available in 7-21 days

€98.00 1
MIZU REAR JACK-UP KIT - 25/30MM HONDA CB650R
10015285

The item is in stock and will be delivered in 2-5 working days. Note: Stocks are updated online every hour on working days from 7 a.m. to 8 p.m., so there is a good chance that the products are available if they appear online.

Available

€138.00 1
MIZU REAR JACK-UP KIT - 25/30MM VAR. APRILIA
10015261

The product will be ordered from the manufacturer for you. Depending on availability, longer delivery times are also possible. We'll let you know if that's the case. You can of course cancel your delivery at any time free of charge.

Available in 7-21 days

€98.00 1
MIZU REAR JACK-UP KIT - 25/30MM VAR. HONDA
10015290

The product will be ordered from the manufacturer for you. Depending on availability, longer delivery times are also possible. We'll let you know if that's the case. You can of course cancel your delivery at any time free of charge.

Available in 7-21 days

€98.00 1
MIZU REAR JACK-UP KIT - 25/30MM VAR. MODELS
10015340

The product will be ordered from the manufacturer for you. Depending on availability, longer delivery times are also possible. We'll let you know if that's the case. You can of course cancel your delivery at any time free of charge.

Available in 7-21 days

€98.00 1
MIZU REAR JACK-UP KIT - 25/30MM VAR. MODELS
10015312

The item is in stock and will be delivered in 2-5 working days. Note: Stocks are updated online every hour on working days from 7 a.m. to 8 p.m., so there is a good chance that the products are available if they appear online.

Available

€98.00 1
MIZU REAR JACK-UP KIT - 25/30MM VAR. MODELS
10015308

The item is in stock and will be delivered in 2-5 working days. Note: Stocks are updated online every hour on working days from 7 a.m. to 8 p.m., so there is a good chance that the products are available if they appear online.

Available

€98.00 1
MIZU REAR JACK-UP KIT - 25/30MM VAR. MODELS
10015322

The product will be ordered from the manufacturer for you. Depending on availability, longer delivery times are also possible. We'll let you know if that's the case. You can of course cancel your delivery at any time free of charge.

Available in 7-21 days

€98.00 1
MIZU REAR JACK-UP KIT - 25/30MM VAR. MODELS
10015330

The product will be ordered from the manufacturer for you. Depending on availability, longer delivery times are also possible. We'll let you know if that's the case. You can of course cancel your delivery at any time free of charge.

Available in 7-21 days

€98.00 1
MIZU REAR JACK-UP KIT - 25/30MM VARIOUS TRIUMPH
10015361

The item is in stock and will be delivered in 2-5 working days. Note: Stocks are updated online every hour on working days from 7 a.m. to 8 p.m., so there is a good chance that the products are available if they appear online.

Available

€98.00 1
MIZU REAR JACK-UP KIT - 25/35MM VAR. MODELS
10015266

The item is in stock and will be delivered in 2-5 working days. Note: Stocks are updated online every hour on working days from 7 a.m. to 8 p.m., so there is a good chance that the products are available if they appear online.

Available

€98.00 1
MIZU REAR JACK-UP KIT - 25/35MM VAR. YAMAHA
10015367

The product will be ordered from the manufacturer for you. Depending on availability, longer delivery times are also possible. We'll let you know if that's the case. You can of course cancel your delivery at any time free of charge.

Available in 7-21 days

€98.00 1
MIZU REAR JACK-UP KIT - 25/35MM VAR. YAMAHA
10015377

The product will be ordered from the manufacturer for you. Depending on availability, longer delivery times are also possible. We'll let you know if that's the case. You can of course cancel your delivery at any time free of charge.

Available in 7-21 days

€138.00 1
MIZU REAR JACK-UP KIT - 30/35MM VAR. MODELS
10015358

The product will be ordered from the manufacturer for you. Depending on availability, longer delivery times are also possible. We'll let you know if that's the case. You can of course cancel your delivery at any time free of charge.

Available in 7-21 days

€98.00 1
MIZU REAR JACK-UP KIT - 30/40MM VAR. MODELS
10015311

The item is in stock and will be delivered in 2-5 working days. Note: Stocks are updated online every hour on working days from 7 a.m. to 8 p.m., so there is a good chance that the products are available if they appear online.

Available

€98.00 1
MIZU REAR JACK-UP KIT - 35/40MM G310GS/R
10015262

The item is in stock and will be delivered in 2-5 working days. Note: Stocks are updated online every hour on working days from 7 a.m. to 8 p.m., so there is a good chance that the products are available if they appear online.

Available

€138.00 1
NIZU REAR JACK-UP 25MM - BMW K1600GT/GTS/GTL
10015267

The product will be ordered from the manufacturer for you. Depending on availability, longer delivery times are also possible. We'll let you know if that's the case. You can of course cancel your delivery at any time free of charge.

Available in 7-21 days

€98.00 1
NIZU REAR JACK-UP 25MM - CAGIVA 650 RAPTOR
10015268

The product will be ordered from the manufacturer for you. Depending on availability, longer delivery times are also possible. We'll let you know if that's the case. You can of course cancel your delivery at any time free of charge.

Available in 7-21 days

€98.00 1
NIZU REAR JACK-UP 25MM - F650CS
10015264

The product will be ordered from the manufacturer for you. Depending on availability, longer delivery times are also possible. We'll let you know if that's the case. You can of course cancel your delivery at any time free of charge.

Available in 7-21 days

€98.00 1
NIZU REAR JACK-UP 25MM - HONDA CB125R JC34
10015273

The product will be ordered from the manufacturer for you. Depending on availability, longer delivery times are also possible. We'll let you know if that's the case. You can of course cancel your delivery at any time free of charge.

Available in 7-21 days

€138.00 1
NIZU REAR JACK-UP 25MM - HONDA CB250R MC41
10015274

The product will be ordered from the manufacturer for you. Depending on availability, longer delivery times are also possible. We'll let you know if that's the case. You can of course cancel your delivery at any time free of charge.

Available in 7-21 days

€138.00 1
NIZU REAR JACK-UP 25MM - HONDA CBR600RR PC37
10015284

The product will be ordered from the manufacturer for you. Depending on availability, longer delivery times are also possible. We'll let you know if that's the case. You can of course cancel your delivery at any time free of charge.

Available in 7-21 days

€278.00 1
NIZU REAR JACK-UP 25MM - HONDA CBR900RR SC28/29
10015298

The product will be ordered from the manufacturer for you. Depending on availability, longer delivery times are also possible. We'll let you know if that's the case. You can of course cancel your delivery at any time free of charge.

Available in 7-21 days

€98.00 1
NIZU REAR JACK-UP 25MM - HONDA CBR900RR SC44
10015297

The product will be ordered from the manufacturer for you. Depending on availability, longer delivery times are also possible. We'll let you know if that's the case. You can of course cancel your delivery at any time free of charge.

Available in 7-21 days

€98.00 1
NIZU REAR JACK-UP 25MM - HONDA VFR750F RC36
10015288

The product will be ordered from the manufacturer for you. Depending on availability, longer delivery times are also possible. We'll let you know if that's the case. You can of course cancel your delivery at any time free of charge.

Available in 7-21 days

€138.00 1
NIZU REAR JACK-UP 25MM - HONDA, VARIOUS
10015283

The product will be ordered from the manufacturer for you. Depending on availability, longer delivery times are also possible. We'll let you know if that's the case. You can of course cancel your delivery at any time free of charge.

Available in 7-21 days

€98.00 1
NIZU REAR JACK-UP 25MM - HONDA, VARIOUS
10015277

The product will be ordered from the manufacturer for you. Depending on availability, longer delivery times are also possible. We'll let you know if that's the case. You can of course cancel your delivery at any time free of charge.

Available in 7-21 days

€98.00 1
NIZU REAR JACK-UP 25MM - HONDA, VARIOUS
10015286

The item is in stock and will be delivered in 2-5 working days. Note: Stocks are updated online every hour on working days from 7 a.m. to 8 p.m., so there is a good chance that the products are available if they appear online.

Available

€138.00 1
NIZU REAR JACK-UP 25MM - KAWASAKI ZR-7 TYPE ZR750F
10015321

The product will be ordered from the manufacturer for you. Depending on availability, longer delivery times are also possible. We'll let you know if that's the case. You can of course cancel your delivery at any time free of charge.

Available in 7-21 days

€168.00 1
NIZU REAR JACK-UP 25MM - KAWASAKI ZX-10R/RR
10015331

The product will be ordered from the manufacturer for you. Depending on availability, longer delivery times are also possible. We'll let you know if that's the case. You can of course cancel your delivery at any time free of charge.

Available in 7-21 days

€98.00 1
NIZU REAR JACK-UP 25MM - KAWASAKI, VARIOUS
10015326

The product will be ordered from the manufacturer for you. Depending on availability, longer delivery times are also possible. We'll let you know if that's the case. You can of course cancel your delivery at any time free of charge.

Available in 7-21 days

€98.00 1
NIZU REAR JACK-UP 25MM - NINJA H2 SX/SX SE
10015324

The item is in stock and will be delivered in 2-5 working days. Note: Stocks are updated online every hour on working days from 7 a.m. to 8 p.m., so there is a good chance that the products are available if they appear online.

Available

€98.00 1
NIZU REAR JACK-UP 25MM - SUZUKI VARIOUS
10015357

The product will be ordered from the manufacturer for you. Depending on availability, longer delivery times are also possible. We'll let you know if that's the case. You can of course cancel your delivery at any time free of charge.

Available in 7-21 days

€98.00 1
NIZU REAR JACK-UP 25MM - SUZUKI VARIOUS
10015343

The product will be ordered from the manufacturer for you. Depending on availability, longer delivery times are also possible. We'll let you know if that's the case. You can of course cancel your delivery at any time free of charge.

Available in 7-21 days

€138.00 1
NIZU REAR JACK-UP 25MM - SUZUKI XF650 FREEWIND
10015353

The product will be ordered from the manufacturer for you. Depending on availability, longer delivery times are also possible. We'll let you know if that's the case. You can of course cancel your delivery at any time free of charge.

Available in 7-21 days

€98.00 1
NIZU REAR JACK-UP 25MM - SWM 125 R ENDURO
10015359

The product will be ordered from the manufacturer for you. Depending on availability, longer delivery times are also possible. We'll let you know if that's the case. You can of course cancel your delivery at any time free of charge.

Available in 7-21 days

€138.00 1
NIZU REAR JACK-UP 25MM - TRIUMPH SPRINT ST 1050
10015365

The item is in stock and will be delivered in 2-5 working days. Note: Stocks are updated online every hour on working days from 7 a.m. to 8 p.m., so there is a good chance that the products are available if they appear online.

Available

€168.00 1
NIZU REAR JACK-UP 25MM - TRIUMPH SPRINT ST 1050
10015364

The product will be ordered from the manufacturer for you. Depending on availability, longer delivery times are also possible. We'll let you know if that's the case. You can of course cancel your delivery at any time free of charge.

Available in 7-21 days

€168.00 1
NIZU REAR JACK-UP 25MM - VARIOUS APRILIA
10015257

The product will be ordered from the manufacturer for you. Depending on availability, longer delivery times are also possible. We'll let you know if that's the case. You can of course cancel your delivery at any time free of charge.

Available in 7-21 days

€138.00 1
NIZU REAR JACK-UP 25MM - VARIOUS APRILIA & BMW
10015258

The product will be ordered from the manufacturer for you. Depending on availability, longer delivery times are also possible. We'll let you know if that's the case. You can of course cancel your delivery at any time free of charge.

Available in 7-21 days

€228.00 1
NIZU REAR JACK-UP 25MM - VARIOUS HARLEY DAVIDSON
10015271

The product will be ordered from the manufacturer for you. Depending on availability, longer delivery times are also possible. We'll let you know if that's the case. You can of course cancel your delivery at any time free of charge.

Available in 7-21 days

€138.00 1
NIZU REAR JACK-UP 25MM - VARIOUS KTM
10015334

The product will be ordered from the manufacturer for you. Depending on availability, longer delivery times are also possible. We'll let you know if that's the case. You can of course cancel your delivery at any time free of charge.

Available in 7-21 days

€98.00 1
NIZU REAR JACK-UP 25MM - VARIOUS KTM
10015335

The product will be ordered from the manufacturer for you. Depending on availability, longer delivery times are also possible. We'll let you know if that's the case. You can of course cancel your delivery at any time free of charge.

Available in 7-21 days

€138.00 1
NIZU REAR JACK-UP 25MM - VARIOUS TRIUMPH
10015362

The item is in stock and will be delivered in 2-5 working days. Note: Stocks are updated online every hour on working days from 7 a.m. to 8 p.m., so there is a good chance that the products are available if they appear online.

Available

€98.00 1
NIZU REAR JACK-UP 25MM - VFR800X CROSSRUNNER
10015292

The product will be ordered from the manufacturer for you. Depending on availability, longer delivery times are also possible. We'll let you know if that's the case. You can of course cancel your delivery at any time free of charge.

Available in 7-21 days

€98.00 1
NIZU REAR JACK-UP 25MM - YAMAHA TENERE 700
10015373

The item is in stock and will be delivered in 2-5 working days. Note: Stocks are updated online every hour on working days from 7 a.m. to 8 p.m., so there is a good chance that the products are available if they appear online.

Available

€98.00 1
NIZU REAR JACK-UP 25MM - YAMAHA YZF-R1 RN19
10015379

The product will be ordered from the manufacturer for you. Depending on availability, longer delivery times are also possible. We'll let you know if that's the case. You can of course cancel your delivery at any time free of charge.

Available in 7-21 days

€138.00 1
NIZU REAR JACK-UP 25MM - YAMAHA, VARIOUS
10015371

The product will be ordered from the manufacturer for you. Depending on availability, longer delivery times are also possible. We'll let you know if that's the case. You can of course cancel your delivery at any time free of charge.

Available in 7-21 days

€138.00 1
NIZU REAR JACK-UP 25MM - YAMAHA, VARIOUS
10015376

The item is in stock and will be delivered in 2-5 working days. Note: Stocks are updated online every hour on working days from 7 a.m. to 8 p.m., so there is a good chance that the products are available if they appear online.

Available

€98.00 1
NIZU REAR JACK-UP 25MM - YAMAHA, VARIOUS
10015378

The product will be ordered from the manufacturer for you. Depending on availability, longer delivery times are also possible. We'll let you know if that's the case. You can of course cancel your delivery at any time free of charge.

Available in 7-21 days

€98.00 1
NIZU REAR JACK-UP 25MM - YAMAHA, VARIOUS
10015382

The product will be ordered from the manufacturer for you. Depending on availability, longer delivery times are also possible. We'll let you know if that's the case. You can of course cancel your delivery at any time free of charge.

Available in 7-21 days

€98.00 1