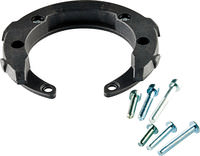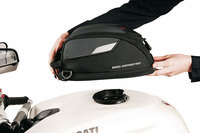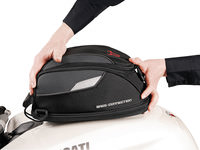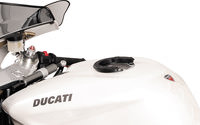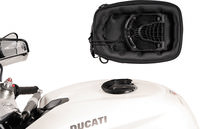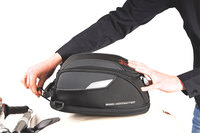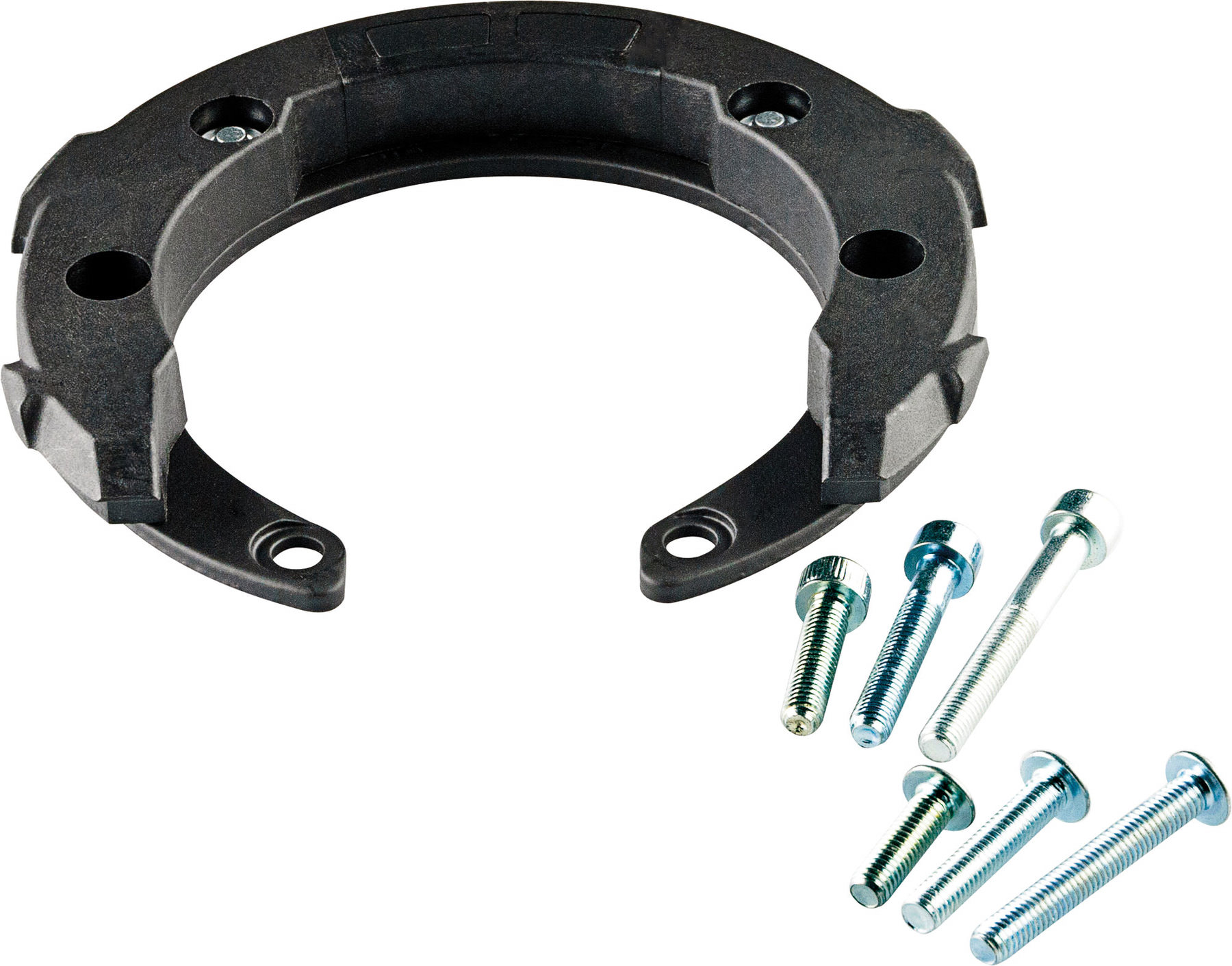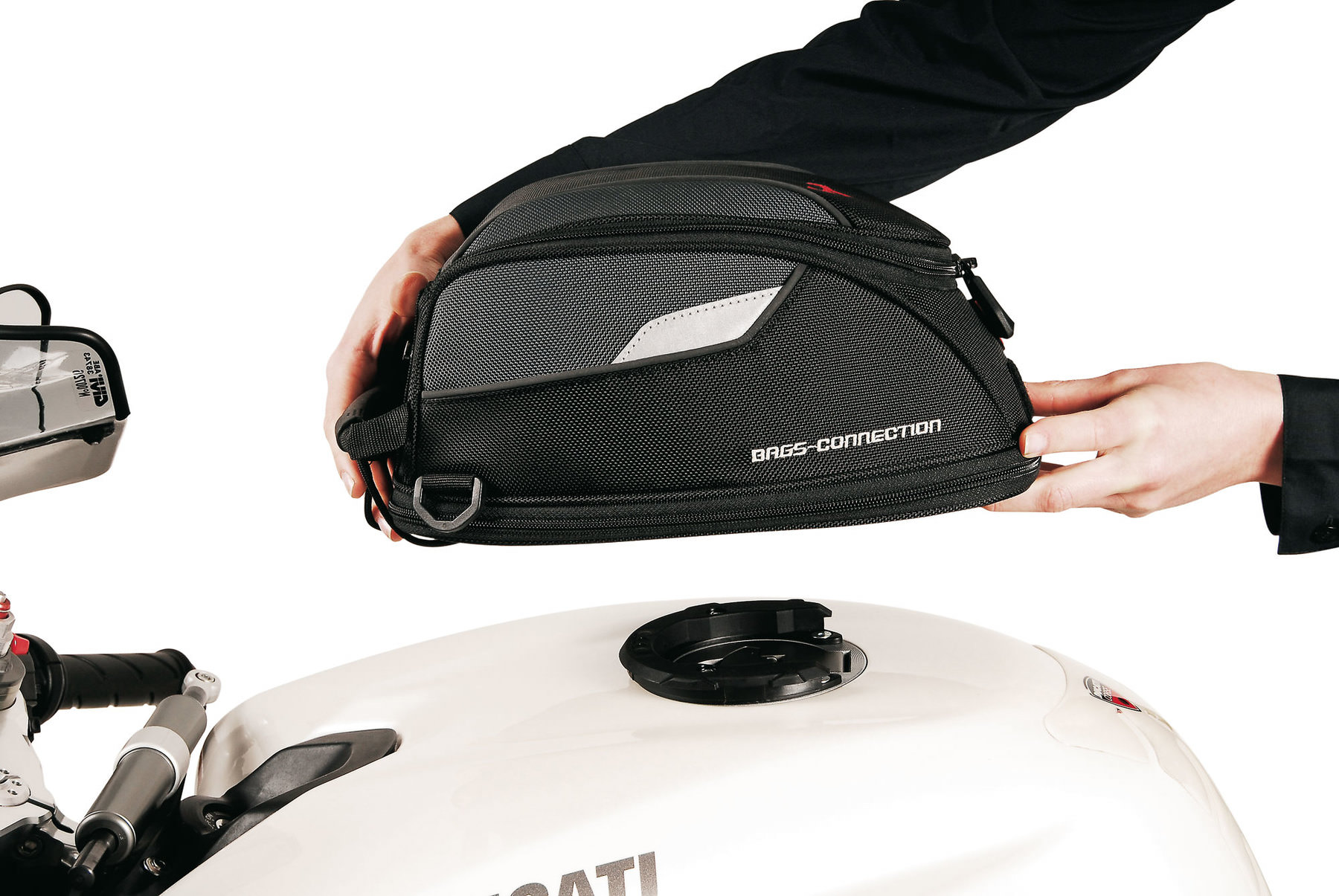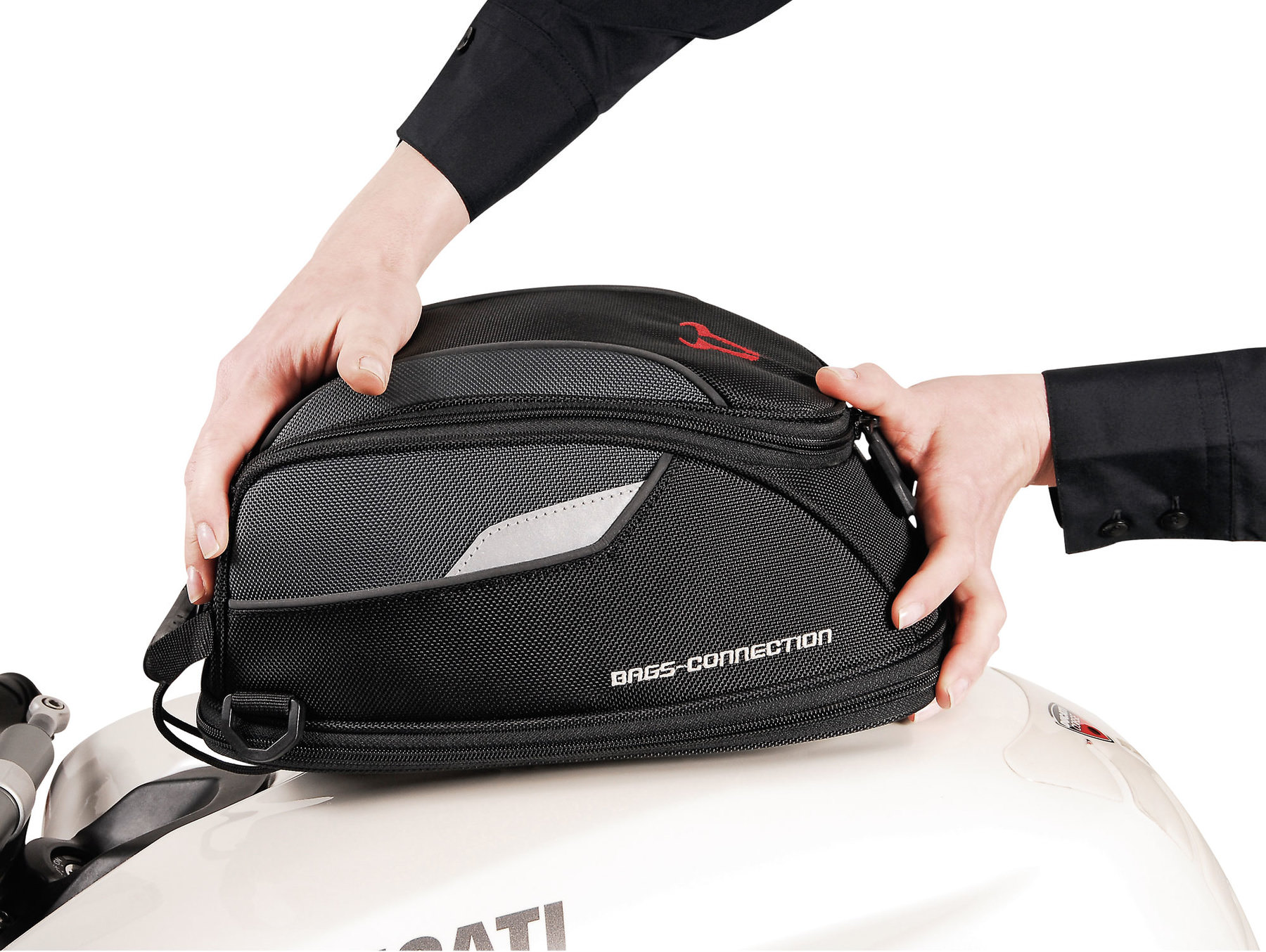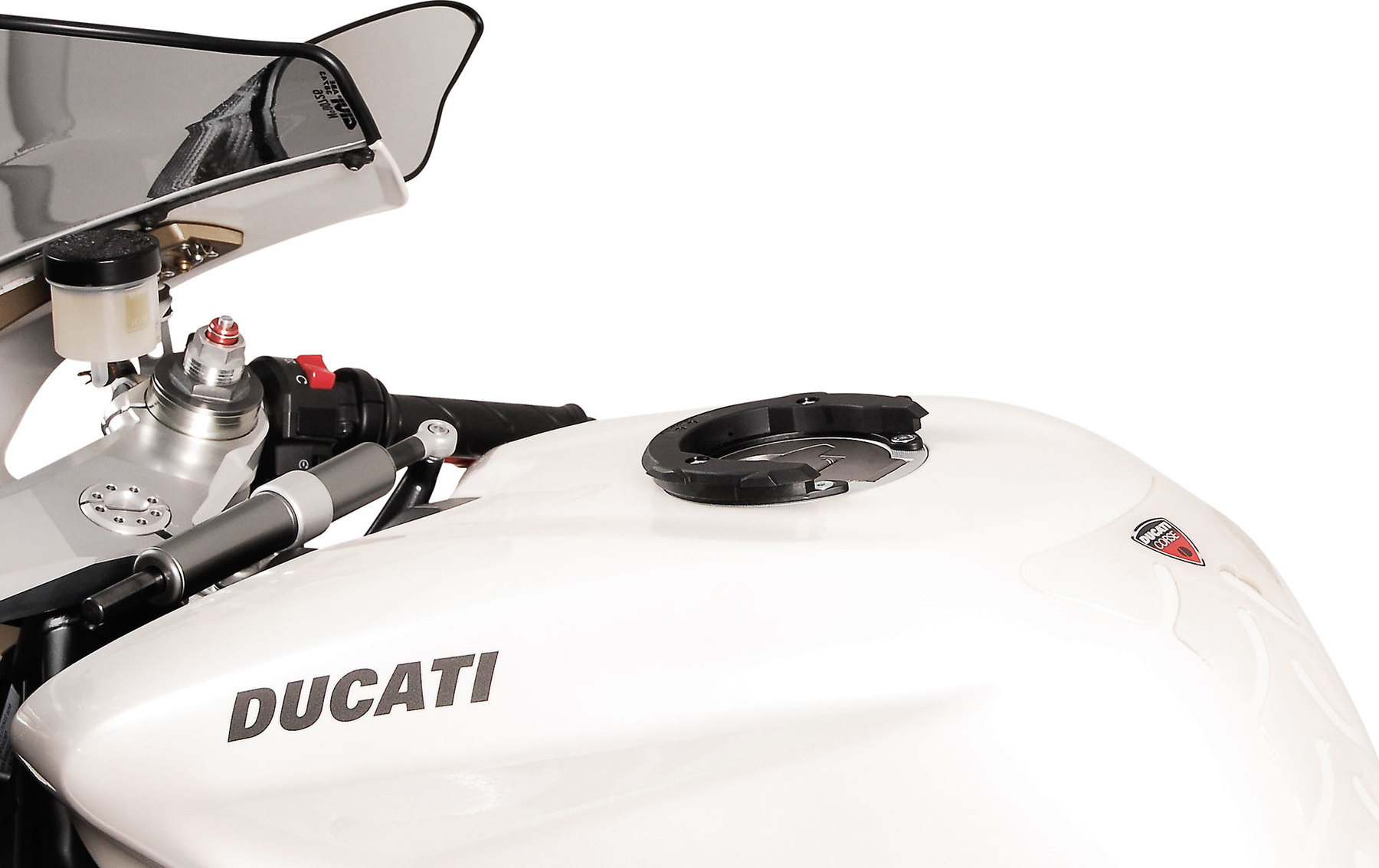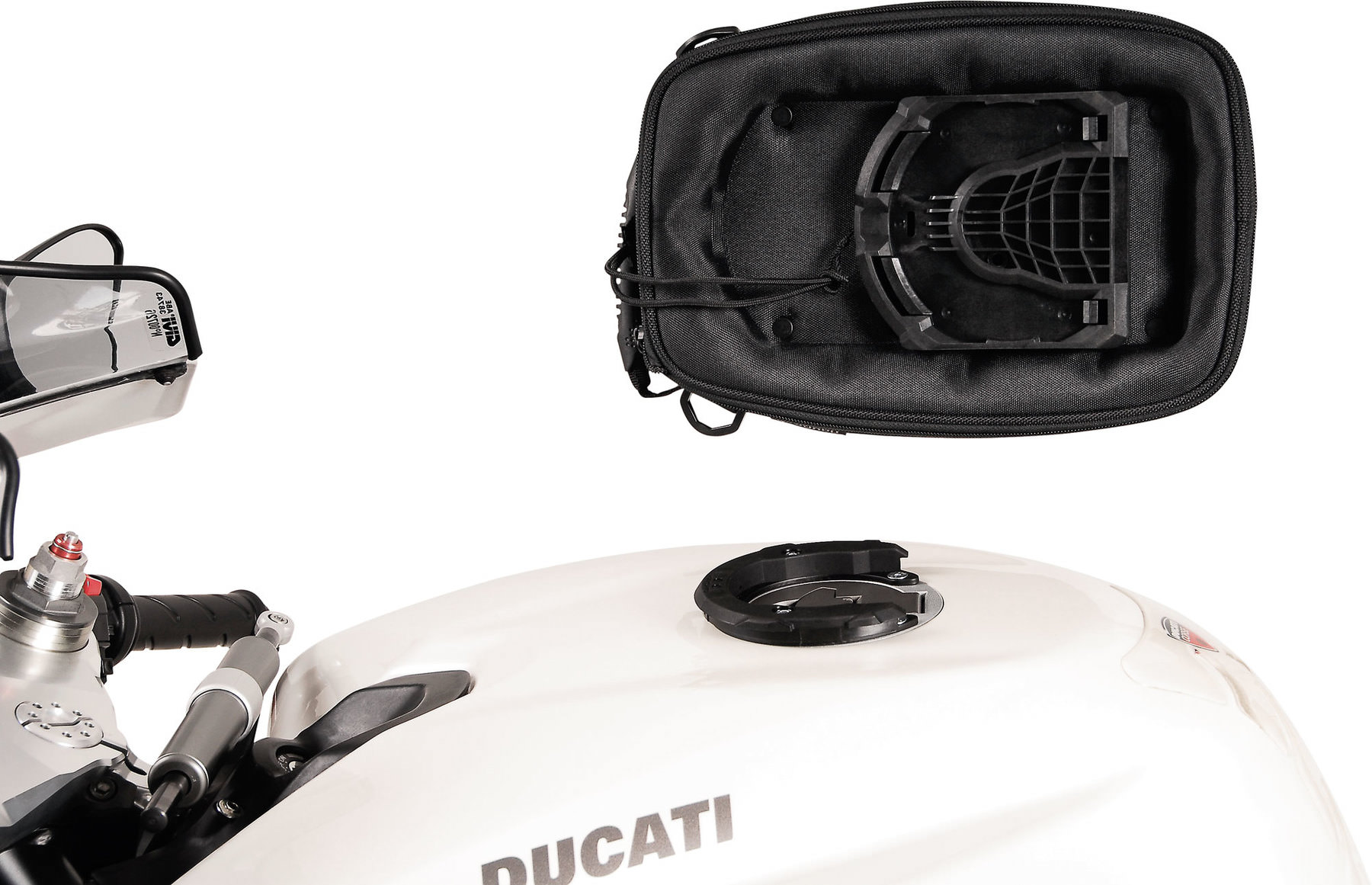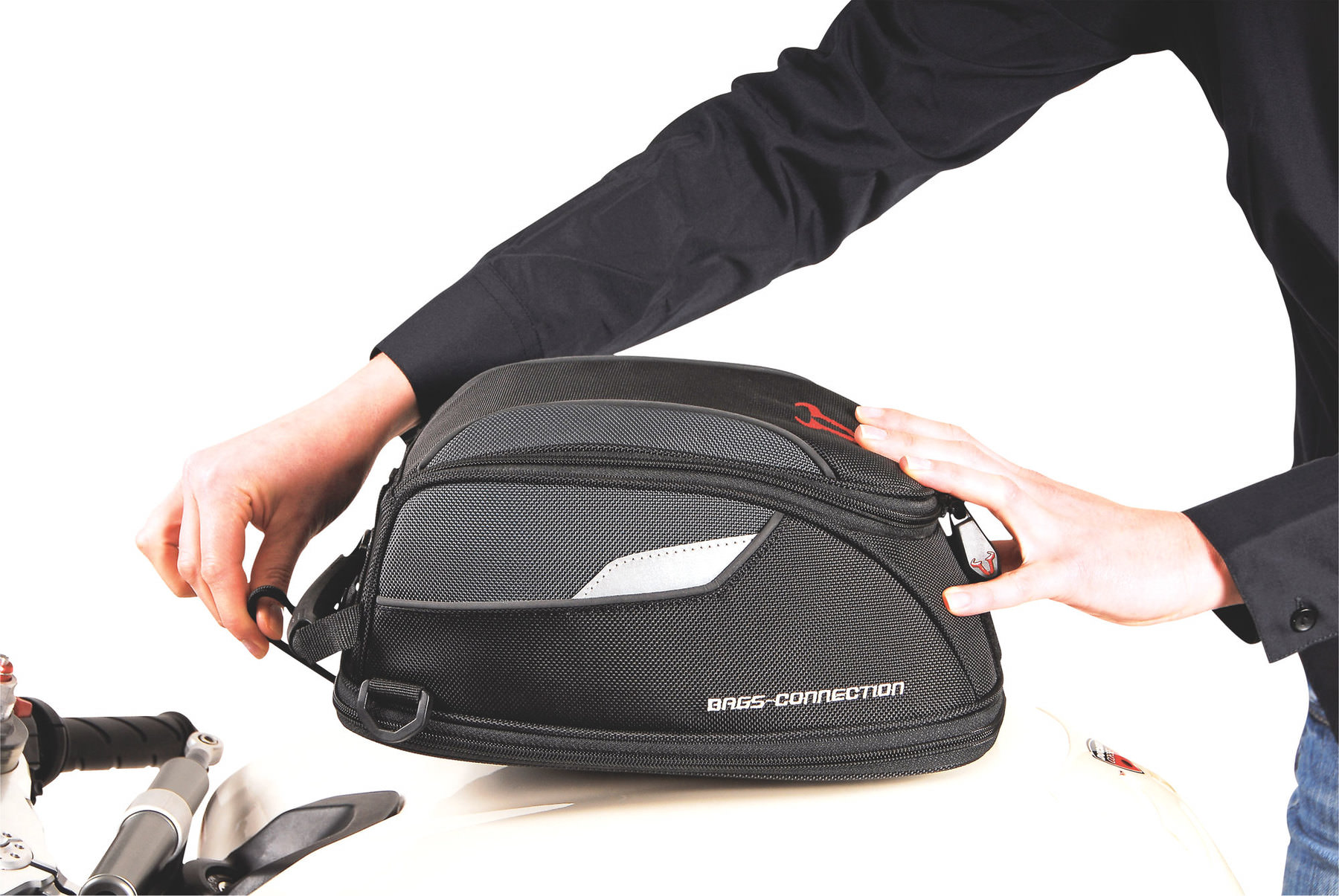 QUICK-LOCK TANKRING EVO
TANK WITHOUT SCREWS
The item is in stock and will be delivered in 2-5 working days. Note: Stocks are updated online every hour on working days from 7 a.m. to 8 p.m., so there is a good chance that the products are available if they appear online.
Available
Free delivery on orders over €199.00
2 year return policy
Fast delivery
Quick-Lock Tankring Evo
For Fuel Filler Cap
QUICK-LOCK EVO Tank Ring - the second generation:
Tank bag can be attached/removed n seconds
No contact with the motorbike's paintwork
Made of glass fibre-reinforced nylon
Secured, strong locking mechanism

The tank ring is designed for fixing to the tank filler and is required for securing QUICK-LOCK EVO tank bags. Suitable for steel, aluminium and plastic tanks. Simply determine which tank ring adapter is right for your motorbike and select the tank bag you like best and find most practical for your purpose. The tank top ring, which is also required for mounting on your motorbike, is included with the QUICK-LOCK EVO tank bag.

Includes:

QUICK-LOCK EVO tank ring
Fittings
Installation instructions
Manufacturer details: SW-Motech

Engineering for motorbikes

SW-MOTECH stands for competence in the development and production of practical solutions in the areas of luggage systems, navigation, ergonomics and safety - all perfectly designed to meet your riding needs. These products stand out thanks to their distinct look, constant high performance, patented technologies and elaborate innovations. Quality, durability and precision are of utmost importance. SW-MOTECH is the ideal companion for every adventure, no matter whether you are on the way to work, on a weekend tour or around globe.
Product
Art. No.
Availability
Price
Actions
QUICK-LOCK EVO TANK RING - BMW, KTM, DUCATI

Important notes

10065371

This product is available at week 43.
Current calendar week: 37

Available as of calendar week 43

€30.00 1
QUICK-LOCK EVO TANK RING - FOR STREET-RACK LUGG.RACK
10068579

The product will be ordered from the manufacturer for you. Depending on availability, longer delivery times are also possible. We'll let you know if that's the case. You can of course cancel your delivery at any time free of charge.

Available in 7-21 days

€35.00 1
QUICK-LOCK EVO TANK RING - KTM DUKE 125/390 2016-

Important notes

KTM Duke 125/390/790/890R - mounting is rotated 180 °.

10065533

This product is available at week 43.
Current calendar week: 37

Available as of calendar week 43

€30.00 1
QUICK-LOCK EVO TANK RING - MOTO GUZZI V85 TT 19- BLK
10068576

The product will be ordered from the manufacturer for you. Depending on availability, longer delivery times are also possible. We'll let you know if that's the case. You can of course cancel your delivery at any time free of charge.

Available in 7-21 days

€50.00 1
QUICK-LOCK EVO TANK RING - MOTO-GUZZI V85 TT (2019-)
10065588

The item is in stock and will be delivered in 2-5 working days. Note: Stocks are updated online every hour on working days from 7 a.m. to 8 p.m., so there is a good chance that the products are available if they appear online.

Available

€50.00 1
QUICK-LOCK EVO TANK RING - TRIUM. MVAUGUSTA MALAGUTI
10065064

The item is in stock and will be delivered in 2-5 working days. Note: Stocks are updated online every hour on working days from 7 a.m. to 8 p.m., so there is a good chance that the products are available if they appear online.

Available

€30.00 1
QUICK-LOCK EVO TANK RING - VARIOUS KAWASAKI MODELS
10065454

The item is in stock and will be delivered in 2-5 working days. Note: Stocks are updated online every hour on working days from 7 a.m. to 8 p.m., so there is a good chance that the products are available if they appear online.

Available

€55.00 1
QUICK-LOCK EVO TANK RING - YAMA XT700Z TEN.2019- BLK
10068575

The product will be ordered from the manufacturer for you. Depending on availability, longer delivery times are also possible. We'll let you know if that's the case. You can of course cancel your delivery at any time free of charge.

Available in 7-21 days

€55.00 1
QUICK-LOCK EVO TANK RING - YAMA.MT-07 14-17 MO.C 15-
10065340

The item is in stock and will be delivered in 2-5 working days. Note: Stocks are updated online every hour on working days from 7 a.m. to 8 p.m., so there is a good chance that the products are available if they appear online.

Available

€55.00 1
QUICK-LOCK EVO TANK RING - YAMAHA MT-09 TRACER/GT
10065382

The item is in stock and will be delivered in 2-5 working days. Note: Stocks are updated online every hour on working days from 7 a.m. to 8 p.m., so there is a good chance that the products are available if they appear online.

Available

€40.00 1
QUICK-LOCK EVO TANK RING - YAMAHA XT700 Z TÉNÉRÉ 19-

Important notes

Not possible in combination with handlebar riser.

10067189

The product will be ordered from the manufacturer for you. Depending on availability, longer delivery times are also possible. We'll let you know if that's the case. You can of course cancel your delivery at any time free of charge.

Available in 7-21 days

€55.00 1
QUICK-LOCK TANKRING EVO - BMW 6 SCHRAUBEN
10065054

The item is in stock and will be delivered in 2-5 working days. Note: Stocks are updated online every hour on working days from 7 a.m. to 8 p.m., so there is a good chance that the products are available if they appear online.

Available

€30.00 1
QUICK-LOCK TANKRING EVO - BMW F700/800 GS 08-
10065180

The item is in stock and will be delivered in 2-5 working days. Note: Stocks are updated online every hour on working days from 7 a.m. to 8 p.m., so there is a good chance that the products are available if they appear online.

Available

€55.00 1
QUICK-LOCK TANKRING EVO - HONDA 7 SCHRAUBEN
10065050

The product will be ordered from the manufacturer for you. Depending on availability, longer delivery times are also possible. We'll let you know if that's the case. You can of course cancel your delivery at any time free of charge.

Available in 7-21 days

€30.00 1
QUICK-LOCK TANKRING EVO - HONDA CB 500 F 13-
10065391

The item is in stock and will be delivered in 2-5 working days. Note: Stocks are updated online every hour on working days from 7 a.m. to 8 p.m., so there is a good chance that the products are available if they appear online.

Available

€55.00 1
QUICK-LOCK TANKRING EVO - HONDA NC750S AB BJ. 14-
10065349

The item is in stock and will be delivered in 2-5 working days. Note: Stocks are updated online every hour on working days from 7 a.m. to 8 p.m., so there is a good chance that the products are available if they appear online.

Available

€54.95

1 €29.99 1
QUICK-LOCK TANKRING EVO - KAWASAKI 5 SCHRAUBEN
10065063

The item is in stock and will be delivered in 2-5 working days. Note: Stocks are updated online every hour on working days from 7 a.m. to 8 p.m., so there is a good chance that the products are available if they appear online.

Available

€30.00 1
QUICK-LOCK TANKRING EVO - KAWASAKI Z650 16-
10065671

The item is in stock and will be delivered in 2-5 working days. Note: Stocks are updated online every hour on working days from 7 a.m. to 8 p.m., so there is a good chance that the products are available if they appear online.

Available

€60.00 1
QUICK-LOCK TANKRING EVO - R1200GS 09-, OHNE SCHRA.
10065060

The item is in stock and will be delivered in 2-5 working days. Note: Stocks are updated online every hour on working days from 7 a.m. to 8 p.m., so there is a good chance that the products are available if they appear online.

Available

€55.00 1
QUICK-LOCK TANKRING EVO - R1200R 07-08, OHNE SCHR.
10065058

The item is in stock and will be delivered in 2-5 working days. Note: Stocks are updated online every hour on working days from 7 a.m. to 8 p.m., so there is a good chance that the products are available if they appear online.

Available

€55.00 1
QUICK-LOCK TANKRING EVO - SUZUKI 5 SCHRAUBEN
10065053

The item is in stock and will be delivered in 2-5 working days. Note: Stocks are updated online every hour on working days from 7 a.m. to 8 p.m., so there is a good chance that the products are available if they appear online.

Available

€30.00 1
QUICK-LOCK TANKRING EVO - SUZUKI DL1000 14-
10065321

The item is in stock and will be delivered in 2-5 working days. Note: Stocks are updated online every hour on working days from 7 a.m. to 8 p.m., so there is a good chance that the products are available if they appear online.

Available

€30.00 1
QUICK-LOCK TANKRING EVO - SUZUKI GSX1300 B-KING 08-
10065178

The item is in stock and will be delivered in 2-5 working days. Note: Stocks are updated online every hour on working days from 7 a.m. to 8 p.m., so there is a good chance that the products are available if they appear online.

Available

€55.00 1
QUICK-LOCK TANKRING EVO - TANK WITHOUT SCREWS
10065177

The item is in stock and will be delivered in 2-5 working days. Note: Stocks are updated online every hour on working days from 7 a.m. to 8 p.m., so there is a good chance that the products are available if they appear online.

Available

€60.00 1
QUICK-LOCK TANKRING EVO - VARIOUS BMW F 800
10065179

Sorry, this item is sold out

Sold out

€55.00 1
QUICK-LOCK TANKRING EVO - YAMAHA MT-07 18-
10065670

The item is in stock and will be delivered in 2-5 working days. Note: Stocks are updated online every hour on working days from 7 a.m. to 8 p.m., so there is a good chance that the products are available if they appear online.

Available

€55.00 1
QUICK-LOCK TANKRING EVO - YAMAHA/DUCATI 5 SCHRAUBEN

Important notes

Yamaha XSR 900 - Fuel filler cap is not centred.

10065051

The item is in stock and will be delivered in 2-5 working days. Note: Stocks are updated online every hour on working days from 7 a.m. to 8 p.m., so there is a good chance that the products are available if they appear online.

Available

€30.00 1
QUICK-LOCK TANKRING EVO - YAMAHA/SUZUKI 7/8 SCHRAU.
10065052

The item is in stock and will be delivered in 2-5 working days. Note: Stocks are updated online every hour on working days from 7 a.m. to 8 p.m., so there is a good chance that the products are available if they appear online.

Available

€30.00 1