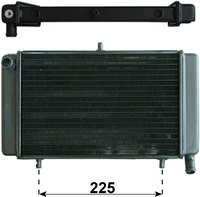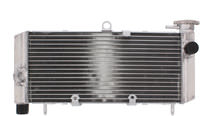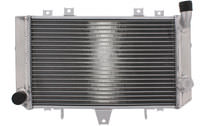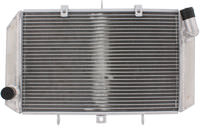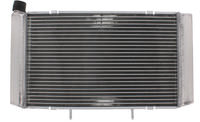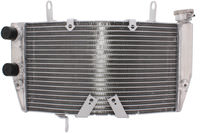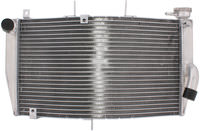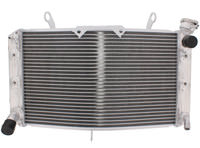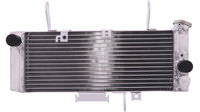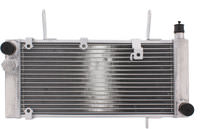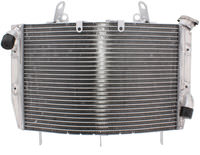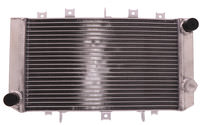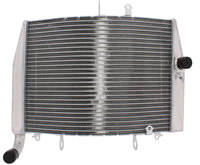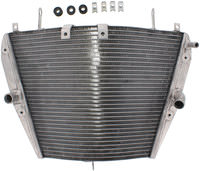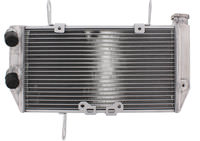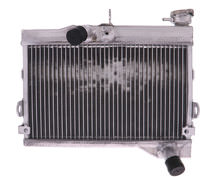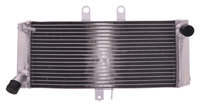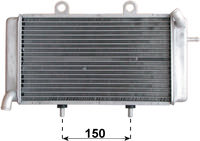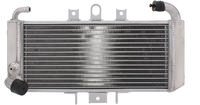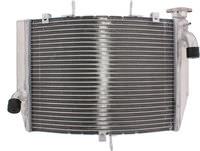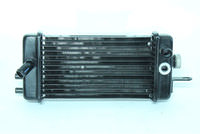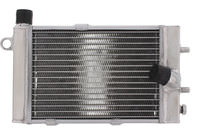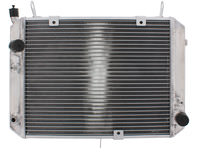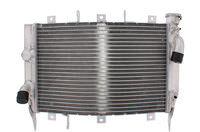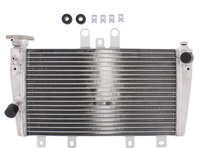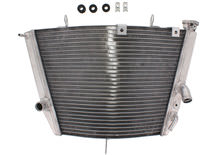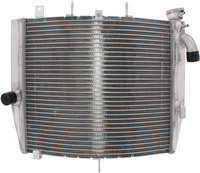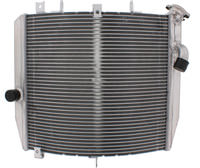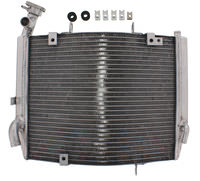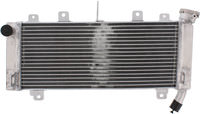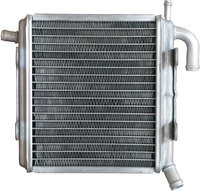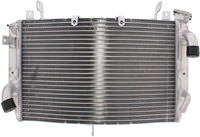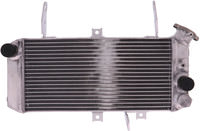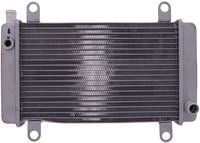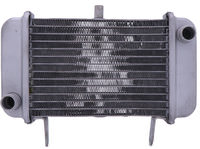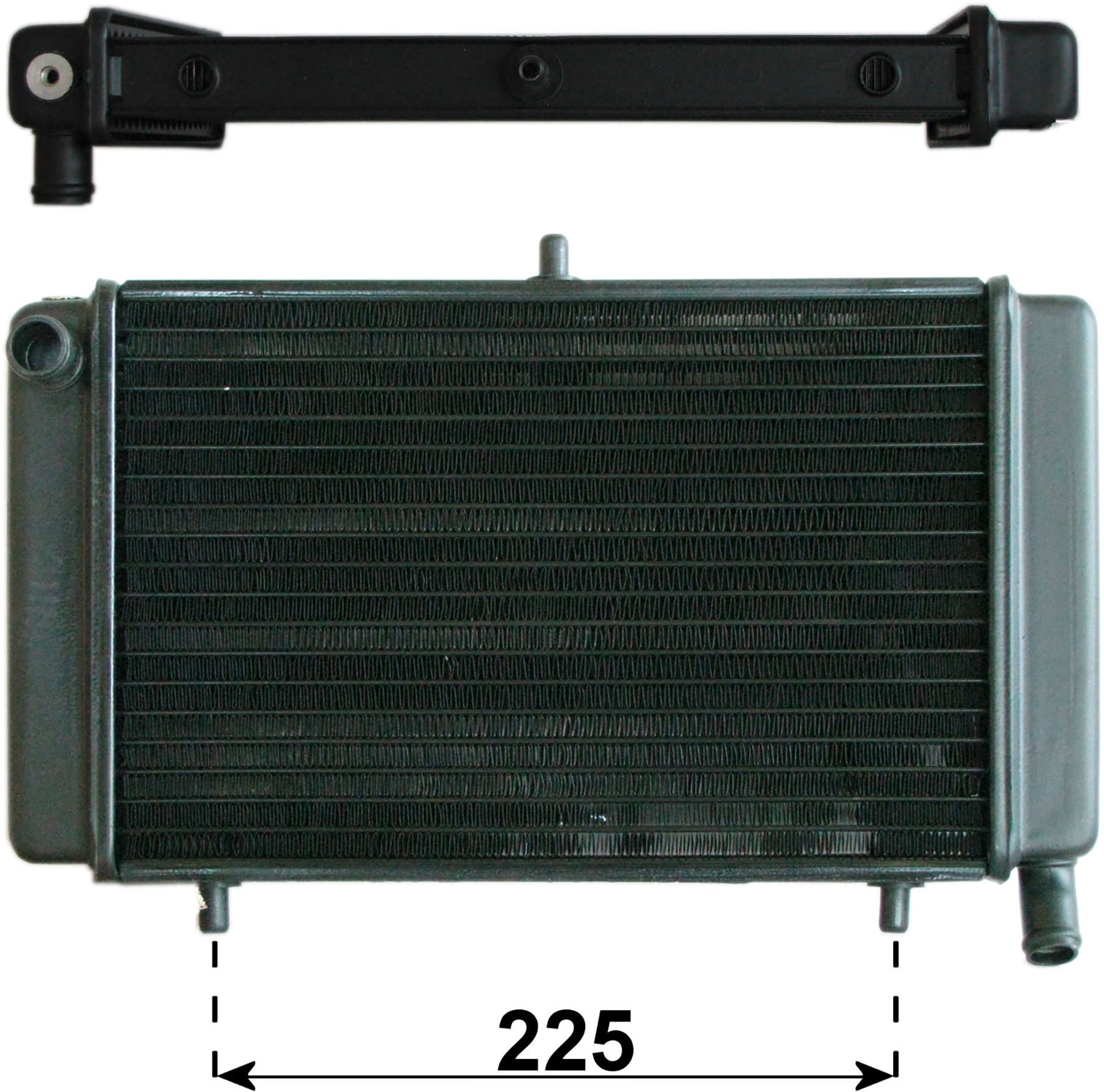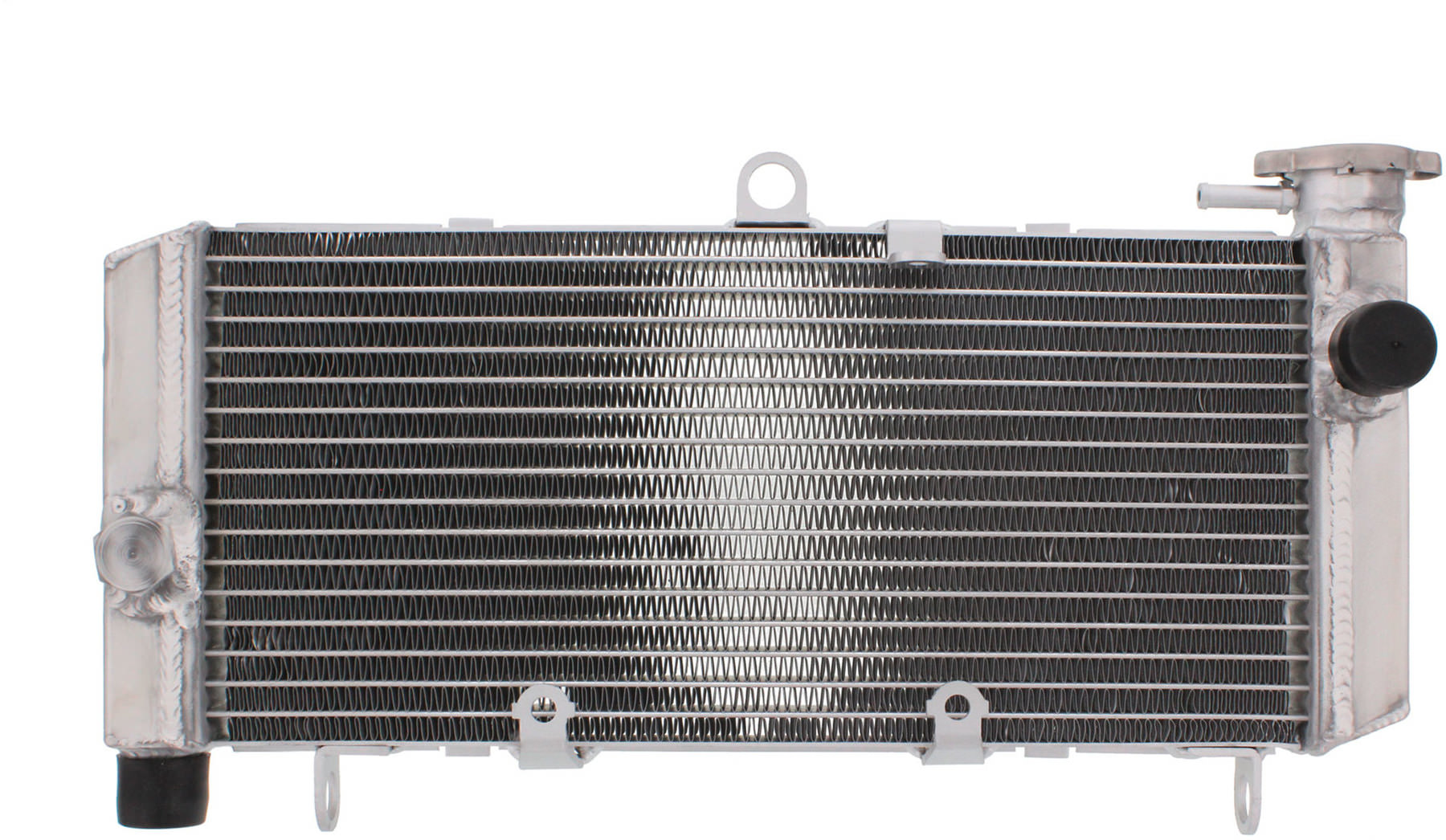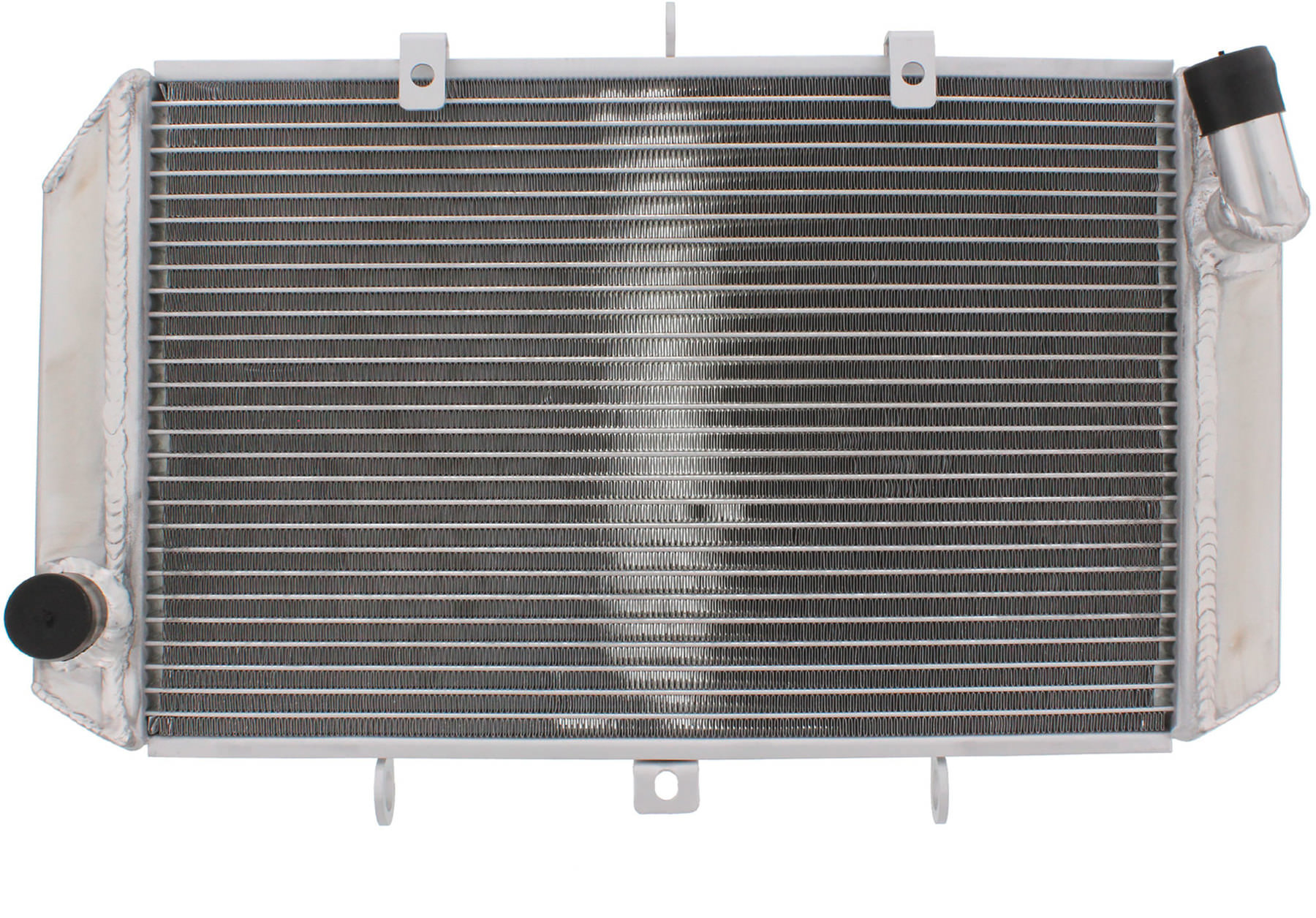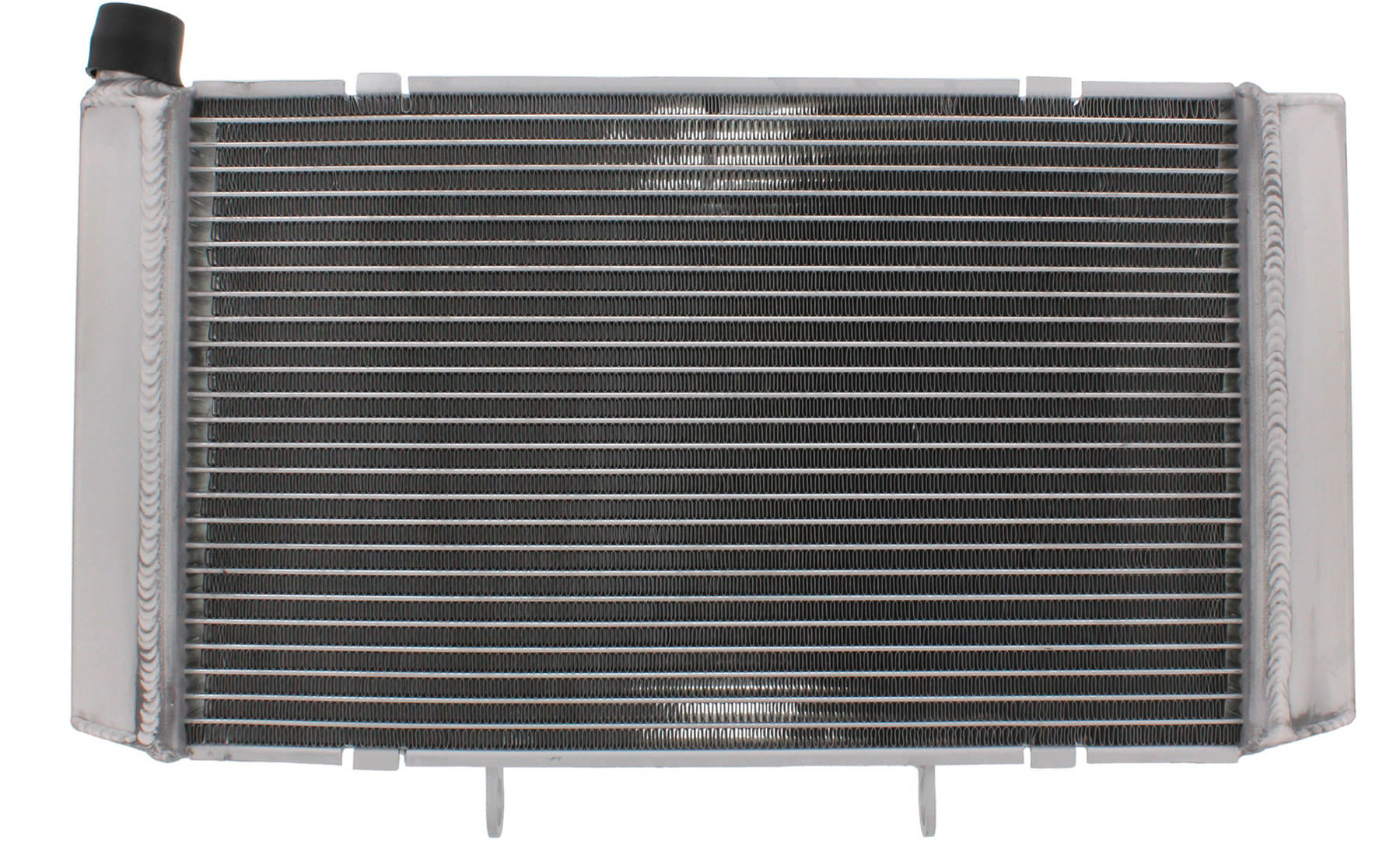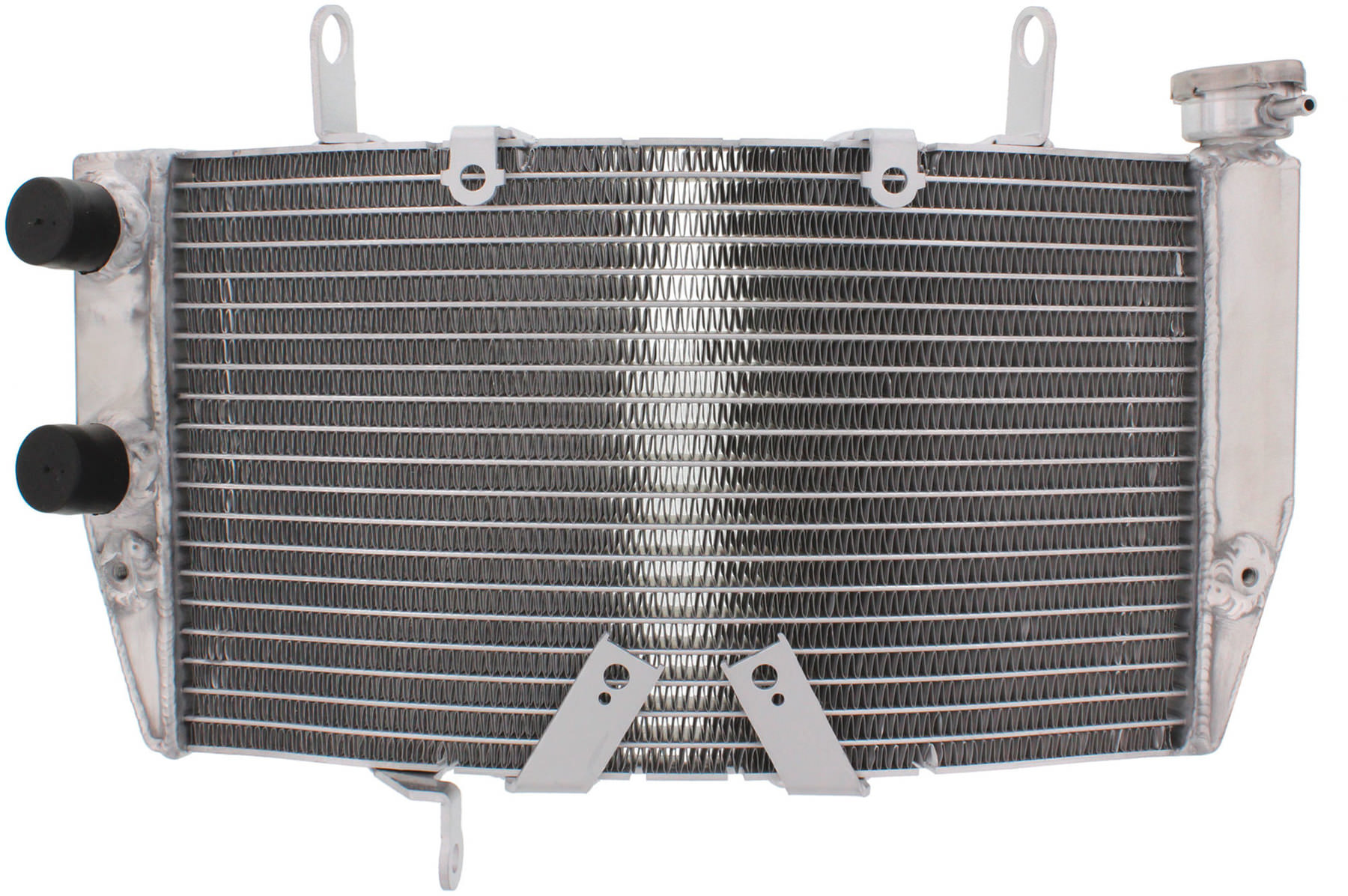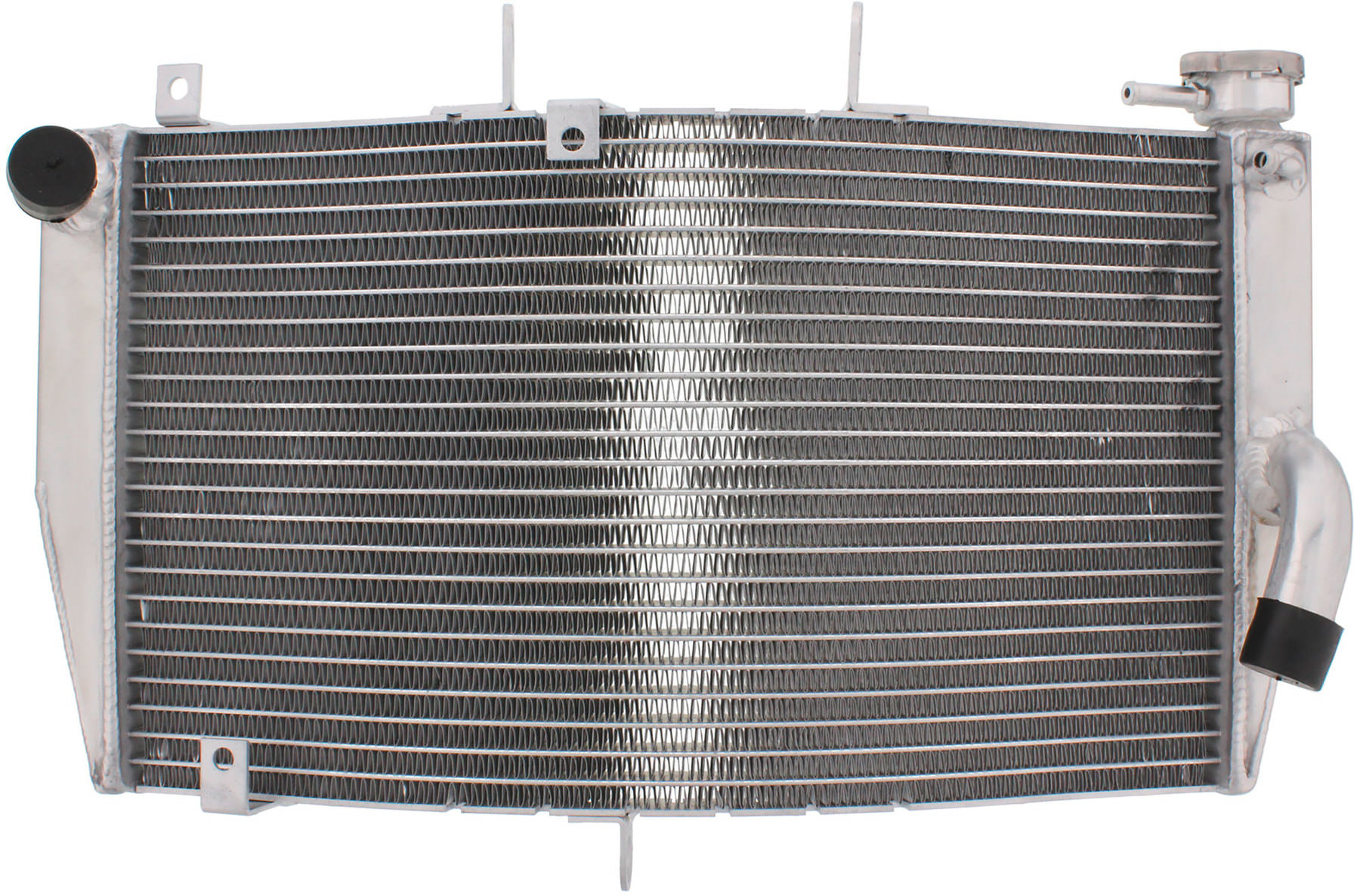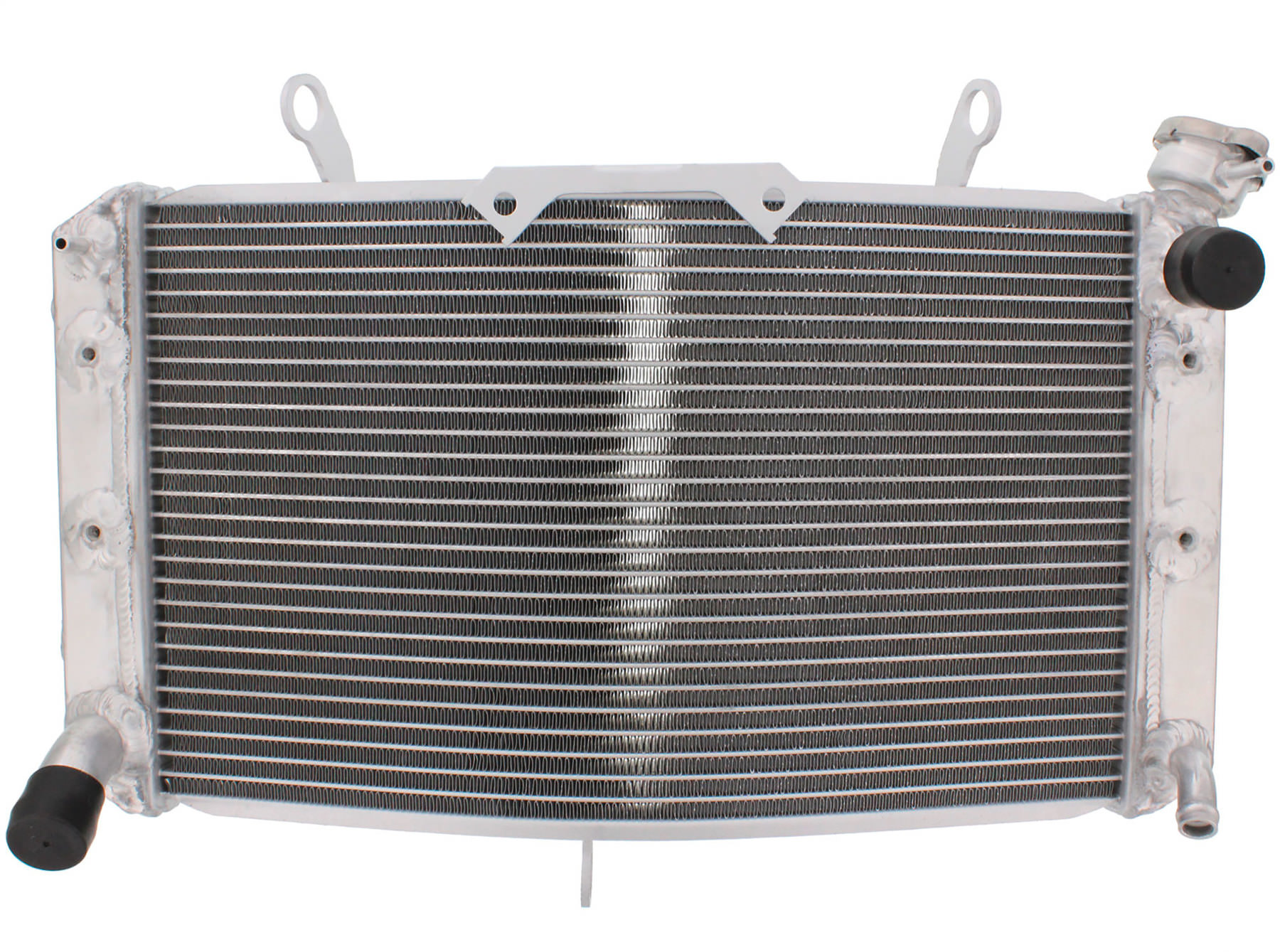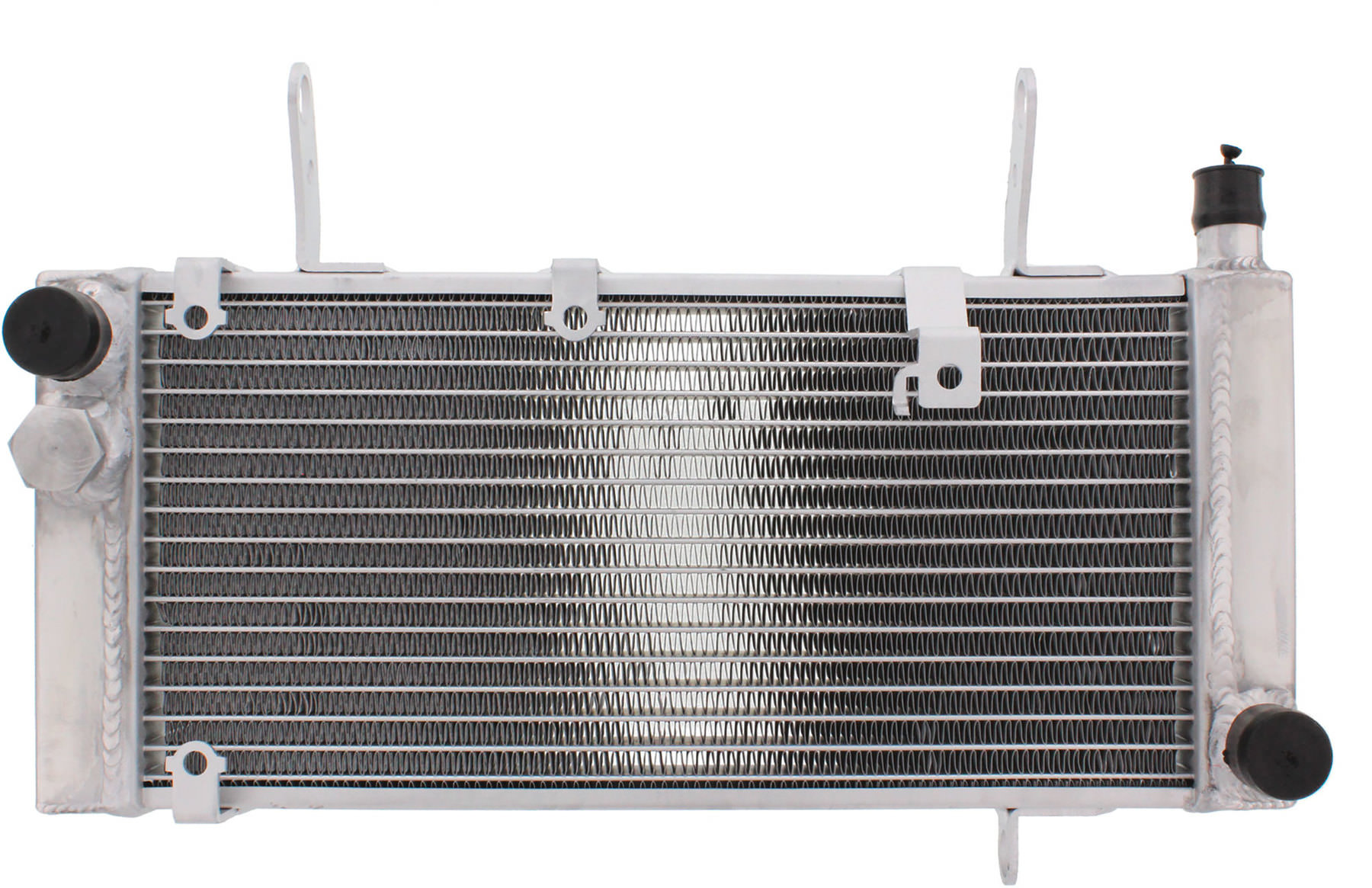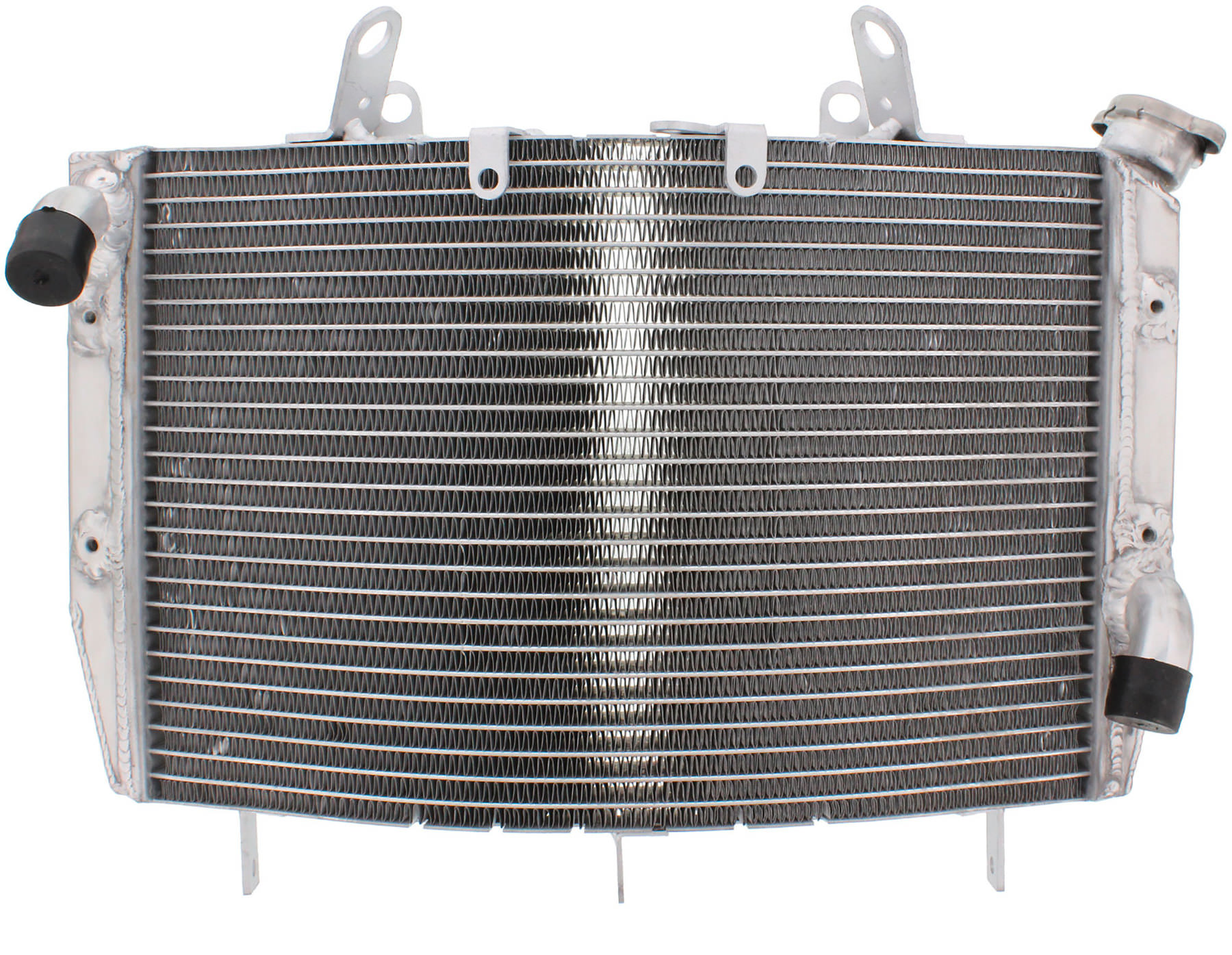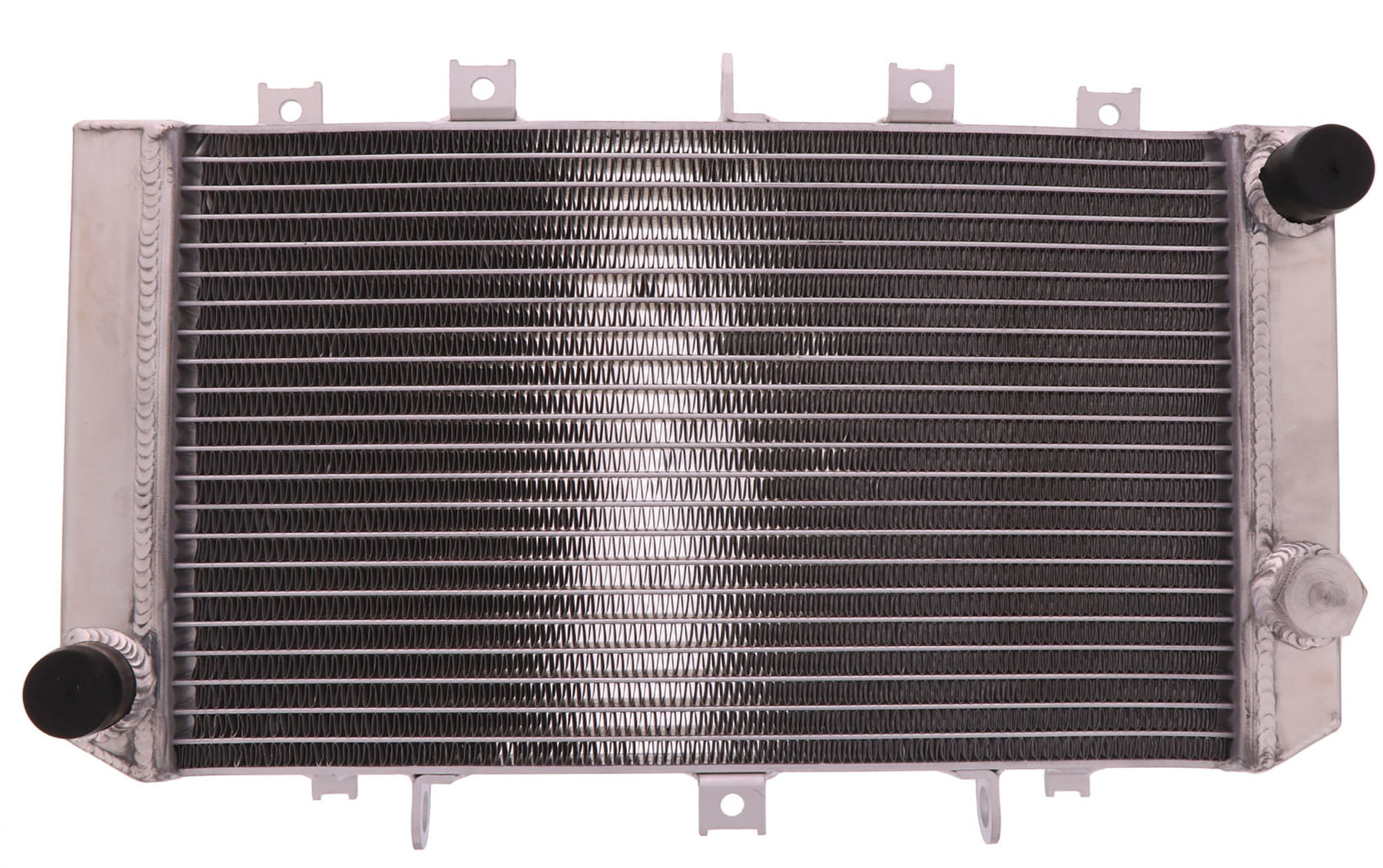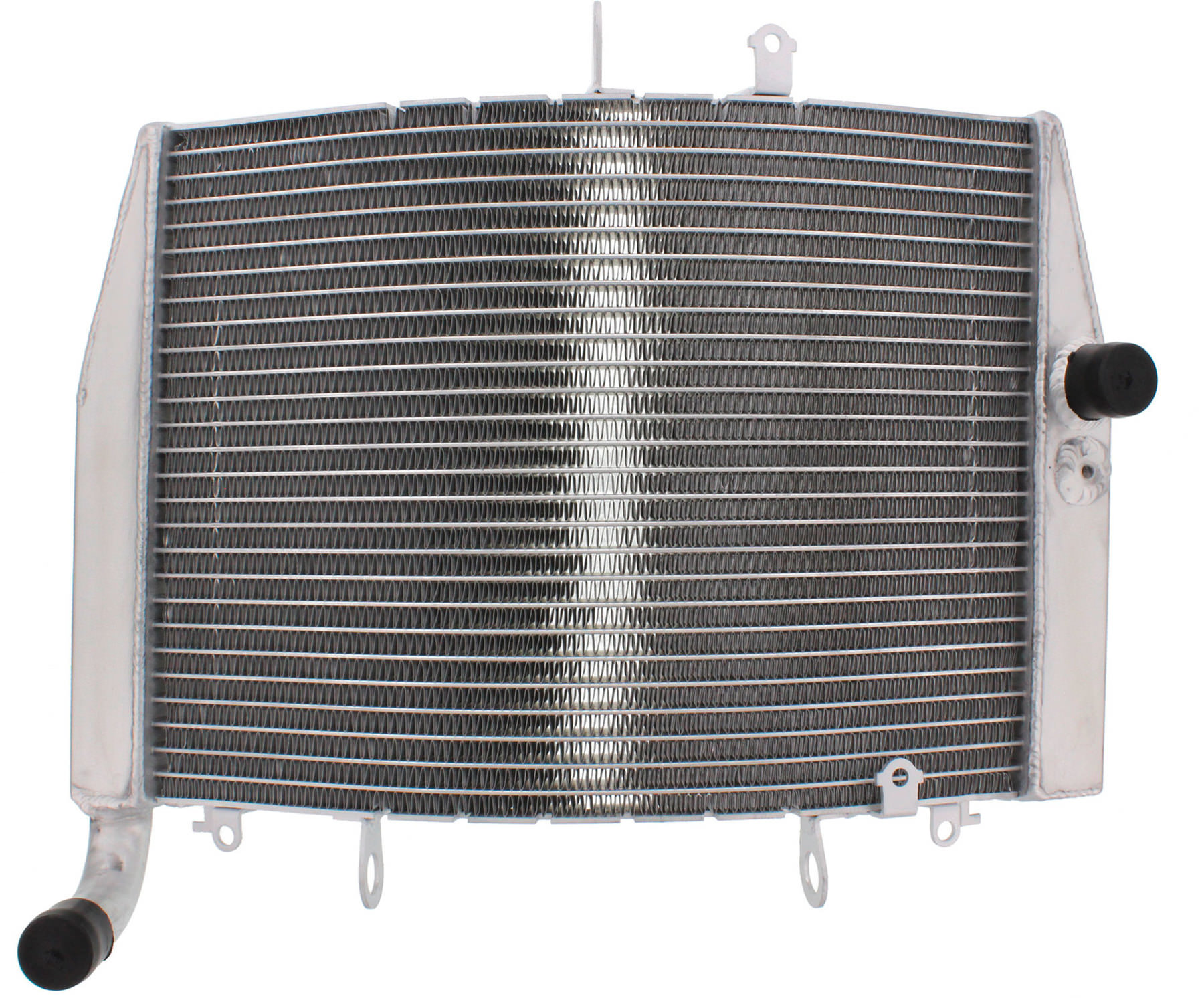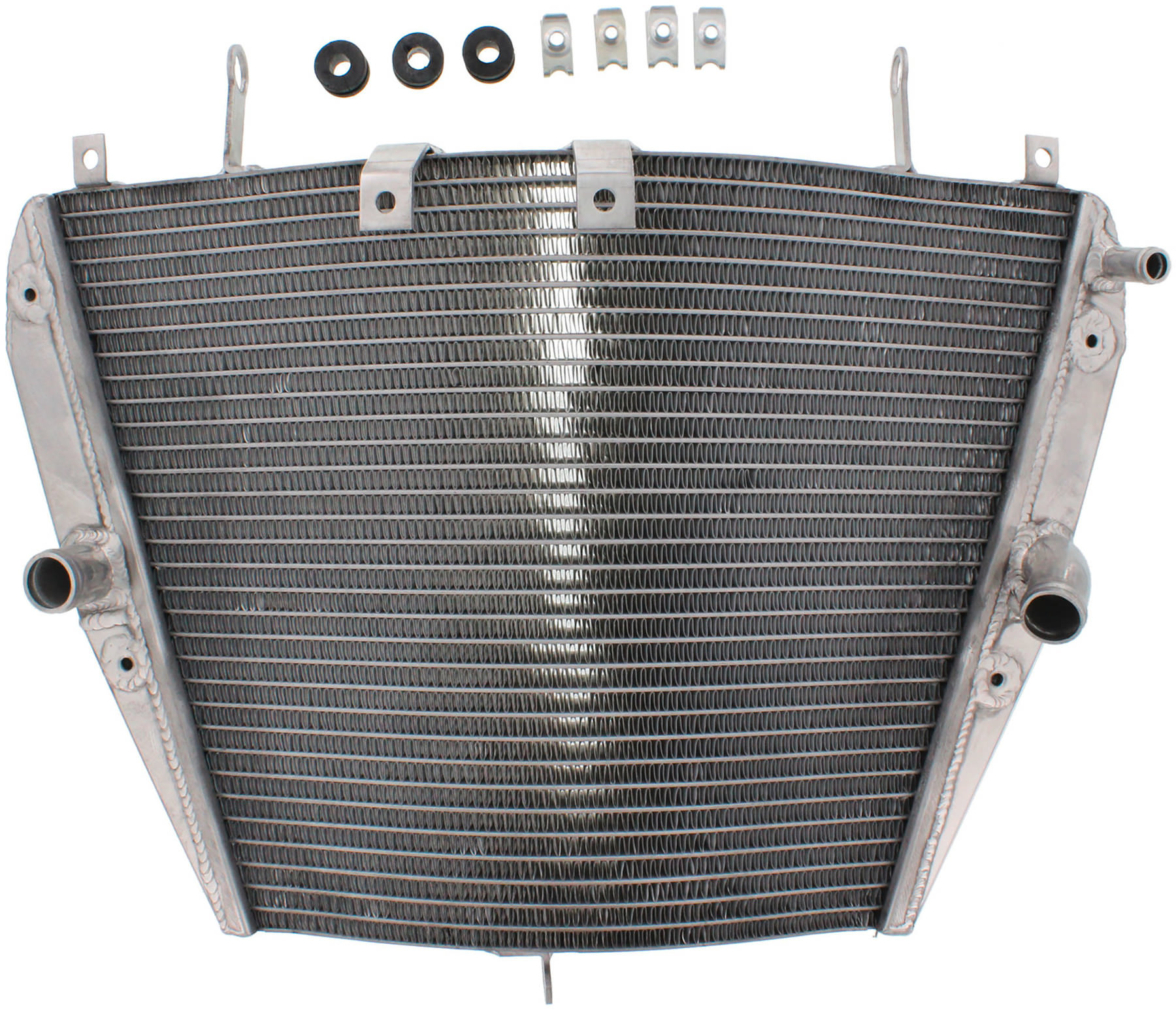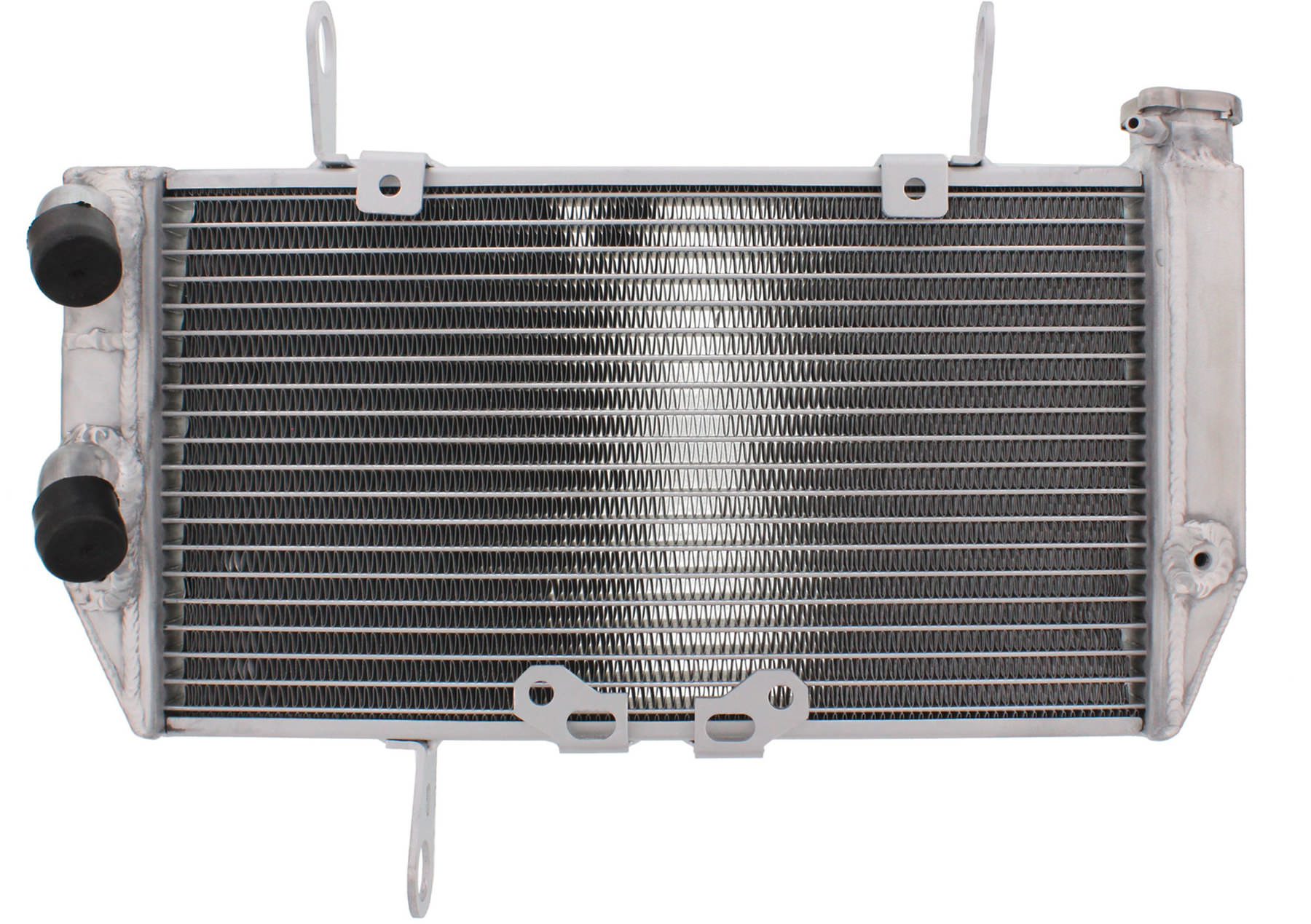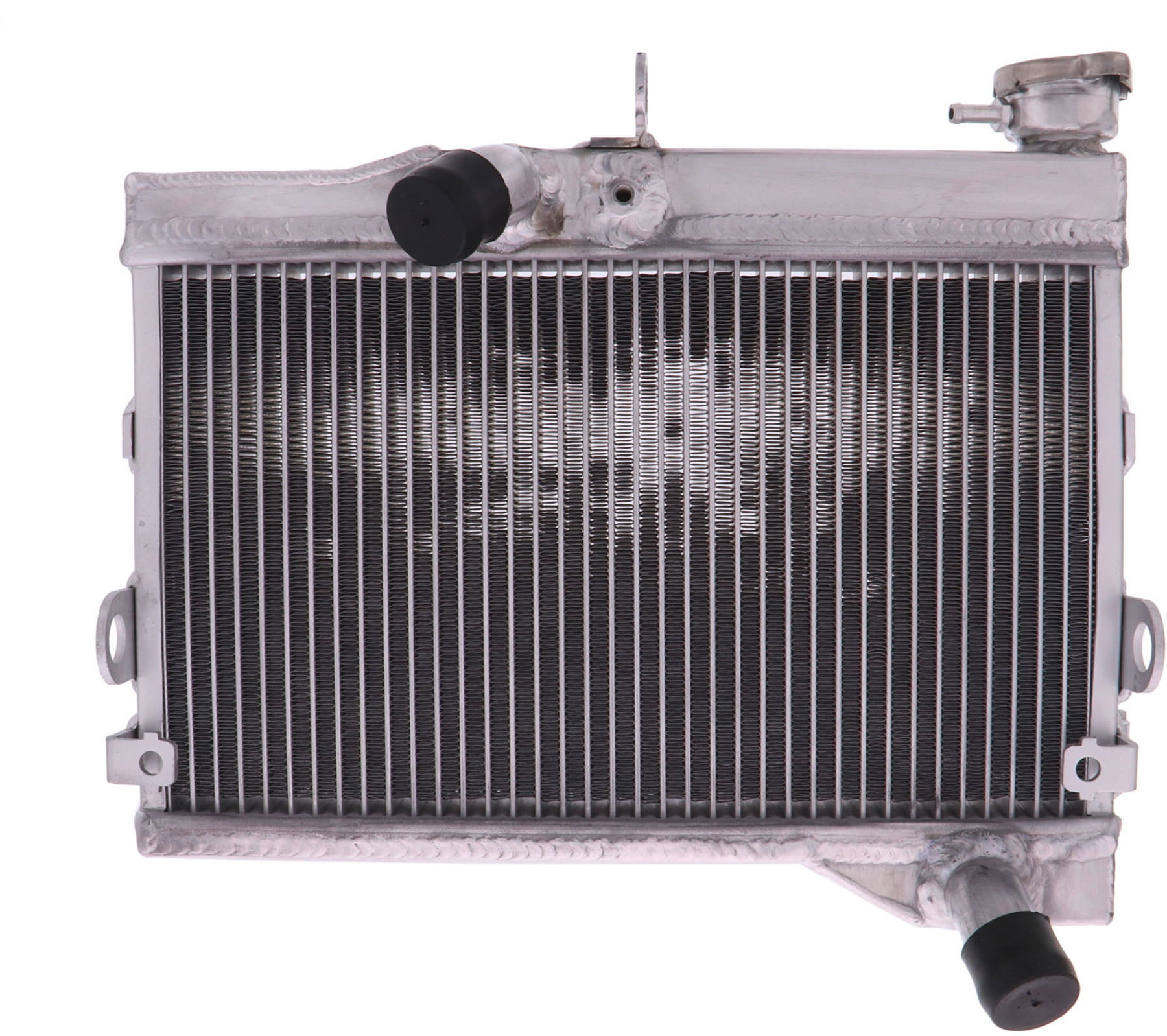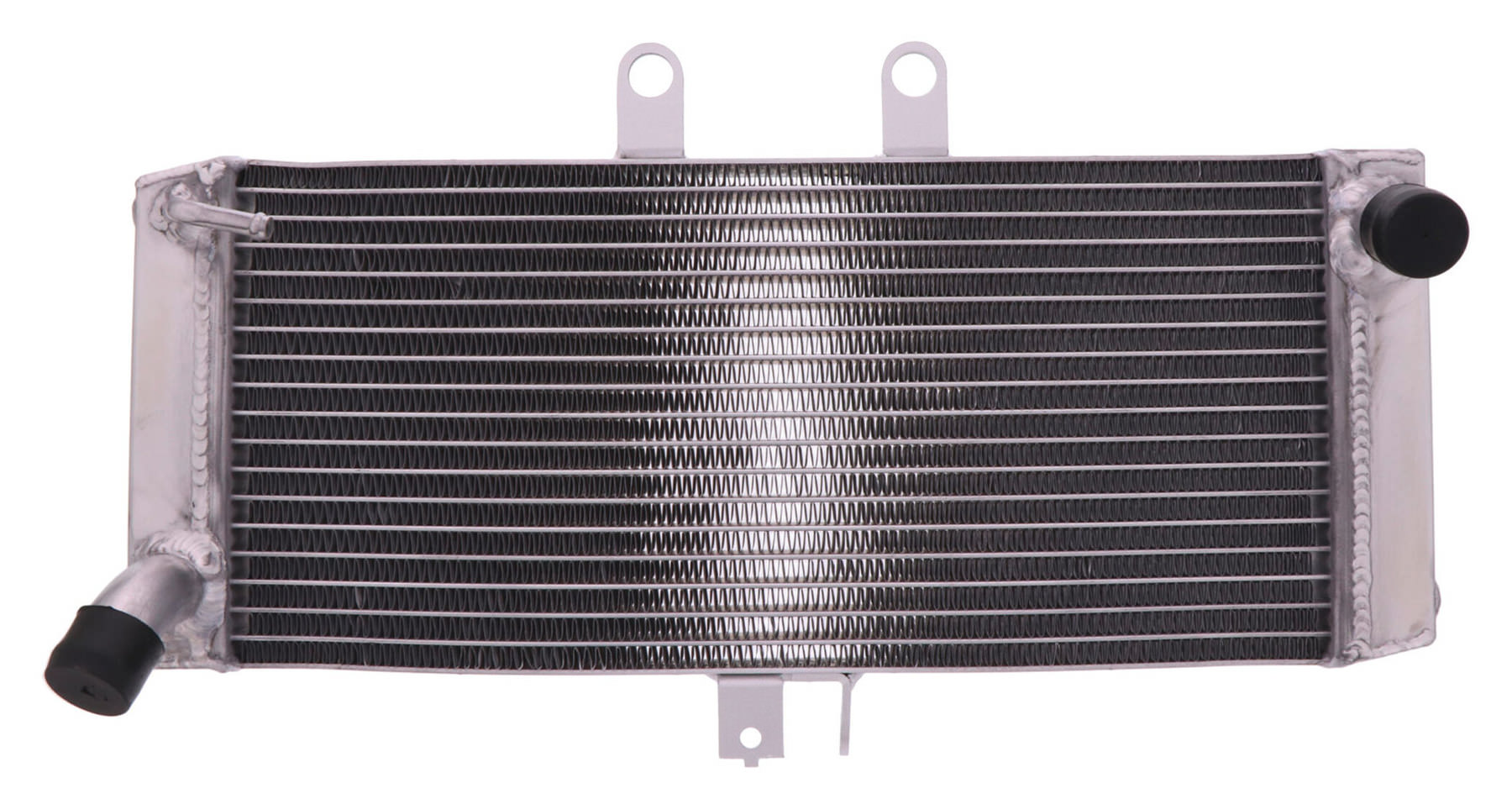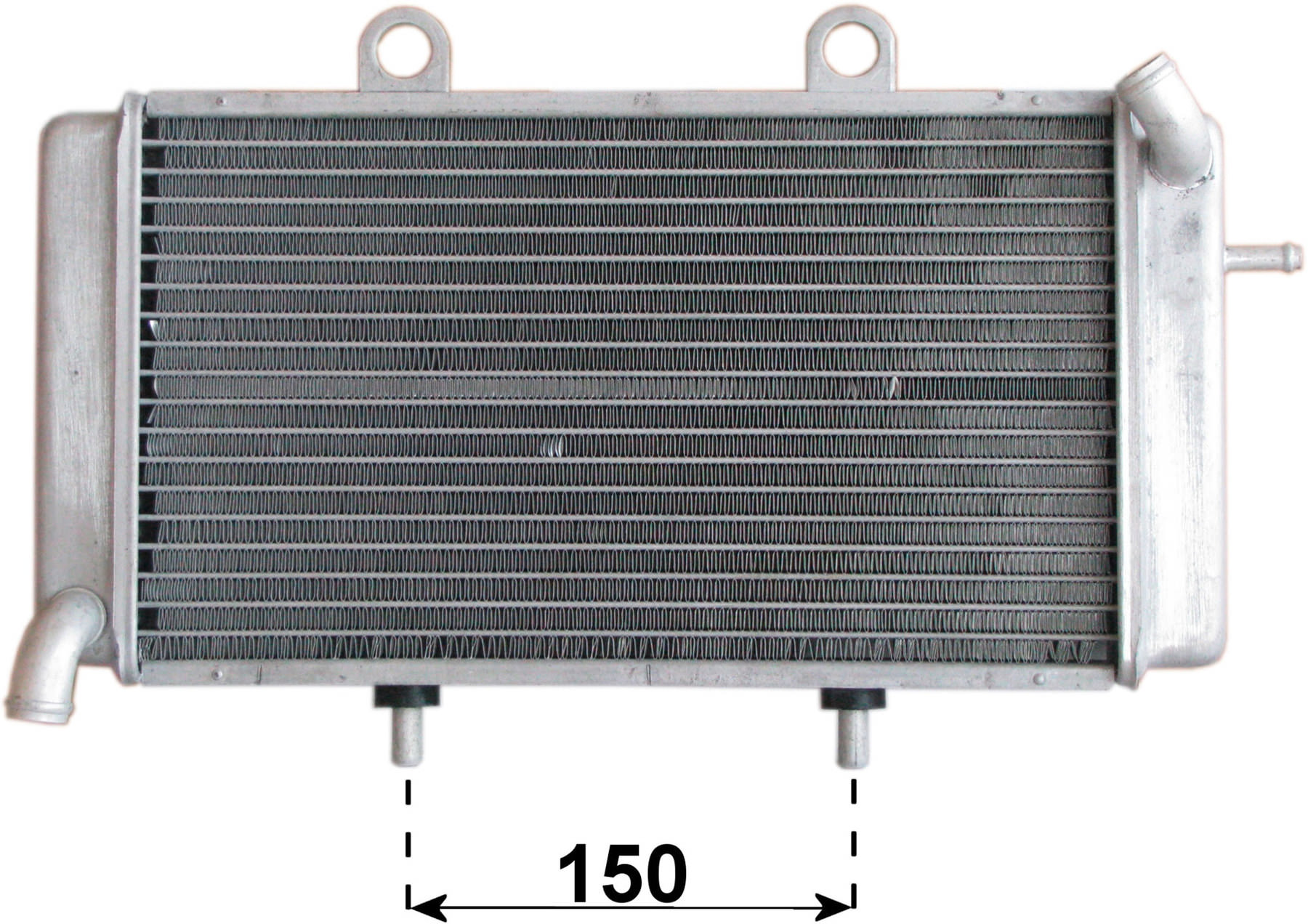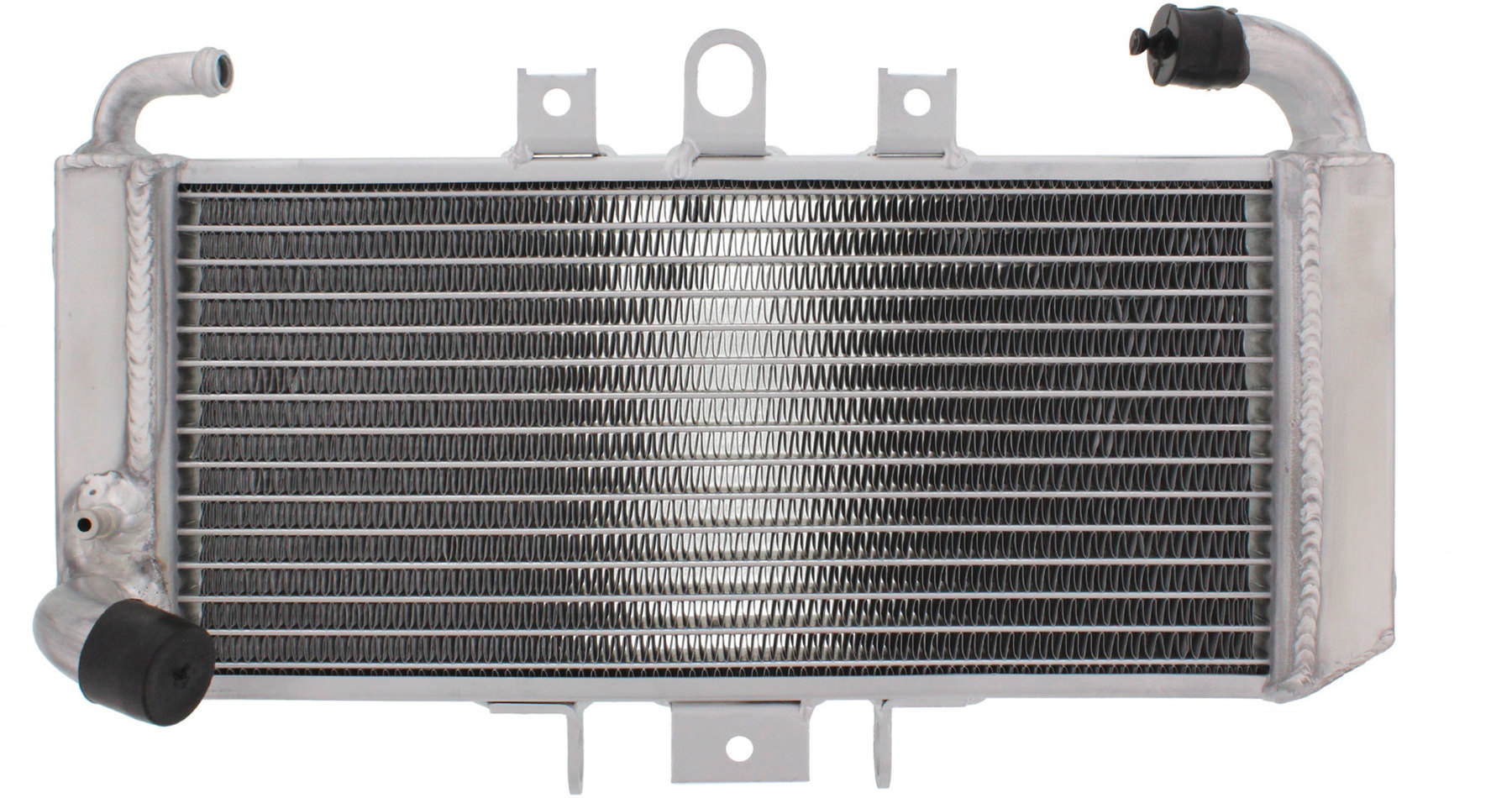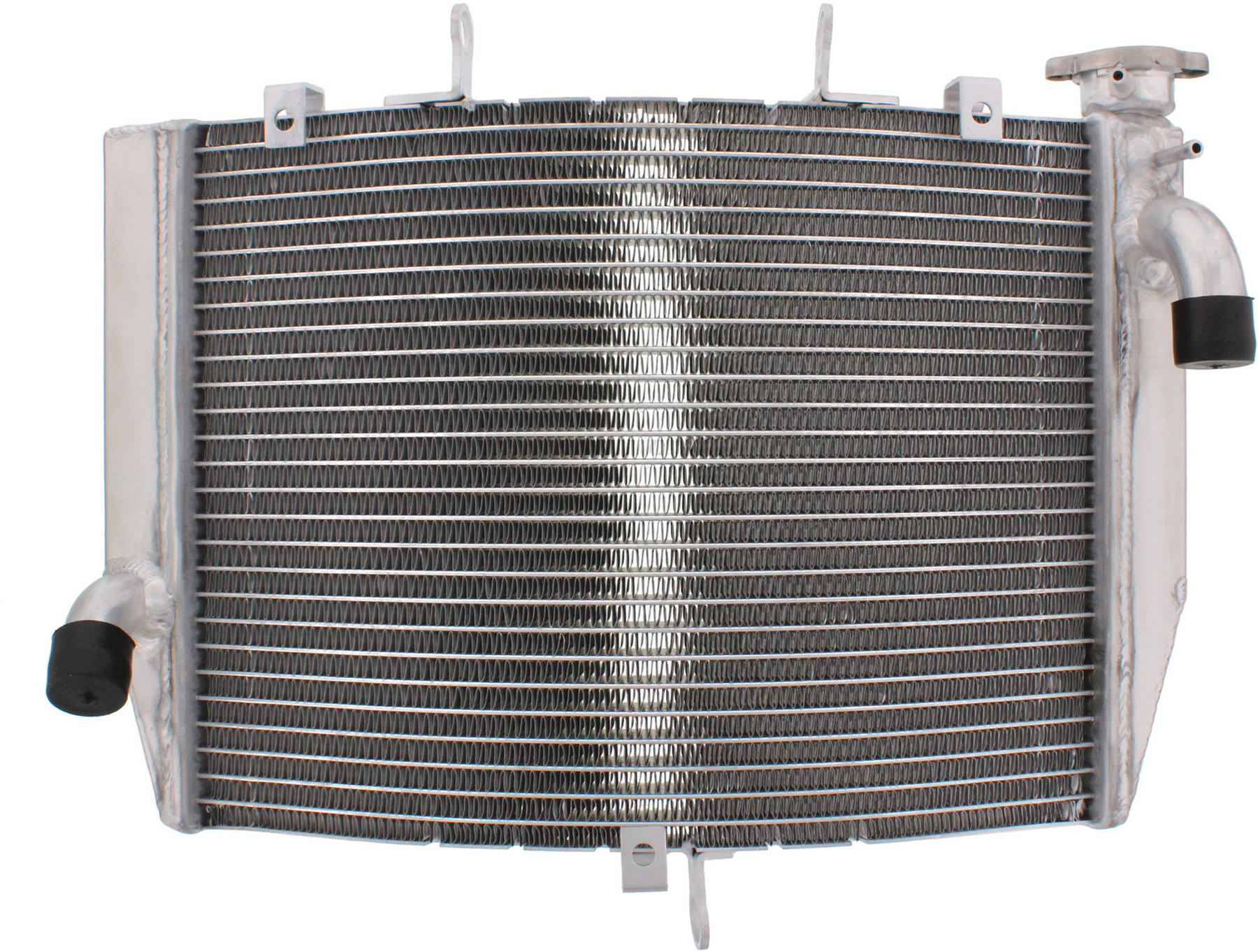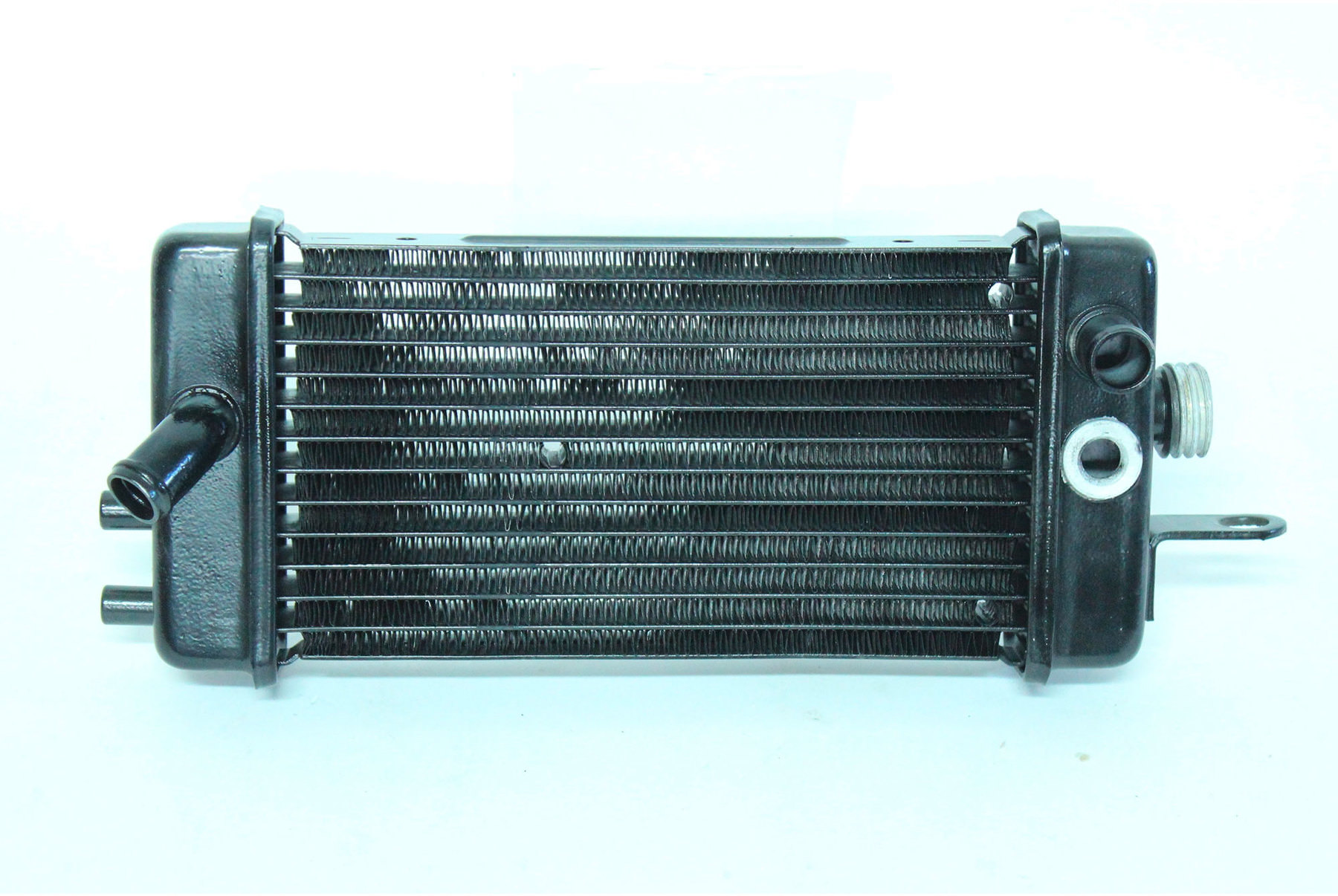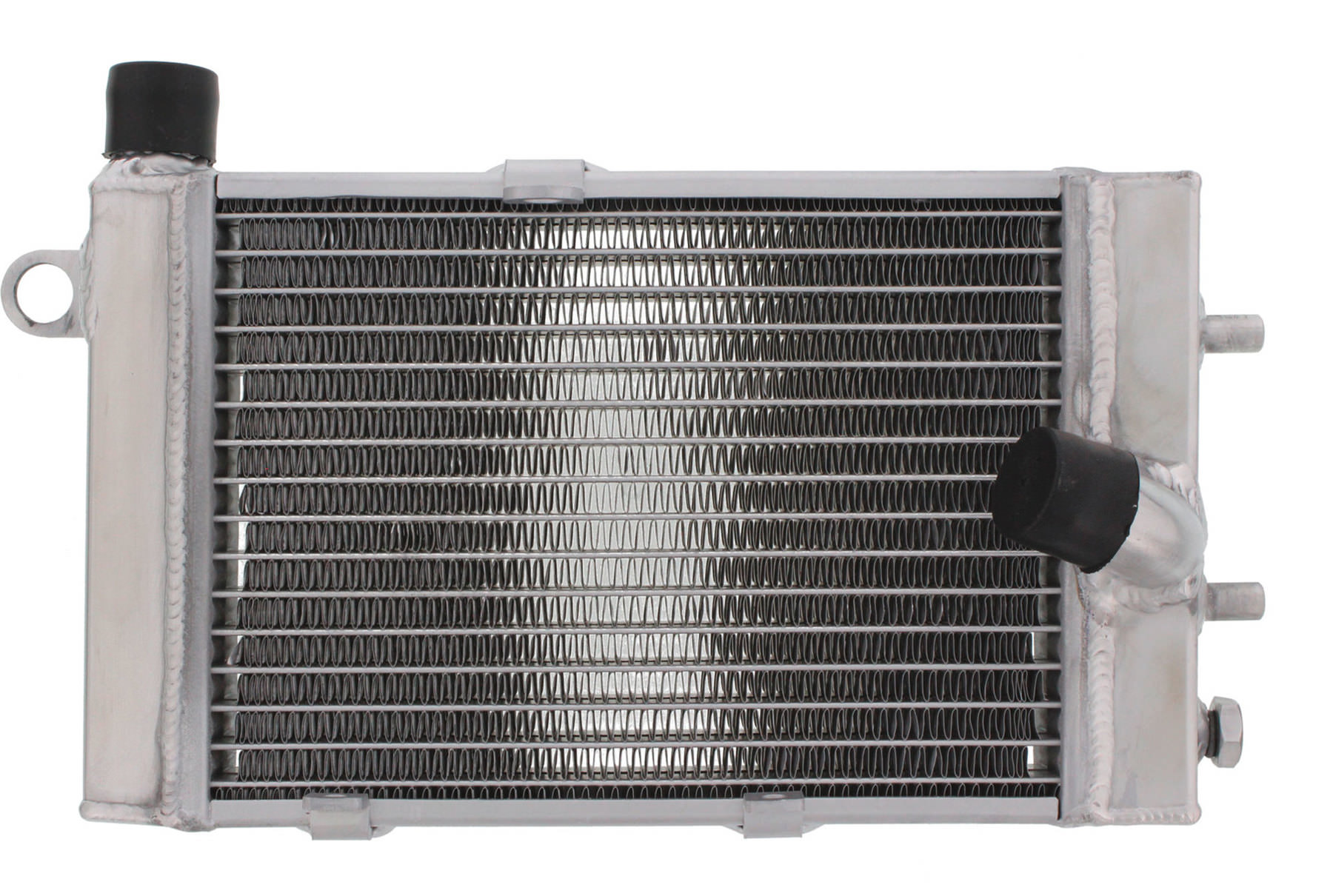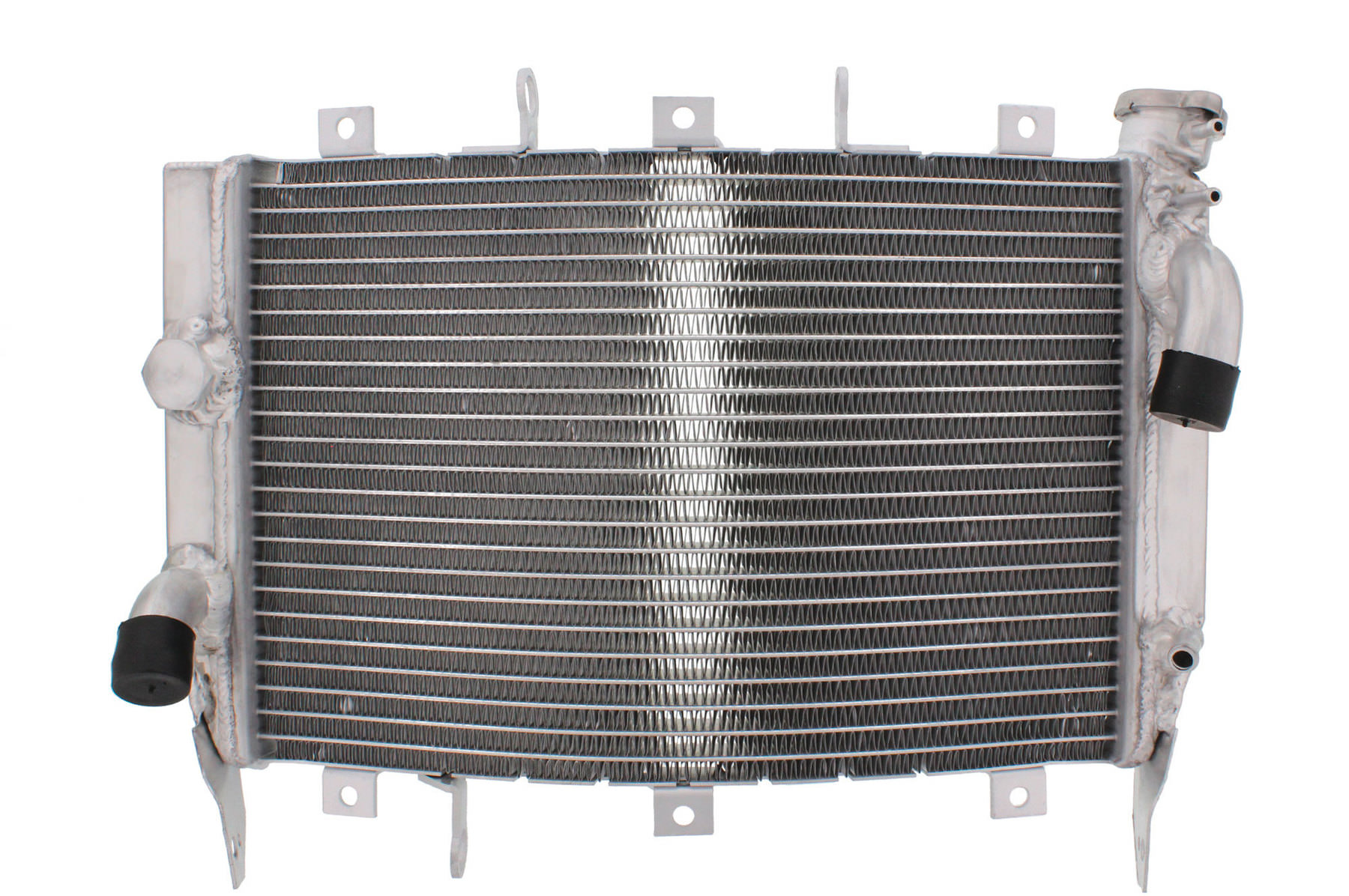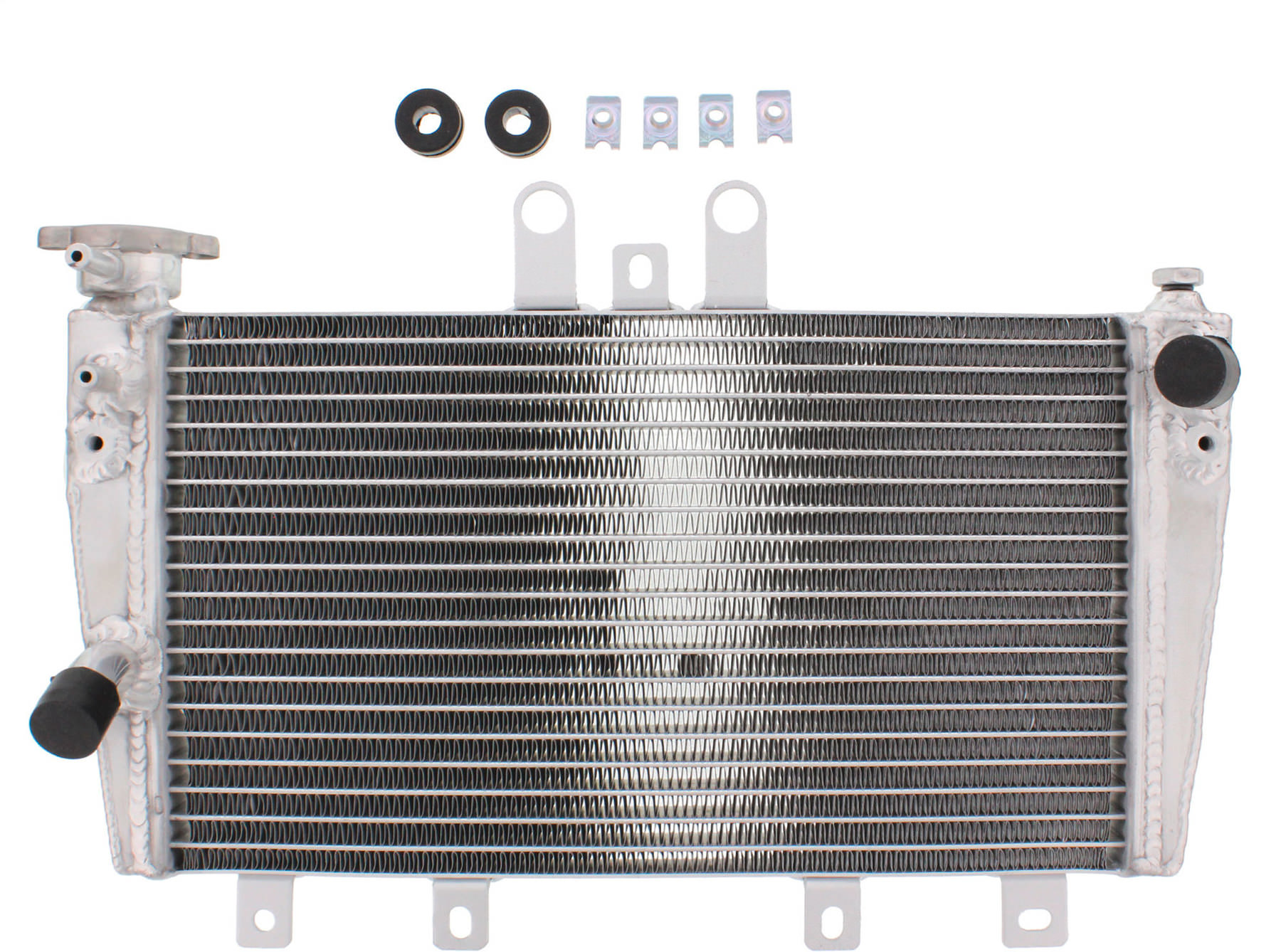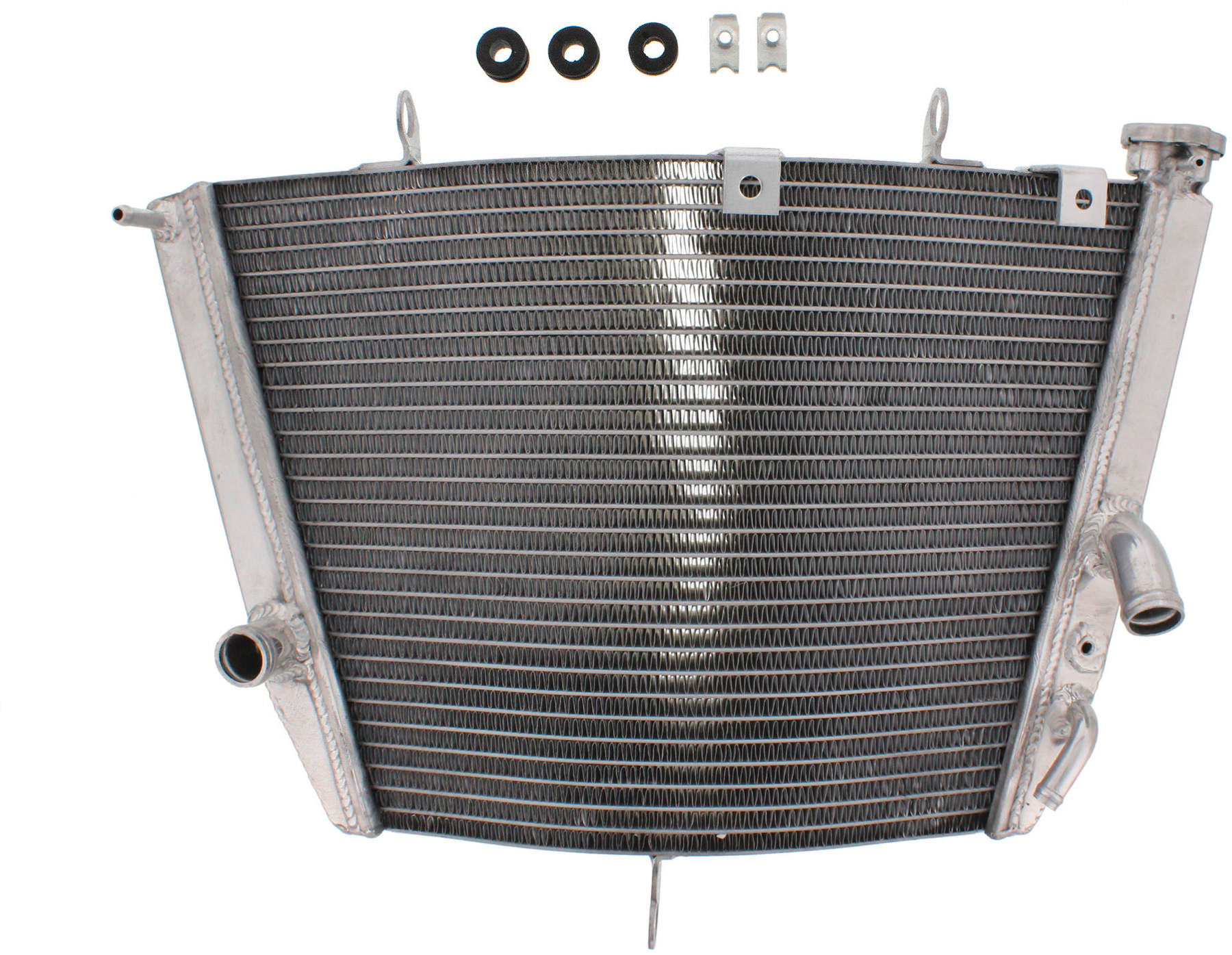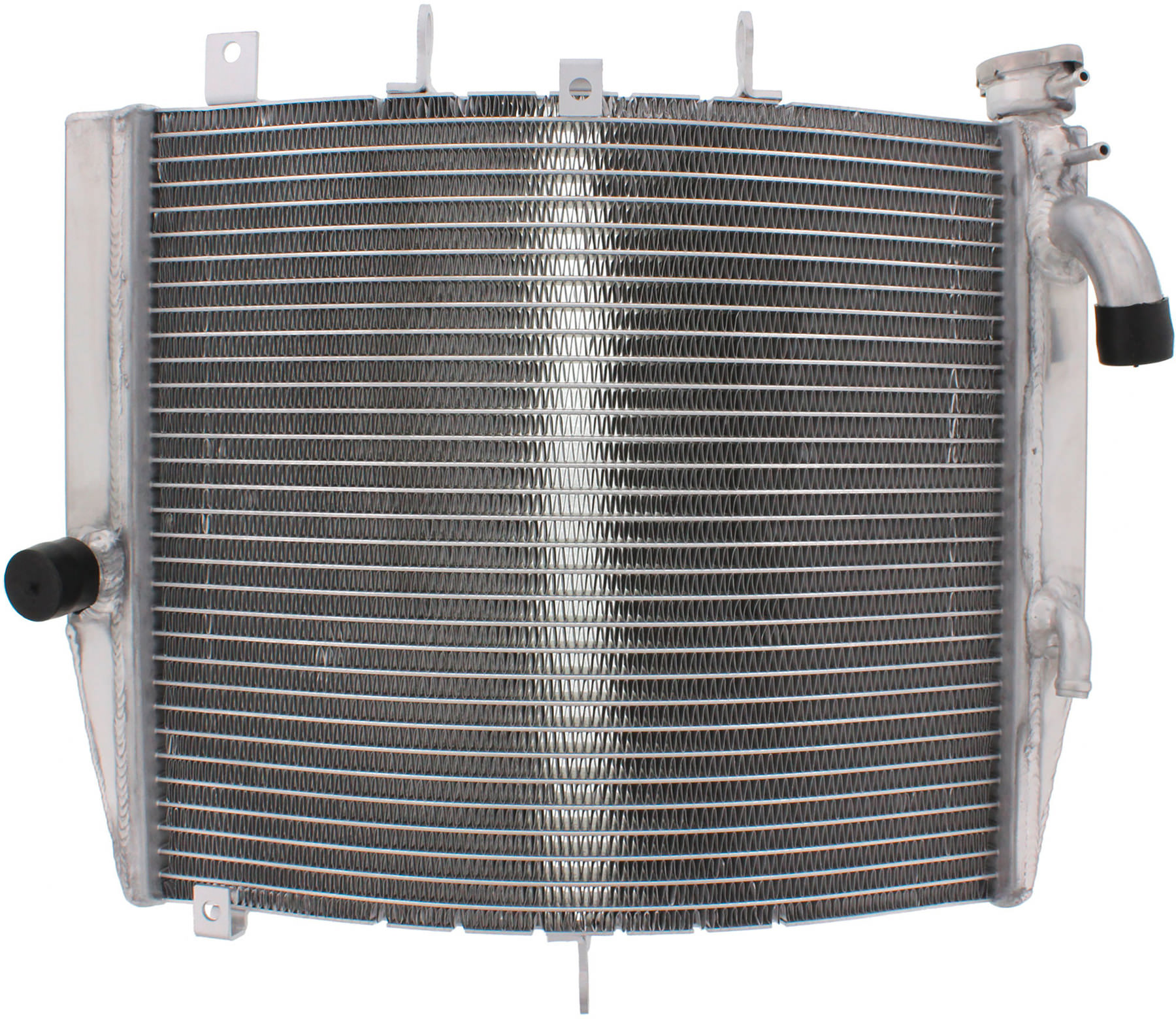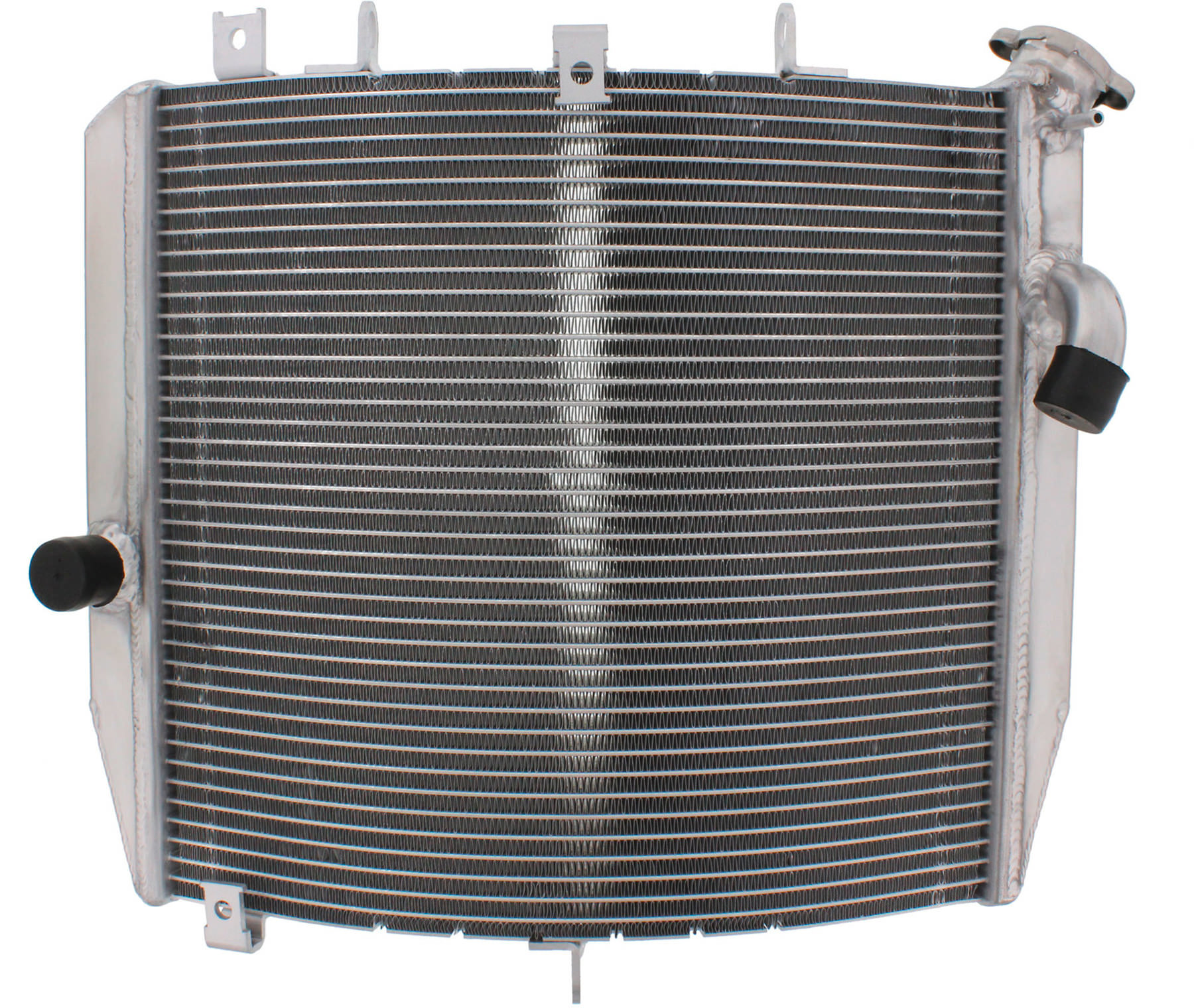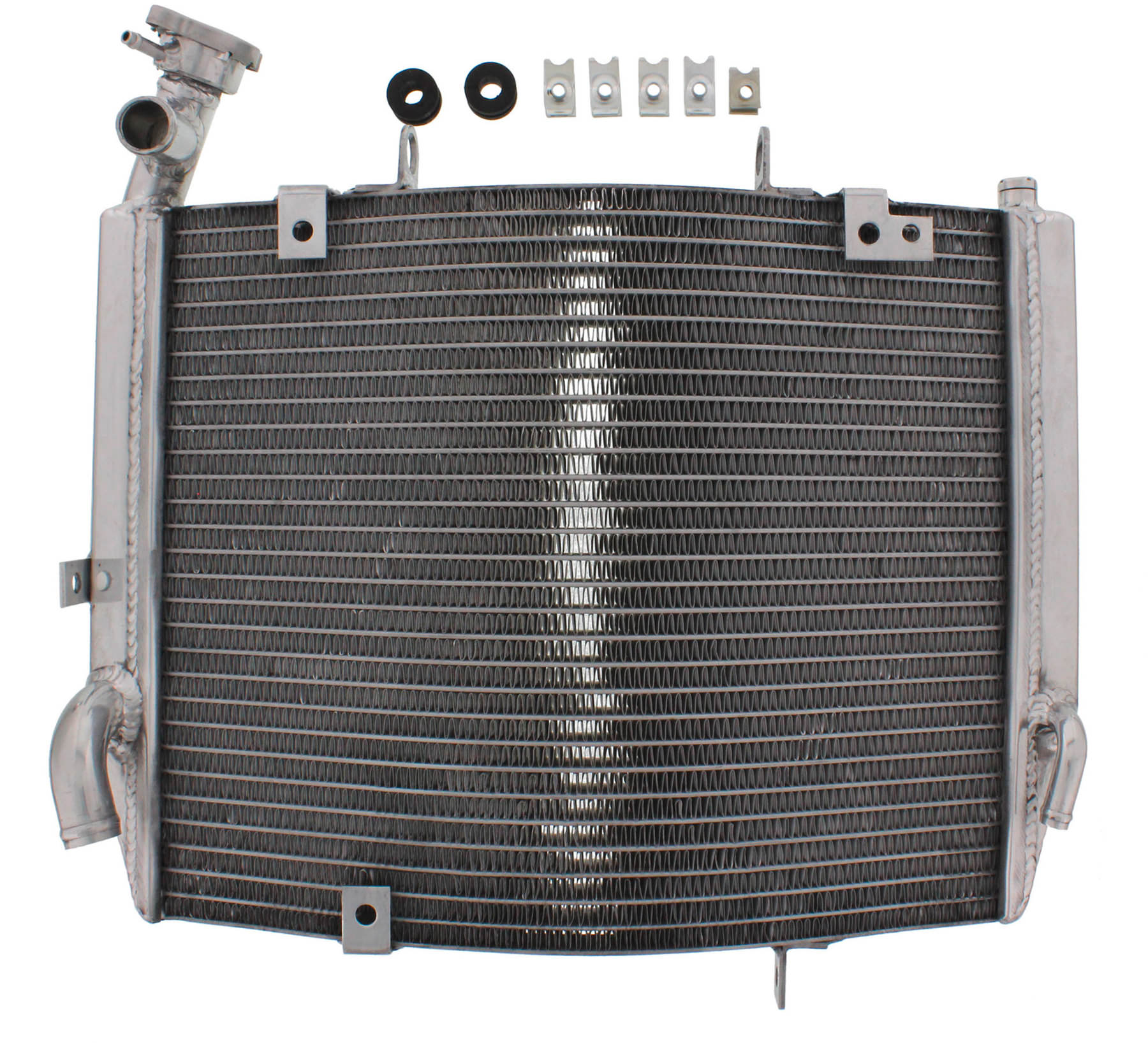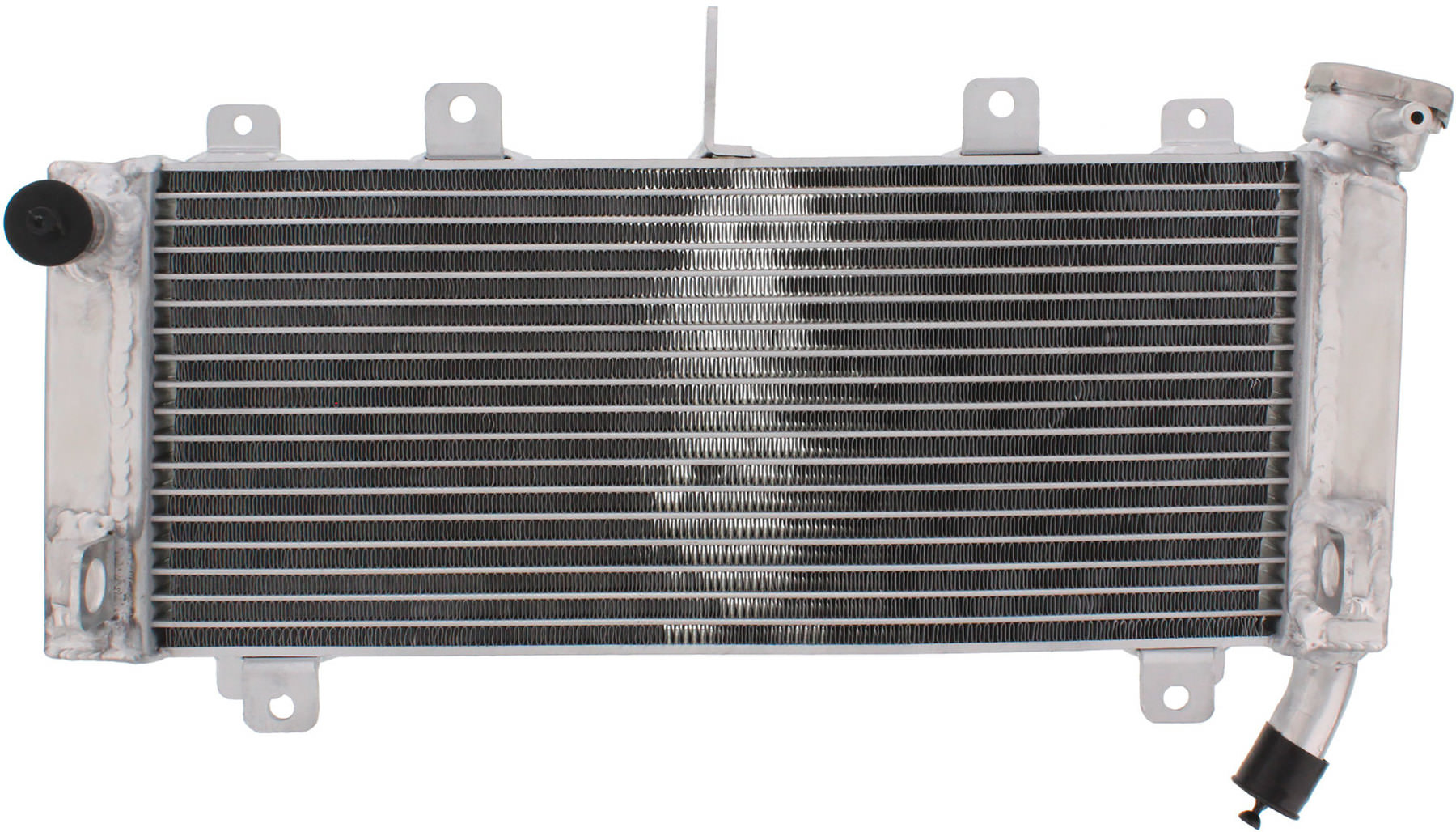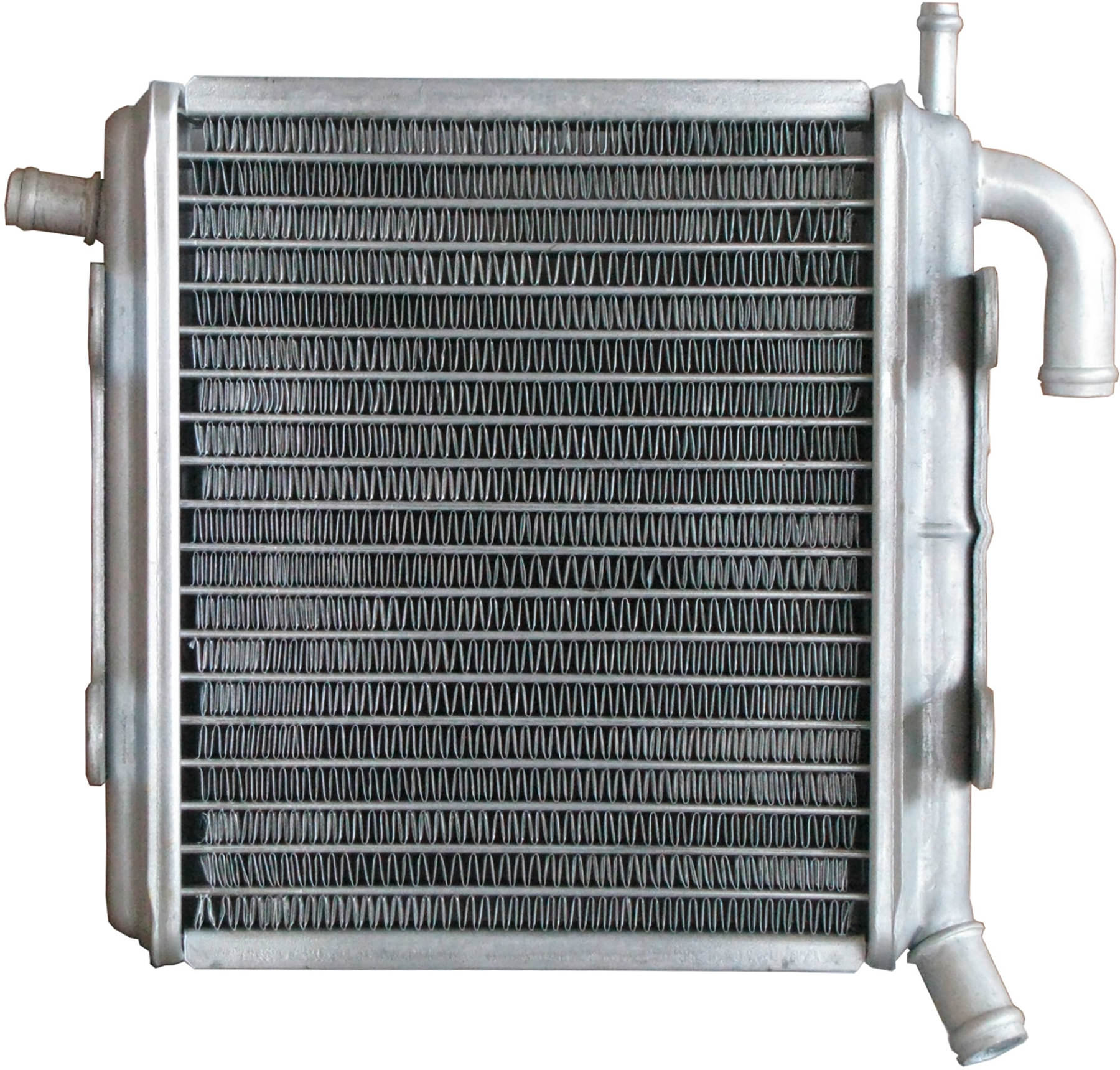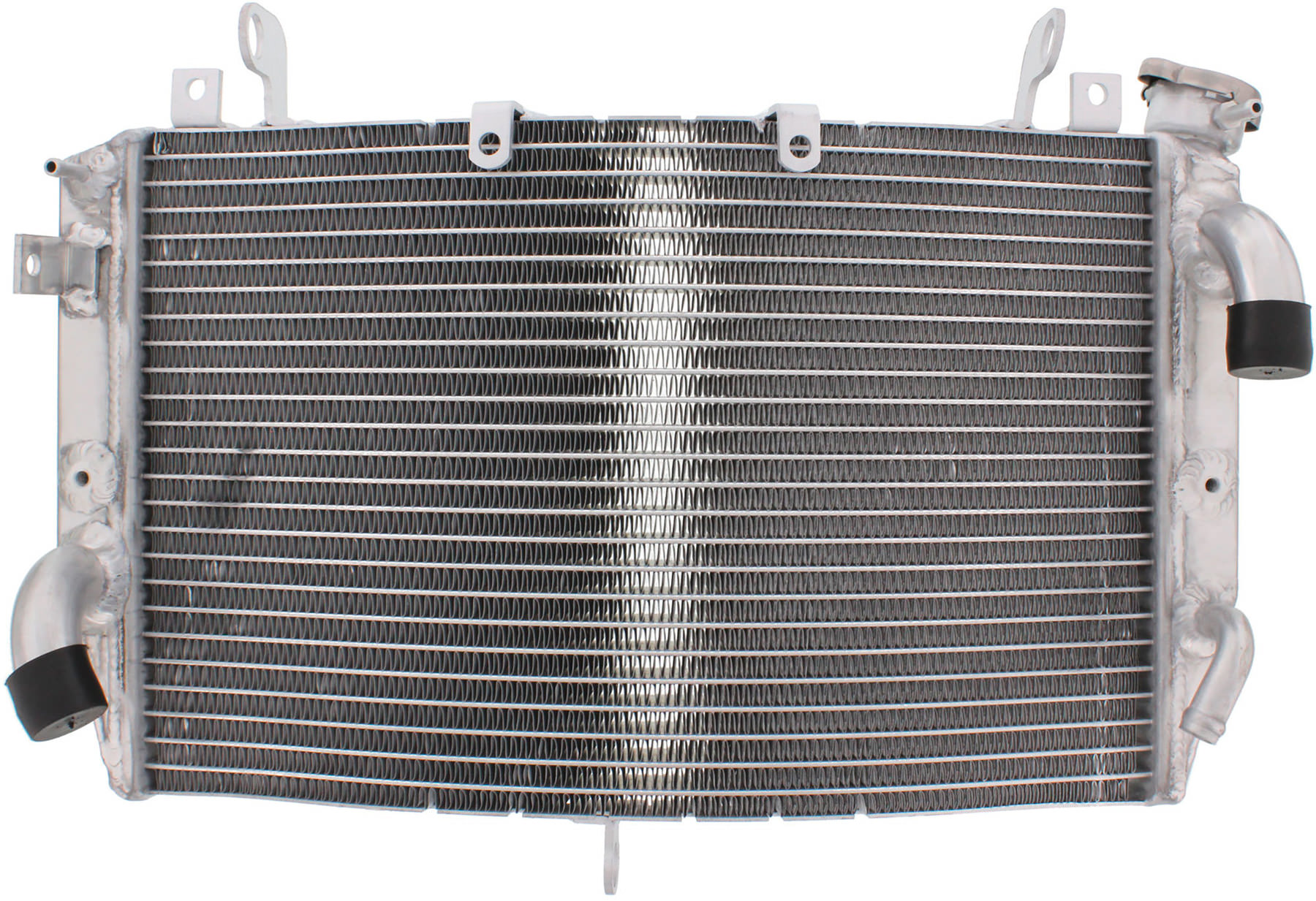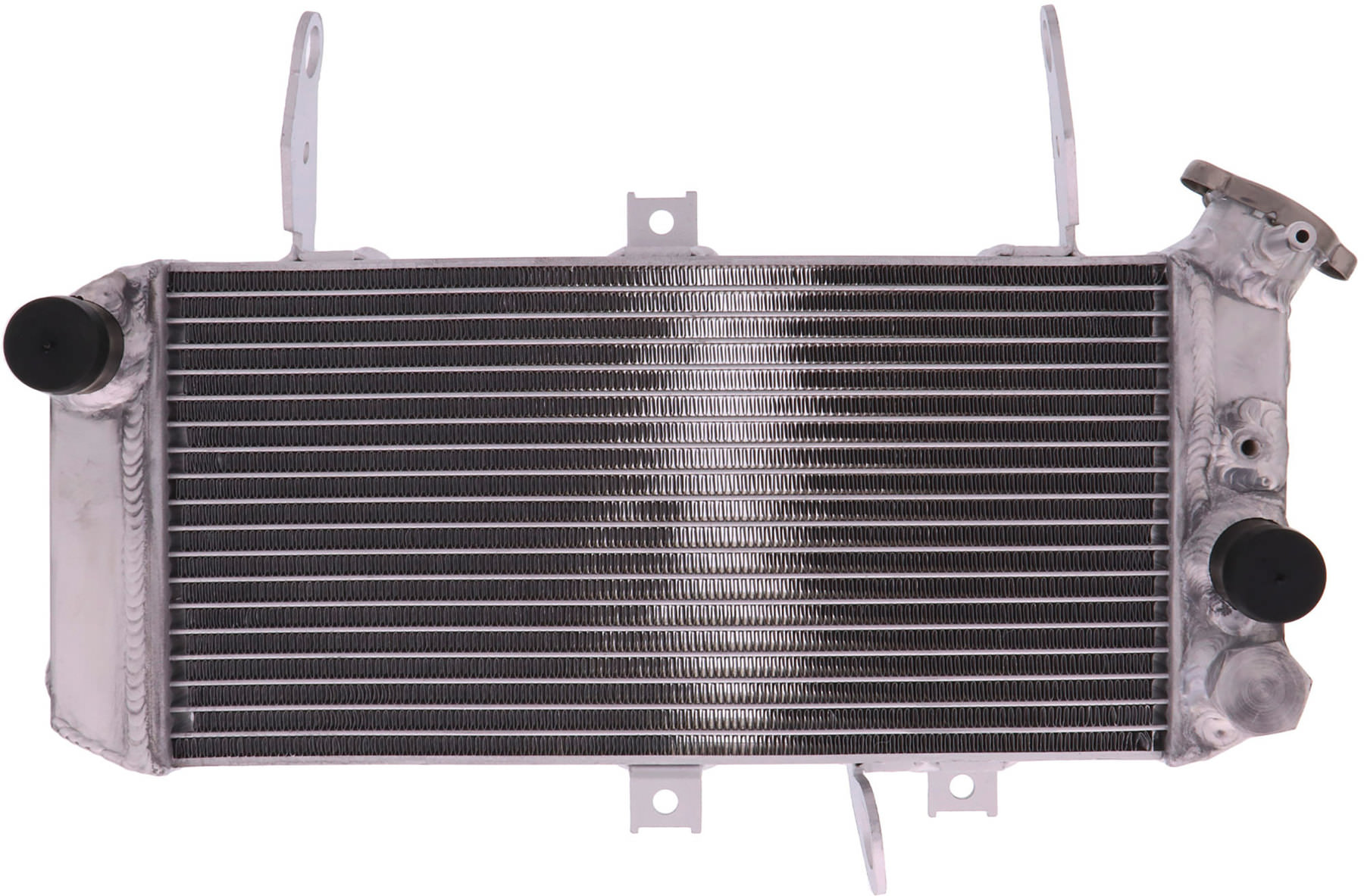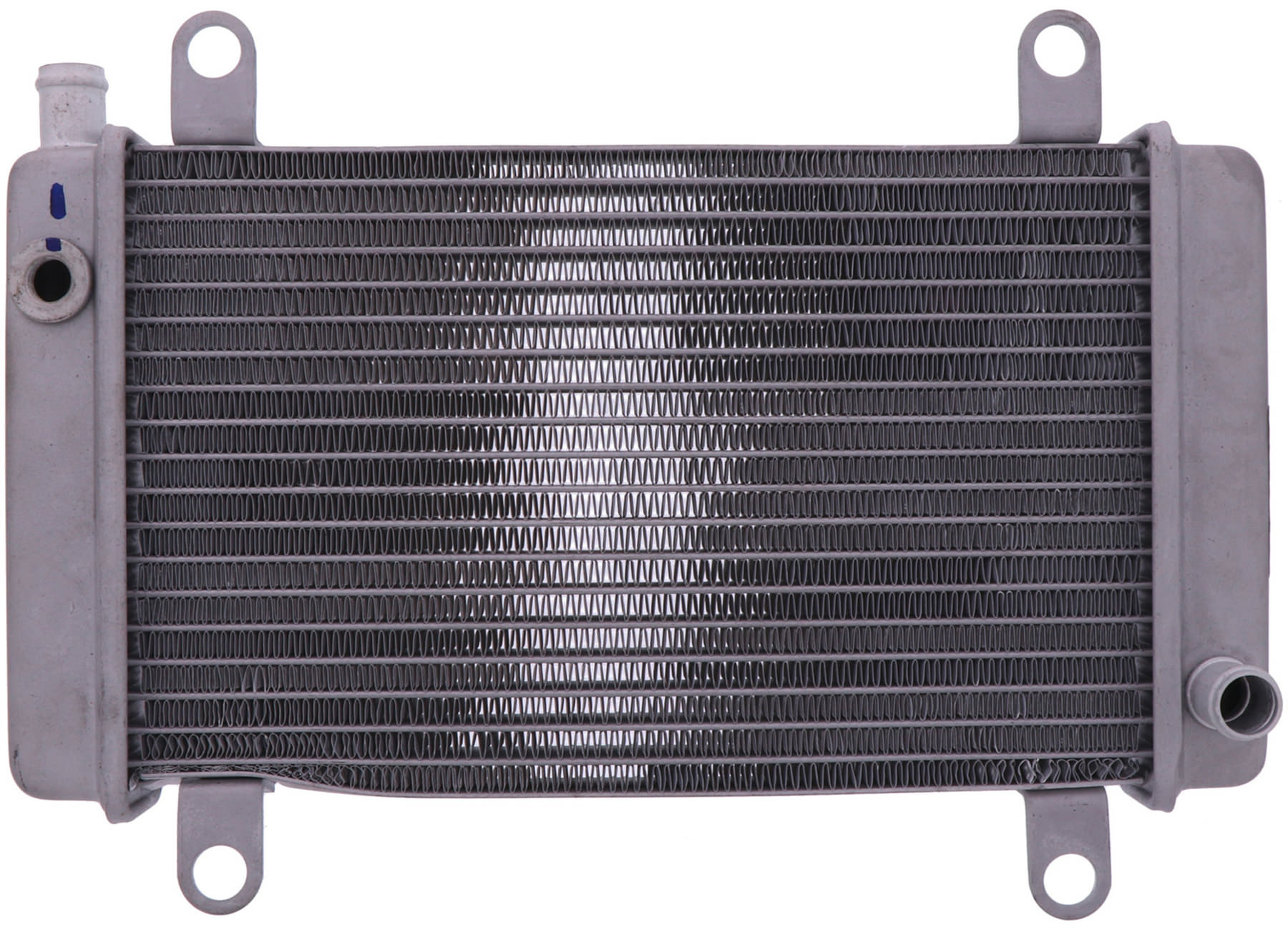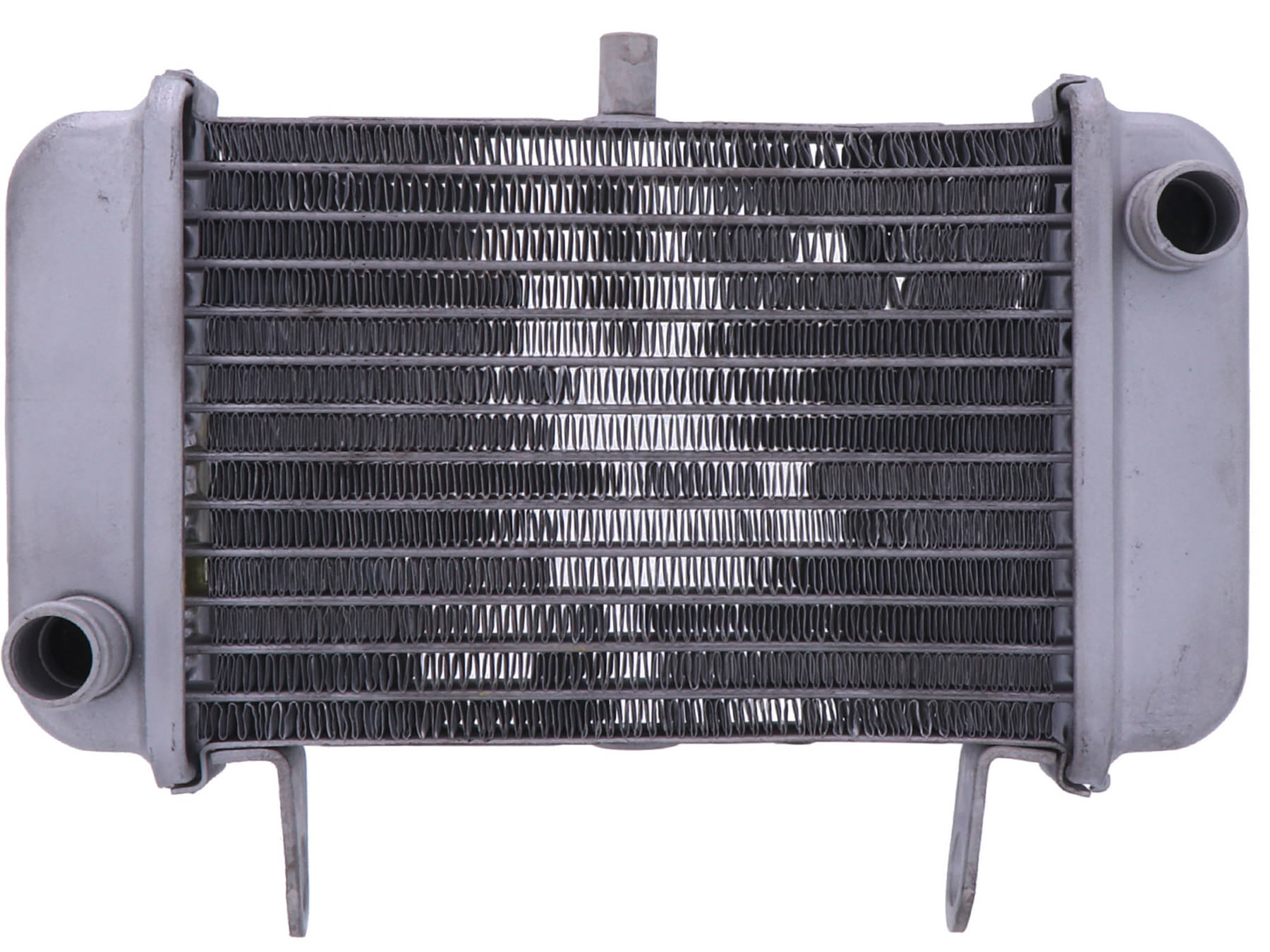 Unfortunately, this product is not compatible with this motorcycle.
Unfortunately, this product is not compatible with this motorcycle. You can find the right for the here: .
Free delivery on orders over €199.00
2 year return policy
Fast delivery
Radiator JMP
Need a new radiator? Of course, you could spend a lot of money on a new OEM radiator for your vehicle, or instead you can go for the compatible quality radiator from JMP. The special fin technology delivers a cooling performance superior to most original radiators, which makes it ideal for vehicles with engines that reach very high temperatures. You can find the right one for your bike under "My Bike" or "All Variants".
Special fin technology for superior cooling performance
Ideal for engines subject to high thermal loads
Hand-welded, polished and pressure-tested
Direct replacement for your OEM radiator
Manufacturer details: JMP

Motorcycle parts trusted by the professionals

JMP supplies high-quality wearing parts and spares for many motorcycles. In fact, JMP is a real alternative to expensive original spare parts from motorcycle manufacturers. JMP stands for Johannes Matthies Products, a brand of the Matthies wholesale company. And there are some interesting parallels between Matthies and Louis: Both were established in Hamburg over 80 years ago, and both developed from modest beginnings into highly successful companies. Today, Matthies supplies practically the entire vehicle trade with everything from tools and workshop equipment through to wearing parts and spares. There can hardly be a better recommendation.
Product
Art. No.
Availability
Price
Actions
JMP RADIATOR - APRILIA VARIOUS RIGHT
10040878

The item is in stock and will be delivered in 2-5 working days. Note: Stocks are updated online every hour on working days from 7 a.m. to 8 p.m., so there is a good chance that the products are available if they appear online.

Available

€134.99 1
JMP RADIATOR - CB600F HORNET/CB600S
10039639

The item is in stock and will be delivered in 2-5 working days. Note: Stocks are updated online every hour on working days from 7 a.m. to 8 p.m., so there is a good chance that the products are available if they appear online.

Available

Please remember that "Last chance" items can sell out fast, especially when the price has been slashed and the clothes sizes you are looking for are popular. "Last chance" items may no longer be available in all Louis stores!

€176.99

1 €90.99 1
JMP RADIATOR - CBR1000RR FIREBLADE 2017-
10040886

The item is in stock and will be delivered in 2-5 working days. Note: Stocks are updated online every hour on working days from 7 a.m. to 8 p.m., so there is a good chance that the products are available if they appear online.

Available

€134.99 1
JMP RADIATOR - CBR1000RR FIREBLADE 2017-
10040884

The item is in stock and will be delivered in 2-5 working days. Note: Stocks are updated online every hour on working days from 7 a.m. to 8 p.m., so there is a good chance that the products are available if they appear online.

Available

€134.99 1
JMP RADIATOR - CBR1000RR FIREBLADE 2017-
10040518

The product will be ordered from the manufacturer for you. Depending on availability, longer delivery times are also possible. We'll let you know if that's the case. You can of course cancel your delivery at any time free of charge.

Available in 7-21 days

€359.99 1
JMP RADIATOR - CBR1000RR FIREBLADE 2017-
10040519

The item is in stock and will be delivered in 2-5 working days. Note: Stocks are updated online every hour on working days from 7 a.m. to 8 p.m., so there is a good chance that the products are available if they appear online.

Available

€359.99 1
JMP RADIATOR - CBR1000RR FIREBLADE 2017-
10040573

The item is in stock and will be delivered in 2-5 working days. Note: Stocks are updated online every hour on working days from 7 a.m. to 8 p.m., so there is a good chance that the products are available if they appear online.

Available

€199.99 1
JMP RADIATOR - CBR1000RR FIREBLADE 2017-
10040574

The item is in stock and will be delivered in 2-5 working days. Note: Stocks are updated online every hour on working days from 7 a.m. to 8 p.m., so there is a good chance that the products are available if they appear online.

Available

€199.99 1
JMP RADIATOR - DUCATI PANIGALE
10040576

The item is in stock and will be delivered in 2-5 working days. Note: Stocks are updated online every hour on working days from 7 a.m. to 8 p.m., so there is a good chance that the products are available if they appear online.

Available

€199.99 1
JMP RADIATOR - DUCATI PANIGALE
10040575

The item is in stock and will be delivered in 2-5 working days. Note: Stocks are updated online every hour on working days from 7 a.m. to 8 p.m., so there is a good chance that the products are available if they appear online.

Available

€199.99 1
JMP RADIATOR - DUCATI PANIGALE
10040877

The item is in stock and will be delivered in 2-5 working days. Note: Stocks are updated online every hour on working days from 7 a.m. to 8 p.m., so there is a good chance that the products are available if they appear online.

Available

€359.99 1
JMP RADIATOR - DUCATI VARIOUS, TOP
10040579

The item is in stock and will be delivered in 2-5 working days. Note: Stocks are updated online every hour on working days from 7 a.m. to 8 p.m., so there is a good chance that the products are available if they appear online.

Available

€314.99 1
JMP RADIATOR - DUCATI VARIOUS, TOP
10040879

The item is in stock and will be delivered in 2-5 working days. Note: Stocks are updated online every hour on working days from 7 a.m. to 8 p.m., so there is a good chance that the products are available if they appear online.

Available

€359.99 1
JMP RADIATOR - IST 10040887
10039395

The item is in stock and will be delivered in 2-5 working days. Note: Stocks are updated online every hour on working days from 7 a.m. to 8 p.m., so there is a good chance that the products are available if they appear online.

Available

€239.99 1
JMP RADIATOR - KTM VARIOUS
10040515

The item is in stock and will be delivered in 2-5 working days. Note: Stocks are updated online every hour on working days from 7 a.m. to 8 p.m., so there is a good chance that the products are available if they appear online.

Available

€238.99 1
JMP RADIATOR - SUZUKI VARIOUS
10040577

The item is in stock and will be delivered in 2-5 working days. Note: Stocks are updated online every hour on working days from 7 a.m. to 8 p.m., so there is a good chance that the products are available if they appear online.

Available

€359.99 1
JMP RADIATOR - SUZUKI VARIOUS
10040578

The item is in stock and will be delivered in 2-5 working days. Note: Stocks are updated online every hour on working days from 7 a.m. to 8 p.m., so there is a good chance that the products are available if they appear online.

Available

€199.99 1
JMP RADIATOR - SUZUKI VARIOUS
10040890

The item is in stock and will be delivered in 2-5 working days. Note: Stocks are updated online every hour on working days from 7 a.m. to 8 p.m., so there is a good chance that the products are available if they appear online.

Available

€196.99 1
JMP RADIATOR - VARIOUS TRIUMPHS
10040889

The item is in stock and will be delivered in 2-5 working days. Note: Stocks are updated online every hour on working days from 7 a.m. to 8 p.m., so there is a good chance that the products are available if they appear online.

Available

€289.99 1
JMP RADIATOR - YZF-R6 2008-16
10039648

The product will be ordered from the manufacturer for you. Depending on availability, longer delivery times are also possible. We'll let you know if that's the case. You can of course cancel your delivery at any time free of charge.

Available in 7-21 days

€234.99 1
JMP RADIATOR - Z750 07-12/Z1000 07-09
10040517

The item is in stock and will be delivered in 2-5 working days. Note: Stocks are updated online every hour on working days from 7 a.m. to 8 p.m., so there is a good chance that the products are available if they appear online.

Available

€226.99 1
JMP RADIATOR - Z750 07-12/Z1000 07-09
10040516

The item is in stock and will be delivered in 2-5 working days. Note: Stocks are updated online every hour on working days from 7 a.m. to 8 p.m., so there is a good chance that the products are available if they appear online.

Available

€298.99 1
JMP RADIATOR - Z750 07-12/Z1000 07-09
10040888

The item is in stock and will be delivered in 2-5 working days. Note: Stocks are updated online every hour on working days from 7 a.m. to 8 p.m., so there is a good chance that the products are available if they appear online.

Available

€179.99 1
JMP RADIATOR - Z750 07-12/Z1000 07-09
10040885

The item is in stock and will be delivered in 2-5 working days. Note: Stocks are updated online every hour on working days from 7 a.m. to 8 p.m., so there is a good chance that the products are available if they appear online.

Available

€154.99 1
JMP WATER RADIATOR - APRILIA ATLANTIC 2002-05
10039656

The item is in stock and will be delivered in 2-5 working days. Note: Stocks are updated online every hour on working days from 7 a.m. to 8 p.m., so there is a good chance that the products are available if they appear online.

Available

Please remember that "Last chance" items can sell out fast, especially when the price has been slashed and the clothes sizes you are looking for are popular. "Last chance" items may no longer be available in all Louis stores!

€67.99 1
JMP WATER RADIATOR - APRILIA SR50R 2005-19
10039673

The item is in stock and will be delivered in 2-5 working days. Note: Stocks are updated online every hour on working days from 7 a.m. to 8 p.m., so there is a good chance that the products are available if they appear online.

Available

€74.99 1
JMP WATER RADIATOR - APRILIA VARIOUS
10039661

The item is in stock and will be delivered in 2-5 working days. Note: Stocks are updated online every hour on working days from 7 a.m. to 8 p.m., so there is a good chance that the products are available if they appear online.

Available

€132.99 1
JMP WATER RADIATOR - CB600F HORNET 1998-2003
10039633

The item is in stock and will be delivered in 2-5 working days. Note: Stocks are updated online every hour on working days from 7 a.m. to 8 p.m., so there is a good chance that the products are available if they appear online.

Available

€176.99 1
JMP WATER RADIATOR - CBR1000RR 2008-11
10039652

The product will be ordered from the manufacturer for you. Depending on availability, longer delivery times are also possible. We'll let you know if that's the case. You can of course cancel your delivery at any time free of charge.

Available in 7-21 days

€351.99 1
JMP WATER RADIATOR - CBR600RR 2003-06
10039643

The item is in stock and will be delivered in 2-5 working days. Note: Stocks are updated online every hour on working days from 7 a.m. to 8 p.m., so there is a good chance that the products are available if they appear online.

Available

€196.99 1
JMP WATER RADIATOR - CBR600RR 2007-16
10039650

The item is in stock and will be delivered in 2-5 working days. Note: Stocks are updated online every hour on working days from 7 a.m. to 8 p.m., so there is a good chance that the products are available if they appear online.

Available

€196.99 1
JMP WATER RADIATOR - DERBI GT1 125 2010-16
10039660

The item is in stock and will be delivered in 2-5 working days. Note: Stocks are updated online every hour on working days from 7 a.m. to 8 p.m., so there is a good chance that the products are available if they appear online.

Available

Please remember that "Last chance" items can sell out fast, especially when the price has been slashed and the clothes sizes you are looking for are popular. "Last chance" items may no longer be available in all Louis stores!

€119.99 1
JMP WATER RADIATOR - DERBI GT1 50 LC 2007-2011
10039666

The item is in stock and will be delivered in 2-5 working days. Note: Stocks are updated online every hour on working days from 7 a.m. to 8 p.m., so there is a good chance that the products are available if they appear online.

Available

Please remember that "Last chance" items can sell out fast, especially when the price has been slashed and the clothes sizes you are looking for are popular. "Last chance" items may no longer be available in all Louis stores!

€79.99 1
JMP WATER RADIATOR - DERBI SENDA 125 2010-16
10039659

The item is in stock and will be delivered in 2-5 working days. Note: Stocks are updated online every hour on working days from 7 a.m. to 8 p.m., so there is a good chance that the products are available if they appear online.

Available

Please remember that "Last chance" items can sell out fast, especially when the price has been slashed and the clothes sizes you are looking for are popular. "Last chance" items may no longer be available in all Louis stores!

€156.99

1 €99.99 1
JMP WATER RADIATOR - DUCATI PANIGALE
10039641

The item is in stock and will be delivered in 2-5 working days. Note: Stocks are updated online every hour on working days from 7 a.m. to 8 p.m., so there is a good chance that the products are available if they appear online.

Available

€196.99 1
JMP WATER RADIATOR - FJR1300 2001-05
10039662

The item is in stock and will be delivered in 2-5 working days. Note: Stocks are updated online every hour on working days from 7 a.m. to 8 p.m., so there is a good chance that the products are available if they appear online.

Available

€196.99 1
JMP WATER RADIATOR - FZS600H FAZER 1998-2003
10039657

The item is in stock and will be delivered in 2-5 working days. Note: Stocks are updated online every hour on working days from 7 a.m. to 8 p.m., so there is a good chance that the products are available if they appear online.

Available

€152.99 1
JMP WATER RADIATOR - GSX-R600/750 2006-10
10039667

The item is in stock and will be delivered in 2-5 working days. Note: Stocks are updated online every hour on working days from 7 a.m. to 8 p.m., so there is a good chance that the products are available if they appear online.

Available

€351.99 1
JMP WATER RADIATOR - MALAGUTI PHANTOM F12 LC
10039674

The item is in stock and will be delivered in 2-5 working days. Note: Stocks are updated online every hour on working days from 7 a.m. to 8 p.m., so there is a good chance that the products are available if they appear online.

Available

Please remember that "Last chance" items can sell out fast, especially when the price has been slashed and the clothes sizes you are looking for are popular. "Last chance" items may no longer be available in all Louis stores!

€113.99 1
JMP WATER RADIATOR - MULTISTRADA 2010-15
10039653

The item is in stock and will be delivered in 2-5 working days. Note: Stocks are updated online every hour on working days from 7 a.m. to 8 p.m., so there is a good chance that the products are available if they appear online.

Available

€283.99 1
JMP WATER RADIATOR - RR50 ENDURO 2004-19
10039631

The item is in stock and will be delivered in 2-5 working days. Note: Stocks are updated online every hour on working days from 7 a.m. to 8 p.m., so there is a good chance that the products are available if they appear online.

Available

Please remember that "Last chance" items can sell out fast, especially when the price has been slashed and the clothes sizes you are looking for are popular. "Last chance" items may no longer be available in all Louis stores!

€74.99 1
JMP WATER RADIATOR - RS 125 EXTREMA 1992-2011
10039630

The item is in stock and will be delivered in 2-5 working days. Note: Stocks are updated online every hour on working days from 7 a.m. to 8 p.m., so there is a good chance that the products are available if they appear online.

Available

€114.99 1
JMP WATER RADIATOR - SPEED TRIPLE 1050 2005-11
10039664

The item is in stock and will be delivered in 2-5 working days. Note: Stocks are updated online every hour on working days from 7 a.m. to 8 p.m., so there is a good chance that the products are available if they appear online.

Available

€283.99 1
JMP WATER RADIATOR - SUZUKI VARIOUS
10039655

The product will be ordered from the manufacturer for you. Depending on availability, longer delivery times are also possible. We'll let you know if that's the case. You can of course cancel your delivery at any time free of charge.

Available in 7-21 days

€263.99 1
JMP WATER RADIATOR - SV1000S 2003-05
10039647

The item is in stock and will be delivered in 2-5 working days. Note: Stocks are updated online every hour on working days from 7 a.m. to 8 p.m., so there is a good chance that the products are available if they appear online.

Available

€152.99 1
JMP WATER RADIATOR - SV650 2003-2004
10039646

The product will be ordered from the manufacturer for you. Depending on availability, longer delivery times are also possible. We'll let you know if that's the case. You can of course cancel your delivery at any time free of charge.

Available in 7-21 days

€149.99 1
JMP WATER RADIATOR - SV650/S 2005-16
10039679

The item is in stock and will be delivered in 2-5 working days. Note: Stocks are updated online every hour on working days from 7 a.m. to 8 p.m., so there is a good chance that the products are available if they appear online.

Available

€149.99 1
JMP WATER RADIATOR - TRIUMPH VARIOUS
10039671

The product will be ordered from the manufacturer for you. Depending on availability, longer delivery times are also possible. We'll let you know if that's the case. You can of course cancel your delivery at any time free of charge.

Available in 7-21 days

€327.99 1
JMP WATER RADIATOR - YAMAHA FZ VARIOUS
10039645

The item is in stock and will be delivered in 2-5 working days. Note: Stocks are updated online every hour on working days from 7 a.m. to 8 p.m., so there is a good chance that the products are available if they appear online.

Available

€176.99 1
JMP WATER RADIATOR - YAMAHA VARIOUS
10039654

The item is in stock and will be delivered in 2-5 working days. Note: Stocks are updated online every hour on working days from 7 a.m. to 8 p.m., so there is a good chance that the products are available if they appear online.

Available

€211.99 1
JMP WATER RADIATOR - YZF-R1 2009-14
10039676

The product will be ordered from the manufacturer for you. Depending on availability, longer delivery times are also possible. We'll let you know if that's the case. You can of course cancel your delivery at any time free of charge.

Available in 7-21 days

€234.99 1
JMP WATER RADIATOR - Z650H 2017-19
10039672

The item is in stock and will be delivered in 2-5 working days. Note: Stocks are updated online every hour on working days from 7 a.m. to 8 p.m., so there is a good chance that the products are available if they appear online.

Available

€176.99 1
JMP WATER RADIATOR - Z750 2004-06
10039649

The product will be ordered from the manufacturer for you. Depending on availability, longer delivery times are also possible. We'll let you know if that's the case. You can of course cancel your delivery at any time free of charge.

Available in 7-21 days

€176.99 1
JMP WATER RADIATOR - Z750/Z800 2007-17
10039635

The item is in stock and will be delivered in 2-5 working days. Note: Stocks are updated online every hour on working days from 7 a.m. to 8 p.m., so there is a good chance that the products are available if they appear online.

Available

€176.99 1
JMP WATER RADIATOR - ZRX VARIOUS 1997-2004
10039634

The item is in stock and will be delivered in 2-5 working days. Note: Stocks are updated online every hour on working days from 7 a.m. to 8 p.m., so there is a good chance that the products are available if they appear online.

Available

€176.99 1
JMP WATER RADIATOR - ZX-10R NINJA 2008-10
10039668

The item is in stock and will be delivered in 2-5 working days. Note: Stocks are updated online every hour on working days from 7 a.m. to 8 p.m., so there is a good chance that the products are available if they appear online.

Available

€199.99 1
JMP WATER RADIATOR - ZX-10R/R NINJA 2011-19
10039669

The item is in stock and will be delivered in 2-5 working days. Note: Stocks are updated online every hour on working days from 7 a.m. to 8 p.m., so there is a good chance that the products are available if they appear online.

Available

€219.99 1
JMP WATER RADIATOR - ZX-6R NINJA 2007-09
10039658

The item is in stock and will be delivered in 2-5 working days. Note: Stocks are updated online every hour on working days from 7 a.m. to 8 p.m., so there is a good chance that the products are available if they appear online.

Available

€196.99 1
JMP WATER RADIATOR - ZX-6R/R NINJA 2003-06
10039663

The item is in stock and will be delivered in 2-5 working days. Note: Stocks are updated online every hour on working days from 7 a.m. to 8 p.m., so there is a good chance that the products are available if they appear online.

Available

€196.99 1
YAMAHA MT09 2013-2016
10050549

The product will be ordered from the manufacturer for you. Depending on availability, longer delivery times are also possible. We'll let you know if that's the case. You can of course cancel your delivery at any time free of charge.

Available in 7-21 days

€279.99 1