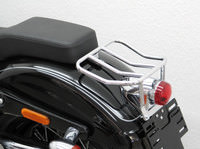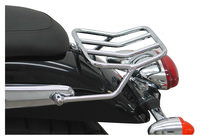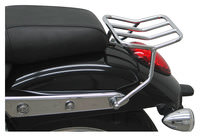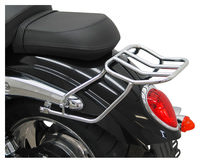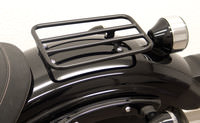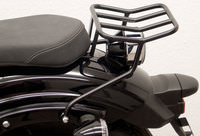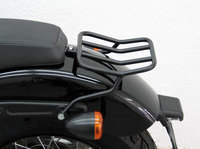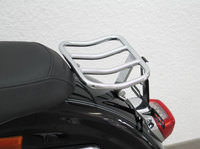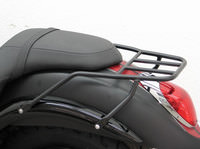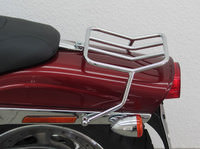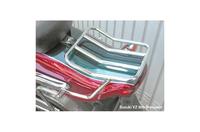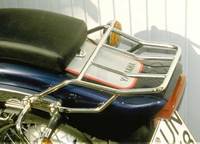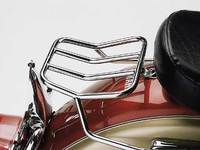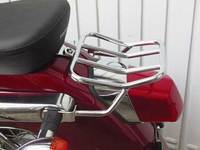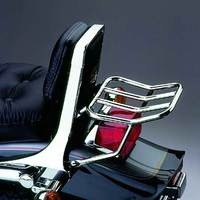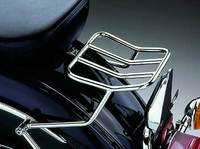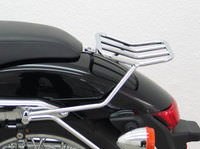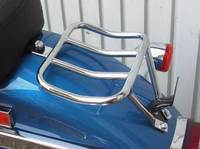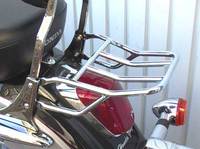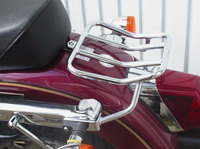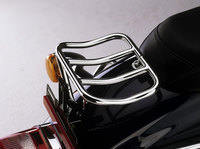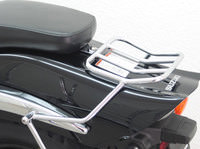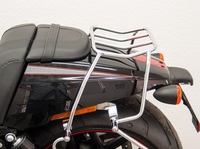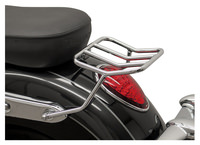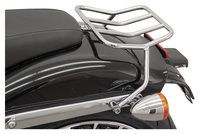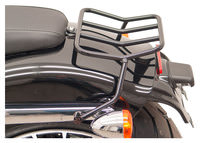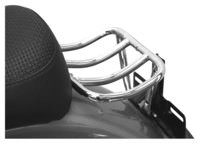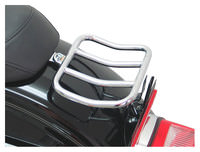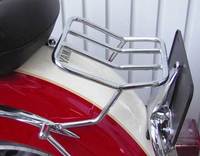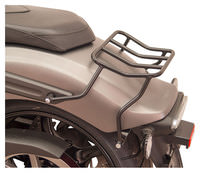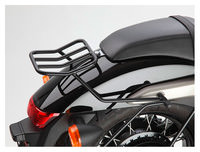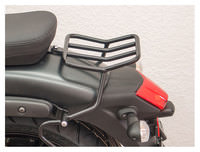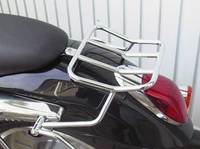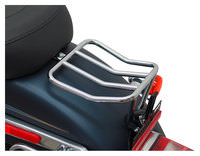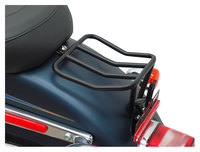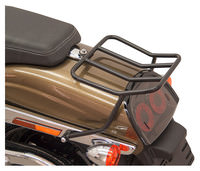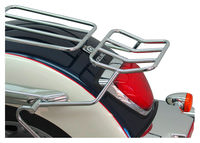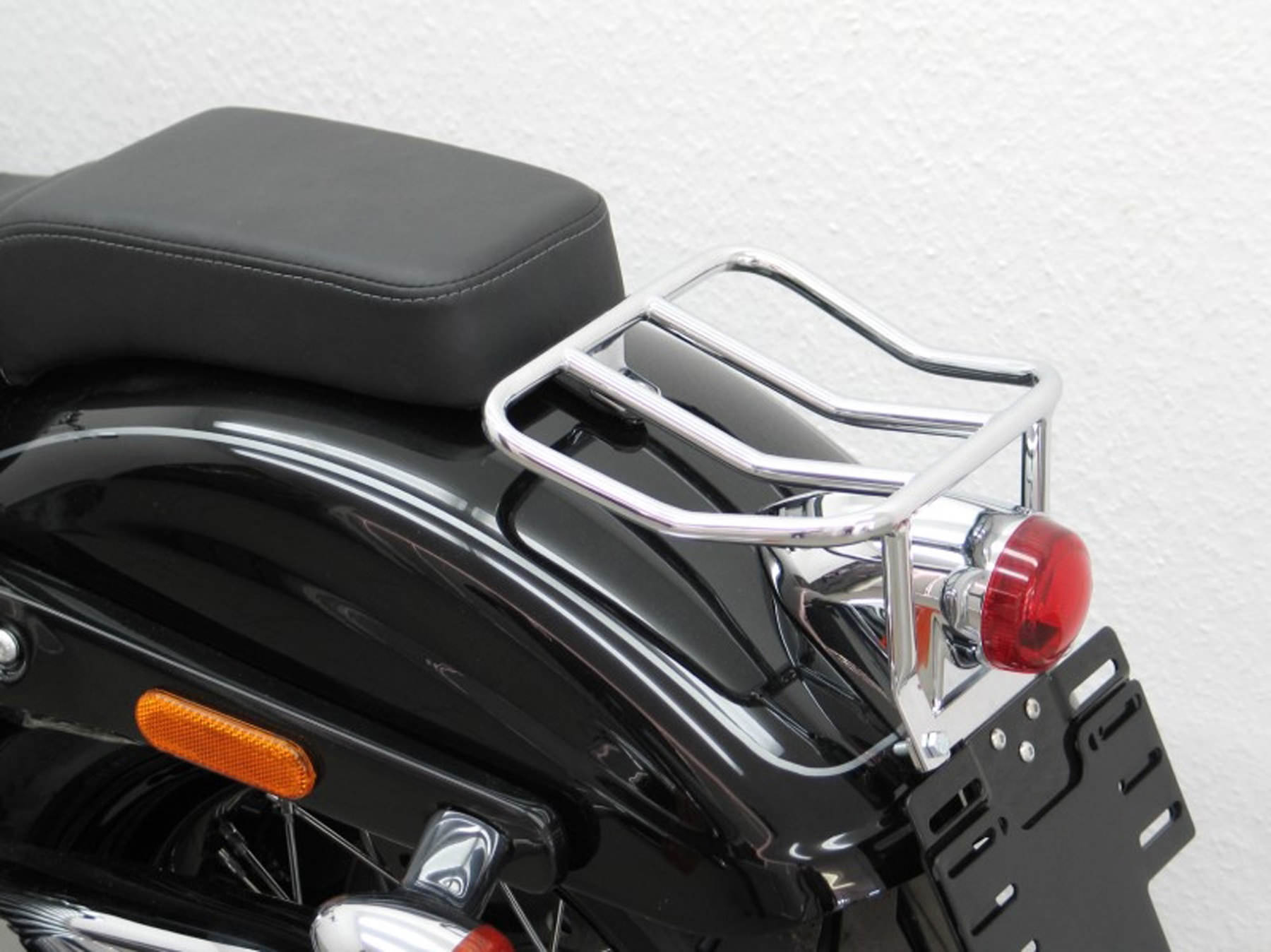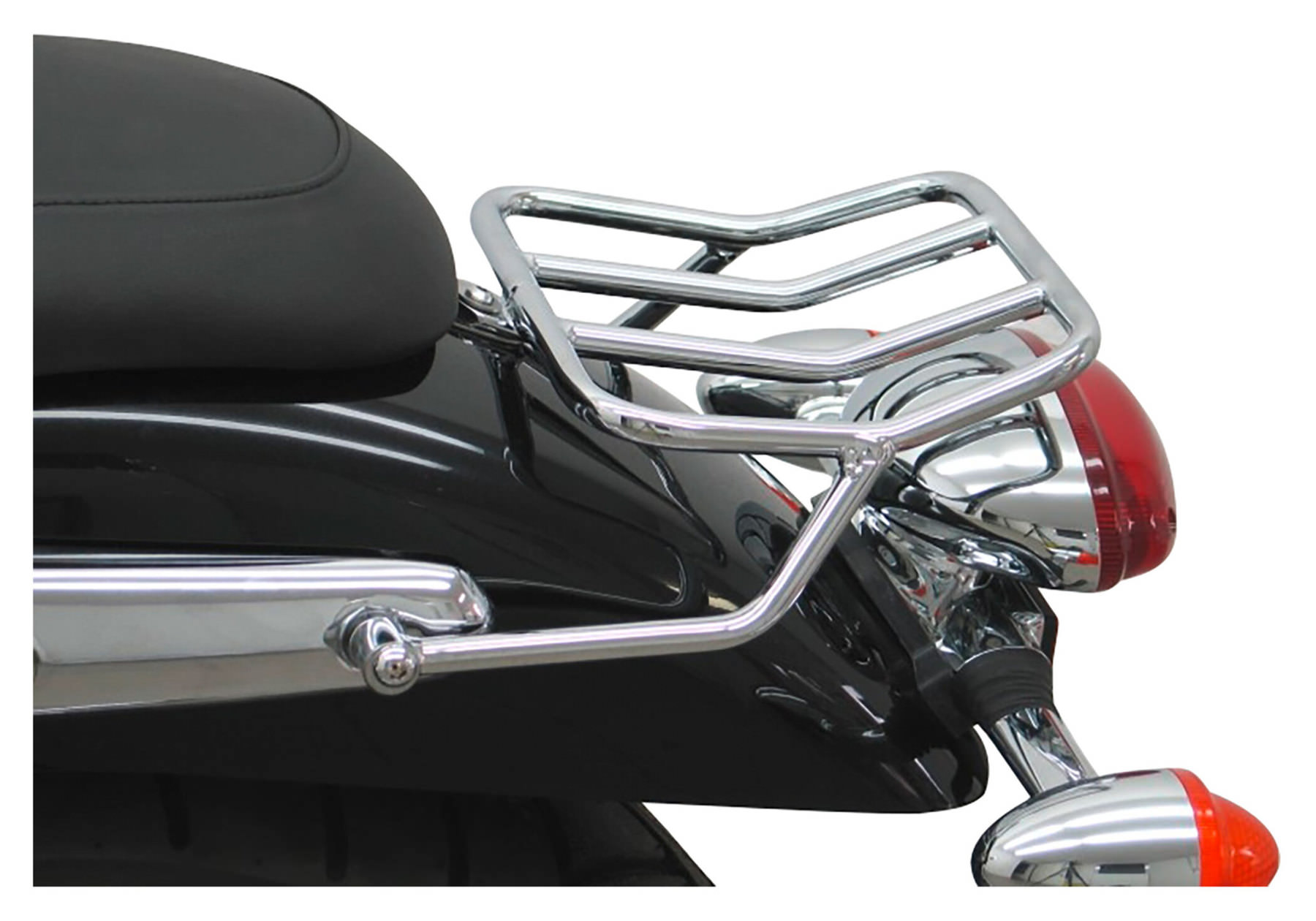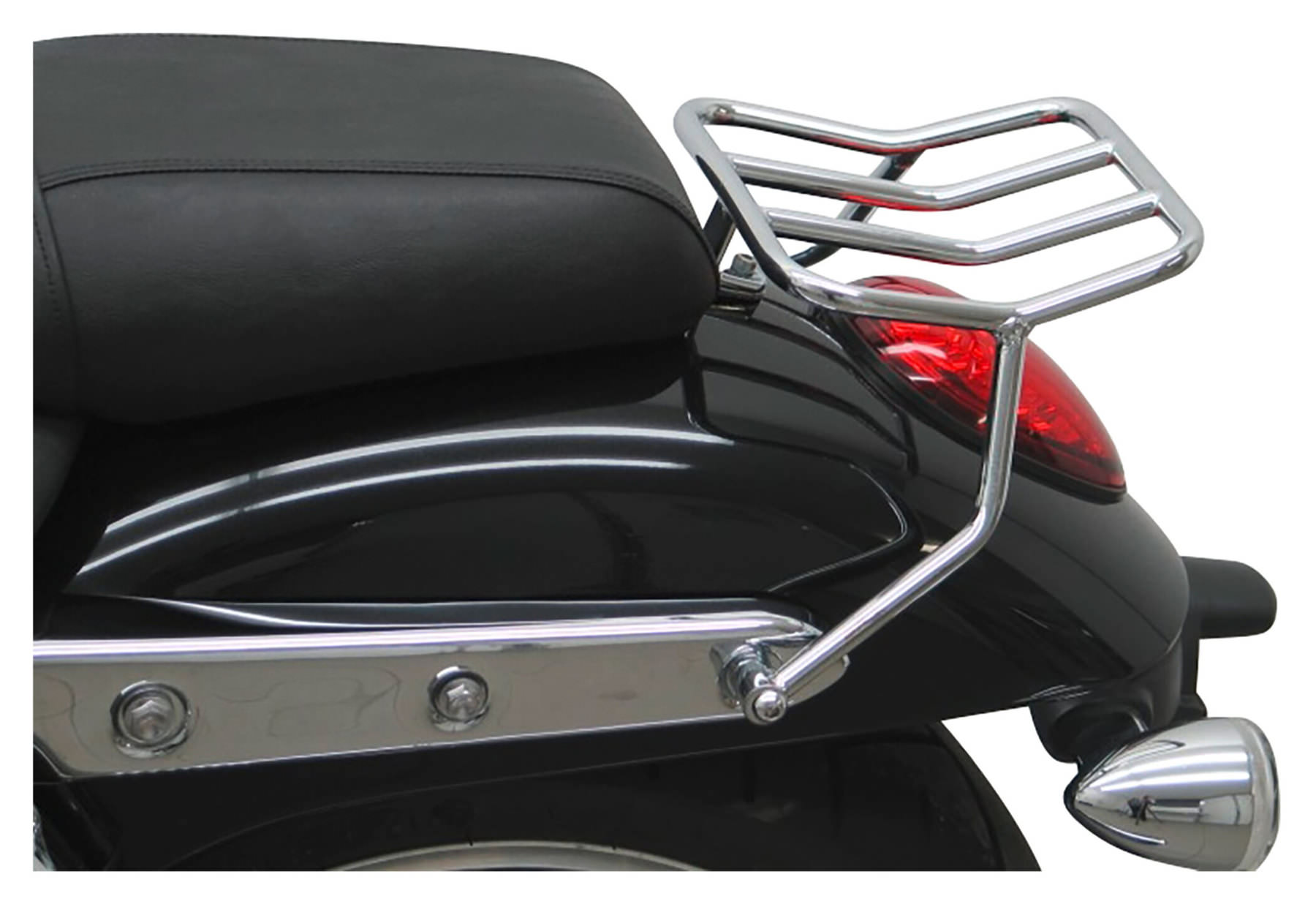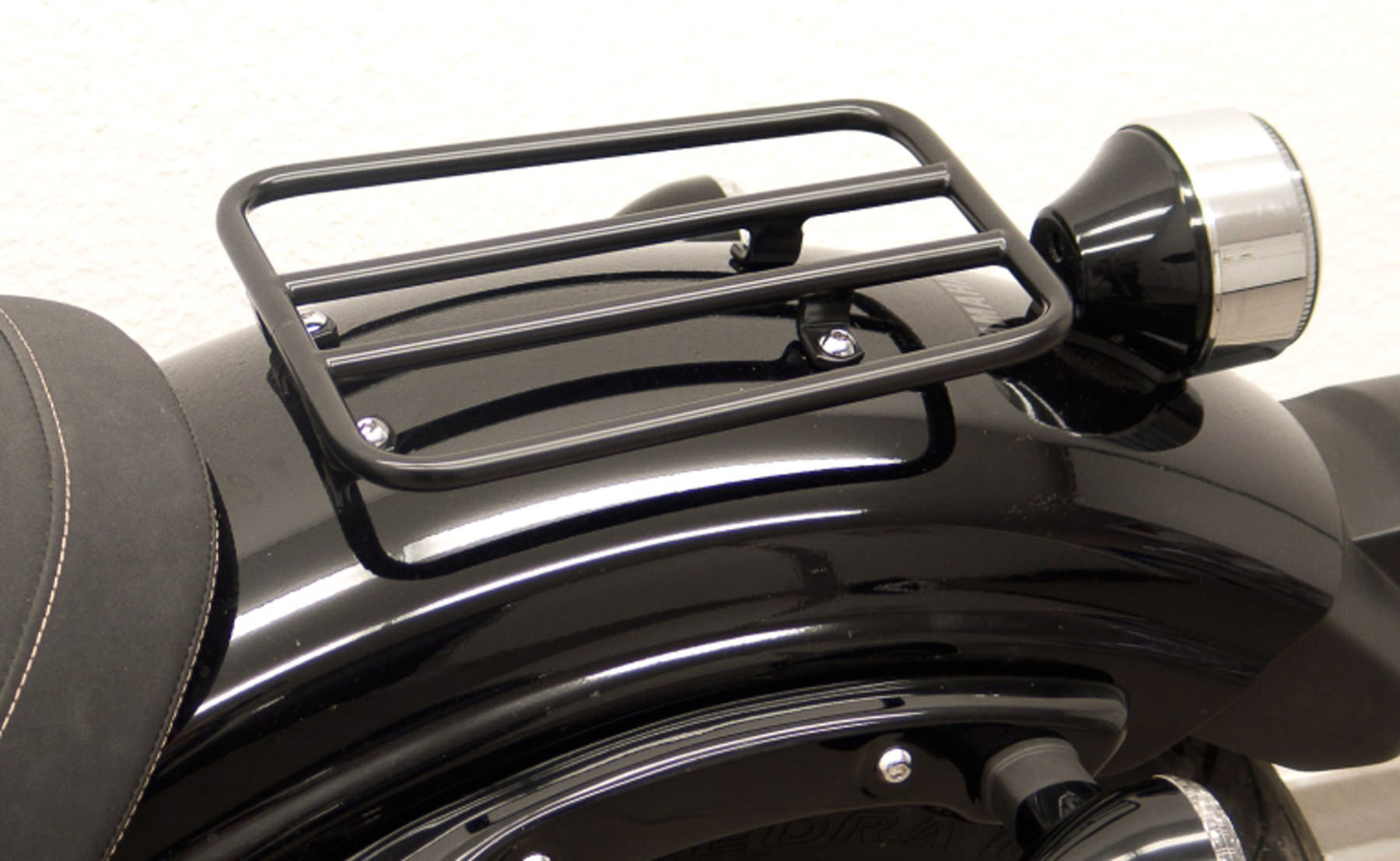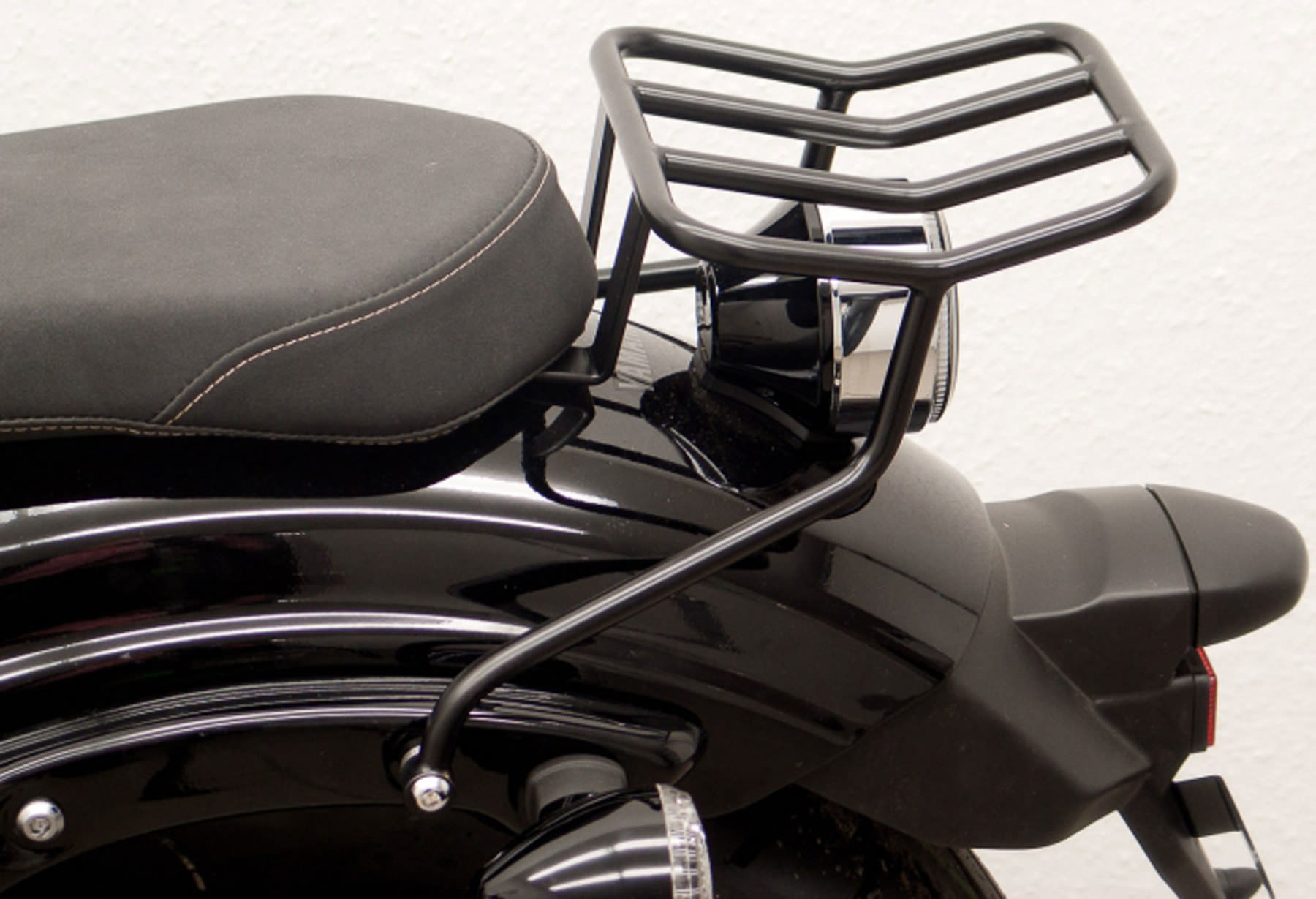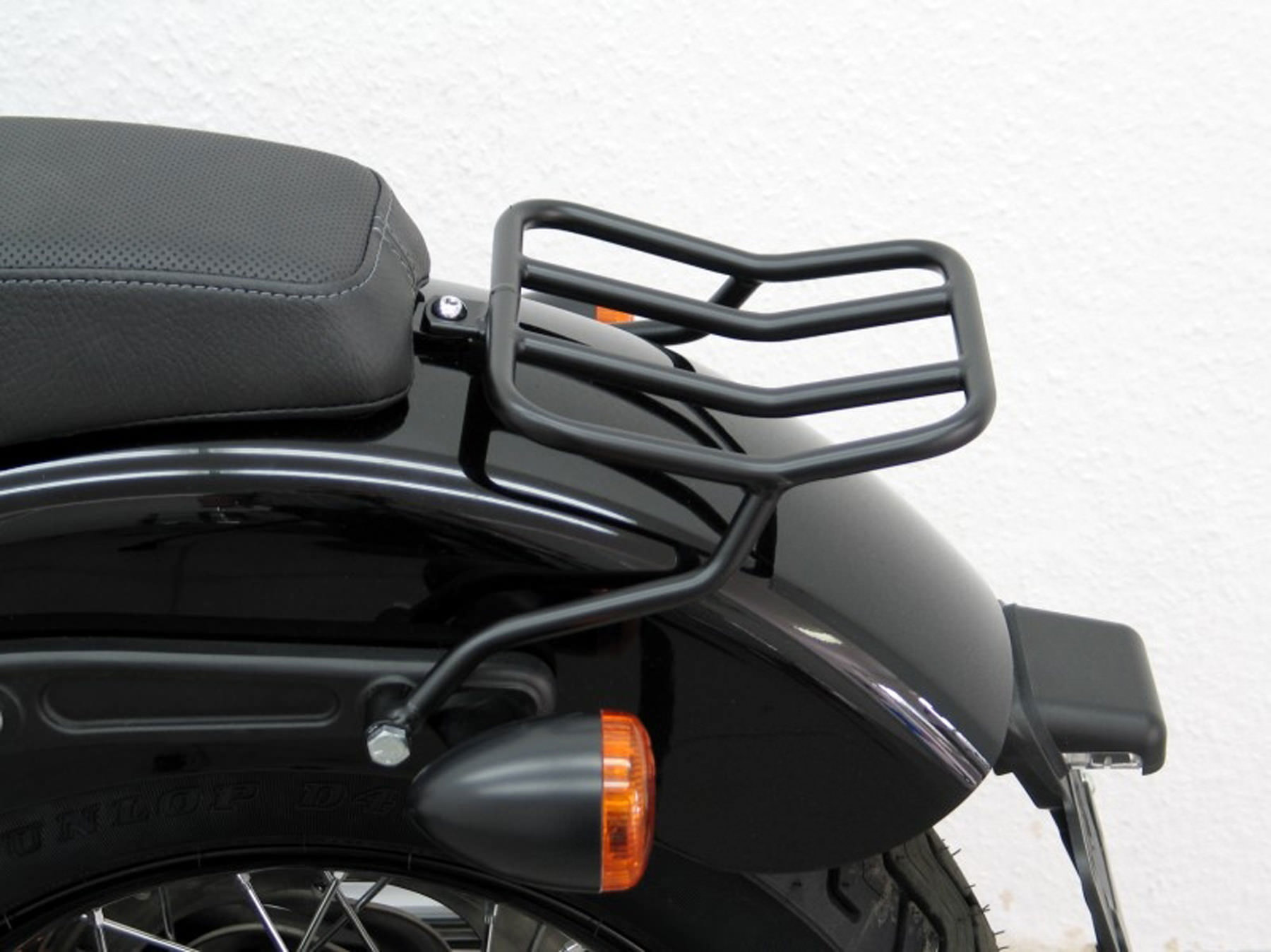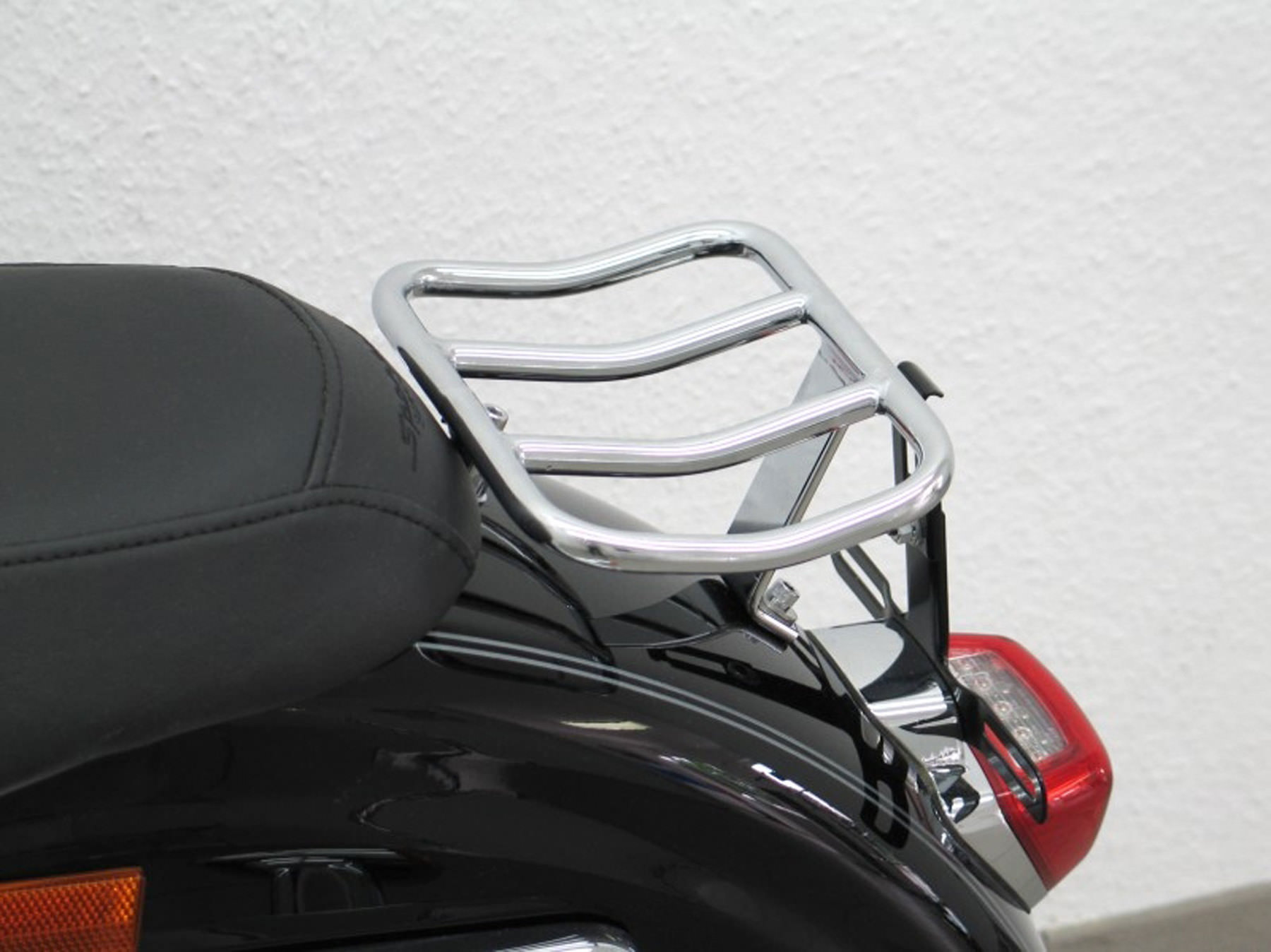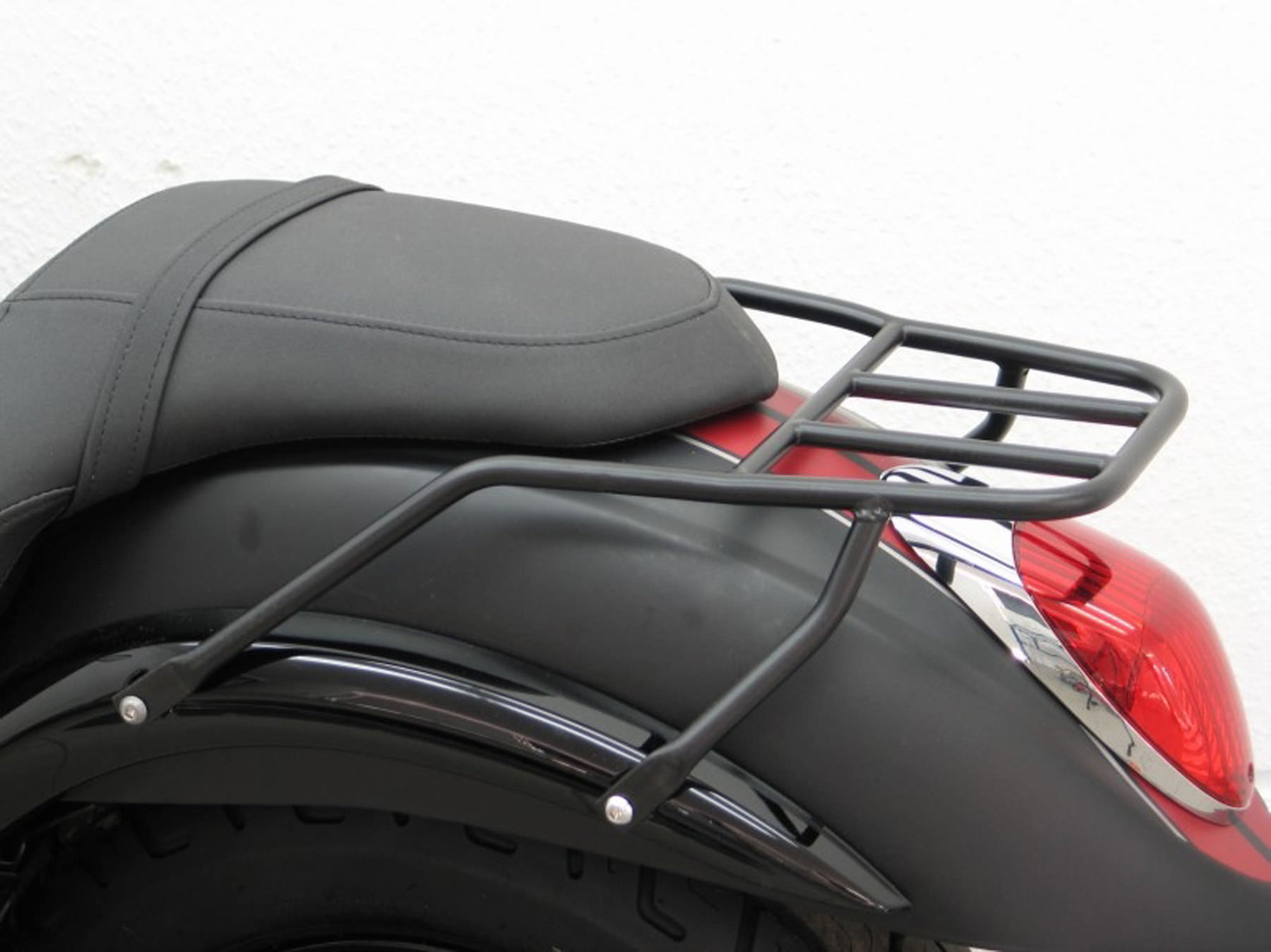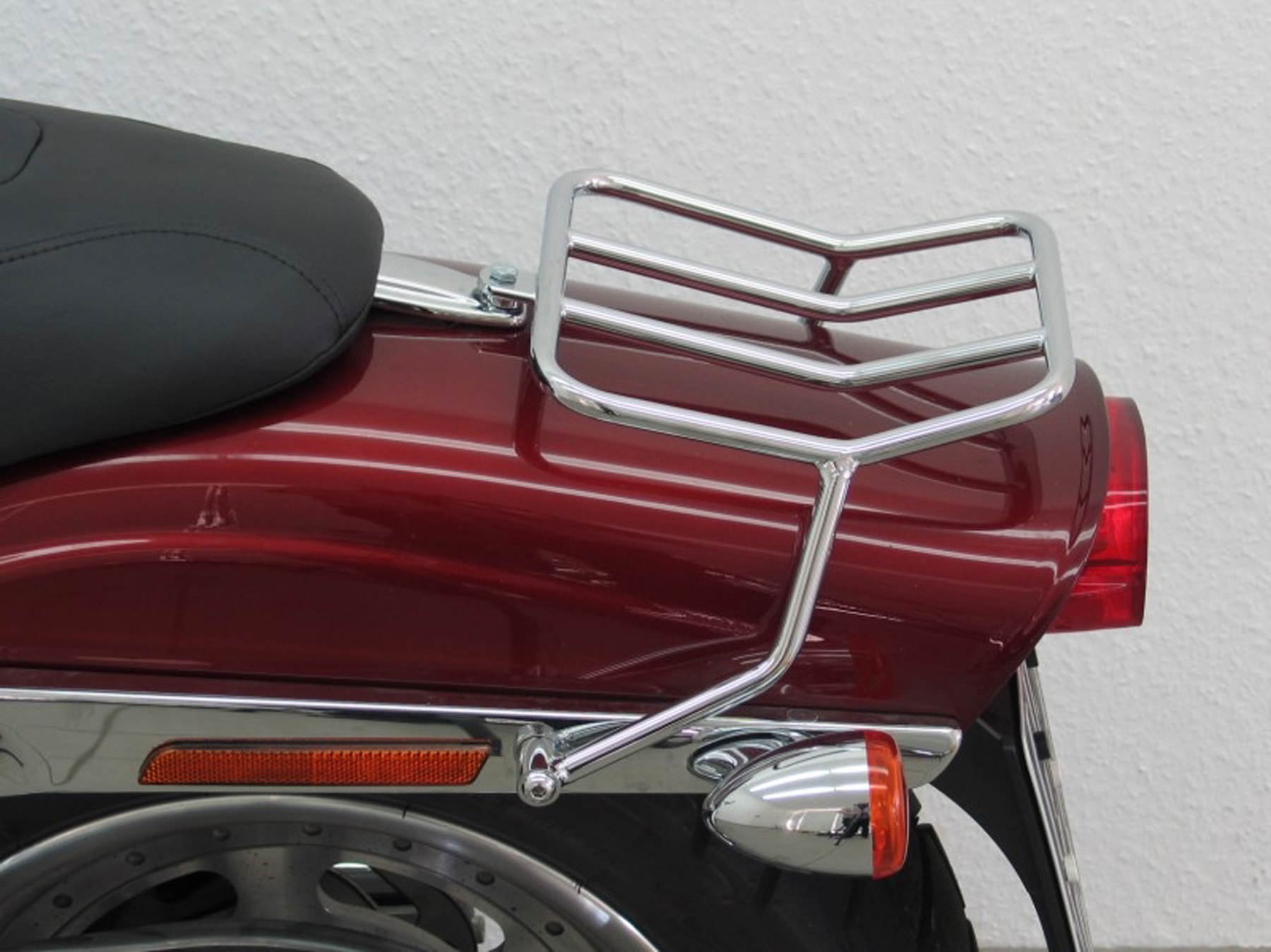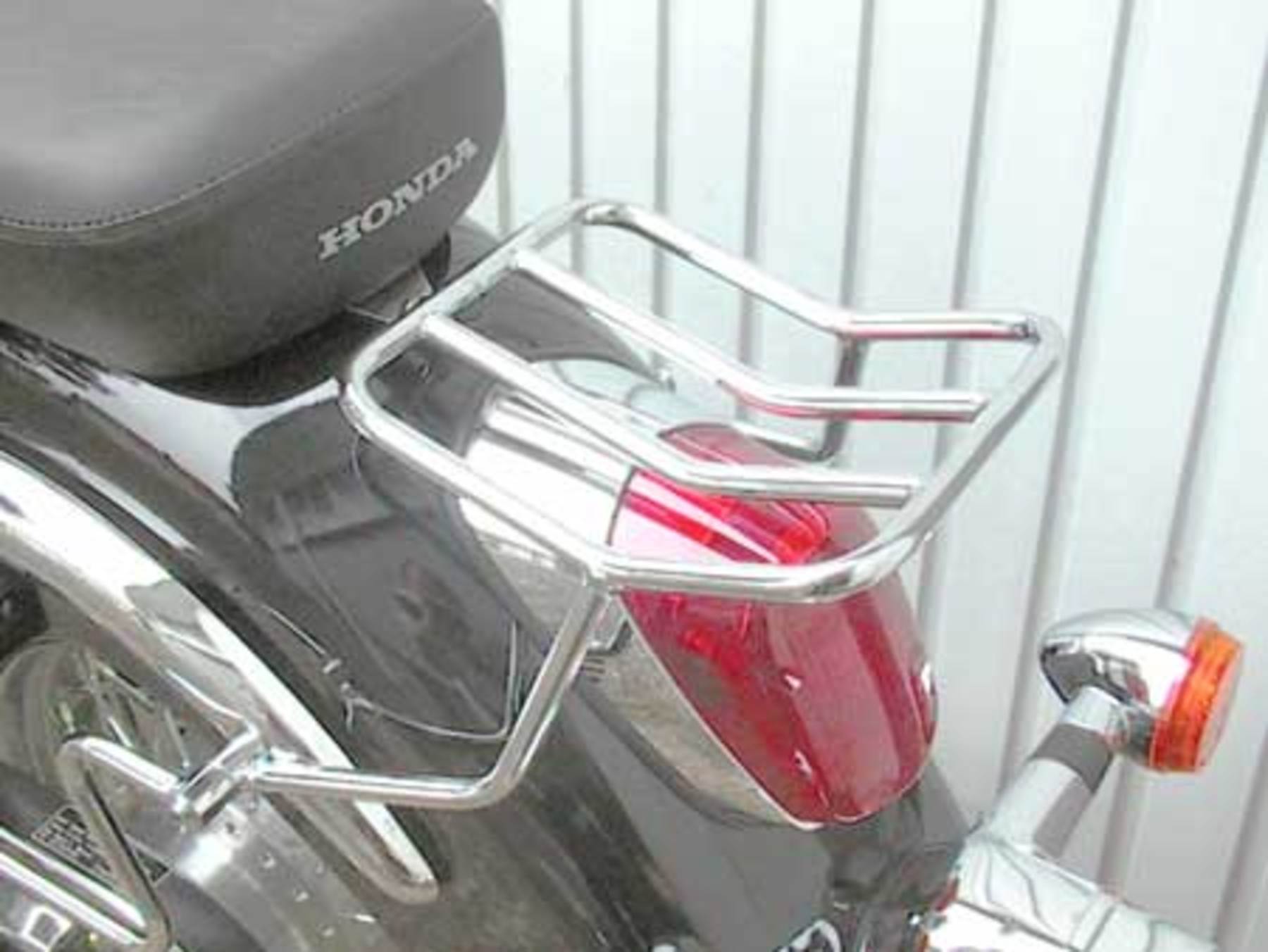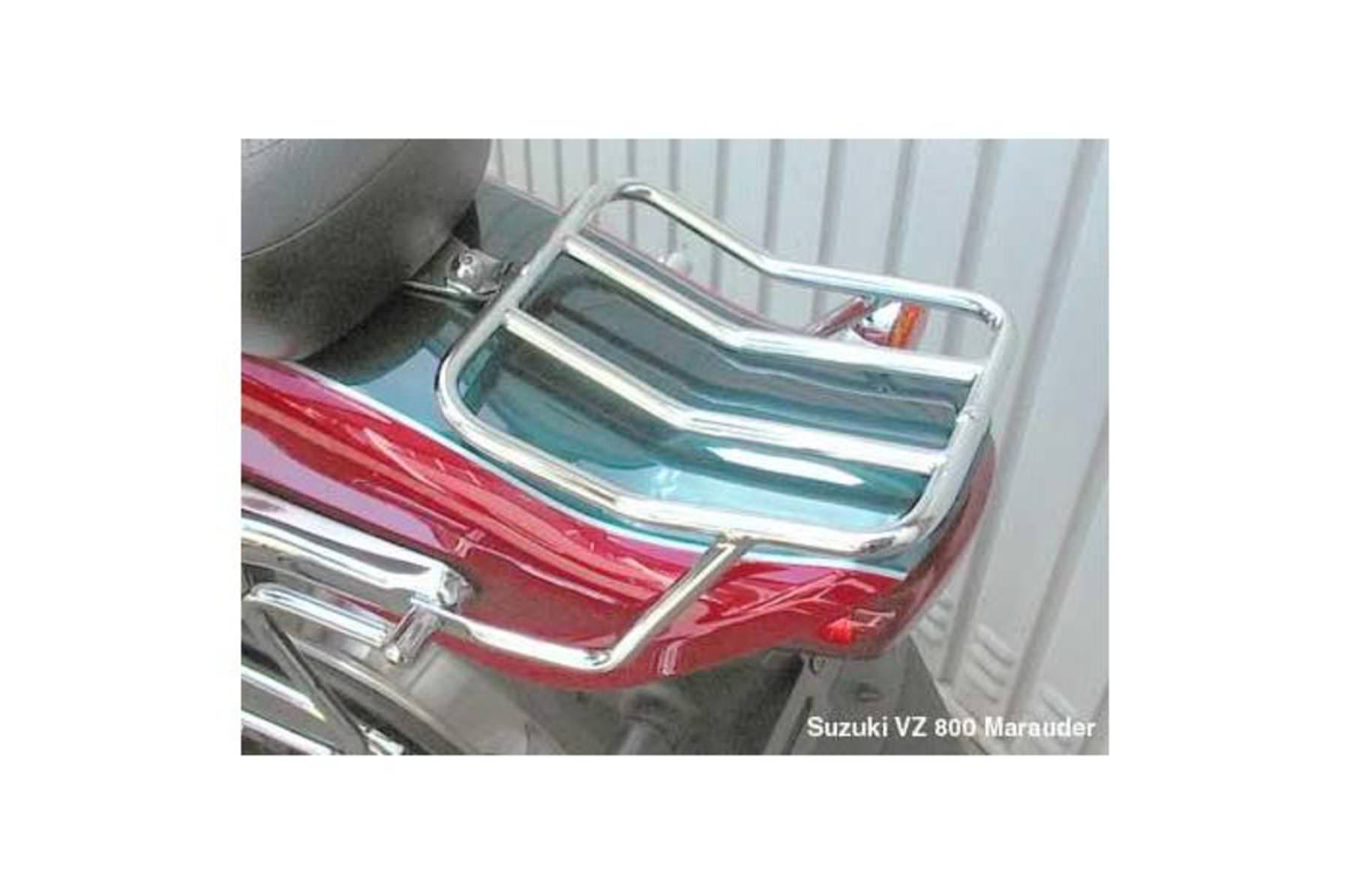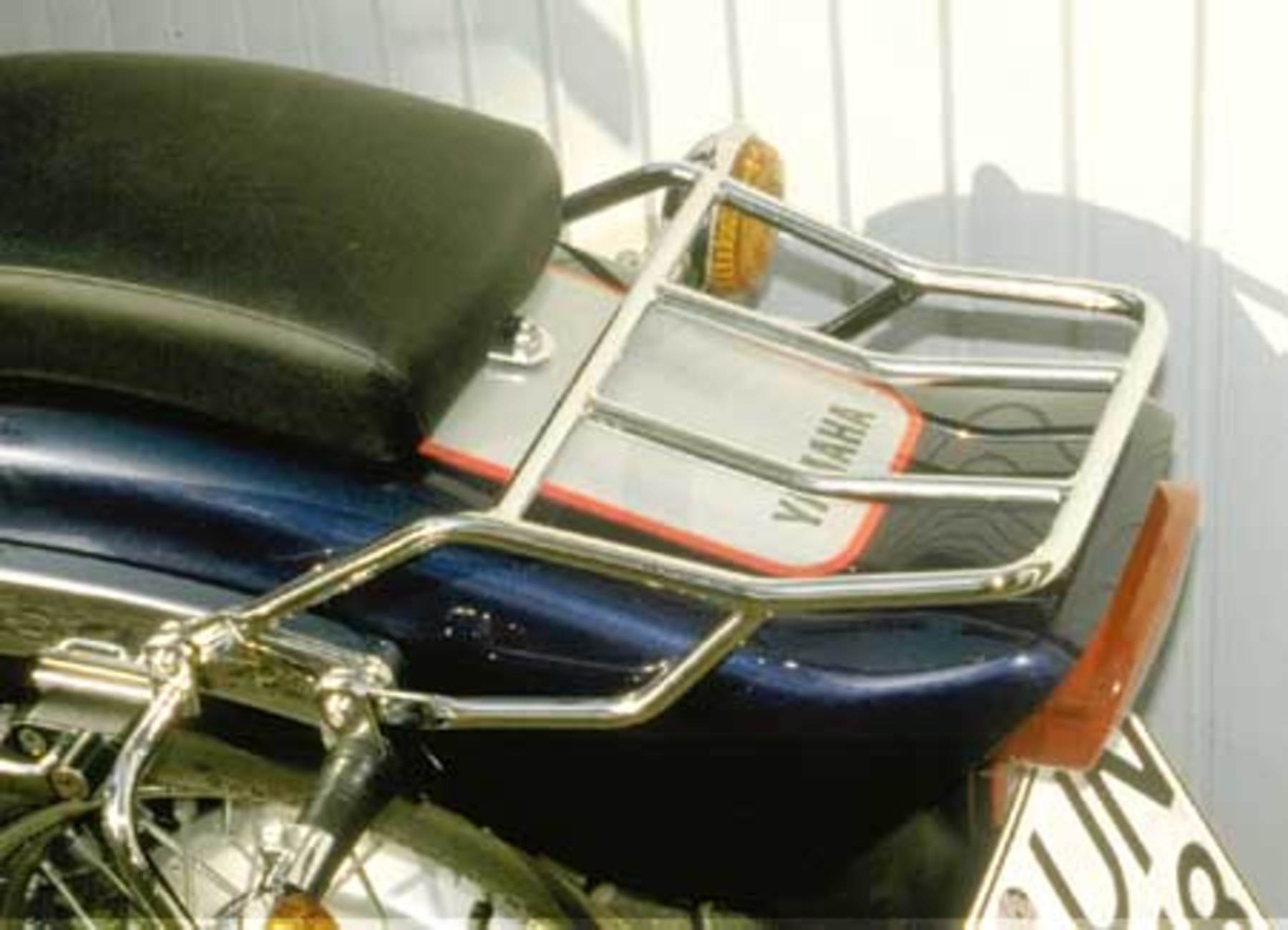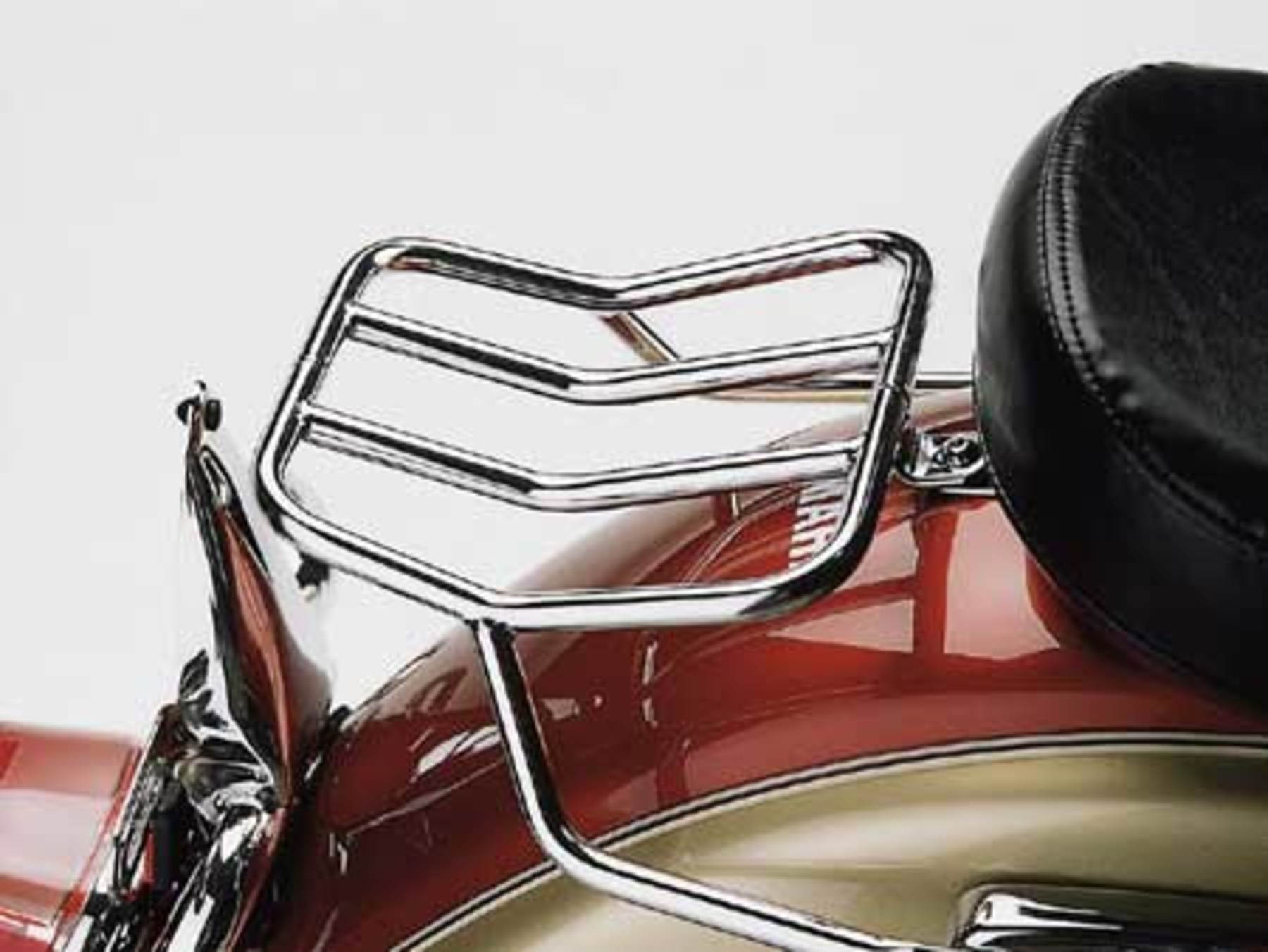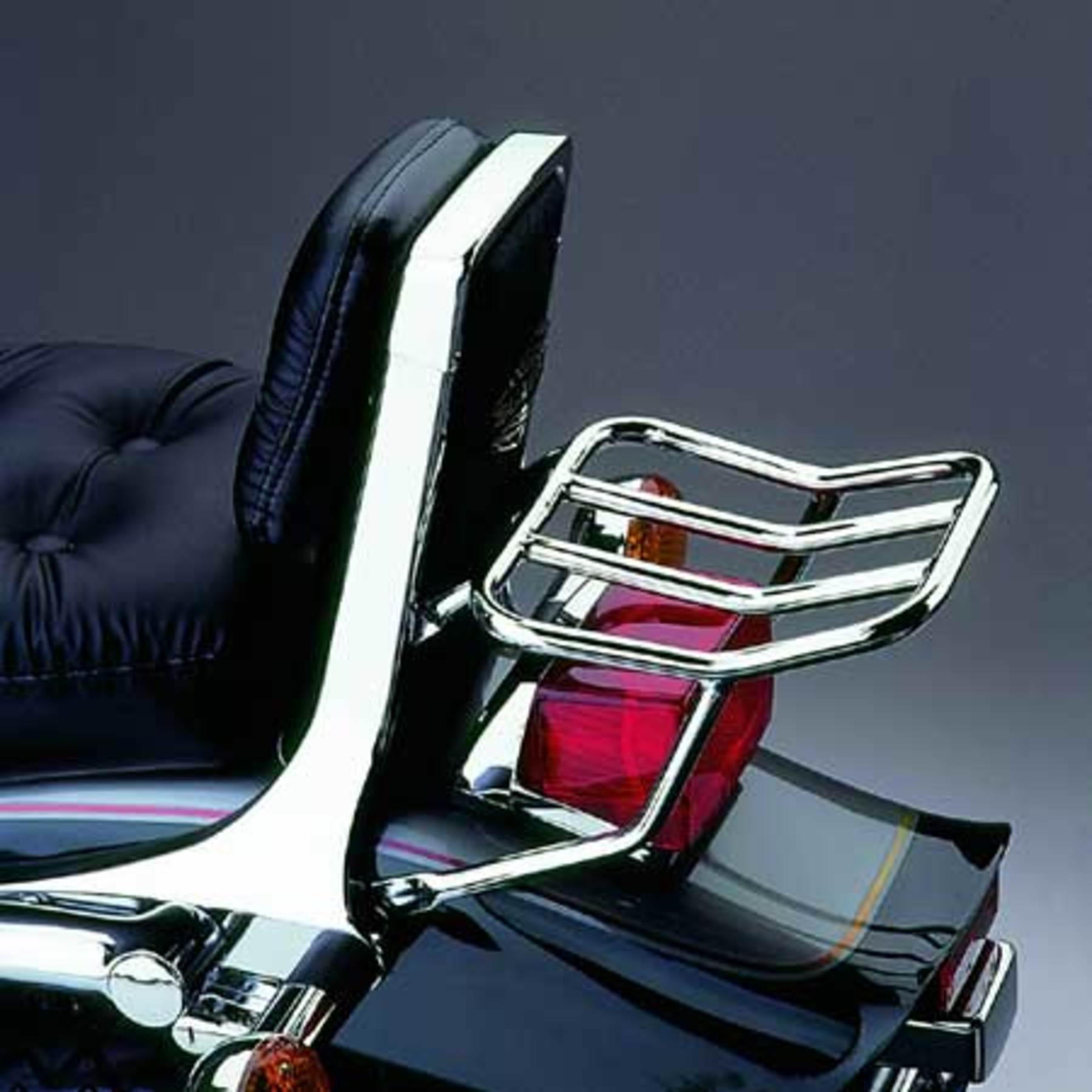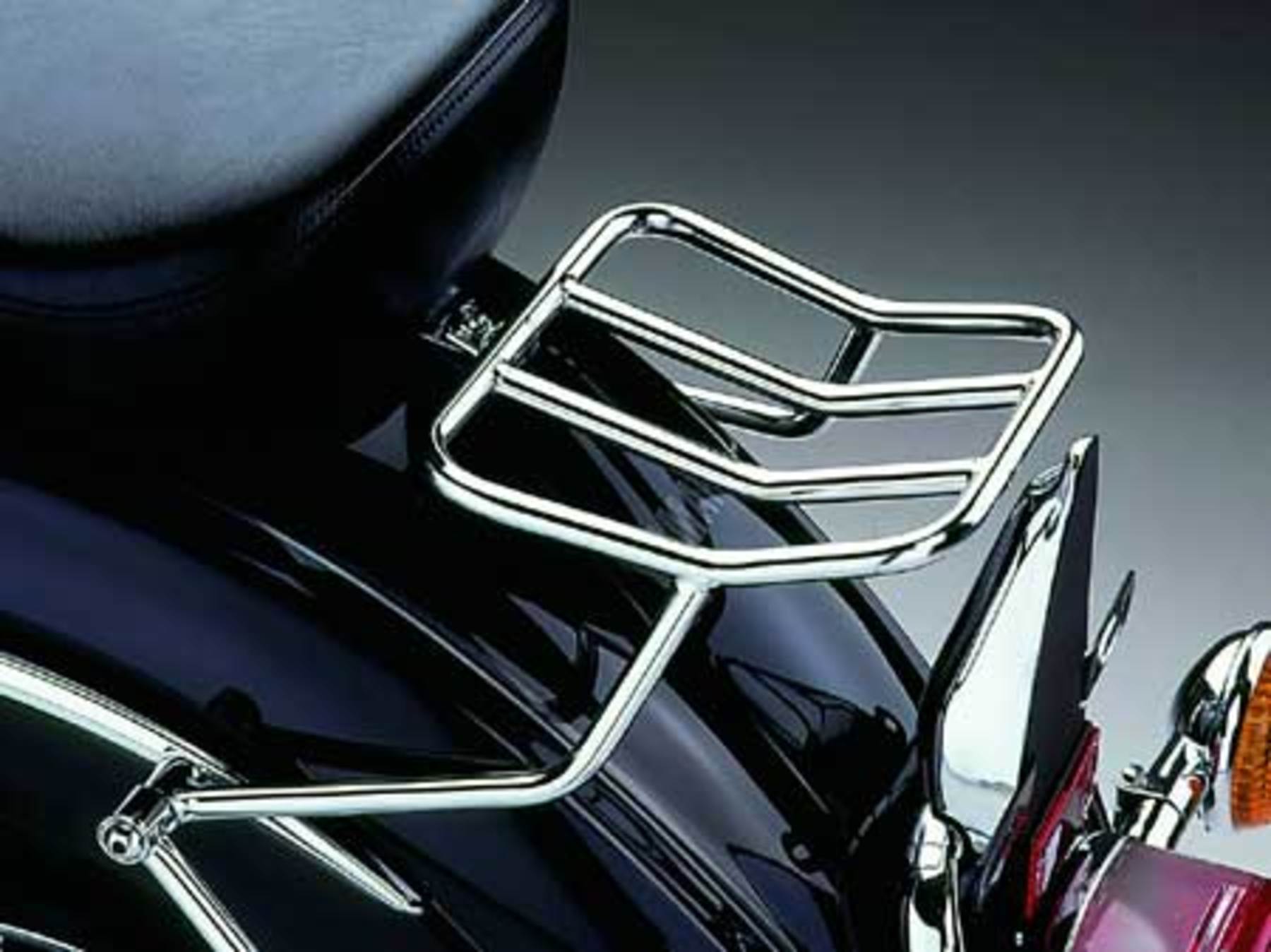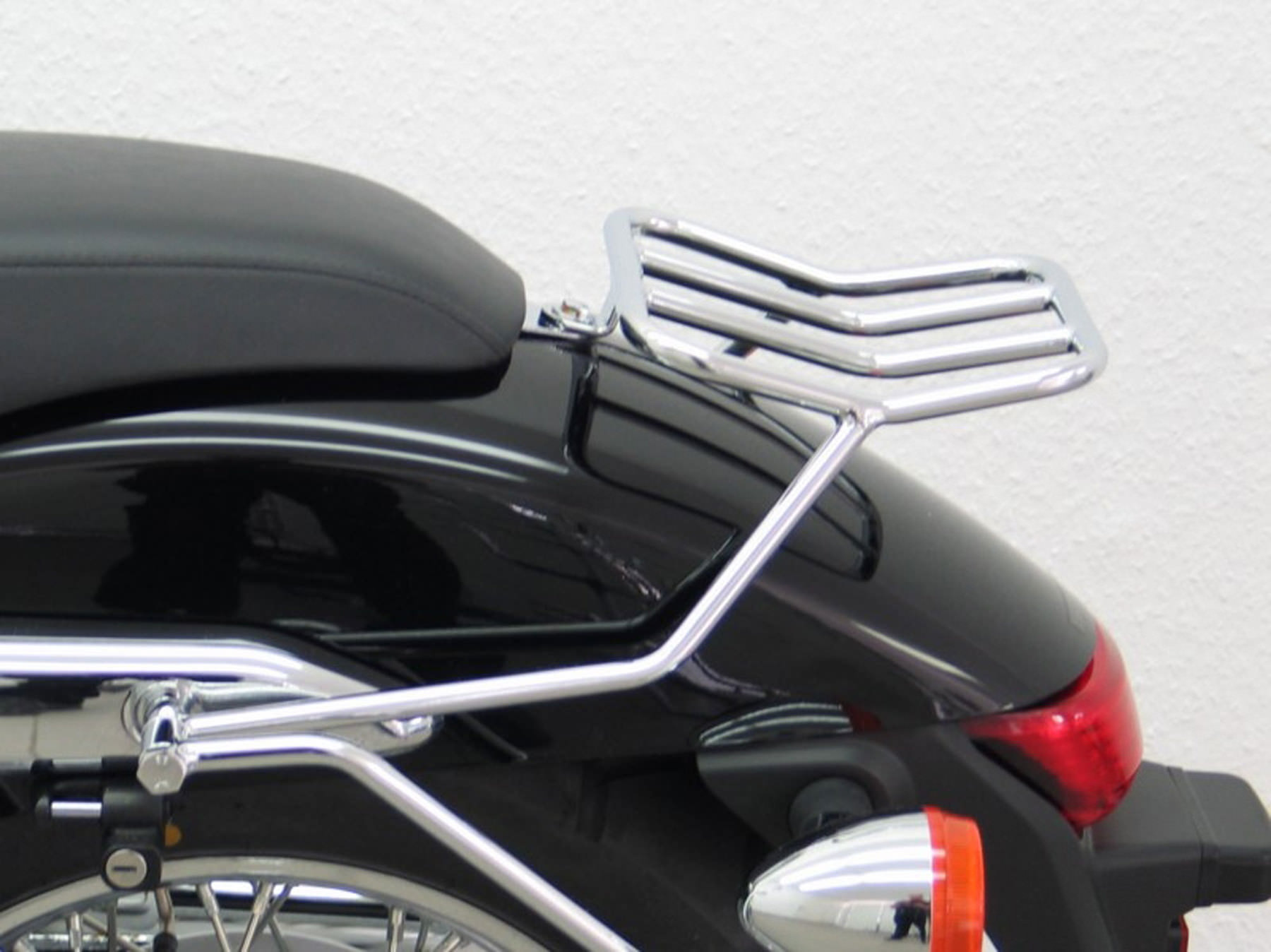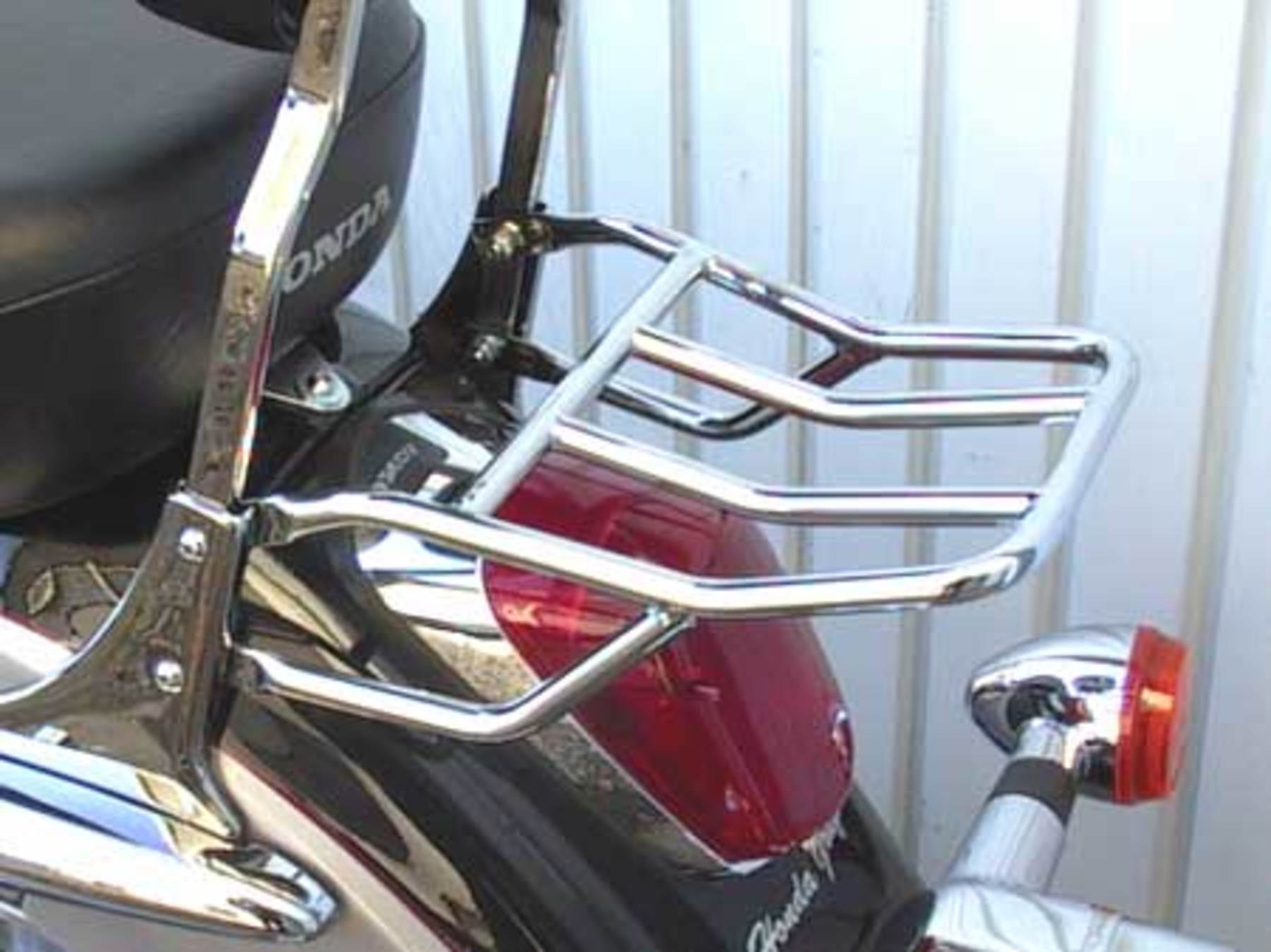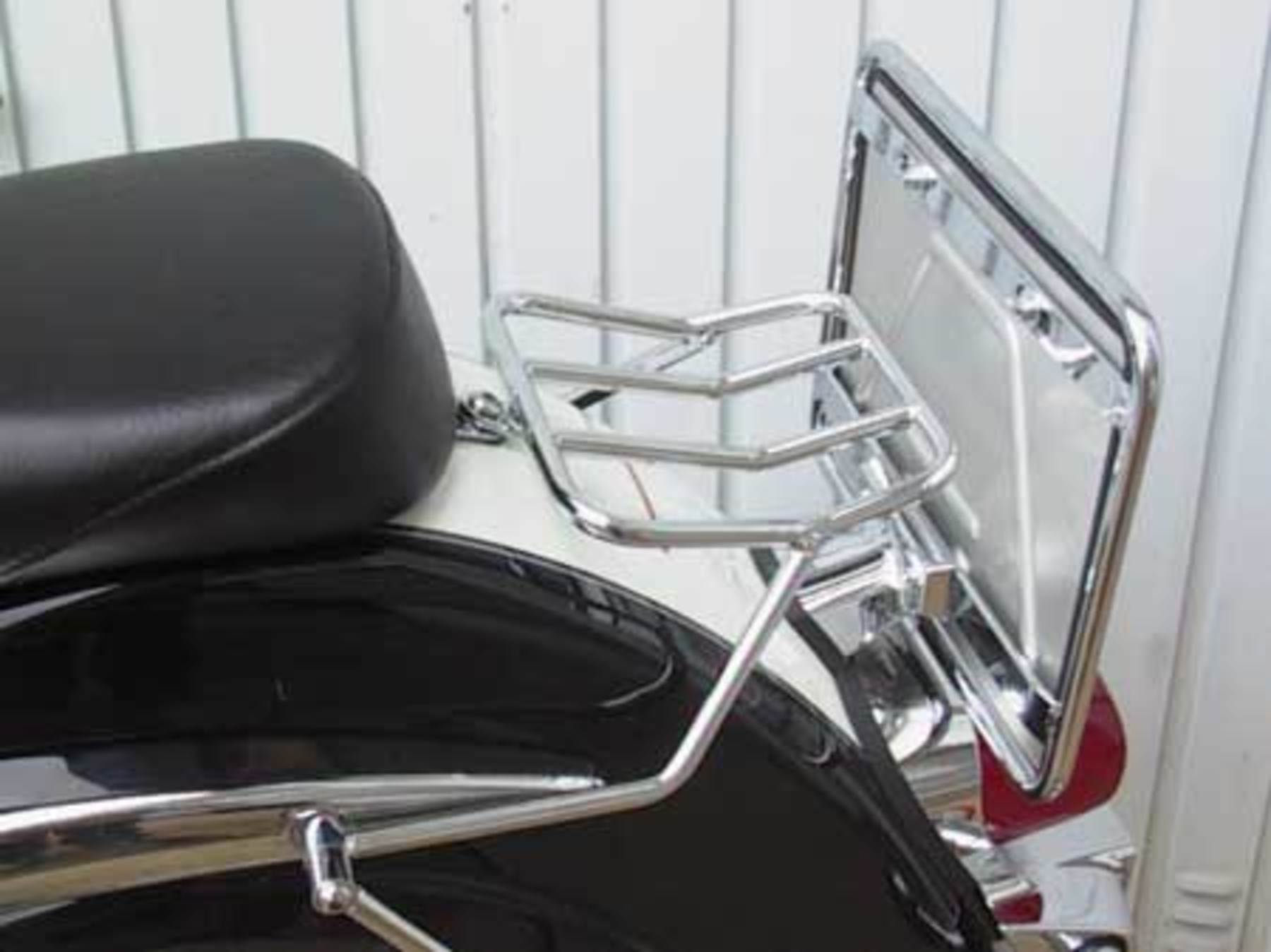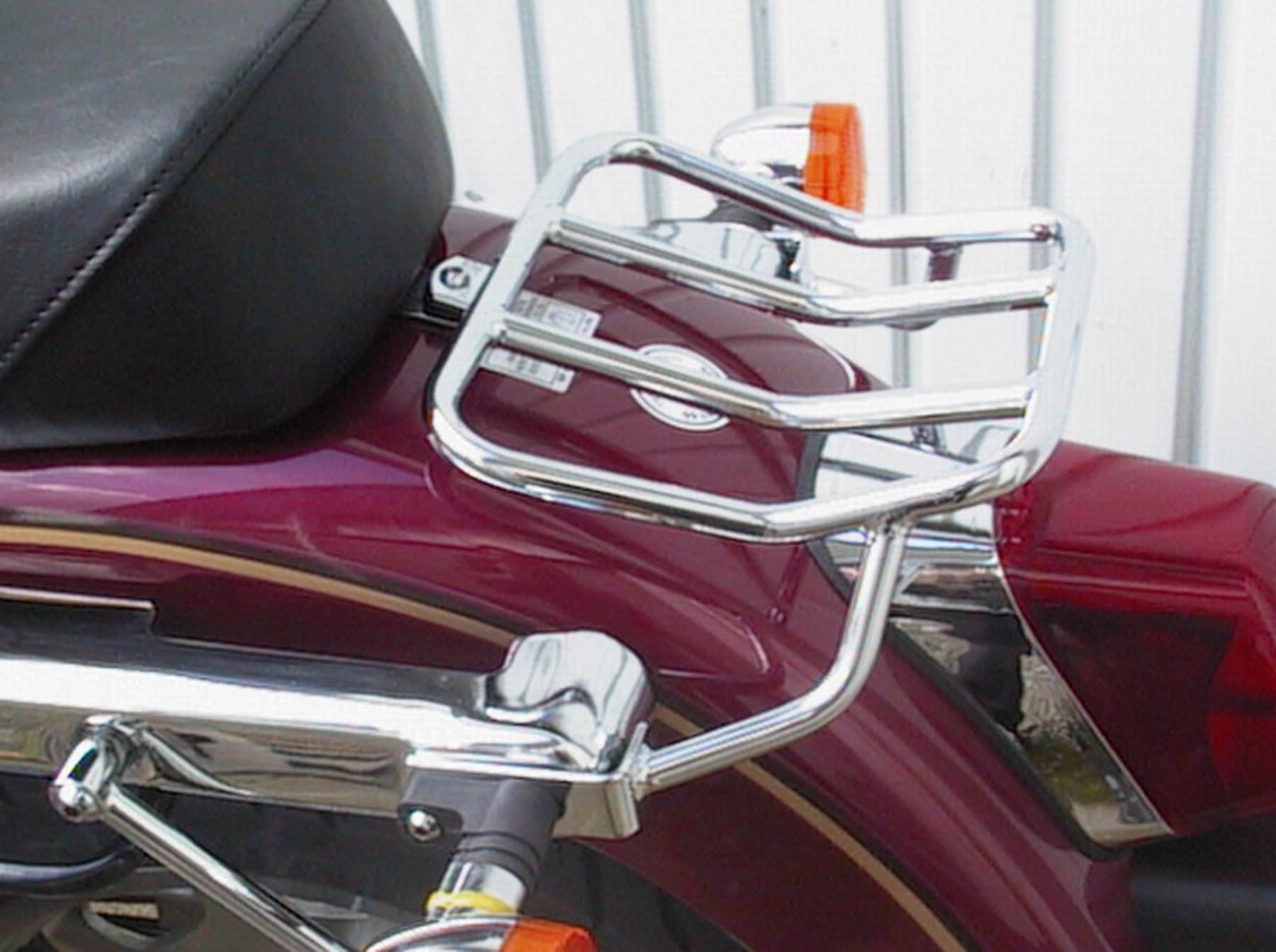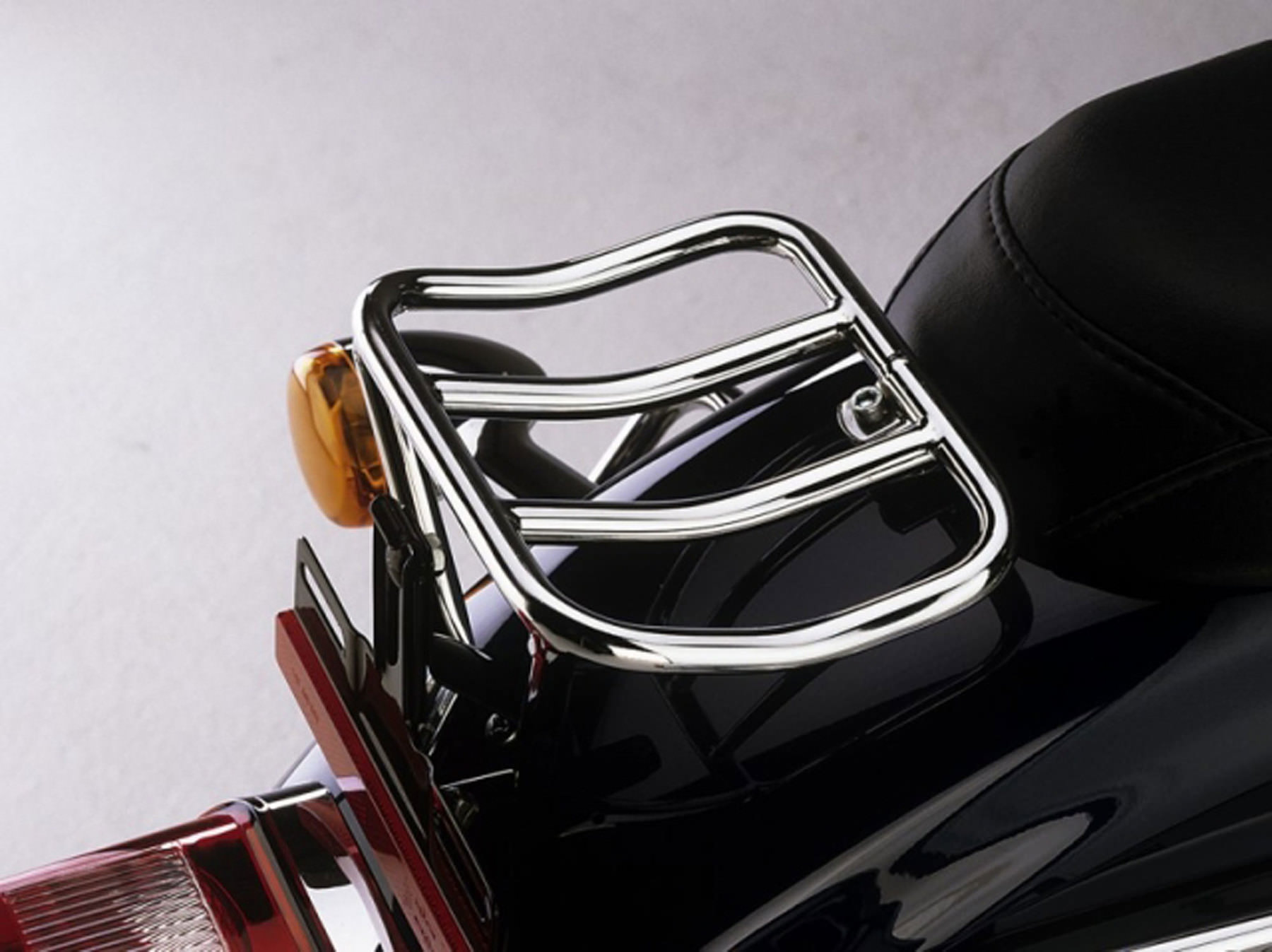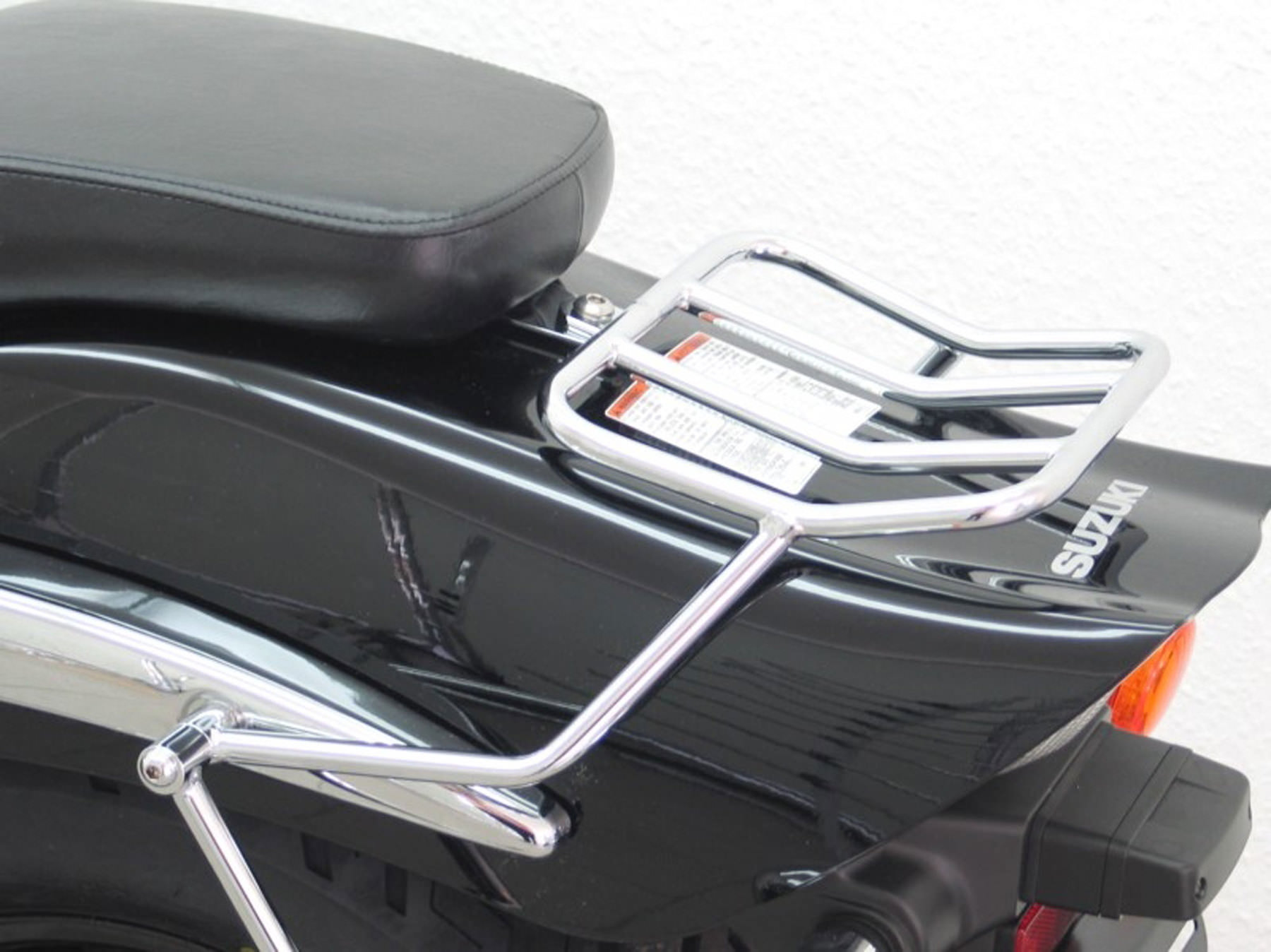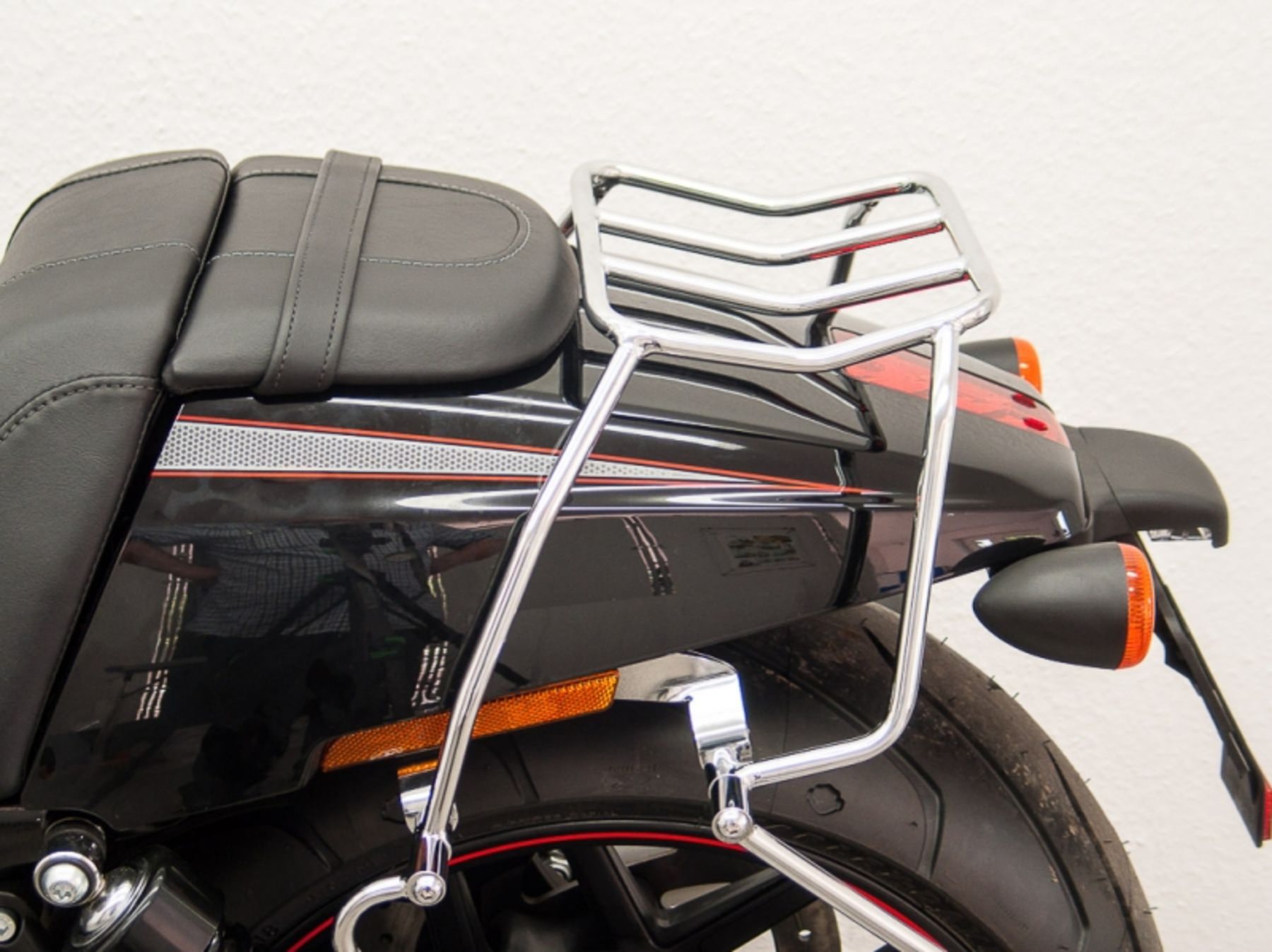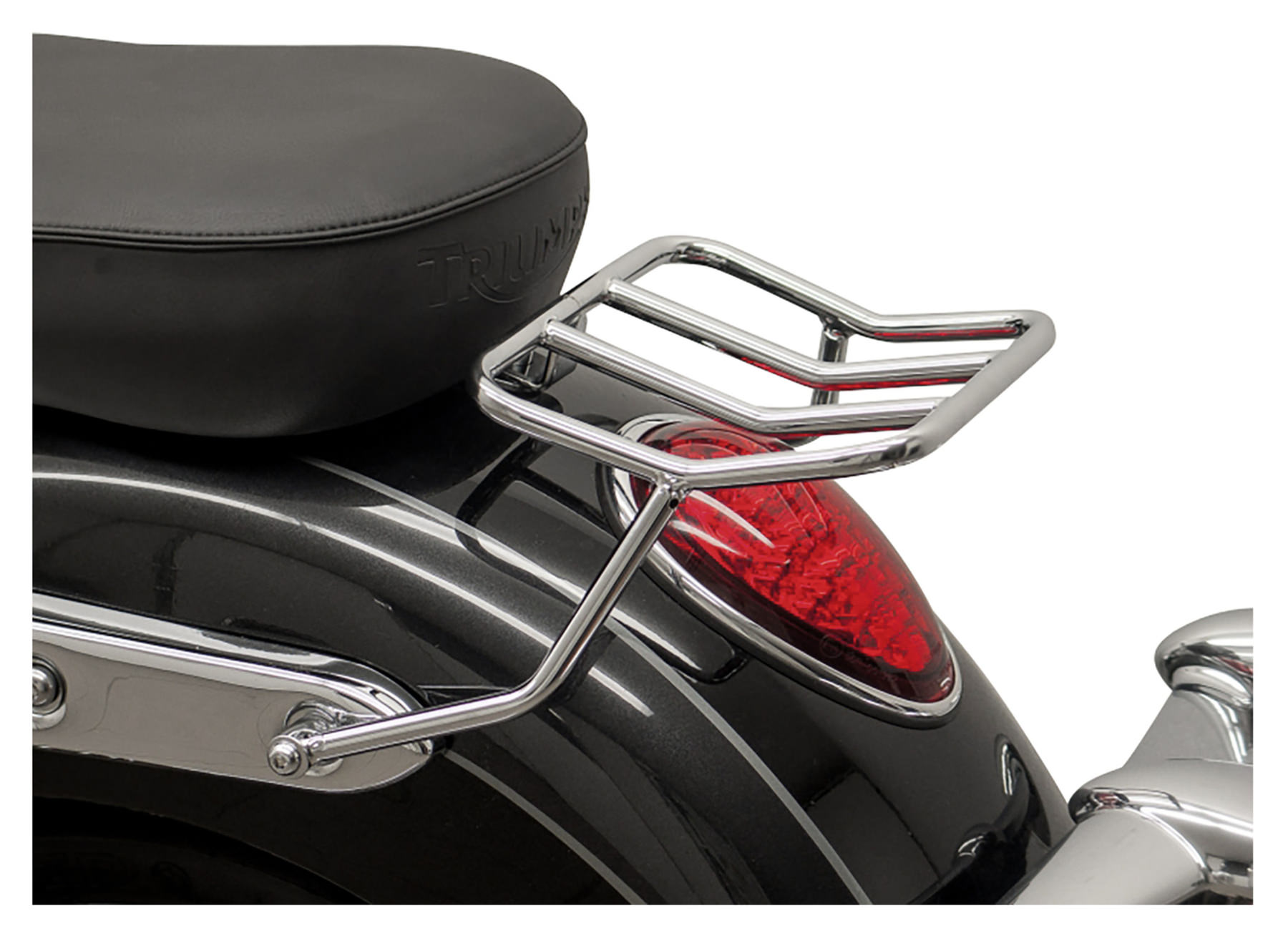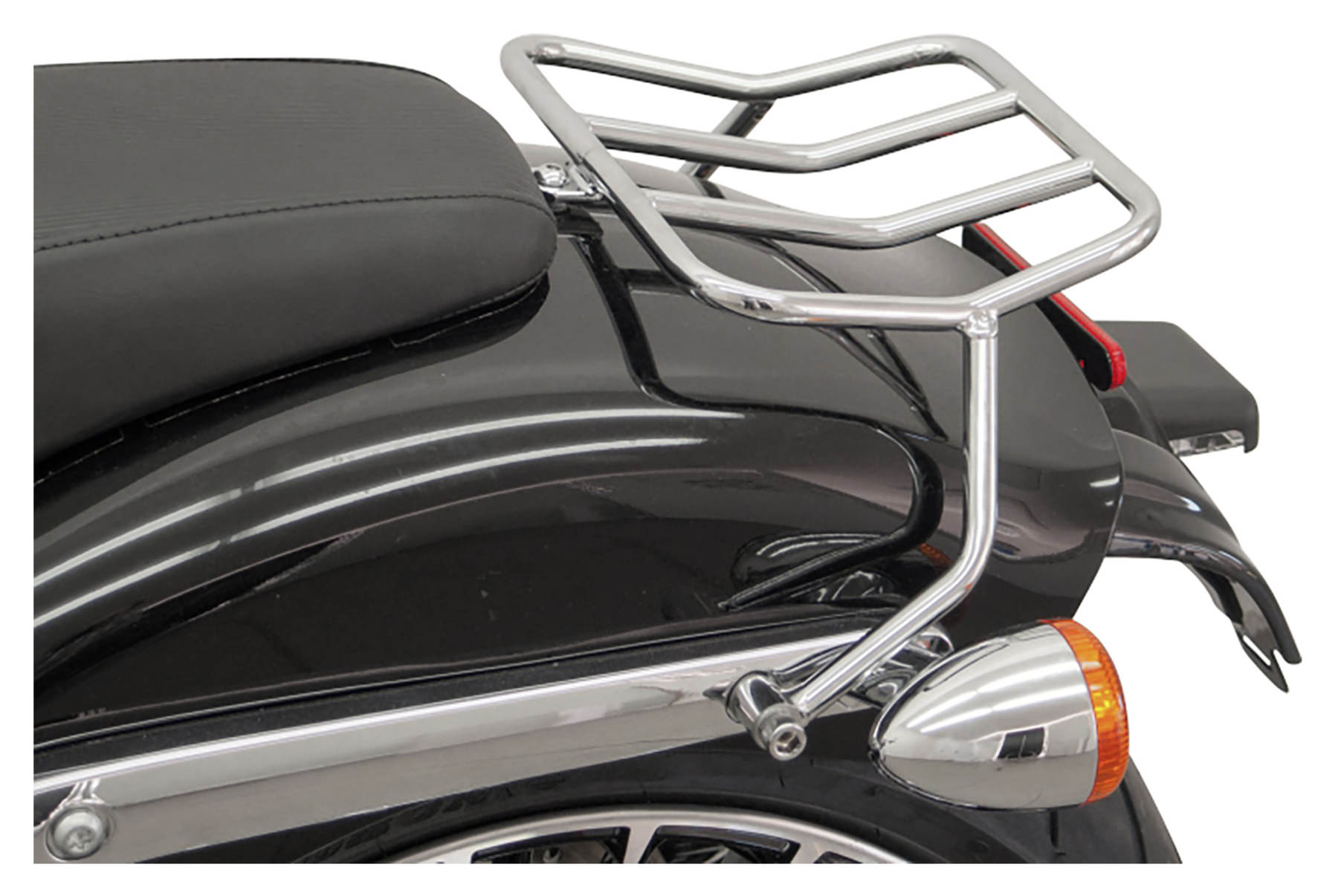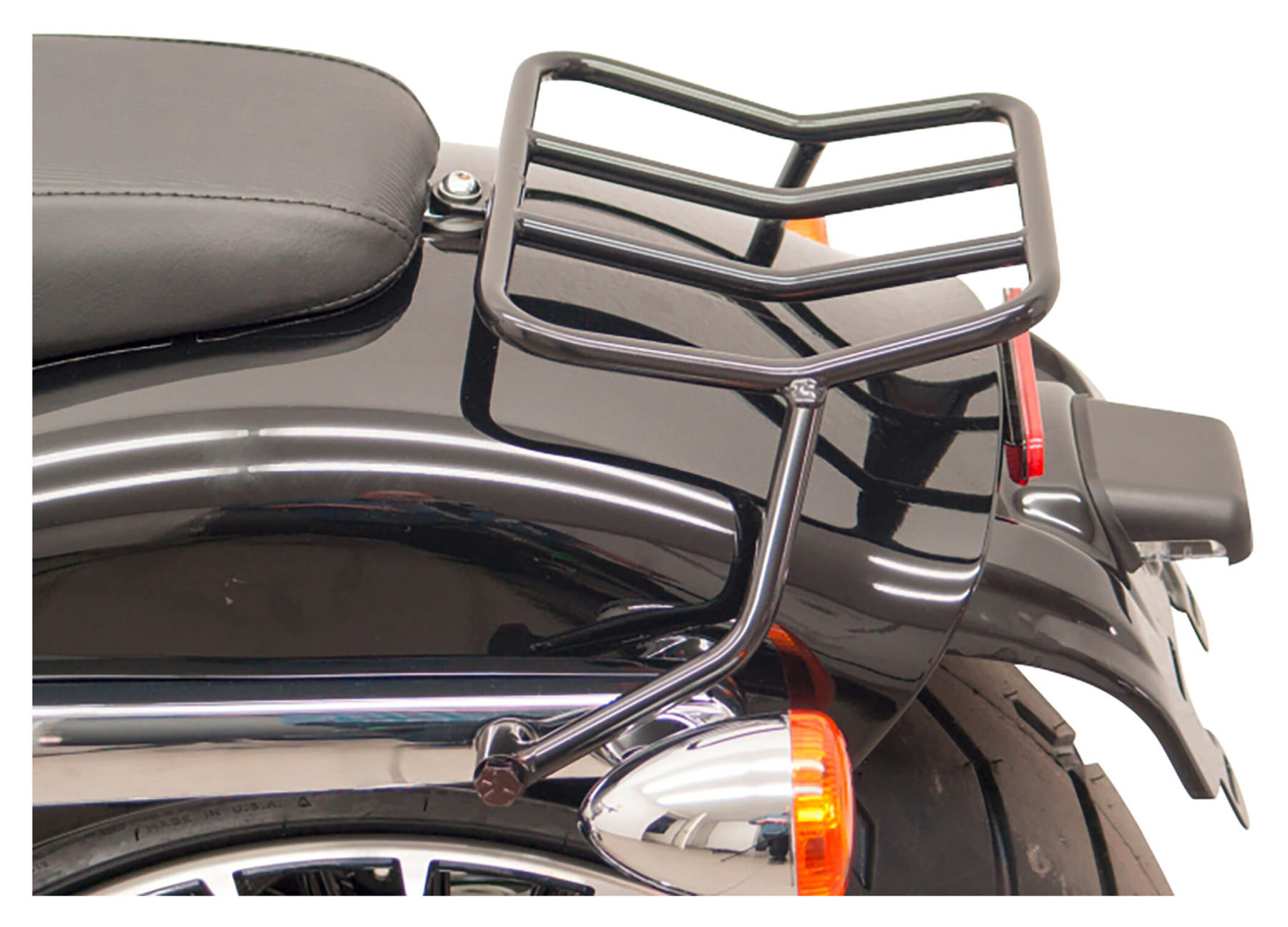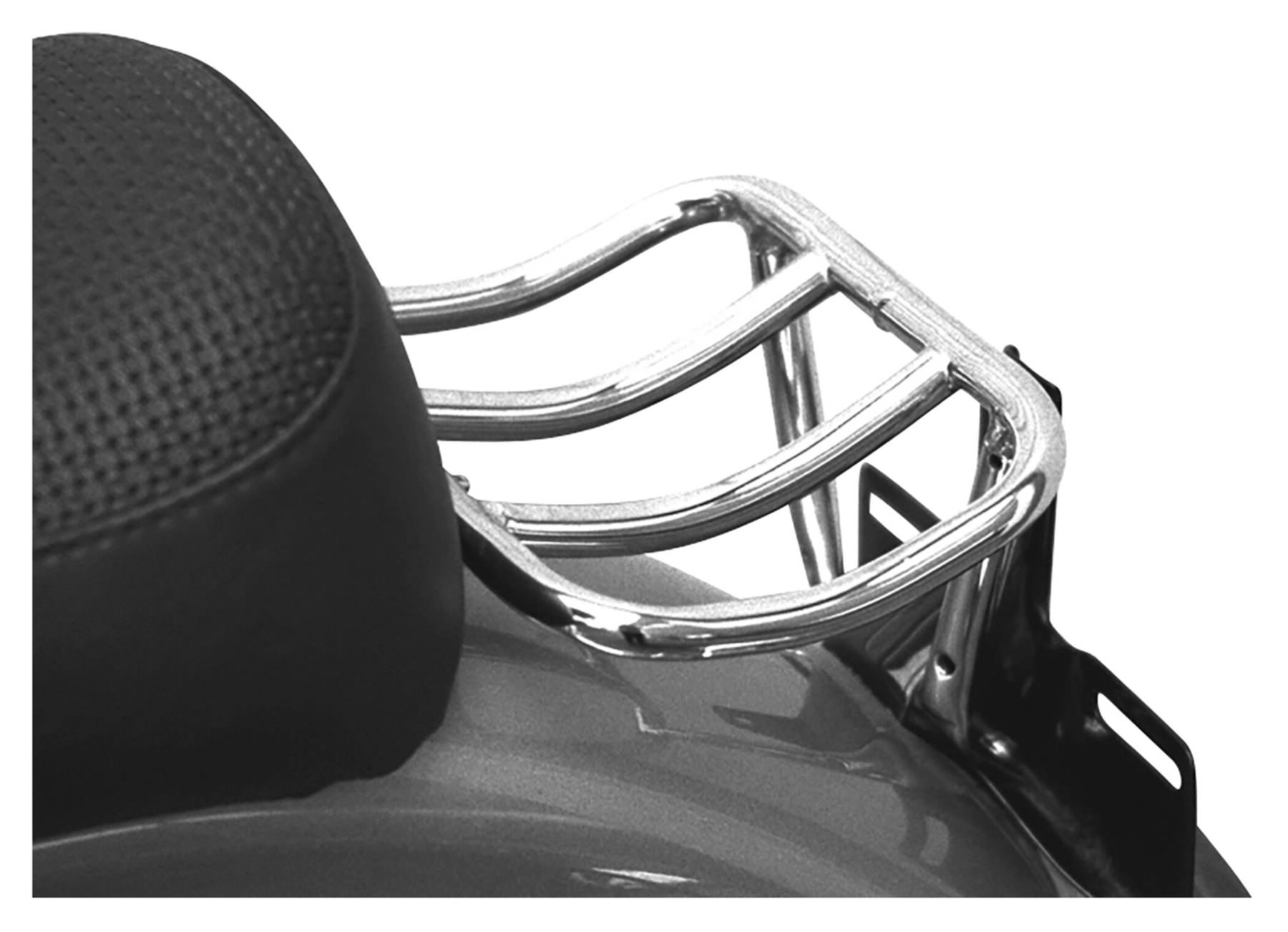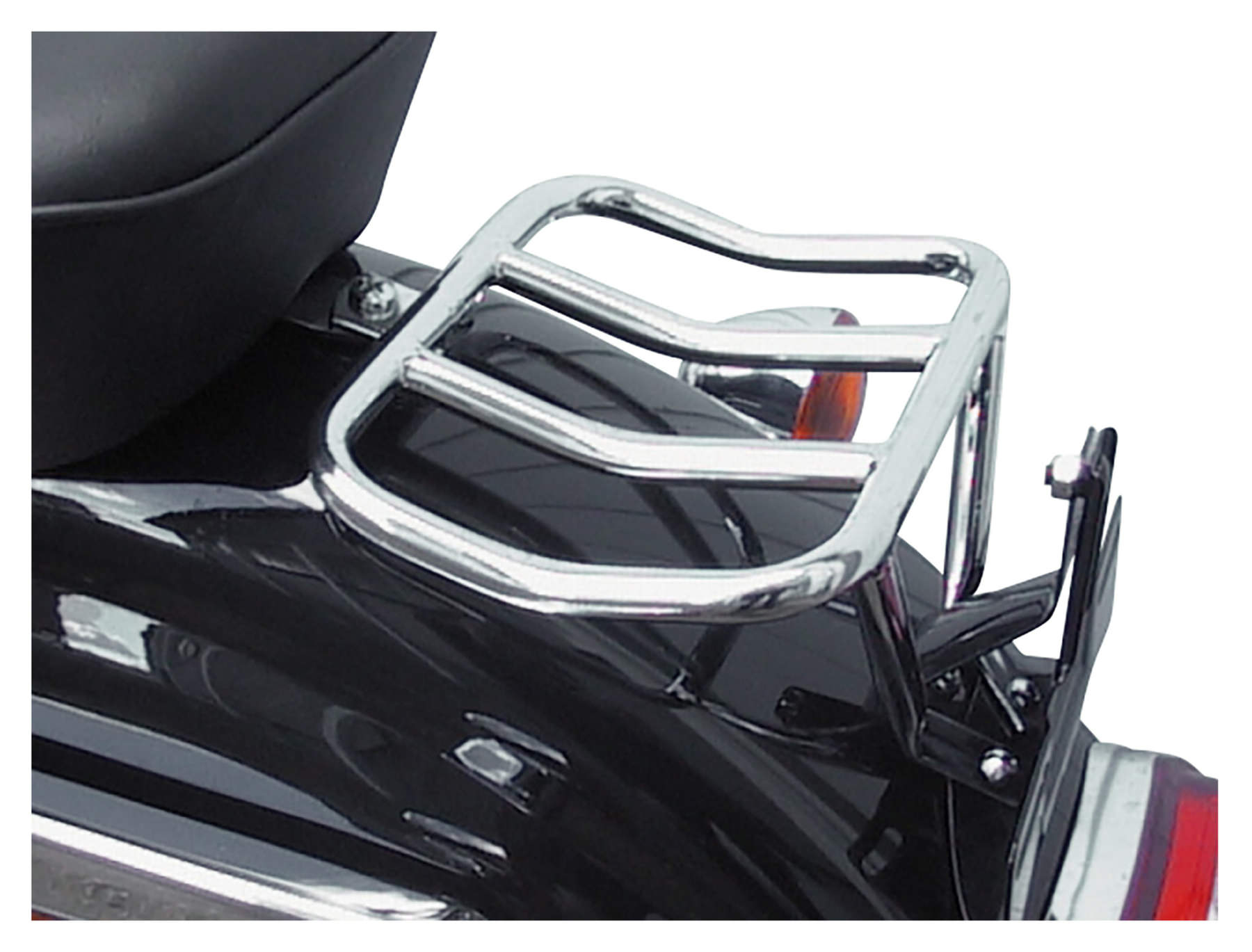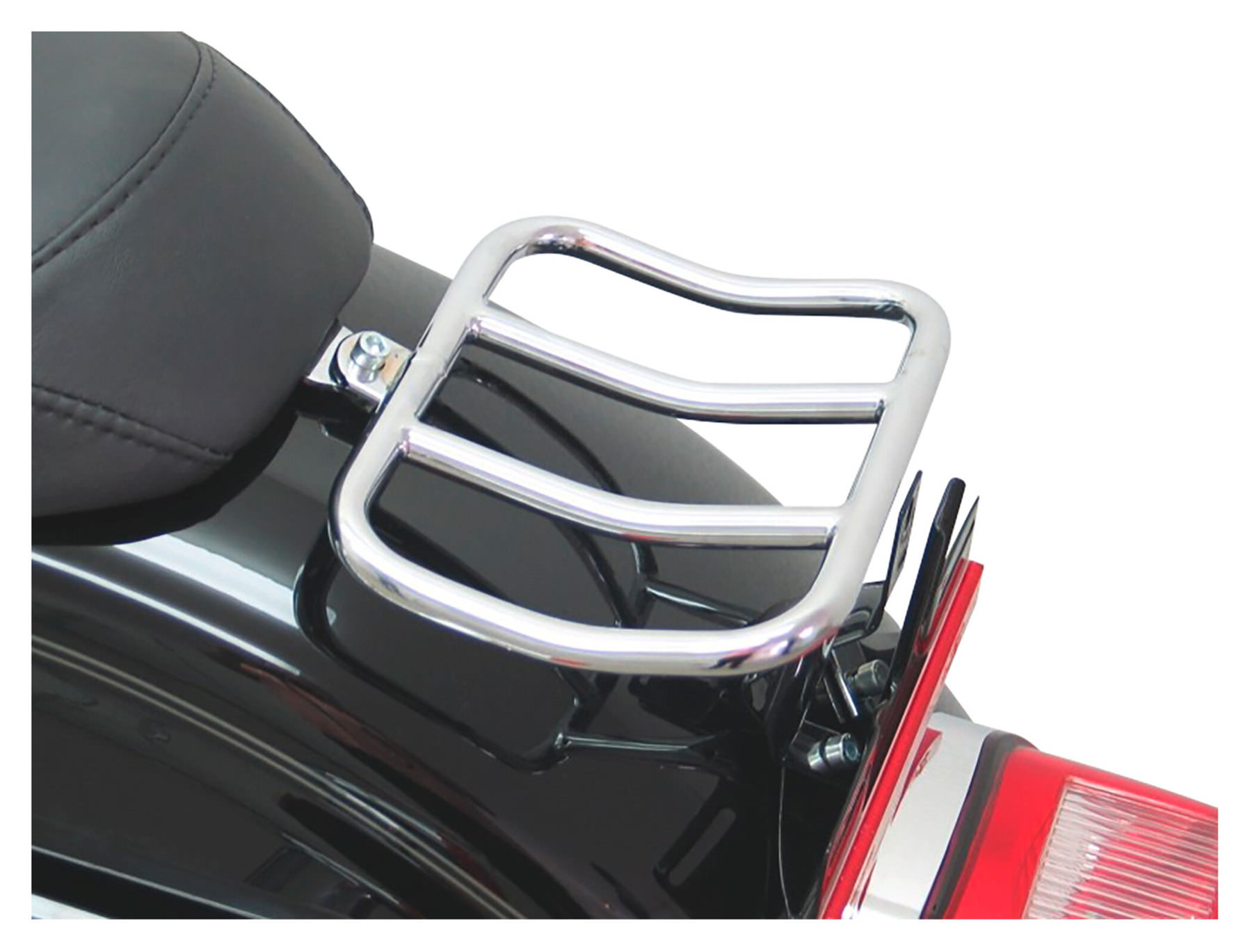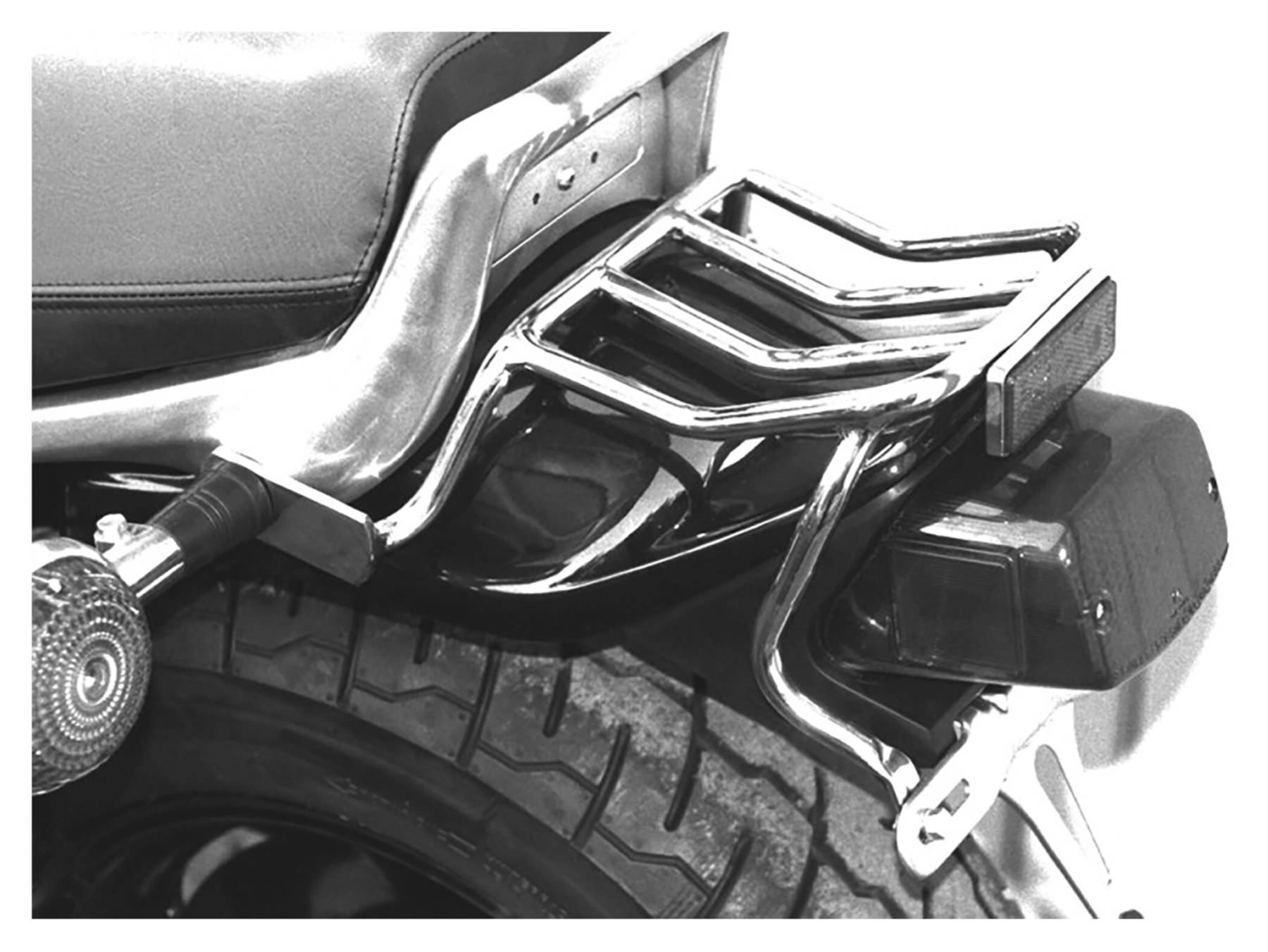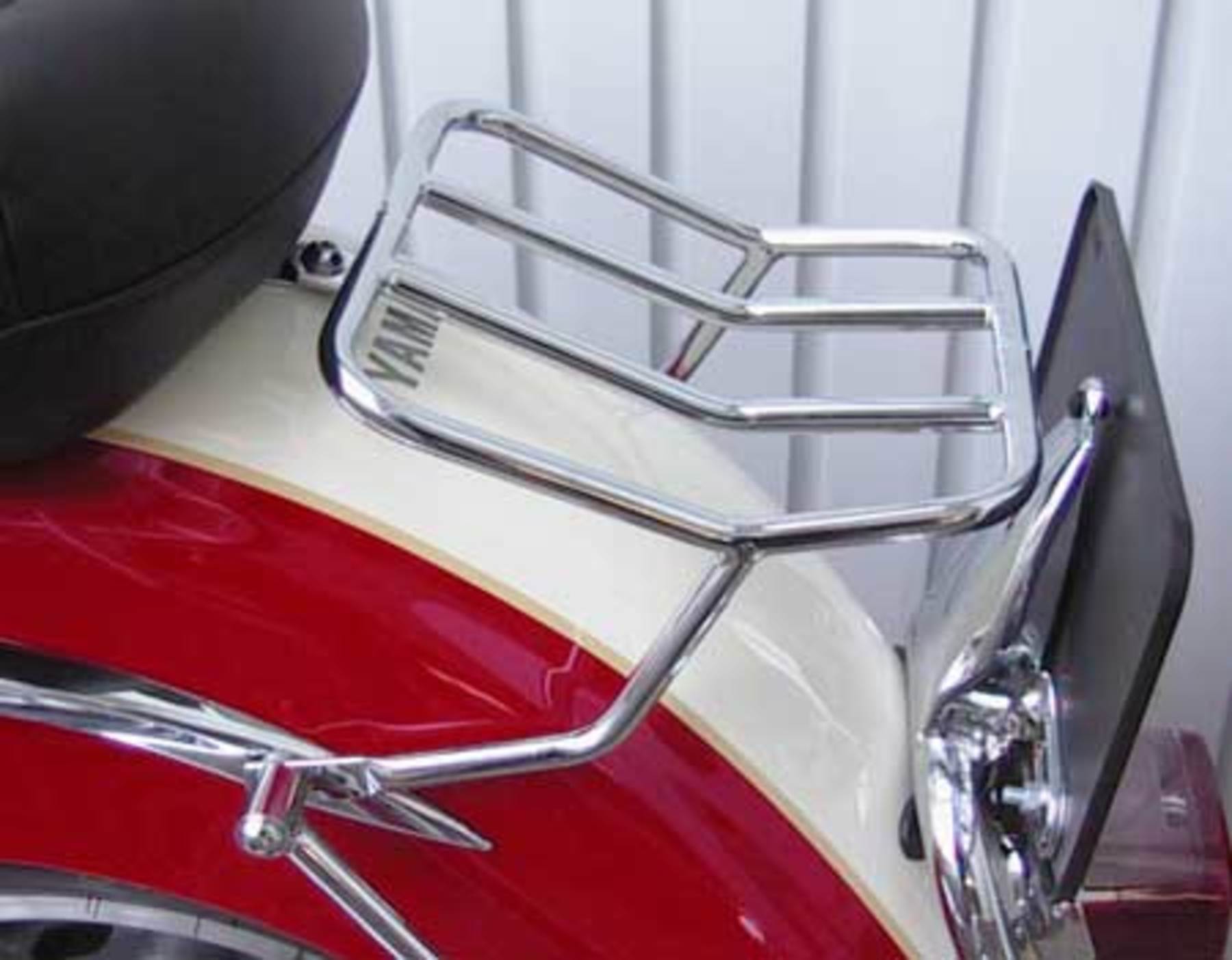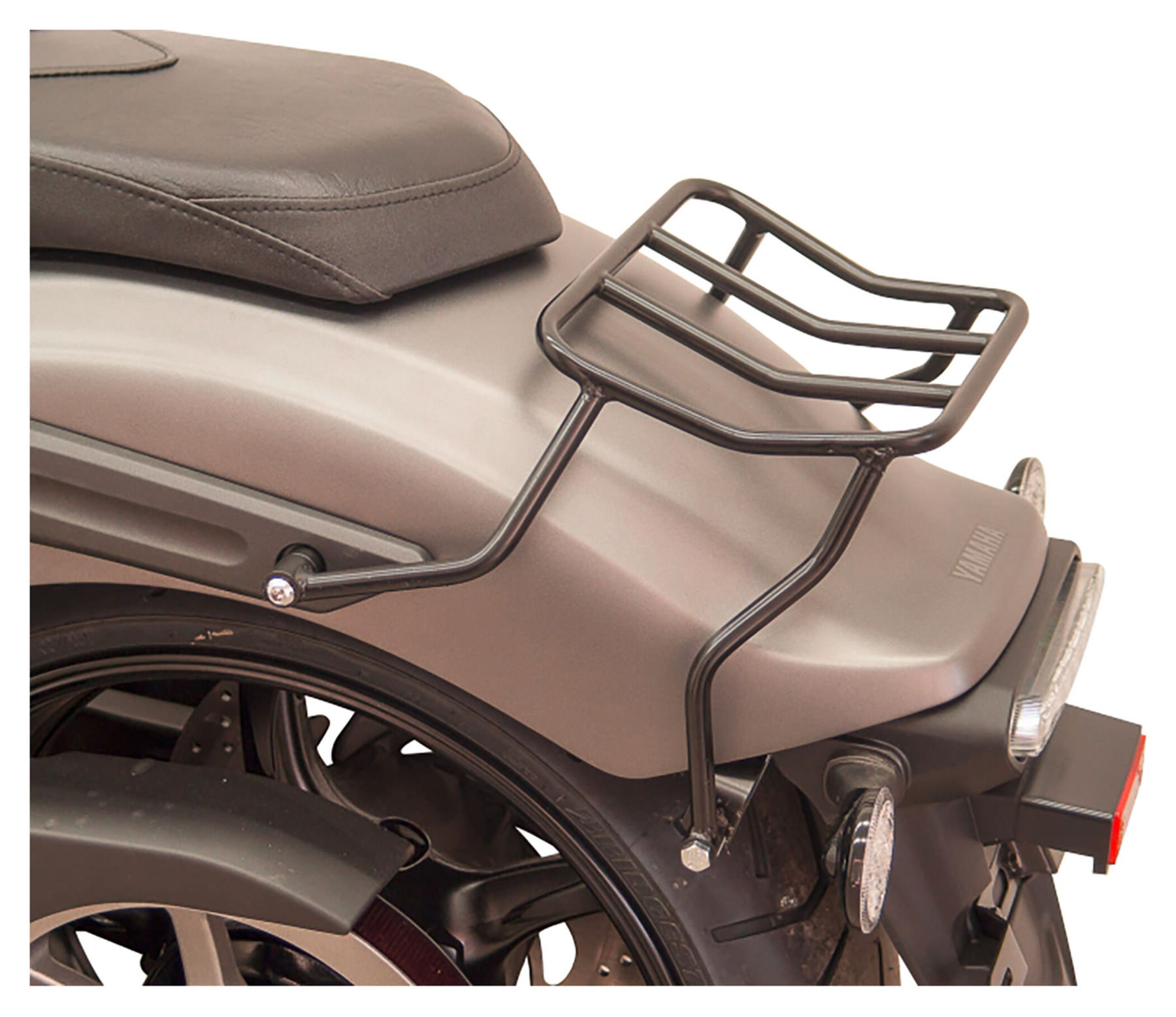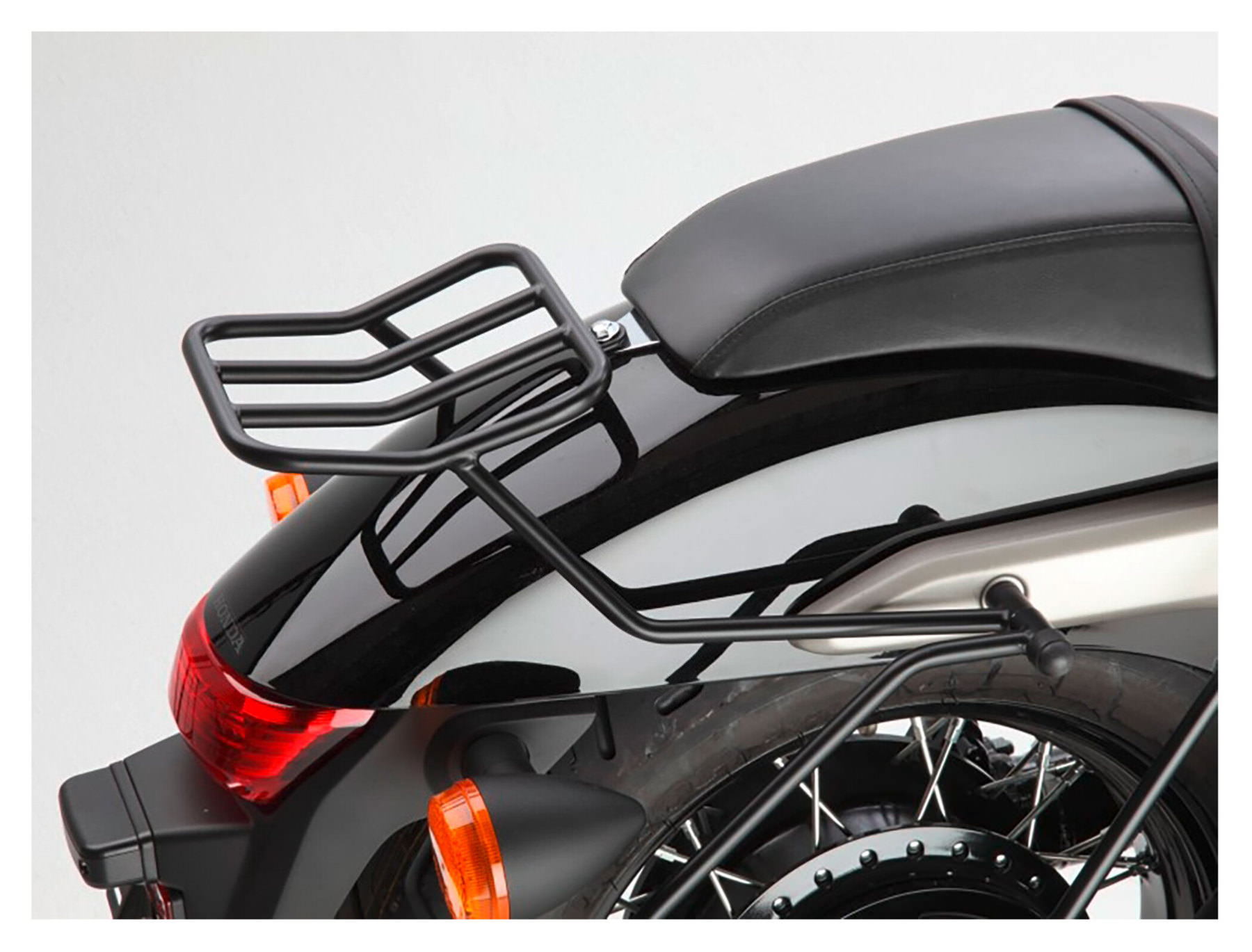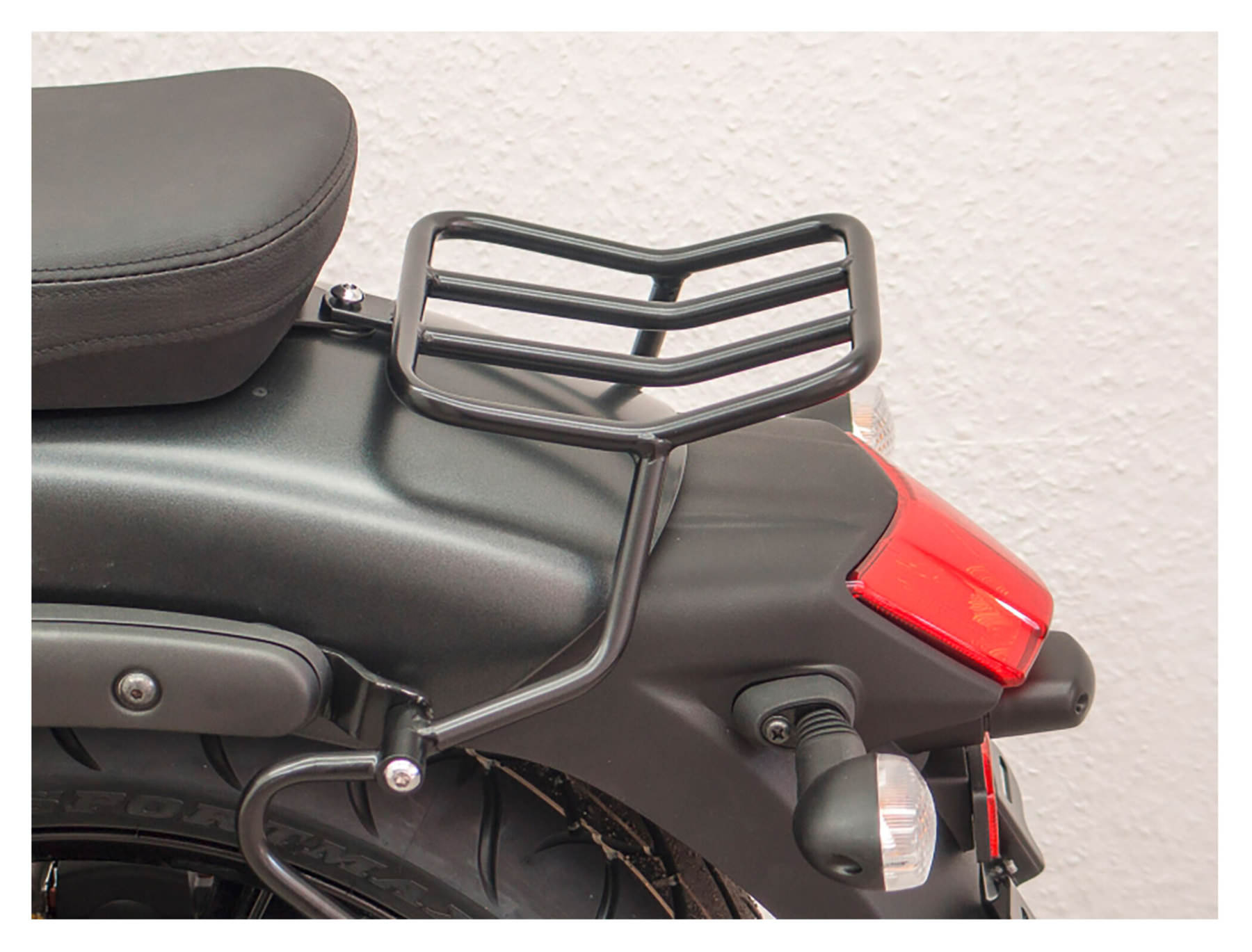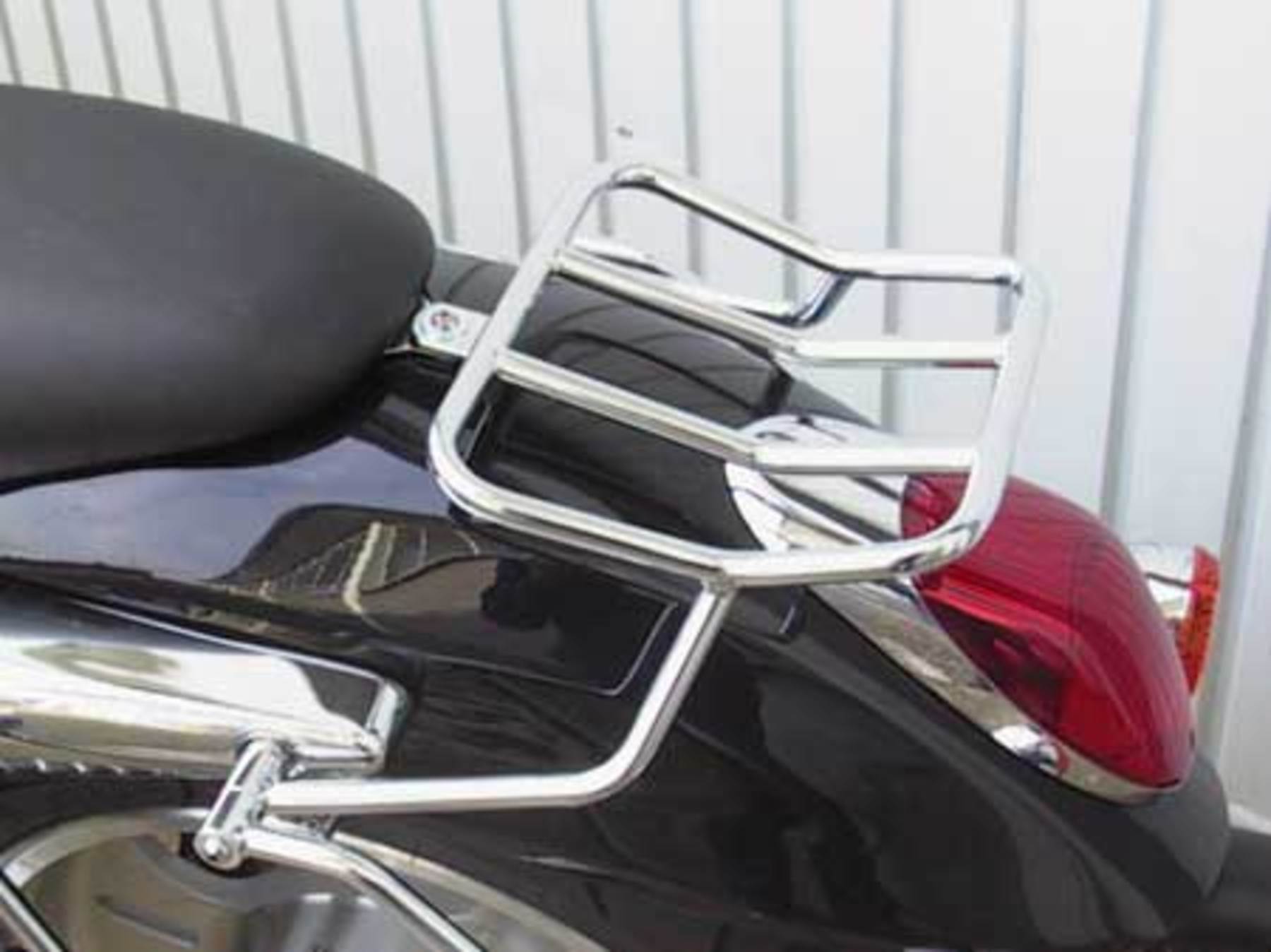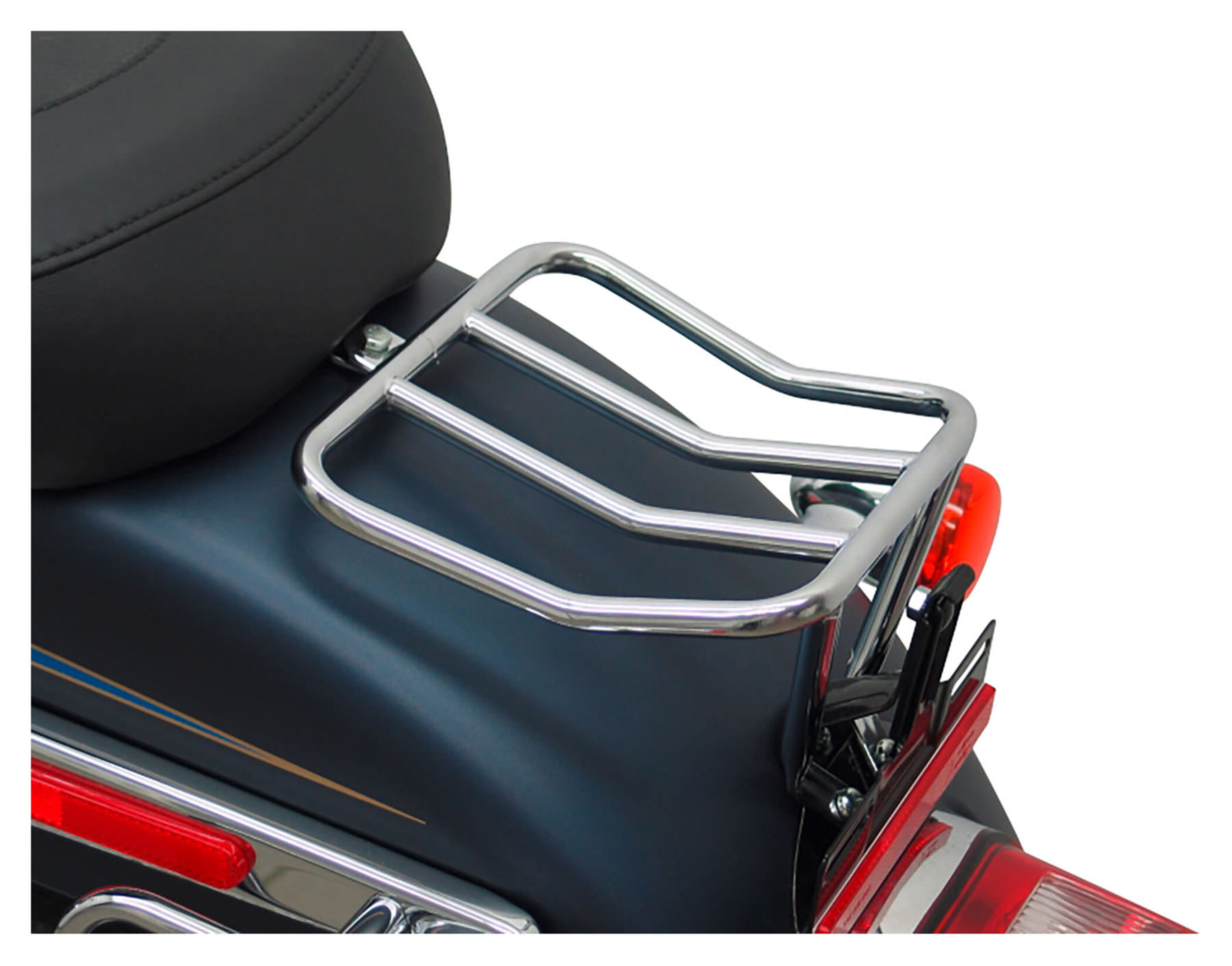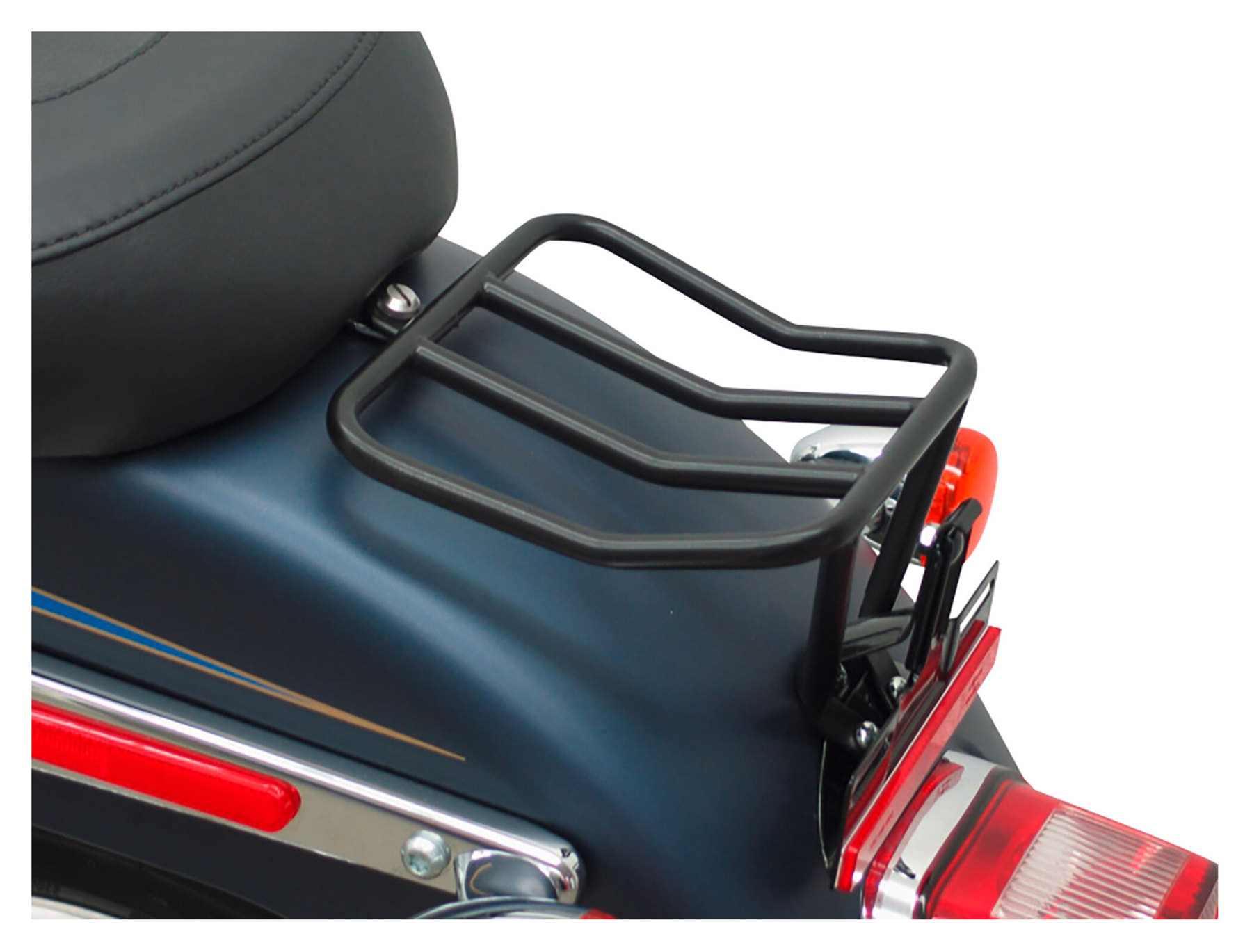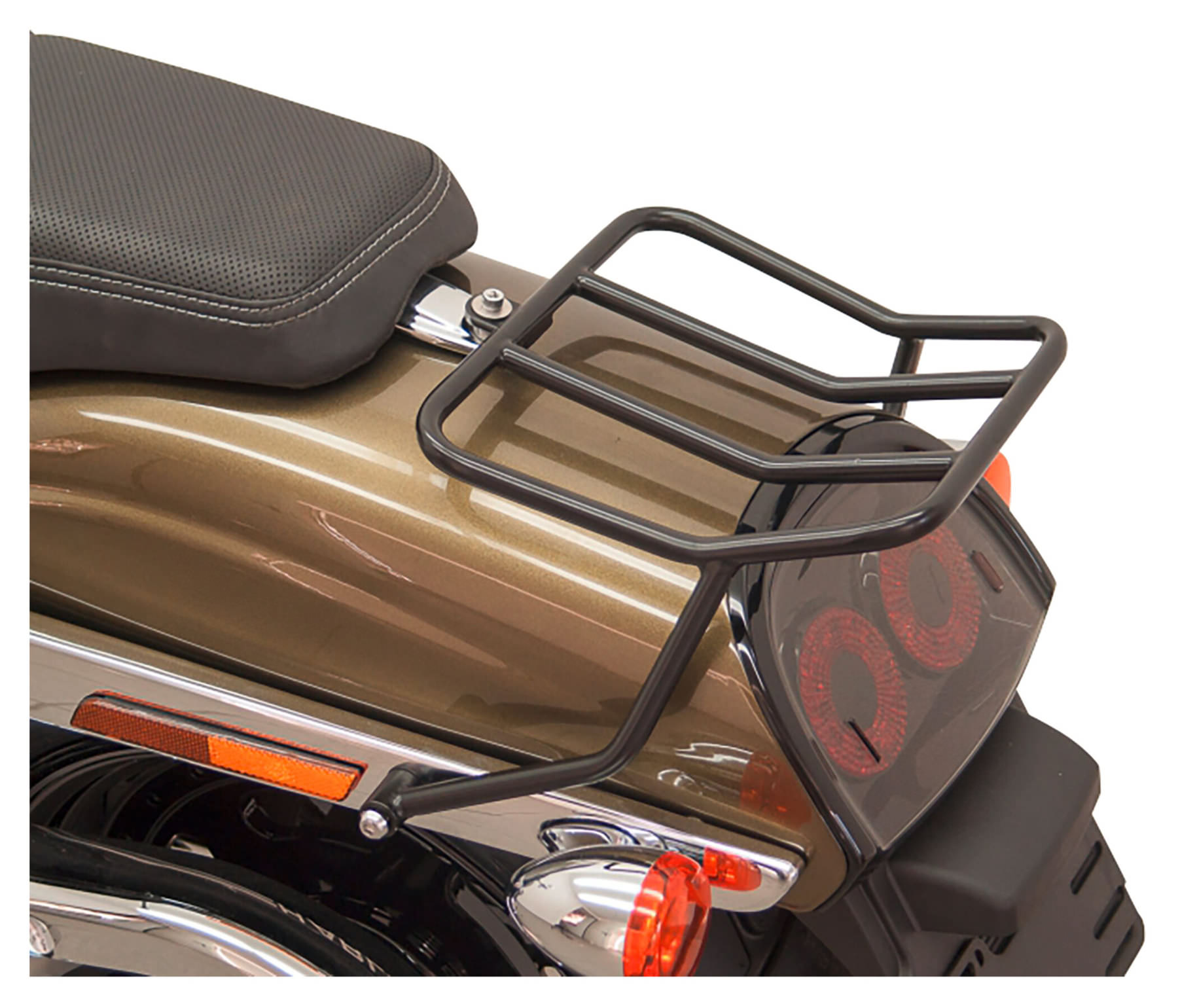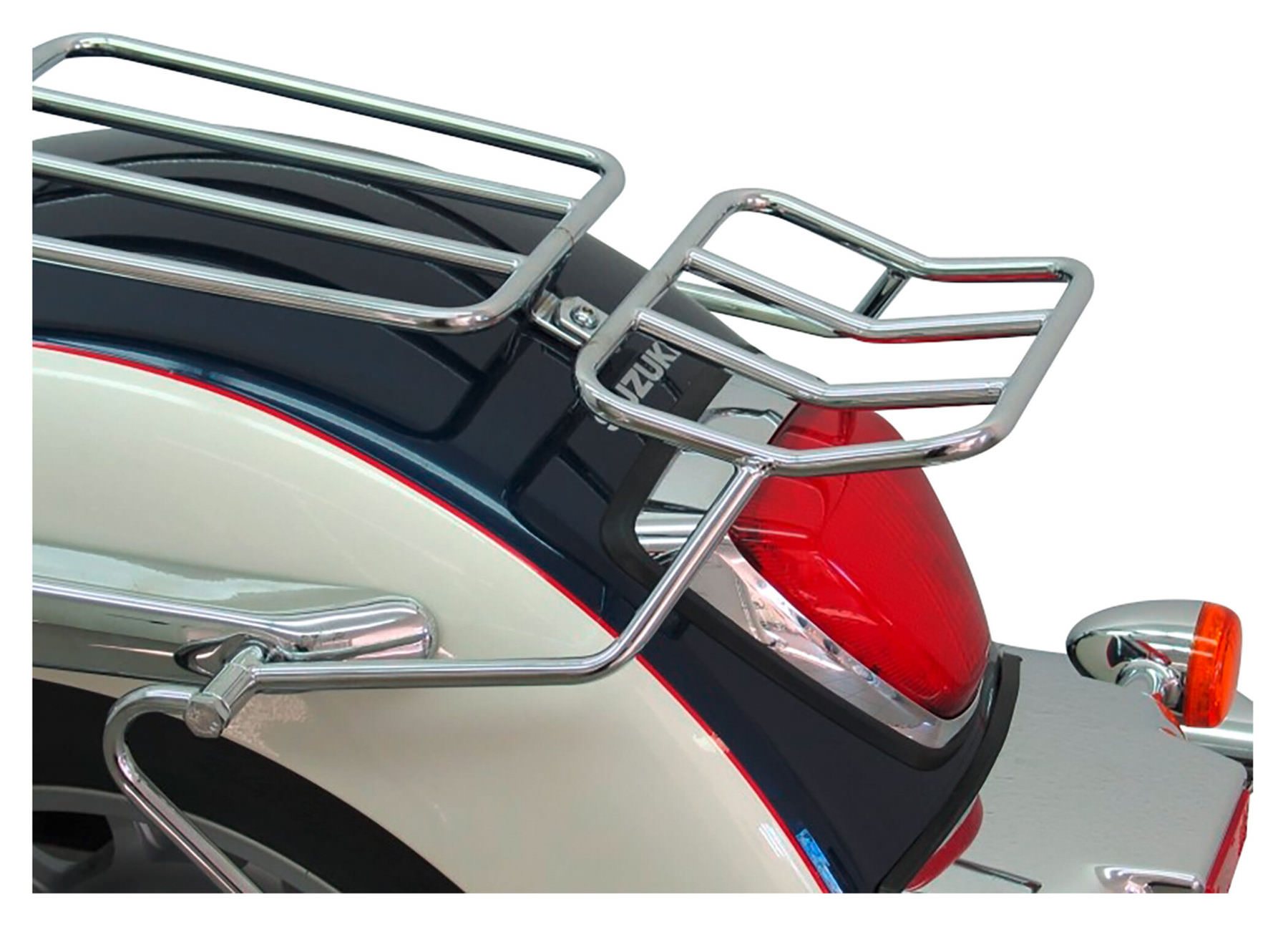 Rearracks and passenger racks
Unfortunately, this product is not compatible with this motorcycle.
Unfortunately, this product is not compatible with this motorcycle. You can find the right for the here: .
€

89.991
from
€

59.991
(-33%)
Free delivery on orders over €50.00
2 year return policy
Fast delivery
Rearracks and passenger racks
Many times you have wished for a possibility to transport something on the back of your cruiser or chopper. What was missing was a shapely, perfectly fitting and perfectly processed luggage carrier, which rather decorates your vehicle than destroys the optics. Of course this is a matter of taste, but we think that with the luggage racks from Fehling we can really fulfil your wish. We offer two versions.
The Fehling *REARRACK*
These discreet "luggage carriers" are just right for smaller luggage and are mounted between the passenger seat and the license plate holder or tail light in most vehicles. They fit harmoniously into this free space on the motorcycle and do not disturb the freedom of movement of the rider or passenger.

The Fehling *PASSENGER RACK*
This passenger rack is a full-size luggage carrier that is mounted on the rear fender instead of the pillion seat. The existing mounting holes of the original passenger seat are used for mounting.

All Fehling racks are made of chrome-plated tubular steel. Some models are available in black powder-coated.

Please note that not every version is available for every vehicle. You can find out which Fehling luggage rack is suitable for your vehicle by clicking on the motorcycle button "My Bike". Or you can find out under "All versions".

Material:

tubular steel, chrome-plated or black powder-coated
Manufacturer details: Fehling

Passion - since 1945

Ever since the 1950s, Fehling has been producing an unrivalled range of handlebars. Choppers, tourers, streetfighters and enduros can all be adapted to suit your preferred look and ergonomics with Fehling. A real eye-catcher: The Fehling M handlebar for 70s retro-style conversions! The Fehling range also includes crash bars, luggage racks, chrome parts and other accessories for many different motorbike models. From development over production, Fehling combines traditional craftsmanship with modern industrial manufacturing. The result is top quality "Made in Germany".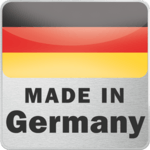 QUALITY MADE IN GERMANY!

By purchasing this item you have chosen a premium-quality product with superior German workmanship. This internationally acknowledged mark of quality means that this product is the result of efficiently coordinated development and production processes, technological expertise, continuous quality controls.
Product
Art. No.
Availability
Price
Actions
FEHLING PASSENG.RACK BLK - XV950 R (ROHR)
10022710

The item is in stock and will be delivered in 2-5 working days. Note: Stocks are updated online every hour on working days from 7 a.m. to 8 p.m., so there is a good chance that the products are available if they appear online.

Available

€109.99 1
FEHLING REARRACK BLACK - DYNA FAT BOB 08-17
10029699

The item is in stock and will be delivered in 2-5 working days. Note: Stocks are updated online every hour on working days from 7 a.m. to 8 p.m., so there is a good chance that the products are available if they appear online.

Available

€89.99 1
FEHLING REARRACK BLACK - DYNA GLIDE 06-17
10029674

The item is in stock and will be delivered in 2-5 working days. Note: Stocks are updated online every hour on working days from 7 a.m. to 8 p.m., so there is a good chance that the products are available if they appear online.

Available

€89.99 1
FEHLING REARRACK BLACK - HARLEY BREAKOUT 13-17
10029643

The product will be ordered from the manufacturer for you. Depending on availability, longer delivery times are also possible. We'll let you know if that's the case. You can of course cancel your delivery at any time free of charge.

Available in 7-21 days

€114.99 1
FEHLING REARRACK BLACK - HARLEY FLSTF 07-17
10029696

The product will be ordered from the manufacturer for you. Depending on availability, longer delivery times are also possible. We'll let you know if that's the case. You can of course cancel your delivery at any time free of charge.

Available in 7-21 days

€114.99 1
FEHLING REARRACK BLACK - SPORTSTER 883/1200 04-
10029667

The item is in stock and will be delivered in 2-5 working days. Note: Stocks are updated online every hour on working days from 7 a.m. to 8 p.m., so there is a good chance that the products are available if they appear online.

Available

€89.99 1
FEHLING REARRACK BLACK - VN900 CUSTOM
10023186

The item is in stock and will be delivered in 2-5 working days. Note: Stocks are updated online every hour on working days from 7 a.m. to 8 p.m., so there is a good chance that the products are available if they appear online.

Available

€114.99 1
FEHLING REARRACK BLACK - VT750 C7 SPIRIT/SHADOW
10029688

The product will be ordered from the manufacturer for you. Depending on availability, longer delivery times are also possible. We'll let you know if that's the case. You can of course cancel your delivery at any time free of charge.

Available in 7-21 days

€114.99 1
FEHLING REARRACK BLACK - VULCAN S
10029690

The item is in stock and will be delivered in 2-5 working days. Note: Stocks are updated online every hour on working days from 7 a.m. to 8 p.m., so there is a good chance that the products are available if they appear online.

Available

€114.99 1
FEHLING REARRACK BLACK - XV950 R
10022734

The item is in stock and will be delivered in 2-5 working days. Note: Stocks are updated online every hour on working days from 7 a.m. to 8 p.m., so there is a good chance that the products are available if they appear online.

Available

€114.99 1
FEHLING REARRACK BLACK - XVS1300 CUSTOM
10029687

The product will be ordered from the manufacturer for you. Depending on availability, longer delivery times are also possible. We'll let you know if that's the case. You can of course cancel your delivery at any time free of charge.

Available in 7-21 days

€114.99 1
FEHLING REARRACK BLACK - SOFTAIL SLIM 12-17
10022853

The item is in stock and will be delivered in 2-5 working days. Note: Stocks are updated online every hour on working days from 7 a.m. to 8 p.m., so there is a good chance that the products are available if they appear online.

Available

€89.99 1
FEHLING REARRACK CHROME - C1800 R 08-
10029700

The product will be ordered from the manufacturer for you. Depending on availability, longer delivery times are also possible. We'll let you know if that's the case. You can of course cancel your delivery at any time free of charge.

Available in 7-21 days

€114.99 1
FEHLING REARRACK CHROME - DAELIM VL 125 DAYSTAR
10023235

The item is in stock and will be delivered in 2-5 working days. Note: Stocks are updated online every hour on working days from 7 a.m. to 8 p.m., so there is a good chance that the products are available if they appear online.

Available

€114.99 1
FEHLING REARRACK CHROME - DYNA FAT BOB 08-17
10023191

The item is in stock and will be delivered in 2-5 working days. Note: Stocks are updated online every hour on working days from 7 a.m. to 8 p.m., so there is a good chance that the products are available if they appear online.

Available

€89.99 1
FEHLING REARRACK CHROME - DYNA GLIDE 06-17
10029673

The item is in stock and will be delivered in 2-5 working days. Note: Stocks are updated online every hour on working days from 7 a.m. to 8 p.m., so there is a good chance that the products are available if they appear online.

Available

€89.99 1
FEHLING REARRACK CHROME - HARLEY BREAKOUT 13-17
10029639

The product will be ordered from the manufacturer for you. Depending on availability, longer delivery times are also possible. We'll let you know if that's the case. You can of course cancel your delivery at any time free of charge.

Available in 7-21 days

€114.99 1
FEHLING REARRACK CHROME - HARLEY FLST -06
10023228

The item is in stock and will be delivered in 2-5 working days. Note: Stocks are updated online every hour on working days from 7 a.m. to 8 p.m., so there is a good chance that the products are available if they appear online.

Available

€114.99 1
FEHLING REARRACK CHROME - HARLEY FLSTF 07-17
10029694

The product will be ordered from the manufacturer for you. Depending on availability, longer delivery times are also possible. We'll let you know if that's the case. You can of course cancel your delivery at any time free of charge.

Available in 7-21 days

€114.99 1
FEHLING REARRACK CHROME - HONDA F6C
10023230

The product will be ordered from the manufacturer for you. Depending on availability, longer delivery times are also possible. We'll let you know if that's the case. You can of course cancel your delivery at any time free of charge.

Available in 7-21 days

€114.99 1
FEHLING REARRACK CHROME - M800 INTRUDER 05-09
10023244

The item is in stock and will be delivered in 2-5 working days. Note: Stocks are updated online every hour on working days from 7 a.m. to 8 p.m., so there is a good chance that the products are available if they appear online.

Available

€114.99 1
FEHLING REARRACK CHROME - NIGHT ROD SPECIAL 12-
10027861

The item is in stock and will be delivered in 2-5 working days. Note: Stocks are updated online every hour on working days from 7 a.m. to 8 p.m., so there is a good chance that the products are available if they appear online.

Available

€114.99

1 €59.99 1
FEHLING REARRACK CHROME - ROCKET III ROADSTER 10-
10022664

The item is in stock and will be delivered in 2-5 working days. Note: Stocks are updated online every hour on working days from 7 a.m. to 8 p.m., so there is a good chance that the products are available if they appear online.

Available

€114.99 1
FEHLING REARRACK CHROME - SPEEDMASTER 08-
10022660

The item is in stock and will be delivered in 2-5 working days. Note: Stocks are updated online every hour on working days from 7 a.m. to 8 p.m., so there is a good chance that the products are available if they appear online.

Available

€114.99 1
FEHLING REARRACK CHROME - SPORTSTER 1200 CUSTOM 11-
10023163

The item is in stock and will be delivered in 2-5 working days. Note: Stocks are updated online every hour on working days from 7 a.m. to 8 p.m., so there is a good chance that the products are available if they appear online.

Available

€89.99 1
FEHLING REARRACK CHROME - SPORTSTER 883/1200 04-
10023239

The item is in stock and will be delivered in 2-5 working days. Note: Stocks are updated online every hour on working days from 7 a.m. to 8 p.m., so there is a good chance that the products are available if they appear online.

Available

€89.99 1
FEHLING REARRACK CHROME - SPORTSTER 883/1200 88-03
10029645

The item is in stock and will be delivered in 2-5 working days. Note: Stocks are updated online every hour on working days from 7 a.m. to 8 p.m., so there is a good chance that the products are available if they appear online.

Available

€89.99 1
FEHLING REARRACK CHROME - SUPER GLIDE/LOW RIDER -05
10029671

The product will be ordered from the manufacturer for you. Depending on availability, longer delivery times are also possible. We'll let you know if that's the case. You can of course cancel your delivery at any time free of charge.

Available in 7-21 days

€89.99 1
FEHLING REARRACK CHROME - THUNDERBIRD 1600
10022661

The item is in stock and will be delivered in 2-5 working days. Note: Stocks are updated online every hour on working days from 7 a.m. to 8 p.m., so there is a good chance that the products are available if they appear online.

Available

€114.99 1
FEHLING REARRACK CHROME - THUNDERBIRD 1700
10029637

The product will be ordered from the manufacturer for you. Depending on availability, longer delivery times are also possible. We'll let you know if that's the case. You can of course cancel your delivery at any time free of charge.

Available in 7-21 days

€114.99 1
FEHLING REARRACK CHROME - V-MAX 85-02
10029676

The product will be ordered from the manufacturer for you. Depending on availability, longer delivery times are also possible. We'll let you know if that's the case. You can of course cancel your delivery at any time free of charge.

Available in 7-21 days

€114.99 1
FEHLING REARRACK CHROME - VL800/C800
10023233

The item is in stock and will be delivered in 2-5 working days. Note: Stocks are updated online every hour on working days from 7 a.m. to 8 p.m., so there is a good chance that the products are available if they appear online.

Available

€114.99 1
FEHLING REARRACK CHROME - VN1500/1600 MEAN STREAK
10029691

The item is in stock and will be delivered in 2-5 working days. Note: Stocks are updated online every hour on working days from 7 a.m. to 8 p.m., so there is a good chance that the products are available if they appear online.

Available

€114.99 1
FEHLING REARRACK CHROME - VS1400 INTRUDER 96-

Important notes

Only suitable for VS 1400 (VX51L/T) from 1996 onwards with original sissybar

10023215

The item is in stock and will be delivered in 2-5 working days. Note: Stocks are updated online every hour on working days from 7 a.m. to 8 p.m., so there is a good chance that the products are available if they appear online.

Available

€114.99 1
FEHLING REARRACK CHROME - VT125 C 99-07
10023213

The item is in stock and will be delivered in 2-5 working days. Note: Stocks are updated online every hour on working days from 7 a.m. to 8 p.m., so there is a good chance that the products are available if they appear online.

Available

€114.99 1
FEHLING REARRACK CHROME - VT750 C2 97-01
10023202

The item is in stock and will be delivered in 2-5 working days. Note: Stocks are updated online every hour on working days from 7 a.m. to 8 p.m., so there is a good chance that the products are available if they appear online.

Available

€114.99 1
FEHLING REARRACK CHROME - VT750 C7 SPIRIT/SHADOW
10023219

The product will be ordered from the manufacturer for you. Depending on availability, longer delivery times are also possible. We'll let you know if that's the case. You can of course cancel your delivery at any time free of charge.

Available in 7-21 days

€114.99 1
FEHLING REARRACK CHROME - VZ800 MARAUDER
10023204

The product will be ordered from the manufacturer for you. Depending on availability, longer delivery times are also possible. We'll let you know if that's the case. You can of course cancel your delivery at any time free of charge.

Available in 7-21 days

€114.99 1
FEHLING REARRACK CHROME - XVS1100 DRAG STAR CLASSIC
10023218

The item is in stock and will be delivered in 2-5 working days. Note: Stocks are updated online every hour on working days from 7 a.m. to 8 p.m., so there is a good chance that the products are available if they appear online.

Available

€114.99 1
FEHLING REARRACK CHROME - XVS650 DRAG STAR
10023206

The item is in stock and will be delivered in 2-5 working days. Note: Stocks are updated online every hour on working days from 7 a.m. to 8 p.m., so there is a good chance that the products are available if they appear online.

Available

€114.99 1
FEHLING REARRACK CHROME - XVS650 DRAG STAR CLASSIC
10023211

The item is in stock and will be delivered in 2-5 working days. Note: Stocks are updated online every hour on working days from 7 a.m. to 8 p.m., so there is a good chance that the products are available if they appear online.

Available

€114.99 1
FEHLING REARRACK CHROME - XVZ1300 ROYAL STAR
10029677

The product will be ordered from the manufacturer for you. Depending on availability, longer delivery times are also possible. We'll let you know if that's the case. You can of course cancel your delivery at any time free of charge.

Available in 7-21 days

€114.99 1