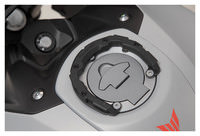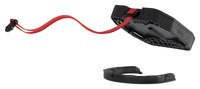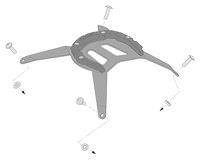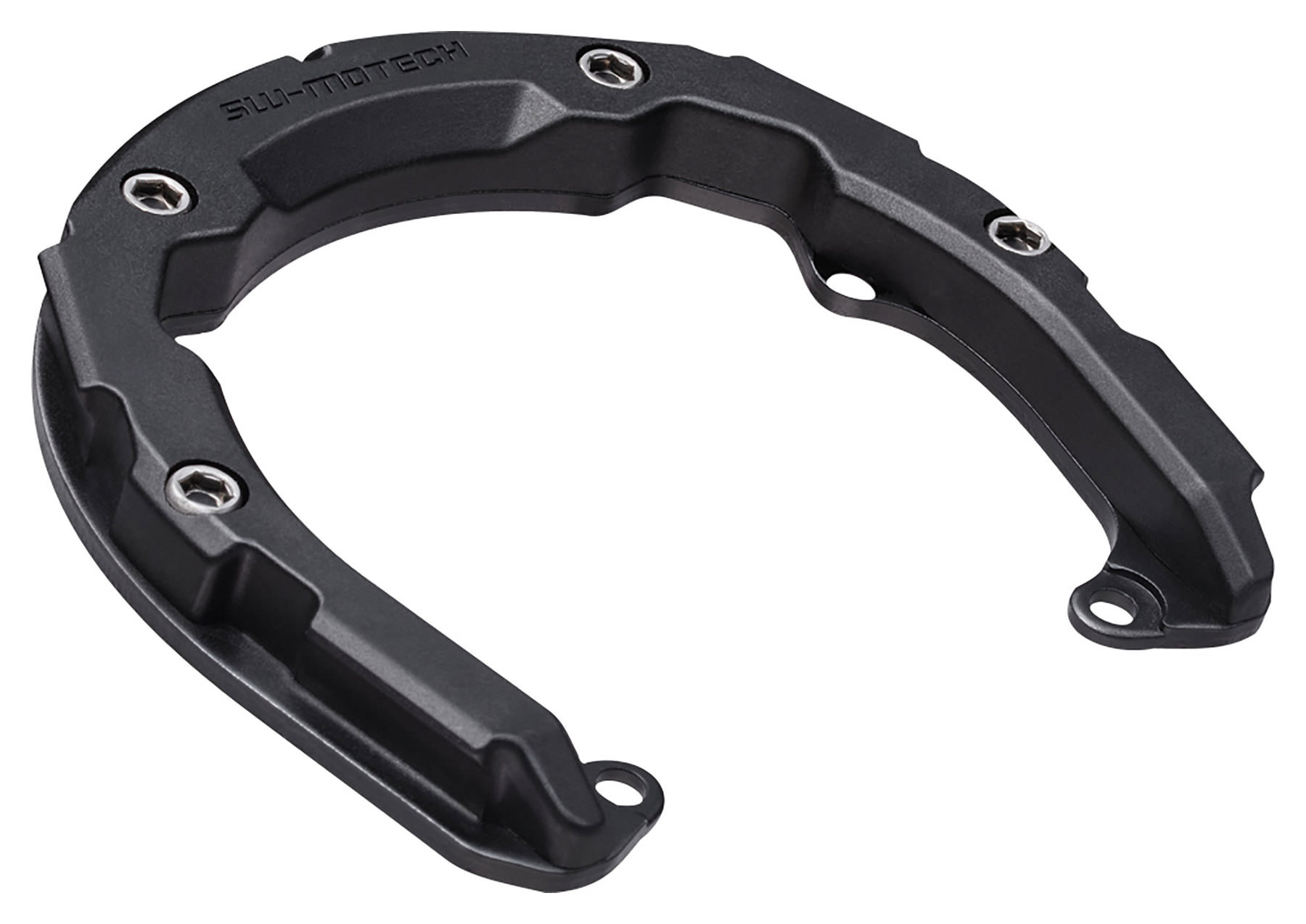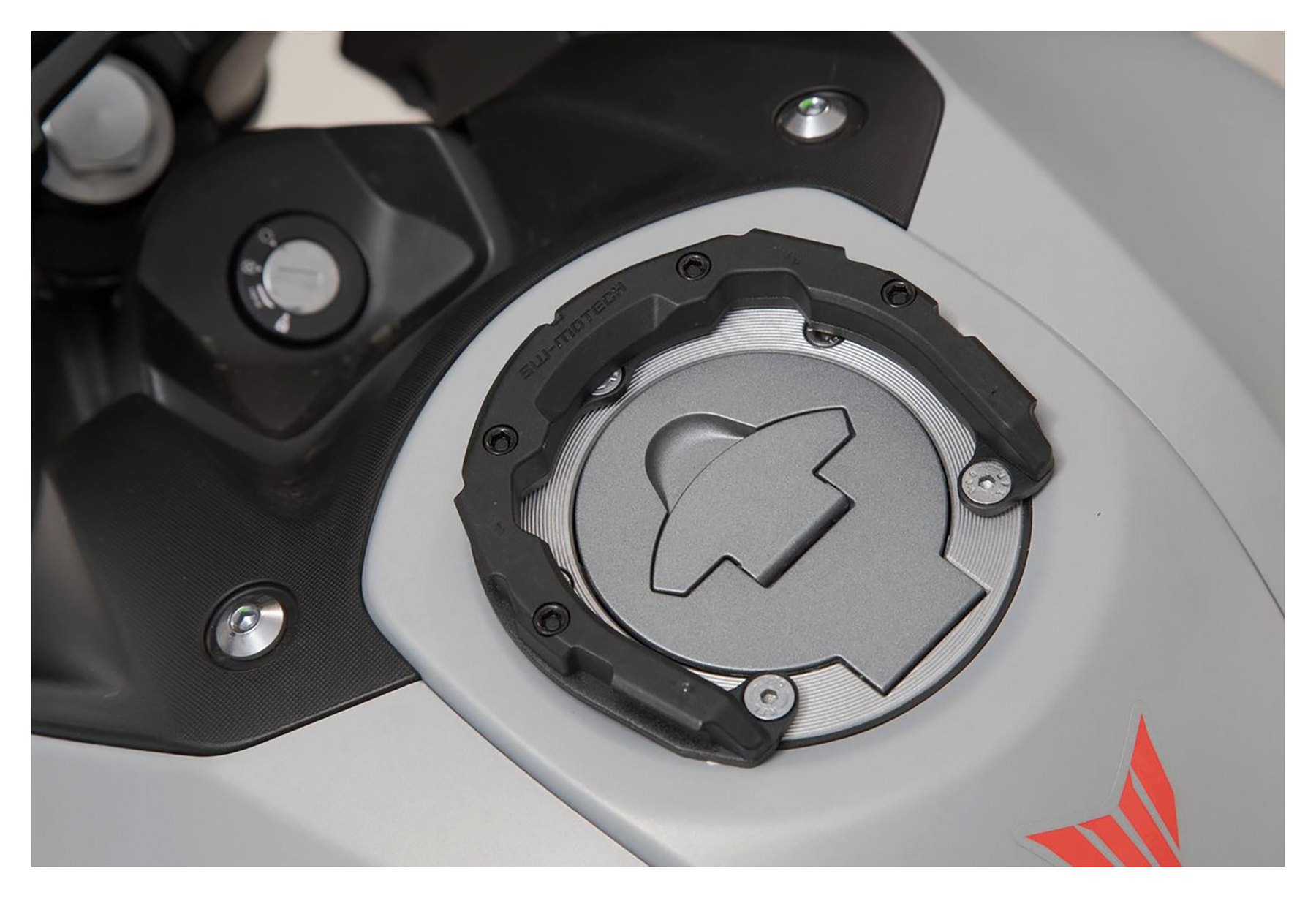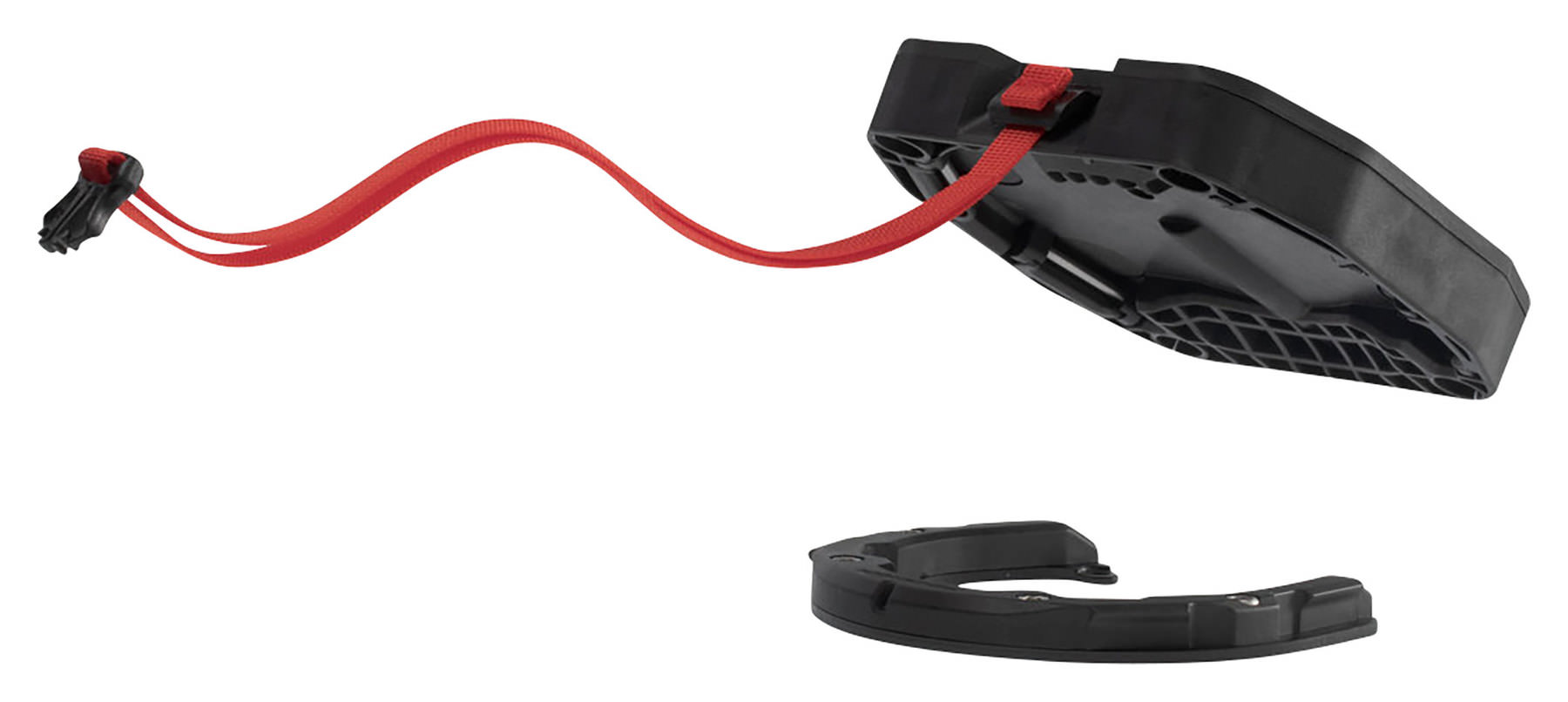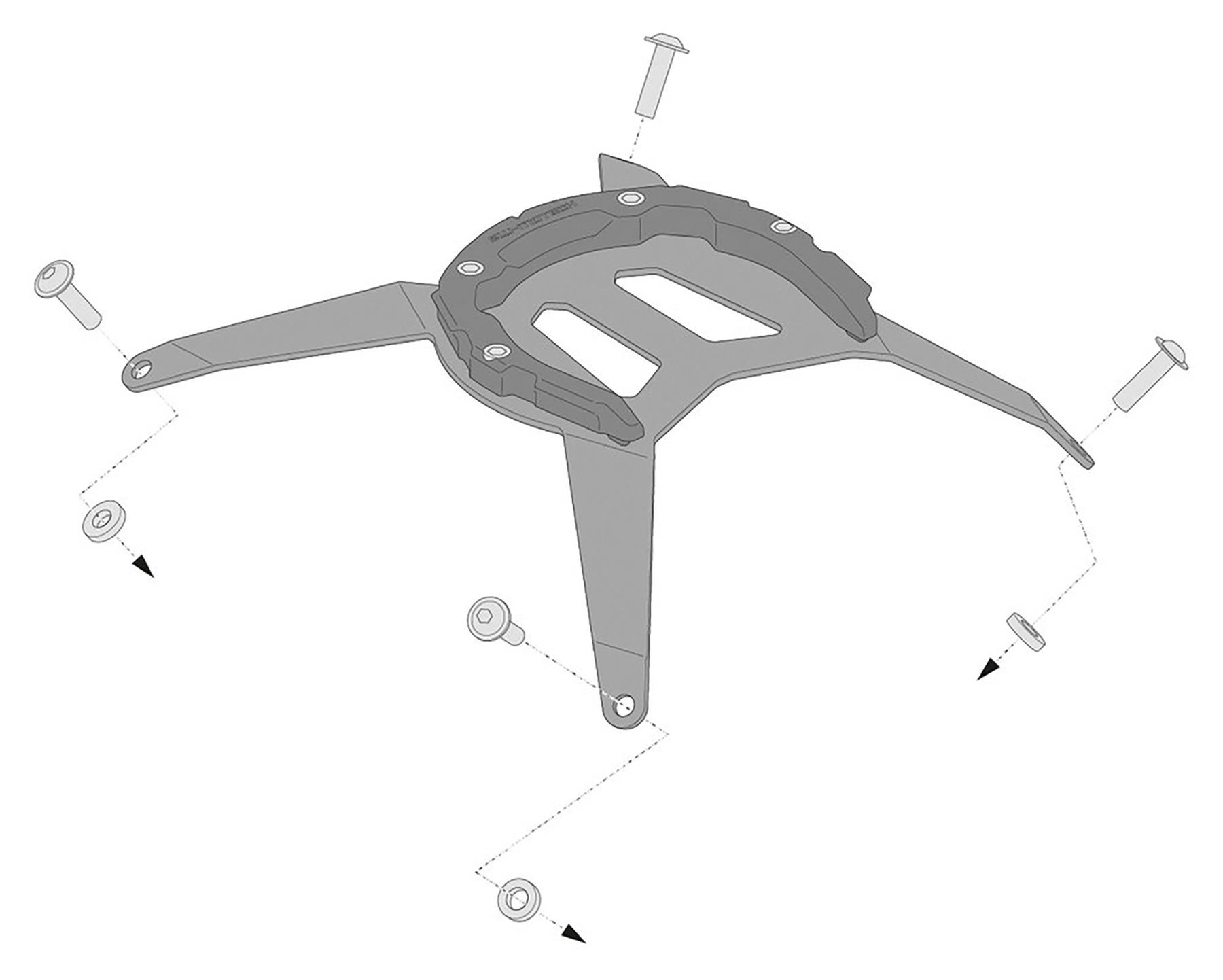 SW-MOTECH TANKRING PRO FOR FUELL FILLER CAP
10067560_Produktclip_SW-Motech-Pro-Tankring_20
SW-Motech-Pro-Tankring-10067560_mounting
SW Motech Tankring PRO
For Fuel Filler Cap
Unfortunately, this product is not compatible with this motorcycle.
Unfortunately, this product is not compatible with this motorcycle. You can find the right for the here: .
Free delivery on orders over €199.00
2 year return policy
Fast delivery
SW Motech Tankring PRO
For Fuel Filler Cap
Besides the tank bag itself, the tank ring assembly is one of the most practical inventions in the field of motorcycle luggage. No annoying fiddling with straps or magnets when attaching and detaching. Instead: snap in or out - finished. The bag is securely attached to the motorcycle or detached. With the model-specific, patented *PRO* tank ring, this now works even better. And also more gentle on paint, because the tank bag does not rest on the tank.


The SW-Motech *Tankring Pro* consists of glass fibre reinforced plastic and aluminium. It is also equipped with a magnetic guiding aid, which considerably simplifies the attachment of an SW-Motech tank bag of the "Pro" series.
Material: glass fibre reinforced plastic / aluminium
model-specific adapter ring guarantees best fit and individual solutions
easy mounting on the tank filler neck
magnetic guide in PRO tank ring for easy mounting
quick release via pull strap allows the PRO tankbag to be removed in one easy step
the patented PRO tank ring gives PRO tank bags a secure hold
easy refuelling, fuel cap can be opened as usual
made of glass fibre reinforced polyamide/aluminium
Scope of delivery:

PRO tank ring
Mounting material
Fitting instructions
Manufacturer details: SW-Motech

Engineering for motorbikes

SW-MOTECH stands for competence in the development and production of practical solutions in the areas of luggage systems, navigation, ergonomics and safety - all perfectly designed to meet your riding needs. These products stand out thanks to their distinct look, constant high performance, patented technologies and elaborate innovations. Quality, durability and precision are of utmost importance. SW-MOTECH is the ideal companion for every adventure, no matter whether you are on the way to work, on a weekend tour or around globe.

Winner Motorrad 11/20
Tankrucksack
SW-Motech PRO Daypack
Product
Art. No.
Availability
Price
Actions
STREET TRIPLE R 6 SCREW.
10068601

The item is in stock and will be delivered in 2-5 working days. Note: Stocks are updated online every hour on working days from 7 a.m. to 8 p.m., so there is a good chance that the products are available if they appear online.

Available

€30.00 1
SW-MOTECH PRO TANK RING - BMW G650GS 2011-
10067587

The product will be ordered from the manufacturer for you. Depending on availability, longer delivery times are also possible. We'll let you know if that's the case. You can of course cancel your delivery at any time free of charge.

Available in 7-21 days

€55.00 1
SW-MOTECH PRO TANK RING - YAMAHA NIKEN 2018-, BLACK
10067603

This product is available at week 31.
Current calendar week: 25

Available as of calendar week 31

€50.00 1
SW-MOTECH PRO TANK RING - YAMAHA TÉNÉRÉ 700 2019-
10068200

The item is in stock and will be delivered in 2-5 working days. Note: Stocks are updated online every hour on working days from 7 a.m. to 8 p.m., so there is a good chance that the products are available if they appear online.

Available

€55.00 1
SW-MOTECH PRO TANK RING - YAMAHA YZF-R1/R3 VARIOUS
10067650

The item is in stock and will be delivered in 2-5 working days. Note: Stocks are updated online every hour on working days from 7 a.m. to 8 p.m., so there is a good chance that the products are available if they appear online.

Available

€30.00 1
SW-MOTECH TANKRING PRO - ADAPTER KIT BLACK
10067576

The item is in stock and will be delivered in 2-5 working days. Note: Stocks are updated online every hour on working days from 7 a.m. to 8 p.m., so there is a good chance that the products are available if they appear online.

Available

€50.00 1
SW-MOTECH TANKRING PRO - APRILIA 6 SCREWS
10067574

This product is available at week 28.
Current calendar week: 25

Available as of calendar week 28

€30.00 1
SW-Motech Tankring Pro - BMW 6 SCREWS
10067567

The item is in stock and will be delivered in 2-5 working days. Note: Stocks are updated online every hour on working days from 7 a.m. to 8 p.m., so there is a good chance that the products are available if they appear online.

Available

€30.00 1
SW-MOTECH TANKRING PRO - BMW F700/800 GS 08-
10067583

The item is in stock and will be delivered in 2-5 working days. Note: Stocks are updated online every hour on working days from 7 a.m. to 8 p.m., so there is a good chance that the products are available if they appear online.

Available

€55.00 1
SW-MOTECH TANKRING PRO - BMW, KTM, DUCATI MODELLE
10067589

This product is available at week 27.
Current calendar week: 25

Available as of calendar week 27

€30.00 1
SW-MOTECH TANKRING PRO - BMW/ KAWASAKI/ YAMAHA
10067575

The item is in stock and will be delivered in 2-5 working days. Note: Stocks are updated online every hour on working days from 7 a.m. to 8 p.m., so there is a good chance that the products are available if they appear online.

Available

€30.00 1
SW-Motech Tankring Pro - CAGIVA/BENELLI 6 SCREWS
10067561

The product will be ordered from the manufacturer for you. Depending on availability, longer delivery times are also possible. We'll let you know if that's the case. You can of course cancel your delivery at any time free of charge.

Available in 7-21 days

€30.00 1
SW-MOTECH TANKRING PRO - DUC. MONSTER 696/1100 09-
10067577

The item is in stock and will be delivered in 2-5 working days. Note: Stocks are updated online every hour on working days from 7 a.m. to 8 p.m., so there is a good chance that the products are available if they appear online.

Available

€55.00 1
SW-MOTECH TANKRING PRO - HINDA 5 SCREW
10067585

The item is in stock and will be delivered in 2-5 working days. Note: Stocks are updated online every hour on working days from 7 a.m. to 8 p.m., so there is a good chance that the products are available if they appear online.

Available

€30.00 1
SW-Motech Tankring Pro - HONDA 7 SCREWS
10067562

The item is in stock and will be delivered in 2-5 working days. Note: Stocks are updated online every hour on working days from 7 a.m. to 8 p.m., so there is a good chance that the products are available if they appear online.

Available

€30.00 1
SW-MOTECH TANKRING PRO - HONDA CB 500 F BJ. 13-16
10067591

The product will be ordered from the manufacturer for you. Depending on availability, longer delivery times are also possible. We'll let you know if that's the case. You can of course cancel your delivery at any time free of charge.

Available in 7-21 days

€55.00 1
SW-MOTECH TANKRING PRO - HONDA CB 500 X (2018-)
10067597

The item is in stock and will be delivered in 2-5 working days. Note: Stocks are updated online every hour on working days from 7 a.m. to 8 p.m., so there is a good chance that the products are available if they appear online.

Available

€50.00 1
SW-MOTECH TANKRING PRO - KAWASAKI 5 SCREWS
10067572

The item is in stock and will be delivered in 2-5 working days. Note: Stocks are updated online every hour on working days from 7 a.m. to 8 p.m., so there is a good chance that the products are available if they appear online.

Available

€30.00 1
SW-MOTECH TANKRING PRO - KAWASAKI 7 SCREWS
10067571

The item is in stock and will be delivered in 2-5 working days. Note: Stocks are updated online every hour on working days from 7 a.m. to 8 p.m., so there is a good chance that the products are available if they appear online.

Available

€30.00 1
SW-MOTECH TANKRING PRO - KAWASAKI Z650 16-

Important notes

The tank rings of the PRO series cannot be combined with the EVO tank bags.

Two heightening elements of 6 mm and 12 mm each and a tank ring adapter are included in the delivery.

This replaces the factory-installed tank filler neck.

10067599

The item is in stock and will be delivered in 2-5 working days. Note: Stocks are updated online every hour on working days from 7 a.m. to 8 p.m., so there is a good chance that the products are available if they appear online.

Available

€60.00 1
SW-MOTECH TANKRING PRO - KTM DUKE 125/390 17-
10067595

The item is in stock and will be delivered in 2-5 working days. Note: Stocks are updated online every hour on working days from 7 a.m. to 8 p.m., so there is a good chance that the products are available if they appear online.

Available

€30.00 1
SW-MOTECH TANKRING PRO - KTM DUKE 390 2013-16
10067592

The item is in stock and will be delivered in 2-5 working days. Note: Stocks are updated online every hour on working days from 7 a.m. to 8 p.m., so there is a good chance that the products are available if they appear online.

Available

€30.00 1
SW-MOTECH TANKRING PRO - KTM DUKE VARIOUSE
10067601

The item is in stock and will be delivered in 2-5 working days. Note: Stocks are updated online every hour on working days from 7 a.m. to 8 p.m., so there is a good chance that the products are available if they appear online.

Available

€30.00 1
SW-Motech Tankring Pro - MOTO-GUZZI 6 SCREWS
10067560

The item is in stock and will be delivered in 2-5 working days. Note: Stocks are updated online every hour on working days from 7 a.m. to 8 p.m., so there is a good chance that the products are available if they appear online.

Available

€30.00 1
SW-MOTECH TANKRING PRO - MOTO-GUZZI V85 TT (2019-)
10067596

This product is available at week 30.
Current calendar week: 25

Available as of calendar week 30

€50.00 1
SW-MOTECH TANKRING PRO - MVA./ TRIUMPH 6 SCHRAUBEN
10067573

The item is in stock and will be delivered in 2-5 working days. Note: Stocks are updated online every hour on working days from 7 a.m. to 8 p.m., so there is a good chance that the products are available if they appear online.

Available

€30.00 1
SW-Motech Tankring Pro - R1200GS/ADV.08 WO. SCREWS
10067568

The item is in stock and will be delivered in 2-5 working days. Note: Stocks are updated online every hour on working days from 7 a.m. to 8 p.m., so there is a good chance that the products are available if they appear online.

Available

€55.00 1
SW-MOTECH TANKRING PRO - R1200R 07-08, WO. SCREWS
10067569

The item is in stock and will be delivered in 2-5 working days. Note: Stocks are updated online every hour on working days from 7 a.m. to 8 p.m., so there is a good chance that the products are available if they appear online.

Available

€55.00 1
SW-Motech Tankring Pro - SUZUKI 5 SCREWS
10067565

The item is in stock and will be delivered in 2-5 working days. Note: Stocks are updated online every hour on working days from 7 a.m. to 8 p.m., so there is a good chance that the products are available if they appear online.

Available

€30.00 1
SW-MOTECH TANKRING PRO - SUZUKI B-KING 07-11
10067581

The item is in stock and will be delivered in 2-5 working days. Note: Stocks are updated online every hour on working days from 7 a.m. to 8 p.m., so there is a good chance that the products are available if they appear online.

Available

€55.00 1
SW-MOTECH TANKRING PRO - SUZUKI V-STORM BJ. 14-
10067584

The item is in stock and will be delivered in 2-5 working days. Note: Stocks are updated online every hour on working days from 7 a.m. to 8 p.m., so there is a good chance that the products are available if they appear online.

Available

€30.00 1
SW-MOTECH TANKRING PRO - TANK WITHOUT SCREWS
10067579

The item is in stock and will be delivered in 2-5 working days. Note: Stocks are updated online every hour on working days from 7 a.m. to 8 p.m., so there is a good chance that the products are available if they appear online.

Available

€60.00 1
SW-MOTECH TANKRING PRO - VARIOUS BMW F 800
10067582

The item is in stock and will be delivered in 2-5 working days. Note: Stocks are updated online every hour on working days from 7 a.m. to 8 p.m., so there is a good chance that the products are available if they appear online.

Available

€55.00 1
SW-MOTECH TANKRING PRO - VARIOUS KAWASAKI MODELS
10067594

The item is in stock and will be delivered in 2-5 working days. Note: Stocks are updated online every hour on working days from 7 a.m. to 8 p.m., so there is a good chance that the products are available if they appear online.

Available

€55.00 1
SW-MOTECH TANKRING PRO - VFR 800 X CROSSRUNNER 15-
10067588

The product will be ordered from the manufacturer for you. Depending on availability, longer delivery times are also possible. We'll let you know if that's the case. You can of course cancel your delivery at any time free of charge.

Available in 7-21 days

€55.00 1
SW-MOTECH TANKRING PRO - YAMA.MT-07 14-17 MO.C 15-
10067586

The item is in stock and will be delivered in 2-5 working days. Note: Stocks are updated online every hour on working days from 7 a.m. to 8 p.m., so there is a good chance that the products are available if they appear online.

Available

€55.00 1
SW-MOTECH TANKRING PRO - YAMAHA MT-07 18-
10067598

The item is in stock and will be delivered in 2-5 working days. Note: Stocks are updated online every hour on working days from 7 a.m. to 8 p.m., so there is a good chance that the products are available if they appear online.

Available

€55.00 1
SW-MOTECH TANKRING PRO - YAMAHA MT-09 TRACER/GT

Important notes

Two heightening elements of 6 mm each are included in delivery.

The tank rings of the PRO series cannot be combined with the EVO tank bags.

10067590

The item is in stock and will be delivered in 2-5 working days. Note: Stocks are updated online every hour on working days from 7 a.m. to 8 p.m., so there is a good chance that the products are available if they appear online.

Available

€40.00 1
SW-MOTECH TANKRING PRO - YAMAHA YZF-R3 15-
10067593

The item is in stock and will be delivered in 2-5 working days. Note: Stocks are updated online every hour on working days from 7 a.m. to 8 p.m., so there is a good chance that the products are available if they appear online.

Available

€30.00 1
SW-Motech Tankring Pro - YAMAHA/DUCATI 5 SCREWS
10067563

The item is in stock and will be delivered in 2-5 working days. Note: Stocks are updated online every hour on working days from 7 a.m. to 8 p.m., so there is a good chance that the products are available if they appear online.

Available

€30.00 1
SW-Motech Tankring Pro - YAMAHA/SUZUKI 7/8 SCREWS
10067564

The item is in stock and will be delivered in 2-5 working days. Note: Stocks are updated online every hour on working days from 7 a.m. to 8 p.m., so there is a good chance that the products are available if they appear online.

Available

€30.00 1
SW-MOTECH TENKRING PRO - R1200GS 09-, WITHOU SCREW
10067570

The item is in stock and will be delivered in 2-5 working days. Note: Stocks are updated online every hour on working days from 7 a.m. to 8 p.m., so there is a good chance that the products are available if they appear online.

Available

€55.00 1
XJR 1300 2015- BLACK
10068602

The product will be ordered from the manufacturer for you. Depending on availability, longer delivery times are also possible. We'll let you know if that's the case. You can of course cancel your delivery at any time free of charge.

Available in 7-21 days

€55.00 1