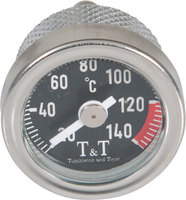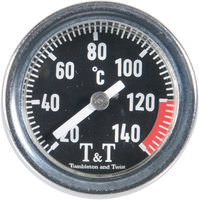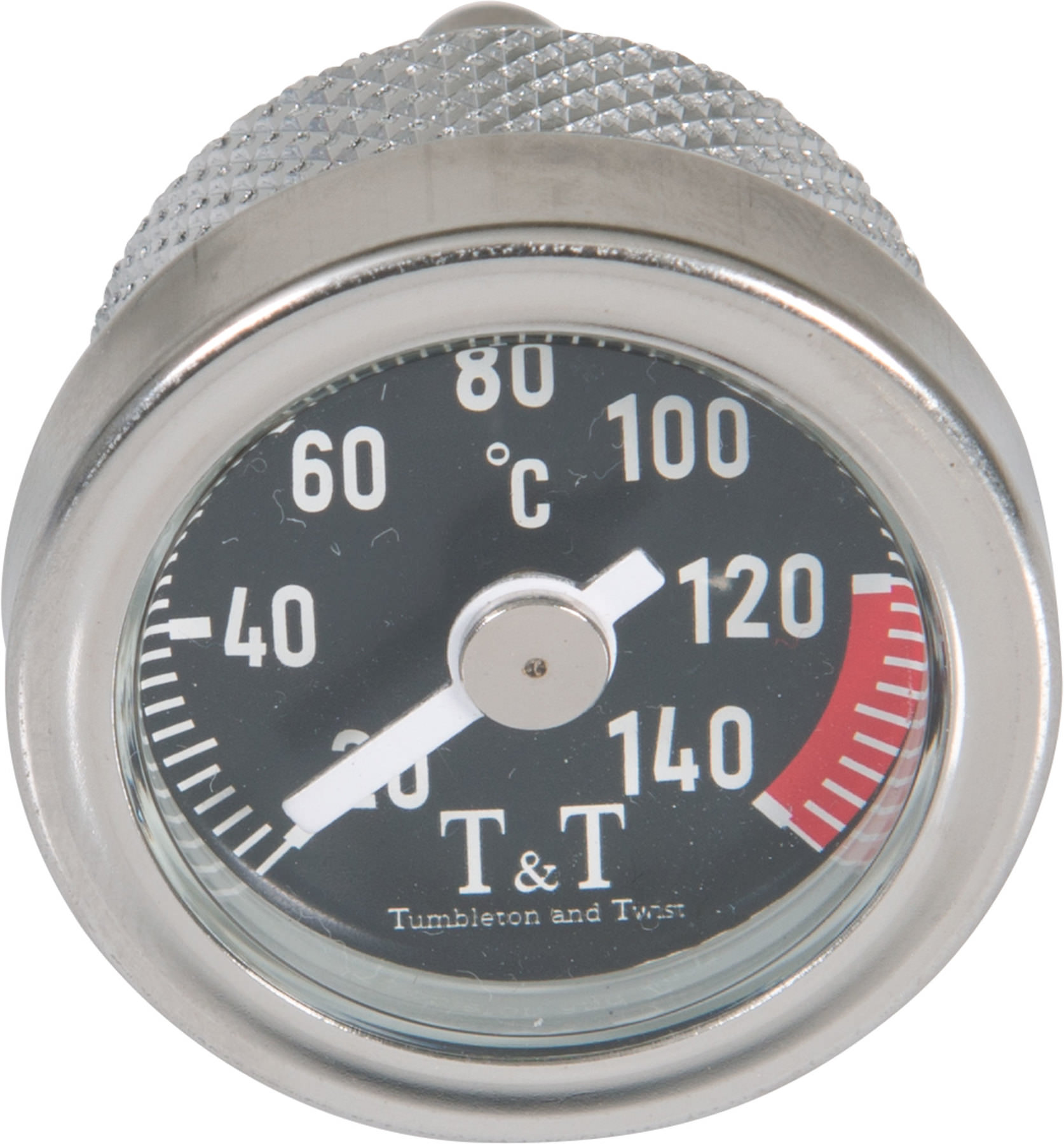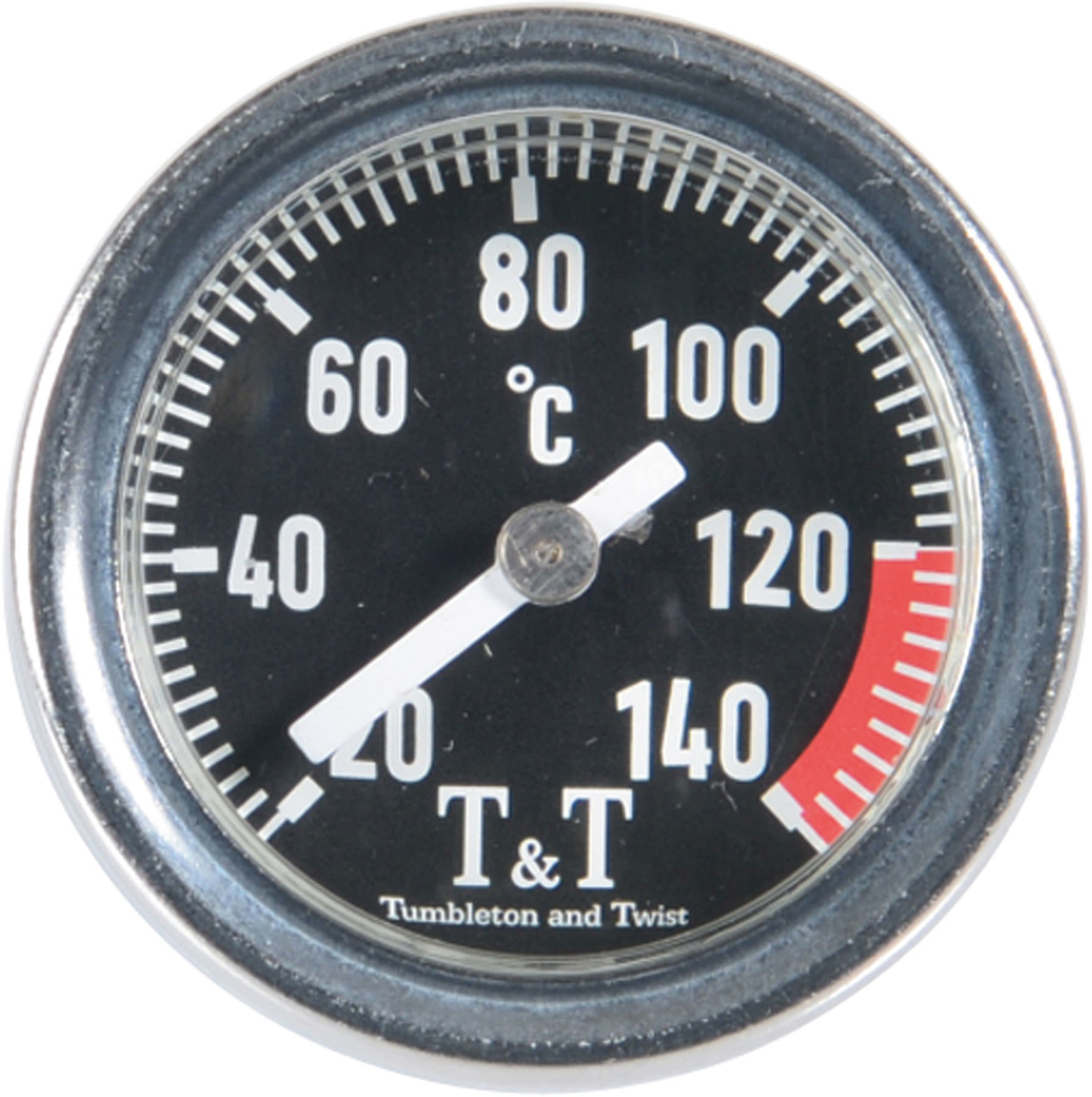 T&T OIL TEMPERATURE GAUGE
KTM VARIOUS
This product is available at week 28.
Current calendar week: 24
Available as of calendar week 28
Free delivery on orders over €199.00
2 year return policy
Fast delivery
T&T Oil Temperature Gauge
For Various Vehicles
T&T oil temperature gauge

The engine should not be operated at full power until the oil temperature has reached about 80°C - only then does the oil reach its full lubrication performance. However, very few bikes have an oil gauge as original equipment. So our T&T oil temperature gauge is a welcome upgrade. Simply install the gauge in place of your oil filler plug.
The gauge is not filled anymore with oil for optimum damping. Now it is supported by Teflon.
Available for various models
Measuring range: 20°C - 140°C
Manufacturer details: Tumbleton and Twist

Go to Tumbleton and Twist brand shop
Classic design meets high-tech

The proverbial attention to detail and to the English/Italian design of the 50s and 60s was the driving force behind the development of the Tumbleton & Twist instruments and clocks. High-quality digital and analogue electronics, brand-name movements, installed in stainless steel, aluminium and glass. The style of the precise round instruments and clocks goes perfectly with classic bikes, choppers, custom bikes or café racer conversions.
Product
Art. No.
Availability
Price
Actions
T&T OIL TEMPERATURE GAUGE - BMW F 650 GS 00-
10035394

The item is in stock and will be delivered in 2-5 working days. Note: Stocks are updated online every hour on working days from 7 a.m. to 8 p.m., so there is a good chance that the products are available if they appear online.

Available

€29.99 1
T&T OIL TEMPERATURE GAUGE - CBR1000RR FIREBLADE 2017-
10035388

The item is in stock and will be delivered in 2-5 working days. Note: Stocks are updated online every hour on working days from 7 a.m. to 8 p.m., so there is a good chance that the products are available if they appear online.

Available

€29.99 1
T&T OIL TEMPERATURE GAUGE - CBR1000RR FIREBLADE 2017-
10035391

The item is in stock and will be delivered in 2-5 working days. Note: Stocks are updated online every hour on working days from 7 a.m. to 8 p.m., so there is a good chance that the products are available if they appear online.

Available

€29.99 1
T&T OIL TEMPERATURE GAUGE - CBR1000RR FIREBLADE 2017-
10035392

The item is in stock and will be delivered in 2-5 working days. Note: Stocks are updated online every hour on working days from 7 a.m. to 8 p.m., so there is a good chance that the products are available if they appear online.

Available

€29.99 1
T&T OIL TEMPERATURE GAUGE - CBR1000RR FIREBLADE 2017-
10035384

The item is in stock and will be delivered in 2-5 working days. Note: Stocks are updated online every hour on working days from 7 a.m. to 8 p.m., so there is a good chance that the products are available if they appear online.

Available

€29.99 1
T&T OIL TEMPERATURE GAUGE - DUCATI PANIGALE
10035375

The item is in stock and will be delivered in 2-5 working days. Note: Stocks are updated online every hour on working days from 7 a.m. to 8 p.m., so there is a good chance that the products are available if they appear online.

Available

€29.99 1
T&T OIL TEMPERATURE GAUGE - HD SPORT.82-03/SOFTAIL-99
10035387

The item is in stock and will be delivered in 2-5 working days. Note: Stocks are updated online every hour on working days from 7 a.m. to 8 p.m., so there is a good chance that the products are available if they appear online.

Available

€29.99 1
T&T OIL TEMPERATURE GAUGE - KAWASAKI/HONDA VARIOUS
10035378

The item is in stock and will be delivered in 2-5 working days. Note: Stocks are updated online every hour on working days from 7 a.m. to 8 p.m., so there is a good chance that the products are available if they appear online.

Available

€29.99 1
T&T OIL TEMPERATURE GAUGE - KTM VARIOUS
10035393

This product is available at week 28.
Current calendar week: 24

Available as of calendar week 28

€29.99 1
T&T OIL TEMPERATURE GAUGE - SUZUKI VARIOUS
10035390

The item is in stock and will be delivered in 2-5 working days. Note: Stocks are updated online every hour on working days from 7 a.m. to 8 p.m., so there is a good chance that the products are available if they appear online.

Available

€29.99 1
T&T OIL TEMPERATURE GAUGE - SUZUKI VARIOUS
10035379

The item is in stock and will be delivered in 2-5 working days. Note: Stocks are updated online every hour on working days from 7 a.m. to 8 p.m., so there is a good chance that the products are available if they appear online.

Available

€29.99 1
T&T OIL TEMPERATURE GAUGE - SUZUKI VARIOUS
10035380

The item is in stock and will be delivered in 2-5 working days. Note: Stocks are updated online every hour on working days from 7 a.m. to 8 p.m., so there is a good chance that the products are available if they appear online.

Available

€29.99 1
T&T OIL TEMPERATURE GAUGE - SUZUKI VARIOUS
10035396

The item is in stock and will be delivered in 2-5 working days. Note: Stocks are updated online every hour on working days from 7 a.m. to 8 p.m., so there is a good chance that the products are available if they appear online.

Available

€29.99 1
T&T OIL TEMPERATURE GAUGE - SUZUKI VARIOUS
10035386

The item is in stock and will be delivered in 2-5 working days. Note: Stocks are updated online every hour on working days from 7 a.m. to 8 p.m., so there is a good chance that the products are available if they appear online.

Available

€29.99 1
T&T OIL TEMPERATURE GAUGE - TRIUMPH/ HONDA
10035398

The item is in stock and will be delivered in 2-5 working days. Note: Stocks are updated online every hour on working days from 7 a.m. to 8 p.m., so there is a good chance that the products are available if they appear online.

Available

€29.99 1
T&T OIL TEMPERATURE GAUGE - VARIOUS BMW AND YAMAHA
10035371

The item is in stock and will be delivered in 2-5 working days. Note: Stocks are updated online every hour on working days from 7 a.m. to 8 p.m., so there is a good chance that the products are available if they appear online.

Available

€29.99 1
T&T OIL TEMPERATURE GAUGE - VARIOUS BMW R-MODELS
10035370

The item is in stock and will be delivered in 2-5 working days. Note: Stocks are updated online every hour on working days from 7 a.m. to 8 p.m., so there is a good chance that the products are available if they appear online.

Available

€29.99 1
T&T OIL TEMPERATURE GAUGE - VARIOUS HON/ KAWA/ TRIUM.
10035372

The item is in stock and will be delivered in 2-5 working days. Note: Stocks are updated online every hour on working days from 7 a.m. to 8 p.m., so there is a good chance that the products are available if they appear online.

Available

€29.99 1
T&T oil temperature gauge - VARIOUS HONDA MODELS
10035377

The item is in stock and will be delivered in 2-5 working days. Note: Stocks are updated online every hour on working days from 7 a.m. to 8 p.m., so there is a good chance that the products are available if they appear online.

Available

€29.99 1
T&T oil temperature gauge - VARIOUS HONDA MODELS
10035376

The item is in stock and will be delivered in 2-5 working days. Note: Stocks are updated online every hour on working days from 7 a.m. to 8 p.m., so there is a good chance that the products are available if they appear online.

Available

€29.99 1
T&T OIL TEMPERATURE GAUGE - VARIOUS KAWASAKI
10035397

The item is in stock and will be delivered in 2-5 working days. Note: Stocks are updated online every hour on working days from 7 a.m. to 8 p.m., so there is a good chance that the products are available if they appear online.

Available

€29.99 1
T&T OIL TEMPERATURE GAUGE - VARIOUS MODELS
10035385

The item is in stock and will be delivered in 2-5 working days. Note: Stocks are updated online every hour on working days from 7 a.m. to 8 p.m., so there is a good chance that the products are available if they appear online.

Available

€29.99 1
T&T OIL TEMPERATURE GAUGE - YAMAHA MT01
10035400

The item is in stock and will be delivered in 2-5 working days. Note: Stocks are updated online every hour on working days from 7 a.m. to 8 p.m., so there is a good chance that the products are available if they appear online.

Available

€29.99 1
T&T OIL TEMPERATURE GAUGE - YAMAHA VARIOUS
10035373

The item is in stock and will be delivered in 2-5 working days. Note: Stocks are updated online every hour on working days from 7 a.m. to 8 p.m., so there is a good chance that the products are available if they appear online.

Available

€29.99 1
T&T OIL TEMPERATURE GAUGE - YAMAHA VARIOUS,COARSE THR
10035382

The item is in stock and will be delivered in 2-5 working days. Note: Stocks are updated online every hour on working days from 7 a.m. to 8 p.m., so there is a good chance that the products are available if they appear online.

Available

€29.99 1
T&T OIL TEMPERATURE GAUGE - YAMAHA VARIOUS,FINE THR.
10035381

The item is in stock and will be delivered in 2-5 working days. Note: Stocks are updated online every hour on working days from 7 a.m. to 8 p.m., so there is a good chance that the products are available if they appear online.

Available

€29.99 1
T&T OIL TEMPERATURE GAUGE - YAMAHA, VARIOUS
10035383

The item is in stock and will be delivered in 2-5 working days. Note: Stocks are updated online every hour on working days from 7 a.m. to 8 p.m., so there is a good chance that the products are available if they appear online.

Available

€29.99 1
T&T OIL TEMPERATURE GAUGE - Z750 07-12/Z1000 07-09
10035389

The item is in stock and will be delivered in 2-5 working days. Note: Stocks are updated online every hour on working days from 7 a.m. to 8 p.m., so there is a good chance that the products are available if they appear online.

Available

€29.99 1
More from Tumbleton and Twist: