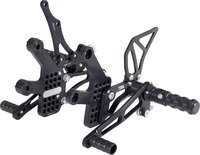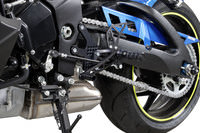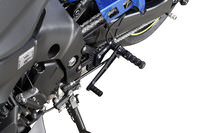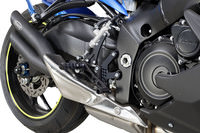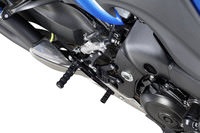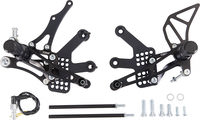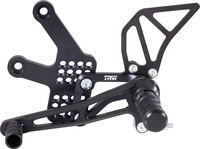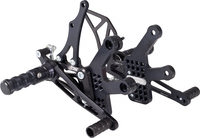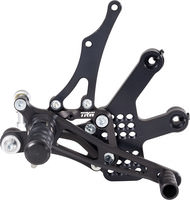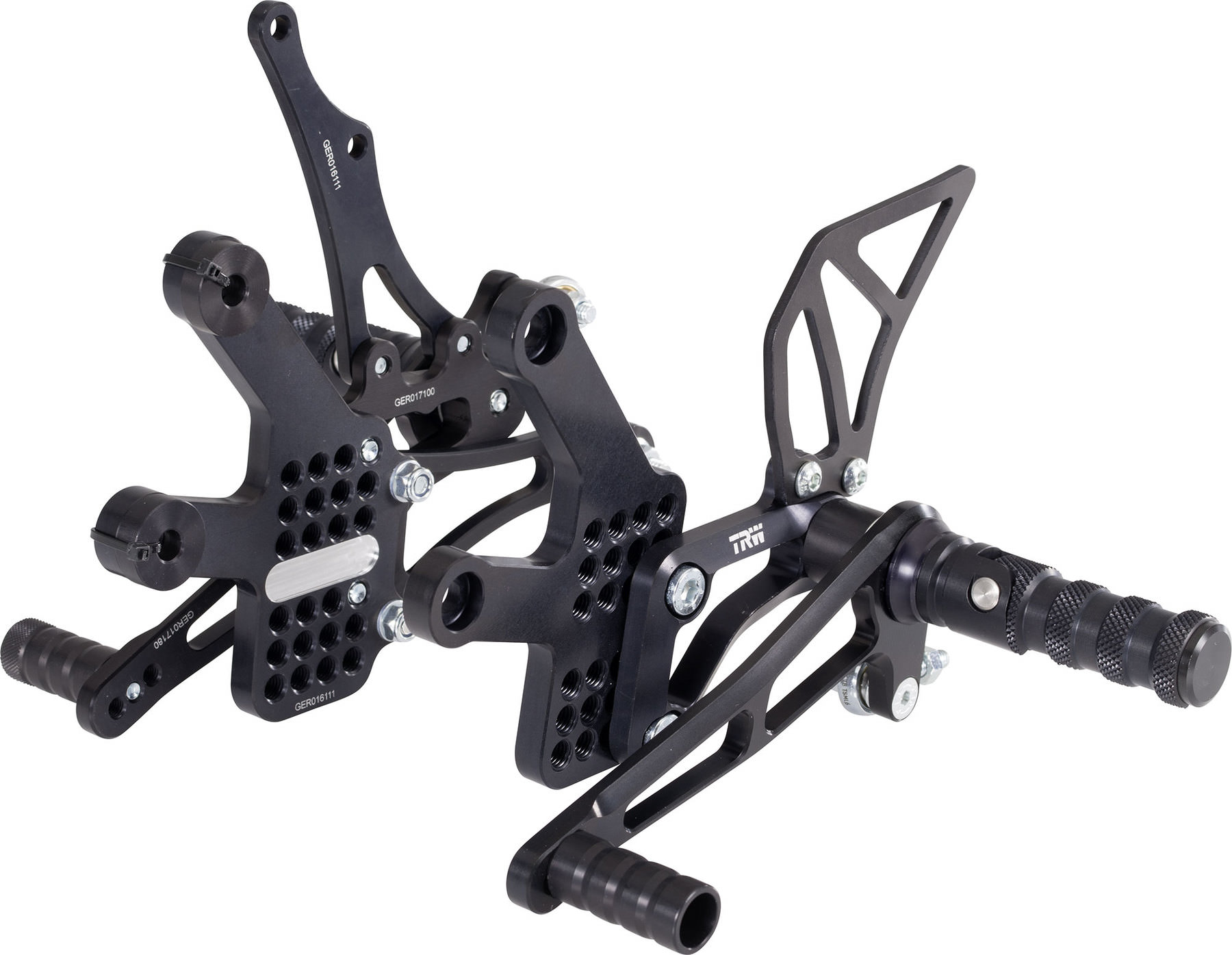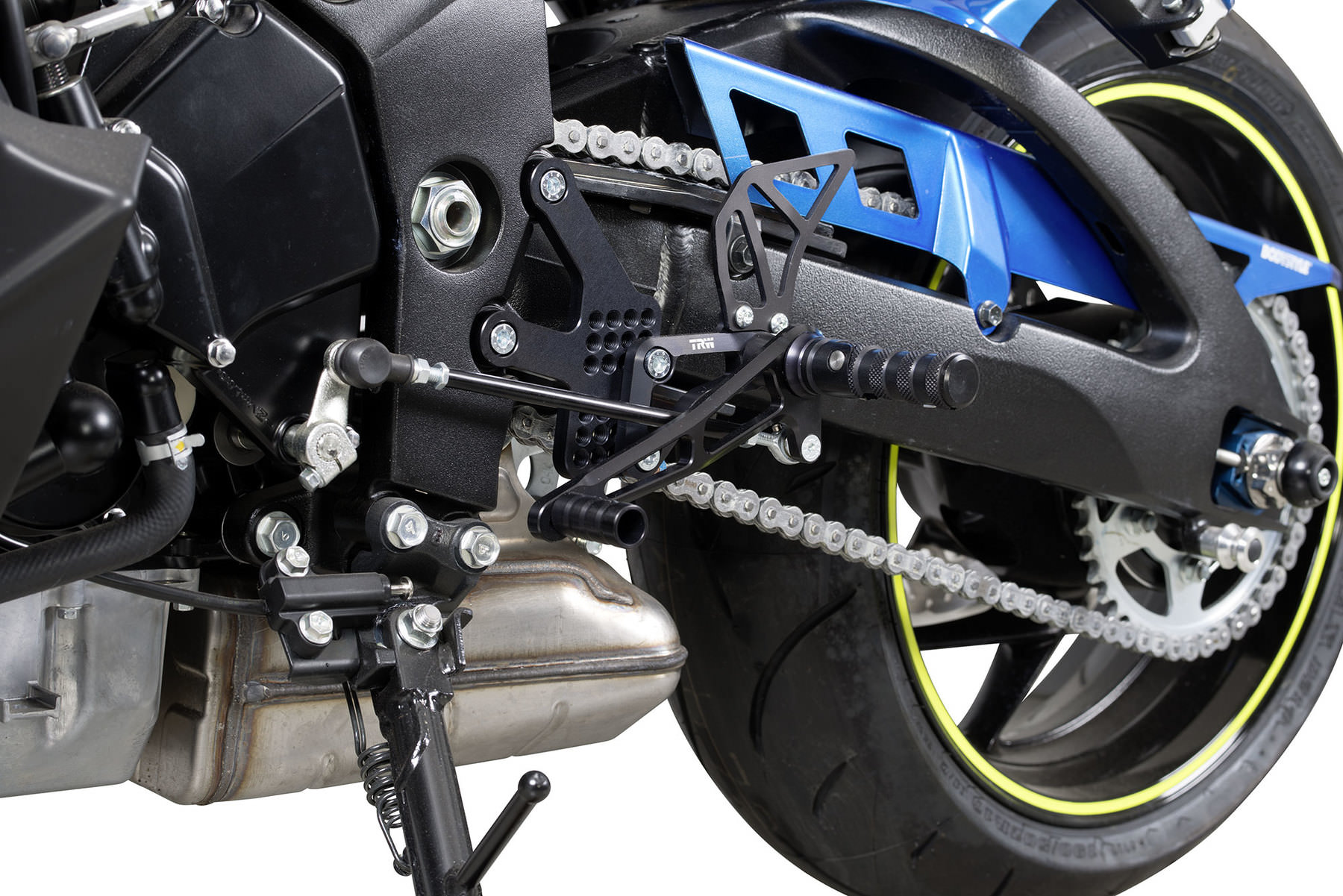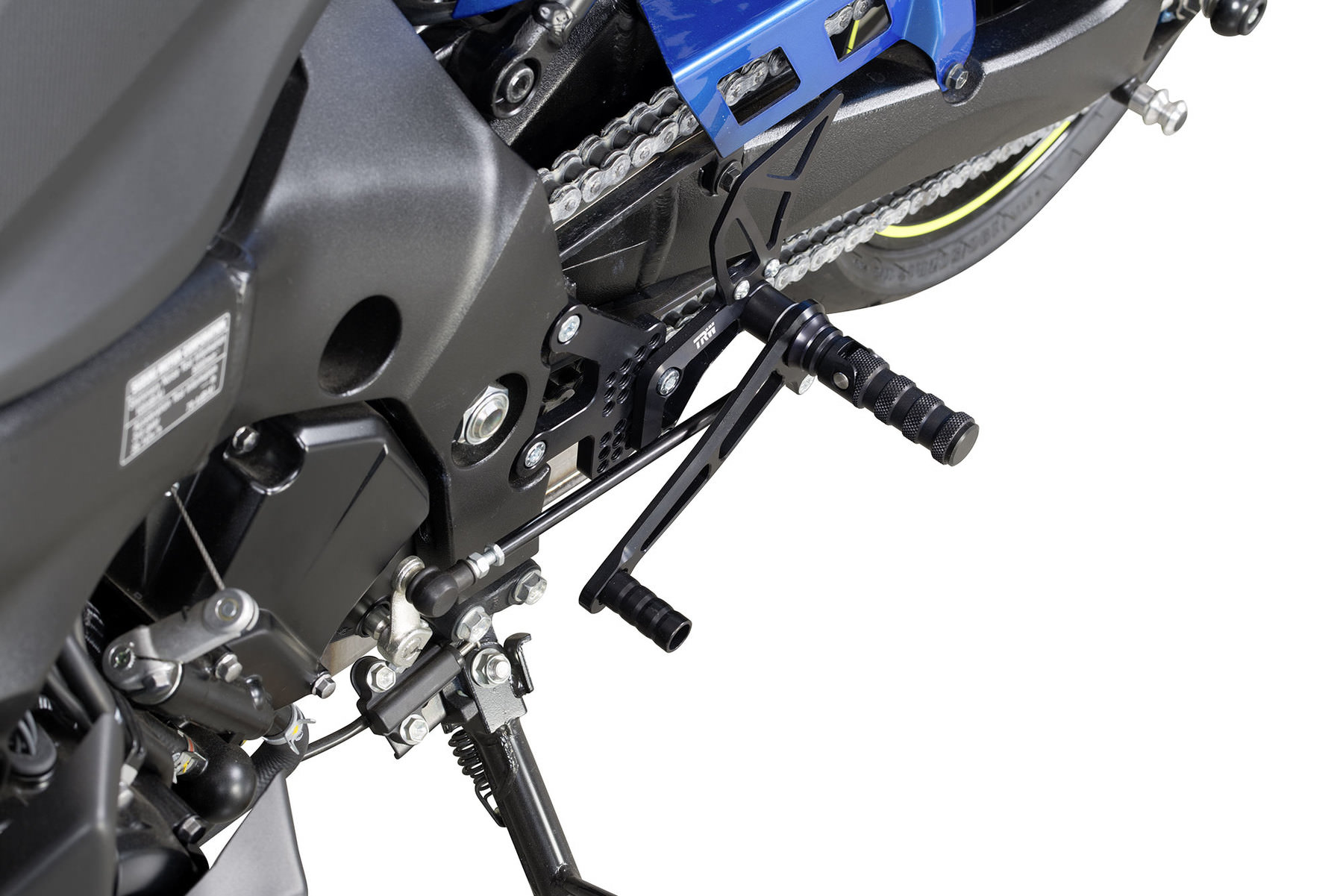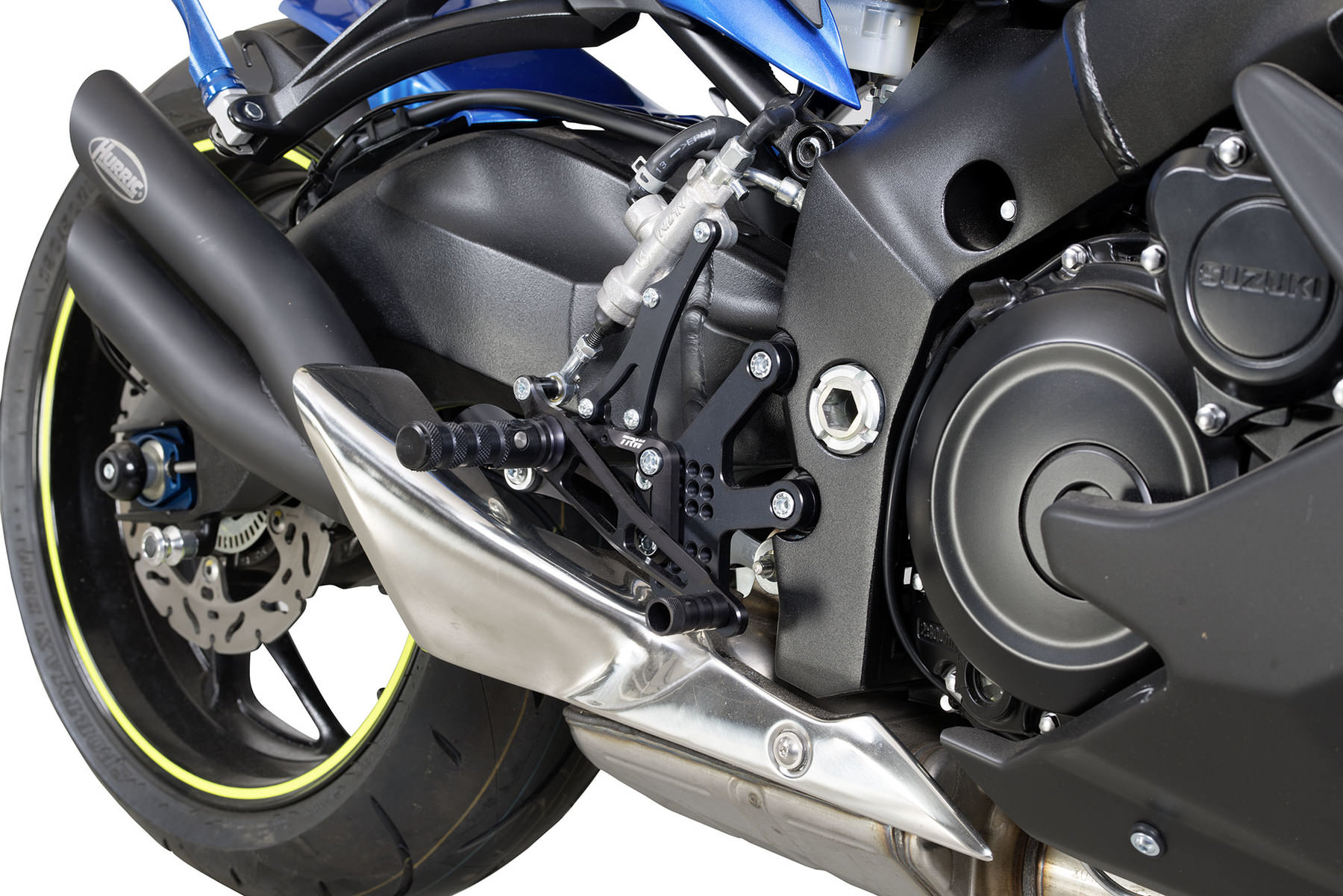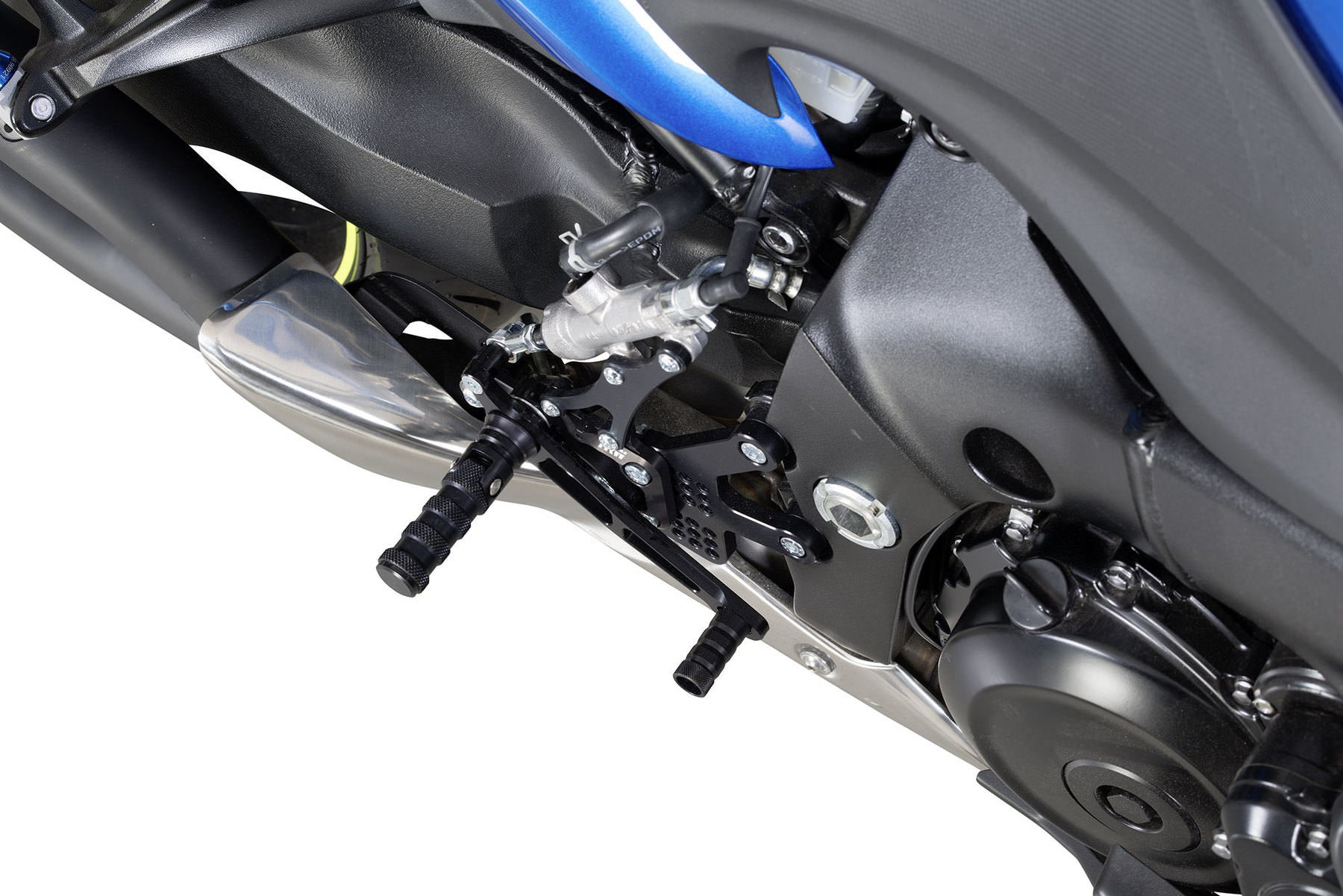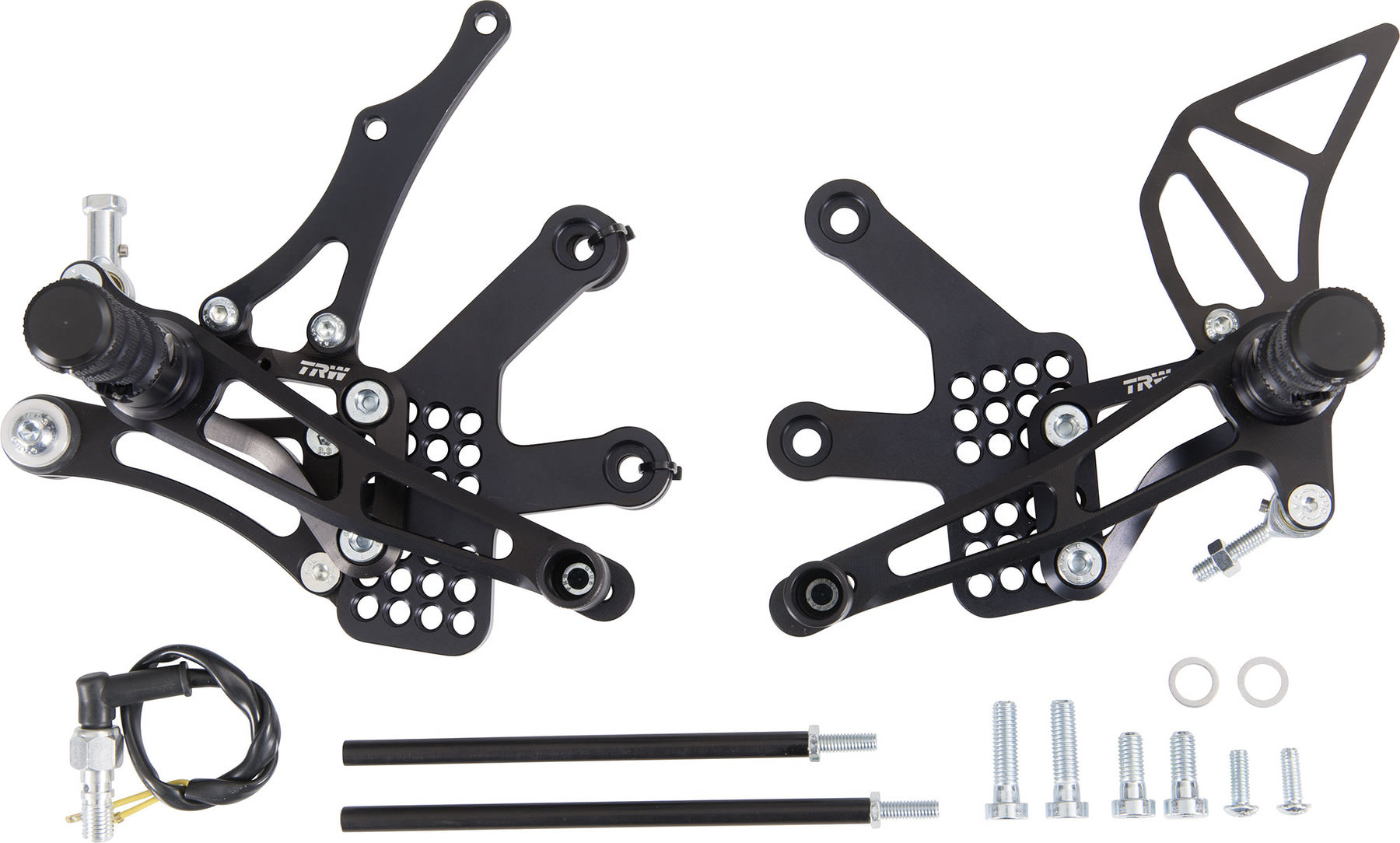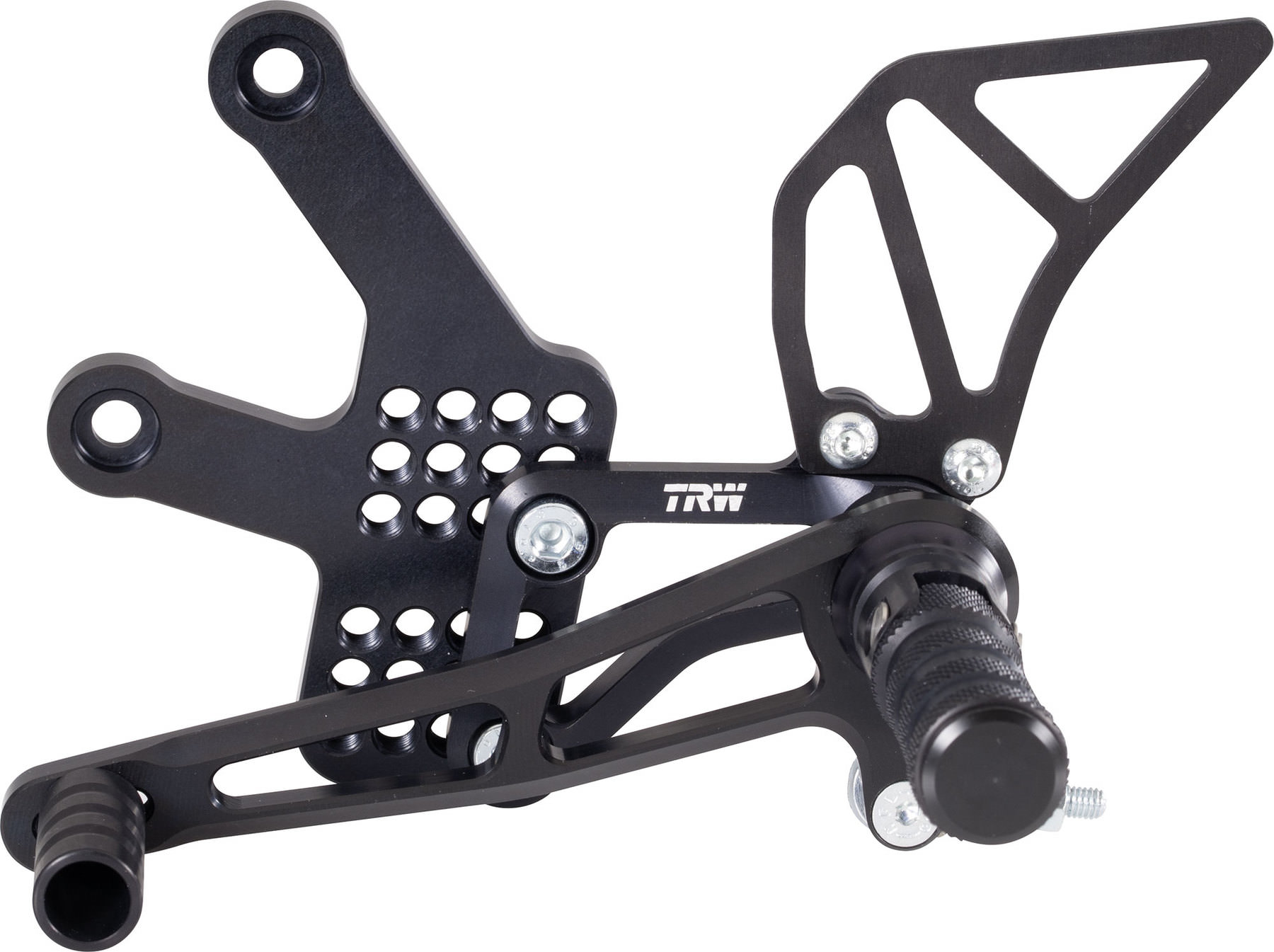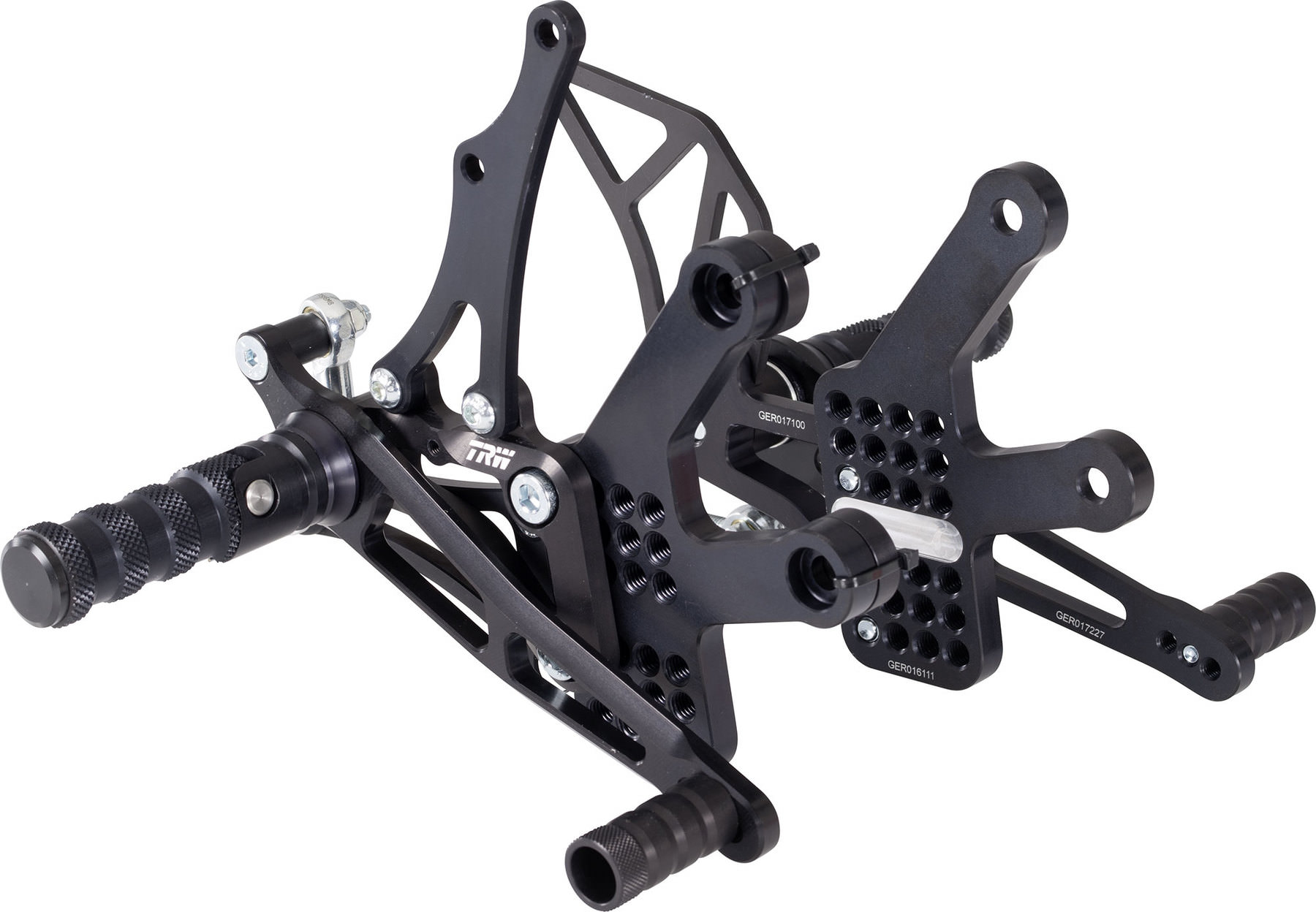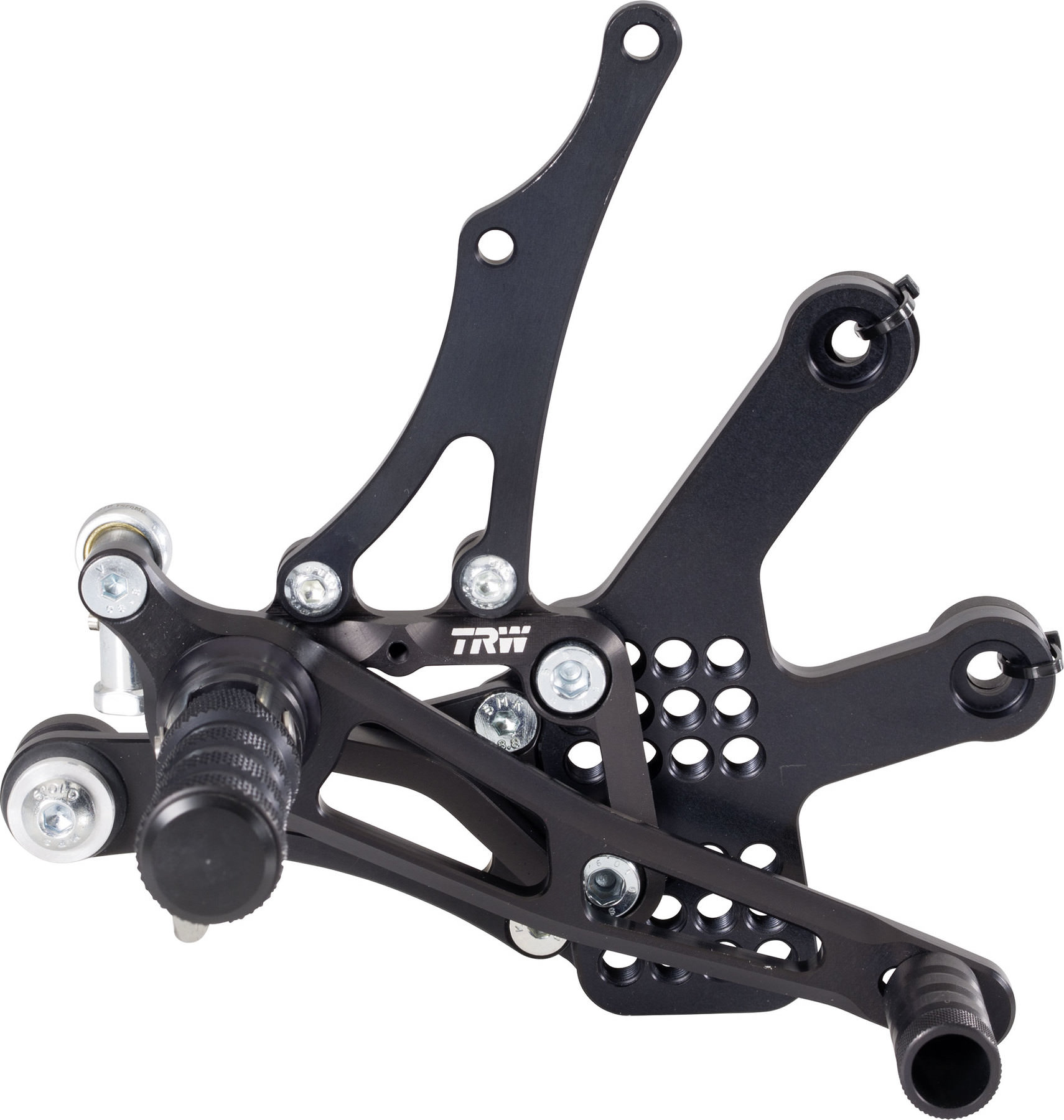 TRW footrest system
SP Edition
Unfortunately, this product is not compatible with this motorcycle.
Unfortunately, this product is not compatible with this motorcycle. You can find the right for the here: .
Free delivery on orders over €199.00
2 year return policy
Fast delivery
TRW footrest system
SP Edition
Outstanding functionality, top ergonomics and exceptionally light - this is what motorcycle racers demand of footrest systems that are positioned further back. With the SP Edition footrest system, TRW has made a significant leap forward.
The SP Edition footrest systems by TRW have a very delicate profile and their black anodised surfaces are enough to enhance the appearance of any sport bike. However, their real strength lies in their flexibility, as they allow the driver to find an optimal foot position according to individual requirements. Thanks to the footrest adapter plate, the systems can be adjusted up to 28.5 mm horizontally and up to 18 mm vertically. The offset to the rear offers the rider far more effective support when accelerating. At the same time, the higher ground clearance offers more tilting freedom. Faster tighter cornering is possible.

Other features:

Equipped with hinged footrest
In specific models, systems can be converted to a reversed shift pattern
Type approved
Manufacturer details: TRW

Every second counts when you brake!

TRW Lucas has been manufacturing premium-quality motorbike spare parts since 1976 (ISO 9001, ISO/TS 16949) and is the German market leader for brake discs, brake pads and steel-braided lines. Every time that product tests have been carried out by trade publications over the past 30 years, they have confirmed the excellent quality of these products. They have won test after test. Every second counts when you brake! Don't settle for anything less than quality products from the market leader.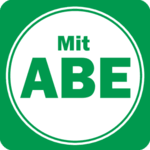 German type approval ("ABE)" allows the relevant accessory to be used on the vehicle models listed in the test report. Here it is the type abbreviation and not the maker's designation that is important for identifying the vehicle. The test report must be carried when riding in case it needs to be presented at a road-side check or vehicle safety inspection.
Accessories with type approval do not have to be registered in the vehicle documents! Those who do not want to carry the test report with them all the time can (for example) arrange to have the product registered by the Technical Inspection Association (subject to a charge).
If the accessory is to be used on a vehicle that is not listed in the type approval, an individual component approval is required. Although ABE type approval confirms the proper installation and safety of the product, it is the inspector who has to decide according to his technical expertise whether it is suitable for use on the vehicle.

An electric scooter with "ABE" approval has a type approval for Germany stating that the relevant vehicle satisfies all the relevant requirements of the eKFV (Small Electric Vehicle Ordinance in Germany) for the approval. In addition, insurance of the electric scooter is compulsory and use on pavements is forbidden. It can only be ridden on cycle paths and on the road (if a cycle path is not available). The minimum age for riding an electric scooter is 14 years. Although a driving license and helmet are not mandatory, they are highly recommended. An electric scooter must always be ridden solo.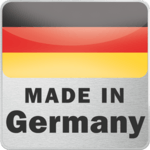 QUALITY MADE IN GERMANY!

By purchasing this item you have chosen a premium-quality product with superior German workmanship. This internationally acknowledged mark of quality means that this product is the result of efficiently coordinated development and production processes, technological expertise, continuous quality controls.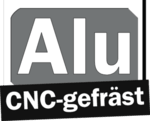 This product is made of high-quality CNC-machined aluminium and will look great on your motorbike.

To ensure that it gives you many years of service, please observe the following care instructions:

1. After installing the product, and each time you wash your motorbike, apply a wax-based care product, e.g. Procycle Polishing Wax, Order no. 10004923 for protection against wind and weather. You may need to repeat the application after an outing in winter weather, rain or salty air (near the coast).

2. Remove any corrosion as soon as possible using a standard aluminium polish (e.g. Autosol Aluminium Polish, Order no. 10004421).
Test certificates (TÜV, ABE, material)
Instructions/Guides
Product
Art. No.
Availability
Price
Actions
TRW FOOTREST SYSTEM - SP EDITION MCF100SP

Important notes

10044669

The item is in stock and will be delivered in 2-5 working days. Note: Stocks are updated online every hour on working days from 7 a.m. to 8 p.m., so there is a good chance that the products are available if they appear online.

Available

€519.95 1
TRW FOOTREST SYSTEM - SP EDITION MCF102SP

Important notes

Shifting through the frame.

Also with quick shifter.

Only standard shifting-layout possible.

10044670

The item is in stock and will be delivered in 2-5 working days. Note: Stocks are updated online every hour on working days from 7 a.m. to 8 p.m., so there is a good chance that the products are available if they appear online.

Available

€519.95 1
TRW FOOTREST SYSTEM - SP EDITION MCF104SP
10044671

The item is in stock and will be delivered in 2-5 working days. Note: Stocks are updated online every hour on working days from 7 a.m. to 8 p.m., so there is a good chance that the products are available if they appear online.

Available

€519.95 1
TRW FOOTREST SYSTEM - SP EDITION MCF105SP

Important notes

Includes exhaust clamp.

Only standard shifting-layout possible.

Only models with quick shifter.

10044672

The item is in stock and will be delivered in 2-5 working days. Note: Stocks are updated online every hour on working days from 7 a.m. to 8 p.m., so there is a good chance that the products are available if they appear online.

Available

€519.95 1
TRW FOOTREST SYSTEM - SP EDITION MCF106SP

Important notes

Shorter piston rod on the brake cylinder required.

10044673

The item is in stock and will be delivered in 2-5 working days. Note: Stocks are updated online every hour on working days from 7 a.m. to 8 p.m., so there is a good chance that the products are available if they appear online.

Available

€519.95 1
TRW FOOTREST SYSTEM - SP EDITION MCF107SP

Important notes

Modified routing of the brake line required.

10044674

The item is in stock and will be delivered in 2-5 working days. Note: Stocks are updated online every hour on working days from 7 a.m. to 8 p.m., so there is a good chance that the products are available if they appear online.

Available

€519.95 1
TRW FOOTREST SYSTEM - SP EDITION MCF108SP

Important notes

Includes exhaust clamp.

Only standard shifting-layout possible.

Only models without quick shifter.

10044675

The product will be ordered from the manufacturer for you. Depending on availability, longer delivery times are also possible. We'll let you know if that's the case. You can of course cancel your delivery at any time free of charge.

Available in 7-21 days

€519.95 1
TRW FOOTREST SYSTEM - SP EDITION MCF109SP

Important notes

Brake cylinder mounted on the footrest system.

Pillion footrest not included.

Limited adjustment range.

Only standard shifting-layout possible.

Hydraulic brake light switch required.

Footrest position deviates from the standard.

10044676

The product will be ordered from the manufacturer for you. Depending on availability, longer delivery times are also possible. We'll let you know if that's the case. You can of course cancel your delivery at any time free of charge.

Available in 7-21 days

€519.95 1
TRW FOOTREST SYSTEM - SP EDITION MCF111SP
10044677

The product will be ordered from the manufacturer for you. Depending on availability, longer delivery times are also possible. We'll let you know if that's the case. You can of course cancel your delivery at any time free of charge.

Available in 7-21 days

€519.95 1
TRW FOOTREST SYSTEM - SP EDITION MCF112SP

Important notes

Modified brake line required for motorcycles equipped with ABS.

Only standard shifting-layout possible.

Only models without quick shifter.

Footrest position deviates from the standard.

10044678

The product will be ordered from the manufacturer for you. Depending on availability, longer delivery times are also possible. We'll let you know if that's the case. You can of course cancel your delivery at any time free of charge.

Available in 7-21 days

€519.95 1
TRW FOOTREST SYSTEM - SP EDITION MCF113SP
10044679

The product will be ordered from the manufacturer for you. Depending on availability, longer delivery times are also possible. We'll let you know if that's the case. You can of course cancel your delivery at any time free of charge.

Available in 7-21 days

€519.95 1
TRW FOOTREST SYSTEM - SP EDITION MCF114SP
10044680

The product will be ordered from the manufacturer for you. Depending on availability, longer delivery times are also possible. We'll let you know if that's the case. You can of course cancel your delivery at any time free of charge.

Available in 7-21 days

€519.95 1
TRW FOOTREST SYSTEM - SP EDITION MCF115SP

Important notes

Modified brake line required for motorcycles equipped with ABS.

10044681

The item is in stock and will be delivered in 2-5 working days. Note: Stocks are updated online every hour on working days from 7 a.m. to 8 p.m., so there is a good chance that the products are available if they appear online.

Available

€519.95 1
TRW FOOTREST SYSTEM - SP EDITION MCF116SP

Important notes

Modified brake line required for motorcycles equipped with ABS.

10044682

The item is in stock and will be delivered in 2-5 working days. Note: Stocks are updated online every hour on working days from 7 a.m. to 8 p.m., so there is a good chance that the products are available if they appear online.

Available

€519.95 1
TRW FOOTREST SYSTEM - SP EDITION MCF117SP
10044683

The product will be ordered from the manufacturer for you. Depending on availability, longer delivery times are also possible. We'll let you know if that's the case. You can of course cancel your delivery at any time free of charge.

Available in 7-21 days

€519.95 1
TRW FOOTREST SYSTEM - SP EDITION MCF118SP
10044684

The product will be ordered from the manufacturer for you. Depending on availability, longer delivery times are also possible. We'll let you know if that's the case. You can of course cancel your delivery at any time free of charge.

Available in 7-21 days

€519.95 1
TRW FOOTREST SYSTEM - SP EDITION MCF119SP

Important notes

Includes exhaust clamp.

Modified brake line required for motorcycles equipped with ABS.

Only standard shifting-layout possible.

10044685

The product will be ordered from the manufacturer for you. Depending on availability, longer delivery times are also possible. We'll let you know if that's the case. You can of course cancel your delivery at any time free of charge.

Available in 7-21 days

€519.95 1
TRW FOOTREST SYSTEM - SP EDITION MCF128SP
10044686

The item is in stock and will be delivered in 2-5 working days. Note: Stocks are updated online every hour on working days from 7 a.m. to 8 p.m., so there is a good chance that the products are available if they appear online.

Available

€519.95 1
TRW FOOTREST SYSTEM - SP EDITION MCF134SP
10044596

The product will be ordered from the manufacturer for you. Depending on availability, longer delivery times are also possible. We'll let you know if that's the case. You can of course cancel your delivery at any time free of charge.

Available in 7-21 days

€519.95 1
TRW FOOTREST SYSTEM - SP EDITION MCF136SP
10044745

The product will be ordered from the manufacturer for you. Depending on availability, longer delivery times are also possible. We'll let you know if that's the case. You can of course cancel your delivery at any time free of charge.

Available in 7-21 days

€584.94 1
TRW FOOTREST SYSTEM - SP EDITION MCF145SP
10044687

The item is in stock and will be delivered in 2-5 working days. Note: Stocks are updated online every hour on working days from 7 a.m. to 8 p.m., so there is a good chance that the products are available if they appear online.

Available

€519.95 1
TRW FOOTREST SYSTEM - SP EDITION MCF153SP
10044688

The product will be ordered from the manufacturer for you. Depending on availability, longer delivery times are also possible. We'll let you know if that's the case. You can of course cancel your delivery at any time free of charge.

Available in 7-21 days

€519.95 1
TRW FOOTREST SYSTEM - SP EDITION MCF161SP
10044689

The product will be ordered from the manufacturer for you. Depending on availability, longer delivery times are also possible. We'll let you know if that's the case. You can of course cancel your delivery at any time free of charge.

Available in 7-21 days

€519.95 1
TRW FOOTREST SYSTEM - SP EDITION MCF163SP
10044690

The item is in stock and will be delivered in 2-5 working days. Note: Stocks are updated online every hour on working days from 7 a.m. to 8 p.m., so there is a good chance that the products are available if they appear online.

Available

€519.95 1
TRW FOOTREST SYSTEM - SP EDITION MCF164SP

Important notes

Modified brake line required for motorcycles equipped with ABS.

Shifting through the frame.

Curved gearshift rod

Only standard shifting-layout possible.

10044691

The item is in stock and will be delivered in 2-5 working days. Note: Stocks are updated online every hour on working days from 7 a.m. to 8 p.m., so there is a good chance that the products are available if they appear online.

Available

€519.95 1
TRW FOOTREST SYSTEM - SP EDITION MCF166SP
10044692

The item is in stock and will be delivered in 2-5 working days. Note: Stocks are updated online every hour on working days from 7 a.m. to 8 p.m., so there is a good chance that the products are available if they appear online.

Available

€519.95 1
TRW FOOTREST SYSTEM - SP EDITION MCF168SP

Important notes

Shifting outside the frame.

10044693

The item is in stock and will be delivered in 2-5 working days. Note: Stocks are updated online every hour on working days from 7 a.m. to 8 p.m., so there is a good chance that the products are available if they appear online.

Available

€519.95 1
TRW FOOTREST SYSTEM - SP EDITION MCF169SP
10044694

The item is in stock and will be delivered in 2-5 working days. Note: Stocks are updated online every hour on working days from 7 a.m. to 8 p.m., so there is a good chance that the products are available if they appear online.

Available

€519.95 1
TRW FOOTREST SYSTEM - SP EDITION MCF172SP
10044695

The product will be ordered from the manufacturer for you. Depending on availability, longer delivery times are also possible. We'll let you know if that's the case. You can of course cancel your delivery at any time free of charge.

Available in 7-21 days

€519.95 1
TRW FOOTREST SYSTEM - SP EDITION MCF173SP

Important notes

Modified brake line required for motorcycles equipped with ABS.

For motorcycles with reverse shifting: remove sprocket cover.

10044696

The product will be ordered from the manufacturer for you. Depending on availability, longer delivery times are also possible. We'll let you know if that's the case. You can of course cancel your delivery at any time free of charge.

Available in 7-21 days

€519.95 1
TRW FOOTREST SYSTEM - SP EDITION MCF174SP

Important notes

Modified brake line required for motorcycles equipped with ABS.

Only standard shifting-layout possible.

10044697

The product will be ordered from the manufacturer for you. Depending on availability, longer delivery times are also possible. We'll let you know if that's the case. You can of course cancel your delivery at any time free of charge.

Available in 7-21 days

€519.95 1
TRW FOOTREST SYSTEM - SP EDITION MCF180SP

Important notes

Only standard shifting-layout possible.

Only models without quick shifter.

10044698

The product will be ordered from the manufacturer for you. Depending on availability, longer delivery times are also possible. We'll let you know if that's the case. You can of course cancel your delivery at any time free of charge.

Available in 7-21 days

€519.95 1
TRW FOOTREST SYSTEM - SP EDITION MCF181SP
10044728

The product will be ordered from the manufacturer for you. Depending on availability, longer delivery times are also possible. We'll let you know if that's the case. You can of course cancel your delivery at any time free of charge.

Available in 7-21 days

€519.95 1
TRW FOOTREST SYSTEM - SP EDITION MCF182SP
10044729

The item is in stock and will be delivered in 2-5 working days. Note: Stocks are updated online every hour on working days from 7 a.m. to 8 p.m., so there is a good chance that the products are available if they appear online.

Available

€519.95 1
TRW FOOTREST SYSTEM - SP EDITION MCF183SP
10044730

The item is in stock and will be delivered in 2-5 working days. Note: Stocks are updated online every hour on working days from 7 a.m. to 8 p.m., so there is a good chance that the products are available if they appear online.

Available

€519.95 1
TRW FOOTREST SYSTEM - SP EDITION MCF184SP
10044731

The item is in stock and will be delivered in 2-5 working days. Note: Stocks are updated online every hour on working days from 7 a.m. to 8 p.m., so there is a good chance that the products are available if they appear online.

Available

€519.95 1
TRW FOOTREST SYSTEM - SP EDITION MCF185SP

Important notes

Only standard shifting-layout possible.

Hydraulic brake light switch required.

Only models without quick shifter.

10044744

The product will be ordered from the manufacturer for you. Depending on availability, longer delivery times are also possible. We'll let you know if that's the case. You can of course cancel your delivery at any time free of charge.

Available in 7-21 days

€519.95 1
TRW FOOTREST SYSTEM - SP EDITION MCF186SP
10044732

The item is in stock and will be delivered in 2-5 working days. Note: Stocks are updated online every hour on working days from 7 a.m. to 8 p.m., so there is a good chance that the products are available if they appear online.

Available

€519.95 1
TRW FOOTREST SYSTEM - SP EDITION MCF187SP
10044733

The item is in stock and will be delivered in 2-5 working days. Note: Stocks are updated online every hour on working days from 7 a.m. to 8 p.m., so there is a good chance that the products are available if they appear online.

Available

€519.95 1
TRW FOOTREST SYSTEM - SP EDITION MCF188SP
10044734

The item is in stock and will be delivered in 2-5 working days. Note: Stocks are updated online every hour on working days from 7 a.m. to 8 p.m., so there is a good chance that the products are available if they appear online.

Available

€519.95 1
TRW FOOTREST SYSTEM - SP EDITION MCF190SP

Important notes

Only standard shifting-layout possible.

10044735

The product will be ordered from the manufacturer for you. Depending on availability, longer delivery times are also possible. We'll let you know if that's the case. You can of course cancel your delivery at any time free of charge.

Available in 7-21 days

€519.95 1
TRW FOOTREST SYSTEM - SP EDITION MCF191SP
10044736

The item is in stock and will be delivered in 2-5 working days. Note: Stocks are updated online every hour on working days from 7 a.m. to 8 p.m., so there is a good chance that the products are available if they appear online.

Available

€519.95 1
TRW FOOTREST SYSTEM - SP EDITION MCF193SP
10044737

The item is in stock and will be delivered in 2-5 working days. Note: Stocks are updated online every hour on working days from 7 a.m. to 8 p.m., so there is a good chance that the products are available if they appear online.

Available

€519.95 1
TRW FOOTREST SYSTEM - SP EDITION MCF194SP
10044738

The item is in stock and will be delivered in 2-5 working days. Note: Stocks are updated online every hour on working days from 7 a.m. to 8 p.m., so there is a good chance that the products are available if they appear online.

Available

€519.95 1
TRW FOOTREST SYSTEM - SP EDITION MCF195SP

Important notes

Includes bracket for heat shield.

10044739

The item is in stock and will be delivered in 2-5 working days. Note: Stocks are updated online every hour on working days from 7 a.m. to 8 p.m., so there is a good chance that the products are available if they appear online.

Available

€519.95 1
TRW FOOTREST SYSTEM - SP EDITION MCF196SP
10044740

The item is in stock and will be delivered in 2-5 working days. Note: Stocks are updated online every hour on working days from 7 a.m. to 8 p.m., so there is a good chance that the products are available if they appear online.

Available

€519.95 1
TRW FOOTREST SYSTEM - SP EDITION MCF197SP

Important notes

Also with quick shifter.

Only standard shifting-layout possible.

10044741

The item is in stock and will be delivered in 2-5 working days. Note: Stocks are updated online every hour on working days from 7 a.m. to 8 p.m., so there is a good chance that the products are available if they appear online.

Available

€519.95 1
TRW FOOTREST SYSTEM - SP EDITION MCF198SP

Important notes

Modified brake line required for motorcycles equipped with ABS.

10044742

The item is in stock and will be delivered in 2-5 working days. Note: Stocks are updated online every hour on working days from 7 a.m. to 8 p.m., so there is a good chance that the products are available if they appear online.

Available

€519.95 1
TRW FOOTREST SYSTEM - SP EDITION MCF199SP

Important notes

For motorcycles with reverse shifting: remove sprocket cover.

10044743

The item is in stock and will be delivered in 2-5 working days. Note: Stocks are updated online every hour on working days from 7 a.m. to 8 p.m., so there is a good chance that the products are available if they appear online.

Available

€519.95 1