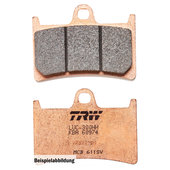 Test reports for TRW BRAKE-PADS SINTER MIT ABE
Issue 23-2019
In its 23-2019 issue, "Motorrad" magazine tested the Lucas Sintered Brake Pad on the Harley Davidson Heritage Classic 114 and awarded it a Practical Recommendation. The following features were given special mention:

- Improves braking appreciably after the bedding-in period
- Harder, more constant pressure point

Issue 12-2018
In its 12-2018 issue, "Tourenfahrer" magazine tested various brake pads on the Suzuki GSX-S750. Lucas sintered brake pads (and one rival brand) were awarded a TOURENFAHRER RECOMMENDATION. The following features were given special mention:

- Very predictable braking performance
- Good brake control
- Consistent pressure point
- Top performance, low price
Issue 5-2017
In its 5-2017 issue, "Motorrad News" magazine tested eight brake pads on the Kawasaki Z650. Lucas Sintered Metal Brake Pads (together with one competitor) was awarded a "MOTORRAD NEWS RECOMMENDATION". The following features were given special mention:

- Very good controllability of braking force, very good response
- Moderate hand force
- Minimal fade
- Very short braking distance
- Very long life
- Good value for money
Issue 3-2016
In its 23-2016 issue, MO magazine tested Lucas TRW Sinter Brake Pads on the Suzuki GSX-S 1000 and awarded them an MO BEST BUY recommendation.
Special mention was given to the noticeably stronger braking performance and lower price compared to the original brake pads.
Issue 6-2014
In its 6/2014 issue, "Motorradfahrer" magazine tested a variety of accessories on the Suzuki GSR 750. TRW Sinter Brake Pads were awarded a MOTORRADFAHRER RECOMMENDATION.

"The sintered metal brake pads from TRW transform the toothless GSR braking system into a real stopper". A must-have for this motorbike because, after fitting new pads, you can easily operate the GSR lever with two fingers into the ABS control range. When slowing down, the bite increases with rising temperature, so it is not too aggressive at first, which makes these pads suitable for everyday use. TRW thus offers the perfect brake pad composition for the vexed issue of the GSR brake."

Issue 5-2012
"Dream Machines" magazine tested nine brake pads in its 5/2012 issue. Lucas TRW sintered metal brake pads were awarded a BEST BUY recommendation. The following features were give special mention:

- Very good braking performance with moderate hand force
- Clear pressure point
- Very smooth braking
- Low price

(Four out of nine brake pads tested were awarded a Best Buy, and one received a Value for Money recommendation)
Issue 14-2008
Extract from the winning test report on the BMW R 1200 GS:
Immediate response, very accurately controllable, very low operating force (one finger is enough); very good braking effect whether cold or hot; even after four emergency stops in succession, absolutely no fading in the test; very low brake disc wear.
Verdict: "....the Lucas brake pads suit the GS-BMW perfectly. The perfect controllability, low hand force and excellent fading resistance give these brake pads, along with the Brembo, a well-deserved first place in this comparative test.
Issue 04-2007
The magazine "Dream Machines" 04/2007 tested brake pads from eight manufacturers. "Lucas" brake pads were given top rating. Verdict:
Top-class linings with outstanding braking performance
Very trustworthy
Hardly any fade
Genuine "one-finger-brakers"
Highly recommended
(Linings from eight manufacturers were tested; five were given top rating)
Issue 08-2003
What "MOTipp" said: "If you find the original pads over-aggressive, you will prefer the Lucas pads. The sintered metal pads brake much more softly. Plus they make your bike immune to overbraking. A shade slower than the originals, but you won't crash the first time you hit the brakes hard!
Issue 20-2004
Verdict on the test on the Suzuki GSX-R 1000:

The Lucas brake pads score points for the very low hand forces and the reliable braking control in particular. In addition, they brake brilliantly when hot, and their resistance to brake fade is beyond reproach. They also perform well in the wet.