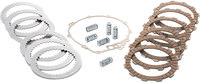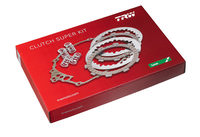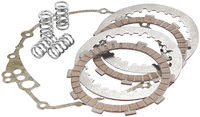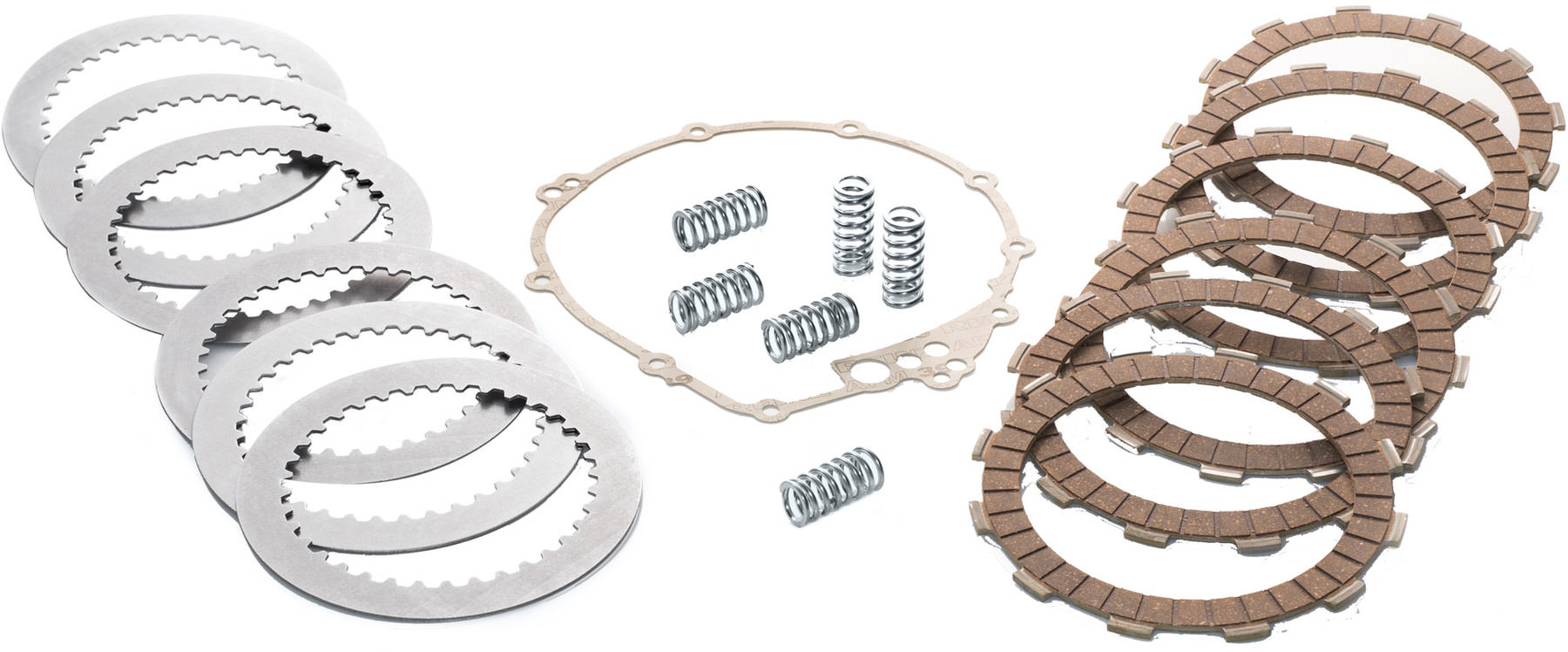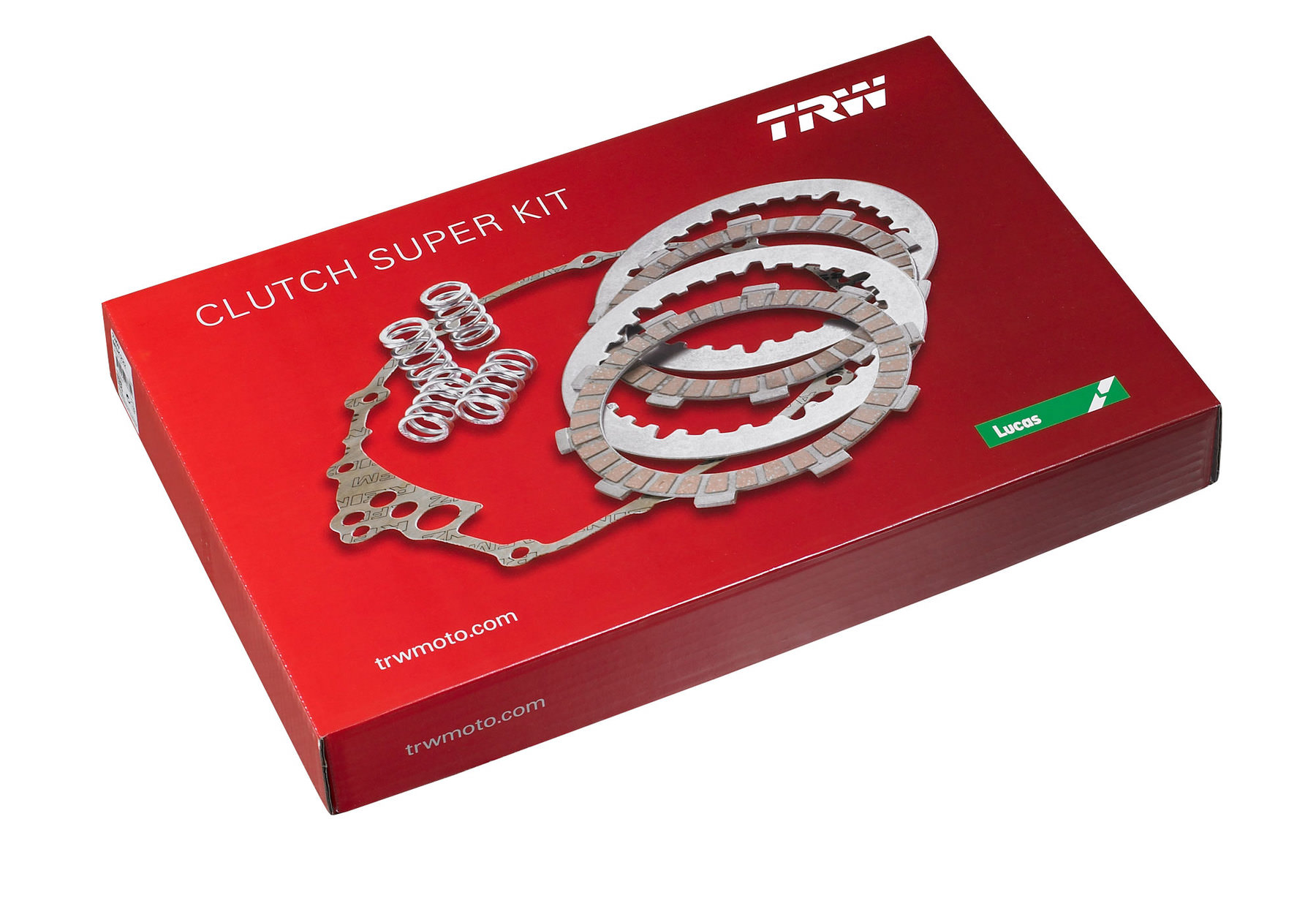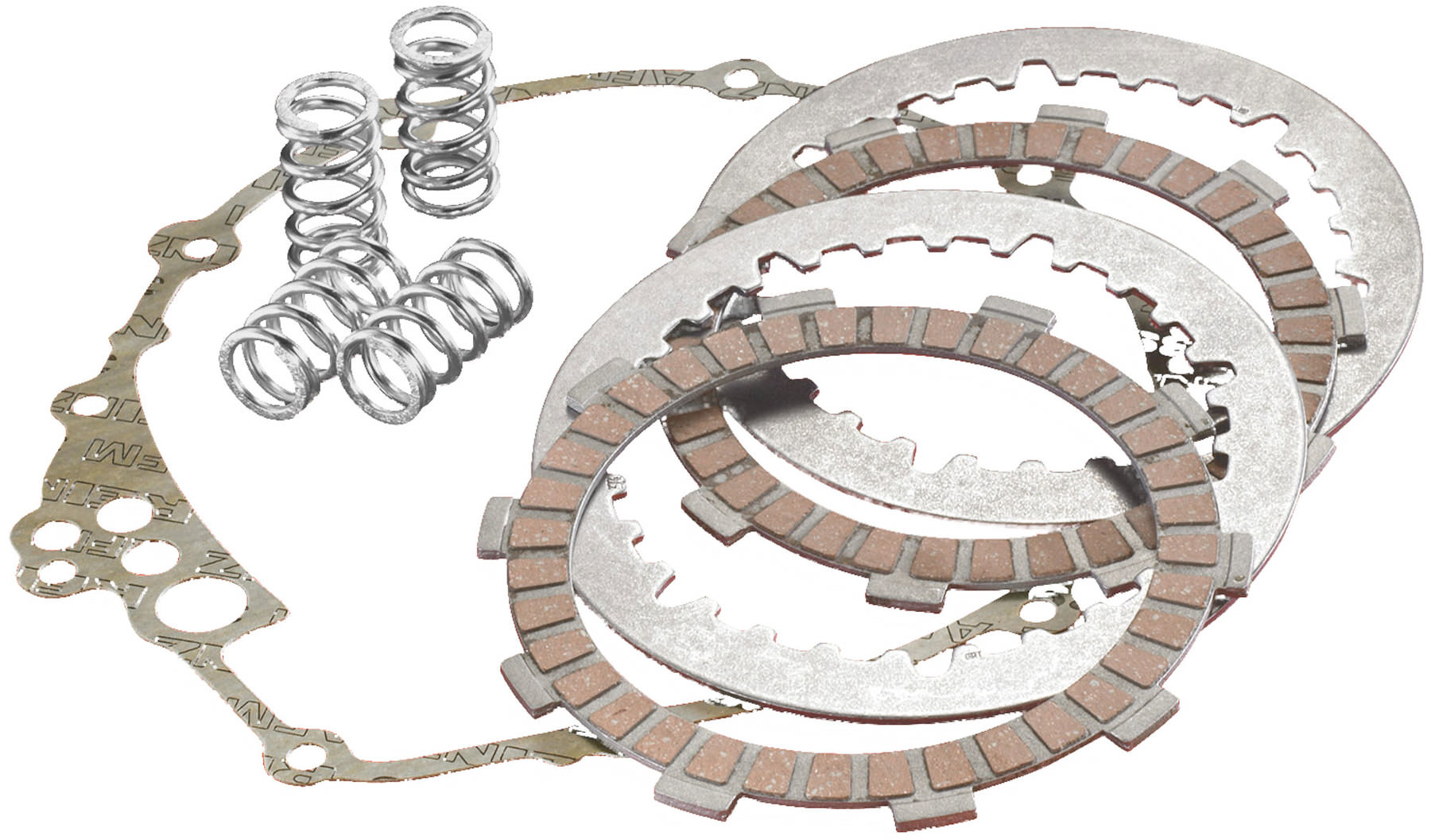 TRW CLUTCH SUPER-KIT - THE COMPLETE PACKAGE -
TRW-MOTO_10043600_DE
TRW CLUTCH SUPER-KIT
MSK 101
Important notes
Super kit is supplied WITHOUT clutch cover gasket.
The item is in stock and will be delivered in 2-5 working days. Note: Stocks are updated online every hour on working days from 7 a.m. to 8 p.m., so there is a good chance that the products are available if they appear online.
Available
Free delivery on orders over €199.00
2 year return policy
Fast delivery
TRW CLUTCH SUPER-KIT
MSK 101
TRW clutch superkits - the smart complete package!
The superkits contain simply everything:

Friction discs
steel intermediate plates
clutch springs
and, if necessary, the clutch cover gasket.
Assembling the individual components of the clutch is no longer necessary.
In addition, all components in a superkit are perfectly compatible with each other, and the friction material is designed for the specific model and intended purpose, ensuring maximum performance and optimum power transmission
Manufacturer details: TRW
Every second counts when you brake!

TRW Lucas has been manufacturing premium-quality motorbike spare parts since 1976 (ISO 9001, ISO/TS 16949) and is the German market leader for brake discs, brake pads and steel-braided lines. Every time that product tests have been carried out by trade publications over the past 30 years, they have confirmed the excellent quality of these products. They have won test after test. Every second counts when you brake! Don't settle for anything less than quality products from the market leader.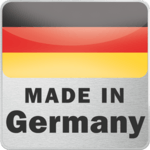 QUALITY MADE IN GERMANY!

By purchasing this item you have chosen a premium-quality product with superior German workmanship. This internationally acknowledged mark of quality means that this product is the result of efficiently coordinated development and production processes, technological expertise, continuous quality controls.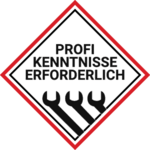 Professional technical expertise is essential to fit this article. We therefore urge you to have it installed by a motorcycle workshop!
Product
Art. No.
Availability
Price
Actions
TRW CLUTCH SUPER-KIT - MSK 100

Important notes

Super kit is supplied WITHOUT clutch cover gasket.

10043981

The item is in stock and will be delivered in 2-5 working days. Note: Stocks are updated online every hour on working days from 7 a.m. to 8 p.m., so there is a good chance that the products are available if they appear online.

Available

€154.95 1
TRW CLUTCH SUPER-KIT - MSK 101

Important notes

Super kit is supplied WITHOUT clutch cover gasket.

10043997

The item is in stock and will be delivered in 2-5 working days. Note: Stocks are updated online every hour on working days from 7 a.m. to 8 p.m., so there is a good chance that the products are available if they appear online.

Available

€132.95 1
TRW CLUTCH SUPER-KIT - MSK 102

Important notes

Super kit is supplied WITHOUT clutch cover gasket.

10043996

The item is in stock and will be delivered in 2-5 working days. Note: Stocks are updated online every hour on working days from 7 a.m. to 8 p.m., so there is a good chance that the products are available if they appear online.

Available

€126.95 1
TRW CLUTCH SUPER-KIT - MSK 104

Important notes

Super kit is supplied WITHOUT clutch cover gasket.

10043982

The item is in stock and will be delivered in 2-5 working days. Note: Stocks are updated online every hour on working days from 7 a.m. to 8 p.m., so there is a good chance that the products are available if they appear online.

Available

€138.95 1
TRW CLUTCH SUPER-KIT - MSK 105

Important notes

Super kit is supplied WITHOUT clutch cover gasket.

10043986

The product will be ordered from the manufacturer for you. Depending on availability, longer delivery times are also possible. We'll let you know if that's the case. You can of course cancel your delivery at any time free of charge.

Available in 7-21 days

€136.95 1
TRW CLUTCH SUPER-KIT - MSK 106

Important notes

Super kit is supplied WITHOUT clutch cover gasket.

10043843

This product is available at week 42.
Current calendar week: 40

Available as of calendar week 42

€154.95 1
TRW CLUTCH SUPER-KIT - MSK 200

Important notes

Super kit is supplied with coupling cover seal

10015939

This product is available at week 42.
Current calendar week: 40

Available as of calendar week 42

€161.95 1
TRW CLUTCH SUPER-KIT - MSK 201

Important notes

Super kit is supplied with coupling cover seal

10015938

The item is in stock and will be delivered in 2-5 working days. Note: Stocks are updated online every hour on working days from 7 a.m. to 8 p.m., so there is a good chance that the products are available if they appear online.

Available

€156.95 1
TRW CLUTCH SUPER-KIT - MSK 203

Important notes

Super kit is supplied with coupling cover seal

10015948

This product is available at week 42.
Current calendar week: 40

Available as of calendar week 42

€161.95 1
TRW CLUTCH SUPER-KIT - MSK 204

Important notes

Super kit is supplied with coupling cover seal

10043977

This product is available at week 43.
Current calendar week: 40

Available as of calendar week 43

€156.95 1
TRW CLUTCH SUPER-KIT - MSK 205

Important notes

Super kit is supplied with coupling cover seal

10015949

The item is in stock and will be delivered in 2-5 working days. Note: Stocks are updated online every hour on working days from 7 a.m. to 8 p.m., so there is a good chance that the products are available if they appear online.

Available

€140.95 1
TRW CLUTCH SUPER-KIT - MSK 206

Important notes

Super kit is supplied with coupling cover seal

10043985

The item is in stock and will be delivered in 2-5 working days. Note: Stocks are updated online every hour on working days from 7 a.m. to 8 p.m., so there is a good chance that the products are available if they appear online.

Available

€159.95 1
TRW CLUTCH SUPER-KIT - MSK 207

Important notes

Super kit is supplied with coupling cover seal

10043975

The item is in stock and will be delivered in 2-5 working days. Note: Stocks are updated online every hour on working days from 7 a.m. to 8 p.m., so there is a good chance that the products are available if they appear online.

Available

€136.95 1
TRW CLUTCH SUPER-KIT - MSK 208

Important notes

Super kit is supplied with coupling cover seal

10043984

This product is available at week 43.
Current calendar week: 40

Available as of calendar week 43

€126.95 1
TRW CLUTCH SUPER-KIT - MSK 211

Important notes

Super kit is supplied with coupling cover seal

10015945

This product is available at week 42.
Current calendar week: 40

Available as of calendar week 42

€185.95 1
TRW CLUTCH SUPER-KIT - MSK 212

Important notes

Super kit is supplied with coupling cover seal

10043842

This product is available at week 42.
Current calendar week: 40

Available as of calendar week 42

€192.95 1
TRW CLUTCH SUPER-KIT - MSK 213

Important notes

Super kit is supplied with coupling cover seal

10043978

This product is available at week 42.
Current calendar week: 40

Available as of calendar week 42

€185.95 1
TRW CLUTCH SUPER-KIT - MSK 214

Important notes

Super kit is supplied with coupling cover seal

10043983

This product is available at week 43.
Current calendar week: 40

Available as of calendar week 43

€208.95 1
TRW CLUTCH SUPER-KIT - MSK 217

Important notes

Super kit is supplied with coupling cover seal

10043994

The item is in stock and will be delivered in 2-5 working days. Note: Stocks are updated online every hour on working days from 7 a.m. to 8 p.m., so there is a good chance that the products are available if they appear online.

Available

€145.95 1
TRW CLUTCH SUPER-KIT - MSK 219

Important notes

Super kit is supplied with coupling cover seal

10043991

The item is in stock and will be delivered in 2-5 working days. Note: Stocks are updated online every hour on working days from 7 a.m. to 8 p.m., so there is a good chance that the products are available if they appear online.

Available

€156.95 1
TRW CLUTCH SUPER-KIT - MSK 220

Important notes

Super kit is supplied with coupling cover seal

10043987

The item is in stock and will be delivered in 2-5 working days. Note: Stocks are updated online every hour on working days from 7 a.m. to 8 p.m., so there is a good chance that the products are available if they appear online.

Available

€141.95 1
TRW CLUTCH SUPER-KIT - MSK 226

Important notes

Super kit is supplied with coupling cover seal

10015933

The item is in stock and will be delivered in 2-5 working days. Note: Stocks are updated online every hour on working days from 7 a.m. to 8 p.m., so there is a good chance that the products are available if they appear online.

Available

€98.95 1
TRW CLUTCH SUPER-KIT - MSK 227

Important notes

Super kit is supplied with coupling cover seal

10043992

The product will be ordered from the manufacturer for you. Depending on availability, longer delivery times are also possible. We'll let you know if that's the case. You can of course cancel your delivery at any time free of charge.

Available in 7-21 days

€98.95 1
TRW CLUTCH SUPER-KIT - MSK 228

Important notes

Super kit is supplied with coupling cover seal

10043995

The item is in stock and will be delivered in 2-5 working days. Note: Stocks are updated online every hour on working days from 7 a.m. to 8 p.m., so there is a good chance that the products are available if they appear online.

Available

€156.95 1
TRW CLUTCH SUPER-KIT - MSK 230
10015979

This product is available at week 42.
Current calendar week: 40

Available as of calendar week 42

€191.95 1
TRW CLUTCH SUPER-KIT - MSK 232

Important notes

Super kit is supplied with coupling cover seal

10015940

This product is available at week 43.
Current calendar week: 40

Available as of calendar week 43

€158.95 1
TRW CLUTCH SUPER-KIT - MSK 233

Important notes

Super kit is supplied with coupling cover seal

10043989

The item is in stock and will be delivered in 2-5 working days. Note: Stocks are updated online every hour on working days from 7 a.m. to 8 p.m., so there is a good chance that the products are available if they appear online.

Available

€124.95 1
TRW CLUTCH SUPER-KIT - MSK 234

Important notes

Super kit is supplied with coupling cover seal

10043988

The item is in stock and will be delivered in 2-5 working days. Note: Stocks are updated online every hour on working days from 7 a.m. to 8 p.m., so there is a good chance that the products are available if they appear online.

Available

€140.95 1
TRW CLUTCH SUPER-KIT - MSK 236

Important notes

Super kit is supplied with coupling cover seal

10043998

The item is in stock and will be delivered in 2-5 working days. Note: Stocks are updated online every hour on working days from 7 a.m. to 8 p.m., so there is a good chance that the products are available if they appear online.

Available

€165.95 1
TRW CLUTCH SUPER-KIT - MSK 237

Important notes

Super kit is supplied with coupling cover seal

10043976

The item is in stock and will be delivered in 2-5 working days. Note: Stocks are updated online every hour on working days from 7 a.m. to 8 p.m., so there is a good chance that the products are available if they appear online.

Available

€182.95 1
TRW CLUTCH SUPER-KIT - MSK 240

Important notes

Super kit is supplied with coupling cover seal

10015931

The item is in stock and will be delivered in 2-5 working days. Note: Stocks are updated online every hour on working days from 7 a.m. to 8 p.m., so there is a good chance that the products are available if they appear online.

Available

€185.95 1
TRW CLUTCH SUPER-KIT - MSK 241

Important notes

Super kit is supplied with coupling cover seal

10043999

This product is available at week 42.
Current calendar week: 40

Available as of calendar week 42

€180.95 1
TRW CLUTCH SUPER-KIT - MSK 243

Important notes

Super kit is supplied with coupling cover seal

10043979

The item is in stock and will be delivered in 2-5 working days. Note: Stocks are updated online every hour on working days from 7 a.m. to 8 p.m., so there is a good chance that the products are available if they appear online.

Available

€149.95 1
TRW CLUTCH SUPER-KIT - MSK 245

Important notes

Super kit is supplied with coupling cover seal

10015941

This product is available at week 43.
Current calendar week: 40

Available as of calendar week 43

€175.95 1
TRW CLUTCH SUPER-KIT - MSK 246

Important notes

Super kit is supplied with coupling cover seal

10015943

The product will be ordered from the manufacturer for you. Depending on availability, longer delivery times are also possible. We'll let you know if that's the case. You can of course cancel your delivery at any time free of charge.

Available in 7-21 days

€205.95 1
TRW CLUTCH SUPER-KIT - MSK 247

Important notes

Super kit is supplied with coupling cover seal

10015935

The item is in stock and will be delivered in 2-5 working days. Note: Stocks are updated online every hour on working days from 7 a.m. to 8 p.m., so there is a good chance that the products are available if they appear online.

Available

€195.95 1
TRW CLUTCH SUPER-KIT - MSK 248

Important notes

Super kit is supplied with coupling cover seal

10015932

The product will be ordered from the manufacturer for you. Depending on availability, longer delivery times are also possible. We'll let you know if that's the case. You can of course cancel your delivery at any time free of charge.

Available in 7-21 days

€220.95 1
TRW CLUTCH SUPER-KIT - MSK 250

Important notes

Super kit is supplied with coupling cover seal

10015944

This product is available at week 43.
Current calendar week: 40

Available as of calendar week 43

€180.95 1
TRW CLUTCH SUPER-KIT - MSK 252

Important notes

Super kit is supplied with coupling cover seal

10015934

The item is in stock and will be delivered in 2-5 working days. Note: Stocks are updated online every hour on working days from 7 a.m. to 8 p.m., so there is a good chance that the products are available if they appear online.

Available

€153.95 1
TRW CLUTCH SUPER-KIT - MSK 253

Important notes

Super kit is supplied with coupling cover seal

10015936

This product is available at week 43.
Current calendar week: 40

Available as of calendar week 43

€140.95 1
TRW CLUTCH SUPER-KIT - MSK 254

Important notes

Super kit is supplied with coupling cover seal

10015930

The item is in stock and will be delivered in 2-5 working days. Note: Stocks are updated online every hour on working days from 7 a.m. to 8 p.m., so there is a good chance that the products are available if they appear online.

Available

€149.95 1
TRW CLUTCH SUPER-KIT - MSK 255

Important notes

Super kit is supplied with coupling cover seal

10015942

This product is available at week 43.
Current calendar week: 40

Available as of calendar week 43

€150.95 1
TRW CLUTCH SUPER-KIT - MSK 260

Important notes

Super kit is supplied with coupling cover seal

10043840

This product is available at week 42.
Current calendar week: 40

Available as of calendar week 42

€180.95 1
TRW CLUTCH SUPER-KIT - MSK 261

Important notes

Super kit is supplied with coupling cover seal

10015937

The item is in stock and will be delivered in 2-5 working days. Note: Stocks are updated online every hour on working days from 7 a.m. to 8 p.m., so there is a good chance that the products are available if they appear online.

Available

€145.95 1