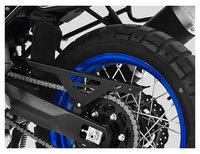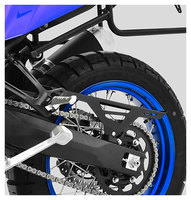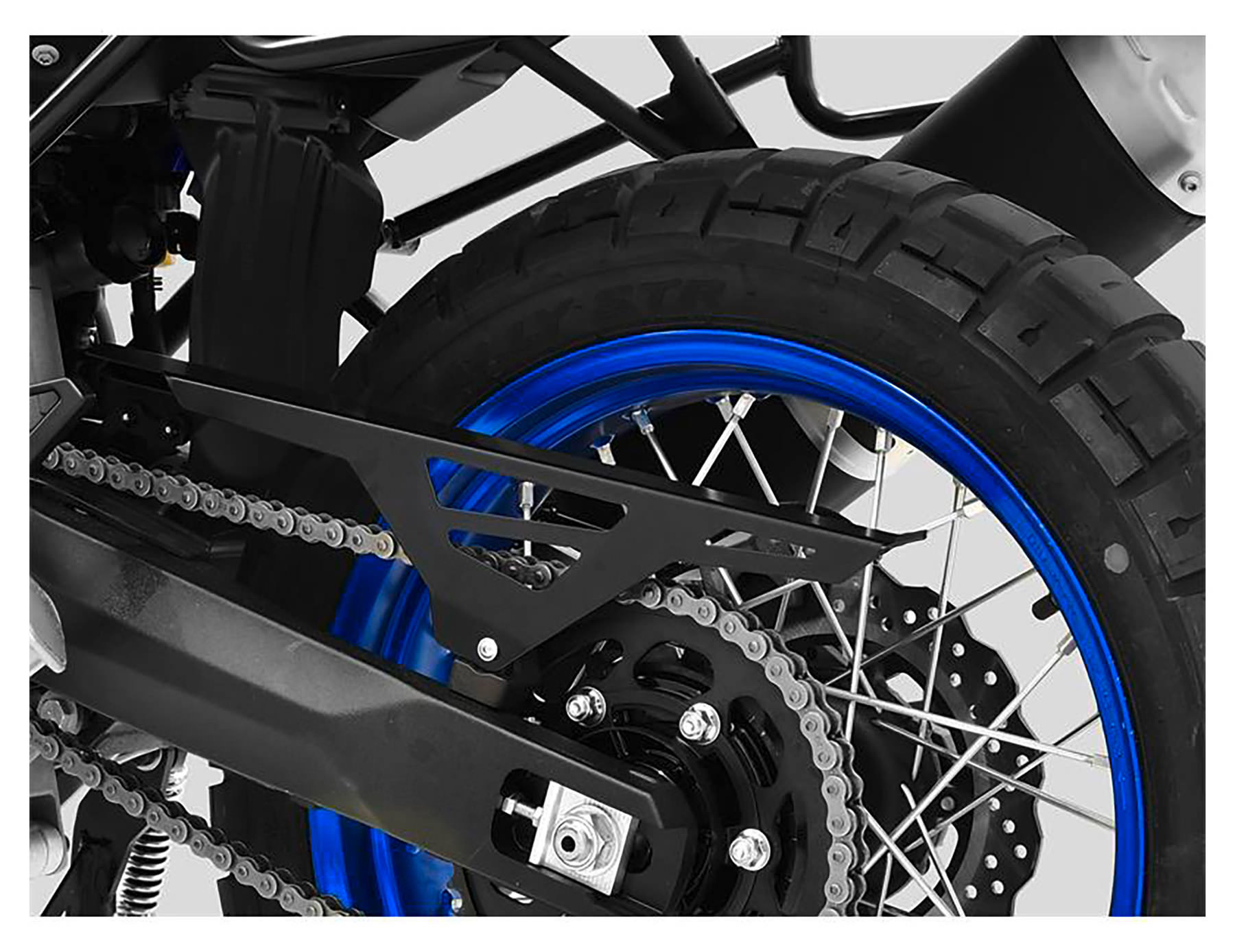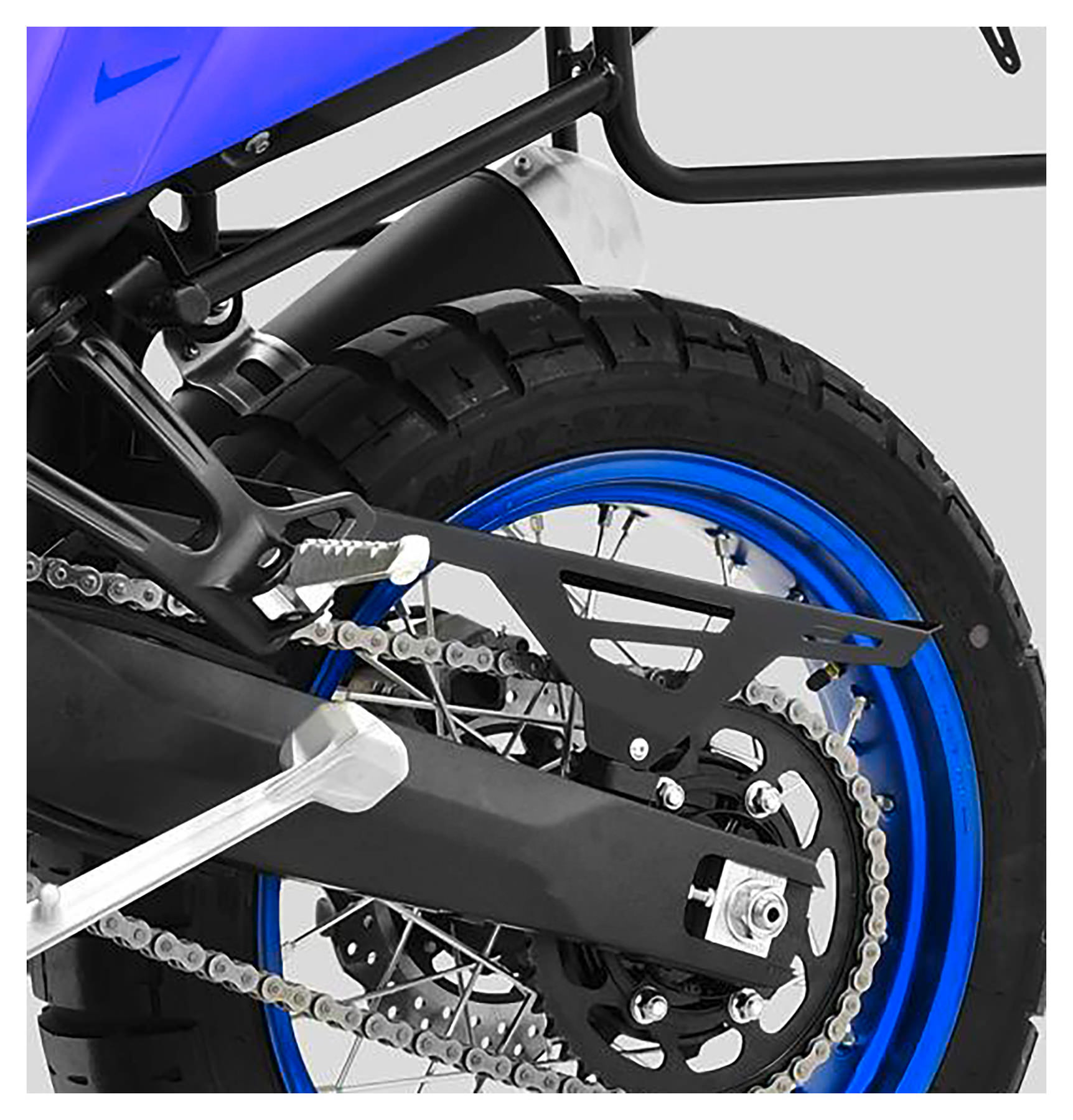 ZIEGER CHAIN GUARD
TÉNÉRÉ 700 2019-20
[-20]
The item is in stock and will be delivered in 2-5 working days. Note: Stocks are updated online every hour on working days from 7 a.m. to 8 p.m., so there is a good chance that the products are available if they appear online.
Available
Free delivery on orders over €199.00
2 year return policy
Fast delivery
Zieger Chain Guard
for various models, stainless steel
You may have decided that it's time for a new chain guard, whatever the reason. If it doesn't have to be an original, why not choose a bike-specific Zieger chain guard instead. They're available in stainless steel, black or silver powder-coated This chain guard will certainly go perfectly with the look of your bike. It also offers optimal protection against chain lube and care product fling-off from your chain.
Black powder-coated stainless steel
No fairing elements need to be modified
Chain guard uses the original mounting points
Perfect fit
Stylish look and optimal protection from dirt and chain lube fling-off
Easy to install
1 chain guard incl. fittings
Manufacturer details: Zieger
Motorcycle accessories made in Saxony

When Frank Zieger designed and built his first license plate holder back in 2005, the notion of having his own highly successful company still seemed like a distant dream. A metalworker by trade and also a serious motorcycle rider, he simply wanted something better than what was on the market. And from there, things just took off. A one-off item turned into a mini series, and as demand grew, so too did the range of products. Today Zieger employs 28 people in Dresden and Pirna, and the trend is upwards. The license plate holder is still Zieger's best selling product, but his crash bars, rear racks, engine guard plates, paddock stands and many other accessories are enjoying huge popularity.

Stainless steel is a collective term for rustproof steel. It is much more resistant to corrosion than non-alloyed steels. Stainless steel does not deteriorate, and is hygienic, UV-resistant, non-corroding, fracture-proof, non-toxic and environmentally friendly. It does not weather and can be recycled in its entirety, even after many years. Technically, the term "stainless steel" refers to corrosion-resistant steel alloys with a wide variety of compositions but always containing a high percentage of chromium (usually a minimum of 10.5%)

.

MAINTENANCE:
Stainless steel should be cleaned regularly like all other materials, especially after exposure to salty air (near the coast), and also at regular intervals.
Water can easily collect in corners, edges and screw connections, resulting in corrosion. So careful cleaning is important, and if necessary screws should be undone in order to clean the parts thoroughly.
Do not leave rusty steel parts against stainless steel to avoid the rust "contamination".
Product
Art. No.
Availability
Price
Actions
CHAIN GUARD VERTICAL - FZR600 1989-93
10013846

The product will be ordered from the manufacturer for you. Depending on availability, longer delivery times are also possible. We'll let you know if that's the case. You can of course cancel your delivery at any time free of charge.

Available in 7-21 days

€40.00 1
ZIEGER CHAIN GUARD - 690 DUKE (2012-19)
10013791

The item is in stock and will be delivered in 2-5 working days. Note: Stocks are updated online every hour on working days from 7 a.m. to 8 p.m., so there is a good chance that the products are available if they appear online.

Available

€40.00 1
ZIEGER CHAIN GUARD - 790/890 DUKE
10015021

The item is in stock and will be delivered in 2-5 working days. Note: Stocks are updated online every hour on working days from 7 a.m. to 8 p.m., so there is a good chance that the products are available if they appear online.

Available

€40.00 1
ZIEGER CHAIN GUARD - 990 SMT 2008-14
10013792

The product will be ordered from the manufacturer for you. Depending on availability, longer delivery times are also possible. We'll let you know if that's the case. You can of course cancel your delivery at any time free of charge.

Available in 7-21 days

€40.00 1
ZIEGER CHAIN GUARD - BMW F800R (2009-16)
10013731

The product will be ordered from the manufacturer for you. Depending on availability, longer delivery times are also possible. We'll let you know if that's the case. You can of course cancel your delivery at any time free of charge.

Available in 7-21 days

€40.00 1
ZIEGER CHAIN GUARD - BMW G650X 2006-09
10013733

The product will be ordered from the manufacturer for you. Depending on availability, longer delivery times are also possible. We'll let you know if that's the case. You can of course cancel your delivery at any time free of charge.

Available in 7-21 days

€40.00 1
ZIEGER CHAIN GUARD - BUELL 1125 CR 2008-10
10013727

The product will be ordered from the manufacturer for you. Depending on availability, longer delivery times are also possible. We'll let you know if that's the case. You can of course cancel your delivery at any time free of charge.

Available in 7-21 days

€40.00 1
ZIEGER CHAIN GUARD - BUELL XB9SX/XB9R/XB12 R/S
10013734

The product will be ordered from the manufacturer for you. Depending on availability, longer delivery times are also possible. We'll let you know if that's the case. You can of course cancel your delivery at any time free of charge.

Available in 7-21 days

€40.00 1
ZIEGER CHAIN GUARD - CB1000R 2008-17
10013737

The item is in stock and will be delivered in 2-5 working days. Note: Stocks are updated online every hour on working days from 7 a.m. to 8 p.m., so there is a good chance that the products are available if they appear online.

Available

€40.00 1
ZIEGER CHAIN GUARD - CB125F 2014-17
10013738

The product will be ordered from the manufacturer for you. Depending on availability, longer delivery times are also possible. We'll let you know if that's the case. You can of course cancel your delivery at any time free of charge.

Available in 7-21 days

€40.00 1
ZIEGER CHAIN GUARD - CB1300 2003-09
10013739

The product will be ordered from the manufacturer for you. Depending on availability, longer delivery times are also possible. We'll let you know if that's the case. You can of course cancel your delivery at any time free of charge.

Available in 7-21 days

€40.00 1
ZIEGER CHAIN GUARD - CB500F/X/R 2013-19
10013740

The item is in stock and will be delivered in 2-5 working days. Note: Stocks are updated online every hour on working days from 7 a.m. to 8 p.m., so there is a good chance that the products are available if they appear online.

Available

€40.00 1
ZIEGER CHAIN GUARD - CB600 HORNET/CBR600F
10013741

The item is in stock and will be delivered in 2-5 working days. Note: Stocks are updated online every hour on working days from 7 a.m. to 8 p.m., so there is a good chance that the products are available if they appear online.

Available

€40.00 1
ZIEGER CHAIN GUARD - CB900 HORNET 2002-05
10013743

The product will be ordered from the manufacturer for you. Depending on availability, longer delivery times are also possible. We'll let you know if that's the case. You can of course cancel your delivery at any time free of charge.

Available in 7-21 days

€40.00 1
ZIEGER CHAIN GUARD - CBF500/600/1000/1000F
10013744

The item is in stock and will be delivered in 2-5 working days. Note: Stocks are updated online every hour on working days from 7 a.m. to 8 p.m., so there is a good chance that the products are available if they appear online.

Available

€40.00 1
ZIEGER CHAIN GUARD - CBF600/S 2008-13
10013745

The product will be ordered from the manufacturer for you. Depending on availability, longer delivery times are also possible. We'll let you know if that's the case. You can of course cancel your delivery at any time free of charge.

Available in 7-21 days

€40.00 1
ZIEGER CHAIN GUARD - CBR1000F 1987-99
10013746

The product will be ordered from the manufacturer for you. Depending on availability, longer delivery times are also possible. We'll let you know if that's the case. You can of course cancel your delivery at any time free of charge.

Available in 7-21 days

€40.00 1
ZIEGER CHAIN GUARD - CBR1000RR 2004-07
10013747

The item is in stock and will be delivered in 2-5 working days. Note: Stocks are updated online every hour on working days from 7 a.m. to 8 p.m., so there is a good chance that the products are available if they appear online.

Available

€40.00 1
ZIEGER CHAIN GUARD - CBR1000RR 2008-16
10013748

The product will be ordered from the manufacturer for you. Depending on availability, longer delivery times are also possible. We'll let you know if that's the case. You can of course cancel your delivery at any time free of charge.

Available in 7-21 days

€40.00 1
ZIEGER CHAIN GUARD - CBR125R 2004-16
10013749

The item is in stock and will be delivered in 2-5 working days. Note: Stocks are updated online every hour on working days from 7 a.m. to 8 p.m., so there is a good chance that the products are available if they appear online.

Available

€40.00 1
ZIEGER CHAIN GUARD - CBR600/900/VTR 1000 SP1
10013750

The item is in stock and will be delivered in 2-5 working days. Note: Stocks are updated online every hour on working days from 7 a.m. to 8 p.m., so there is a good chance that the products are available if they appear online.

Available

€40.00 1
ZIEGER CHAIN GUARD - CBR600F 1999-10
10013751

The item is in stock and will be delivered in 2-5 working days. Note: Stocks are updated online every hour on working days from 7 a.m. to 8 p.m., so there is a good chance that the products are available if they appear online.

Available

€40.00 1
ZIEGER CHAIN GUARD - CBR900RR FIREBLADE 00-01
10013752

The product will be ordered from the manufacturer for you. Depending on availability, longer delivery times are also possible. We'll let you know if that's the case. You can of course cancel your delivery at any time free of charge.

Available in 7-21 days

€40.00 1
ZIEGER CHAIN GUARD - CBR900RR FIREBLADE 02-03
10013753

The item is in stock and will be delivered in 2-5 working days. Note: Stocks are updated online every hour on working days from 7 a.m. to 8 p.m., so there is a good chance that the products are available if they appear online.

Available

€40.00 1
ZIEGER CHAIN GUARD - CRF1000L AF. MATT BLACK
10015013

The product will be ordered from the manufacturer for you. Depending on availability, longer delivery times are also possible. We'll let you know if that's the case. You can of course cancel your delivery at any time free of charge.

Available in 7-21 days

€40.00 1
ZIEGER CHAIN GUARD - DL650/1000/SV1000N/S
10013793

The item is in stock and will be delivered in 2-5 working days. Note: Stocks are updated online every hour on working days from 7 a.m. to 8 p.m., so there is a good chance that the products are available if they appear online.

Available

€40.00 1
ZIEGER CHAIN GUARD - ER-5 TWISTER 1996-06
10013762

The item is in stock and will be delivered in 2-5 working days. Note: Stocks are updated online every hour on working days from 7 a.m. to 8 p.m., so there is a good chance that the products are available if they appear online.

Available

€40.00 1
ZIEGER CHAIN GUARD - ER-6 N/F (2005-16)
10013763

The item is in stock and will be delivered in 2-5 working days. Note: Stocks are updated online every hour on working days from 7 a.m. to 8 p.m., so there is a good chance that the products are available if they appear online.

Available

€40.00 1
ZIEGER CHAIN GUARD - F650 (1993-01)/ST (96-01)
10013730

The item is in stock and will be delivered in 2-5 working days. Note: Stocks are updated online every hour on working days from 7 a.m. to 8 p.m., so there is a good chance that the products are available if they appear online.

Available

€40.00 1
ZIEGER CHAIN GUARD - F650/700/800GS TWIN
10013729

The item is in stock and will be delivered in 2-5 working days. Note: Stocks are updated online every hour on working days from 7 a.m. to 8 p.m., so there is a good chance that the products are available if they appear online.

Available

€40.00 1
ZIEGER CHAIN GUARD - F650GS/DAKAR (2000-07)
10013732

The item is in stock and will be delivered in 2-5 working days. Note: Stocks are updated online every hour on working days from 7 a.m. to 8 p.m., so there is a good chance that the products are available if they appear online.

Available

€40.00 1
ZIEGER CHAIN GUARD - G310R 2017-19
10015019

The product will be ordered from the manufacturer for you. Depending on availability, longer delivery times are also possible. We'll let you know if that's the case. You can of course cancel your delivery at any time free of charge.

Available in 7-21 days

€40.00 1
ZIEGER CHAIN GUARD - GPZ500S 1986-03
10013764

The product will be ordered from the manufacturer for you. Depending on availability, longer delivery times are also possible. We'll let you know if that's the case. You can of course cancel your delivery at any time free of charge.

Available in 7-21 days

€40.00 1
ZIEGER CHAIN GUARD - GS500E/F (1989-07)
10013795

The item is in stock and will be delivered in 2-5 working days. Note: Stocks are updated online every hour on working days from 7 a.m. to 8 p.m., so there is a good chance that the products are available if they appear online.

Available

€40.00 1
ZIEGER CHAIN GUARD - GSR600 (2006-11)
10013797

The product will be ordered from the manufacturer for you. Depending on availability, longer delivery times are also possible. We'll let you know if that's the case. You can of course cancel your delivery at any time free of charge.

Available in 7-21 days

€40.00 1
ZIEGER CHAIN GUARD - GSR750 (2001-16)
10013798

The product will be ordered from the manufacturer for you. Depending on availability, longer delivery times are also possible. We'll let you know if that's the case. You can of course cancel your delivery at any time free of charge.

Available in 7-21 days

€40.00 1
ZIEGER CHAIN GUARD - GSX-R1000 2007-16
10013832

The item is in stock and will be delivered in 2-5 working days. Note: Stocks are updated online every hour on working days from 7 a.m. to 8 p.m., so there is a good chance that the products are available if they appear online.

Available

€40.00 1
ZIEGER CHAIN GUARD - GSX-R1300 HAYABUSA
10013836

The product will be ordered from the manufacturer for you. Depending on availability, longer delivery times are also possible. We'll let you know if that's the case. You can of course cancel your delivery at any time free of charge.

Available in 7-21 days

€40.00 1
ZIEGER CHAIN GUARD - GSX-R600/750 (2004-05)
10013837

The item is in stock and will be delivered in 2-5 working days. Note: Stocks are updated online every hour on working days from 7 a.m. to 8 p.m., so there is a good chance that the products are available if they appear online.

Available

€40.00 1
ZIEGER CHAIN GUARD - GSX1300 B-KING 2007-12
10013833

The item is in stock and will be delivered in 2-5 working days. Note: Stocks are updated online every hour on working days from 7 a.m. to 8 p.m., so there is a good chance that the products are available if they appear online.

Available

€40.00 1
ZIEGER CHAIN GUARD - GSX1400 (2001-08)
10013799

The product will be ordered from the manufacturer for you. Depending on availability, longer delivery times are also possible. We'll let you know if that's the case. You can of course cancel your delivery at any time free of charge.

Available in 7-21 days

€40.00 1
ZIEGER CHAIN GUARD - HONDA NC700/750S/X
10013755

The product will be ordered from the manufacturer for you. Depending on availability, longer delivery times are also possible. We'll let you know if that's the case. You can of course cancel your delivery at any time free of charge.

Available in 7-21 days

€40.00 1
ZIEGER CHAIN GUARD - KAWASAKI Z750 2007-12
10013769

The item is in stock and will be delivered in 2-5 working days. Note: Stocks are updated online every hour on working days from 7 a.m. to 8 p.m., so there is a good chance that the products are available if they appear online.

Available

€40.00 1
ZIEGER CHAIN GUARD - KLE 650 VERSYS (2015-19)
10013766

The item is in stock and will be delivered in 2-5 working days. Note: Stocks are updated online every hour on working days from 7 a.m. to 8 p.m., so there is a good chance that the products are available if they appear online.

Available

€40.00 1
ZIEGER CHAIN GUARD - KLZ 1000 VERSYS (2012-16)
10014696

The product will be ordered from the manufacturer for you. Depending on availability, longer delivery times are also possible. We'll let you know if that's the case. You can of course cancel your delivery at any time free of charge.

Available in 7-21 days

€40.00 1
ZIEGER CHAIN GUARD - KTM 125/200 DUKE
10013790

The product will be ordered from the manufacturer for you. Depending on availability, longer delivery times are also possible. We'll let you know if that's the case. You can of course cancel your delivery at any time free of charge.

Available in 7-21 days

€40.00 1
ZIEGER CHAIN GUARD - MT-01 2005-12
10013847

The product will be ordered from the manufacturer for you. Depending on availability, longer delivery times are also possible. We'll let you know if that's the case. You can of course cancel your delivery at any time free of charge.

Available in 7-21 days

€40.00 1
ZIEGER CHAIN GUARD - MT-03 2016-18
10013848

The product will be ordered from the manufacturer for you. Depending on availability, longer delivery times are also possible. We'll let you know if that's the case. You can of course cancel your delivery at any time free of charge.

Available in 7-21 days

€40.00 1
ZIEGER CHAIN GUARD - MT-09 TRACER/MT-09
10013849

The item is in stock and will be delivered in 2-5 working days. Note: Stocks are updated online every hour on working days from 7 a.m. to 8 p.m., so there is a good chance that the products are available if they appear online.

Available

€40.00 1
ZIEGER CHAIN GUARD - MT-125 2014-16
10013851

The product will be ordered from the manufacturer for you. Depending on availability, longer delivery times are also possible. We'll let you know if that's the case. You can of course cancel your delivery at any time free of charge.

Available in 7-21 days

€40.00 1
ZIEGER CHAIN GUARD - MULTISTRADA 950
10015018

The product will be ordered from the manufacturer for you. Depending on availability, longer delivery times are also possible. We'll let you know if that's the case. You can of course cancel your delivery at any time free of charge.

Available in 7-21 days

€40.00 1
ZIEGER CHAIN GUARD - RSV1000 MILLE/TUONO
10013724

The product will be ordered from the manufacturer for you. Depending on availability, longer delivery times are also possible. We'll let you know if that's the case. You can of course cancel your delivery at any time free of charge.

Available in 7-21 days

€40.00 1
ZIEGER CHAIN GUARD - SCRAMBLER 800 (2015-18)
10013736

The item is in stock and will be delivered in 2-5 working days. Note: Stocks are updated online every hour on working days from 7 a.m. to 8 p.m., so there is a good chance that the products are available if they appear online.

Available

€40.00 1
ZIEGER CHAIN GUARD - SFV650 GLADIUS
10013838

The item is in stock and will be delivered in 2-5 working days. Note: Stocks are updated online every hour on working days from 7 a.m. to 8 p.m., so there is a good chance that the products are available if they appear online.

Available

€40.00 1
ZIEGER CHAIN GUARD - SL1000 FALCO 2000-04
10013725

The product will be ordered from the manufacturer for you. Depending on availability, longer delivery times are also possible. We'll let you know if that's the case. You can of course cancel your delivery at any time free of charge.

Available in 7-21 days

€40.00 1
ZIEGER CHAIN GUARD - SMV 750 DORSODURO (08-16)
10013726

The product will be ordered from the manufacturer for you. Depending on availability, longer delivery times are also possible. We'll let you know if that's the case. You can of course cancel your delivery at any time free of charge.

Available in 7-21 days

€40.00 1
ZIEGER CHAIN GUARD - SPEED TRIPLE 1050 (05-10)
10013841

The item is in stock and will be delivered in 2-5 working days. Note: Stocks are updated online every hour on working days from 7 a.m. to 8 p.m., so there is a good chance that the products are available if they appear online.

Available

€40.00 1
ZIEGER CHAIN GUARD - SPEED TRIPLE T955 (99-02)
10013842

The product will be ordered from the manufacturer for you. Depending on availability, longer delivery times are also possible. We'll let you know if that's the case. You can of course cancel your delivery at any time free of charge.

Available in 7-21 days

€40.00 1
ZIEGER CHAIN GUARD - TIGER 1050 2006-12
10013843

The product will be ordered from the manufacturer for you. Depending on availability, longer delivery times are also possible. We'll let you know if that's the case. You can of course cancel your delivery at any time free of charge.

Available in 7-21 days

€40.00 1
ZIEGER CHAIN GUARD - TIGER 800/XC 2010-18
10013844

The product will be ordered from the manufacturer for you. Depending on availability, longer delivery times are also possible. We'll let you know if that's the case. You can of course cancel your delivery at any time free of charge.

Available in 7-21 days

€40.00 1
ZIEGER CHAIN GUARD - TL1000S 1997-00
10013840

The item is in stock and will be delivered in 2-5 working days. Note: Stocks are updated online every hour on working days from 7 a.m. to 8 p.m., so there is a good chance that the products are available if they appear online.

Available

€40.00 1
ZIEGER CHAIN GUARD - TNT 899/1130 2004-16
10013728

The item is in stock and will be delivered in 2-5 working days. Note: Stocks are updated online every hour on working days from 7 a.m. to 8 p.m., so there is a good chance that the products are available if they appear online.

Available

€40.00 1
ZIEGER CHAIN GUARD - TRX850 1995-99
10013852

The product will be ordered from the manufacturer for you. Depending on availability, longer delivery times are also possible. We'll let you know if that's the case. You can of course cancel your delivery at any time free of charge.

Available in 7-21 days

€40.00 1
ZIEGER CHAIN GUARD - TÉNÉRÉ 700 2019-20
10015026

The item is in stock and will be delivered in 2-5 working days. Note: Stocks are updated online every hour on working days from 7 a.m. to 8 p.m., so there is a good chance that the products are available if they appear online.

Available

€40.00 1
ZIEGER CHAIN GUARD - VAR. CAGIVA MITO/RAPTOR
10013735

The item is in stock and will be delivered in 2-5 working days. Note: Stocks are updated online every hour on working days from 7 a.m. to 8 p.m., so there is a good chance that the products are available if they appear online.

Available

€40.00 1
ZIEGER CHAIN GUARD - VARIOUS HONDA MODELS
10013742

The item is in stock and will be delivered in 2-5 working days. Note: Stocks are updated online every hour on working days from 7 a.m. to 8 p.m., so there is a good chance that the products are available if they appear online.

Available

€40.00 1
ZIEGER CHAIN GUARD - VARIOUS HONDA MODELS
10013754

The item is in stock and will be delivered in 2-5 working days. Note: Stocks are updated online every hour on working days from 7 a.m. to 8 p.m., so there is a good chance that the products are available if they appear online.

Available

€40.00 1
ZIEGER CHAIN GUARD - VARIOUS HONDA MODELS
10013756

The item is in stock and will be delivered in 2-5 working days. Note: Stocks are updated online every hour on working days from 7 a.m. to 8 p.m., so there is a good chance that the products are available if they appear online.

Available

€40.00 1
ZIEGER CHAIN GUARD - VARIOUS KAWASAKI MODELS
10013767

The item is in stock and will be delivered in 2-5 working days. Note: Stocks are updated online every hour on working days from 7 a.m. to 8 p.m., so there is a good chance that the products are available if they appear online.

Available

€40.00 1
ZIEGER CHAIN GUARD - VARIOUS KTM MODELS
10013789

The item is in stock and will be delivered in 2-5 working days. Note: Stocks are updated online every hour on working days from 7 a.m. to 8 p.m., so there is a good chance that the products are available if they appear online.

Available

€40.00 1
ZIEGER CHAIN GUARD - VARIOUS SUZUKI MODELS
10013831

The item is in stock and will be delivered in 2-5 working days. Note: Stocks are updated online every hour on working days from 7 a.m. to 8 p.m., so there is a good chance that the products are available if they appear online.

Available

€40.00 1
ZIEGER CHAIN GUARD - VARIOUS SUZUKI MODELS
10013794

The item is in stock and will be delivered in 2-5 working days. Note: Stocks are updated online every hour on working days from 7 a.m. to 8 p.m., so there is a good chance that the products are available if they appear online.

Available

€40.00 1
ZIEGER CHAIN GUARD - VARIOUS SUZUKI MODELS
10013796

The item is in stock and will be delivered in 2-5 working days. Note: Stocks are updated online every hour on working days from 7 a.m. to 8 p.m., so there is a good chance that the products are available if they appear online.

Available

€40.00 1
ZIEGER CHAIN GUARD - VARIOUS SUZUKI MODELS
10013839

The item is in stock and will be delivered in 2-5 working days. Note: Stocks are updated online every hour on working days from 7 a.m. to 8 p.m., so there is a good chance that the products are available if they appear online.

Available

€40.00 1
ZIEGER CHAIN GUARD - VARIOUS YAMAHA MODELS
10013845

The product will be ordered from the manufacturer for you. Depending on availability, longer delivery times are also possible. We'll let you know if that's the case. You can of course cancel your delivery at any time free of charge.

Available in 7-21 days

€40.00 1
ZIEGER CHAIN GUARD - VFR750 1990-97
10013757

The item is in stock and will be delivered in 2-5 working days. Note: Stocks are updated online every hour on working days from 7 a.m. to 8 p.m., so there is a good chance that the products are available if they appear online.

Available

€40.00 1
ZIEGER CHAIN GUARD - VFR800X CROSSRUNNER
10013758

The product will be ordered from the manufacturer for you. Depending on availability, longer delivery times are also possible. We'll let you know if that's the case. You can of course cancel your delivery at any time free of charge.

Available in 7-21 days

€40.00 1
ZIEGER CHAIN GUARD - VTR1000F FIRESTROM
10013759

The item is in stock and will be delivered in 2-5 working days. Note: Stocks are updated online every hour on working days from 7 a.m. to 8 p.m., so there is a good chance that the products are available if they appear online.

Available

€40.00 1
ZIEGER CHAIN GUARD - XJ-6 2009-16
10013853

The item is in stock and will be delivered in 2-5 working days. Note: Stocks are updated online every hour on working days from 7 a.m. to 8 p.m., so there is a good chance that the products are available if they appear online.

Available

€40.00 1
ZIEGER CHAIN GUARD - XJ600 N/S DIVERSION
10013854

The item is in stock and will be delivered in 2-5 working days. Note: Stocks are updated online every hour on working days from 7 a.m. to 8 p.m., so there is a good chance that the products are available if they appear online.

Available

€40.00 1
ZIEGER CHAIN GUARD - XJR1200/1300
10013855

The item is in stock and will be delivered in 2-5 working days. Note: Stocks are updated online every hour on working days from 7 a.m. to 8 p.m., so there is a good chance that the products are available if they appear online.

Available

€40.00 1
ZIEGER CHAIN GUARD - XL V 125 VARADERO (01-13)
10013900

The item is in stock and will be delivered in 2-5 working days. Note: Stocks are updated online every hour on working days from 7 a.m. to 8 p.m., so there is a good chance that the products are available if they appear online.

Available

€40.00 1
ZIEGER CHAIN GUARD - XLV1000 VARADERO 1999-12
10013760

The item is in stock and will be delivered in 2-5 working days. Note: Stocks are updated online every hour on working days from 7 a.m. to 8 p.m., so there is a good chance that the products are available if they appear online.

Available

€40.00 1
ZIEGER CHAIN GUARD - XT660Z TENERE
10013856

The product will be ordered from the manufacturer for you. Depending on availability, longer delivery times are also possible. We'll let you know if that's the case. You can of course cancel your delivery at any time free of charge.

Available in 7-21 days

€40.00 1
ZIEGER CHAIN GUARD - YZF-R1 2002-03
10013858

The product will be ordered from the manufacturer for you. Depending on availability, longer delivery times are also possible. We'll let you know if that's the case. You can of course cancel your delivery at any time free of charge.

Available in 7-21 days

€40.00 1
ZIEGER CHAIN GUARD - YZF-R1 2004-20
10013859

The item is in stock and will be delivered in 2-5 working days. Note: Stocks are updated online every hour on working days from 7 a.m. to 8 p.m., so there is a good chance that the products are available if they appear online.

Available

€40.00 1
ZIEGER CHAIN GUARD - YZF1000 THUNDERACE
10013857

The product will be ordered from the manufacturer for you. Depending on availability, longer delivery times are also possible. We'll let you know if that's the case. You can of course cancel your delivery at any time free of charge.

Available in 7-21 days

€40.00 1
ZIEGER CHAIN GUARD - Z1000 2010-18/SX 2011-18
10013768

The item is in stock and will be delivered in 2-5 working days. Note: Stocks are updated online every hour on working days from 7 a.m. to 8 p.m., so there is a good chance that the products are available if they appear online.

Available

€40.00 1
ZIEGER CHAIN GUARD - Z650 2017-20
10015015

The product will be ordered from the manufacturer for you. Depending on availability, longer delivery times are also possible. We'll let you know if that's the case. You can of course cancel your delivery at any time free of charge.

Available in 7-21 days

€40.00 1
ZIEGER CHAIN GUARD - Z750S / ZX-12R
10013770

The item is in stock and will be delivered in 2-5 working days. Note: Stocks are updated online every hour on working days from 7 a.m. to 8 p.m., so there is a good chance that the products are available if they appear online.

Available

€40.00 1
ZIEGER CHAIN GUARD - Z800/E (2013-16)
10013771

The item is in stock and will be delivered in 2-5 working days. Note: Stocks are updated online every hour on working days from 7 a.m. to 8 p.m., so there is a good chance that the products are available if they appear online.

Available

€40.00 1
ZIEGER CHAIN GUARD - ZR ZEPHYR 750 (1993-00)
10013772

The product will be ordered from the manufacturer for you. Depending on availability, longer delivery times are also possible. We'll let you know if that's the case. You can of course cancel your delivery at any time free of charge.

Available in 7-21 days

€40.00 1
ZIEGER CHAIN GUARD - ZRX1100 (1997-01)
10013773

The item is in stock and will be delivered in 2-5 working days. Note: Stocks are updated online every hour on working days from 7 a.m. to 8 p.m., so there is a good chance that the products are available if they appear online.

Available

€40.00 1
ZIEGER CHAIN GUARD - ZRX1200 (2001-08)
10013774

The item is in stock and will be delivered in 2-5 working days. Note: Stocks are updated online every hour on working days from 7 a.m. to 8 p.m., so there is a good chance that the products are available if they appear online.

Available

€40.00 1
ZIEGER CHAIN GUARD - ZX-10 (1988-90)
10013775

The item is in stock and will be delivered in 2-5 working days. Note: Stocks are updated online every hour on working days from 7 a.m. to 8 p.m., so there is a good chance that the products are available if they appear online.

Available

€40.00 1
ZIEGER CHAIN GUARD - ZX-10R NINJA (2008-10)
10013777

The item is in stock and will be delivered in 2-5 working days. Note: Stocks are updated online every hour on working days from 7 a.m. to 8 p.m., so there is a good chance that the products are available if they appear online.

Available

€40.00 1
ZIEGER CHAIN GUARD - ZX-10R/Z1000/Z750 R
10013776

The item is in stock and will be delivered in 2-5 working days. Note: Stocks are updated online every hour on working days from 7 a.m. to 8 p.m., so there is a good chance that the products are available if they appear online.

Available

€40.00 1
ZIEGER CHAIN GUARD - ZX-250R NINJA 2007-12
10013778

The product will be ordered from the manufacturer for you. Depending on availability, longer delivery times are also possible. We'll let you know if that's the case. You can of course cancel your delivery at any time free of charge.

Available in 7-21 days

€40.00 1
ZIEGER CHAIN GUARD - ZX-6R (2009-16)
10013780

The product will be ordered from the manufacturer for you. Depending on availability, longer delivery times are also possible. We'll let you know if that's the case. You can of course cancel your delivery at any time free of charge.

Available in 7-21 days

€40.00 1
ZIEGER CHAIN GUARD - ZX-6R / Z750 / Z1000
10013779

The item is in stock and will be delivered in 2-5 working days. Note: Stocks are updated online every hour on working days from 7 a.m. to 8 p.m., so there is a good chance that the products are available if they appear online.

Available

€40.00 1
ZIEGER CHAIN GUARD - ZX-6R 1998-02/ZR-7 99-04
10013781

The item is in stock and will be delivered in 2-5 working days. Note: Stocks are updated online every hour on working days from 7 a.m. to 8 p.m., so there is a good chance that the products are available if they appear online.

Available

€40.00 1
ZIEGER CHAIN GUARD - ZX-6R 2019-20
10015023

The product will be ordered from the manufacturer for you. Depending on availability, longer delivery times are also possible. We'll let you know if that's the case. You can of course cancel your delivery at any time free of charge.

Available in 7-21 days

€40.00 1
ZIEGER CHAIN GUARD - ZX-7R 1999-03
10013782

The item is in stock and will be delivered in 2-5 working days. Note: Stocks are updated online every hour on working days from 7 a.m. to 8 p.m., so there is a good chance that the products are available if they appear online.

Available

€40.00 1
ZIEGER CHAIN GUARD - ZX-9R (1998-01)
10013784

The item is in stock and will be delivered in 2-5 working days. Note: Stocks are updated online every hour on working days from 7 a.m. to 8 p.m., so there is a good chance that the products are available if they appear online.

Available

€40.00 1
ZIEGER CHAIN GUARD - ZX-9R (2002-03)
10013783

The product will be ordered from the manufacturer for you. Depending on availability, longer delivery times are also possible. We'll let you know if that's the case. You can of course cancel your delivery at any time free of charge.

Available in 7-21 days

€40.00 1
ZIEGER CHAIN GUARD - ZZ-R1100/GPZ1100
10013785

The item is in stock and will be delivered in 2-5 working days. Note: Stocks are updated online every hour on working days from 7 a.m. to 8 p.m., so there is a good chance that the products are available if they appear online.

Available

€40.00 1
ZIEGER CHAIN GUARD - ZZ-R1400 2006-16
10013787

The product will be ordered from the manufacturer for you. Depending on availability, longer delivery times are also possible. We'll let you know if that's the case. You can of course cancel your delivery at any time free of charge.

Available in 7-21 days

€40.00 1
ZIEGER CHAIN GUARD - ZZR1200 (2002-05)
10013786

The product will be ordered from the manufacturer for you. Depending on availability, longer delivery times are also possible. We'll let you know if that's the case. You can of course cancel your delivery at any time free of charge.

Available in 7-21 days

€40.00 1
ZIEGER CHAIN GUARD - ZZR600 (1990-08)
10013788

The item is in stock and will be delivered in 2-5 working days. Note: Stocks are updated online every hour on working days from 7 a.m. to 8 p.m., so there is a good chance that the products are available if they appear online.

Available

€40.00 1