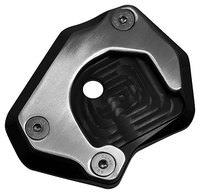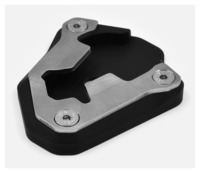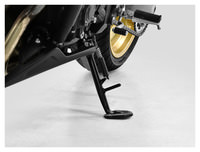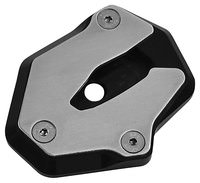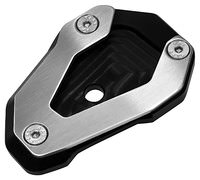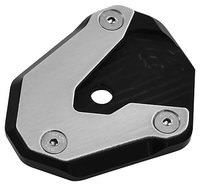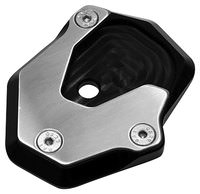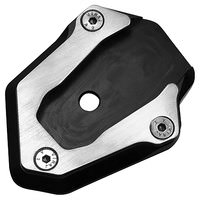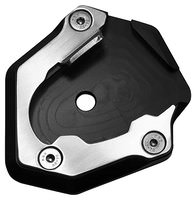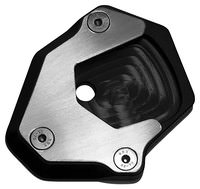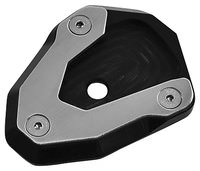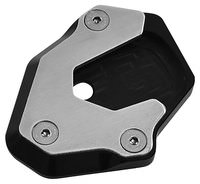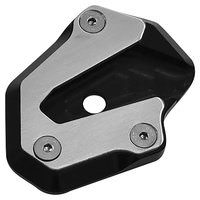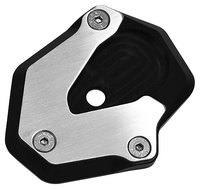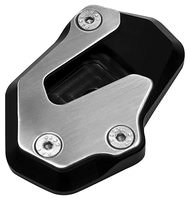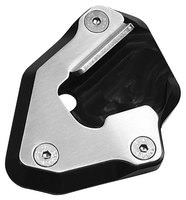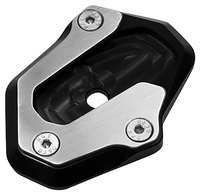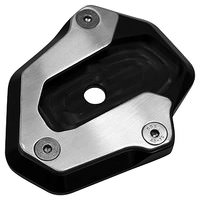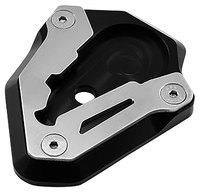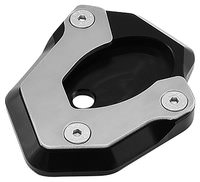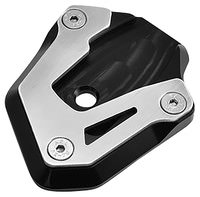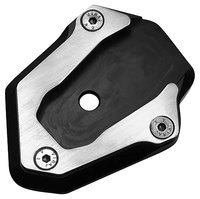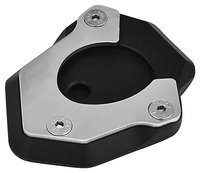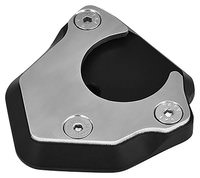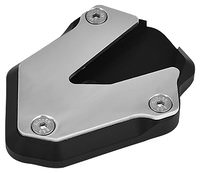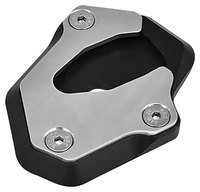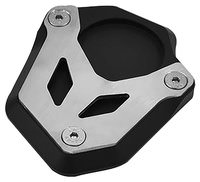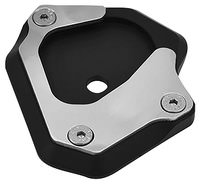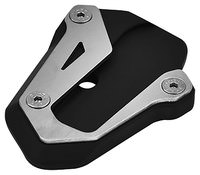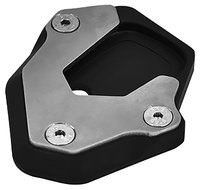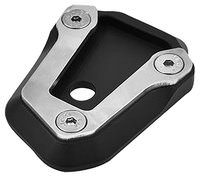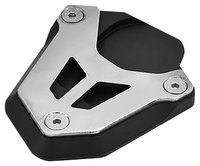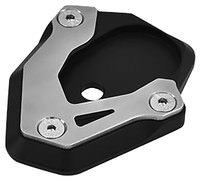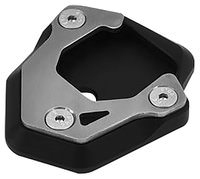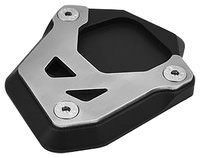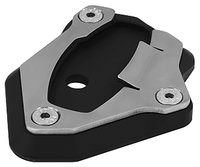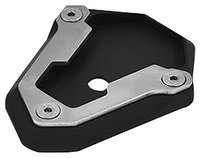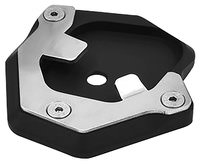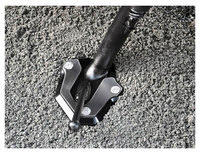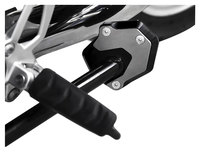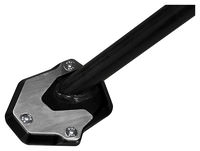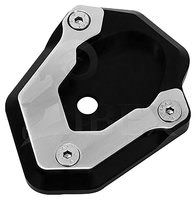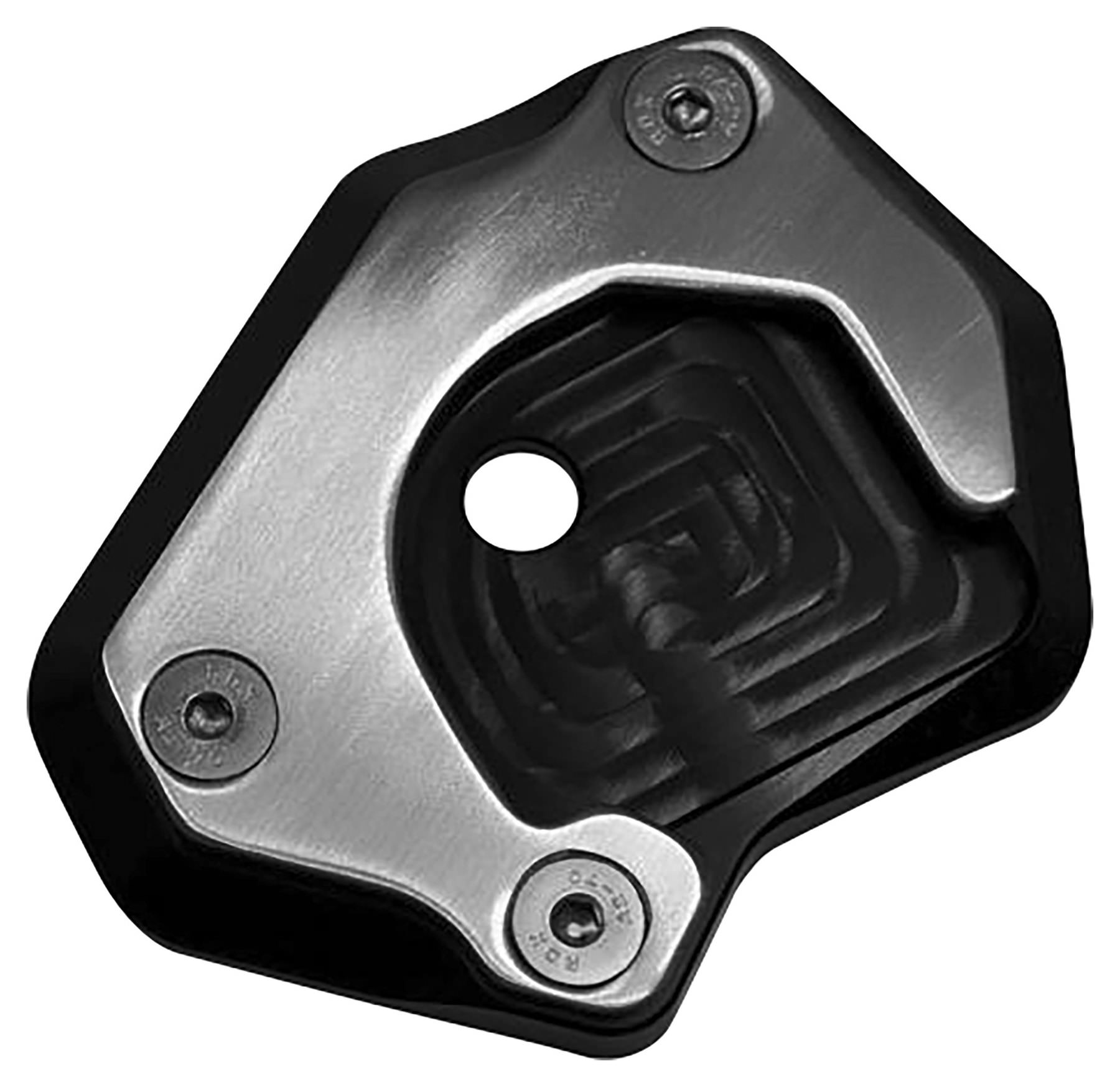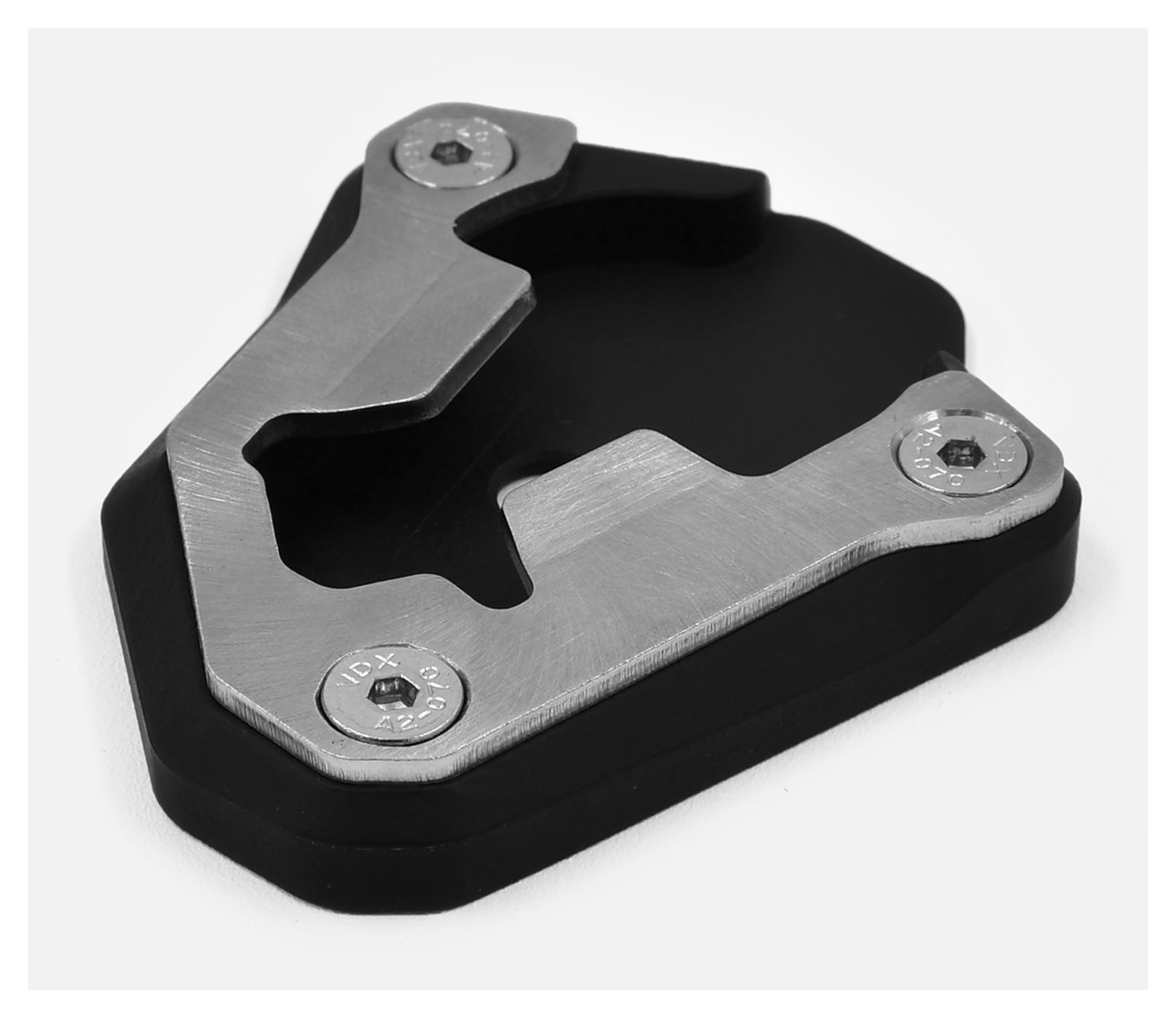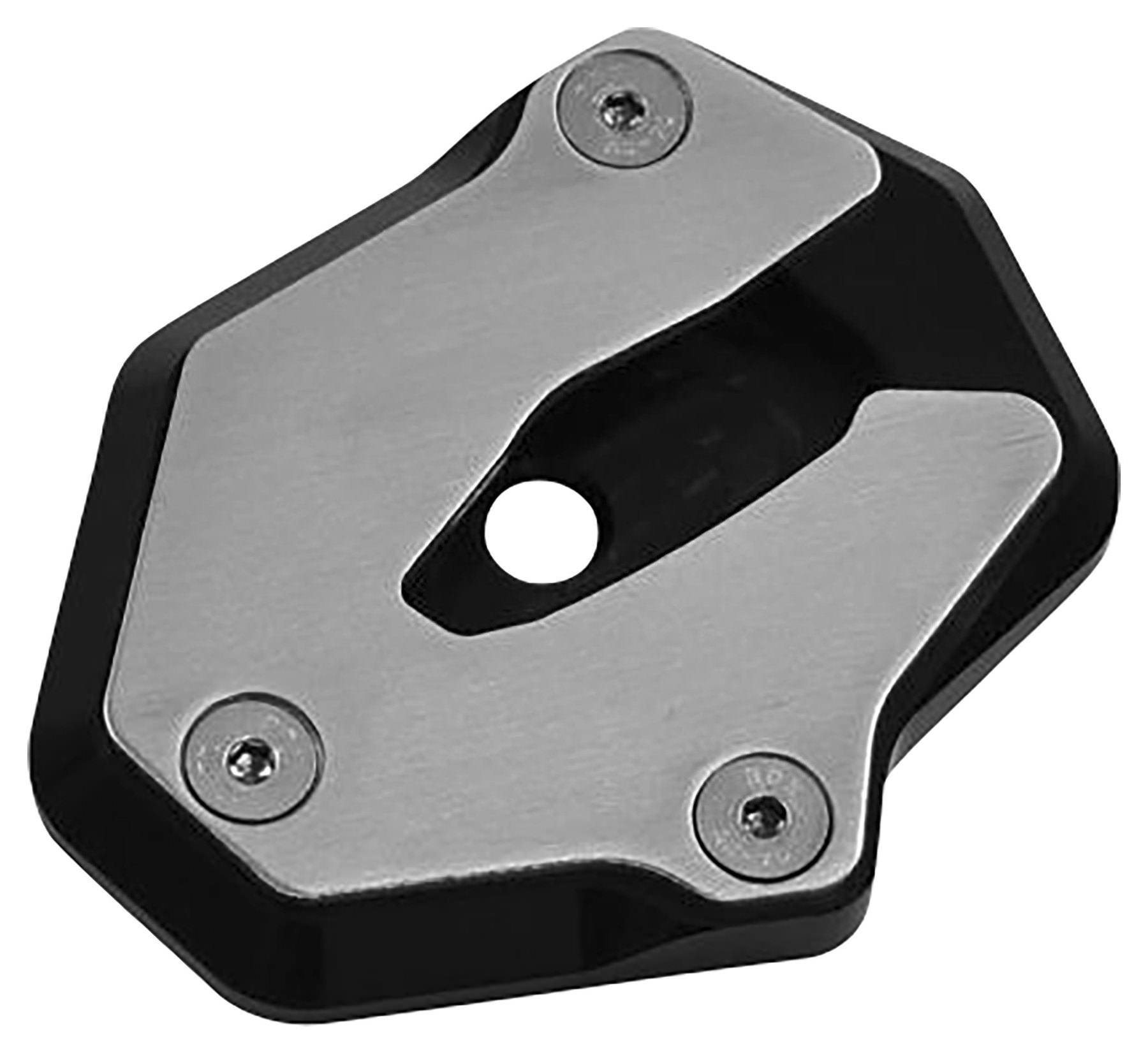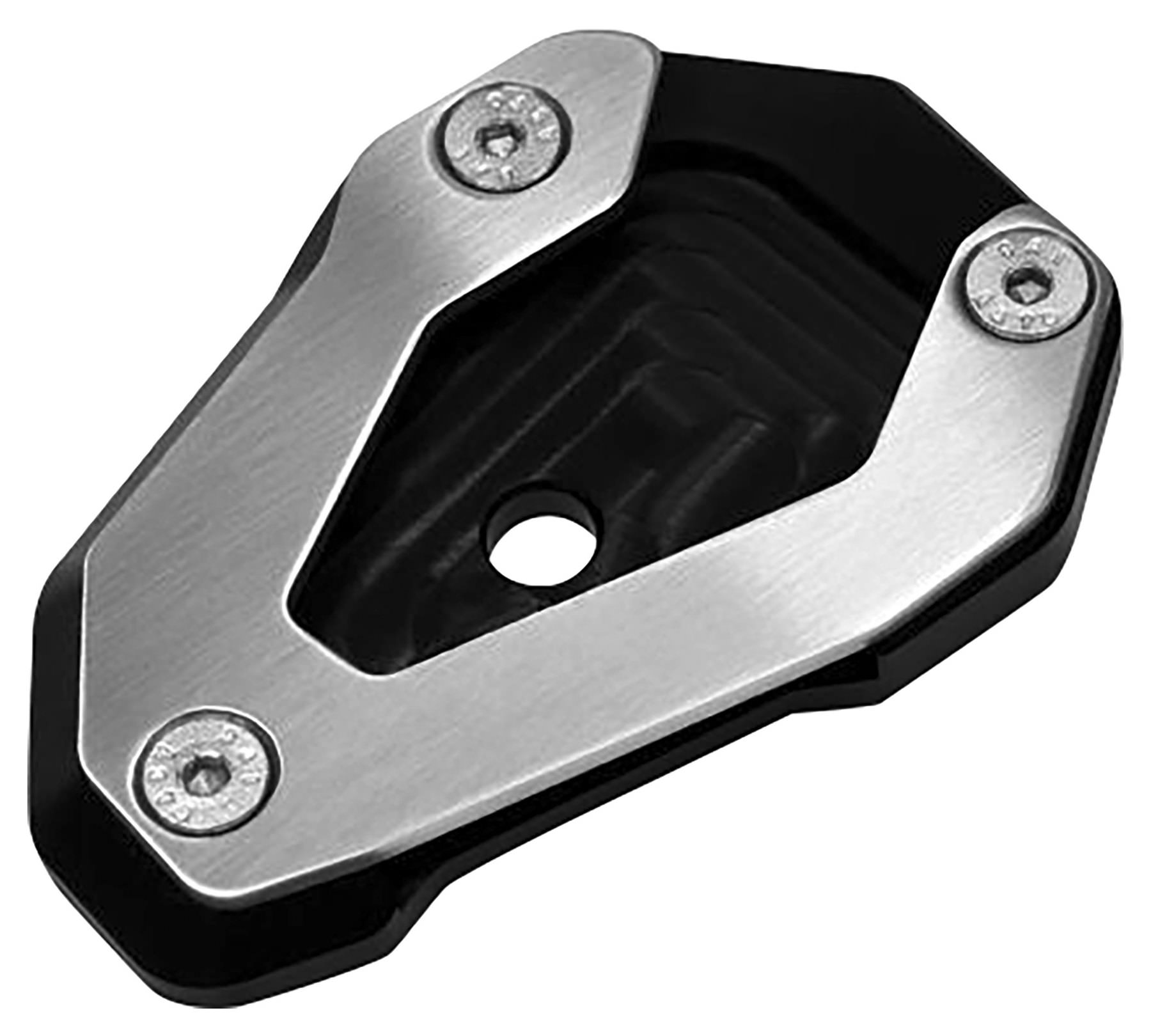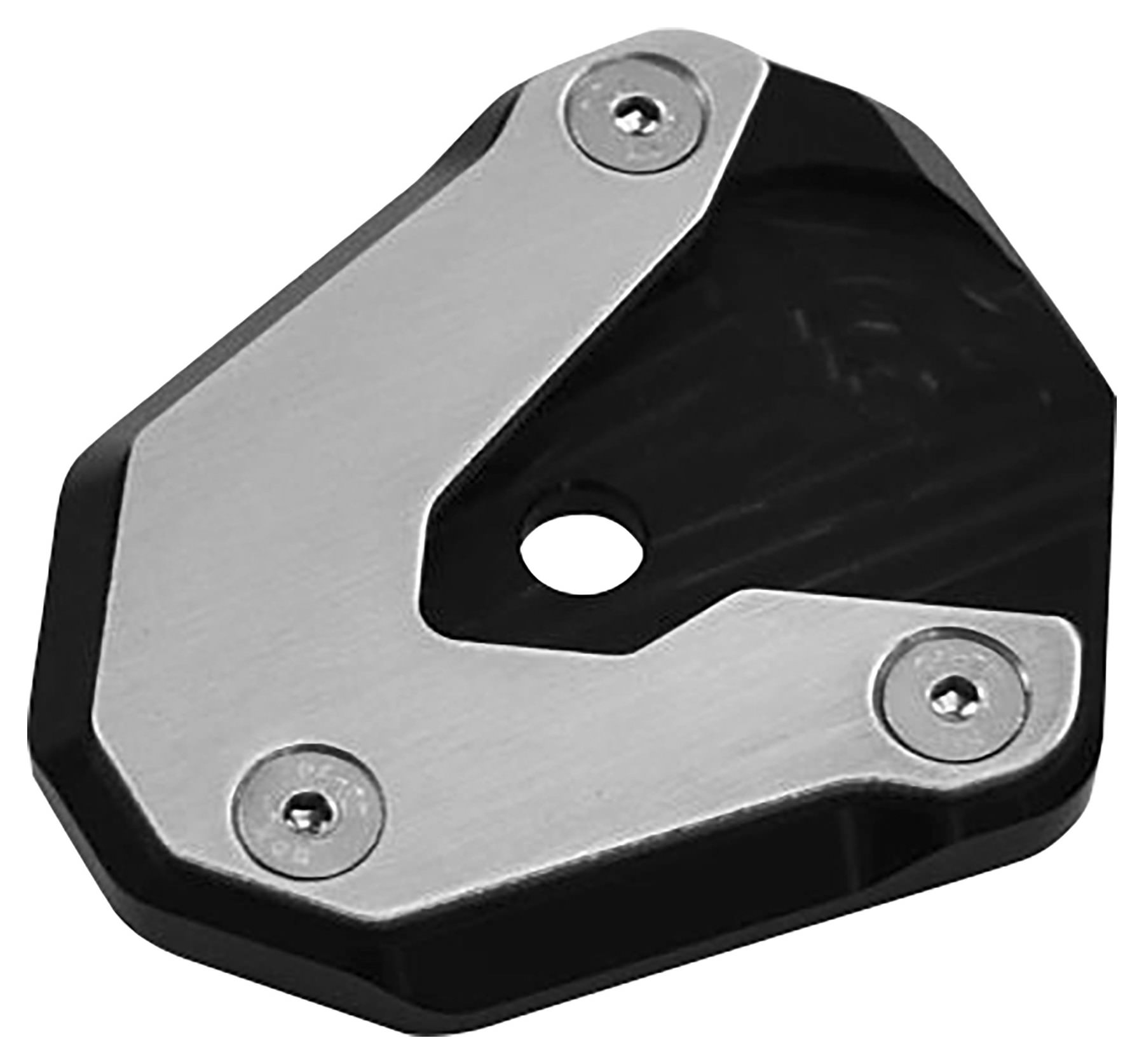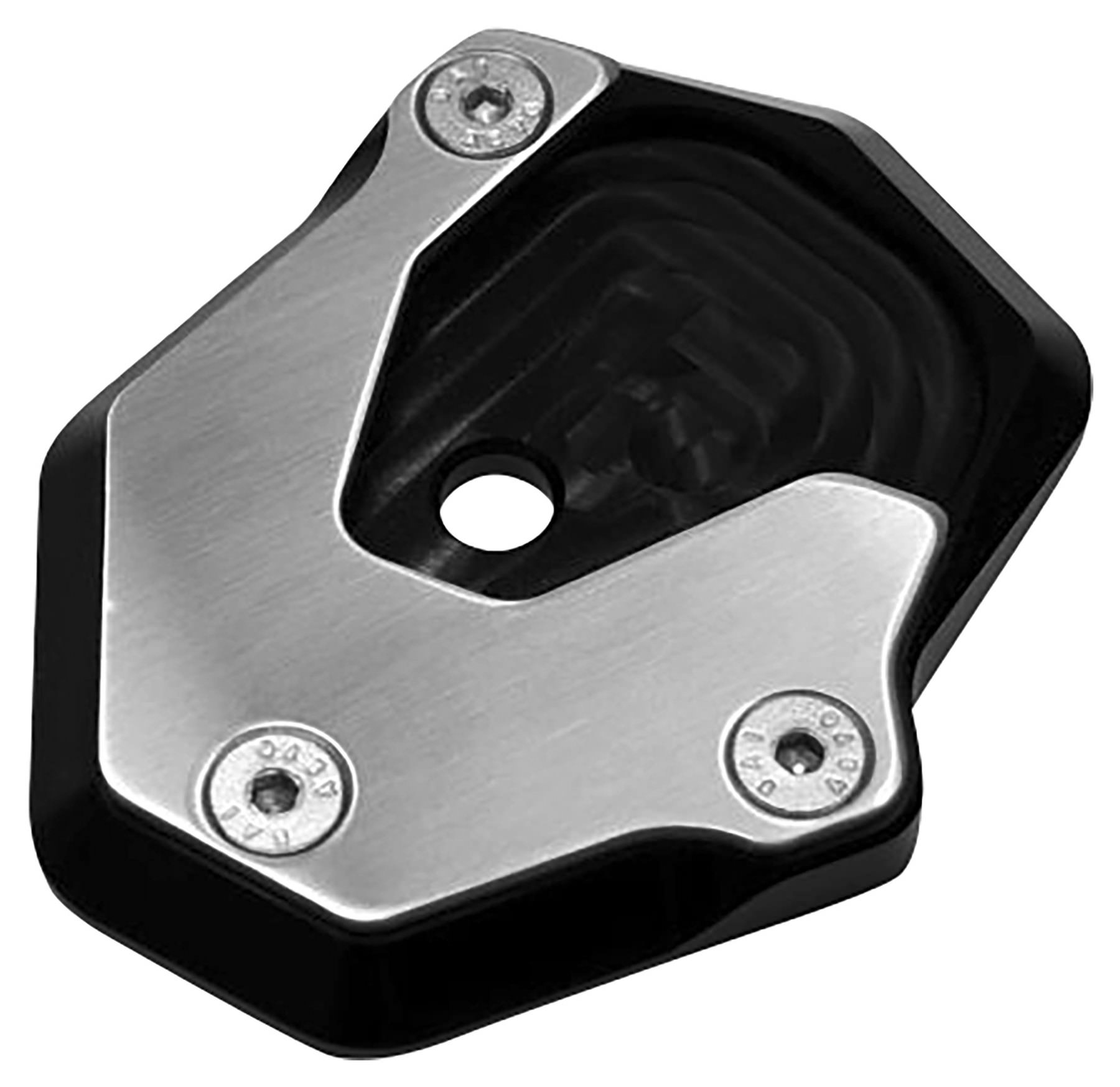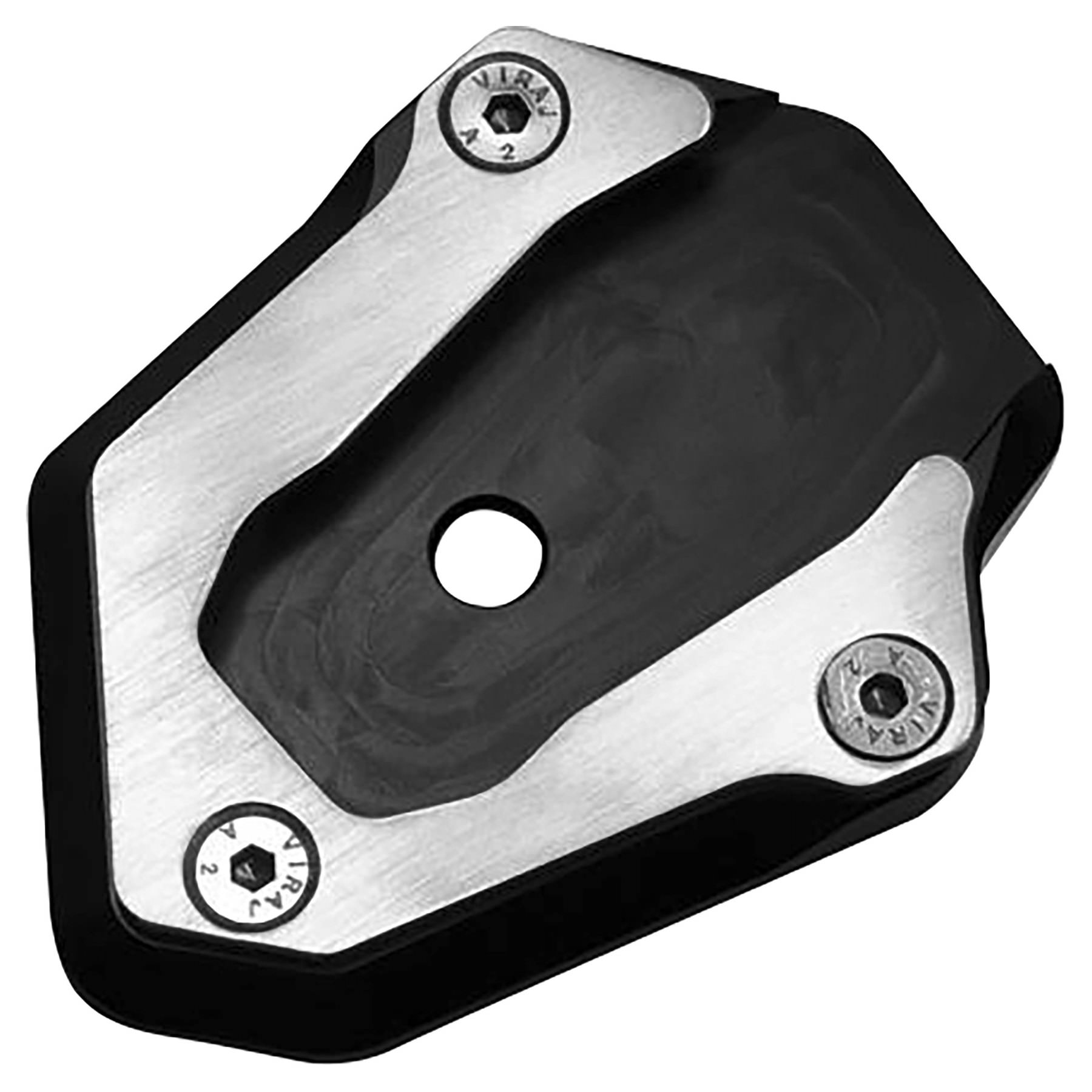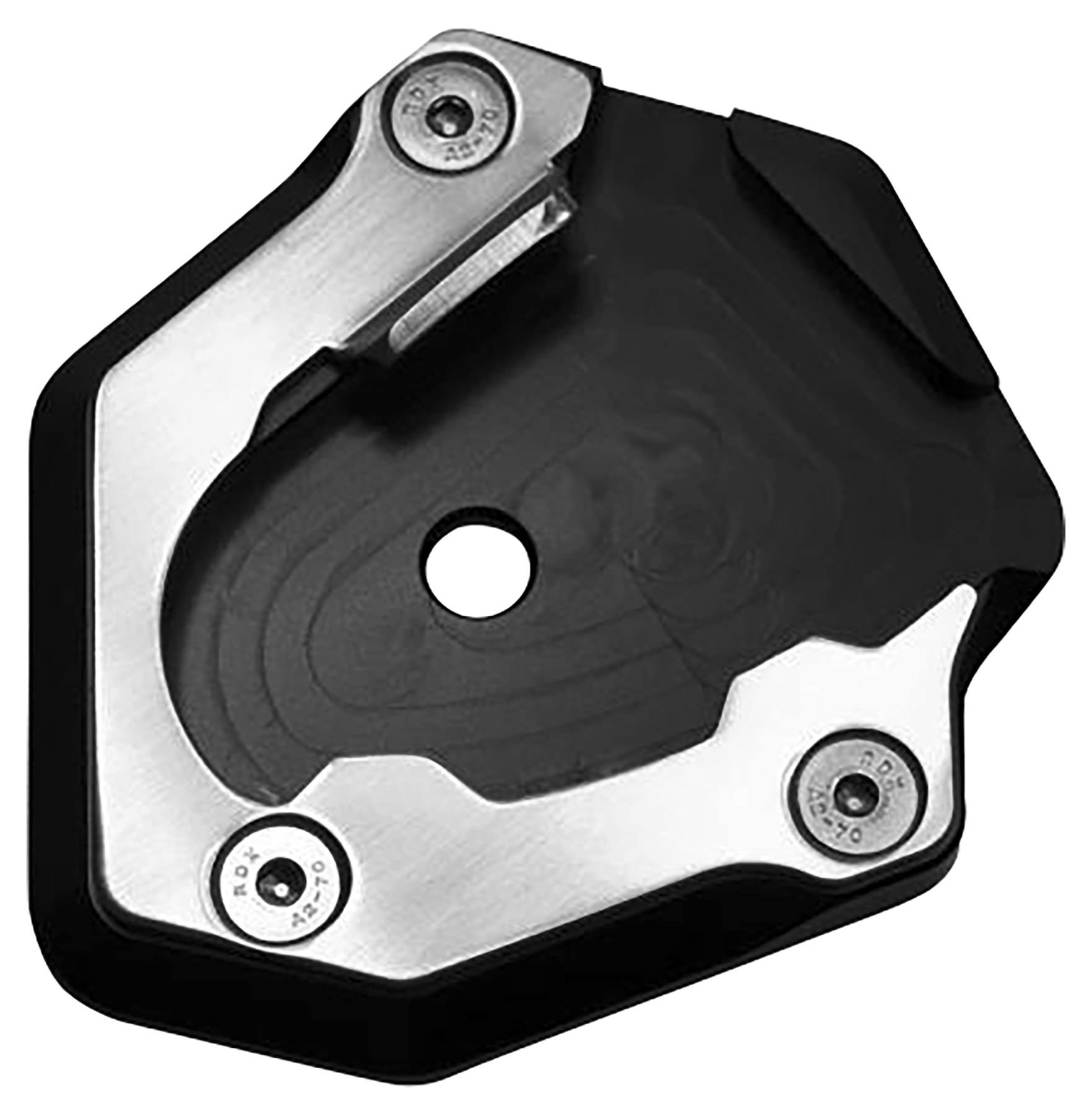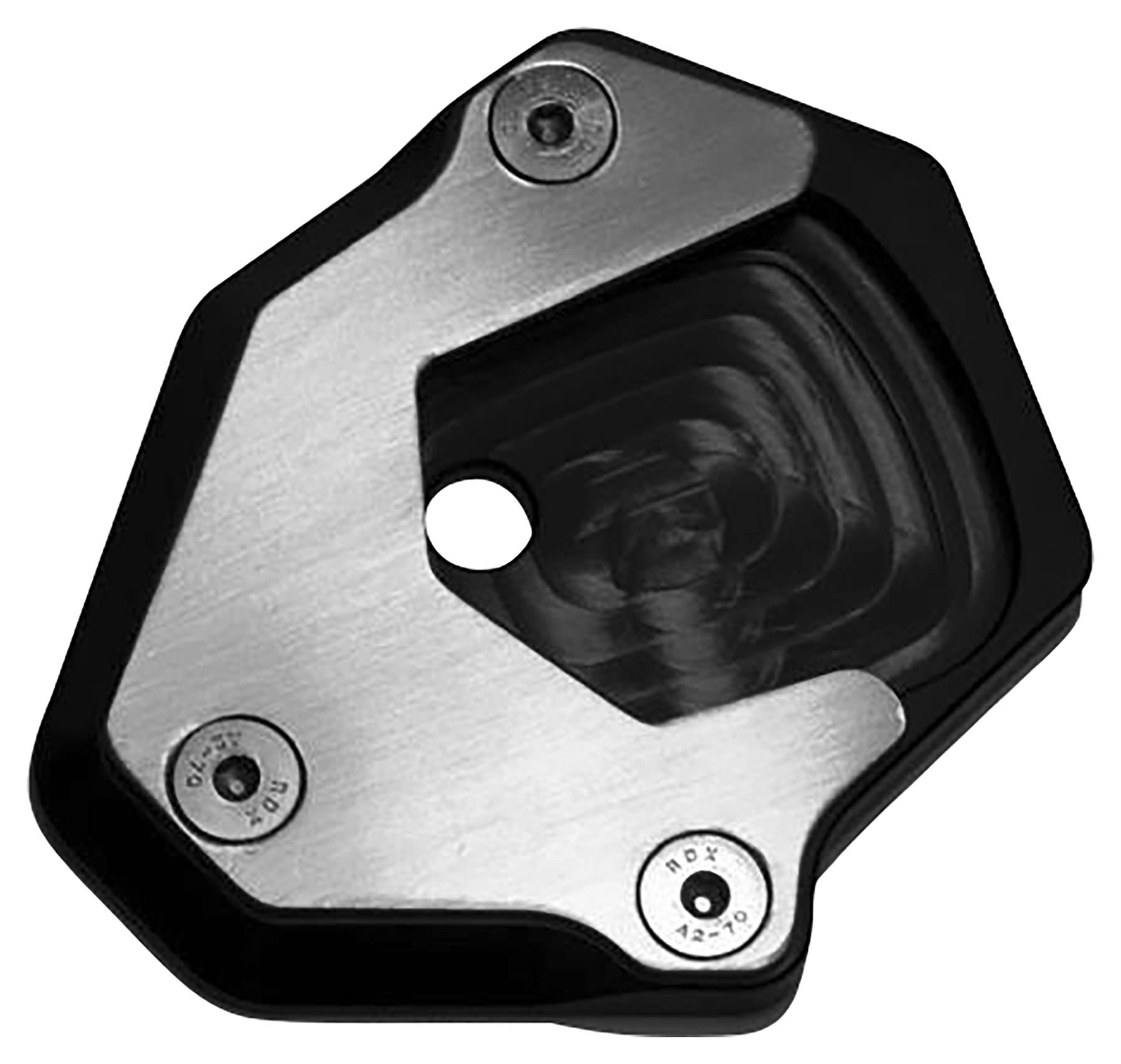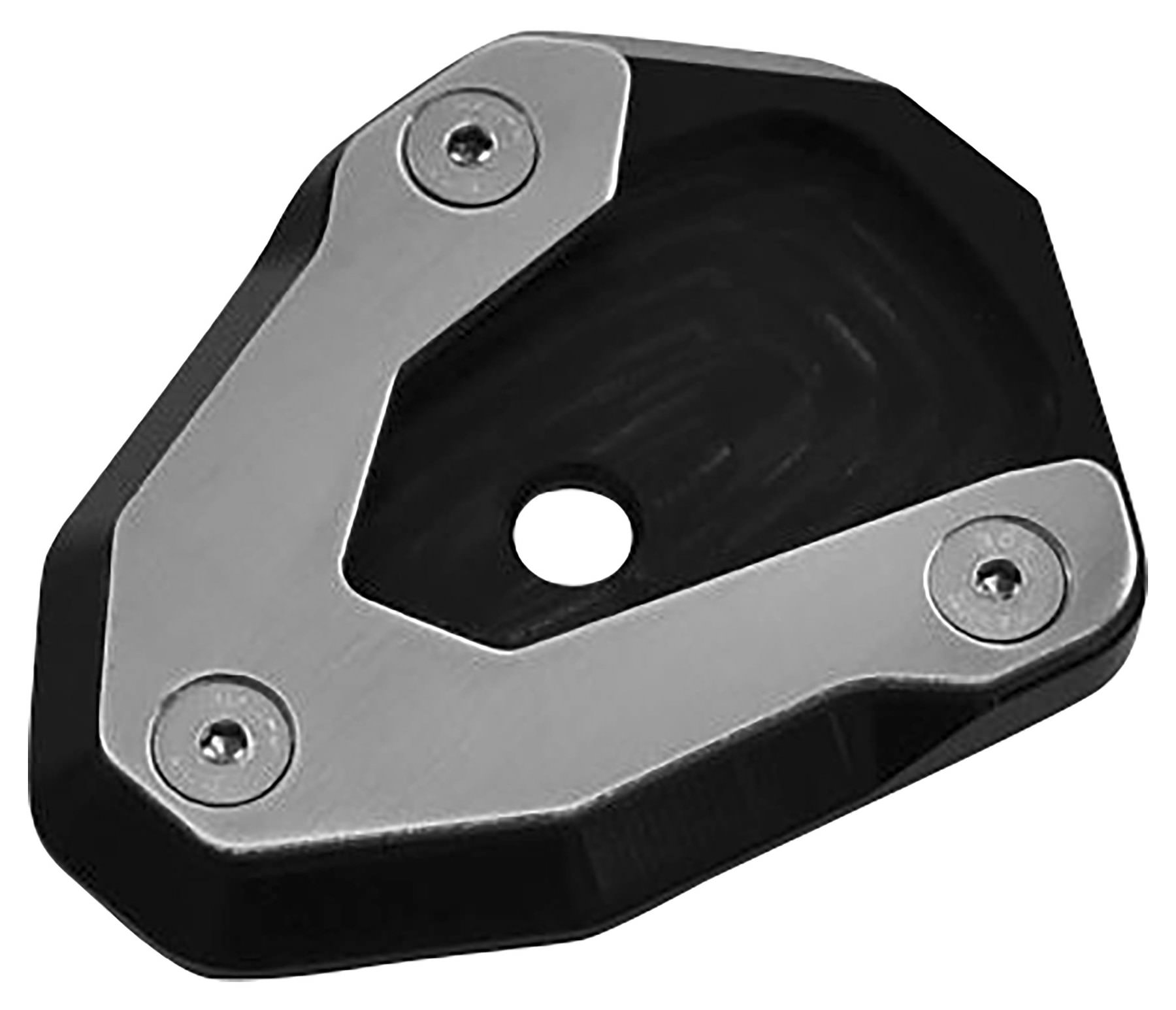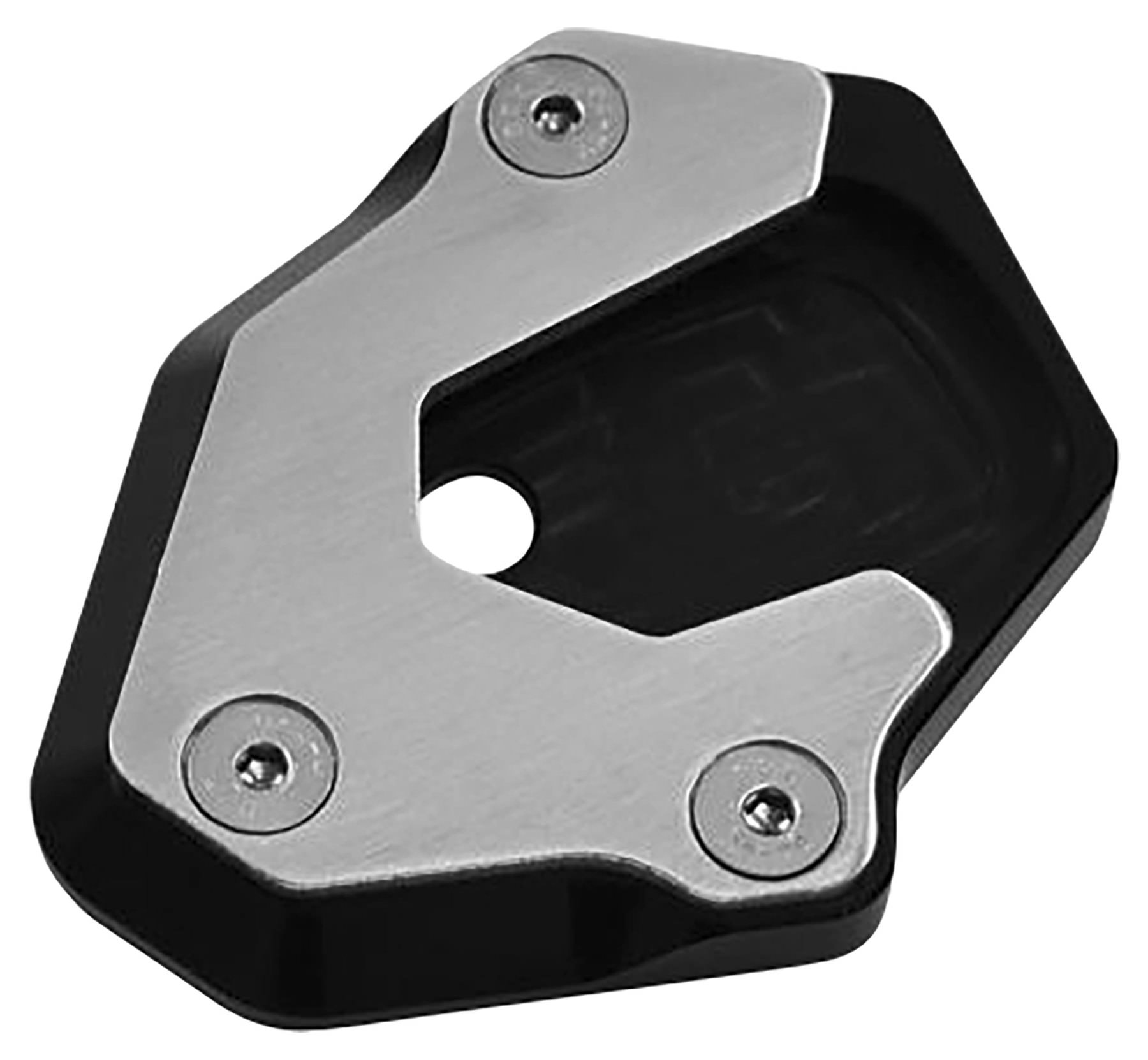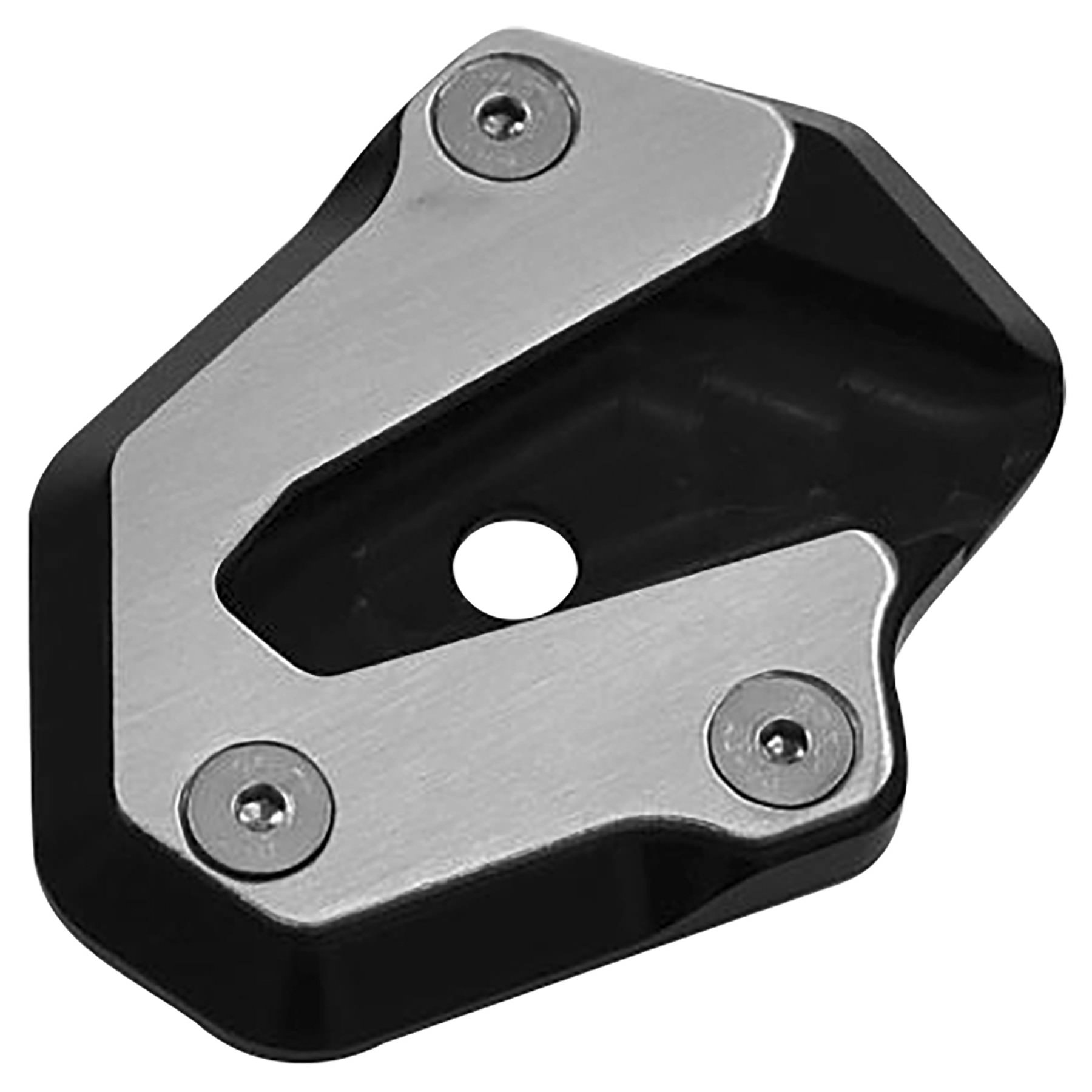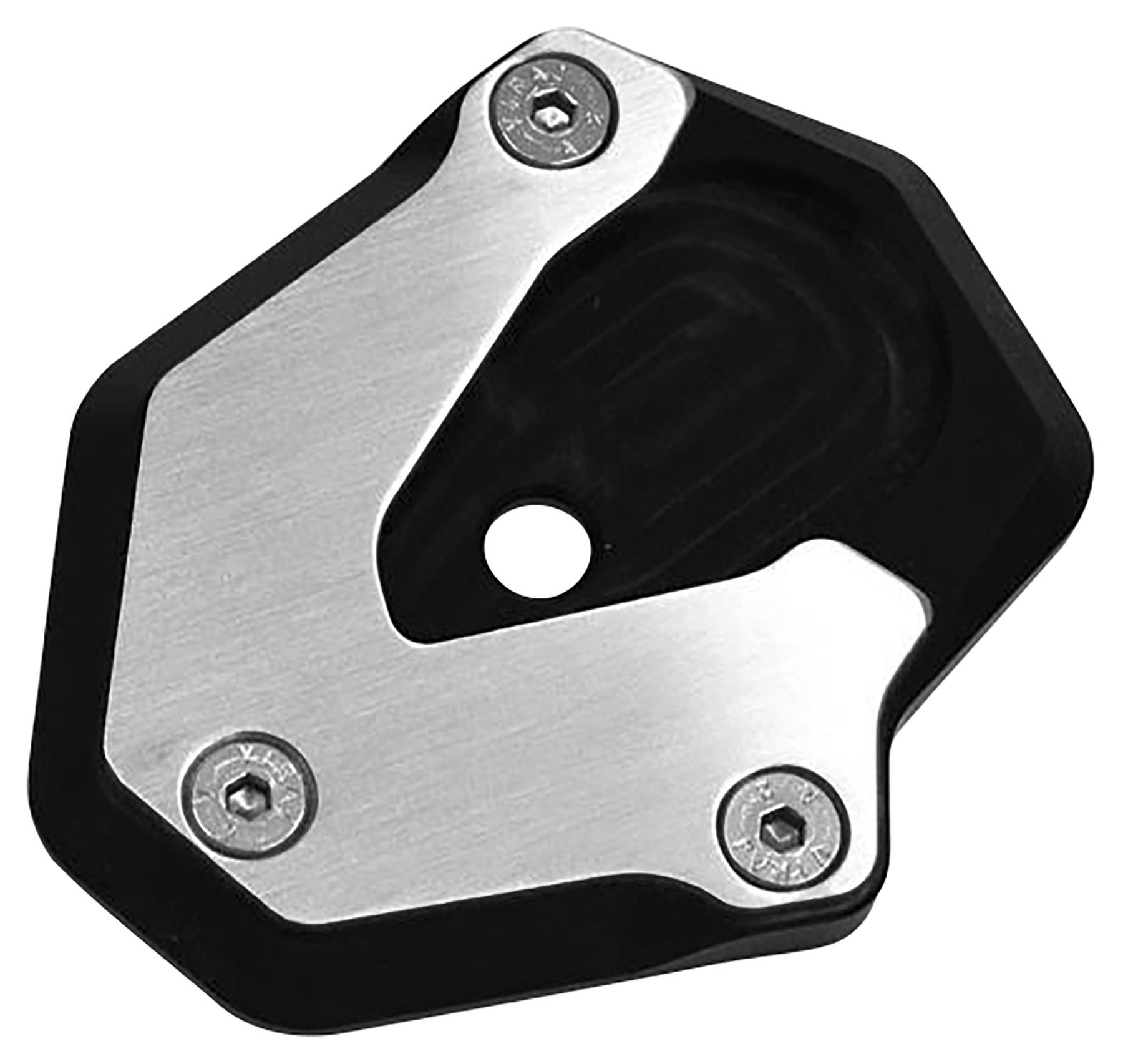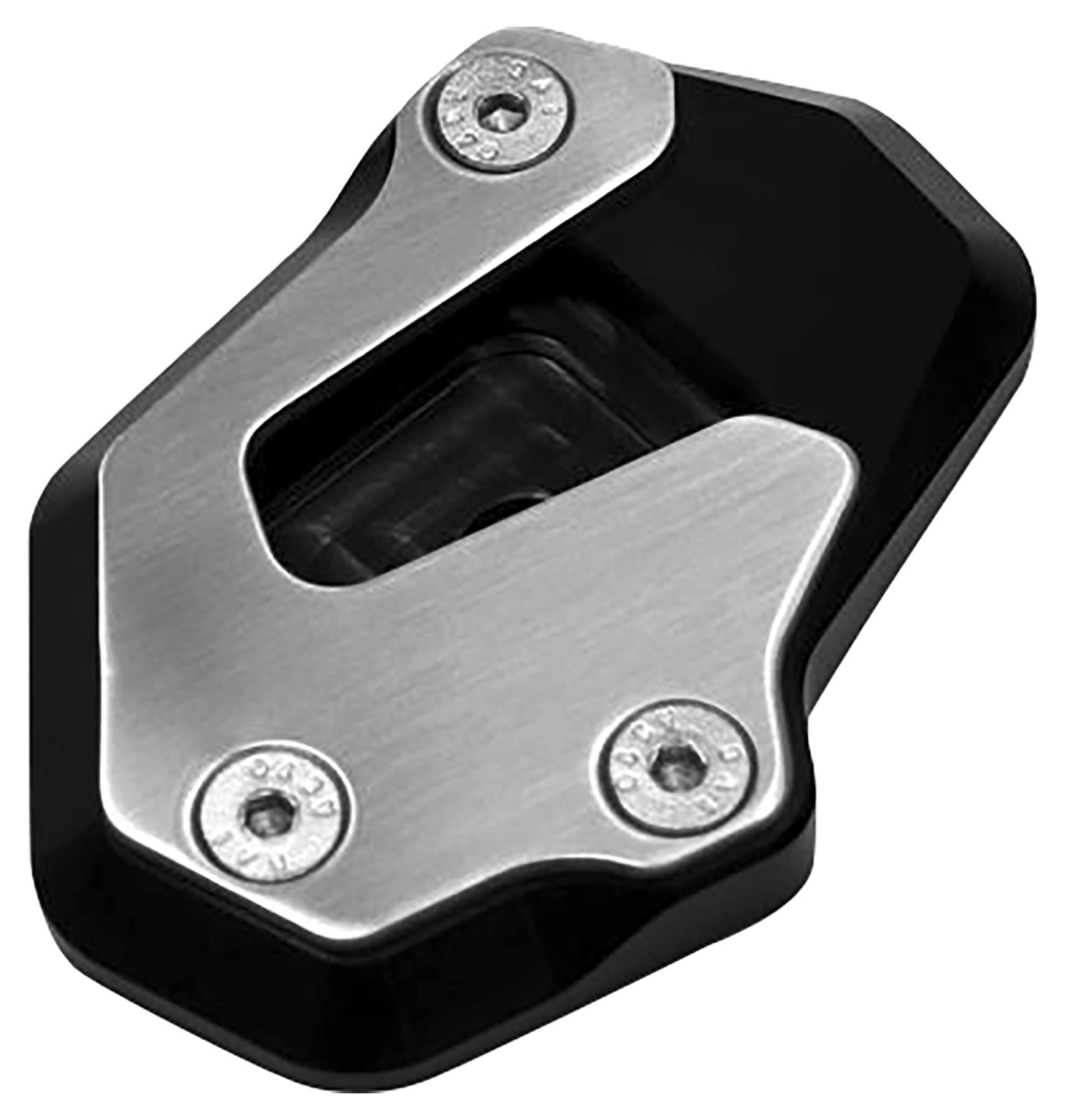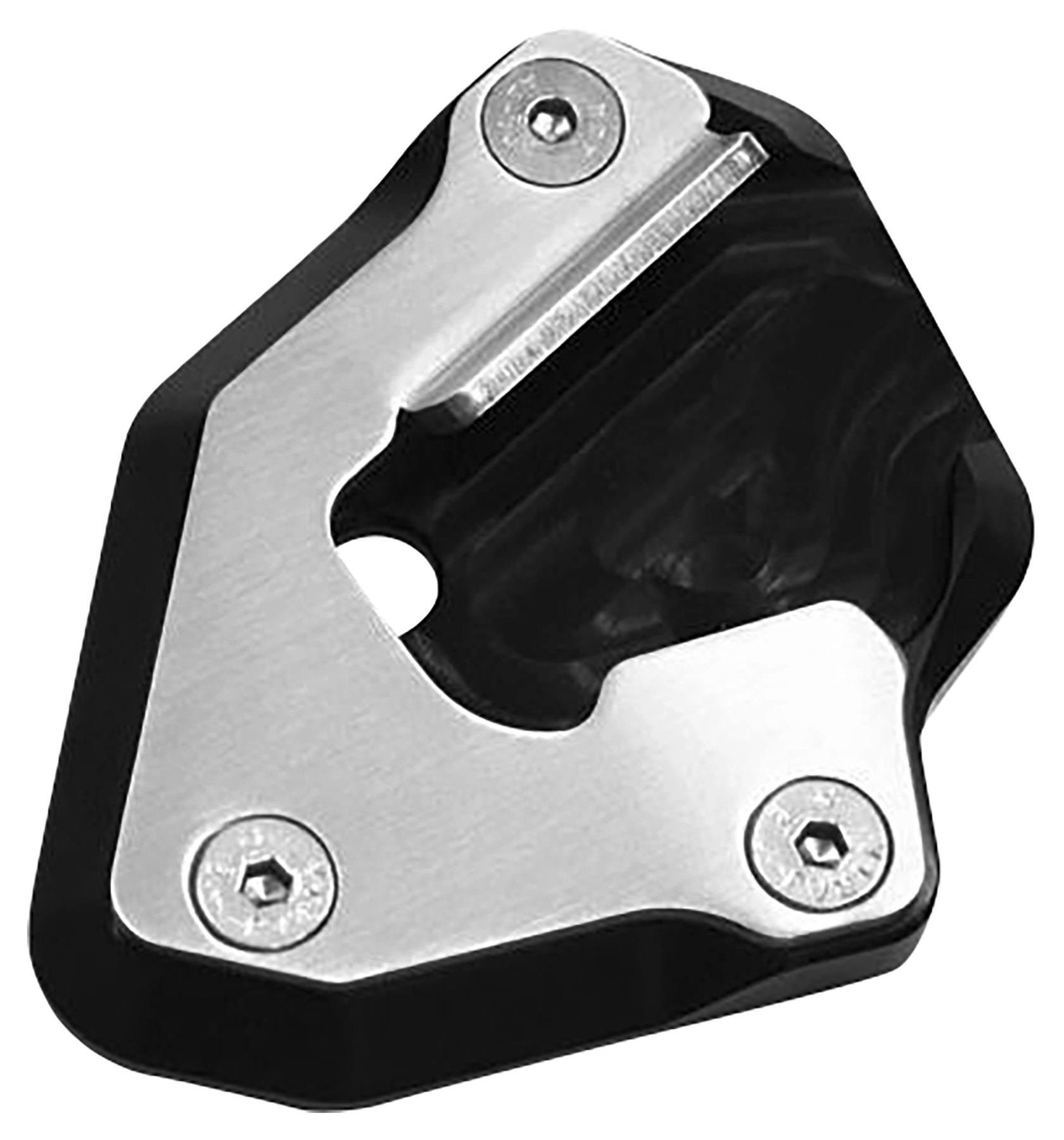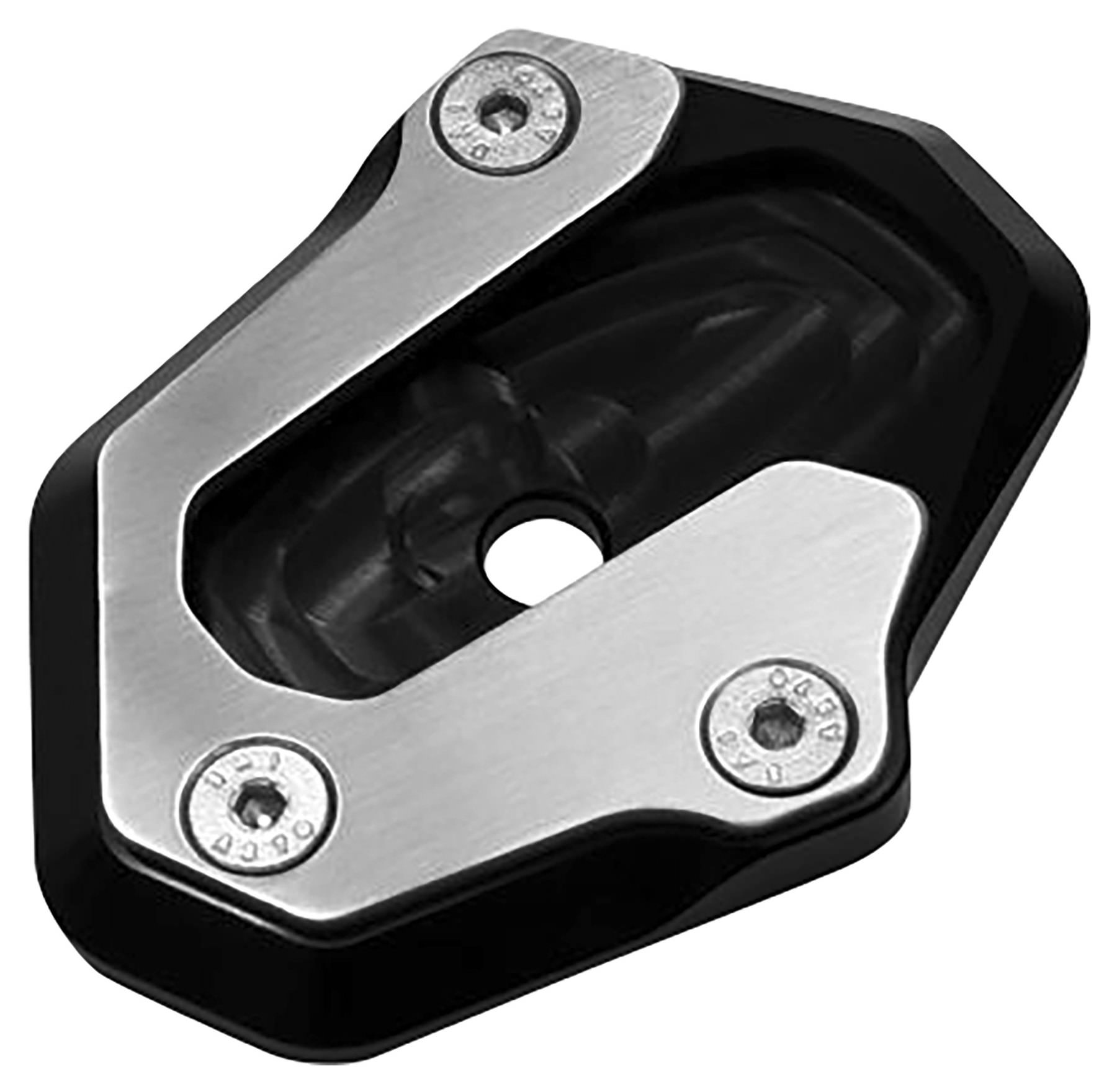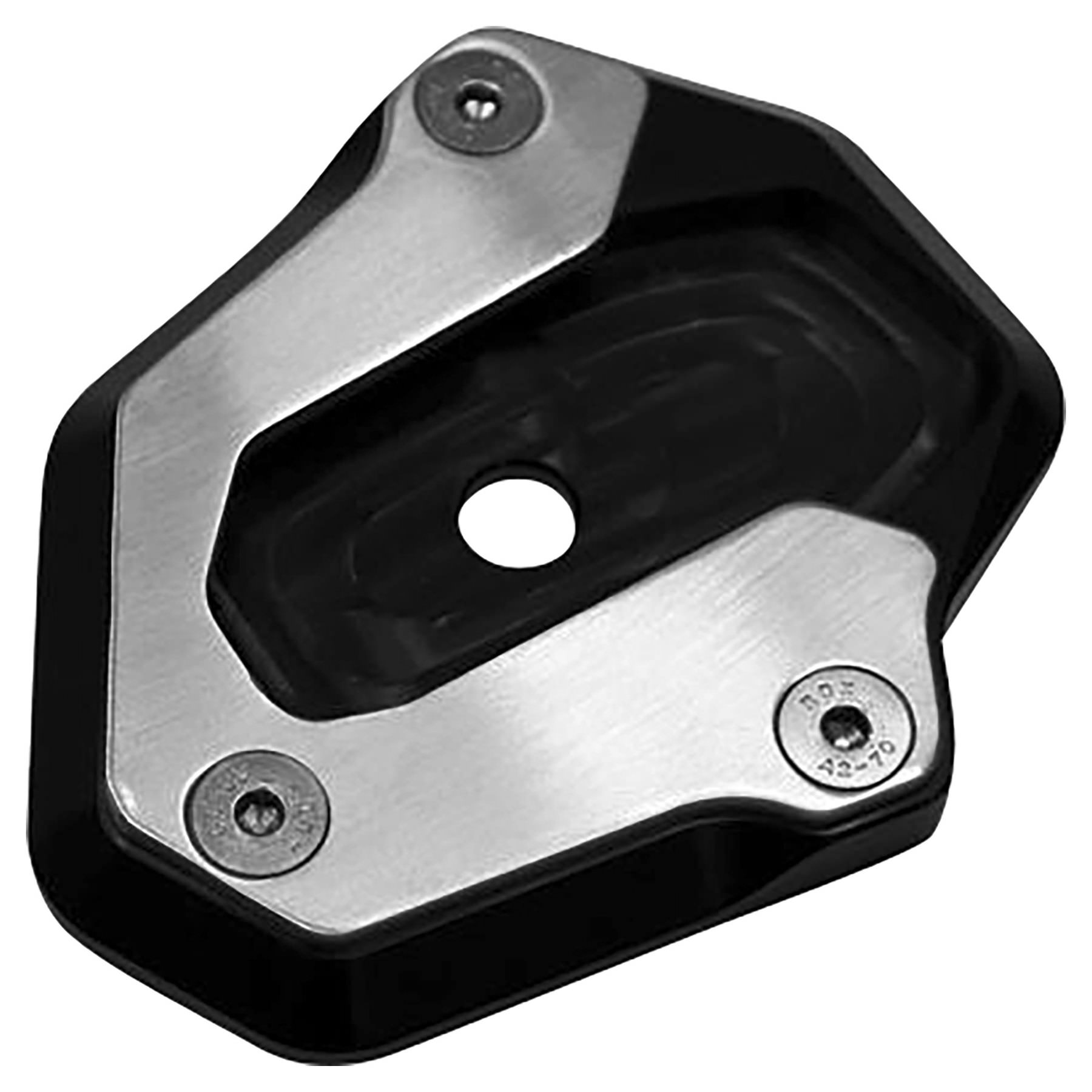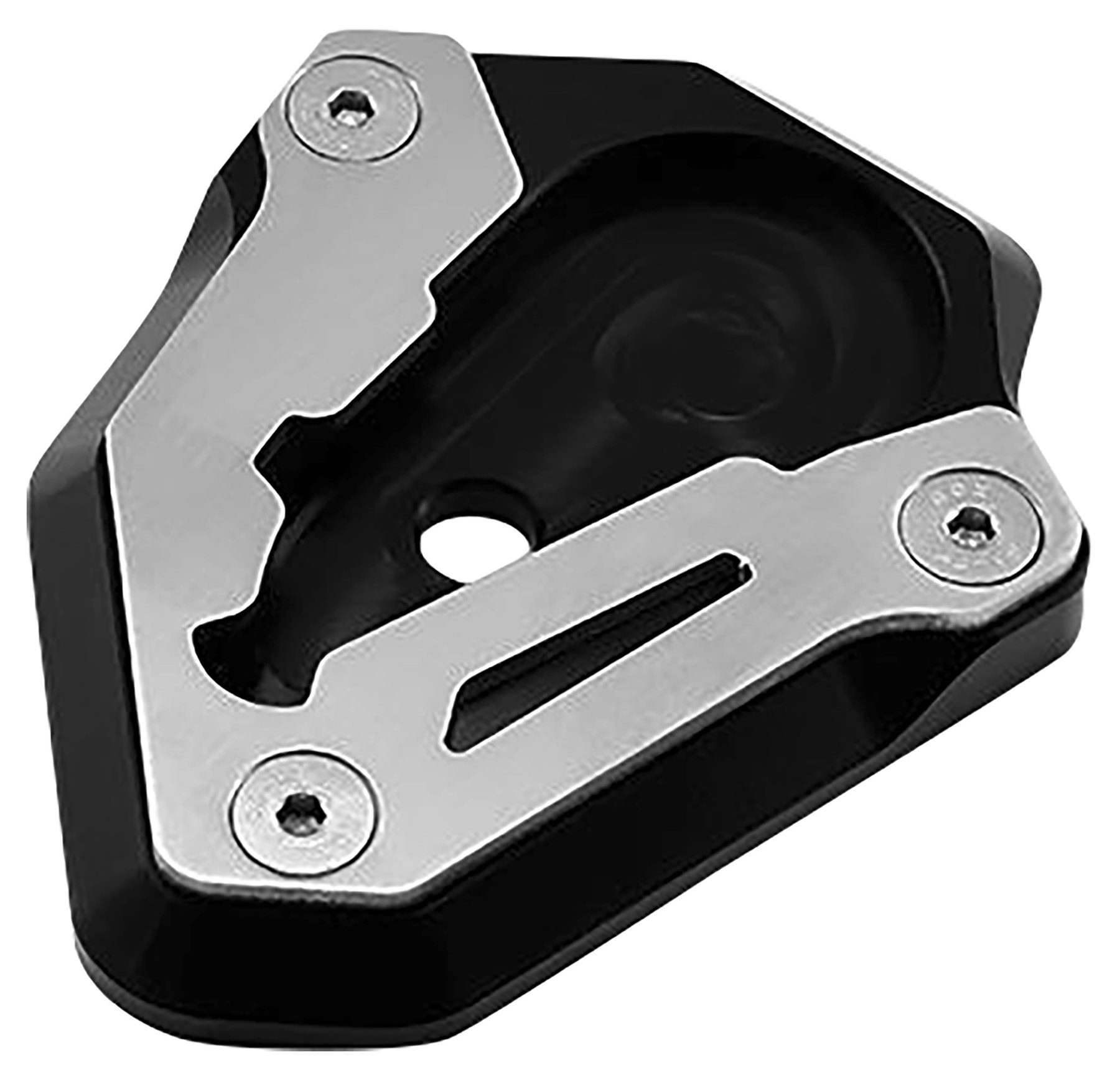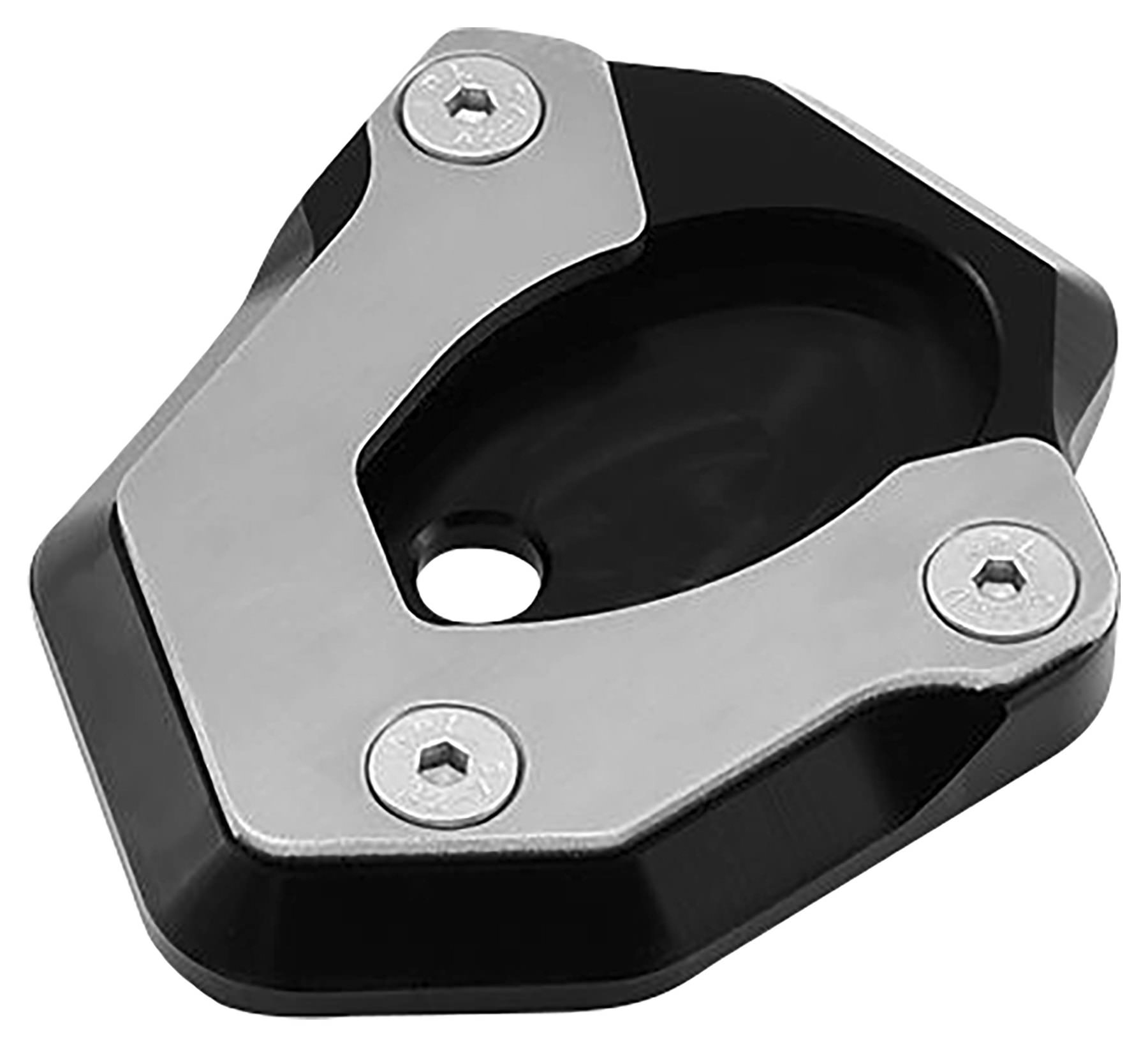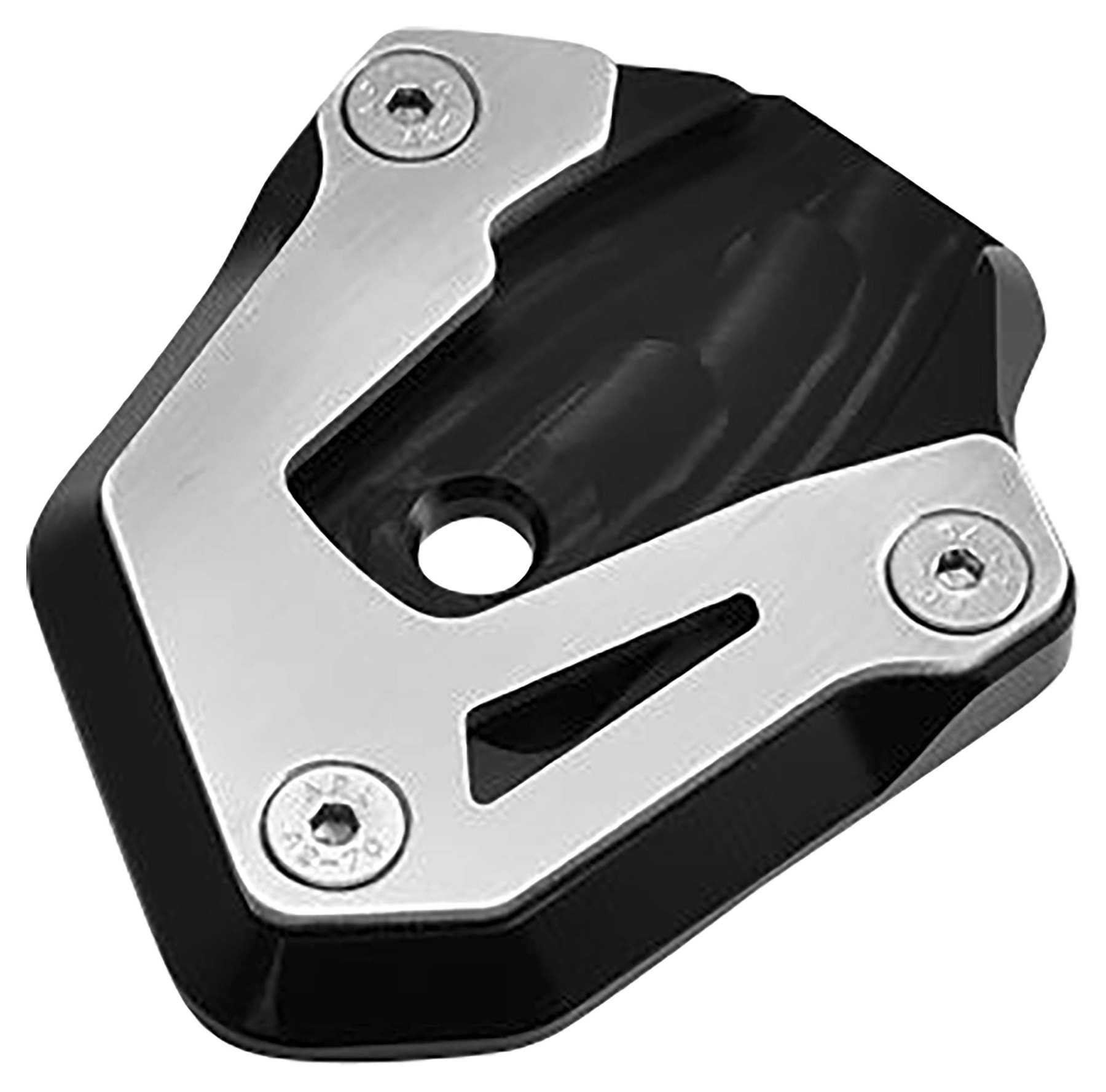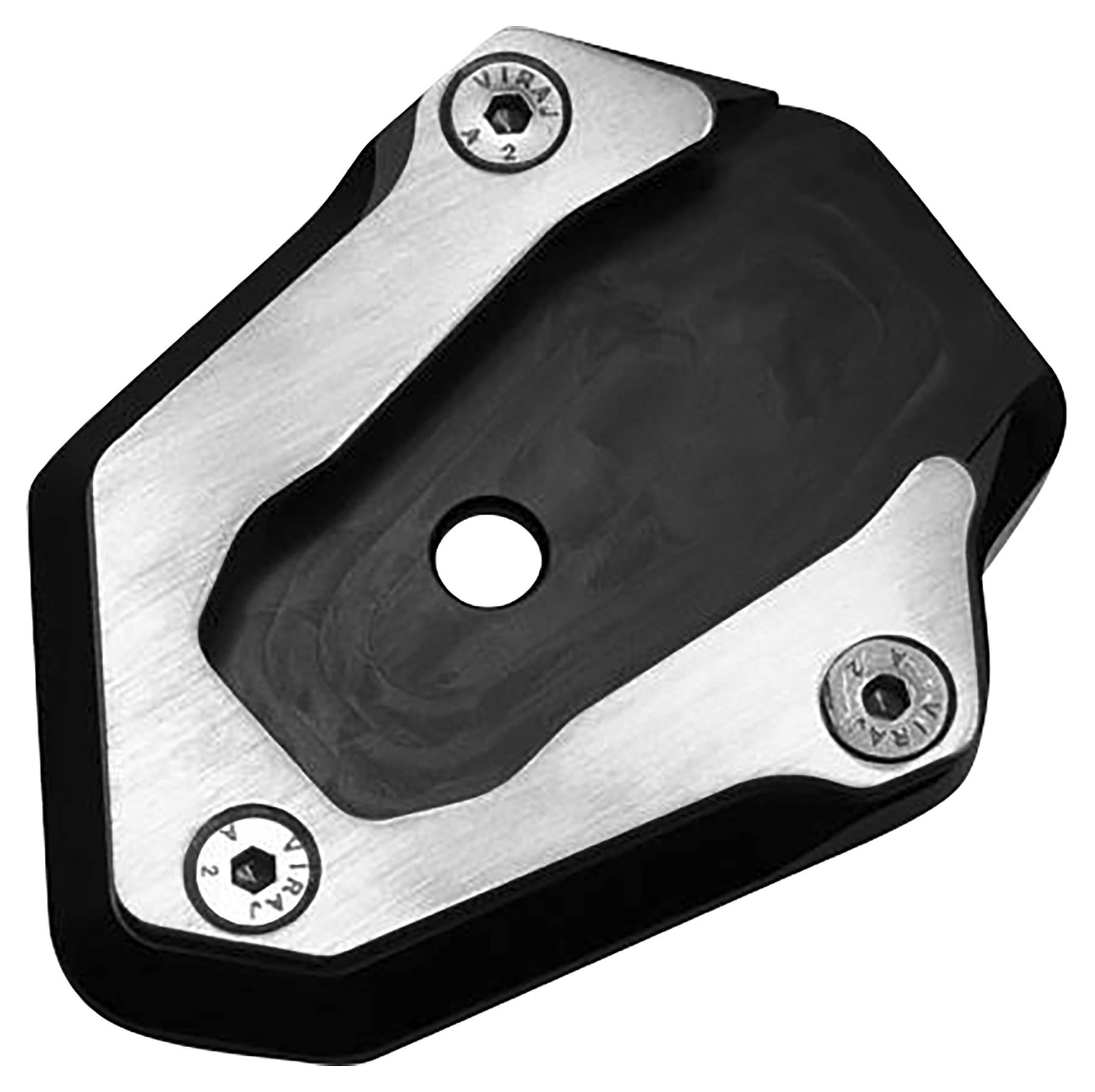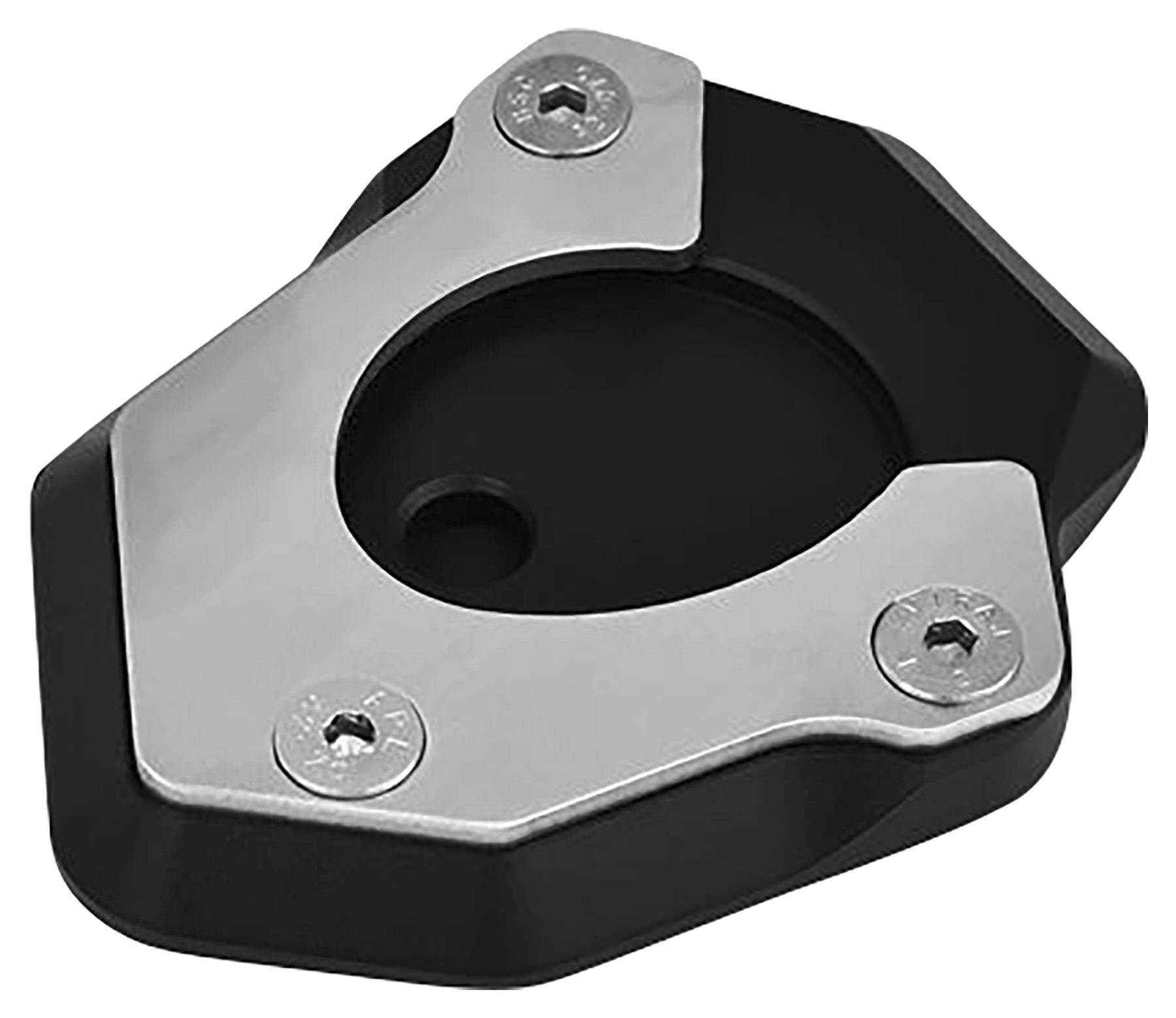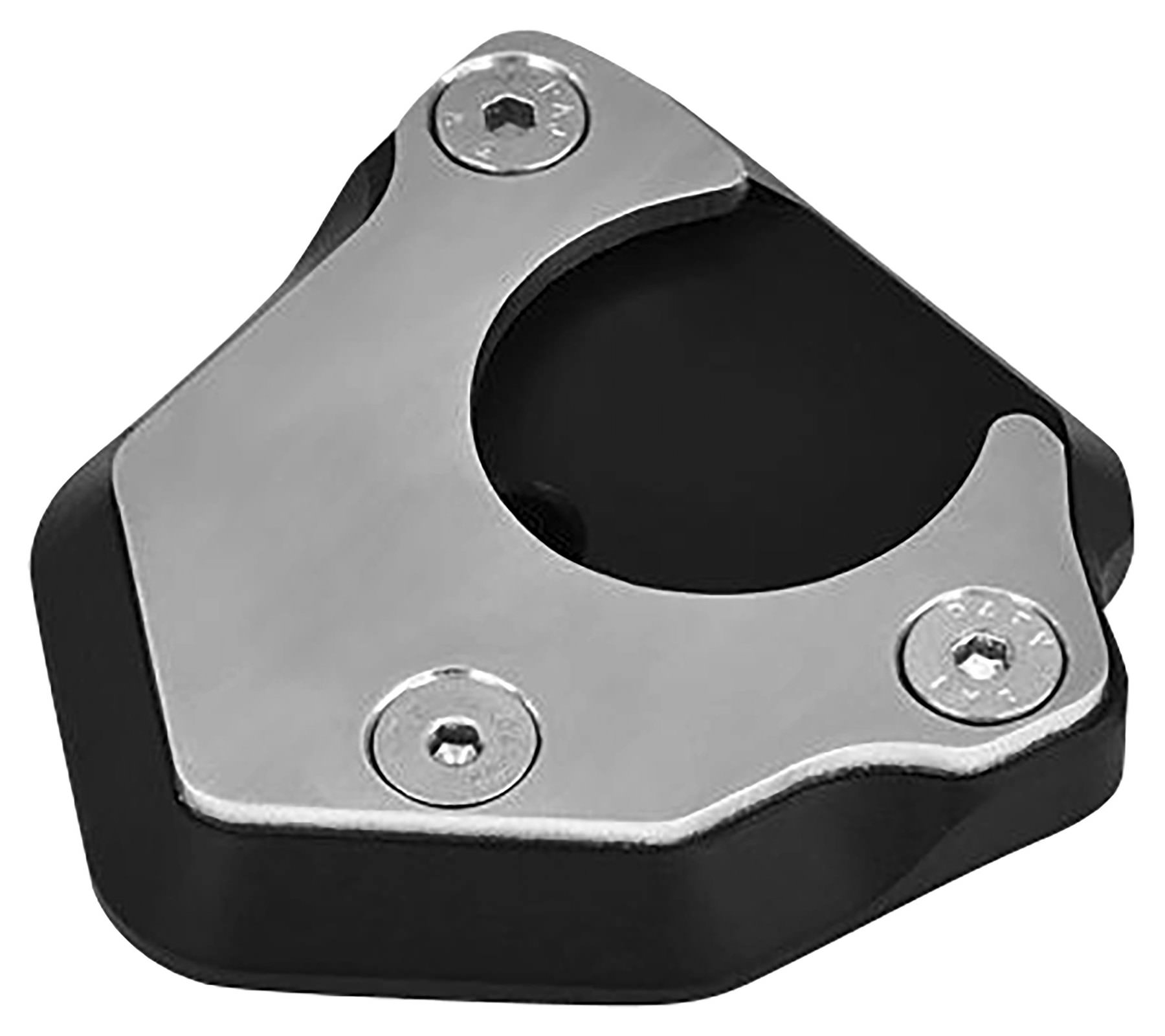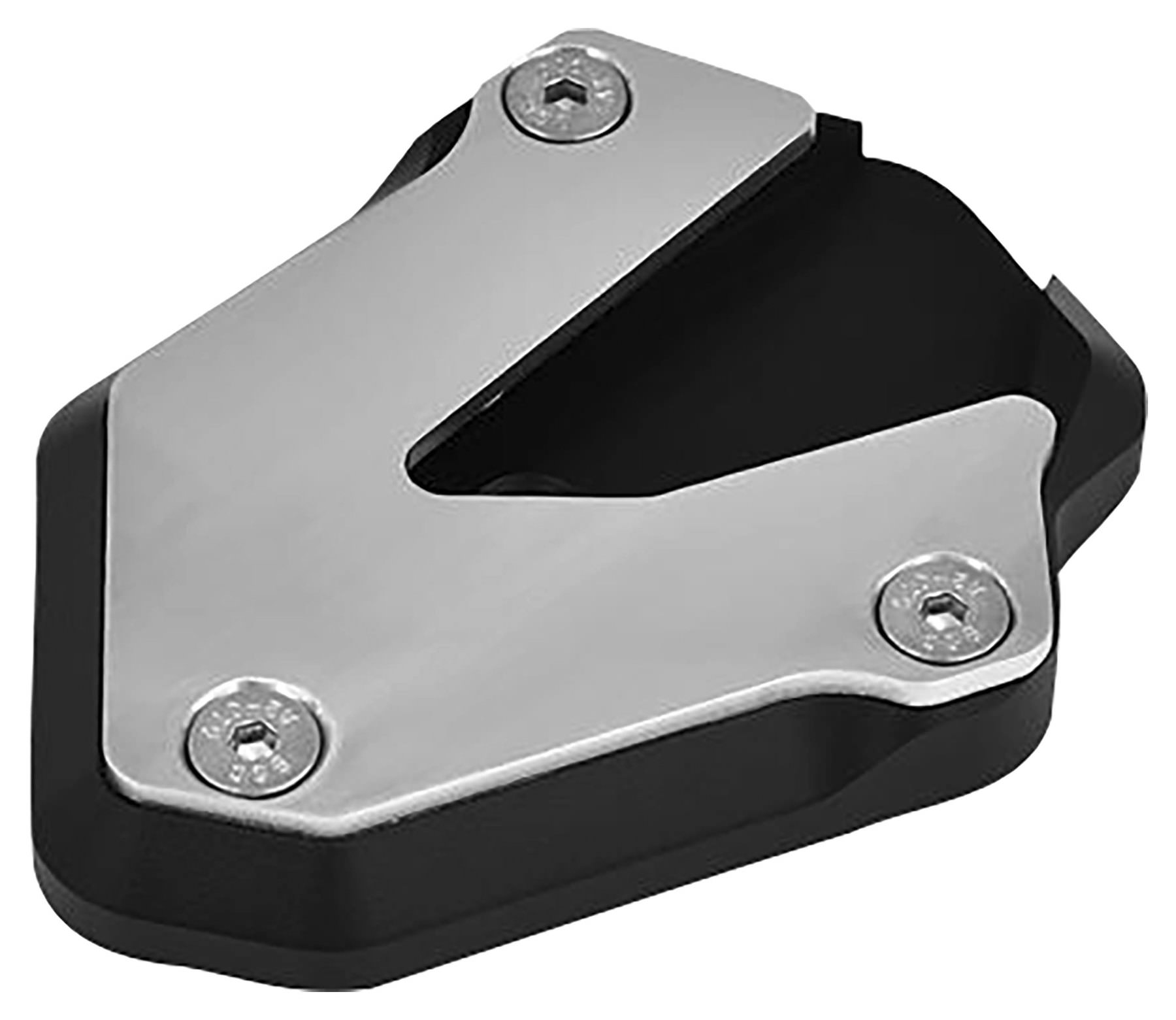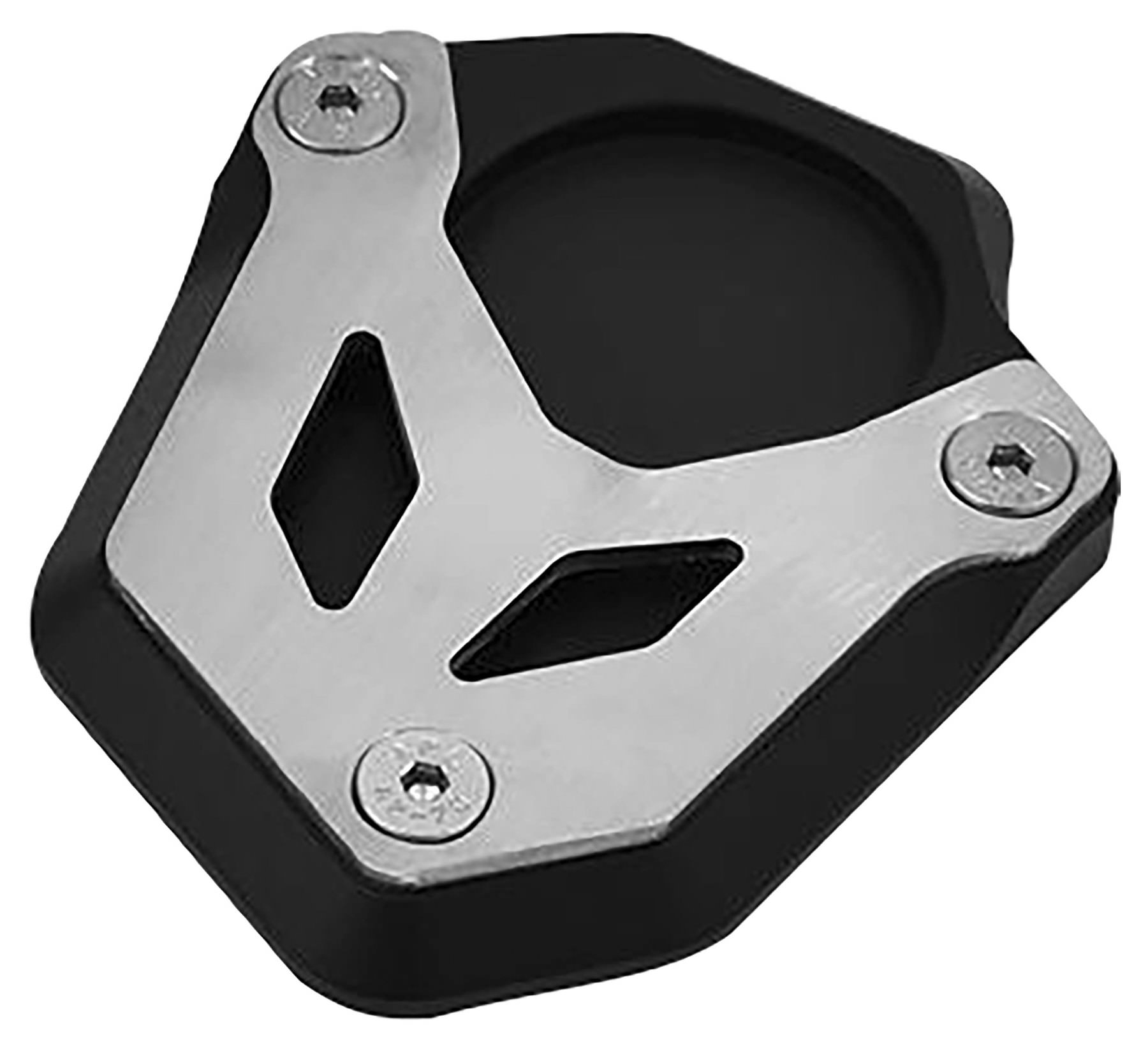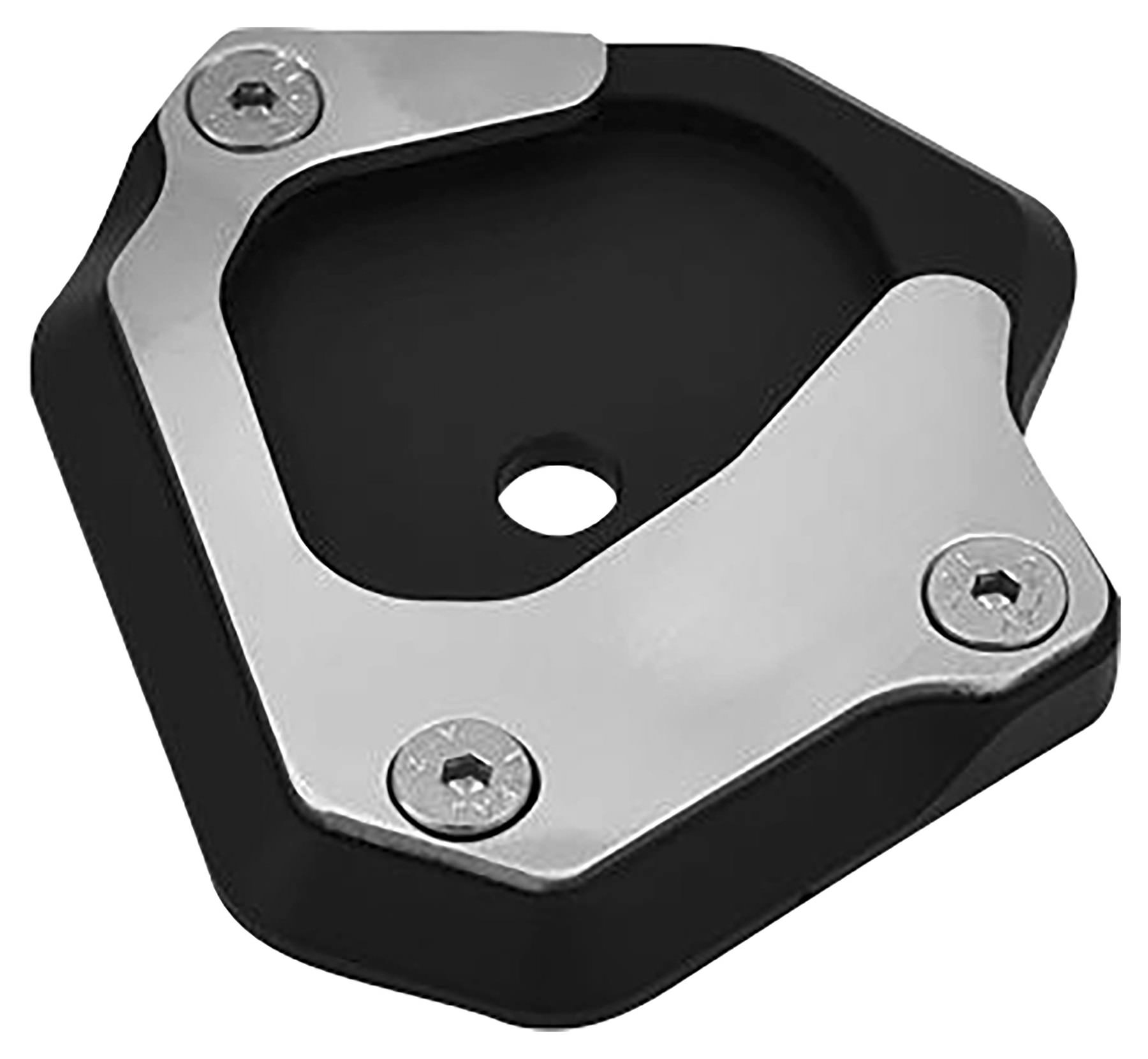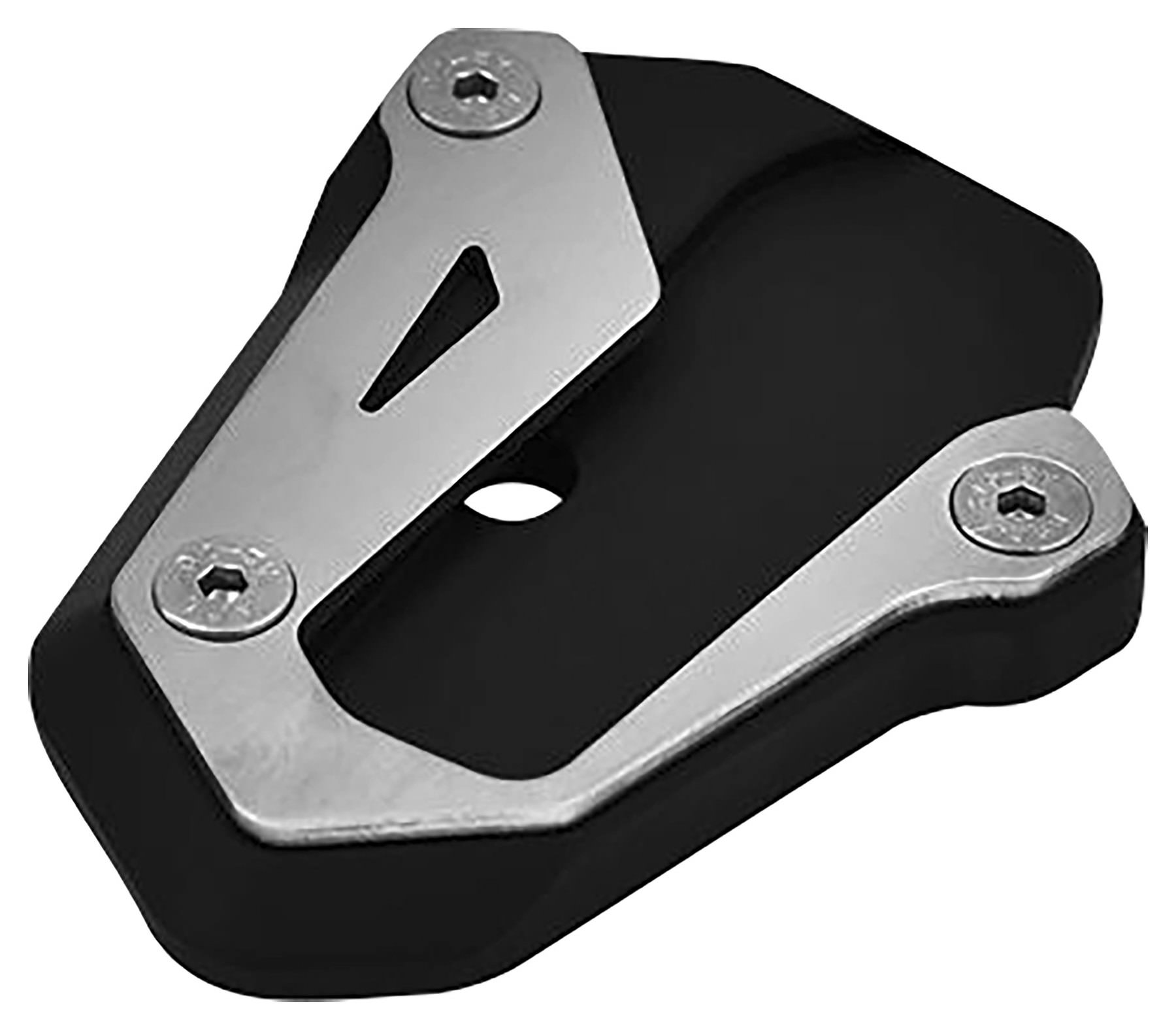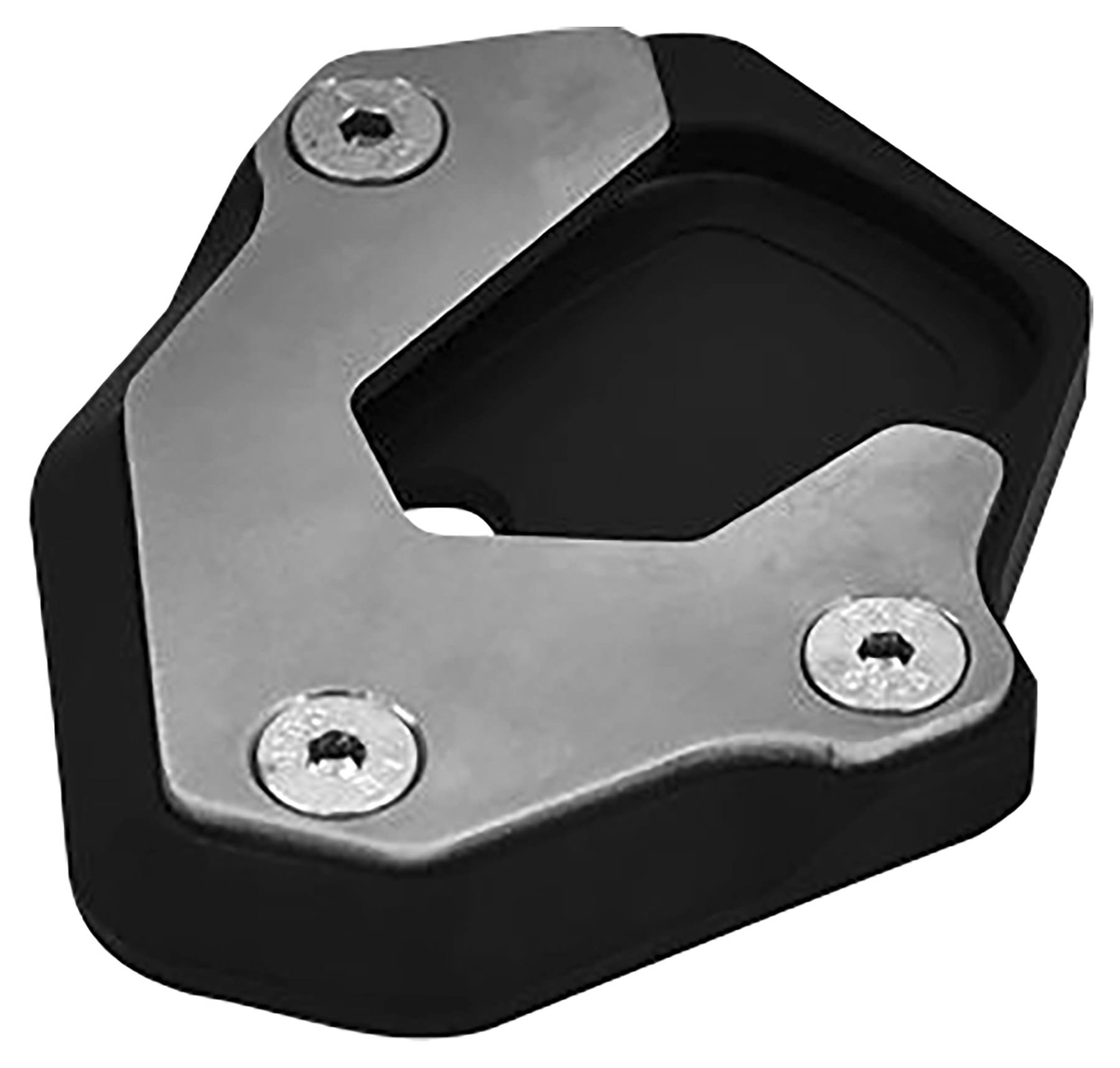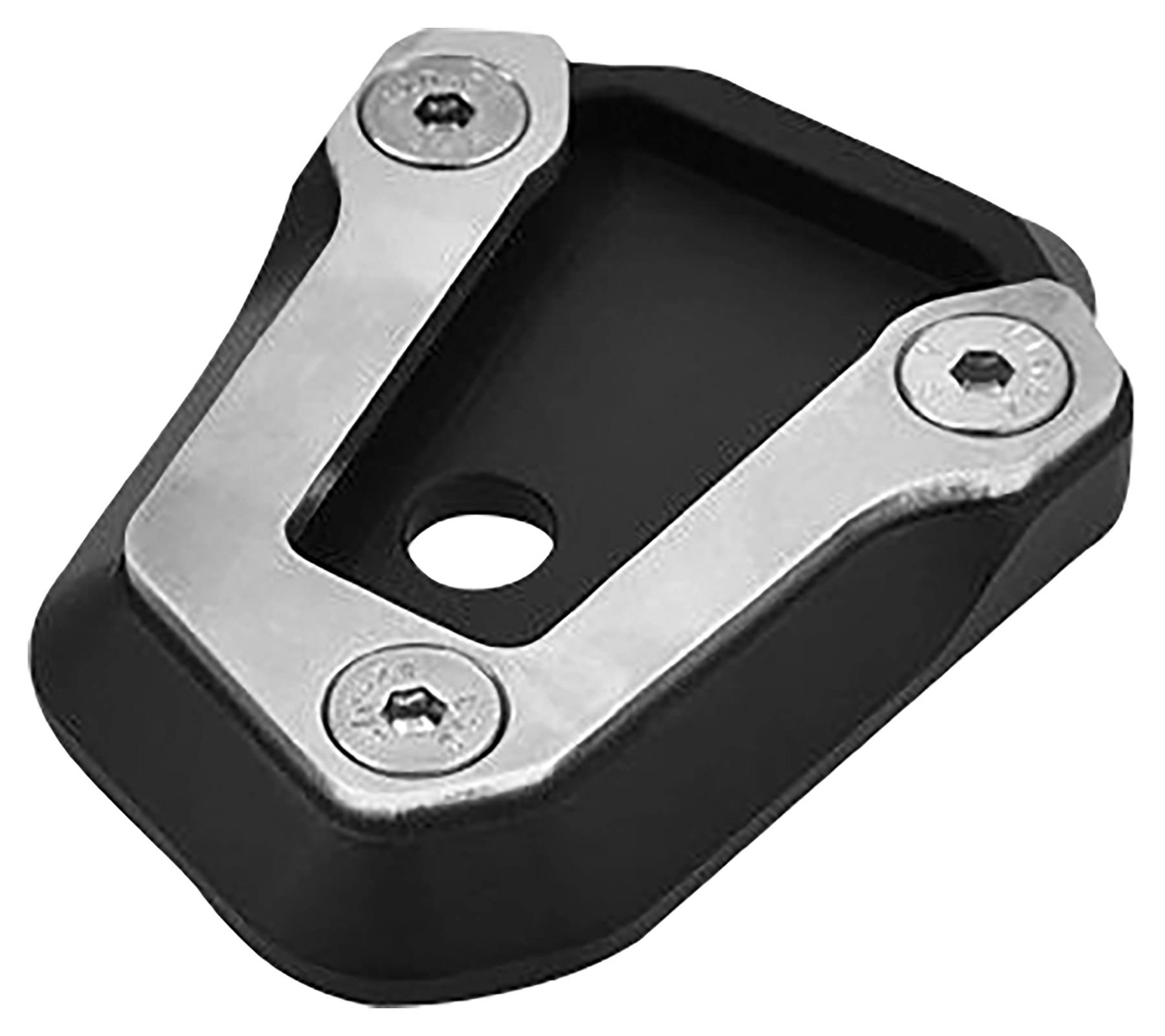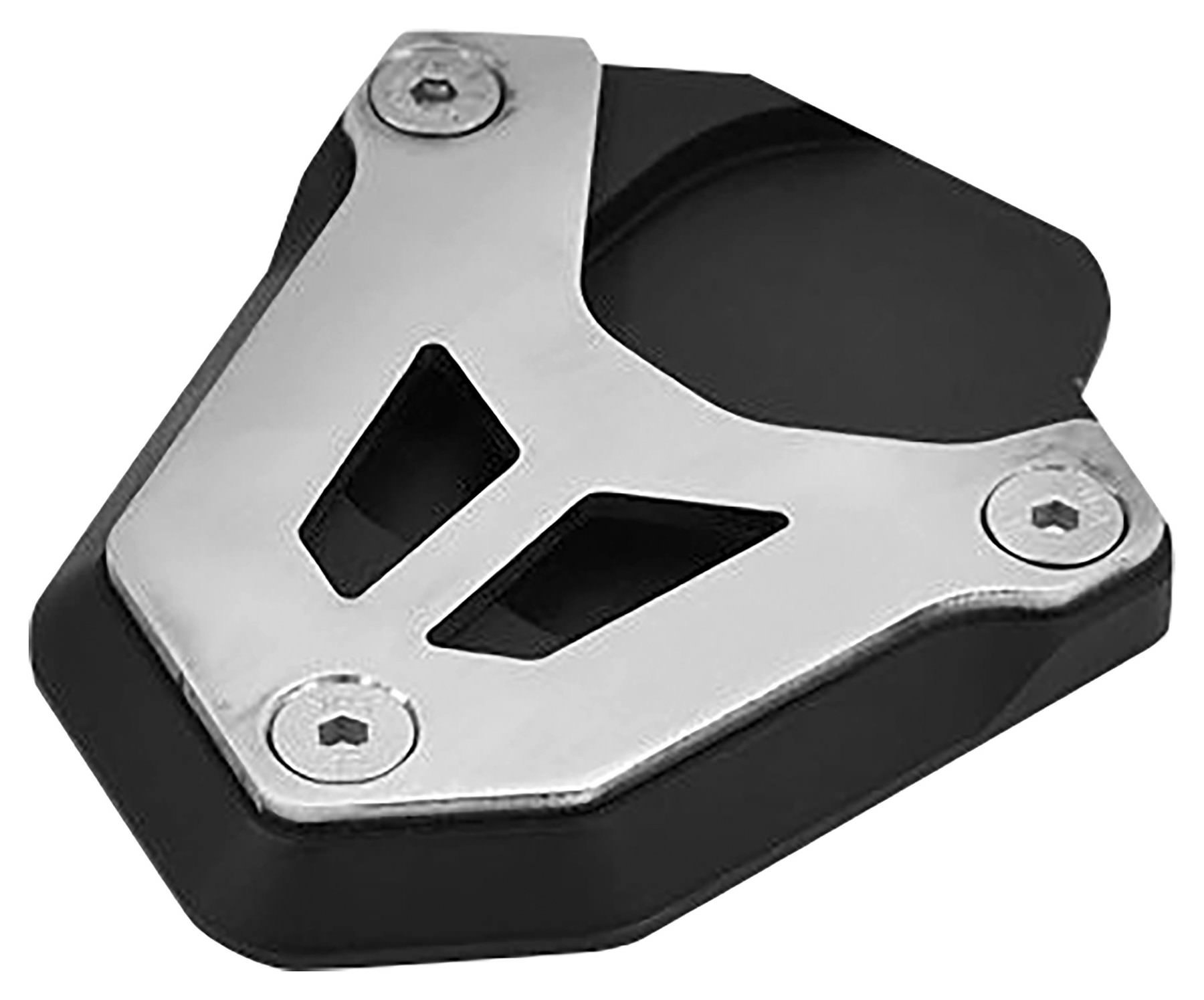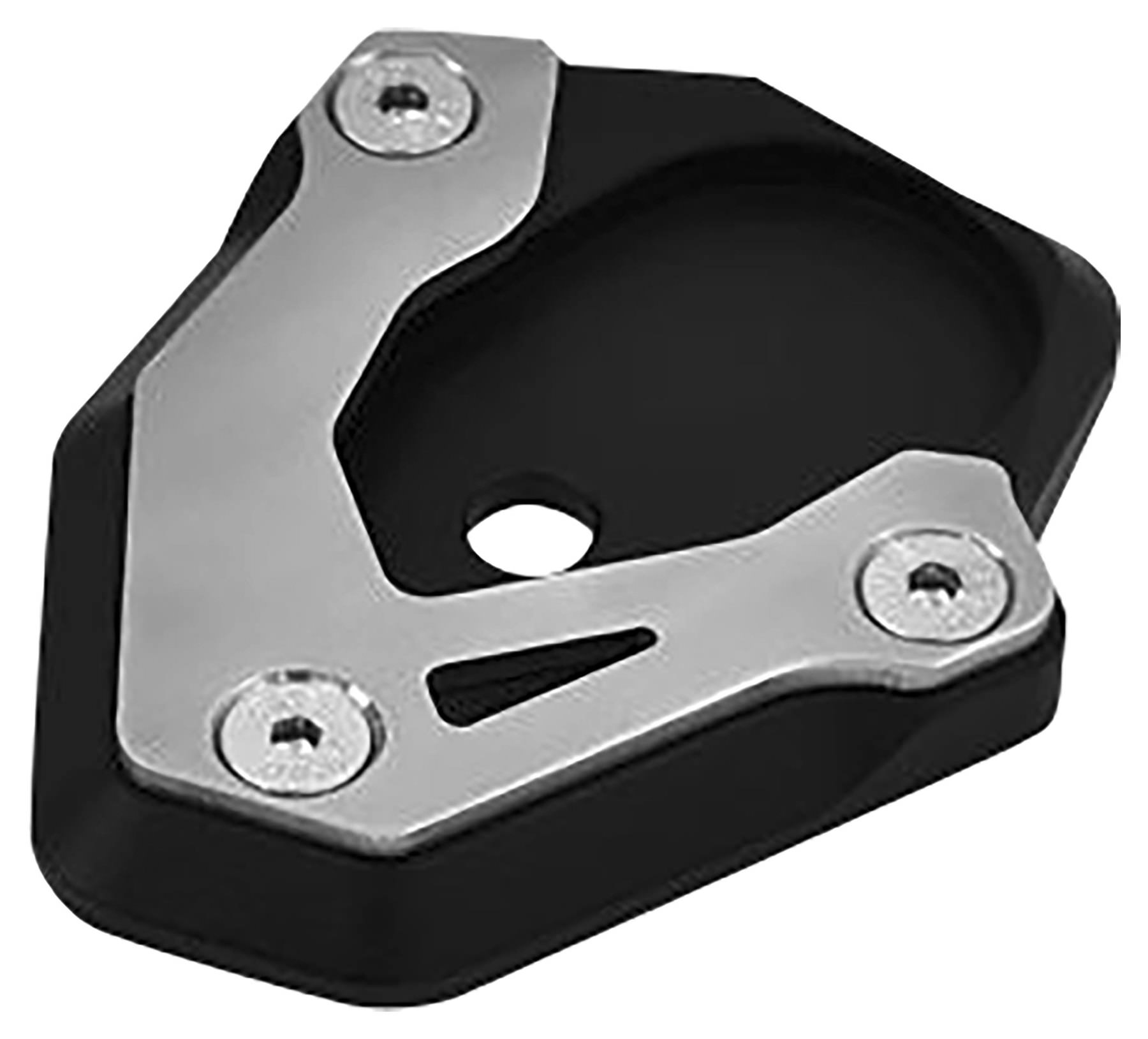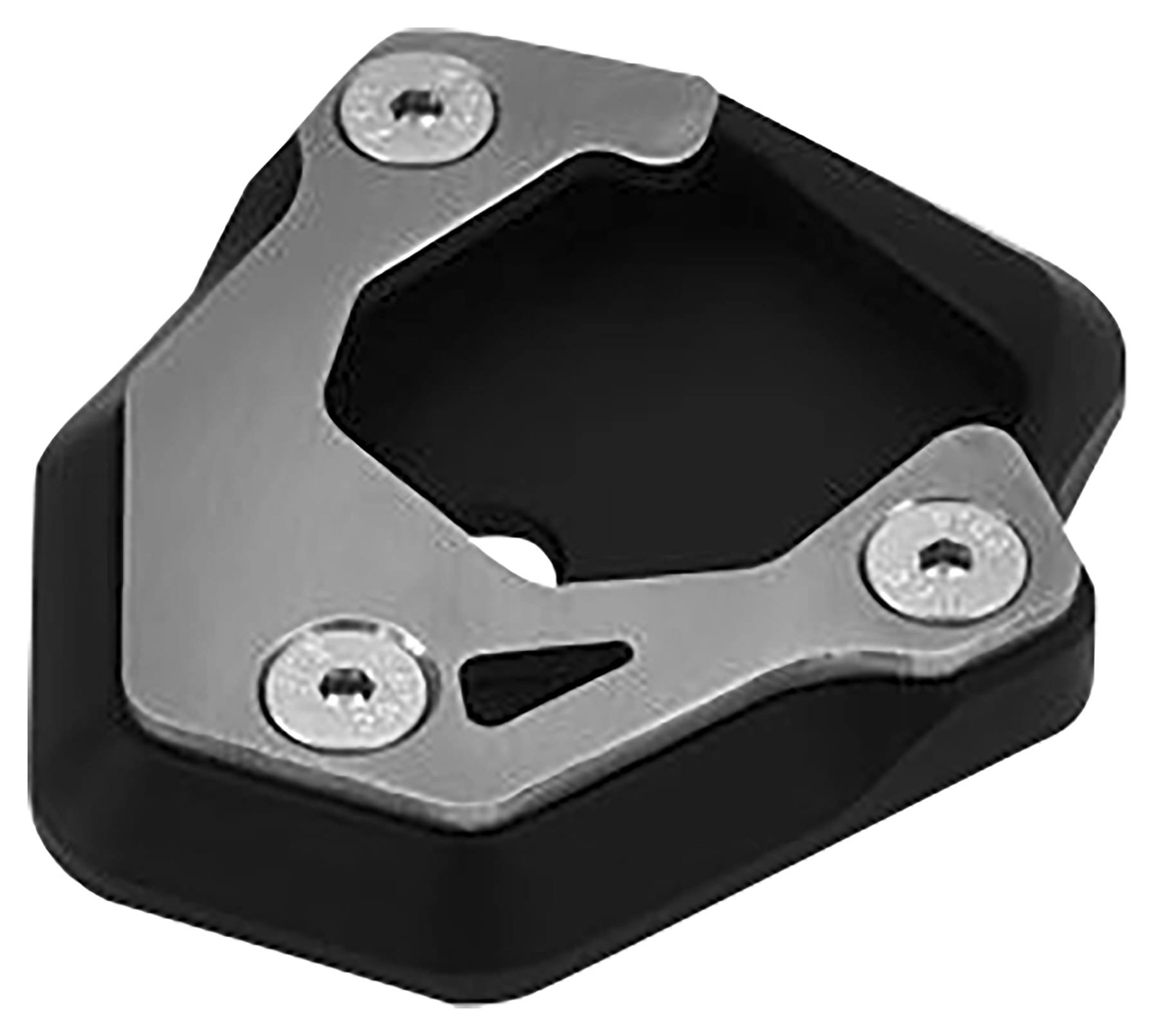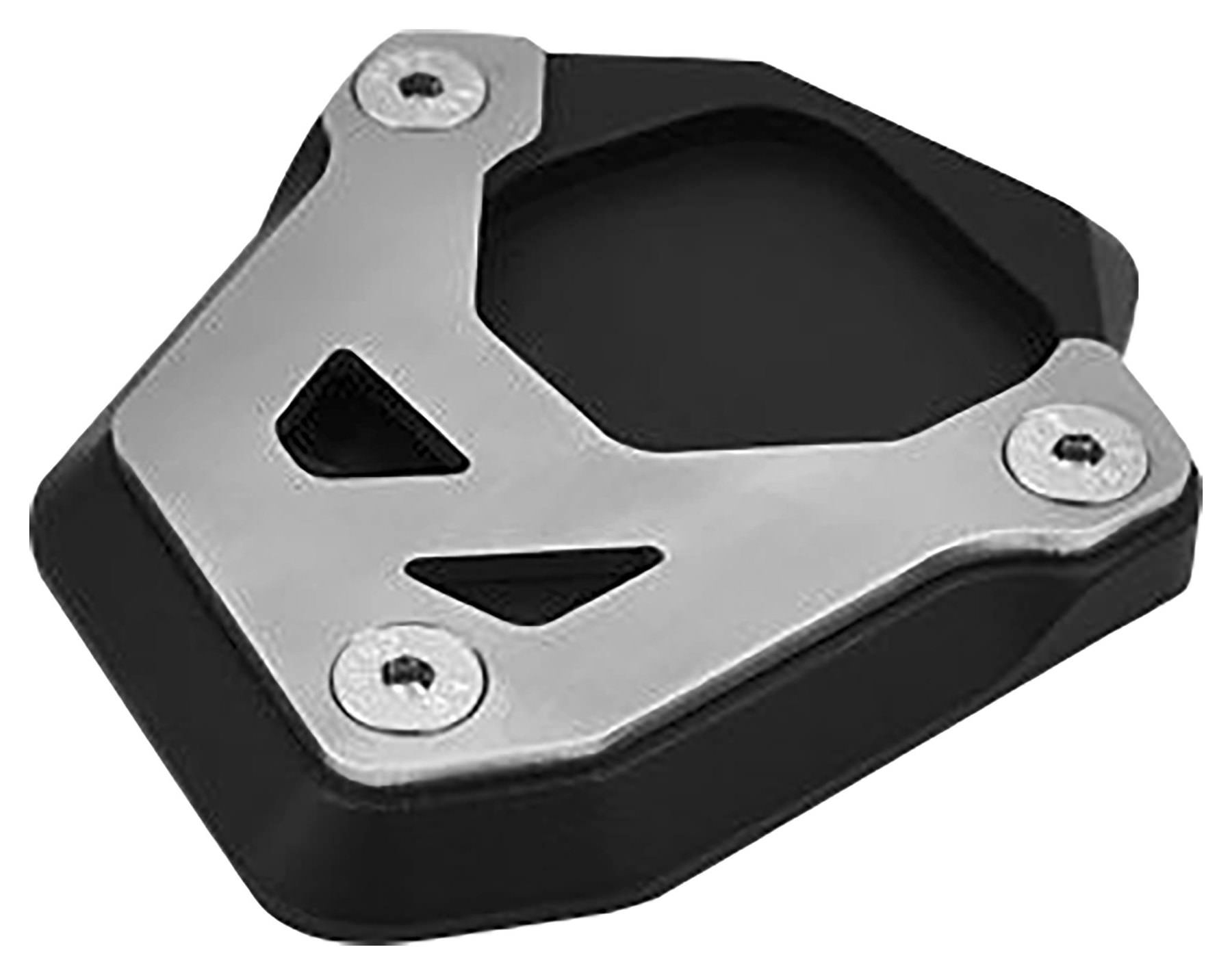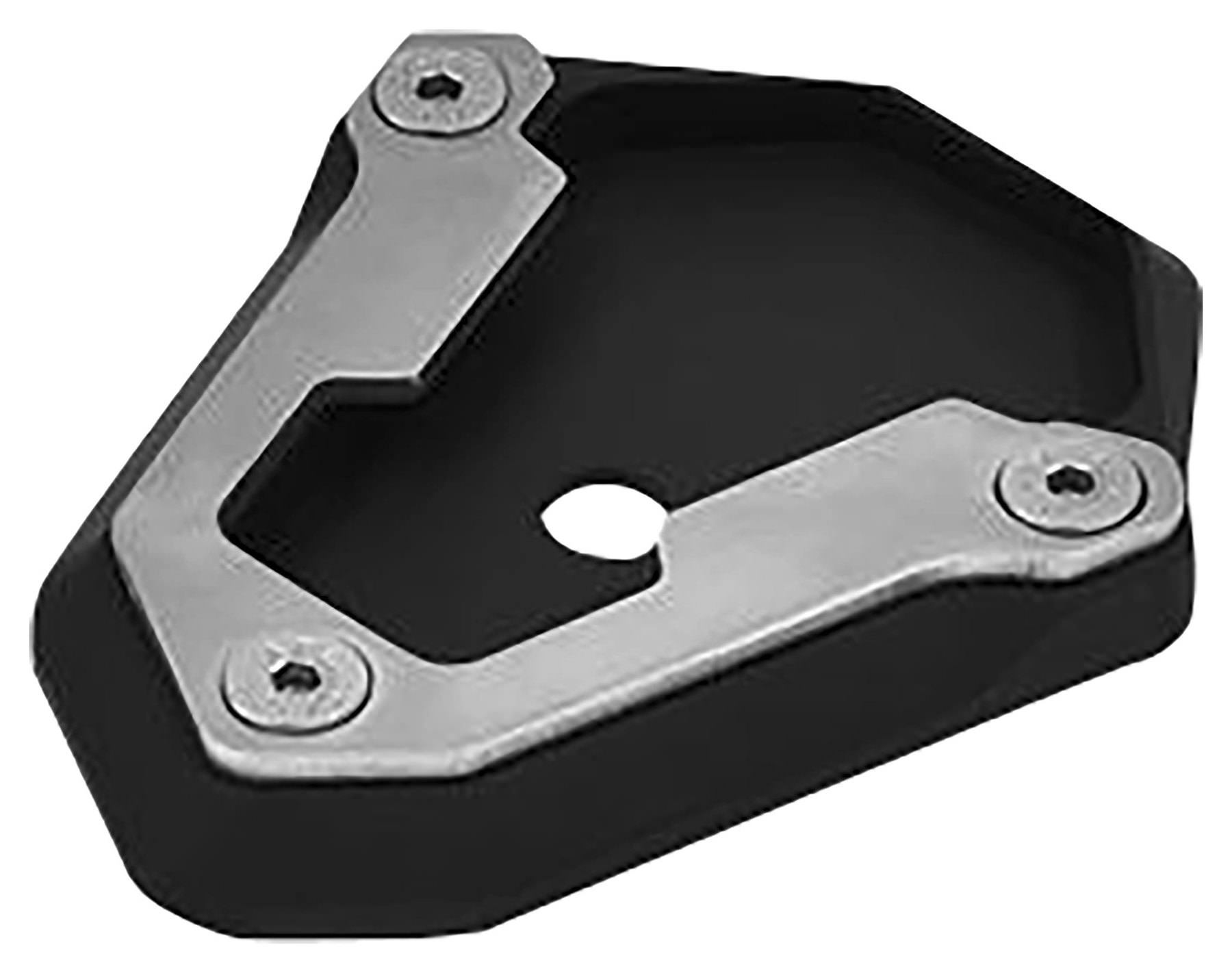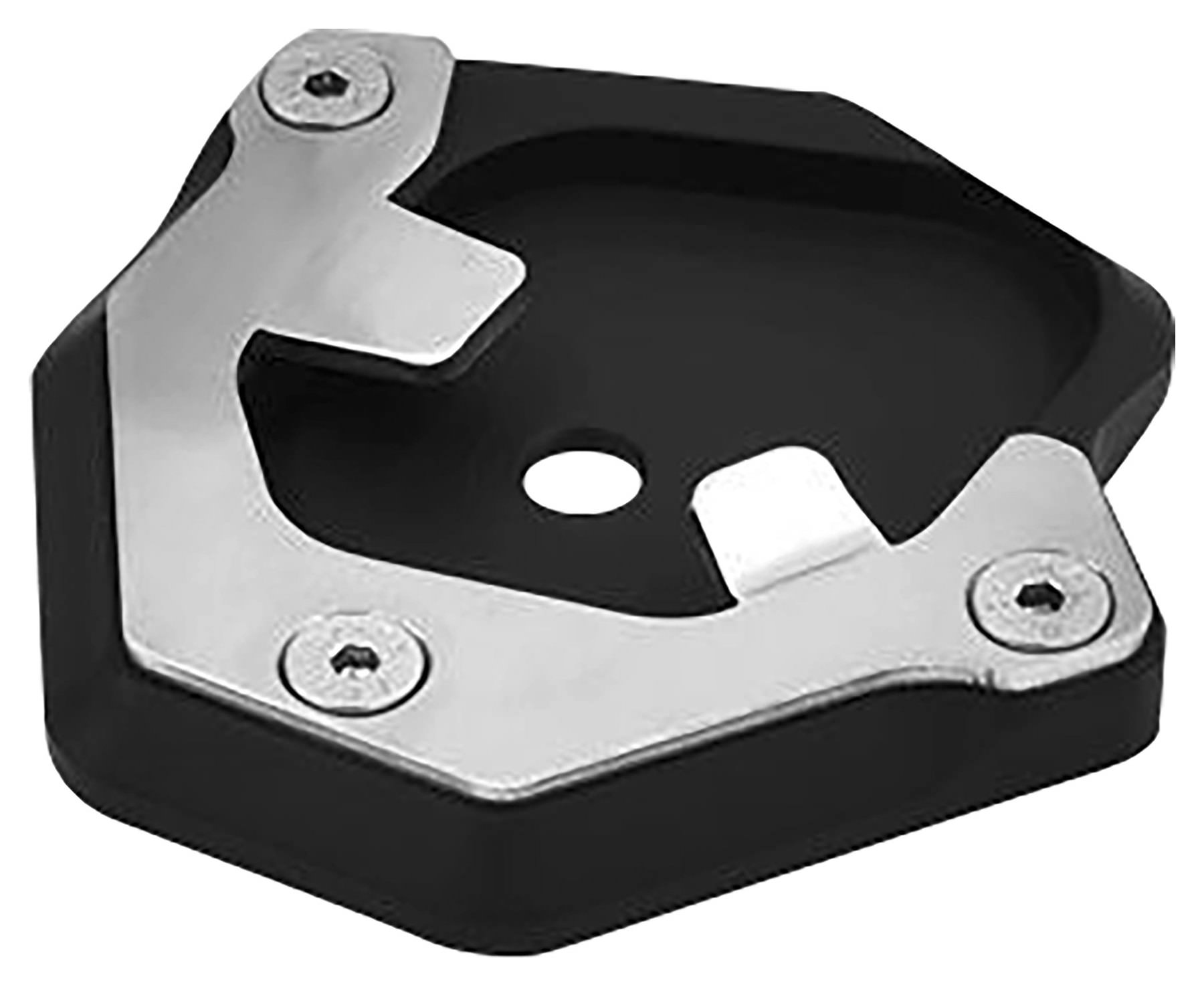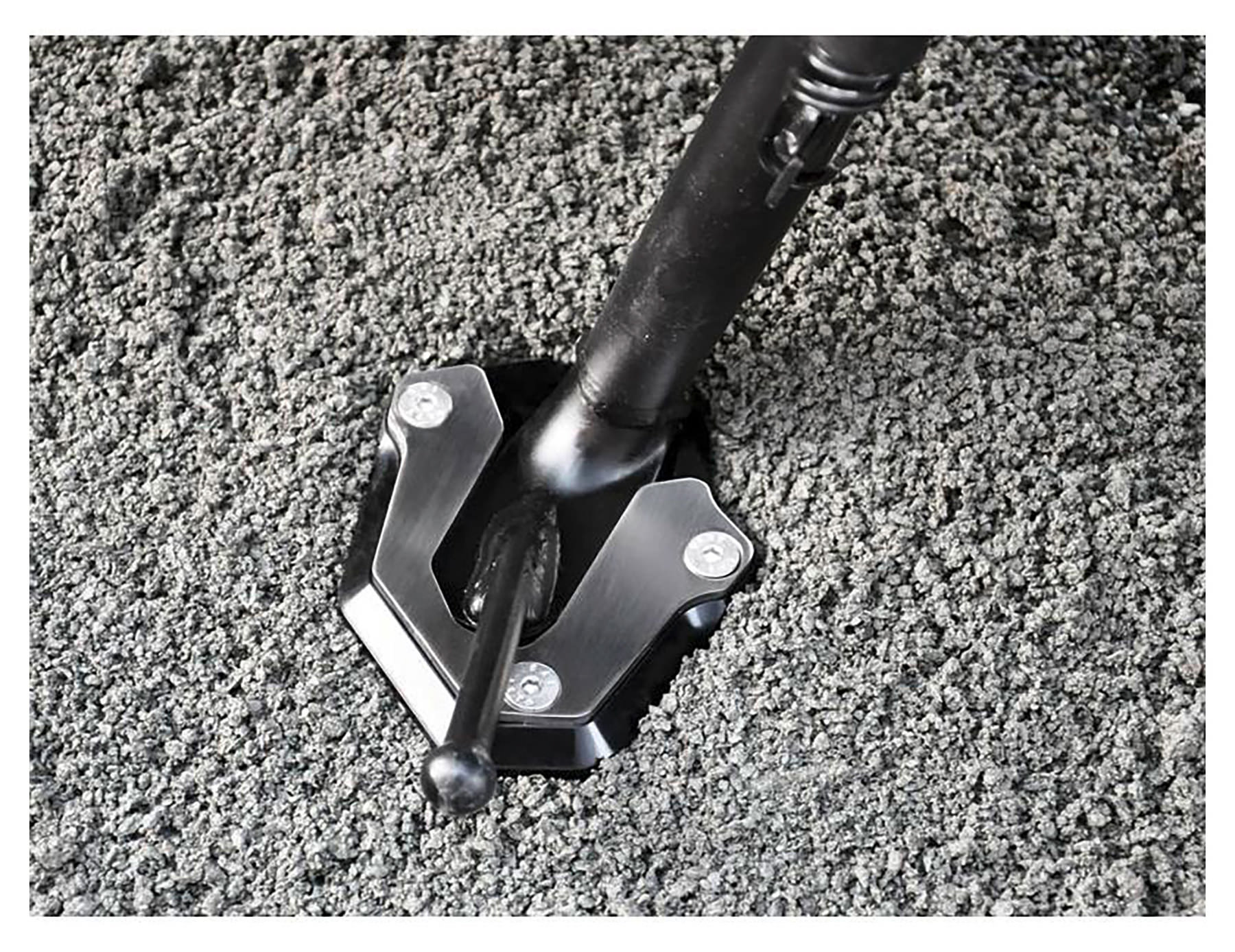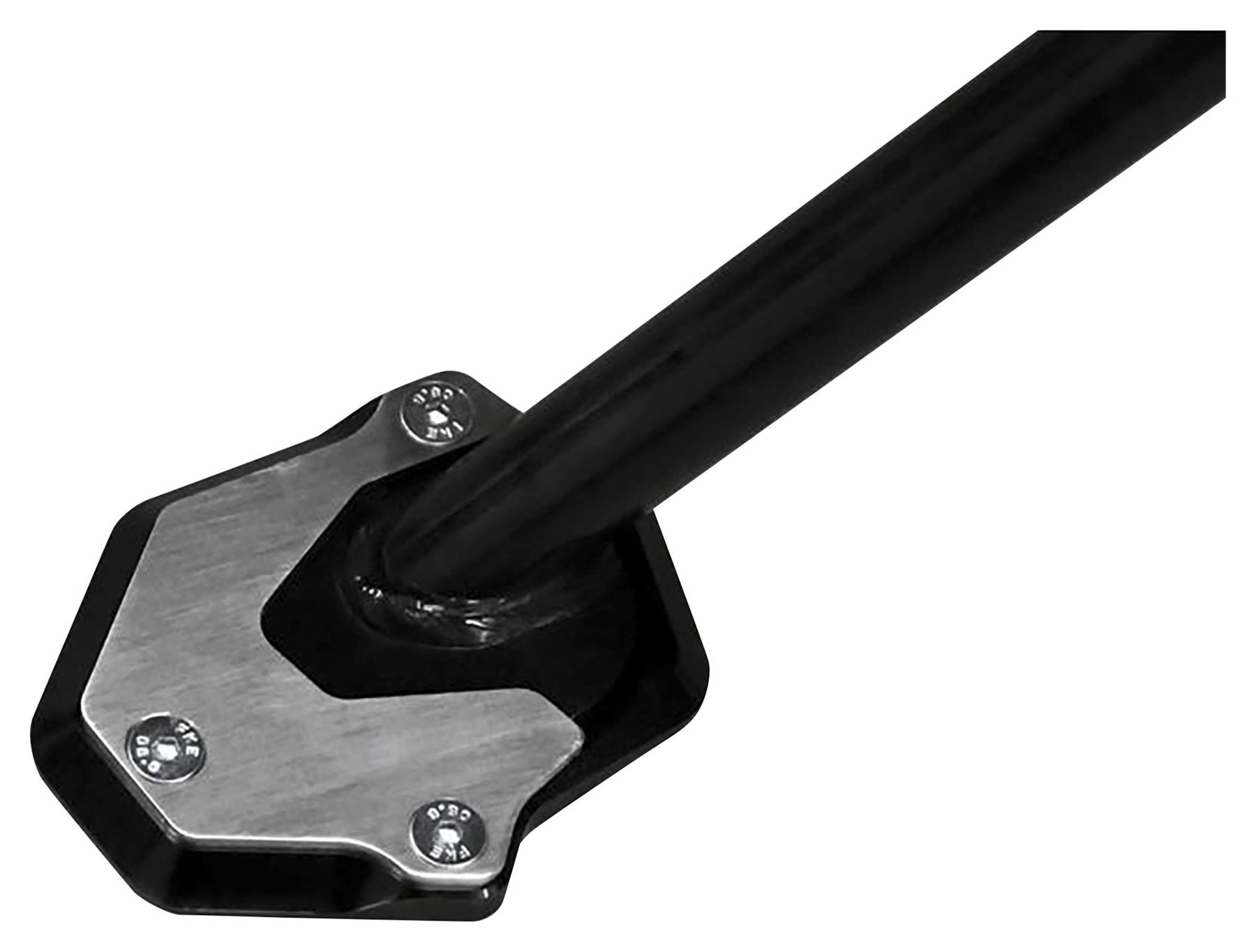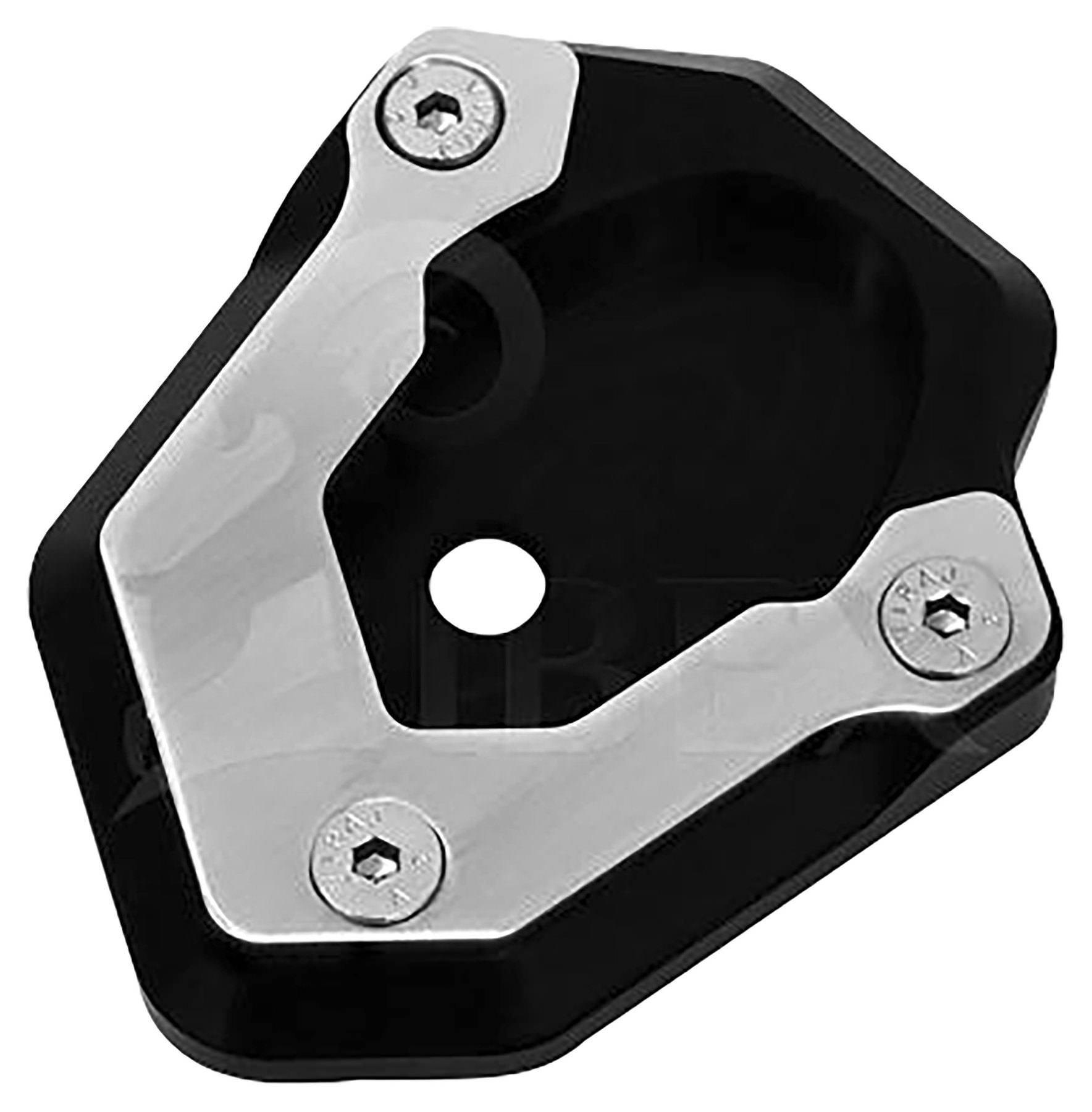 Zieger Side Stand Foot
for various models, black-silver
Unfortunately, this product is not compatible with this motorcycle.
Unfortunately, this product is not compatible with this motorcycle. You can find the right for the here: .
Free delivery on orders over €50.00
2 year return policy
Fast delivery
Zieger Side Stand Foot
for various models, black-silver
It's a situation every biker knows: you want to park your bike on its sidestand and what happens? There's nothing but sand and soft ground all around. So you either just stay on your bike and ride off somewhere else to look for a large stone to place the sidestand foot on. Or you install a bike-specific Zieger sidestand foot! It will help keep your motorbike upright in exactly this sort of situation.
The Zieger sidestand foot increases the footprint of the sidestand. This prevents it from sinking into the ground. Find out which one you need by clicking on the "My Bike" motorcycle symbol or by calling up all versions. You can fit the part to your sidestand in no time at all.
High-strength aluminium, CNC-machined
Black anodised
Stainless-steel clamping plate and bolts.
1 sidestand foot
Fittings
Installation instructions
Manufacturer details: Zieger
Motorcycle accessories made in Saxony

When Frank Zieger designed and built his first license plate holder back in 2005, the notion of having his own highly successful company still seemed like a distant dream. A metalworker by trade and also a serious motorcycle rider, he simply wanted something better than what was on the market. And from there, things just took off. A one-off item turned into a mini series, and as demand grew, so too did the range of products. Today Zieger employs 28 people in Dresden and Pirna, and the trend is upwards. The license plate holder is still Zieger's best selling product, but his crash bars, rear racks, engine guard plates, paddock stands and many other accessories are enjoying huge popularity.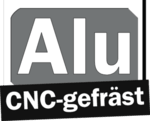 This product is made of high-quality CNC-machined aluminium and will look great on your motorbike.

To ensure that it gives you many years of service, please observe the following care instructions:

1. After installing the product, and each time you wash your motorbike, apply a wax-based care product, e.g. Procycle Polishing Wax, Order no. 10004923 for protection against wind and weather. You may need to repeat the application after an outing in winter weather, rain or salty air (near the coast).

2. Remove any corrosion as soon as possible using a standard aluminium polish (e.g. Autosol Aluminium Polish, Order no. 10004421).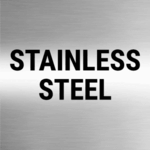 Stainless steel is a collective term for rustproof steel. It is much more resistant to corrosion than non-alloyed steels. Stainless steel does not deteriorate, and is hygienic, UV-resistant, non-corroding, fracture-proof, non-toxic and environmentally friendly. It does not weather and can be recycled in its entirety, even after many years. Technically, the term "stainless steel" refers to corrosion-resistant steel alloys with a wide variety of compositions but always containing a high percentage of chromium (usually a minimum of 10.5%)

.

MAINTENANCE:
Stainless steel should be cleaned regularly like all other materials, especially after exposure to salty air (near the coast), and also at regular intervals.
Water can easily collect in corners, edges and screw connections, resulting in corrosion. So careful cleaning is important, and if necessary screws should be undone in order to clean the parts thoroughly.
Do not leave rusty steel parts against stainless steel to avoid the rust "contamination".
Product
Art. No.
Availability
Price
Actions
ZEIGER SIDESTAND FOOT - VERSYS650(2015-19)BLK-SIL
10020817

The item is in stock and will be delivered in 2-5 working days. Note: Stocks are updated online every hour on working days from 7 a.m. to 8 p.m., so there is a good chance that the products are available if they appear online.

Available

€45.00 1
ZIEGER SIDE STAND BASE - TR TIGER 900 GT/RA. 19-21
10015827

The item is in stock and will be delivered in 2-5 working days. Note: Stocks are updated online every hour on working days from 7 a.m. to 8 p.m., so there is a good chance that the products are available if they appear online.

Available

€45.00 1
ZIEGER SIDE STAND BASE - YAMAHA FZ8/FAZER 2010-16
10015828

The product will be ordered from the manufacturer for you. Depending on availability, longer delivery times are also possible. We'll let you know if that's the case. You can of course cancel your delivery at any time free of charge.

Available in 7-21 days

€45.00 1
ZIEGER SIDE STAND FOOT - STREETFIGHTER 848 (11-16)
10020823

The item is in stock and will be delivered in 2-5 working days. Note: Stocks are updated online every hour on working days from 7 a.m. to 8 p.m., so there is a good chance that the products are available if they appear online.

Available

€45.00 1
ZIEGER SIDE STAND FOOT - TENERE 700 19-20, BLACK
10020500

The item is in stock and will be delivered in 2-5 working days. Note: Stocks are updated online every hour on working days from 7 a.m. to 8 p.m., so there is a good chance that the products are available if they appear online.

Available

€45.00 1
ZIEGER SIDESTAND FOOT - 1290 SUPER DUKE GT(16-18)
10020830

The item is in stock and will be delivered in 2-5 working days. Note: Stocks are updated online every hour on working days from 7 a.m. to 8 p.m., so there is a good chance that the products are available if they appear online.

Available

€45.00 1
ZIEGER SIDESTAND FOOT - 701 ENDURO/SUPERMOTO
10020827

The item is in stock and will be delivered in 2-5 working days. Note: Stocks are updated online every hour on working days from 7 a.m. to 8 p.m., so there is a good chance that the products are available if they appear online.

Available

€45.00 1
ZIEGER SIDESTAND FOOT - 701 VITPILEN/SVARTPILEN
10020839

The item is in stock and will be delivered in 2-5 working days. Note: Stocks are updated online every hour on working days from 7 a.m. to 8 p.m., so there is a good chance that the products are available if they appear online.

Available

€45.00 1
ZIEGER SIDESTAND FOOT - BENELLI 752S (2019-20)
10020842

The product will be ordered from the manufacturer for you. Depending on availability, longer delivery times are also possible. We'll let you know if that's the case. You can of course cancel your delivery at any time free of charge.

Available in 7-21 days

€45.00 1
ZIEGER SIDESTAND FOOT - BMW MODELS, BLACK-SILVER
10020810

The item is in stock and will be delivered in 2-5 working days. Note: Stocks are updated online every hour on working days from 7 a.m. to 8 p.m., so there is a good chance that the products are available if they appear online.

Available

€45.00 1
ZIEGER SIDESTAND FOOT - BMW MODELS, BLACK-SILVER
10020837

The item is in stock and will be delivered in 2-5 working days. Note: Stocks are updated online every hour on working days from 7 a.m. to 8 p.m., so there is a good chance that the products are available if they appear online.

Available

€45.00 1
ZIEGER SIDESTAND FOOT - BMW MODELS, BLACK-SILVER
10020831

The item is in stock and will be delivered in 2-5 working days. Note: Stocks are updated online every hour on working days from 7 a.m. to 8 p.m., so there is a good chance that the products are available if they appear online.

Available

€45.00 1
ZIEGER SIDESTAND FOOT - BMW MODELS, BLACK-SILVER
10020808

The item is in stock and will be delivered in 2-5 working days. Note: Stocks are updated online every hour on working days from 7 a.m. to 8 p.m., so there is a good chance that the products are available if they appear online.

Available

€45.00 1
ZIEGER SIDESTAND FOOT - DL1000 V-STROM (2004-07)
10020819

The item is in stock and will be delivered in 2-5 working days. Note: Stocks are updated online every hour on working days from 7 a.m. to 8 p.m., so there is a good chance that the products are available if they appear online.

Available

€45.00 1
ZIEGER SIDESTAND FOOT - DUCATI MODELS, BLACK-SILV
10020811

The item is in stock and will be delivered in 2-5 working days. Note: Stocks are updated online every hour on working days from 7 a.m. to 8 p.m., so there is a good chance that the products are available if they appear online.

Available

€45.00 1
ZIEGER SIDESTAND FOOT - F800GS (2015-18) BLK-SILV
10020806

The item is in stock and will be delivered in 2-5 working days. Note: Stocks are updated online every hour on working days from 7 a.m. to 8 p.m., so there is a good chance that the products are available if they appear online.

Available

€45.00 1
ZIEGER SIDESTAND FOOT - F800R (2015-19), BLK-SILV
10020807

The item is in stock and will be delivered in 2-5 working days. Note: Stocks are updated online every hour on working days from 7 a.m. to 8 p.m., so there is a good chance that the products are available if they appear online.

Available

€45.00 1
ZIEGER SIDESTAND FOOT - G310 R (2017-19),BLK-SILV
10020834

The item is in stock and will be delivered in 2-5 working days. Note: Stocks are updated online every hour on working days from 7 a.m. to 8 p.m., so there is a good chance that the products are available if they appear online.

Available

€45.00 1
ZIEGER SIDESTAND FOOT - G310GS (2017-19),BLK-SILV
10020840

The product will be ordered from the manufacturer for you. Depending on availability, longer delivery times are also possible. We'll let you know if that's the case. You can of course cancel your delivery at any time free of charge.

Available in 7-21 days

€45.00 1
ZIEGER SIDESTAND FOOT - GSX-S750 (2017-20)
10020825

The item is in stock and will be delivered in 2-5 working days. Note: Stocks are updated online every hour on working days from 7 a.m. to 8 p.m., so there is a good chance that the products are available if they appear online.

Available

€45.00 1
ZIEGER SIDESTAND FOOT - HONDA MODELS, BLACK-SILV
10020812

The item is in stock and will be delivered in 2-5 working days. Note: Stocks are updated online every hour on working days from 7 a.m. to 8 p.m., so there is a good chance that the products are available if they appear online.

Available

€45.00 1
ZIEGER SIDESTAND FOOT - HONDA MODELS, BLACK-SILV
10020815

The item is in stock and will be delivered in 2-5 working days. Note: Stocks are updated online every hour on working days from 7 a.m. to 8 p.m., so there is a good chance that the products are available if they appear online.

Available

€45.00 1
ZIEGER SIDESTAND FOOT - HONDA MODELS, BLACK-SILV
10020835

The item is in stock and will be delivered in 2-5 working days. Note: Stocks are updated online every hour on working days from 7 a.m. to 8 p.m., so there is a good chance that the products are available if they appear online.

Available

€45.00 1
ZIEGER SIDESTAND FOOT - KTM MODELS, BLACK-SILVER
10020818

The item is in stock and will be delivered in 2-5 working days. Note: Stocks are updated online every hour on working days from 7 a.m. to 8 p.m., so there is a good chance that the products are available if they appear online.

Available

€45.00 1
ZIEGER SIDESTAND FOOT - KTM MODELS, BLACK-SILVER
10020838

The product will be ordered from the manufacturer for you. Depending on availability, longer delivery times are also possible. We'll let you know if that's the case. You can of course cancel your delivery at any time free of charge.

Available in 7-21 days

€45.00 1
ZIEGER SIDESTAND FOOT - KTM MODELS, BLACK-SILVER
10020836

The item is in stock and will be delivered in 2-5 working days. Note: Stocks are updated online every hour on working days from 7 a.m. to 8 p.m., so there is a good chance that the products are available if they appear online.

Available

€45.00 1
ZIEGER SIDESTAND FOOT - MT-10 (2016-18), BLK-SILV
10020820

The item is in stock and will be delivered in 2-5 working days. Note: Stocks are updated online every hour on working days from 7 a.m. to 8 p.m., so there is a good chance that the products are available if they appear online.

Available

€45.00 1
ZIEGER SIDESTAND FOOT - MULTISTRADA 950 (2017-18)
10020826

The item is in stock and will be delivered in 2-5 working days. Note: Stocks are updated online every hour on working days from 7 a.m. to 8 p.m., so there is a good chance that the products are available if they appear online.

Available

€45.00 1
ZIEGER SIDESTAND FOOT - NC750S/X(2016-19),BLK-SIL
10020813

The item is in stock and will be delivered in 2-5 working days. Note: Stocks are updated online every hour on working days from 7 a.m. to 8 p.m., so there is a good chance that the products are available if they appear online.

Available

€45.00 1
ZIEGER SIDESTAND FOOT - R1200GS(2013-16),BLK-SILV
10020809

The item is in stock and will be delivered in 2-5 working days. Note: Stocks are updated online every hour on working days from 7 a.m. to 8 p.m., so there is a good chance that the products are available if they appear online.

Available

€45.00 1
ZIEGER SIDESTAND FOOT - R1200R (2015-18) BLK-SILV
10020833

The item is in stock and will be delivered in 2-5 working days. Note: Stocks are updated online every hour on working days from 7 a.m. to 8 p.m., so there is a good chance that the products are available if they appear online.

Available

€45.00 1
ZIEGER SIDESTAND FOOT - SPEED TRIPL.1050(2005-10)
10020841

The product will be ordered from the manufacturer for you. Depending on availability, longer delivery times are also possible. We'll let you know if that's the case. You can of course cancel your delivery at any time free of charge.

Available in 7-21 days

€45.00 1
ZIEGER SIDESTAND FOOT - SV650N/S (2003-08)
10020829

The product will be ordered from the manufacturer for you. Depending on availability, longer delivery times are also possible. We'll let you know if that's the case. You can of course cancel your delivery at any time free of charge.

Available in 7-21 days

€45.00 1
ZIEGER SIDESTAND FOOT - VAR. MODELS BLACK-SILVER
10020828

The item is in stock and will be delivered in 2-5 working days. Note: Stocks are updated online every hour on working days from 7 a.m. to 8 p.m., so there is a good chance that the products are available if they appear online.

Available

€45.00 1
ZIEGER SIDESTAND FOOT - VERSYS 1000 (2012-18)
10020824

The item is in stock and will be delivered in 2-5 working days. Note: Stocks are updated online every hour on working days from 7 a.m. to 8 p.m., so there is a good chance that the products are available if they appear online.

Available

€45.00 1
ZIEGER SIDESTAND FOOT - VFR1200X CROSSTOURER
10020814

The item is in stock and will be delivered in 2-5 working days. Note: Stocks are updated online every hour on working days from 7 a.m. to 8 p.m., so there is a good chance that the products are available if they appear online.

Available

€45.00 1
ZIEGER SIDESTAND FOOT - VFR800F CROSSRUNN.2010-13
10020816

The item is in stock and will be delivered in 2-5 working days. Note: Stocks are updated online every hour on working days from 7 a.m. to 8 p.m., so there is a good chance that the products are available if they appear online.

Available

€45.00 1
ZIEGER SIDESTAND FOOT - XJ6 DIVERSION (2013-16)
10020821

The product will be ordered from the manufacturer for you. Depending on availability, longer delivery times are also possible. We'll let you know if that's the case. You can of course cancel your delivery at any time free of charge.

Available in 7-21 days

€45.00 1
ZIEGER SIDESTAND FOOT - XT1200Z SUPER TENERE
10020832

The item is in stock and will be delivered in 2-5 working days. Note: Stocks are updated online every hour on working days from 7 a.m. to 8 p.m., so there is a good chance that the products are available if they appear online.

Available

€45.00 1
ZIEGER SIDESTAND FOOT - YAMAHA MODELS, BLK-SILV
10020822

The item is in stock and will be delivered in 2-5 working days. Note: Stocks are updated online every hour on working days from 7 a.m. to 8 p.m., so there is a good chance that the products are available if they appear online.

Available

€45.00 1