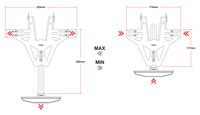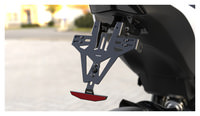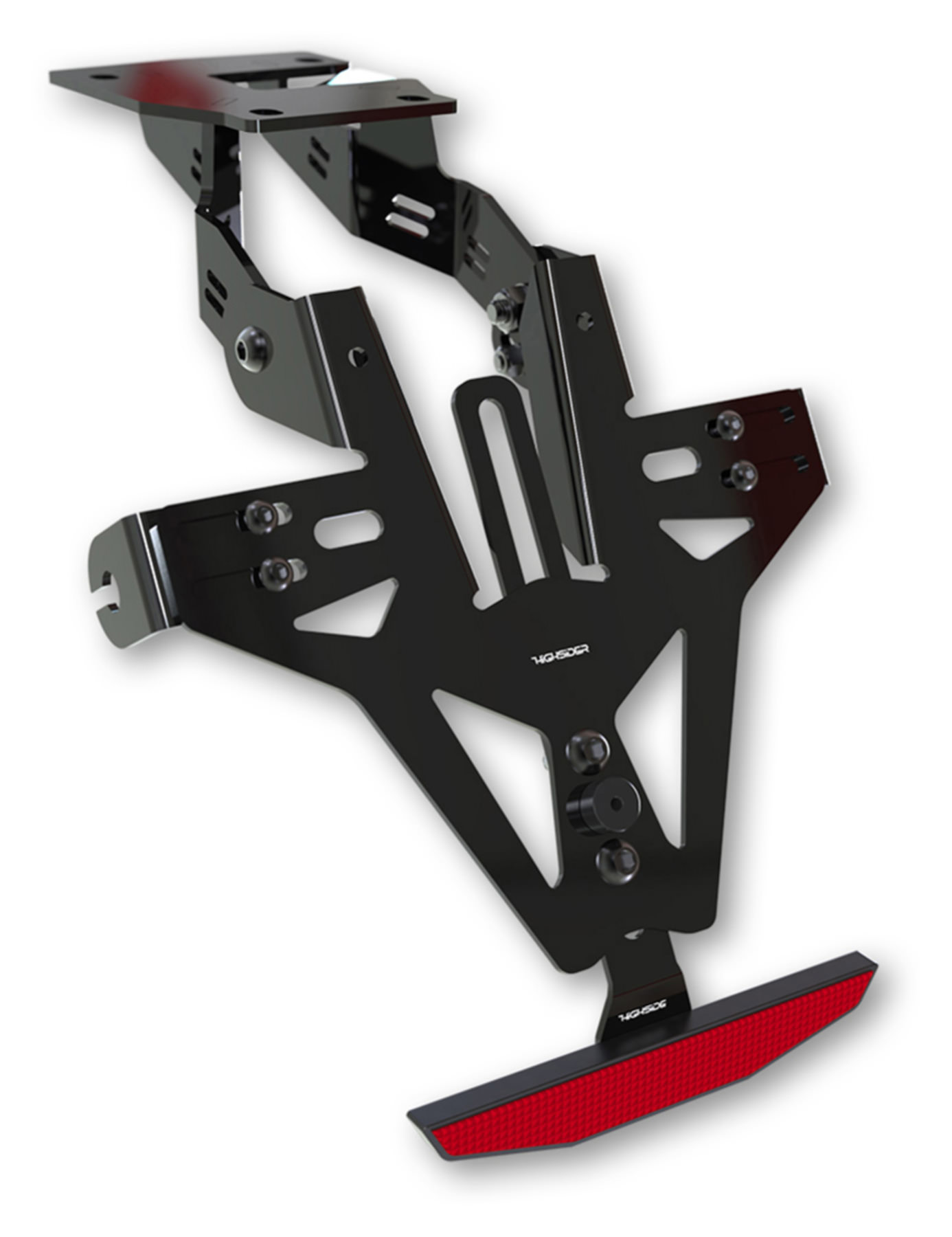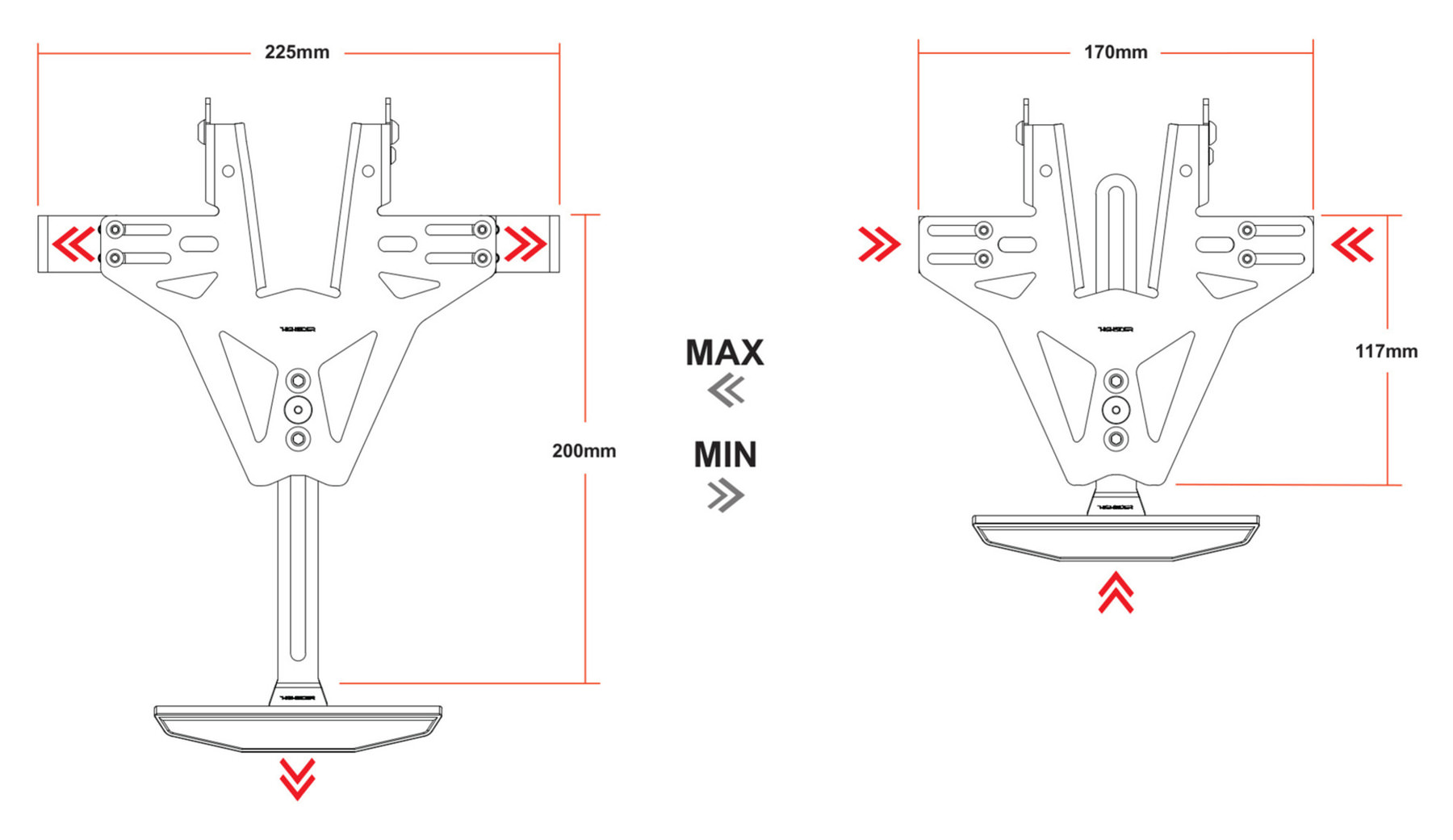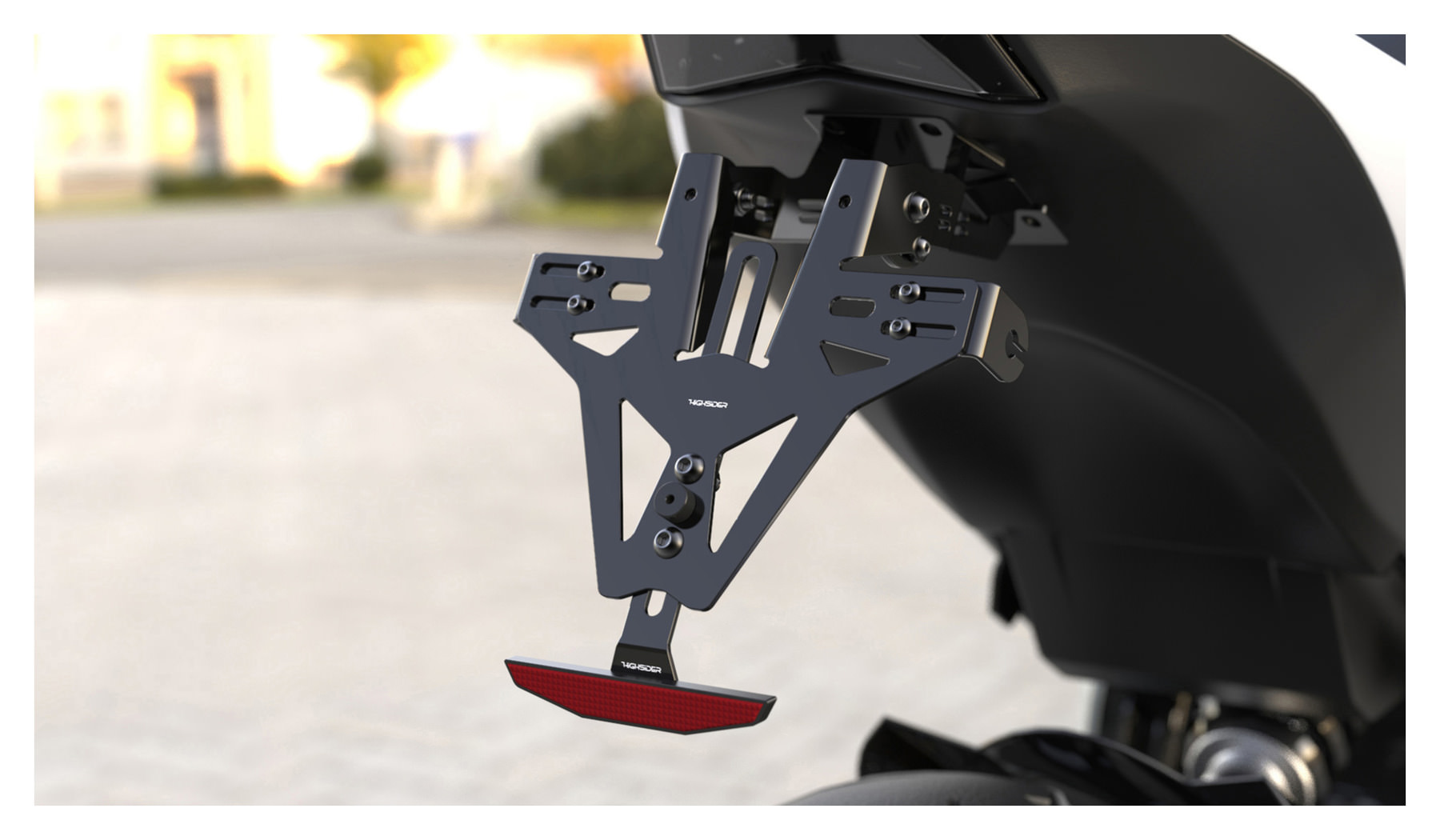 AKRON-RS LICENCE PLATE H.
AKRON-RS LICENCE PLATE H.
AKRON-RS LICENCE PLATE H.
CBR1000RR FIREBLADE SP/2
You have placed the following items in the shopping basket:
AKRON-RS LICENCE PLATE H.
CBR1000RR FIREBLADE SP/2
Why does it actually need a different number plate holder? Probably for "cosmetic" or visual reasons. Whatever the case, the HIGHSIDER *AKRON-RS* licence plate holder is exactly what you are looking for. Because in terms of design, it adapts perfectly to the lines of your bike.
The model-specific HIGHSIDER *AKRON-RS* holder can be mounted exactly at the original attachment points of your motorbike. For you, this means: only exchange - no drilling or cutting. The licence plate is made of sheet steel, 2 mm thick and powder-coated.
Vehicle-specific holder
Suitable for European number plates
Steplessly adjustable angle of inclination
Steplessly adjustable indicator holder
Slotted indicator holder for quick mounting without cable separation
Continuously adjustable reflector
simple fixing without further work steps (e.g. drilling)
Easy mounting of the number plate through slotted holes
Many different options for mounting the licence plate light
Reflector E-approved
Scope of delivery:
1 x HIGHSIDER *AKRON-RS* number plate holder for various vehicles
1 x HIGHSIDER AKRON-RS number plate holder
Indicator holder
1 x Reflector with adjustable holder
Mounting parts
Mounting instructions
Notes:
if side reflectors are fitted to your original number plate holder, these must be refitted in a suitable position or replaced with new ones
to avoid damage to cables, all sharp-edged feed-throughs are protected by a rubber membrane grommet
stepless adjustment: this allows you to adjust the plate to the desired position without drilling. To keep the plate in this position, there is an additional securing screw
Two rubber washers are included to secure the plate and reduce vibrations. Another rubber buffer supports the number plate on its underside.
the indicator brackets of the HIGHSIDER *AKRON-RS* are adjustable in width and therefore suitable for any type of accessory indicator. This allows you to adjust the position of the turn signals to suit a wide range of number plates.
To enable the turn signals to be mounted without disconnecting them from the wiring harness, the 10 mm holes are slotted to the side
the bracket is adjustable in height and designed to allow mounting in the legally prescribed position
you can also adjust the position of the rear reflector individually via a slider. Adaptation to the different designs of EU number plates is done in no time at all.
Manufacturer details: Highsider

Headlights, turn signals, rearview mirrors and accessories

The German brand Highsider is most notably known for innovative lighting technology. Among other things, the Highsider range includes probably the smallest approved LED turn signal, combined turn signals/tail lights and LED headlights with low beam, high beam and parking light featuring state-of-the-art LED technology. Thanks to high-quality materials, meticulous workmanship and harmonious design, Highsider products provide the perfect individual finishing touch for all motorcycles. That also goes for the Highsider rearview mirror range. And best of all: Highsider products are incredibly reasonably priced in view of what they offer.
Write a review for AKRON-RS LICENCE PLATE H.
We offer you the opportunity to rate products purchased from Louis and to share your experiences with them publicly.

To ensure that your objective and truthful report will be really beneficial to all readers, please observe the following rules.


Please only rate products that you have personally used for their intended purpose.
Please give reasons for your positive and negative criticisms. Only then will they benefit other customers and allow us to improve the product if necessary.
Please don't copy content that has already been published elsewhere. It's your personal experience which counts.
Data protection: Please don't include your own and other people's addresses, telephone numbers or URLs or even the names of third parties (people as well as companies) in your review.
In your product review, please don't make comparisons with third party product ranges. Regardless of whether you judge these positively or negatively, you, or we as operators of this online shop, would be violating competition law.
Fair play: Please follow these rules so that we don't have to shorten or delete your rating.
Your product rating has been saved. It will be displayed in a few minutes
Your previous input will be lost!
Do you really want to cancel your entry?
+400 brands
2-year right of return
Fast delivery
Worldwide shipping