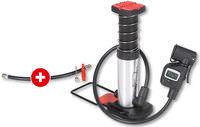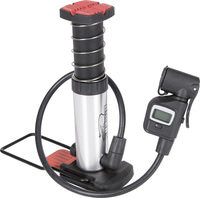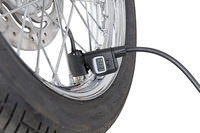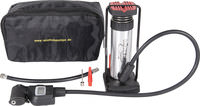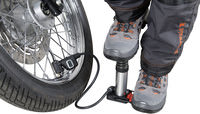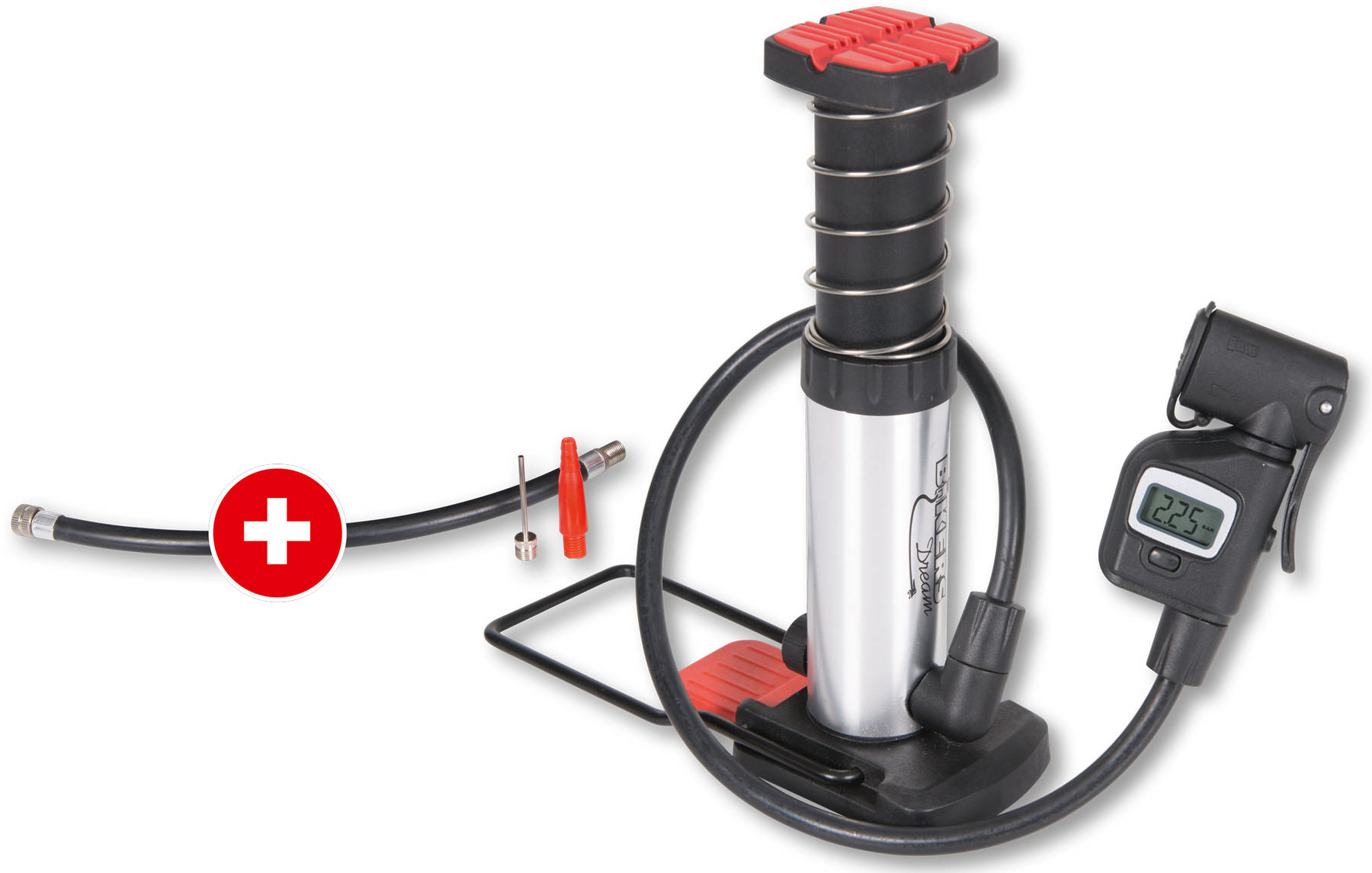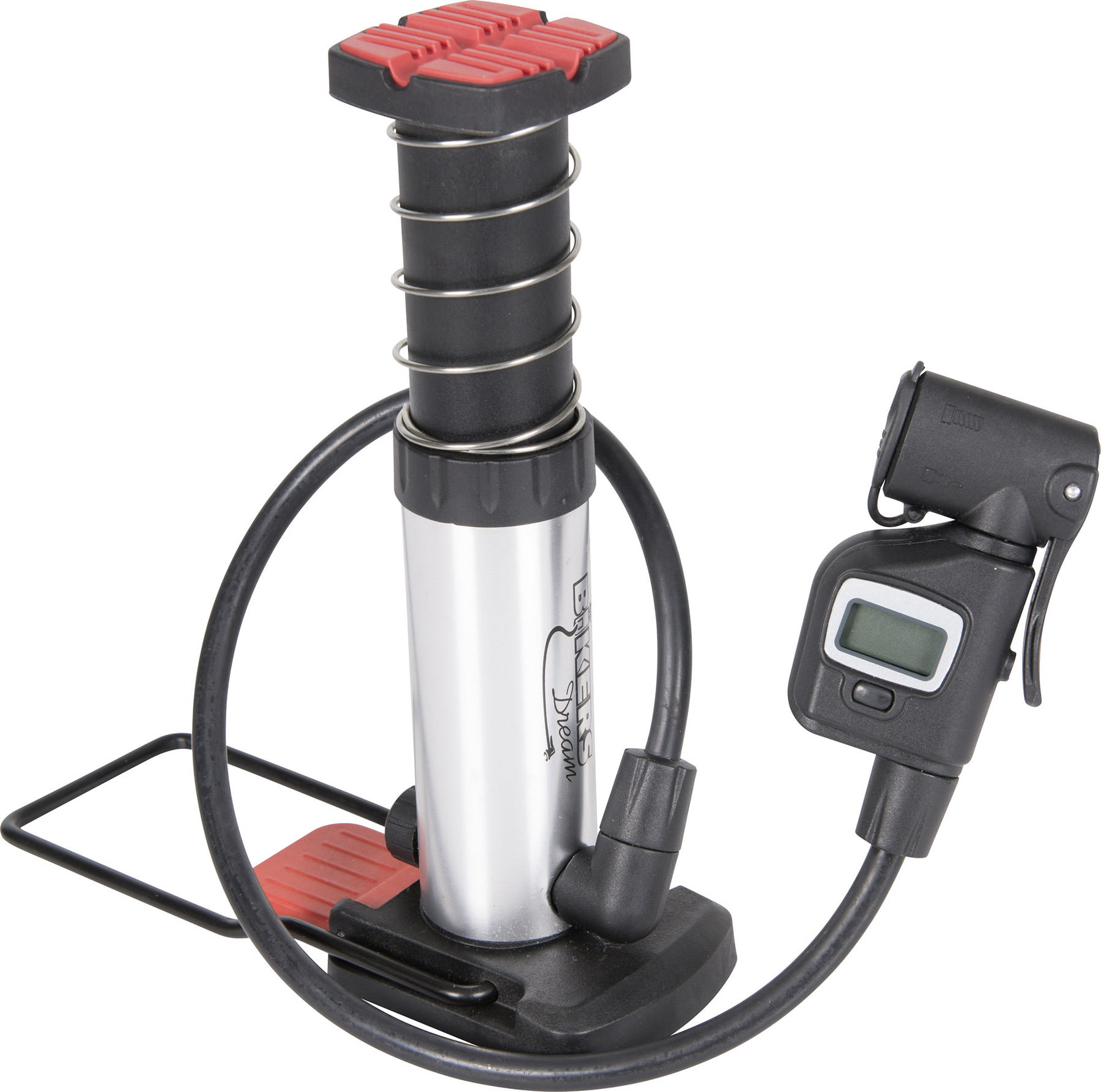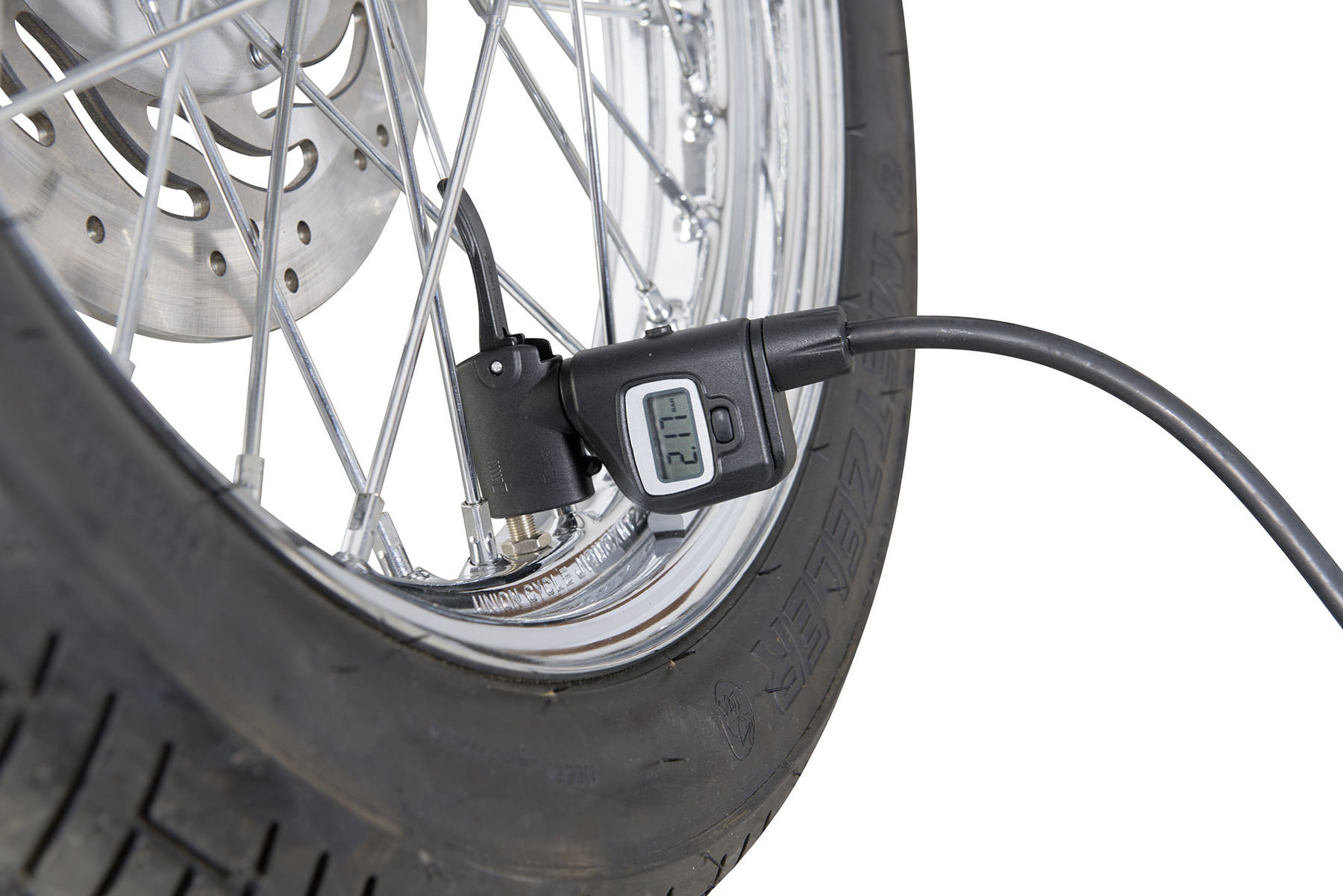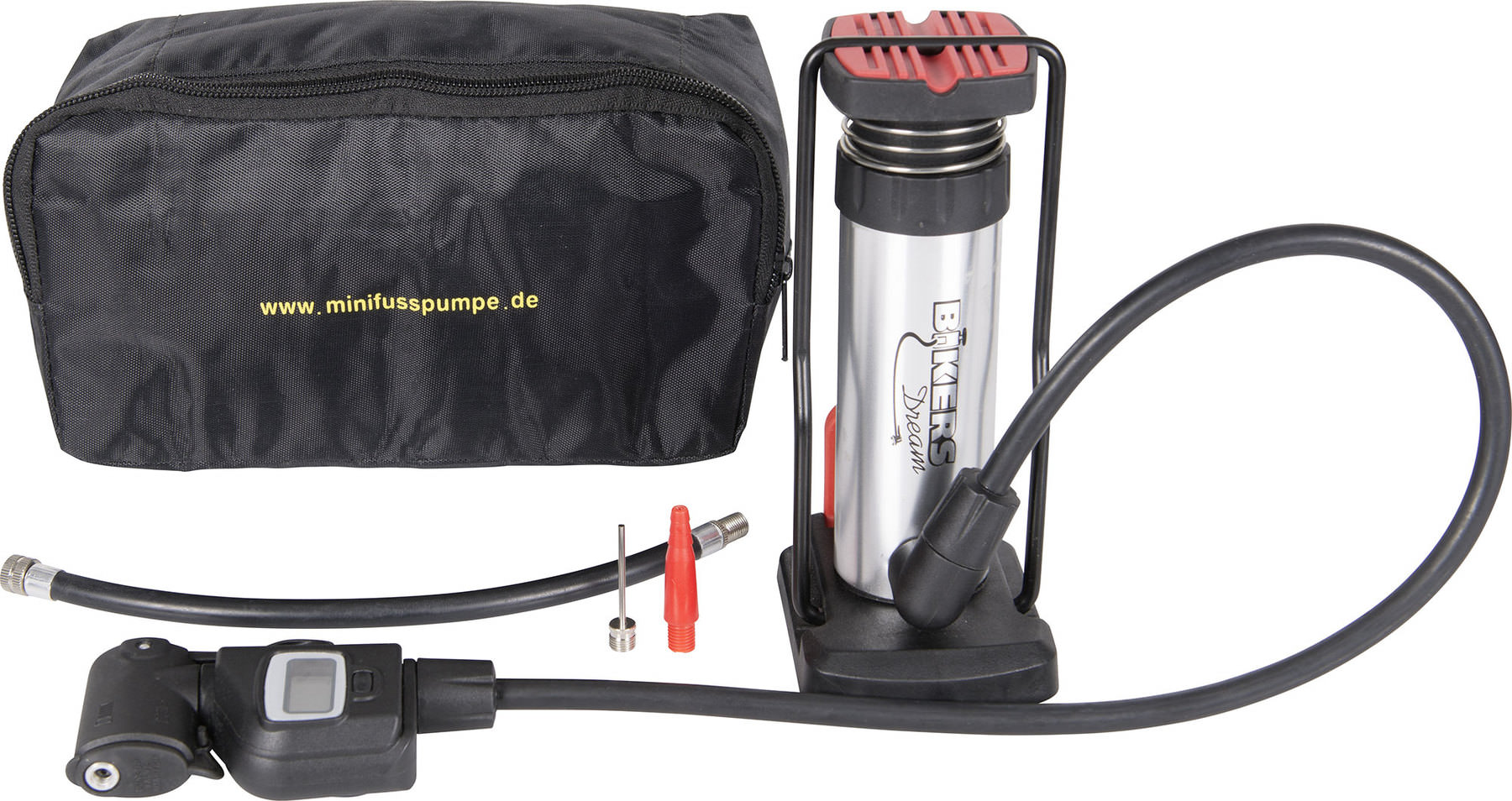 BIKERS DREAM FOOT PUMP
LOUIS EDITION
You have placed the following items in the shopping basket:
BIKERS DREAM FOOT PUMP
LOUIS EDITION
What do bikers dream about? Flat tyres? Floppy airbeds, balls and swimming rings? Bikers Dream clearly think so. Why else would they have produced their ingenious Mini Foot Pump? It comes with a range of adapters so that this powerful compact pump can be used for all standard tyre valves (motorcycle, scooter, bicycle, car, quad, ATV, camping) and can even be operated by hand! A dream to use!
The Mini Foot Pump stows away in a handy and strong nylon bag, which not only keeps everything together, but also takes up very little space. Measuring approx. 17 cm in length and weighing in at just approx. 0.5 kg, this handy pump will easily fit in your luggage.
The pump generates a sizeable pressure of up to 12 bar. The fold-out shackle ensures that it stands firmly n the ground. A digital pressure gauge indicates the pressure in the tyre precisely. By the way: Adapters for inflating airbeds and balls are stored under the base of the pump.
Dimensions: 170 mm when folded up
Up to 12 bar
Weight 0.5 kg
Includes adapters for all standard valves and for balls and airbeds.
with extension cable ca. 21cm
Manufacturer details: Bikers Dream

The ingenious mini foot pump

Rieden am Forggensee, in Germany's Ostallgäu region, with views of the famous Neuschwanstein Castle, is simply made for motorcycles and mountain bikes. And it seems that Sepp Kanzian had both sorts of bike in mind when he engineered the perfect portable mini foot pump. No easy task! Because motorcycle tyres have a much large volume than bicycle tyres but require far less pressure. Sepp's solution: The mini foot pump has two different settings, for high volume or high pressure. In effect, it has a kind of "two-speed gearbox". This mini foot pump can handle all standard valve types, from car tyre to air bed. It weighs barely half a kilo and, when packed away, is so compact that you really can carry it with you wherever you go. All in all, the jury at the International Trade Fair Ideas, Inventions, New Products 2001 in Nuremberg decided it was worthy of a gold medal. And we decided it was worthy of adding to the Louis range.

The Louis Special Editions. Co-developed by Louis, customised in response to wishes expressed by you, produced by well-known manufacturers, and available only from us. This is what makes our exclusive products special. Look for the tag "Only from Louis" and the bargain prices.
Write a review for BIKERS DREAM FOOT PUMP
We offer you the opportunity to rate products purchased from Louis and to share your experiences with them publicly.

To ensure that your objective and truthful report will be really beneficial to all readers, please observe the following rules.


Please only rate products that you have personally used for their intended purpose.
Please give reasons for your positive and negative criticisms. Only then will they benefit other customers and allow us to improve the product if necessary.
Please don't copy content that has already been published elsewhere. It's your personal experience which counts.
Data protection: Please don't include your own and other people's addresses, telephone numbers or URLs or even the names of third parties (people as well as companies) in your review.
In your product review, please don't make comparisons with third party product ranges. Regardless of whether you judge these positively or negatively, you, or we as operators of this online shop, would be violating competition law.
Fair play: Please follow these rules so that we don't have to shorten or delete your rating.
Your product rating has been saved. It will be displayed in a few minutes
Your previous input will be lost!
Do you really want to cancel your entry?
+400 brands
2-year right of return
Fast delivery
Worldwide shipping