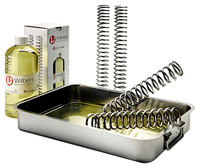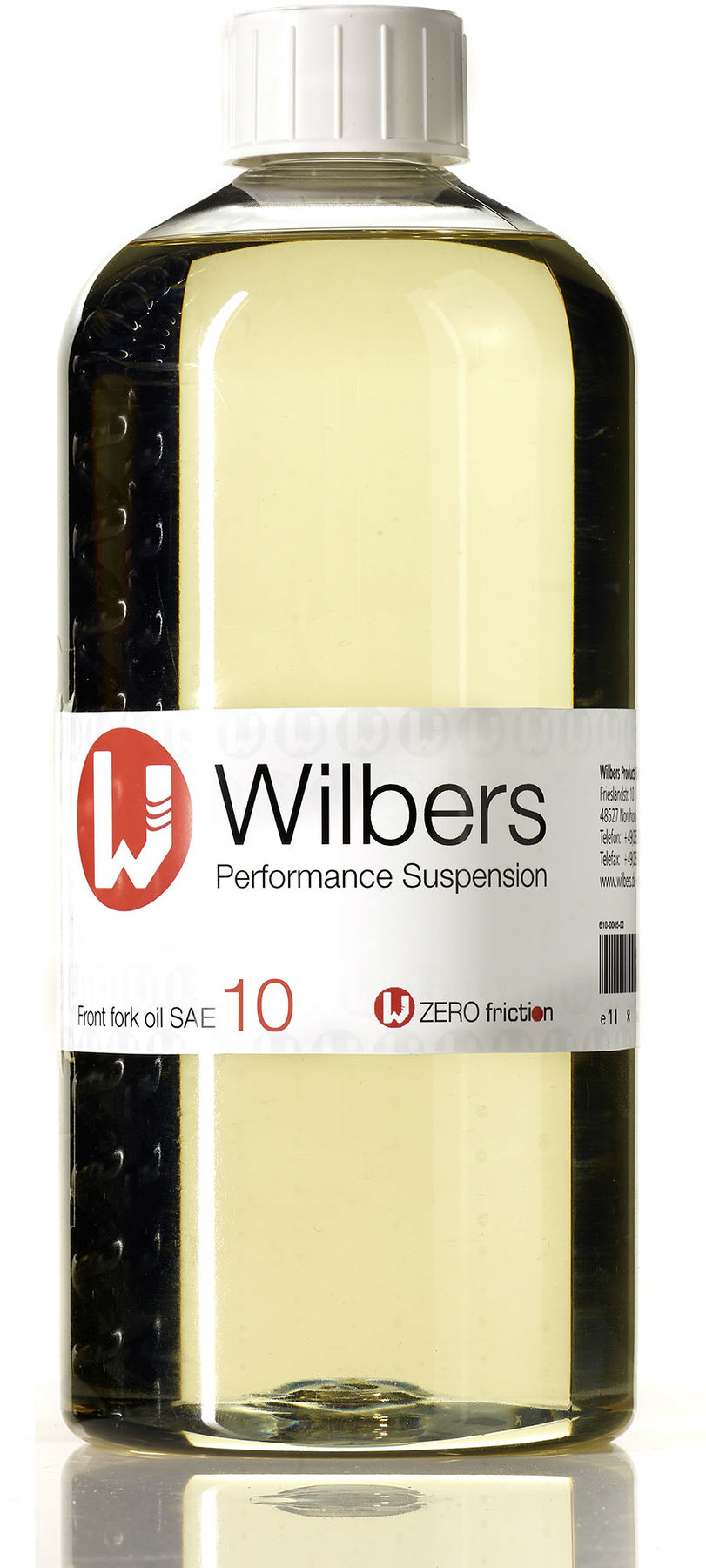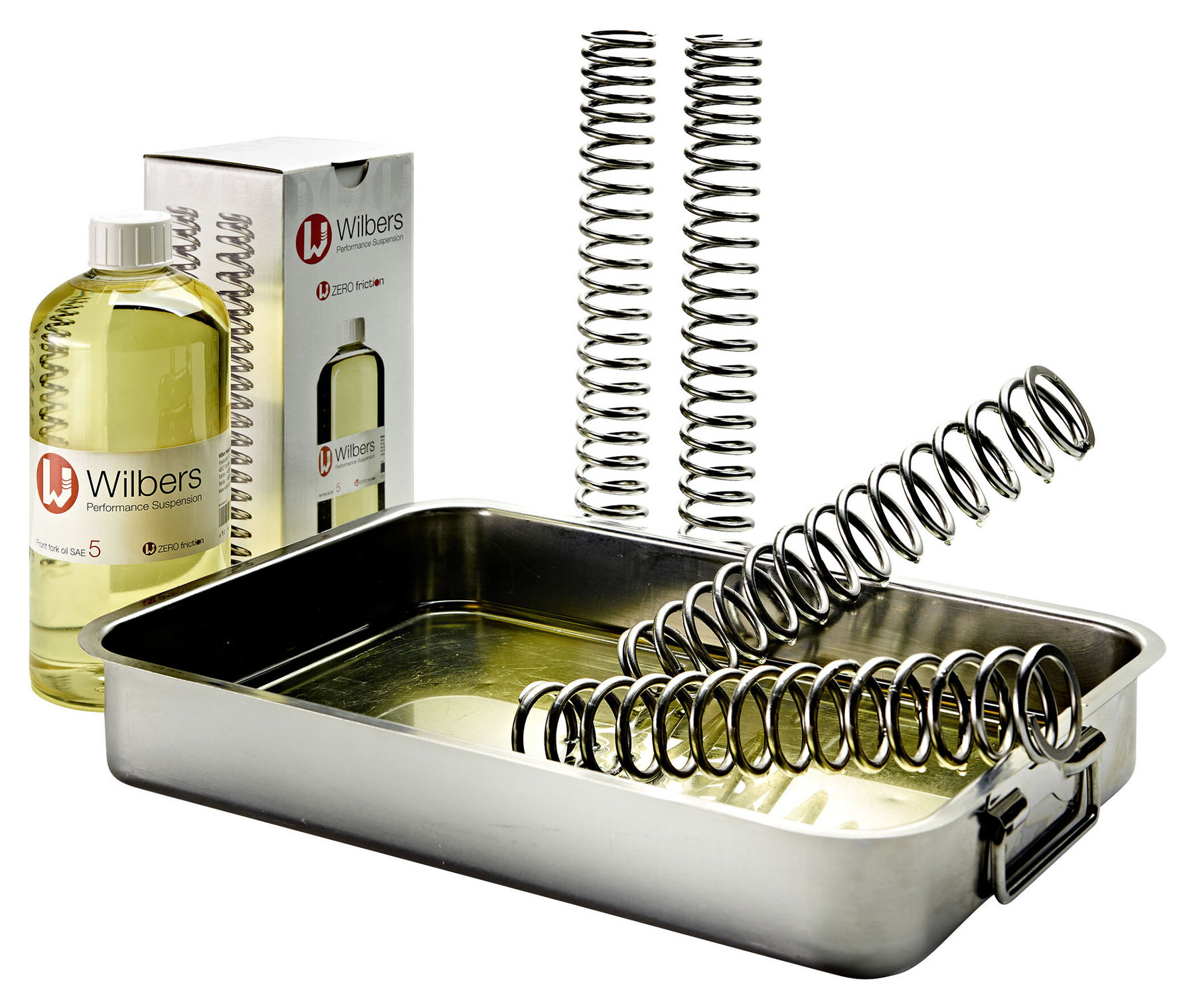 WILBERS FORK OIL SAE 10
ZERO FRICTION 1 LITRE
You have placed the following items in the shopping basket:
WILBERS FORK OIL SAE 10
ZERO FRICTION 1 LITRE
"Some fork oils are simply better than others!" That's the promise from Wilbers if you're looking for a high-quality fork oil for your motorcycle, or indeed for your new Wilbers fork springs. No doubt about it, Wilbers *Zero Friction* is exactly the fork oil you need. Top quality and superior formulation. Tested exhaustively on the race track.

Wilbers *Zero Friction* fork oil in combination with Wilbers fork springs will boost the responsiveness and performance of your forks even further. With this fork oil you'll certainly get maximum performance from your forks.

Of course, you can also use *Zero Friction* with the original fork springs on your motorcycle and even then you'll soon notice the difference in handling.

Wilbers fork oil is fully synthetic, has extremely good frictional properties and gives perfect wear and corrosion protection.

Wilbers fork oil comes in a range of viscosities
SAE 5
SAE 7.5
SAE 10
SAE 15
SAE 20
. Contains: 1000 ml.
Good to know:
To find out which oil you need for your WILBERS fork springs, go to the list in the Documents section.
May produce an allergic reaction.
Manufacturer details: Wilbers

Shock absorbers made in Germany

For more than 30 years now, Benny Wilbers and his team have been producing suspension components for motorcycles. For thousands of bikers, chassis technology from Wilbers Products has increased the enjoyment of riding their machines. A wealth of racing experience and precision manufacturing of every component are the key to the success of products from Wilbers. Each shock absorber is assembled by hand and individually adapted to suit the rider. The result is greater steering precision, improved cornering stability, and a bigger safety margin at high speed and on difficult terrain.

What is vibratory finishing?
During the vibratory finishing process, the treated part,
for example the fork spring, are inside a container with
a specially adjusted ceramic-abrasive-wheel. Then, the
abrasive-wheel oscillates. Because of the relative
movement of the products to the abrasive-wheel the
surface of the fork springs is deburred. The fine finishing
leads to a minimization of the surface roughness of the
part as well as to an excellent finish with noticeable
friction reduction = Zero Friction.
Write a review for WILBERS FORK OIL SAE 10
We offer you the opportunity to rate products purchased from Louis and to share your experiences with them publicly.

To ensure that your objective and truthful report will be really beneficial to all readers, please observe the following rules.


Please only rate products that you have personally used for their intended purpose.
Please give reasons for your positive and negative criticisms. Only then will they benefit other customers and allow us to improve the product if necessary.
Please don't copy content that has already been published elsewhere. It's your personal experience which counts.
Data protection: Please don't include your own and other people's addresses, telephone numbers or URLs or even the names of third parties (people as well as companies) in your review.
In your product review, please don't make comparisons with third party product ranges. Regardless of whether you judge these positively or negatively, you, or we as operators of this online shop, would be violating competition law.
Fair play: Please follow these rules so that we don't have to shorten or delete your rating.
Your product rating has been saved. It will be displayed in a few minutes
Your previous input will be lost!
Do you really want to cancel your entry?
+400 brands
2-year right of return
Fast delivery
Worldwide shipping