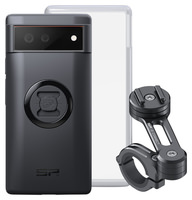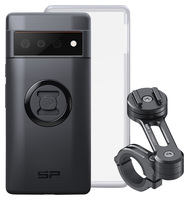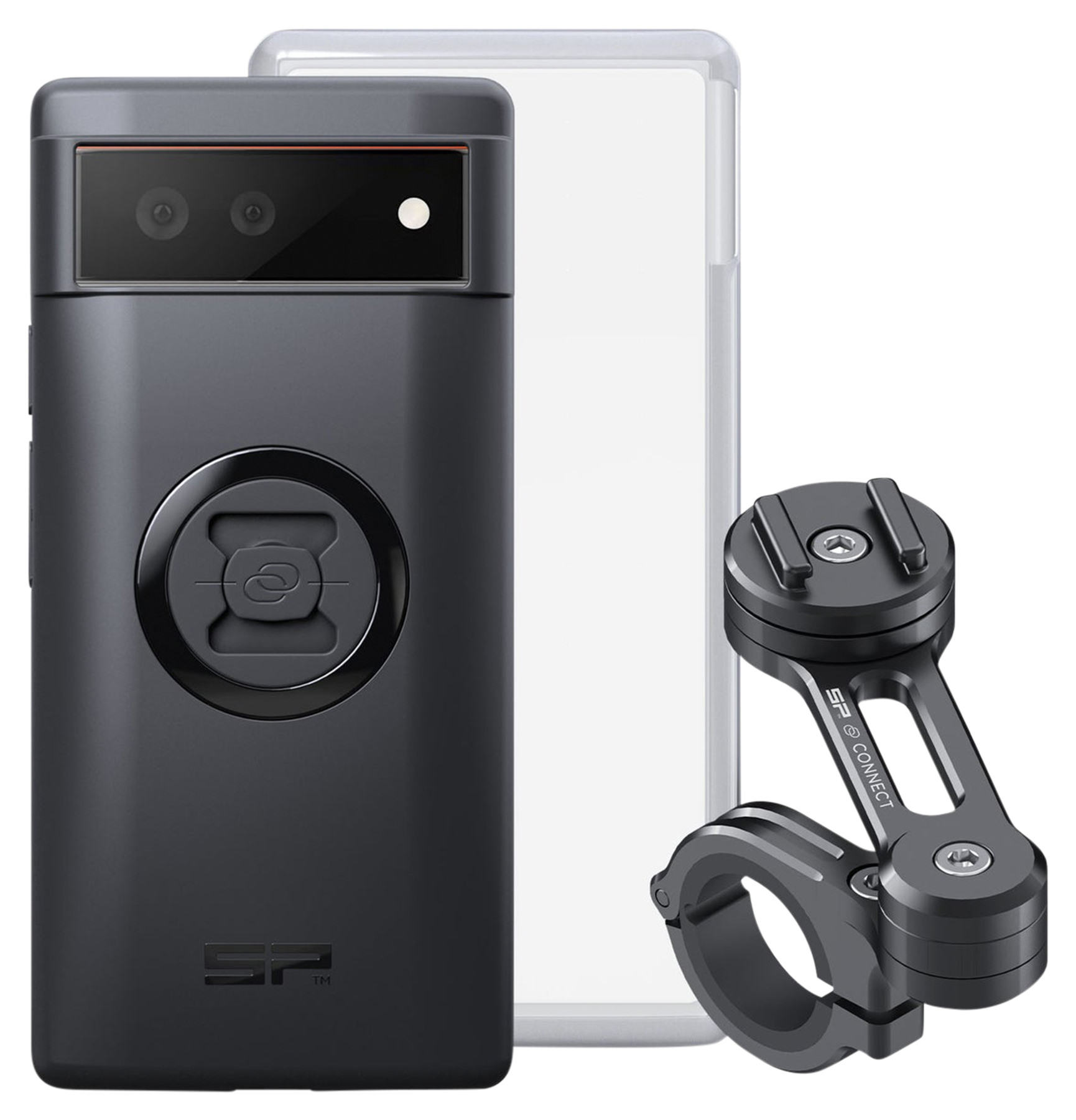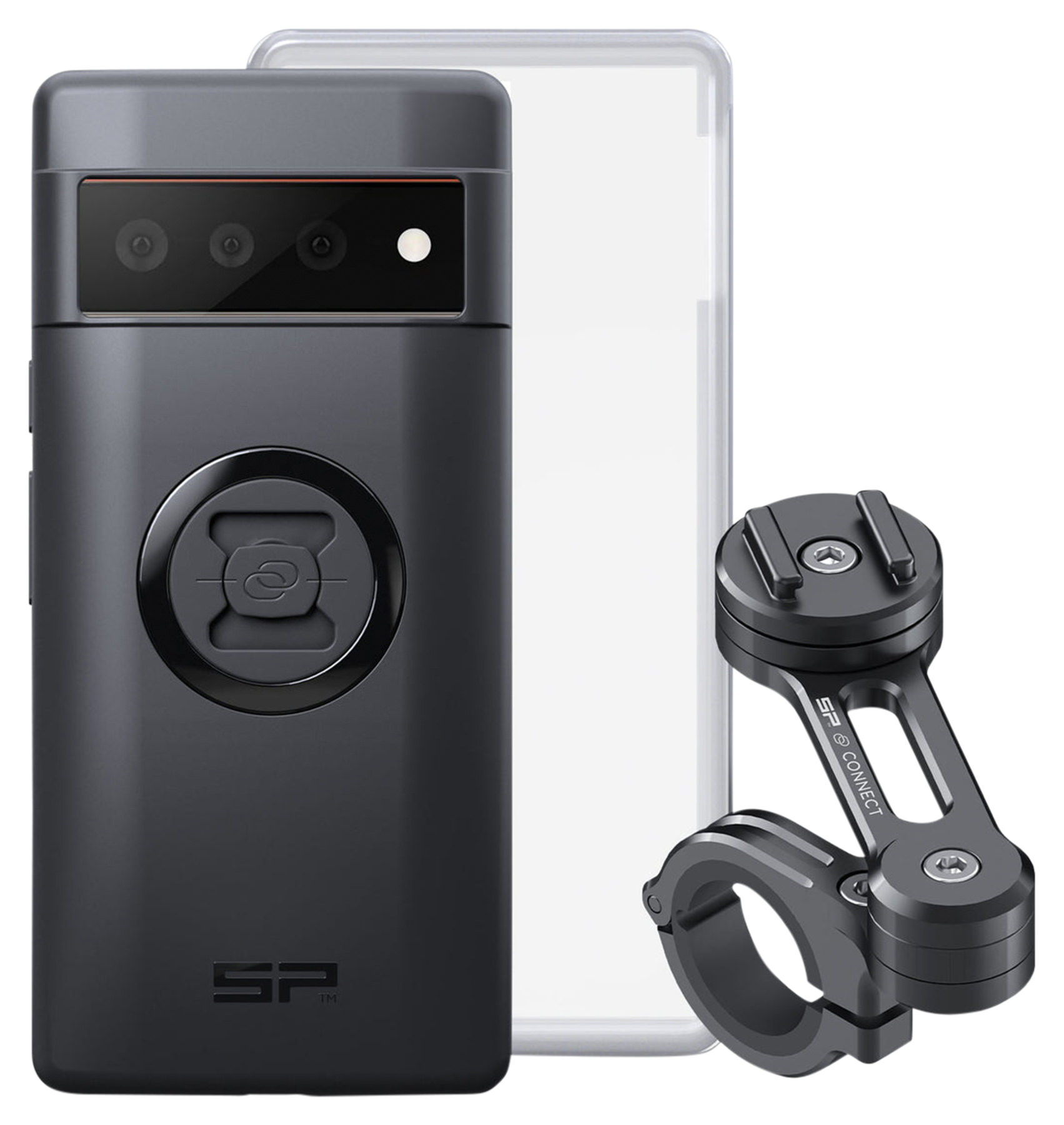 Google Pixel Smartphone Mount Set
MOTO BUNDLE
You have placed the following items in the shopping basket:
Google Pixel Smartphone Mount Set
MOTO BUNDLE
Navigating by means of an app on a smartphone or mobile phone is becoming increasingly popular. However, it sometimes does not look very professional when the expensive multi-purpose phone is attached to the motorbike handlebars with gaffa tape or some abstract construction. SP Connect offers stable, design-oriented, high-quality solutions for special smartphones and universal devices. For example, the *MOTO BUNDLE*.

With this, the mobile phone can be securely and comfortably fixed to the motorbike in the proverbial twinkling of an eye.

The SP Connect *MOTO BUNDLE* consists of:
the *PHONE CASE* cover
and the handlebar mount *MOTO MOUNT PRO*
The handlebar mount is screwed onto the handlebar of the motorbike. The smartphone is inserted into the case and can now be connected to the *MOTO MOUNT PRO* via the locking mechanism on the back by turning it 90°.
Depending on how the handlebar mount is attached, the mobile phone is securely positioned in the rider's field of vision. This means that all apps and functions can be conveniently controlled and operated.
The weather protection *WEATHER COVER* reliably protects the smartphone from rain and dirt and ensures additional shock resistance.
Further features:
compatible with all SP Connect products
secure locking by 90° rotation
additional smartphone protection
*PHONE CASE
slim, protective, functional
use of all connections and buttons
3-layer construction for ultimate protection
*MOTO MOUNT PRO*
vibration damping
CNC machined from aircraft grade aluminium
landscape or portrait mounting
super stable 360° adjustment in 6° steps
fits standard and oversize handlebars (2.22 / 2.54 / 2.86 / 3.17 cm or 0.875 / 1.0 / 1.125 / 1.25 inch diameter)
* WEATHER COVER*
protects against rain, sweat, dust and mud
provides additional impact resistance
Notice:
Heavy screen protectors or gloves may limit the usability of your touchscreen in combination with the *WEATHER COVER*. The weather cover interferes with the home button functionality of iPhone 8, 8 Plus, 7 & 7 Plus. This can be circumvented by activating the software home button (Assistive Touch) function
In the case of strongly vibrating motorbikes, the integrated vibration damping of the mount may not be sufficient and the camera functionality of the smartphone may be impaired. A defect of the camera is possible under extreme circumstances. We recommend using the SP Connect Anti Vibration Module to reduce vibrations as much as possible.
Manufacturer details: SP Connect

Smartphone mounts for bikers

Why not use your smartphone as a sat nav? Good Idea! But how do you attach your smartphone to your motorbike quickly and easily? SP Connect supplies top-quality, intelligent mounts.

The centrepiece of the system is the Phone Case with integrated securing mechanism. As the counterpart, SP Connect supplies a range of CNC-machined, vibration-absorbing mounts for fitting to your handlebar, mirror strut or RAM ball-head systems. Mounts are also available for cars and bicycles. The system couldn't be simpler to use: You rotate your smartphone 90° to secure it on the mount, and simply rotate in the opposite direction to release it again.

By the way, SP was established in Germany in 1988 as a manufacturer of snowboard bindings, so the firm has plenty of experience when it comes to clever connection systems. Today it has its headquarters in Vienna, the technical know-how still comes from Germany, and the mounts are manufactured in China.
Write a review for GOOGLE PIXEL PHONE MOUNT
We offer you the opportunity to rate products purchased from Louis and to share your experiences with them publicly.

To ensure that your objective and truthful report will be really beneficial to all readers, please observe the following rules.


Please only rate products that you have personally used for their intended purpose.
Please give reasons for your positive and negative criticisms. Only then will they benefit other customers and allow us to improve the product if necessary.
Please don't copy content that has already been published elsewhere. It's your personal experience which counts.
Data protection: Please don't include your own and other people's addresses, telephone numbers or URLs or even the names of third parties (people as well as companies) in your review.
In your product review, please don't make comparisons with third party product ranges. Regardless of whether you judge these positively or negatively, you, or we as operators of this online shop, would be violating competition law.
Fair play: Please follow these rules so that we don't have to shorten or delete your rating.
Your product rating has been saved. It will be displayed in a few minutes
Your previous input will be lost!
Do you really want to cancel your entry?
Issue 07-2022
Motorrad Abenteuer magazine tested a variety of mobile phone holders in its July 2022 issue. The SAMSUNG MOTO BUNDLE MOBILE MOUNT was named TEST WINNER. The following features were highlighted:
- Very good handling, ultra comfortable
- Very good stability
- Very good finish

+400 brands
2-year right of return
Fast delivery
Worldwide shipping