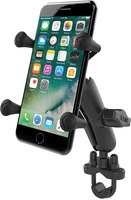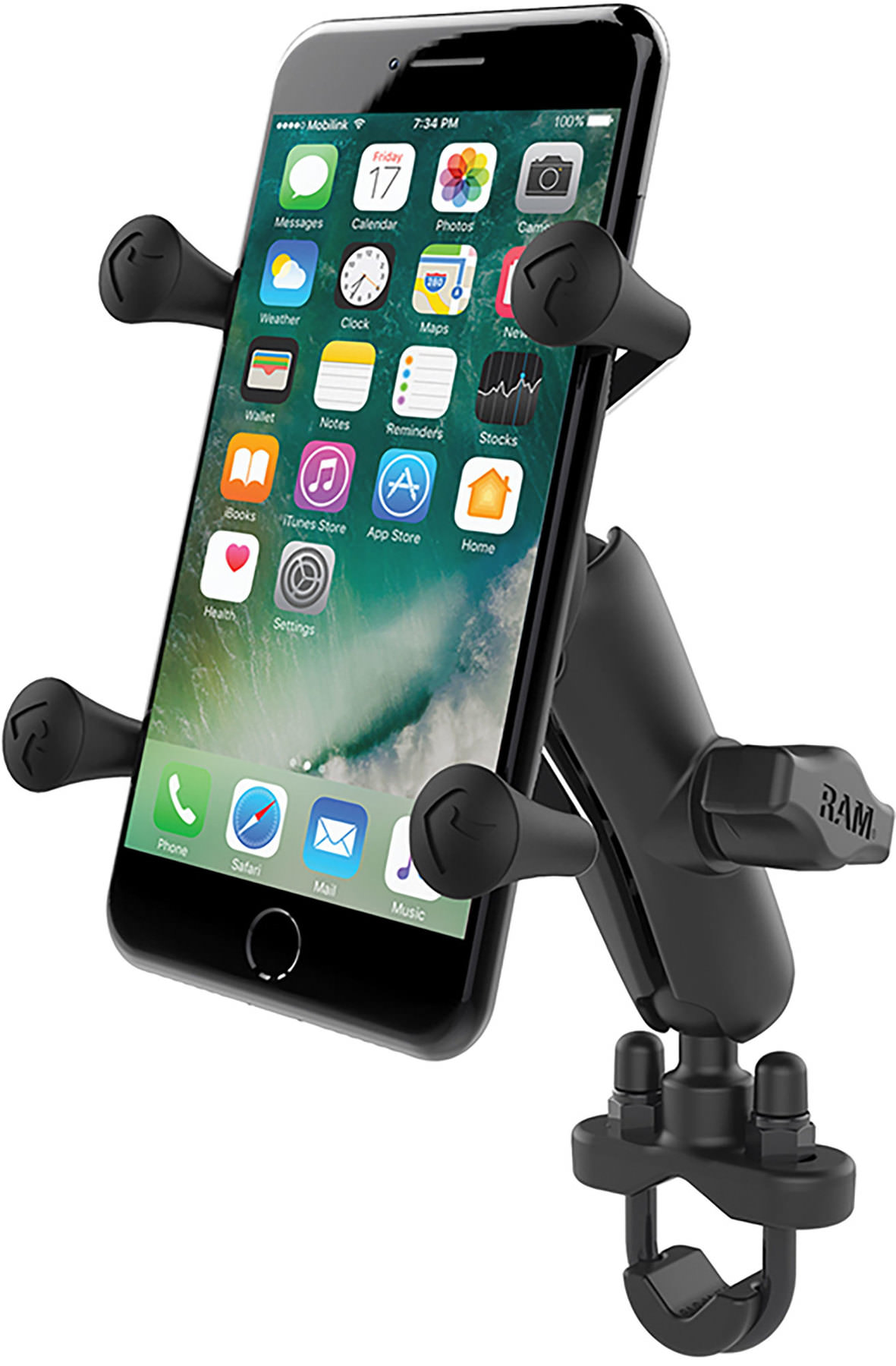 HANDLEB. MOUNT X-GRIP SET
HANDLEB. MOUNT X-GRIP SET
HANDLEB. MOUNT X-GRIP SET
FOR NORMAL SMARTPHONES
You have placed the following items in the shopping basket:
HANDLEB. MOUNT X-GRIP SET
FOR NORMAL SMARTPHONES
Sat navs, smartphones, cameras, tablets and other mobile devices all need to be mounted on your motorbike (or other vehicle) sooner or later. And once in place, they must still be fully functional and all the controls easy to reach. RAM Mounts have taken on this challenge and developed a modular system with a wide range of products for precisely this purpose. For example, the Ram Mounts X-Grip Handlebar Mount for Smartphones.
This mount comes in versions for "standard" and "large" smartphones (phablets). All Ram Mounts products feature outstanding design, limitless flexibility and high-quality materials.

This Ram Mounts handlebar mount set comprises the X-Grip Universal Phone Cradle with clamp, medium Double Socket Arm and B-ball (1 inch).

Compatible smartphone dimensions:
Minimum width: 1.88in / 4.78cm
Minimum height at minimum width: 4.25in / 10.80cm
Maximum width: 3.25in / 8.26cm
Minimum height at maximum width: 2.25in / 5.72cm
Depth: 0.88in / 2.24cm
Manufacturer details: RAM Mounts

The leading universal 3-component mounting system

RAM Mounts is the world's leading supplier of a universal 3-component mounting system. High-quality, robust materials, over 6,000 robust modules that can be conveniently and flexibly exchanged or expanded with other RAM Mounts components are the secret of its success. The application possibilities are almost unlimited. The installation of a RAM Mount system is quick and intuitive. Even with challenging mounting tasks, it is extremely stable and ready for immediate use. The stable and shock-absorbing connections are convincing thanks to the ball joint system with patented elastomer coating. In addition, RAM Mounts offers adjustment possibilities in almost any position, without additional tools.
Write a review for HANDLEB. MOUNT X-GRIP SET
We offer you the opportunity to rate products purchased from Louis and to share your experiences with them publicly.

To ensure that your objective and truthful report will be really beneficial to all readers, please observe the following rules.


Please only rate products that you have personally used for their intended purpose.
Please give reasons for your positive and negative criticisms. Only then will they benefit other customers and allow us to improve the product if necessary.
Please don't copy content that has already been published elsewhere. It's your personal experience which counts.
Data protection: Please don't include your own and other people's addresses, telephone numbers or URLs or even the names of third parties (people as well as companies) in your review.
In your product review, please don't make comparisons with third party product ranges. Regardless of whether you judge these positively or negatively, you, or we as operators of this online shop, would be violating competition law.
Fair play: Please follow these rules so that we don't have to shorten or delete your rating.
Your product rating has been saved. It will be displayed in a few minutes
Your previous input will be lost!
Do you really want to cancel your entry?
+400 brands
2-year right of return
Fast delivery
Worldwide shipping