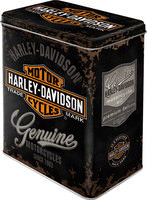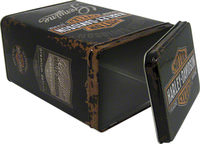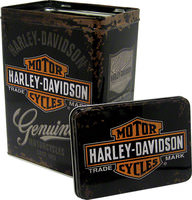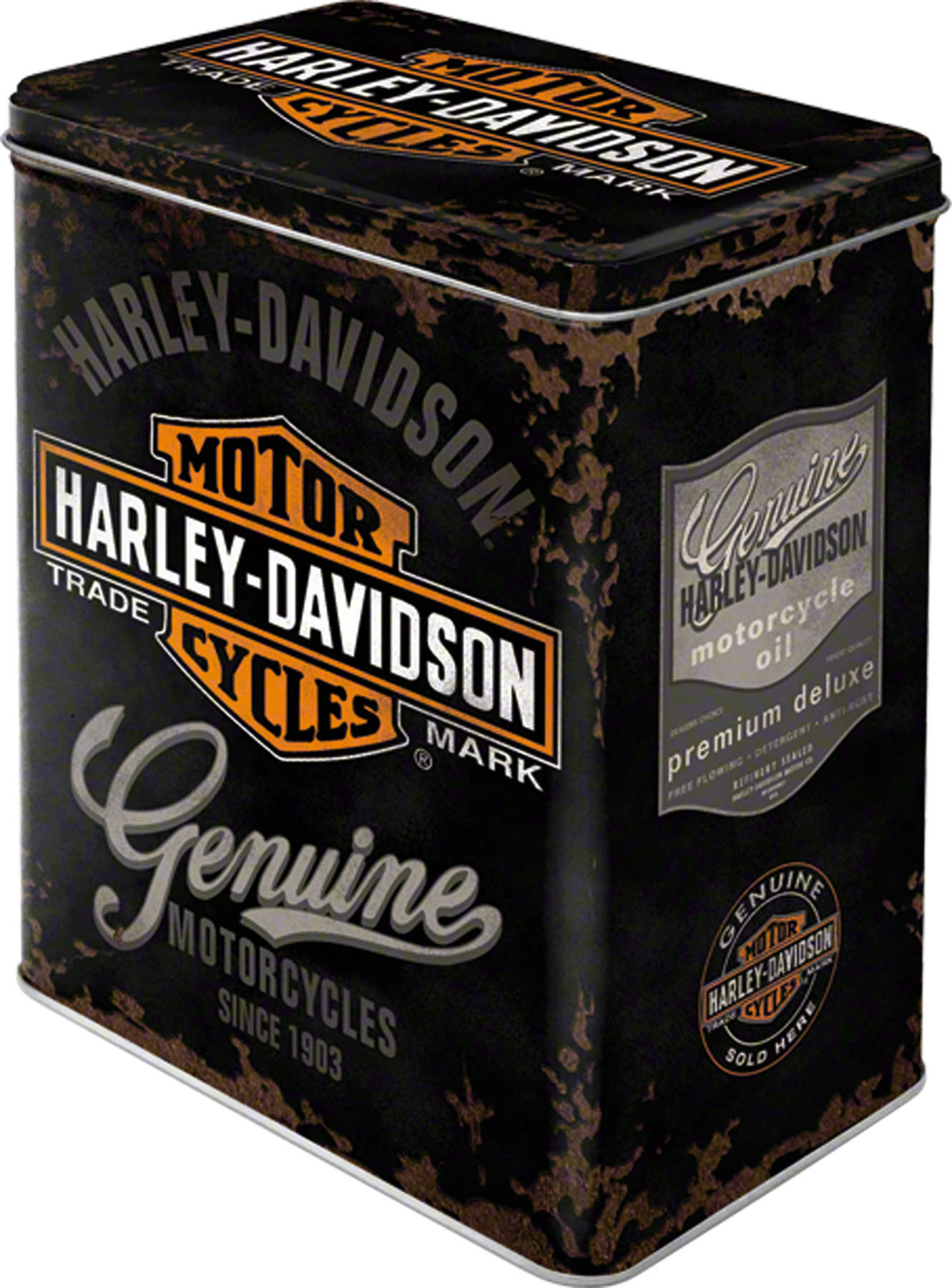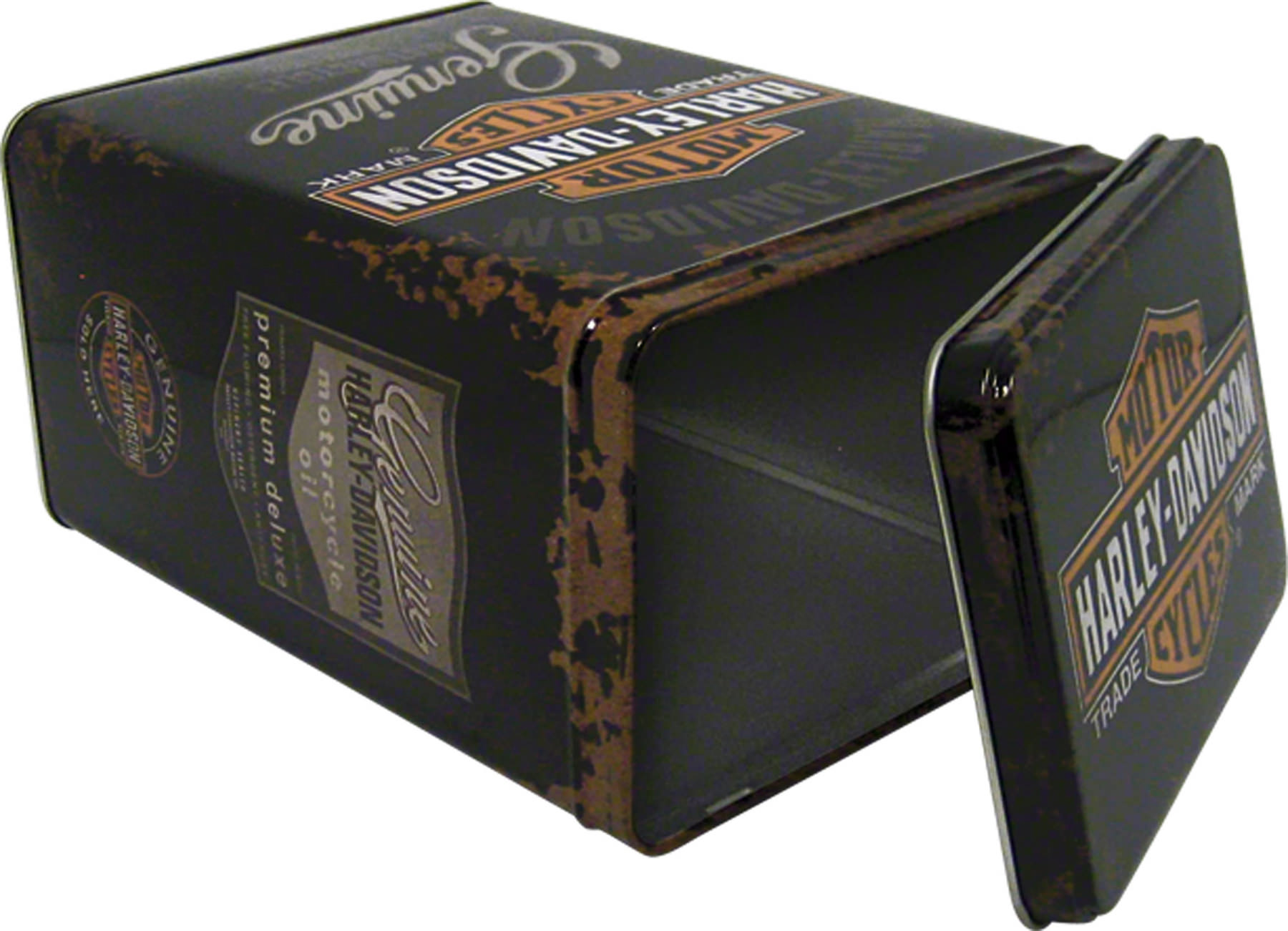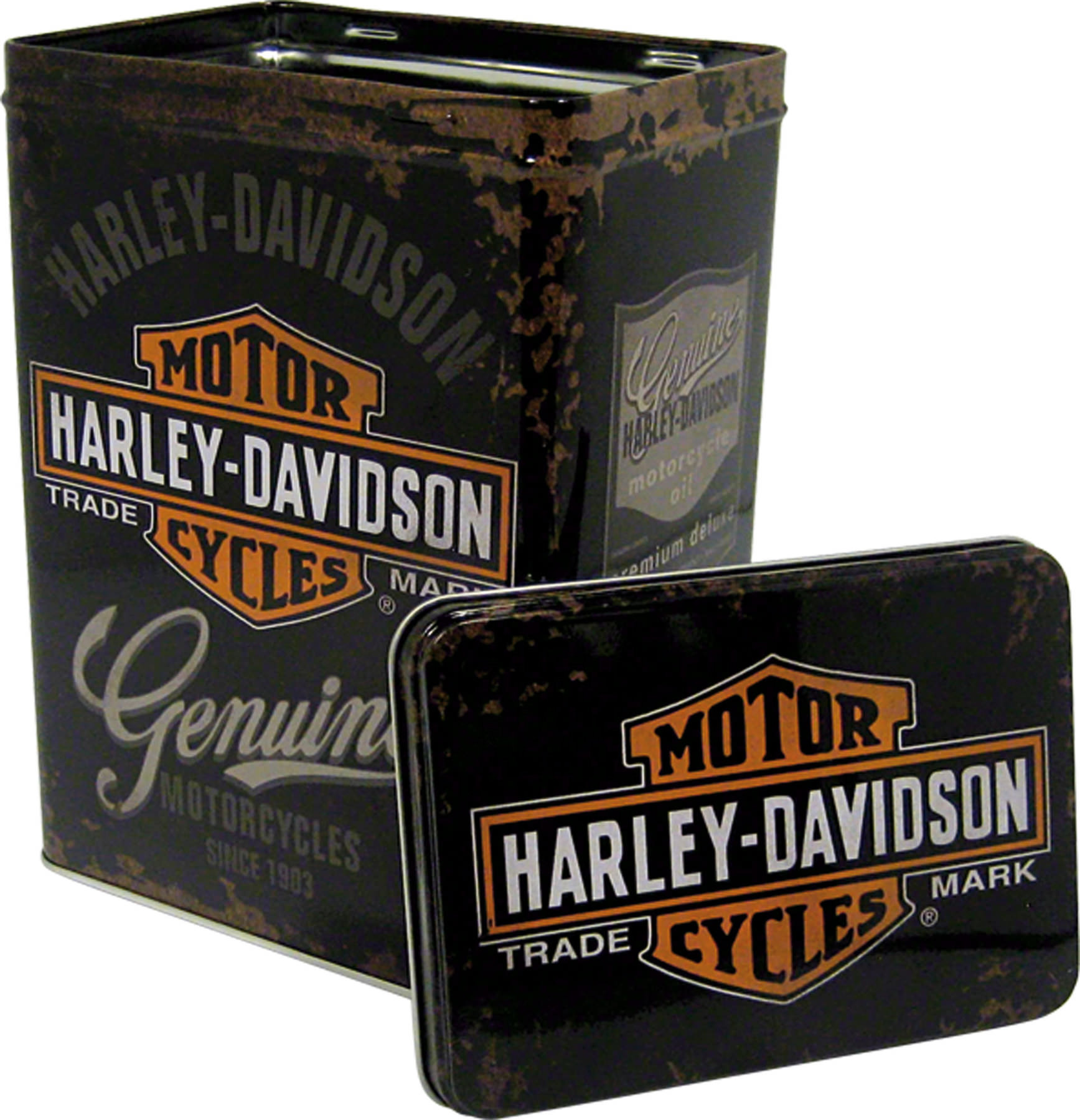 H-D STORAGE-BOX GENUINE
LARGE, HXWXD: 20X14X10CM
You have placed the following items in the shopping basket:
H-D STORAGE-BOX GENUINE
LARGE, HXWXD: 20X14X10CM
The H-D *Genuine* storage tin is ideal for keeping all your small items together in one place. You can use this sturdy metal tin for screws, small motorbike spares and keys, or for biscuits, sweets, letters, stamps, toys ... in fact, anything you like except liquids. A super gift idea for Harley-Davidson fans.
Looks great in your workshop, kitchen, office or living room.
Made from extra-thick metal with rounded corners and embossed motif.
The tin is sealed with a protective lacquer and is food-safe.
Dimensions (H x W x D): 20 x 14 x 10 cm
Manufacturer details: Harley-Davidson

Go to Harley-Davidson articles
The road starts here!

Harley-Davidson wide-open spaces, breath-taking scenery, boundless freedom. The "American way of life" holds a fascination for people in their millions, and there is scarcely another name that incorporates this legend so authentically and powerfully as Harley-Davidson. In 1969 it achieved cult status thanks to the film "Easy Rider", starring Peter Fonda and Dennis Hopper. The two chopper conversions, "Captain America" with its famous Stars and Stripes paintwork, and the compact "Billy Bike" adorned with flames, became cult models and triggered a customisation craze that continues unabated to this day.
Write a review for H-D STORAGE-BOX GENUINE
We offer you the opportunity to rate products purchased from Louis and to share your experiences with them publicly.

To ensure that your objective and truthful report will be really beneficial to all readers, please observe the following rules.


Please only rate products that you have personally used for their intended purpose.
Please give reasons for your positive and negative criticisms. Only then will they benefit other customers and allow us to improve the product if necessary.
Please don't copy content that has already been published elsewhere. It's your personal experience which counts.
Data protection: Please don't include your own and other people's addresses, telephone numbers or URLs or even the names of third parties (people as well as companies) in your review.
In your product review, please don't make comparisons with third party product ranges. Regardless of whether you judge these positively or negatively, you, or we as operators of this online shop, would be violating competition law.
Fair play: Please follow these rules so that we don't have to shorten or delete your rating.
Your product rating has been saved. It will be displayed in a few minutes
Your previous input will be lost!
Do you really want to cancel your entry?
+400 brands
2-year right of return
Fast delivery
Worldwide shipping