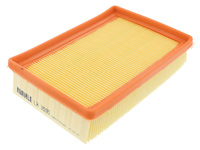 AIR FILTER MAHLE
VARIOUS BMW MODELS
You have placed the following items in the shopping basket:
AIR FILTER MAHLE
VARIOUS BMW MODELS
MAHLE air filter specially designed for BMW motorbikes

Clean inlet air is one of the most important prerequisites for optimal engine performance, high speeds, low fuel consumption and minimal pollutant emissions.
With the air filters from MAHLE, up to 99.9% of all dust, soot and wheel wear debris is filtered out. At the same time, an optimal air/fuel mix is guaranteed. The high particle absorption capacity guarantees a long service life even under extreme conditions such as heat, cold and exposure to chemicals.
The high-quality filters prevent premature wearing of the valves, the cylinder running surfaces, the piston rings, the plain bearings and other engine components. To ensure long-term perfect filter performance, all filters should be replaced according to the schedules prescribed by bike manufacturers.
Manufacturer details: Mahle

MAHLE Original

The MAHLE brand is well known for top-quality OEM and aftermarket engine parts and filters.
The ratings will be available to you again soon.
+400 brands
2-year right of return
Fast delivery
Worldwide shipping