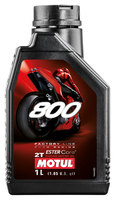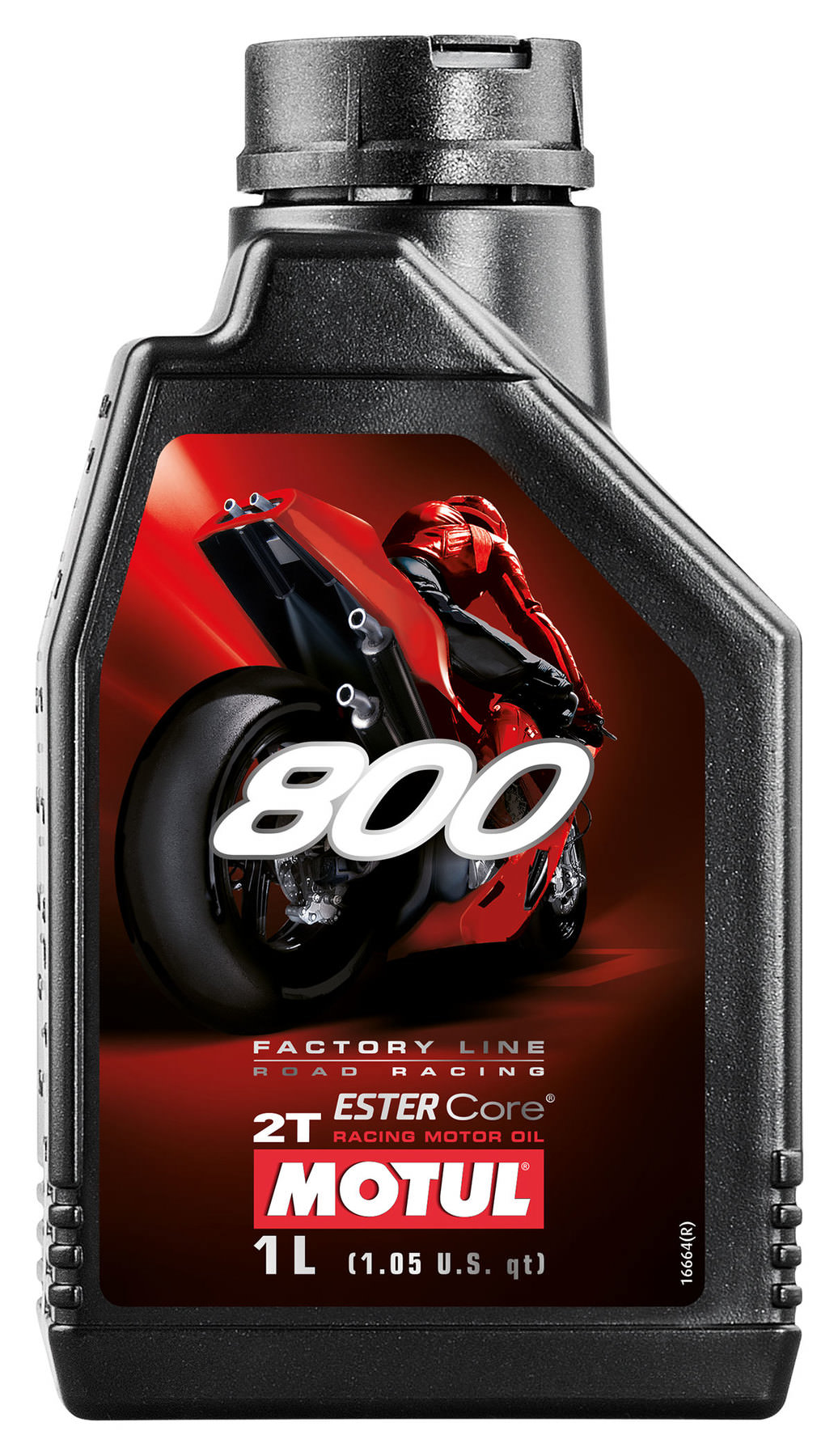 MOTUL 800 2T FL ROAD RAC.
MOTUL 800 2T FL ROAD RAC.
MOTUL 800 2T FL ROAD RAC.
SYNTHETIC TECH., 1 LITRE
You have placed the following items in the shopping basket:
MOTUL 800 2T FL ROAD RAC.
SYNTHETIC TECH., 1 LITRE
MOTUL 800 2T *Factory Line Off Road* is a fully synthetic, high-performance 2-stroke engine oil It is specially formulated for the extreme conditions of road racing, for both water-cooled and air-cooled engines.
Properties:

Only for mixing with regular and unleaded fuel up to 124 octane
Standards: Exceeds API TC
Offers max. oil film strength, optimal adhesion, and high thermal stability for optimal protection against wear
Very high pressure performance guarantees outstanding lubrication reliability, even in extreme temperature ranges
Perfect fast engine response, especially with throttle adjustments in rapid succession
Excellent cleaning performance keeps pistons and all engine components clean. That prevents deposits and carbon build-up in the combustion chamber and on the spark plugs
It also prevents the piston rings from sticking, and eliminates performance-reducing deposits in the exhaust system.
The excellent lubricating properties of the EsterCore technology reduce frictional losses and protect the engine reliably against wear, including in high rpm ranges when you give full throttle for long periods
Good to know:
For fine adjustment of the mix ratio, you should go by your own experience in combination with the manufacturer???s specifications.
Before use, always check the service manual and the manufacturer's/tuner's recommendations!
Harmful to aquatic life with long lasting effects. Contains LONG CHAIN ALKARYL SULFONATE CALCIUM. May produce an allergic reaction.
List of compatible motorcycles
Manufacturer details: Motul

Premium lubricants and care products from France

Since its foundation in 1853, Motul has given the world of lubricants numerous highly successful technical innovations. Motul is credited, for example, with inventing multigrade oil (1953) and both semi-synthetic (1966) and fully synthetic (1971) engine oil. In addition to engine, gear and fork oils, the French companys MC Care brand offers its customers an extensive range of maintenance and care products. Thanks to its many years of experience in racing, Motul is now a renowned partner in the motorsport scene and supports numerous teams in national and international racing. Supporting young people is particularly important to Motul, which is why the lubricant manufacturer equips the young riders of the ADAC two-wheeler classes with its products. From 2020, MOTUL will also be an official lubricant partner of Kawasaki Germany and Kawasaki Austria.
The ratings will be available to you again soon.
+400 brands
2-year right of return
Fast delivery
Worldwide shipping