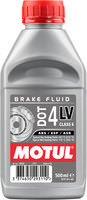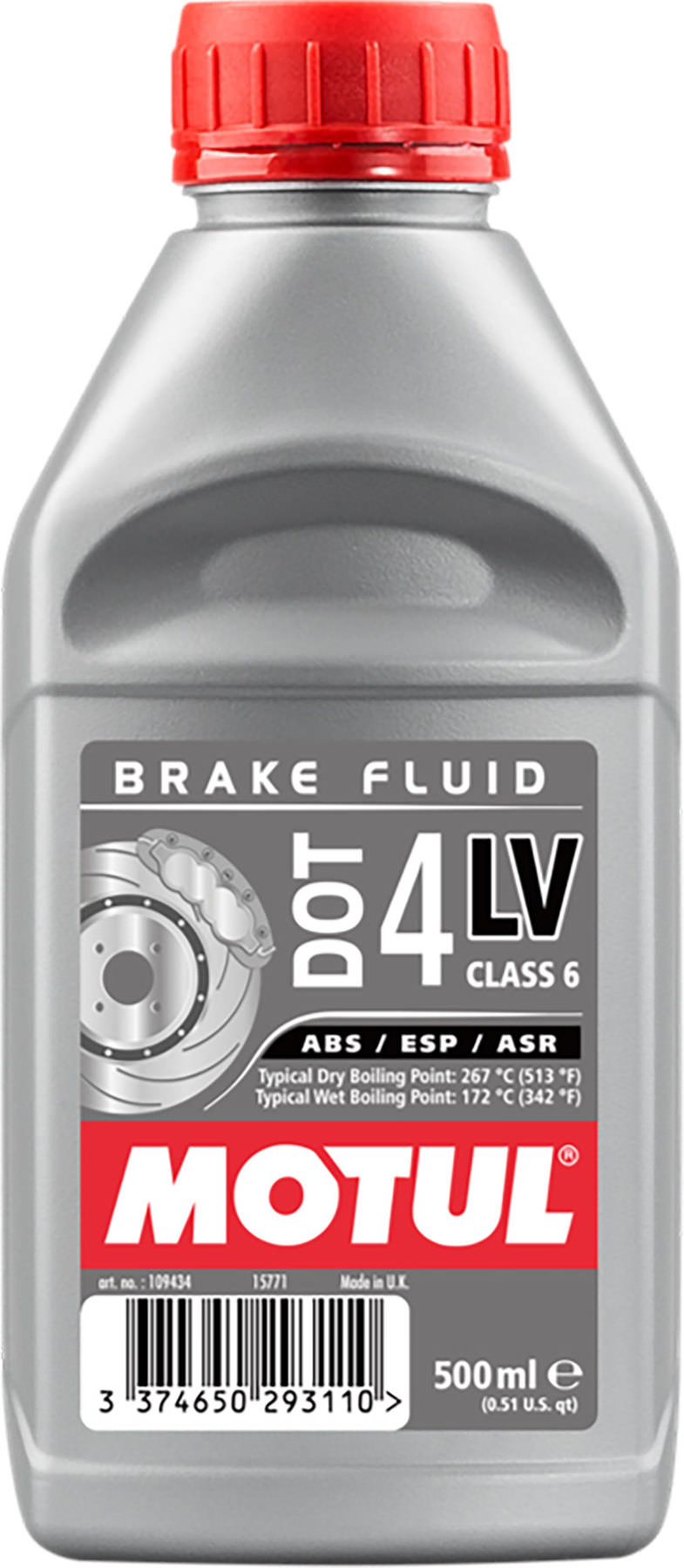 DOT 4 LV, FULLY SYN.,0.5L
You have placed the following items in the shopping basket:
DOT 4 LV, FULLY SYN.,0.5L
MOTUL DOT 4 LV is a fully synthetic, polyglycol-based brake fluid for braking systems, hydraulic clutches, ESP, ABS and ASR units. It comes with manufacturer's recommendation DOT 4 ISO Class 6. Key features of DOT 4 LV are its high boiling points and improved flow at low temperatures. It enables the braking system to operate efficiently under extreme conditions.
Can be mixed with all DOT 3, DOT 4 and DOT 5.1 products
Extremely long service life due to high wet boiling point
High dry boiling point gives high temperature resistance and stability, for excellent reliability
Corrosion-resistant; good seal compatibility in the braking system
Comprises: 0.5 L

Replacement intervals: between 12 and 24 months (as recommended by vehicle manufacturer)
Suspected of damaging the unborn child.
Manufacturer details: Motul

Premium lubricants and care products from France

Since its foundation in 1853, Motul has given the world of lubricants numerous highly successful technical innovations. Motul is credited, for example, with inventing multigrade oil (1953) and both semi-synthetic (1966) and fully synthetic (1971) engine oil. In addition to engine, gear and fork oils, the French companys MC Care brand offers its customers an extensive range of maintenance and care products. Thanks to its many years of experience in racing, Motul is now a renowned partner in the motorsport scene and supports numerous teams in national and international racing. Supporting young people is particularly important to Motul, which is why the lubricant manufacturer equips the young riders of the ADAC two-wheeler classes with its products. From 2020, MOTUL will also be an official lubricant partner of Kawasaki Germany and Kawasaki Austria.
We offer you the opportunity to rate products purchased from Louis and to share your experiences with them publicly.

To ensure that your objective and truthful report will be really beneficial to all readers, please observe the following rules.


Please only rate products that you have personally used for their intended purpose.
Please give reasons for your positive and negative criticisms. Only then will they benefit other customers and allow us to improve the product if necessary.
Please don't copy content that has already been published elsewhere. It's your personal experience which counts.
Data protection: Please don't include your own and other people's addresses, telephone numbers or URLs or even the names of third parties (people as well as companies) in your review.
In your product review, please don't make comparisons with third party product ranges. Regardless of whether you judge these positively or negatively, you, or we as operators of this online shop, would be violating competition law.
Fair play: Please follow these rules so that we don't have to shorten or delete your rating.
Your product rating has been saved. It will be displayed in a few minutes
Your previous input will be lost!
Do you really want to cancel your entry?