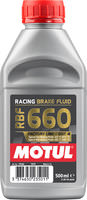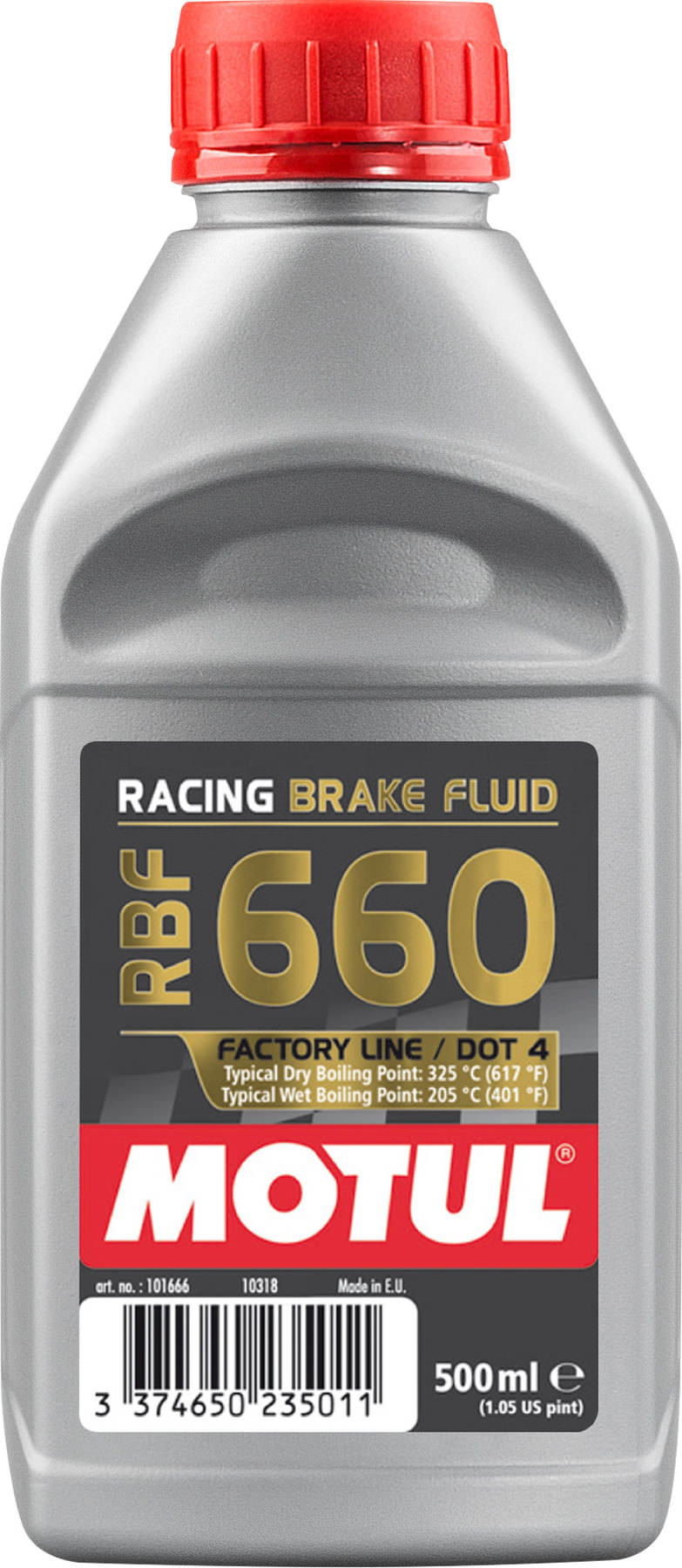 You have placed the following items in the shopping basket:
DOT 4., 0.5 L
Brake like the professionals! Lap after lap, high-speed straight followed by tricky chicane - accelerating, braking, giving full throttle, slamming on the brakes. All the time pushing yourself and your bike to the limit. This sort of racing puts huge demands on both the rider and the machine and its brakes. So your brake fluid needs to be up to the job, too. *RBF 660 Factory Line* racing brake fluid from Motul is formulated to withstand the toughest conditions.
This polyglycol-based, fully synthetic racing brake fluid is specially formulated for racing. It's compatible with all brake systems used in motorcycle racing. But it can also be used in conventional brake and hydraulic clutch systems. SAE J 1703, ISO 4925, FMVSS 116
Exceeds conventional polyglycol-based brake fluids (DOT 3 & DOT 4, DOT 5.1)
Can be mixed with all DOT 3, DOT 4 and DOT 5.1 products, but this is not recommended
Extremely high dry boiling point of 328°C, compared with other silicone- and polyglycol-based products, ensures safe braking under the most extreme riding conditions
Very high wet boiling point of 205°C for safer braking when humidity is high, or if it rains during the race
During a race, your brakes have to withstand enormous thermal loads, so you should check your MOTUL RBF 660 after every other race, at the least, and change the fluid if necessary
Brake fluid absorbs moisture from the ambient air, and this lowers the boiling point. For this reason, MOTUL RBF 660
must always be stored in its original container, well sealed and under constant climatic conditions
Good to know:
For safety reasons, brake fluids such as Motul RBF 660 Factory Line should not be topped up, but instead you should do an oil change!

Carefully close containers following use to prevent moisture absorption. Only store brake fluid in original container.

WARNING:
Must not be mixed with silicone-based brake fluids (DOT5) or special fluids such as LHM. Fluid may harm vehicle paintwork.
Caution. Suspected of damaging the unborn child.
Manufacturer details: Motul

Premium lubricants and care products from France

Since its foundation in 1853, Motul has given the world of lubricants numerous highly successful technical innovations. Motul is credited, for example, with inventing multigrade oil (1953) and both semi-synthetic (1966) and fully synthetic (1971) engine oil. In addition to engine, gear and fork oils, the French companys MC Care brand offers its customers an extensive range of maintenance and care products. Thanks to its many years of experience in racing, Motul is now a renowned partner in the motorsport scene and supports numerous teams in national and international racing. Supporting young people is particularly important to Motul, which is why the lubricant manufacturer equips the young riders of the ADAC two-wheeler classes with its products. From 2020, MOTUL will also be an official lubricant partner of Kawasaki Germany and Kawasaki Austria.