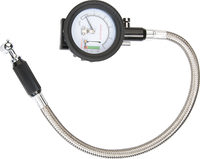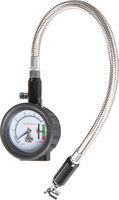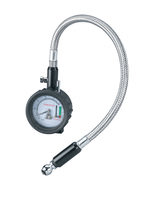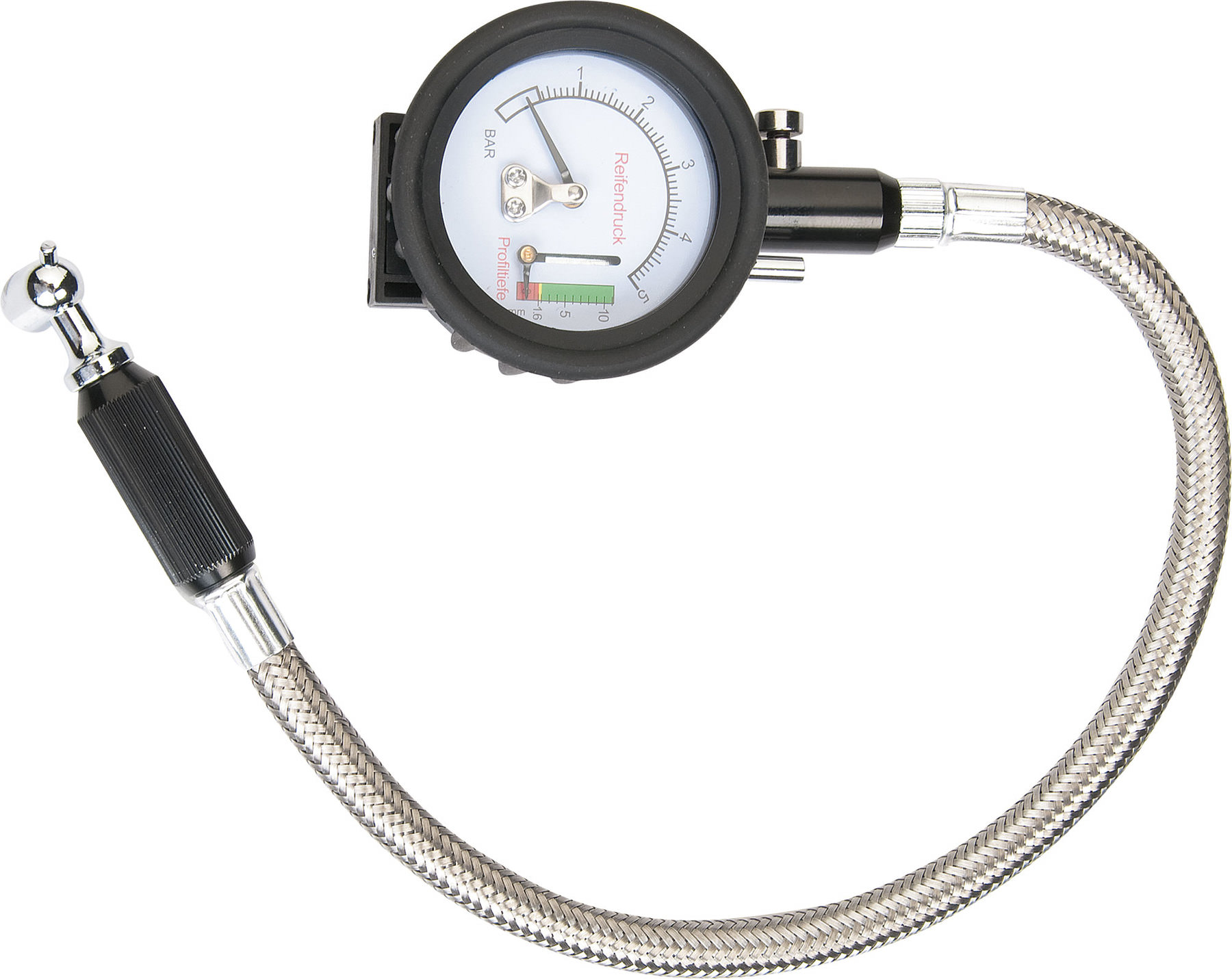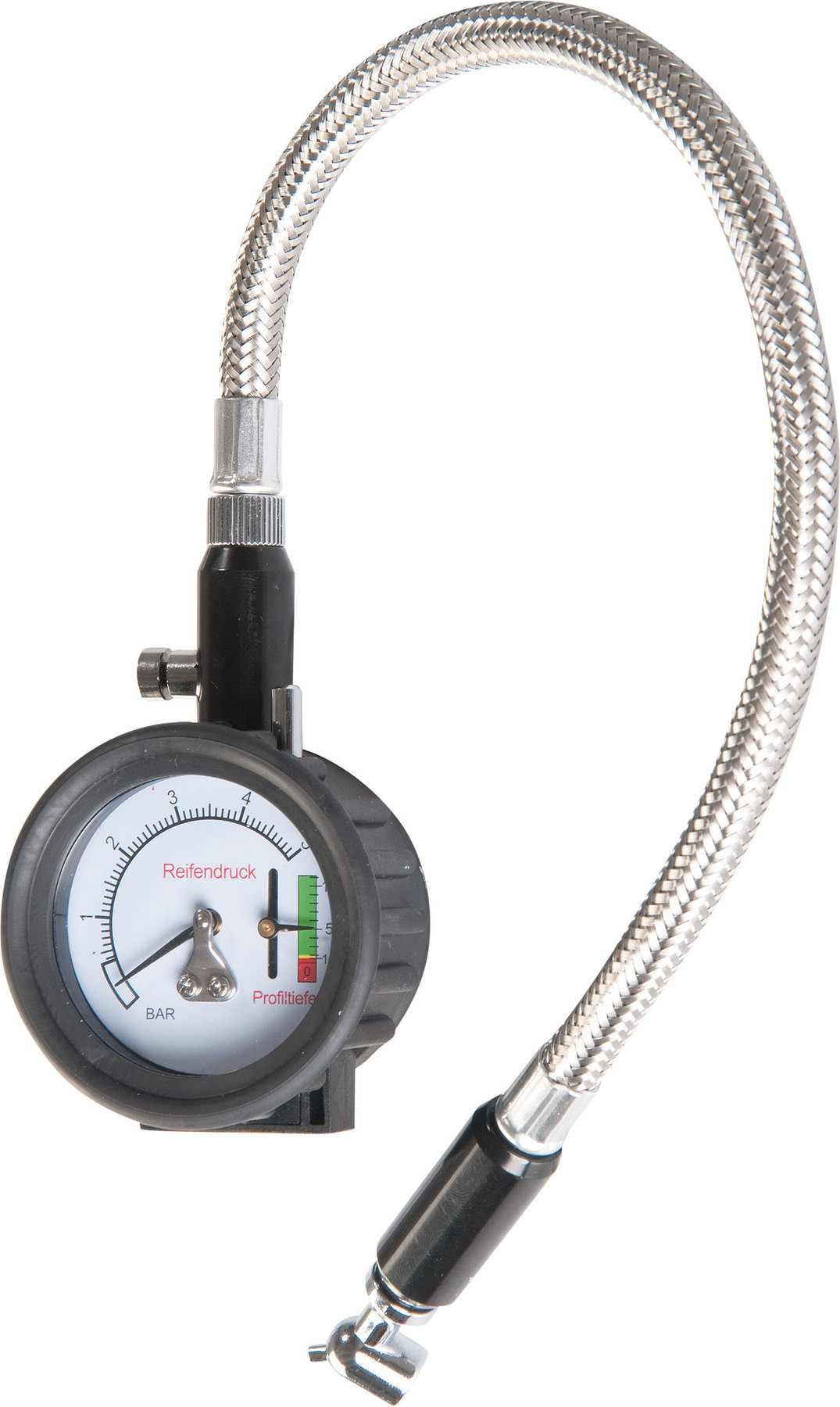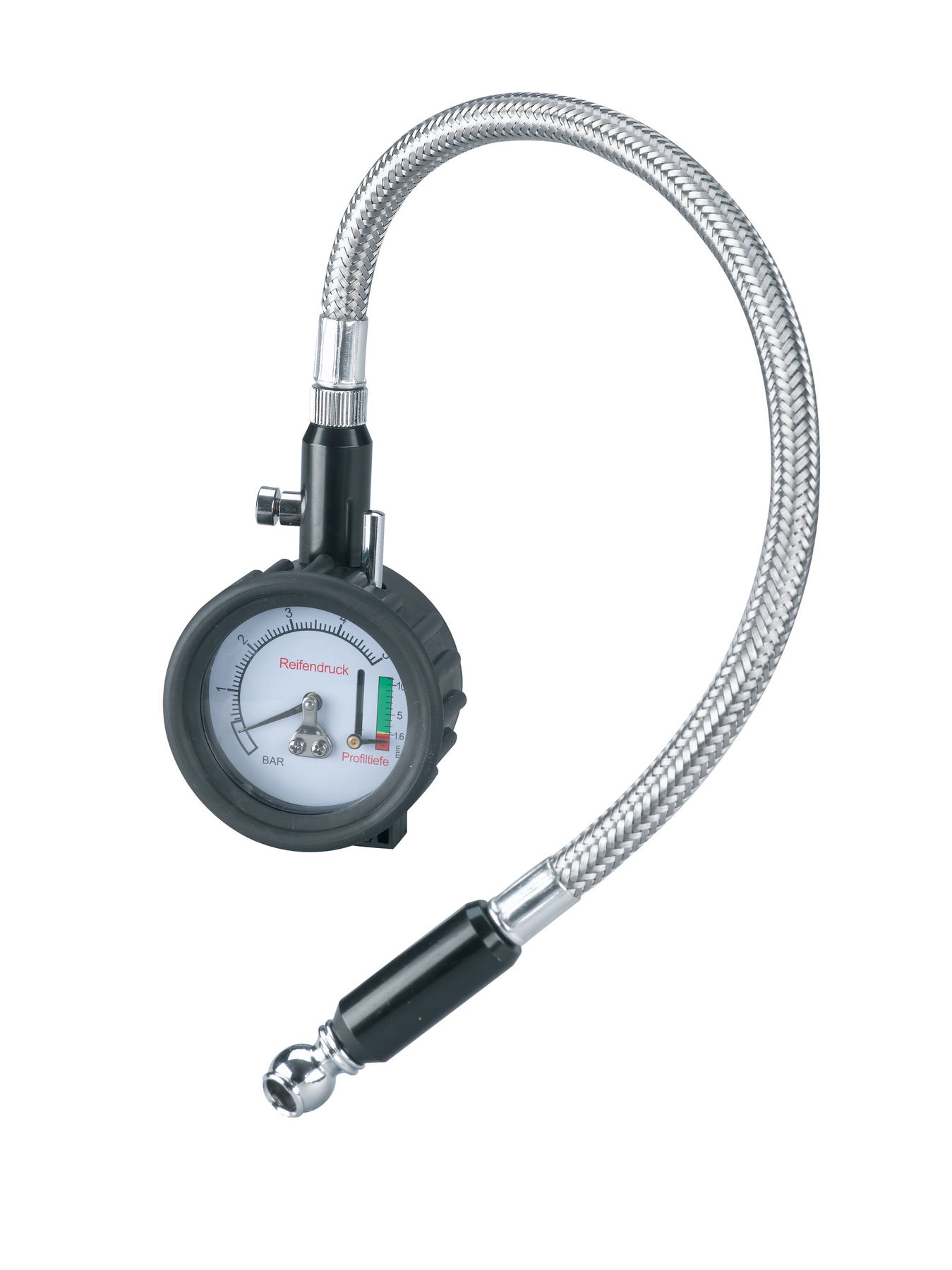 ROTHEWALD TYRE PRESSURE
W TREAD DEPTH GAUGE
You have placed the following items in the shopping basket:
ROTHEWALD TYRE PRESSURE
W TREAD DEPTH GAUGE
The Rothewald Tyre Pressure Gauge is ideal for quickly checking your tyre pressure and tread depth before you set off.

The professional-quality gauge gives you a precise analogue pressure reading and also has a gauge for measuring your tread depth.
Tyre pressure measuring range from 0 to 5 bar in 0.1 bar increments.
With valve for slowly releasing excess pressure
Tread depth measuring range from 1 to 11 mm in 1 mm increments.
Impact-resistant housing with rubber sleeve
Diameter approx. 67 mm.
Approx. 40 cm long flexible hose
Manufacturer details: Rothewald

Tools for generations

Working on your motorbike is fun. But only if you have the right tools. There's nothing more frustrating than a rounded-off screw head on your machine. DIY mechanics who would like to avoid such mishaps, should choose tools from Rothewald. As soon as you pick up a Rothewald tool, you can feel that the firm's slogan "Tools for generations" is meant to be taken seriously. From socket set to synchroniser, or from motorcycle hoist to pair of gloves, you need look no further than Rothewald to find everything that makes a well-equipped workshop. It's good to know you can rely on your tools 100%.
Write a review for ROTHEWALD TYRE PRESSURE
We offer you the opportunity to rate products purchased from Louis and to share your experiences with them publicly.

To ensure that your objective and truthful report will be really beneficial to all readers, please observe the following rules.


Please only rate products that you have personally used for their intended purpose.
Please give reasons for your positive and negative criticisms. Only then will they benefit other customers and allow us to improve the product if necessary.
Please don't copy content that has already been published elsewhere. It's your personal experience which counts.
Data protection: Please don't include your own and other people's addresses, telephone numbers or URLs or even the names of third parties (people as well as companies) in your review.
In your product review, please don't make comparisons with third party product ranges. Regardless of whether you judge these positively or negatively, you, or we as operators of this online shop, would be violating competition law.
Fair play: Please follow these rules so that we don't have to shorten or delete your rating.
Your product rating has been saved. It will be displayed in a few minutes
Your previous input will be lost!
Do you really want to cancel your entry?
Issue 5-2014
In its 5-2014 issue, "Motorrad" magazine tested various tyre pressure gauges. The Rothewald Analogue Tyre Pressure Gauge was rated VERY GOOD. The following features were given special mention:

- Stylish analogue gauge
- One of the most accurate of the gauges tested
- Sturdily constructed
- Perfect for use at home

(Four out of fourteen products tested were rated "Very Good")

Issue 11-2013
"PS" magazine tested 18 different tyre pressure gauges in its 11-2013 issue. The Rothewald Analogue Tyre Pressure Gauge was rated GOOD, and achieved 46 out of a possible 50 points. The following features were given special mention:

- Very good measurement results
- Clear, easy-to-read display
- Connection fits snugly

(Of the other gauges tested, six were rated Good, and two were judged Very Good)
Issue 01-2010
"MOTORRAD NEWS" magazine tested the Rothewald Analogue Tyre Pressure Gauge in its 01/2010 issue. Extracts from the verdict:

"The Louis tyre pressure gauge is a handy tool to have on trips if you find you often have to adjust the tyre pressure to suit different surfaces. It has a solid metal body with a grippy rubber covering."
"If you get the (...) version with steel-braided hose, you'll find the 45° angle works well on the valve. A clever feature of the Louis tyre pressure guage is a metal prong for precisely measuring your tyre tread depth. The minimum permitted tread depth is clearly indicated by a green/red bar on the dial, making it very easy to read."
+400 brands
2-year right of return
Fast delivery
Worldwide shipping