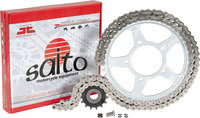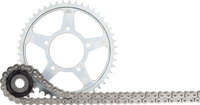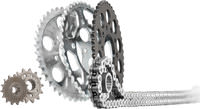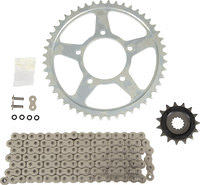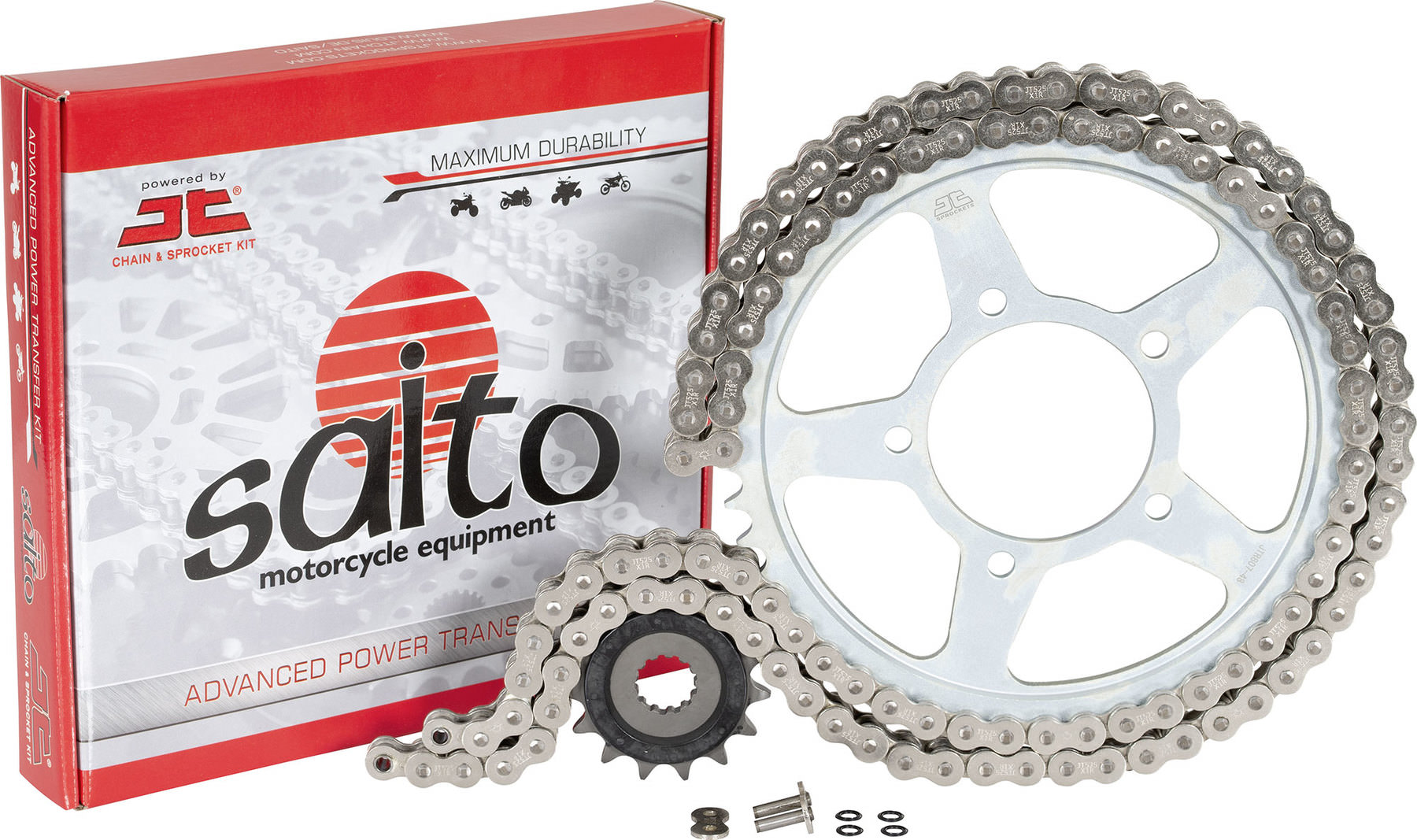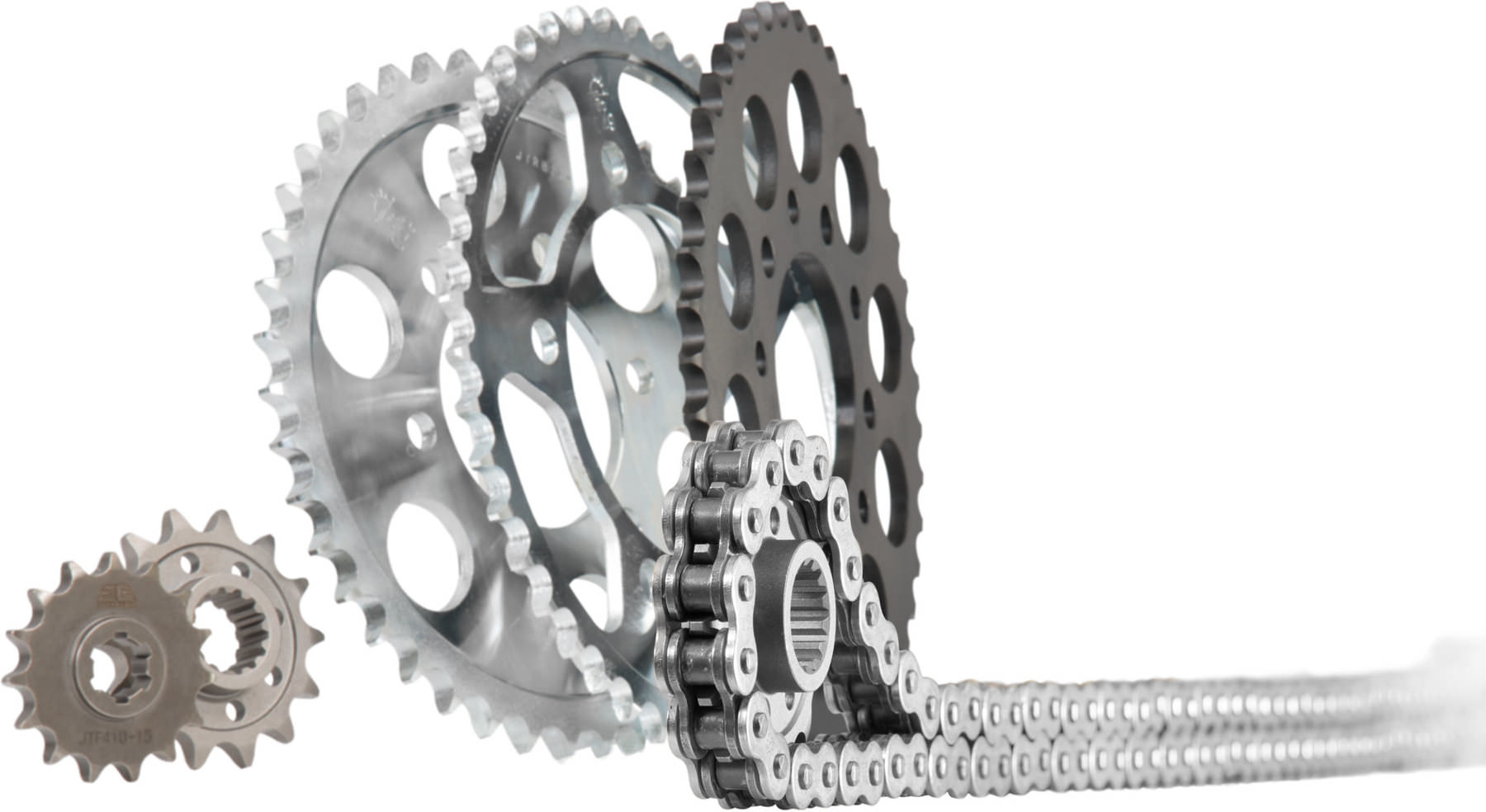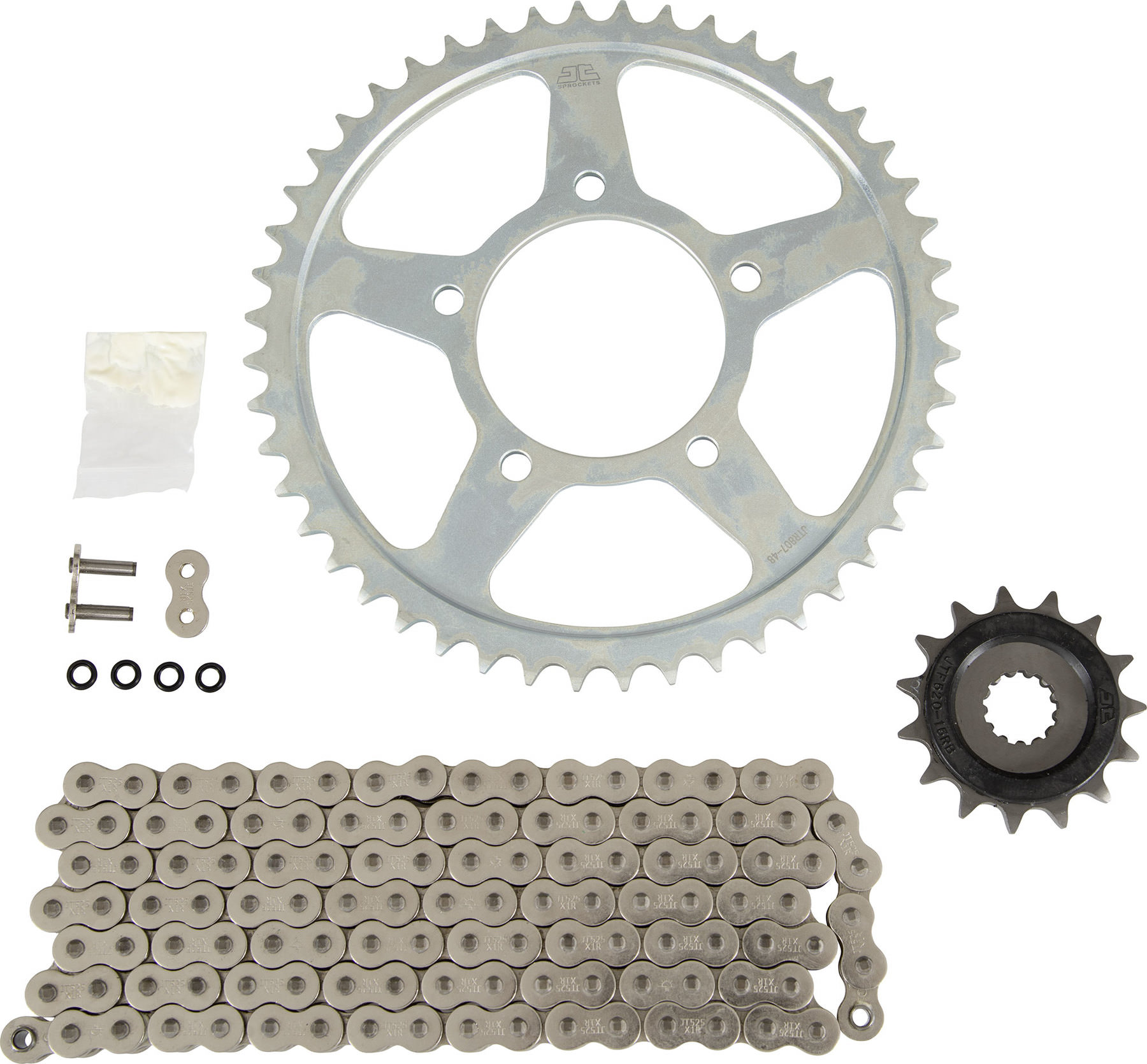 SAITO 428 X1R CHAIN SET
RV 125 134/15/51
Important notes
execution: chain with clip connecting link
You have placed the following items in the shopping basket:
SAITO 428 X1R CHAIN SET
RV 125 134/15/51
No motorbike chain keeps going for ever, so inevitably the time comes when you have to say goodbye to your old chain and fit a new one. Complete Saito chain and sprocket kits comprising chain, connecting link, chain wheel and sprocket. Developed and manufactured by JT Sprockets, the world-renowned manufacturer with more than 30 years of experience. So it's hardly surprising that JT products are OEM quality, and even chain specialist D.I.D buys sprockets from JT.
Like all saito products, their chain and sprocket kits are outstanding value for money. These model-specific kits are manufactured using state-of-the-art technology and special steel alloys of the highest quality. As a result, they weigh less than many other drive chains and have maximum tensile strength.

The following types of saito chain are available, according to motorcycle model:

Design:

Chain with connecting link
Seal type: X-Ring (X1R, X1R2, Z3, Z3GS)
Pitch: 428, 520, 525, 530
In the box:

Chain
Front sprocket
Rear sprocket
Clip and/or hollow rivet link (the chain lock is included in the chain packaging!)
Go to "Important information" (highlighted in red) at the top of this page to see whether the chain and sprocket kit comes with a chain with a rivet or clip connecting link.
List of compatible motorcycles
Manufacturer details: Saito

Maintaining your motorcycle can actually be fun!

OEM spare parts? All well and good, but usually very expensive. The Japanese brand saito offers some highly attractive alternatives for wearing parts and accessories. How does that work? High-quality products are purchased from leading manufacturers around the world at the best possible terms and offered at low-cost prices under the brand name saito. Our customers benefit from this. Quality at a bargain price, because fun does not have to cost a fortune.
Write a review for SAITO 428 X1R CHAIN SET
We offer you the opportunity to rate products purchased from Louis and to share your experiences with them publicly.

To ensure that your objective and truthful report will be really beneficial to all readers, please observe the following rules.


Please only rate products that you have personally used for their intended purpose.
Please give reasons for your positive and negative criticisms. Only then will they benefit other customers and allow us to improve the product if necessary.
Please don't copy content that has already been published elsewhere. It's your personal experience which counts.
Data protection: Please don't include your own and other people's addresses, telephone numbers or URLs or even the names of third parties (people as well as companies) in your review.
In your product review, please don't make comparisons with third party product ranges. Regardless of whether you judge these positively or negatively, you, or we as operators of this online shop, would be violating competition law.
Fair play: Please follow these rules so that we don't have to shorten or delete your rating.
Your product rating has been saved. It will be displayed in a few minutes
Your previous input will be lost!
Do you really want to cancel your entry?
+400 brands
2-year right of return
Fast delivery
Worldwide shipping