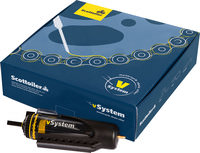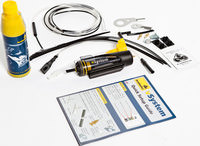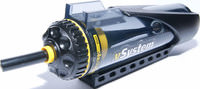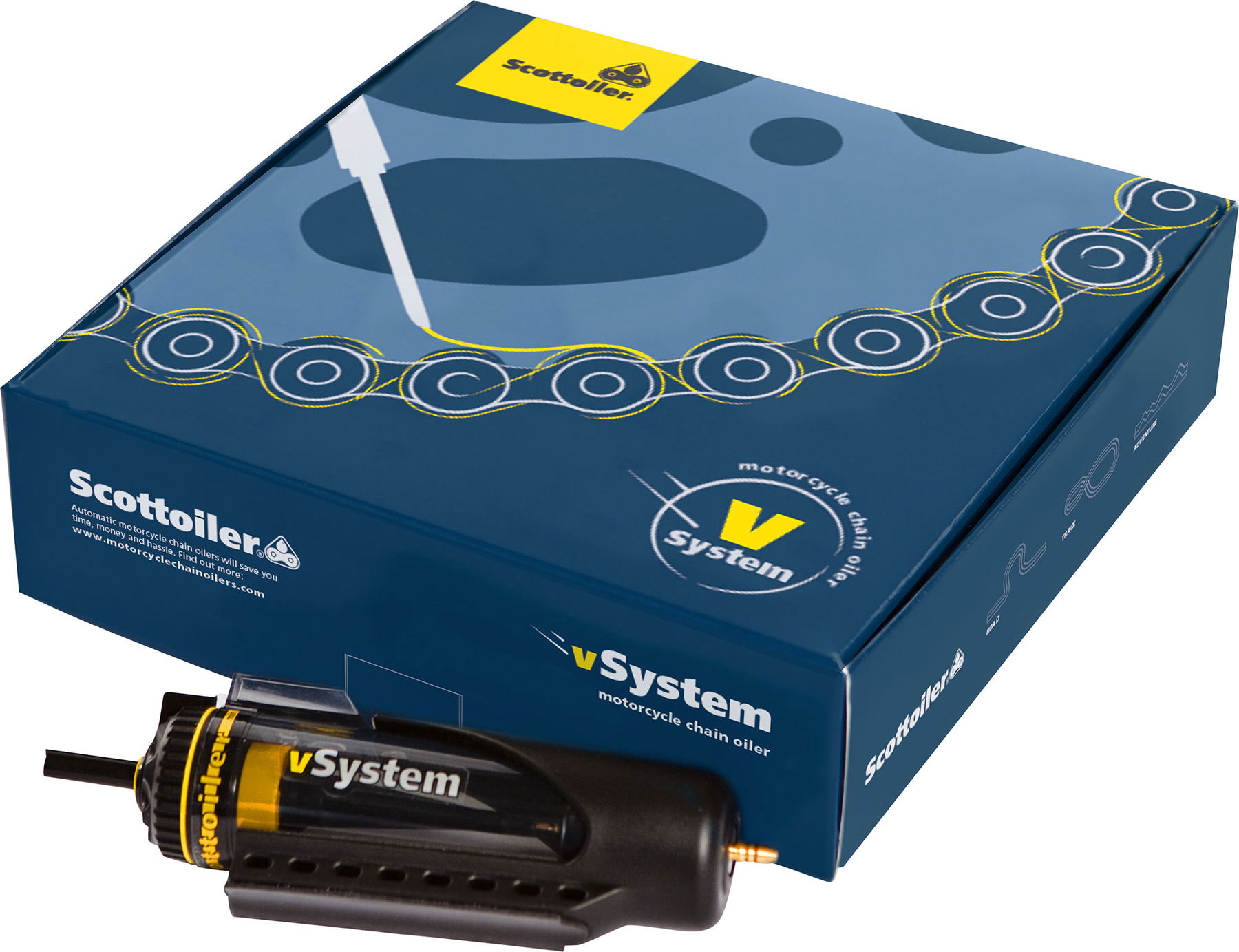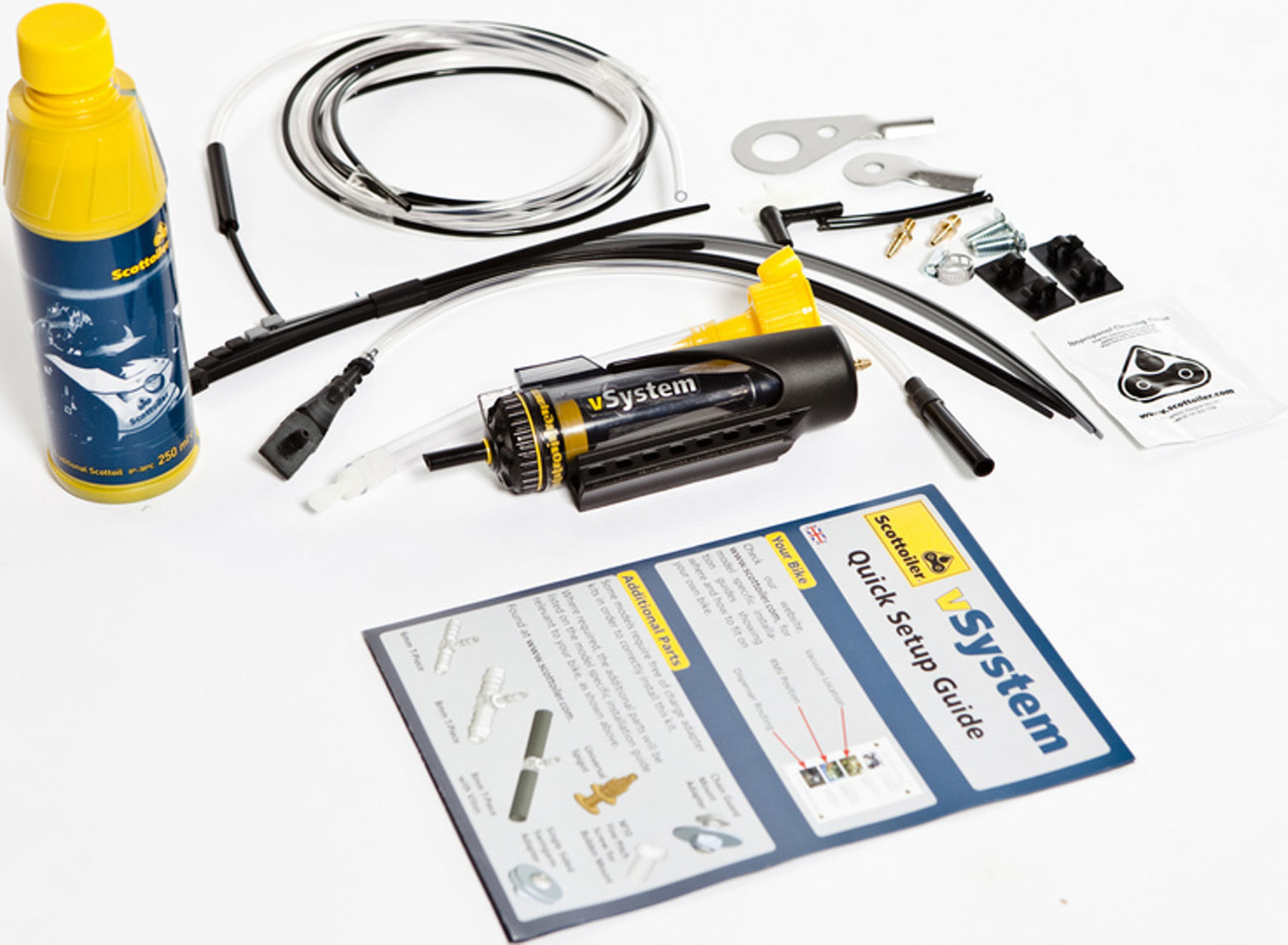 SCOTTOILER *V-SYSTEM 2012
SCOTTOILER *V-SYSTEM 2012
SCOTTOILER *V-SYSTEM 2012
CHAIN LUBRIC. DEVICE+OIL
You have placed the following items in the shopping basket:
SCOTTOILER *V-SYSTEM 2012
CHAIN LUBRIC. DEVICE+OIL
The *vSystem* vacuum-controlled chain lubrication device from Scottoiler is a fantastic device. The system automatically lubricates your drive chain, and with it the sprockets. It's extremely easy to install and it has a great look, too.
The kit consists of a Reservoir Metering Valve (RMV) (50 ml) and an injector, which dispenses the oil onto the chain and sprocket, and a 250 ml bottle of Scottoil, sufficient for up to 12,500 km.

This automatic chain lubricating system increases the life of your chain by up to 7 times, making it virtually maintenance-free, and saving you a lot of time and effort. The universal kit is easy to install and can be used on more or less any motorbike.
How does the Scottoiler work?
When the engine is running, a vacuum is created. The vacuum lifts a diaphragm, which in turn opens the valve in the reservoir. While the valve is open, oil flows by gravity through the delivery tube to the chain via the rear sprocket. The quantity of oil is regulated by the valve setting.

Unique innovations and improvements compared to the predecessor product
The needle valve and valve seat are now manufactured to an even higher level of precision, so control of delivery quantity is better than ever
The profile of the needle valve has been modified, which means that dispensing is adjusted smoothly
The delivery tube has been modified to make bleeding much easier
The RMV has a contemporary smoked look
The protective sleeves of the delivery tube and breather tube are now black, so they blend in more
Detailed illustrated installation instructions are included
The pack also includes various components for installing the kit in different ways. A very small number of models require special parts for installation.

IMPORTANT: This Scottoiler is unfortunately not suitable for Honda NC 700 or BMW F800R and S1000R/XR/RR models up to 2017, as vacuum connection is not possible on these bikes. The Scottoiler eSystem and xSystem is suitable for all of these models.

Model-specific installation instructions (motorcycles and quads/ATVs) can be found under "Further product info" (Links to product).
Manufacturer details: Scottoiler

Automatic chain lubrication systems

Fraser Scott loved his bike, but hated the chore of keeping the chain in top condition. In 1977, this led him to develop the first automatic lubrication system for motorbike chains. Scottoiler is now global market leader in the manufacture of automatic motorbike chain lubrication systems and can draw on decades of experience in the field. Scottoiler systems have been continuously developed over the years, and have long since demonstrated their functionality, reliability and durability. Not just in everyday use, but even under the challenging conditions of numerous world tours. In 2002, for example, when Kevin and Julia Sanders achieved the fastest circumnavigation of the world on a motorcycle.
The ratings will be available to you again soon.
+400 brands
2-year right of return
Fast delivery
Worldwide shipping