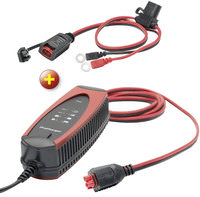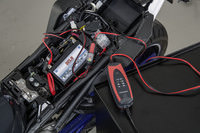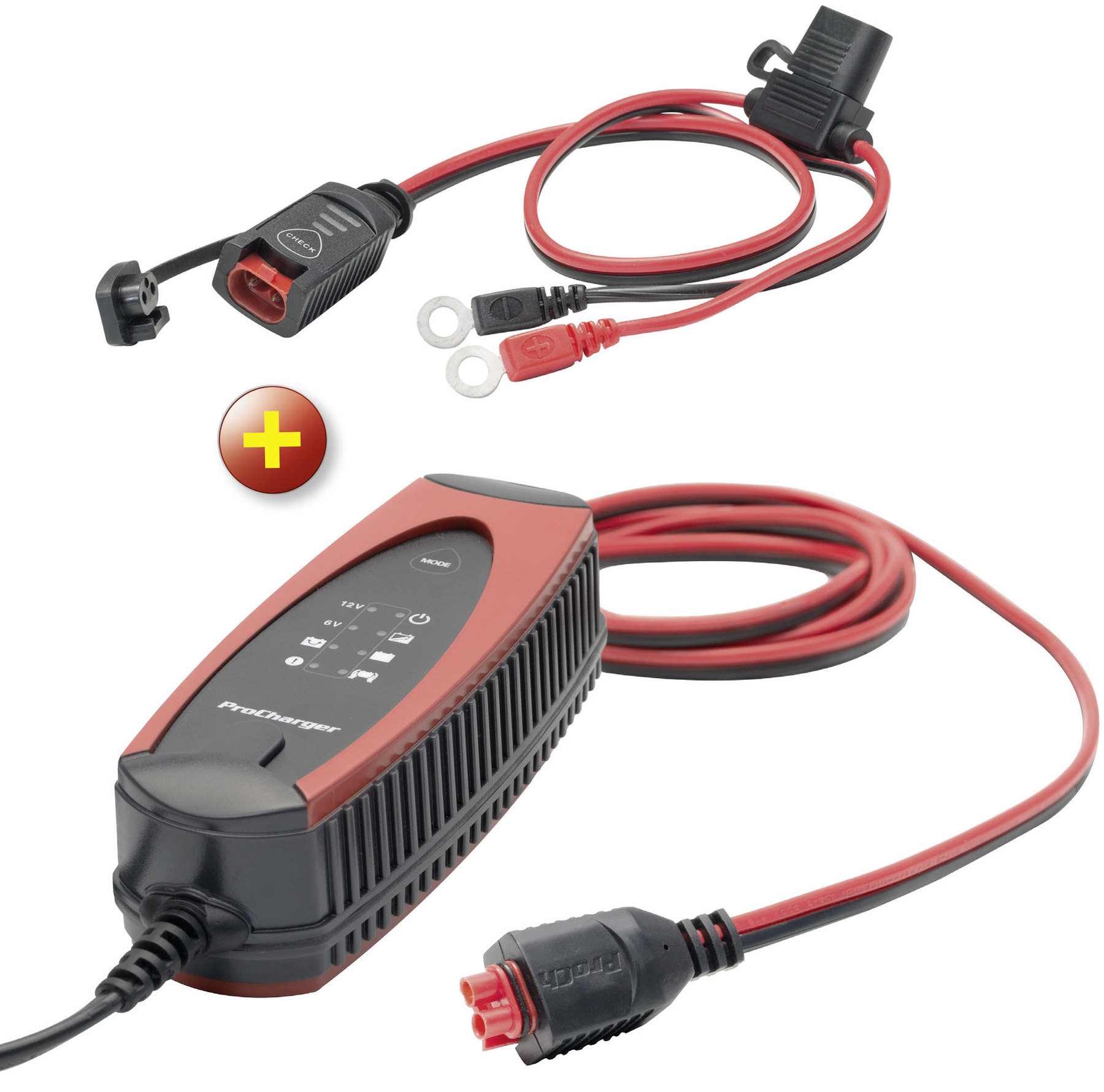 PROCHARGER 1.000 SET,
INCL. COMFORT INDICATOR
You have placed the following items in the shopping basket:
PROCHARGER 1.000 SET,
INCL. COMFORT INDICATOR
The compact and universal device charges your motorbike starter battery in a flash thanks to 1000 mA of maximum charging current. The battery is also regenerated if it is in a poor condition. The unit is suitable for 6 V or 12 V motorbike, scooter and car
starter batteries.
Features:

Automatic charging current adaptation (I/U charging characteristic)
Suitable for 6 V/12 V lead-acid, lead-gel, lead-fleece (AGM), calcium and pure lead starter batteries
Battery test function
Desulphating function
Regeneration function for deeply discharged batteries
Trickle charging function and overcharge protection (ideal for winter storage)
Reverse polarity protected, short-circuit-proof and spark-proof
Comprises:

Charger
charging clip cable
ring terminal cable,
operating instructions
You want to know exactly what the charge level of your motorcycle battery is at all times, no ifs and no buts? Then we recommend the ProCharger comfort indicator. It is both practical and convenient. The required information is displayed instantly via the 3-colour LED charge level indicator. But that's not all, the quick connector allows you to connect your ProCharger in no time at all.

Ideal for motorcycle batteries that are hard to reach.

The ProCharger comfort indicator is permanently fastened to the motorcycle battery with ring connectors. If you want to know how much charge is left in the battery, you just need to briefly press the button on the ProCharger battery indicator and the charge level is indicated for 60 seconds via the three different coloured LEDs.
The green LED indicator (more than 13V) lights up if the battery is fully charged, yellow (12V-13V) indicates that battery charging is recommended, and red (less than 12V) indicates that the battery is more or less empty and must be charged.

Features:

For permanent connection to the battery
Including ProCharger quick connector
Overall length: approx. 570 mm / M6 ring connectors
Including fuse holder and 15 A fuse
Suitable for ProCharger 600, 1.000, 4.000
Battery charge level indicator
Indicator is only active when required, no unnecessary power consumption
/PATEXT

Delivery without british power plug!
Manufacturer details: Procharger

Pure energy!

ProCharger: Regarded by many bikers as the ultimate in battery chargers. Where else can you get such outstanding quality and technology at affordable prices!? Every motorbike/scooter rider and car driver will find exactly the right ProCharger model for their requirements - from socket-powered compact unit through to sophisticated high-tech system. So you can be certain that your battery is always in perfect condition. Numerous top ratings in tests by the trade press plus enthusiastic customer reports repeatedly demonstrate that ProCharger gets the maximum service life out of your battery. ?What's more: the top model, ProCharger XL, is now also CAN-bus enabled.
Write a review for PROCHARGER 1.000 SET,
We offer you the opportunity to rate products purchased from Louis and to share your experiences with them publicly.

To ensure that your objective and truthful report will be really beneficial to all readers, please observe the following rules.


Please only rate products that you have personally used for their intended purpose.
Please give reasons for your positive and negative criticisms. Only then will they benefit other customers and allow us to improve the product if necessary.
Please don't copy content that has already been published elsewhere. It's your personal experience which counts.
Data protection: Please don't include your own and other people's addresses, telephone numbers or URLs or even the names of third parties (people as well as companies) in your review.
In your product review, please don't make comparisons with third party product ranges. Regardless of whether you judge these positively or negatively, you, or we as operators of this online shop, would be violating competition law.
Fair play: Please follow these rules so that we don't have to shorten or delete your rating.
Your product rating has been saved. It will be displayed in a few minutes
Your previous input will be lost!
Do you really want to cancel your entry?
+400 brands
2-year right of return
Fast delivery
Worldwide shipping